Aesthetic clinics in Malaysia
---
More and more people are toying with the idea of getting Botox and fillers, especially when we spot our first wrinkle appearing or if we've always been particularly insecure about a certain body part. While these procedures aren't as taboo anymore and we see the words "aesthetic clinics" on signboards at nearly every town we drive by, choosing which clinic to go to is the kind of life-changing decision most of us are too uncertain to make. 
And if you've done some digging of your own, you'd know that a lot of aesthetic clinics tend to use stock photos of women on their websites. Well, we've come up with a list of aesthetic clinics in Klang Valley that are not only fully certified and run by doctors, but also have before-and-after photos to prove their craftsmanship.
Aside from visiting aesthetic clinics, you can also glam yourselves up with these ideas:
---
1. CLEO Clinic – facial & non-surgical aesthetic treatments
---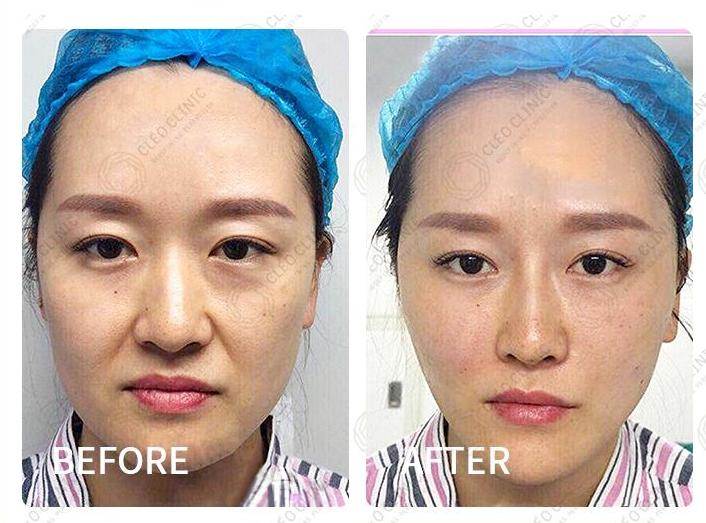 Before and after a HIFU facelift
Image credit: Clinic CLEO 
CLEO Clinic is an upcoming licensed aesthetic and skin clinic on this list. But they've quickly made a name for themselves because their dermatology treatments that tackle stubborn acne scars, stretch marks, skin conditions and more, have garnered glowing reviews from their clients. Their aesthetic doctors have also been praised for being knowledgeable too.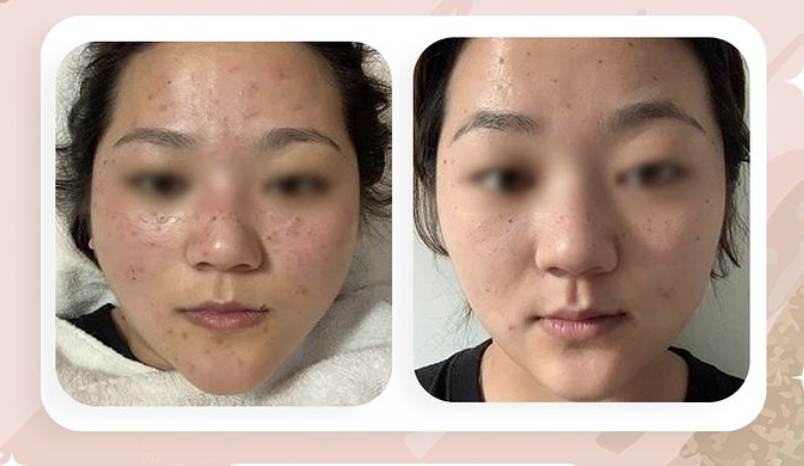 Before and after acne treatment
Image adapted from: @clinic_cleo
Among the long list of services they offer are aesthetic procedures – such as anti-ageing injectables, dermal fillers, microdermabrasion, and microneedling – that will further boost your self-confidence too. These include non-surgical options that are said to give results after just one treatment, and require little to no recovery time.
Their High Intensity Focused Ultrasound (HIFU) facelift treatment, for starters, is an ultrasound option for those afraid of needles. This procedure is said to effectively reduce sagginess and the appearance of wrinkles on the face, neck, and around the eyes.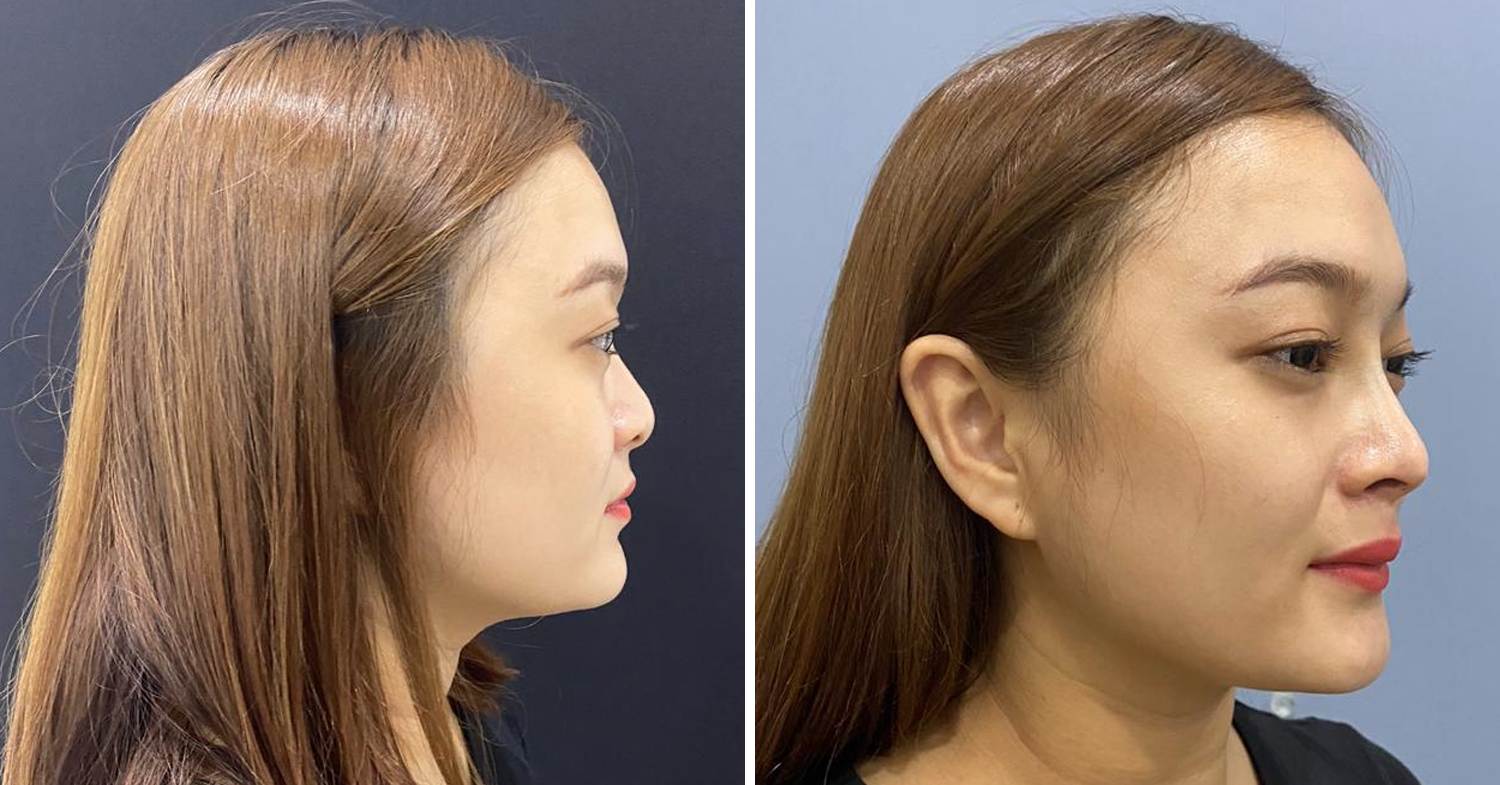 Before and after a Nose Thread Lift
Image adapted from: Clinic CLEO
Another popular procedure among their clients is their signature Nose Thread Lift, which helps enhance your nose to your desired shape and takes around 15-30 minutes to administer. Results are said to last between 18 and 24 months. It's a less invasive alternative to rhinoplasty surgery, and has a shorter downtime too.

Gummy Smile Botox Treatment, before-and-after photo.
Image adapted from: @clinic_cleo
Other minimally invasive aesthetic procedures you'll find at CLEO Clinic are Botox treatments and laser treatments to address minor concerns you may have about other parts of your body. 
If you're self-conscious about your gummy smile, Botox treatment comprising injections to your upper lip can help tackle this. Laser treatments will also help lighten darker areas on your body, such as your underarms, so you can wear your sleeveless tops more confidently.
A full assessment of your facial profile will be done by CLEO Clinic's certified aesthetic doctors, Dr Raimie and Dr Tan, to ensure that the results of the aesthetic procedures – such as face thread lifts, double eyelid creation, V-shape facial rejuvenation and more – that you receive here will meet your expectations. 
You can book a free consultation at CLEO Clinic online here, which includes a facial assessment.
Address: 14, Jalan 30/70A, Desa Sri Hartamas, 50480, Kuala Lumpur
Opening hours: Mon – Fri 10AM-7PM | Sat 10AM-6PM | Sun 10AM-4PM
Telephone: 010-252 1883
CLEO Clinic website | Facebook | Instagram
---
2. Rachel Chew Clinic – subtle and small procedures
---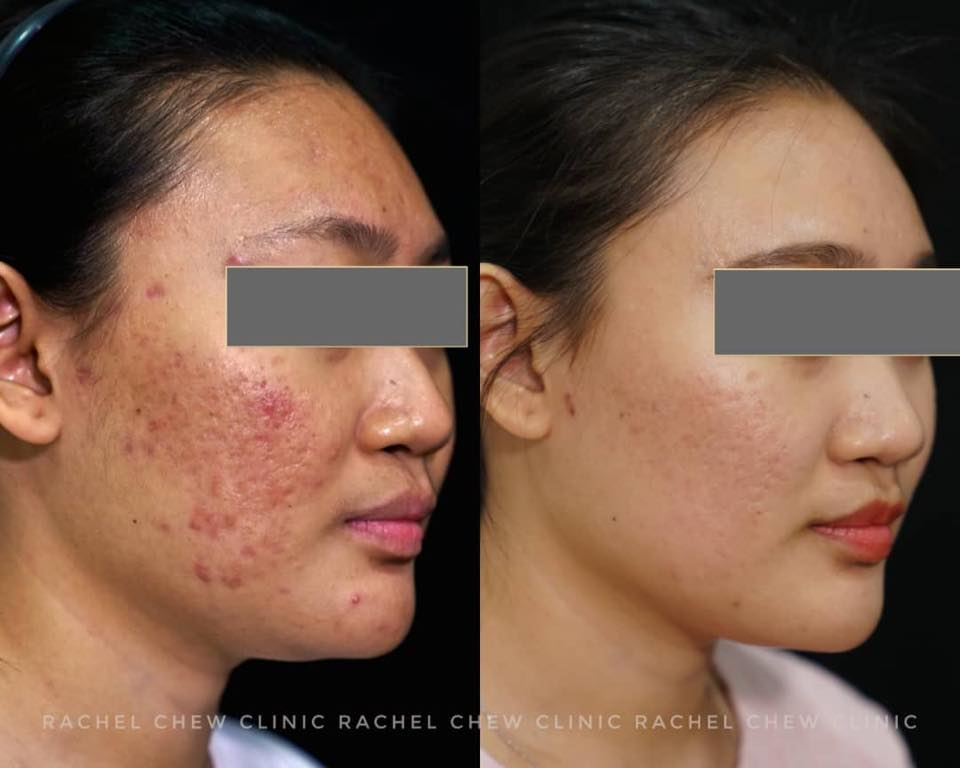 Acne treatment
Image credit: Rachel Chew Clinic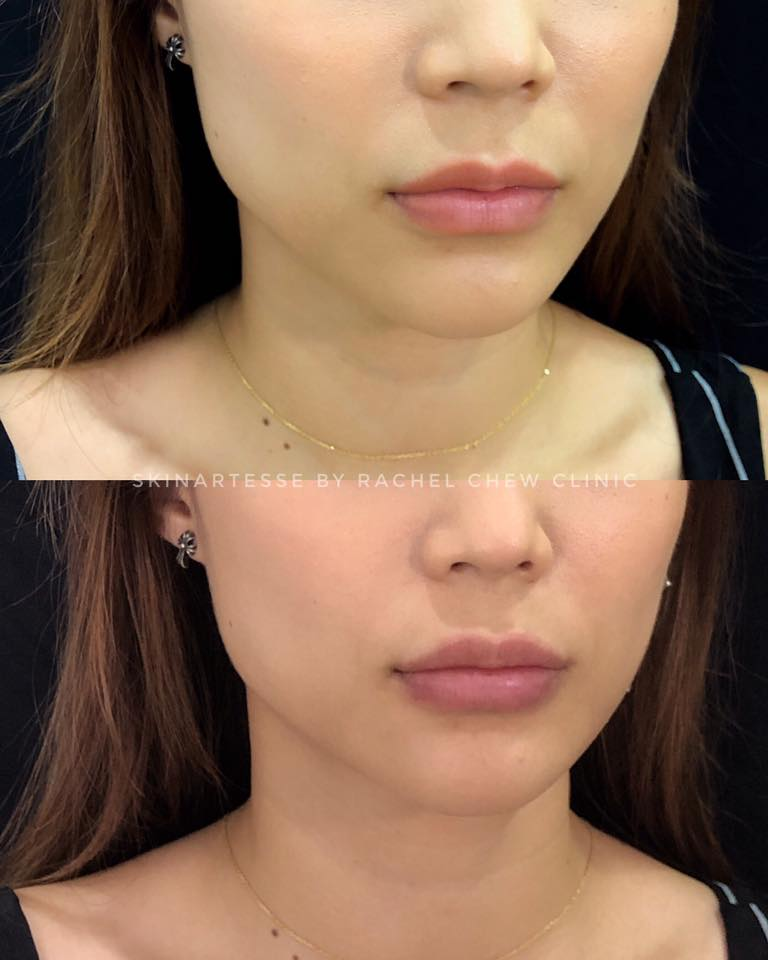 Before and after images of lip fillers
Image credit: @rachelchewclinic
Rachel Chew Clinic is an option for newbies who have their pool of money saved and are looking for discreet, minimal touch-ups. These procedures can be considered as lunchtime procedures as they're often quick and said to require minimal to zero downtime. When you step back into your office, your colleagues may notice a subtle difference in your appearance, but would probably not be able to put their fingers on it.
Her star-studded clientele may have given the clinic's business a helpful boost, but it was really Dr Chew's years of experience and skills that give patients the reassurance of personalised and updated treatment options.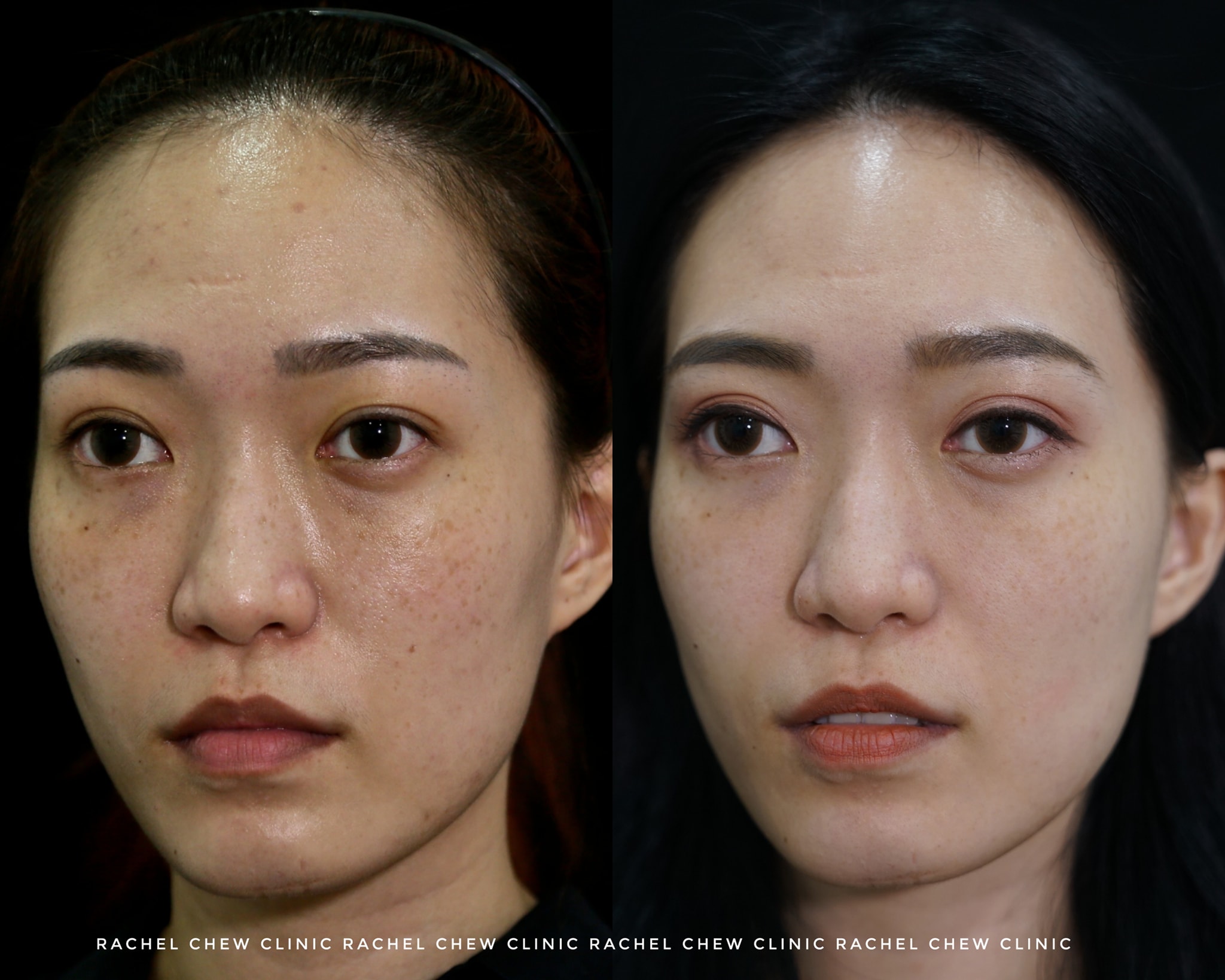 Image credit: Rachel Chew Clinic
Their Skin Artesse Face Design service will assess your facial structure to determine which of your features can be refined. Areas of treatment can be anywhere from the nose, jaw, lips, and even forehead. 
Don't let your fear of getting under the knife hinder you from booking your consultation as Dr Chew performs minimally invasive treatments. This means that the contoured faces you see from the before-and-after photos are achieved mainly through fillers only. 
Address: Publika Solaris Dutamas, 1, Jalan Dutamas 1, Solaris Dutamas, 50480 Kuala Lumpur
Opening hours: Mon – Sat 10AM-7PM (Closed on Sundays)
Telephone: 03-6201 1000
Rachel Chew Clinic website | Facebook

---
3. Bella Clinic – a crowd-trusted clinic for a natural glow-up
---
Bella Clinic is one of the biggest names in the industry, having amassed over 200,000 followers on Instagram. Take a scroll through their feed and you'll see that a majority of their clients are made up of youths no older than 30, which breaks the stereotype that only middle-aged women go for procedures such as fillers.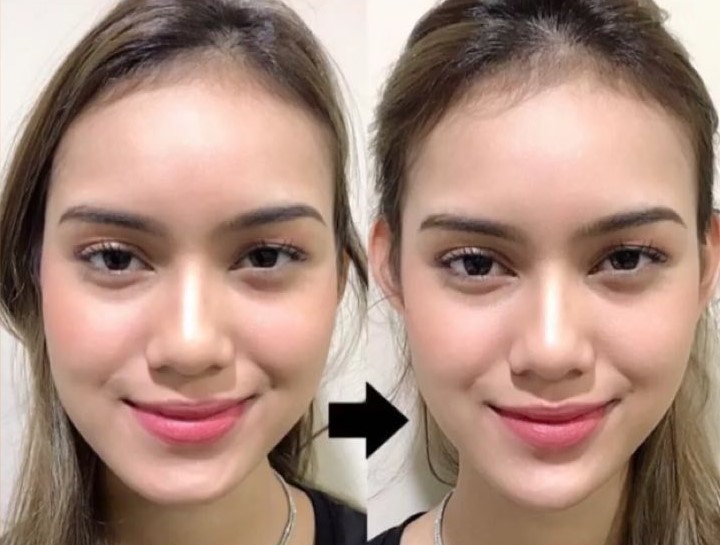 While already pretty pre-treatment, this client went for a session of Bella Signature Asymmetrical Face Correction to balance out her jaws and cheeks.
Image adapted from: @bellaclinicmy
Bella Clinic is a one-stop centre for your skin and body woes. Whether you're looking to have a more asymmetrical jawline, a higher nose bridge, or want to get rid of your dark circles, the professional aesthetic doctors here will have you well taken care of.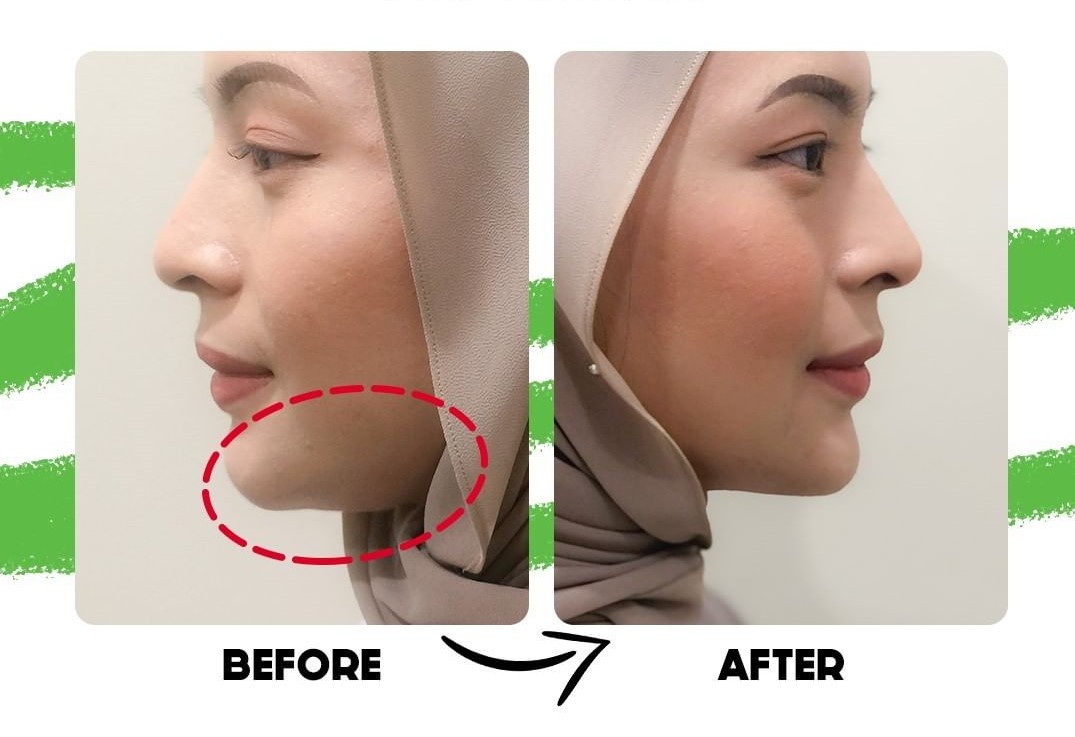 If you're still dealing with stubborn baby fat well into adulthood, you'll benefit from this treatment that helps you get rid of your double chin
Image adapted from: @bellaclinicmy
The long list of services they offer includes aesthetic procedures, facial treatments, slimming procedures, and vaginal rejuvenation. Their facials are also popular with customers, particularly with those who have been struggling with acne scars that just don't seem to fade. After consulting with the doctors, they'll come up with a consistent treatment plan for you to follow and you'll be mere sessions away from clear, glowing skin. 
Address: 16, Jalan Radin Bagus 1, Sri Petaling, 57000 Kuala Lumpur
Opening hours: Mon – Sat 10AM-7PM (Closed on Sundays)
Telephone: 03-9547 9628
Bella Clinic website | Facebook | Instagram 
---
4. BOB K-Beauty Medical Centre – aesthetic doctors from South Korea
---
BOB K-beauty is founded by doctors all the way from the home country of our favourite K-pop celebrities. So you can save yourself the RM1,000 it'll cost to fly over to Seoul and instead, make the short drive over to Bob K-beauty's at Mont Kiara.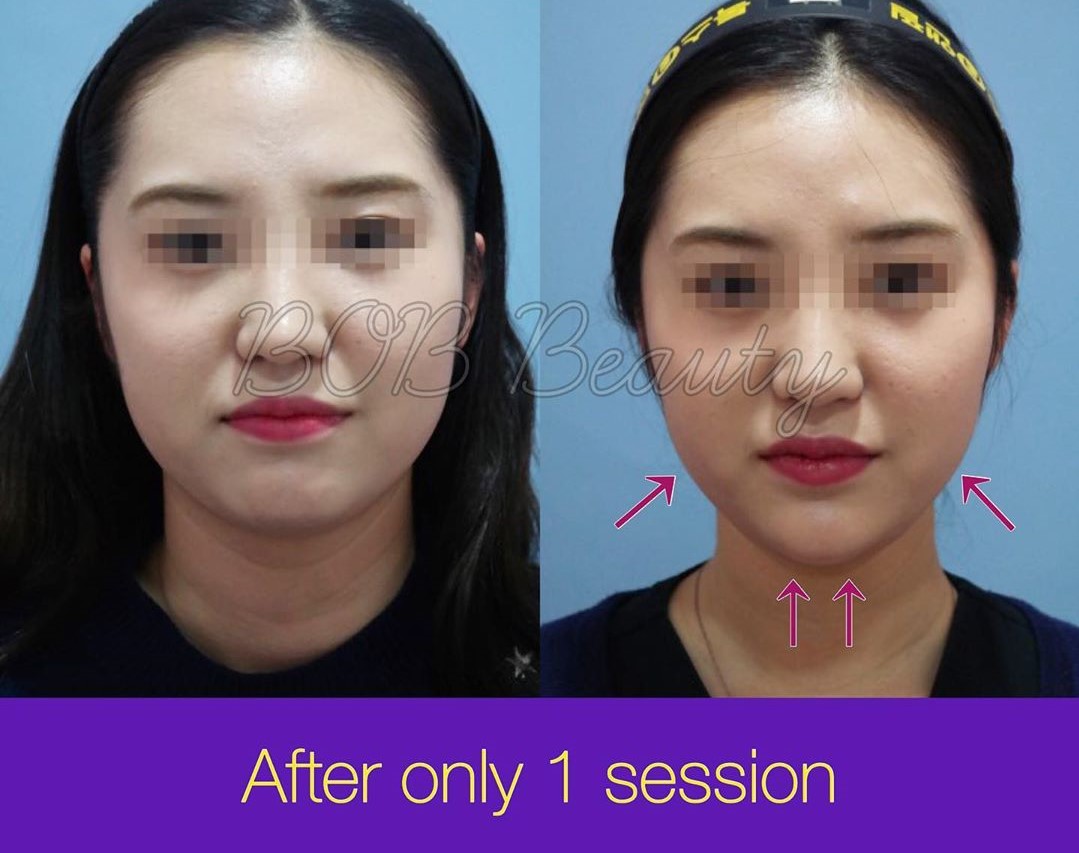 The client's V-shape jawline was achieved through Botox and chin fillers
Image adapted from: @bob__beauty
Aside from offering the usual jawline Botox and chin filler treatments, they also offer other services that aren't commonly heard of – we're looking at the Baby Hand treatment in particular.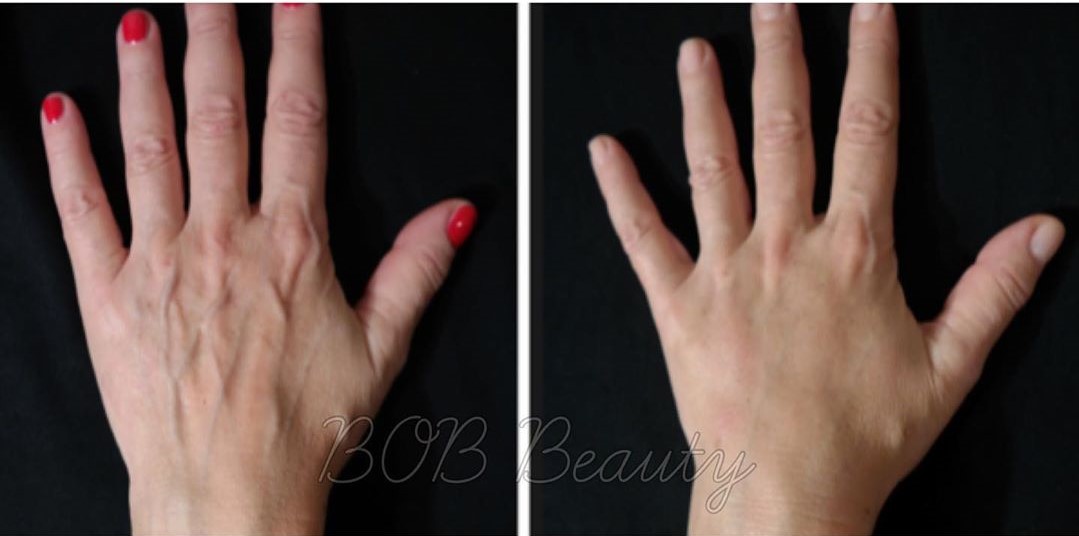 Image adapted from: @bob__beauty
We're not all too surprised that it's a popular treatment among more mature clients, as we've been warned that the neck and hands are the two areas that often display signs of ageing. While you can religiously keep up an eight-step skincare routine for your face, it's much harder to keep the wrinkles off your neck and hands.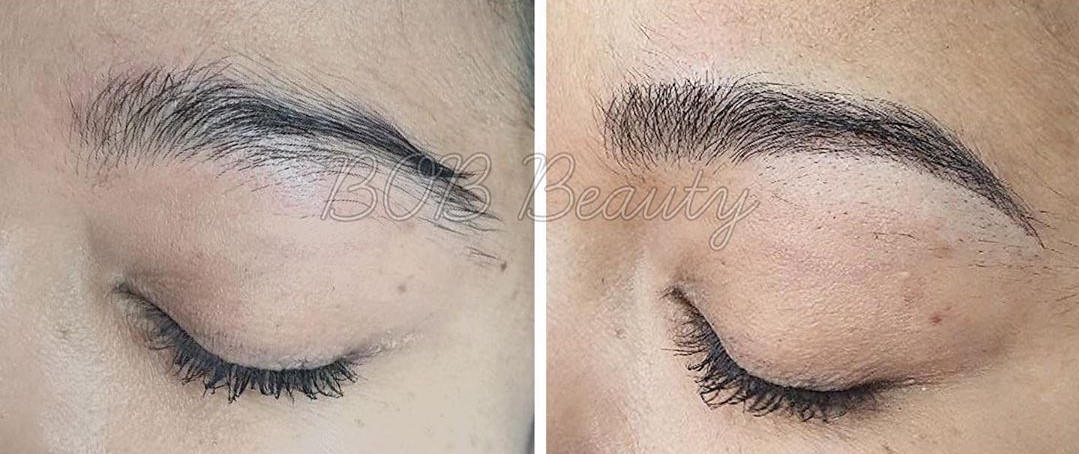 Eyebrow embroidery gives you semi-permanent brows and saves you from the hassle of filling them in every day
Image adapted from: @bob__beauty
While you're there, you can also consider getting your brows or lashes done. The semi-permanent results will easily cut down your morning routine by 20 to 30 minutes, giving you more time to snooze before heading to work. 
Address: A1-13-3A, Arcoris Business Suites, Jalan Kiara, Mont Kiara, 50408 Kuala Lumpur
Opening hours: 10AM-8PM, Daily
Telephone: 010-804 8446
BOB K-Beauty Medical Centre Facebook
---
5. Queen's Avenue Clinic – anti-ageing treatments that'll still look natural years after
---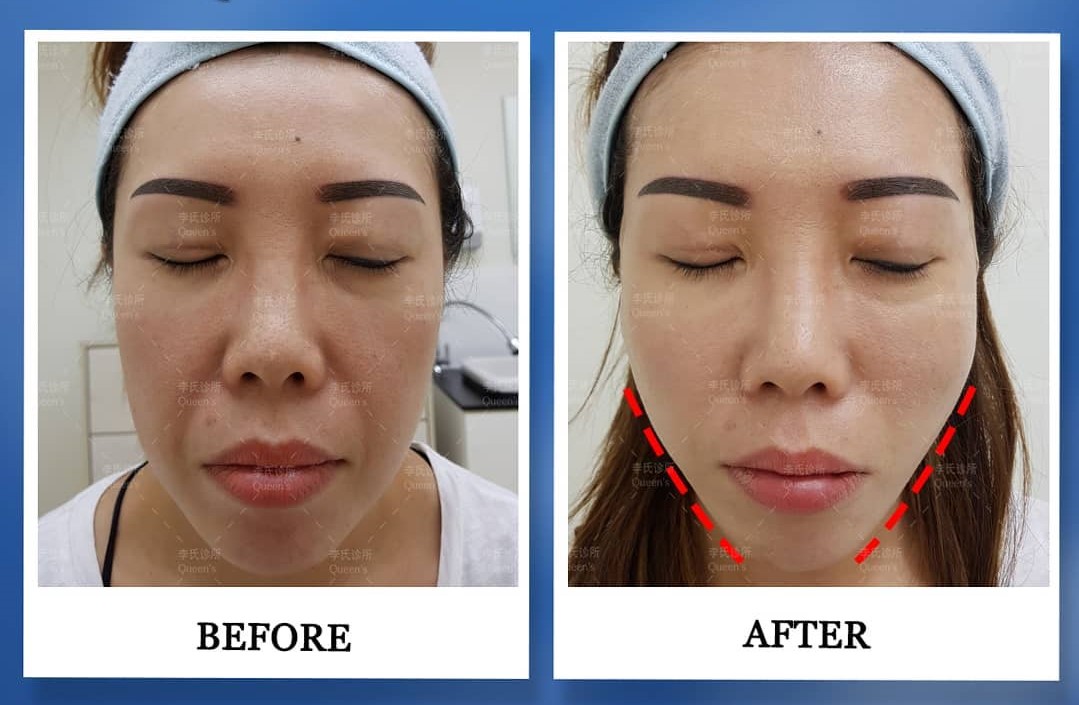 The Queen's V-Life Treatment uses collagen for a facelift that can last up to 2 years
Image adapted: @queensavenue.clinic
When you type in "face lifting" into Google images, you might run into the risk of stumbling upon terrifying pictures of botched procedures. After all, before medical technology had improved to today's standards, imperfect results were common back in the day. 
Now, Queen's Avenue Clinic has before-and-after photos that prove that aesthetic procedures such as facelifts can have more gentle but still visible results for those who prefer to age gracefully, while being minimally invasive at the same time.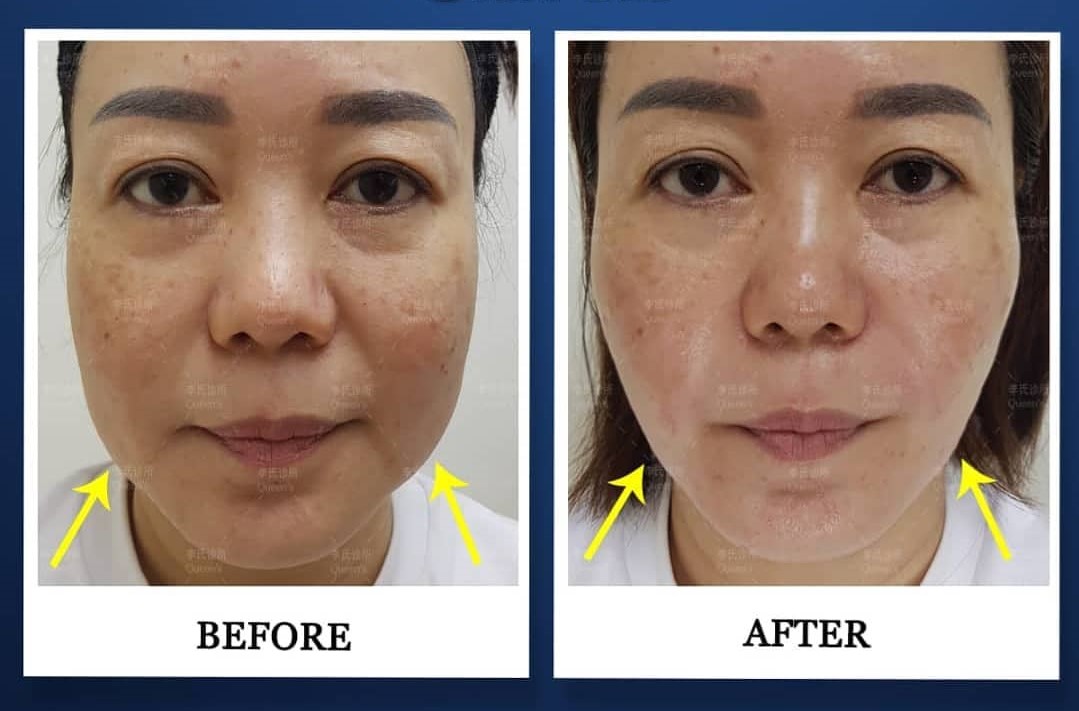 This client went for the USA Silhouette Soft Face Lifting Treatment for a more defined jawline
Image adapted from: @queensavenue.clinic
Those looking for the coveted V-shaped jawline can go for the V-Lift Treatment while those who want a more natural effect to counter sagging cheeks can opt for the USA Silhouette Soft Face Lifting Treatment.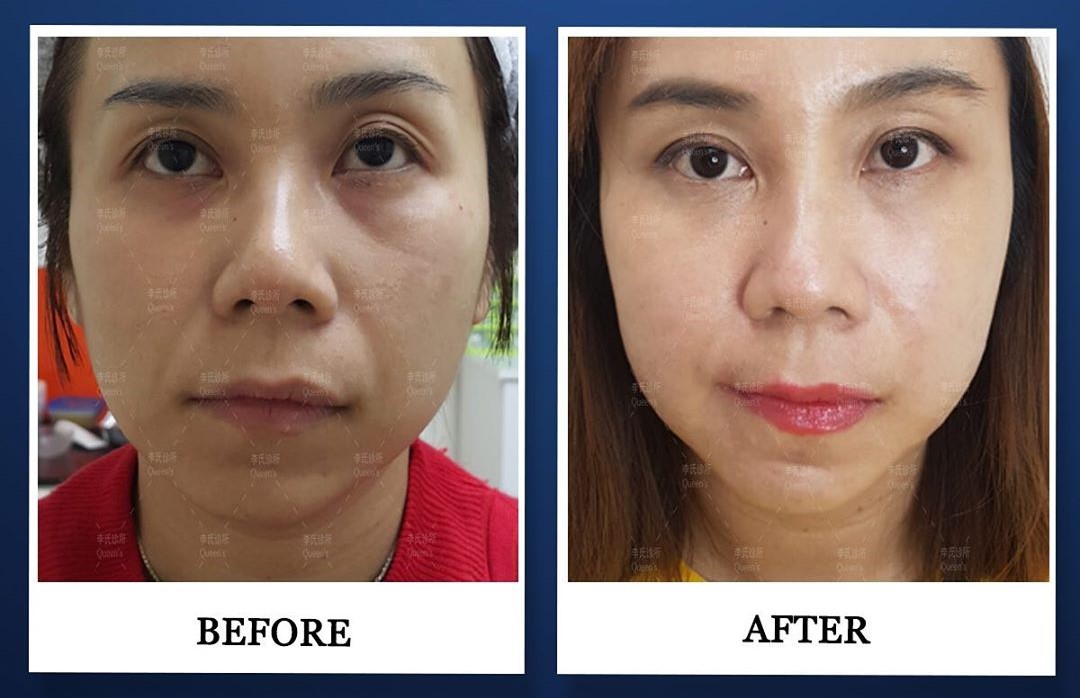 The Collagen Booster Treatment that firms and brightens the skin
Image adapted from: @queensavenue.clinic
If you're already thinking of making an appointment here, get your parents to come with you if they've been considering getting something done themselves. It's much better than spending thousands on tubs of moisturiser that claim to reverse signs of ageing.
Address: Block 4-1-4, Queen's Avenue, Jalan Bayam, Cheras, 55100 Kuala Lumpur
Opening hours: Mon – Sat 9AM-7PM (Closed on Sundays)
Telephone: 03-9201 5937 | 014-395 2919 (WhatsApp) | 013-390 2919 (WeChat)
Queen's Avenue website | Facebook
---
6. RJ Clinic – targets minor concerns to boost your self-esteem
---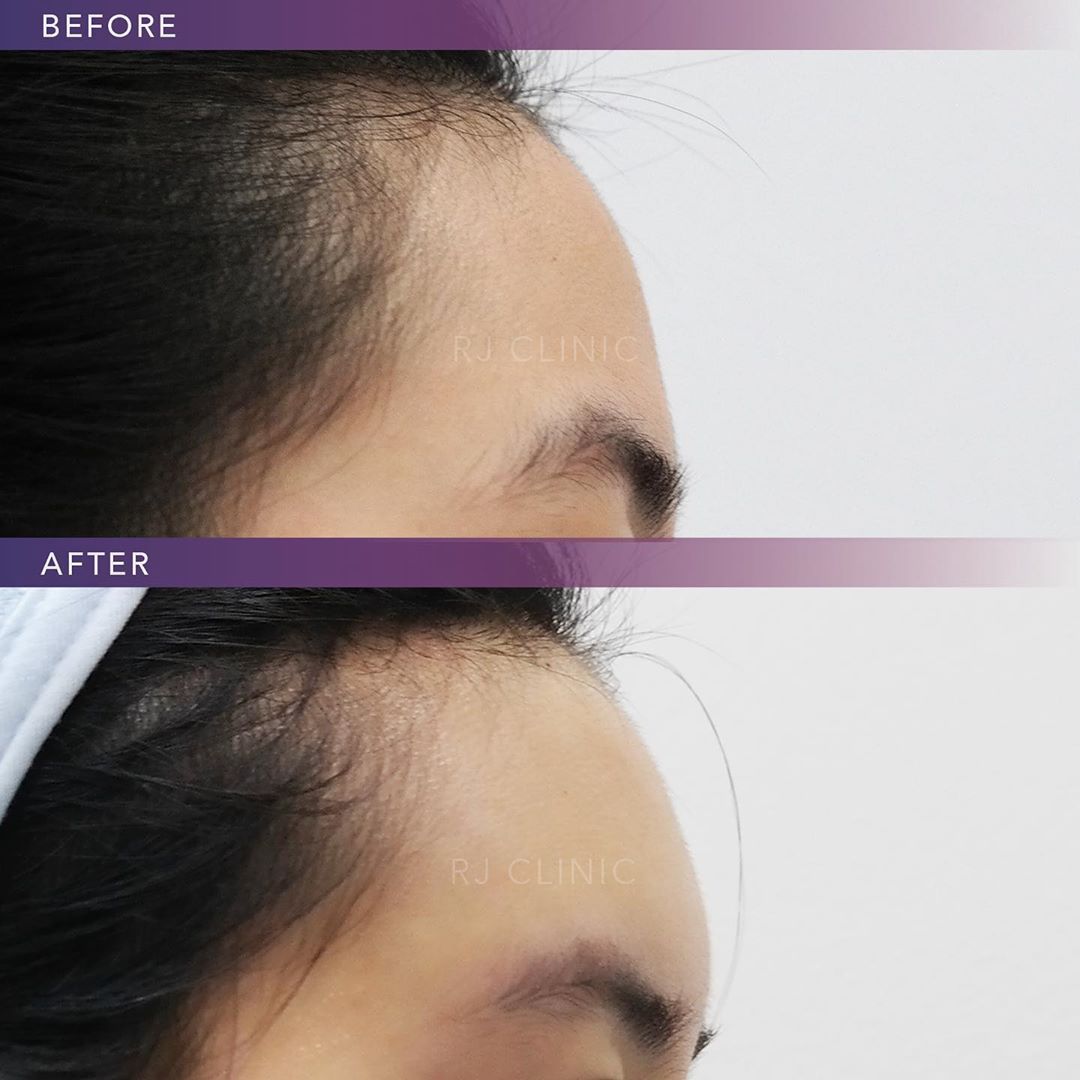 Volume was added to the client's forehead with fillers to create a more defined side profile
Image credit: @rjaestheticclinic
Everyone has that one body insecurity that we obsess over every time we spot ourselves in a mirror. While our friends will say "no lah, there's nothing wrong with your face", we just can't help nitpicking over these self-perceived flaws. No matter how minor of a procedure they would take to fix, you can get yours done at RJ Clinic and come out looking fresher and more satisfied with your overall looks.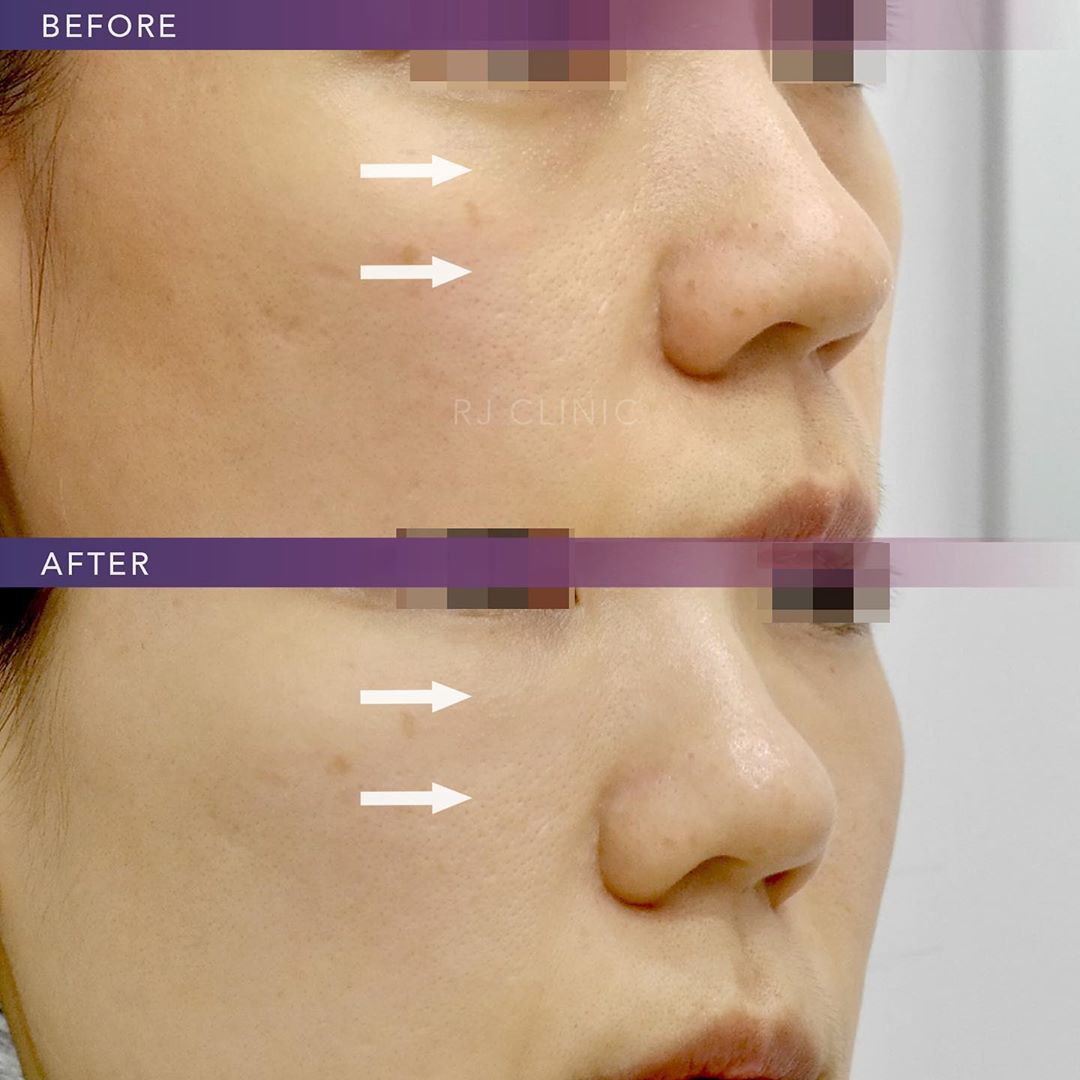 Lifting and adding volume to sunken cheeks make for a subtle difference, but will have you looking more fresh-faced immediately after.
Image credit: @rjaestheticclinic
With some smaller procedures, your friends may not even notice you've got something done. Whether you're looking to have your acne scars lasered off or to fill out your sunken cheeks, you can get them done at RJ Clinic.  
RJ Clinic @ Ipoh Road
Address:  468-G-9, Ground Floor, Block G, Rivercity, Jalan Sultan Azlan Shah, 3rd Mile Jalan Ipoh, 51200 Kuala Lumpur
Opening hours: Mon 10AM-2PM | Tue – Sat 10AM-7PM (Closed on Sundays)
Telephone: 03-4040 0778 | 016-665 1113 (For appointments)
RJ Clinic website | Facebook | Instagram 
RJ Clinic @ Ativo
Address: B-F-10, Ativo Plaza, Persiaran Perdana, Bandar Sri Damansara, 52200 Kuala Lumpur
Opening hours: Mon 10AM-2PM | Tue – Sat 10AM-7PM (Closed on Sundays)
Telephone: 03-6263 3993 | 016-924 2200 (For appointments) 
---
7. MyClinic – a face contouring treatment to look like your #filter selfies
---
We've all been guilty of posting photos taken with a smartphone camera filter on – you know, the kind that slims down your jaw and makes your eyes bigger. There's no shame in wishing that we could look like the post-filter version of ourselves, and you can achieve that at MyClinic.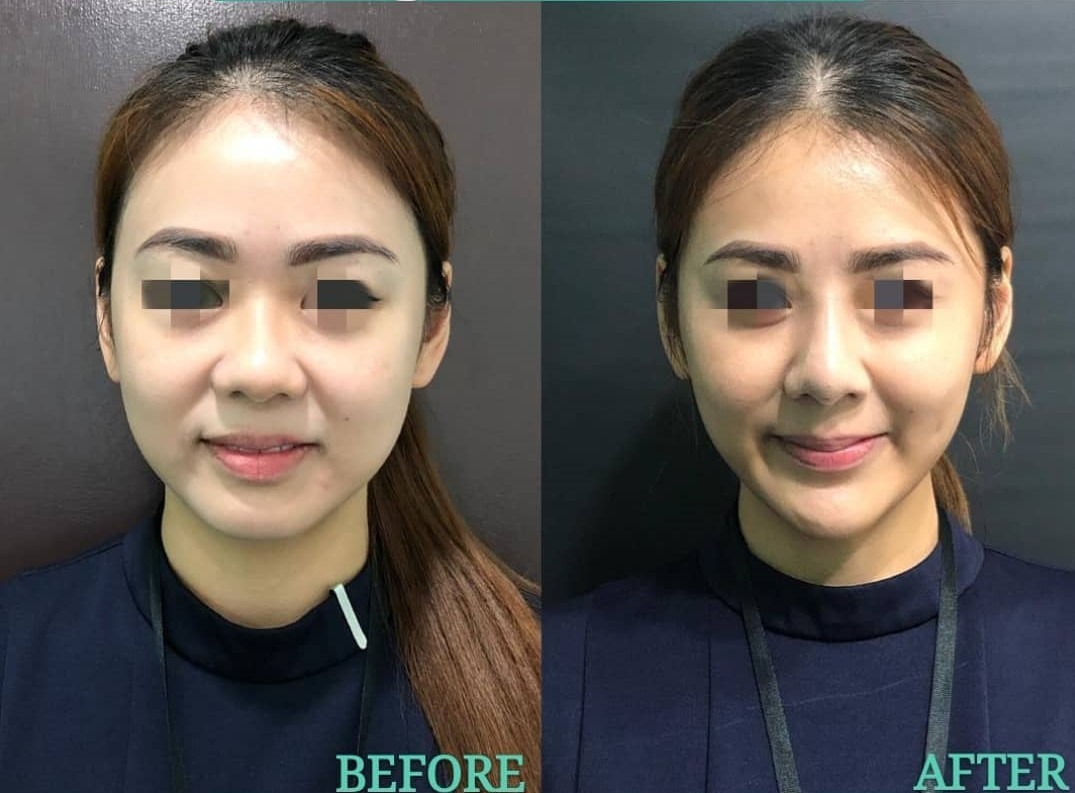 The 6D Face Countouring Treatment will leave you with a slimmer face
Image adapted from: @my__clinic
Their 6D Face Contouring helps patients achieve a more sculpted look. Those who want to "grow out" of their baby cheeks can also consider going for this contouring treatment as it claims to effectively slim down the sides of your face, giving you higher cheekbones and a subtle V-line.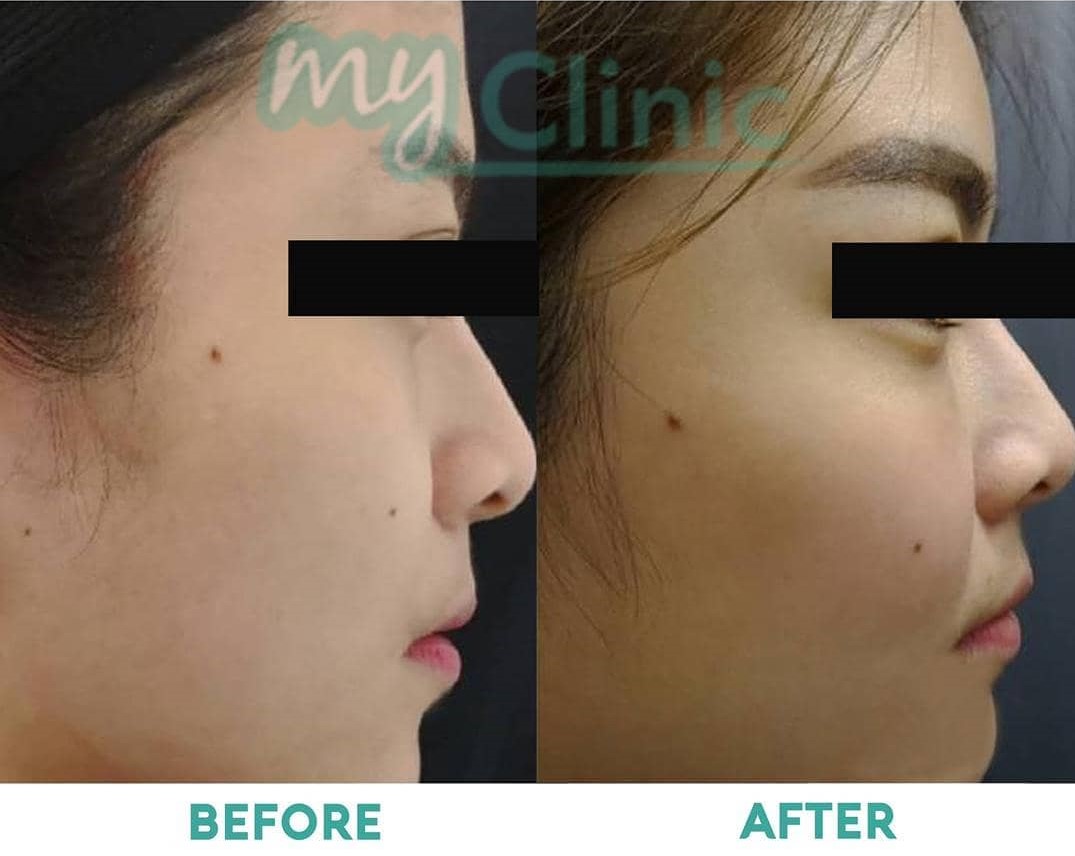 The client opted for a cheek enhancement
Image adapted from: @my__clinic
For those who fret about the tiny signs of ageing starting from their mid-twenties, the clinic's treatments help target some of our biggest concerns such as sunken cheeks and deep smile lines.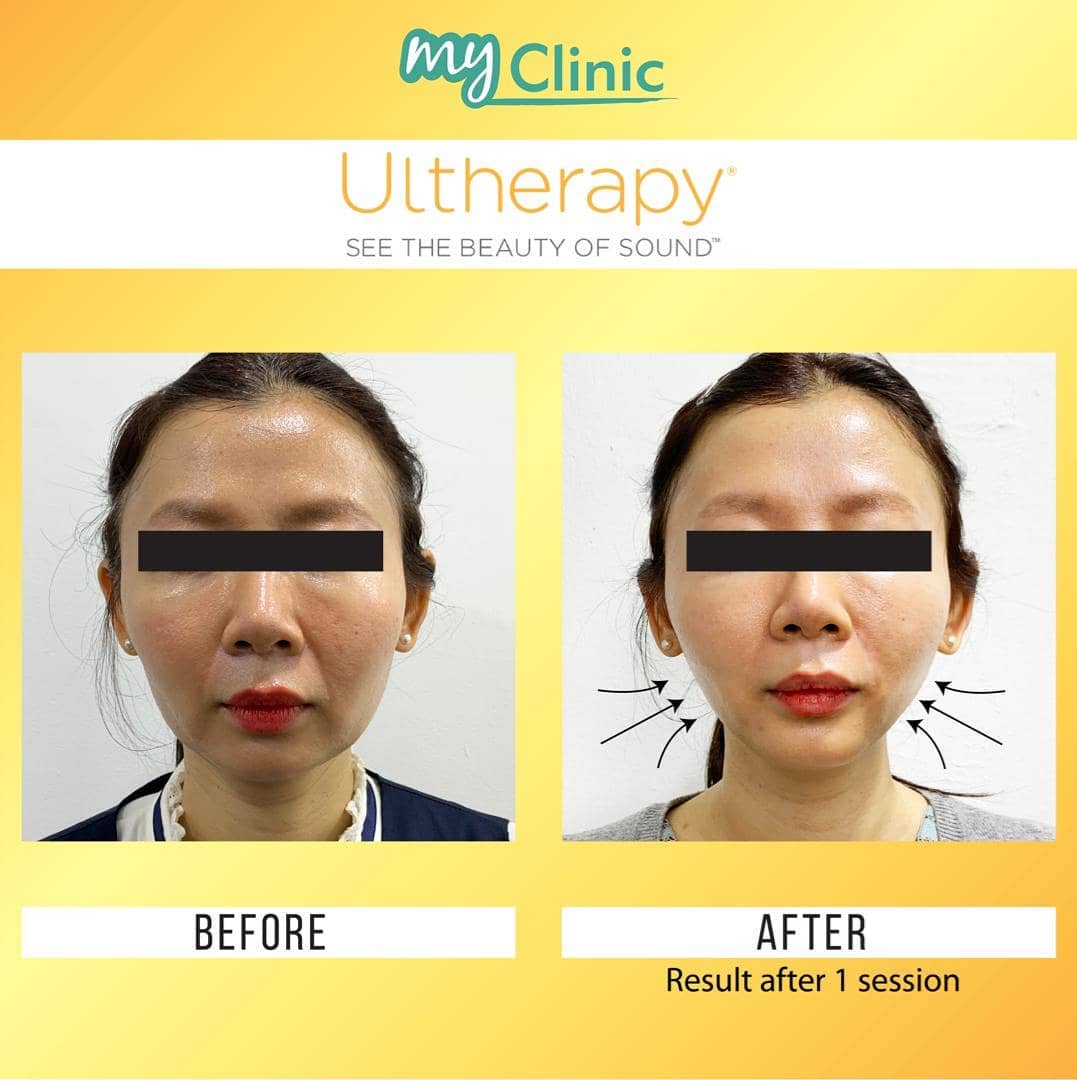 Ultherapy is a non-invasive skin tightening procedure that uses ultrasound technology
Image adapted from: @my__clinic
Treatments do not necessarily involve needles or long downtime. Ultherapy, offered at this clinic, is an alternative to facelifts. By using ultrasound technology, doctors will be able to focus pulsing heat energy on your problem area – be it neck, face, or chest – to encourage collagen production which then tightens your skin.
See all outlets here.
MyClinic @ Damansara Utama
Address: 8, Jalan SS 21/35, Damansara Utama, 47400 Petaling Jaya, Selangor
Opening hours: Mon – Sat 10AM-7PM | Sun 10AM-6PM
Telephone: 03-7710 9889 | 012-513 9948 (WhatsApp)
MyClinic website | Facebook | Instagram
---
8. Clinic RX – experts in double eyelid procedures
---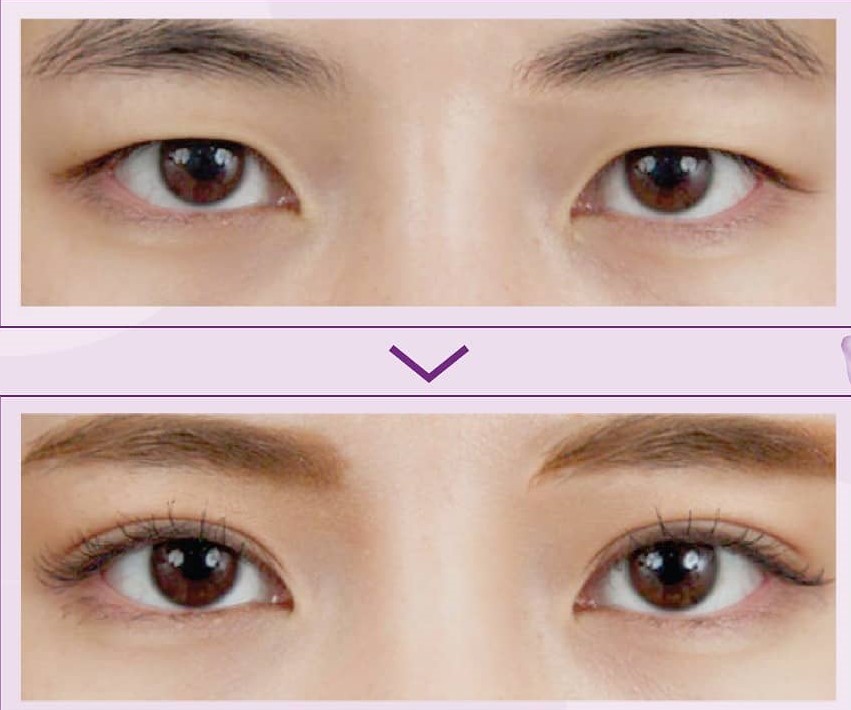 Image adapted from: @clinicrxmy
If you're one of many who resort to the daily use of eyelid stickers, you may want to consider sparing yourself from those extra 5 minutes every morning and go for the 30-minute treatment at Clinic RX.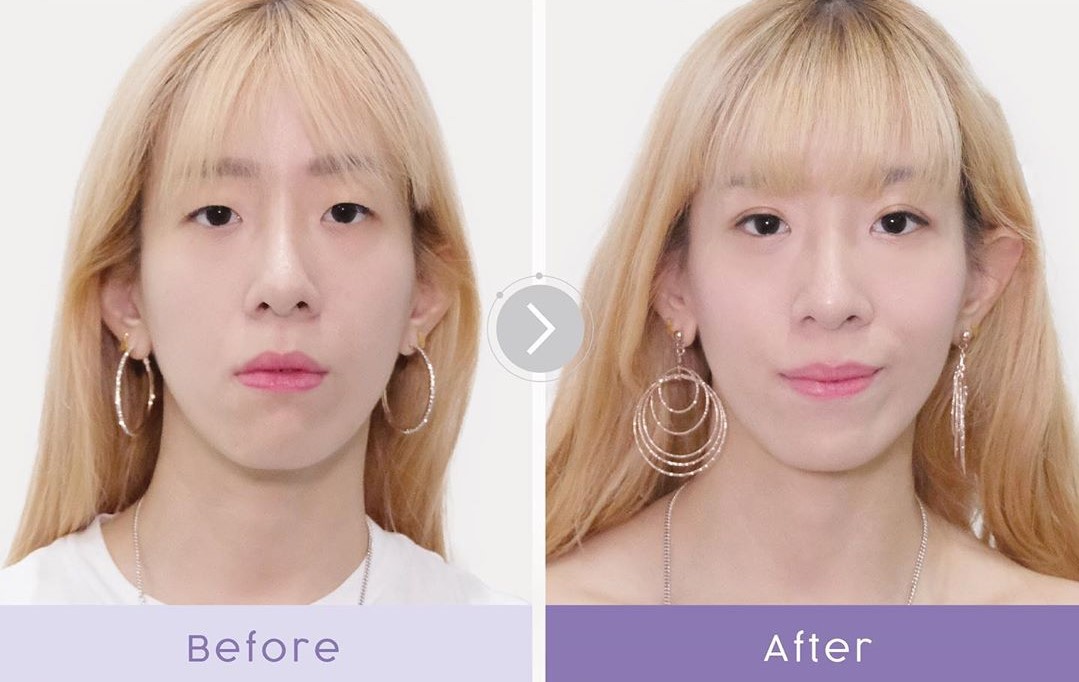 Image adapted from: @clinicrxmy
While double eyelid procedures are not as popular here compared to South Korea, where young girls get these procedures done as a birthday or graduation gift from their parents, we know a handful of friends who would love it if someone sponsored their Double Eyelid Suture procedure at Clinic RX. You won't have to worry about walking around with swollen eyes as it is said to have a significantly shorter downtime.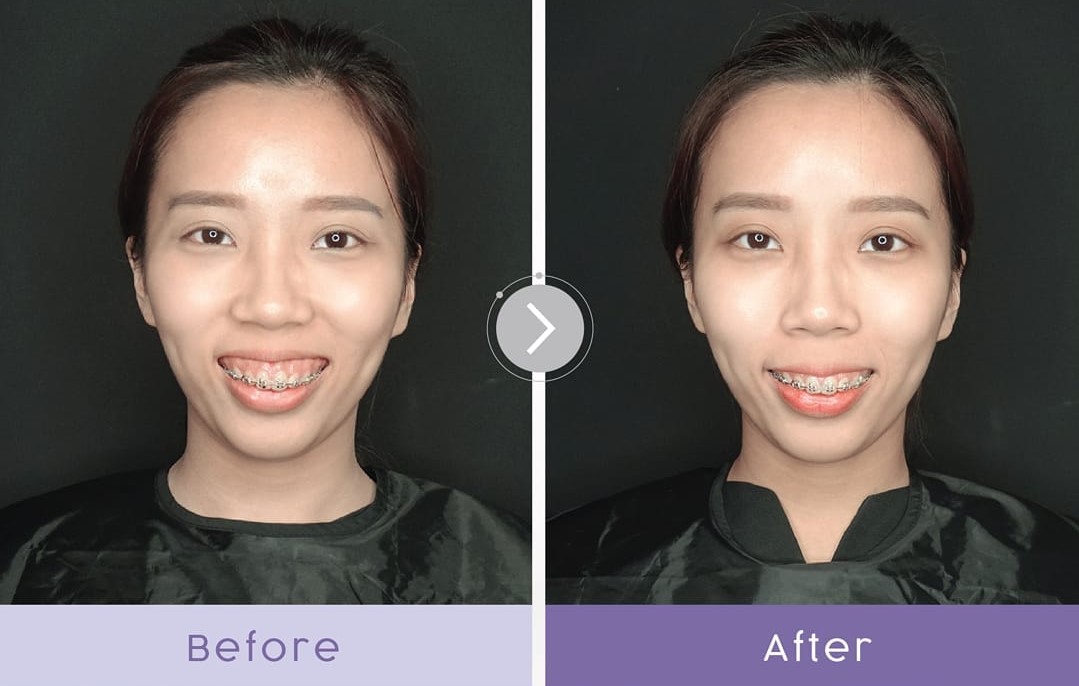 Image adapted from: @clinixrxmy
Besides the more typical eyelid and jawline procedures, they also offer a Gummy Smile Botox treatment for those who are insecure about their gummy smiles. The Botox injected into the muscle above the upper lip will help the lip cover your gums temporarily.
See all outlets here.
Clinic RX website | Facebook | Instagram
---
9. Estique Clinic – using fillers to achieve the "golden ratio"
---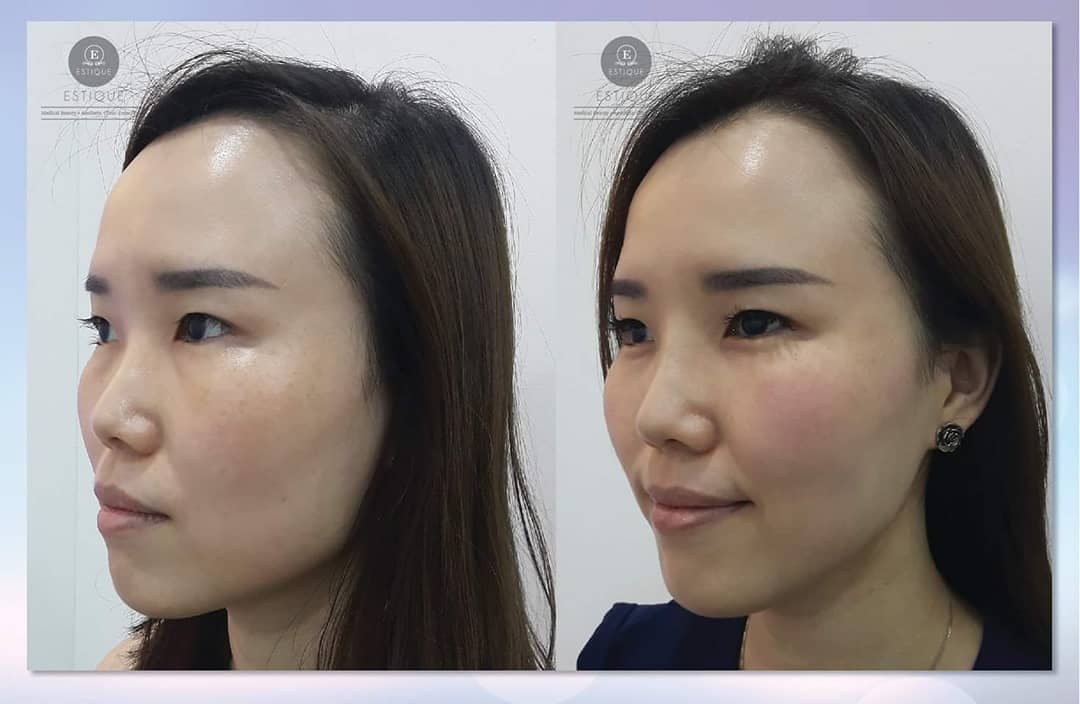 Image credit: @estiqueclinic
Estique Clinic has been around since 2007 and provides aesthetic services such as non-invasive face lifting, FUE hair transplants, and a weight reduction program that takes place in the span of just 3 months. Even with their impressive portfolio, it's their artful use of fillers that caught our eyes.
Often when going for an aesthetic procedure, we'll reappear with a more youthful appearance than before. Getting a sharper nose or higher cheekbones can change your overall look, helping you cut five to even 10 years from your age. Even if we weren't necessarily looking for an anti-ageing treatment, this is a side effect we wouldn't mind.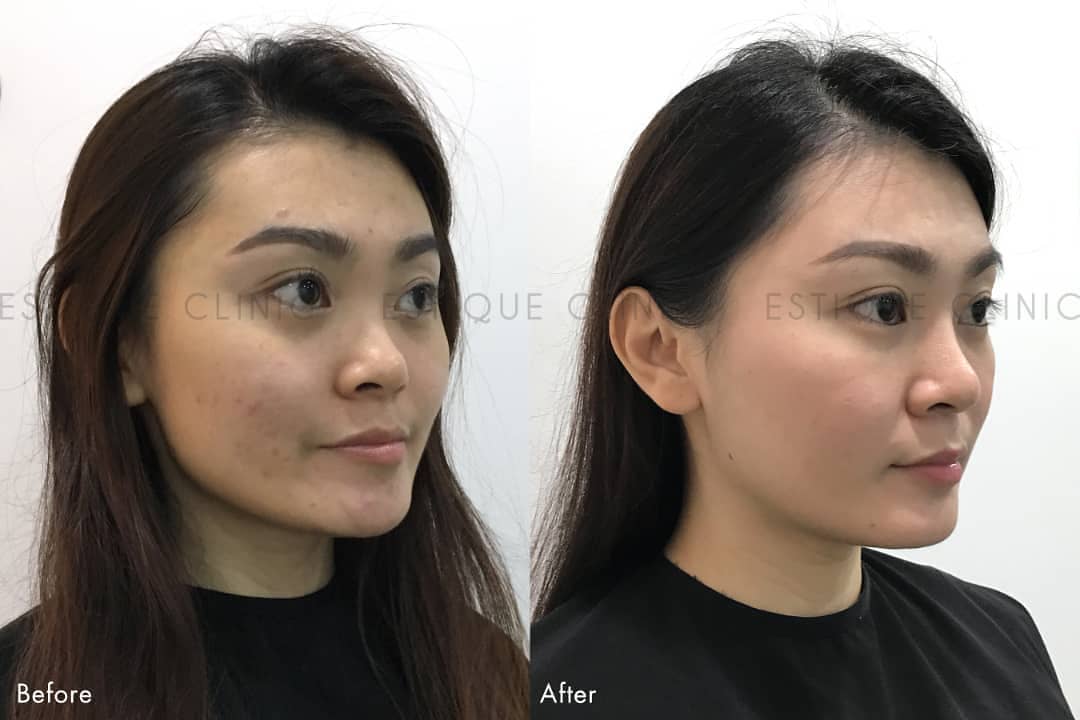 Image credit: @estiqueclinic
Look for Dr Hwong when you're there – he's the clinic's aesthetic doctor for whom past clients only have good things to say about. You can expect to have a proper consultation with a professional who'll give you genuine recommendations and honest insights, without feeling pressured into going for unnecessary treatments.
Address: 37, Jalan 5/38d, Taman Sri Sinar, 51200 Kuala Lumpur
Opening hours: Mon – Fri 10AM-7PM | Sat & Sun 10AM-4PM
Telephone: 018-781 7280
Estique Clinic website | Facebook | Instagram
---
10. Meridian Clinic – achieve a chiselled jawline without contouring
---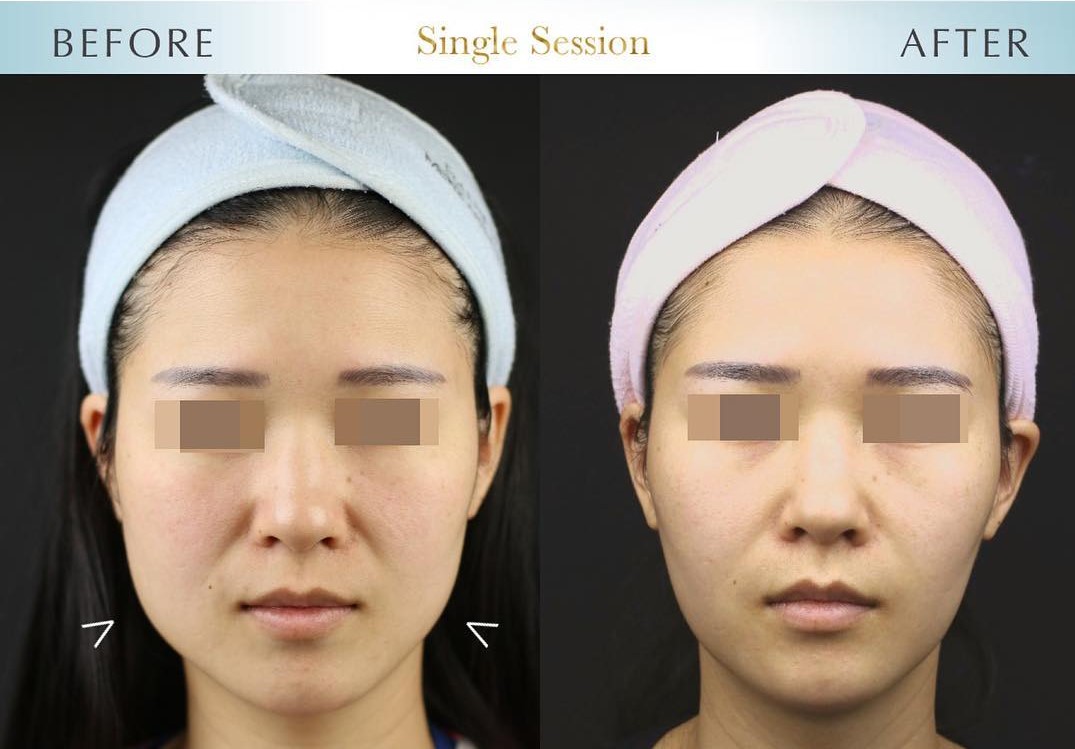 This client achieved her desired symmetrical face with the Signature Face Contouring Treatment
Image adapted from: @meridianclinic
Meridian Clinic offers a customised face contouring treatment, where doctors suggest which treatments you should go for after a thorough assessment of your face. This is perfect for those who don't feel confident with their appearance but can't pinpoint the problematic area in question.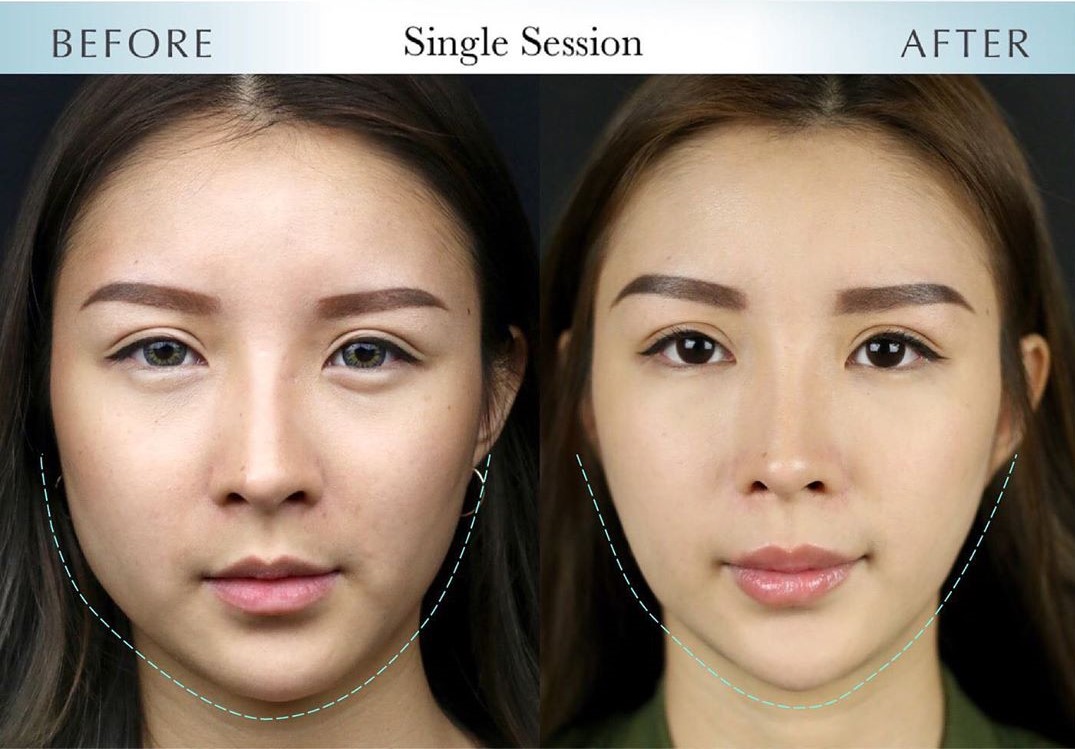 An imbalanced jawline and chubby cheeks can be easily solved through the Miracle Chubby Cheeks & Double Chin V-Reshaping Treatment
Image adapted from: @meridianclinic
This aesthetic clinic also offers other services such as a facial, aptly named the Signature Swarovski Radiant Skin Treatment, that'll leave your skin glowing. Those who want to get rid of their freckles or other kinds of pigmentation can go for the Signature Pigmentation Treatment, which is said to be able to clear 80% of your spots in just a single session.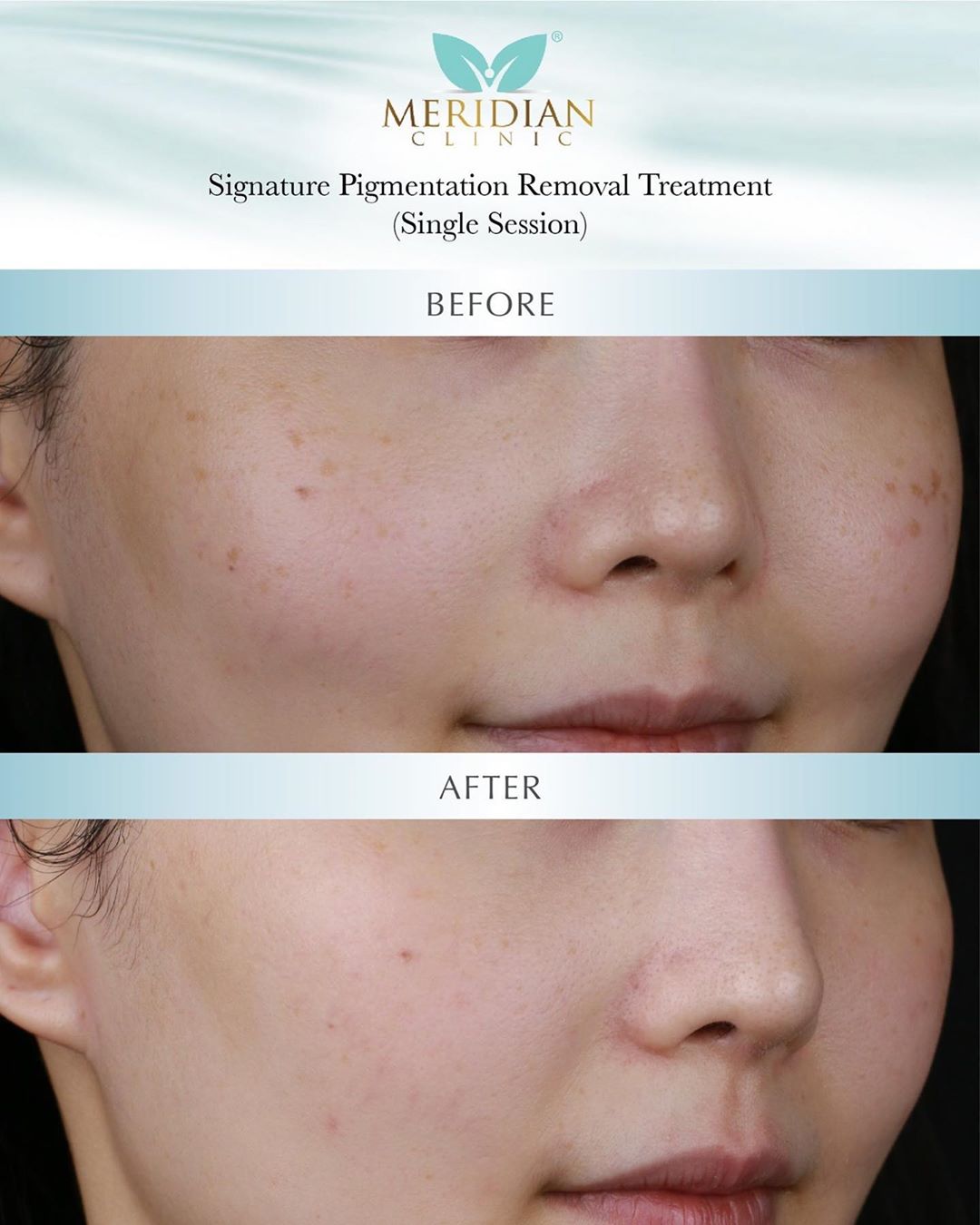 The Signature Pigmentation Removal Treatment helps diminish the client's freckles
Image adapted from: @meridianclinic
Address: 22-2, Jalan Solaris 4, Solaris Mont Kiara, 50480 Kuala Lumpur
Opening hours: Mon – Fri 10AM-7PM | Sat 10AM-6PM (Closed on Sundays)
Telephone: 019-971 0413
Meridian Clinic website | Facebook | Instagram
---
Aesthetic clinics in Klang Valley, Malaysia
---
You've probably got an idea from the list above of what are some of the most popular aesthetic procedures to get done. If you happen to be interested in booking a consultation at any one of these aesthetic clinics, here are some things to note that will be useful to you:
Lip fillers

can

last from six to eight months, and you'll be looking at a 48-hour downtime before the swelling resides. You can choose to have the fillers dissolved if the results are not to your liking, and the same applies to any procedure that involves the use of fillers.

Chin fillers

can

last from 15 to 24 months. It is said that there is little downtime to this procedure, so you'll be able to resume your day-to-day activities as usual. The fillers will completely settle after two days, so it's best to not massage that area before the two days are up.

Double eyelid surgeries are

usually

permanent, but there'll be a longer recovery time of up to two weeks. You'll experience mild to moderate swelling and bruising around the area after an hour-long procedure. 

Nose fillers can last up to 12 months and is a short 5-minute procedure that many claim to be pain-free. There is said to be no downtime to nose fillers, which is what makes it such a popular alternative to the traditional rhinoplasty. 

Jawline fillers

can

last between 15 to 24 months and claim to require zero recovery time. 
---
Visiting certified aesthetic clinics in Klang Valley
---
Choosing to get an aesthetic procedure done, no matter how minor, is not a decision that should be made overnight. It's like getting your first tattoo, where people will advise you to think about it for at least a year before making the final decision. 
Once you've made the decision, it's time to filter through the hundreds of aesthetic clinics in town and choose one that you can trust. It's much easier when you have before-and-after photos to judge from, like the ones from this list.
Also check out:
---
Cover image adapted from: @clinicrxmy, Clinic CLEO, @bellaclinicmy and Rachel Chew Clinic
The article contains partial sponsorship but all opinions are the author's own.

Get more stories like this!
Drop us your email so you won't miss the latest news.