KL, Selangor, Johor and Penang now under CMCO
---
Malaysians in KL, Selangor, Johor and Penang have been weathering out round 2 of the Movement Control Order (MCO). And with recent daily COVID-19 cases in Malaysia still in the 4-digits, it's clear that the pandemic is still a cause for concern. But the silver lining is that the numbers are on a downward trend, and an announcement from Senior Minister Datuk Seri Ismail Sabri Yaakob at a press conference today, 2nd March 2021, says that the MCO status in KL, Selangor, Johor and Penang, will be moved to the Conditional MCO (CMCO) starting 5th March, and lasting till 18th March.
---
No more MCO for 4 states, starting 5th March
---
KL, Selangor, Johor and Penang are the only states currently under the MCO, which is slated to end on 4th March. Other states in Malaysia are currently under CMCO and Recovery MCO (RCMO). But starting from 5th March to 18th March, for a duration of 2 weeks, these remaining states will switch from the MCO to CMCO.
Meanwhile, Negeri Sembilan, Kedah, Perak and Kelantan will remain under the CMCO for 2 weeks from 5th March to 18th March as well. Those in Melaka, Pahang, Terengganu, Perlis, and Sabah, as well as the Federal Territories of Putrajaya and Labuan, will be under the RMCO from 5th March to 18th March.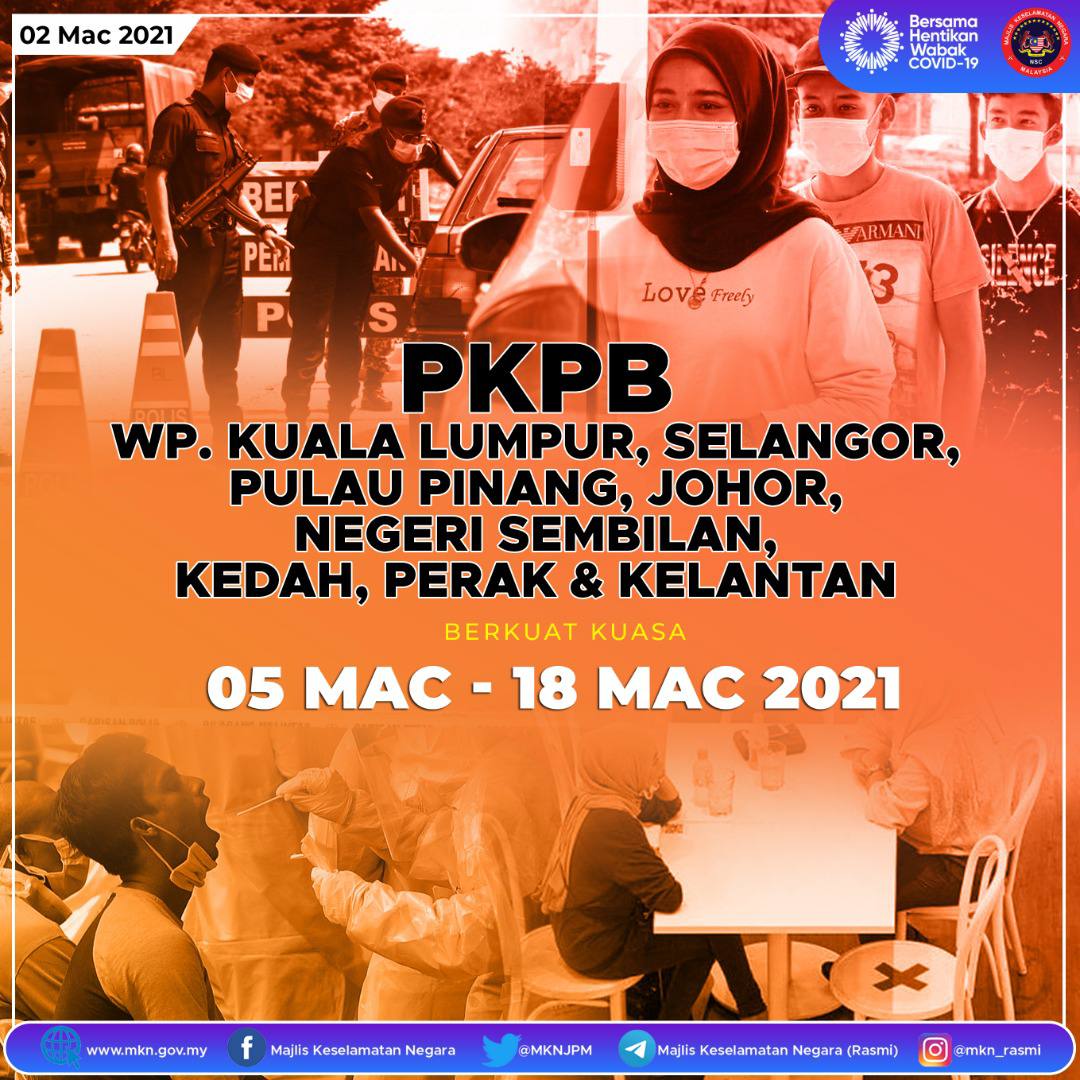 Image credit: KKM
There will be new SOPs for states under the RMCO and CMCO as well. While interstate travel is still not permitted nationwide, interdistrict travel within a state is now allowed in all states except for Sabah, as reported by KKM. Supper haunts will no longer be distant memory for Malaysians, as businesses will be allowed to operate from as early as 6AM to midnight, 12AM, after 4th March.
---
MCO to be lifted KL, Selangor, Johor and Penang from 5th March
---
It seems like better days are ahead for Malaysians, with vaccination rollouts now under way and the MCO, with its strict guidelines, no longer in effect for any state in Malaysia. But with COVID-19 still rampant in our communities, we should do our parts as Malaysians to stay safe whenever we're out, and to adhere to SOPs to keep the pandemic under control.
More news in Malaysia here:
---
Cover image adapted from: Unsplash and @anjaodendaal
Get more stories like this!
Drop us your email so you won't miss the latest news.