---
Girl goes on Twitter looking for siblings
---
The "long-lost relative" is a common trope in showbiz, but just when you'd think this would only happen on the big screen, it turns out there's been a real-life story brewing right here in Malaysia. 
On Monday (5 Aug), Izah sought out the help of Twitter users to help find her 3 long-lost siblings. She had been separated from them since they were young, and though over a decade has passed, she still had hopes of reuniting with them. Following her Tweet, more about her situation unfolded: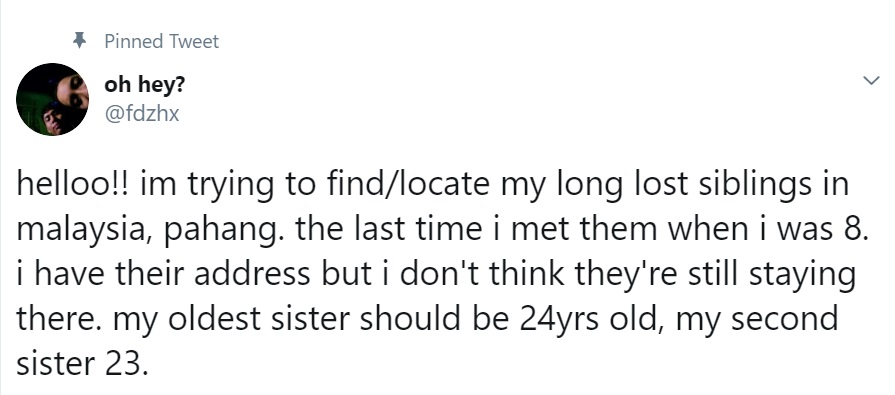 Image credit: @fdzhx
---
Bride-to-be wants the family reunited at wedding
---
Izah revealed that she was actually getting married soon and expressed her wish of wanting her siblings by her side. Fellow Malaysians were touched by her story and wanted to help Izah be with her family on her big day.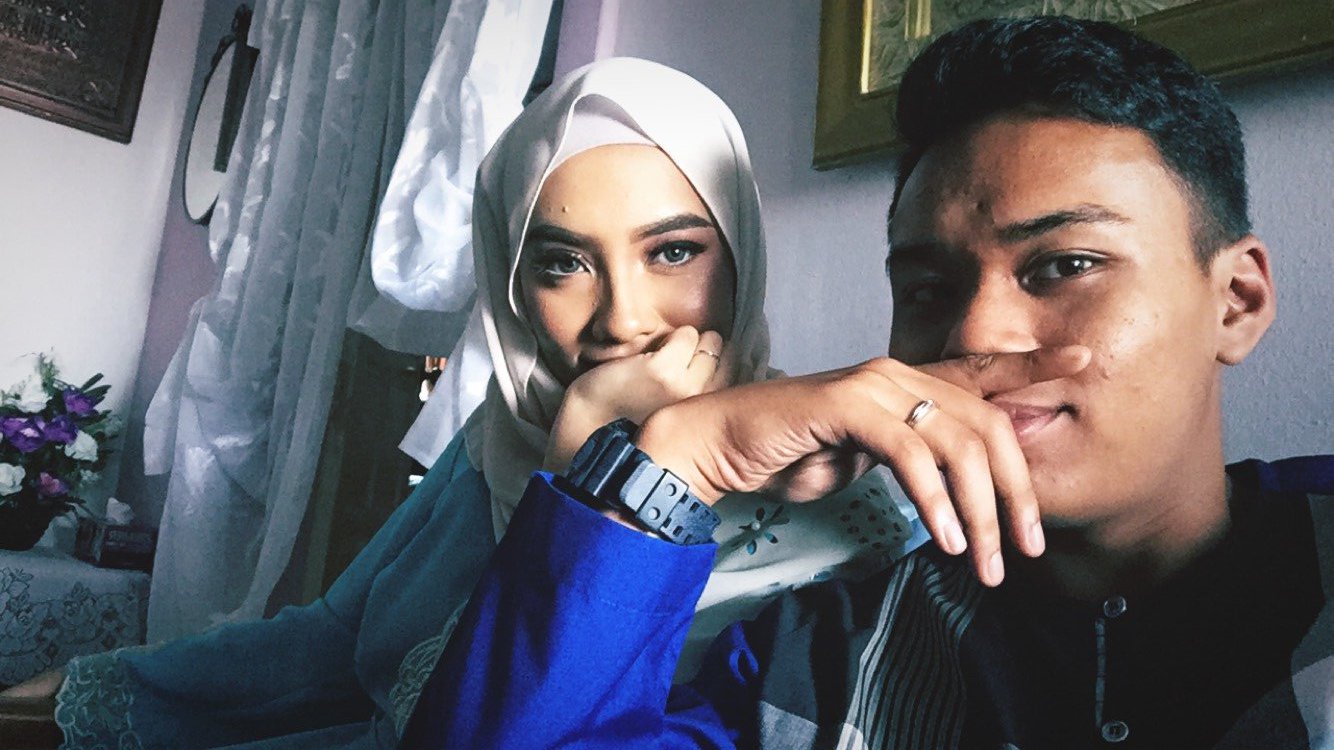 Izah with her fiance
Image credit: @fdzhx
Prior to seeking help on Twitter, Izah had reached out to JPN and even checked medical records, but all to no avail. She finally resorted to seeking help online, not expecting her tweet to blow up and go viral with over 9,000 likes and retweets.
---
Older sister finds her after 11 hours
---
After just 11 hours, one of her Izah's older sisters, Ellina, came across the post and tweeted her back.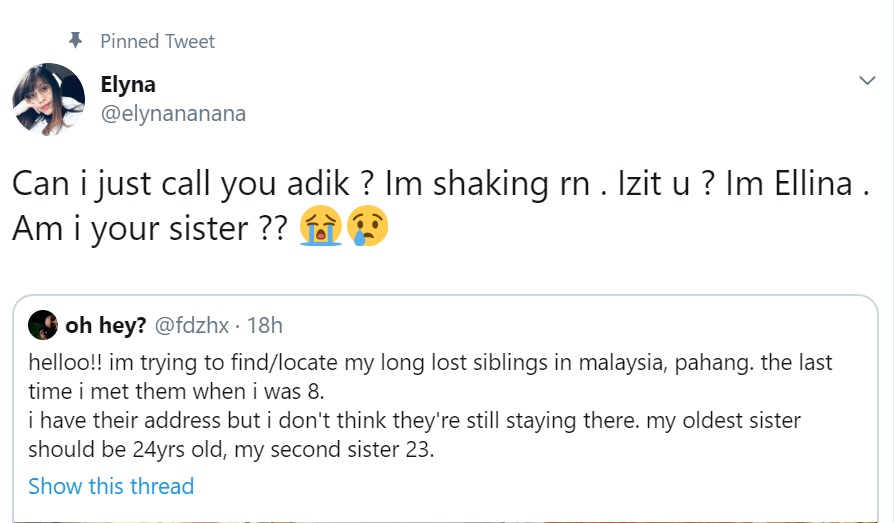 Image credit: @elynananana
This exchange captured the telenova-like scene where after being kept in long suspense, the main character finally achieves her goal. All Ellina wanted to do was call Izah her adik after being separated from her youngest sister for 14 long years. 
---
The siblings finally have a complete group chat
---
Another sister Ameera shared a screenshot of a Whatsapp group chat that they had just created. Ellina sent the first message saying that that the siblings were finally complete.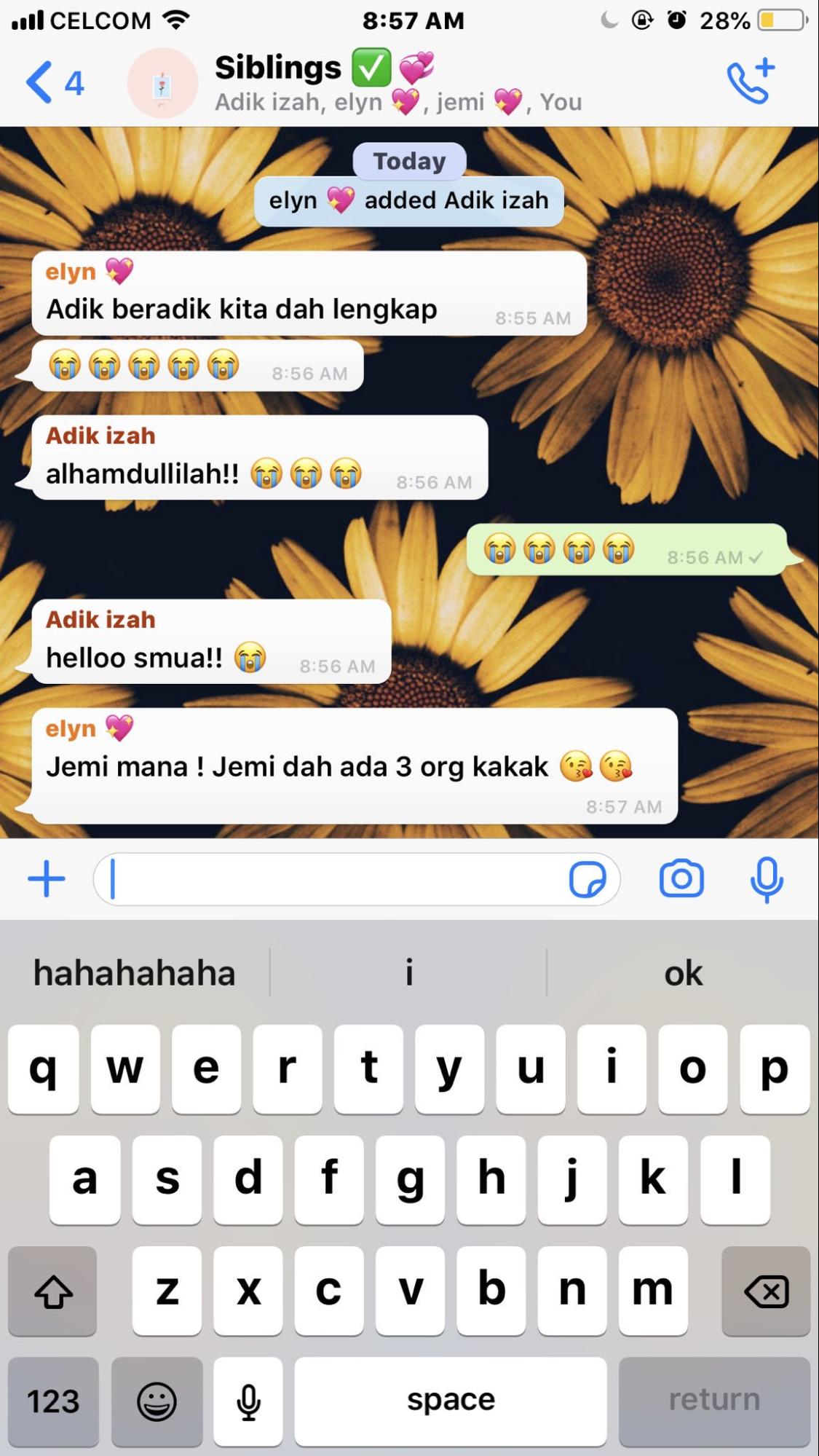 Image credit: @AmeraNajeha
The conversation in Malay can be translated as:
Elyn: Our siblings are complete

Izah: Alhamdullilah (praise be to God)

Izah: Hello everyone!!

Elyn: Where's Jemi (younger brother). Jemi has 3 sisters now
---
Netizens cheer on for a happy ending
---
Malaysians on Twitter were all rooting for Izah to find her sisters and brother in time for the wedding and they played an important role in making it happen. The whole situation has warmed the hearts of many and they're continuing to send supportive comments to Izah and her siblings. 
This user teared up reading the thread and said that even though they don't know the siblings, their story was touching.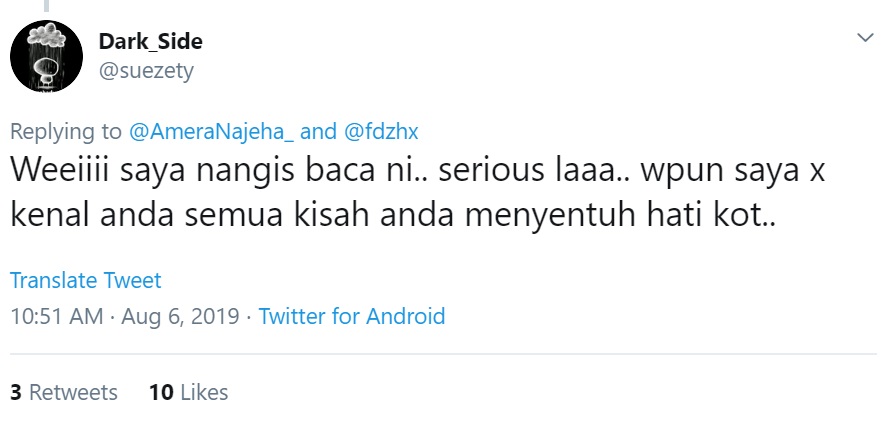 Image credit: @suezety
This Twitter user got emotional reading their story and shared the siblings' happiness at the reunion.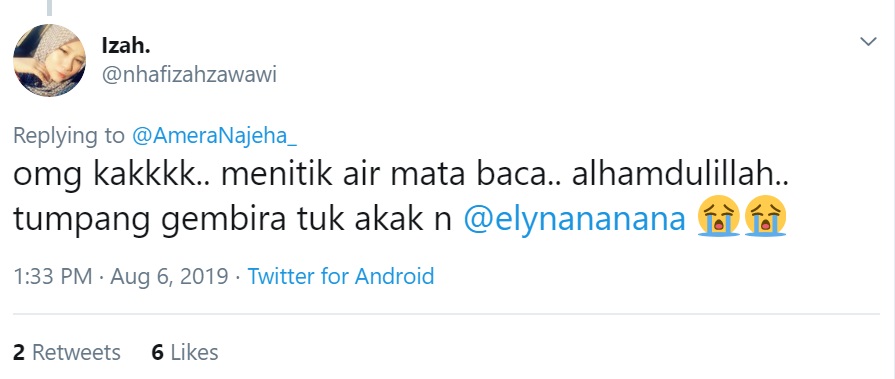 Image credit: @nhafizahzawawi
This girl is just happy to see that the siblings have found each other.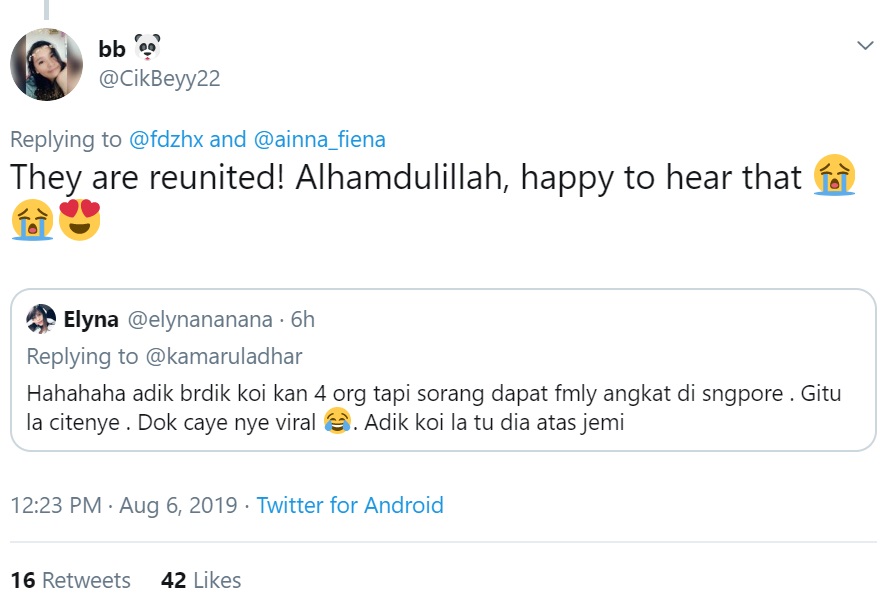 Image credit: @CikBeyy22
---
Twitter helps reunite Malaysian siblings
---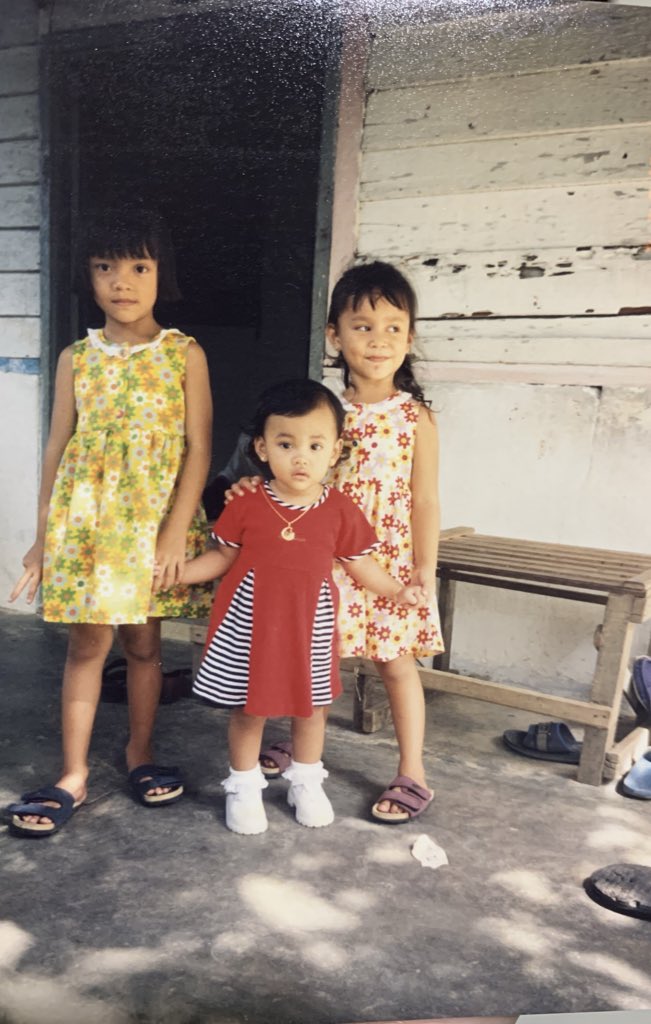 An old photo of Izah and 2 of her siblings
Image credit: @fdzhx
We only ever hear of family drama taking place behind closed doors or on the big screen, but this true story of a family reuniting has melted hearts across the Twitter-verse. Thanks to the supportive Malaysians who helped share and spread Izah's tweet, her siblings can now watch her walk down the aisle. 
---
Cover image adapted from: @fdzhx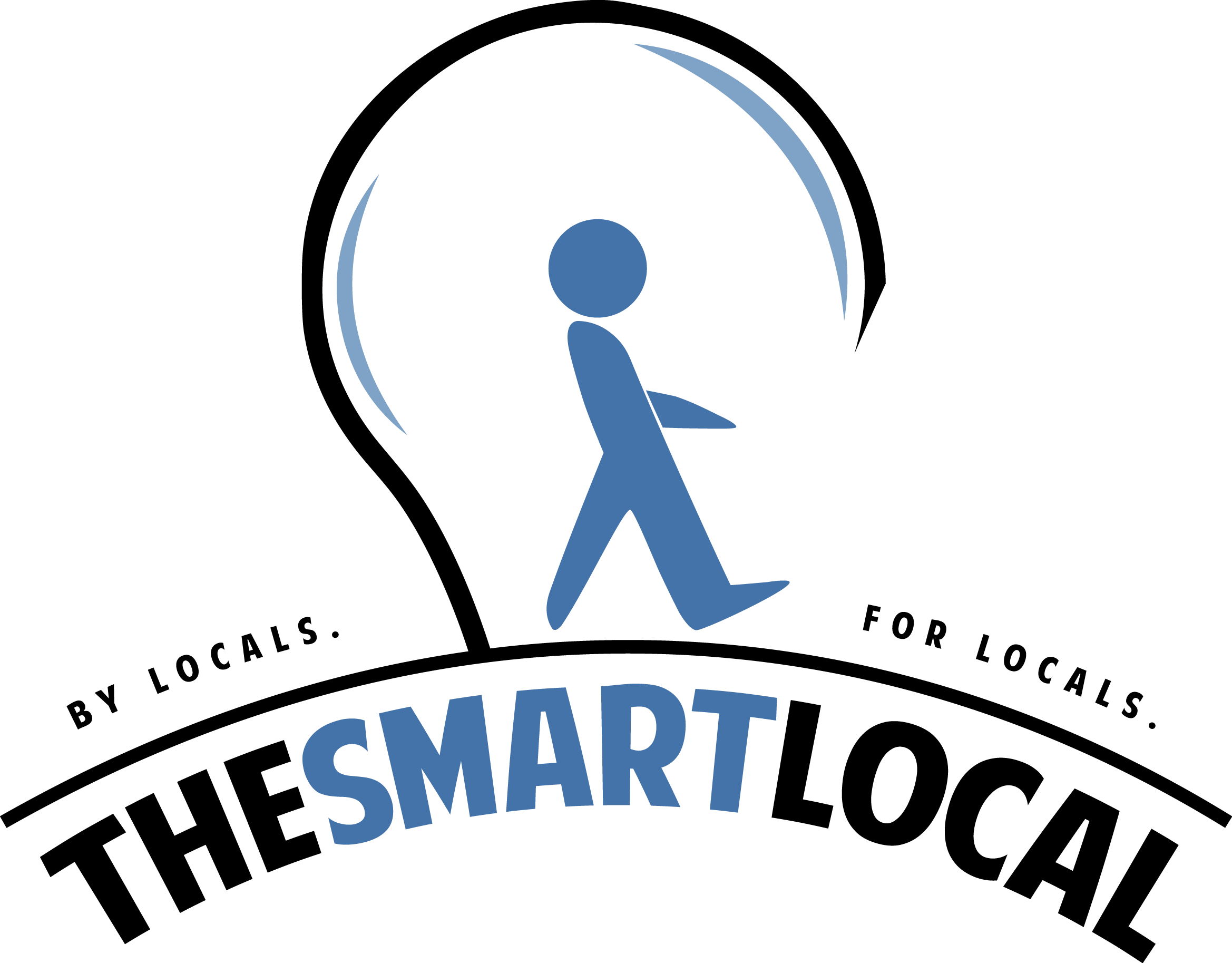 Drop us your email so you won't miss the latest news.