Instagrammable spots at Orchard Road
---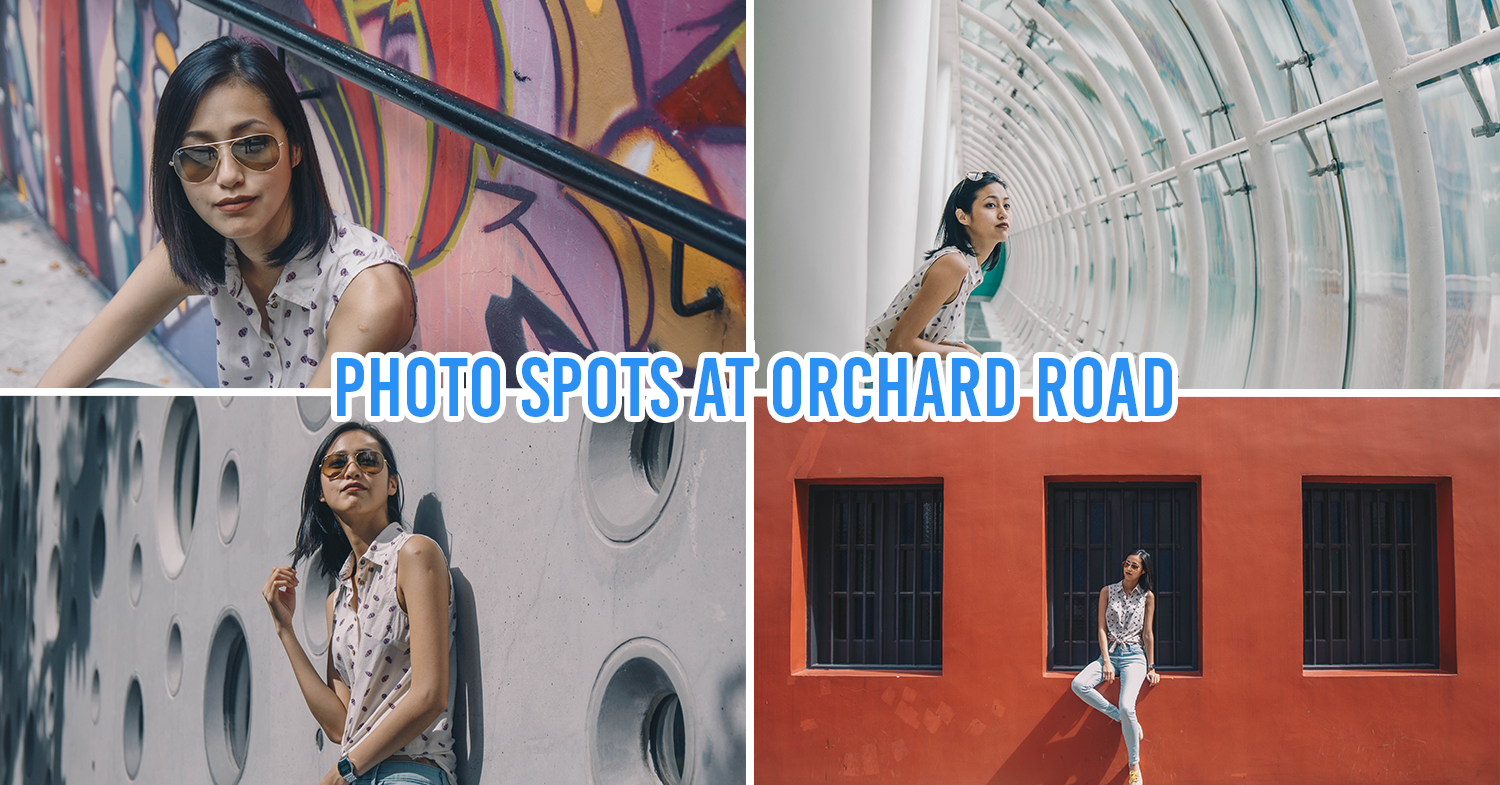 No visit to Singapore is complete without some awesome photos to add to your IG feed. Once you've makan-ed your way around and exhausted all shopping options, it's time to go on a photography escapade. 
If you're travelling to Singapore, Orchard Road will probably end up on your itinerary somewhere since it's the country's biggest shopping paradise. Be sure to check out these photo-worthy spots while you're there.
While you're in Singapore, check out these things to do around town:
---
1. Emerald Hill – traditional Peranakan shophouses
---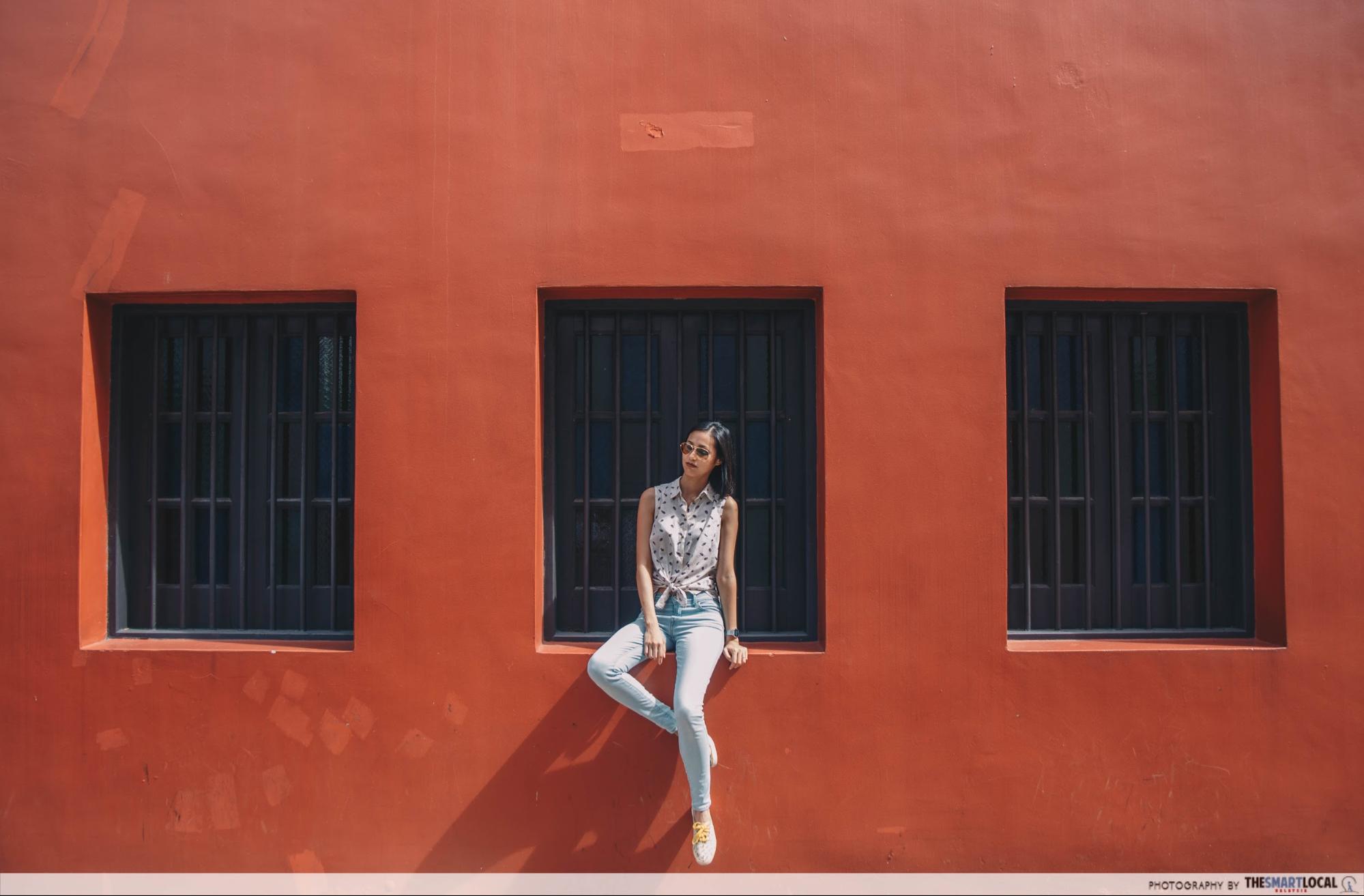 The shophouses on Emerald Hill Road are reminiscent of the heritage sites in Malacca and Penang. The little lane up the hill will be a nostalgic walk for many as you pass by the well-preserved traditional shophouses that have been around since the mid-1920s.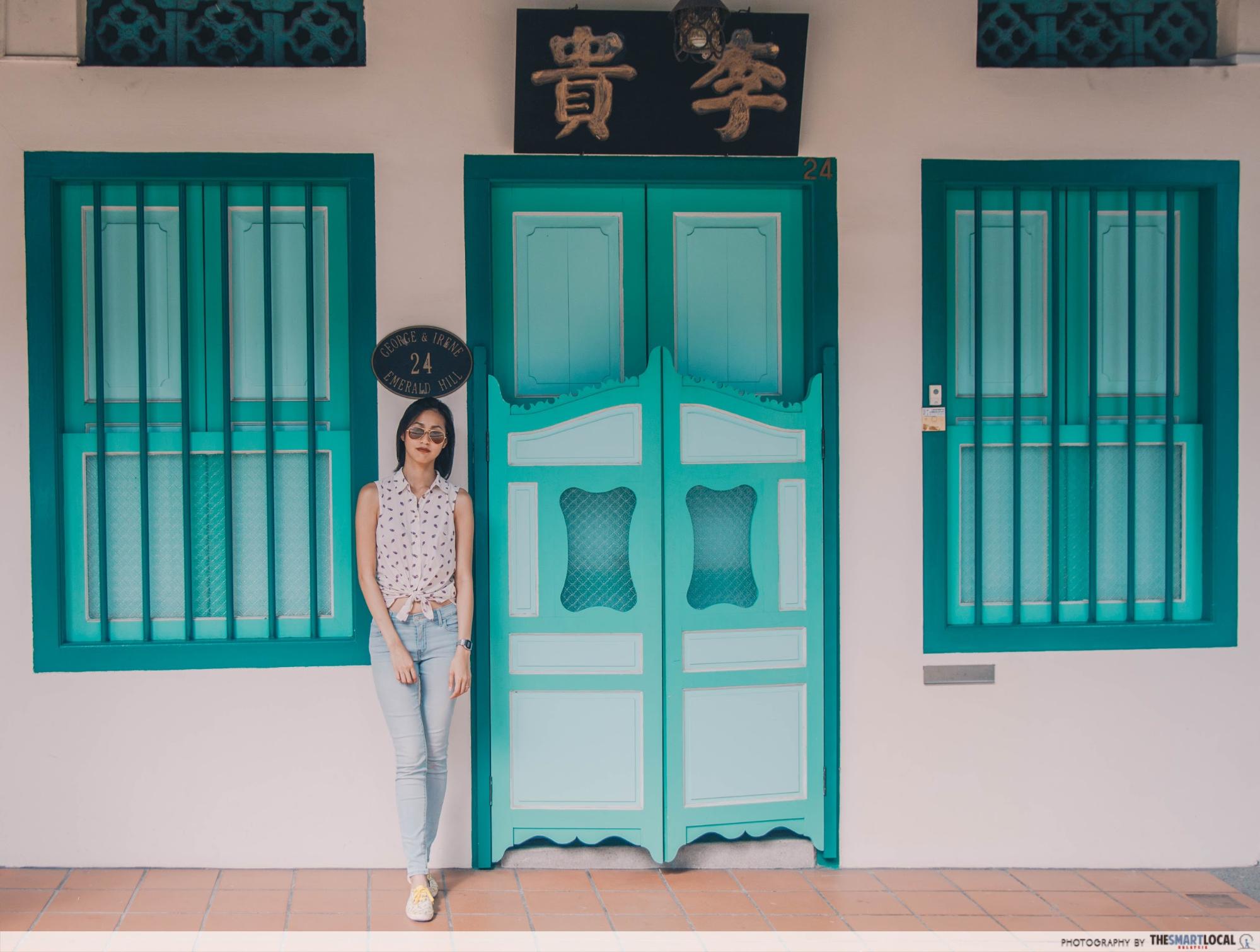 You'll find the trademark pintu pagar on every house, which are intricately carved fence-like doors that flap open. Spot the Chinese motifs on the colourful tiles that decorate some of these houses.
How to get here: Emerald Hill Road is located just opposite of [email protected]'s Orchard Road entrance. You'll notice it immediately since its heritage shophouses are a stark contrast to the tall concrete buildings around.
Address: Emerald Hill Road, Singapore 
---
2. Orchard Gateway bridge – glass tube bridge that looks like a spaceship deck
---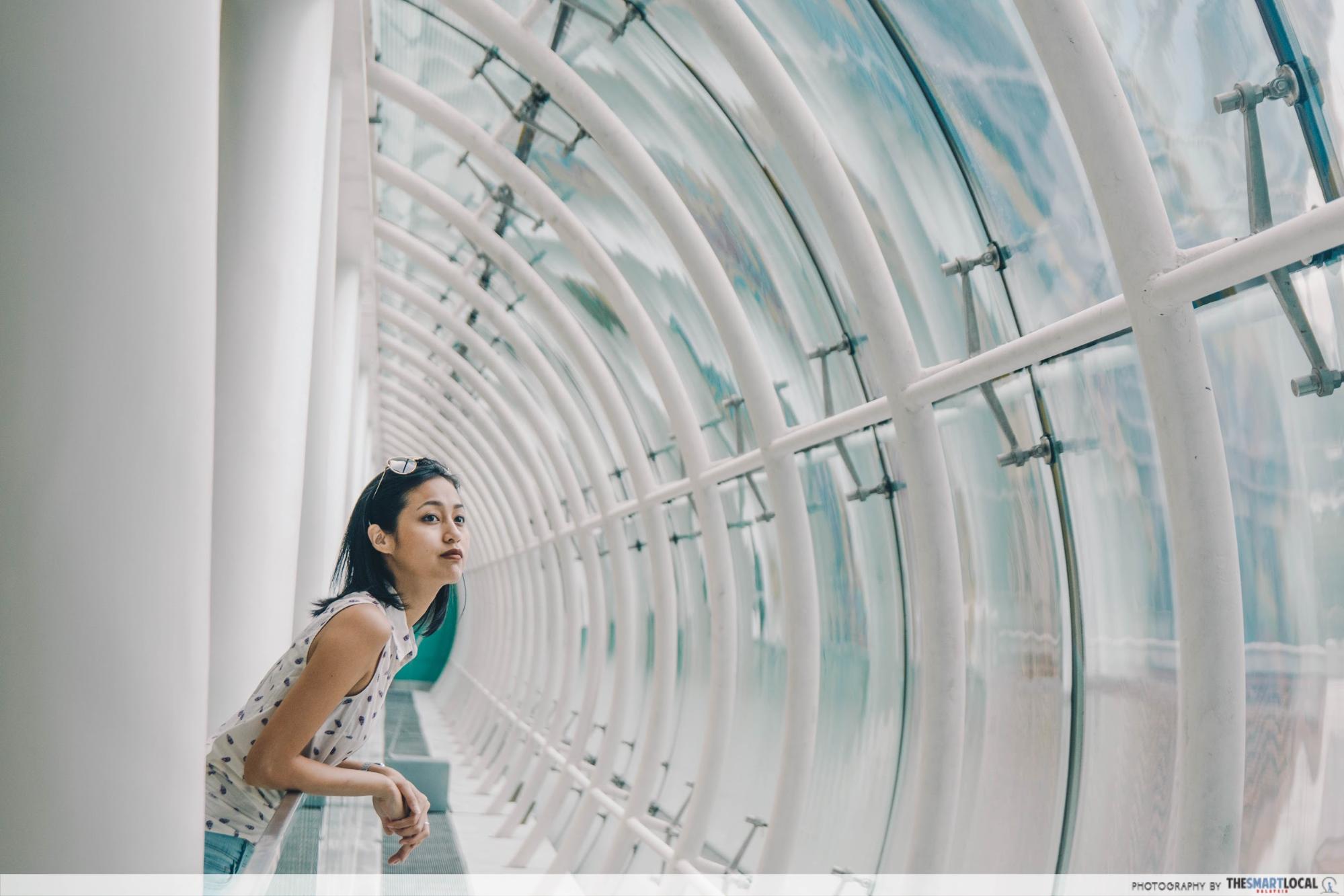 This glass bridge at Orchard Gateway links both sides of Orchard Road so that you won't have to cross the busy street below. The clear glass panels give you a view of Somerset area while and the white columns look like a spaceship deck right out of a sci-fi movie. 
To get this cool photo, you need to lean against the railings and hold your camera out so that you can get the white "ribs" into the shot.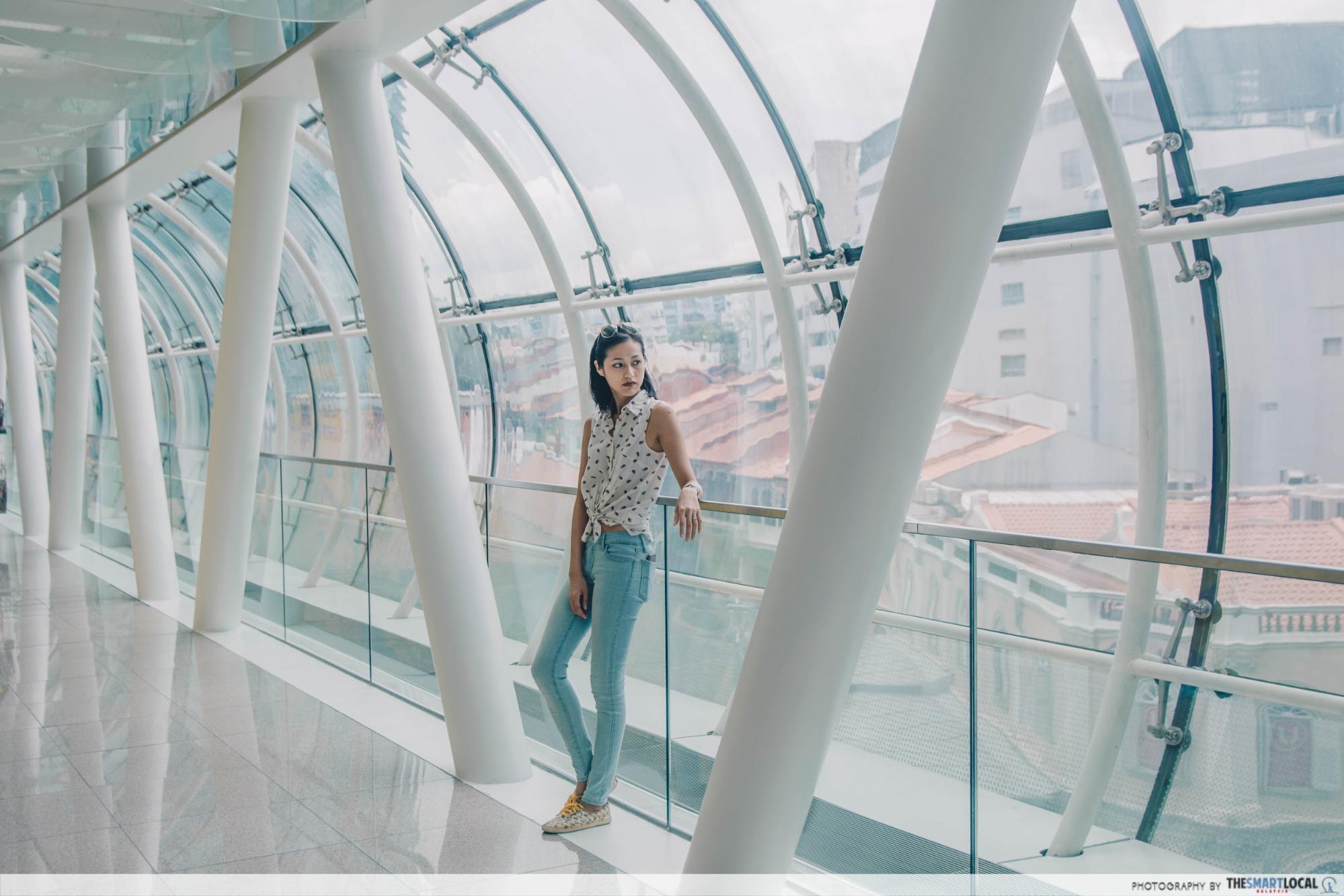 How to get here: Go up to Level 3 and follow the signage to "The Tube" which is a bridge link to Orchard Emerald. 
Address: 277 Orchard Road, Singapore 238858
Opening hours: 10.30AM – 10.30PM
---
3. Orchard Central Rooftop Garden – bird's eye view of the city
---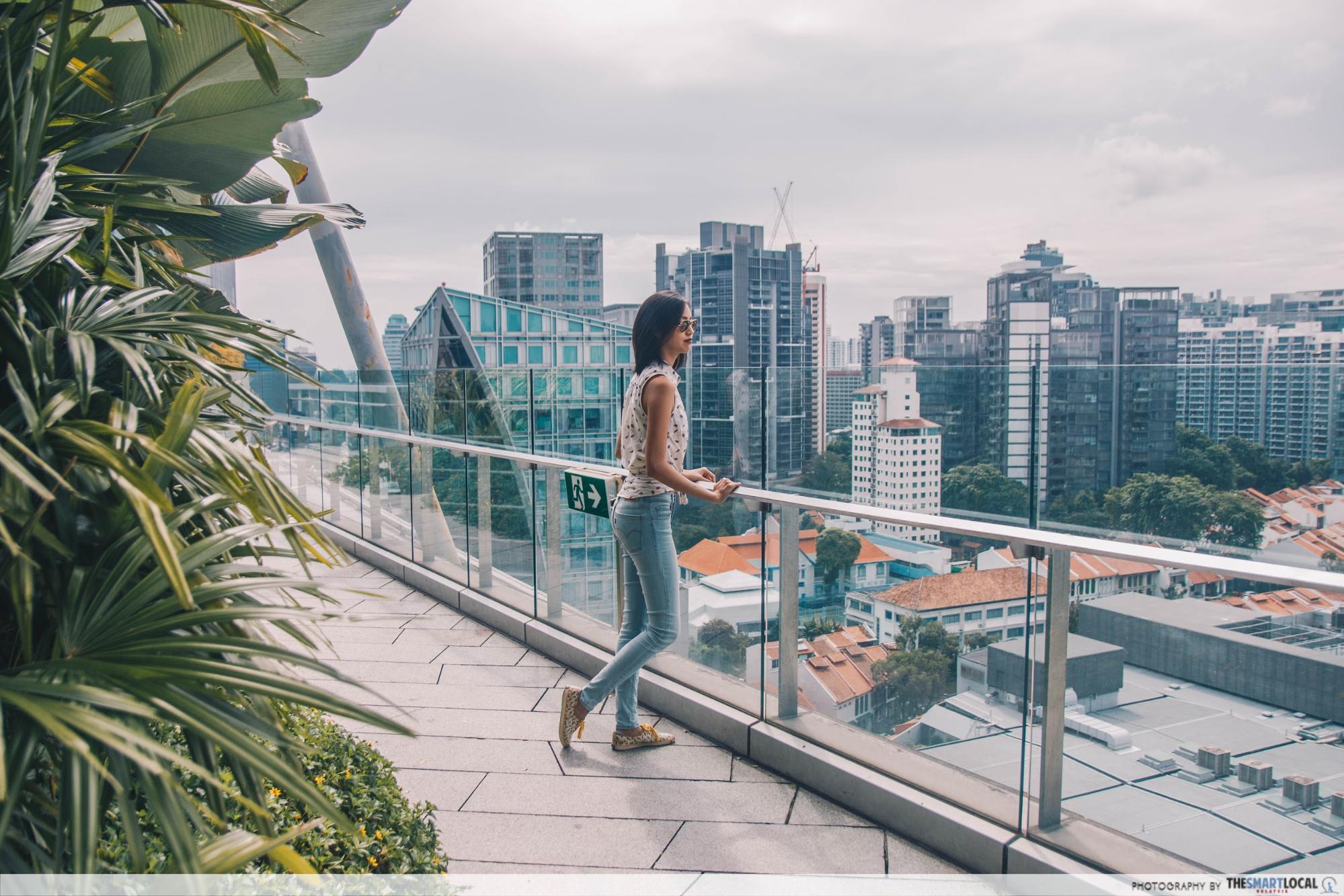 It's nice to be able to surround yourself with some greenery when you're in a big city like Singapore. Orchard Central has a rooftop garden where you can get  a spectacular view of the city below. Instead of having to take a photo from behind your window at the hotel room, you get to be out in the open with an unrestricted view of the landscape. 
How to get here: Take the elevators that go up to Level 11 and take the escalator to level 12. 
Address: 181 Orchard Rd, Singapore 238896
Opening hours: 11AM – 10PM
---
4. *SCAPE – colourful graffiti walls
---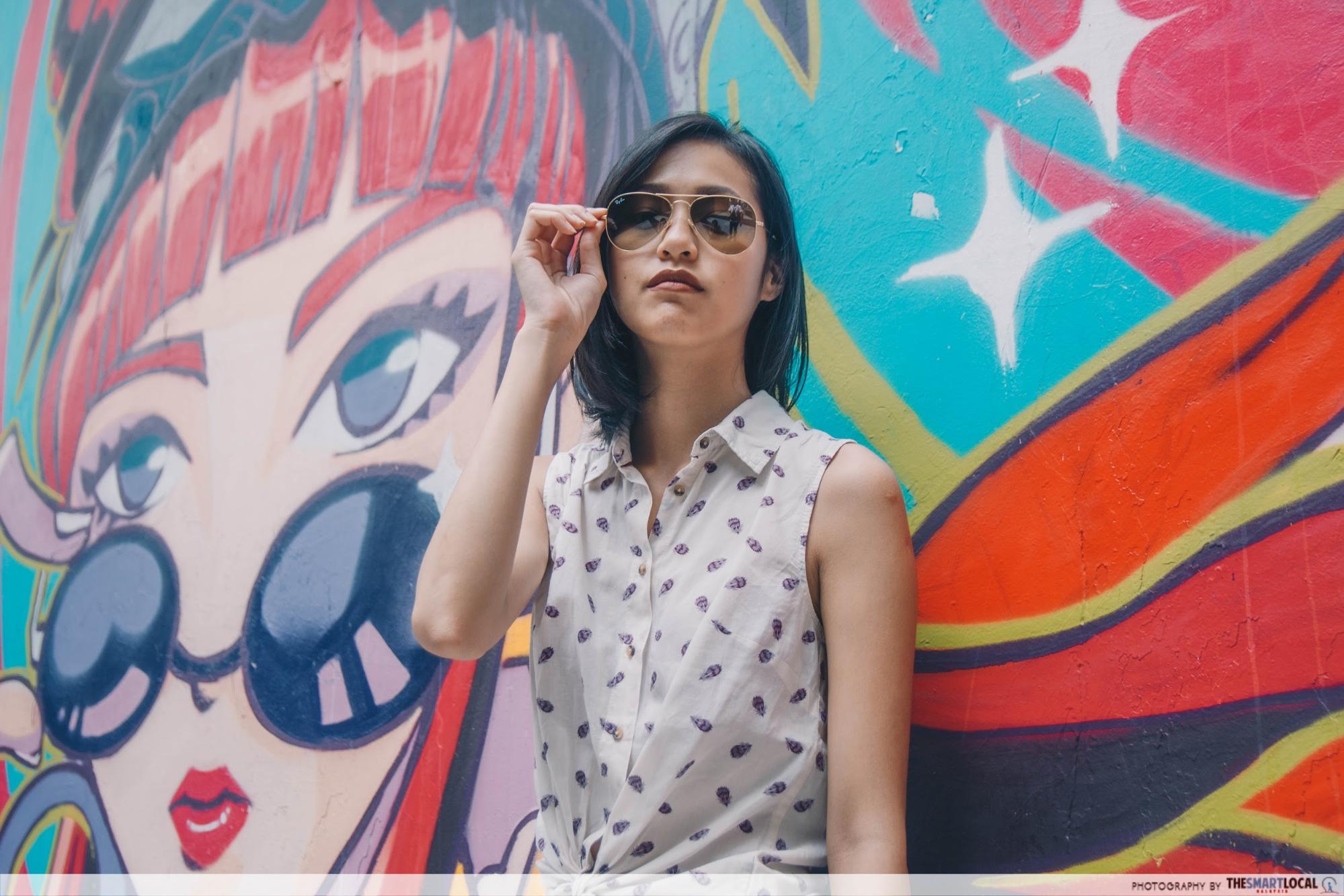 *SCAPE is one of the few places in Singapore where you'll be able to find street-style graffitied walls. It shows a playful side to the city centre with its vibrant colours that contrast the grayscale skyline. You'll be able to find several different murals here, highlighting the exuberance of this youth-centric spot.
How to get here: Look for the area called 'Playspace' right next to 'Scape Bandstand'. 
Address: 2 Orchard Link, Singapore 237978
---
5. Wheelock Place – huge conical glass structure
---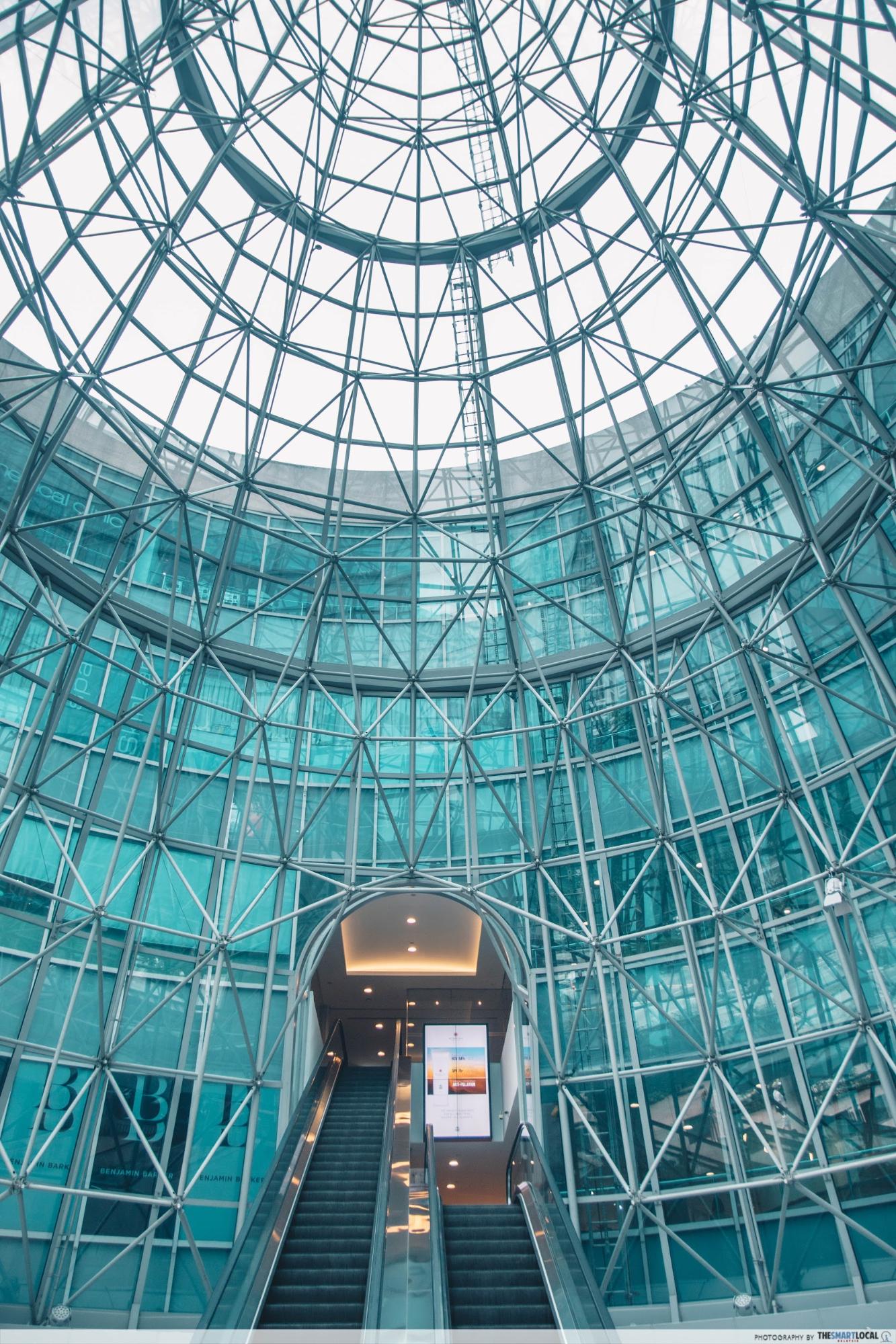 Sometimes in order to find something beautiful, all you have to do is look up! The entrance of Wheelock Place is a feat in itself with this huge glass conical ceiling that spirals up towards the sky.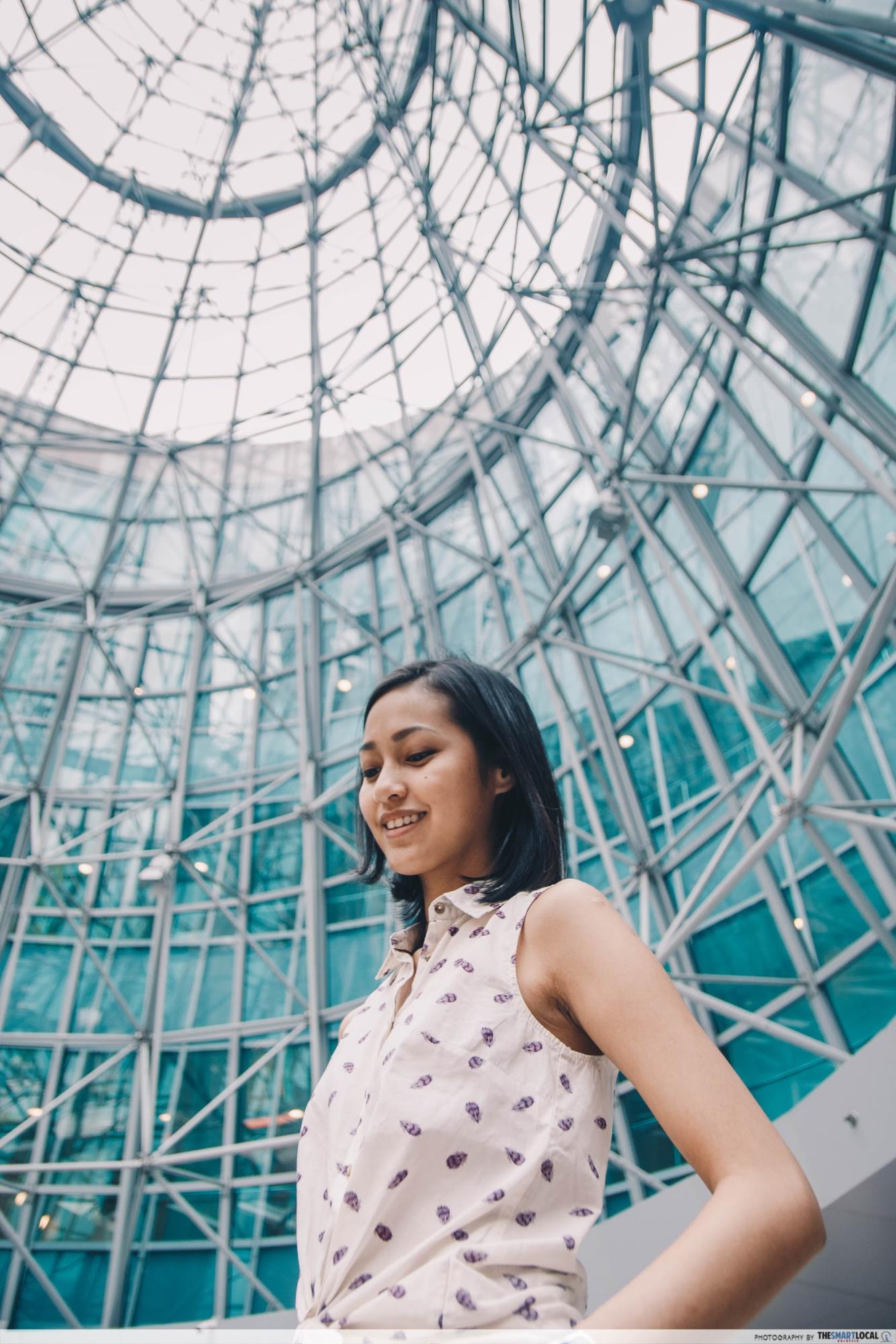 Get this shot by taking it from a low angle to capture the glass structure.
How to get here: You can spot the conical structure from outside and there are escalators leading up to shops.
Address: 501 Orchard Road, Singapore 238880
Opening hours: 11AM – 11PM
---
6. Lucky Plaza rooftop car park – bright yellow accents
---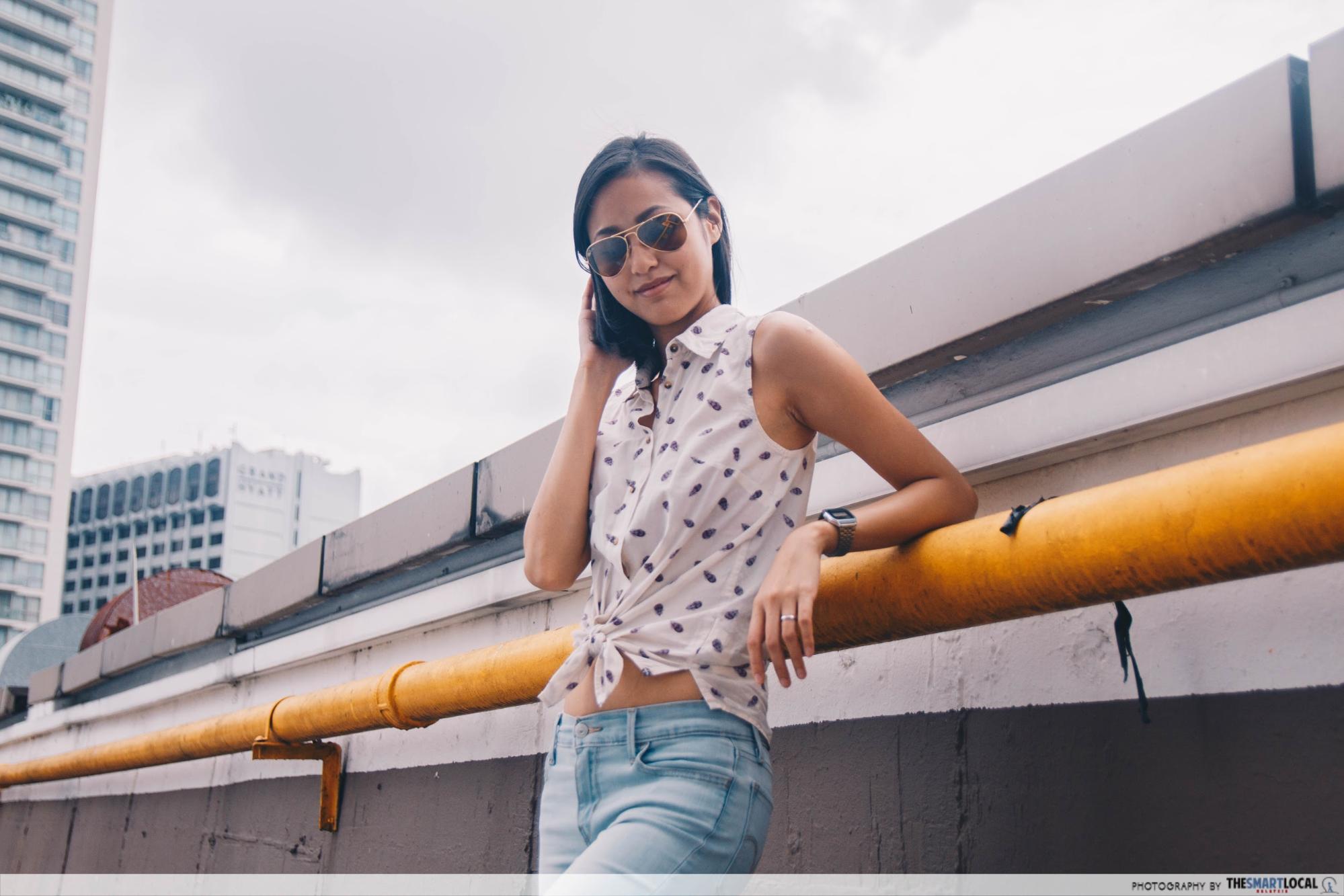 Lucky Plaza happens to be one of Orchard Road's oldest malls but not many are aware of this cool hidden photo spot at the rooftop carpark.
Car parks don't always come to mind when you're thinking of photo-worthy locations, but they are great for raw, edgy vibes. The bright yellow fixtures make for an added burst of colour against the impressive view of the gray skyline.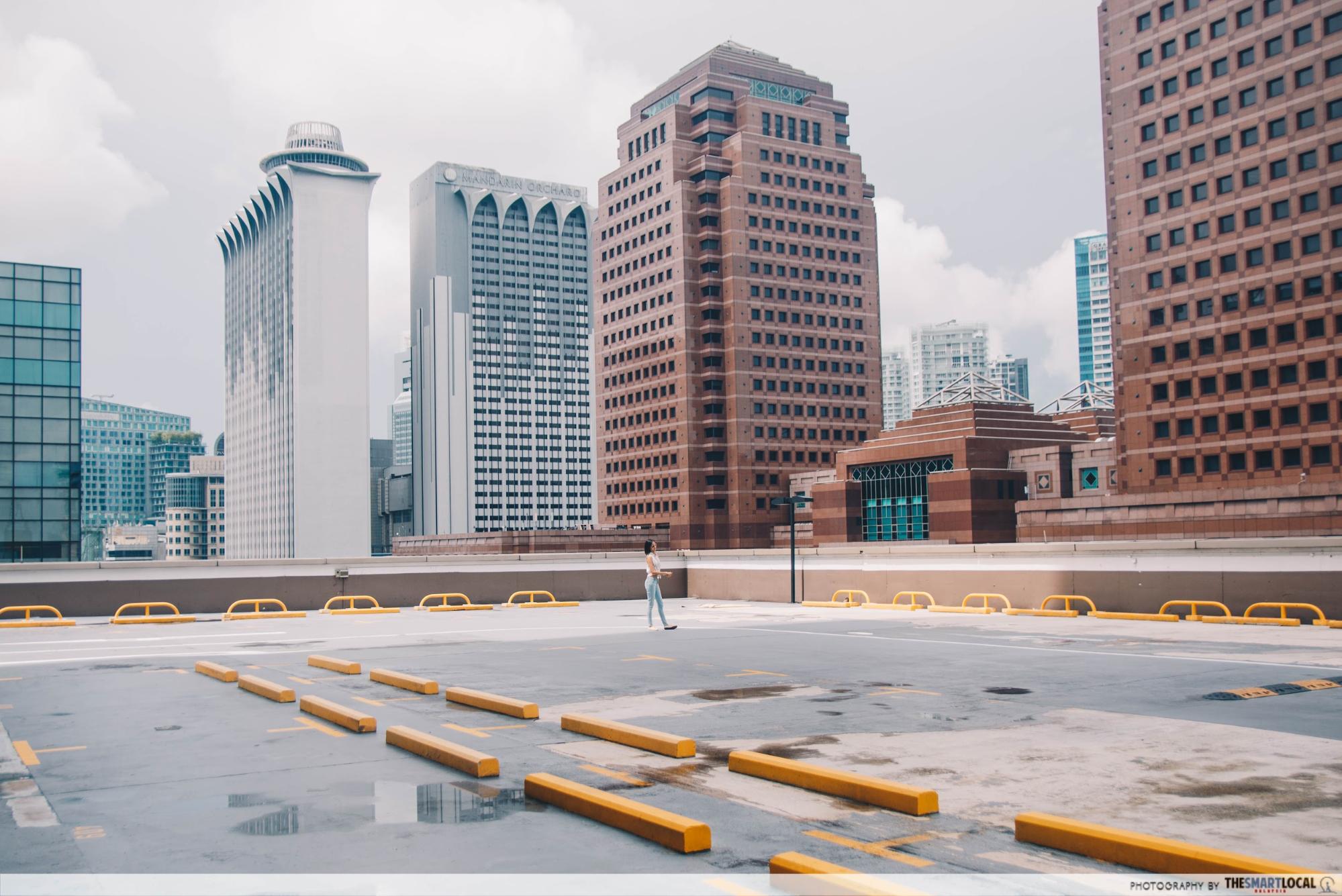 Just don't aim the camera at the residential complex within or you'll be accused of being a hamsap fella snooping around. 
How to get here: Take the elevator all the way up to Level 8, which will lead you straight to this car park. 
Address: 304 Orchard Road, Singapore 238863
Opening hours: 10AM – 10PM
---
7. Linkway at Paragon Shopping Centre – geometric steel bridge 
---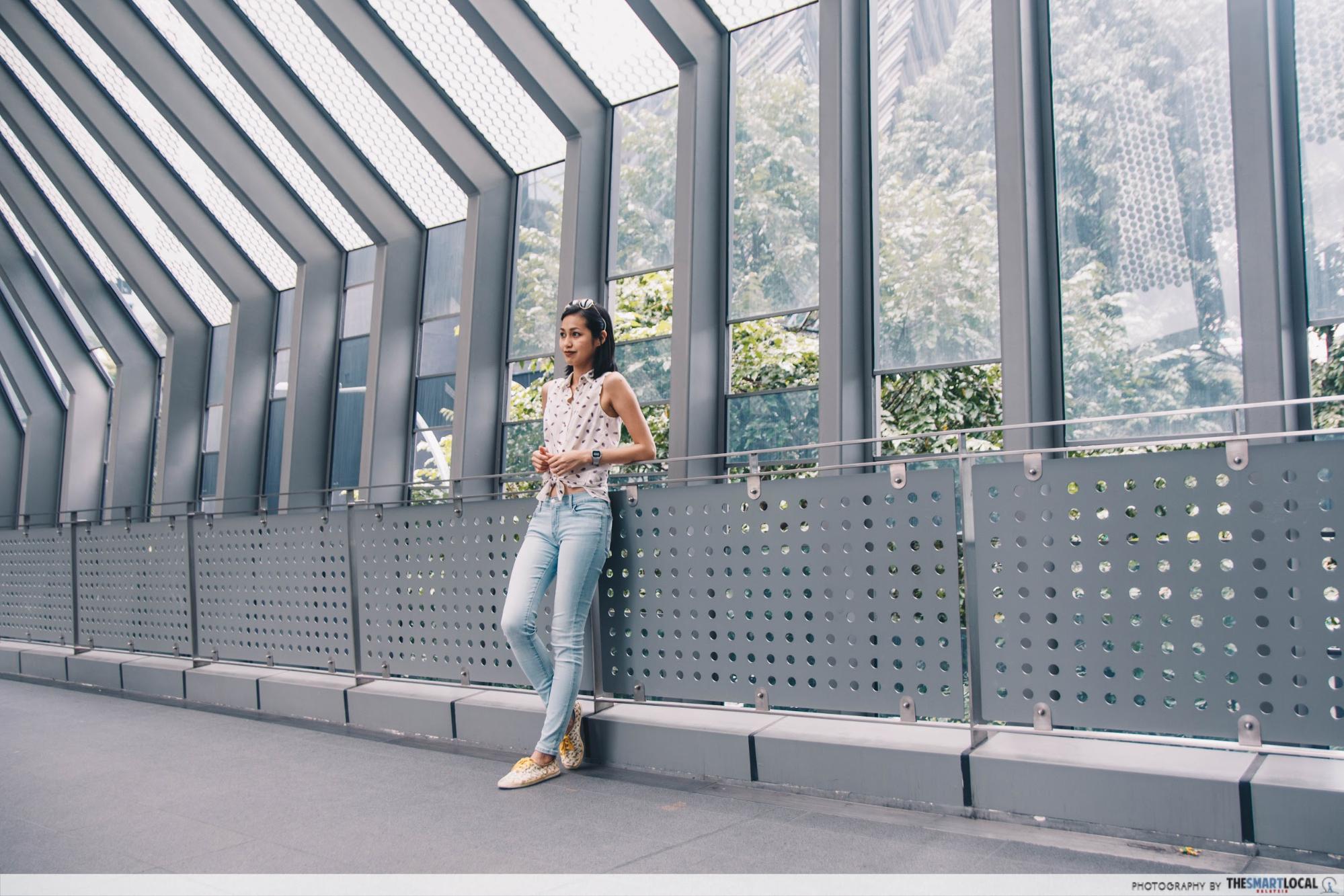 This link bridge is in a corner of Paragon Shopping Centre so it serves well for a quiet photo session where you won't have to be worried about getting photobombed by people crossing by. The steel framework of the bridge make for an aesthetically cool photo and there's even a hint of green from the trees outside to break away from the grayscale palette.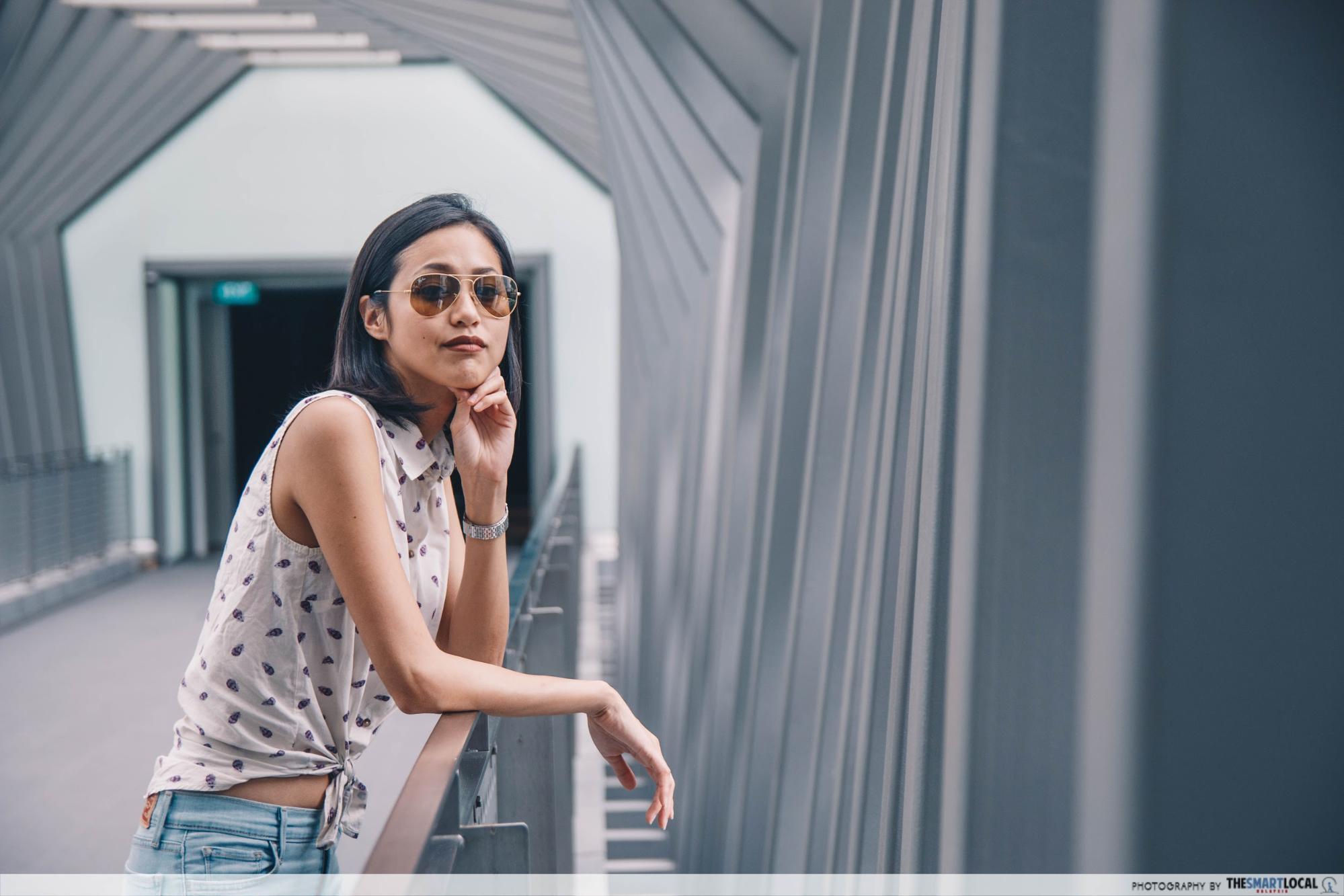 How to get here: Make your way up to Level 3 and look for the linkway which connects to Ascott.
Address: 290 Orchard Rd, Singapore 238859
Opening hours: 10AM – 10PM
---
8. Somerset Skatepark – graffiti-covered skate park for #hypebeast shots
---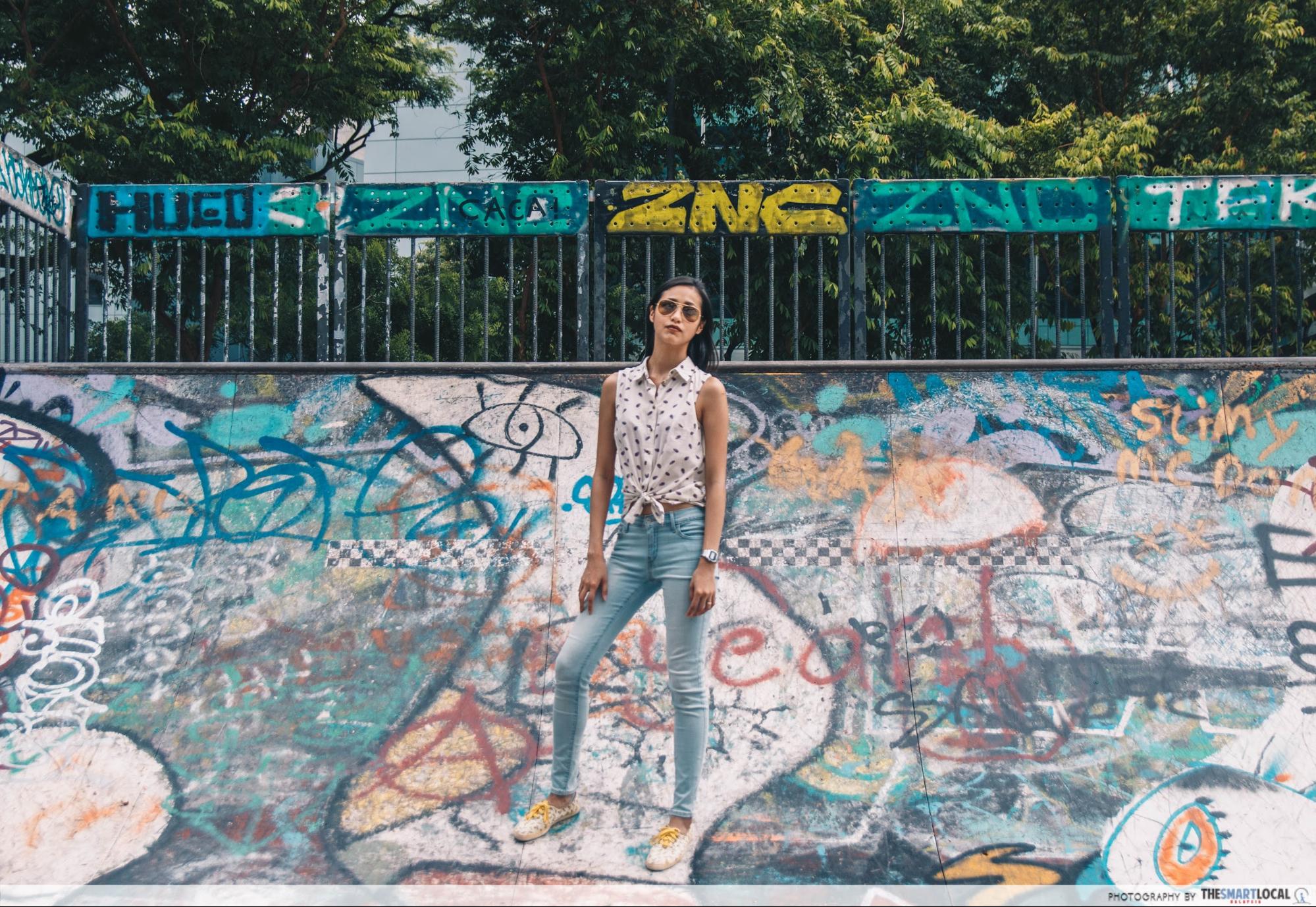 Somerset Skatepark is an open space where you'll be able to find graffiti-covered ramps and walls that you can pose with. Even if you're not one for Hypebeast vibes, it's still a rad place to get some street-style shots.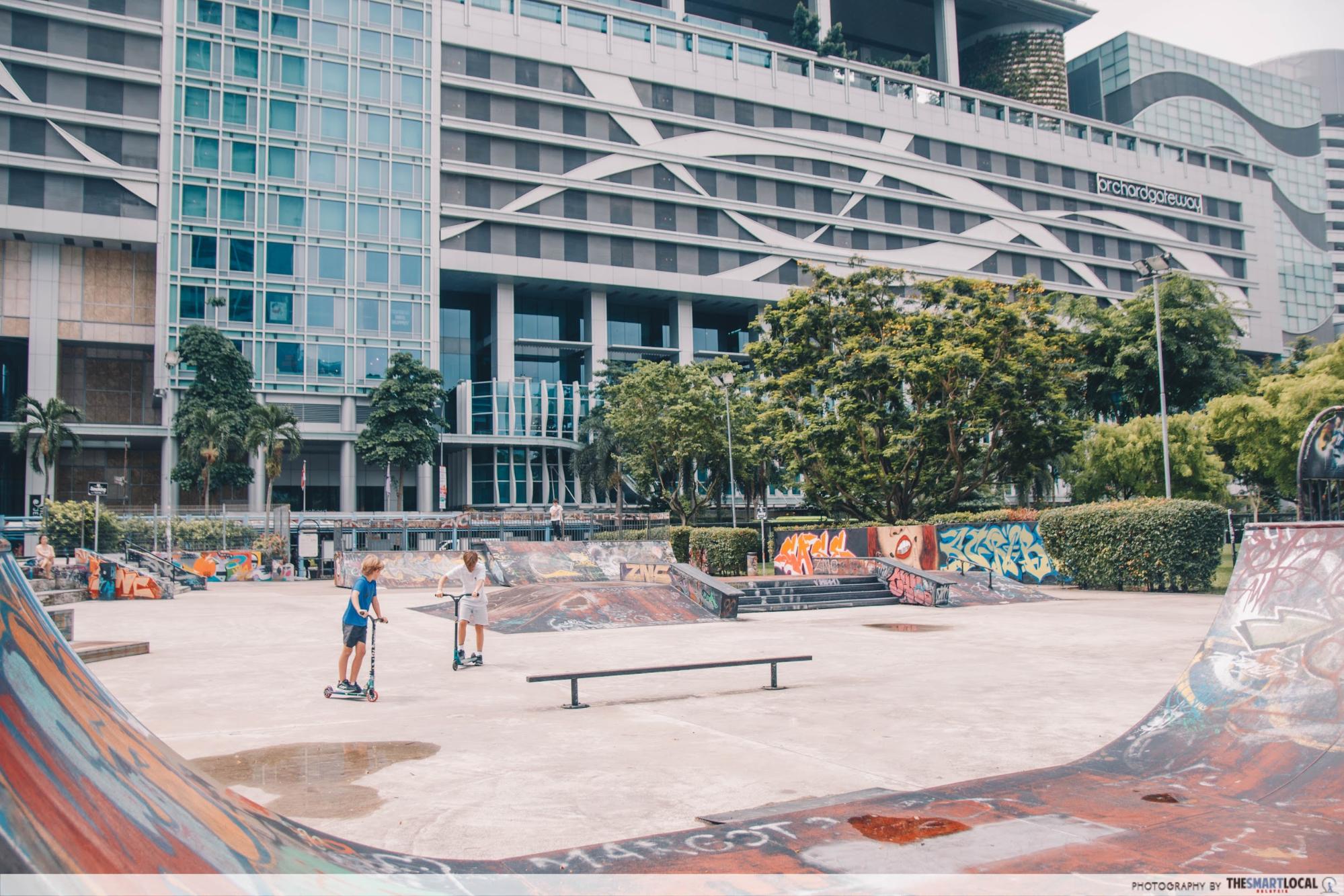 Once you're done, you can stand back and watch the skaters do their thing or even join a class during the weekend if you want to get more hands on.
How to get here: It is opposite [email protected] and is accessible by the main road.
Address: 1 Somerset Road, Singapore 238162
---
9. Library @ Orchard – a maze-like library 
---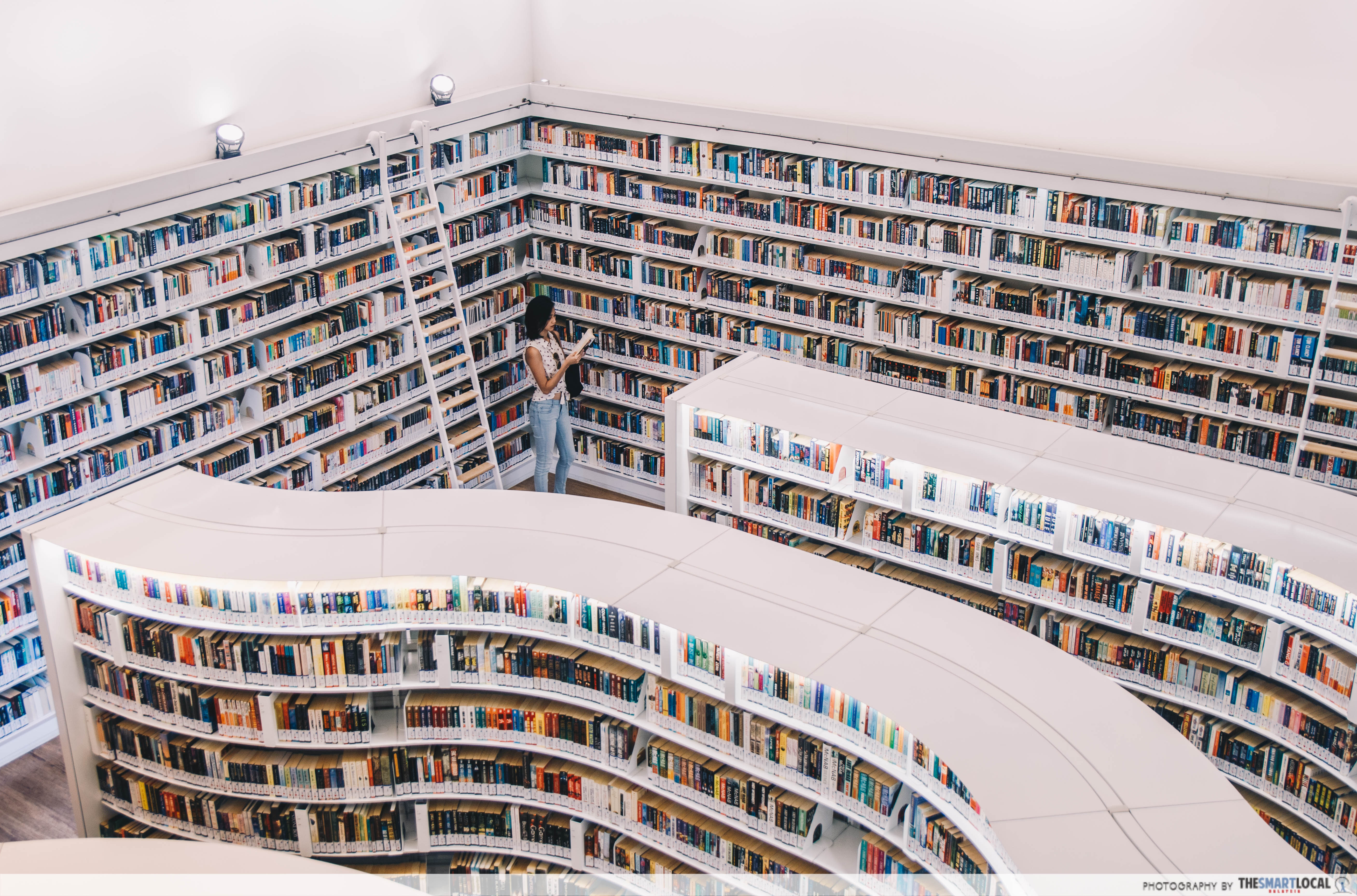 Even if you're not a bookworm, Library @ Orchard's worth a visit simply for its uber contemporary aesthetic. Walk along the wavy bookshelves that snake across the space and get a buddy to snap a photo of you from the level above. There are also cozy little reading nooks for you to sink into as you bury yourself in a book. 
How to get here: It's located on the third and fourth floor of Orchard Gateway.
Address: 277 Orchard Road, Singapore 238858
Opening hours: 10:30AM to 10:30PM
---
10. Design Orchard – circular-patterned walls and rooftop chill area
---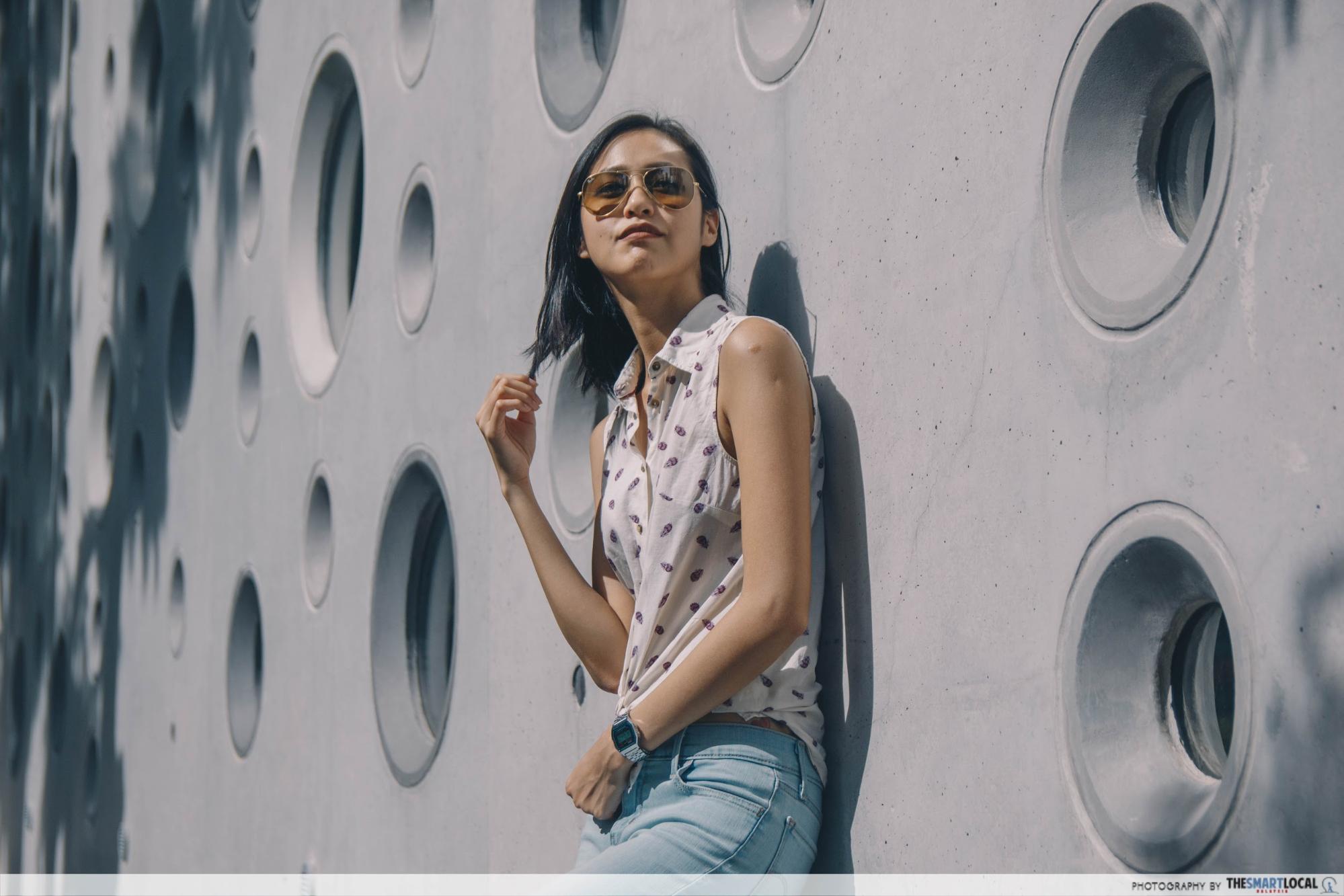 Look out for the circular window-like fixtures across the wall just opposite Robinsons
To the untrained eye, it might be easy enough to walk pass this area without thinking much of it. A closer look will show you that you've stumbled upon a gem of a photo spot. There's not much human traffic at Design Orchard so you don't have to feel paiseh for posing in the middle of the street.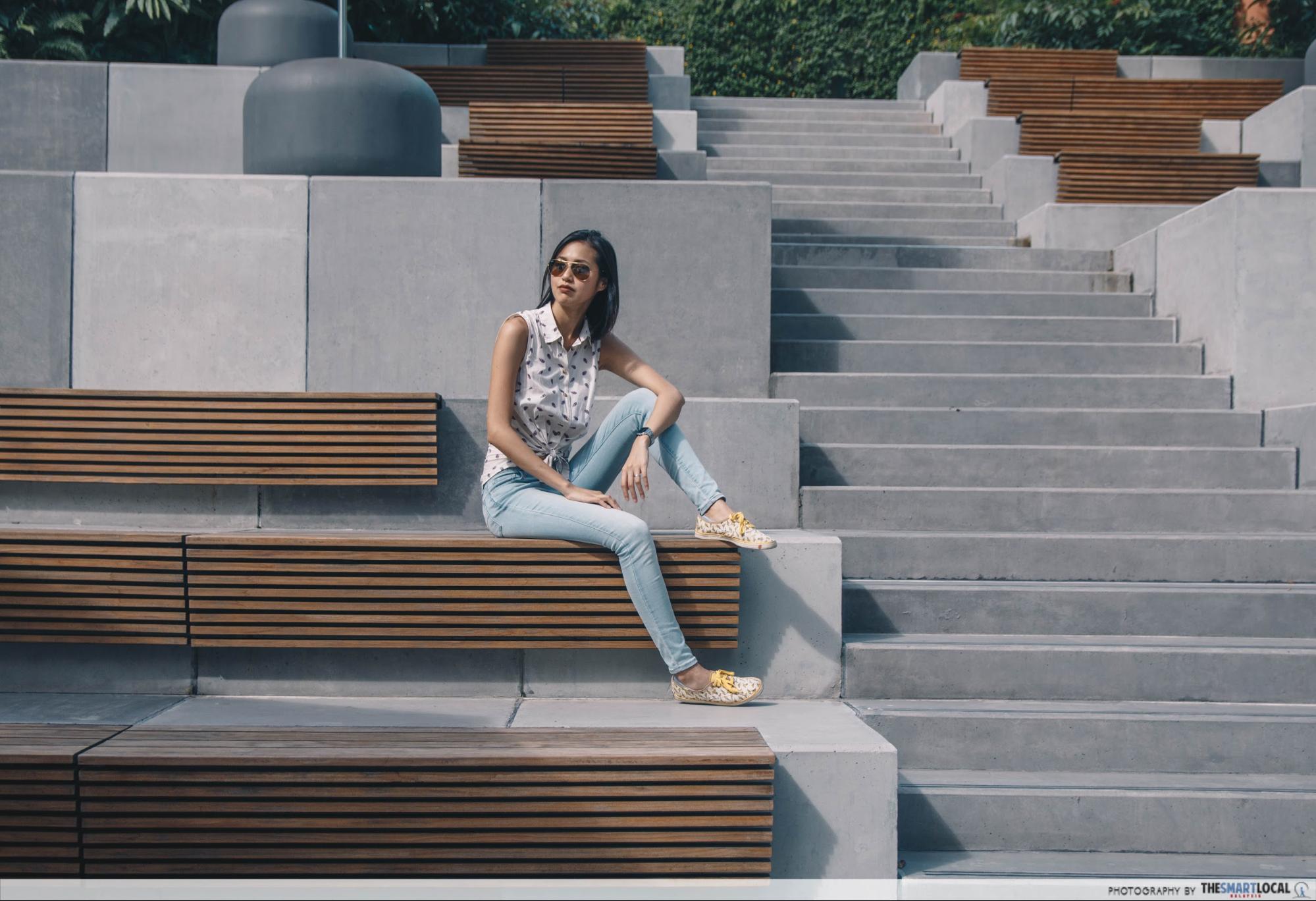 There's also a rooftop area for when you just want to take a quick shopping break and share a conversation or two with your friends. 
How to get here: Head to the corner of Design Orchard opposite Robinsons, and you'll find the wall and stairs leading up to the rooftop.
Address: 250 Orchard Rd, Singapore 238905
Opening hours: 24 hours
---
11. ION Orchard – giant "disco ball" in the middle of Orchard Road
---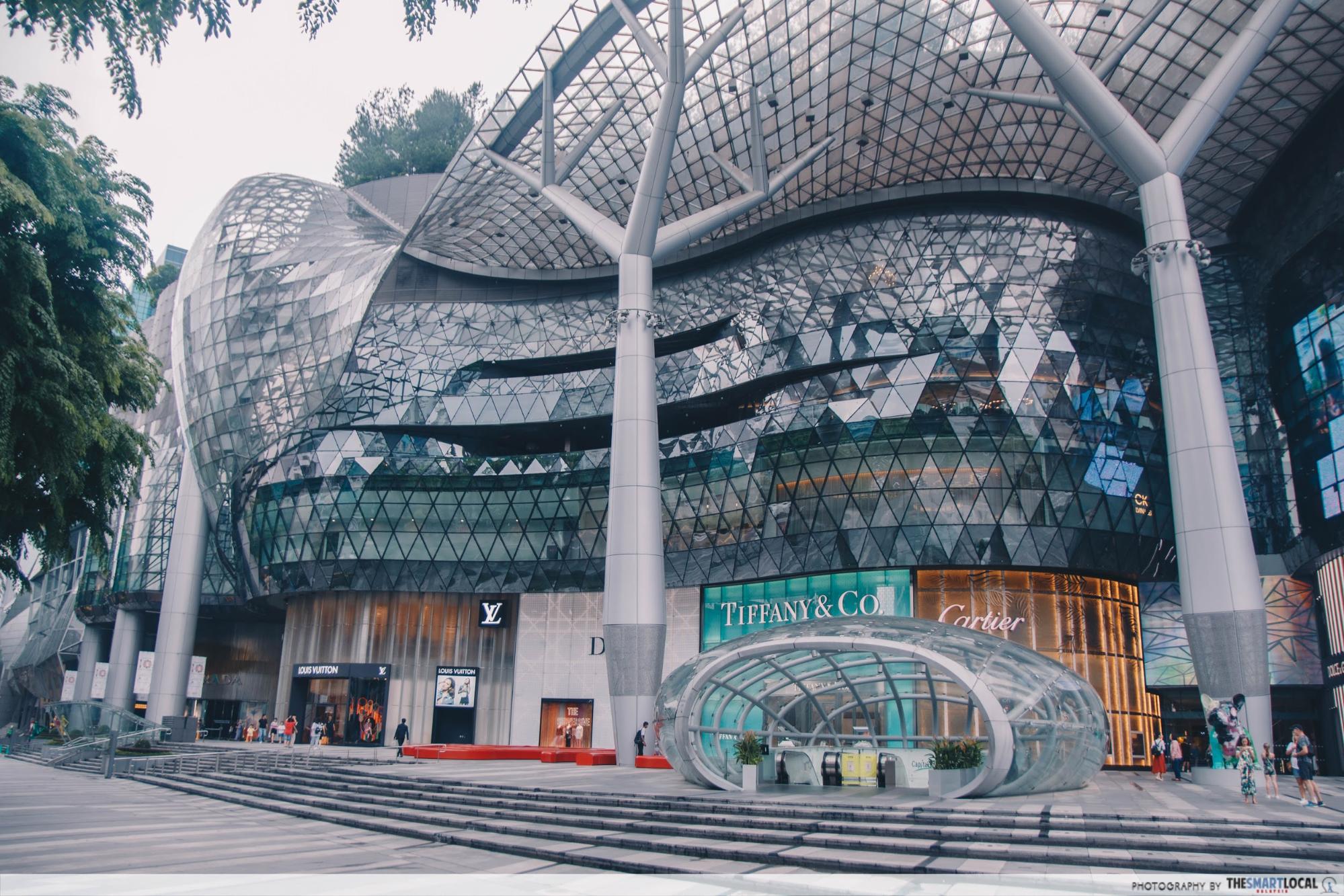 You'd probably be as impressed with ION Orchard Mall's architecture as the next tourist would be. No shame though, especially since it looks like a psychedelic disco ball with thousands of reflective glass pieces towering over Orchard Road. 
It serves as a futuristic backdrop and is worth a photo since the structure is eye-catching. Your eyes will naturally follow the glint of countless triangular-shaped glass pieces that are arranged to form the wavy structure of the mall.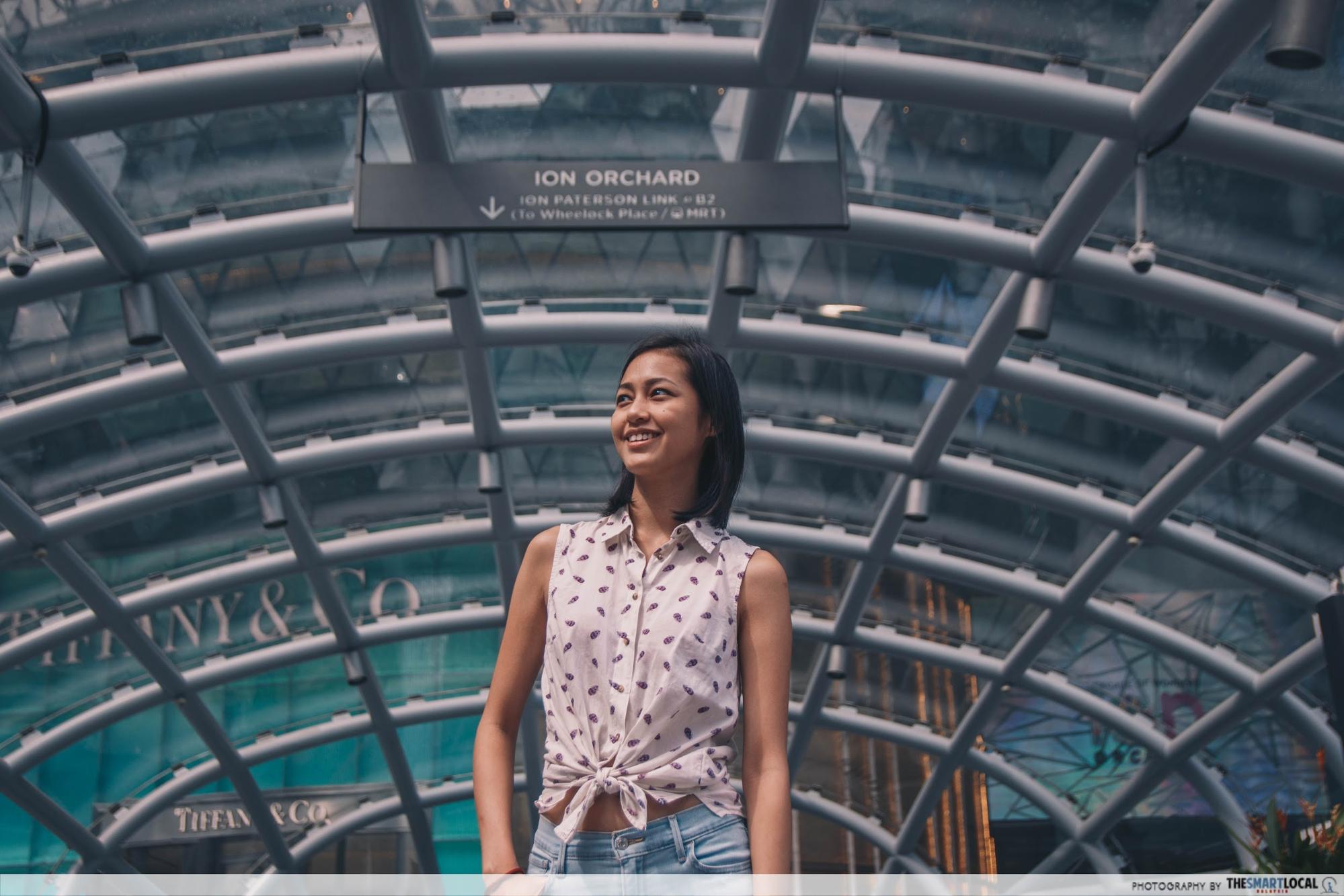 Strike a pose under the little dome that leads to the underpass and Orchard Road MRT below.
Address: 2 Orchard Turn, Singapore 238801
Opening hours: 10AM – 10PM
---
Most photogenic places at Orchard Road, Singapore
---
A trip to Singapore doesn't just have to result in the typical shots in front of Marina Bay Sands or the Merlion. Orchard Road's got you covered thanks to these little photo-worthy corners. Not only do you get to explore these lesser-known spots, you'll also have another activity to include in your itinerary, and best of all, it's free! 
Check out these other IG-worthy places in Singapore:
---
Photography by Amber Lee.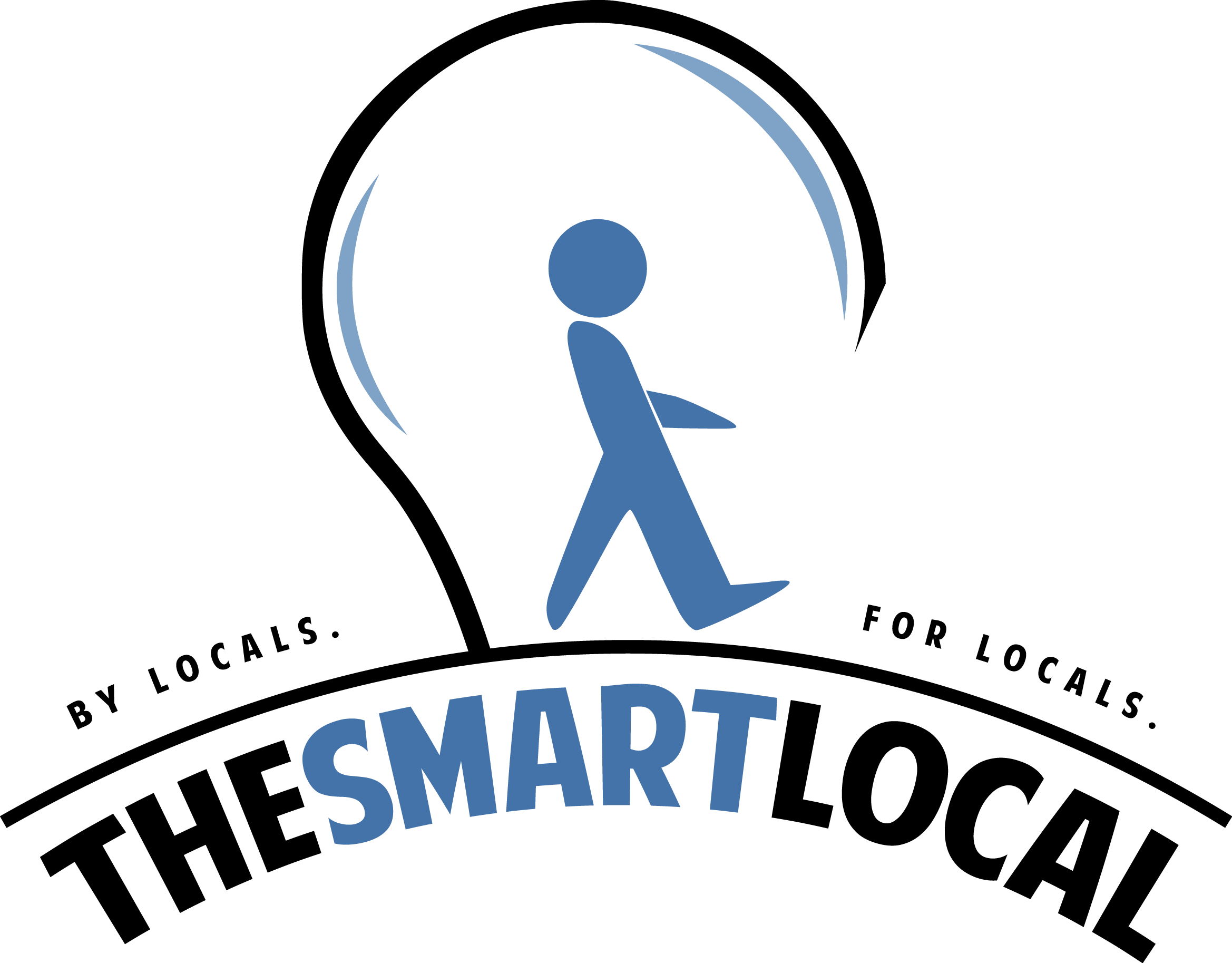 Drop us your email so you won't miss the latest news.