Petaling Street cafes
---
Located in the heart of Kuala Lumpur, Petaling Street is a cultural hub that combines the new and the old. With several decades-old businesses still operating alongside brand-new cafes, restaurants, and bars, the area is constantly abuzz with vibrant activity. 
For those wanting to go on a foodventure here, check out these 14 cafes in the Petaling Street area that have every type of cafe food and snack you can imagine, from revamped local delights to IG-worthy desserts. 
---
1. Da Bao Restobar – burger-like mantous
---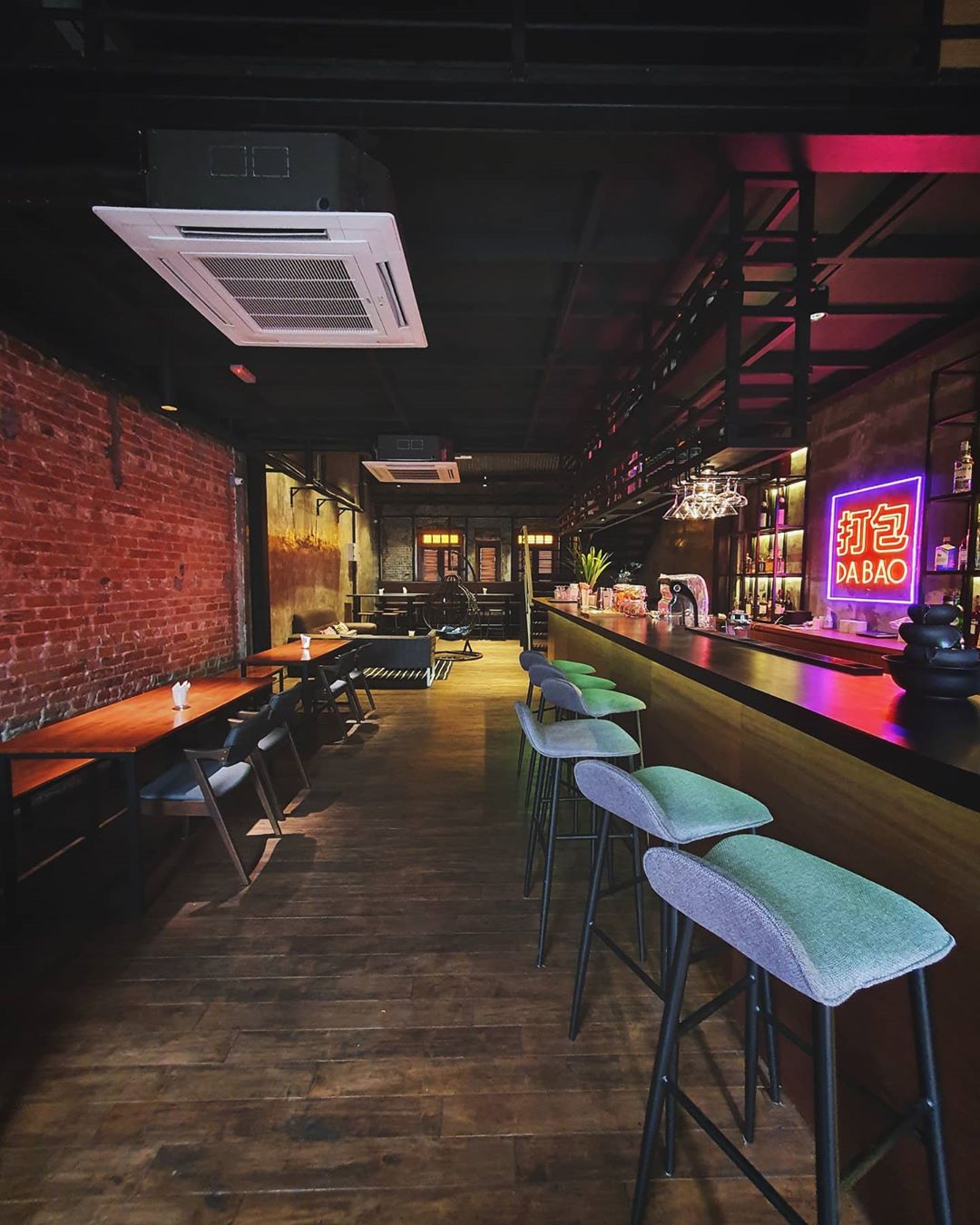 Image credit: @dabaomy
Keeping true to its namesake, Da Bao Restobar is a 2-storey restaurant that specialises both in savoury baos and cocktails. The baos are mainly served on the ground floor, while the bar is located upstairs.
The burger-like baos are essentially meat fillings, each sandwiched in a fluffy, steamed mantou. Options for fillings include sake-braised pork belly, buttermilk fried chicken, buttermilk Korean fried chicken, slow-cooked mutton rendang, beer-battered perch fillet, or beer-battered soft shell crab (RM15 each).
Finish off the meal with yet another bao dessert – a scoop of matcha ice cream wedged between a fried mantou (RM14).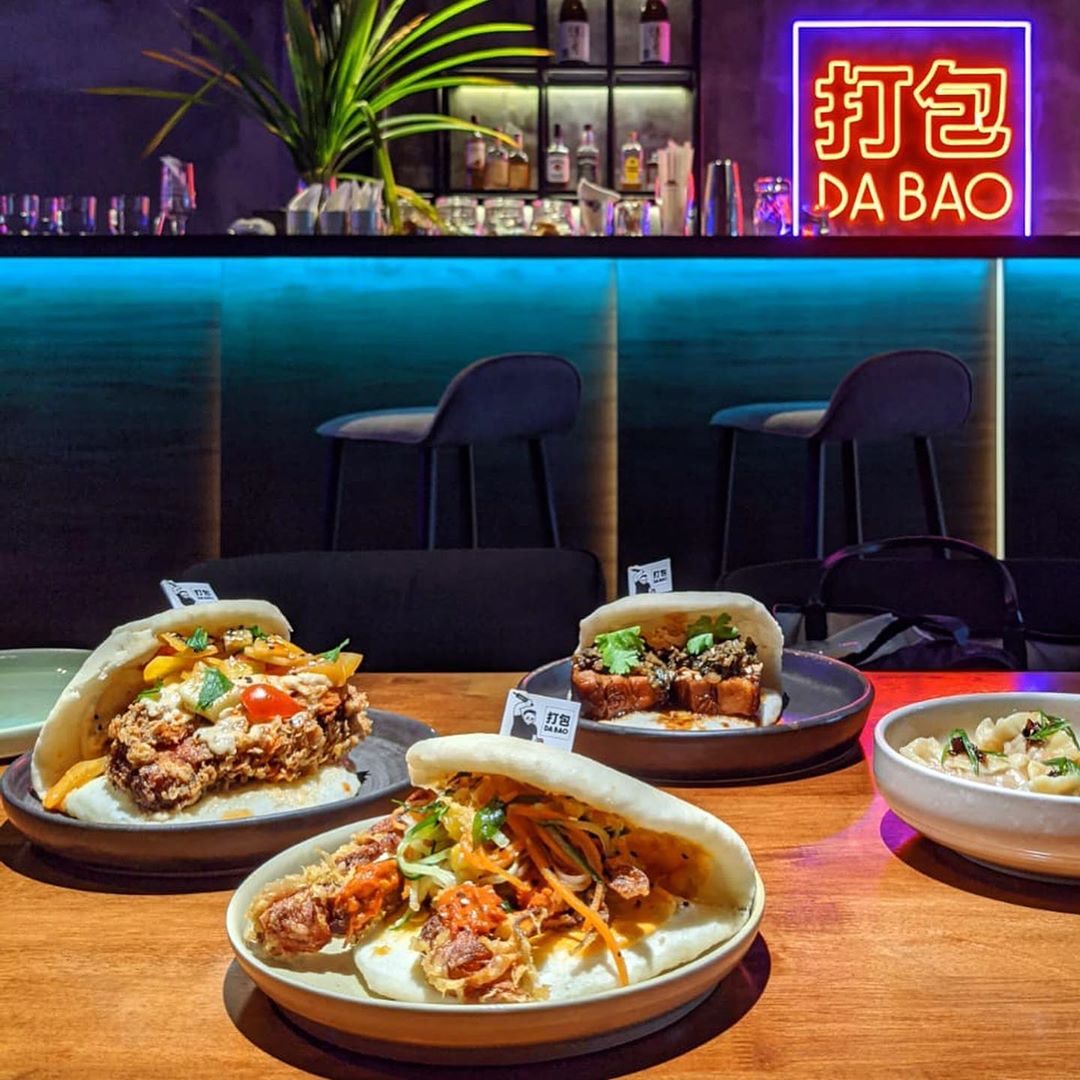 Image credit: @journeytothefats
You might think that these mantous are mere snacks, and wouldn't be filling enough for a full meal, but you'd be surprised how satisfying wolfing 2 of them down is.
The mantous are generously stuffed with a serving of chunky meat and a handful of vegetables and fruit. The sides include cincalok mayo, caramelised jackfruit, mango slaw, pickled acar, and more.
Address: 145, Jalan Petaling, City Centre, 50000 Kuala Lumpur
Opening hours: Tue–Sun 11AM-9PM (Closed on Mondays)
Da Bao Malaysia's Facebook | Instagram
---
2. Pandan Republic – unique fusion Malaysian desserts
---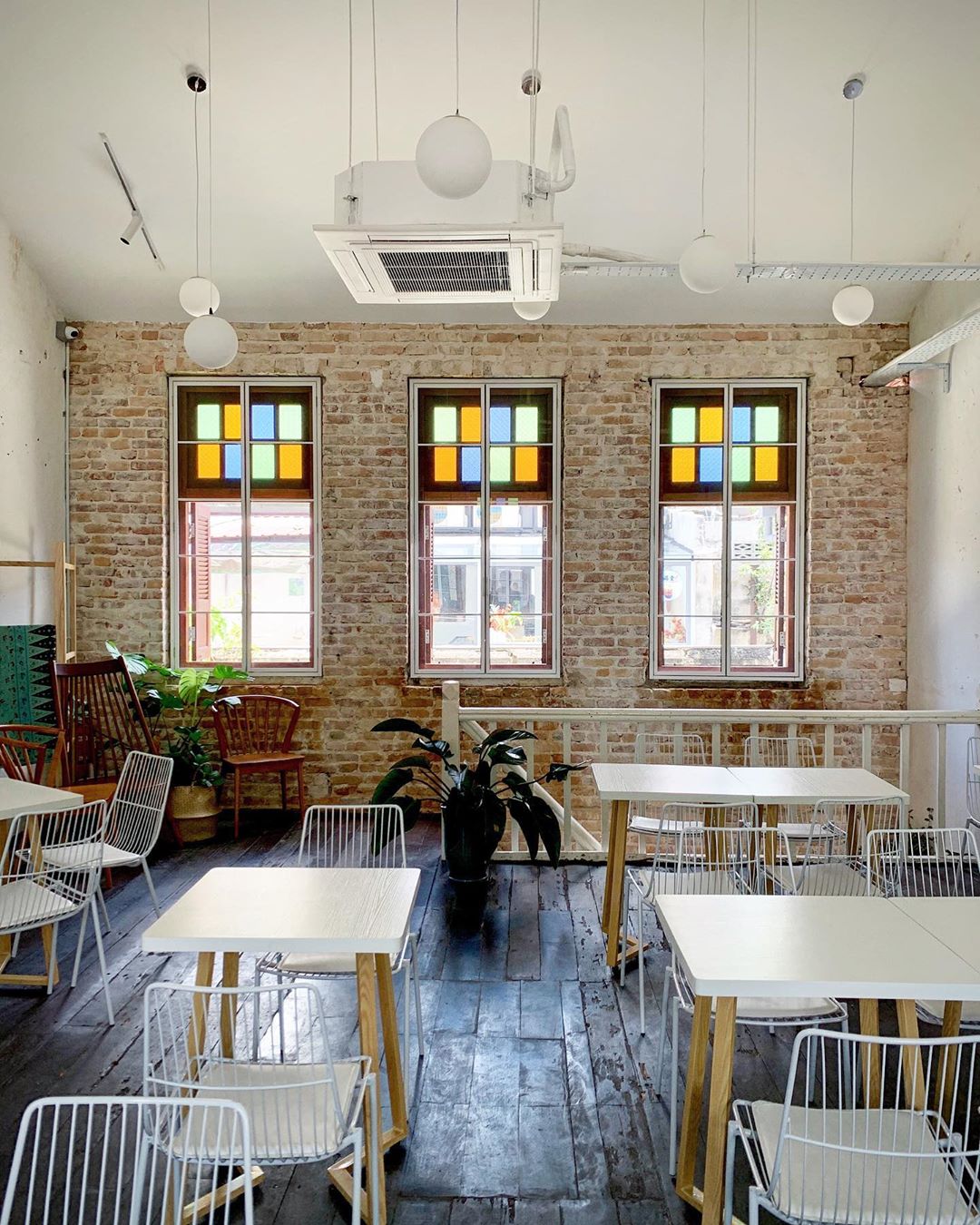 Image credit: @hungrywolfgrams
Pandan Republic makes Malaysian desserts with a twist while paying homage to Peranakan delicacies. Think intricately made nyonya kuihs served alongside gula melaka cheesecakes, kuih kapit soft serve, and the oldie but goldie pandan layer cake.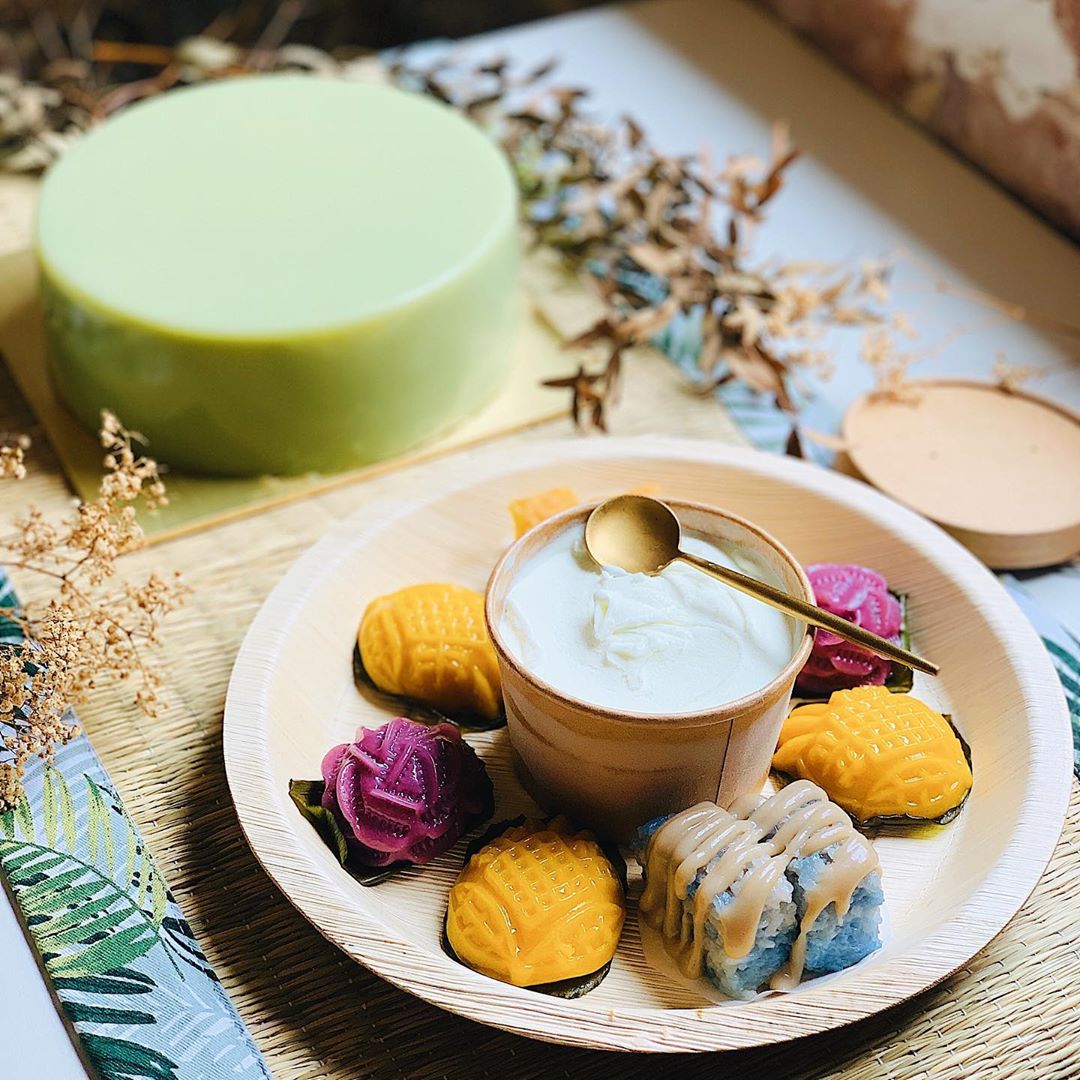 Image credit: @pandanrepublic 
Their signature item is the Pandan Soft Serve (RM13), a smooth and creamy ice cream with an aromatic pandan fragrance – a treat rarely found elsewhere.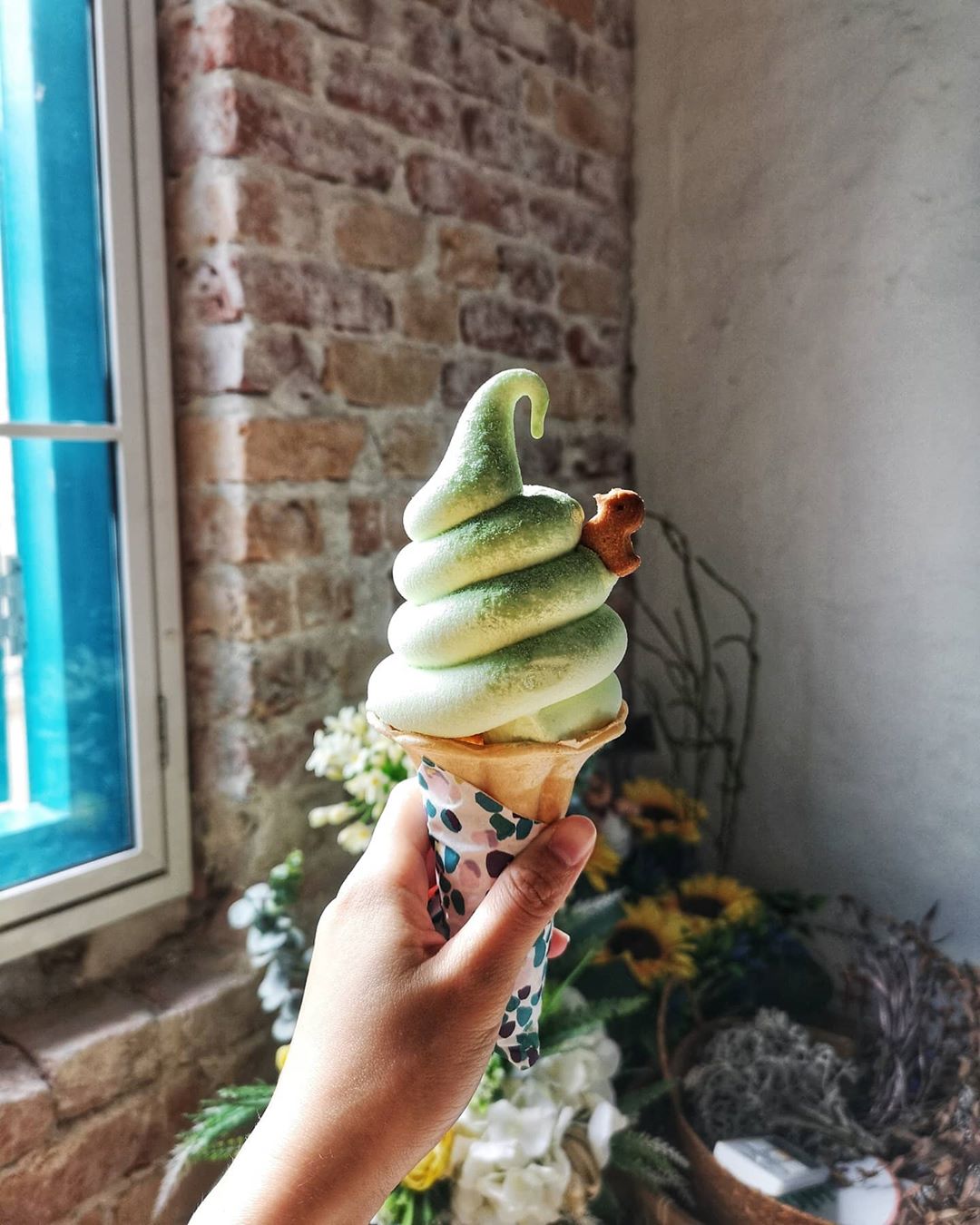 Image credit: @yyeetengg
Those who prefer a savoury meal before desserts can check out their main courses. The menu is simple but their Lei Cha (RM18), a traditional Hakka dish made with various types of vegetables mixed together with ground tea, is highly recommended because of its thick and rich tea flavour.
Address: Lorong Panggung, City Centre, 50000 Kuala Lumpur
Opening hours: Thu–Tue 11AM-6PM (Closed on Wednesdays)
Telephone: 010-221 7296
Pandan Republic's Facebook | Instagram
---
3. Luckin Kopi – familiar and new renditions of Malaysian dishes 
---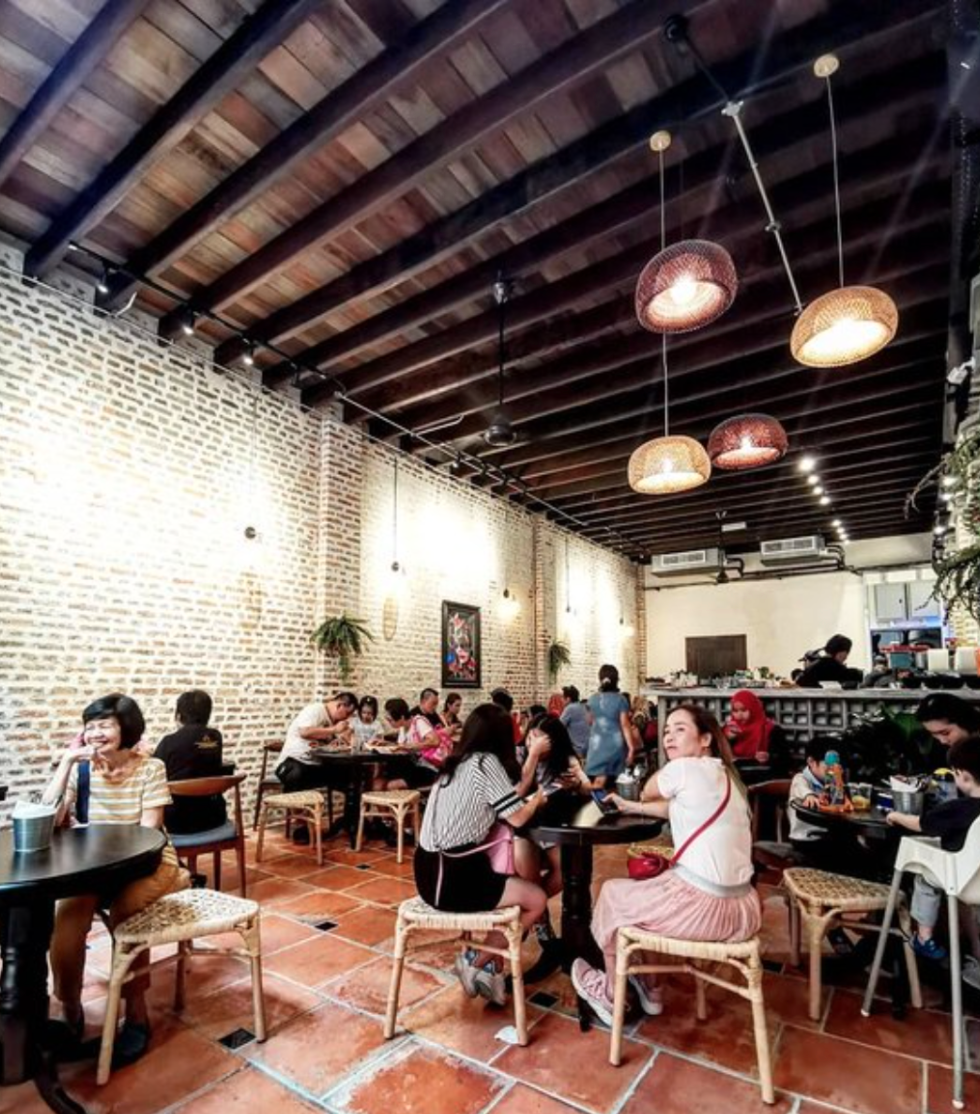 Image credit: Tripadvisor
Located in a 150-year-old heritage building, Luckin Kopi retains its old-school kopitiam charm with its quaint ambience and rustic interior.
Malaysians will find their menu familiar – with local delights such as Roti Bakar, Nasi Lemak, Mee Siam, Rojak, Chee Cheong Fun (around RM7 each), and more. Patrons can also enjoy newer renditions such as Petai Pasta (RM20.90), Cheesy Indo Mee (RM14.90), and Chicken Rendang Mantou (RM11.90).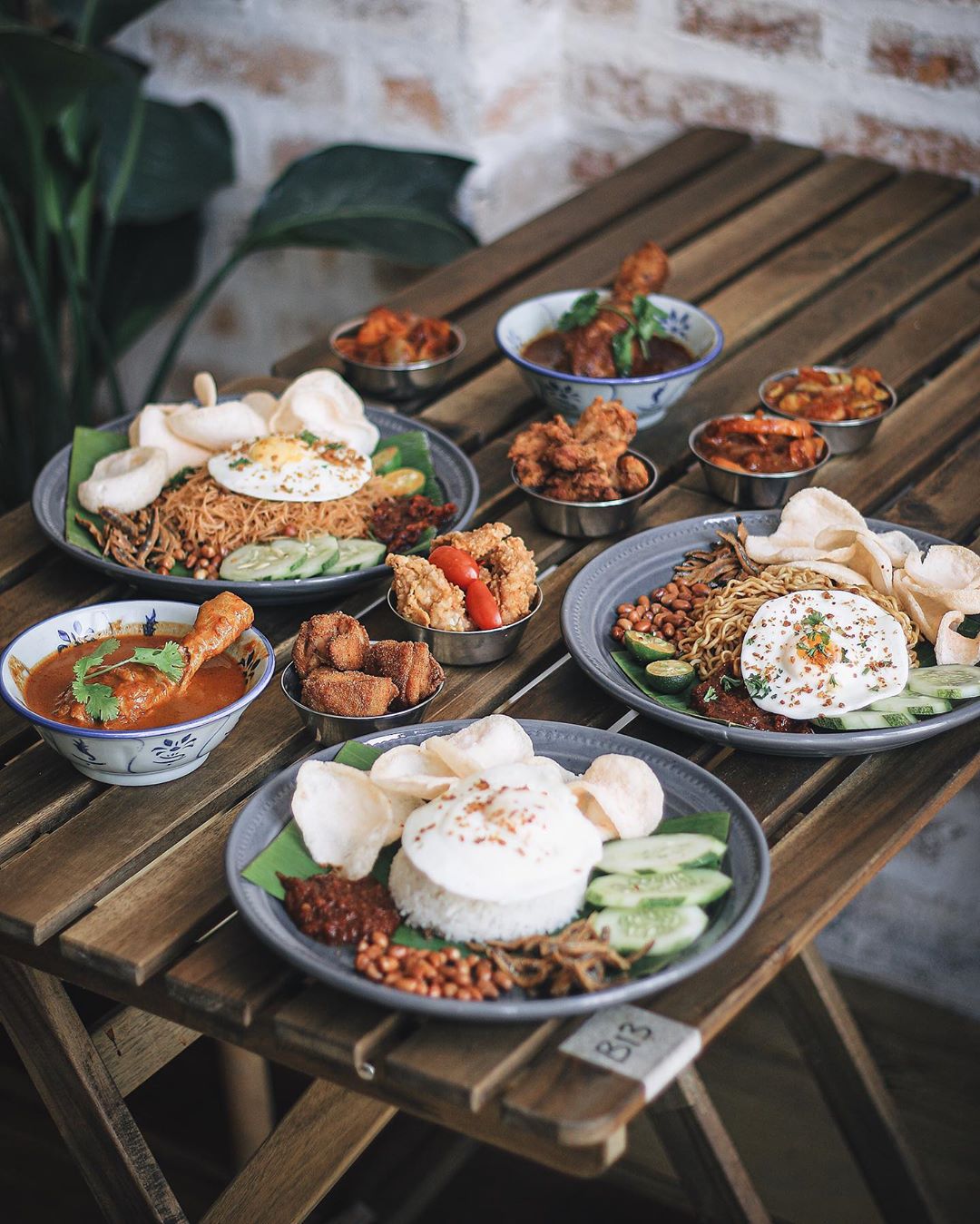 Image credit: @kevin.voon
Those who are attracted to novel items can order their Luckin Toast (RM12.90). It's pretty much regular toasted Hainanese bread served with kaya, butter, peanut butter, and Nutella spread, complete with 2 mandatory half-boiled eggs. But what makes the dish special is the plating. 
Instead of the usual rectangular-cut bread with the spread already sandwiched between the toasts, Luckin Kopi arranges the separate ingredients like how you would a fine dining platter. Purists might roll their eyes at the over-the-top presentation, but it's gratifying for the tummy, eyes, and camera, so it's definitely worth an order.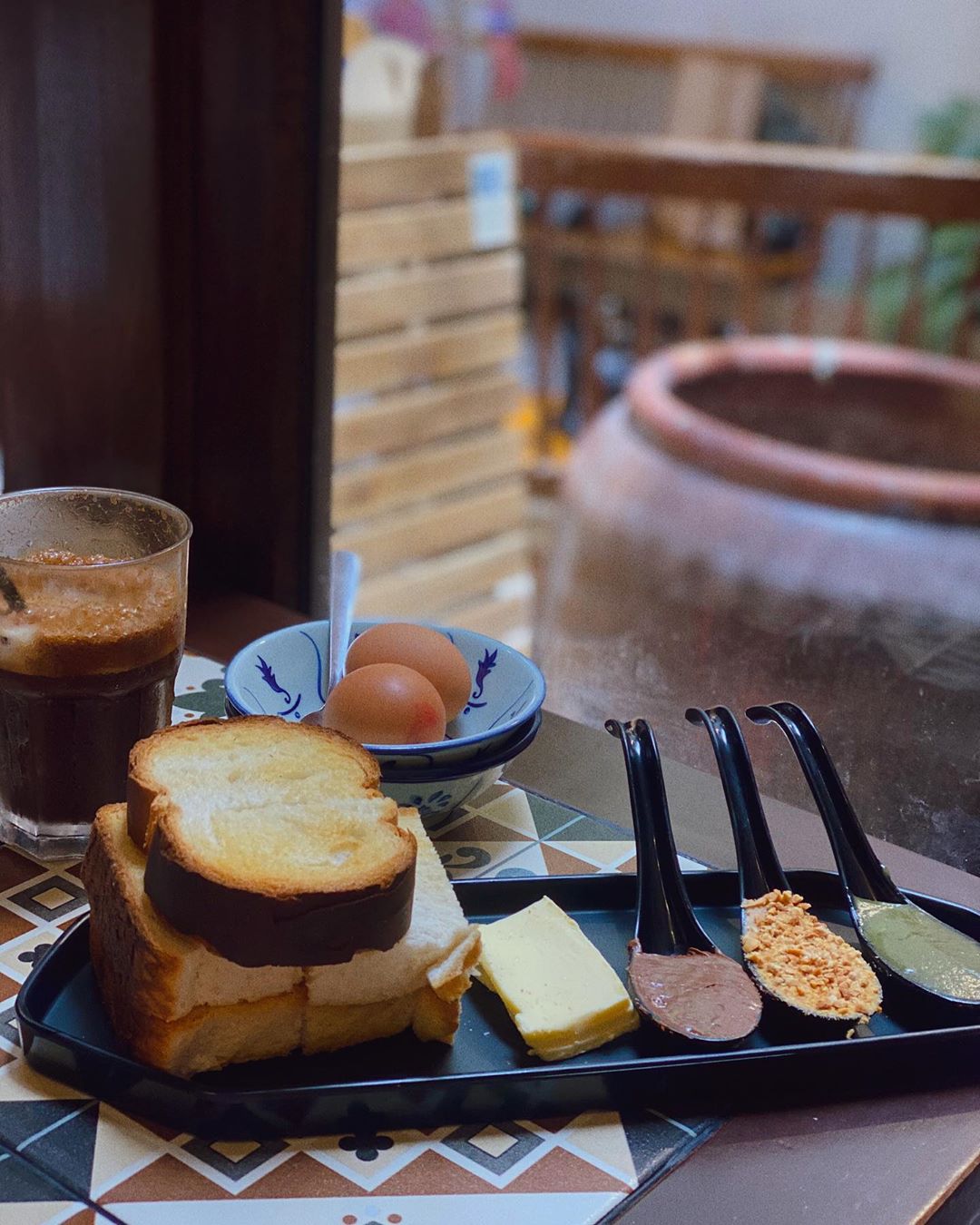 Image credit: @cpysharpay
Address: 14, Jalan Panggong, City Centre, 50000 Kuala Lumpur
Opening hours: 9AM-6PM, Daily
Telephone: 012-610 8856
Luckin Kopi's Facebook | Instagram
---
4. The Soybean Factory – salty soya pudding served in aesthetic interiors 
---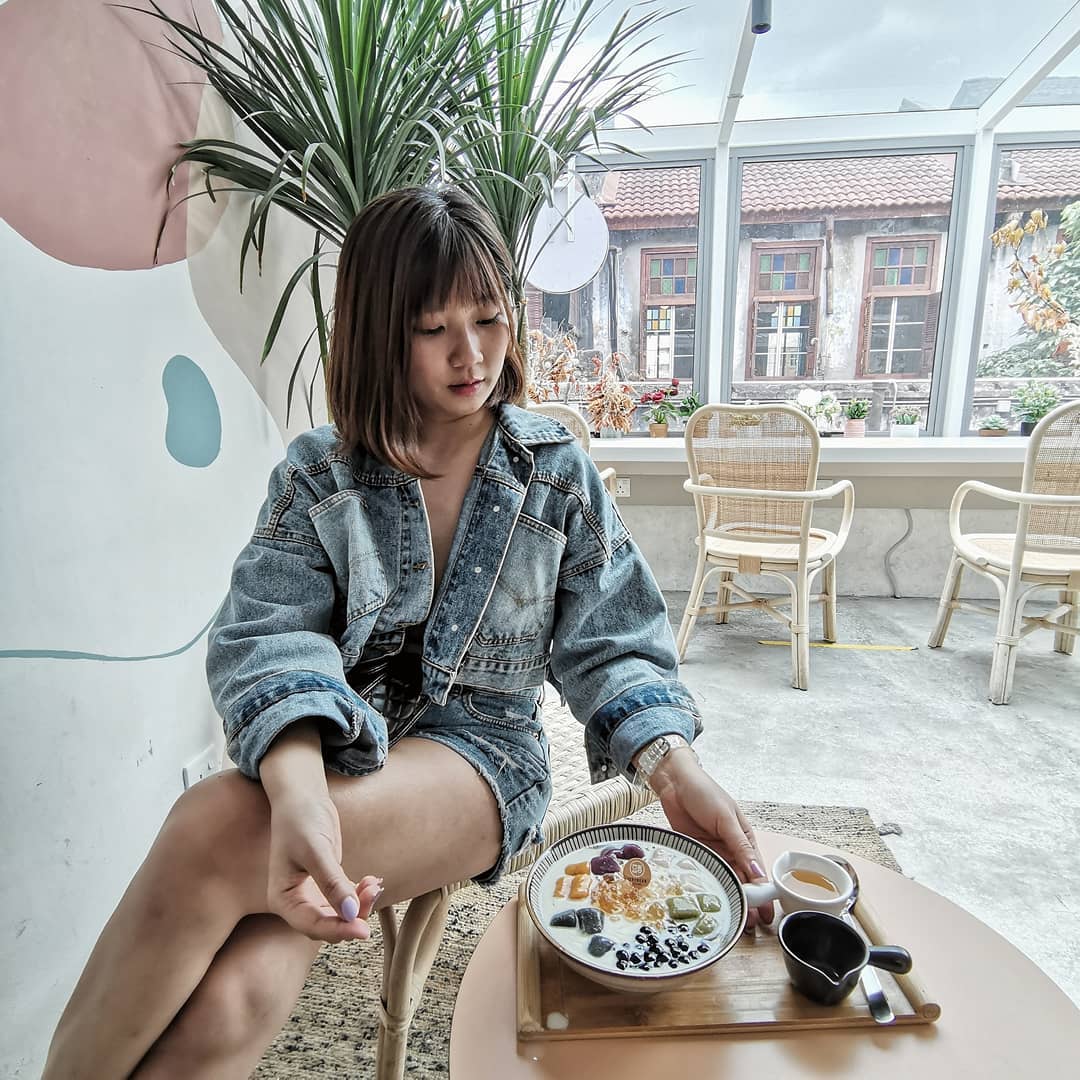 Image credit: @eva_zhijun
The Soybean Factory has several branches in the Klang Valley but their outlet in Kwai Chai Hong is hands down, the prettiest and most aesthetically pleasing one. Even if you're not into taking pictures just for the 'gram, you should pay a visit to enjoy brunch under the glass roof, surrounded by soft-hued furnishings, complete with charming rattan chairs. 
Their Salty Tau Foo Fa (RM11) is a peculiar but surprisingly appetising and flavourful dish that comes with porridge toppings such as chicken floss and dried shrimp, yao char kwai, salted veggie, spring onions, coriander, onion oil, and chilli oil.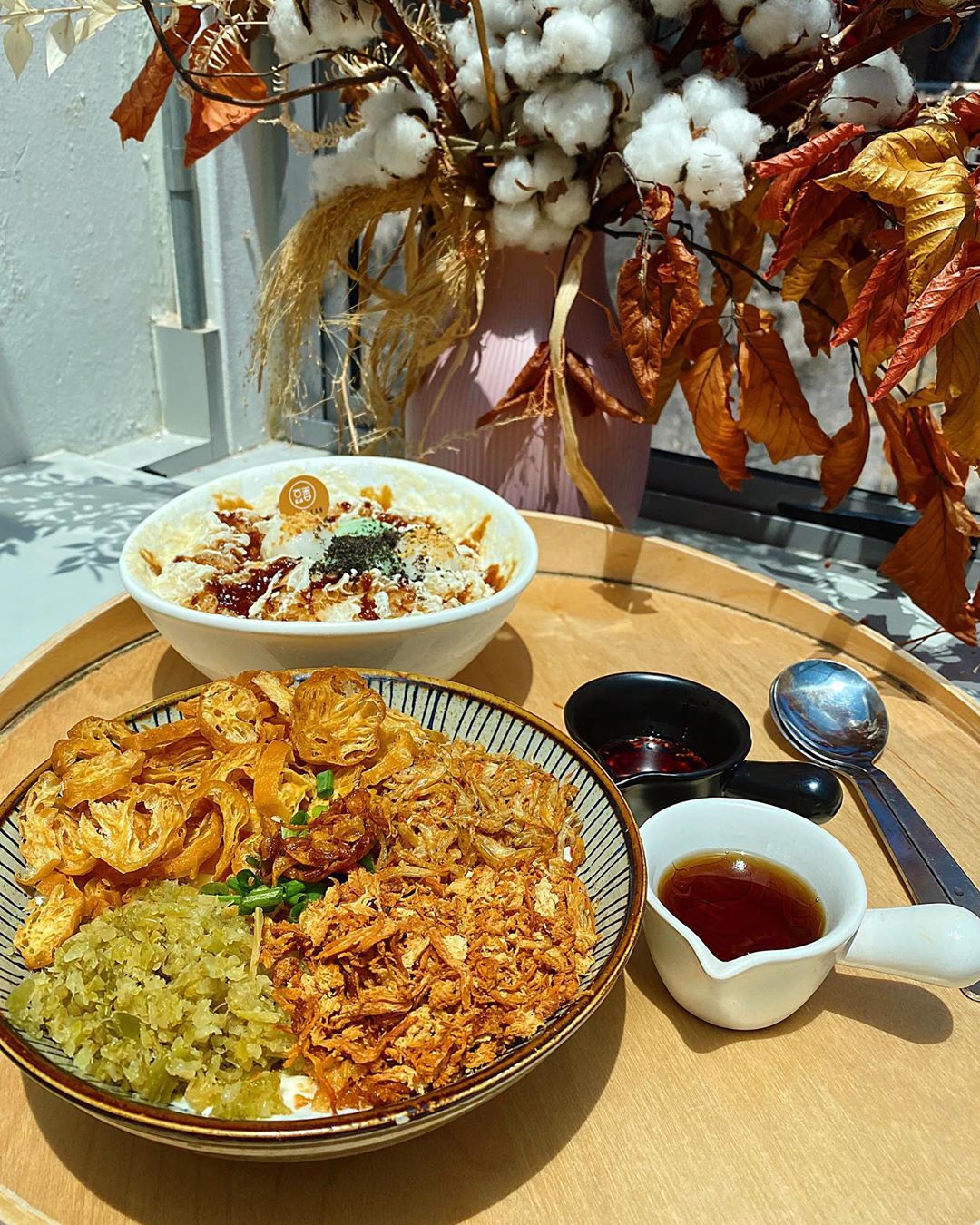 Image credit: @voodoo_doll93
You'll also get to feast on a wide range of soya bean drinks (around RM9 each), soya milk shaved ice (around RM15), and different flavours of tau foo fa (around RM10).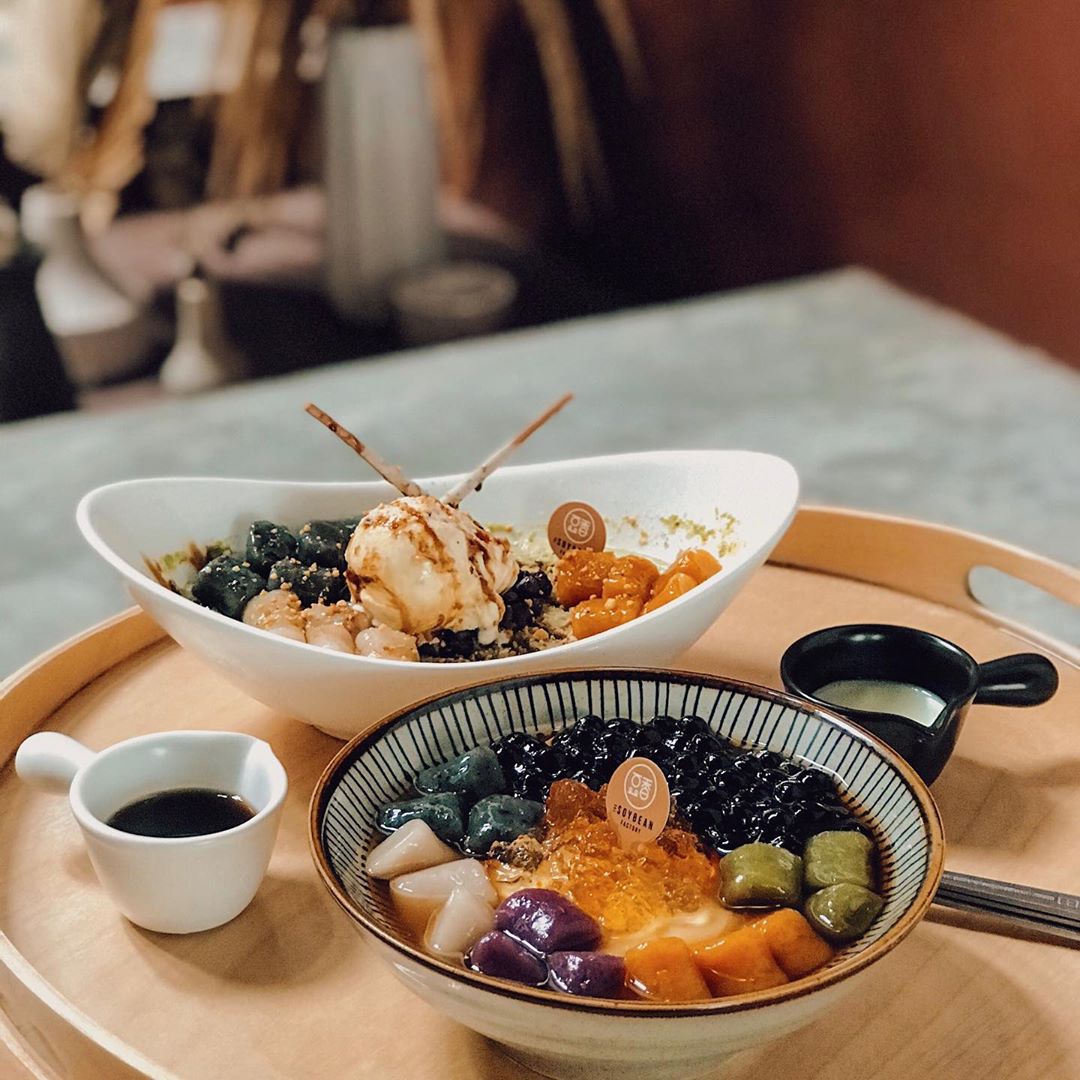 Image credit: @kluun_jpg
Address: 141, Jalan Petaling, City Centre, 50000 Kuala Lumpur
Opening hours: 10AM-9PM, Daily
The Soybean Factory's Facebook | Instagram
---
5. Malaya Garden – teh tarik ice cream in a tropical-themed cafe
---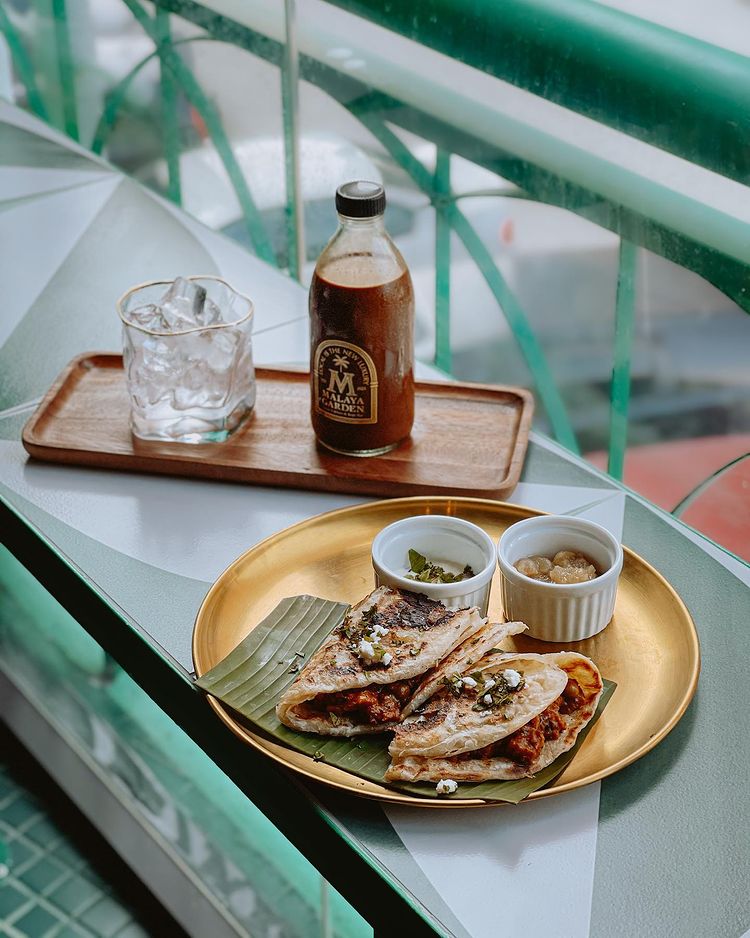 Image credit: @adam.lcs
Malaya Garden opened the doors to their tropical-themed space on Jalan Balai Polis back in April 2021. This three-storey cafe, which has quickly attracted the attention of many diners, boasts aesthetic interiors that melds together KL's old colonial charms with contemporary features well-loved in present day cafes.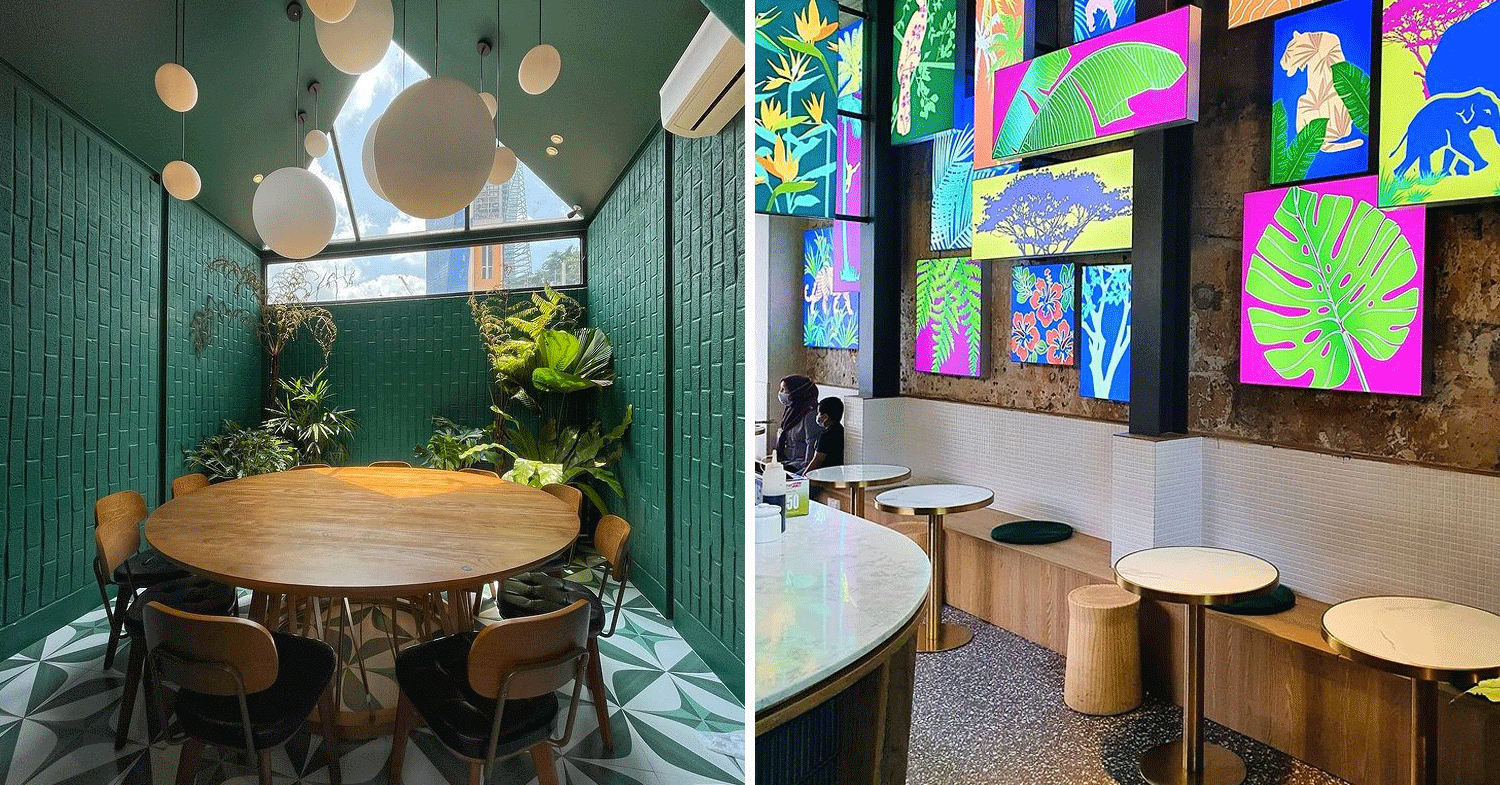 Take a trip up to the cafe's second and third floors to soak in views of buildings in KL, including Merdeka 118. 
Image adapted from: @chermie_wong and @leila_ahmad
Malaya Garden's menu incorporates local flavours with Western dishes too. Opt for hearty mains such as their all-day Malaya Big Breakfast (RM26), which comes with coconut-infused toast and sides of half-boiled eggs, chicken otak–otak patties and salad. Other creative dishes include their Curry Laksa Pasta (RM22) and Satay Chicken Chop (RM26).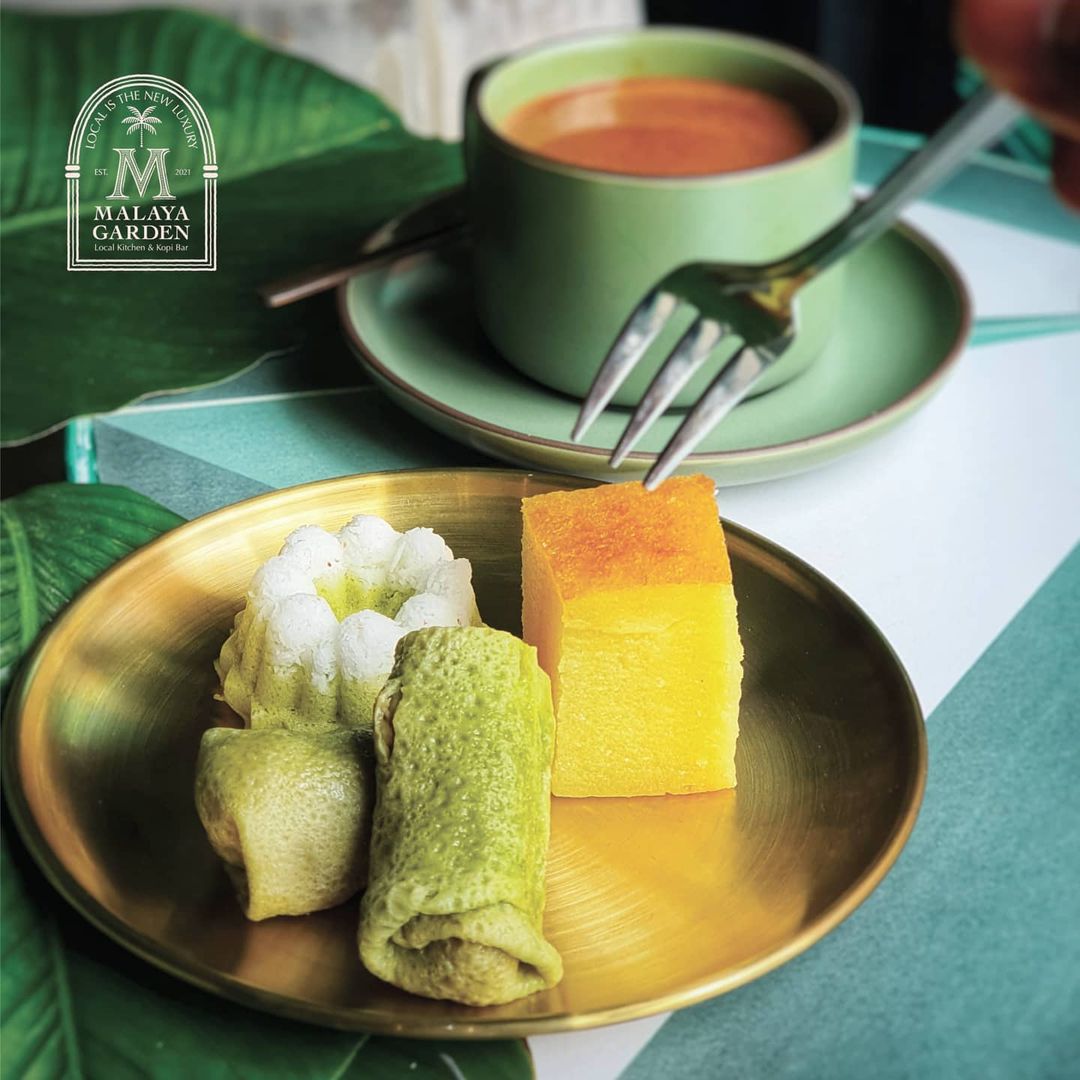 Image credit: @malayagarden
For something sweet, their Kopi Tiramisu Afogato (RM16) pairs teh tarik ice cream with hailam coffee espresso. Cendol Panna Cotta (RM8) – coconut pudding topped with cendol toppings and sweet gula melaka syrup – and Pengat Pisang (RM8) for refreshing coconut milk with bananas, sago, and sweet potatoes, are also good options to go with.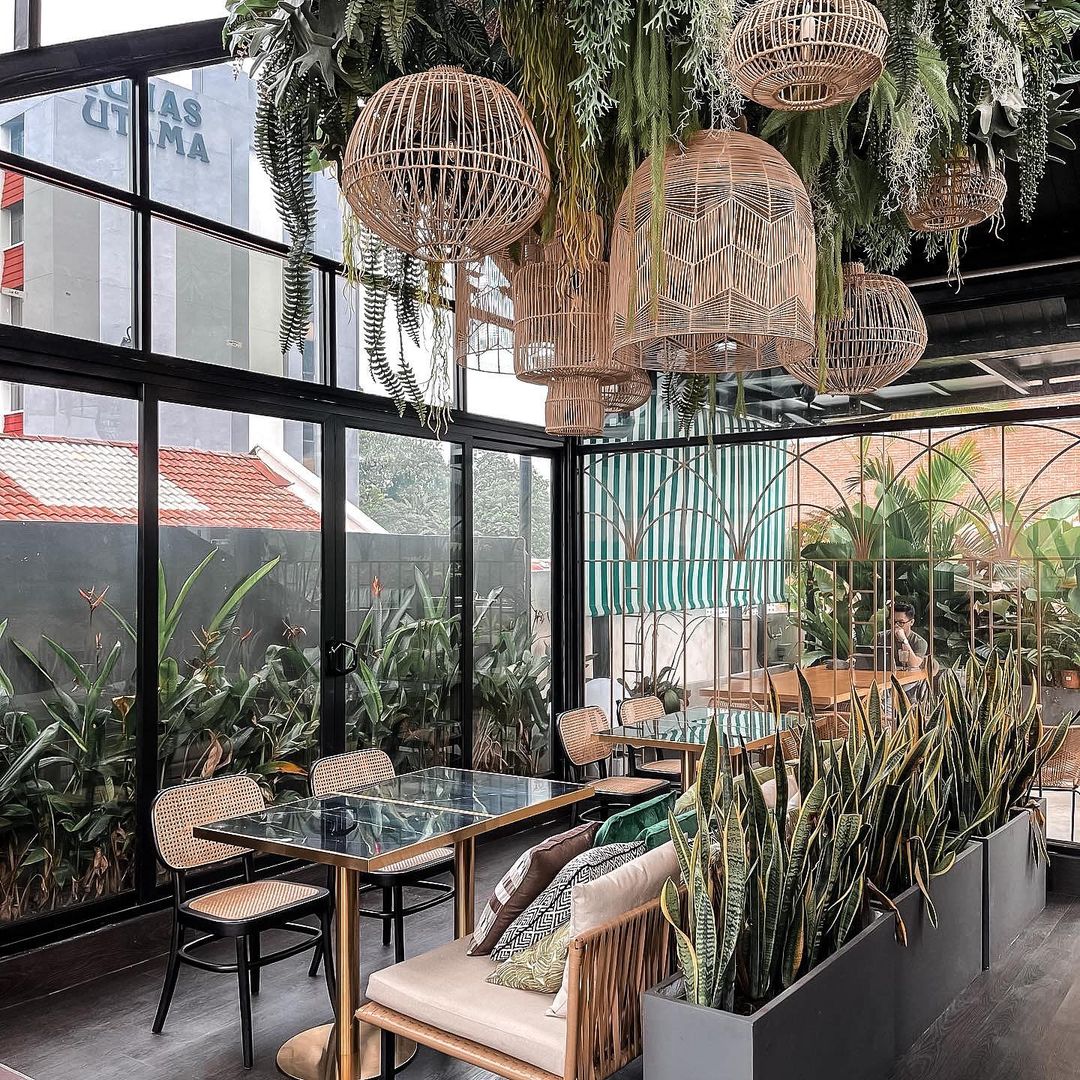 Image credit: @foodiedoodee_
Address: 1A, Jalan Balai Polis, 50000, Kuala Lumpur
Opening hours: 8AM-4.30PM, Daily
Telephone: 016-912 1268
Malaya Garden's Facebook | Instagram
---
6. LIPAO – cendol in a boba cup 
---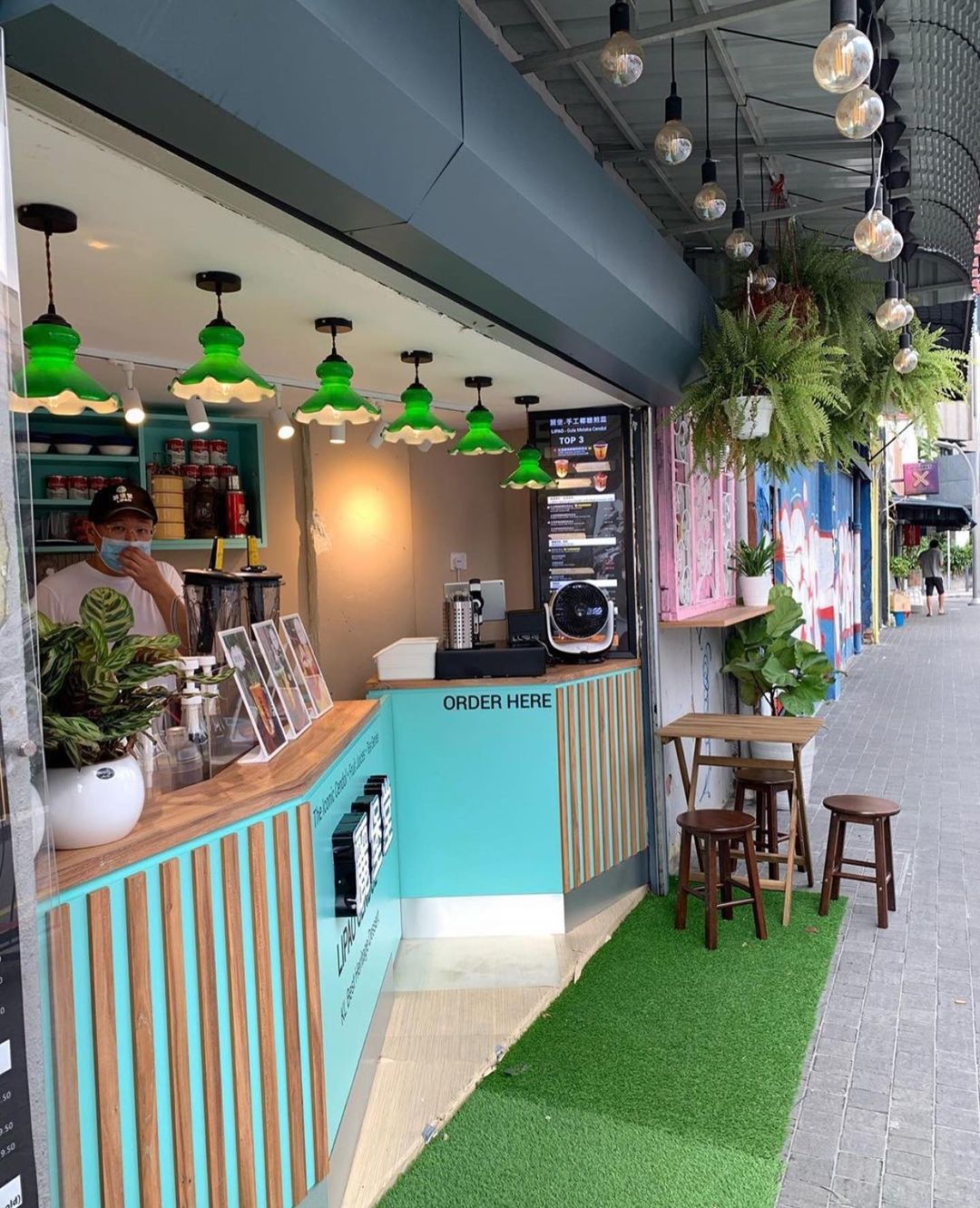 Image credit: @1pug2catskopitiam
A cold dessert is always welcomed by all Malaysians as it provides a cooling respite from the tropical heat. And LIPAO, flexing their creativity like many of these Petaling Street cafes do, has cleverly redesigned the cendol into a boba cup for convenience and easy transport so you can enjoy it on the go. 
Simply called The Iconic Cendol (RM12.50), this dessert-in-a-cup is made with gula melaka, fresh coconut milk, red bean, and green flour jelly, and has just the right balance of sweetness without being overbearing.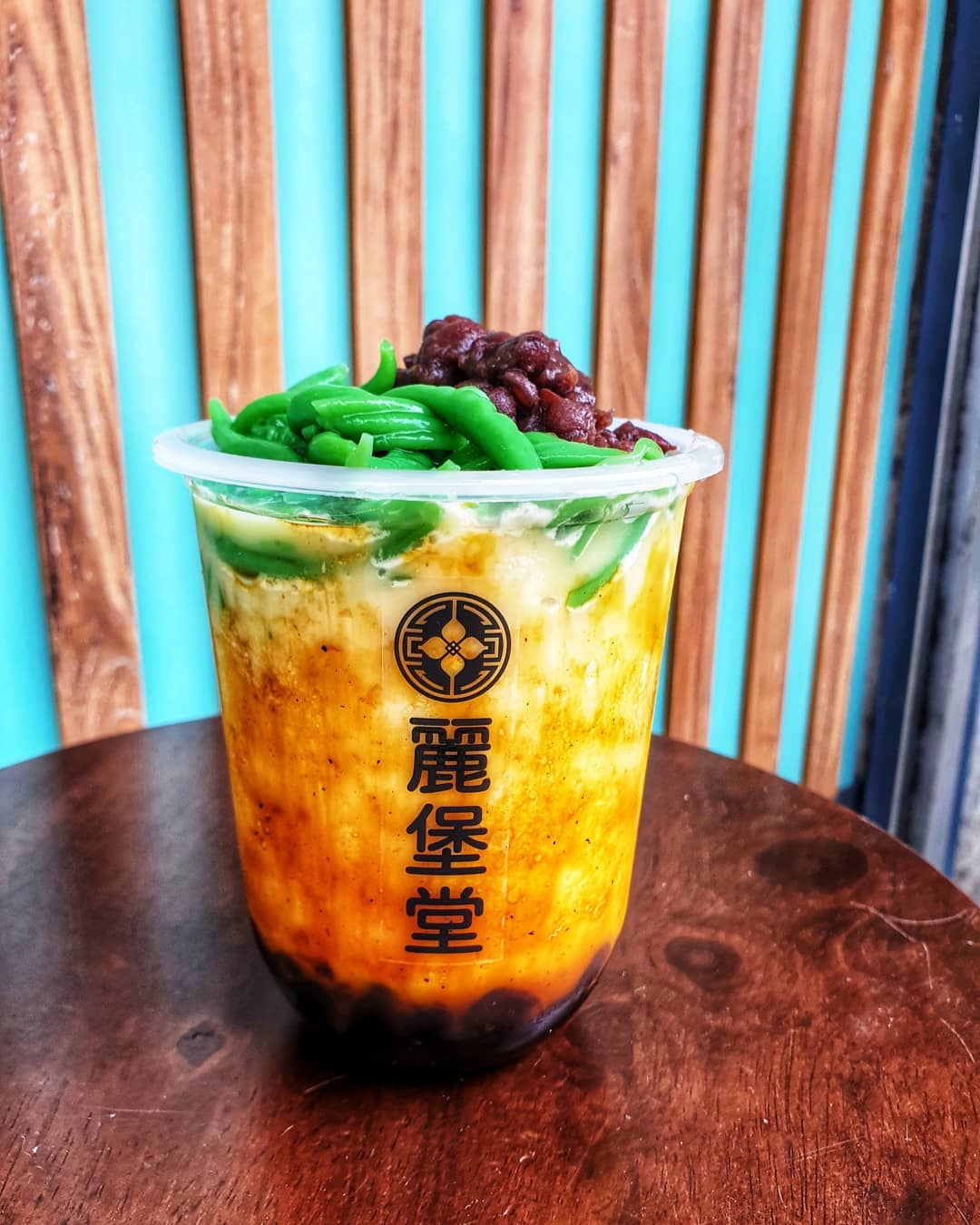 Image credit: @lipaocendol
They also serve a range of fruit cendol such as dragon fruit, mango, and papaya – blended together with fresh coconut milk (RM14.50 each).
LIPAO's outlet is just a small nook for you to order and go, but it's easy to spot with their pink and mint pastel hues.
Address: 50, Jalan Hang Kasturi, City Centre, 50050 Kuala Lumpur
Opening hours: 10AM-10PM, Daily
Telephone: 016-575 5286
LIPAO's website
---
---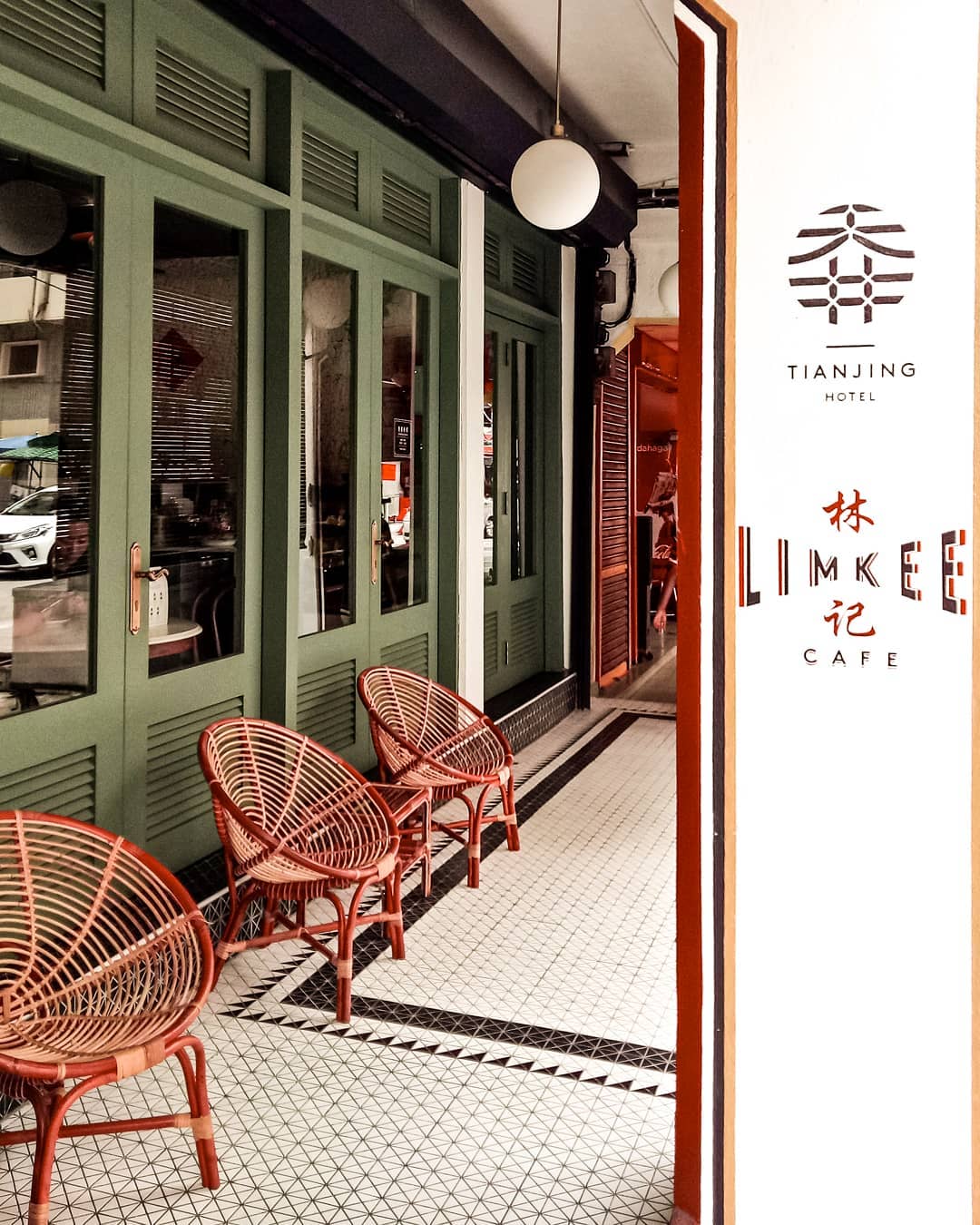 Image credit: @walter_x_tang
Operated by Tian Jing Hotel, Lim Kee Cafe has the allure of an old-school Chinese kopitiam with their rattan furniture and vintage decor, but their menu consisting of teatime bites boasts modern drinks, cakes, ice cream, and the customary Hainanese toast bread completed with half-boiled eggs.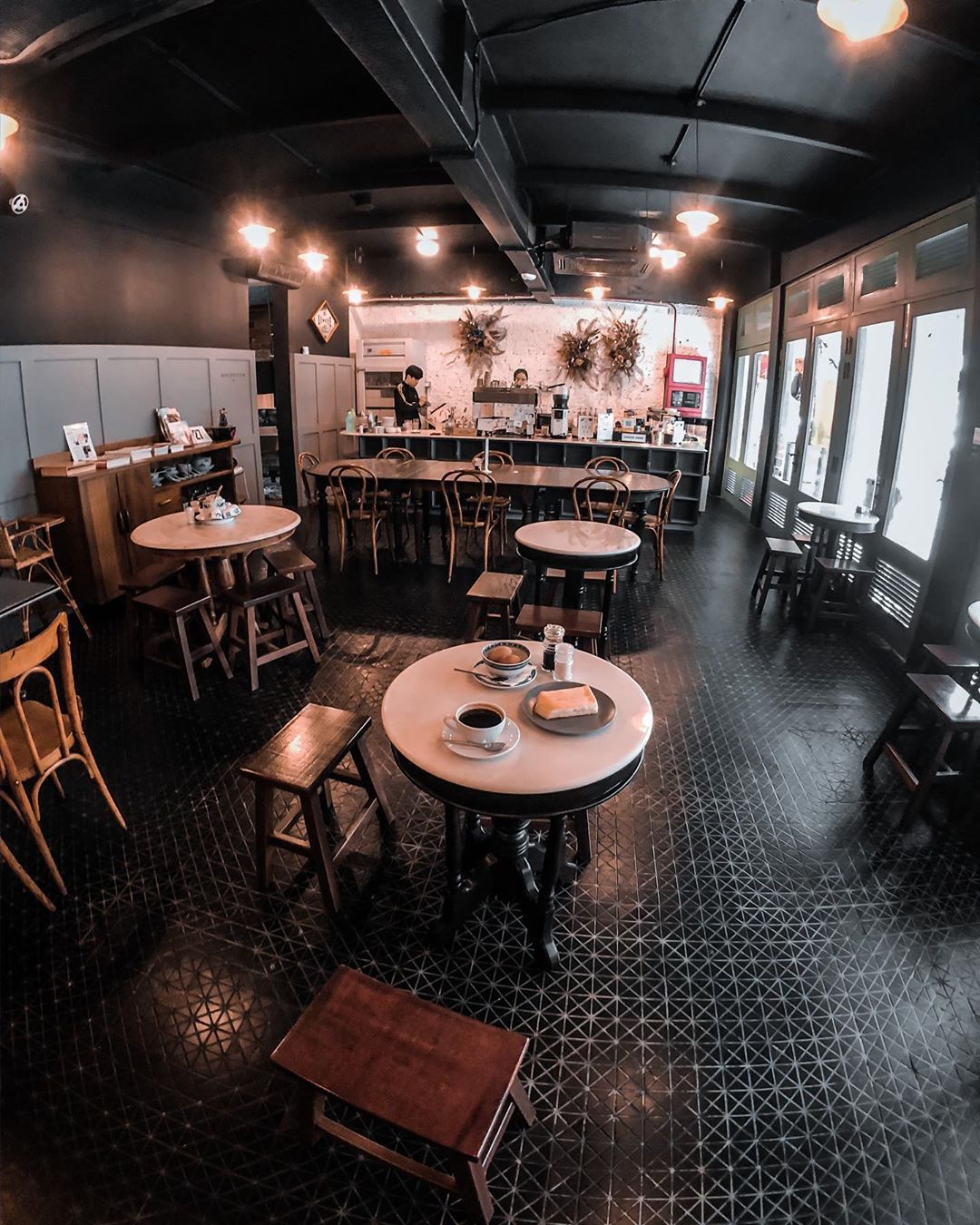 Image credit: @jetevois
Peckish diners looking for a late-afternoon snack can try out their various ice creams, with flavours ranging from coconut, teh tarik, mascarpone, hazelnut, to yogurt raspberry, and more (RM8 per scoop).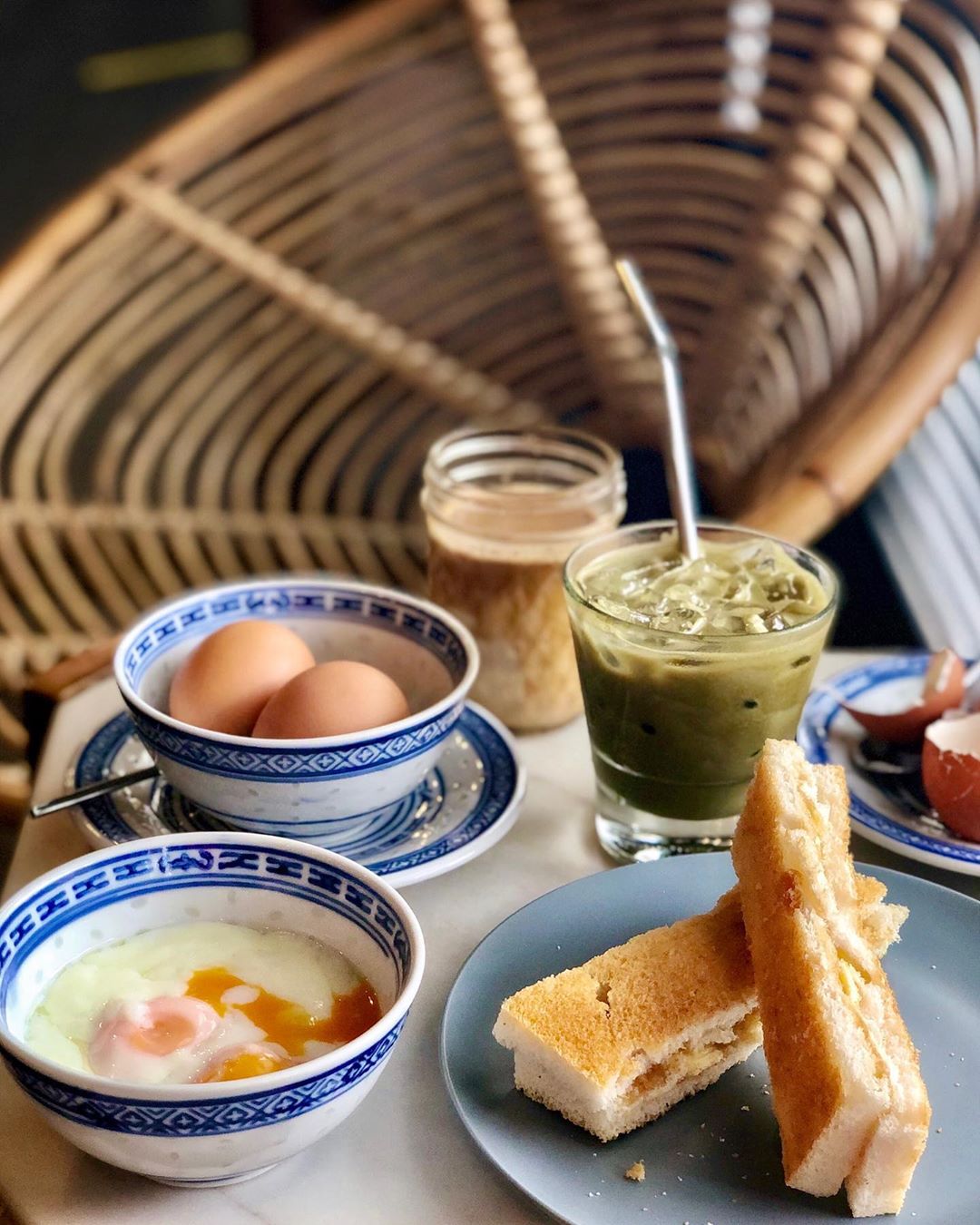 Image credit: @wander.sher
They also have a selection of alcoholic and non-alcoholic cakes including mocha rum, tiramisu, cheesecake, and Black Forest (around RM13 each) for those who are craving something more substantial.
Address: 66-68, Jalan Sultan, City Centre, 50000 Kuala Lumpur
Opening hours: 9.30AM-6PM, Daily
Telephone: 03-2022 1131
Lim Kee Cafe's Facebook
---
8. Merchant's Lane – Western and Asian cuisines in a pre-war shophouse that resembles Penang's China House
---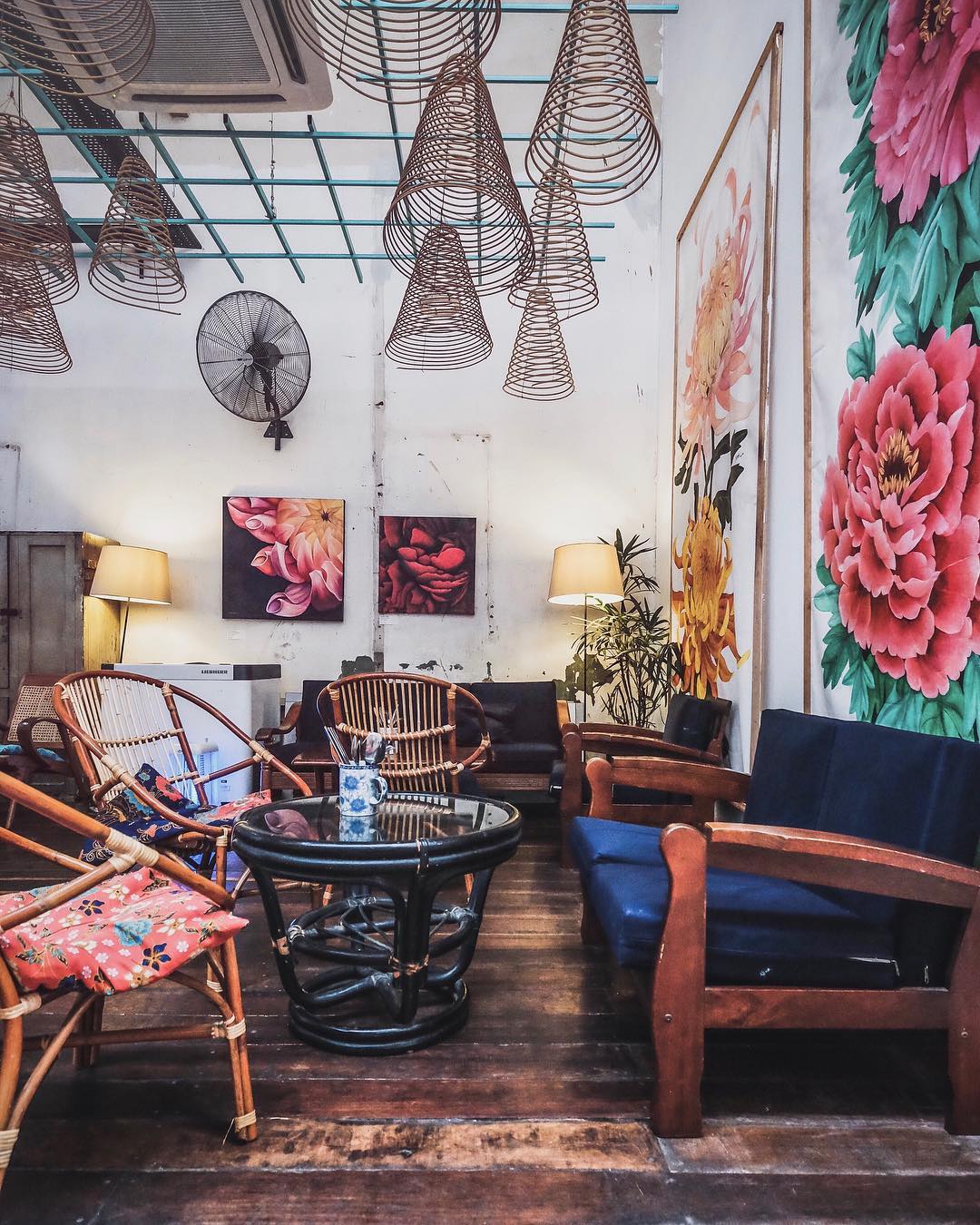 Image credit: @merchantslane
Merchant's Lane is a long-time resident in Petaling Street but it's still packed with people and it's not hard to see why. With an atmosphere that resembles Penang's China House, Merchant's Lane continues to attract a steady stream of customers who patronise them for both their food and ambience.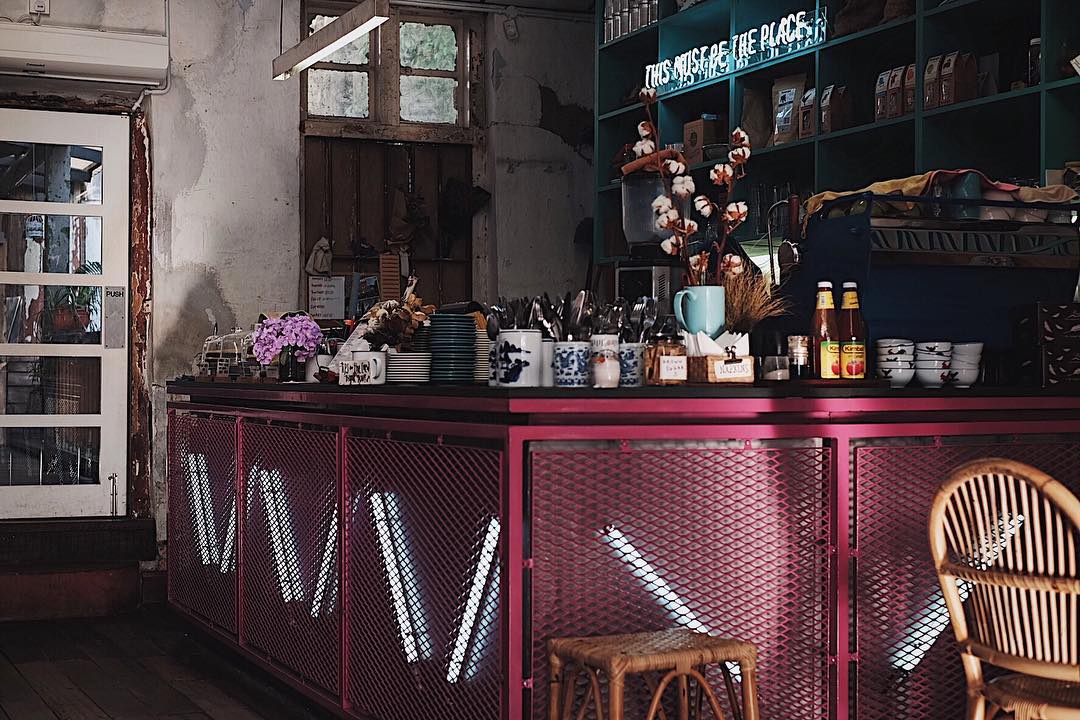 Image credit: @merchantslane
Tucked upstairs in one of Petaling Street's pre-war shophouses, it has a nice and cosy environment that exudes heritage, lots of greenery for photo backdrops, and delish food that justifies its higher price point.
You'll get specially crafted Western and Asian cuisines (priced around RM28 per dish) with dishes such as beef stew, stir-fried spaghetti, chicken rice, and more on the menu.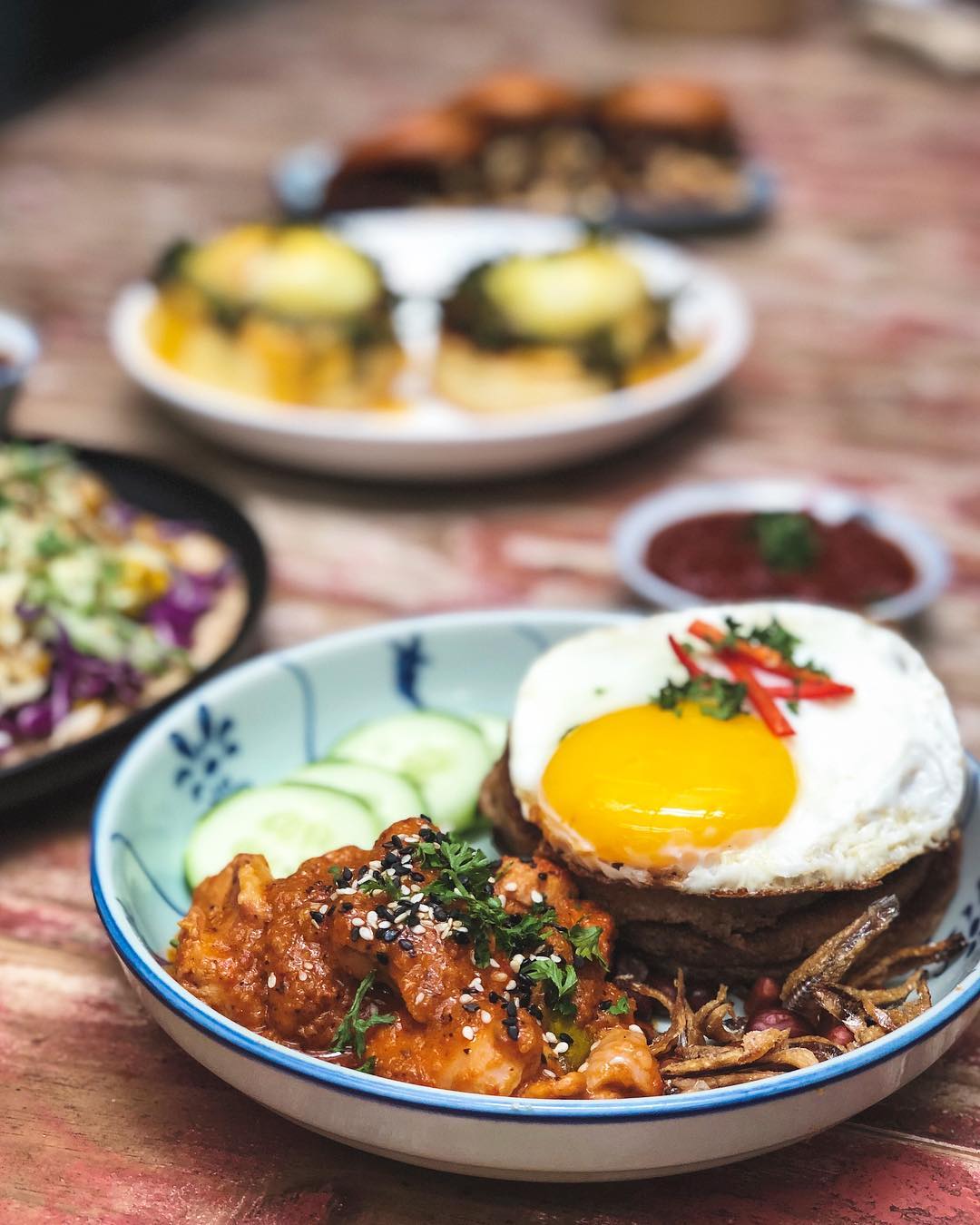 Image credit: @merchantslane
Address: 150, Jalan Petaling, City Centre, 50000 Kuala Lumpur
Opening hours: Thu–Tue 10.30AM-7PM (Closed on Wednesdays)
Telephone: 03-2022 1736
Merchant Lane's Facebook | Instagram
---
9. Mary Jane – high tea in an all-pink cafe with a flower wall
---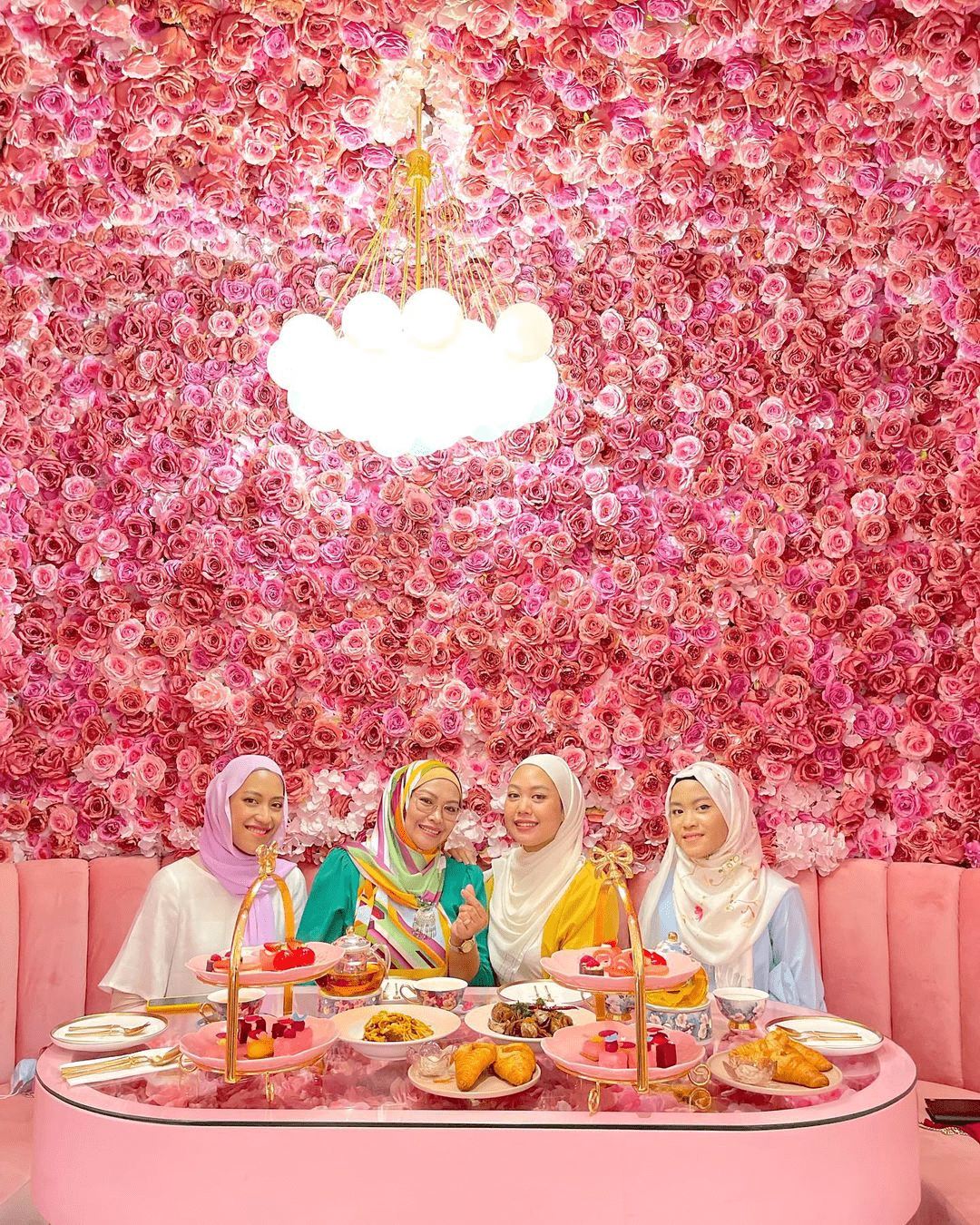 Image credit: @farareeraree
Just a stone's throw from Petaling Street Market is Mary Jane, an opulent pink cafe with a stunning wall of flowers behind their booth tables. Almost every corner of the cafe is immaculately decorated in soft pink hues too, from the stairs to the powder room.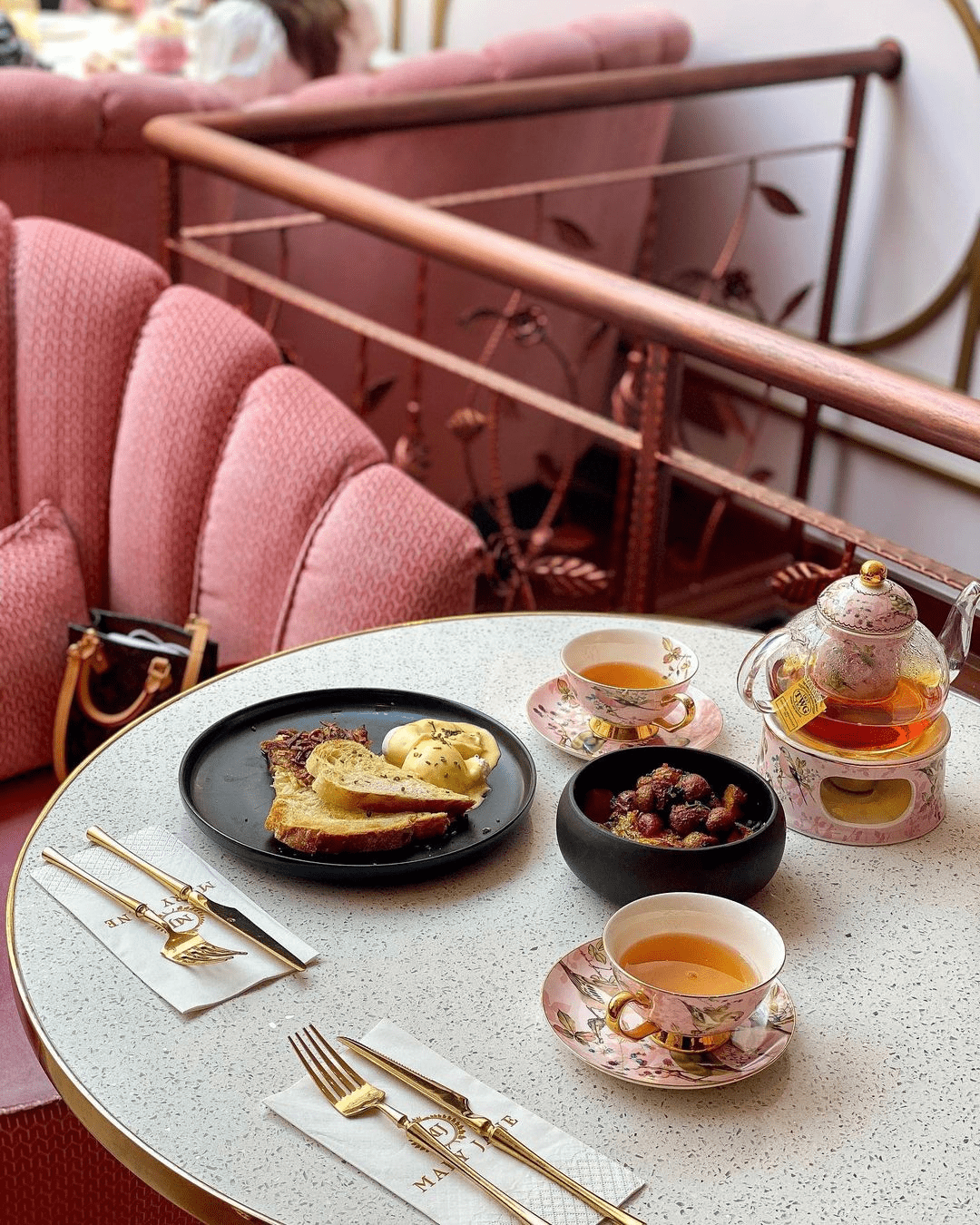 Image credit: @__jowell__
Gather your girl pals for brunch at this cafe, as they offer a wide range of cuisines, including Nyonya delights and Western dishes. They also have a high tea menu – a set for 2 (RM168) comprises ten pairs of delicate treats, including mango tarts and cranberry scones, along with a pot of TWG tea.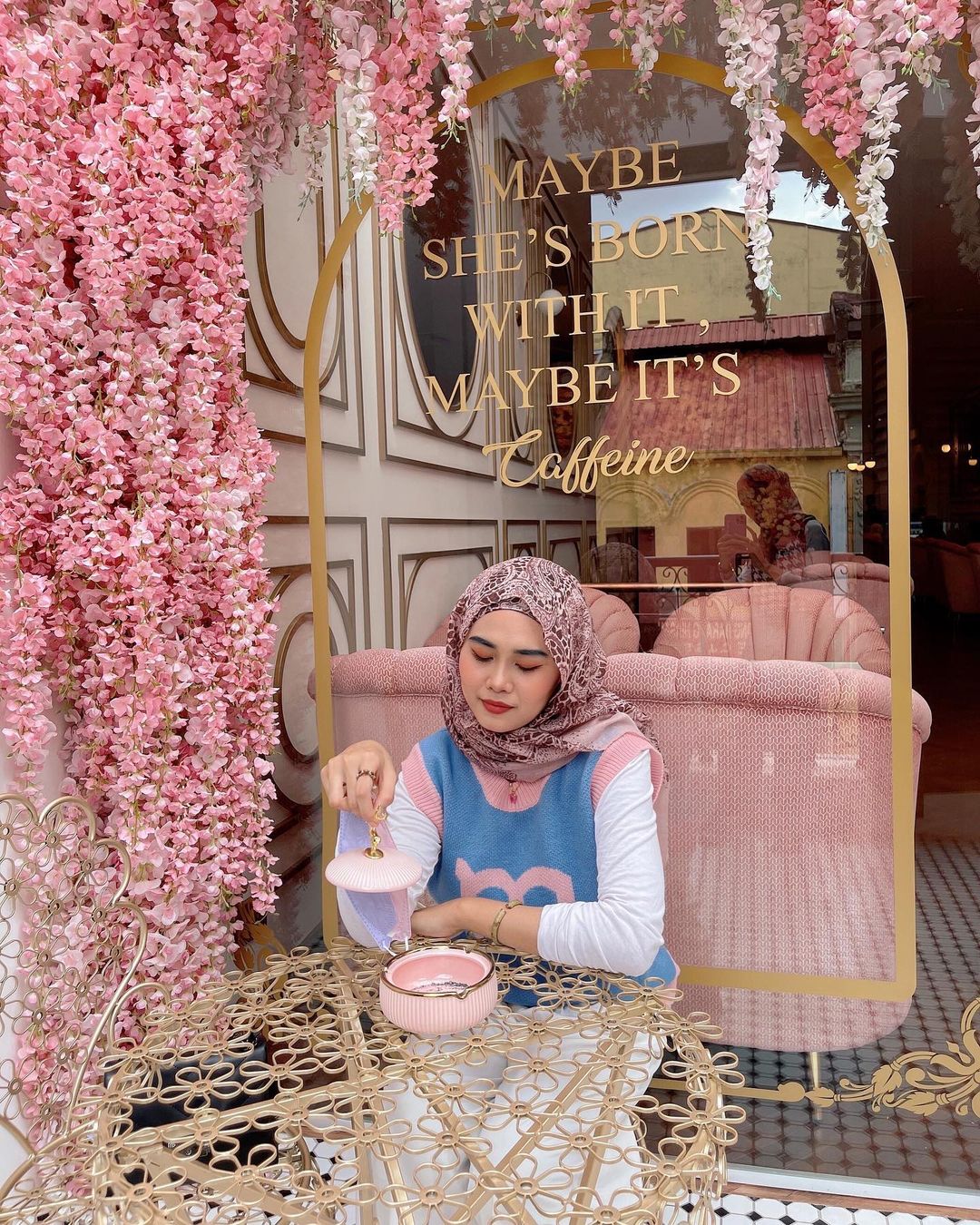 Image credit: @adelalemieux
Read our feature to find out more about Mary Jane. 
---
10. Yewyew – delicate chiffon cakes in a cosy coffee shop
---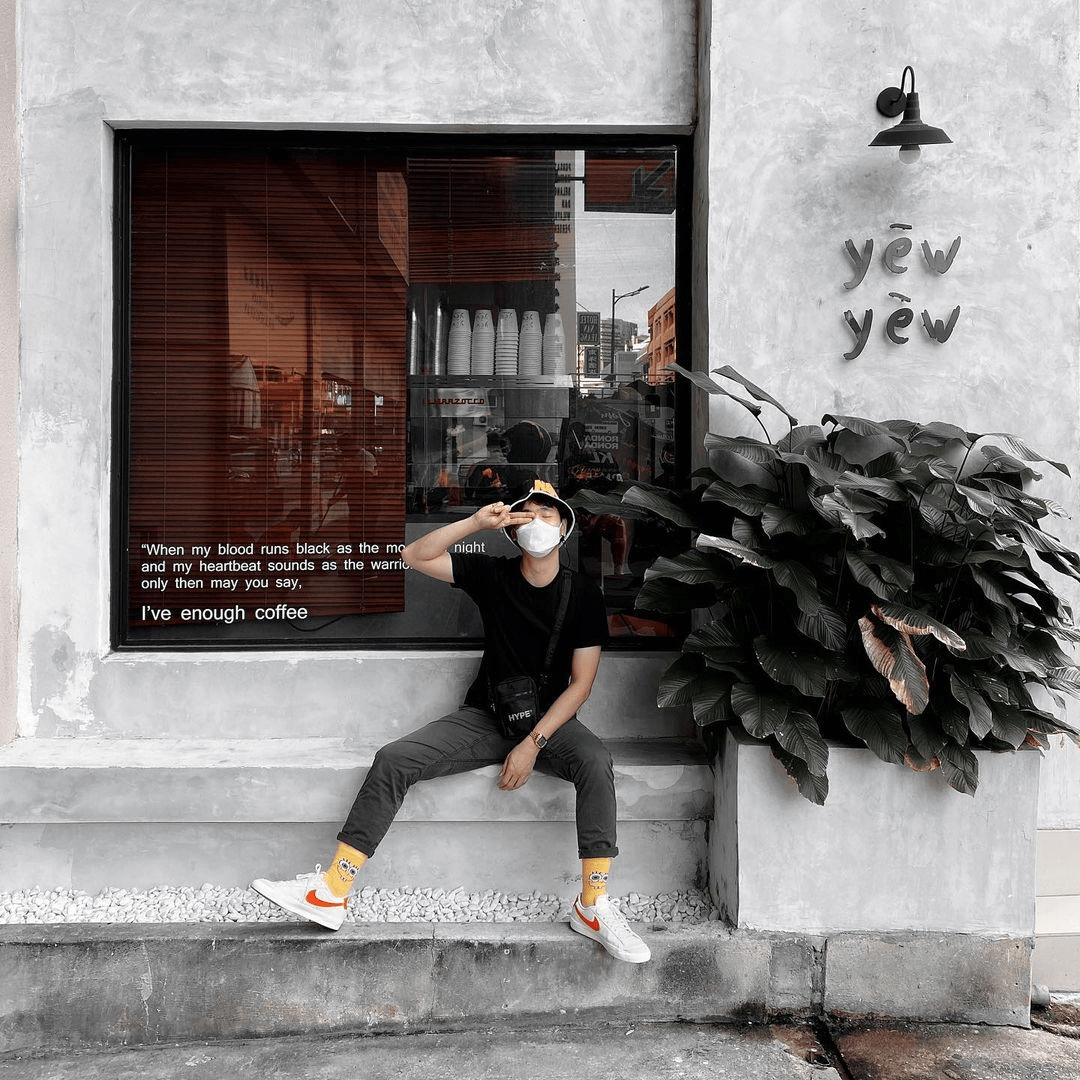 Image credit: @jonaschenth
Though they are cosy in size, Yewyew has become a popular place to grab coffee and indulge in drool-worthy cakes in the Petaling Street area – they've since expanded with two outlets in Petaling Jaya, at 1 Utama Shopping Centre and Paradigm Mall.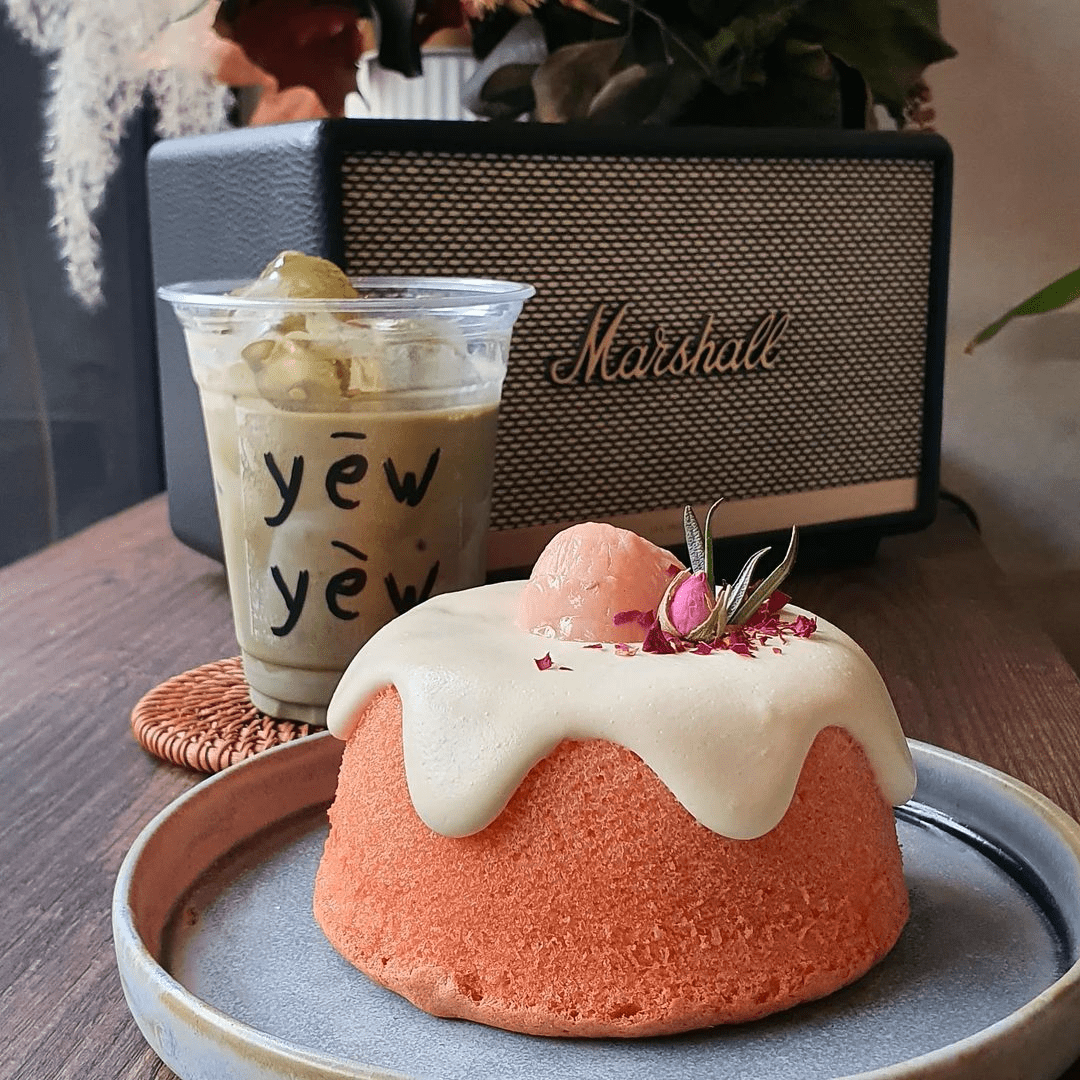 Image credit: @deareatopia
At their KL branch, you can plop down on bar seats that overlook the busy streets of KL for a quick caffeine boost after exploring the city. They have limited seats indoors, but there's also a bench outside the store if you're looking to rest your legs and watch the world go by. 
Their menu boasts a selection of pastries and cakes, including croffles and chiffon cakes. They have several options of croffles, such as Sugar Cinnamon (RM8) and Lemony (RM10), while their Rose Lychee Chiffon Cake (RM18) is a crowd-favourite here.
Address: 63D, Ground Floor, Bangunan Ka Yin, Jalan Sultan 50000 Kuala Lumpur
Opening hours: Tue–Sun 10AM-5PM (Closed on Mondays)
Yewyew's Instagram
---
11. Bunn Choon – century-old egg tart business  
---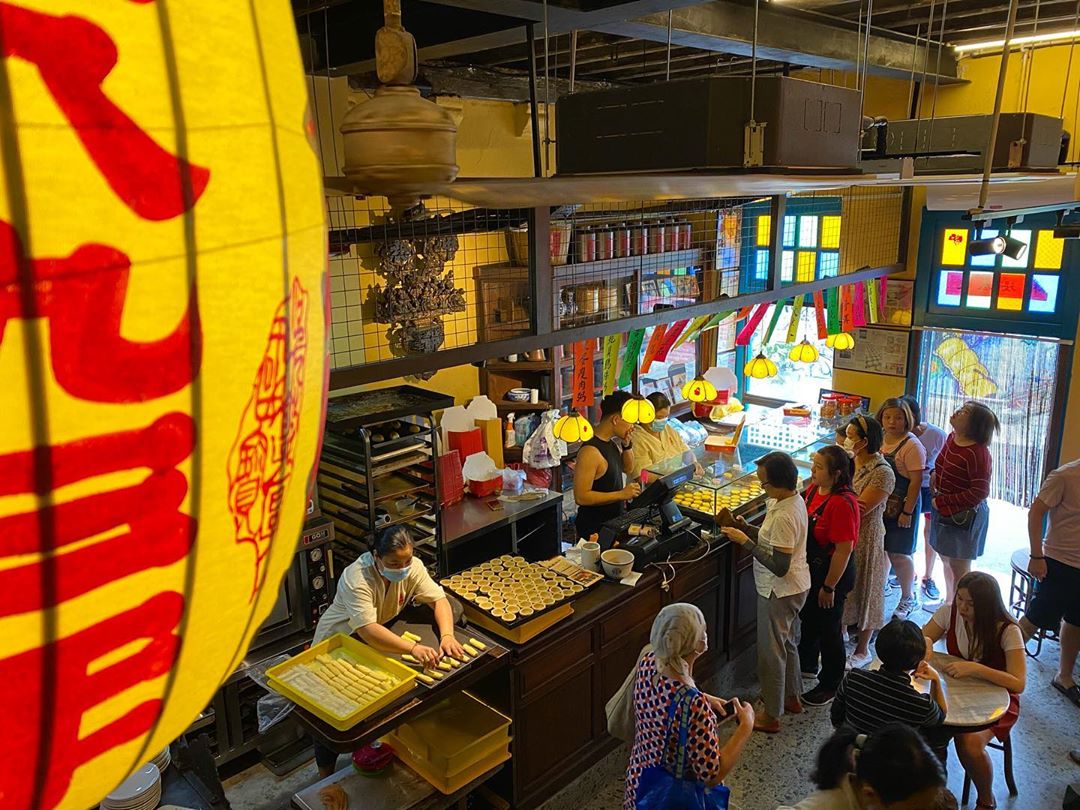 Image credit: @elainemok
Established in 1893, Bunn Choon's egg tart is a true historical gem that has withstood the test of time.
Originally housed in the now-demolished Imbi Wet Market, Bunn Choon relocated to Petaling Street where it continues to sell its legendary egg tarts and other traditional Chinese pastries.
Their egg tarts are known for their golden-brown crust, thick and smooth egg custard, and fragrant aroma that you can catch from shops away.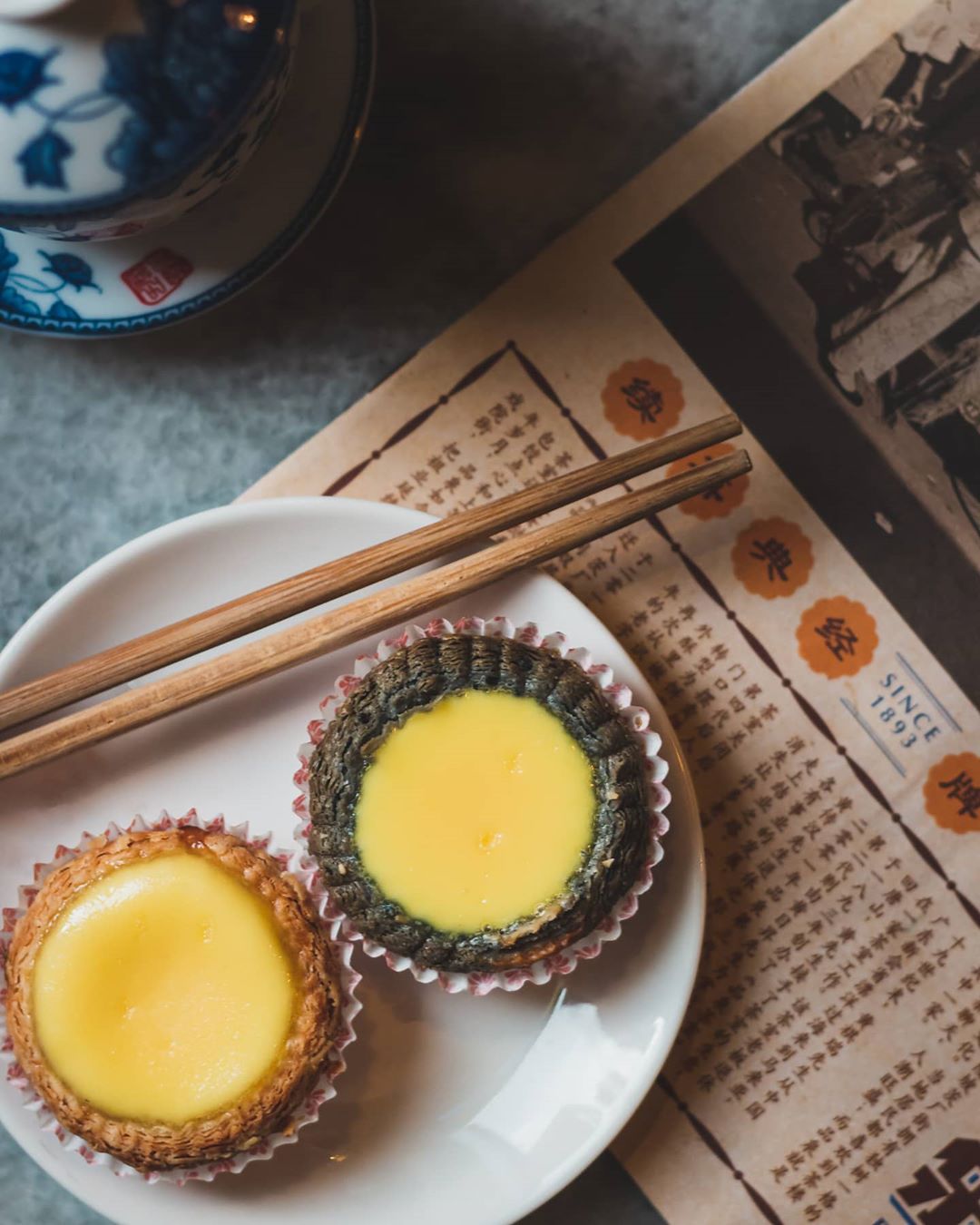 Image credit: @isaac_chong82
You can opt for the original egg tart for RM1.90 a piece or the bamboo charcoal sesame egg tart for RM2 a piece.
Bunn Choon also doubles as a dim sum joint where you can get your standard dim sum staples such as siew mai, shrimp dumpling, glutinous rice, and more for around RM6 a plate.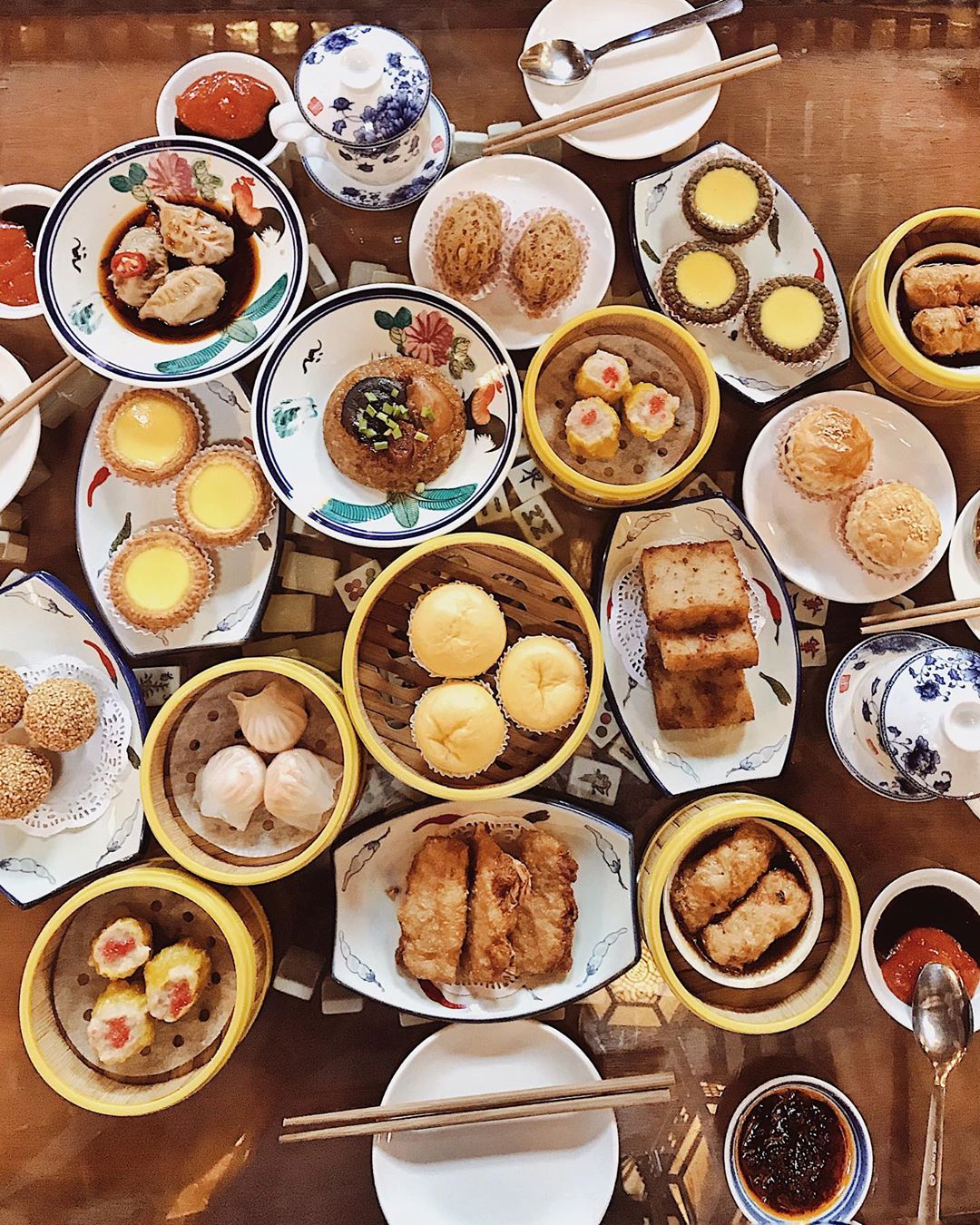 Image credit: @magiepar
Address: No 8. Lorong Panggung, City Centre, 50000 Kuala Lumpur
Opening hours: 7.30AM-4PM, Daily
Telephone: 016-228 7625
Bunn Choon's Facebook | Instagram
---
12. Ho Kow Hainam Kopitiam – Hainanese breakfast staples in a 60-year-old kopitiam
---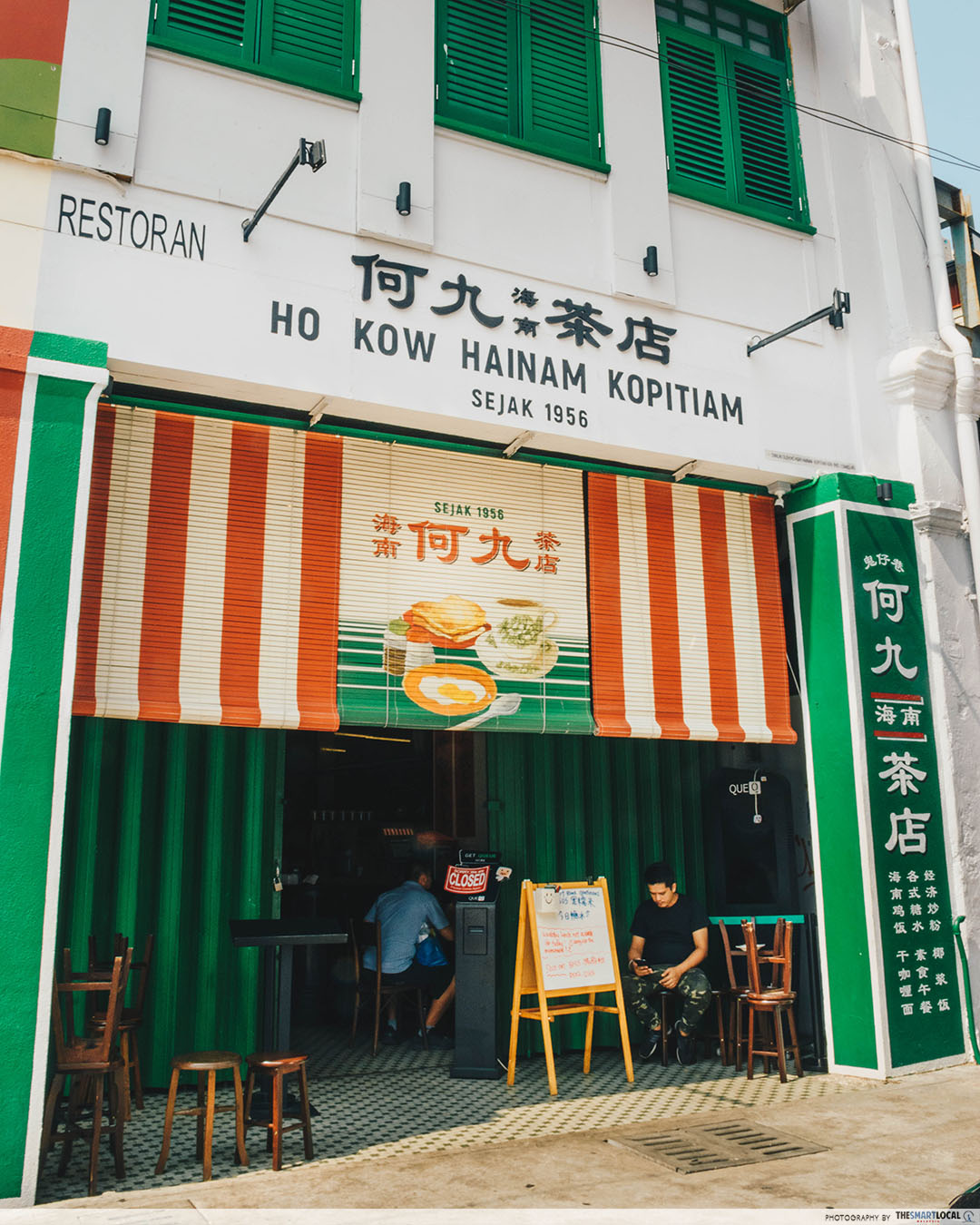 Ho Kow Hainam Kopitiam is also one of the old boys of Petaling Street. They have been operating since 1956 and their cafe is still packed to the brim on most weekends.
The menu is pretty traditional. You will find the usual Hainanese breakfast staples of Butter And Kaya Toast (RM2.90), Curry Chee Cheong Fun (RM4.80), Nasi Lemak With Fried Chicken (RM12.90), and more.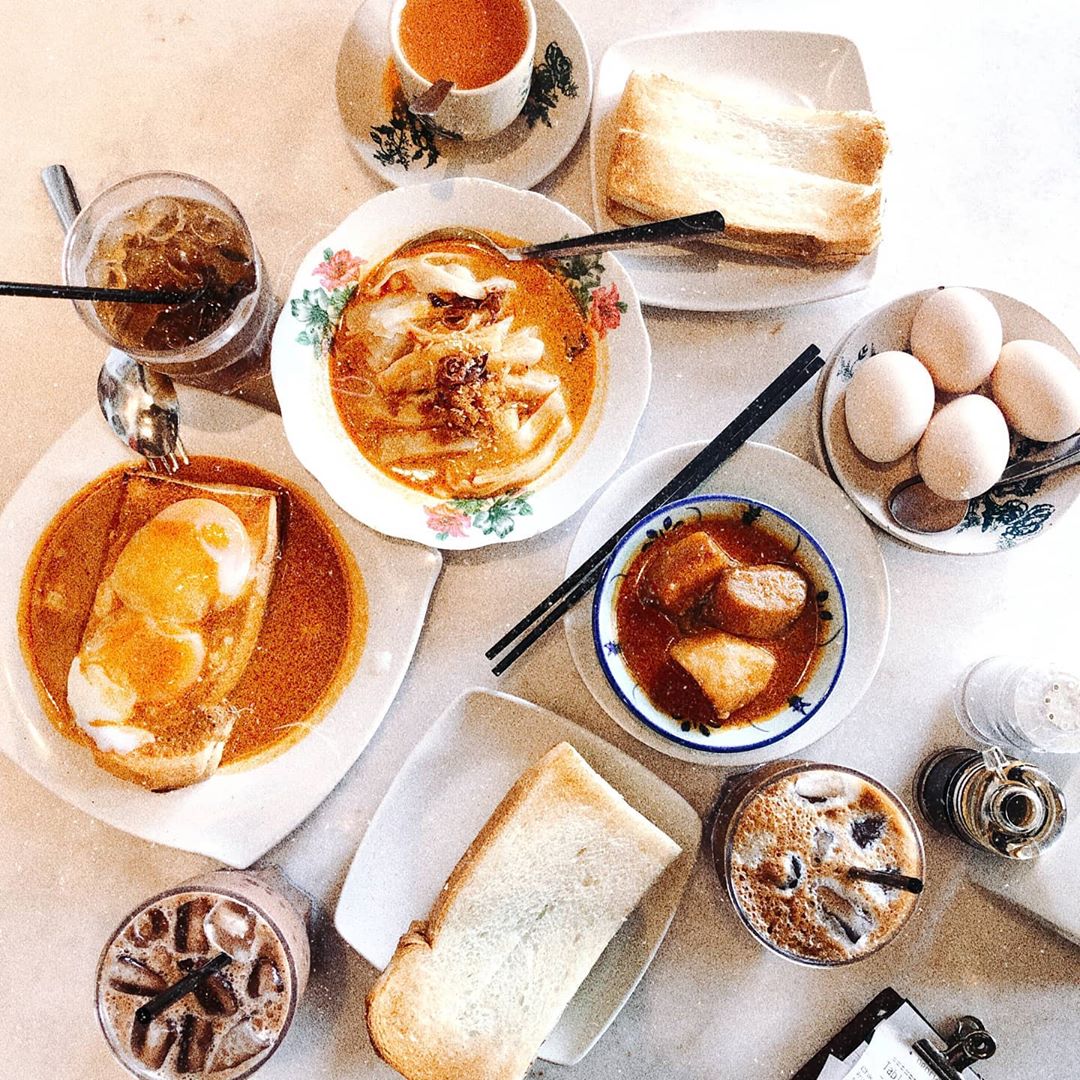 Image credit: @lengpeiying
Coffee drinkers should definitely order their Kopi Cham (RM2.90), an authentic Hainanese drink that mixes coffee and tea together, hence the word "cham", great for dipping the toasts into.
Address: 1, Jalan Balai Polis, City Centre, 50000 Kuala Lumpur
Opening hours: Tue–Sun 7.30AM-2.30PM (Closed on Mondays)
Telephone: 03-2856 8287
Ho Kow Hainam Kopitiam's Facebook | Instagram
---
13. Mingle Cafe – a variety of cakes & cuisines in a rustic setting
---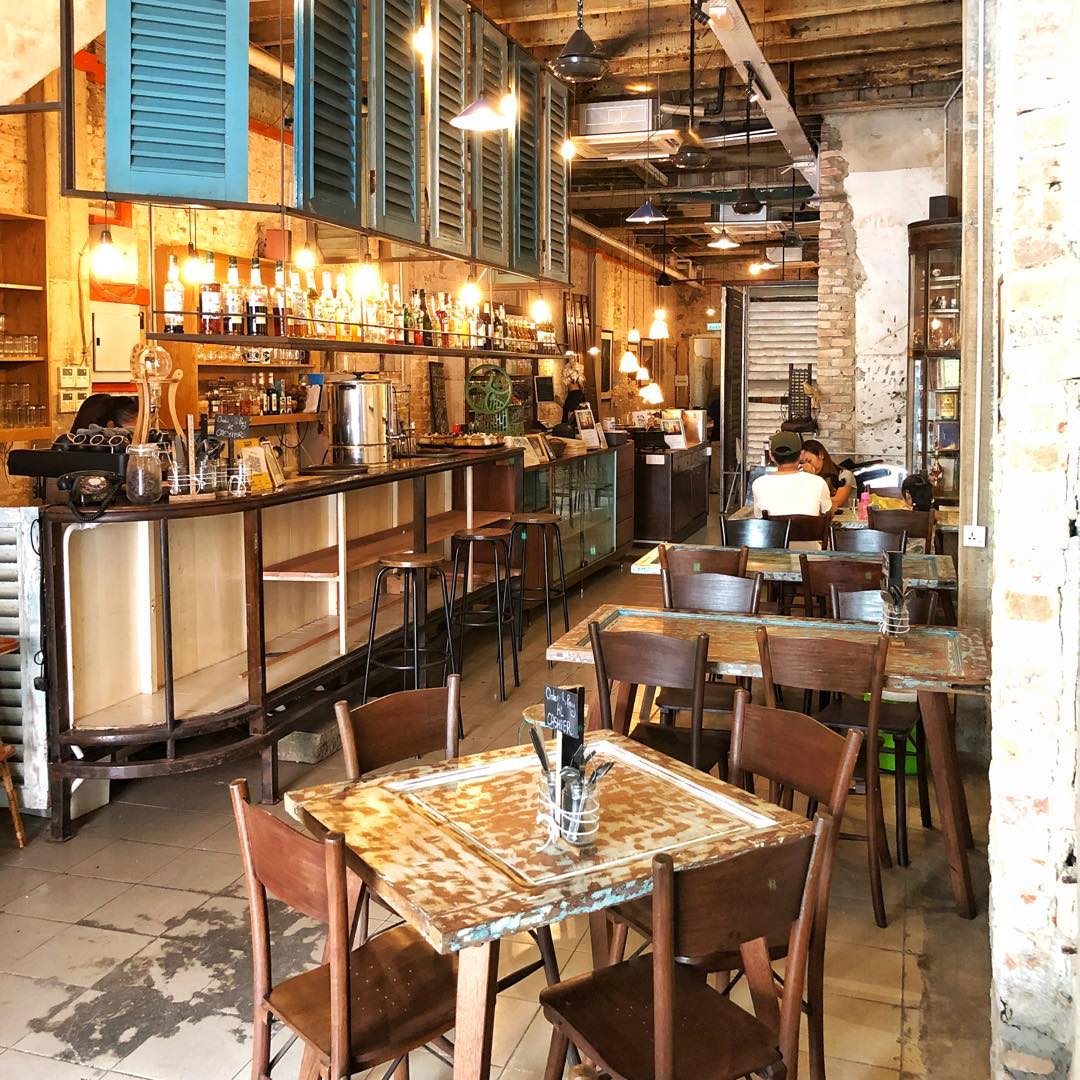 Image credit: @minglecafekl
Stepping into Mingle Cafe is like a walk down memory lane for those who grew up in the 1970s. The cafe and cakery is adorned with rustic furniture, antique ornaments, and even old-school biscuits in large tin barrels that customers can buy back home in small bags.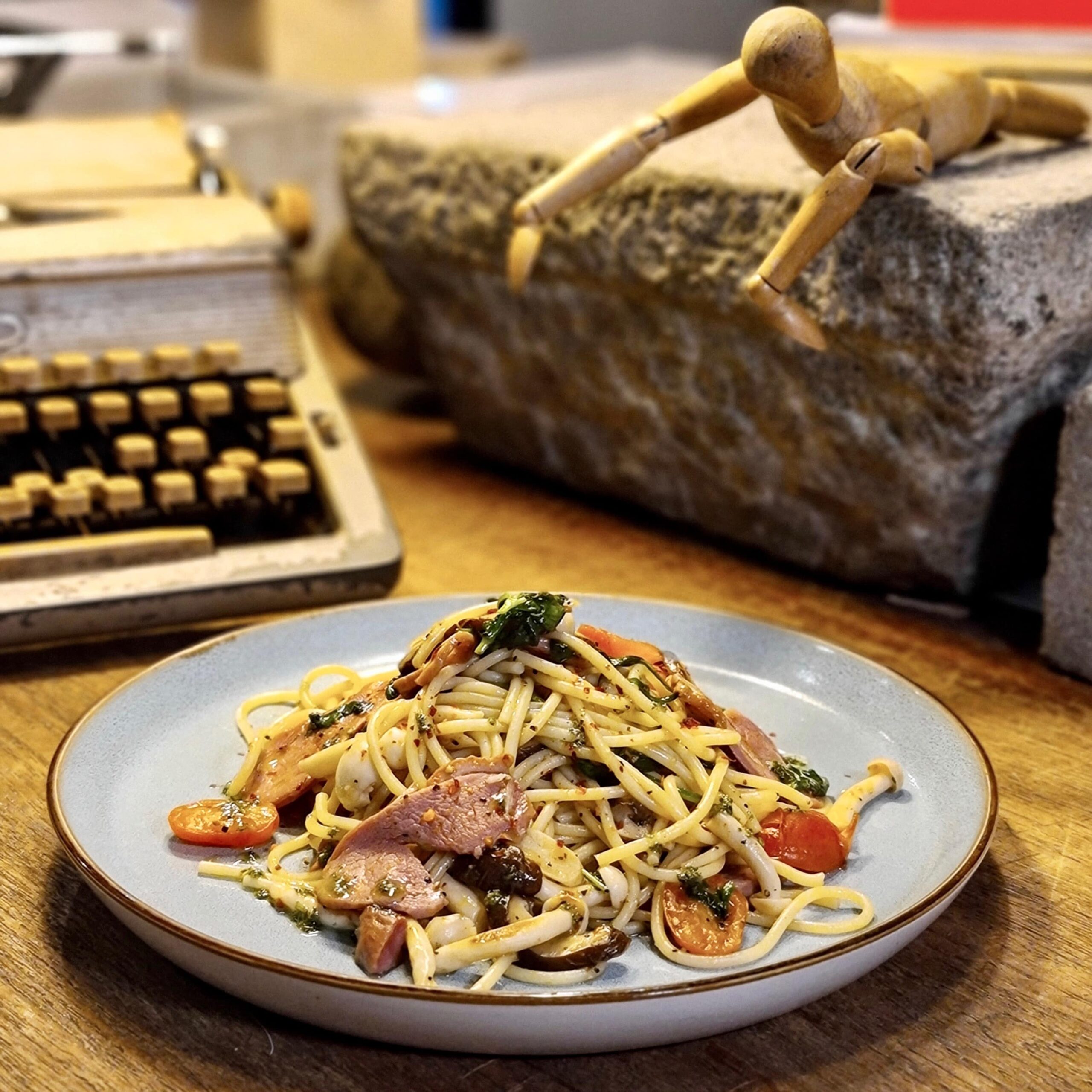 Smoked Duck Spaghetti Aglio Olio
Image credit: @minglecafekl
While millennials may not share the same sentimental memories, they can still be wowed by Mingle Cafe's well-curated menu – from all-day breakfast to Japanese and Western dishes, down to their Signature Rice dishes that include Nasi Ayam Geprek (RM24) and their vegan-friendly Thunder Rice with our House Secret Thunder Sauce (RM22).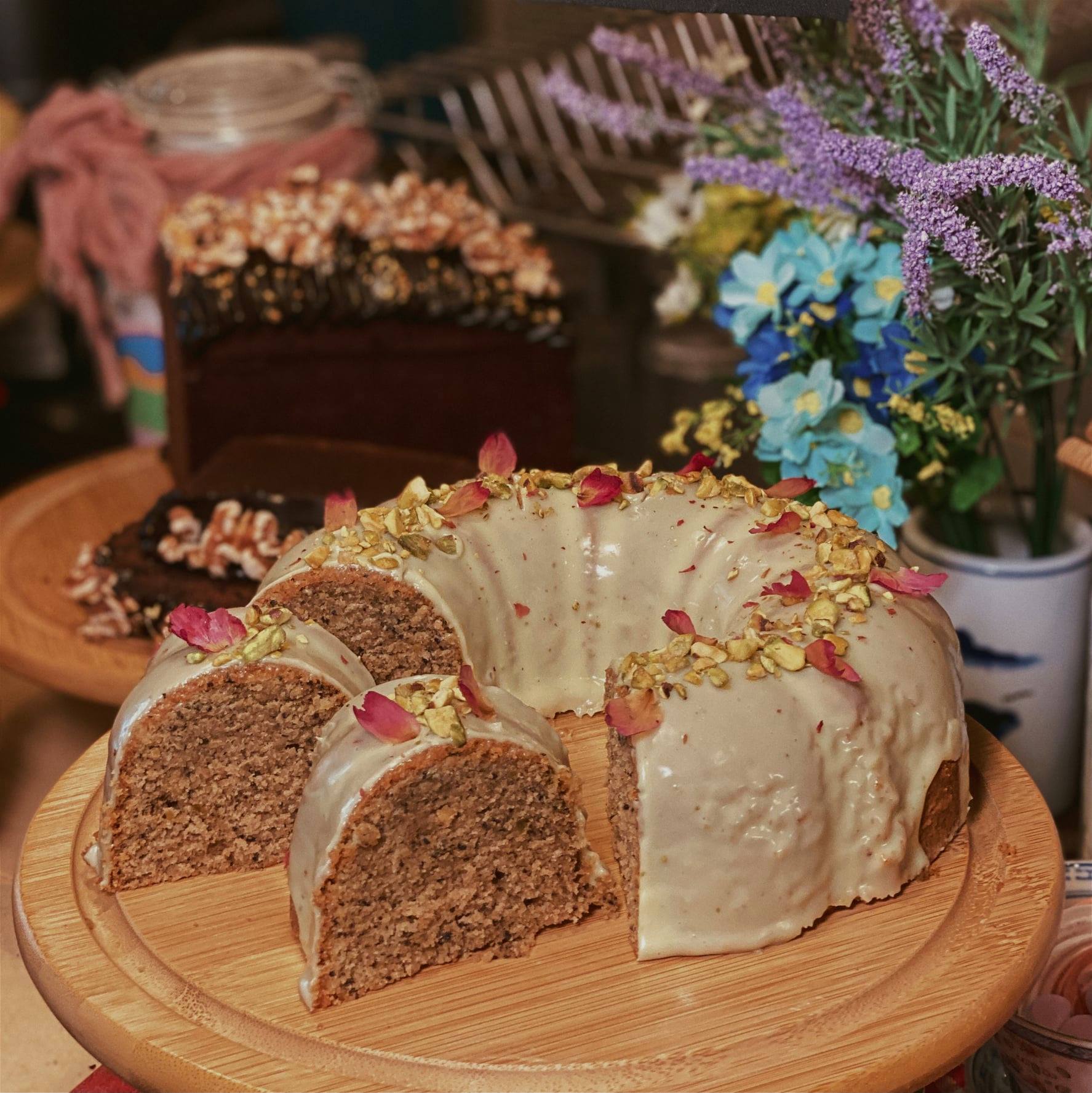 Mingle Cafe's Pablo Pistachio Bundt Cake blends rich pistachio and black tea flavours
Image credit: Mingle Cafe 名樂閣
They also have unique renditions of cakes that incorporate local fruits. Some of their crowd-pleasers are slices of Cempedak Madu Burnt Cheescake (RM19) and Soursop Victoria Sandwich Cake (RM19), which are decadent cakes that boast rich flavours of fragrant cempedak and soursop respectively.
Address: 55, Jalan Sultan, City Centre, 50000 Kuala Lumpur
Opening hours: Wed–Mon 11AM-10PM (Closed on Tuesdays)
Telephone: 019-222 0262
Mingle Cafe's Facebook | Instagram
---
14. Urban Artisan – extremely Insta-worthy soft serve 
---

Image credit: @tummytalk_
Hailing from Penang, Urban Artisan is an extremely Insta-worthy soft serve chain that has opened up its latest outlet in Kuala Lumpur, joining the company of Petaling Street cafes serving up cool desserts.
Their flavours are known to be distinctive and fragrant, tasting exactly like what their names promise. Their menu changes weekly, but just to give you an idea, some of their bestsellers include Oceanic Sea Salt, Valrhona Chocolate, Pure Lychee, and Premium Green Tea. 
You can mix 2 flavours together, and because they come in pretty striking colours like turquoise, you'll want to get your cameras ready to snap a shot before the ice cream melts.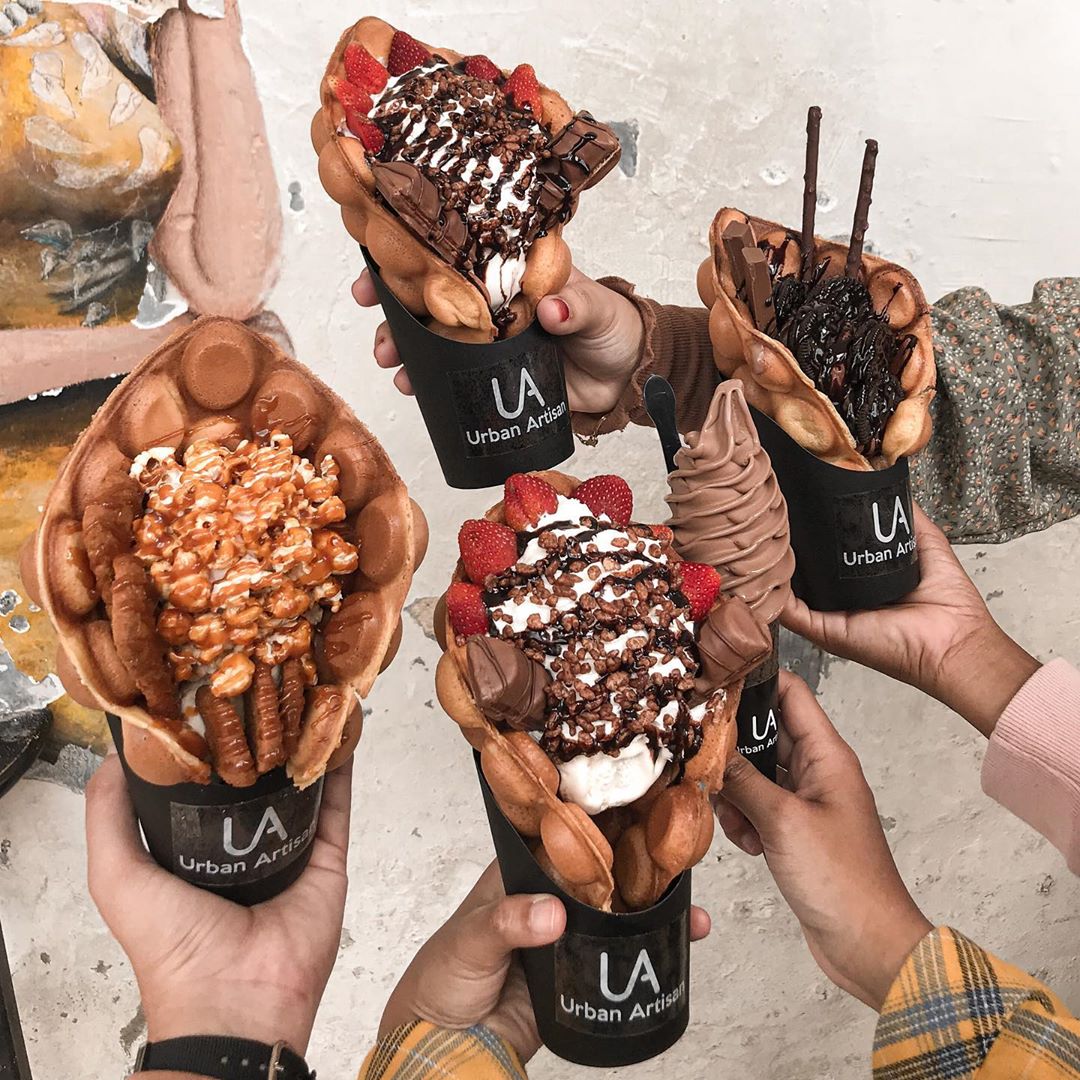 Image credit: @ftnshuhada
Single-flavour soft serve is priced at RM11.90 for a cone, while a double-flavour one costs RM12.90. For an extra sinful and indulgent treat, go for their Bubble Series (from RM19.90) – 2 scoops of soft serve enveloped in a "bubble waffle", topped with whipped cream, chocolate sauce, and fruits, and best shared among 2 people.
Address: 149, Jalan Petaling, City Centre, 50000 Kuala Lumpur
Opening hours: Tue–Sun 12.30PM-7.30PM (Closed on Mondays)
Telephone: 017-577 0980
Urban Artisan's Facebook | Instagram
---
Petaling Street cafes – in a heritage hub with lots of modern eats 
---
From old-school food joints, famous egg tarts, to new fusion desserts, Petaling Street cafes will keep your bellies happy and your eyes pleased with all its colourful murals and gorgeous interiors. 
Take a weekend to not just indulge in all the food, but to soak in the sights, sounds, and people as you stroll through Kuala Lumpur's heritage scene. 
If you're still hungry, check out these yum lists: 
---
Cover image adapted from: @hungrywolfgrams, @dabaomy and @jelajournal 
This article was updated on 20th May 2022 by Janet Cho.
Get more stories like this!
Drop us your email so you won't miss the latest news.