Muhyiddin appointed 'Caretaker' Prime Minister
---
After several days of speculation over Prime Minister Tan Sri Muhyiddin Yassin's possible resignation, the Pagoh MP has announced that he will indeed be stepping down from his position as the Prime Minister of Malaysia after submitting his resignation to Yang di-Pertuan Agong on Monday, 16th August.
Nonetheless, the King has appointed him as 'caretaker' Prime Minister, so he will hold his current position as Prime Minister until a replacement can be elected in his place.
---
Muhyiddin officially resigns as Prime Minister
---
A live press conference was held by Muhyiddin at 3PM on Monday, 16th August, in which he confirmed his last day as Prime Minister on the same day.
In his speech, Muhyiddin also shared that his resignation was a difficult one to make amidst the pandemic – which loomed over most of his 17-month tenure as Malaysia's Prime Minister. It was not an ideal situation for the Perikatan Nasional administration either, with several Covid-19 economy and vaccination initiatives still in progress.
But it was a last resort decision that had to be made, following attempts by the administration to safeguard Malaysians' lives and livelihoods – which Muhyiddin shared was not without shortcomings, despite the best efforts and intentions of his administration.
Muhyiddin proceeded to cap off his speech by promising the country that there is enough vaccines for all to be vaccinated by October, while wishing the best for the next administration to come.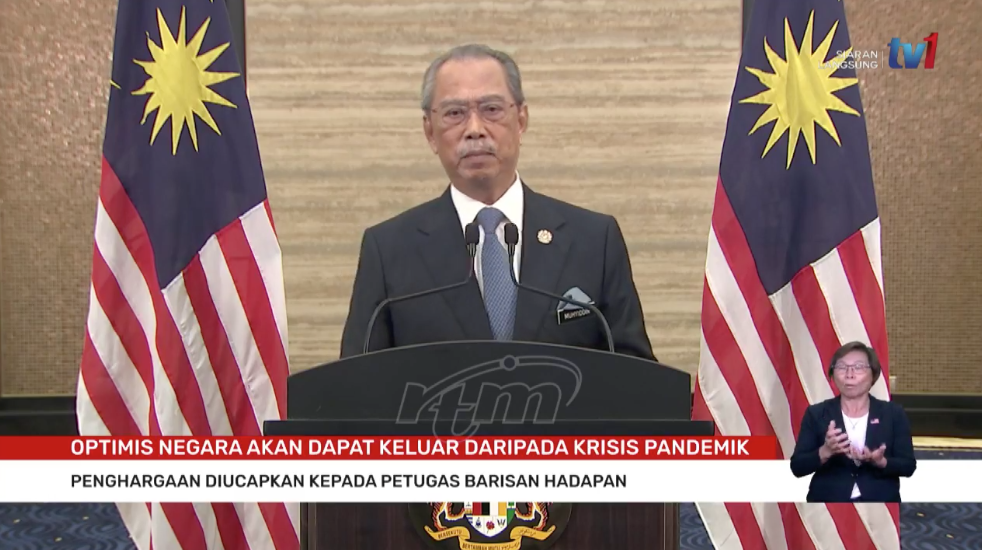 Muhyiddin announces his resignation
Image credit: RTM – Radio Televisyen Malaysia
Nonetheless, Muhyiddin will continue to carry out his duties until a successor is named. 
On Istana Negara's official Facebook, Controller of Royal Household Datuk Indera Ahmad Fadhil Shamsuddin relayed Yang di-Pertuan Agong Al-Sultan Abdullah Ri'ayatuddin Al-Mustafa Billah Shah's thoughts on the matter through a lengthy press statement. It addressed Muhyiddin's new position as 'caretaker' Prime Minister. 
In this role, Muhyiddin will continue as Prime Minister until a replacement can be elected, as it is currently too risky to hold an election amidst the Covid-19 pandemic in the Malaysia – which takes into account rising Covid-19 cases in the country and burdens faced by the nation's health facilities.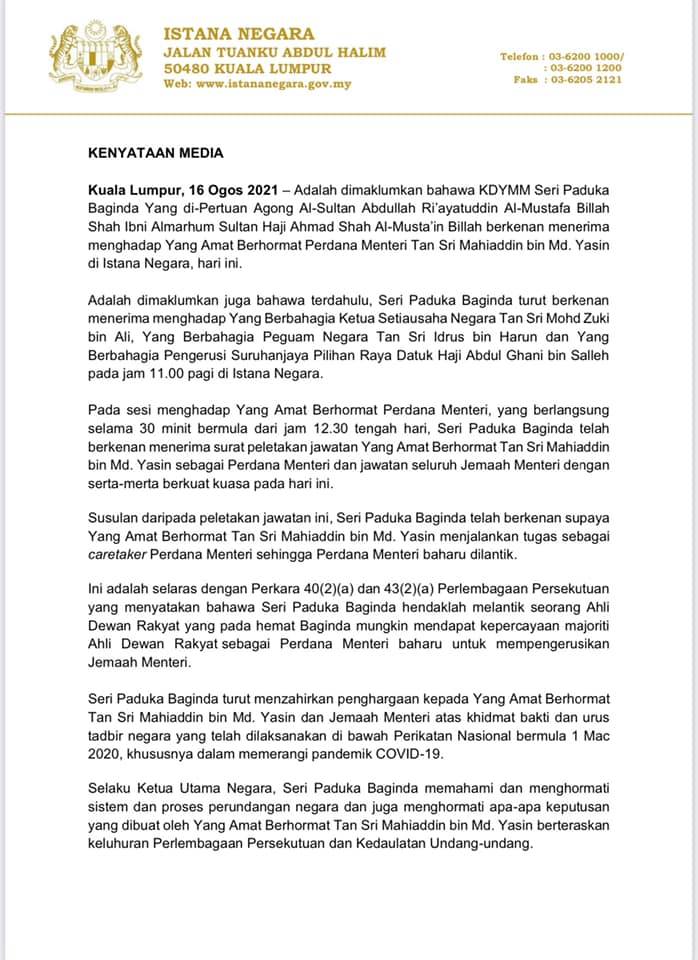 Istana Negara releases official press statement on Muhyiddin's resignation and new role
Image credit: Istana Negara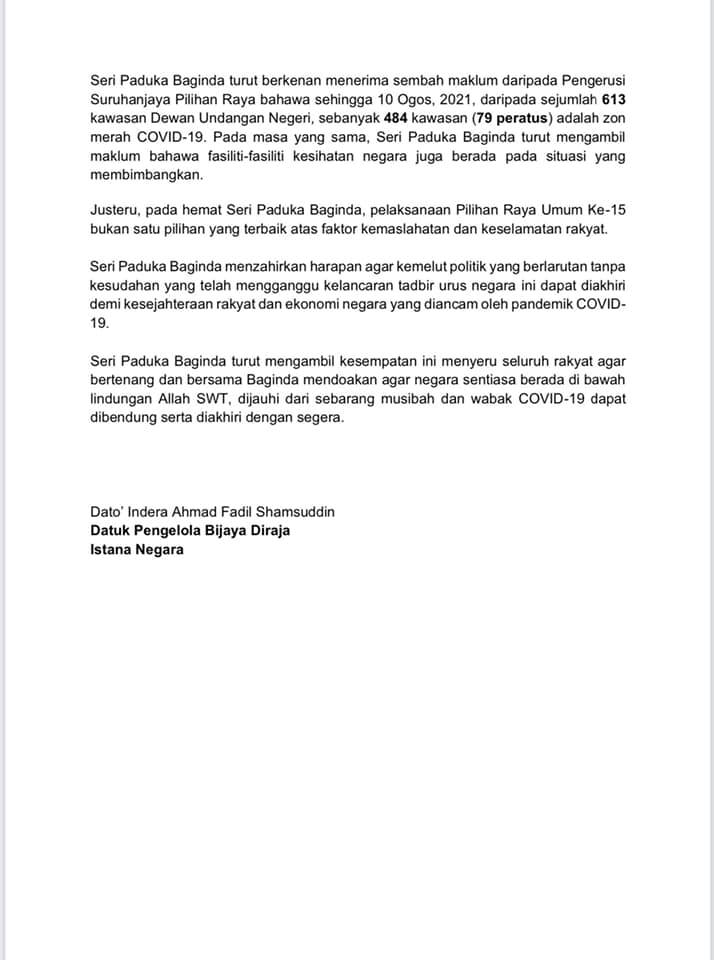 Image credit: Istana Negara
This all follows a whirlwind of events that happened earlier today, 16th August.
Around 8AM, Muhyiddin met with his Cabinet at the Prime Minister Office amidst circulating rumours of his resignation. The meeting was followed by an audience with the King on the expected day of his resignation.
After the meeting, Science, Technology and Innovation Minister Khairy Jamaluddin shared on his official Instagram page that the Perikatan Nasional Cabinet has indeed handed in its resignation to the King. His brief message, shared on his Instagram story, said, "The Cabinet has tendered our resignation to the Agong. Thank you for the opportunity to, once again, serve the nation. May God bless Malaysia."
Likewise, Senior Minister Hishammuddin Hussein and Datuk Seri Takiyuddin Hassan have also taken to their verified Twitter accounts to say their farewells.
Prior to his resignation, Muhyiddin had attempted to gain support among his opposition by offering six Parliamentary reforms, and an additional one if he gained two-thirds of the majority, on Friday, 13th August. This included injecting RM45 billion to the Covid-19 relief fund and passing Undi18 ahead of a scheduled Parliament confidence vote on 7th September 2021.
However, his proposal for an inclusive government has since been rejected by several opposition parties who casted doubts over his offer and the motive behind them, as reported by Malay Mail on 13th August.
---
Muhyiddin resigns, but now 'caretaker' Prime Minister
---
Although Muhyiddin has officially resigned as Prime Minister, he will continue on in his position until a replacement can be elected. Whatever the outcome may be in the coming days or months, we hope that Malaysians' welfare and the fight to bring our country out of the pandemic will continue to be at the forefront of any decision made.
Read more here: 
---
Cover image adapted from: Muhyiddin Yassin
Get more stories like this!
Drop us your email so you won't miss the latest news.