Polis Bantuan KTMB patrol with temperature screening helmets
---
The COVID-19 cases in Malaysia have reached a concerning level recently. With that, extra preventive measures are needed to ensure that the situation remains manageable.
The polis at our commuter rail service stations have taken to donning temperature screening helmets while patrolling to identify potential virus carriers. Functional and cool-looking, these futuristic helmets have been likened by the rakyat to the ones worn by men in RoboCop.
---
Futuristic temperature screening helmets debut at KTM stations
---
The post was uploaded by the official Info Roadblock JPJ/POLIS Facebook page admin yesterday. In less than 24 hours, it has garnered over 29,000 reactions, 2,500 comments, and 4,500 shares at the time of writing.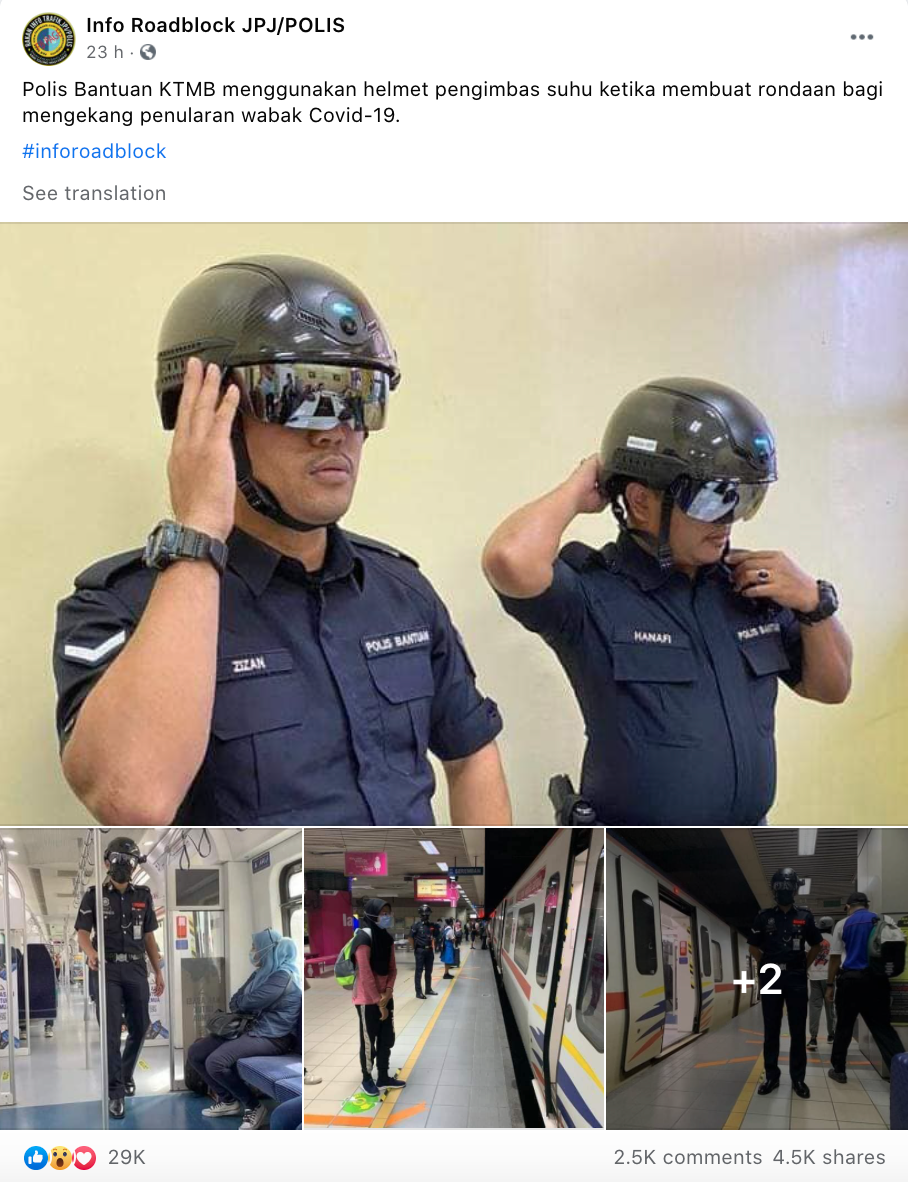 Image credit: Info Roadblock JPJ/POLIS
Several pictures of policemen with the helmets on and patrolling around a station and in the KTM itself were posted with a caption written in Malay. The caption read, "KTMB's auxiliary policemen can be seen using temperature screening helmets while patrolling to limit the spread of COVID-19."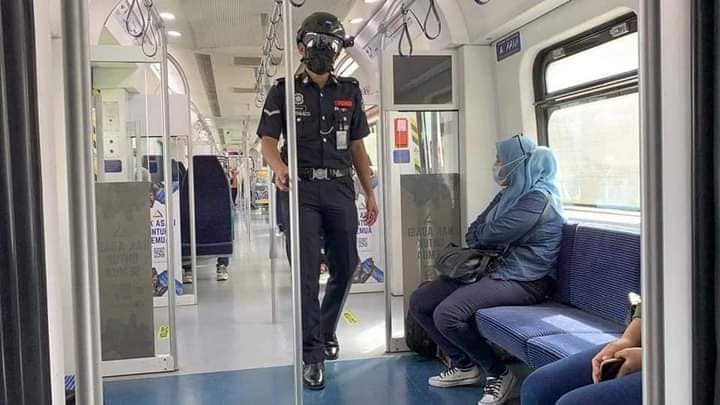 Image credit: Info Roadblock JPJ/POLIS
---
Netizens chime in with funny similarities
---
As these helmets are an unusual sight in Malaysia, netizens were extremely amused at how they looked. Some creative users flooded the comment section with pictures of what the helmets resemble.
For example, Mazlan Bashah II uploaded a picture of Sylvester Stallone in his Judge Dredd costume from the movie of the same name with the famous quote, "I am the law." Quite apt for our polis indeed.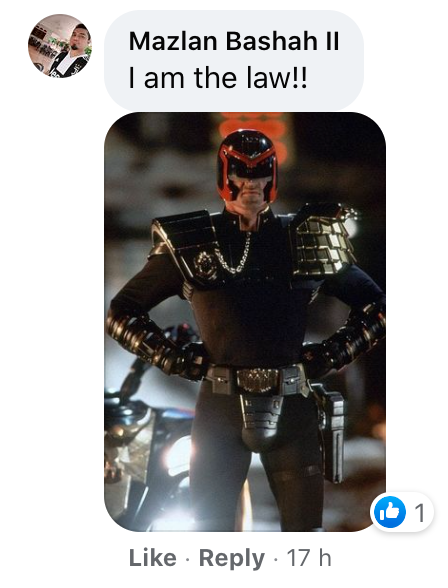 Image credit: Mazlan Bashah II
Another Facebook user, Fayina was a little more cheeky with her comment. She attached a photo of Upin & Ipin, Malaysia's iconic cartoon characters, wearing similar headgear and wrote, "Upin & Ipin's design looks a little nicer but theirs is okay too."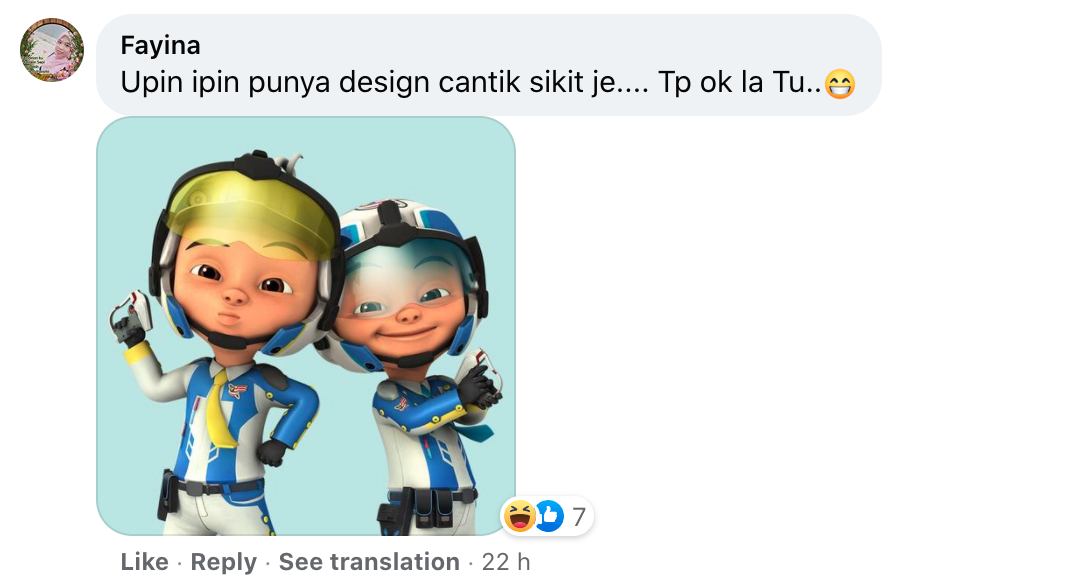 Image credit: Fayina
A number of netizens were quick to point out that the helmets mirror the guys in RoboCop the most. Simon Lee was one of those who commented with a GIF of a scene in the RoboCop movie with a mischievous "Robocop is back" caption to boot.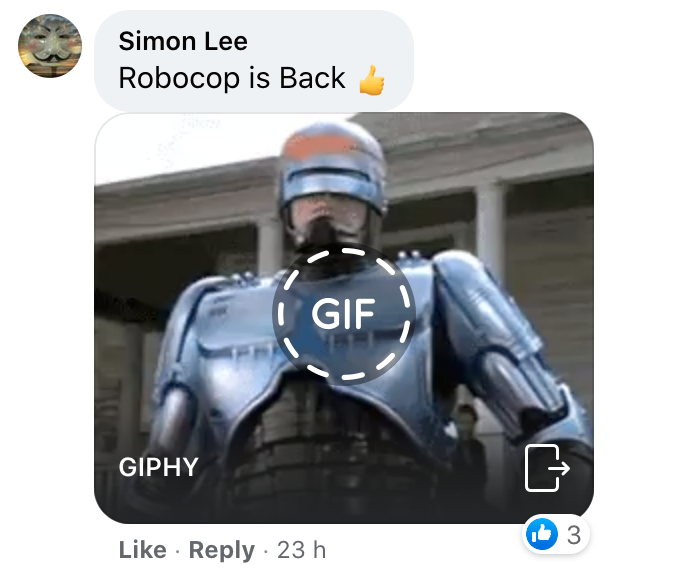 Image credit: Simon Lee
---
Malaysians excited over KTMB polis bantuan's functional and cool-looking helmets
---
The sight of these helmets may provide a good ol' chuckle for Malaysians but in all seriousness, it's nice to see extra precautionary measures being implemented to help curb the spread of the virus.
And with KTM stations being mass transit locations, it's reassuring to know that those with high temperatures can likely be identified immediately.
Stay alert with more COVID-19 updates here:
---
Cover image adapted from: Info Roadblock JPJ/POLIS
Enjoying The Smart Local Malaysia? Follow us on Facebook and Instagram for more stories like this.
Get more stories like this!
Drop us your email so you won't miss the latest news.