Putuo Village, a scenic spiritual sanctuary in Johor
---
Mood swings come and go – at times, all we need is a respite to divert our minds and embrace positive energy wherever we can. Picture this: a tranquil bamboo forest that lets you immerse yourself in the beauty of nature, so you can forget about your troubles and routines for a second.
Enter Putuo Village, located on the outskirts of Kulai, Johor. Set in a scenic bamboo forest, this popular tourist destination is built on Buddhist culture and has plenty of surprises for visitors looking to drop by a bamboo-themed cafe or have a spiritual journey. 
---
Bamboo forest with a rainbow walk and hanging nest
---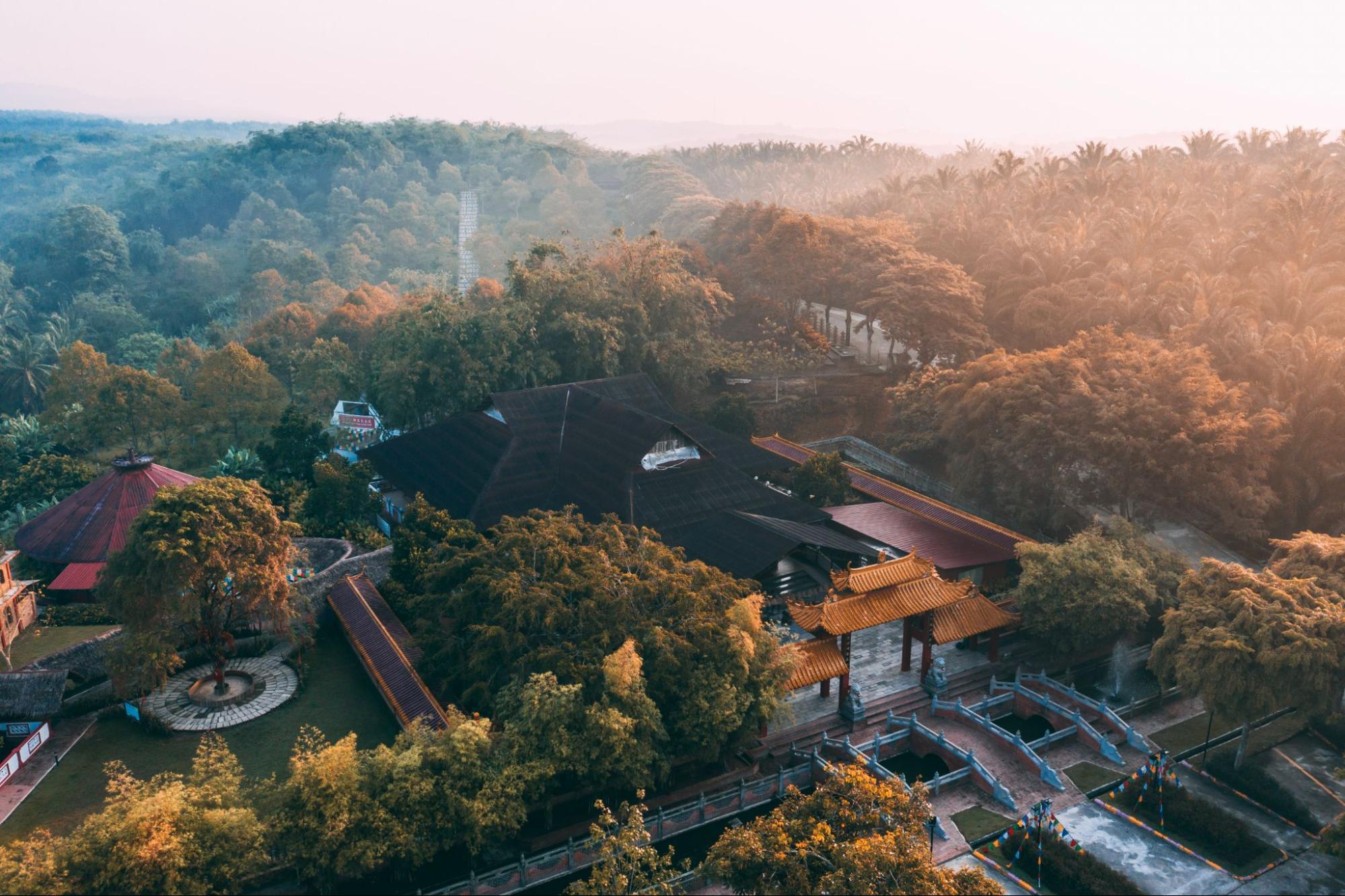 Image credit: Putuo Village
Putuo Village is a 43-acre Buddhist village located in a picturesque bamboo forest that looks like a scene from an ancient fairytale. Tucked within the forest is Purple Bamboo Valley, or Zizhu Valley, which is a scenic spot that features an array of photogenic attractions and installations that visitors can check out.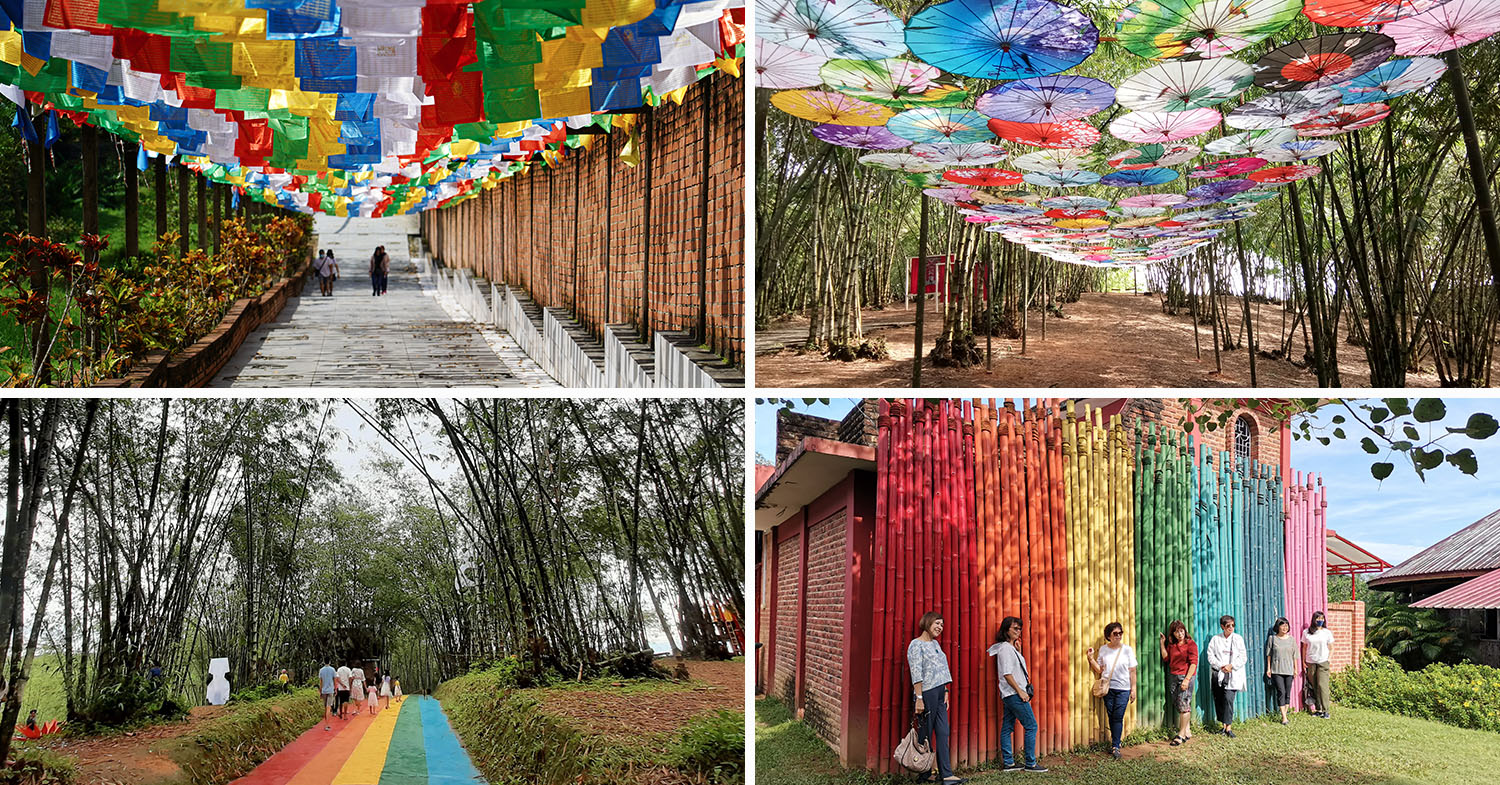 Image adapted from: Vishnu Rao, Suhaili Saadin, Hengry Heng & Adrian Ng  
Among them is the famous rainbow-coloured pathway, which leads you through the forest after a casual stroll along the tree-lined lane. The park has several other similar photogenic corners decorated with colourful flags, Chinese-style umbrellas, and bamboo sticks that'll be sure to grab your attention.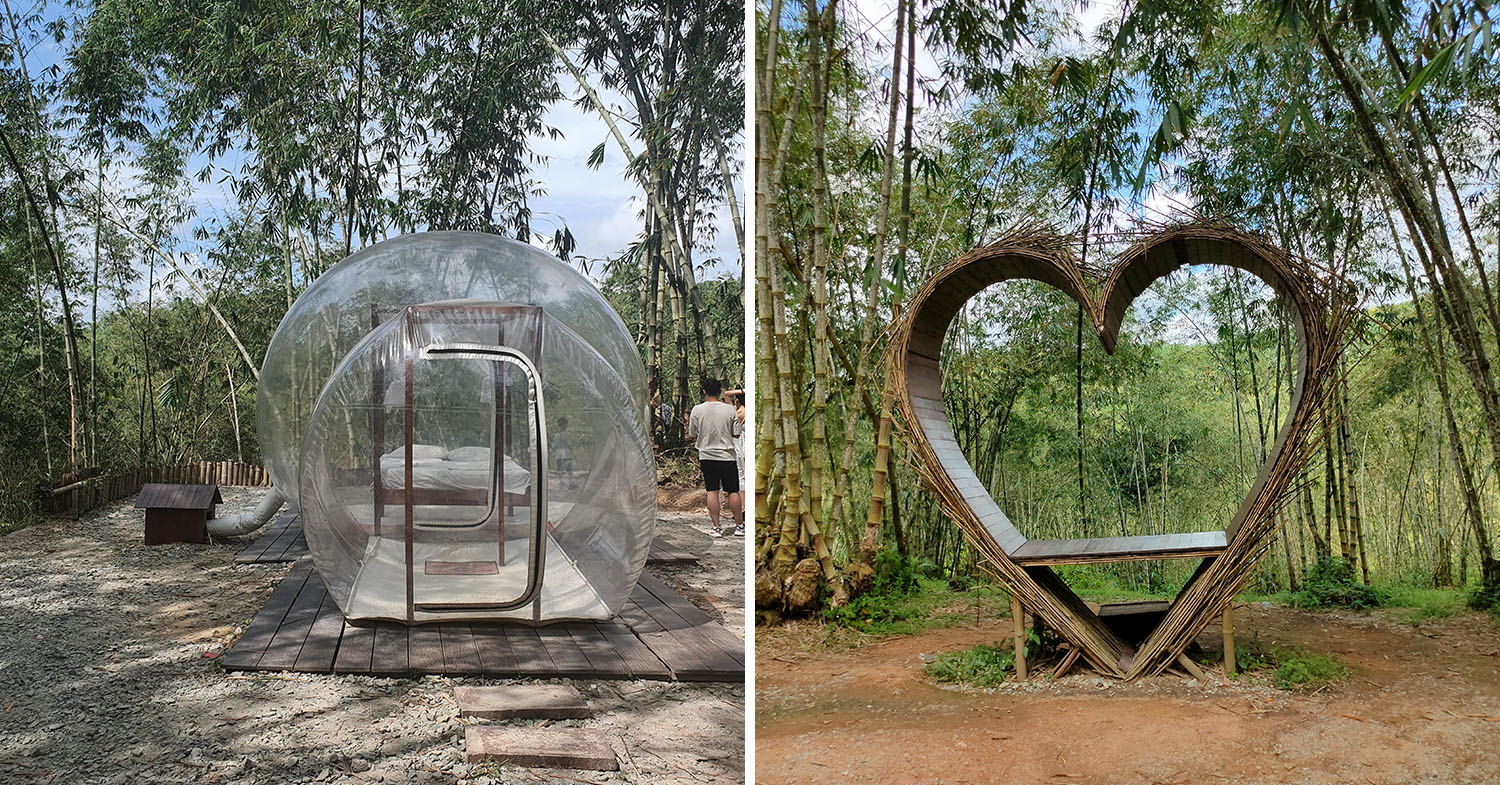 Image adapted from: Angelia naoh & Alex Ong
You'll want to spend some time exploring this spot, as other photo-worthy installations – including a hanging nest, swings, an air bed in a bubble dome, a bamboo house, and giant inflatable pandas – can be found dotted around the bamboo forest. There's also a playground for the kiddos to explore.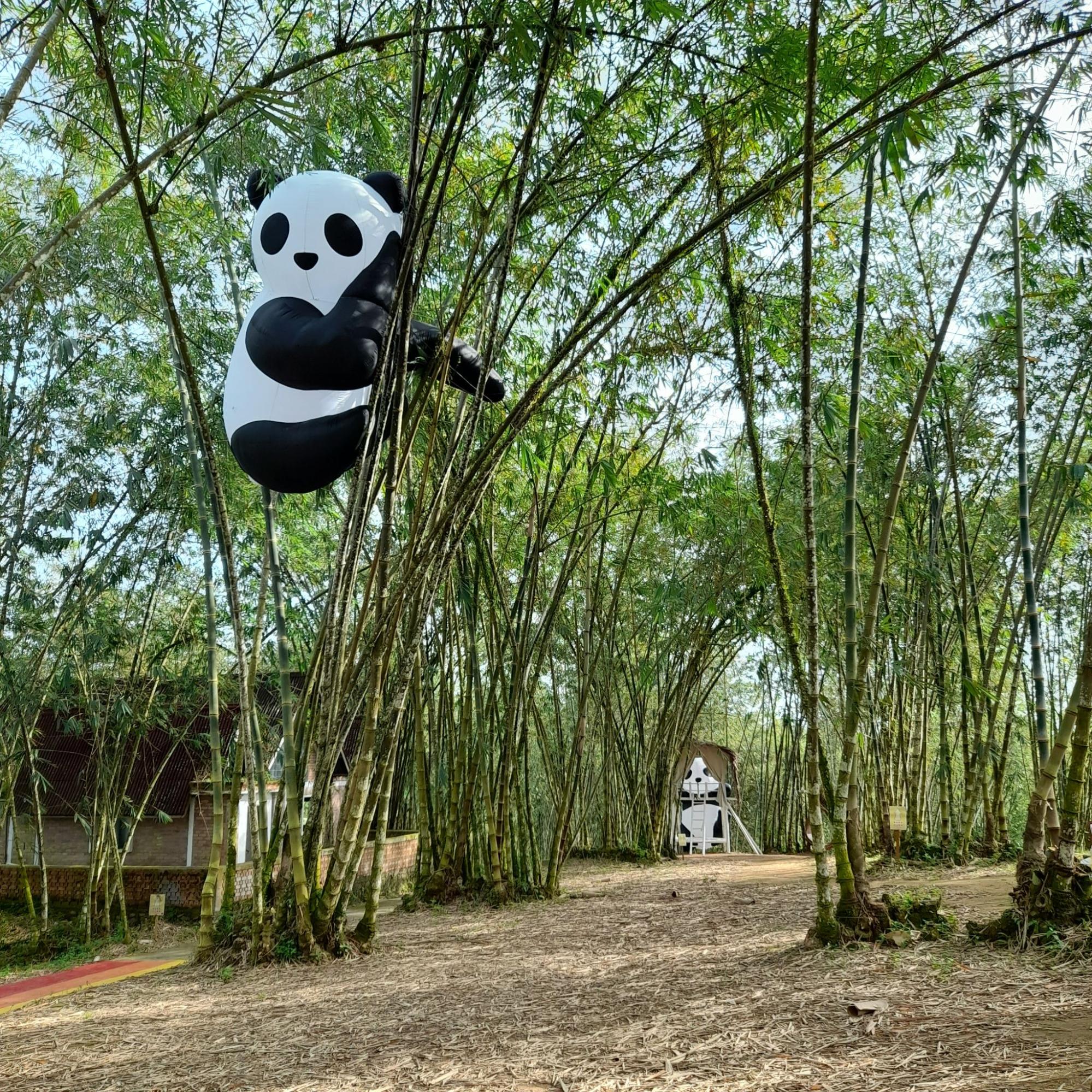 Image credit: WH Aw 
---
Immerse in Buddhist culture amid nature 
---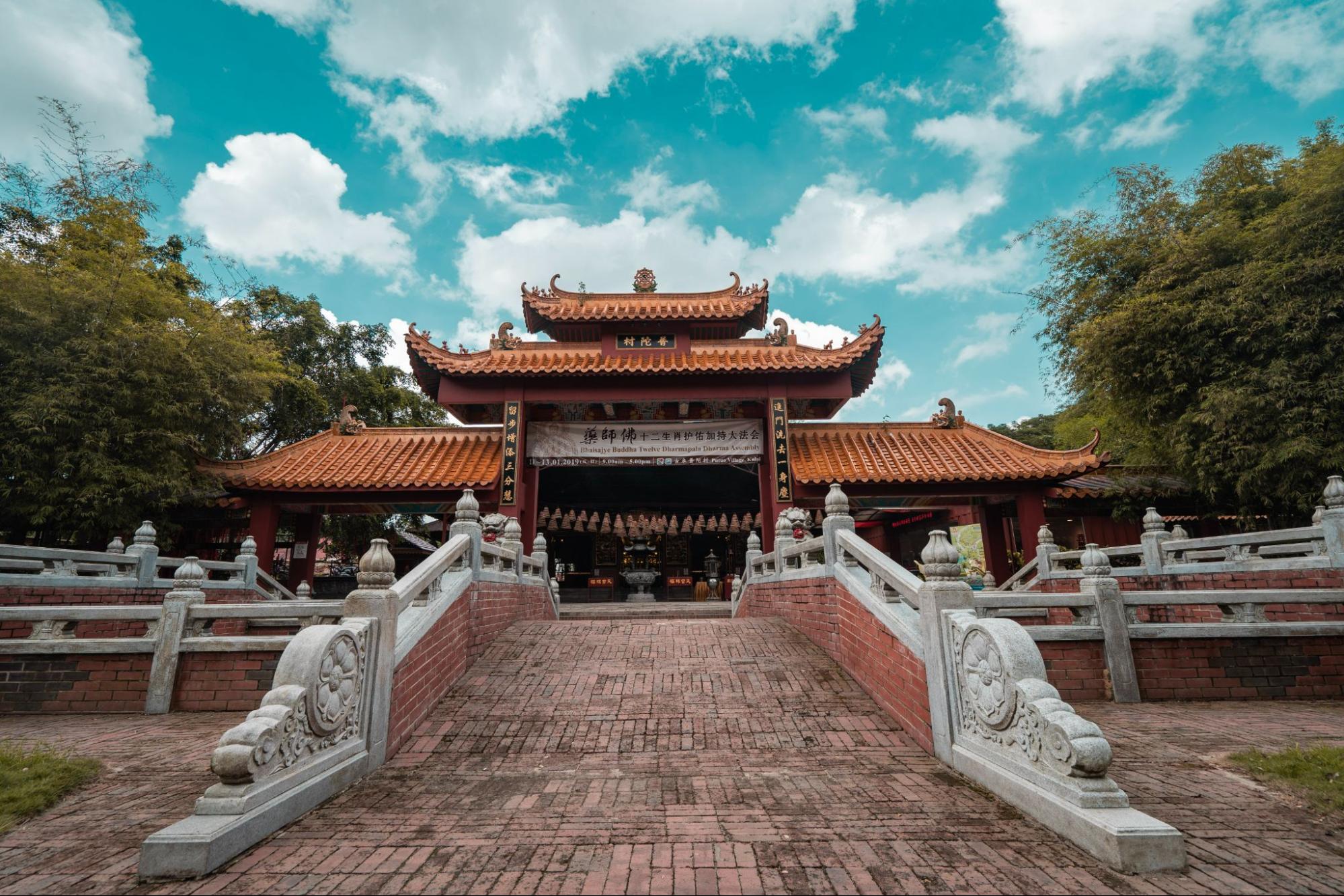 Image credit: Putuo Village
Putuo Village is also widely known as a Buddhist sanctuary in Malaysia. In fact, the place was curated with an aim to preserve Buddhist culture in Malaysia.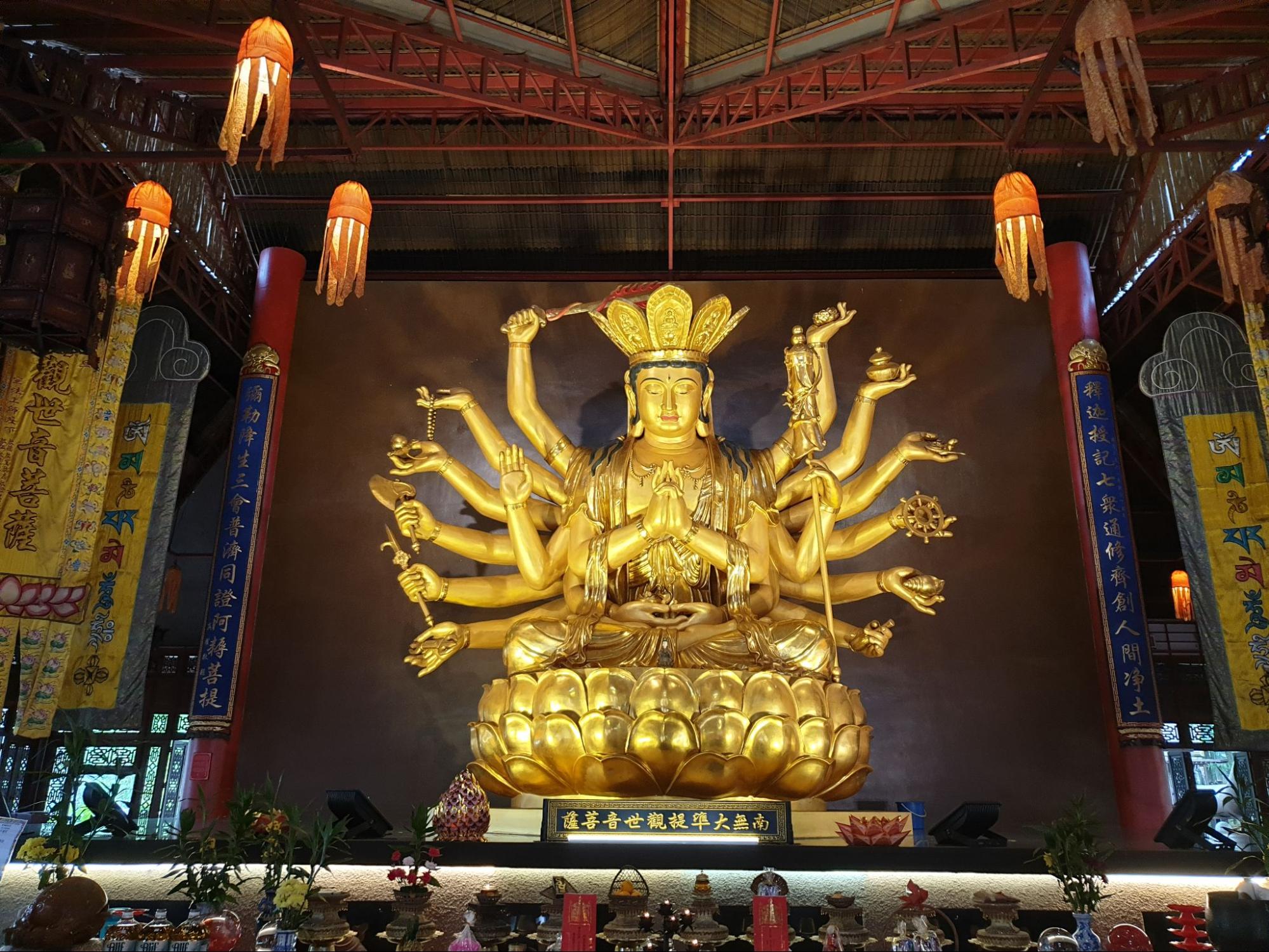 Image credit: TaeHoon Kim
The Bodhi Sanctuary within the village houses a temple that features the largest indoor statue of Zhunti Bodhisattva in Southeast Asia. This is known to attract thousands of visitors on auspicious occasions, such as Chinese New Year.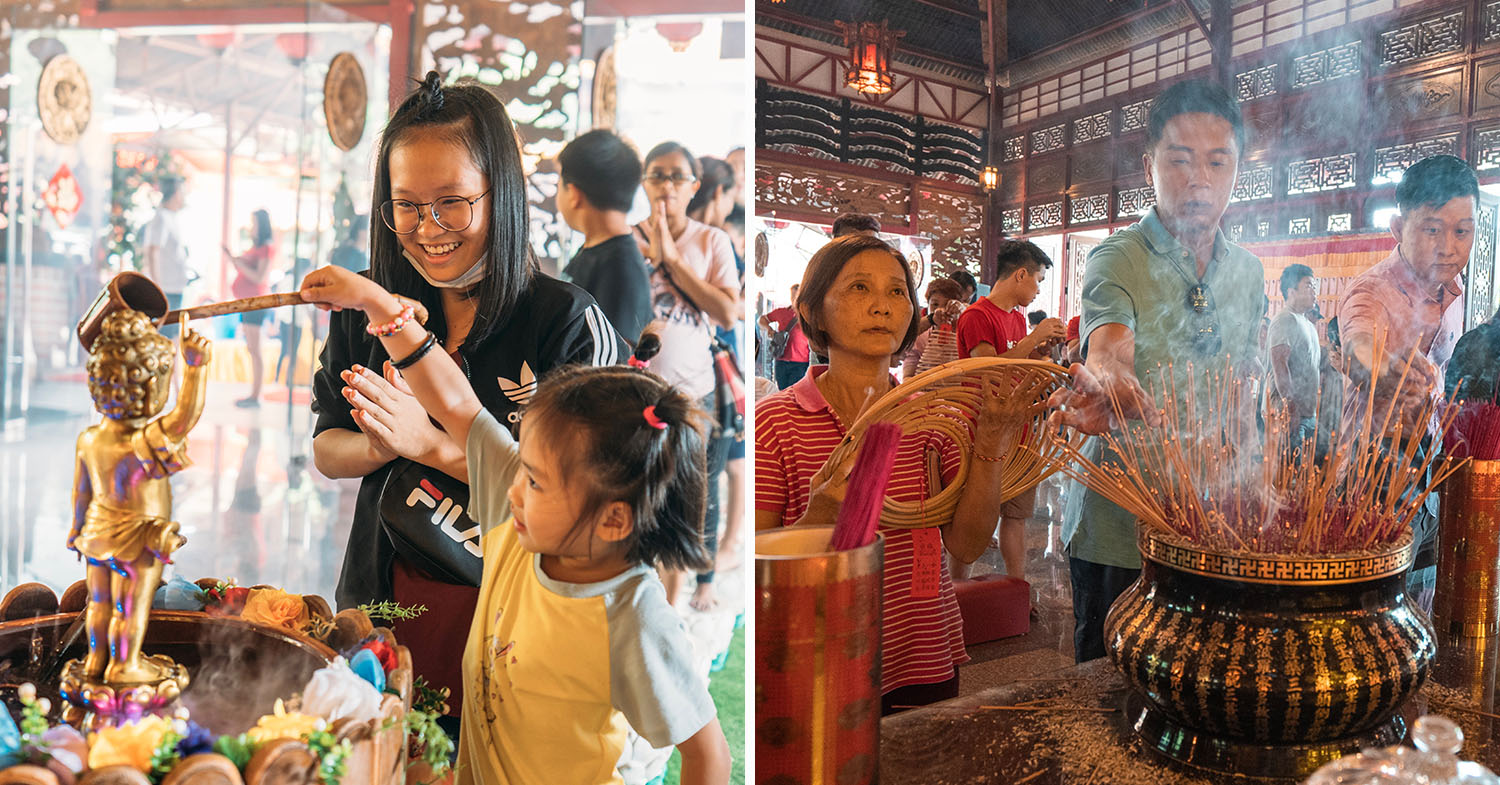 Image adapted from: Putuo Village & Putuo Village
Buddhist culture in the village can also be seen through the various spiritual activities held here, such as the celebration of the Avalokitesvara Day, bathing of the Buddha statue, tossing of a treasure sign at the Wishing Tree, turning the prayer wheels and drinking holy mountain spring water.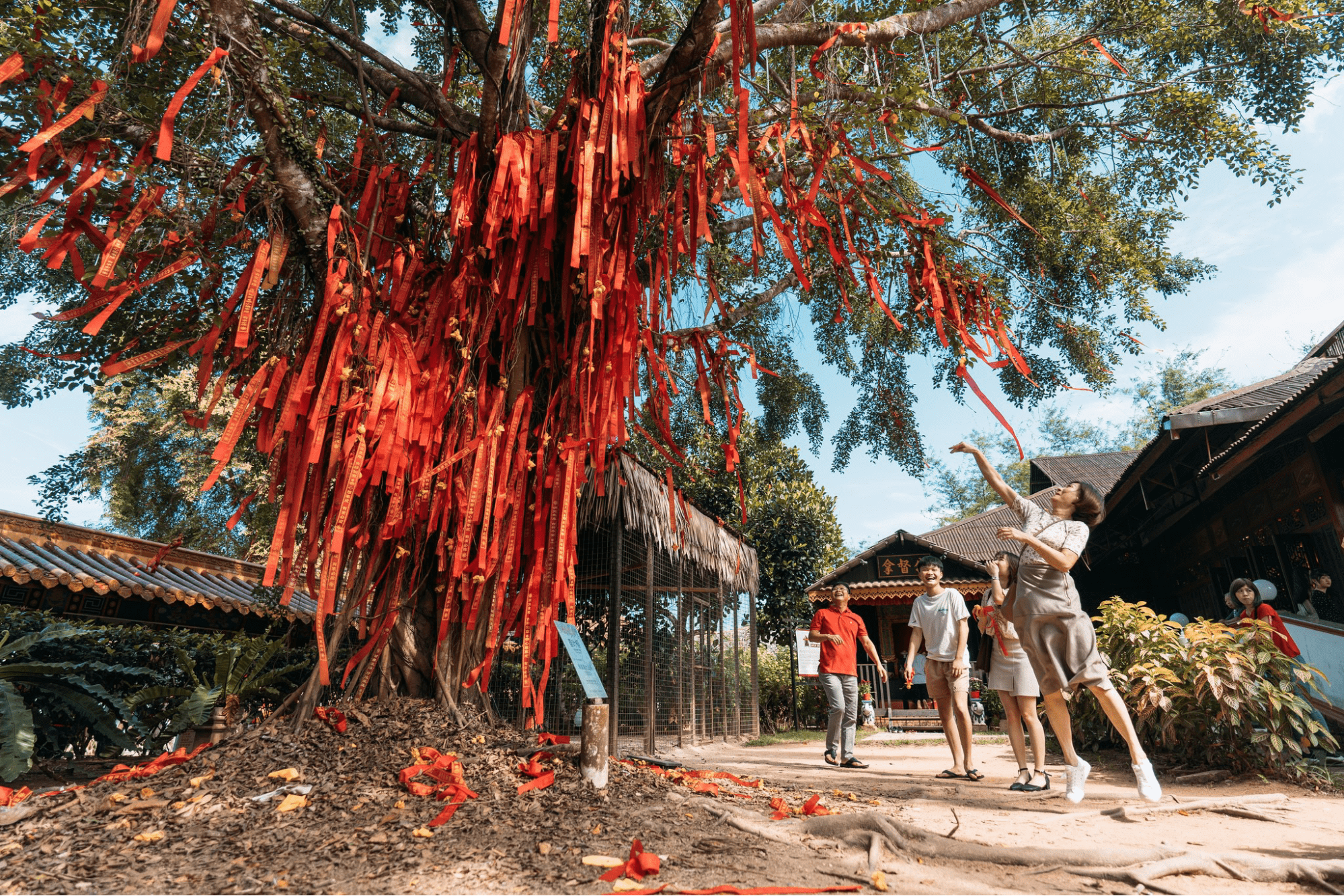 The wishing tree at Putuo Village
Image credit: Putuo Village
So whether you're coming to pray, make your wishes come true, or just witness the practice of Buddhism, the temple and shrines here are definitely worth checking out during your visit.
---
Signature bamboo rice and mouthwatering desserts
---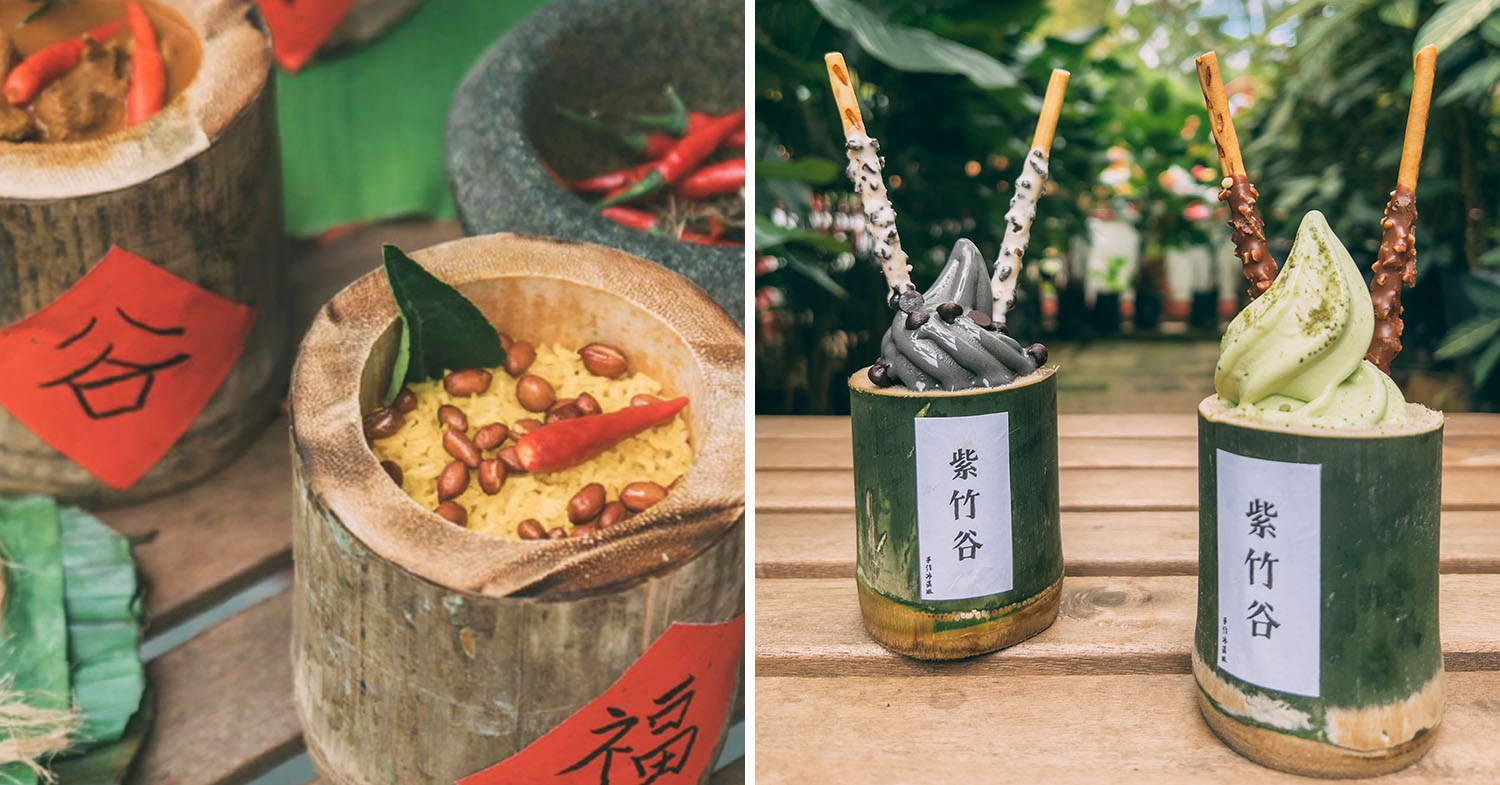 Image adapted from: Putuo Village & Putuo Village
Visiting Putuo Village wouldn't be complete without trying the signature bamboo rice and mouthwatering desserts such as ice cream served in bamboo branches. 
Some must-tries here are Charcoal-fired Authentic Bamboo Glutinous Rice and Charcoal Grilled Bamboo Turmeric Rice with Fragrant Curry – rice in these dishes are cooked and simmered in fragrant bamboo over charcoal fire. If you have a sweet tooth, there are soft serves such as Bamboo Charcoal Chocolate and Japanese Classic Matcha, priced around RM10, that'll cool down your palate.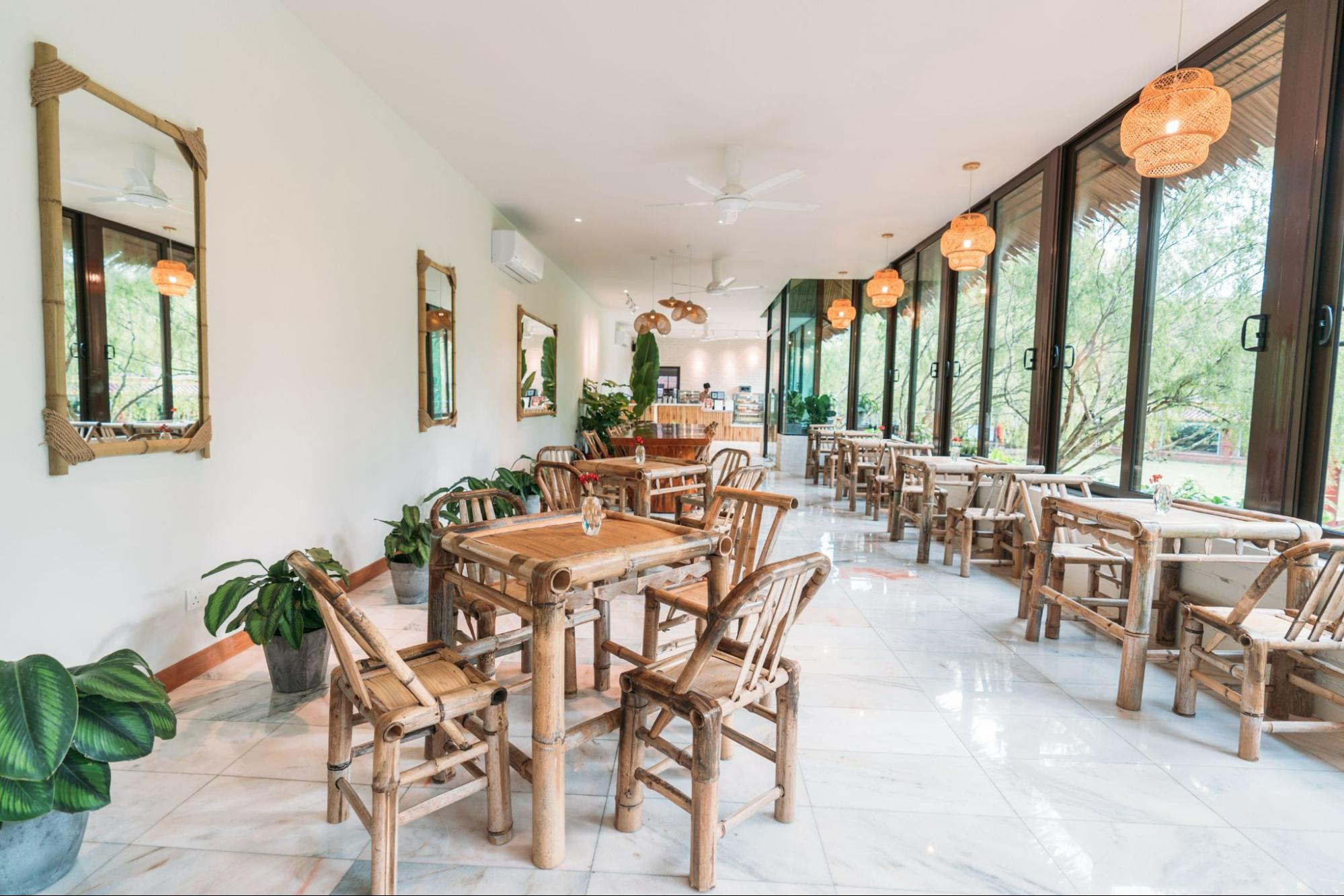 Image credit: Fat Bamboo Cafe
Putuo Village also hosts an in-house cafe called Fat Bamboo Cafe. It offers plenty of food and drinks – from freshly baked cakes (RM13.90) and light food such as Peach Danish (RM5/90) and Almond Croissant (RM6.90), to coffees and cold-brewed drinks such as Apple Green Tea (RM8.90) and Caramel Caffe Latte (RM10.90). 

Image credit: Aw Jia Hao
---
A Buddhist sanctuary in a bamboo forest
---
From its famous Buddhist temple to Insta-worthy spots set in a bamboo forest, Putuo Village is worth a visit on your next trip to Johor. It promises calmness and zen-like vibes that'll leave you feeling refreshed and recharged, whether you're going alone for a spiritual exploration or with friends to discover its various scenic corners. 
Address: 1488, Jalan Kampung, Off, Jalan Kota Tinggi – Kluang, Felda Taib Andak, 81000 Kulai, Johor
Opening hours: 9AM-6PM, Daily
Telephone: 07-213 3398
Putuo Village's website | Facebook | Instagram
Read more here:
---
Cover image adapted from: Putuo Village, Vishnu Rao, Adrian Ng and Fat Bamboo Cafe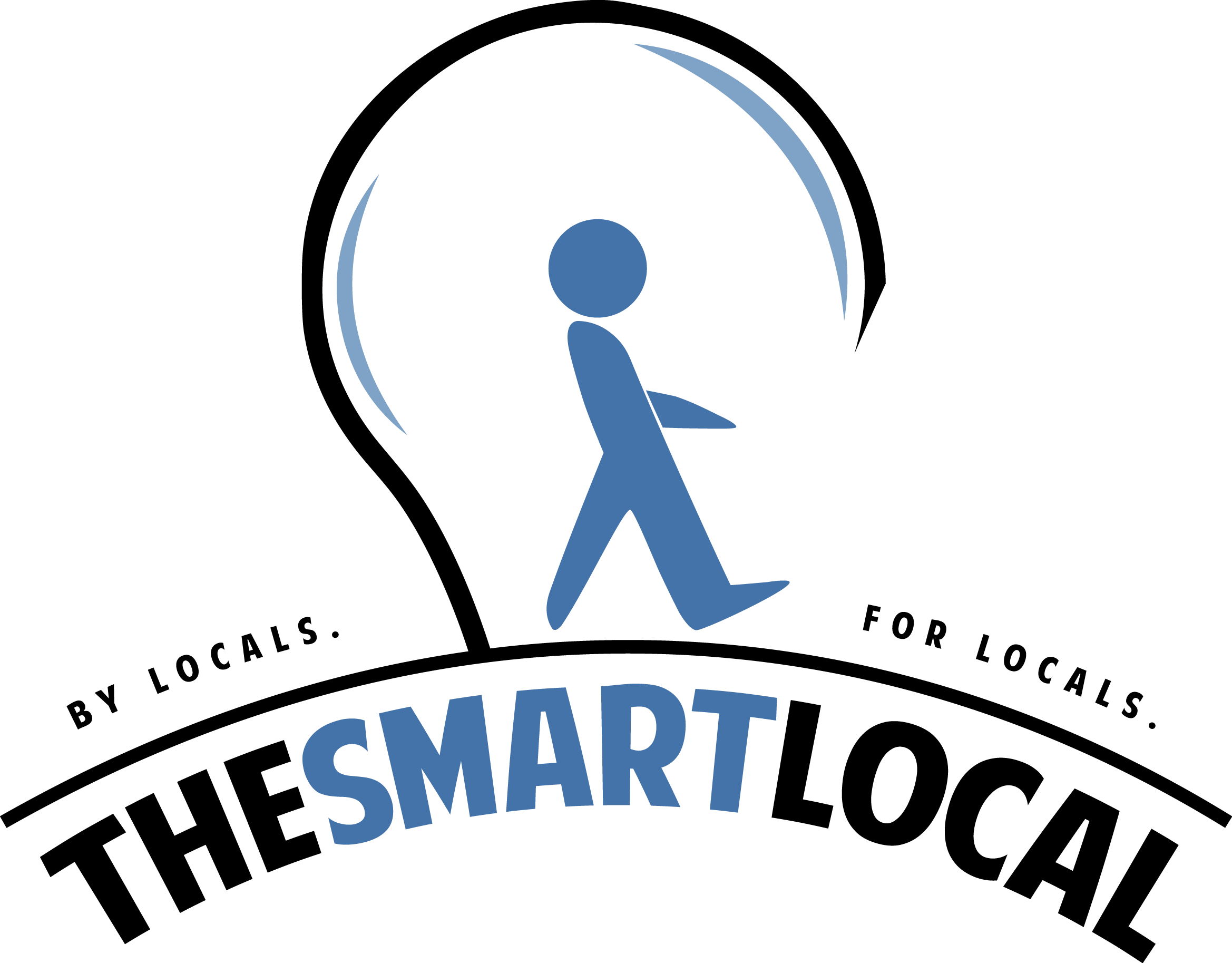 Drop us your email so you won't miss the latest news.