Kopi Kisah Kita's creative but sad coffee names
---
The term "drowning in sorrow" may mean drinking alcohol to forget one's misery, but a local coffee kiosk is bringing this concept to their kopis by giving them sad yet self-deprecating names. Think Kopi Janji Manis, which means Sweet Promises Coffee, instead of your usual boring "salted caramel latte". 
The coffee shop in question is Kopi Kisah Kita, located in Metropoint Complex, Kajang. And while you won't get drunk on their beverages, their creative names will definitely appeal to the angy cat in every one of us.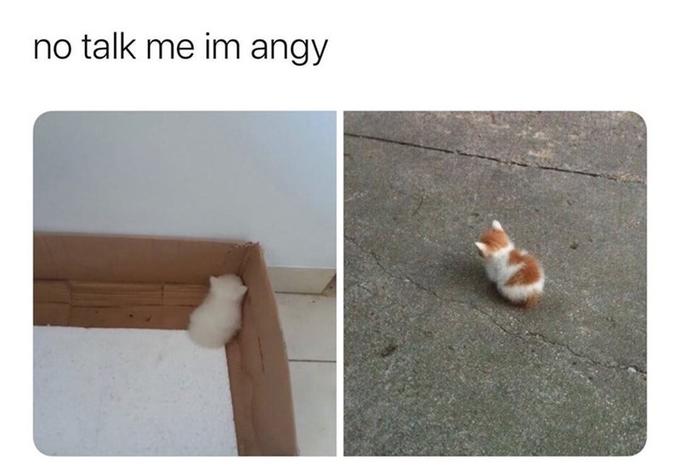 The No Talk Me Im Angy cat meme
Image credit: Know Your Meme
---
Emo coffee names suited for different types of coffee
---
Pictures of the coffee menu at Kopi Kisah Kita was first shared on Twitter on 7th August by @SantaiDanSampah, where it has garnered over 12K retweets and 11K likes at the time of writing. His caption was simply, "the names on this menu [crying laughing emoji]".


Image credit: @SantaiDanSampah
Kopi Kisah Kita, which translates to Our Story Coffee, didn't just stop at renaming their drinks in a bid to stand out from the numerous coffee chains we have in Malaysia. They went even further to creatively describe the type of coffee they're serving in relation to the coffee's name.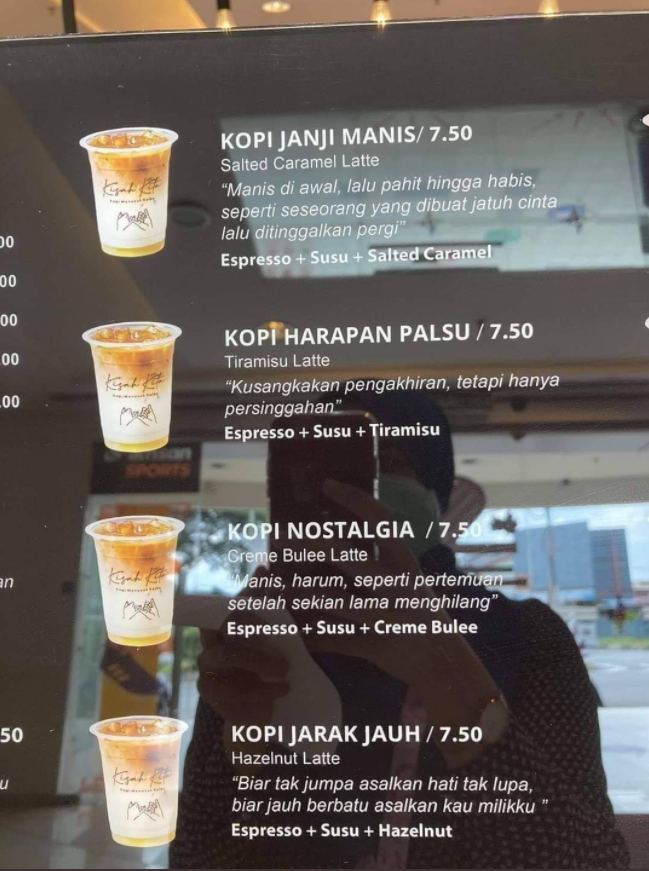 Image credit: @SantaiDanSampah
For instance, their salted caramel latte named Kopi Janji Manis (Sweet Promises Coffee), comes with the description, "Sweet in the beginning, but starts to become bitter towards the end, like someone who fell in love and then got dumped."
Meanwhile, their tiramisu latte which goes by the name, Kopi Harapan Palsu (False Hope Coffee), is fitted with the explanation, "I thought you're a happy ending, turns out you're only stopping by."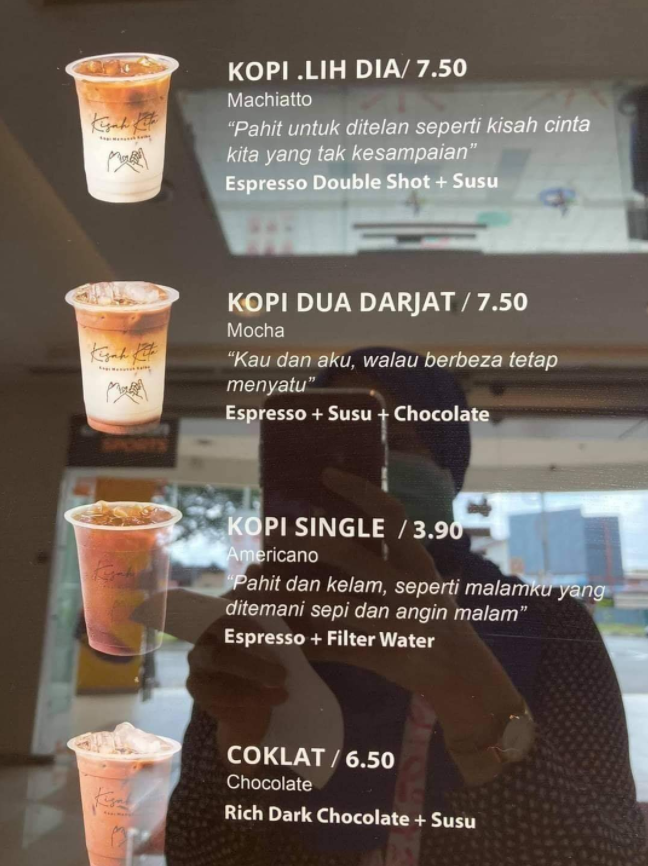 Image credit: @SantaiDanSampah
The macchiato, Kopi Lih Dia, punnily means "You chose her/him", accompanied by a heartbroken commentary that says, "Hard to swallow, like our love that got away."
Kopi Single, the Americano, shares the same line of thought with the description, "Bitter and dark, like my lonely nights." 
---
Netizens reply with self-deprecating humour
---
Netizens quick to notice the viral tweet were tickled by the beverages' funny names, and replied with their own self-deprecating humour.


Image credit: @wanieibrahimm
Twitter user @wanieibrahimm said that she could relate to the False Hope Coffee as she "doesn't have to order the False Hope Coffee to know that it tastes bitter, like the story of my life."


Image credit: @marsyahaziqahhh
@marsyahaziqahhh shared the same sentiment as @wanieibrahimm and added in a separate tweet that "I don't have to drink any of this coffee to know what it feels like."


Image credit: @aeracamelia
Meanwhile, @aeracamelia emphasised her singledom by commenting, "My favourite coffee is the Americano, no wonder I'm single."


Image credit: @Paenhusin_
Some netizens even suggested potential names, such as @Paenhusin_ who tweeted, "I'm so disappointed that there isn't a Gloomy Coffee".
---
Creative coffee names for angy netizens
---
While there are some people who prefer a no-nonsense, straightforward coffee menu, Kopi Kisah Kita's menu proves that something as simple and classic as coffee names can take on a creative spin. 
While the names on the menu seem to be poking fun at heartbroken and single people, we prefer to see it as a self-deprecating attempt to try to make someone feel better to know that they're not alone, as the replies to the tweet show. 
For more funny Malaysian news centering around food, check these out: 
---
Cover image adapted from: Kopi Kisah Kita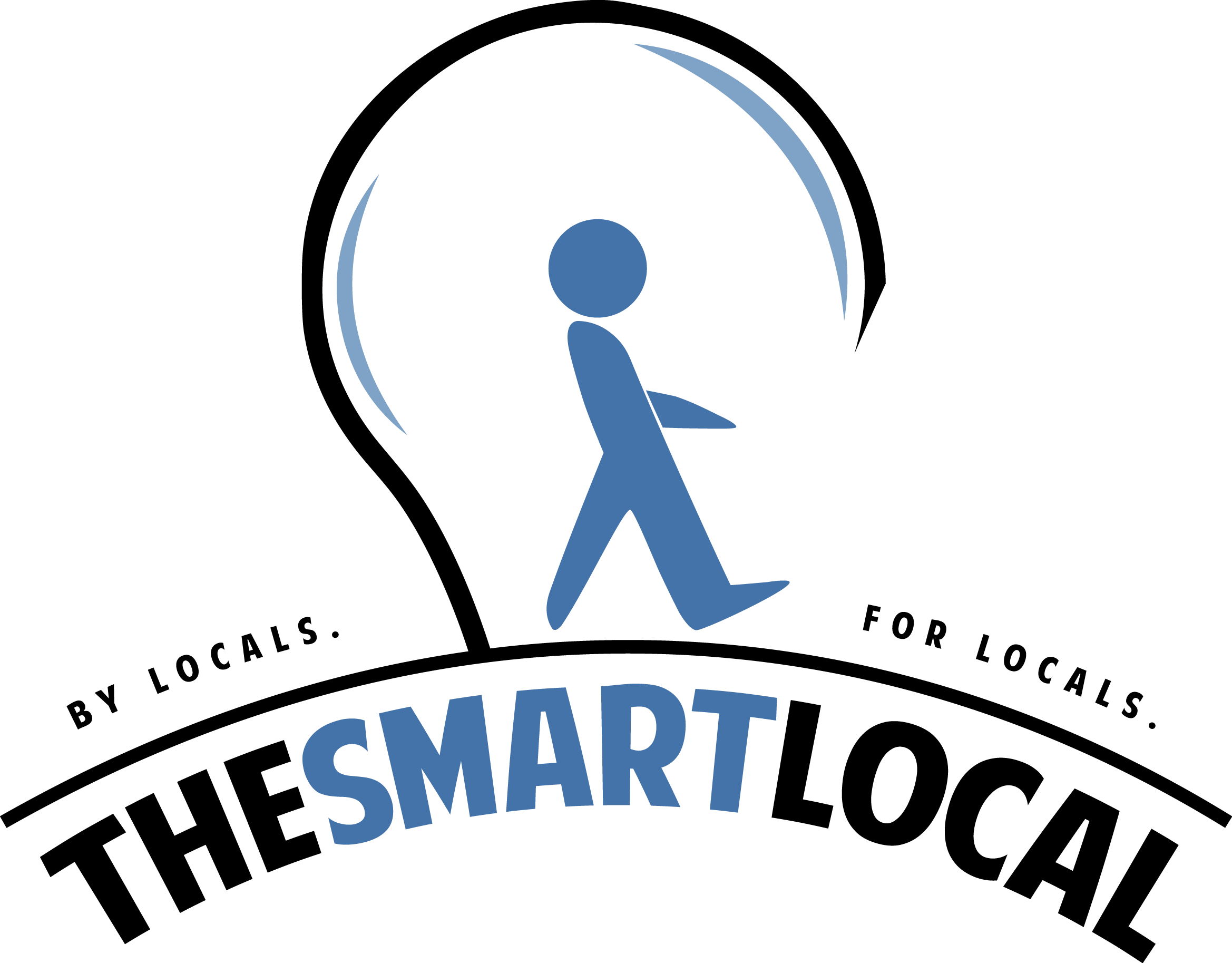 Drop us your email so you won't miss the latest news.