COVID-19 positive individuals in Sibu 
---
Malaysia's recent spikes in COVID-19 numbers is the reason for the government putting 6 states back on the MCO, and Agong declaring a state of emergency. To further curb the virus, states of Kedah, Perak, Negri Sembilan, Pahang, Terengganu and Perlis – which were previously under CMCO and RMCO – will now also be placed under the MCO from 22nd January-4th February 2021, following an increase of reported COVID-19 cases there.
This leaves Sarawak as the only state still under the CMCO, which is slated to last until 31st January. But the cause for concerns are not over for those living here while the rest of the nation is under the MCO. Sarawak's Local Government and Housing Minister, Dr Sim Kui Hian, shared on 19th January that 23 individuals in Sibu cannot be contacted after testing positive for COVID-19 during screenings.
---
Positive individuals in Sibu urged to identify themselves
---
As of 19th January, Sibu has recorded the highest number of positive COVID-19 cases – a total of 616 – in Sarawak, as reported by KKM. As such, it is the only division in Sarawak that has been placed under the MCO until 29th January.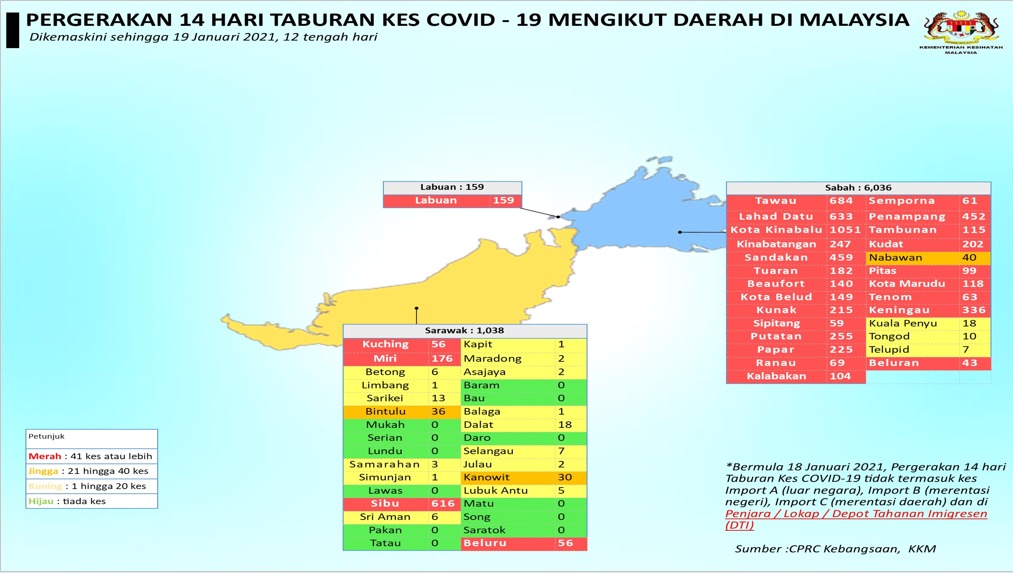 Image credit: @KKMPutrajaya
The spike in COVID-19 cases in Sibu follows after a cluster in Pasai Siong was reported in early January, which led to 8 longhouses being placed under lockdowns. Today, there are still new COVID-19 cases stemming from this cluster. 90 positive cases out of Sarawak's total of 156 new cases reported yesterday, 19th January, was linked to it.
Also included in this number are 13 positive COVID-19 cases involving frontliners working at Sibu Hospital, as reported by The Borneo Post. This has led to a shortage of staff at the hospital, which is currently treating COVID-19 patients, and frontliners from other hospitals are being called in to help out.
---
Positive individuals in Sibu called to identify themselves
---
As Sibu has been reporting an increase of cases in relation to the Pasai Siong cluster, Dr Sim Kui Hian took to his Facebook page to raise awareness of 23 COVID-19 positive patients from Sibu who cannot be contacted for "various reasons" that were not mentioned in his post.
As COVID-19 has shown itself to be easily transmissible, he urged them to come forward to not risk the health and safety of their friends and families. If they failed to do so, authorities will have no choice but to disclose their identities to the public to prevent further risk of new clusters.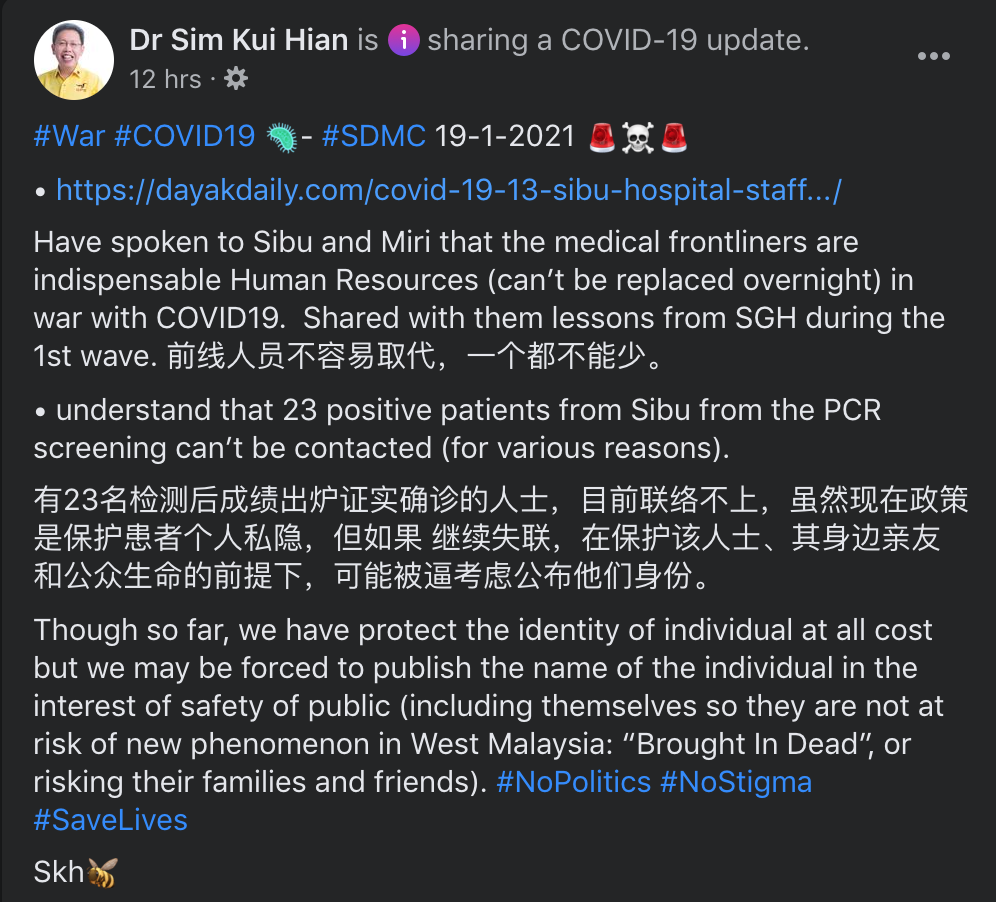 Image credit: Dr Sim Kui Hian
---
Netizens raise concern for Sarawak
---
Many netizens have shared their worrries about the state of affairs in Sarawak, as many there are still living in rural areas.
Larissa Ping, who was crowned Miss World Malaysia in 2018, who took to her Twitter account to tweet: "COVID-19 is going deeper and deeper into the rural areas of Sarawak, and this is worrying. Please don't go back to the village! You're putting so many people at risk. We need to keep COVID-19 out from villages that are too far from hospitals."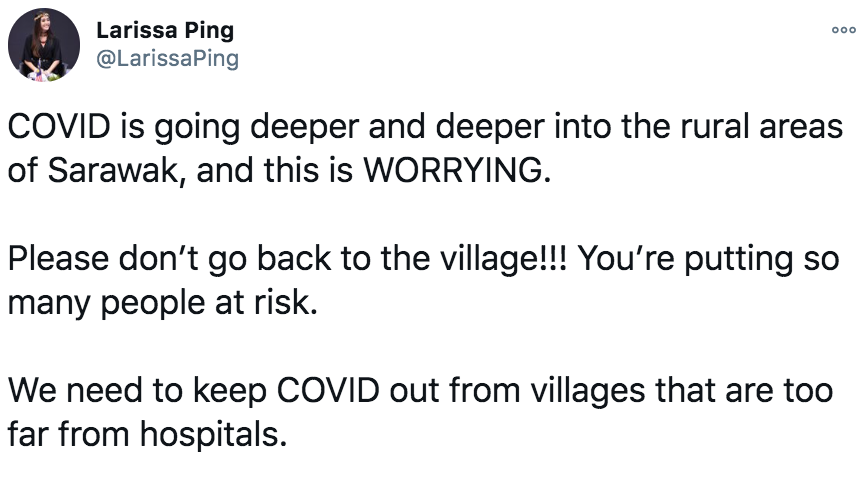 Image adapted from: @LarissaPing
---
COVID-19 positive individuals in Sibu called to respond
---
With rising daily COVID-19 numbers in Malaysia, it's more important now than ever to ensure that we are all following guidelines to keep ourselves and our loved ones safe. So we hope that these individuals will present themselves to local authorities so the risk of the virus spread can be contained.
As the Ministry of Local Government & Housing Sarawak updates a list of places that have been exposed to COVID-19, Sarawakians can further navigate their towns safely and help curb the virus by checking out that list here to find out if you've been in close contact with a positive case at an affected location.
More COVID-19 updates below:
---
Cover image adapted from: Sarawak Disaster Info & Sarawak Hotels
Get more stories like this!
Drop us your email so you won't miss the latest news.