Female Malaysian delivery rider inspires other women
---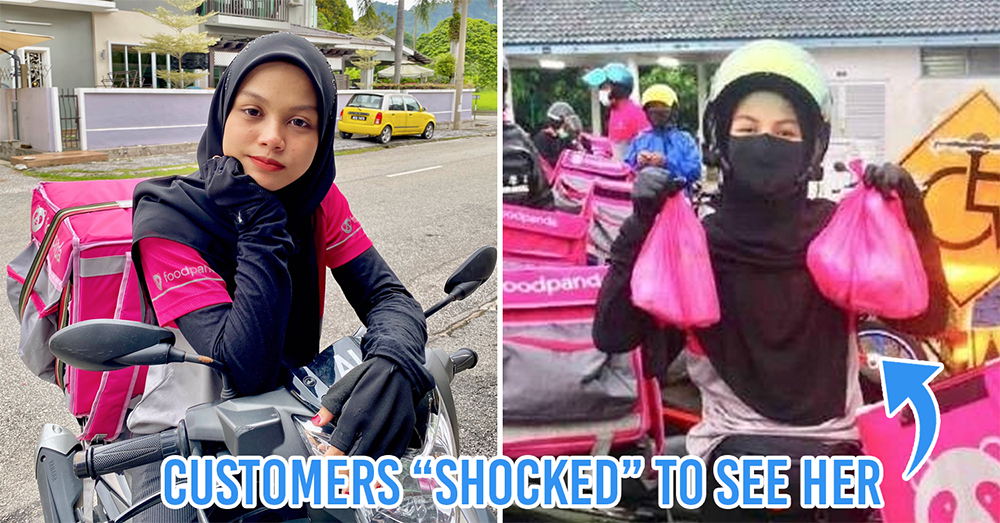 Image adapted from: @weslysky & Harian Metro
Many of us have probably started to recognise the faces of our food delivery riders by now. It comes as we have been opting so frequently for food delivery services during the MCO to stay safe from COVID-19. 
So it's safe to say that we've seen our share of abang riders popping by our houses. But not all can say that they were greeted by a woman delivery rider before. This is why Farah Nur Syifa Abdullah is taking the Internet by storm after sharing her story as a FoodPanda delivery rider online.
---
Being a woman delivery rider in a male-dominated industry
---
Farah, a 20-year-old delivery rider, shared a selfie on Twitter on 1st June 2020. In the caption that followed, she said that she chose to upload her picture to Twitter because the social media platform didn't "ruin the quality" of her photos. 
The selfie has since gone viral with over 7,000 retweets and 46,000 likes, with many doing a double take at seeing a female delivery FoodPanda rider.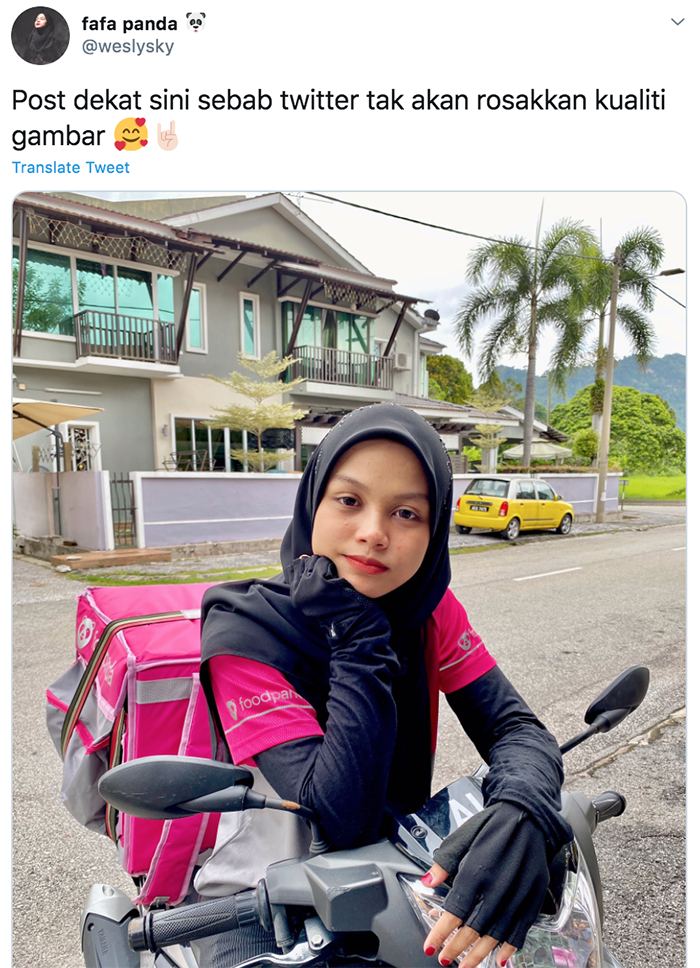 Image adapted from: @weslysky
According to an interview with Harian Metro, Farah shared that she studied Makeup and Beauty Therapy at Giatmara, a vocational school, in Taiping. But with limited employment opportunities in her chosen field, she decided to become a full-time food delivery rider instead after part-timing in the same job while she was back in school.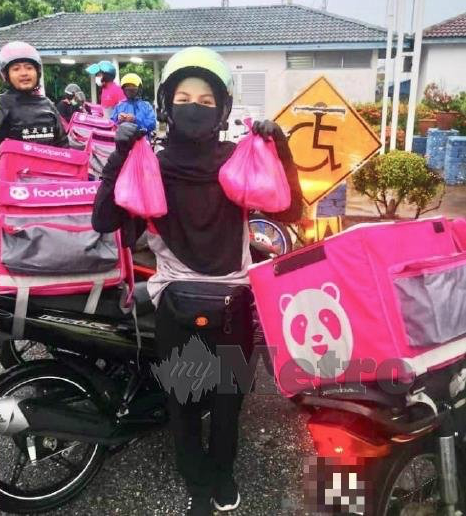 Image adapted from: Harian Metro
She also shared that she's been interested in motorcycles ever since she was young, which made the switch in careers an easy decision for her. She even rushed to get her motorcycle license at 17, and now uses it as her main transport tool. 
While she admits that the food delivery rider sector is a male-dominated one, she continues to deliver food during the MCO as a rider to earn a living for herself. But that doesn't stop people from getting a shock when they see a female delivery rider turn up at their doorsteps. Some people even acted awkward around her.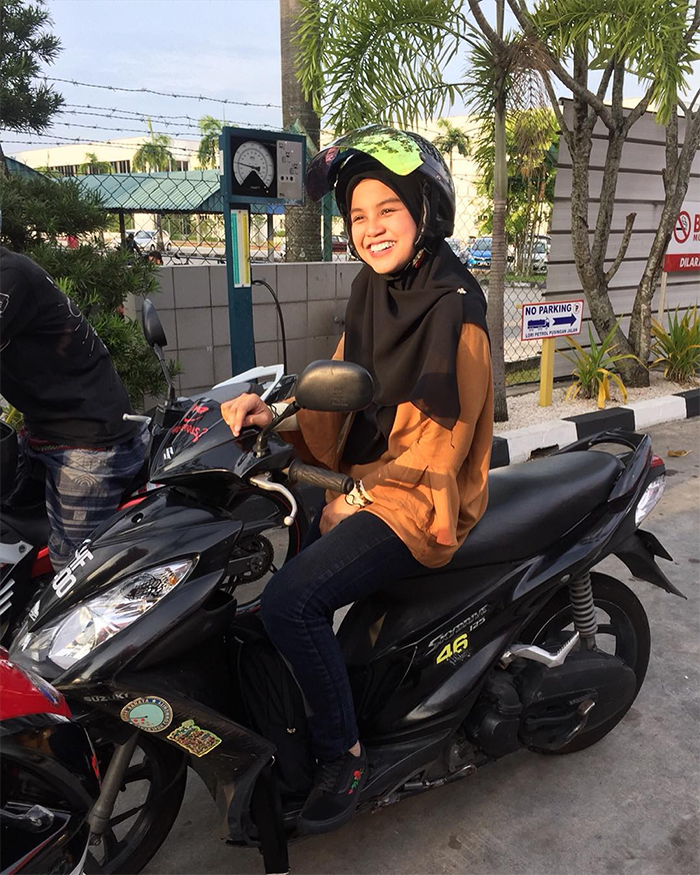 Image credit: @fa.f.a.a
As we're living in hard times now, with the CMCO even seeing the closure of some of our favourite businesses, Farah further encourages other young job-seekers, especially women, to consider exploring various fields as she did.
---
Other delivery riders show up with more #GirlPower stories
---
Farah's viral Twitter post saw many Malaysian women coming out to share their professions as delivery riders in the comment's section too, showing female representation in the delivery sector. 
This included Twitter user @yana_4eva, who joked about the colours of their workwear, saying "I'm green, because I don't really like pink" in reference to the familiar colours of GrabFood and FoodPanda. 
Another netizen, @eirazakwan, also joked, "I'm a runner [delivery rider] because I'm not good at doing online business."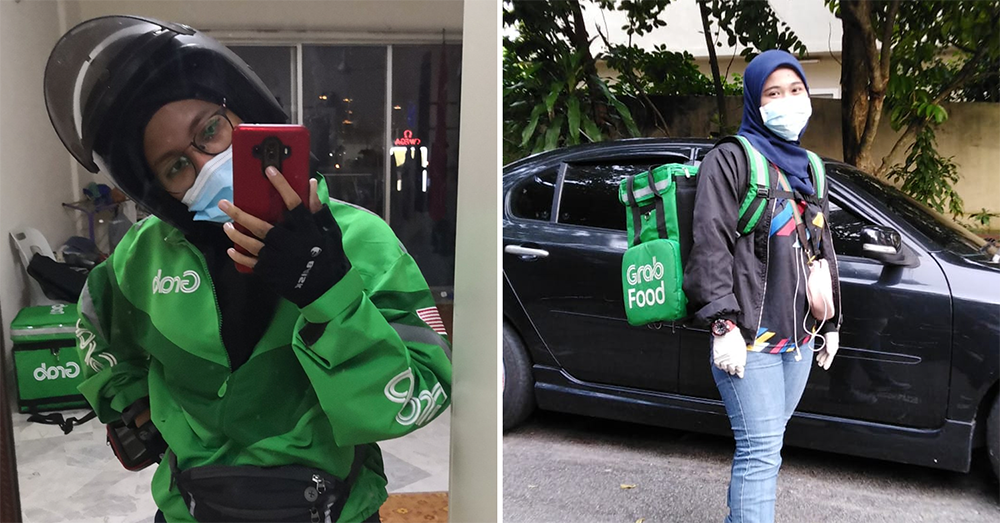 Image adapted from: @yana_4eva & @eirazakwan
Several other female delivery riders also showed up to further the #GirlPower stories, including @fjatibc, who commented, "If you're delivering in Klebang area, let's meet up at McDonald's?" along with a photo of herself while on the job. 
A fellow FoodPanda rider, @wnstajaa, also posted a funny photo of herself on a miniature motorcycle with her work gear, saying, "My motor is very tiny lah." 

Image adapted from: @fjatibc & @wnstajaa
---
Netizen cheers her on and send her well wishes
---
Many more netizens came out to show their support for Farah and wished her all the best in her career, including user @MQasyaa. She was presumably a delivery rider before, as she tweeted out:  
"Whoever you are, I know the struggle of your job. In the midst of the heat, the rush, and the thirstiness – I felt all of this before. Good luck, and do a good job. Stay safe and take care."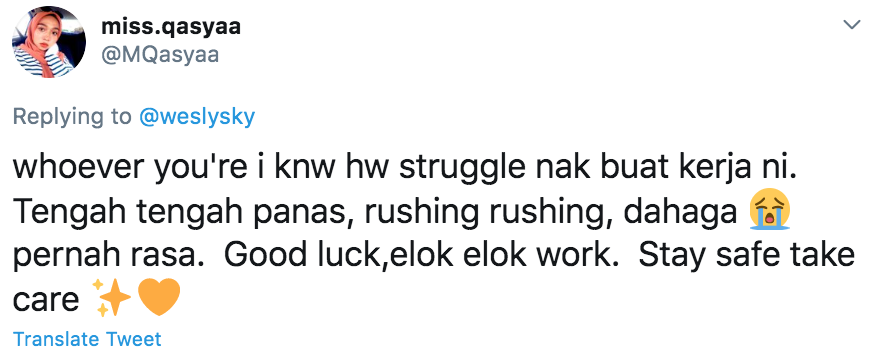 Image adapted from: @MQasyaa
User @Nradillahrahman also commented, "Take care, dear. Thanks for sending food to everyone. All the best in your job," in a sea of other netizens showing their support by saying that they didn't mind having her as their delivery rider. 


Image adapted from: @Nradillahrahman 
---
Woman delivery rider inspires others to share #GirlPower stories
---
Women around the world are still having to fight for gender equality – Malaysian women included. This is why stories of female empowerment, such as Farah's, of a woman taking up a job in a challenging and male-dominated field is inspiring us all. 
Keep updated with news in Malaysia here: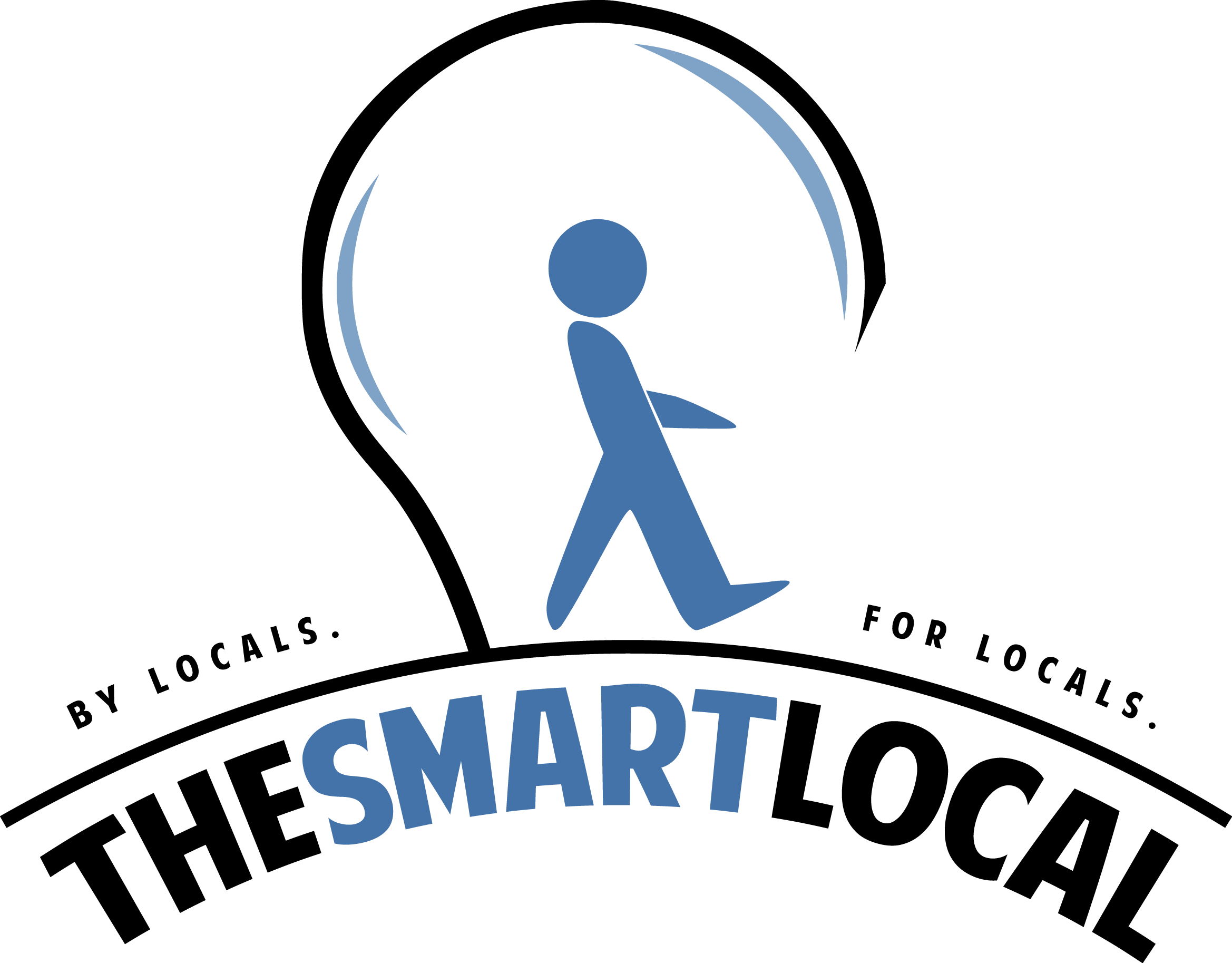 Drop us your email so you won't miss the latest news.