5,000 COVID-19 daily cases predicted in May
---
We have all been waiting for the pandemic's end, with vaccination roll-outs now slowly underway in Malaysia offering a glimmer of hope for many. But while we want, and hope, to return to our usual routines and travelling freely as we once did prior to the pandemic, we need to acknowledge that the spread of COVID-19 is still a risk in our communities, as daily cases have been surpassing the 2,000 mark for a week now.
Yesterday, 22nd April 2021, a COVID-19 infection rate prediction graph showed cases reaching over 5,000 daily in the month of May, as shared by Health Director-General Tan Sri Dr Noor Hisham Abdullah. This is an unavoidable scenario, especially if safety measures are not practised and strictly adhered to. 
---
Predicted 5,000 COVID-19 cases in May
---
Back in March 2021, daily cases in Malaysia was predicted to drop to 500 – and as low as 2-digit cases – by the month of May, as reported by New Straits Times. This was based on the assumption that SOPs were followed.
Fast-forward to April 2021, and daily cases for May is now predicted to reach 5,000 a day – the complete opposite direction from the previous forecast.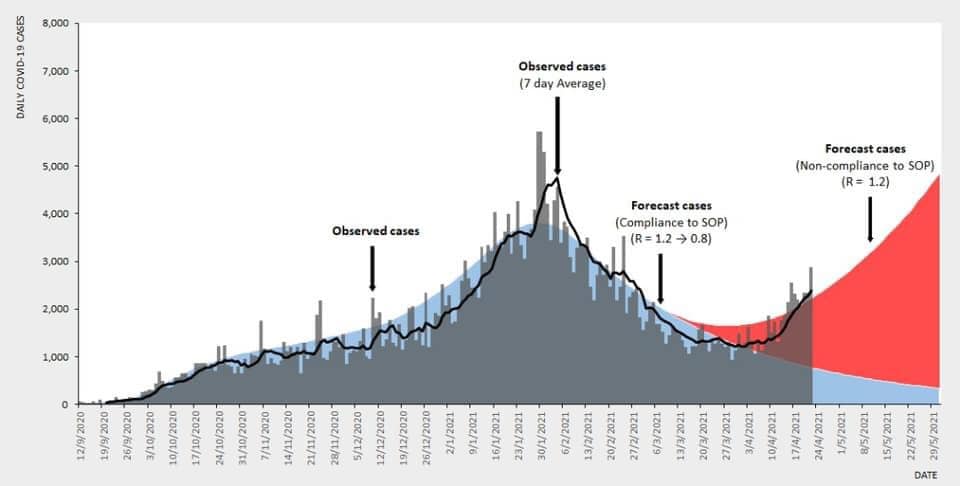 Image credit: KEMENTERIAN KESIHATAN MALAYSIA

According to a report by Malay Mail, there will be a new peak of COVID-19 cases from when Malaysia saw the third wave of COVID-19 infections back in October 2020.
But it isn't the first time that Malaysia recorded cases in the 5,000s.
Record-high COVID-19 cases in the 5,000s for 3 consecutive days were reported back in January 2021. But back then, the explanation was that the surge in numbers was due to testing backlog and delayed responses from institutions reporting confirmed COVID-19 cases to KKM.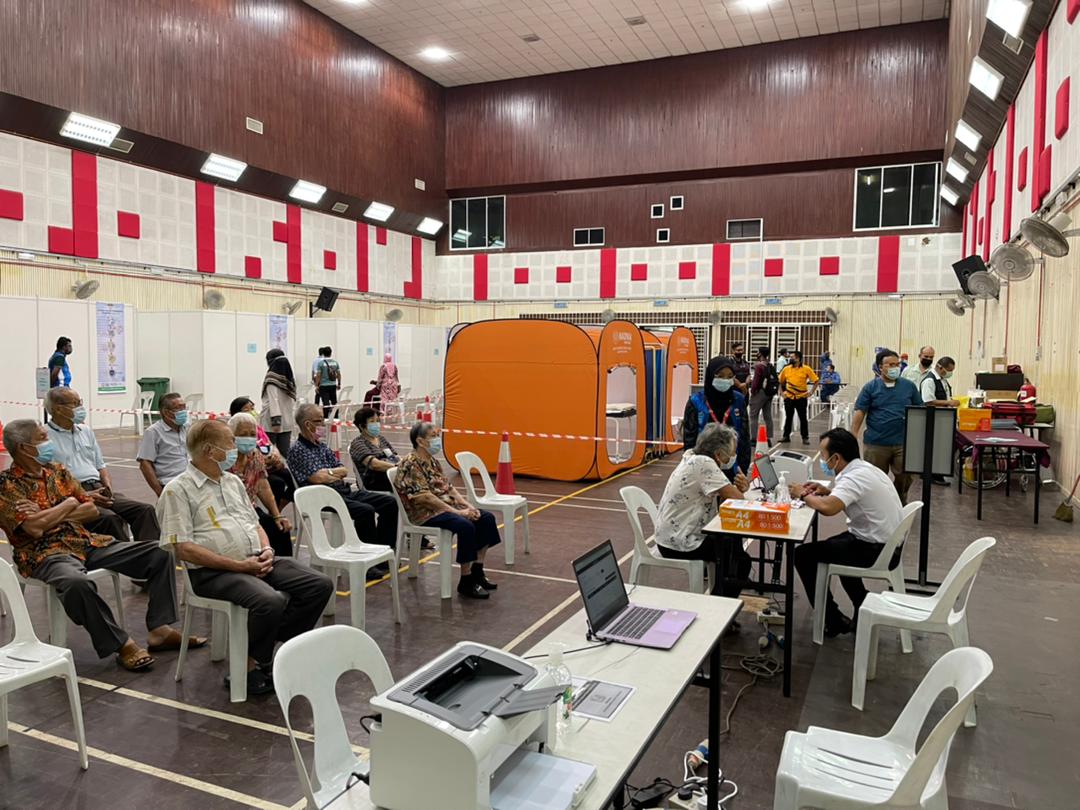 Vaccination roll-out in Malaysia is now in Phase 2, covering senior citizens, the disabled, and those with comorbidities.
Image credit: KEMENTERIAN KESIHATAN MALAYSIA

While 5,000 cases a day sounds serious, it is still a prediction. If infectivity rates are kept low, and SOPs are strictly adhered to, the COVID-19 infection rate prediction graph shows cases dipping below 1,000 daily cases by the end of May.
---
Daily cases surpass 2,000 for over a week now
---
Yesterday, 22nd April, Malaysia recorded 2,875 new COVID–19 cases, as reported by KKM. There are now 384,688 confirmed cases in Malaysia, 22,014 of them still active.
The daily case count has gone over the 2,000 mark for 8 consecutive days now. The lowest case count reported in 2021 in Malaysia was 941 cases on 29th March.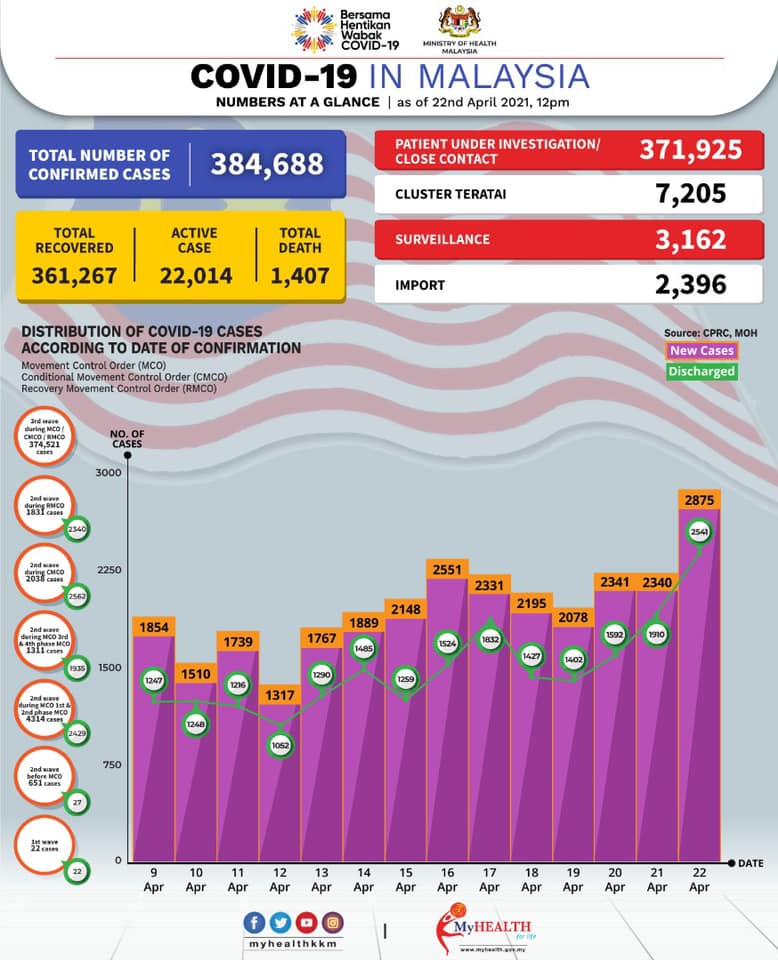 Image credit: Noor Hisham Abdullah

Out of yesterday's numbers, Kelantan reported the most COVID-19 cases, with 662 new cases, while Selangor follows in at 2nd with 633 cases and Sarawak, 3rd with 474 new cases. KL also had a whopping 332 new cases.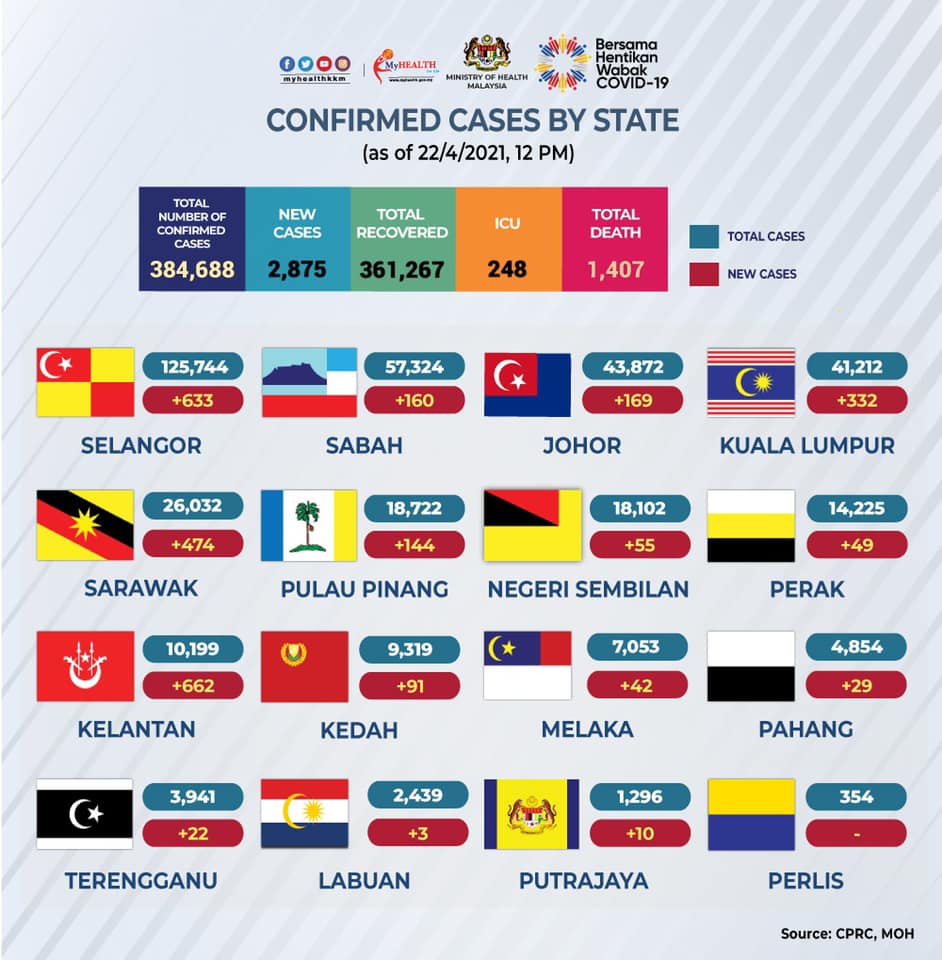 Image credit: Noor Hisham Abdullah
All districts in Kelantan are now under the MCO, and considered red zones, except for Gua Musang, which is classified as a yellow zone. The state has also recorded a total of 10,199 cases, with 31 active clusters.
What's also a cause for concern is the infectivity rate in Kelantan, which currently stands at 1.53. This means that every person who has COVID-19 will transmit it to 1.53 people – or 3 new potential cases for every 2 cases recorded. The national infectivity rate is at 1.16 currently, as reported by Malay Mail.
With cases reaching new highs, hospital facilities and low-risk quarantine centres in Kelantan are now filled to the brim. More health personnel are needed now too, according to a report by Free Malaysia Today.
---
5,000 COVID-19 cases in May if SOPs not followed
---
We all want to see COVID-19 squashed like a bug once and for all. But with daily cases now in the 2,000s for over a week now, it seems unlikely that we will see the end of the pandemic soon. If SOPs are not adhered to strictly, daily cases may well reach a peak of 5,000 in May. So let's all do our part and what we can to keep ourselves safe, by maintaining physical distancing, sanitising our hands, and wearing our face masks while in public areas.
Read more here:
---
Cover image adapted from: Noor Hisham Abdullah and Ang Wui Chong

Get more stories like this!
Drop us your email so you won't miss the latest news.