Dulit Frogmouth bird in Sarawak
---
Getting to see birds, alongside waterfalls and flora, is part of the package of hiking trails that's made outdoorsy adventures fun even for those not athletically inclined. It's not just your average city-slicker crows or sparrows that you'll see in the Malaysian wilderness too, but also rare ones that are fun to stop and stare at with eagle eyes. 
A bird that has been turning heads online after being spotted in Sarawak is a Dulit Frogmouth. This bird's frog-like gaping mouth – which lends itself to its name – makes it look like a real life Pokemon. Not easy to catch either, these unique-looking birds are considered near threatened species that can only be seen in Borneo. 
---
Frogmouth bird that can only be found in Borneo
---
On 18th April 2021, photos of the rare bird in Long Semadoh, Sarawak were shared to various Facebook groups by netizen Yi Chang, including Sarawak Public Feedback.
She had apparently gotten the photos from a friend's cousin, who is a padi farmer in the area.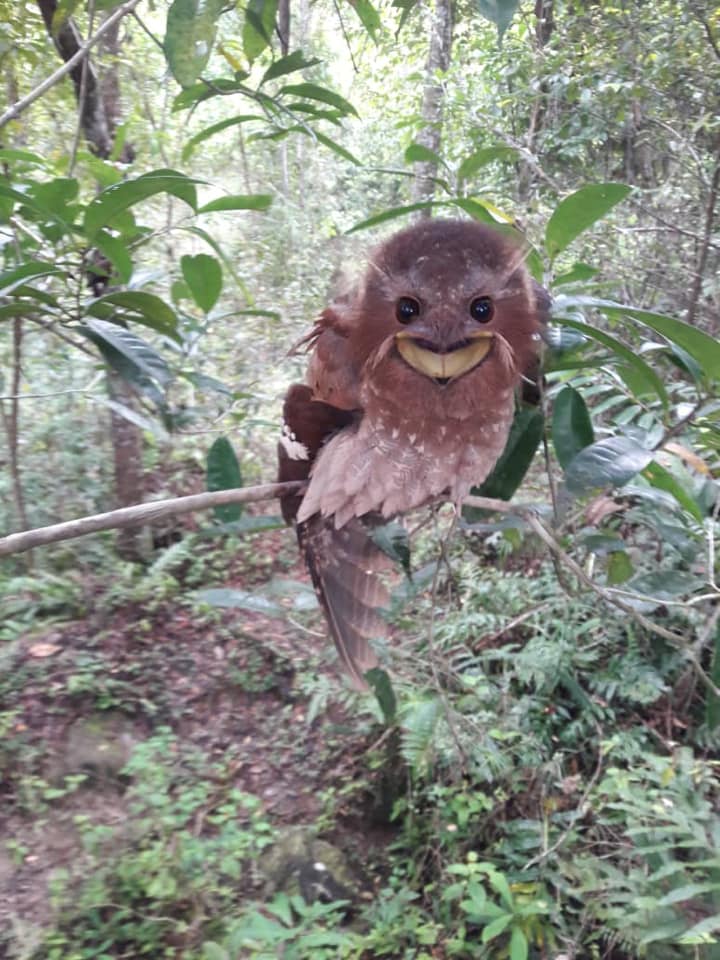 Image credit: Yi Chang
These birds are hard to come by – and harder still to photograph when the sun's out – as they are considered nocturnal birds, or nightjars. They can also only be found in Borneo.
Not surprisingly, the photos have created a buzz online with netizens speculating on the bird's rare sighting and unique appearance, with over 1,000 shares and reactions on the post at the time of writing.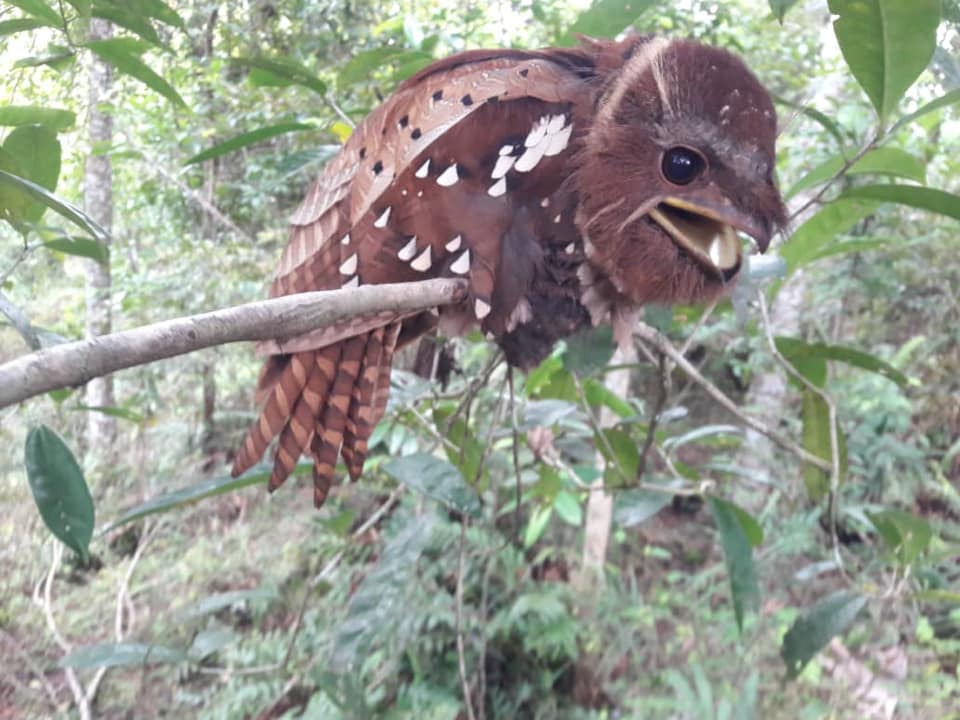 Image credit: Yi Chang
---
Bird bear close resemblance to other creatures
---
Not like most birds with narrow beaks or bills for mouths, the Dulit Frogmouth spotted by the farmer is a chestnut-coloured bird with an expressive face.
Its gaping mouth resembles a frog's, but many have been taking a wild guess saying that it looks like an owl with its mouth closed.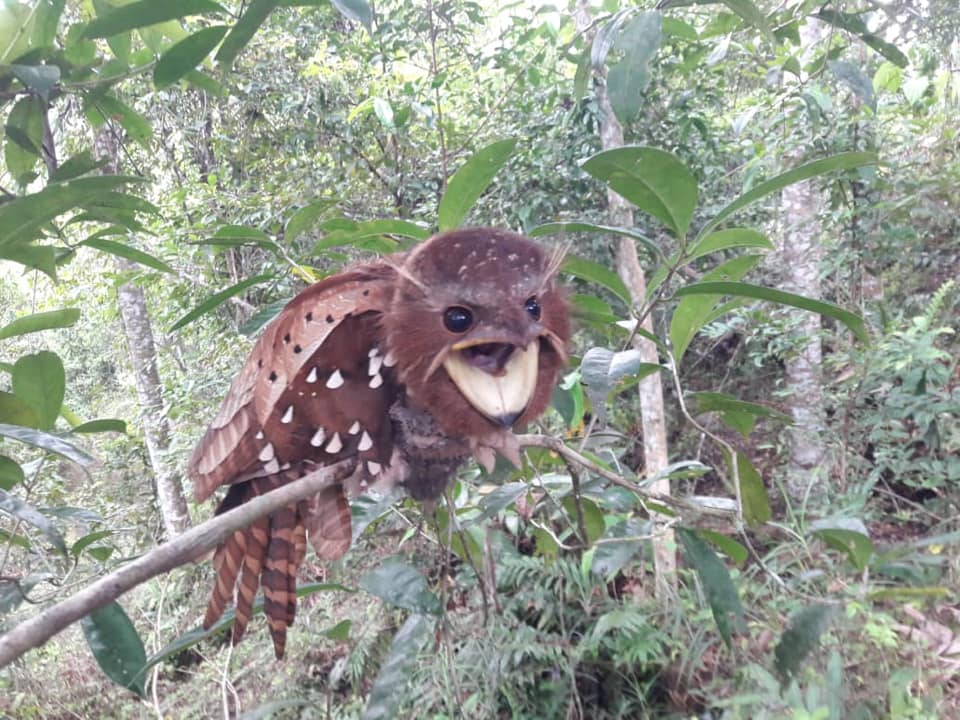 Image credit: Yi Chang
However, it's not quite the same – especially when its mouth opens to reveal a wide beak that makes it look almost like an adorable, and harmless, Pokemon creature.
Several netizens also noted that they would rather not see these birds at night, even calling the bird "ghost bird" in Malay – presumably because of the bird's piercing black eyes.
---
Endemic to Borneo, and a near-threatened species
---
According to ebird.org, a guide to birds for birdwatchers, dulit frogmouths are large frogmouths that live in forest foothills in Borneo and feed on insects. They are notable for white spots on their wings and melancholic barks and chirps that sound almost like whistling.
Their feathers are also interesting to note, as they closely resemble dead leaves. This is so they can blend into trees and safely hide away during the mornings to keep safe, as they are nocturnal birds.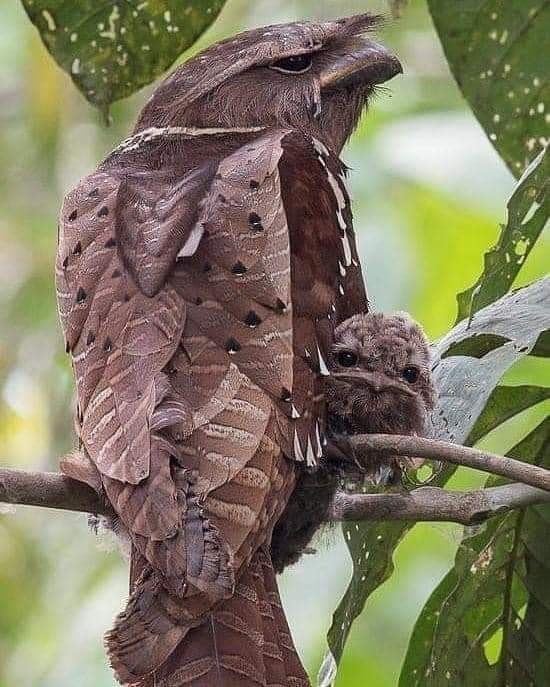 Image credit: WildAware
BirdLife International cites the dulit frogmouths as being near–threatened, with its population trend decreasing.
---
Dulit Frogmouth bird that looks like a Pokemon in Sarawak
---
Birds are part of nature, and every now and again we get to spot unique ones during our hiking trails and visits to parks too. This rare sighting of a dulit frogmouth bird is another testament to the rare gems hiding out in our nature spots that will hopefully go on to thrive so they are no longer near-threatened species.
Read more news here:
---
Cover image adapted from: Yi Chang
Get more stories like this!
Drop us your email so you won't miss the latest news.