APM officer helps elderly uncle out at vaccination centre
---
Getting registered for vaccination appointments may be a difficult task for some, especially the elderly who are not familiar with modern apps and devices. This is why the government rolled out a new feature on the MySejahtera app back in March 2021, where individuals can include vaccine dependents in their vaccination registrations – making it easy for everyone to get registered online.
While the feature is mostly utilised among family members, this Civil Defense Force (APM) officer was praised online for offering to register an elderly, deaf and mute uncle as her vaccine dependent. He had shown up at a COVID-19 vaccination centre (PPV) in KL after being told he had an appointment, only to learn that he didn't.
---
Officer helps him out, as he didn't own a smartphone
---
On 15th June 2021, Mohd Shahril Abdul Ghani took to Facebook to share about the helpful APM officer.
Shahril is a PPV floor manager at Kuala Lumpur Convention Centre (KLCC) who works alongside People's Volunteer Corps (RELA) and APM personnel. In his post, he praised the officers he worked with for their professionalism and helpfulness towards vaccination candidates at the PPV.
Of the volunteers he commended, he particularly highlighted a helpful female APM officer who went out of her way to assist an elderly uncle with disabilities.
The uncle had apparently showed up at the PPV after being told by an unnamed individual that he had a vaccination appointment. However, it turned out that he had been lied to, as he was not registered for the vaccination.
He only owned a Nokia 3310 phone, which meant that he had no access to MySejahtera.
Upon hearing of his dilemma, the APM officer, who had been skillfully conversing with him in sign language, offered to register him as her vaccine dependent so he could get vaccinated. She also shared with Shahril that she would see to it that he received both of his vaccine doses.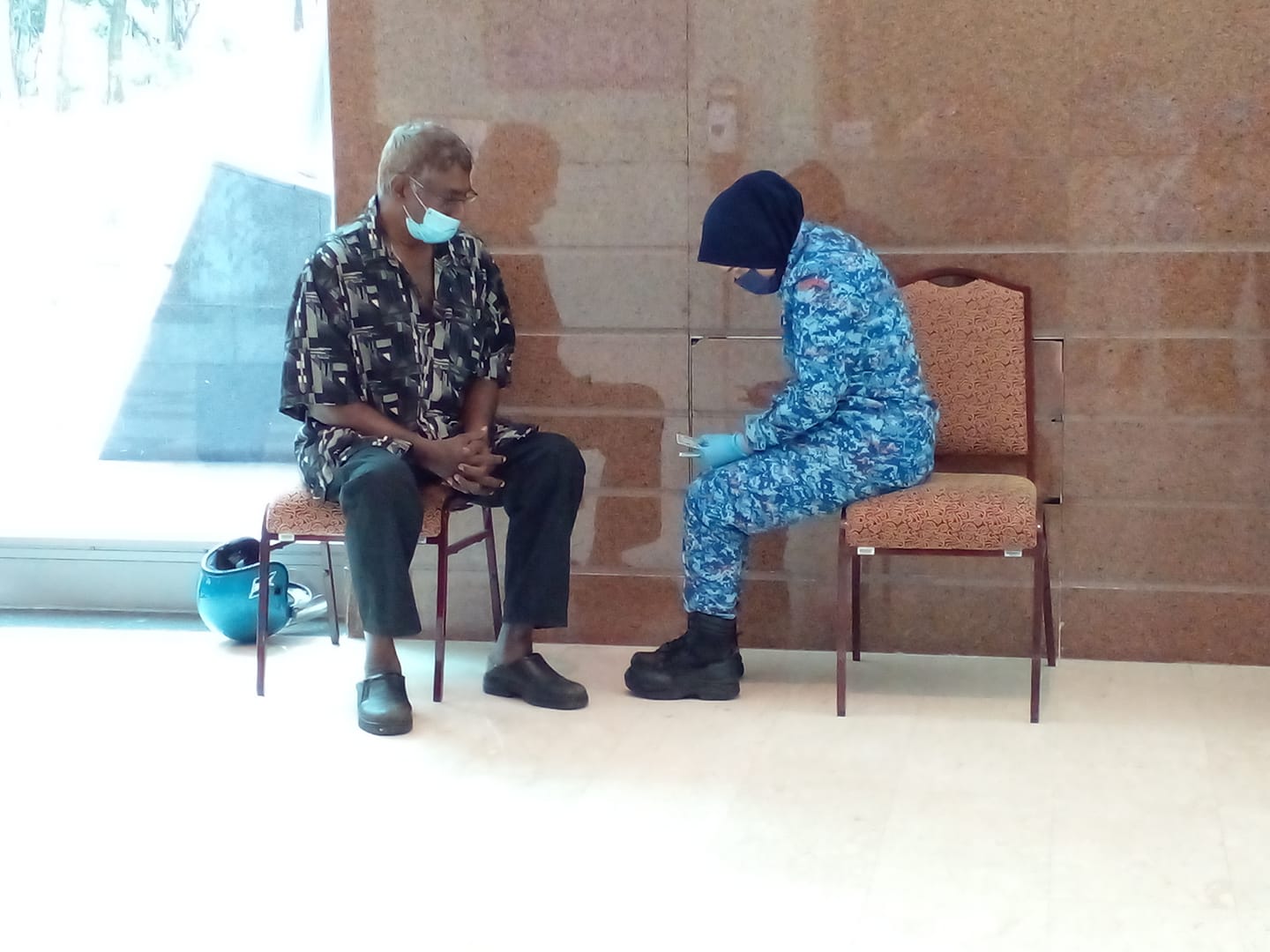 Image credit: Mohd Shahril Abdul Ghani
Shahril also shared that this wasn't the first time that he was blown away by this officer's work ethics and skills, as she had previously assisted an expat at the PPV in fluent English. According to him, she calmly answered the expat's questions and gave detailed explanations about the vaccination process.
Shahril noted that she was an SPM certificate holder who had learnt sign language on her own.
---
Learnt to use sign language through YouTube
---
In an interview with Harian Metro, the APM officer, Nurul Syalinda Shamsuddin, 27, shared that she learnt sign language by watching YouTube videos a month ago. She did it so she could better help out anyone with disabilities while she volunteered.
She felt a sense of responsibility for people from different walks of life who are seeking to protect themselves and others by getting vaccinated.
After helping the elderly uncle with his vaccination appointment, she proceeded to visit his house to help his wife get registered too.
---
Netizens praise skilled and helpful APM officer
---
The story shared by Shahril on Facebook garnered over 600 shares and 2,000 reactions from netizens, who came out to praise Nurul Syalinda for her deeds.
Facebook user, R Priya Le Grand, for one, came out to comment, "All the best in your life, young lady. Your actions are exemplary! A true Malaysian indeed!!"


Image credit: R Priya Le Grand 
APM Chief Commissioner Datuk Roslan bin Wahab also said they were proud of Nurul Syalinda and the entire APM force on APM's official Facebook page in a post dated yesterday, 16th June. In the same post, they conveyed a congratulatory note from the Prime Minister's Special Duties Department at the Prime Minister's Office.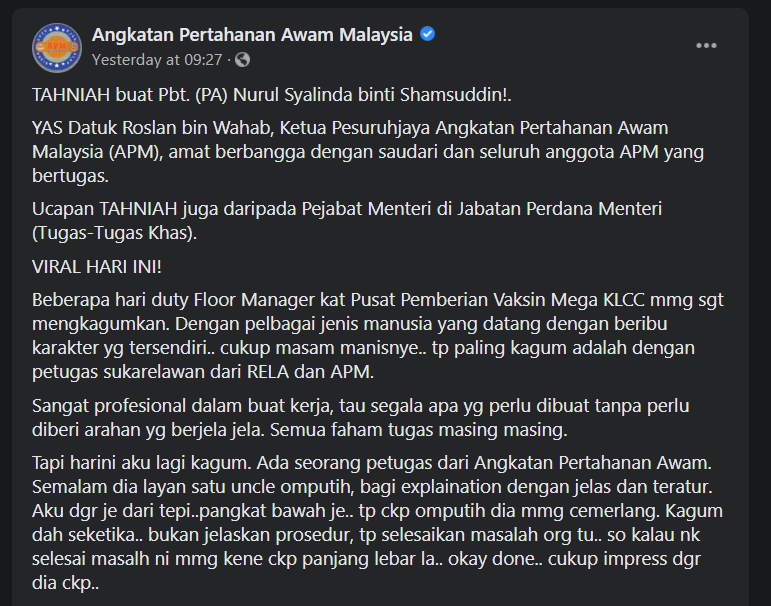 Snippet of APM's praise for the APM officer
Image adapted from: Angkatan Pertahanan Awam Malaysia
---
APM officer helps elderly uncle with disabilities at PPV
---
We should always be try to help the elderly community, as they are an especially vulnerable group during the pandemic. Thus, helpful individuals such as Nurul Syalinda, who went the extra mile to register the elderly uncle and his wife for vaccination, should be applauded.
Read more here:
---
Cover image adapted from: Mohd Shahril Abdul Ghani
Get more stories like this!
Drop us your email so you won't miss the latest news.