Woman apologises for calling Malaysian Indians penumpang
---
Malaysia is a multiracial and multi-religious country and we take pride in this unique identity that our nation has. But sometimes, a slip of the tongue from misinformed people can challenge the delicate balance that maintains peace and harmony among the different races.
This week, a Malaysian woman named Nor Sufia Johari who has over 12,000 followers on Instagram, came under fire for calling Indians penumpang in a now-deleted TikTok video. In it, Nor Sufia addressed the constant backlash she has received from netizens since she posted a video for her Malay-style Rasam recipe.
---
Backlash against Malay-style Rasam recipe 
---

Image credit: @funkyshankar1208
In a 1-minute video reposted on Instagram by @funkyshankar1208, Nor Sufia Johari responded to netizens, saying that she denies their accusations that she said that Rasam, a traditional Indian spicy-sour soup, belongs to the Malays.
In the viral video, which has over 50,000 views on Instagram, Nor Sufia could be seen visibly agitated as she clarified that she didn't say Rasam belongs to the Malays. Instead, she named her version of the Indian cuisine as "Malay Rasam recipe" because she is a Malay.
"The Rasam recipe belongs to the Malays. Did I say that? I just said Malay Rasam recipe because I'm a Malay. If I were an Indian, I would have called this an Indian Rasam recipe. If I were a Chinese, I would have called this a Chinese Rasam recipe. You get it?" she said in the video.
Nor Sufia then proceeded to remind Indian netizens who criticised her that they live in Malaysia and they should not fight over such matters.
"So, you are living here as a penumpang (guest) right? Then, please stay properly," she added.
It appears that while she was recording the video, she was also surrounded by some of her Indian friends to whom she said that she wasn't scolding them.
---
Nor Sufia apologises for her mistake
---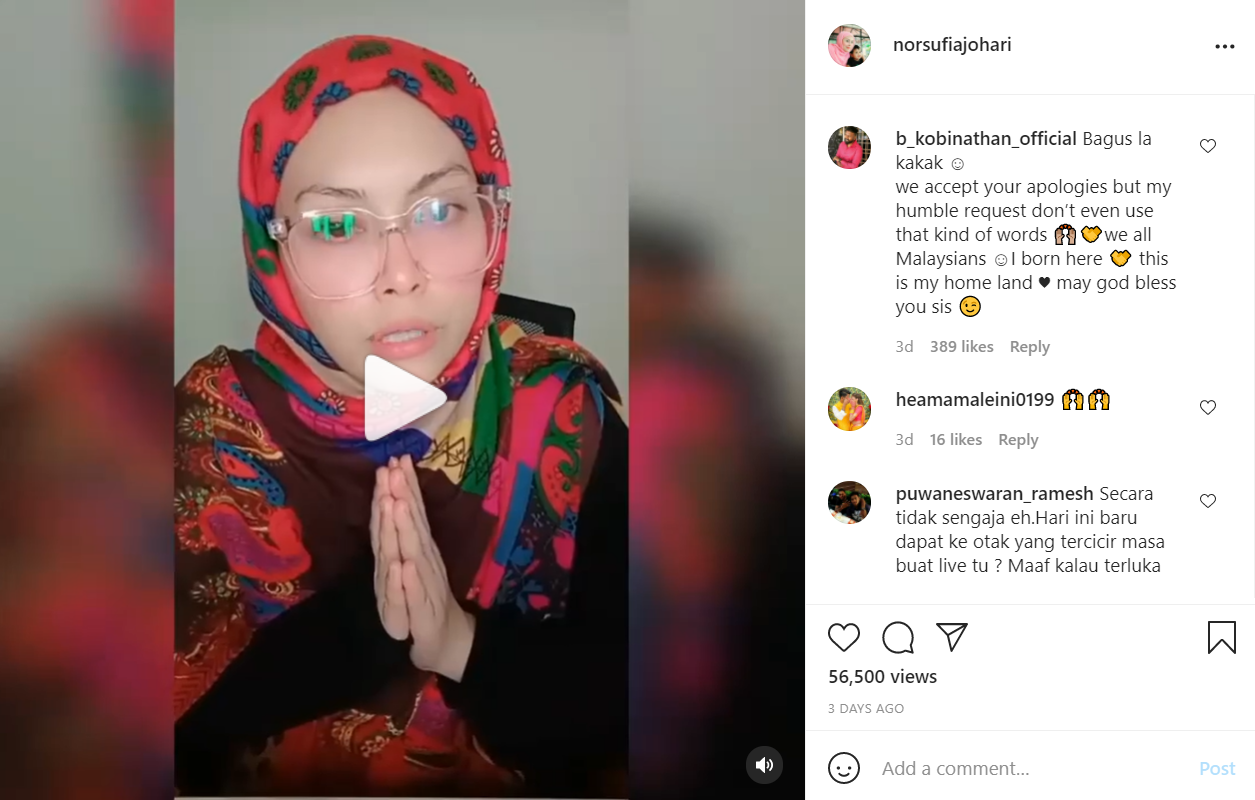 Image credit: @norsufiajohari
Because Nor Sufia called the Indian community penumpang in the video that was supposed to clarify and address the backlash she got for naming her recipe "Malay Rasam", she then came under fire again. Penumpang is a Malay word synonymous with pendatang or immigrant, which is a derogatory term often used against Chinese and Indian Malaysians as a racial slur. 
Nor Sufia then issued an apology through another video posted on her Instagram page, in which she clarified that she did not intend to hurt or insult the Hindu religion or members of the Indian community. 
"I am sincerely sorry for my mistake. It was not my intention to insult the Hindu religion or members of the Indian community," she said.
She also sought forgiveness from the entire Indian community for her words and said that she hopes that everyone can work together to rectify the situation.
---
Woman calls Indians penumpang then apologises after backlash
---
It's important to note that our words have consequences, especially for someone who has a substantial following online, like Nor Sufia. Regardless of the situation, racial slurs and disparaging remarks should be avoided at all costs, especially when engaging in public conversations and on social media, and in a culturally diverse nation such as Malaysia.
Read more here: 
---
Cover image adapted from: @funkyshankar1208 and @norsufiajohari
Get more stories like this!
Drop us your email so you won't miss the latest news.