Lesser-known facts about Batu Caves
---
There are a few iconic places in our country that Malaysians can instantly recall with the glimpse of an eye. One such landmark is Batu Caves, which has been an iconic heritage site of Malaysia for decades.
Most of us know Batu Caves as a religious site, where hundreds of thousands of people gather each year to celebrate Thaipusam with a majestic silver chariot procession from Kuala Lumpur. But there's so much more to Batu Caves that a lot of Malaysians may not have heard about before, such as its early history, founding fathers, and cave biodiversity.
So, we gathered six lesser-known facts for you to learn more about the iconic landmark below.  
---
1. The cave is said to be around 400 million years old
---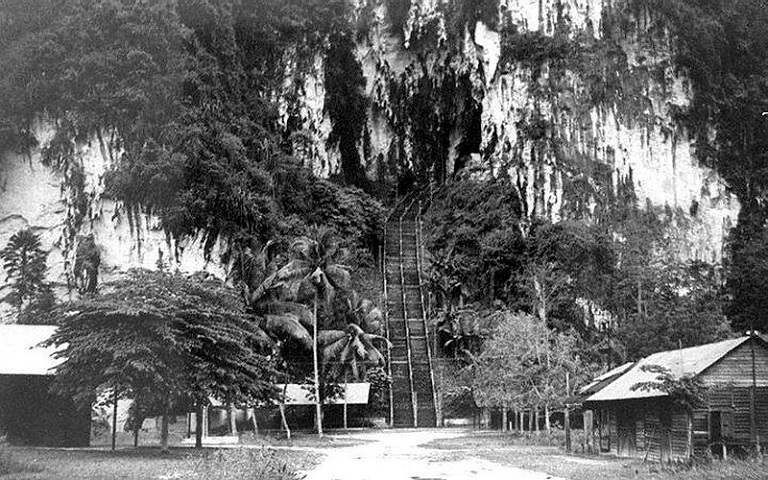 Image credit: Astro Ulagam
Batu Caves is well-known among Malaysians as a religious site where culture and tourism thrive. But its early history is not as widely known as its present-day prominence. The limestone cave is said to be over 400 million years old and was mostly untouched before the 1860s, after which time human activity became more frequent.
After the 1860s, Chinese settlers started excavating guano – a type of fertiliser – from the cave to fertilise their crops during the colonial era. 
However, indigenous tribes who lived in the area were the earliest known inhabitants of the cave. They used some of the cave entrances as transit shelters when they went hunting in the early days.
---
2. It was promoted as a place of worship by an influential trader
---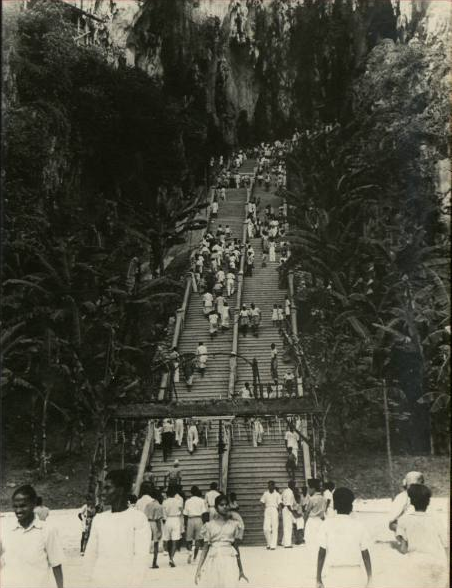 Image credit: U.S. Embassy Kuala Lumpur
Every famous attraction has a founding father, whose legacy often goes unnoticed when history is retold to the younger generation. That's probably why many of us can't readily recall K. Thamboosamy Pillai, an Indian Tamil merchant who played a prominent part in the history of Batu Caves as an important religious site for Hindus in Malaysia. 
Thamboosamy was inspired to build a temple for Lord Murugan – the primary deity worshipped at Batu Caves – within the cave when he saw the mouth of the cave resembling a vel – the head of Lord Murugan's celestial spear. 
So, in 1890, he installed a statue of Lord Murugan within the cave, which then came to be known as the Sri Subramaniar Swamy Temple, where the annual Thaipusam festival is celebrated on a large scale each year in Malaysia. 
---
3. Devotees used wooden steps to access the Temple Cave in the early days
---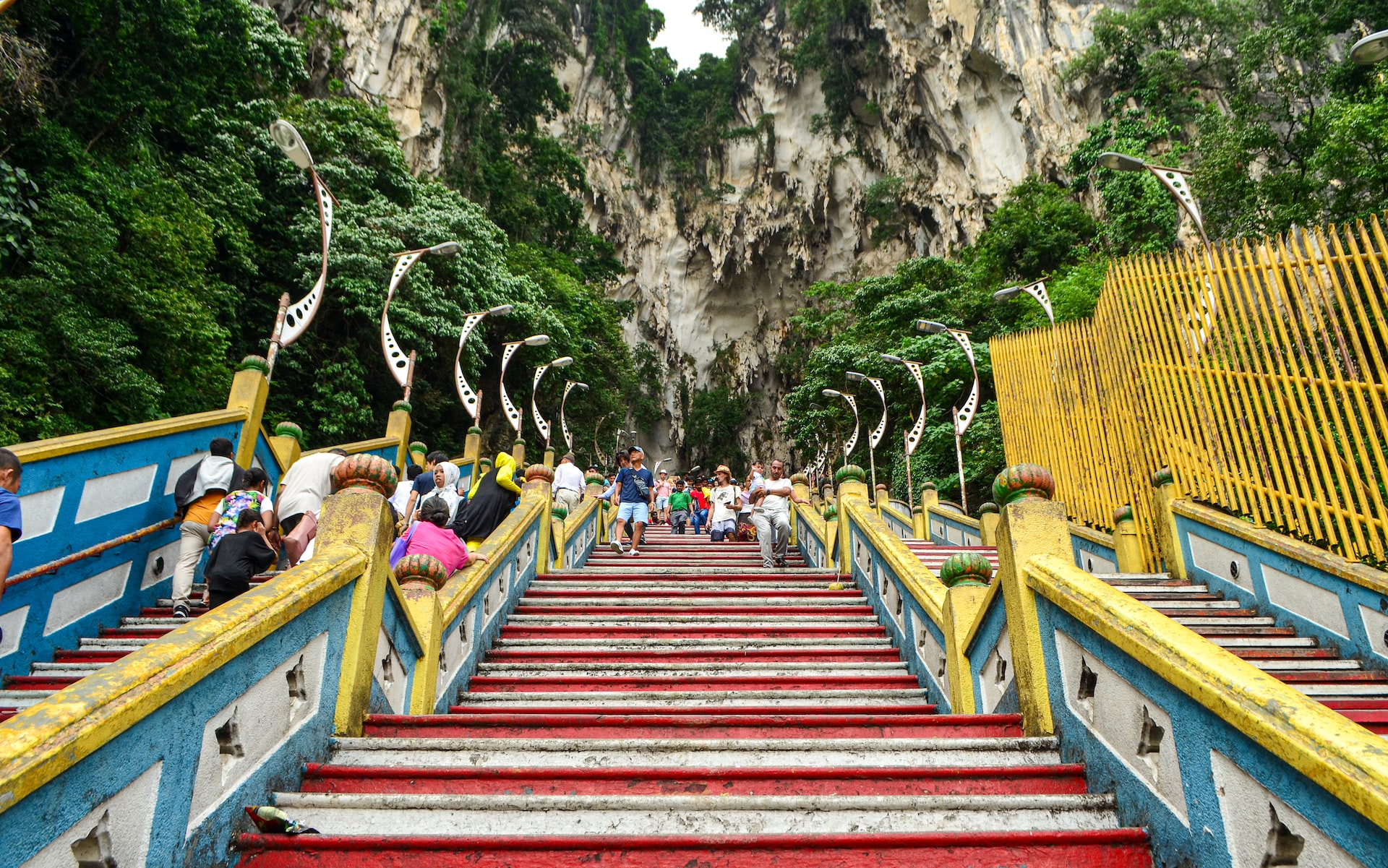 Image credit: Anelale Nájera / Unsplash
Batu Caves is home to a colourful and striking set of stairs that are so pleasing to the eye, even when you're looking at them from miles away. But before a cheery makeover in 2018, the concrete stairs was coloured red and white, as some might still remember.
These concrete stairs were once 272 wooden steps, built sometime in the 1920s. Devotees at that time could only enter the Temple Cave within Batu Caves by using these wooden steps. 
However, due to wear and tear issues, the temple's then-chairman proposed building concrete stairs – the same ones we see today – so devotees could easily access the holy shrine in the cave. After two decades, the enormous concrete steps were completed in 1940.
---
4. The cave is home to over 200 species of plants and animals
---

Image credit: Max Moseley
Anyone who has visited Batu Caves may be familiar with the long-tailed macaques that roam freely on the stairs and often snatch devotees' belongings, such as flower garlands and fruits. This is what many would think when we talk about biodiversity in Batu Caves.
But apart from the naughty four-legged creatures, the cave is home to some 269 species of vascular plants, of which 56 are found only on limestone. 
Batu Caves also has over 20 species of bats. There are creatures such as trapdoor spiders, bent-toed geckos, and terrestrial isopods found in untouched parts of the cave that contribute to Malaysia's biodiversity.
---
5. Batu Caves has more than 160 rock climbing routes
---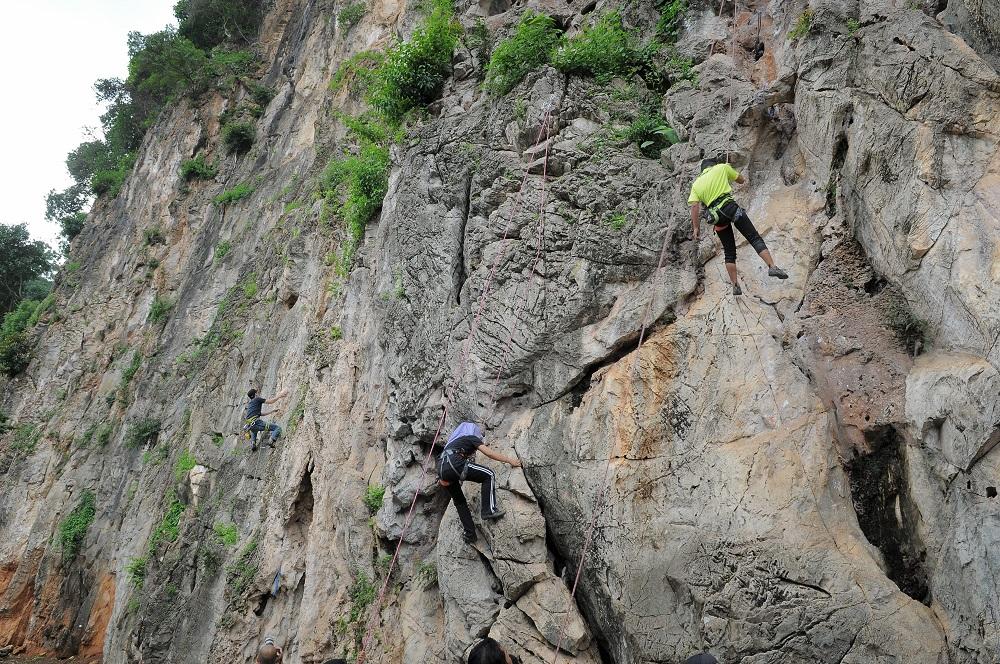 Image credit: Selayang Municipal Council
Apart from being a famous religious site and tourist attraction in Malaysia, Batu Caves is also the centre of rock climbing development in the country for the past decade.
For the uninitiated, the limestone cave is a popular choice among rock climbers. 
Batu Caves has three walls and crags, namely the Damai Wall, Nanyang Wall, and Nyamuk Wall, each with many different routes scattered all around the sides of the cave. These climbing spots make up over 160 climbing routes with varying levels of difficulty for adventure-seeking souls.
So, if you're looking into trying out a new sport, cave climbing at Batu Caves is definitely worth considering.
---
6. Batu Caves has the third tallest statue of a Hindu deity in the world
---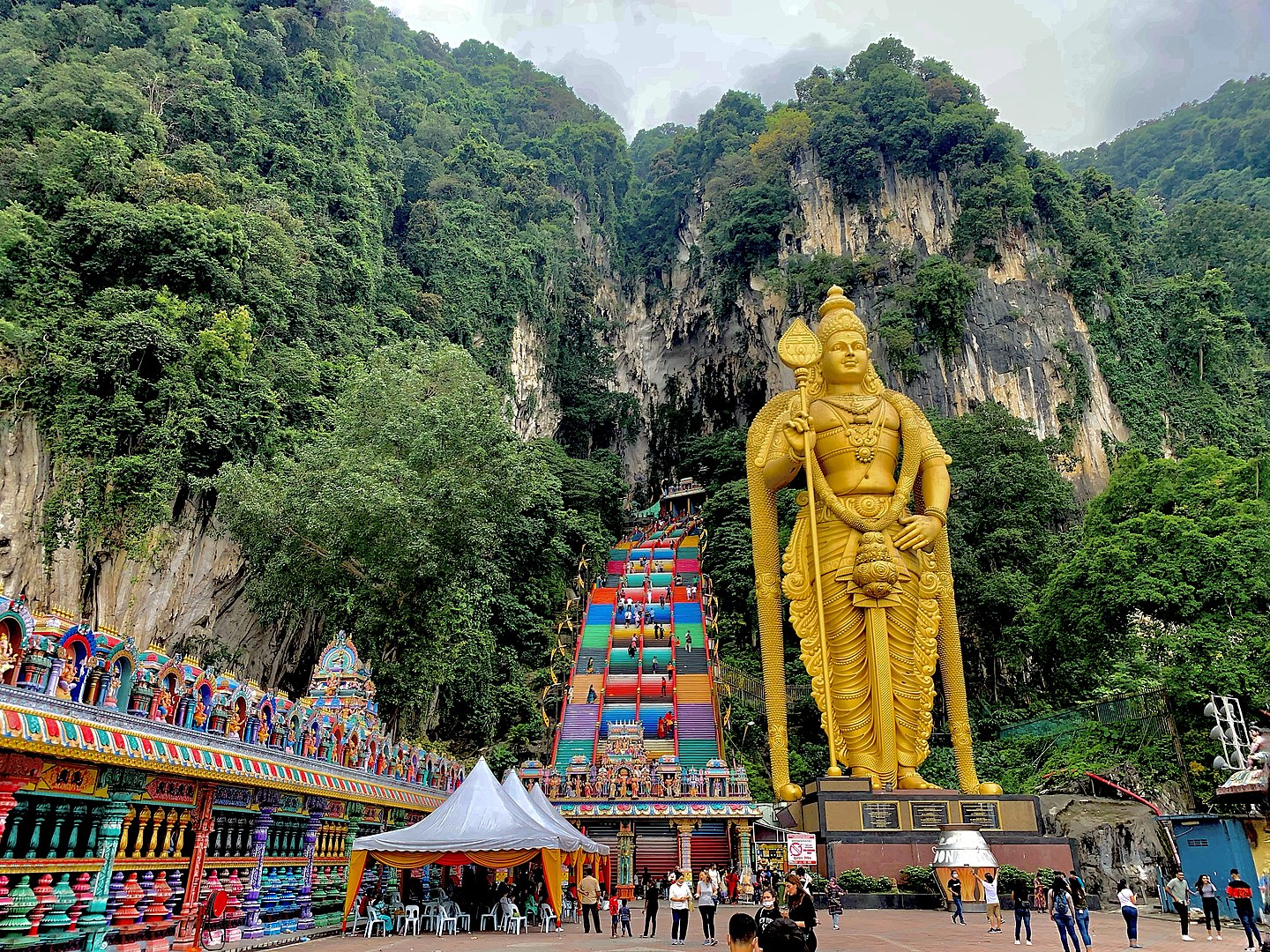 Image credit: Wikipedia
The gold-painted Lord Murugan statue at the entrance of Batu Caves is an iconic landmark of the site since its construction. It cost RM2.5 million, and took 350 tons of steel bars, 1,550 cubic metres of concrete, 300 litres of gold paint, and 15 sculptors from India, to build the magnificent statue.
To date, it is the tallest statue in Malaysia at 42.7 metres in height, and the third tallest statue of a Hindu deity in the world – a world record that symbolises religious freedom in Malaysia.
The construction process began in 2004, and was completed in January 2006 when the statue was unveiled to the public during the annual Thaipusam celebration that year.
---
Lesser-known facts about Batu Caves
---
Despite its popularity as a religious and tourist site, there are many key facts about Batu Caves that many of us may have missed out on.  
It's important for us to learn about the history of iconic landmarks in Malaysia so we can continue to appreciate their presence for years to come. We hope that these facts will help you see Batu Caves in a new light the next time you drop by.
Read more here:
---
Cover image adapted from: U.S. Embassy Kuala Lumpur, Wikipedia and Selayang Municipal Council
Get more stories like this!
Drop us your email so you won't miss the latest news.