Beach resorts near KL
---
The beach always makes for an alluring getaway spot. Powdery sands, the saltwater-scented breeze, and dramatic landscapes – it's a slice of paradise for any kind of traveller. 
While far-flung locales are where most of us tend to look to, the perpetual summery weather paired with dreamy resorts in Malaysia tick all the boxes for a perfect retreat with no passport required. 
With gorgeous spots just under 3 hours from KL, you can satiate your longing for a dip in the vast blue sea at one of these beach resorts near the capital city:
---
1. The Kasturi, Cherating – A-frame villas that face the sea
---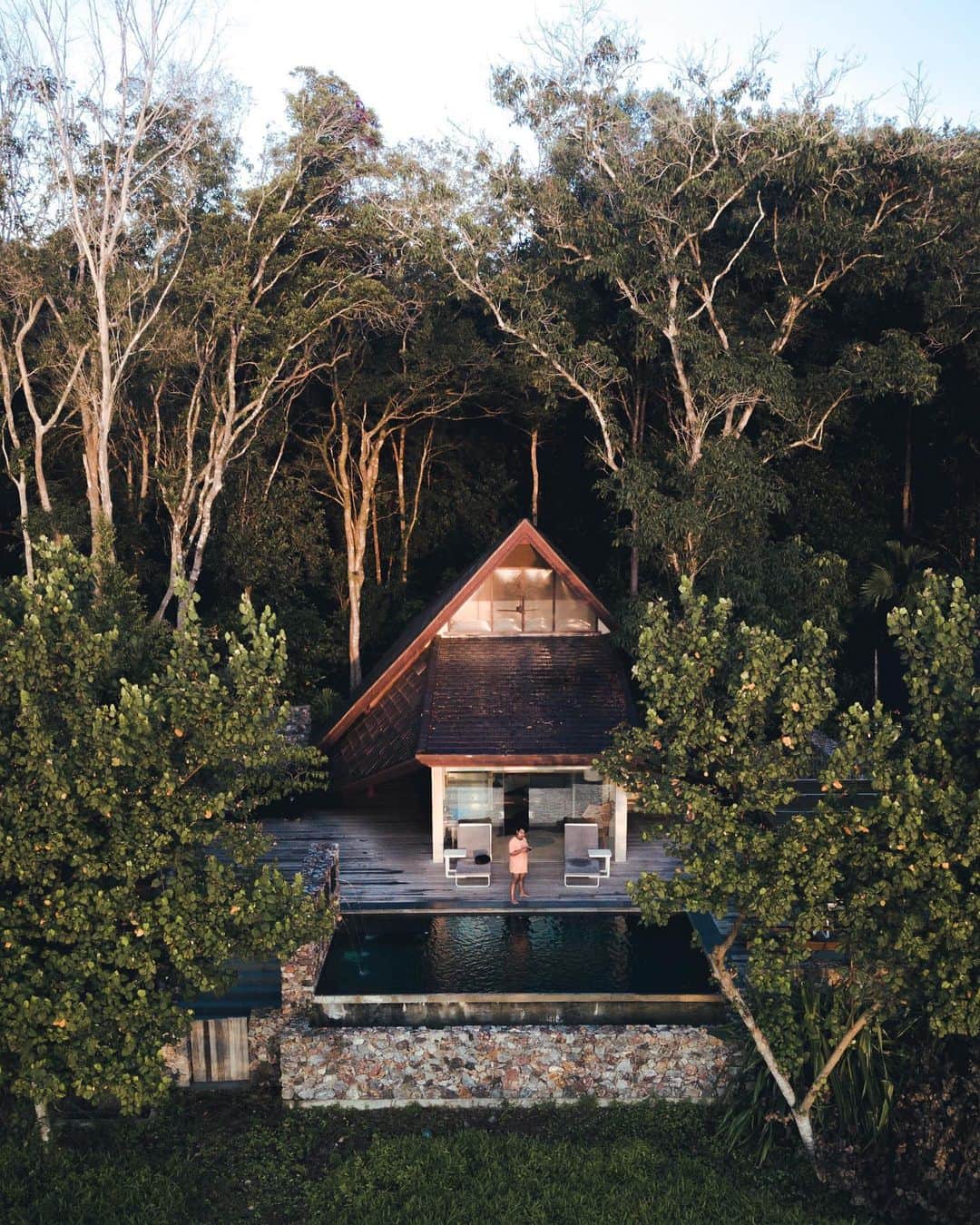 Image credit: @karyaaia via Instagram
Picture waking up in a plush villa, and savouring breakfast on a private patio backed by lush jungle flora and facing the sea. Then, you get to dive straight into a private infinity pool to swim laps before heading to the beach for a stroll. 
You can live that life of indulgence and tranquillity at The Kasturi.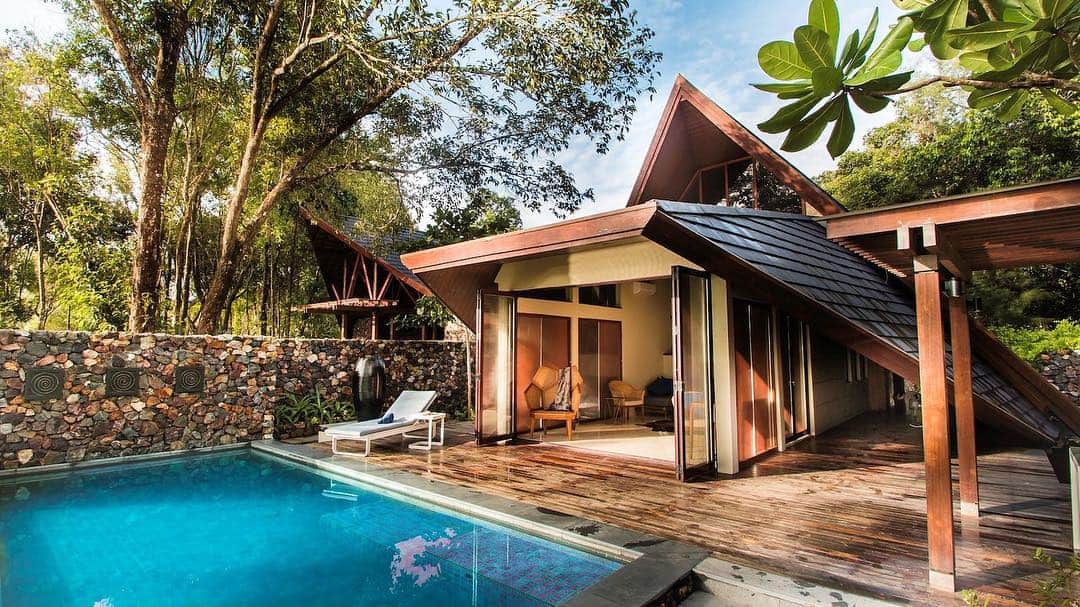 Image credit: @thekasturi via Instagram
Situated on a stretch of golden sand, along the pristine Chendor Beach in Pahang, the resort feels like a hidden oasis of luxury and nature. It features 23 A-frame villas that epitomise both elegance and comfort with modern furnishings, private plunge pools, and indoor bathtubs.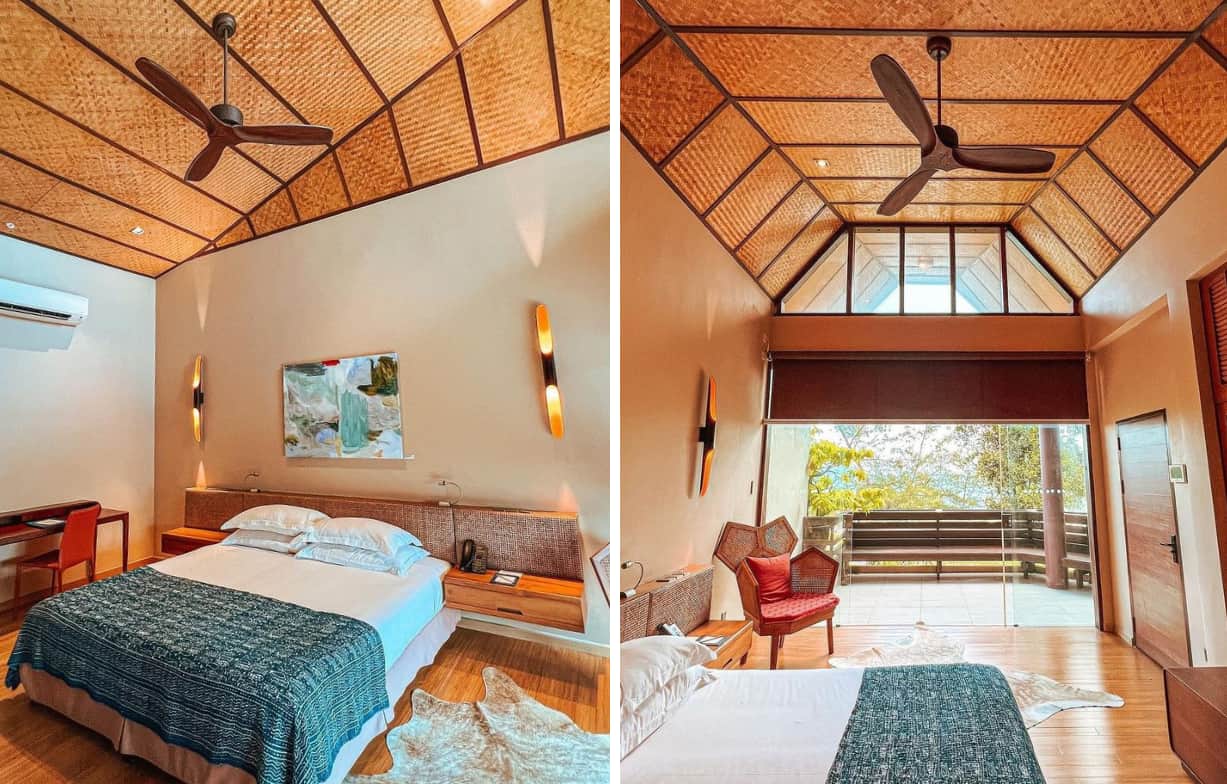 Image adapted from: @chronicleslah via Instagram
The selection of villas cater to the size of your group and choice of view. Opt for the Ocean View Suites priced RM730/night for a view of emerald waters from bed, or the Beach Front Villas (RM1,350/night) that lets you step right out onto powdery sands from a patio.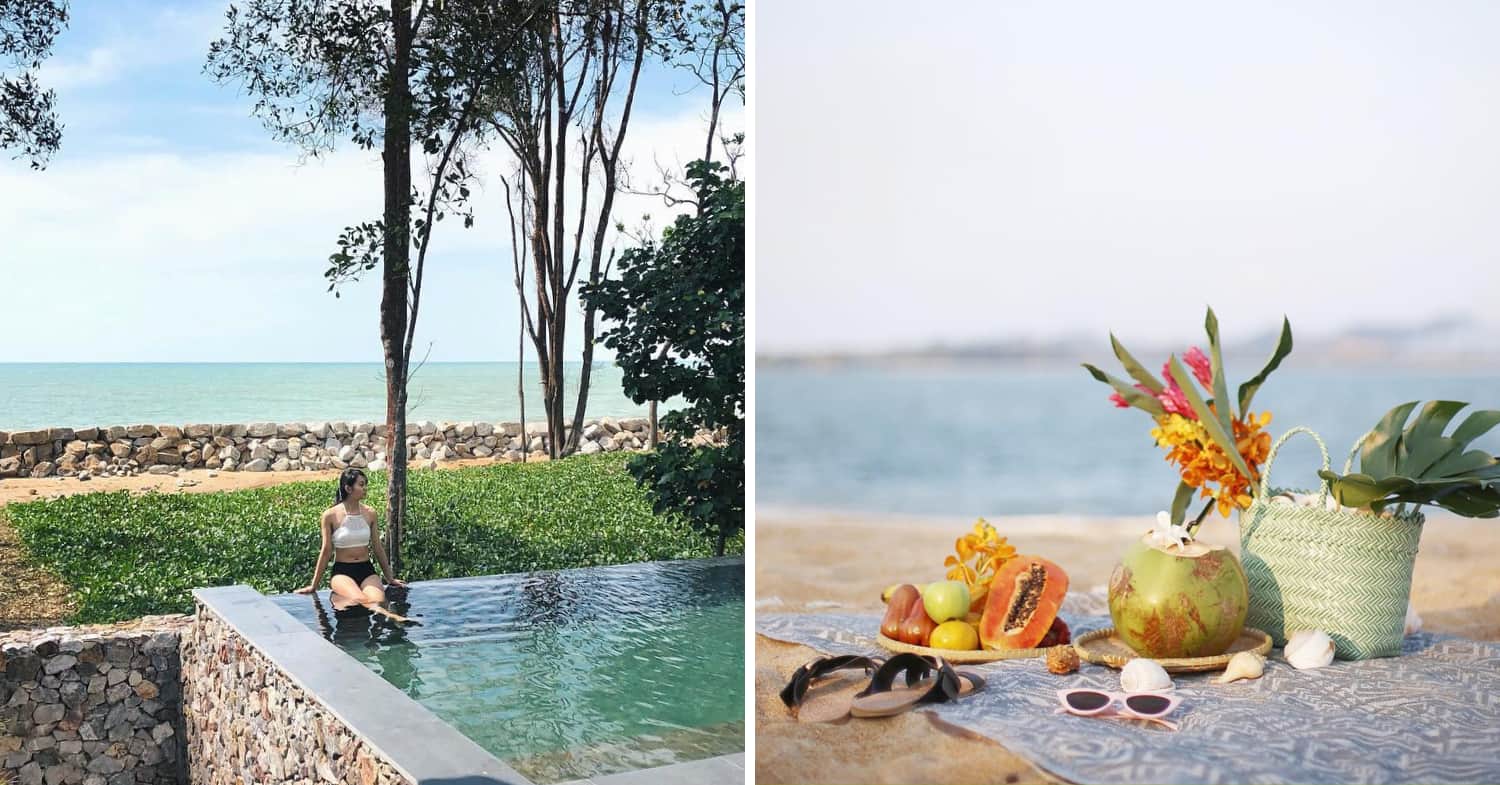 Image adapted from: @chikumama via Instagram, @thekatsuri via Instagram
At the resort, you can revel in nature with a leisurely stroll on a tree-lined walkway, have a picnic on the warm sandy cove, or try paddling a kayak through Sungai Pak Siak, a breathtaking mangrove-shrouded river.
Address: KM 32.5, Jalan Kuantan, Kemaman, 26080 Cherating, Pahang
Opening hours: 24 hours, Daily
Contact: 09-582 5000 | The Kasturi's website
---
2. The Arjana Resort, Melaka – Santorini-inspired resort 
---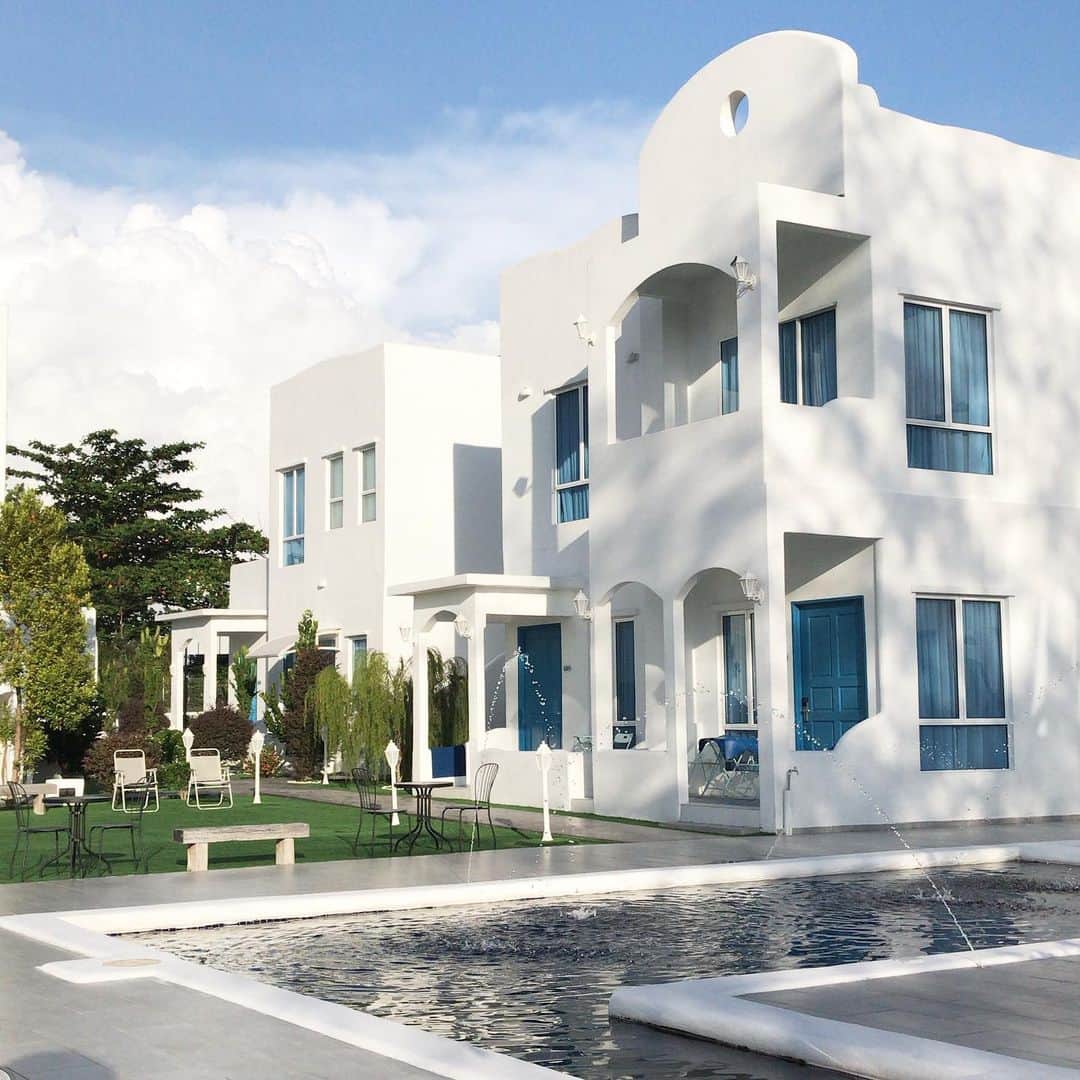 Image credit:  @thearjanaresort via Instagram
Nestled along the scenic coastline of the Straits of Malacca, The Arjana Resort stands out as a breathtaking mirage of an idyllic Santorini-style resort amidst the local backdrop of Pengkalan Balak Village.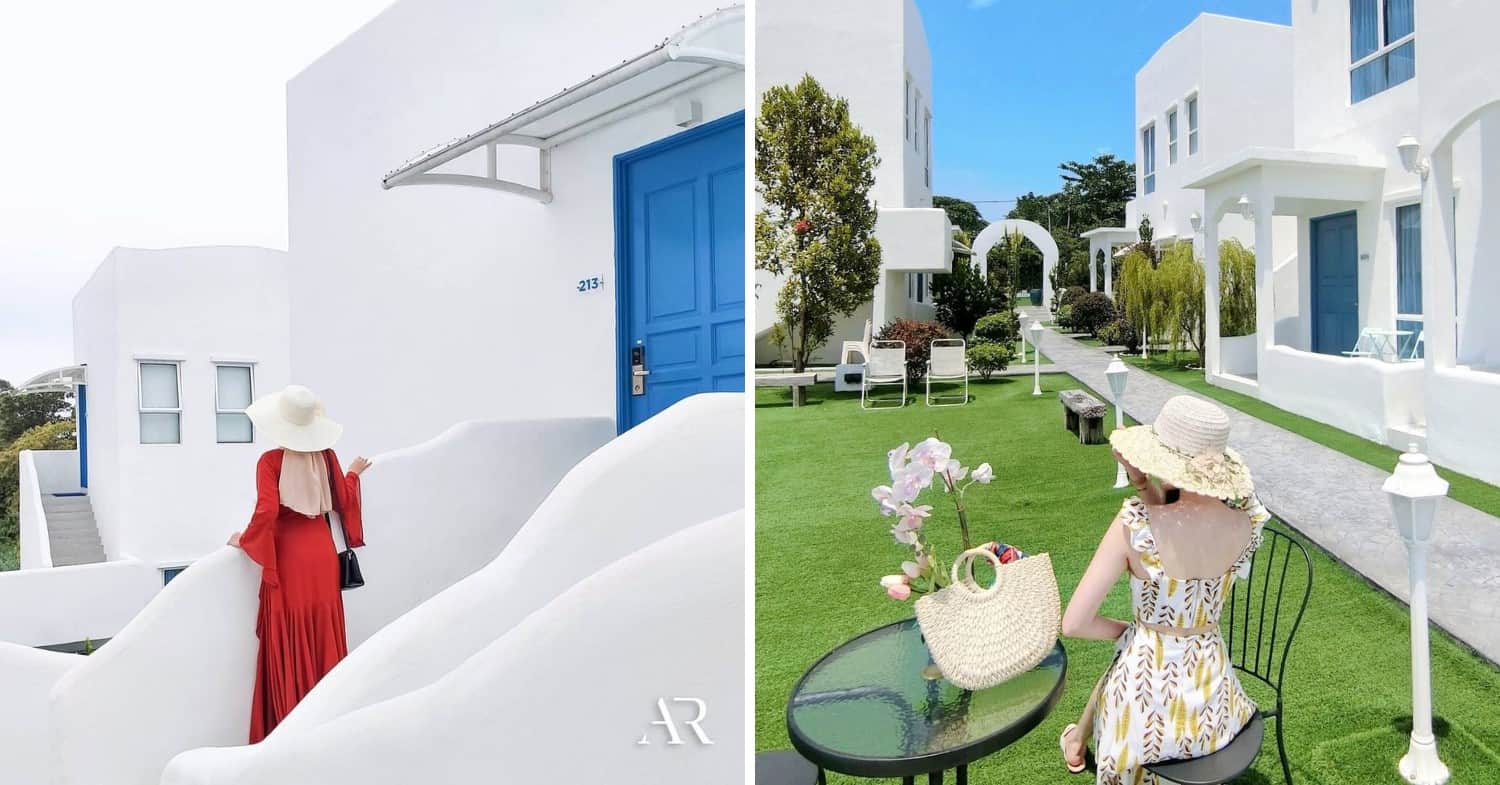 Image adapted from: @thearjanaresort via Instagram, @yining0818 via Instagram
This resort is a portal to the sun-drenched islands in Greece. Its layout mimics the winding streets and cobblestone pathways of a Mediterranean village, which lead to whitewashed buildings with accents of cerulean blue, creating a striking picturesque appearance.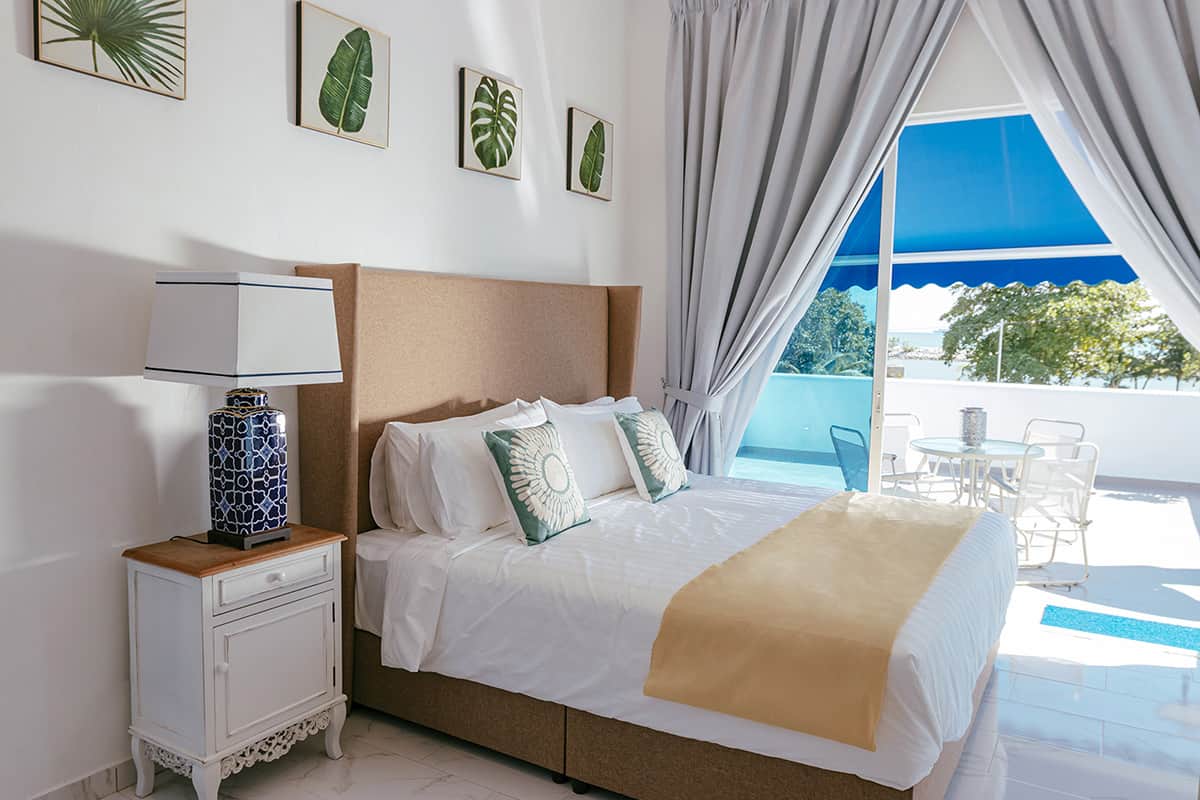 Image credit: The Arjana Resort
Each guest suite embodies Greek elegance as well, with snow-white walls and furnishing complemented by azure doors and luxurious linens. 
Let the sound of the sea be your lullaby with a stay in their Sea View Triple Deluxe Room that houses 3 guests for RM400/night, or go for the Pool Views (from RM450/night) rooms that'll fit a group of up to 7 individuals.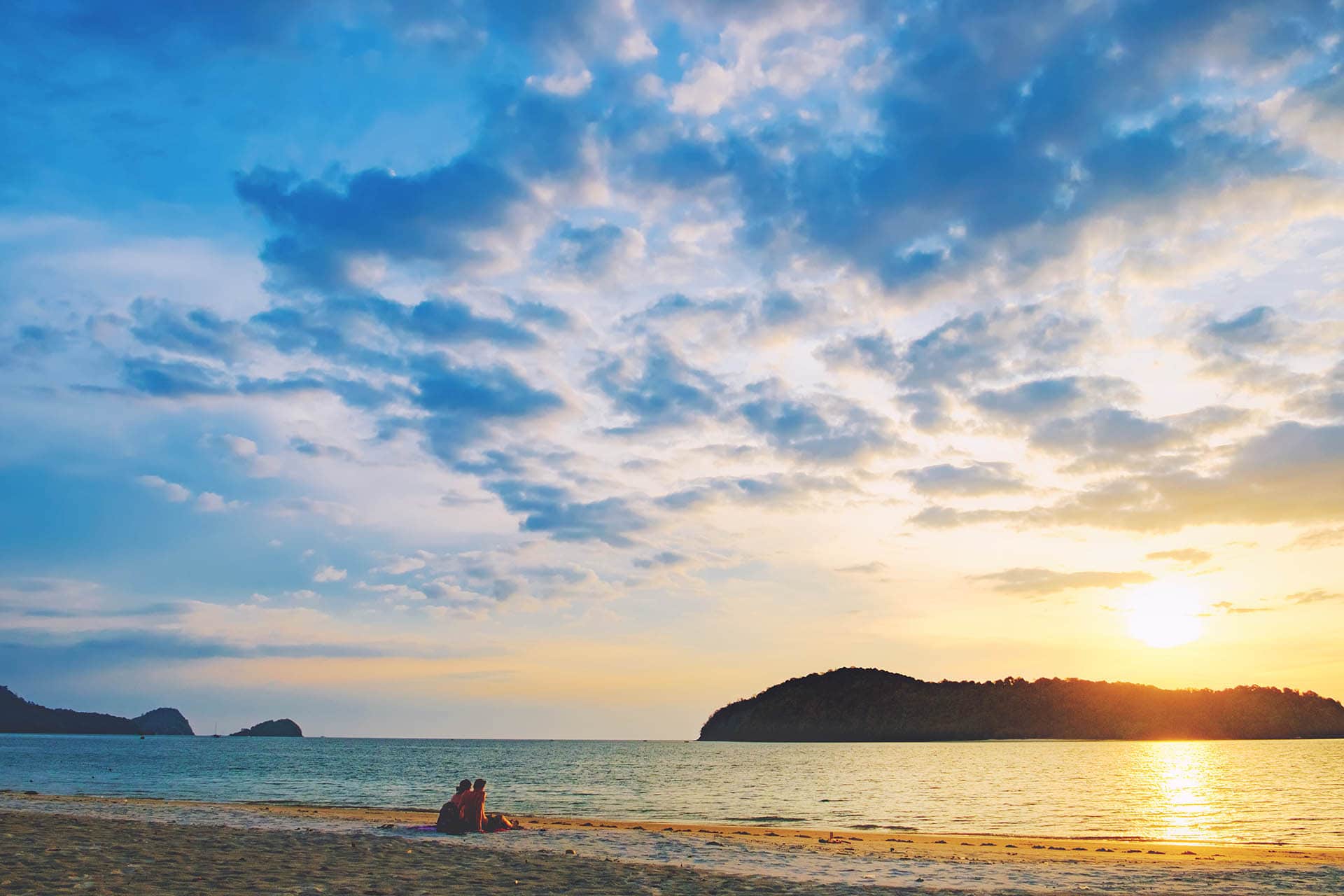 Image credit: The Arjana Resort
Guests can spend their day unwinding by the resort's infinity pool, or at a garden picnic area that overlooks the nearby beach. Come dusk, couples can go for a romantic stroll along the beach – you'll be fully convinced that you're in the heart of Greece. 
Address: Lot 3357, Jalan Pengkalan Balak, Pengkalan Balak 78300 Masjid Tanah, Melaka
Opening hours: 24 hours, Daily
Contact: 06-384 8234 | 017-322 5055 | The Arjana Resort's website
---
3. Swiss-Belhotel, Kuantan – infinity pool with a view of the sea
---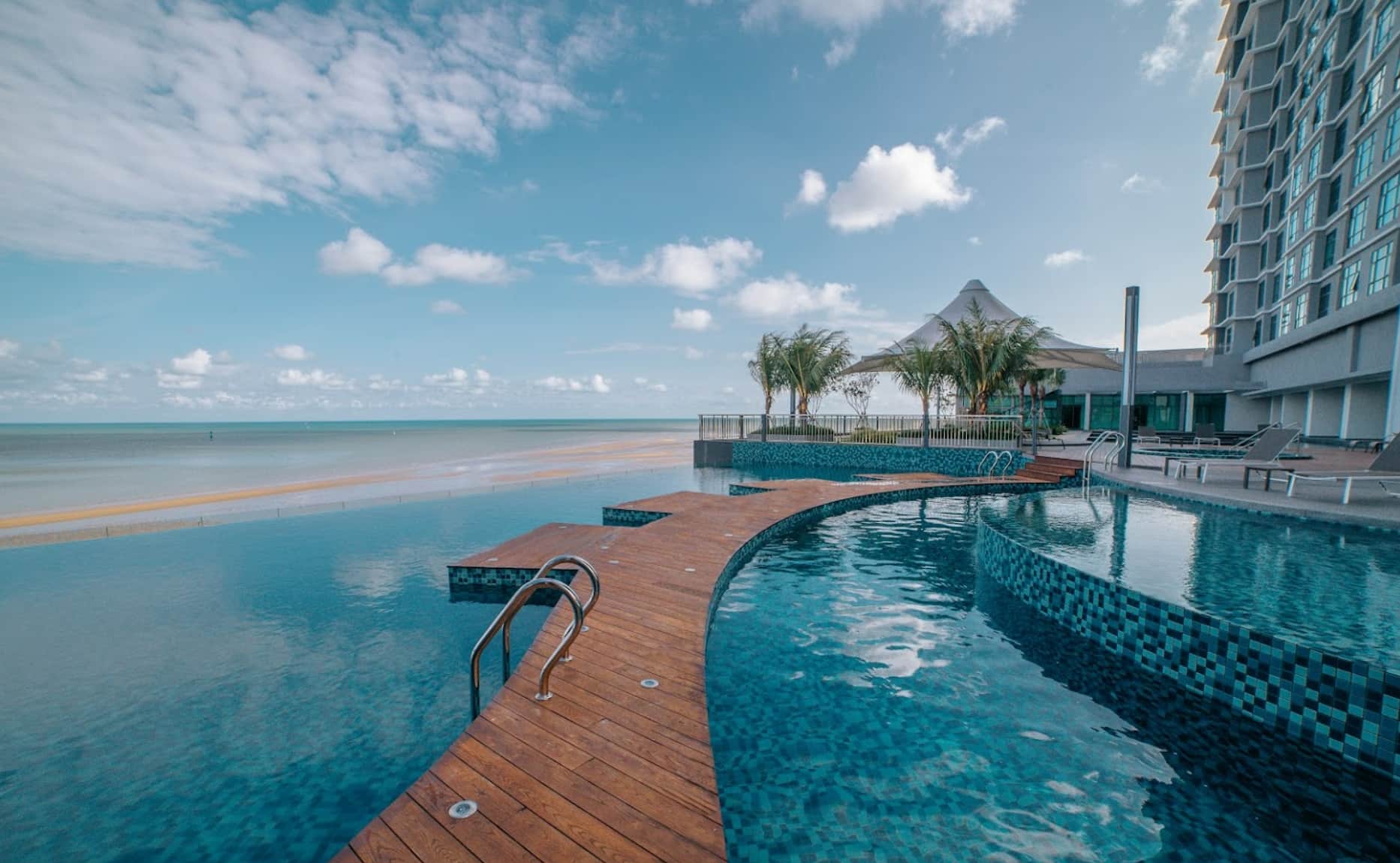 Image credit: Swiss-Belhotel Kuantan via Google Maps
Whether you're travelling for that yearly family vacation or planning a well-deserved getaway with your besties, Swiss-Belhotel in Kuantan is a solid option. Its spacious rooms, range of leisure activities, and convenient location is a big draw for hotel guests near and far.
Situated just minutes from the buzzing leisure hub, Kuantan Waterfront Resort City, the resort lets guests have the convenience of travelling about the capital city of Pahang. The beautiful Teluk Cempedak beach is also just a stone's throw from the resort, so guests can take their pick from the resort's facilities or just lounge on the beach. 

Image adapted from: Swiss-Belhotel Kuantan via Google Maps
Swiss-Belhotel's rooms and suites are designed with both aesthetics and functionality in mind. Each features modern amenities, such as flat-screen TVs and cosy workspaces. 
Opt for a stay in their Studios (RM198/night), Family Rooms (from RM468/night), or Ocean-View Suites (from RM483/night), depending on your group size.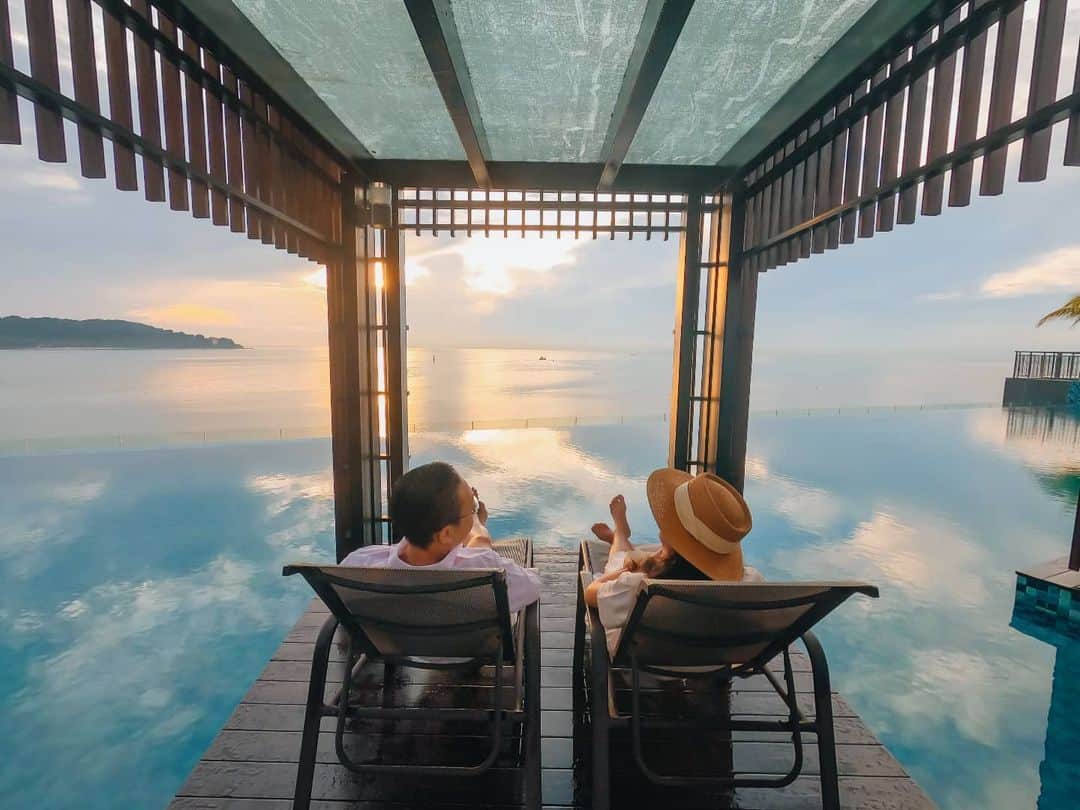 Image credit: @ayueee_ via Instagram 
You can unwind and recharge on sun loungers by a waterfront infinity swimming pool – it's a lovely spot to catch the golden sun setting over the sea horizon. Other facilities at the resort include a spa where you can indulge in a pampering spa treatment, and a children's water playground. 
Address: Jalan Tanjung Lumpur 1 Tanjung Lumpur, 26060 Kuantan, Pahang
Opening hours: 24 hours, Daily
Contact: 09-404 8888 | Swiss-Belhotel's website
---
4. Pangkor Laut Resort, Perak – stilted wooden villas
---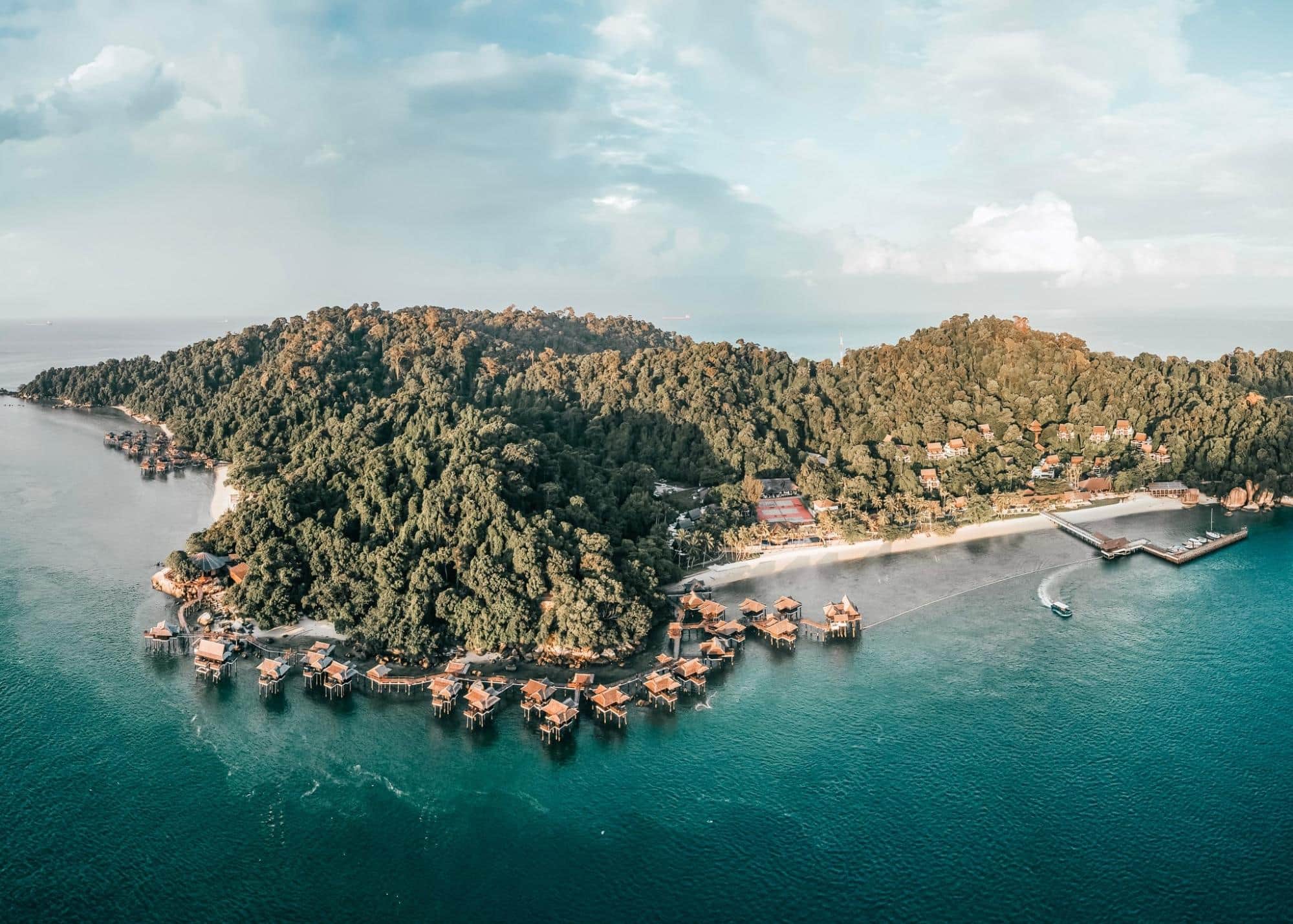 Image credit: Pangkor Laut Resort via Facebook
An idyllic oceanfront resort tucked away in the crown of Perak's natural wonders, Pangkor Laut Resort is an intimate escapade for travellers seeking peace and privacy.
At this glamorous coastal resort, stilted wooden villas are nestled among shimmying palm trees on Pangkor Laut Island, with some spilling onto the white fringes of the sandy beach and out into the emerald waters.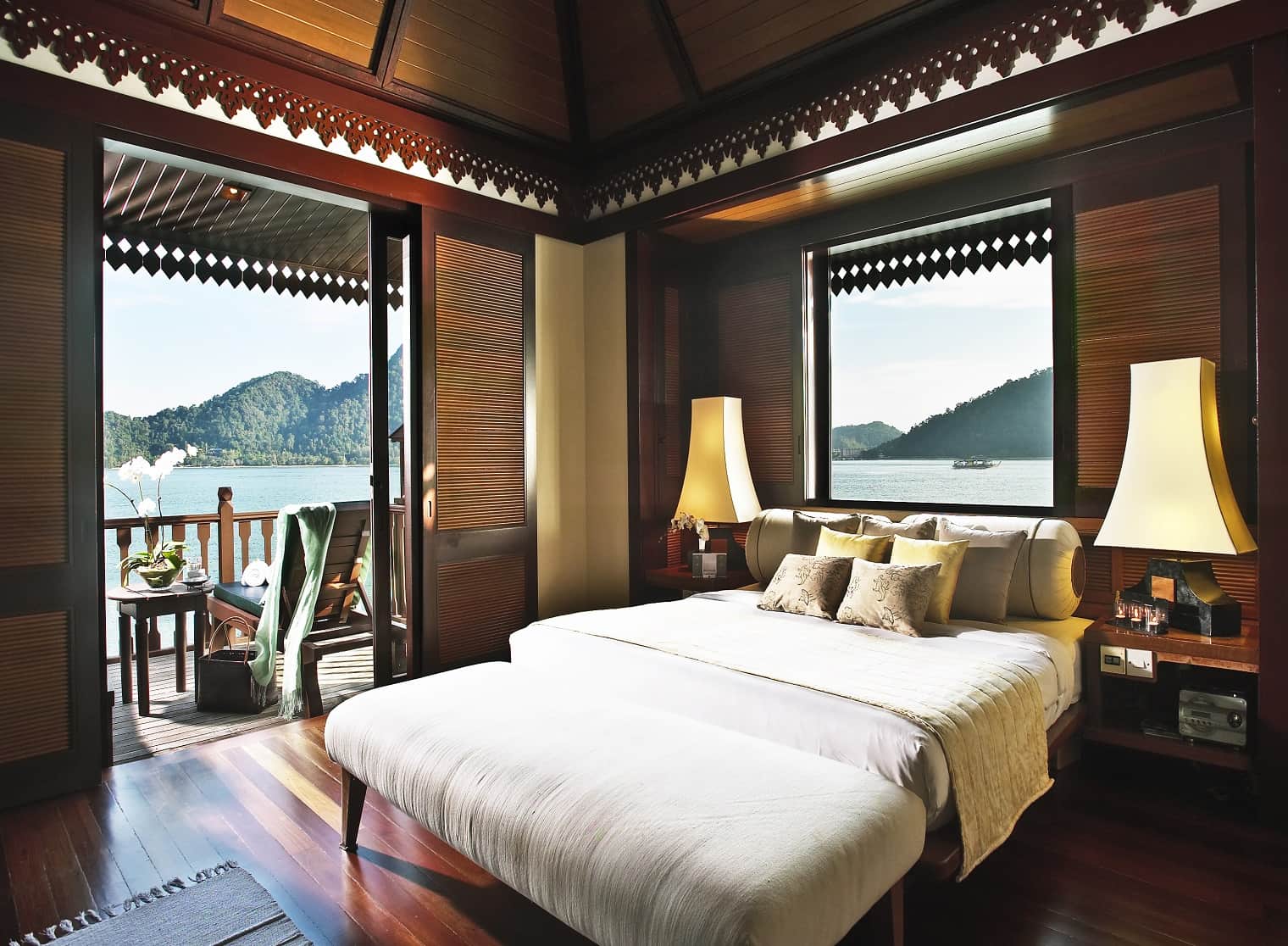 Image credit: Pangkor Laut Resort
The villas are tastefully stylish with modern amenities and furnishings, while still keeping the essence of traditional Malay architecture.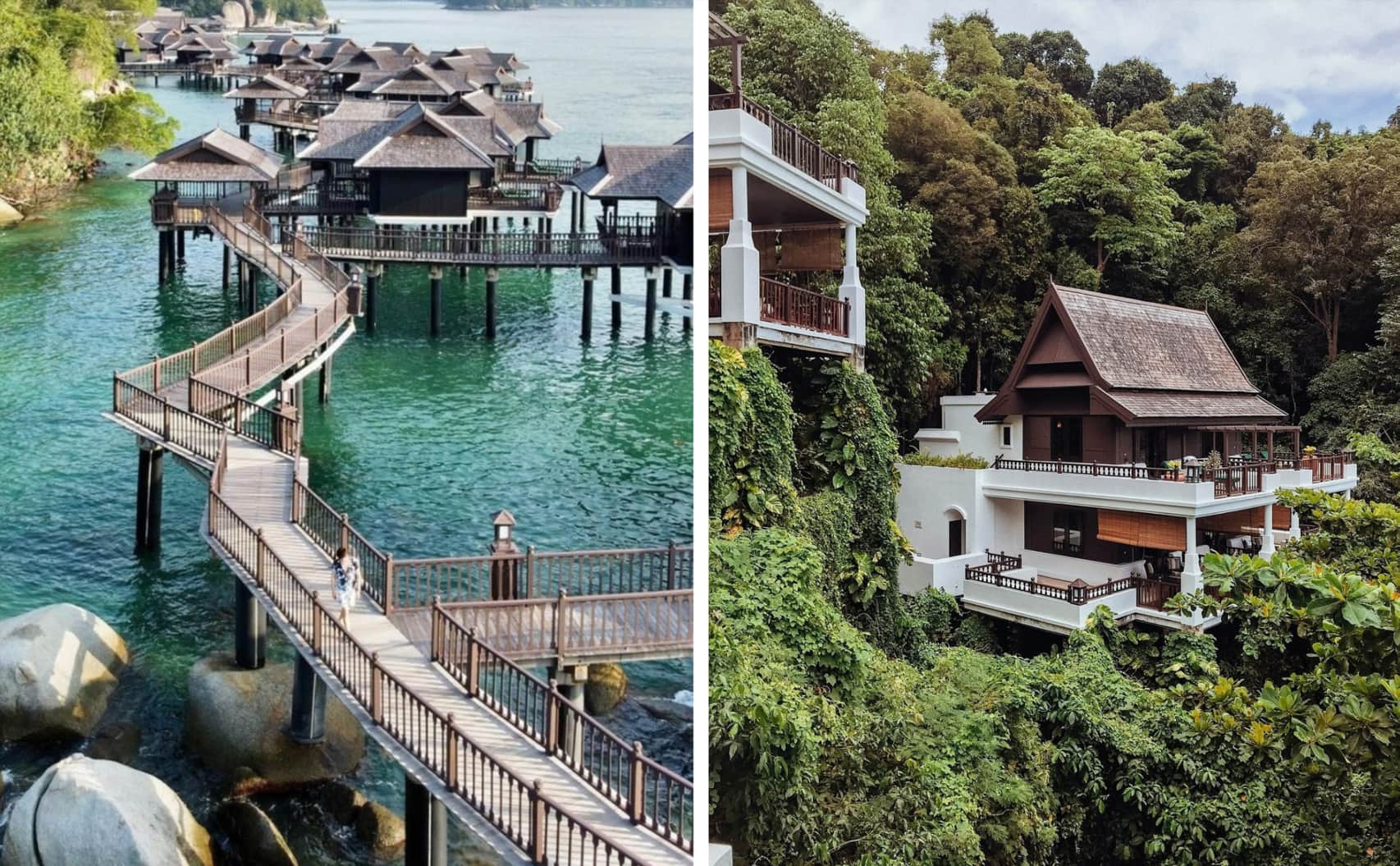 Image adapted from: @pangkorlautresort via Instagram
Priced from RM920/night, guests can choose from the elegant Sea Villas perched above the water, Garden Villas surrounded by lush flora, or opulent Hill Villas with unparalleled ocean views.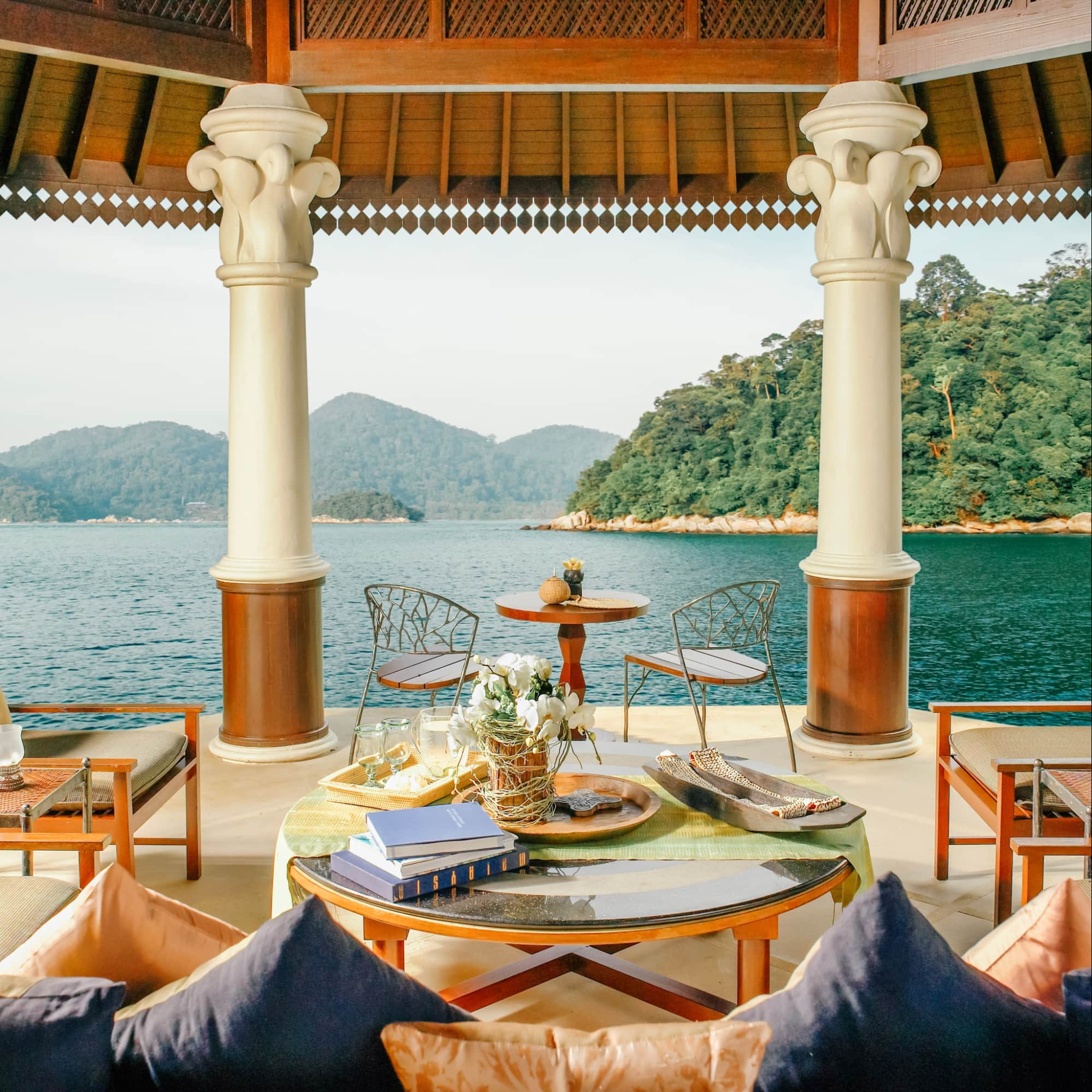 Image credit: Pangkor Laut Resort via Facebook
With the beach right at your doorstep, the resort has plenty of water sport activities to offer, including snorkelling, kayaking, island hopping, and fishing excursions.
Address: Pangkor Laut Island Pangkor Laut, 32200 Lumut, Perak
Opening hours: 24 hours, Daily
Contact: 05-699 1100 | Pangkor Laut Resort's website
---
5. Avani Sepang Goldcoast Resort, Sepang – overwater resort villas 
---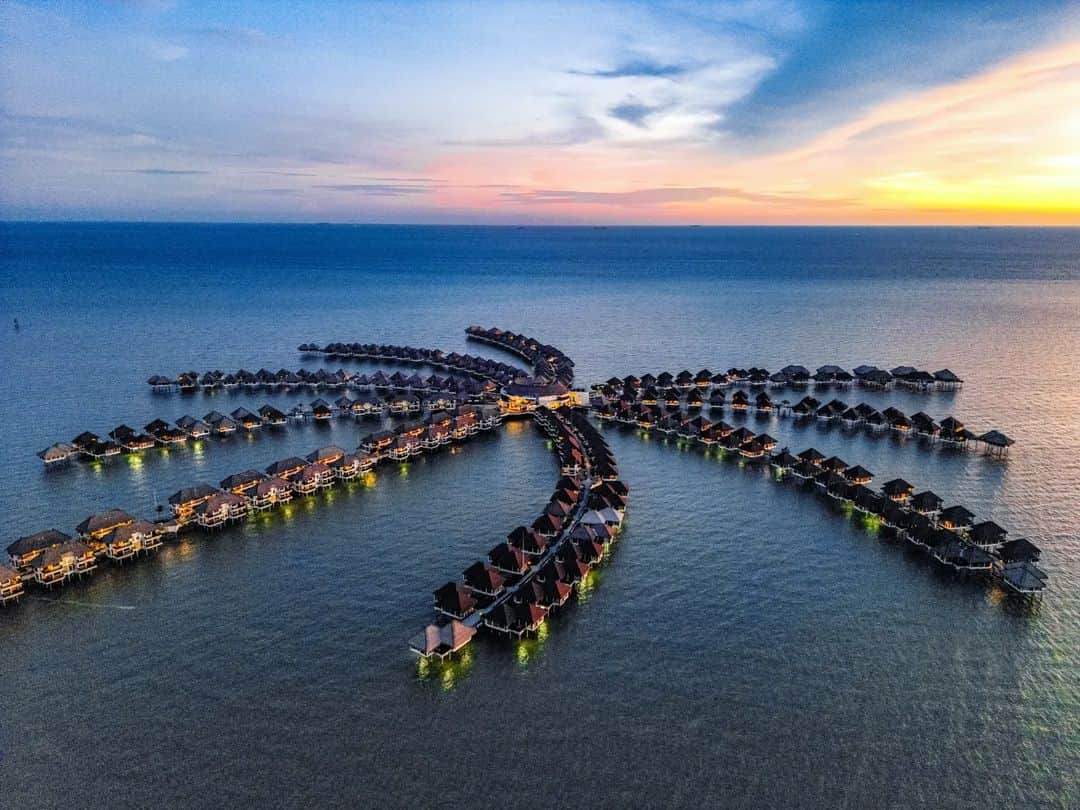 Image credit: @dokter_ajai via Instagram
Avani Sepang Goldcoast Resort is a timeless retreat just a 40-minute drive from downtown KL. The setting of this indigenous village-style resort is remarkable – elegant wooden villas are sprawled above the crystalline cerulean sea, while pontoons jut out over aquamarine waters.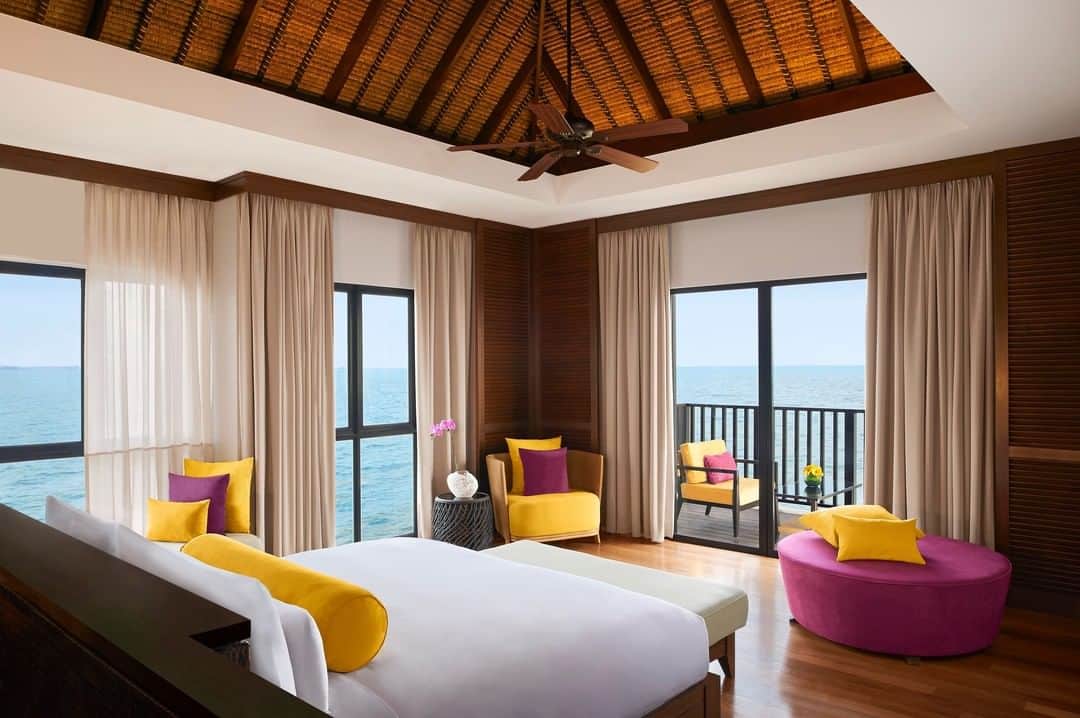 Image credit: @avanisepang via Instagram
Reminiscent of a traditional fishing village, the chalets at this floating resort hold true to Malaysian culture while oozing opulence with the amenities of a luxe hotel.
Among 315 Polynesia-inspired overwater villas, there are four types of rooms to choose from – Superior Room (RM531/night), Family Villa (RM918/night), Two Bedroom Villa (RM1,254/night), and Three Bedroom Villa (RM2,584/night) – each accommodating different group sizes.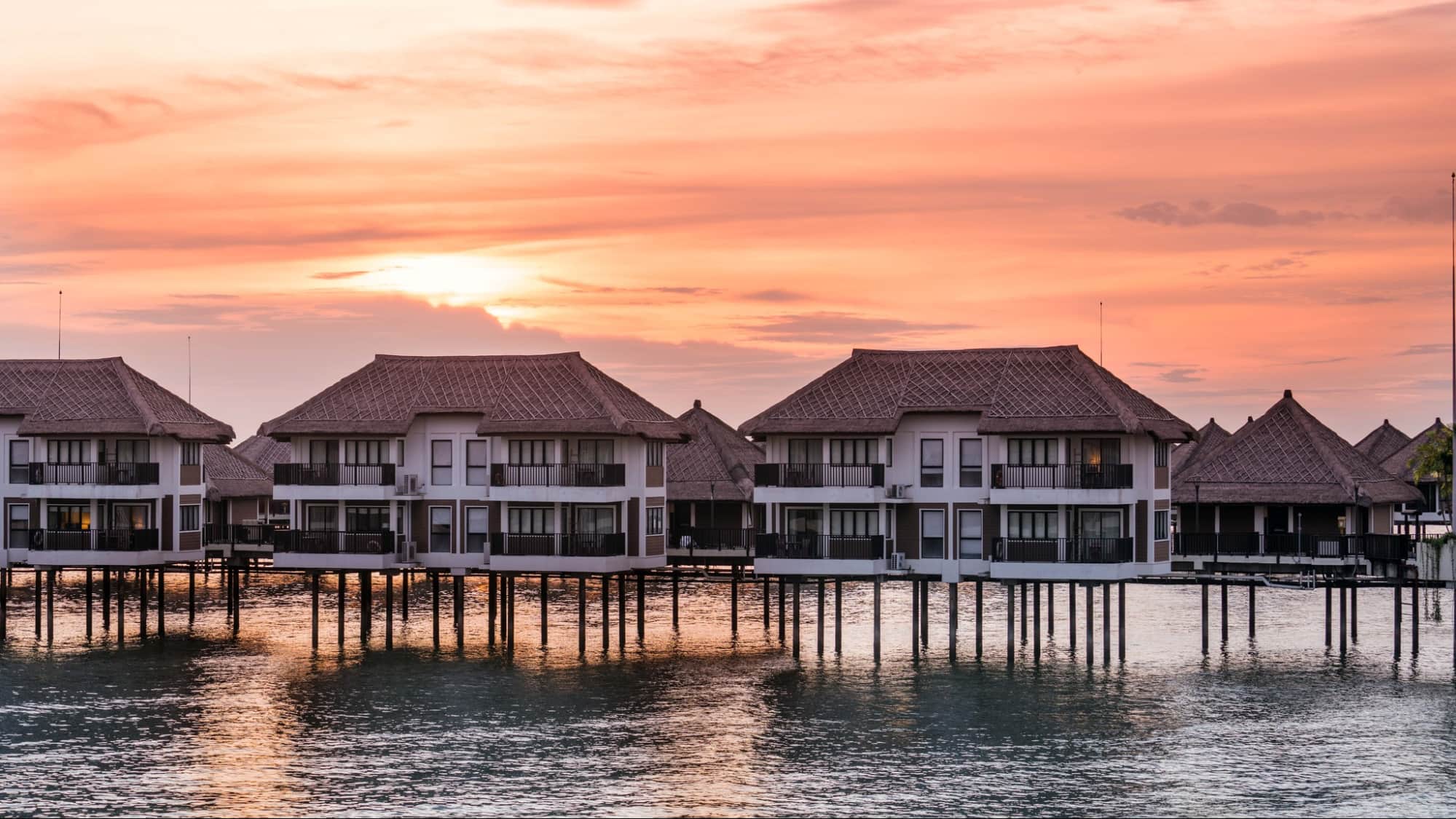 Image credit: Avani Sepang Goldcoast Resort via Facebook
Cruise rivers and a mangrove forest tour are on the list of recommended activities here, but you'll be equally content taking full advantage of the resort's impeccable spa treatments. 
Dining options are plentiful here too, with four restaurants to choose from. A notable one is The Pantry, where you can indulge in English Afternoon Tea (from RM88/pax) with unobstructed views of the ocean.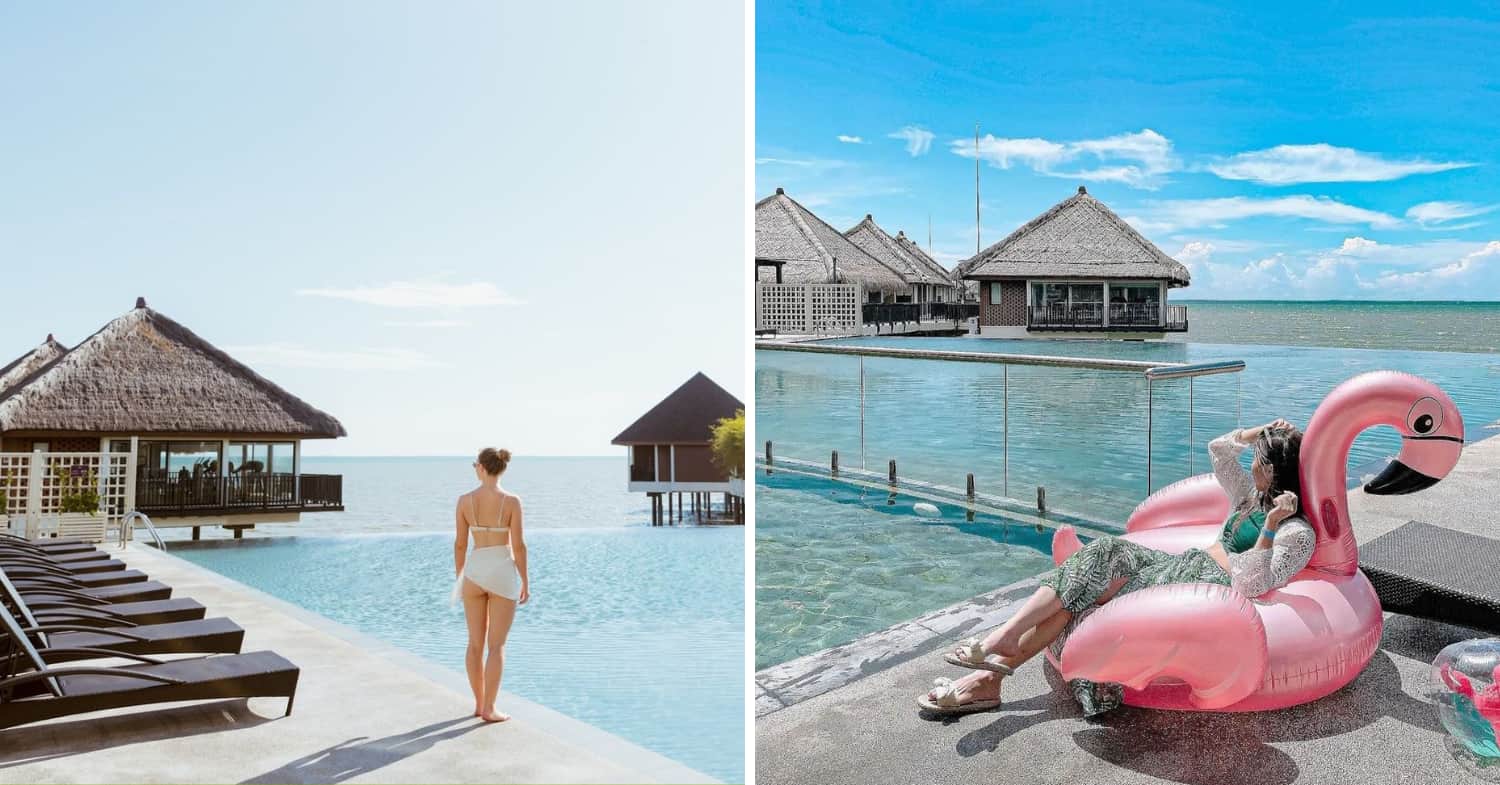 Image adapted from: @avanisepang via Instagram, @joannefang92 via Instagram
Address: 67, Jalan Pantai Bagan Lalang, Kg Bagan Lalang, 43950 Sungai Pelek, Selangor
Opening hours: 24 Hours, Daily
Contact: 03-3182 3600 | Avani Sepang Goldcoast Resort's website
---
6. Swiss-Garden Beach Resort, Kuantan – family-friendly amenities 
---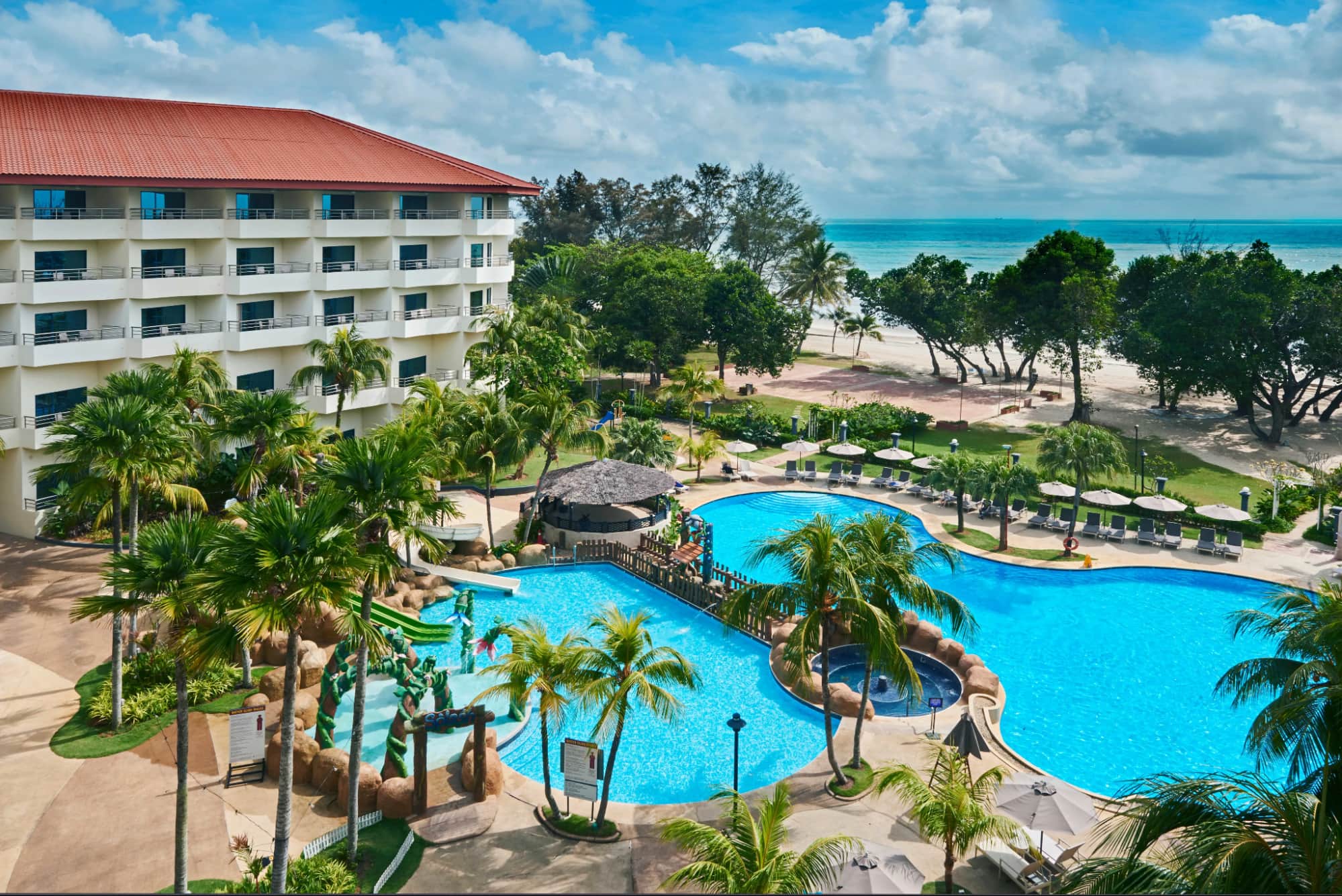 Image credit: Swiss Garden Beach Resort Kuantan
Wake up to the gentle sound of waves and enjoy leisurely strolls by Balok beach when you book a stay at Swiss-Garden Beach Resort. Tucked along the sun-kissed shores of Kuantan, the resort offers a beachfront bliss for anyone craving for a rejuvenating tropical beach getaway.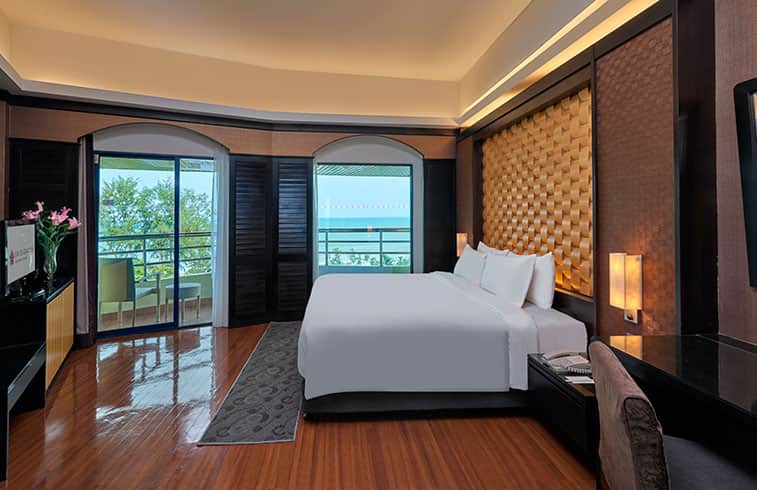 Image credit: Swiss Garden Beach Resort Kuantan
The rooms exude timeless indulgence – think rich teakwood floors, and furniture clad in olive tones with accents of dark rich hues. From Deluxe Sea-Facing Rooms (RM568) to Family Suites (RM818), the rooms have been thoughtfully designed to accommodate travellers of all kinds.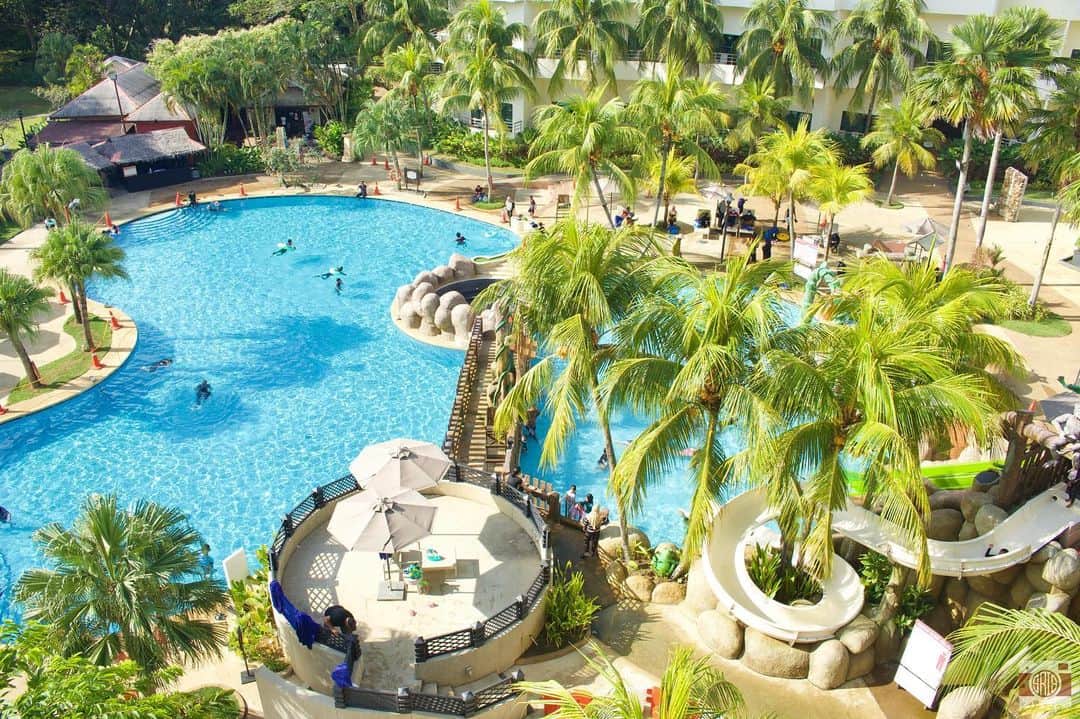 Image credit: @sris_memoir via Instagram
If you're feeling active, visit the nearby traditional fishing village of Beserah that's famous for its salted fish, or hop on an ATV to feel the rush of the salty breeze against your face as you hurtle along the beach.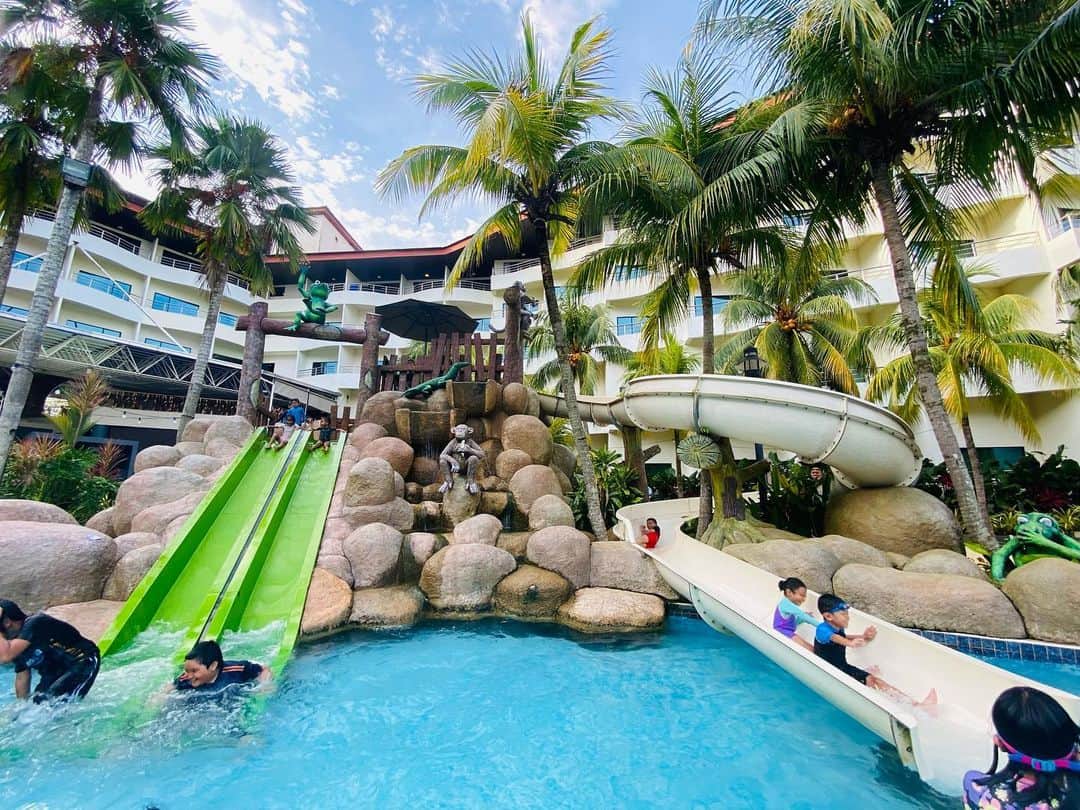 Image credit: @naimhuzairi via Instagram
On lazy days, find yourself a nice spot by the pool to soak up the golden rays as you devour a good book, or head to the resort's ocean-facing restaurants to fill your tummy after a good swim. 
For families, the resort also offers family-friendly activities such as a Splash Kiddies Pool and a game room just for kids, allowing both you and your kiddos to enjoy a stay here. 
Address: 2656~2657, Mukim Balok Beach Beserah 26100, Kuantan, Pahang
Opening hours: 24 hours, Daily
Contact: 09-548 8288 | Swiss-Garden Beach Resort's website 
---
7. Pacific Regency Beach Resort, Port Dickson – affordable sea-view rooms 
---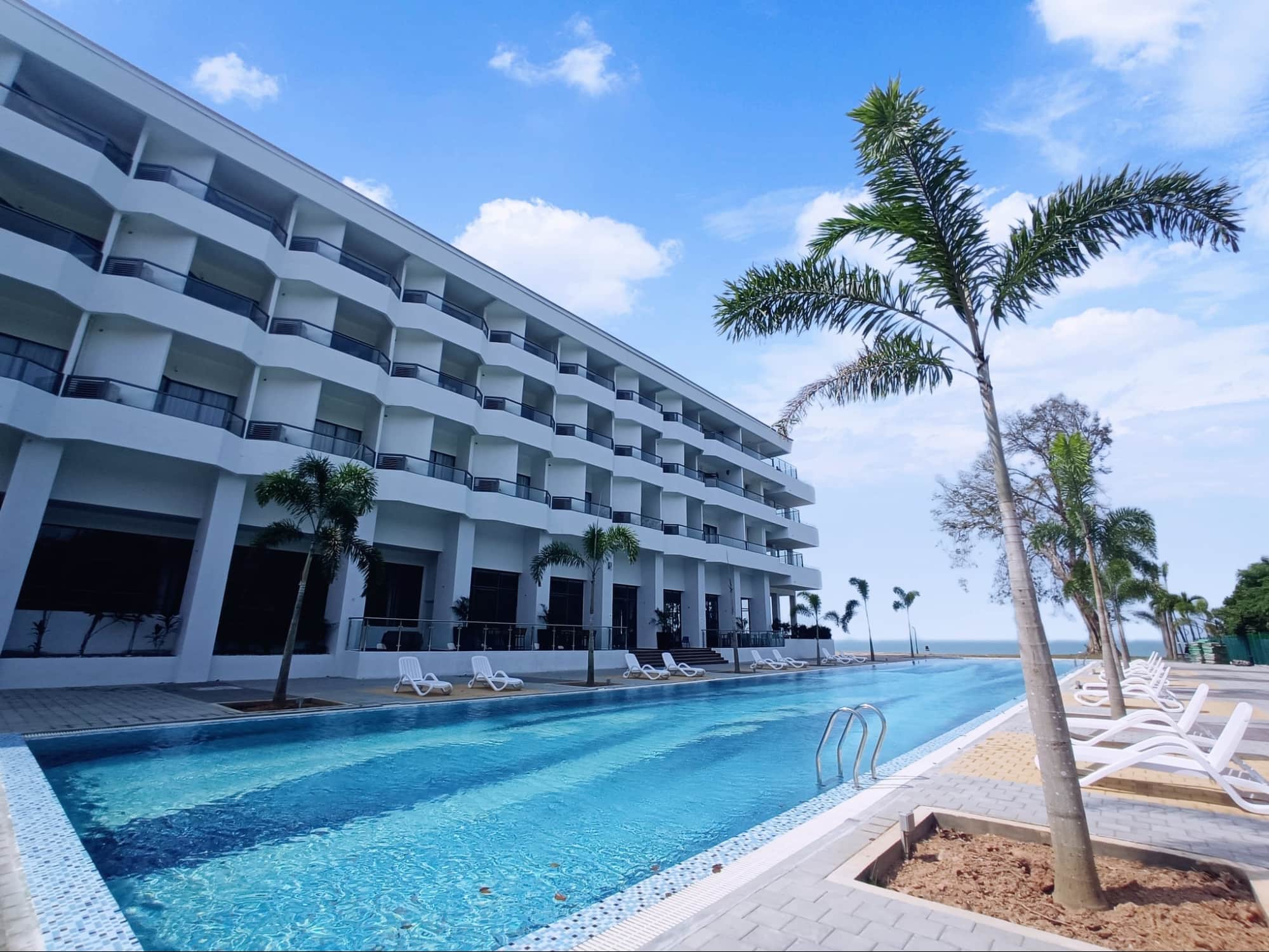 Image credit: Pacific Regency Beach resort via Facebook
If you're looking for a beach staycation without breaking the bank, Pacific Regency Beach Resort in Port Dickson has Deluxe Sea Rooms (from RM240/night) with a king-sized bed that accommodates two guests each. 
Else, you can go all out and secure a stay at the Seri Menanti Suite (from RM1,300/night), which features a private swimming pool that looks out at the sea.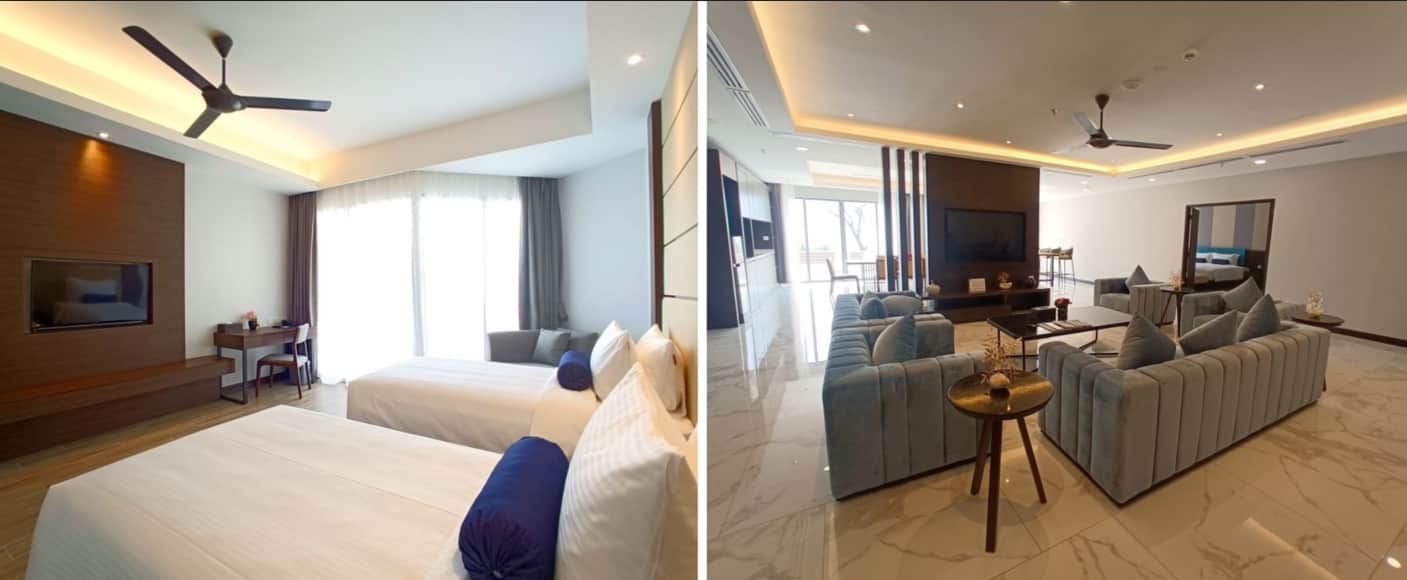 Image adapted from: Pacific Regency Beach Resort
The resort sits on a quiet stretch of the Port Dickson coastline, framed by white sand beaches and azure waters, beckoning single travellers, couples, and families looking for an unforgettable seaside escape.
Its 166 guest rooms and suites, with choices of an ocean view or a nature view, feature classy and simple decor – rooms are bright with touches of colour added through modern furnishings.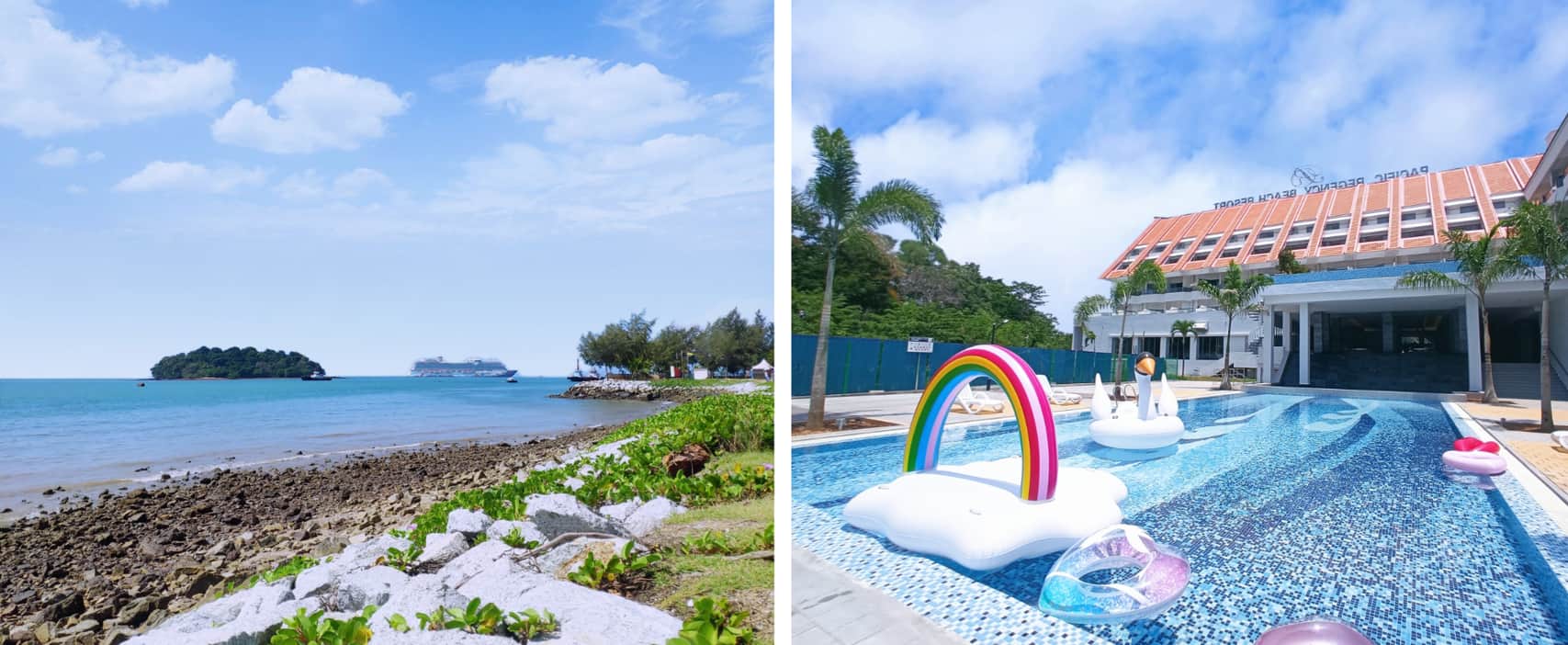 Image adapted from: Pacific Regency Beach Resort via Facebook
Here, you can swim, sunbathe, or lounge your days away. But if you want to mix it up and get a proper coastal experience, head to the nearby beaches of Port Dickson to try out water sports and beach volleyball.
Address: Batu 7 1/2, Jalan Pantai Teluk Kemang, Kampung Teluk Kemang, 71050 Port Dickson, Negeri Sembilan
Opening hours: 24 hours, Daily
Contact: 06-654 6888 | Pacific Regency Beach Resort's website
---
Packing must-haves for a staycay at a beach resort
---
As you embark on a memorable beach vacation, you'll want to ensure that you can partake in all the water activities and fully relax without having to worry about how your skin looks. After all, you'll want to look as good as the views you're relishing, as no vacation is complete without taking a galore of photos of your travels. 
Thankfully, Clinique has a range of allergy-tested and fragrance-free products that'll have you looking TikTok- and Instagram-ready without having to don a full face of makeup in the heat.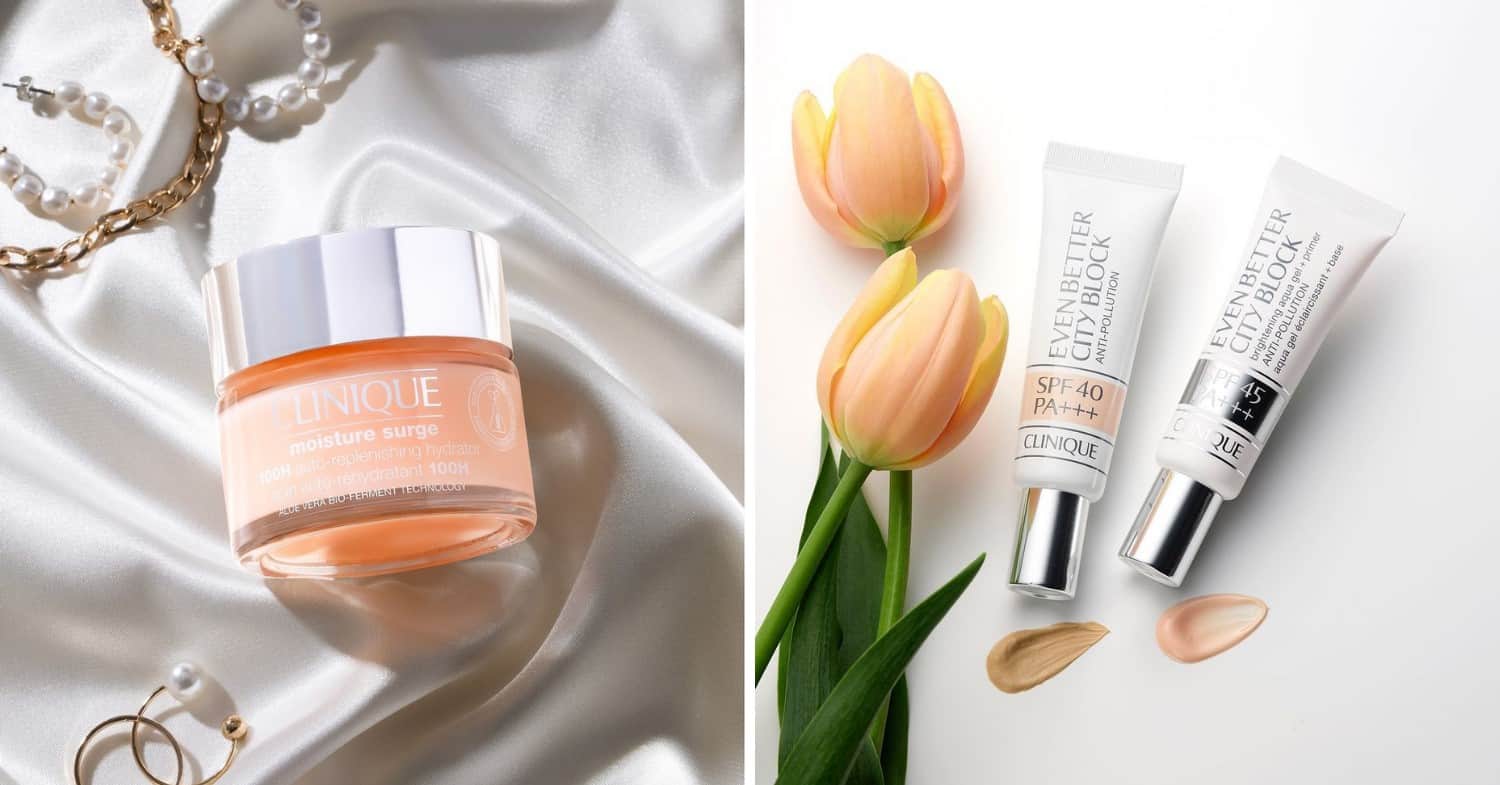 Image adapted from: Clinique
As you bask in the sun, Clinique's Moisture Surge 100H Auto-Replenishing Hydrator (RM160) will be a faithful companion, keeping your skin moisturised and supple against the salt-laden air and blazing sun. 
To further shield your skin against the harsh sun, pack along an Even Better City Block Brightening Aqua Gel + Anti-Pollution Primer SPF 45/PA+++ (RM172) – it's a trusty UV protection essential that'll safeguard your skin throughout your beach endeavours.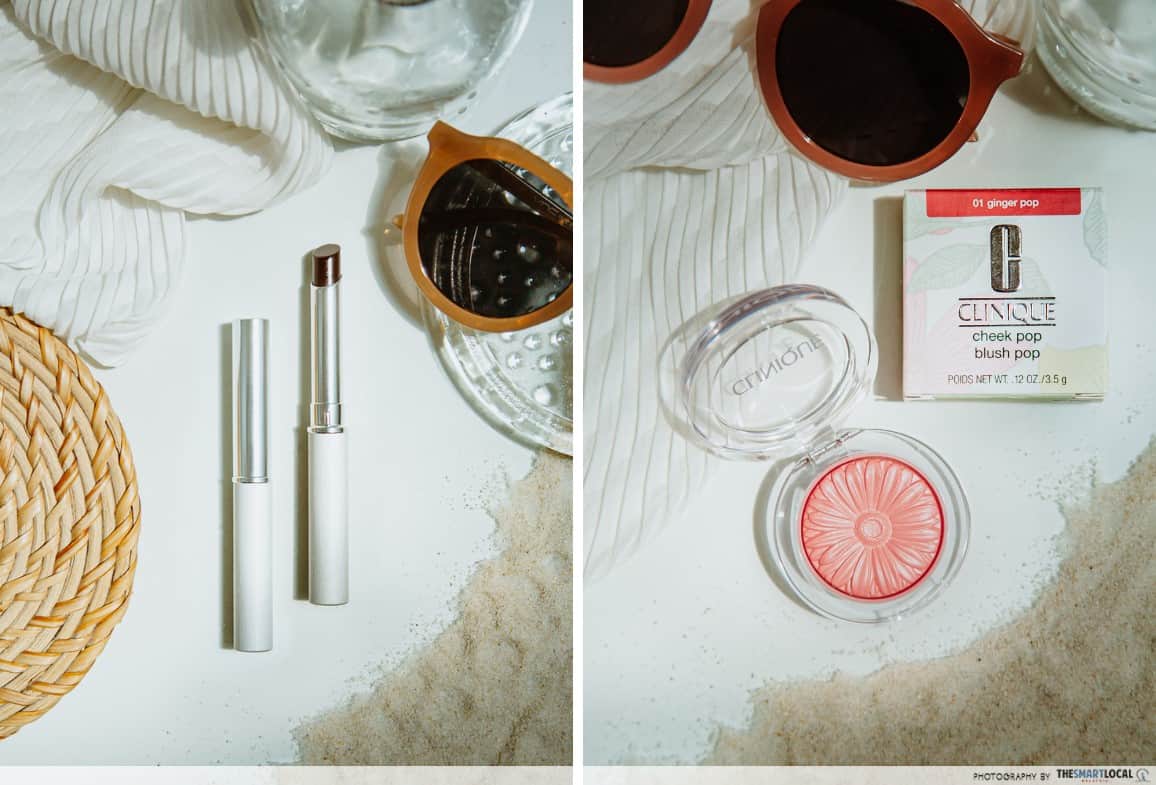 To enhance that perfect sun-kissed look you'll be rocking after lounging by the pool, add a touch of Clinique's TikTok-viral Almost Lipstick (RM110). It will give lips a gorgeous tint while flattering any skin tone, and adds a moisturising finish for that picture-perfect smile. 
Likewise, Clinique's Cheek Pop (RM129) blush pod will have you sporting that coveted "sunburn blush" whether you're on the beach or in the city.
You can snag deals when you shop for these beauty essentials for your next beach vacay, as Clinique is having an anniversary promo from 25th-30th September 2023. Enjoy free shipping on all orders during this period, and also a RM50 rebate when you spend RM350.
To sweeten the deal, you can snag a RM50 rebate and an additional 10-piece gift when you spend RM470. And if you're shopping online with Clinique for the first time, you can score 10% off on your beauty haul.  
Now that you know what to pack, start planning that romantic getaway, family retreat, or personal rejuvenation at one of these beach resorts.
If you're in need of more staycation options, check out our other guides on 10 breathtaking mountain resorts in Malaysia and 7 stunning 'overseas' stays in Malaysia.
---
This post was brought to you by Clinique. 
Cover image adapted from: Pangkor Laut Resort via Facebook, The Kasturi, @dokter_ajai via Instagram, Swiss Garden Beach Resort Kuantan
Photography by Janet Cho.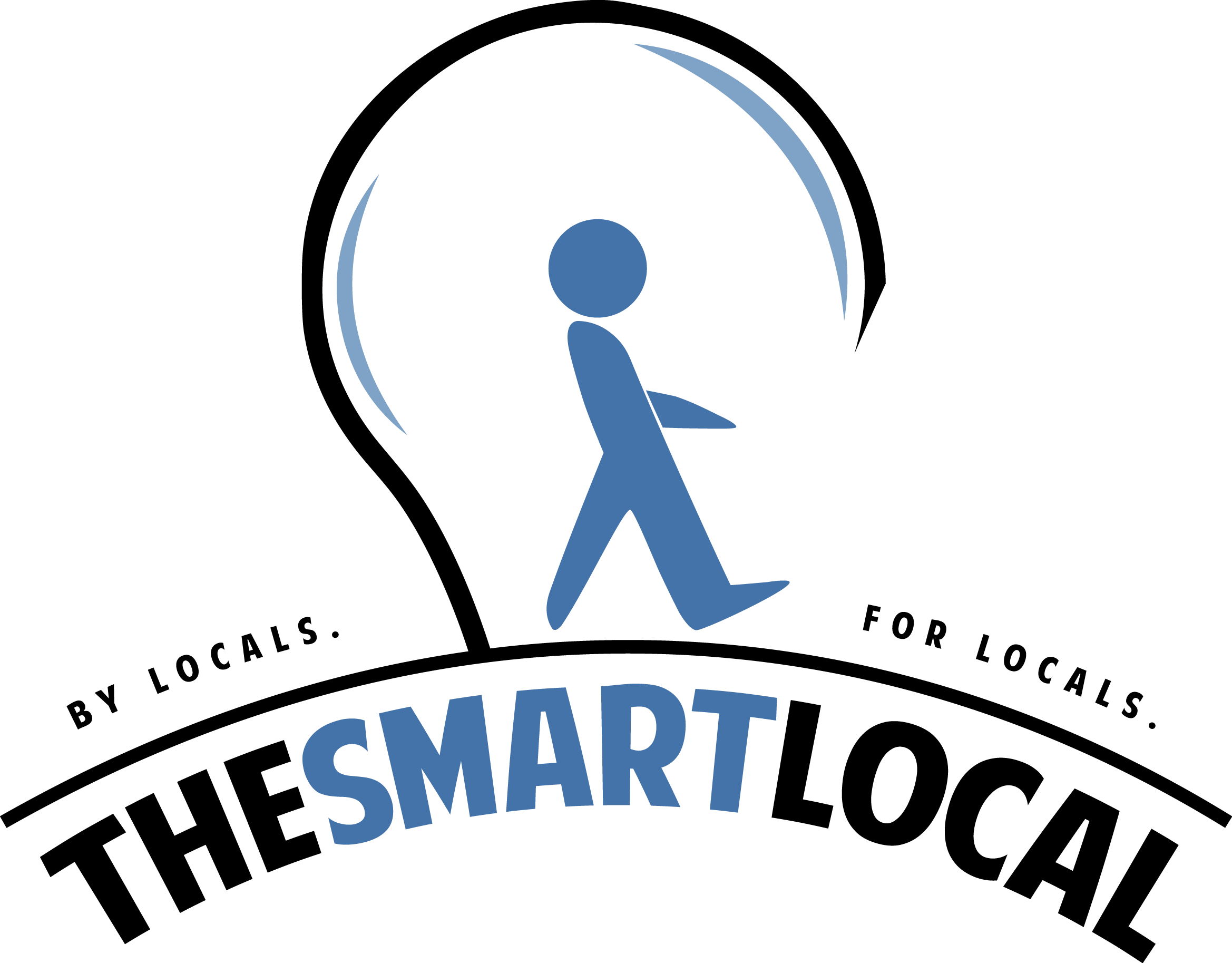 Drop us your email so you won't miss the latest news.