Mountain resorts in Malaysia
---
The Covid-19 pandemic has upended many people's travel plans. Although recent eased restrictions allows us to travel overseas again, there are plenty of spots to explore in our homeland too. A good place to start would be close to nature within the mountains to get some much-needed fresh air now that we no longer have to be cooped up at home. From East Malaysia to the coast of Langkawi, here are 10 Malaysian mountain resorts worth checking out for a rejuvenating staycay. 
---
1. Ranis Lodge in Langkawi, Kedah
---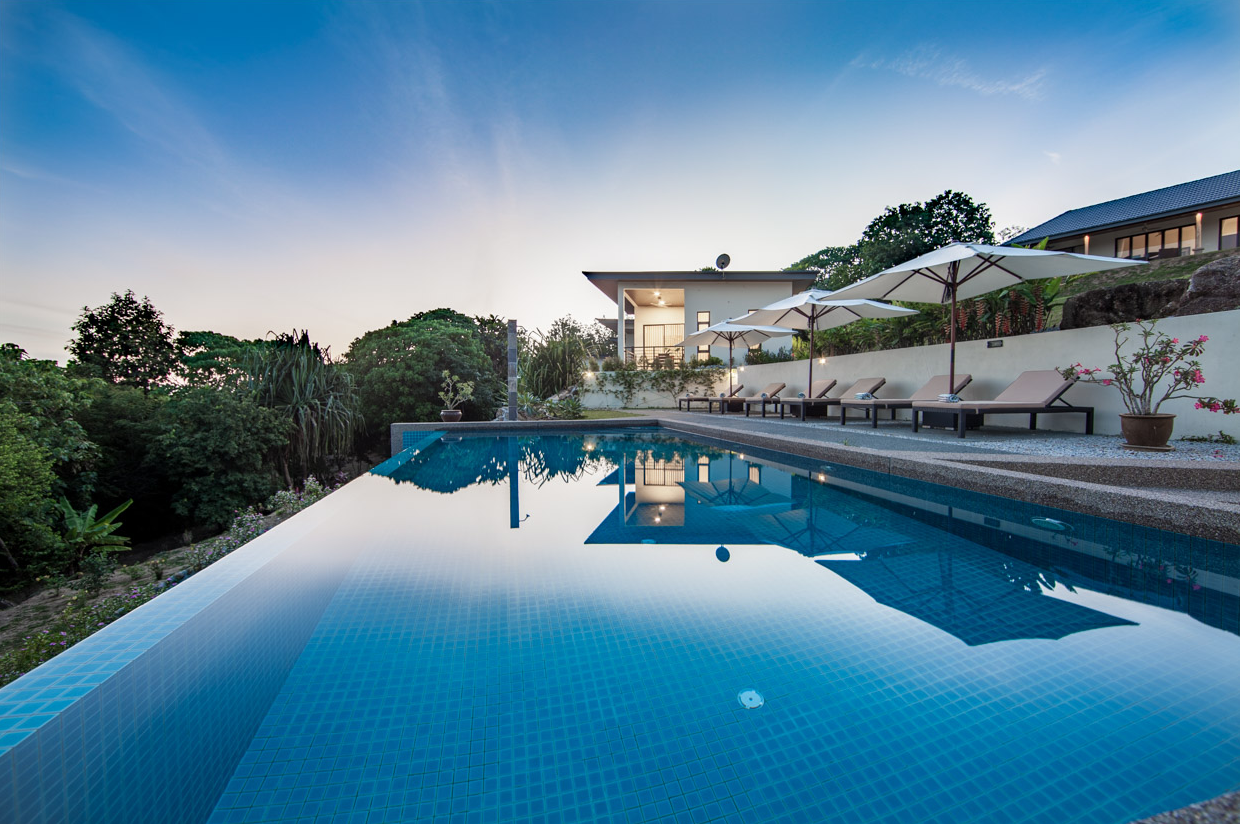 Image credit: Ranis Lodge
Located on the foothills of Bukit Sawak Forest Reserve, this sequestered retreat offers an intimate experience, with only 5 villas built and operated by husband and wife Reinhold and Anis.  
Visitors will enjoy swimming in their infinity pool while taking in the views of the forest and paddy fields down below.
Ranis Lodge has gotten impeccable AirBnB reviews, mostly filled with comments about the couple's outstanding hospitality and the passion they show towards their resort.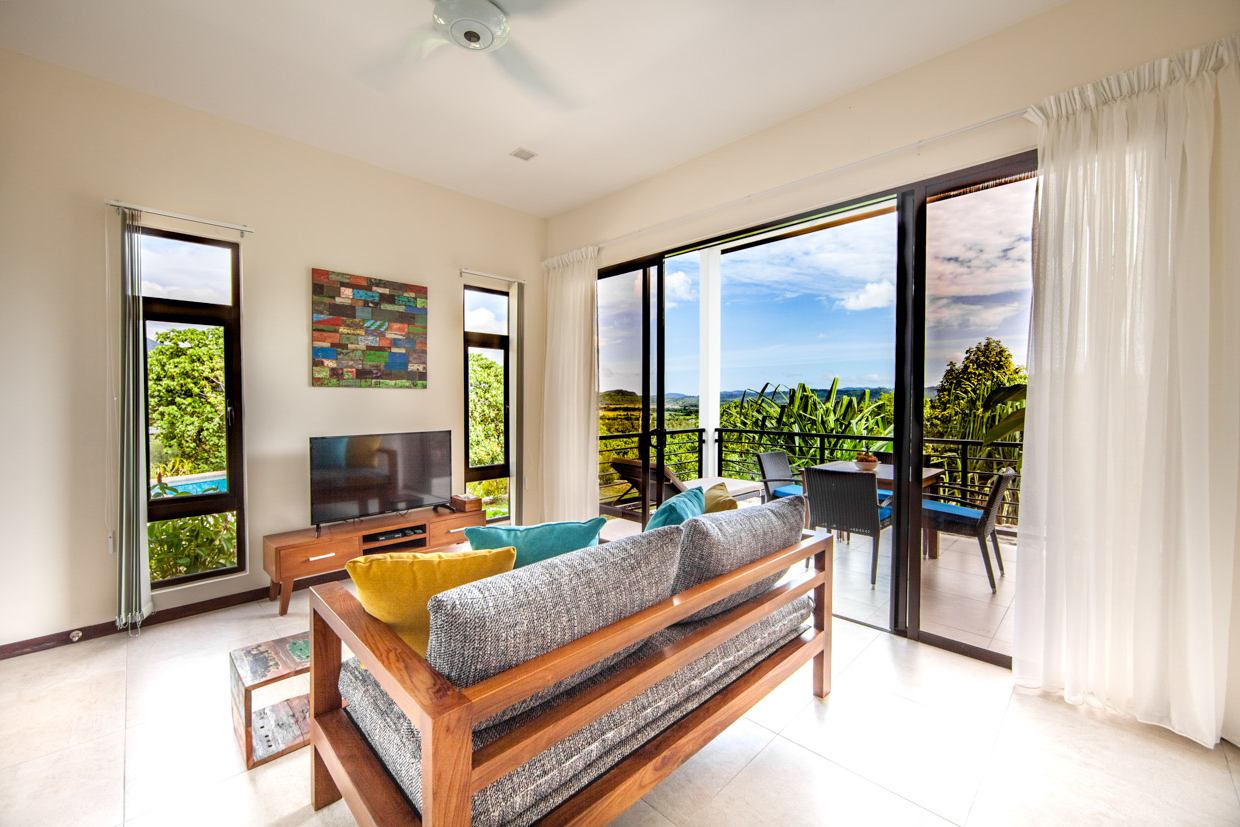 Image credit: Ranis Lodge
You can rent a car from Langkawi International Airport for around RM100 a day and drive a short 10-minute ride or simply take a Grab to get there.
Price per night: From RM345
Address: Ranis Lodge, Lot 1261 Kampung Nyior Chabang, Mukim Bohor, 07100 Langkawi, Kedah
Phone: 011-3358 8900
Ranis Lodge website
---
2. Ambong-Ambong Rainforest Retreat in Langkawi, Kedah
---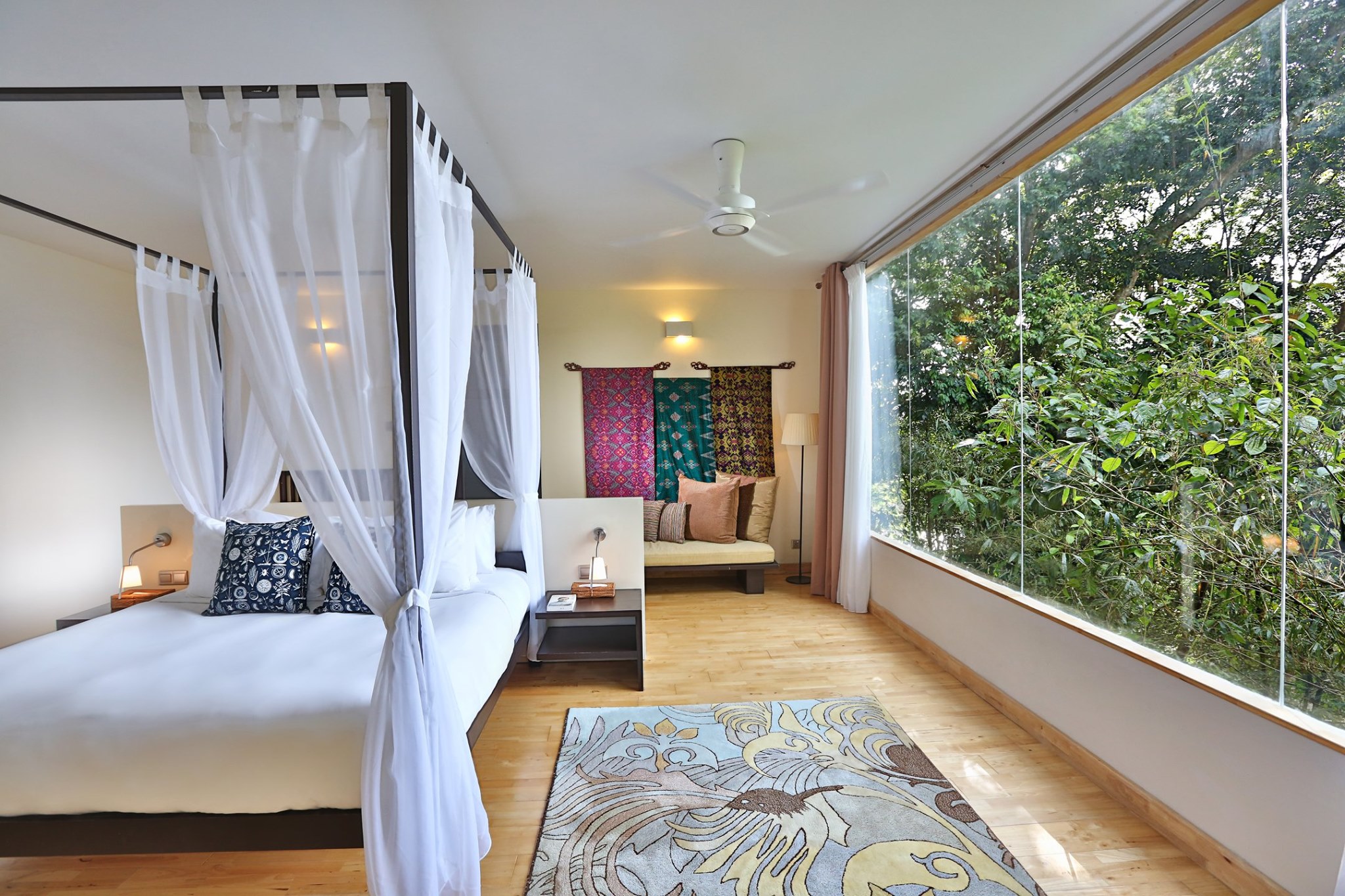 Image credit: Ambong Ambong Rainforest Retreat
Langkawi has no shortage of ultra-luxurious resorts that are undoubtedly a treat, but those who prefer a more pocket-friendly, but still comfortable stay can head over to Ambong-Ambong Rainforest Retreat.
Ambong-Ambong is a boutique resort with only 11 suites, studios, and cottages. Most rooms offer lush forest views, but those who prefer a view of the ocean can go for the Canopy Studio. The room sleeps 2 adults complete with a view of the Andaman Sea.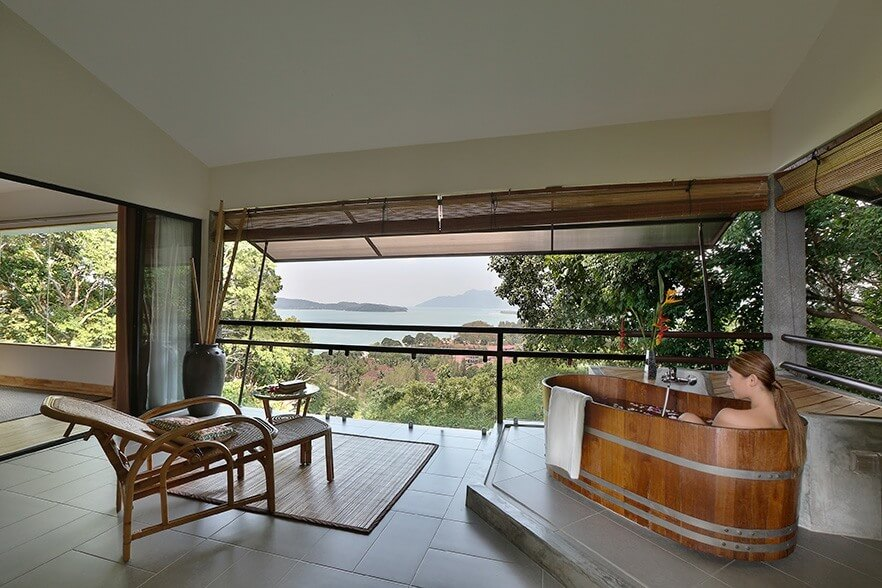 Image credit: Ambong Ambong Rainforest Retreat
Guests can also sign up for activities organised by the resort such as yoga sessions and cooking classes.
To get to Ambong-Ambong, simply book an airport transfer for RM80 from the resort. They also provide shuttle services to Pantai Tengah and to neighbouring restaurants along the stretch of Jalan Teluk Baru, so it wouldn't be a hassle for you to venture out for food and excursions. 
Price per night: From RM455
Address: Ambong Ambong Rainforest Retreat, Jalan Pantai Tengah, 07000 Langkawi, Kedah
Telephone: 04-955 8428
Ambong Ambong Rainforest Retreat website
---
3. Mountain Valley Resort in Kundasang, Sabah
---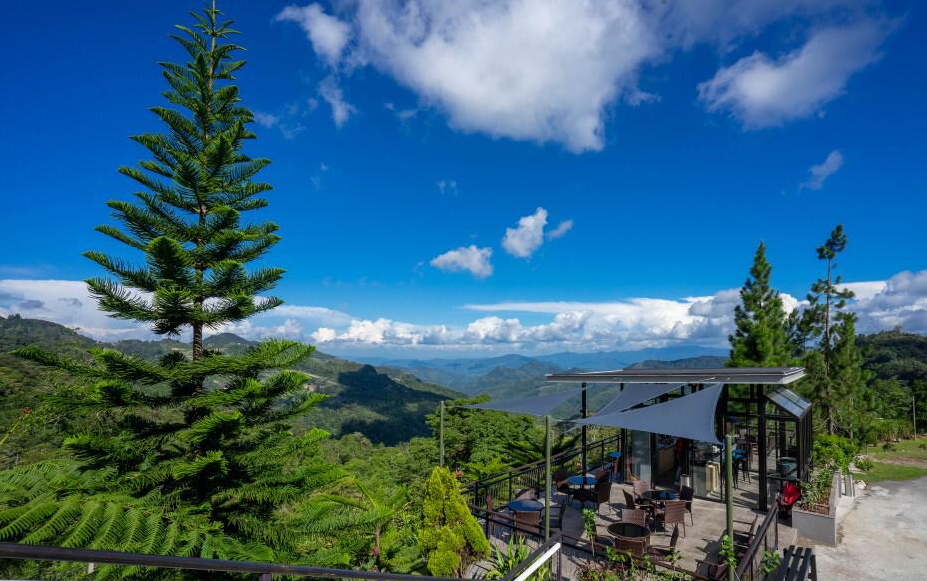 Image credit: Mountain Valley Resort
Mountain Valley Resort offers views with Mount Kinabalu in the backdrop that make for an incredible picture that you truly can't get elsewhere. 
Located at the foothills of Mount Kinabalu in the tiny town of Bundu Tuhan, Mountain Valley is a fairly new boutique resort that opened in 2019.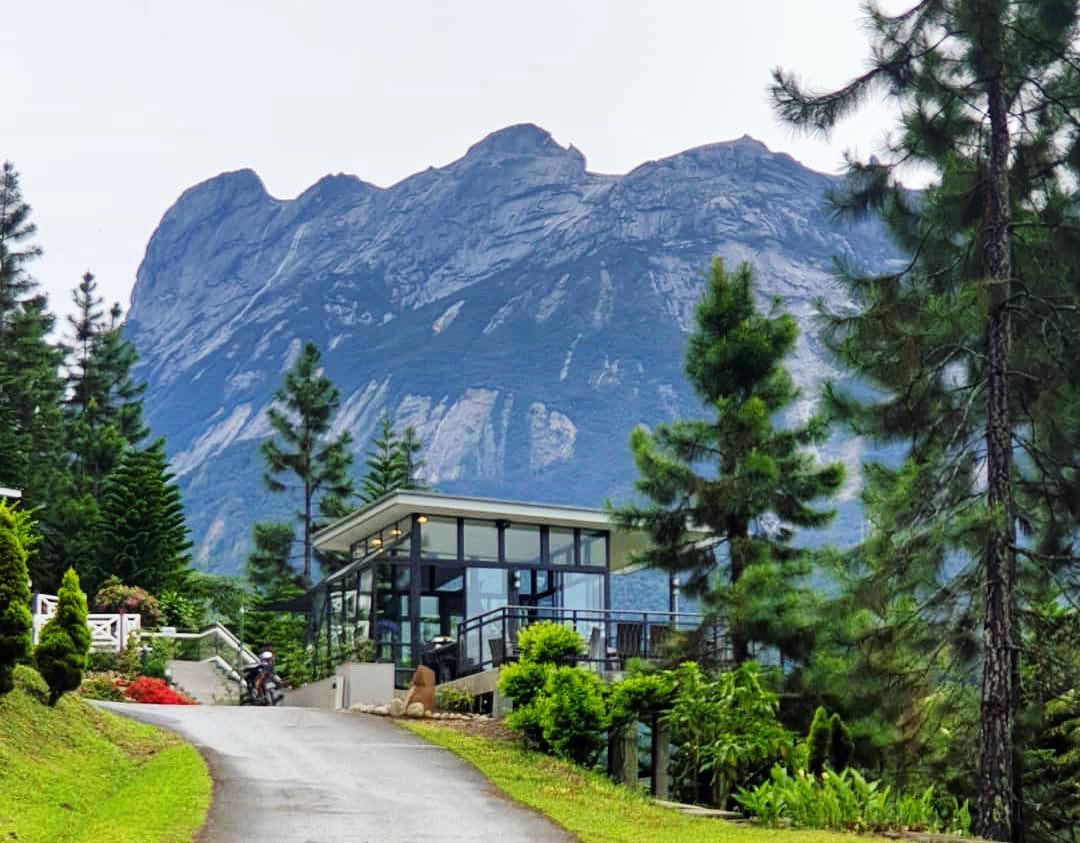 Image credit: Mountain Valley Resort
Sitting on a hill 1,200M above sea level, they have 15 rooms set on different levels with varying rates. The rooms located on the highest level come with floor-to-ceiling glass windows that give you an unobstructed view of the mountain.

Image credit: Fiq Abdul
The resort also has a glass restaurant serving local and Western food, and a bistro offering light bites such as coffee and cakes for diners to enjoy while enjoying the cool breeze coming in from the outdoors – no air-con needed.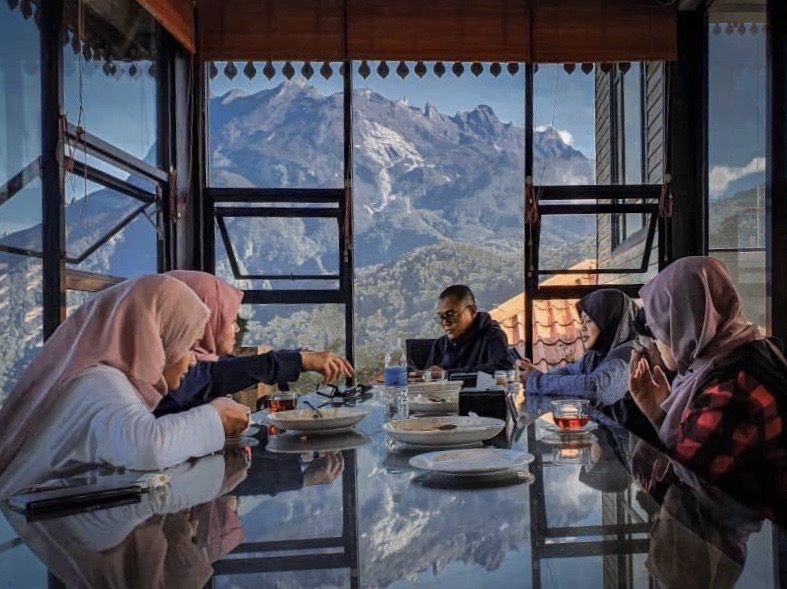 Image adapted from: Yusuf bin Mohd Amir
You can get to Kundasang from Kota Kinabalu by renting a car for around RM100 a day. The journey will take approximately 2 hours on steep and winding roads, so do practice extreme caution when navigating. 
Price per night: From RM360
Address: Mountain Valley Resort, Jalan Tenompok Bundu Tuhan, 89300 Bundu Tuhan, Sabah
Telephone: 017-777 6750
Mountain Valley Resort website
---
4. Borneo Highlands Resort in Kuching, Sarawak
---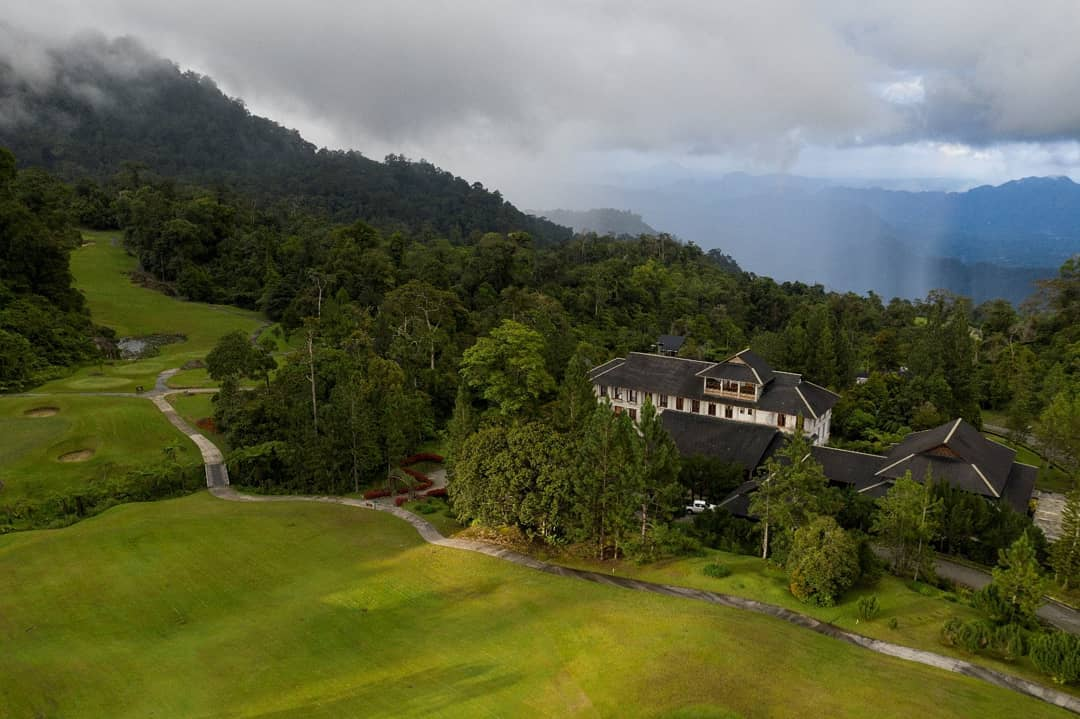 Image credit: Borneo Highlands Resort 
A resort surrounded by vast nature, Borneo Highlands Resort is an hour's drive from the city of Kuching and accessible by renting a car for around RM90 a day. 
The resort is nestled 1,000M above sea level on the Penrissen Range amongst Borneo's rainforest, which is also one of the oldest rainforests in the world.
Its surrounding areas are home to magnificent biodiversity because of how close the resort is to the rainforest. Nature-loving guests can go for a hike or trek to the Kalimantan View Point and try to spot multiple species of birds, insects, and plants.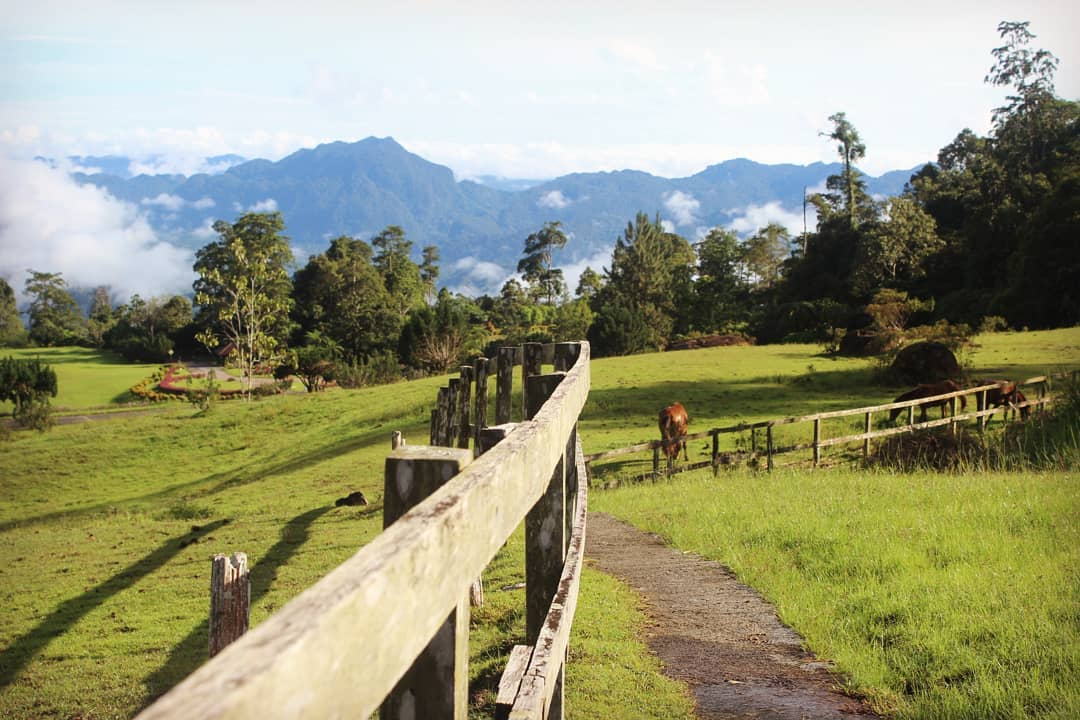 Image credit: Borneo Highlands Resort 
They also have an 18-hole golf course, a well-known regular spot for golfers, while guests looking to indulge in a little pampering can go for their traditional Bidayuh massages at their Jungle Spa. The Bidayuh massage uses a homemade massage oil made from herbs, coconut, pepper, and ginger, while their technique follows local massage methods aimed at improving blood circulation and skin healing.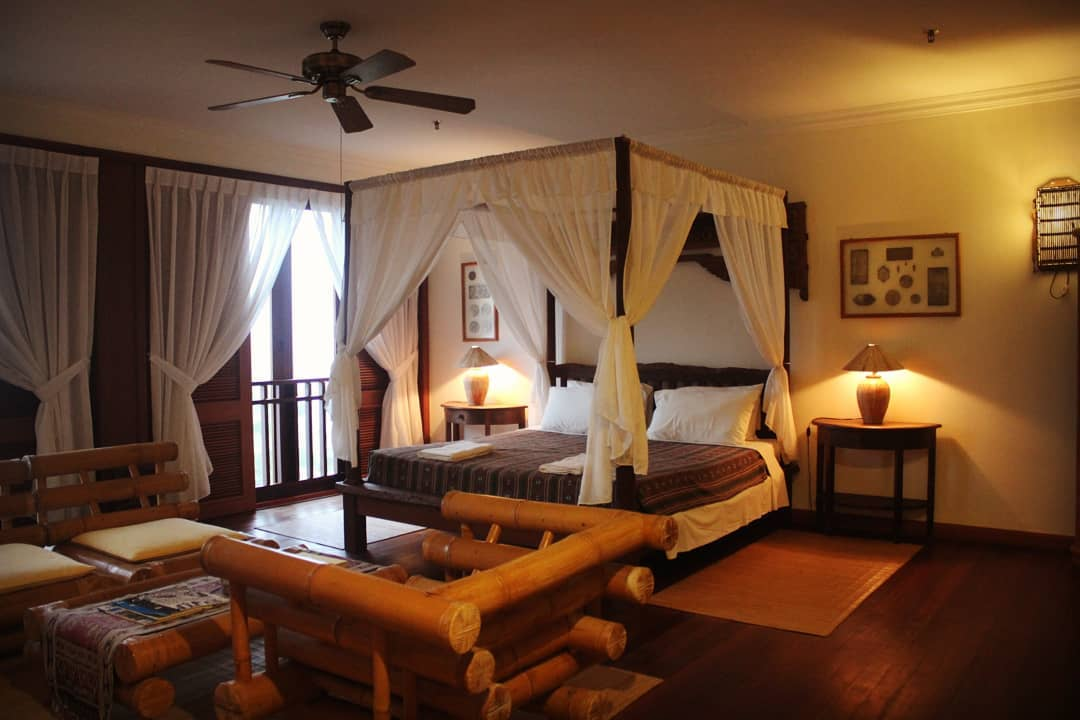 Image credit: Borneo Highlands Resort 
Their Albatross Suite is also known as their honeymoon suite, perfect for couples who want to spend their vacay with a view of the mountains.  
Price per night: From RM230
Address: Borneo Highlands Hornbill Golf & Jungle Club Bhd Jalan Borneo Heights, 94200, Padawan, Kuching, Sarawak
Telephone: 019-829 0790
Borneo Highlands Resort website
---
5. The Lakehouse in Cameron Highlands, Pahang
---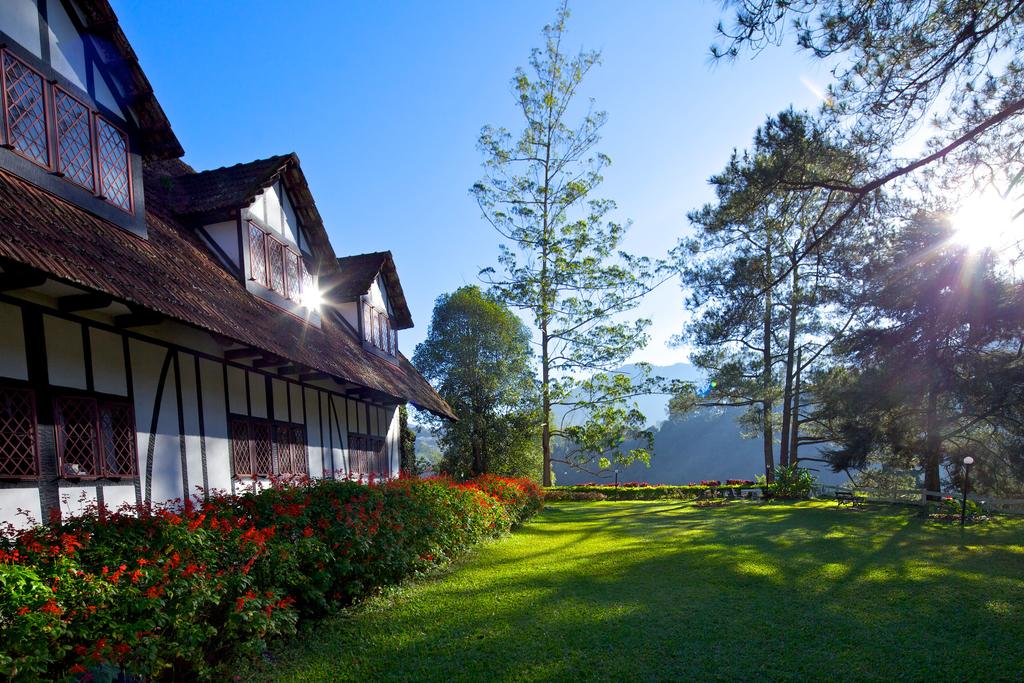 Image credit: Booking.com
Fans of English architecture will enjoy staying at The Lakehouse, a Tudor-style boutique resort built by the late British colonel Stanley J. Foster in 1966 in Cameron Highlands. The interior, furniture, and overall ambiance will make you feel as if you were in a medieval English countryside.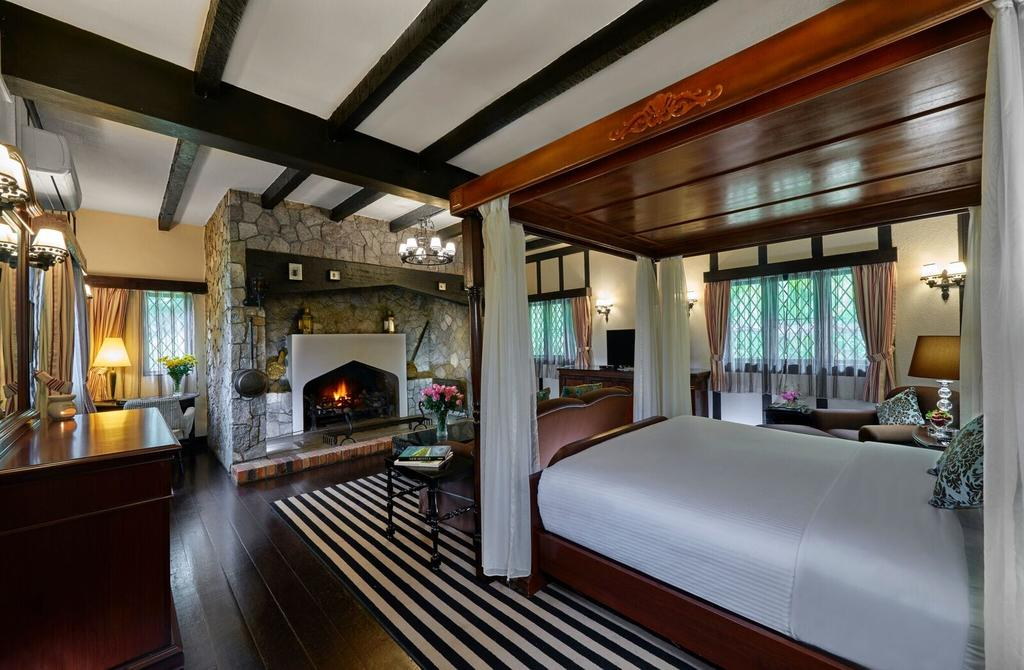 Image credit: Booking.com
You can even up your staycay game and book the Foster Suite – a room that comes with a traditional log wood fireplace – for an unconventional hotel stay.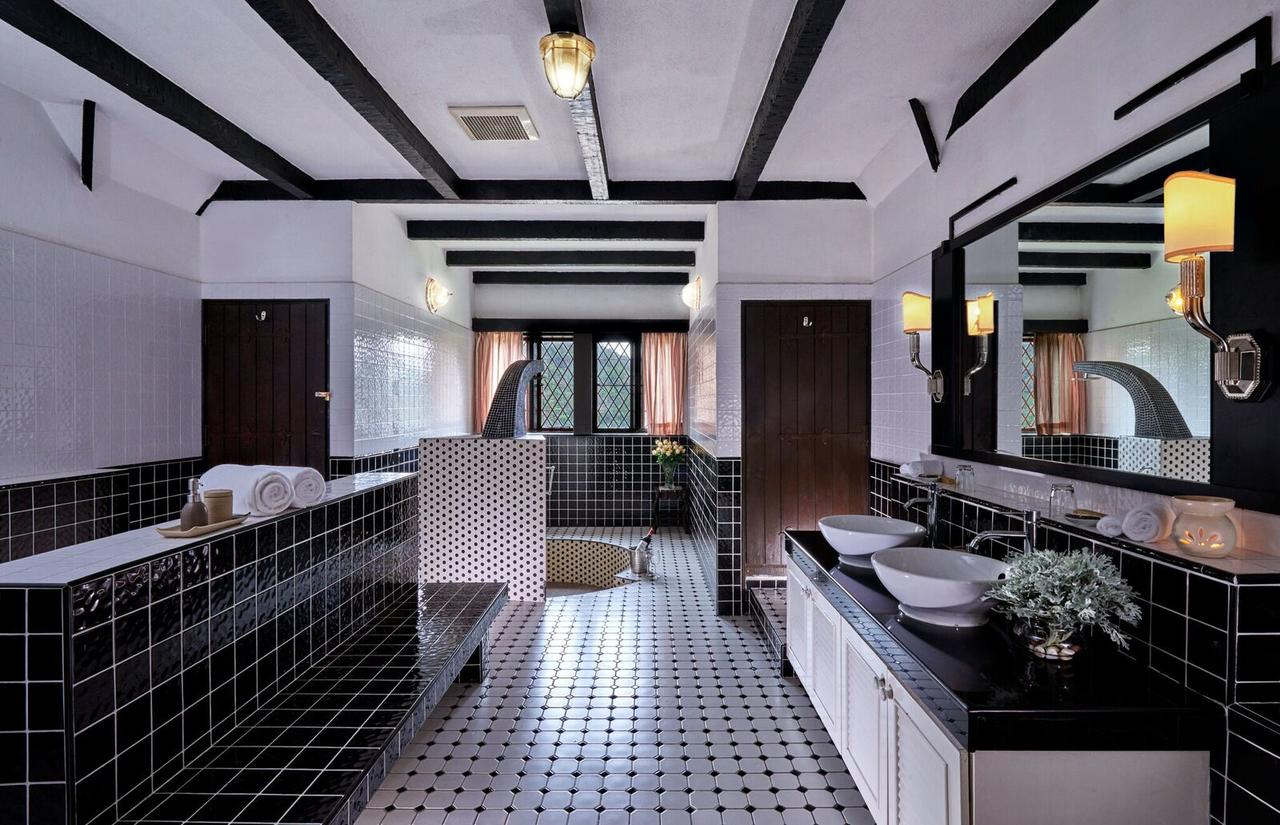 Image credit: Booking.com
Don't forget to order their classic English Afternoon tea available from 12PM — 6PM at RM78 per set, and dine on the resort's terrace in the chilly weather to complete the whole English experience.
You can opt to drive to The Lakehouse, or book a private taxi from them. The rates vary based on your pick-up location and the type of vehicle. 
Price per night: From RM504
Address: The Lakehouse Cameron Highlands, 30th Mile Ringlet, 39200 Cameron Highlands, Pahang
Telephone: 05-495 6152
The Lakehouse website
---
6. The Acres Resort in Bentong, Pahang
---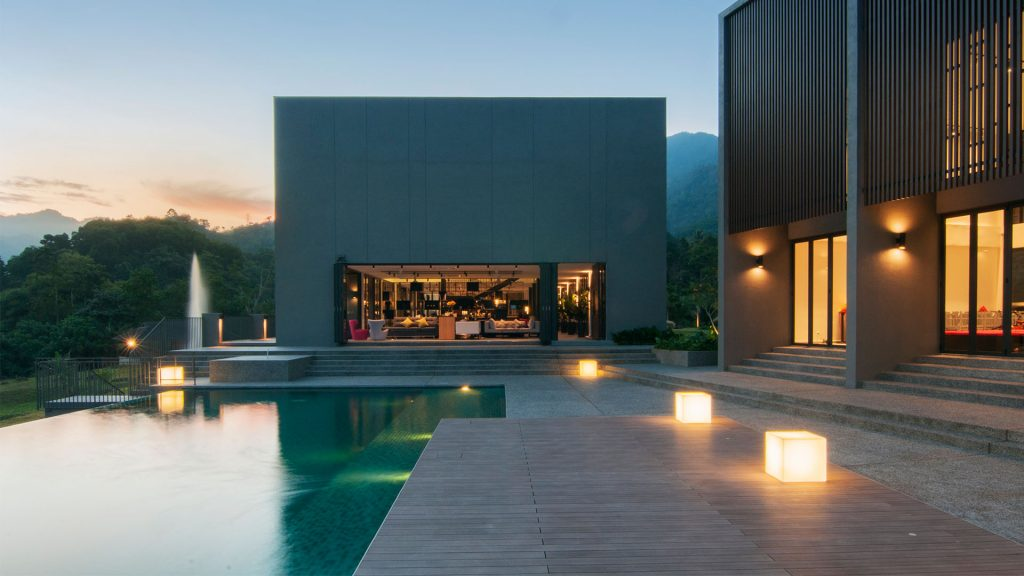 Image credit: The Acres Resort
Unlike the usual woody theme of most nature resorts, The Acres Resort's architecture and interior design lean more towards minimalism, a refreshing change for those who appreciate sleek buildings.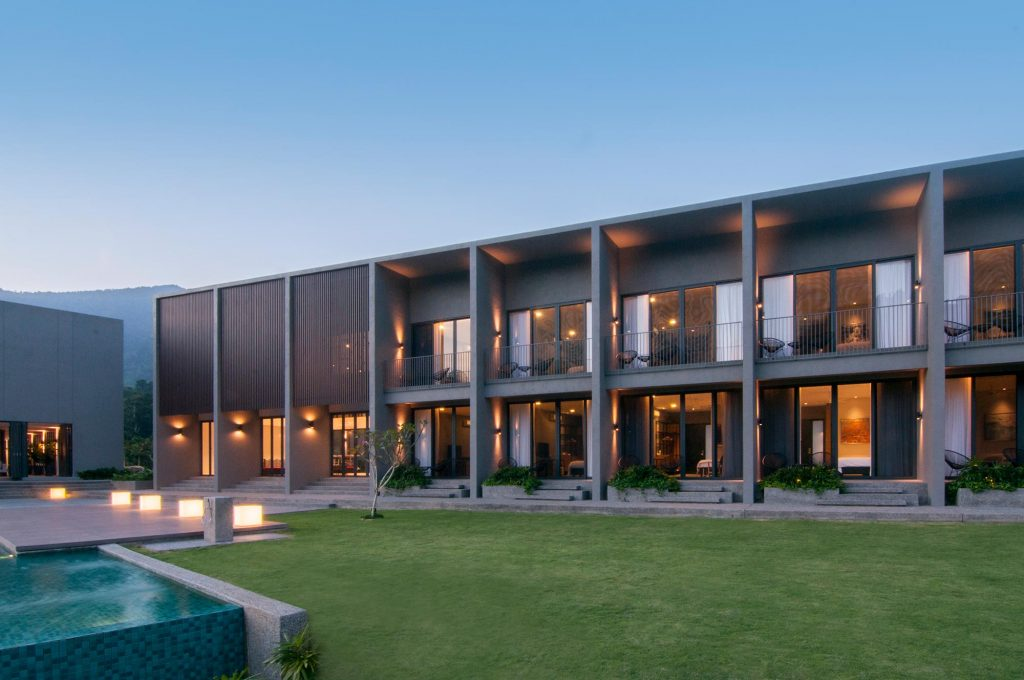 Image credit: The Acres Resort
But don't let its chic grandeur fool you as The Acres prides itself on being a family-friendly resort, with a number of amenities suited for children. These include a mini-farm where kids can pet and feed animals, a playroom, bicycles for children to cycle around the resort, a karaoke room, and more.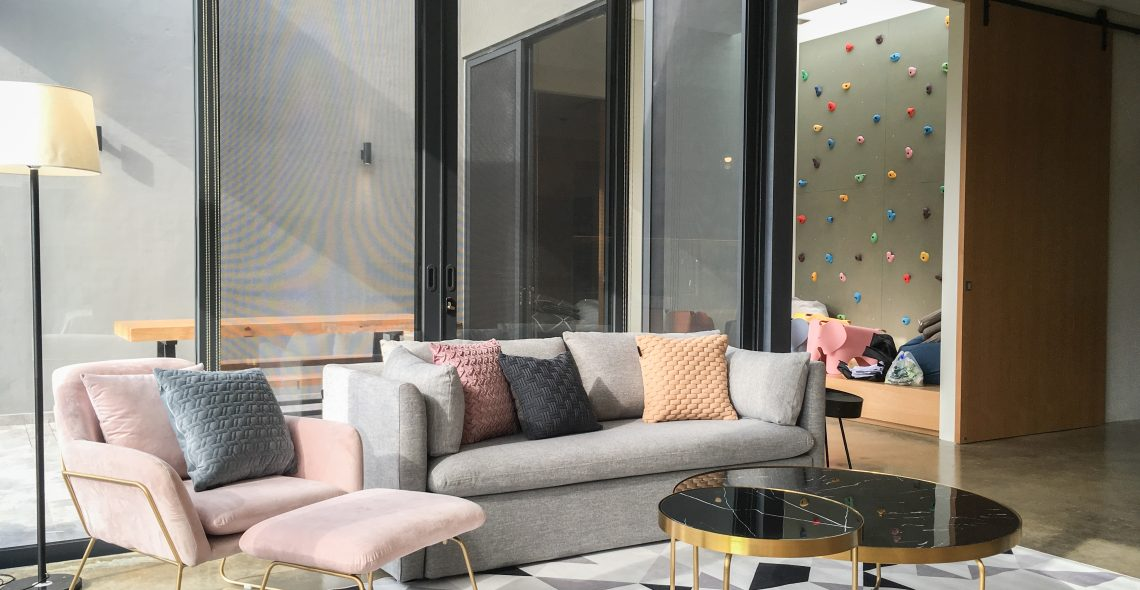 Image credit: The Acres Resort
In fact, their Starry Chalet can occupy up to 10 guests, with a built-in rock climbing wall for kids to play around with. 
The Acres is only a short 40-minute drive from Kuala Lumpur and around 30 minutes from Genting Highlands, Bentong town, and the French village Colmar Tropicale so there's plenty to do for a full weekend escape. 
Price per night: From RM450
Address: The Acres Resort, Lot 28431 Kampung Bukit Tinggi, 28750 Bentong, Pahang
Telephone: 012-223 5866
The Acres Resort website
---
7. Danau Daun Chalets in Janda Baik, Pahang
---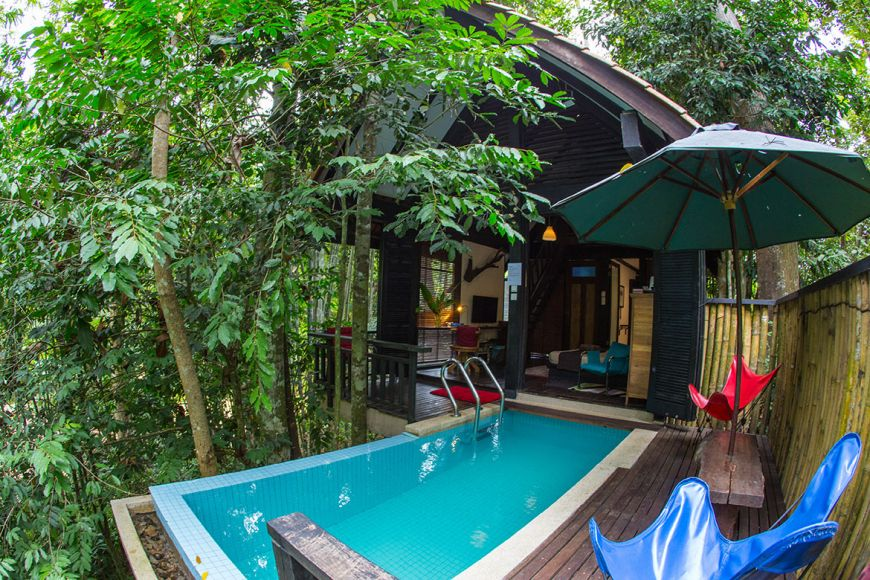 Image credit: Rileklah
For a more rustic staycay completely surrounded by greenery, head over to Danau Daun Chalets that are also located in the hills of Janda Baik. 
The resort has a total of 6 chalets and cottages, giving you the option to either pick the hillside chalets or the cottages by the river. 
Danau Daun is best suited for groups of friends who are looking to spend time together in their own space – each chalet has its own barbecue pit, while the two-bedroom and three-bedroom chalets are equipped with a private pool.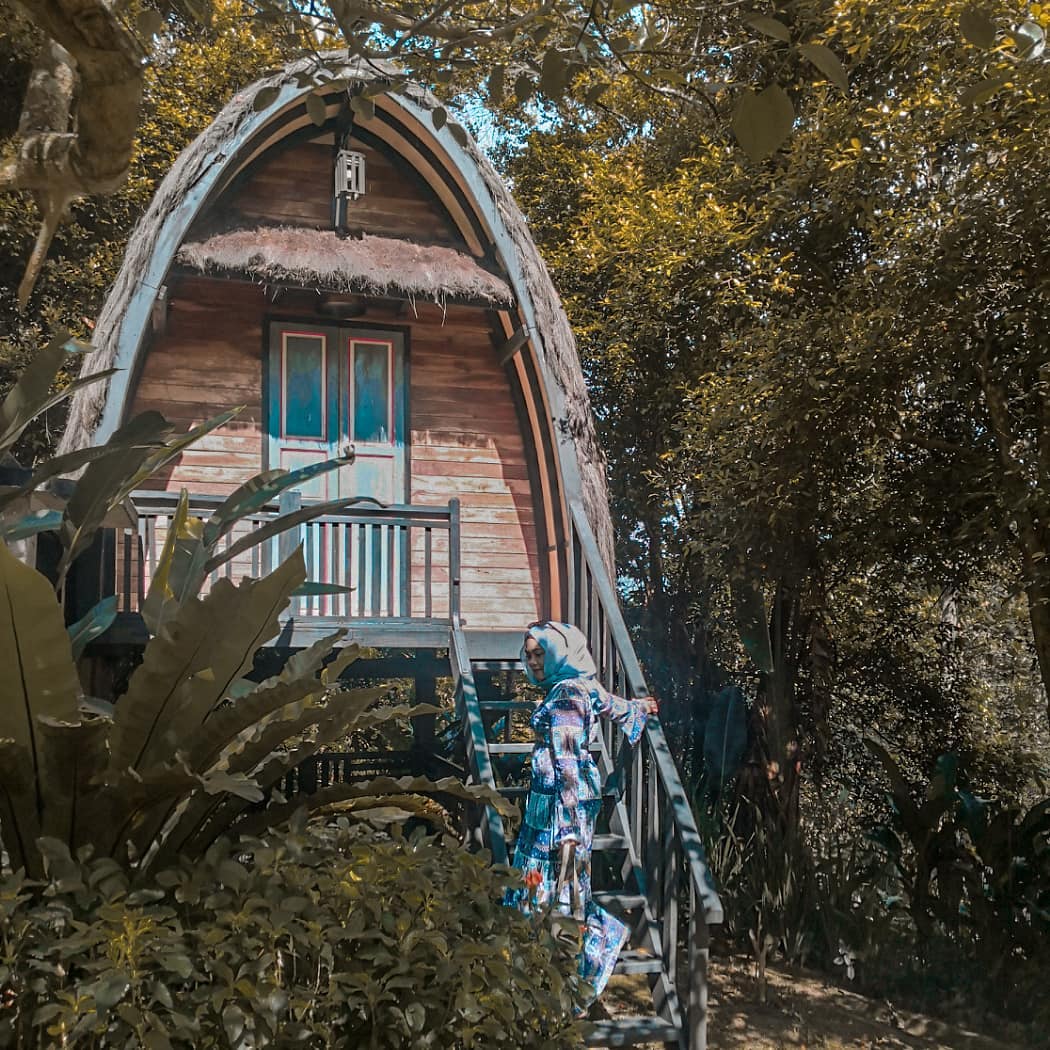 A mini-chalet available for Danau Daun Cottage bookings
Image credit: @maasssssssssss_
Those who book the 4-person Danau Daun Cottage (from RM230 a night) can accommodate an additional 2 guests in the nearby mini-chalet, which is a compact pod consisting of 2 single mattresses and an adjoining bathroom starting from just RM70 a night.
Price per night: From RM230
Address: Danau Daun Chalets, Lot 5851, Kg. Sum-Sum Hilir, Kampung Janda Baik, 28750 Pahang
Telephone: 010-239 7400
Danau Duan Chalets website 
---
8. MaliHom Private Estate in Balik Pulau, Penang
---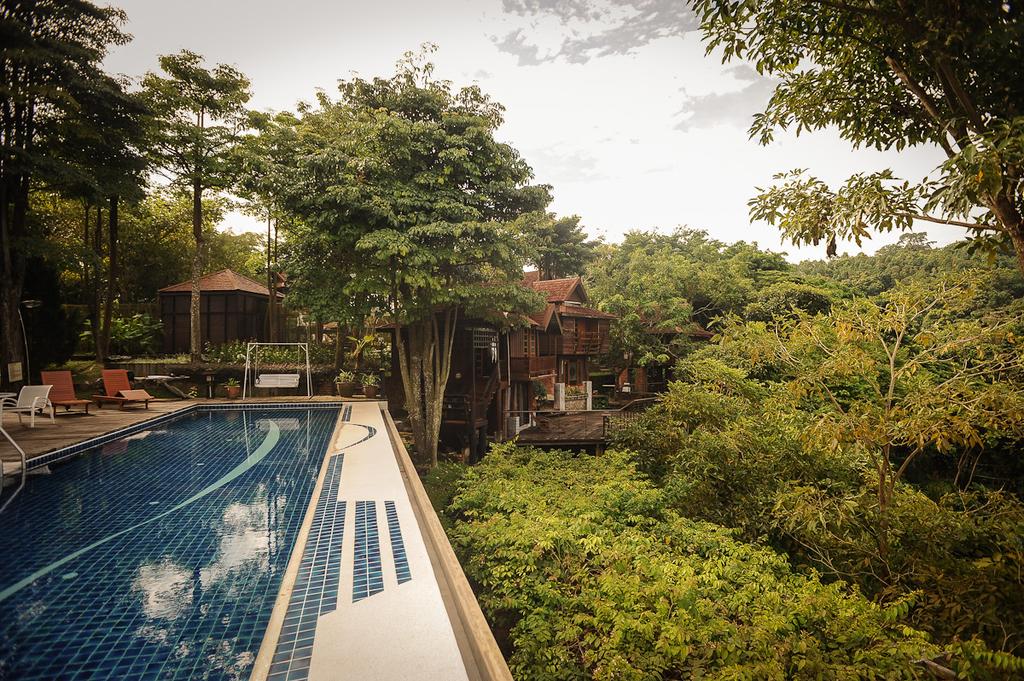 Image credit: Booking.com
As its name suggests, MaliHom Private Estate offers a stay that is as private as it gets. This family-owned retreat is a nature sanctuary tucked away in a secluded hill in Balik Pulau and surrounded by 3,000 trees that they planted themselves.
There are 2 accommodation types to choose from – the Hilltop Chalets or Foothill Homes. The former consists of quaint little huts perched on a hill – some of these, such as the Jhana and Khanun, are furnished with semi-outdoor bathrooms.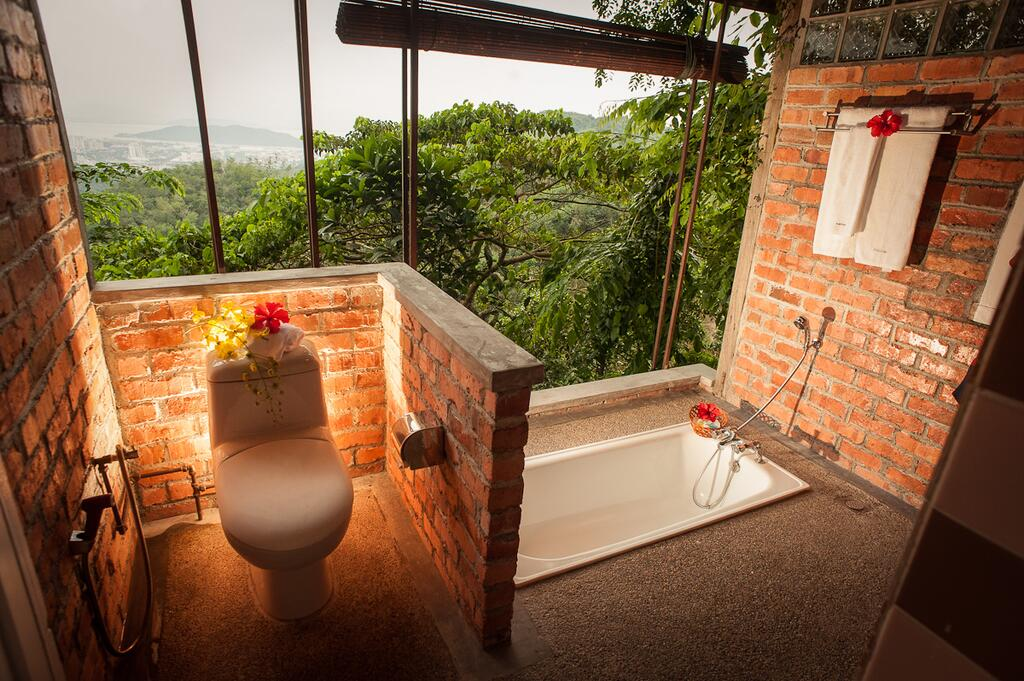 Image credit: Booking.com
While the Hilltop Chalets cater to couples, families and bigger groups can opt for their Foothill Homes instead. These homes are co-living spaces that can sleep up to 6, and are each equipped with a kitchen, deck, and barbecue amenities.
MaliHom is only accessible by car, and is just a short 20-minute drive from Balik Pulau town where you can try the local hawker food such as brown sugar pau, mee rebus, and pasembur salad.
Balik Pulau may not be as well-known as George Town, but there are actually plenty of things to do there. You can cycle along plantations, paddy fields, and fishing villages, feast on rare durians, visit a goat farm, or go on a hike to Titi Kerawang Waterfall, just to name a few. 
Price per night: From RM450
Address: MaliHom Private Estate, Kiri NT 168, Jalan Bukit Penara, Mukim 6, 11000 Balik Pulau, Penang
Telephone: 012-428 5191
Malihom Private Estate website
---
9. Kairos Villa in Seremban, Negeri Sembilan
---
If you enjoy watching sunsets and sunrises, Kairos Villa is the staycation destination for you. It is located in the Pantai mukim in Negeri Sembilan, about 30 minutes away from the capital city, Seremban.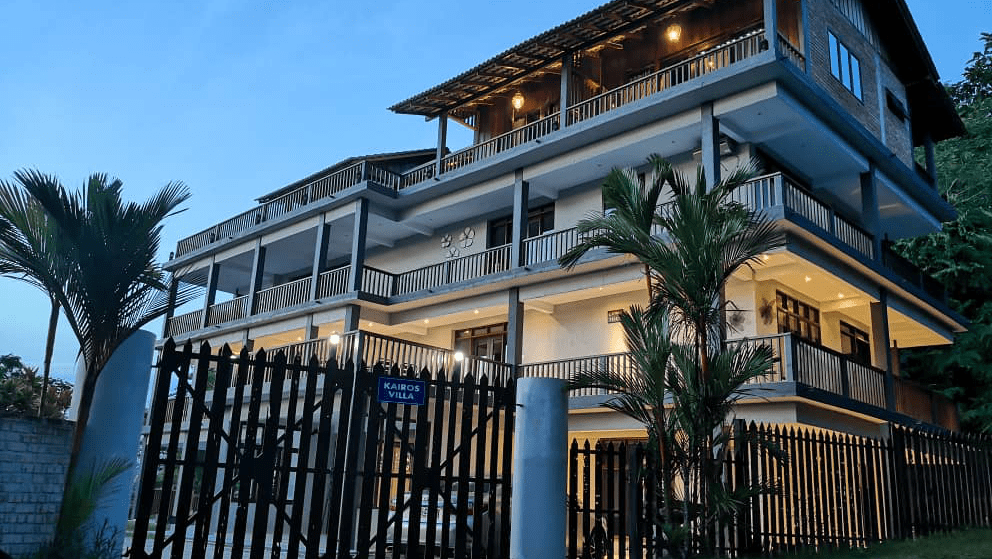 Image credit: Kairos Villa, Pantai
Kairos Villa is essentially a homestay. But because it was built within the Berembun Forest Reserve, it has become a strategic spot taken advantage of by guests to witness magnificent sky and mountain views.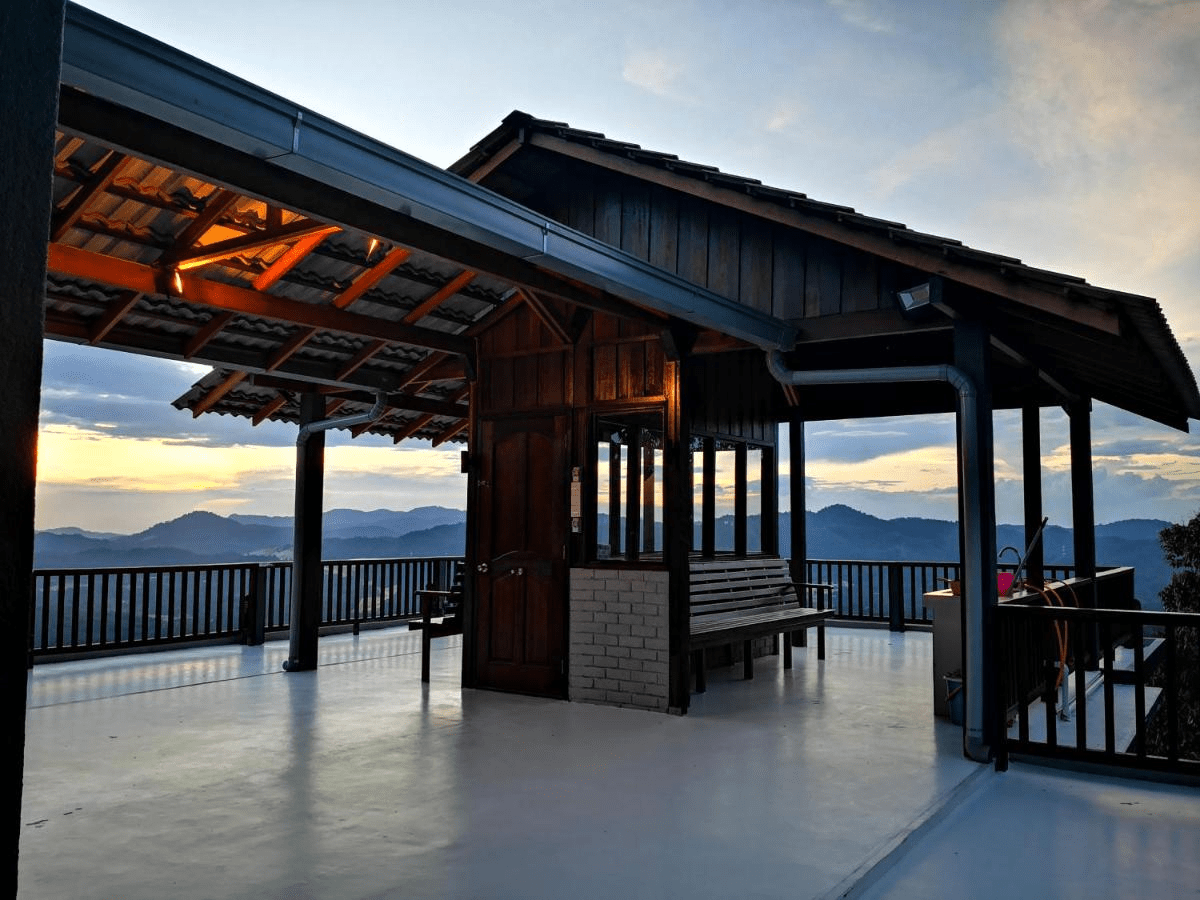 Image credit: Booking.com
The villa guarantees forest eco-living, but with city home comfort intact with modern furnishings and air-con provided. The corridors and balcony of the four-level building even gives you plenty of space to take beautiful pictures of the surroundings while enjoying the calm environment. 
This homestay is particularly favoured by individual travellers because of its size and affordable price. So if you are planning for a solo retreat somewhere quieter, this place is definitely worth considering.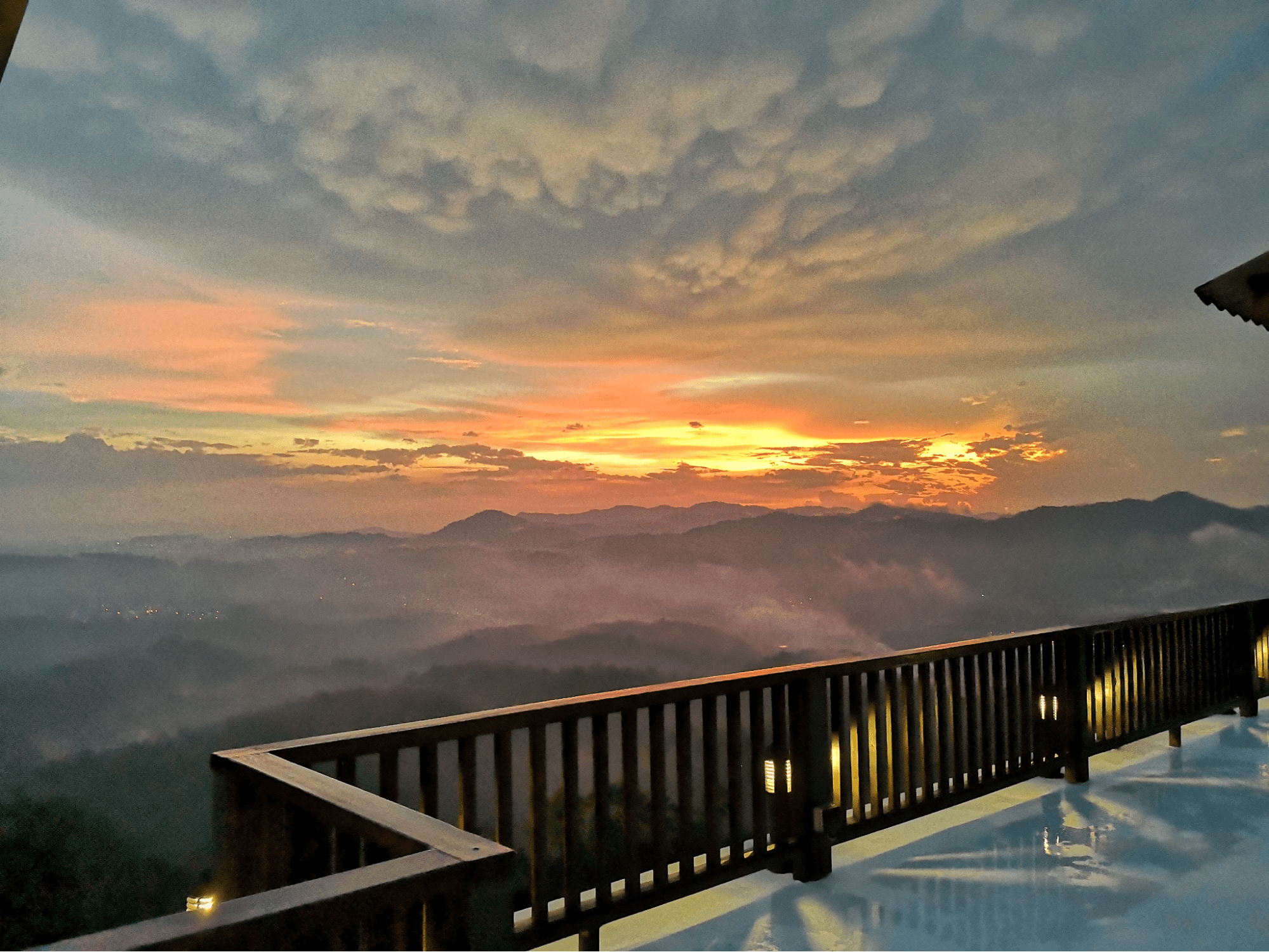 Image credit: Kairos Villa, Pantai
Kairos Villa also has a garden and sun terrace that is open for visitors to enjoy if weather conditions are ideal. The woodsy construction surrounded by lush greenery also ensures that you are tucked away from the buzzing city life despite its proximity to Seremban.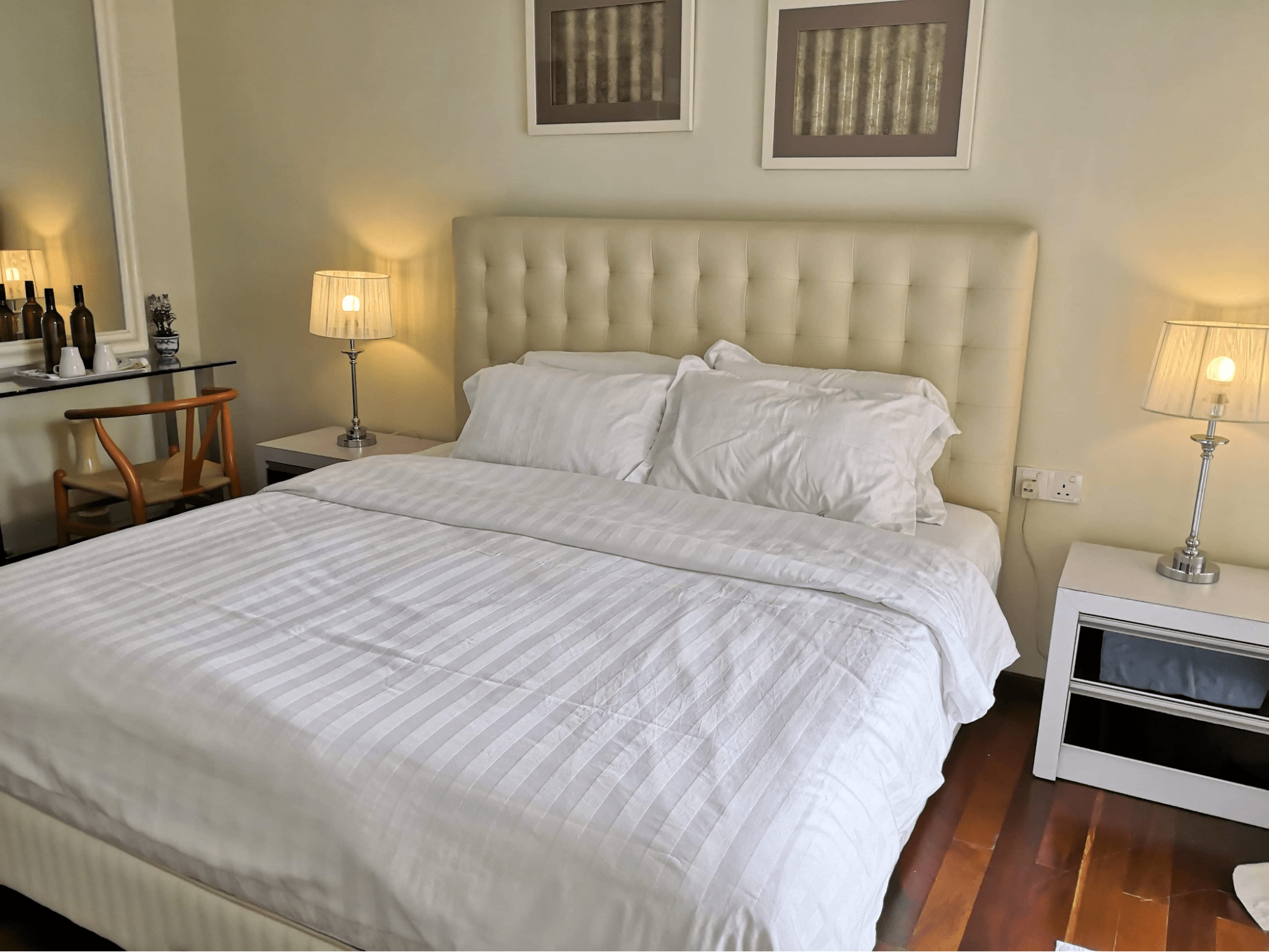 Image credit: Kairos Villa, Pantai
Price per night: From RM418
Address: Lot 3133 Jalan Pantai, Batu 9 Pantai, 71770 Seremban, Negeri Sembilan
Telephone: 019-316 6988
Kairos Villa Pantai website
---
10. Colmar Tropicale in Bentong, Pahang
---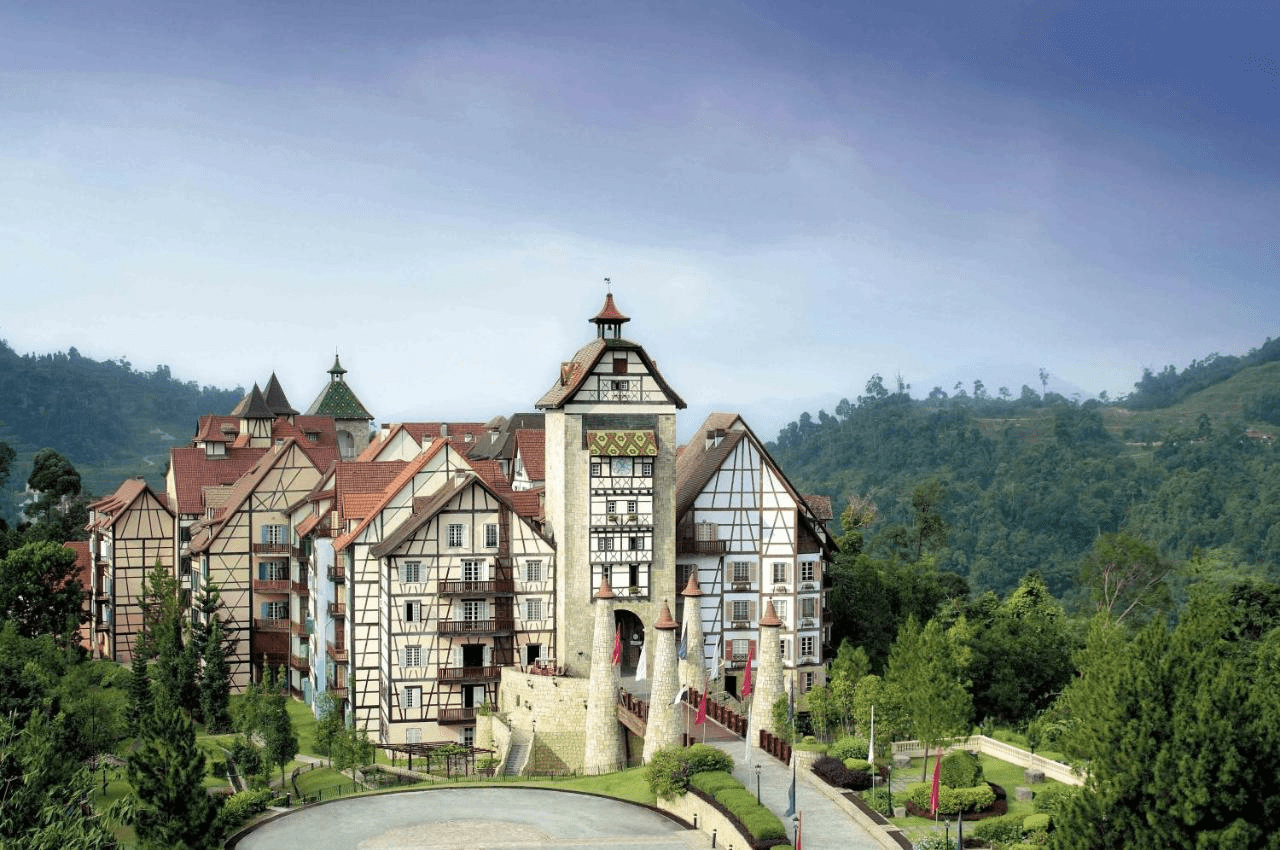 Image credit: Booking.com
You've probably watched movies set in faraway European locations and wanted to travel there to see quaint cottages and the countryside for yourself. If so, you can skip a flight to Europe by heading over to this French-themed village – Colmar Tropicale – in Malaysia instead.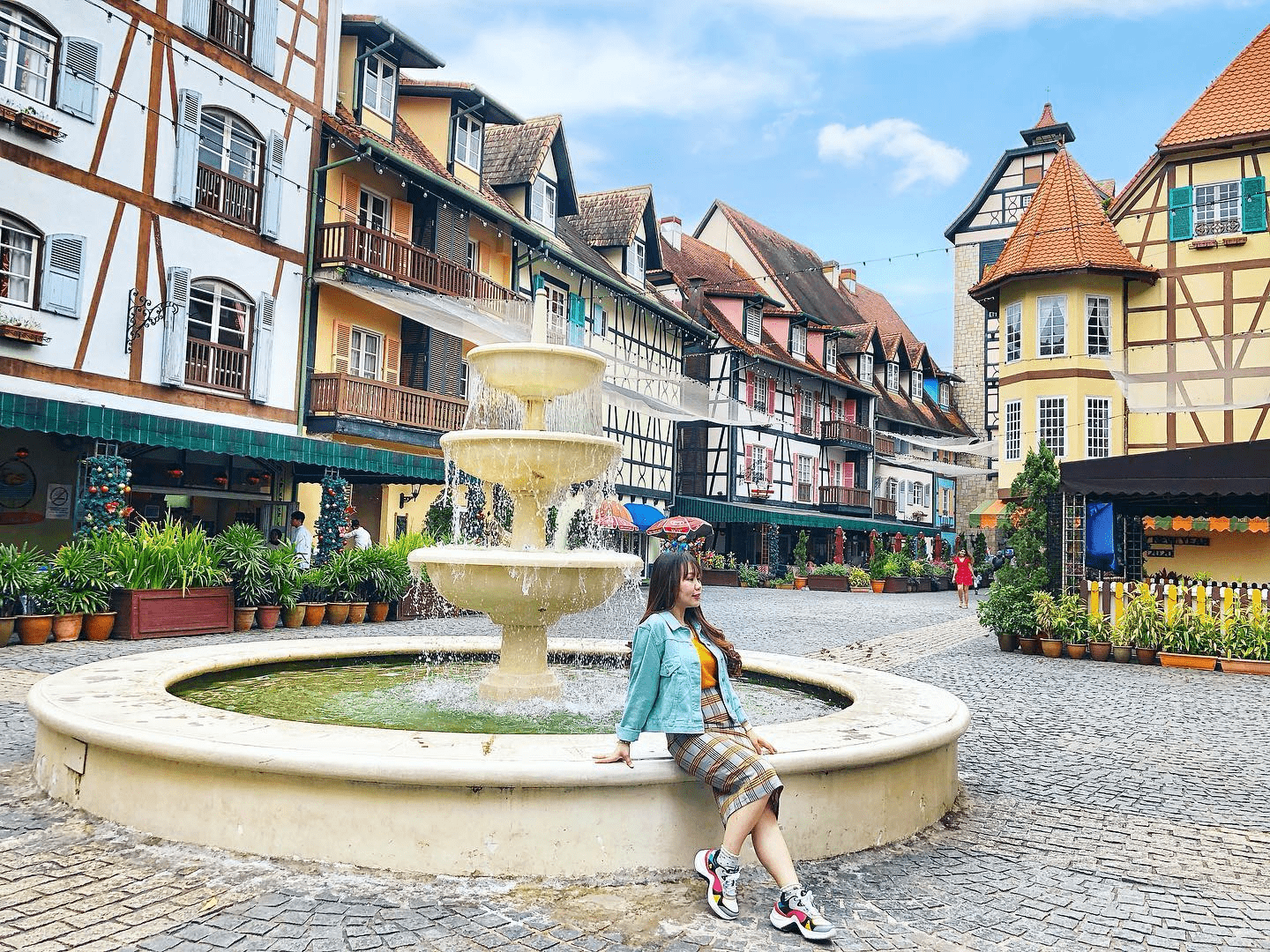 Image credit: Ve.Veron
Located 2,700-feet above sea level on the highlands of Bukit Tinggi, Pahang, Colmar Tropicale is home to buildings modelled after the 18th century Colmar city in Alsace, France. They look like the real deal too, making it a perfect staycation spot that offers visitors an European-experience along with breathtaking mountain views of the vast natural rainforests of Pahang.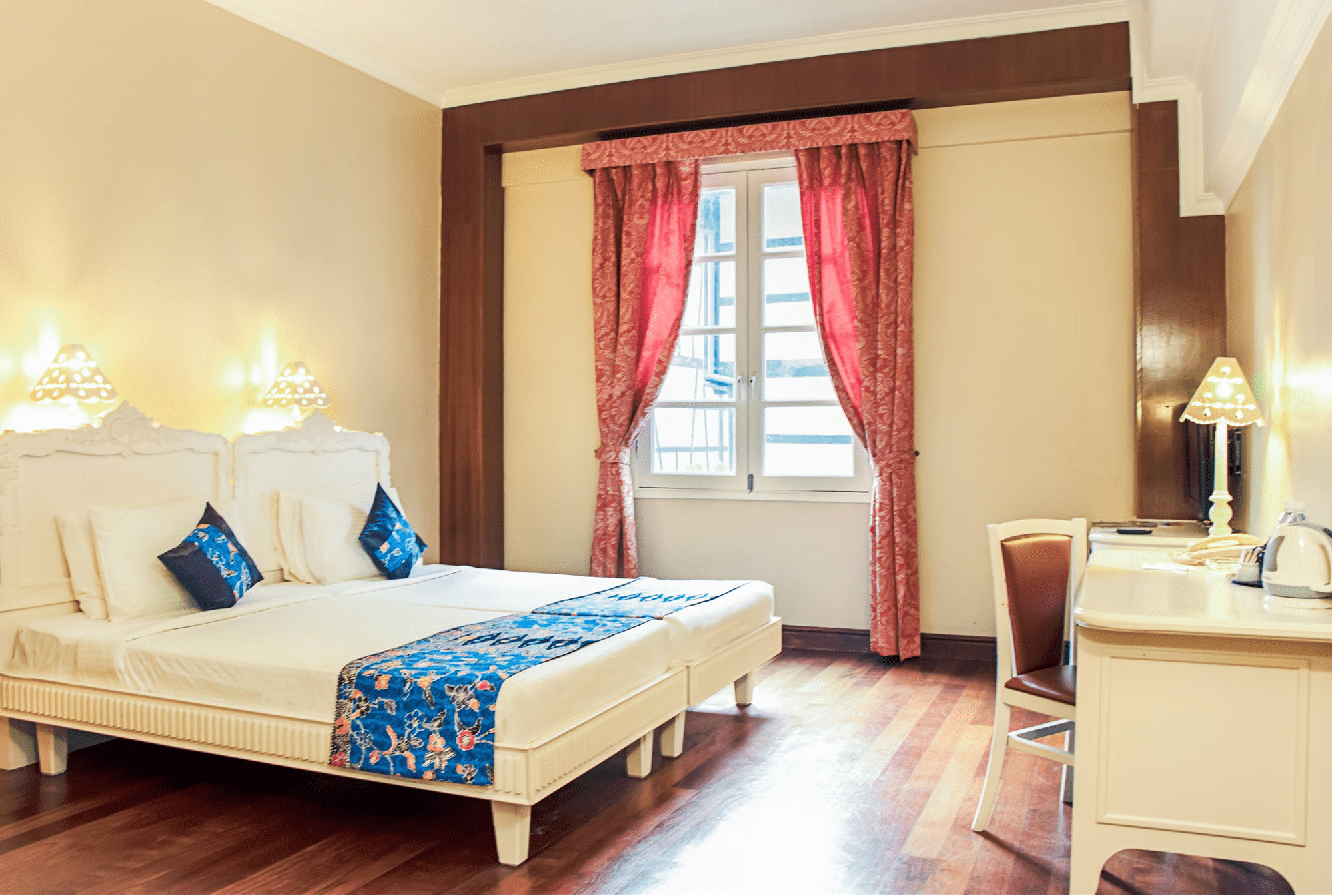 Image credit: Colmar Tropicale Berjaya Hills
Every corner of this mountain resort is filled with nostalgic vibes of medieval Europe, seen vividly in the building architecture. There are plenty of fun attractions and adventurous activities located near the resort too, such as a rabbit park, horse riding, paintball warfare and flying fox. 
Despite its "medieval" setting, this resort is well equipped to give you the comforts of modern homes as there are up to 10 types of cosy rooms to choose from, depending on the number of guests visiting.
Price per night: From RM170
Address: KM 48 Persimpangan Bertingkat, Lebuhraya Karak, Bukit Tinggi, 28750 Bentong, Pahang
Telephone: 09-221 3666
Colmar Tropicale website
---
Best mountain resorts in Malaysia
---
The saying "the grass isn't always greener on the other side" rings true for Malaysia's travel destinations, as we're already abundantly blessed with many of nature's wonders.
From stunning beaches to remarkable rainforests, lavish hotels to unique homestays, you can really do and see so much when you take time to explore our country. 
For more travel guides, check these out:
---
Cover image adapted from: Ranis Lodge, Ambong Ambong Rainforest Retreat, Mountain Valley Resort, and The Acres Resort
This article was updated on 12th November 2021 by Siva Selan.
Get more stories like this!
Drop us your email so you won't miss the latest news.