Styling tips for bedrooms
---
If the pandemic lockdowns in Malaysia taught us anything, it's that our bedrooms are sacred spaces to get some shut-eye and me-time. However, most of us will admit to skimping on decor as these rooms are typically hidden from our house guests.
But just imagine coming home every single night to a staycation-style room after your daily grind. That's def a perk that you'd enjoy on a nightly basis for sure.
To help you revamp your neglected bedroom after a 5-star hotel room, here are five easy ways to style your bedroom with no hefty renovation costs involved.
---
1. Create a feature wall with restful colours or artwork
---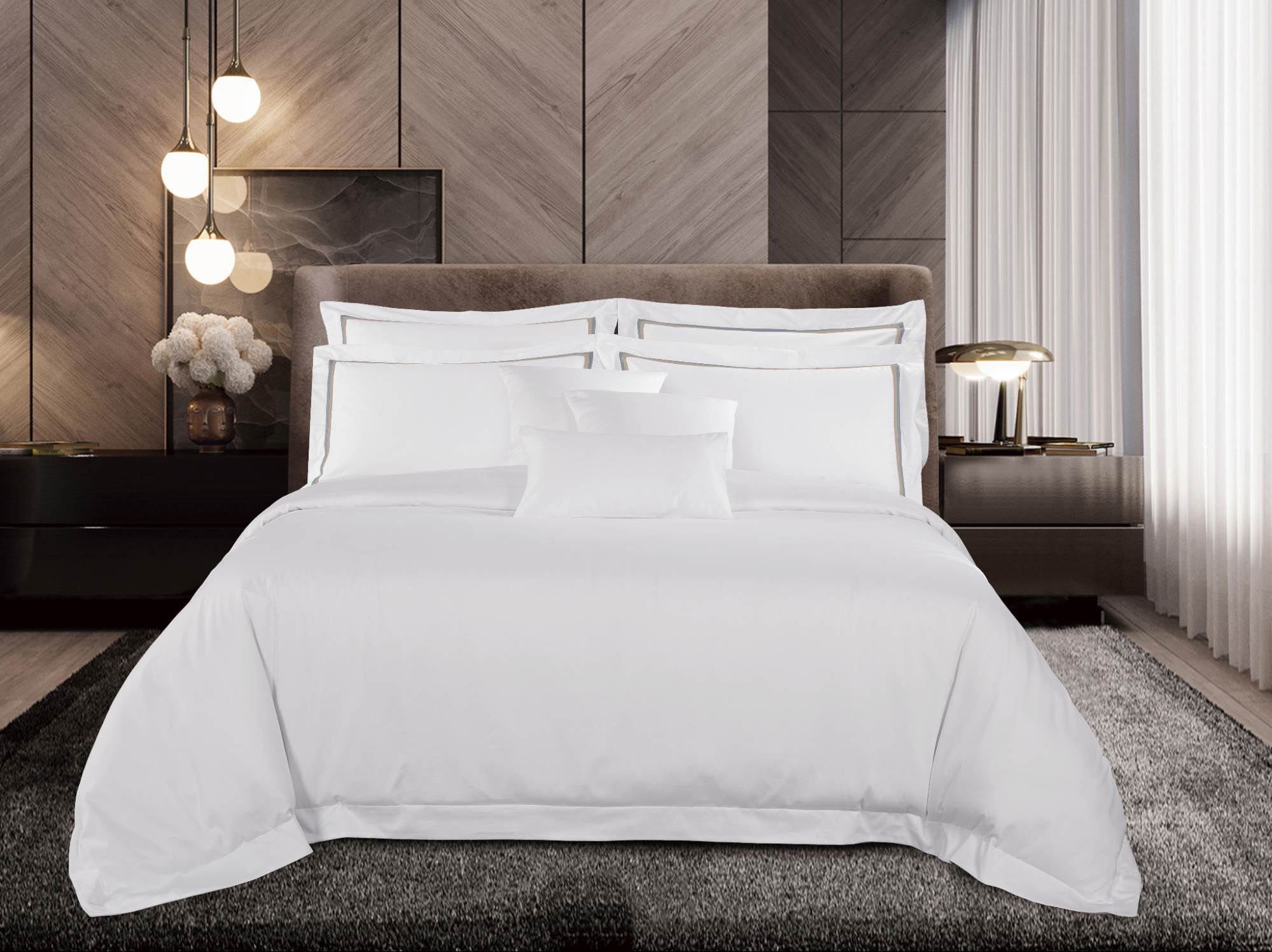 Image credit: AKEMI
It goes without saying that the bed is the focal point of any bedroom. Besides just being your personal spot to snuggle up under your blanket, it takes up the most space in the room. 
With this in mind, you'll want to pay extra attention to it. 
Beds with upholstered headboards help you instantly achieve that luxe hotel room feel. But if you're going for a wallet-friendly route, you can add a feature wall as your bed's backdrop to draw attention to it – no headboards required.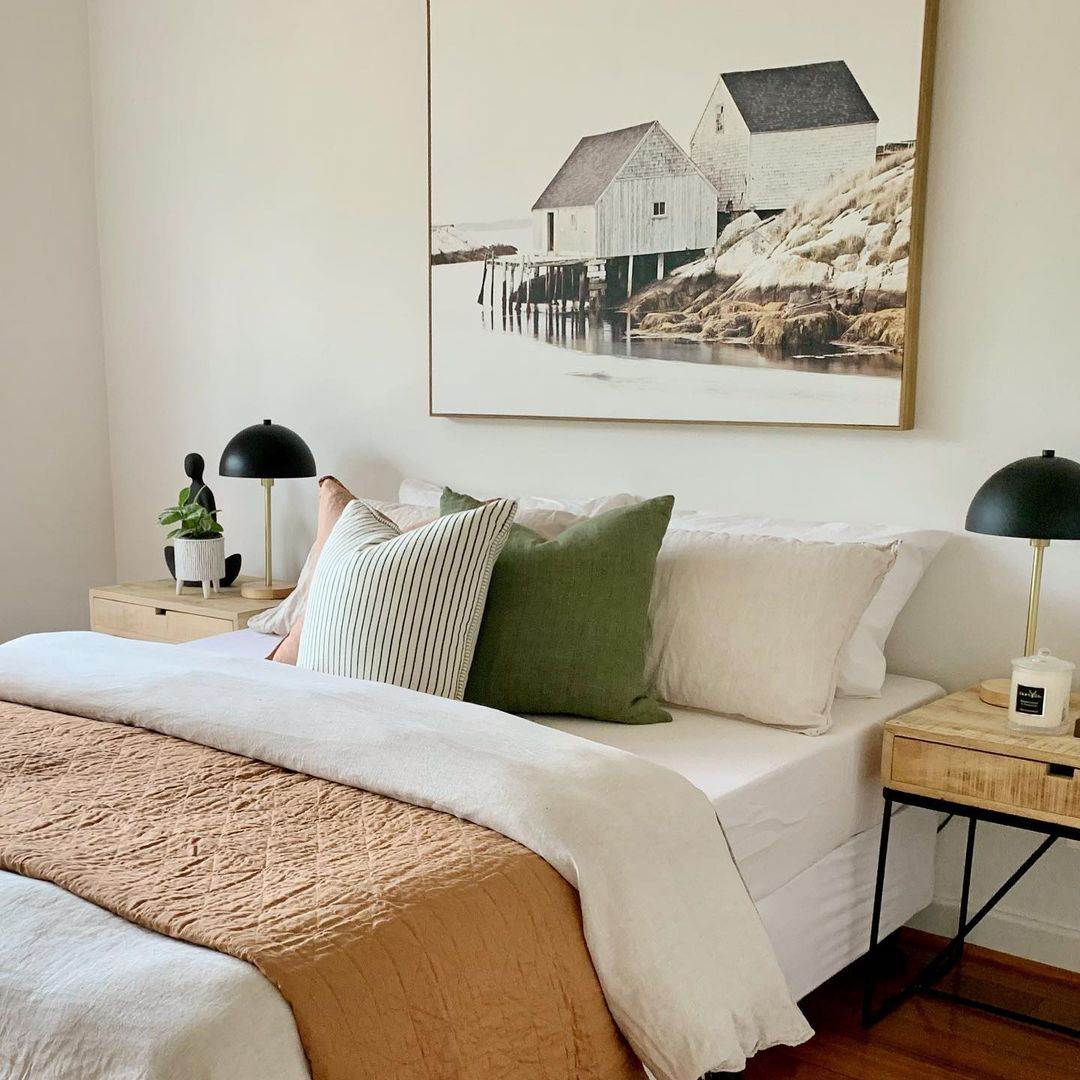 Image credit: @steph.okeeffe.stylist
You're probably thinking of wallpapers with splashy patterns, or bright colours like electric blue or vivid orange for your feature wall. But neutral paint colours can be just as dramatic. 
Restful pale and mid-tone colours such as taupe and sage will add just enough punch to your drab wall while contrasting well with furniture pieces in your room. 
If you're not ready to commit to a paint job, consider hanging a large artwork as a statement decor piece to substitute a feature wall – preferably one in landscape format and about as wide as the bed. This is a fuss-free way to deal with that awkward, blank space over your bed.
---
2. Avoid crammed spaces by sticking to staple furniture
---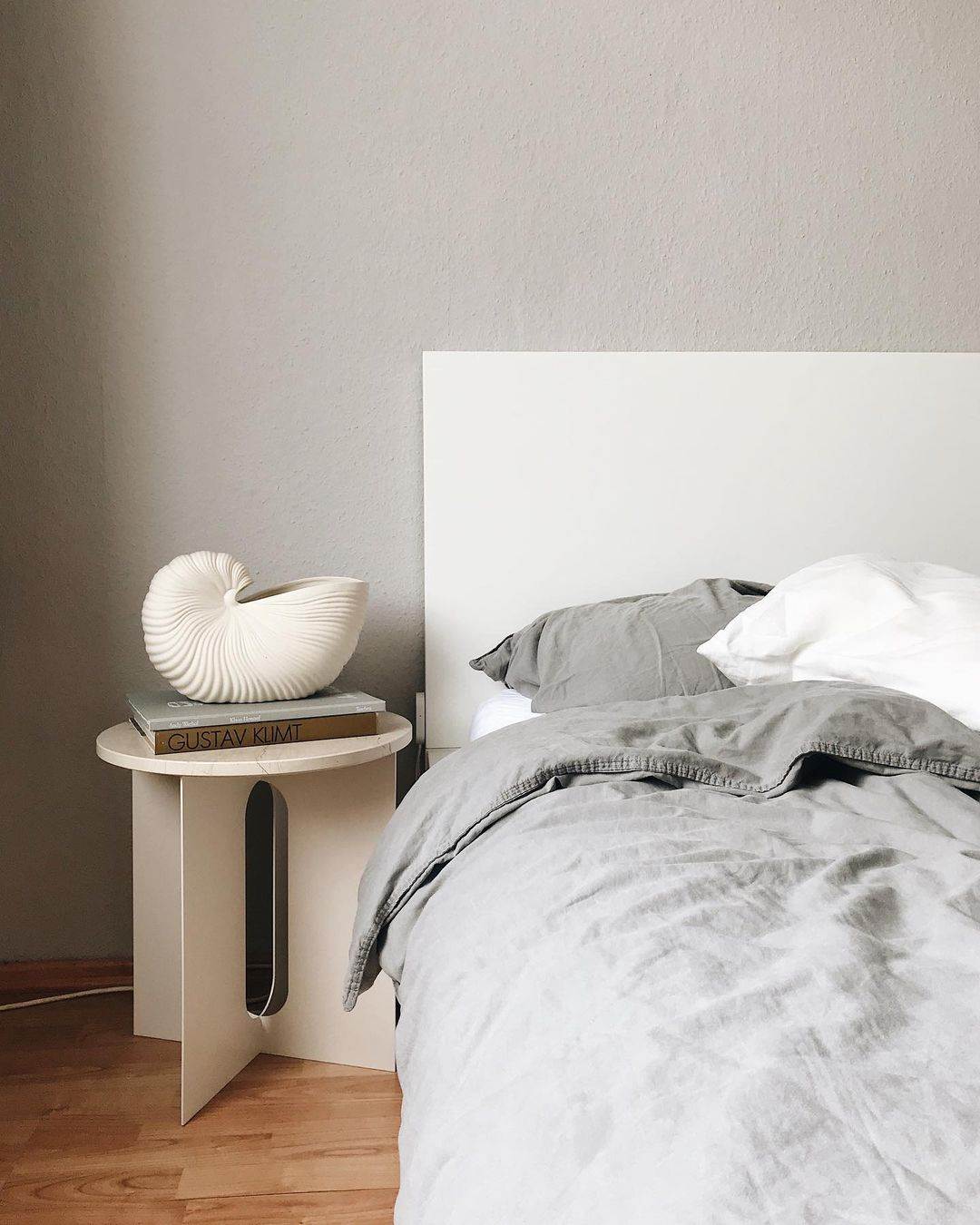 Image credit: @floating.leaves
Not all of us subscribe to that less-is-more lifestyle. But when it comes to having a peaceful space to recharge our batteries, it's key to keep clutter at bay. A simple fix is to focus on just a few furniture pieces to complement the bed to keep space around your bed neat and tidy.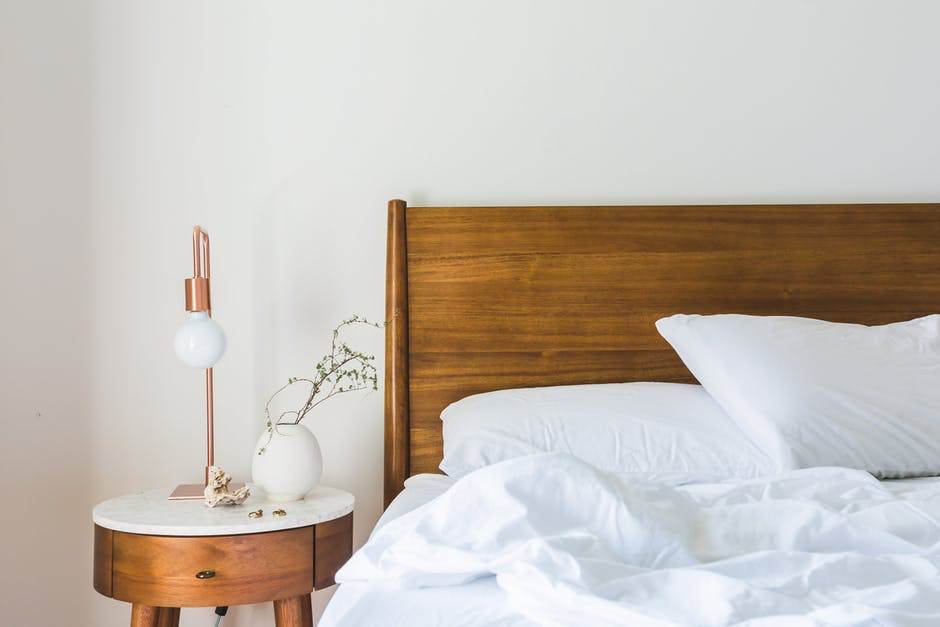 Image credit: @byronchandlerinteriors
Bedside tables are an indispensable bedroom feature. Not only do they provide much-needed storage for random knick-knacks, but they're inexpensive and double up as great decor items that help pull together a room by providing symmetry. 
Create an illusion of space with floating nightstands for a contemporary look if you're working with a smaller room, or go with wooden bedside tables for vintage vibes in a larger bedroom. 
Add a handful of other staple furniture items – a chair, dresser and bookcase – and you'll have a stylish bedroom to wind down in every night.
---
3. Include just enough decor items & personal touches
---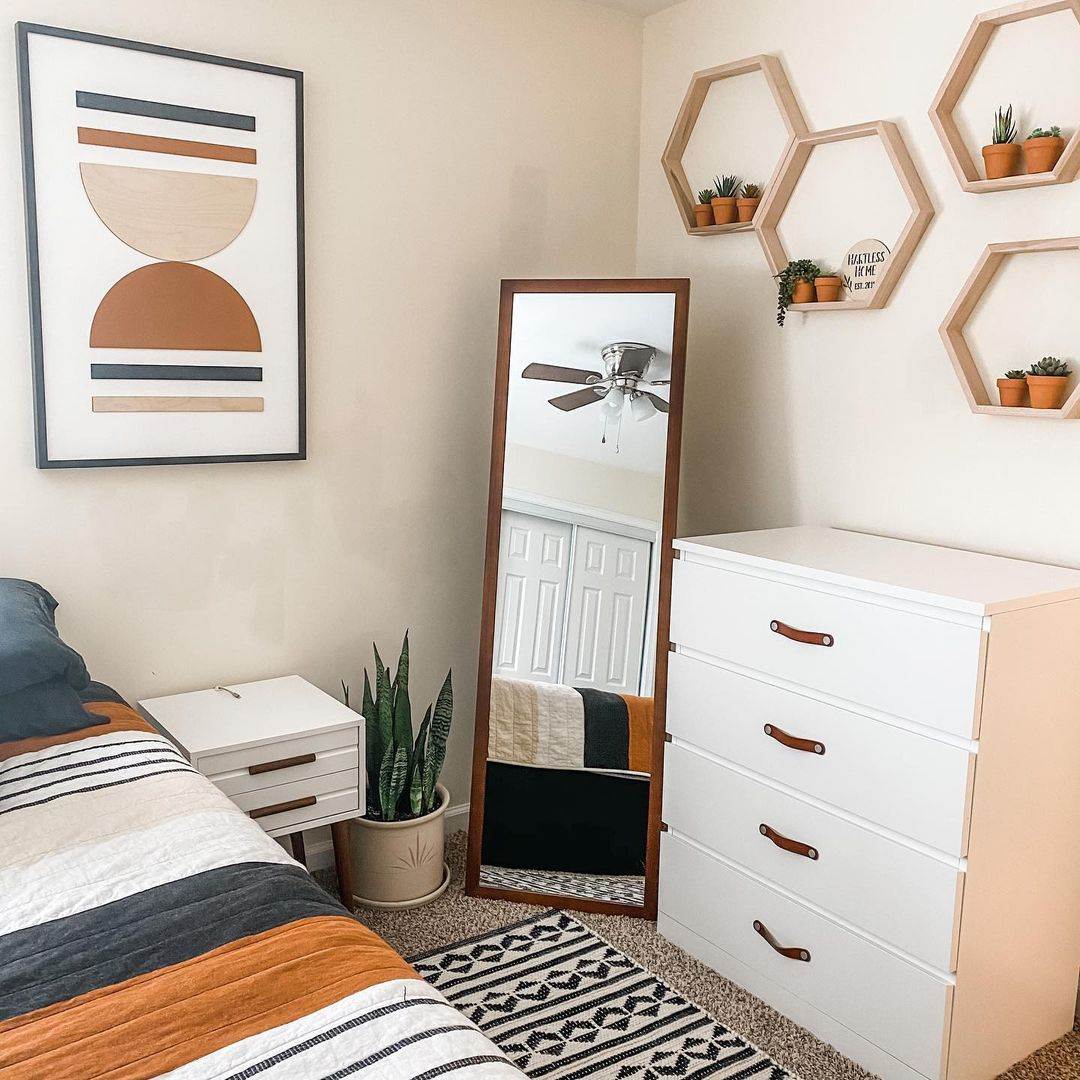 Image credit: @hartwood_design
If you've checked in at a hotel before, you'll notice there's always just enough decor items. The same idea can be applied to your dream bedroom – throw in just enough decorative pieces, and they'll elevate your room's decor while making your space feel even more zen.
The trick here is to go with essential items only to avoid clutter – a statement clock and full-length mirror are two examples. Items such as candles or jewellery holders help add a personal touch and flair on bedside tables and dressers too, while a piece of artwork provides a pop of colour without taking up floor space. 
---
4. Use statement lights & bedside lamps to create ambience
---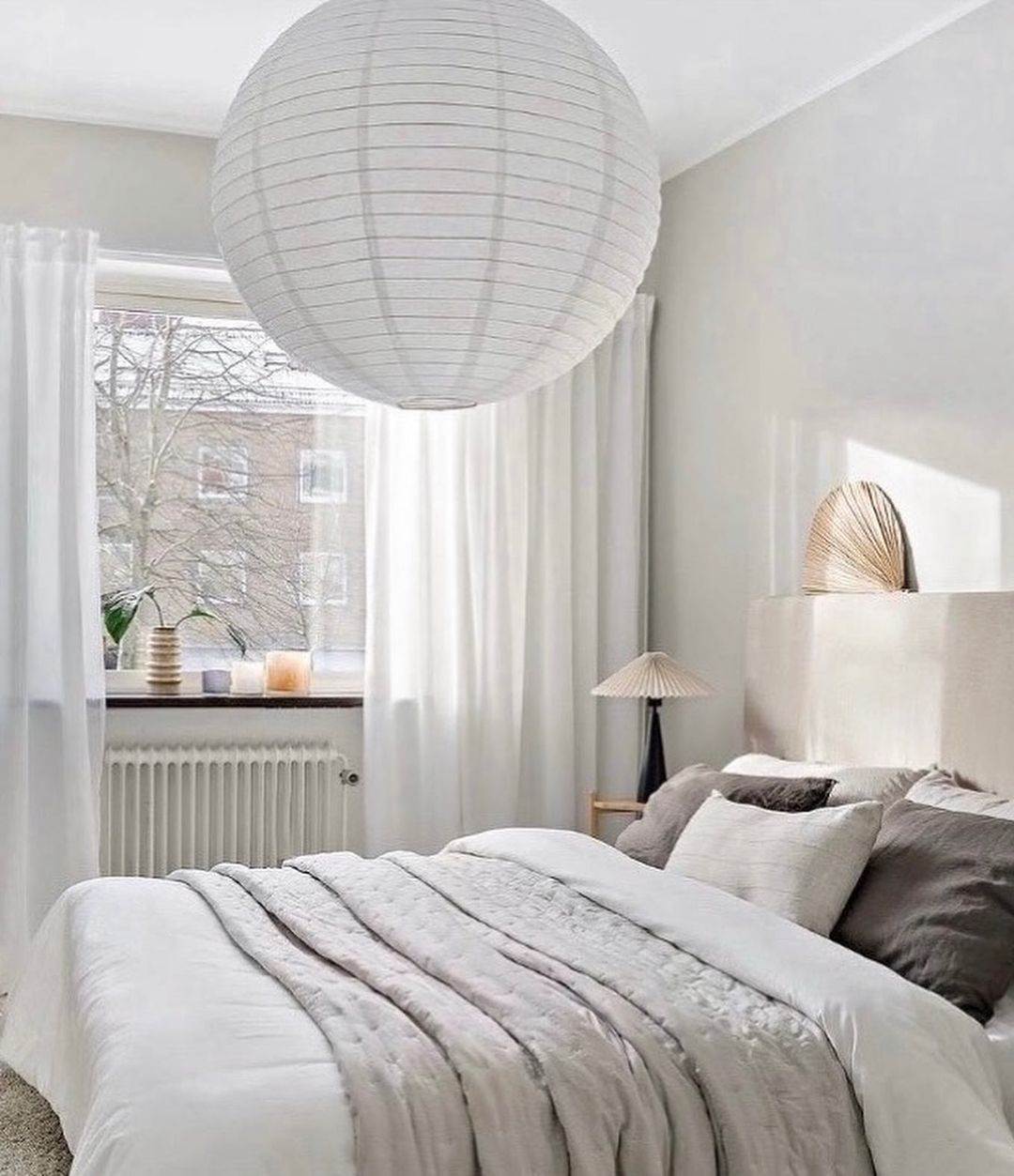 Image credit: @mirellany
Lighting is often an afterthought when it comes to styling rooms. But it is an essential ingredient in creating the mood of any space. In the kitchen, brighter lights placed correctly prevent recipe mix-ups and knife nicks – in the bedroom, it's about creating a subtle glow to put you in a restful mood. 
Typical fluorescent tube lights brighten your bedroom well. If you want extra warm and cosy feels, though, consider ditching those garish tube lights for pendant lights and table lamps to create a softer vibe.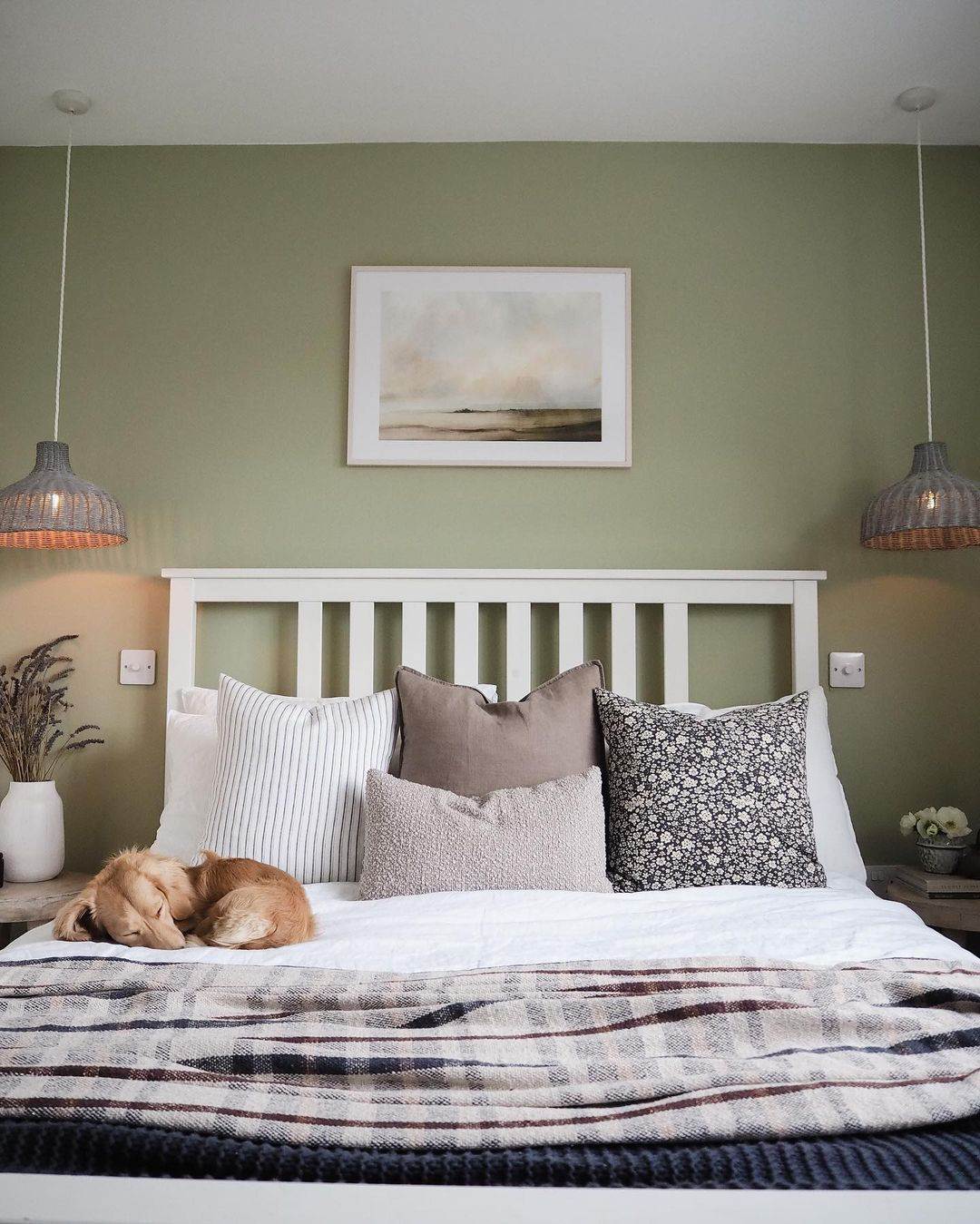 Image credit: @bohazelandco
Any expert designer will tell you about the importance of layering lights – or, in less jargony terms, having multiple light sources to create a balanced and well-lit space.
Ceiling lights provide brighter overall lighting for focused tasks, while bedside lamps give off a gentle glow for when you're reading or about to doze off. Extra light fixtures, like wall sconces and floor lamps, add ambient light to brighten up dark corners without being too harsh on the eyes.  
---
5. Add texture with curtains, rugs & throws
---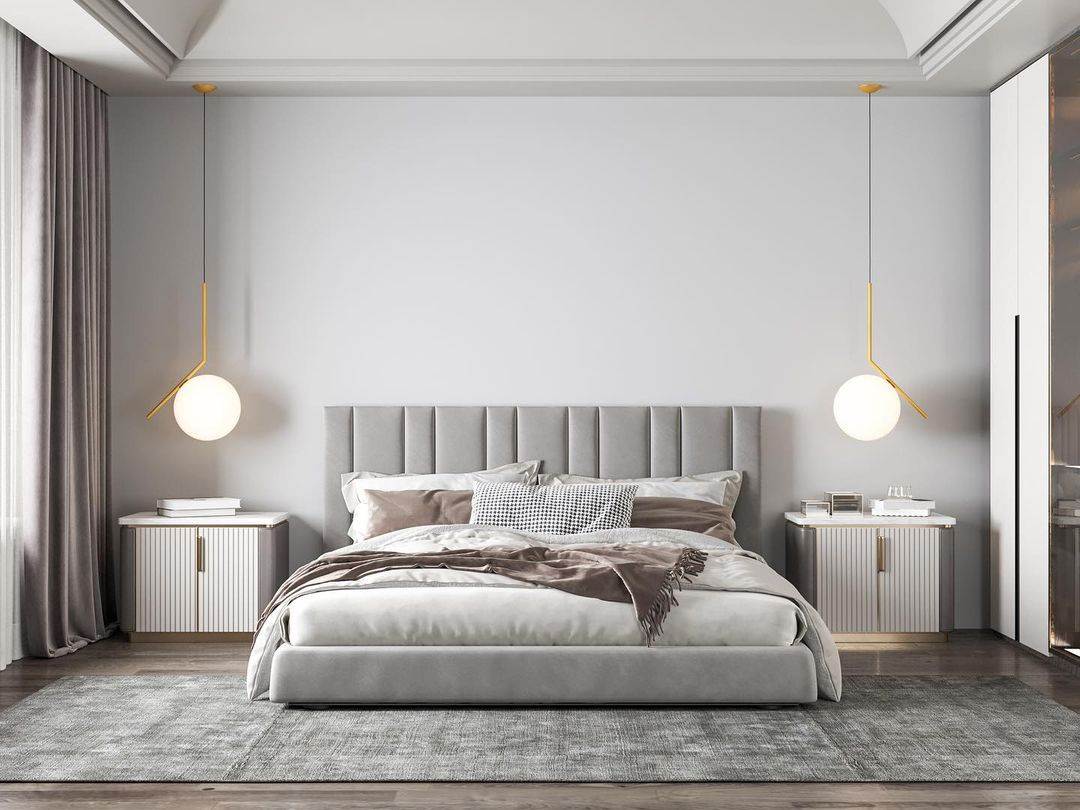 Image credit: @casalist.de
Hotel rooms are as cosy and comforting as they are aesthetically pleasing and stylish. A great way to maximise cosiness in your own bedroom is to include soft touches beyond your bed.  
Place a fluffy rug on the floor, and add a throw or some plump cushions to accent chairs. Or go for floor-length, pleated curtains to create a luxe hotel room feel. Finish with a sheer layer behind them to diffuse harsh sunlight while providing some privacy in the daytime.
---
Choose the right bedding for your bed
---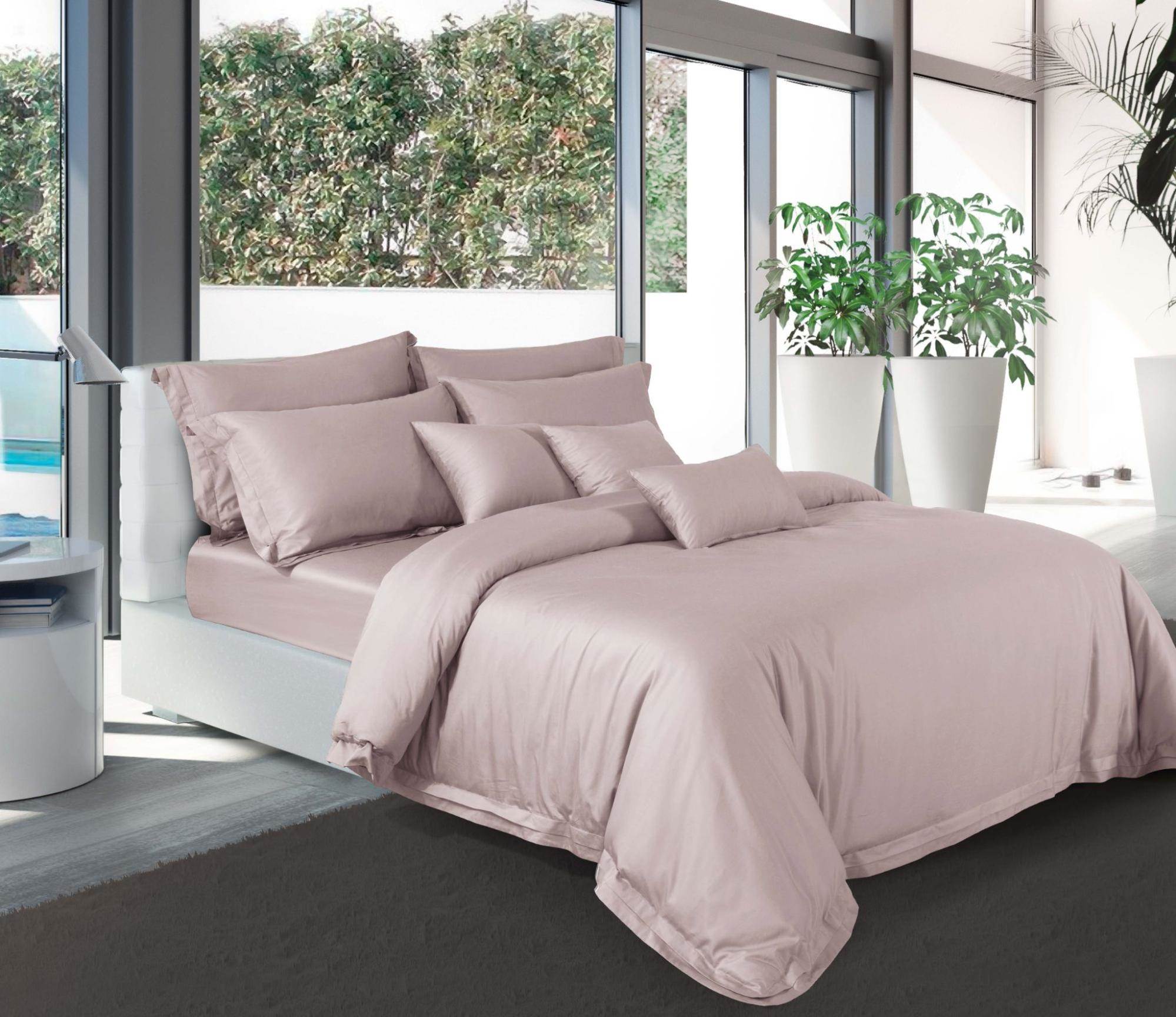 Image credit: AKEMI
Choice of bedding can make or break your bedroom styling efforts. After all, the focal point of your room is of little use without proper fitted sheets, pillowcases, and quilt covers. These fabrics can add colour and texture to your bedroom while complementing your furnishings and decor items. 
If you aren't sure where to begin with your bedding upgrade, start by scouring through AKEMI's website. This home furnishing and accessories brand offers a wide range of quality beddings that'll help you take a solid step towards your staycay-style room makeover goals.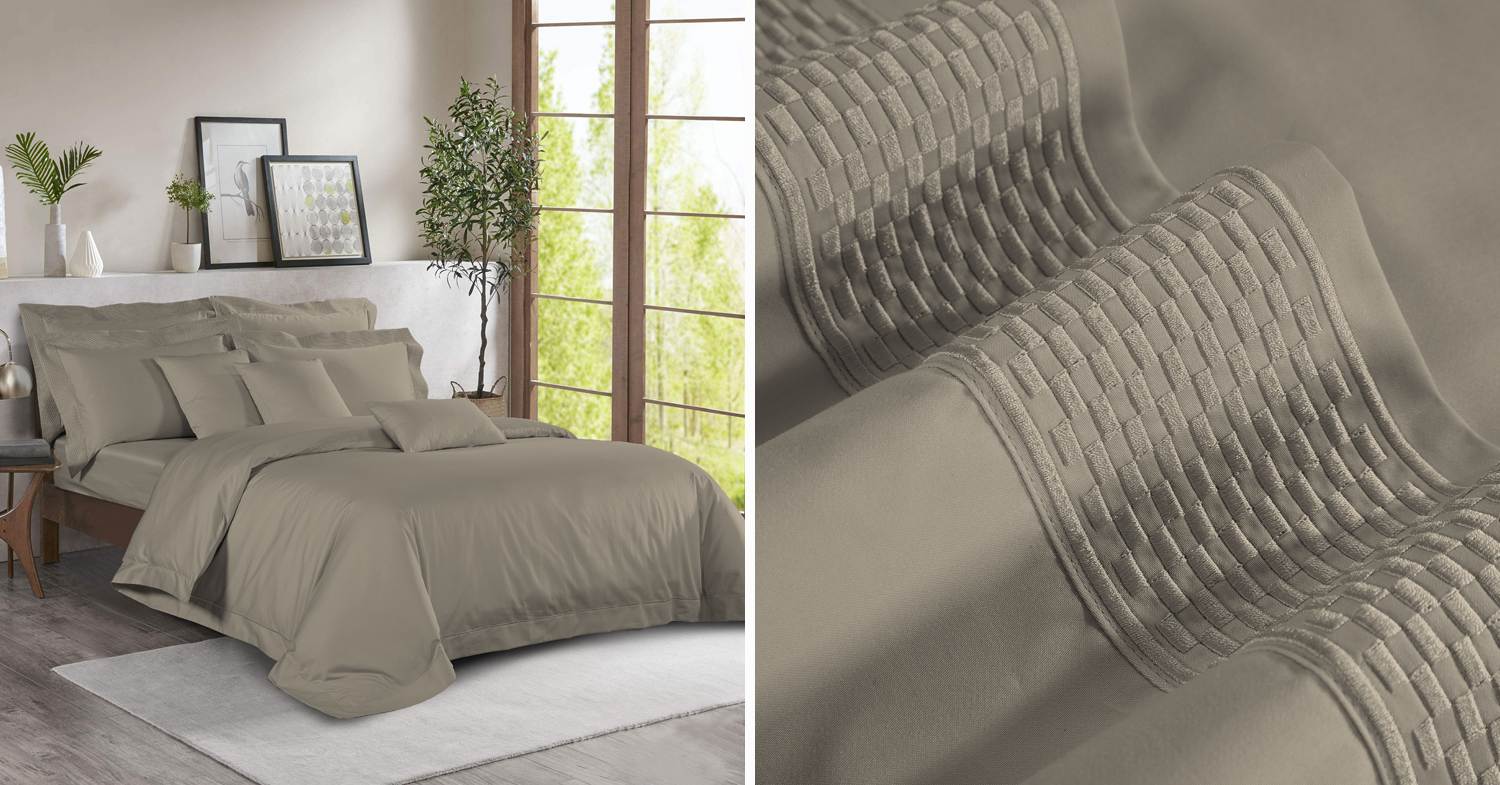 Image credit: AKEMI 
With AKEMI's Signature Collection, you can spend restful nights on soft Micro TENCEL or extra-long staple cotton fabrics. Both are smooth to the touch and lightweight, making them suitable for comfortable slumbers even with only the fan turned on in our Malaysian heat.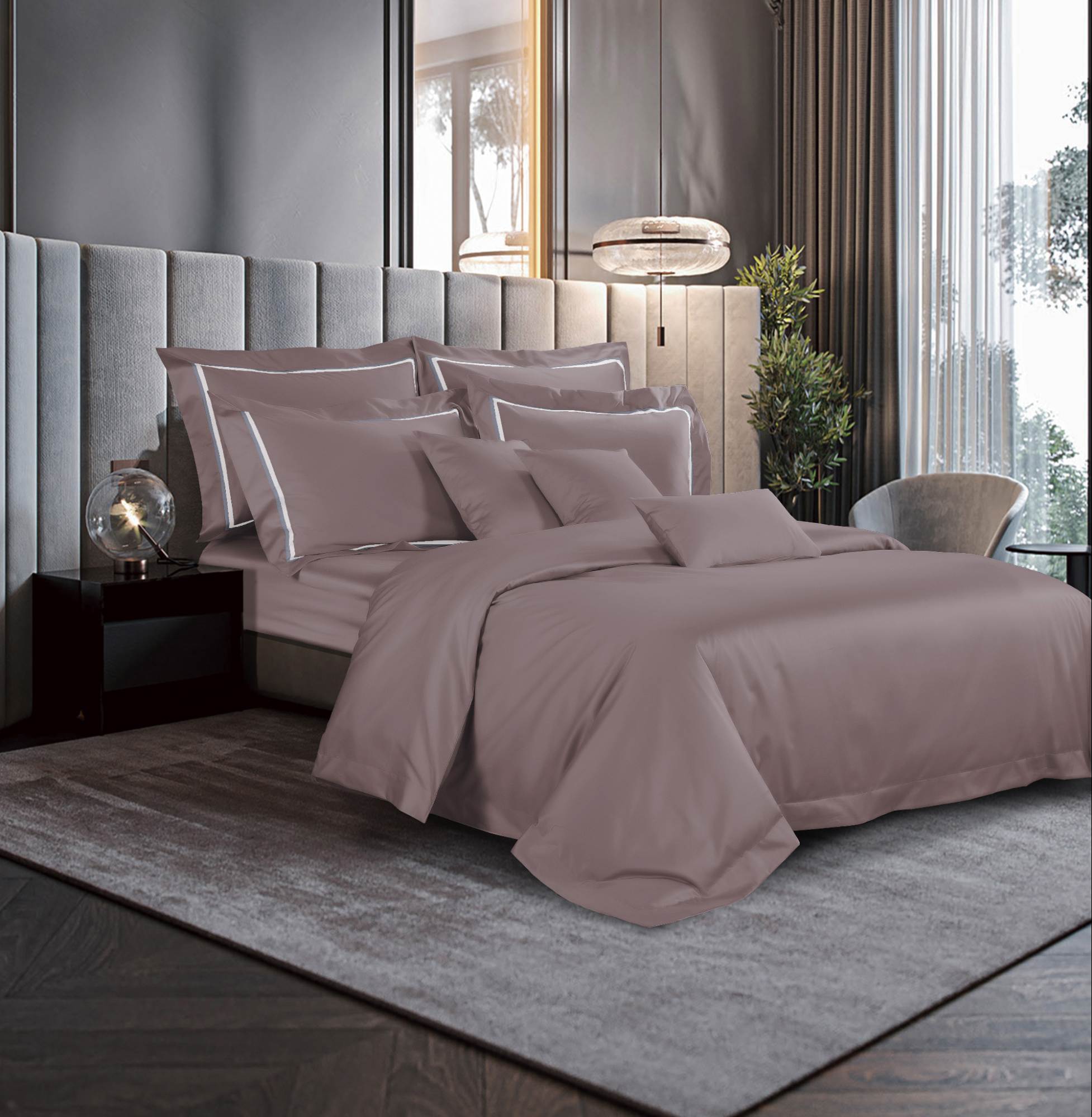 Image credit: AKEMI
Browse the Solace, Solitude and Haven bedding sets in this collection, which come in a variety of colours to suit different decorating styles. Each set comprises a quilt cover, fitted sheet, bolster case and two pillowcases.
The Solace beddings, made with extra-long staple cotton, come in neutral greys and romantic tones, with delicate embroidery patterns. The Solitude beddings, made of the same fabric, have bolder yet still tranquil colours such as Lucent White and Cement Grey, with an elegant line detail on the pillowcases.
If you prefer earthier colours, check out the Micro TENCEL Haven series which offers shades such as Zen Blue and Nomad Brown. 
Now that you're equipped with these styling tips, start your bedroom upgrade by shopping for AKEMI's quality bed sheet sets. Purchase their products on Shopee, Lazada or Zalora, or head to selected AEON, Parkson, and SOGO outlets.
Read more here:
---
This post was brought to you by AKEMI.
Cover image adapted from: @hartwood_design, AKEMI, and @floating.leaves
Get more stories like this!
Drop us your email so you won't miss the latest news.