Zero-waste stores in Klang Valley
---
We've been opting for eco-friendly food packaging and shopping at thrift shops for preloved items to be more environmentally conscious. With many more ways to go green, our efforts don't have to stop at these easy eco-friendly switches.
For those curious about zero waste lifestyle, we rounded up 10 zero waste stores in Klang Valley that sell products by weight and without wasteful packaging. You'll only have to bring your containers to stock up on pantry staples and liquids, and buy what you need to help reduce waste in a small, yet meaningful, way.
---
1. MINIMIZE Zero Waste Store – zero-waste starter pack & pets corner
---
Practising sustainable living can be tricky, especially if you can't find pantry goods with little to no packaging at your local grocery store. Thankfully, there are conveniently-located zero waste stores in the Klang Valley that carry a wide range of products such as MINIMIZE Zero Waste Store in SS14, Subang Jaya.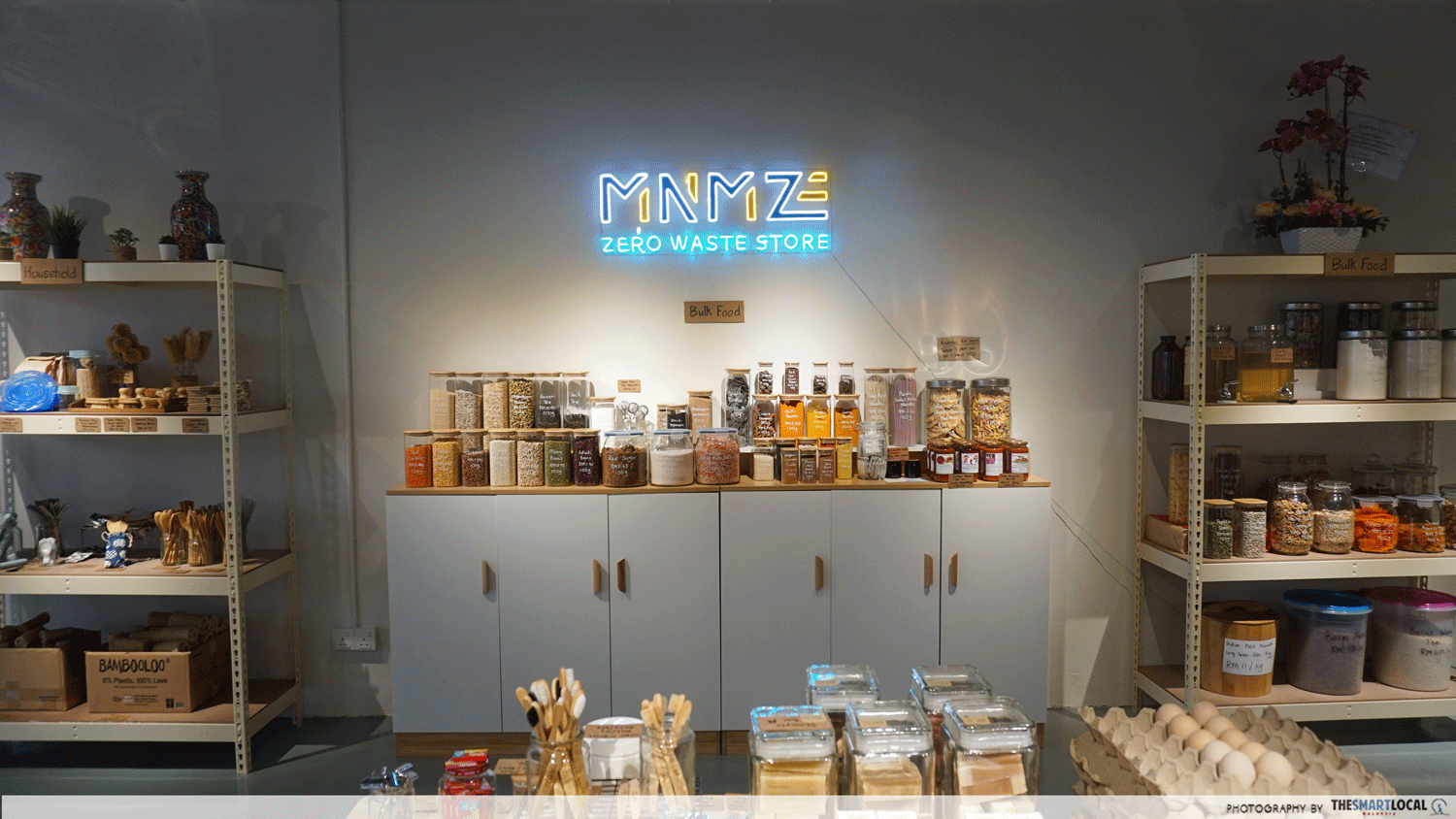 The store offers an assortment of eco-friendly products, including cutleries (from RM3.50/set), storage pouch (from RM12), natural handmade soaps (from RM18), reusable cotton sanitary pads with waterproof layer (from RM12/piece), and even sustainable gift boxes (from RM38) for celebratory days.
For zero-waste newbies who aren't sure of where to start with eco-friendly alternatives, they have a Zero-Waste Starter Pack (from RM58). It comes filled with eight sustainable self-care products for everyday use, including unbleached loofah, safety razor, cotton soap net, toothbrushes, facial pads and more.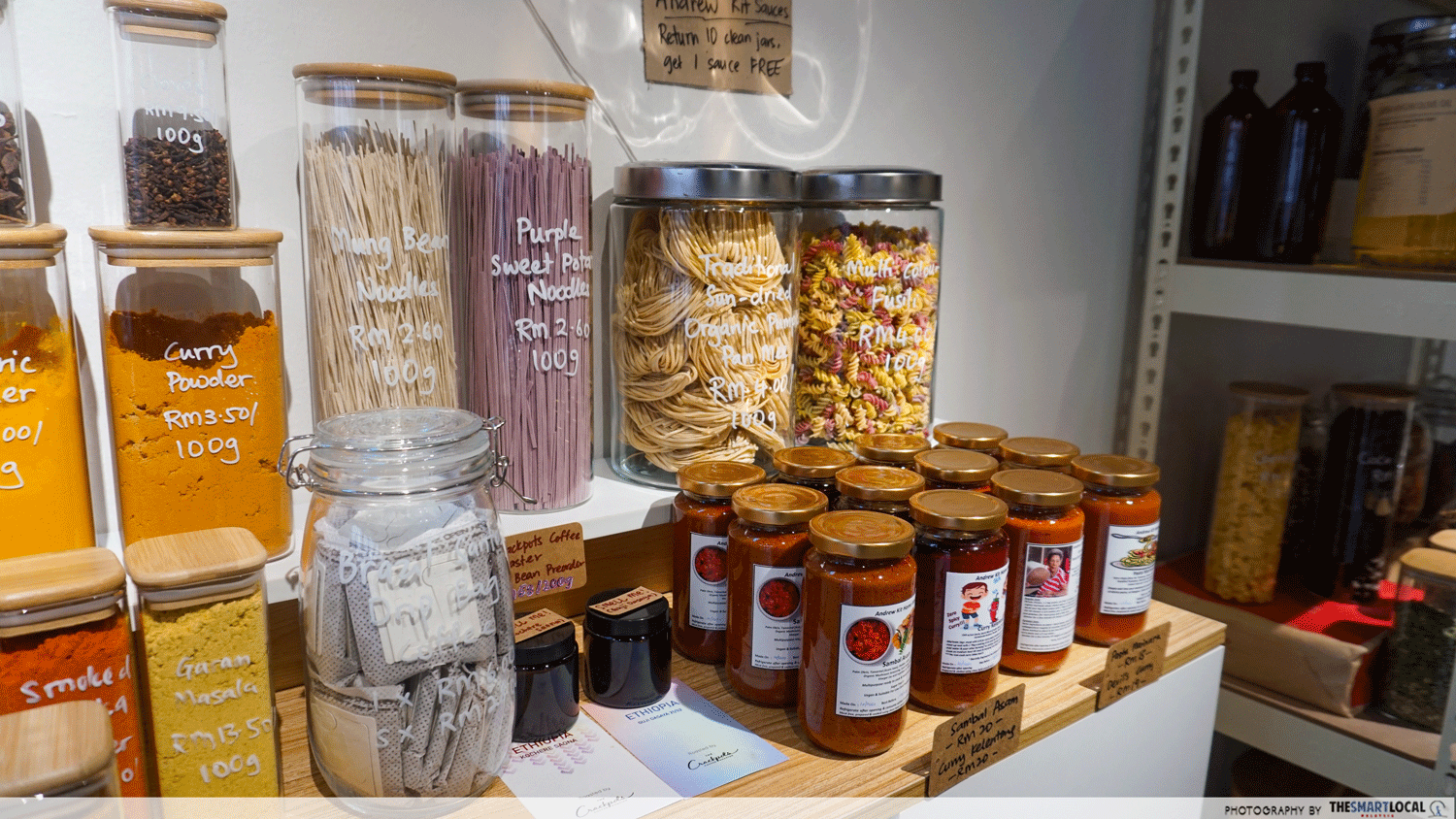 If you're looking for bulk food items, they are stocked with a variety of pantry staples – grains, salt and sugar, flours, dried noodles, and herbs, spices and seasonings, just to name a few. Cereals are also available in bulk form, with classic selections of Coco Crunch (RM2/100g) to local ones such as Salted Gula Melaka Granola (RM6.50/100g).
Besides their food items, there're also detergents, sanitisers, and personal hygiene liquids sold per 100 grams.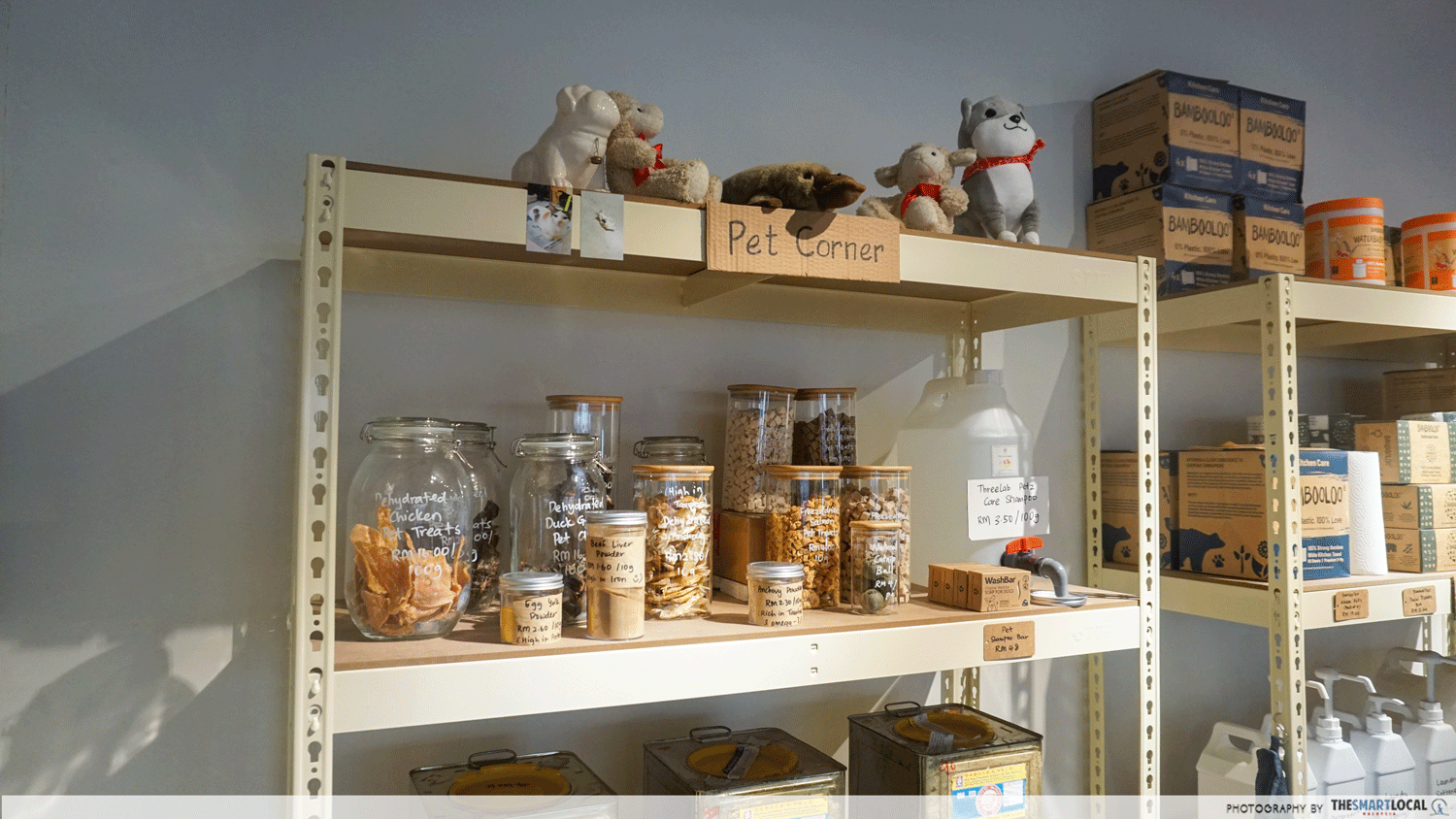 Their Pets Corner is a gem for those with cats or dogs. Find dehydrated (from RM1.60/10g) and freeze dried (from RM3.70/10g) pet treats, to pet care shampoo (RM3.50/100g).
Bringing your own container – coined BYOC by those who practice zero-waste lifestyle – is encouraged. But if you missed out on packing one with you, the store has glass bottles and other refillable containers that you can pick up for free. Help save the planet and earn change to put to good use by bringing along your used cooking oil too. MINIMIZE Zero Waste Store pays RM1.50 for every kilogram of oil.
Address: 104, Jalan SS 14/1 47500 Subang Jaya, Selangor
Opening hours: Mon, Wed – Fri 11AM-6.30PM | Sat & Sun 10AM-6.30PM (Closed Tuesdays)
Telephone:016-287 6476
MINIMIZE Zero Waste Store website | Facebook 
---
2. NULL Zero Waste Factory – several locations at popular malls 
---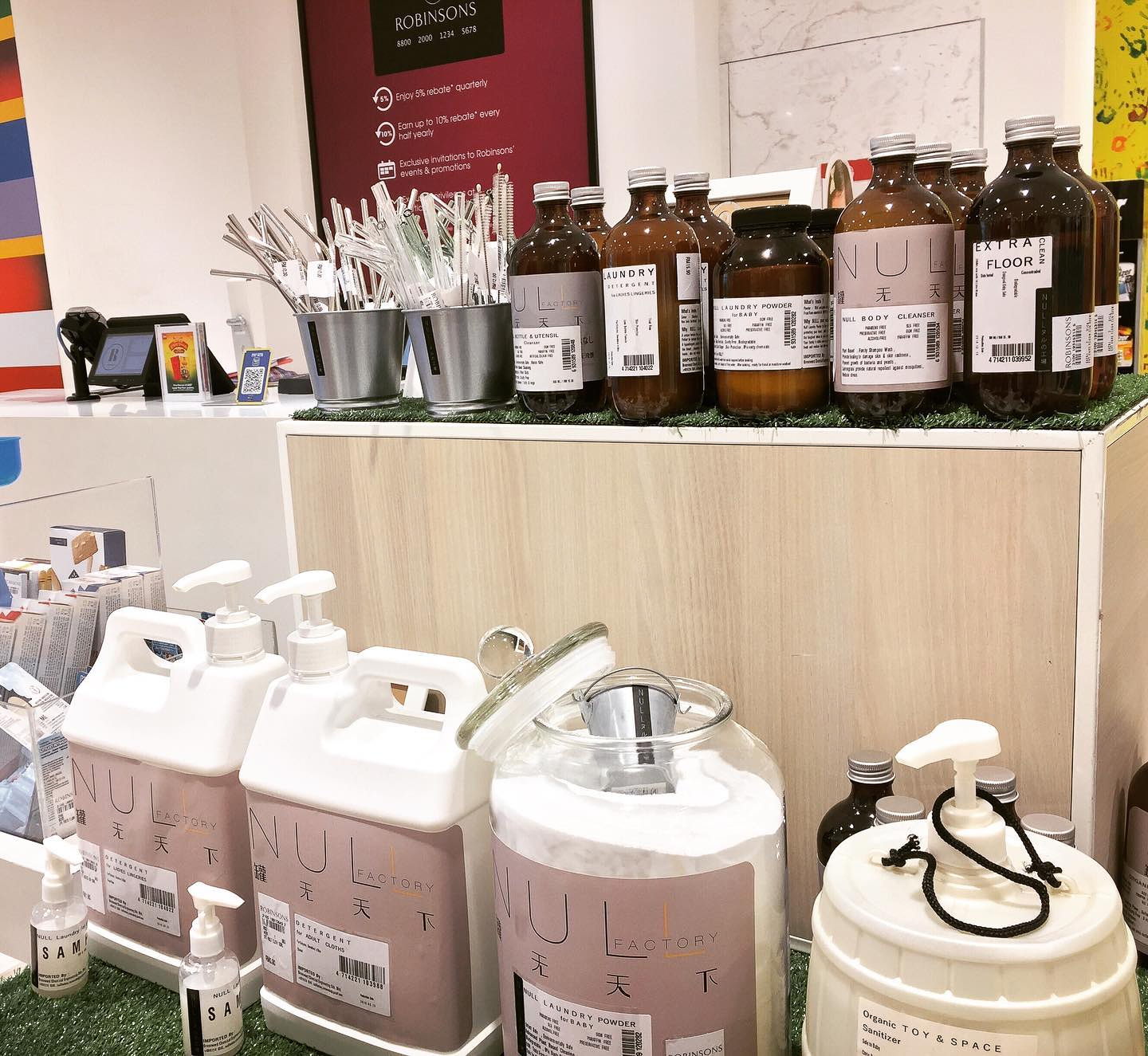 Image credit: NULL Zero Waste Factory 
There are more than enough spots in shopping malls to get scented body wash and lotions that leave us smelling like a garden of peonies. But for a waste-free option in popular malls, NULL Zero Waste Factory has more than ten dispensing spots for their zero-packaging liquids in Klang Valley, including ones in Suria KLCC, One Utama Shopping Centre, and Mid Valley Megamall.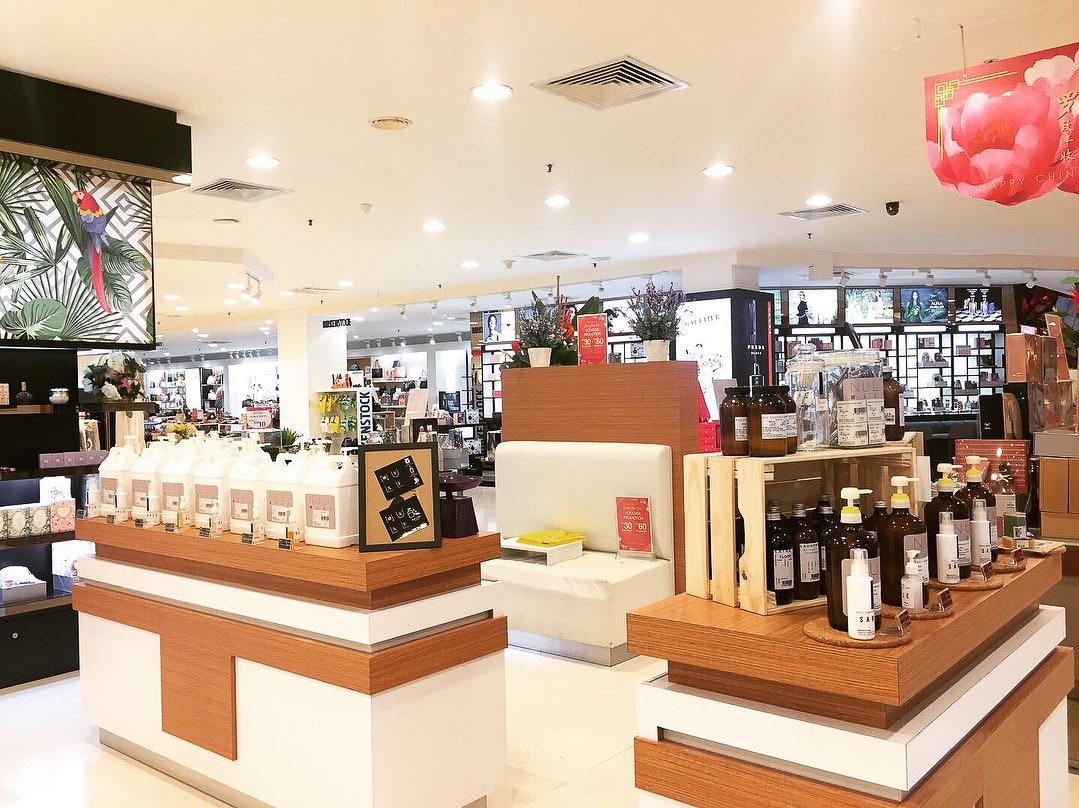 Image credit: NULL Zero Waste Factory 
Founded in 2019, NULL's line of beauty and house products are all environmentally safe, biodegradable, and Vegan-friendly. They encourage their patrons to join in on the efforts to save our planet by adopting a BYOC concept at their dispensing locations. 
Find liquids such as alcohol-free NULL Body Cleanser (RM19.90/500ml), organic NULL Organic Facial Soap (RM19/each), NULL Disinfected Hand Soap (RM15.90/each) to fill up on. 
Other options include family-friend ones of Organic Toy & Space Cleanser (RM9/100ml) – a plant-based and paraben-free cleanser – and Organic Hand Sanitizer (RM16/100ml) to keep extra diligent with our personal hygiene.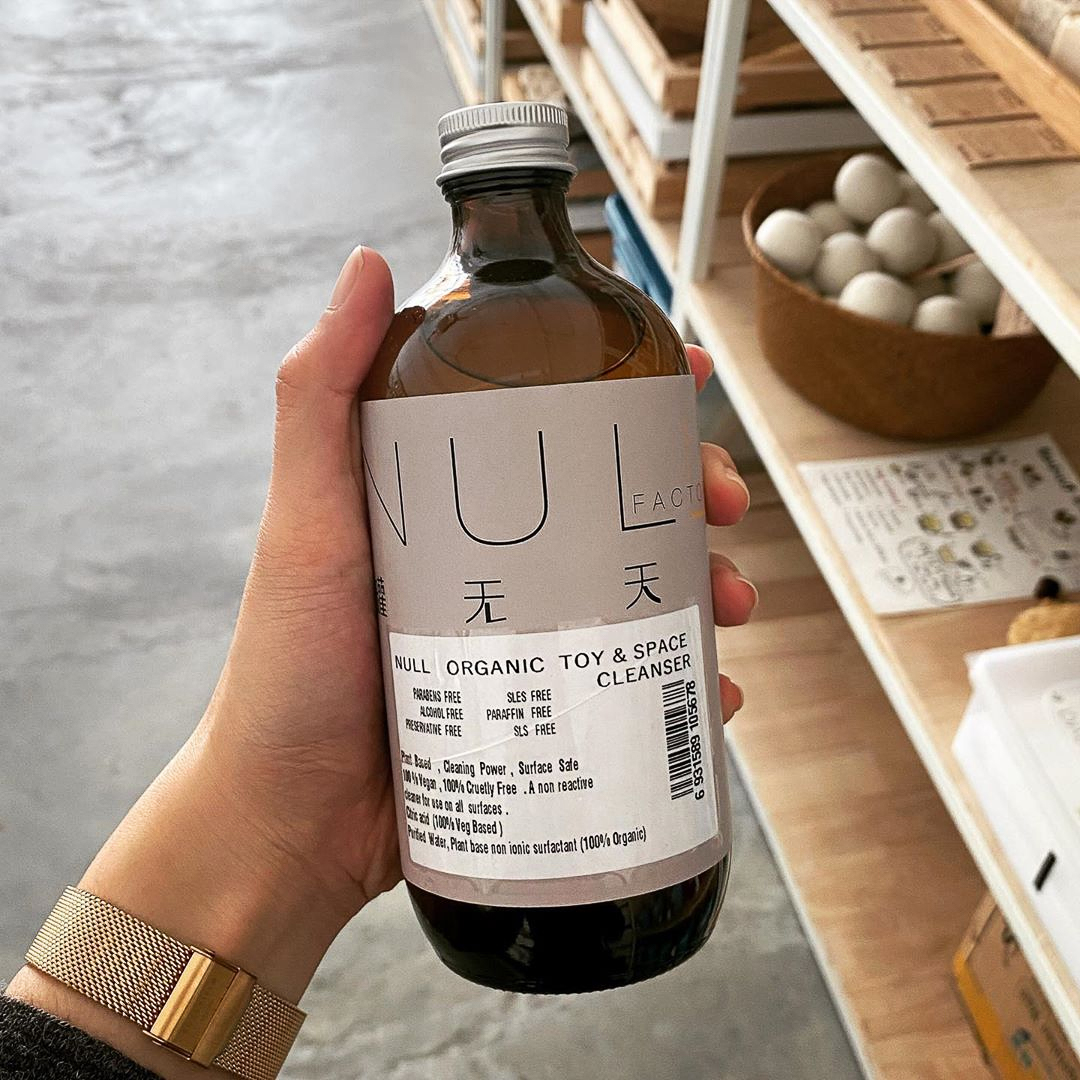 Image credit: @nullzerowastefactory
If you don't have any bottles of your own, you can also get their products in glass bottles that you can reuse in the future at their stores. They also run a Return & Reward program, where you can receive complimentary bottled hand sanitisers and more if you return their used bottles.

See all NULL Zero Waste Factory locations here. 
---
3. Seedy Zero Waste Store – zero-waste noodles and pasta 
---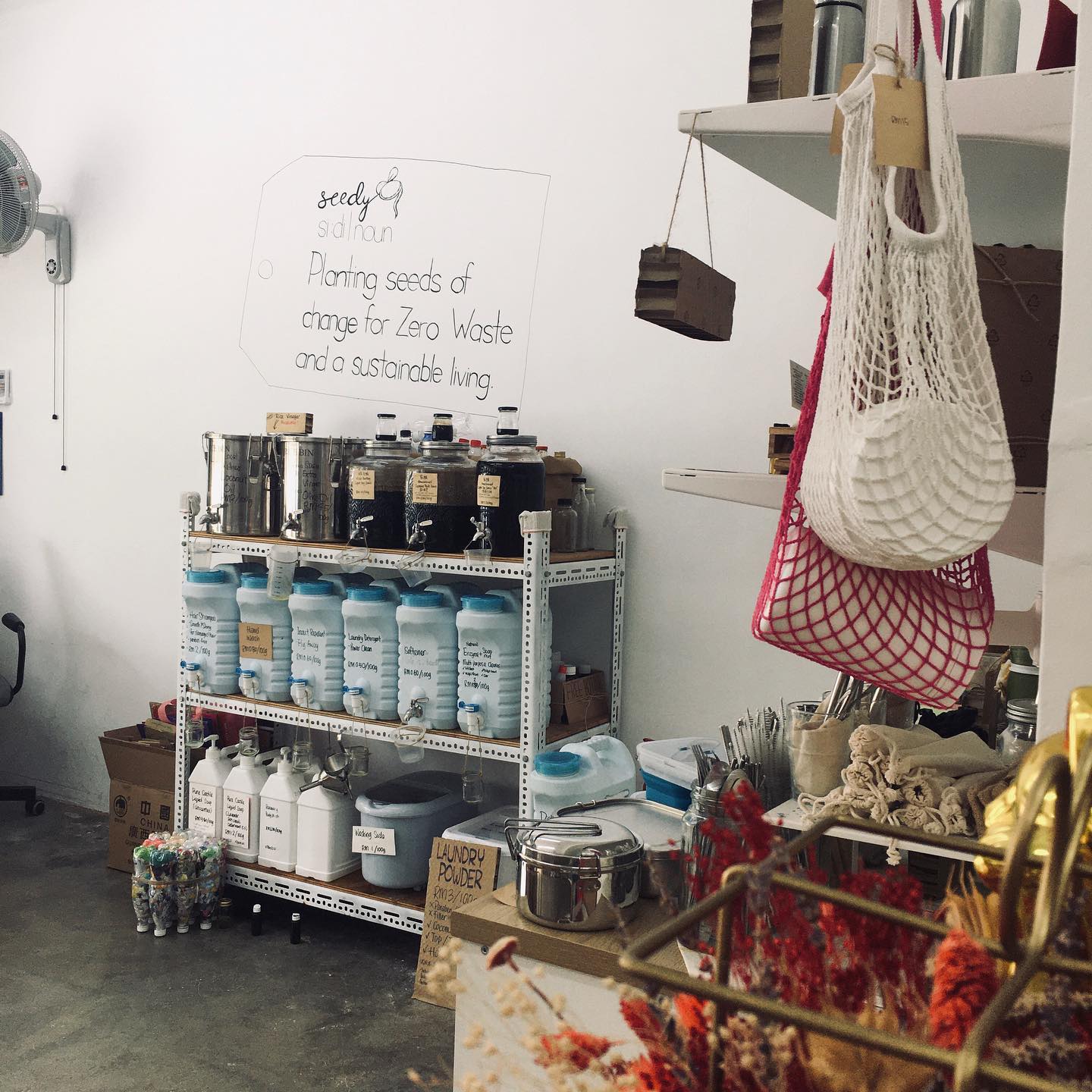 Image credit: Seedy Zero Waste Store
Seedy Zero Waste Store is another shop on the list that proves you don't have to miss out on your favourite foods by going waste-free. They carry a wide range of household products and pantry items, including dried fruits, Chinese herbs, flours, and spices, and even eco-friendly beauty products and household liquids sold by the gram. 
Find options of Homemade Veggie Pasta Spiral (RM9/100g) and Plain Pasta with Egg (RM4/100g), to popular local noodles including Hock Chew Mee Shua (RM1.40/pc),  Organic Yee mee (RM2.50/2 pcs) and Glass Noodle (RM1.10/100g).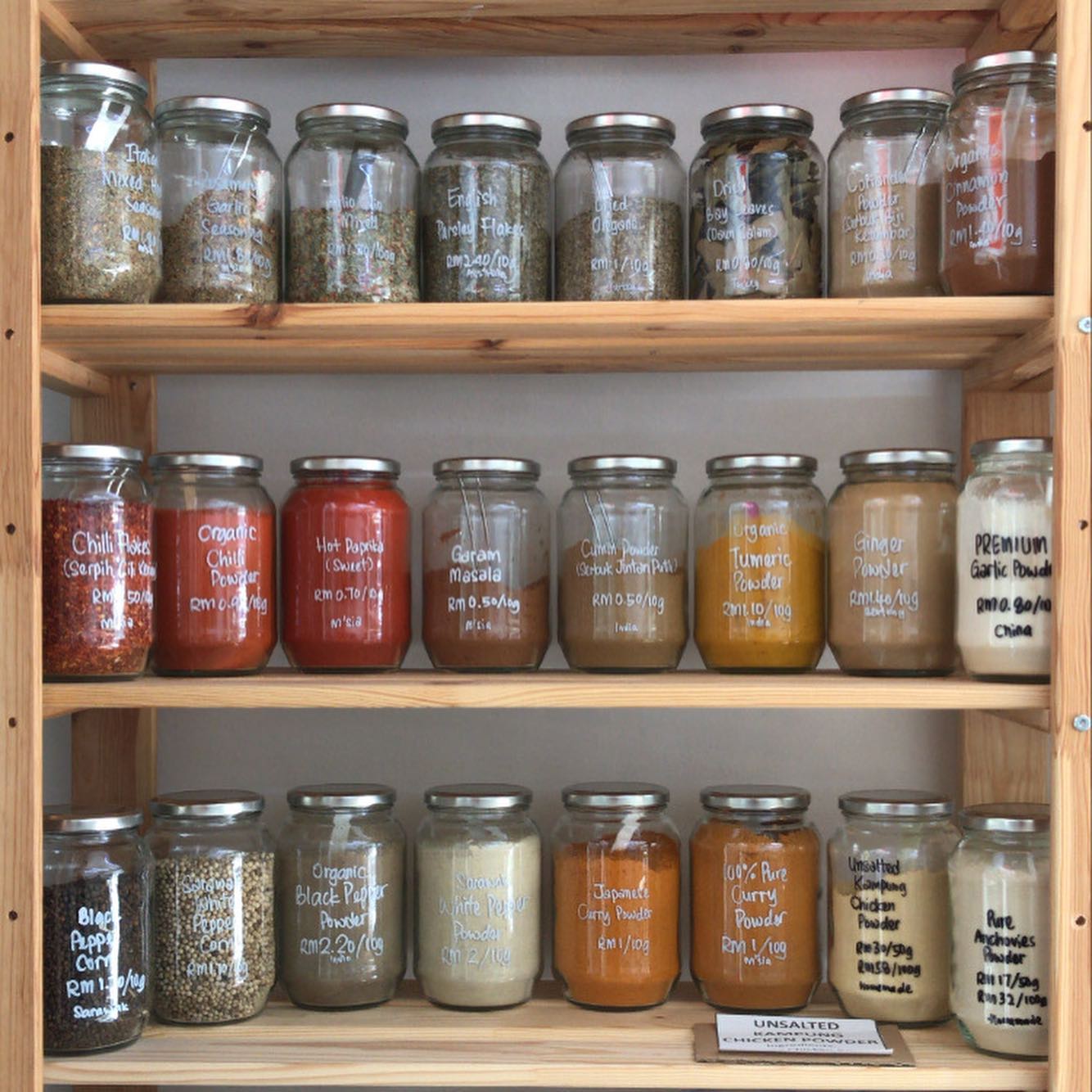 Image credit: Seedy Zero Waste Store
Other interesting zero-waste options you can look to purchasing here are Milo (RM2.10/100g) powder at their Milo Refuel & Go corner, Refined Coconut Oil (RM2/100g) and Dried Fruits such as black raisins (RM3.60/100g) and mango (RM9/100g).
Chocolates products directly-sourced from Choco Farm can be found at Seedy Zero Waste Store too, including Pure Cocoa Powder (RM11.70/100g) and Cacao Husk Tea (RM35/100g). If you're the sort to go for bottled sauces, options available here are Pasta Marinara Sauce (RM15) and Vegetarian Tom Yum (RM18).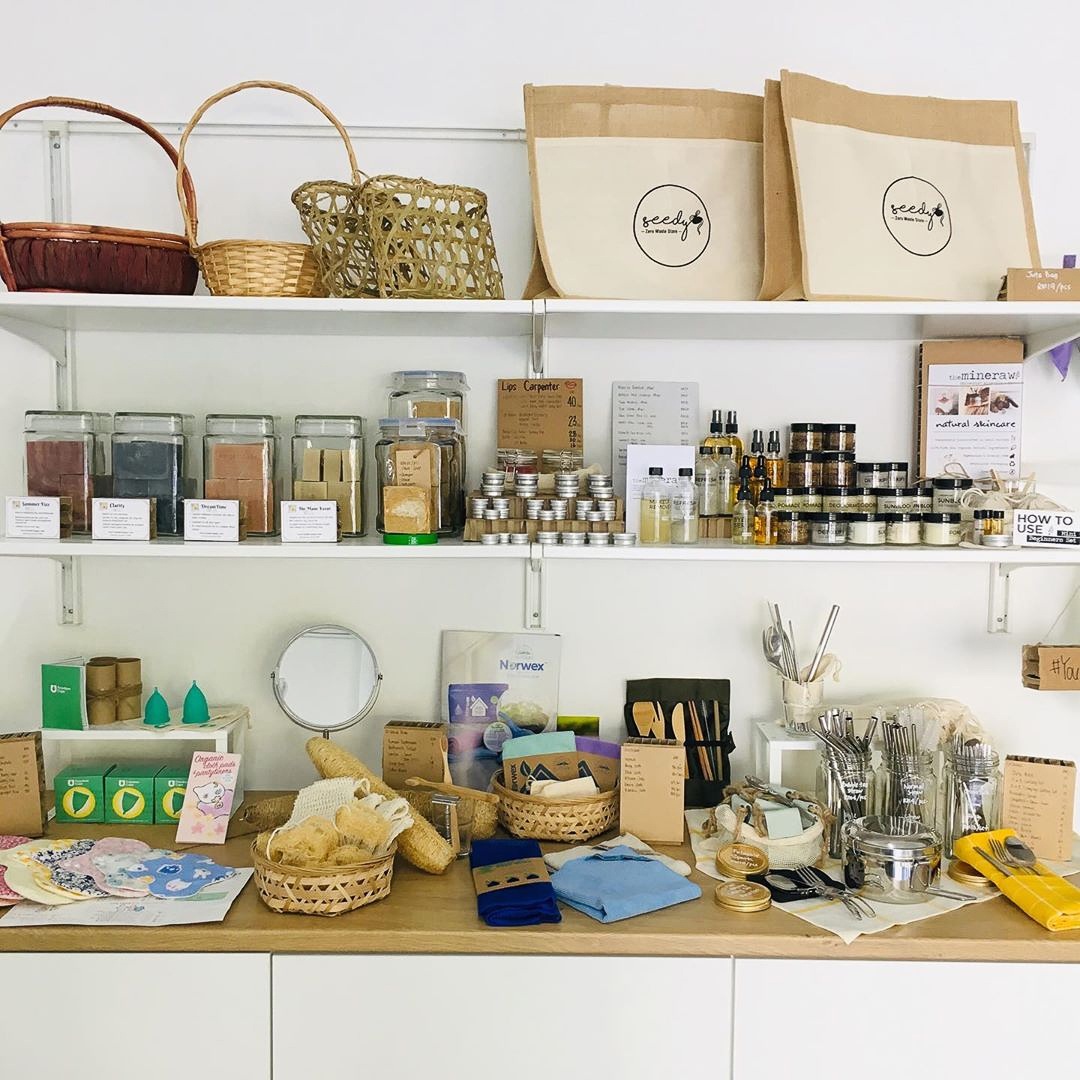 Image credit: @seedy_zero_waste_store
Those interested in making green switches with your self-care and beauty products can find a section for feminine, personal, skin, oral and beauty care here. Or swap out your kitchenware and tableware with their line of products made with rice husks.
Address: 9-1 (Ground Floor), Jalan Anggerik Vanilla 31/93, Kota Kemuning, Shah Alam, Selangor
Opening hours: Tue – Sat 10AM-6PM (Closed Mondays & Sundays)
Telephone: 014-338 3890
Seedy Zero Waste Store Facebook 
---
4. Zero Waste Earth Store – package-free snacks and coffee grounds
---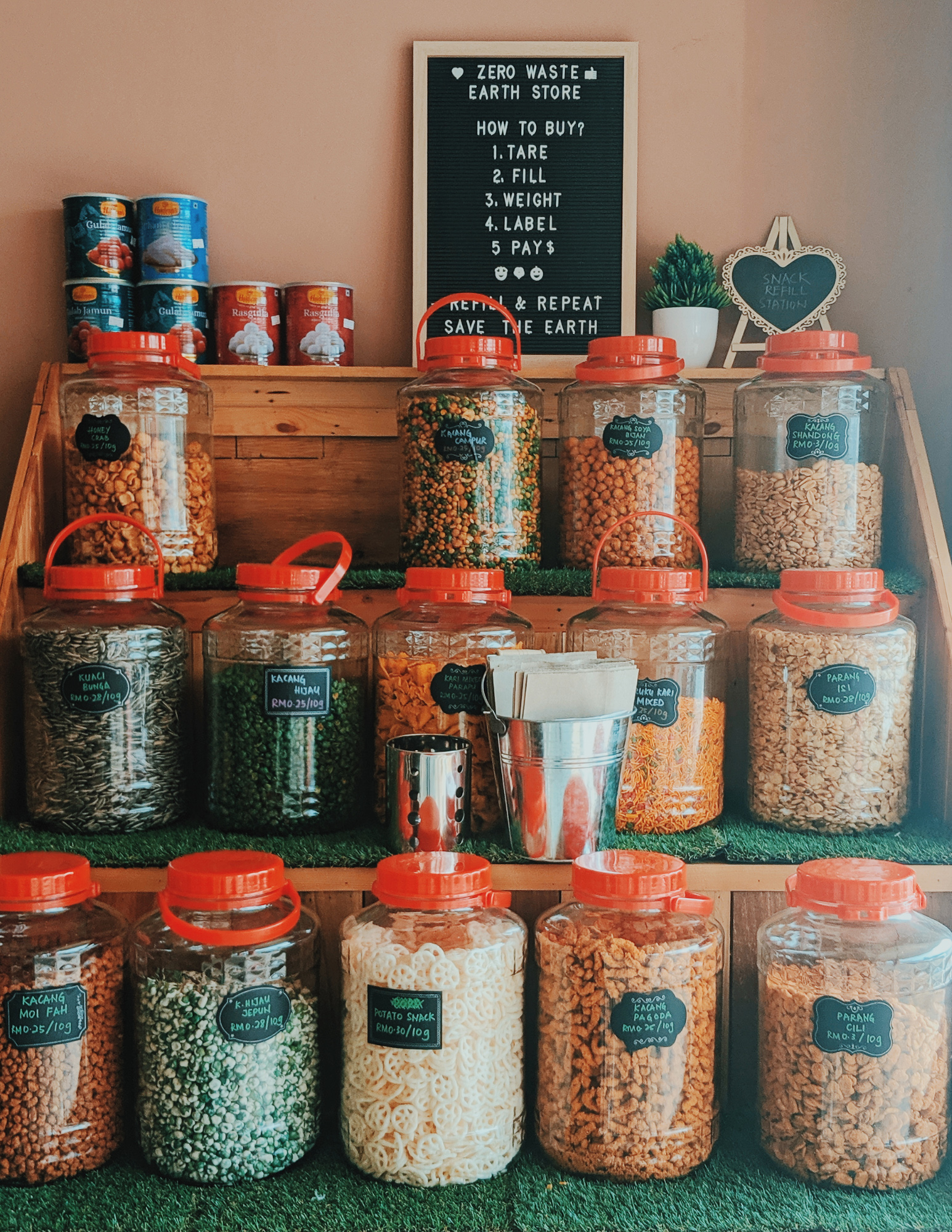 Image credit: Syazwan Ibrahim
Feel like a kid in a candy store at Zero Waste Earth Store. This bulk store in Shah Alam opened in July 2019, and has become a spot frequented by those in the area for its variety of package-free childhood snacks and more. 
Those with a sweet tooth will be glad to know that they have Biskut Choco Bear (RM0.30/10g) and Sour Jelly Tapes (RM0.35/10g). But if you're craving something savoury, there are also old-school childhood snacks such as Biskut Iced Gem (RM0.30/10g) and Murukku Kari Mixed (RM0.25/10g), as well as Japanese Wasabi Peanuts (RM0.28/10g).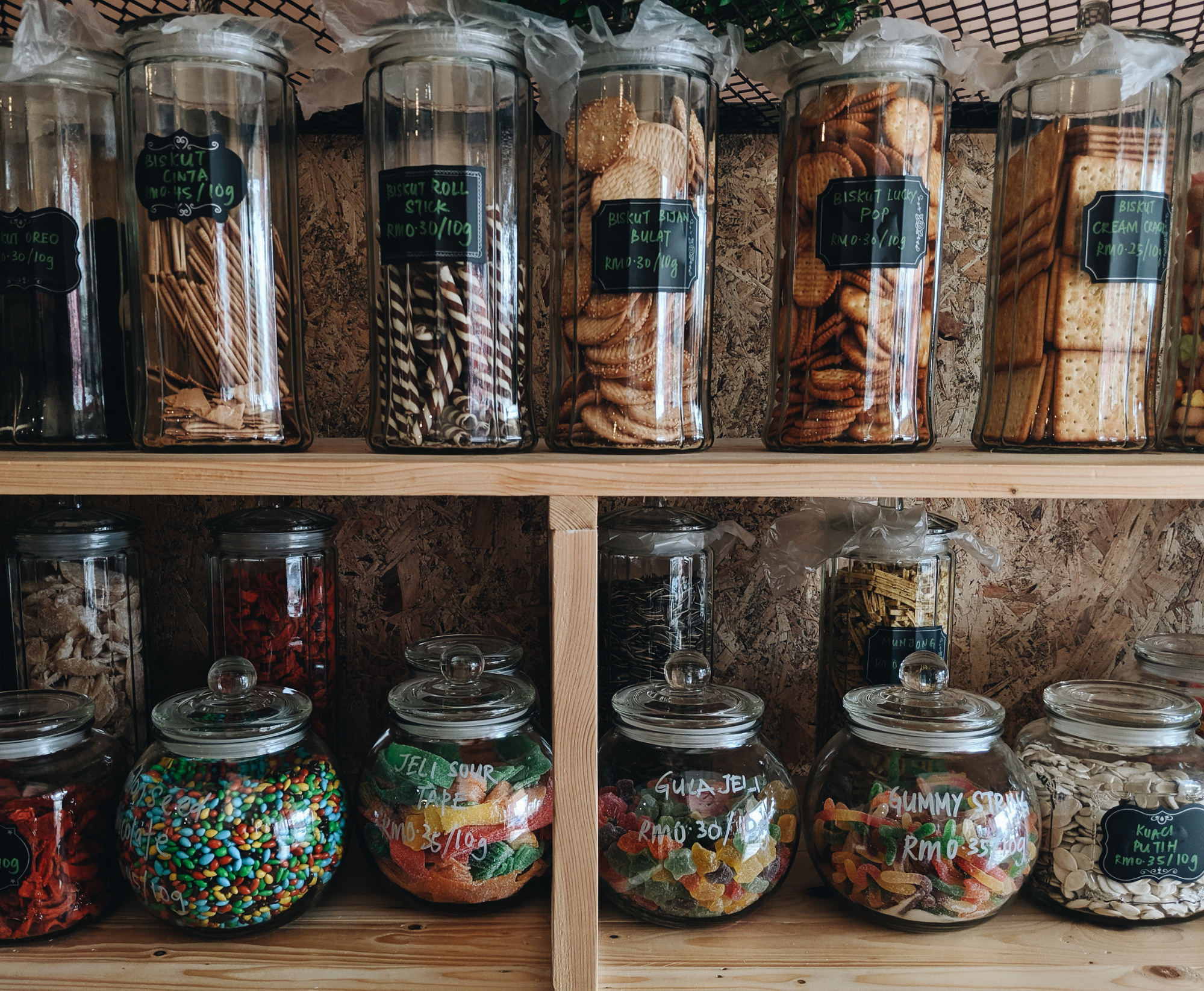 A wall of snacks that are sold by the gram
Image credit: Syazwan Ibrahim
For healthier eats, head for their Nutty Choco Orange Granola (RM0.70/10g) and Nutty Coconut Kaya Granola (RM0.70/10g) that goes well with milk and yoghurt. 
You can also find hot beverages to go with your haul, including Roasted Ground Coffee from South India (RM0.95/10g) and Masala Tea from Nepal (RM1/10g) that's sold package-free as well.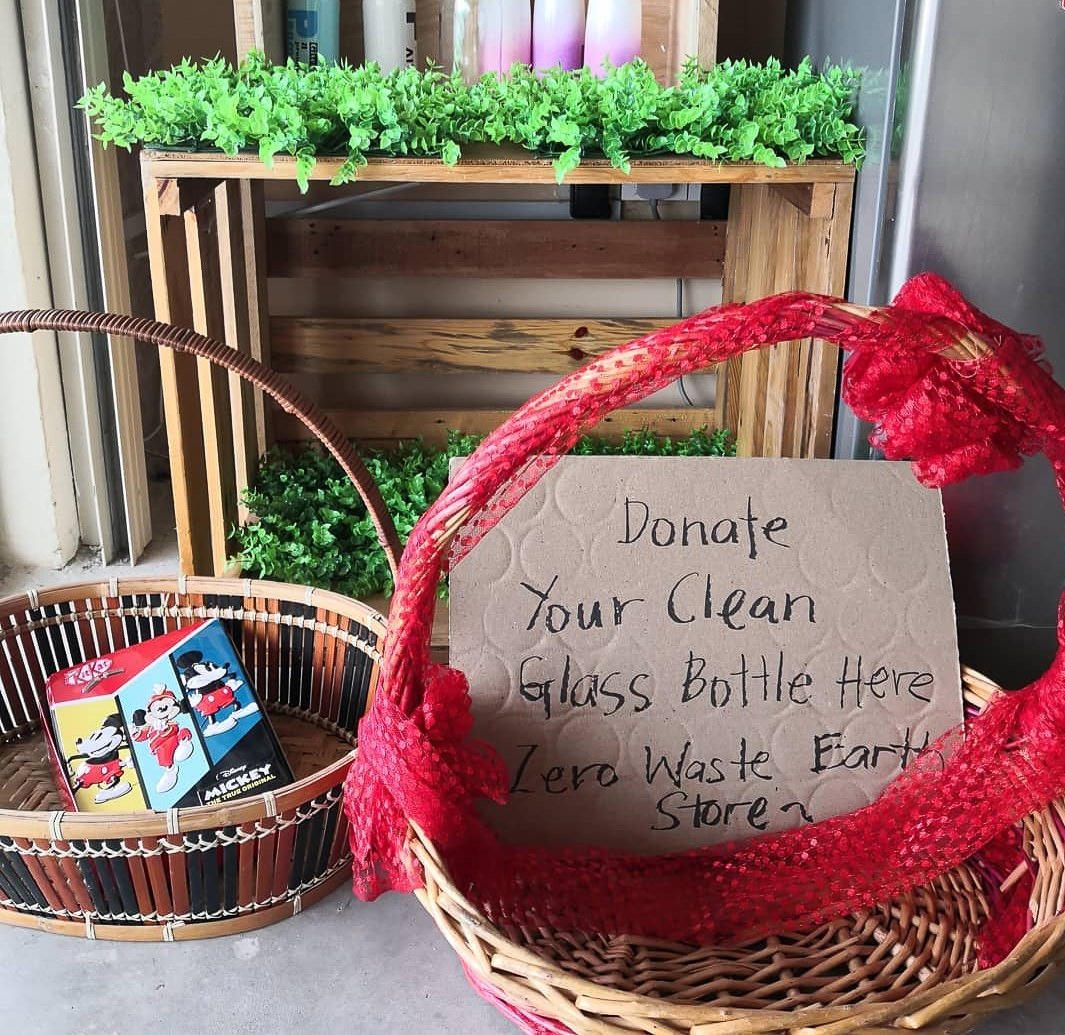 You can also donate your glass bottles, which they will clean and pass on to other customers.
Image adapted from: @zerowasteearthstore
Zero Waste Earth Store also buys back used cooking oil for RM1 per kg. 
Address: No. 15-GF, Jalan Setia Perdana BA, Sek U13/BA, Seria 88, Setia Alam, Shah Alam
Opening hours: Mon-Fri 9.30AM-7PM | Sat-Sun 9.30AM-6PM
Telephone: 03-5878 4382
Zero Waste Earth Store Facebook 
---
5. Liquid Etc – liquids sold by the gram
---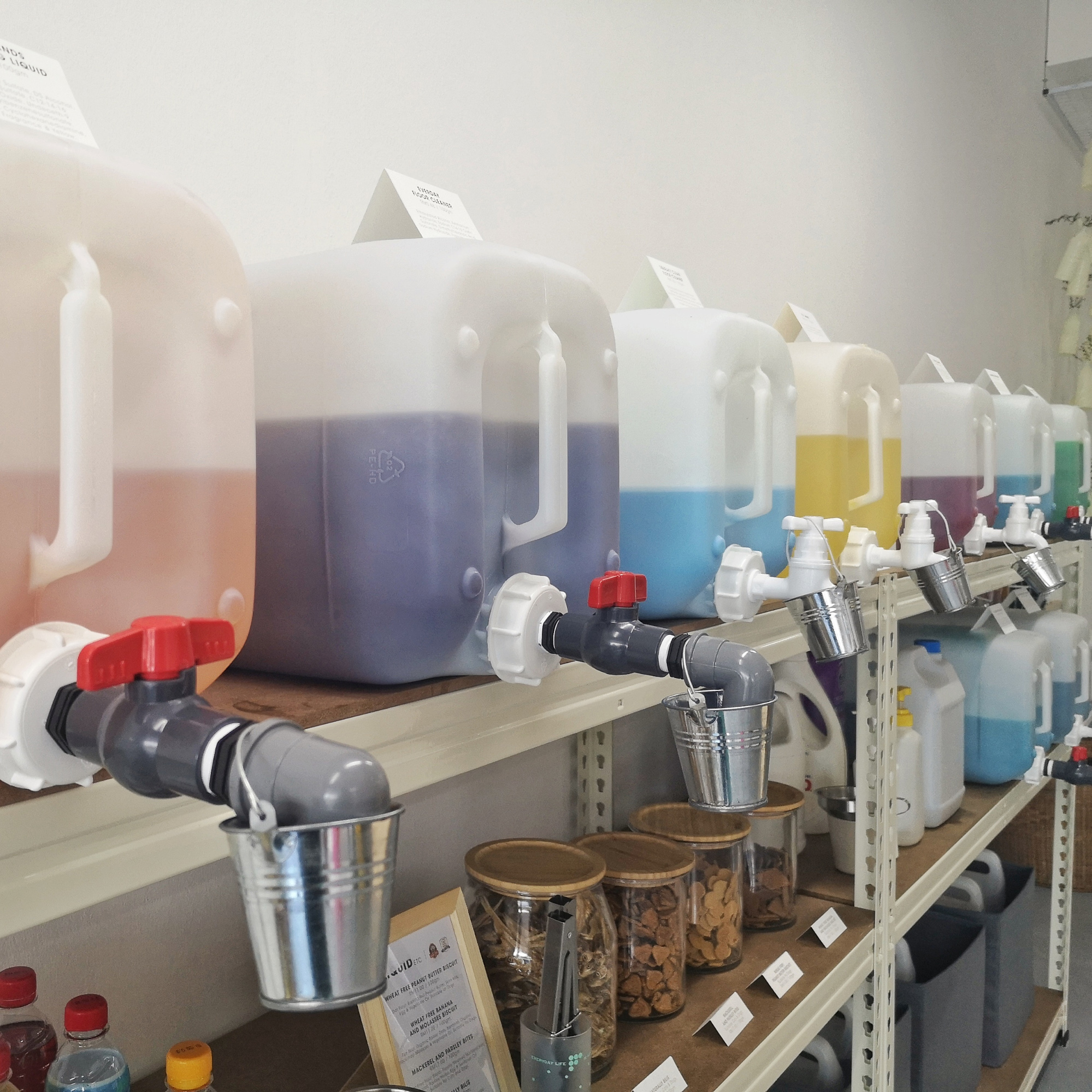 Image credit: @liquidetc
Liquid Etc is known for their liquid goods – ranging from detergents, body wash, and disinfectants, to white vinegar and local honey – that are all sold by weight and without packaging.
Some of their best-sellers are their All Natural Baby Head to Toe Cleanser (RM10/100gm) that works well as facial cleanser for adults too, and Fly Away Citronella Cleaner (RM0.60/100gm) – a non-toxic lemongrass liquid that cleans kitchen tops and repels bugs.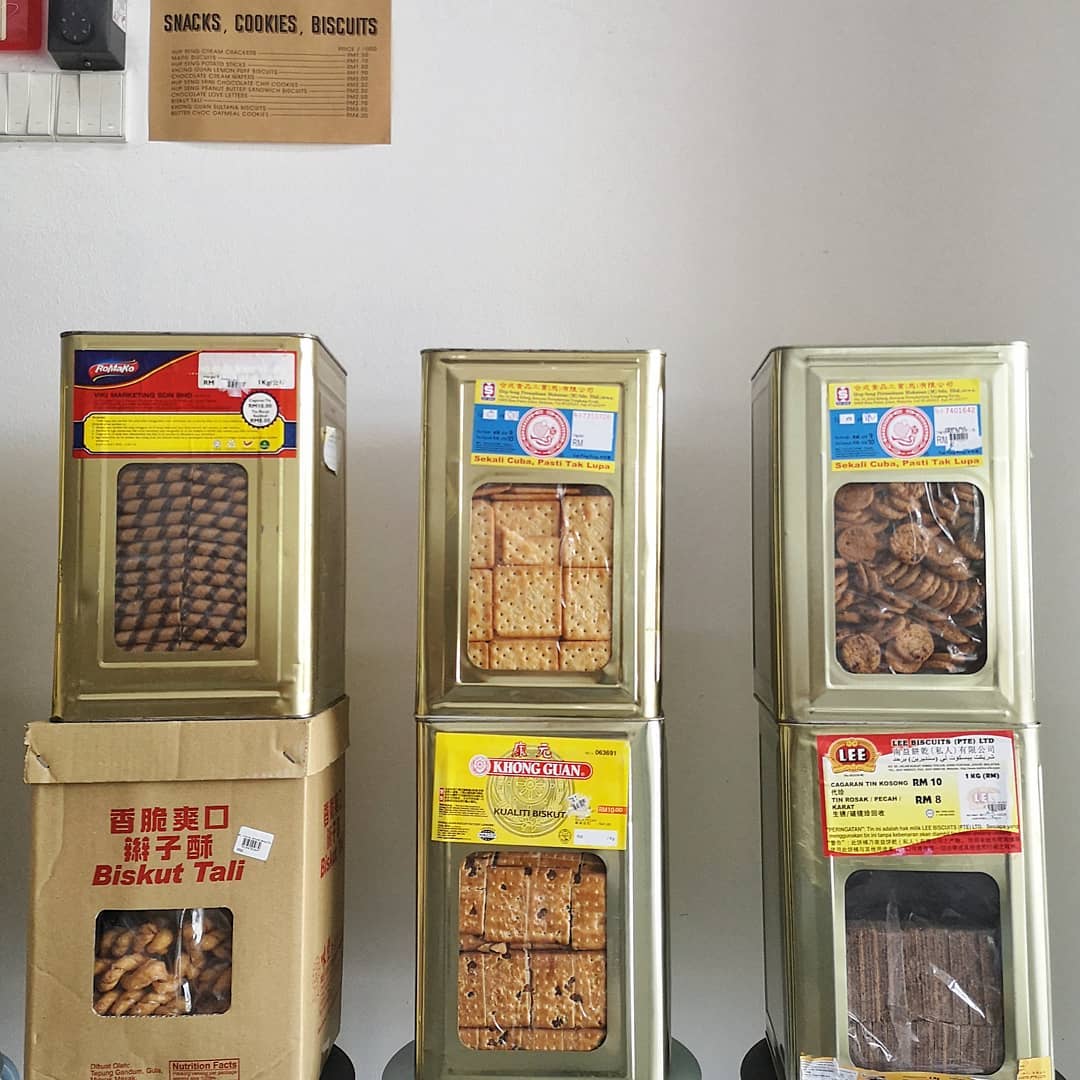 Image credit: Liquid Etc – Zero Waste Bulk Store

They also carry dry pantry goods and pet food sold without any packaging, and eco-friendly personal care products.
If you're the sort to always keep a stash of snacks in your kitchen, they sell loose options of popular snacks such as Hup Seng Cream Crackers (RM1.10/100g), Chocolate Love Letters (RM2.50/100g), and Marie Biscuits (RM1.70/100g).
Simply bring along your containers with you, and get to fill them up with these treats.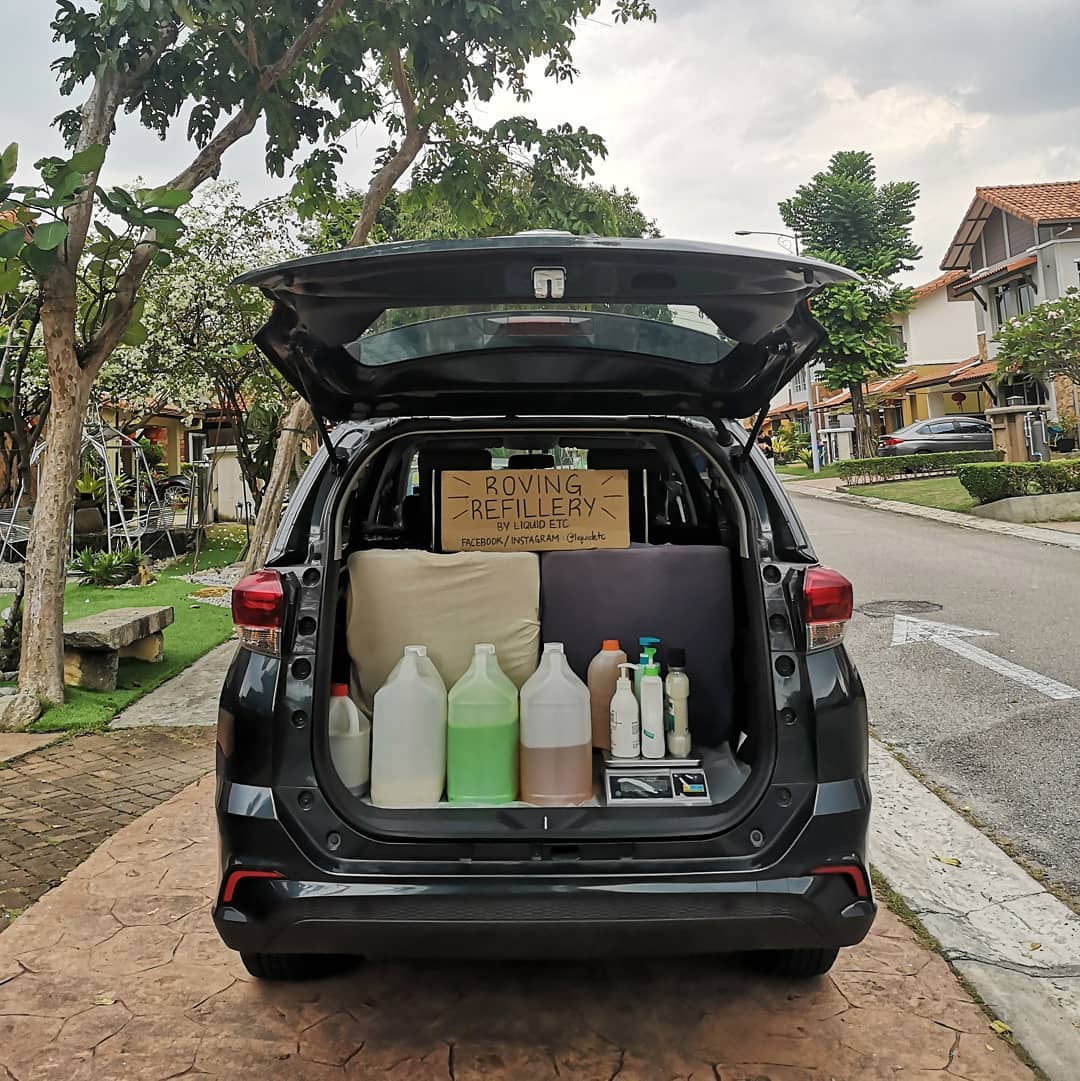 Image credit: Liquid Etc – Zero Waste Bulk Store
They've recently switched from a physical store to an on-wheels business with their Roving Refillery service.
So those interested in replenishing liquids and more sustainably without having to leave their homes can request to have them drop by your house to refill your supplies for you.
Most areas in Klang Valley are covered, with delivery fees starting from RM5. There's a minimum order of RM30 required. Free delivery is also available if you spend RM200.
To make a purchase with Liquid Etc, simply fill up this Google form here once you've browsed through items you're interested from their products list here.
---
6. Conzerve – eco-friendly supermarket shopping
---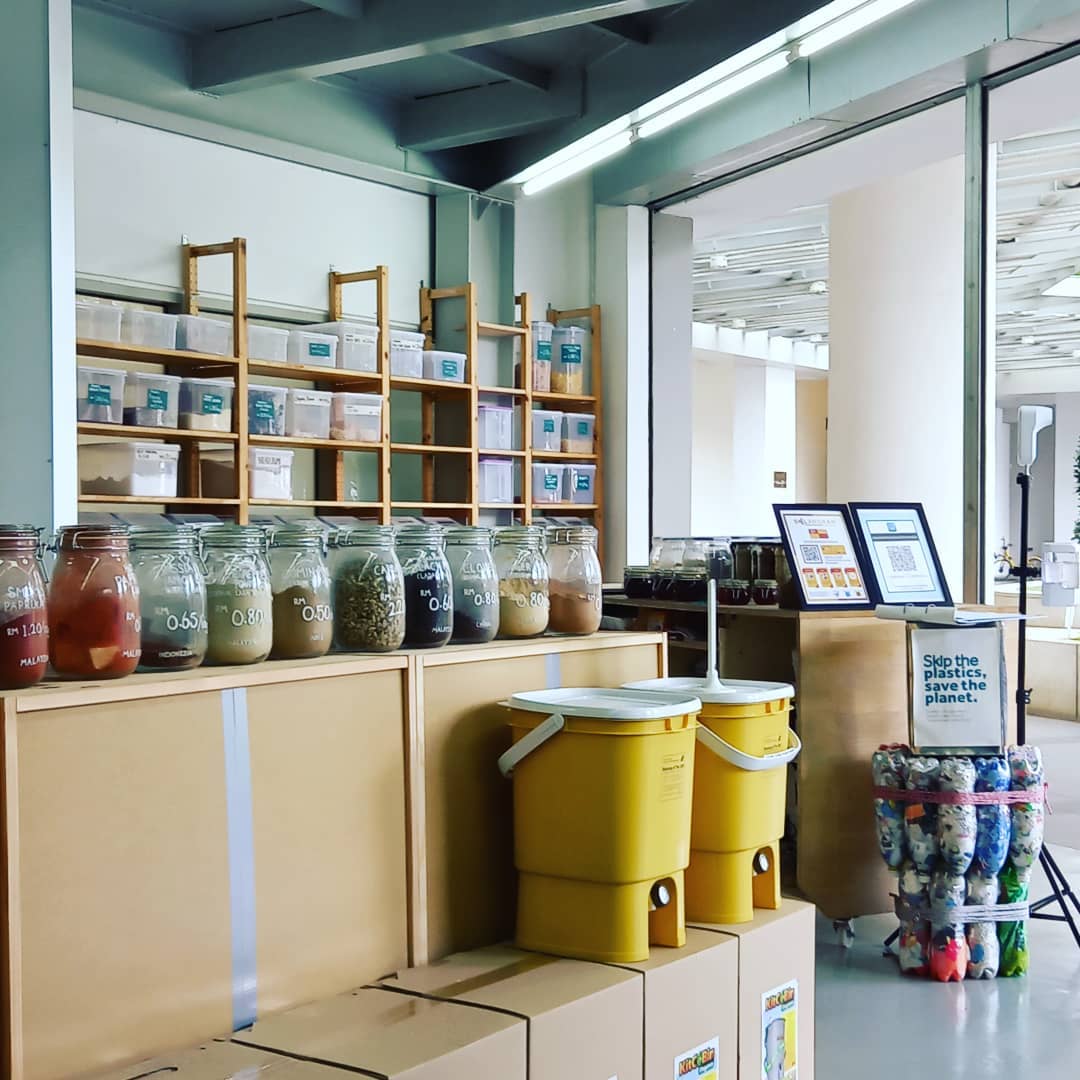 Image credit: CONZERVE

Conzerve is zero waste bulk store that carries vegetables, fruits and more that all come without packaging so you won't have to worry about reading labels to find out if it's recyclable or not like you would at a typical supermarket. 
They have organic vegetables sold by the gram, and fruits per piece. Selections changes each week, but expect to find common vegetables such as Chinese Cabbage (RM15/kg) and Sawi Cameron (RM3.80/kg), to Broccoli (RM7.80/300g) and Passionfruit (RM16/kg).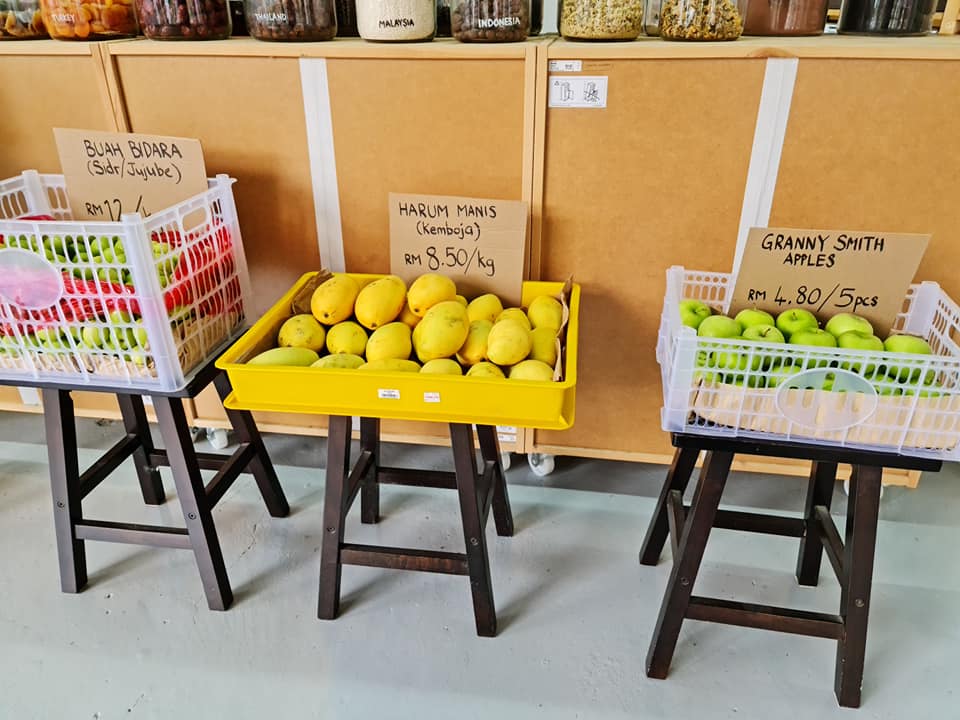 Image credit: CONZERVE

Stock up on cleaning agents, such as toilet bowl cleaner and dishwasher, and pantry staples while you're here too.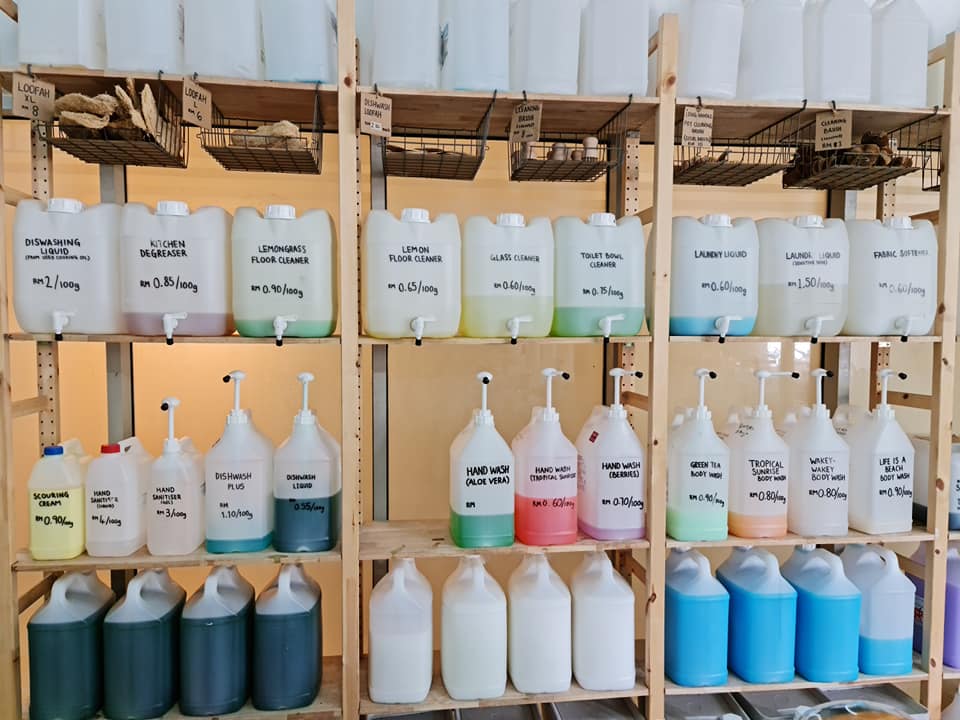 Image credit: CONZERVE

Address: R23A, Jalan Bazar U8/99, Bukit Jelutong, 40150 Shah Alam, Selangor
Opening hours: Tue – Sun 11AM-5PM (Closed Mondays)
Telephone: 011-2379 4327
CONZERVE Facebook
---
7. Wowo Refill Store – homey store that reuses plastic bottles
---
Wowo Refill Store is a homey eco-friendly store tucked away in Ampang that reuses plastic bottles to hold its liquid household products. This helps maximise its use before it gets sent off to a recycling centre.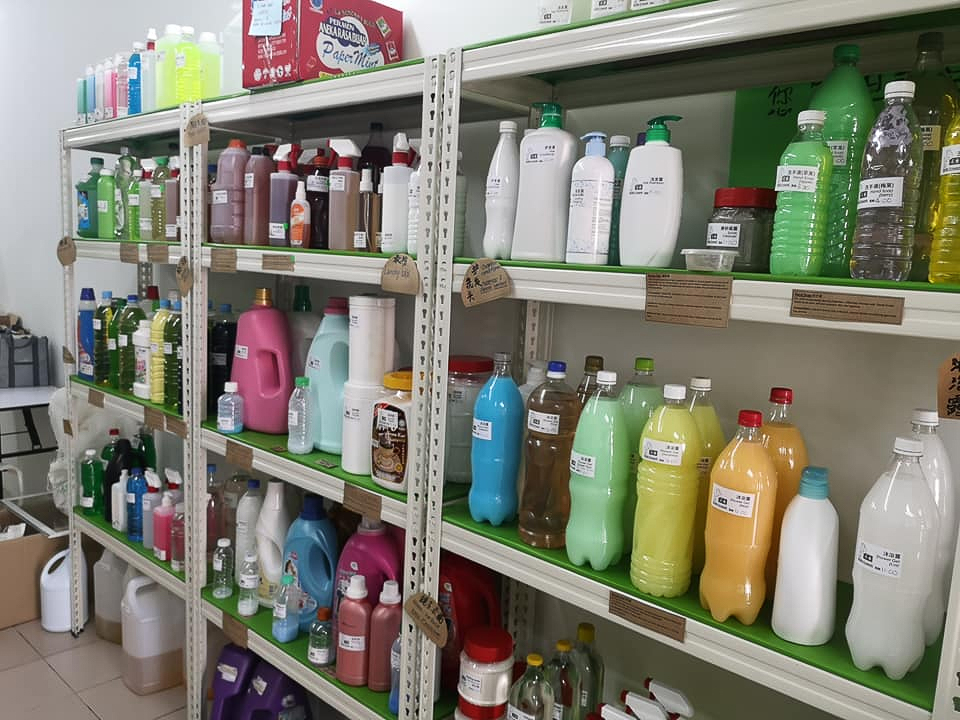 Plastic bottles that are intended for single-use are reused here to fill up liquid products
Image credit: Daisy Twl
This neighbourhood spot has everything from shower gel (RM8/kg), laundry powder (RM6/kg) and bleach (RM2/kg), to toilet bowl cleaner (RM7/kg) and car wax (RM4.50/kg).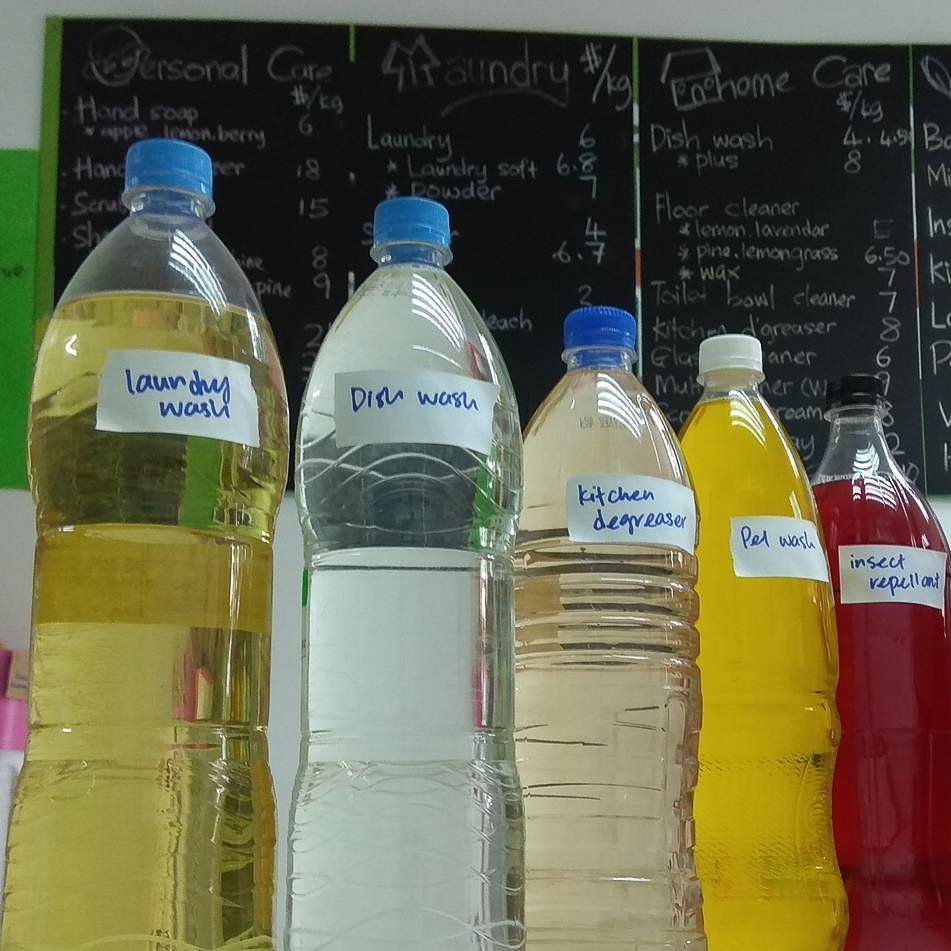 Image credit: WOWO Ecowork
For those with furbabies, they carry pet shampoo (RM5/litre) and pet deodoriser (RM5/litre) to keep your cat or dog smelling fresh and clean. 
If you have any plastic bottles sitting around your house, start collecting them and bring them over to this store for them to refill with personal care, laundry, and house care liquids. 
Address: 63, Jalan Bunga Tanjung 8b, Ampang, Kuala Lumpur
Opening hours: Tue – Sat 9AM-3PM | Sun 9AM-1PM (Closed Mondays) 
Telephone: 016-986 9545
WOWO Ecowork Facebook
---
8. 33 Rice Mart – 33 different types of rice
---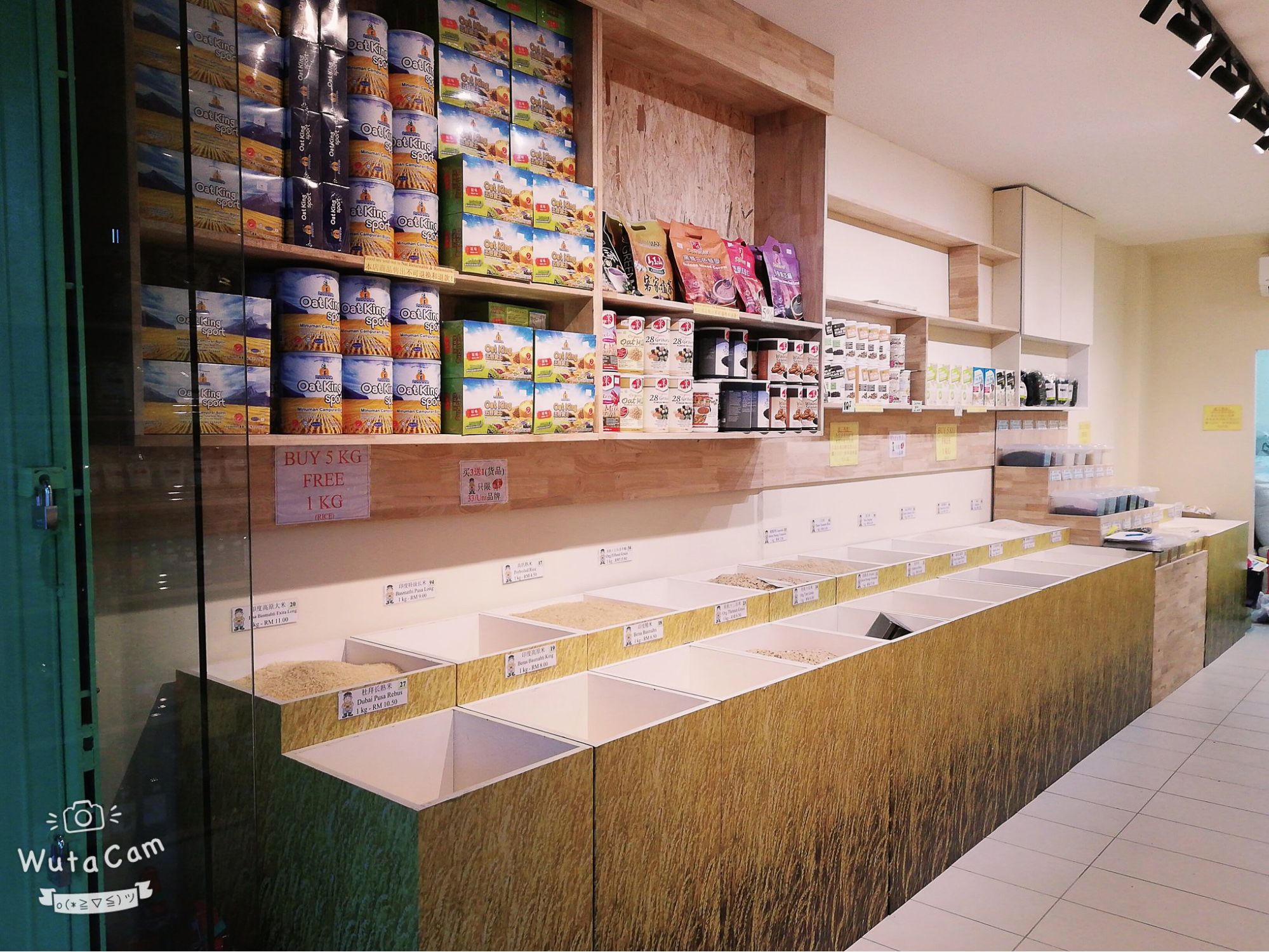 Image credit: 33 RiceMart
Rice is a staple in most Malaysians' diets. This is why you'll be glad to know that 33 Rice Mart – an organic store that sells over 33 types of package-free rice – has five branches throughout Klang Valley in Kepong, Selayang, and PJ.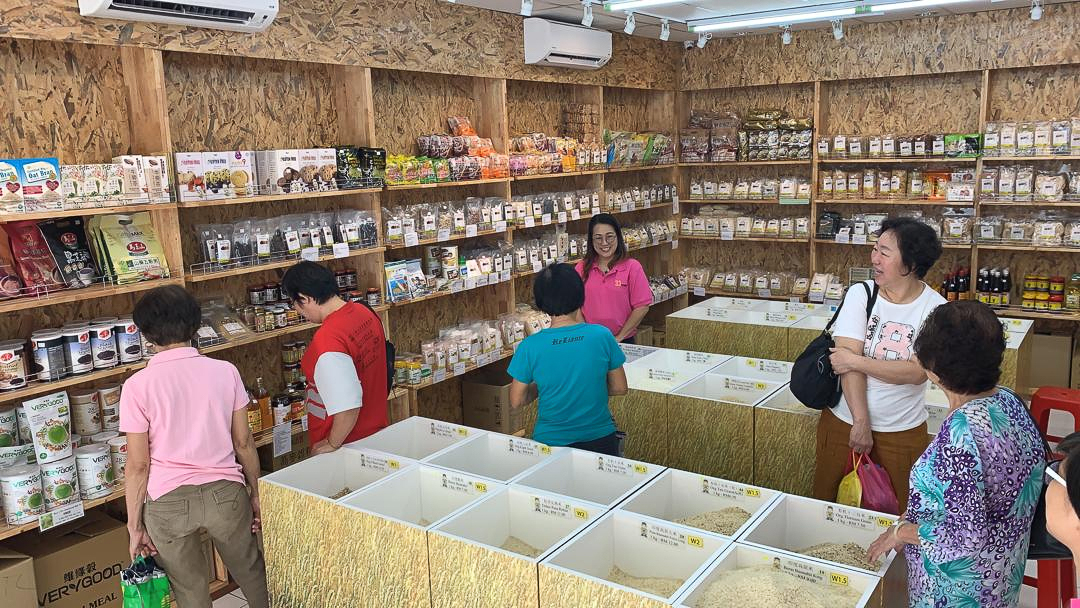 Image credit: 33 RiceMart
While it sells organic products in plastic packaging, you can skip these and head to the bins that contain all sorts of organic rice that you can scoop into your own container or bag.
Options range from Beras Basmathi King (RM8/kg) to Premium 10 Grain Rice (RM5.50/kg). There's even Calrose Rice – Japan (RM6.50/kg) that is stickier than regular rice for a well-packed sushi roll. 
33 Rice Mart @ Kepong
Address: Lot 3603, Jalan Jinjang Utama, Jinjiang Utara, 52000 Kuala Lumpur
Opening hours: 8AM-6PM, Daily
Telephone: 012-666 2081
33 Rice Mart Facebook
---
9. NUDE The Waste Free Store – one-stop for cooking, beauty and cleaning items
---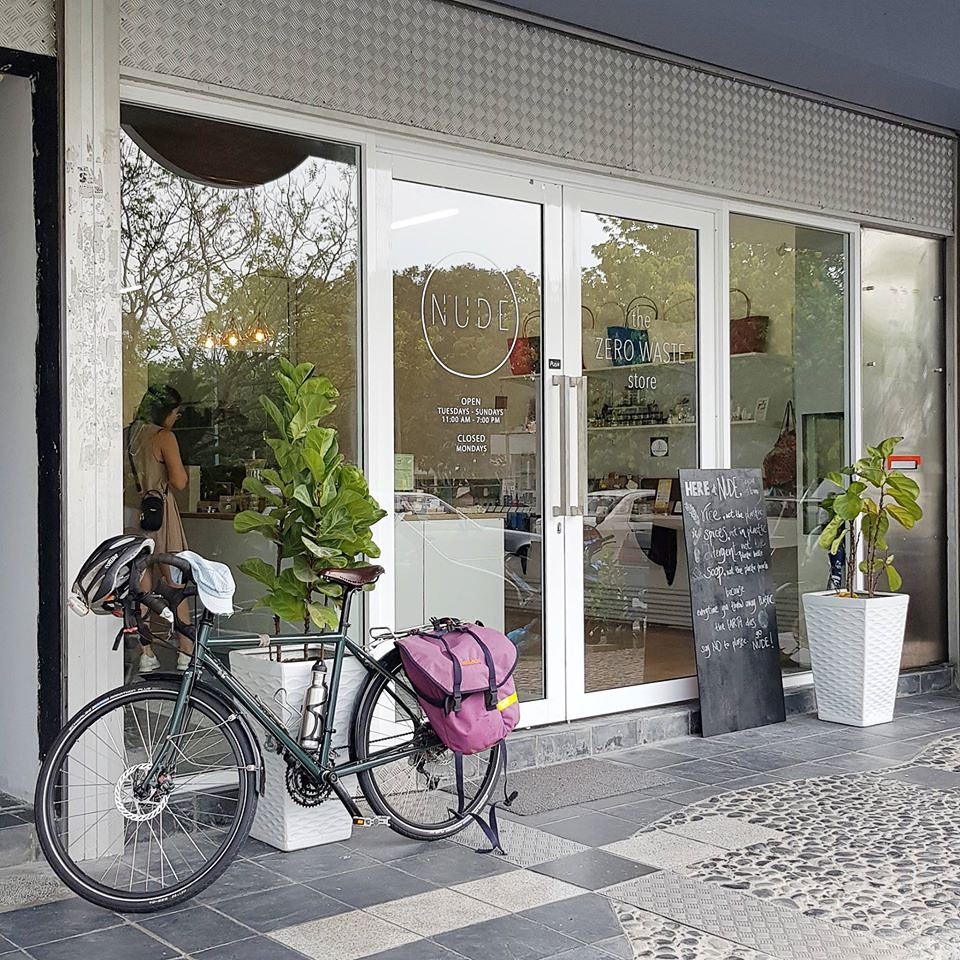 Image credit: NUDE The Zero Waste Store
NUDE: The Waste Free Store has products sorted conveniently into Foods, including snacks and ingredients, Moods, which are skincare and beauty products in recyclable containers, and everyday household Goods such as cleaning products.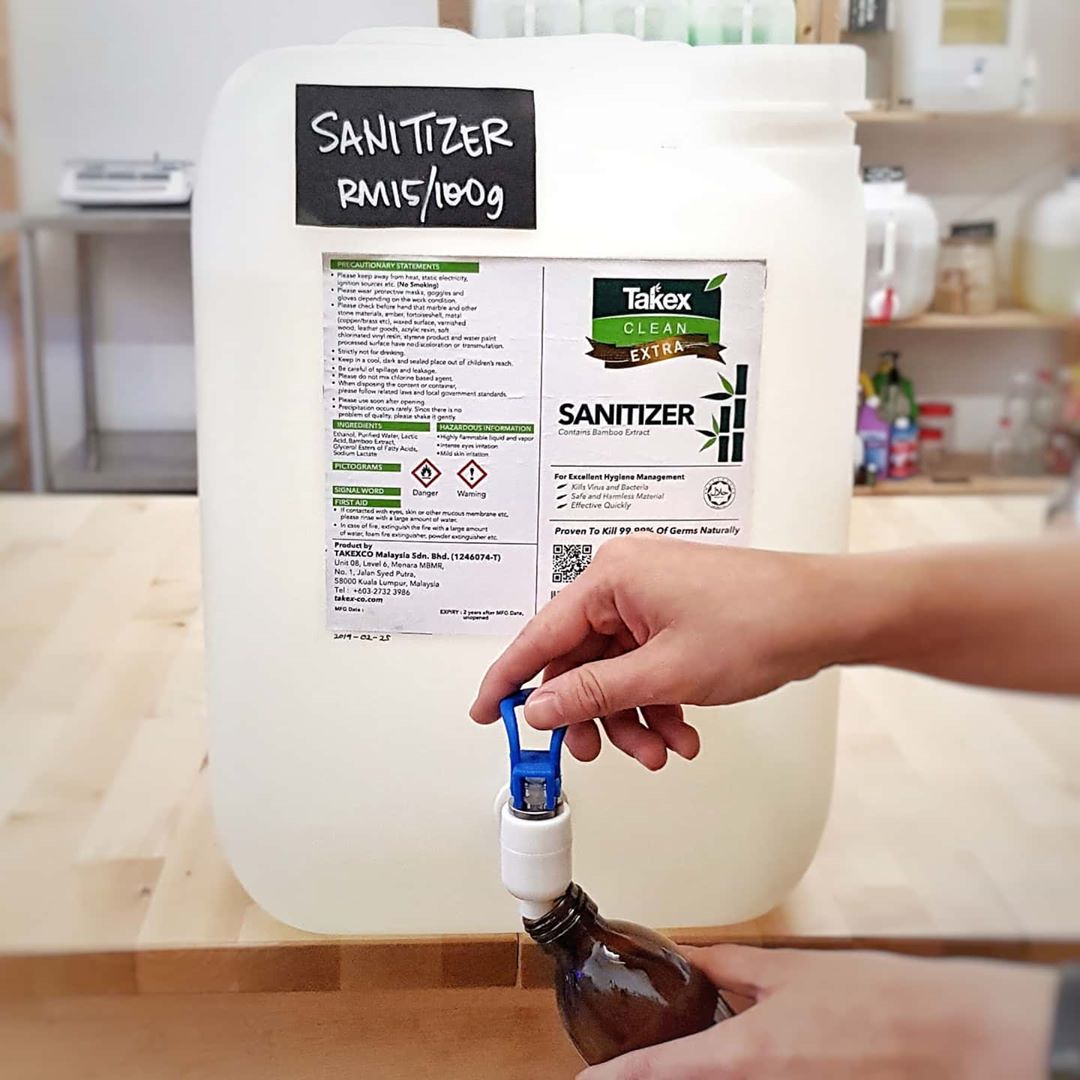 Refill your hand sanitiser bottles at their store for RM15/100g
Image credit: @nudezerowaste
Bring your own reusable containers and fill them up with Dishwash (RM4/kg) and Handsoap (RM5.50/kg), or cleaning agents such as Fabric Softener (RM4.50/kg), Laundry Liquid (RM5/kg), and Floor Wash (RM5.50/kg), that are all made with non-toxic ingredients.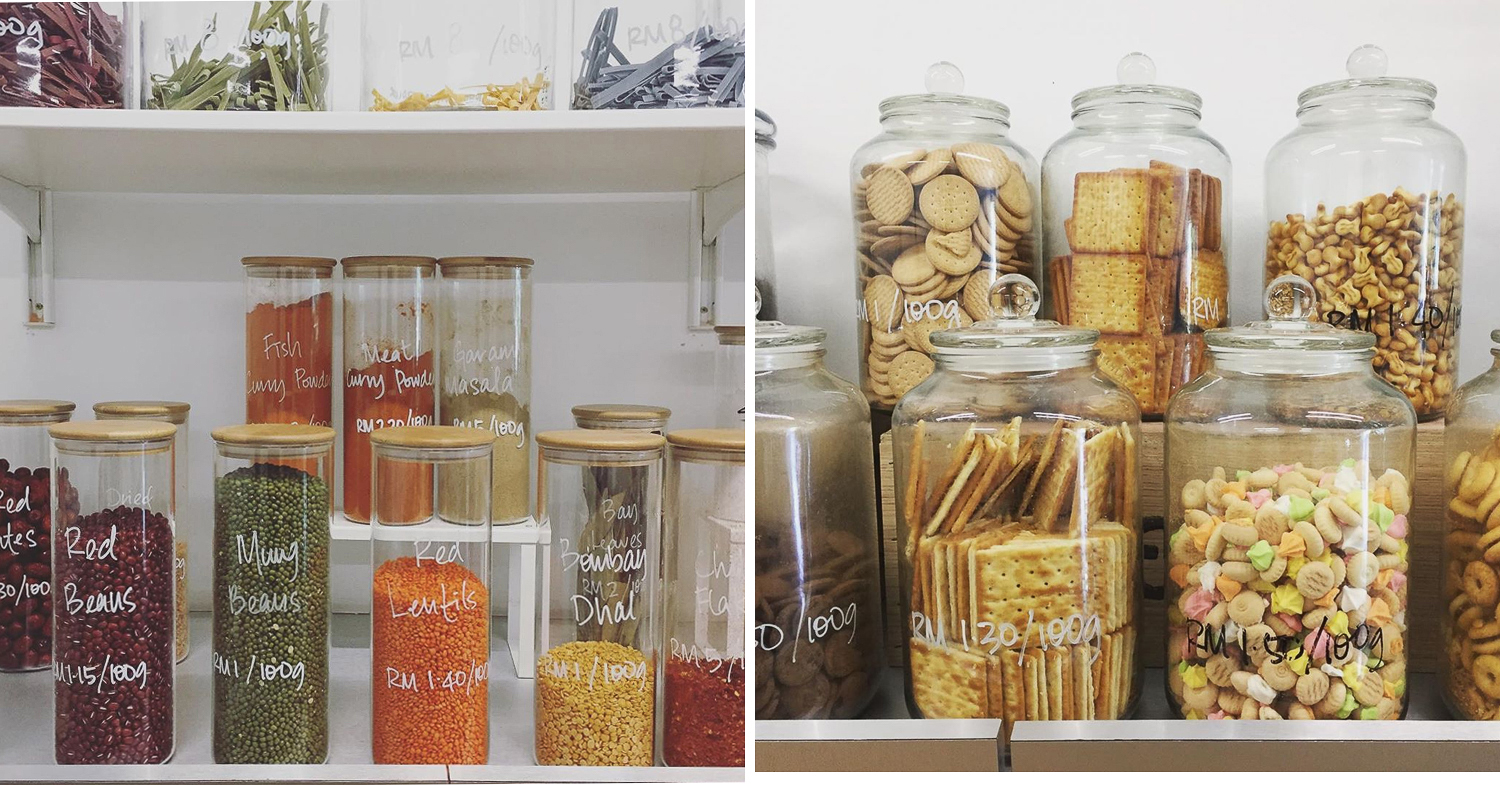 Stock up on grains, nuts, and snacks here as well
Image credit: @sheenamoh
They also have beauty products from The Mineraw, a vegan, vegetarian-friendly eco-friendly beauty brand. You can pick up its best-selling Glow Serum: Face Oil (RM100), and or Sunset Glow: Face Mask (RM35), which comes in reusable glass bottles and will give you that dewy look without causing any breakouts.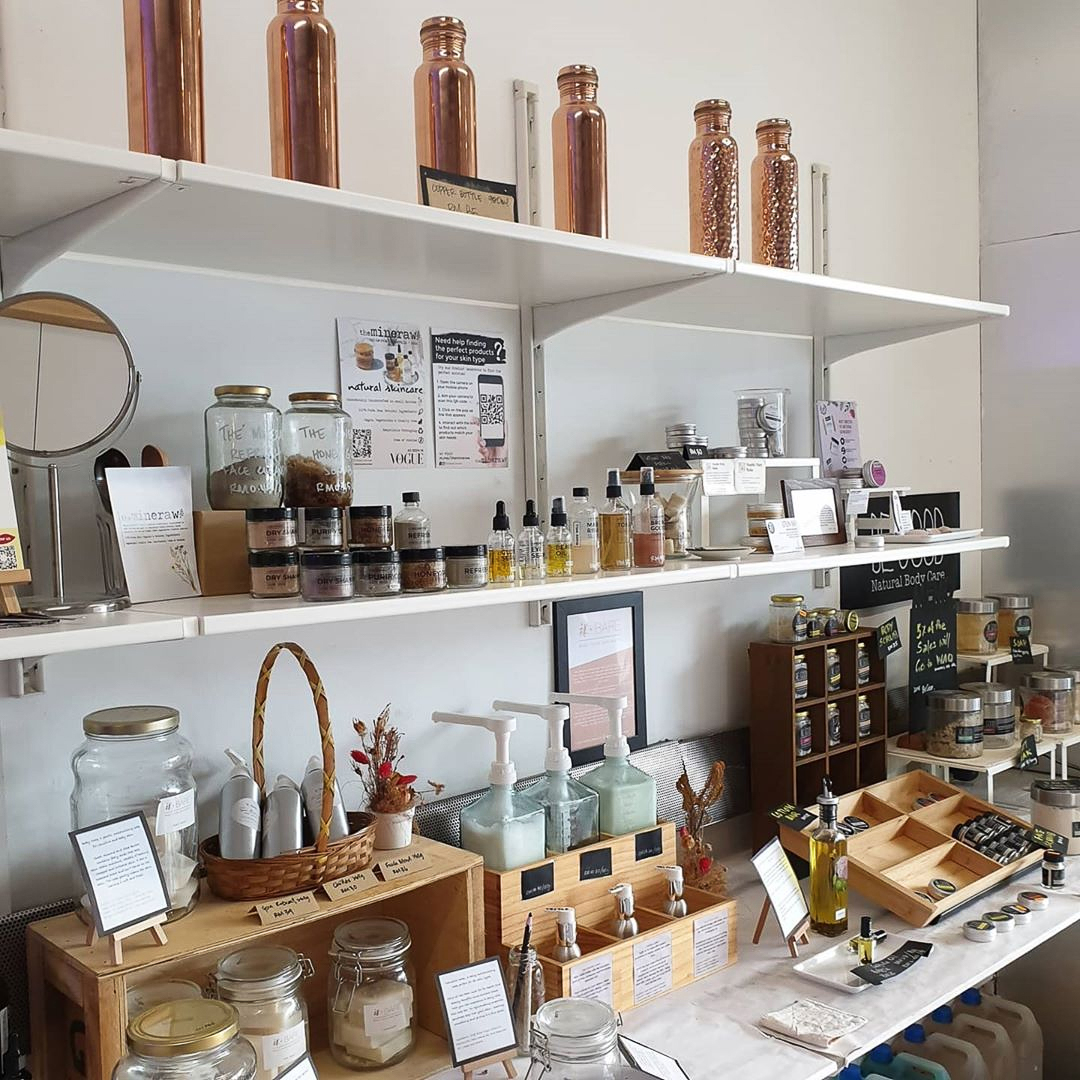 Image credit: @juitajalil
You can also loan a container here for RM2, and return it after you finish your liquids to get your money back. Or bring over any unused glass bottles you have for it to be reused.
Address: 11A, Jalan 19/29, Seksyen 19, Petaling Jaya, Selangor
Opening hours: Tue – Sun 11AM-5PM (Closed Mondays)
Telephone: 011-3773 9639
NUDE Zero Waste Facebook 
---
10. A Bit Less Bulk Store – package-free soya sauce
---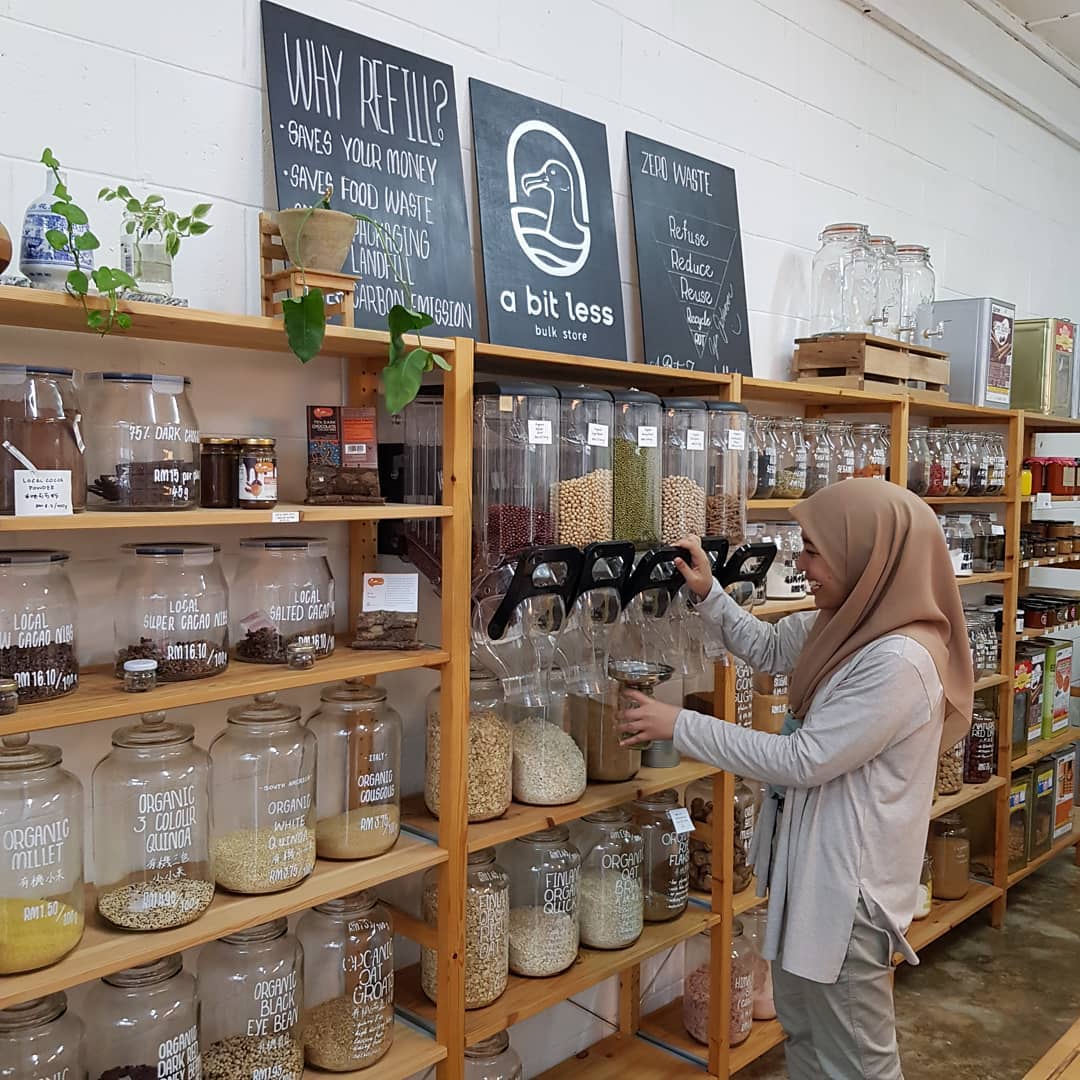 Image credit: @a_bit_less
We know and love A Bit Less Bulk Store for providing KL-ites with eco-friendly beauty products, and grocery finds of Organic Potato Starch (RM4.75/100g) and Organic Cane Sugar (RM0.95/100g). But look out for their package-free and locally-made series of soya sauces that are rare finds at zero waste stores.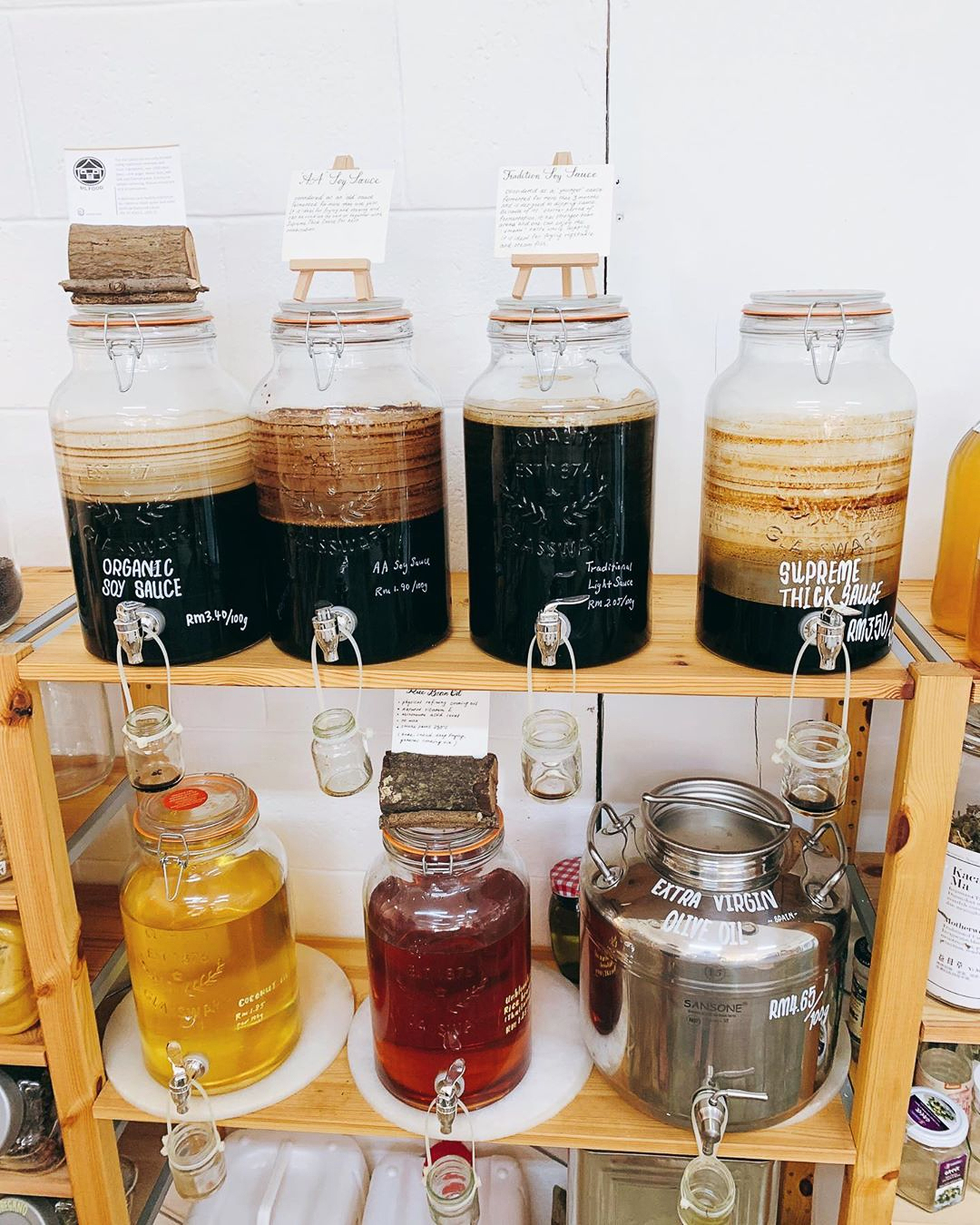 Image credit: @richfulllife
Those who love cooking can get to refill their bottles of soya sauce with Traditional Light Sauce (RM2.05/100g) or Supreme Thick Soy Sauce (RM3.50/100g). There's also Coconut Oil (RM1.85/100g) from Malaysia and Extra Virgin Olive Oil (RM4.65/100g) from Spain that comes in bulk for more waste-free options. 
Address: 20, Jalan Ambong 4, Kepong Baru, Kuala Lumpur
Opening hours: Thu – Tue 10AM-6PM (Closed Wednesdays)
Telephone: 03-6258 0723
A Bit Less Bulk Store Facebook
---
Zero waste stores in Klang Valley
---
Going green can be challenging, especially when most products we use on the daily come with plastic packaging.
But with these 10 zero waste stores located around Klang Valley where you can get eco-friendly goods in bulk and use only what you need, you can stock up your pantry without contributing to wastage. So if you're looking to hop onto the green bandwagon, head to these places for starters.
For more ideas on how to reduce and reuse, check out our other articles:
---
Cover image adapted from: The Smart Local Malaysia, Liquid Etc – Zero Waste Bulk Store, @richfulllife, and The Smart Local Malaysia
This article was updated on 15th November 2021.
Get more stories like this!
Drop us your email so you won't miss the latest news.