Sabah's healthcare system in a precarious state
---
Sabah's COVID-19 cases have been rising exponentially, making up the bulk of the total cases in Malaysia. To date, Sabah has recorded 11,818 confirmed cases, 98 deaths, and 533 new cases as of yesterday, 25th October 2020.
Frontliners have expressed their concern over the state's healthcare system risking total collapse as hospitals have reached full capacity with new COVID-19 patients having to wait for a few days before being able to be admitted into ICU. Despite efforts from the Ministry of Health and NGOs providing assistance, medical staffs are facing exhaustion and burnout from the overwhelming number of patients.
---
Malaysians urged to donate their BPN money to Sabah
---
During the first round of MCO, the government granted a one-off cash aid to the B40 and M40 community to help alleviate the financial and livelihood difficulties of Malaysians affected by the pandemic. The programme is known as Bantuan Prihatin Nasional (BPN). Eligible recipients will be given a payout starting from RM500 up to RM1,600 depending of which income category they fall into.
With CMCO implemented once again in Selangor, KL, and Putrajaya, BPN is making another reappearance as BPN 2.0 now. Following the announcement of BPN 2.0, one altruistic Malaysian who goes by the username @sharifahyasmiin, took to Twitter on 22nd October to suggest that those who received BPN funds should donate the money to COVID-19 efforts in Sabah, provided they can do without the extra cash. She also attached a few posters of organisations and NGOs that the public can donate to.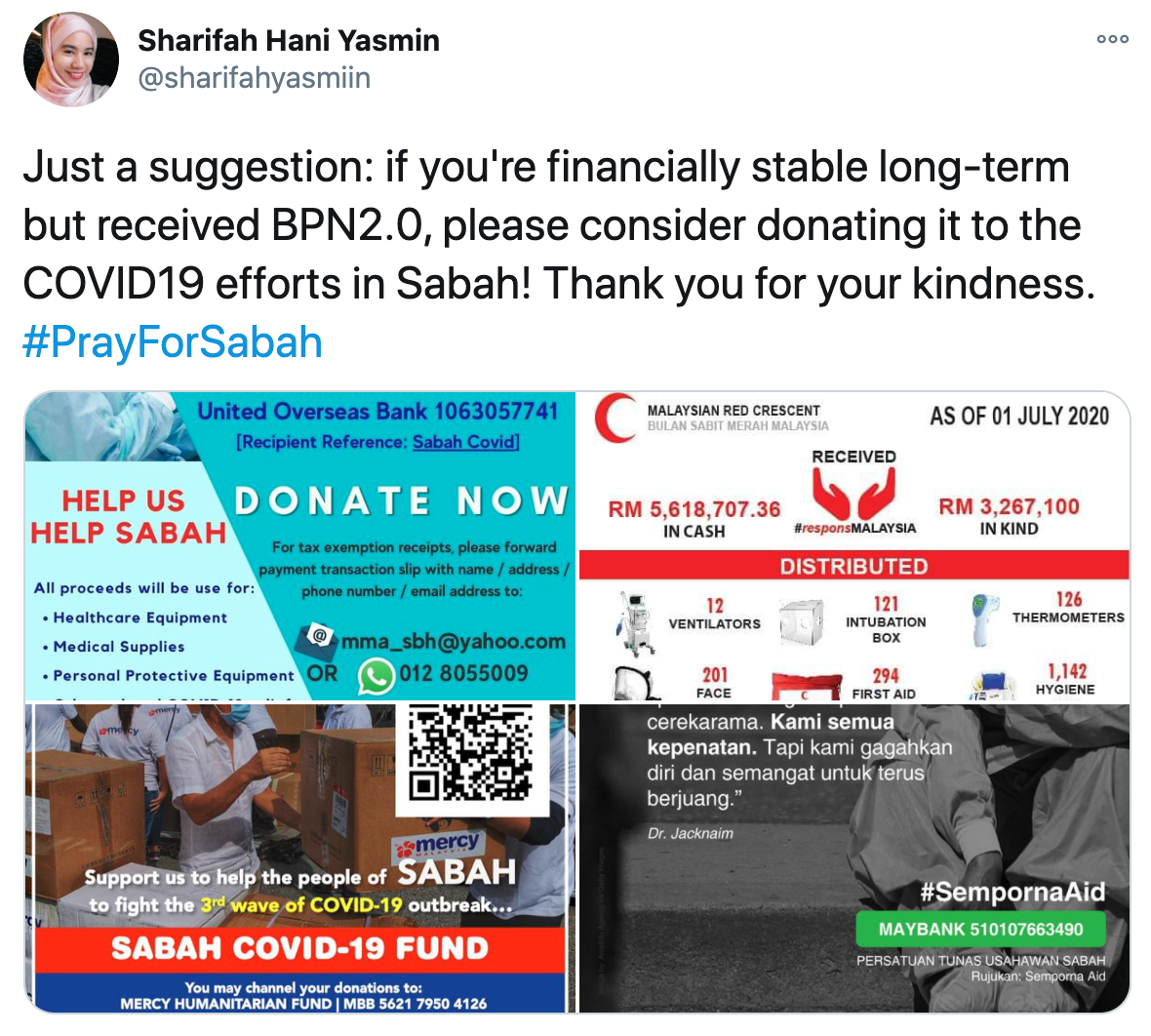 Image credit: @sharifahyasmiin
---
Netizens pour in with support
---
@sharifahyasmiin's plea has garnered over 1,700 retweets, with almost all replies supporting her cause. @JRLFZL was one of the netizens who retweeted, while adding on his own commentary. The comment translated from Malay read, "Instead of buying more boba with your BPN money, better to channel it here. Let's help the Sabahans out."

Image credit: @JRLFZL
Meanwhile, another user @fluffdery also echoed @sharifahyasmiin's message. She emphasised that we should help Sabah out, regardless whether our donation is big or small. In fact, we should send them both our prayers and monetary assistance.

Image credit: @fluffdery
---
How and where you can donate
---
As shared by @sharifahyasmiin, below are some of the organisations contributing to COVID-19 efforts in Sabah.
---
1. Malaysian Medical Association
---
Proceeds from donations to the Malaysian Medical Association will be used to stock up on healthcare equipment, medical supplies, personal protective equipment, and other COVID-19 relief matters.
You will also be eligible for tax exemptions for donations above RM250. Just send them your payment transaction slip via email to [email protected] or Whatsapp 012-805 5009 to get your tax exemption receipt.
Banking details:
Malaysian Medical Association Foundation
1063057741
United Overseas Bank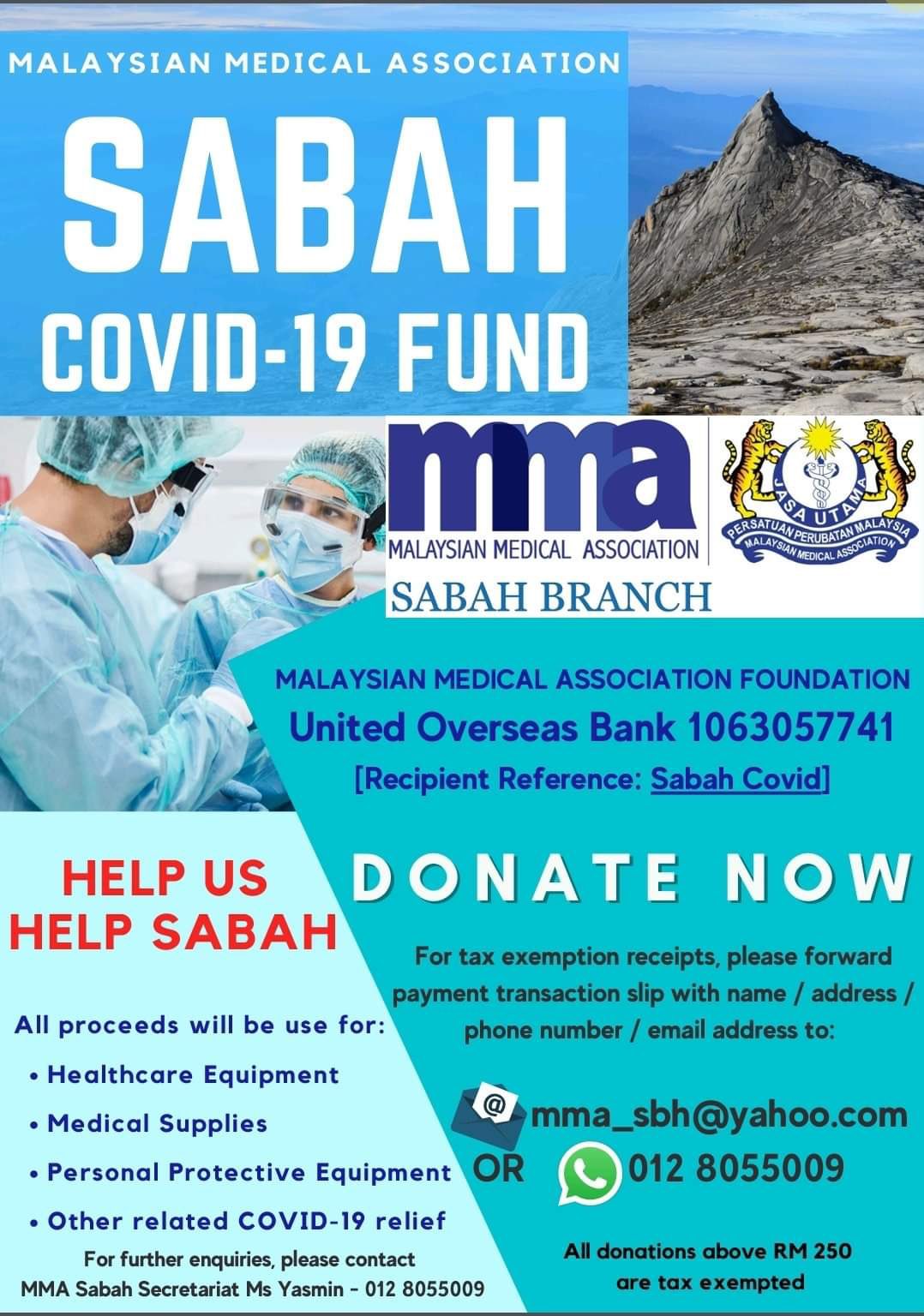 Image credit: @sharifahyasmiin
---
2. Malaysian Red Crescent 
---
The official Malaysian Red Crescent society shared a breakdown of the items they've secured from donations in their poster. Those items include 12 ventilators, more than 19,000 protective gowns, and over 99,000 face shields, just to name a few. As of 1st July, they have received more than RM5million in cash.
As a part of the frontliners team, they're still in need of donations, especially more so now that the cases have reached an all-time high. Regardless of the amount, you will still get tax exemptions for your donations. Simply email a copy of your transaction to [email protected] to get your receipt.
Banking details:
Malaysian Red Crescent
5644 2710 0245
Maybank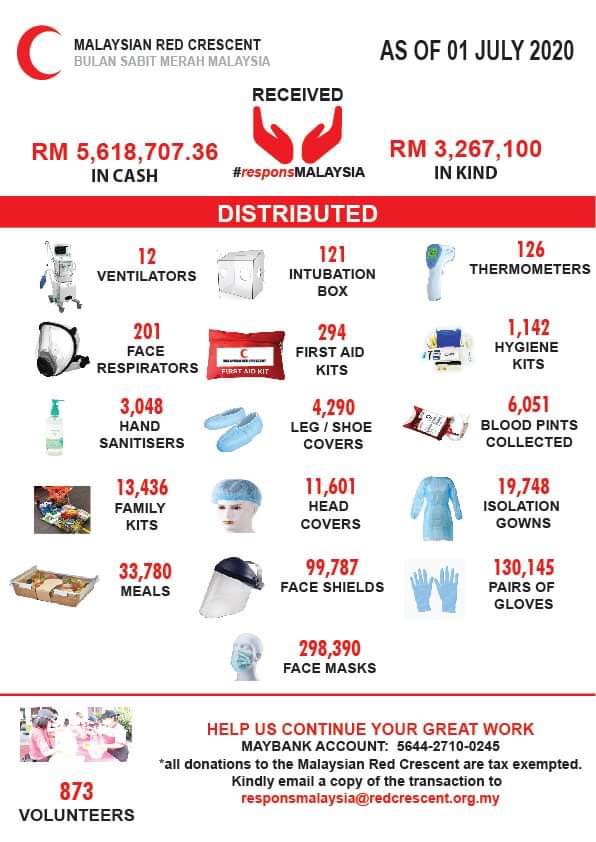 Image credit: @sharifahyasmiin
---
3. Mercy Malaysia 
---
Mercy Malaysia is one of the most well-known humanitarian charity organisation in Malaysia. Their COVID-19 Pandemic Fund is dedicated to set up testing centres, supply medical equipment, and provide hygiene kits and food packs to affected and vulnerable communities. You can join their fight now by donating to their Sabah COVID-19 Fund. All monetary donations will also be tax exempted.
Banking details:
Mercy Humanitarian Fund
5621 7950 4126
Maybank
Mercy Malaysia
8000 7929 08
CIMB Bank
Email: [email protected]
Telephone: 019-3144 622 (Azie) | 019-3140 735 (Farah)
Website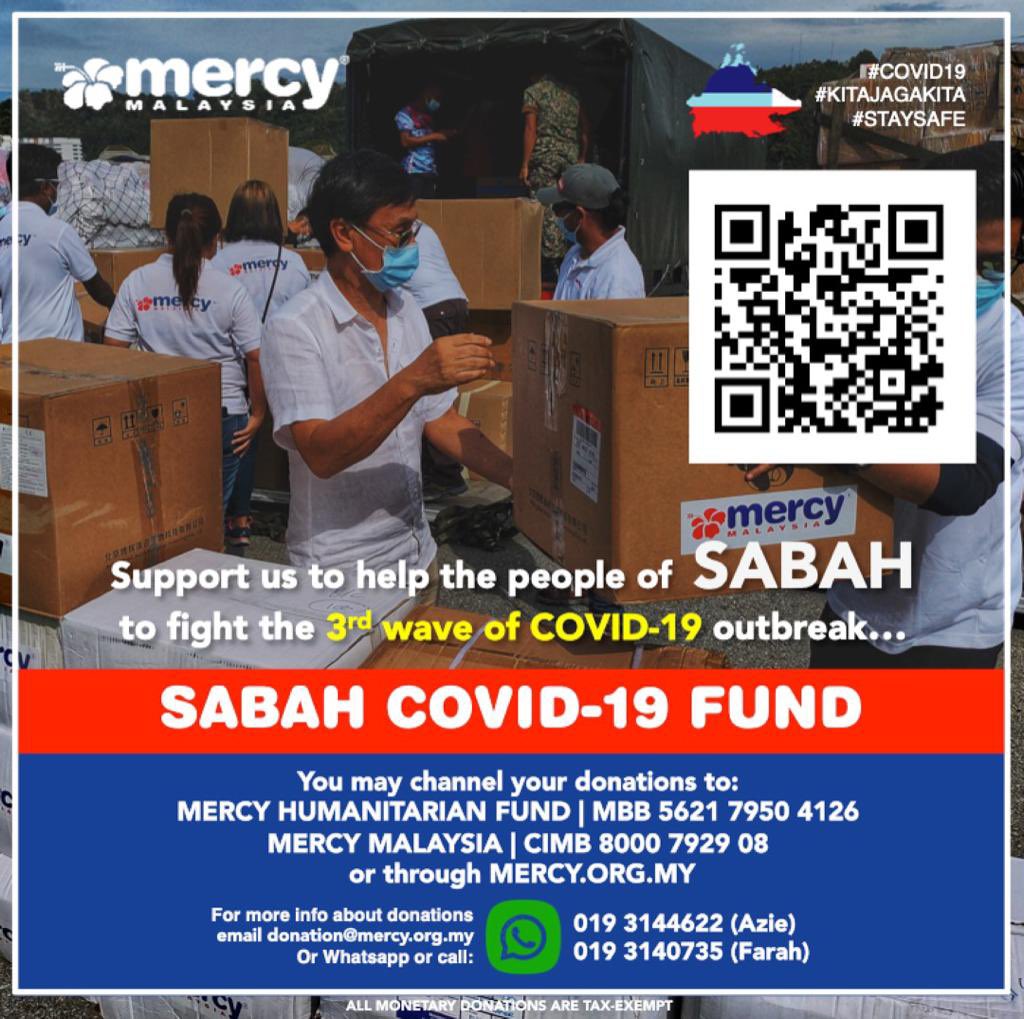 Image credit: @sharifahyasmiin
---
4. Persatuan Tunas Usahawan Sabah
---
Persatuan Tunas Usahawan Sabah, also known as PANTAS, is a young entrepreneurs organisation. Partnering with the Malaysian United Democratic Alliance (MUDA), their COVID-19 fund is centred around the areas of Lahad Datu and Semporna. Proceeds will be used for securing supplies for face masks, gloves, boot covers, isolation gowns, and the like.
Banking details:
Persatuan Tunas Usahawan Sabah
5101 0766 3490
Maybank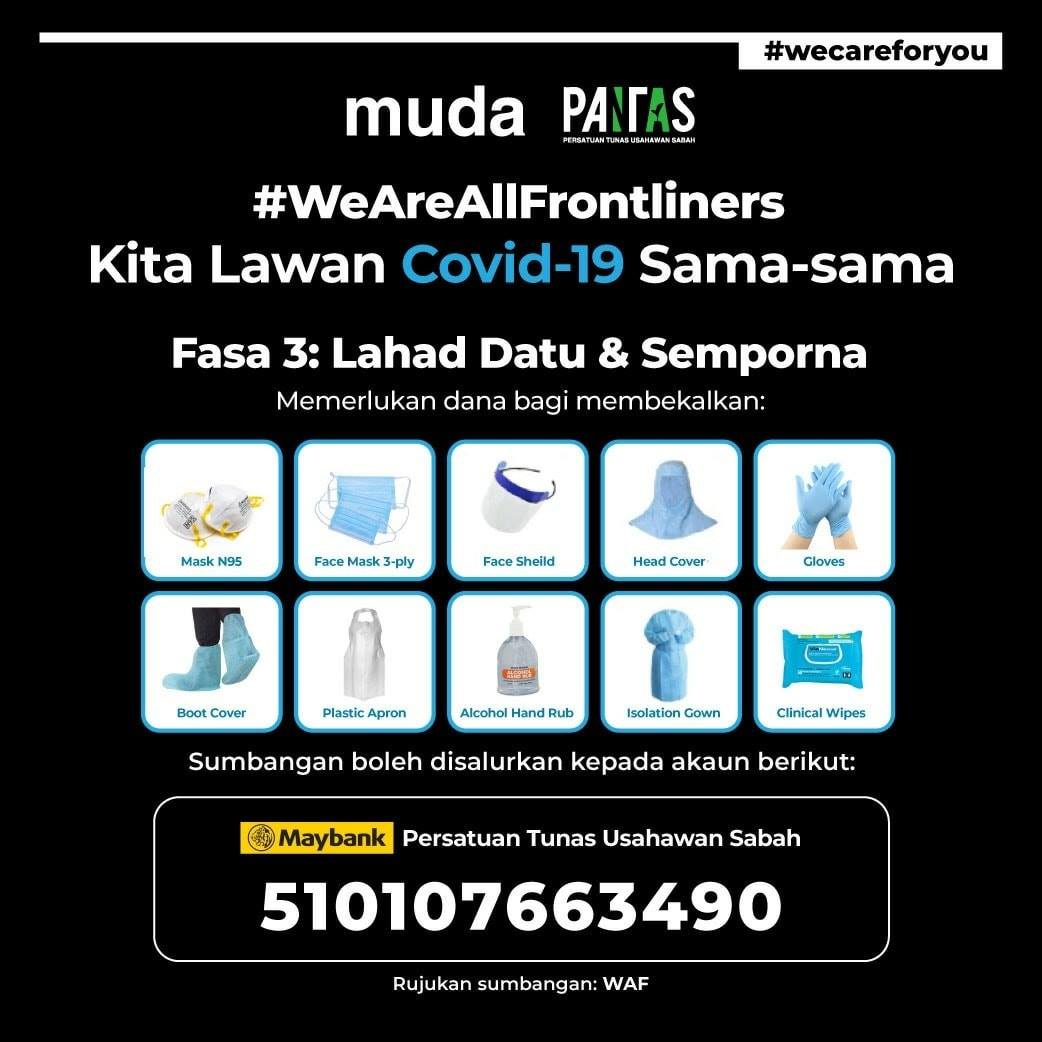 Image credit: Persatuan Tunas Usahawan Sabah – PANTAS
---
Sabah COVID-19 funds in need of donations
---
In times of need, Malaysians are always known to come forward with sincere hearts such as that time when a Rapid KL driver helped an elderly man get on and off his bus, or when a teacher in Johor helped to spruce up the school yard with his own money.
It's nice to know that we're all taking care of each other, in a way that when other fellow Malaysians need dire help, there will always be someone stepping in to shoulder their burdens together.
Stay alert with more COVID-19 updates here:
---
Cover image adapted from: Any Rishah and @KKMPutrajaya
Enjoying The Smart Local Malaysia? Follow us on Facebook and Instagram for more stories like this.
Get more stories like this!
Drop us your email so you won't miss the latest news.