EMCO to end in Selangor on 16th July
---
The Enhanced Movement Control Order (EMCO) was implemented in most areas in Klang Valley to help contain the spread of Covid-19 there. After two weeks of strict measures under the lockdown, the EMCO will come to an end in affected Selangor sub-districts on 16th July 2021. 
---
No more EMCO in Selangor
---
To help jog your memory, 34 sub-districts in 8 Selangor districts were placed under the EMCO on 3rd July till 16th July. It came with several SOP changes to Phase 1 of the National Recovery Plan, including a curfew of 8PM, one person per vehicle mandate, and pause on outdoor activities such as jogging. 
The affected 34 sub-districts in the 8 Selangor districts are:
Petaling: Petaling, Damansara, Sungai Buloh and Bukit Raja
Kuala Langat: Tanjung 12 (1), Tanjung 12 (2), Morib, Teluk Panglima Garang, Bandar, Jugra and Batu
Hulu Selangor: Serendah, Rasa, Ulu Yam and Batang Kali
Hulu Langat: Hulu Langat, Ampang, Cheras, Kajang, Semenyih and Beranang
Gombak: Batu, Rawang, Setapak, Hulu Kelang and Kuang
Sepang: Dengkil, Labu and Sepang
Klang: Kapar and Klang
Kuala Selangor: Ijok, Bestari Jaya and Jeram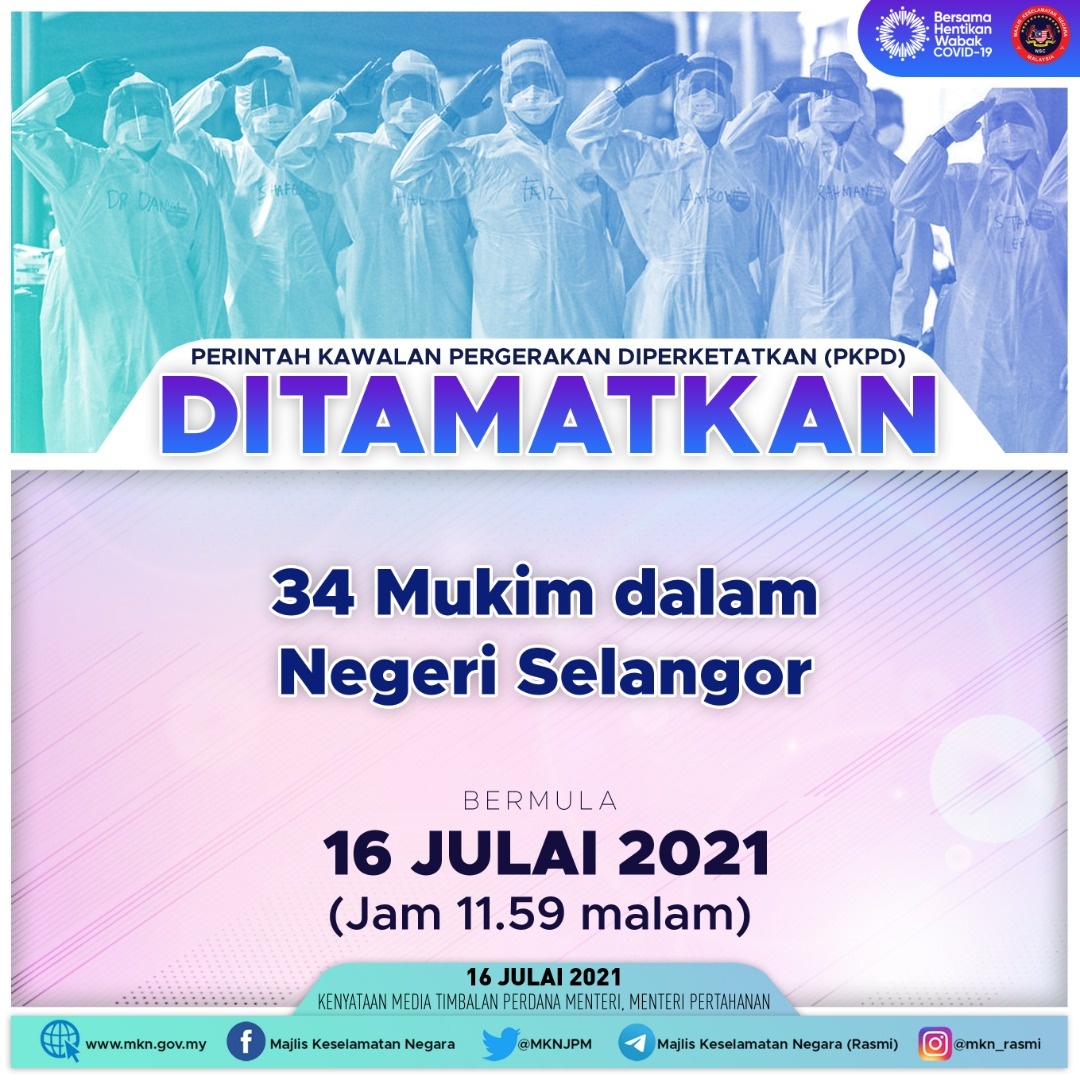 Image credit: Majlis Keselamatan Negara
On 16th July, the EMCO will end in all Selangor sub-districts, as announced by Deputy Prime Minister Ismail Sabri Yaakob in a press statement today. The EMCO will be lifted after midnight, once the clock strikes 12AM, as shared by the National Security Council on Facebook. 
This will be replaced by targeted EMCOs. As such, 4 localities in Selangor – as well as several other localities in Pahang, Sarawak and Sabah – will undergo a targeted EMCO, effective 18th till 31st July.
The affected localities in 4 Selangor districts are:
Damai Apartment, PJS 8, Damansara sub-district, Petaling district, Selangor
Jalan Pandan Indah, Ampang sub-district, Hulu Langat district, Selangor
Jalan Batu Nilam, Bandar Bukit Tinggi, Klang sub-district, Klang district, Selangor
Taman Samudera, Batu sub-district, Gombak district, Selangor
The end of the EMCO means Selangor will revert to Phase 1 of the National Recovery Plan, with current SOPs in place such as two per household allowed in a vehicle and a lifting of the 8PM curfew.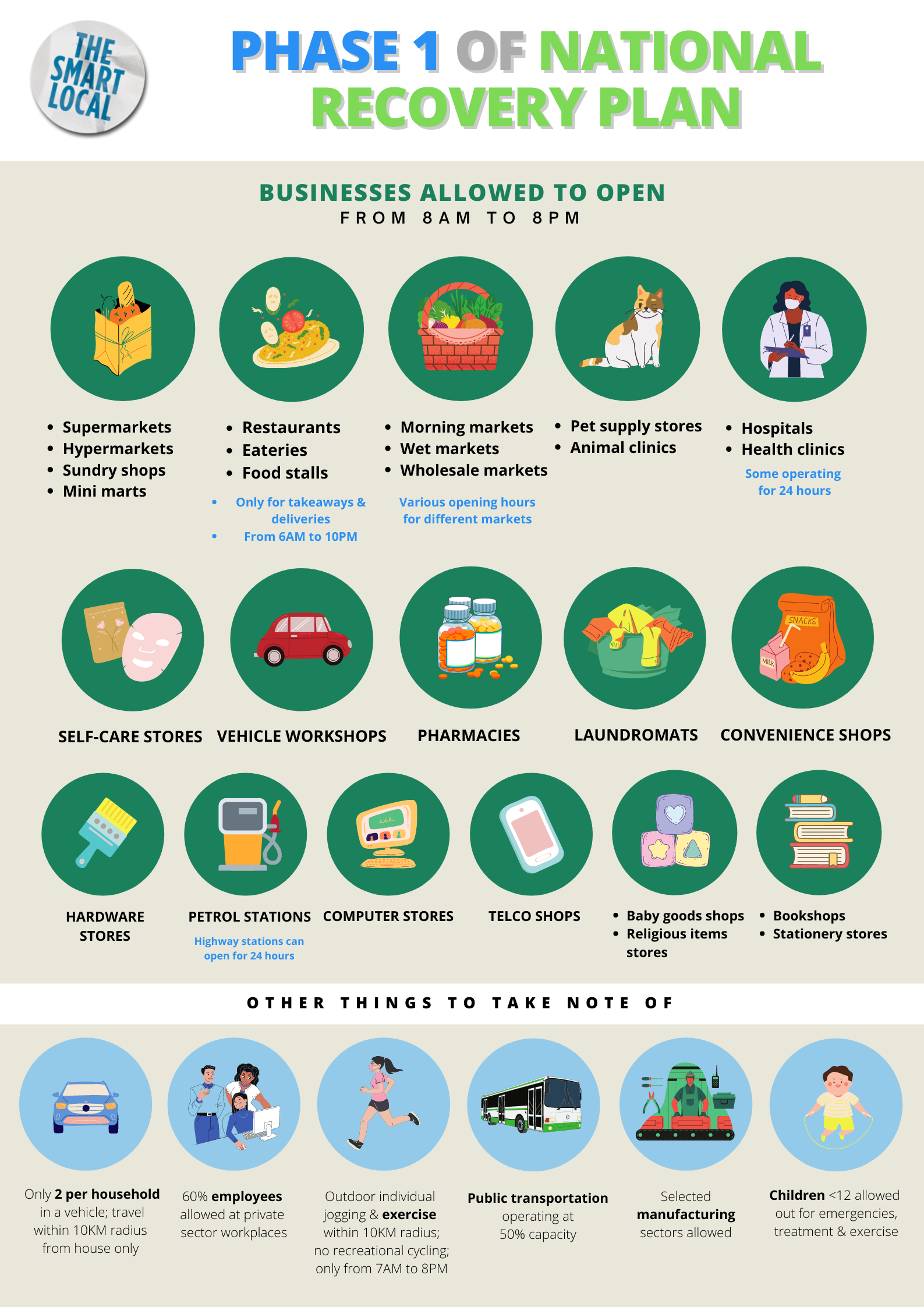 Businesses that are allowed to operate, and other things to take note of, for Phase 1 
The EMCO implemented on 6 KL localities came to end ahead of schedule on 10th July, with the rest coming to an end today, 16th July, as reported by The Star.
---
Covid-19 cases breach the 12,000 mark
---
Daily Covid-19 cases in Malaysia remains in the 5-figure digit, with 12,541 new confirmed Covid-19 cases reported by KKM on 16th July. This is a decline from yesterday's record high of 13,215 confirmed cases in the country. Nonetheless, today's daily count is the second-highest recorded in the country since the start of the pandemic.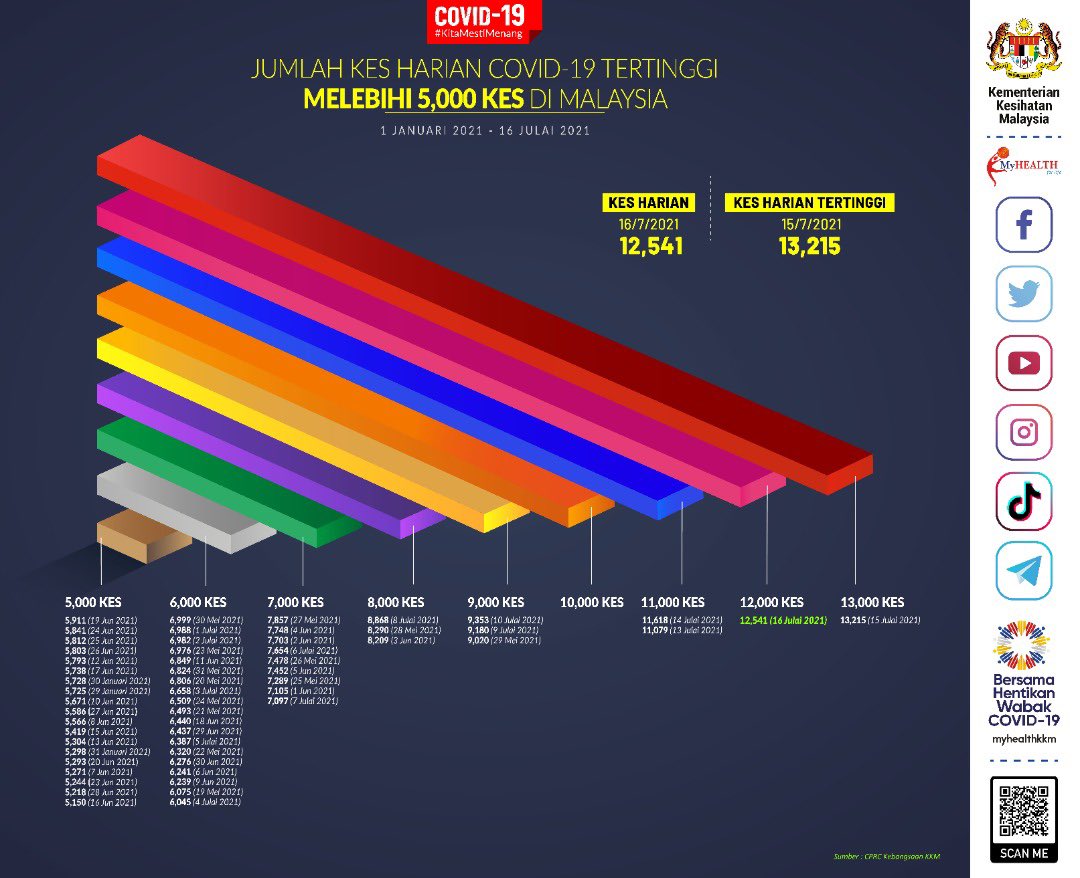 Image credit: @DGHisham

Of the total cases reported today, Selangor recorded the most cases nationwide, with 5,512 new confirmed cases in the state. Following after are Negeri Sembilan (1,619), KL (1,542) and Johor (609).
There are currently 114,053 active cases in the country, and 6,742 new recovered cases.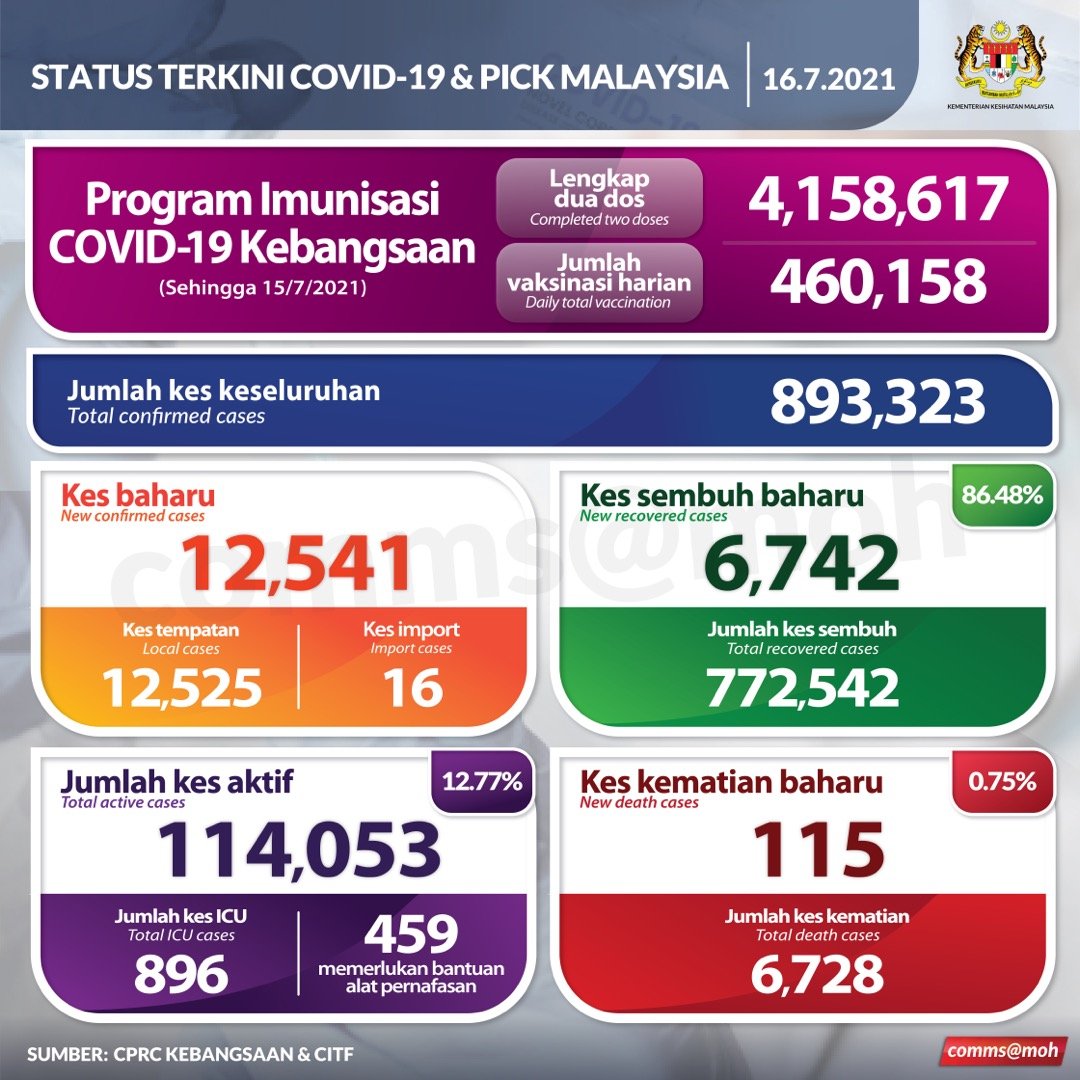 Image credit: @KKMPutrajaya
---
EMCO to end in Selangor and KL on 16th July
---
After two weeks of the EMCO, many Selangor and KL residents are glad to see the lockdown lifted in their areas. But with worrisome Covid-19 daily counts still reported in the country, we should all continue to keep our outdoor excursions to a minimum to play our parts in the fight against the pandemic.
Read more here:
---
Cover image adapted from: @alfredsd / Unsplash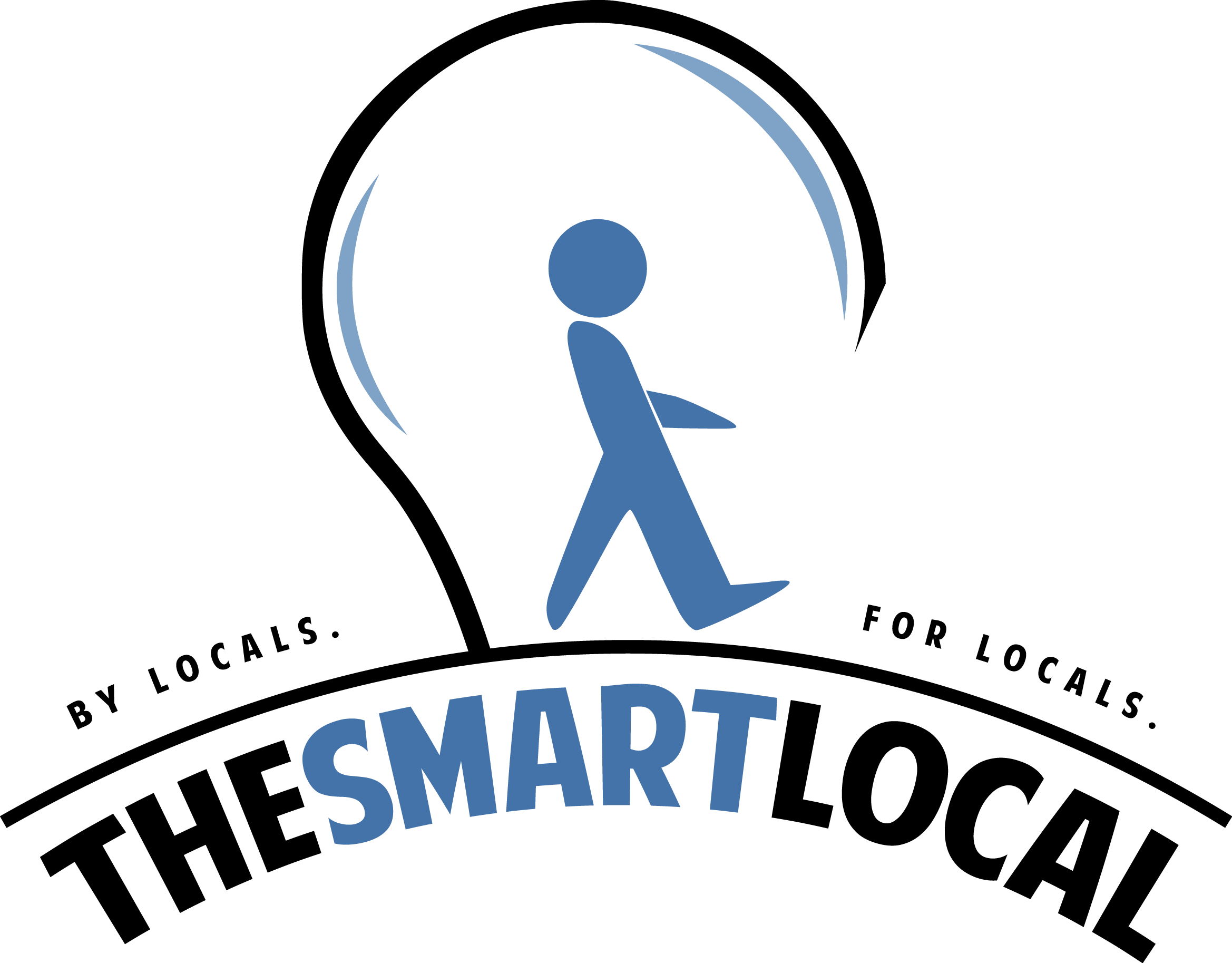 Drop us your email so you won't miss the latest news.