Netizen populates food bank locations on Google Maps
---
As COVID-19 continues to wreak havoc on the livelihoods of many Malaysians, people have come up with various initiatives to help those who are struggling to make ends meet. Along with the white flag campaign for people and the red flag campaign launched for pets, there are also food banks being set up throughout the nation to care for affected individuals.
Despite the ongoing crisis, Malaysians are constantly looking for ways to help each other. One example is a netizen who pinned hundreds of food bank locations on Google Maps to make things easier for people.
If you stay in Klang Valley, check out this list of food banks in the area.
---
Food bank locations on Google Maps
---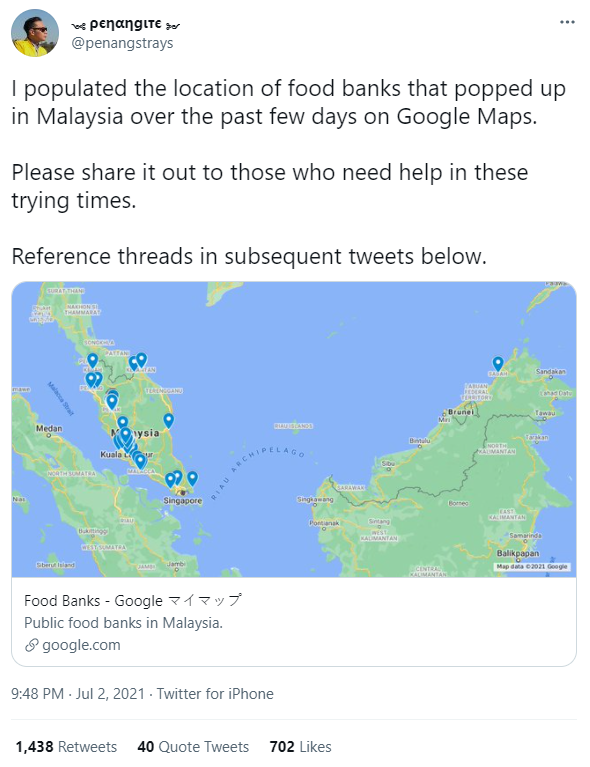 Image credit: @penangstrays
On 2nd July 2021, Twitter user @penangstrays posted a tweet saying that he populated the locations of food banks in Malaysia on Google Maps from data he got from Malaysians on social media. He also requested his followers to share it with those who are in need of help.
The viral tweet, which has now garnered over 1,400 retweets and more than 700 likes, gathered a lot of attention from Malaysians because it is both helpful to those who are seeking help and those who want to help others. The resource not only lists the nearest food bank in the neighbourhood, it also includes the type of goods available, address and contact number.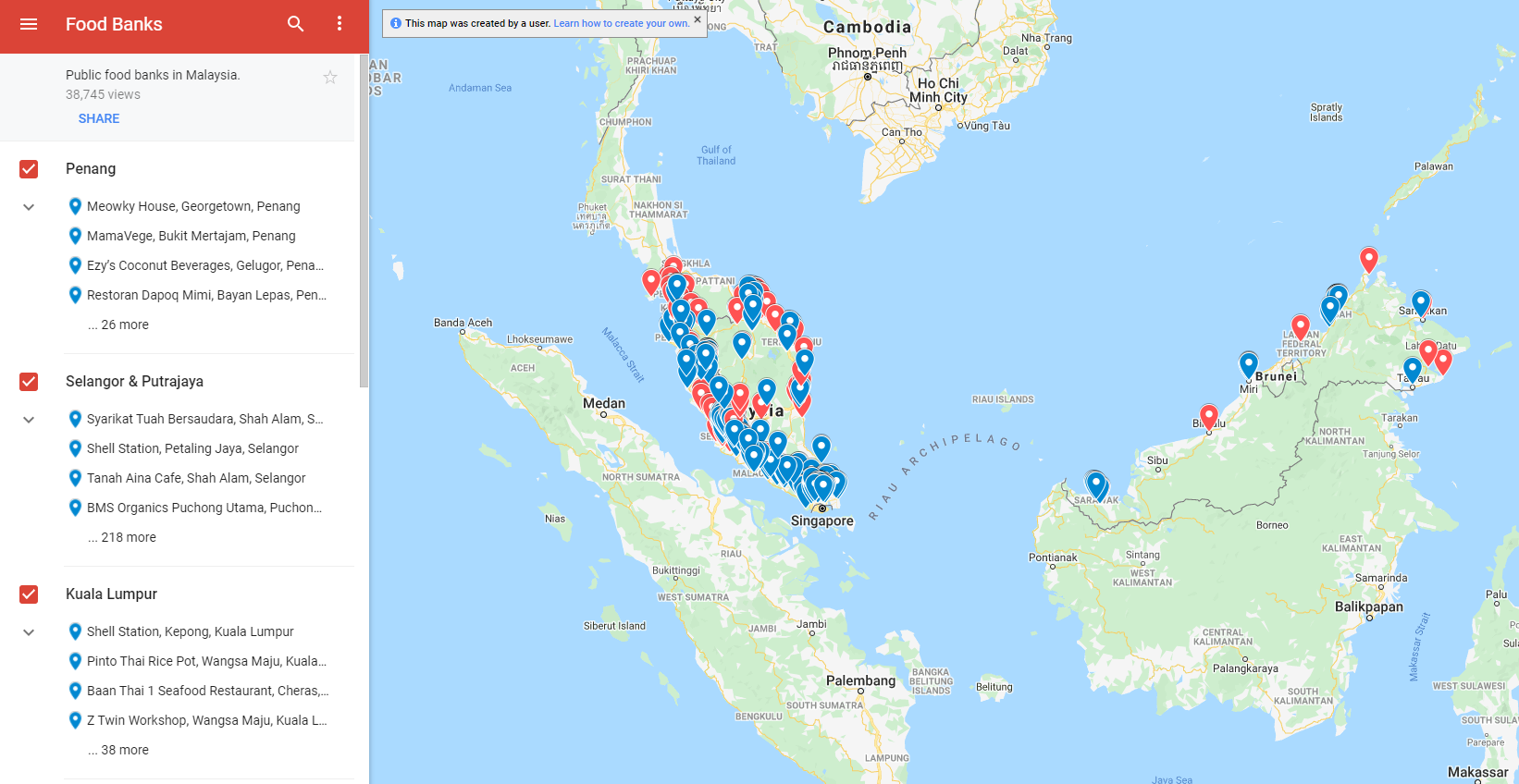 Image credit: Google Maps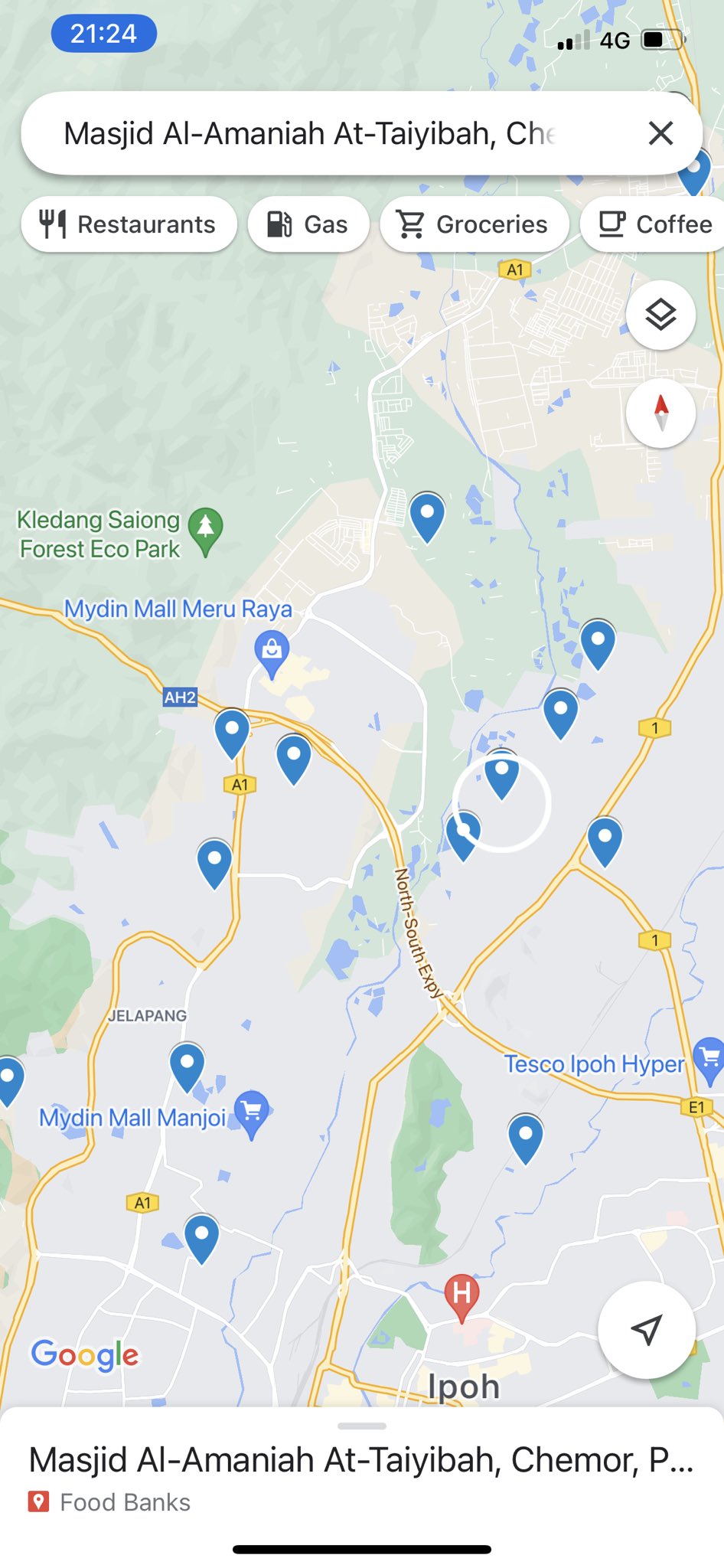 Image credit: @penangstrays
@penangstrays also explained that the blue pins on the map refer to specific locations such as mosques, shops and petrol stations while the red pins point you to general areas such as a town or neighbourhood.
---
Netizen requests help from Malaysians to add more food banks on Google Maps
---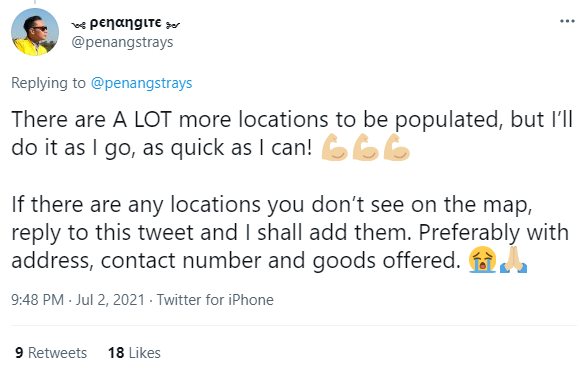 Image credit: @penangstrays
@penangstrays also tweeted that he needs help from Malaysians as there are "a lot more locations to be populated" on the map.
Malaysians who are aware of a missing food bank location from his list can reply to his tweet with the address and contact number of the food bank, and the goods offered there.
The Smart Local Malaysia has reached out to @penangstrays to find out what sparked the idea for his project, and will update this article when we hear back from them.
---
Netizen populates food bank locations on Google Maps
---
It is really heartwarming to see that Malaysians are always on the lookout for each other in times of trouble. The hard work and sincerity of this netizen are praiseworthy, and serves as inspiration for us to reach out to help those struggling individuals at this time.
Read more here:
---
Cover image adapted from: Chickilicious Malaysia and Google Maps
Get more stories like this!
Drop us your email so you won't miss the latest news.