GSC permanently closes 2 outlets in KL
---
Many of us have been trying our best to support local brands at this time. But there's no denying that the COVID-19 pandemic has been a huge blow to businesses forced to close on months end – so much so that our favourite bookstores and nostalgic video stores have not been spared from the list of closures, even with loyal patrons coming out to support them. 
The latest addition to this growing list is Golden Screen Cinemas (GSC). In an announcement made on 7th January 2021 on their Facebook page, this popular cinema shared that they will be permanently closing 2 outlets in KL.
---
GSC to close outlets due to the CMCO
---
In a short post shared to Facebook, GSC let their followers know that they will be permanently closing doors at their locations in Cheras Leisure Mall and Berjaya Times Square, both in KL. The news comes as a shock for many, as the first location has been around since 1995, while the latter had opened their doors in 2005.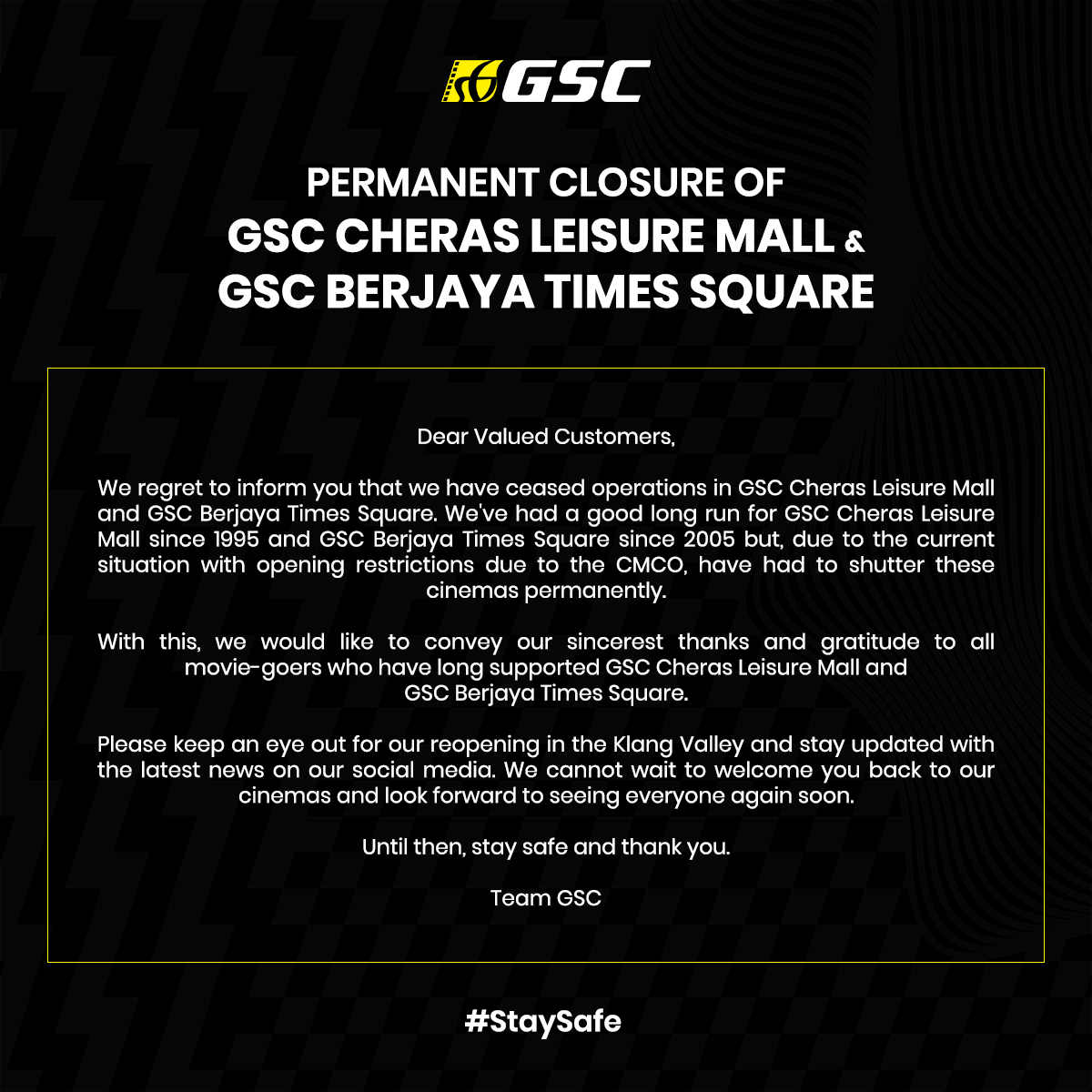 Image credit: GSCinemas
But as cinemas have been forced to close during the various stages of the MCO – and had only been recently allowed to reopen in certain areas in Klang Valley on 16th December 2020, after months of being closed – GSC shared that these location closures in KL have been brought on by the CMCO.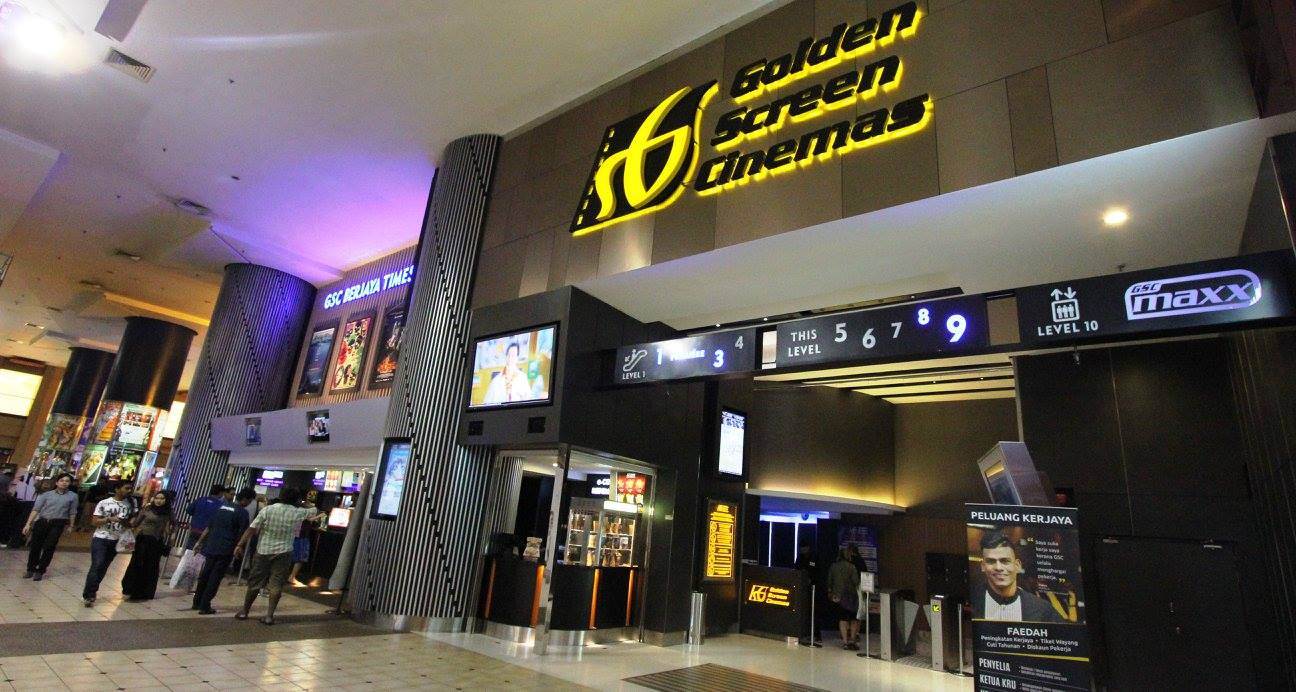 GSC in Berjaya Times Square
Image credit: Berjaya Times Square Kuala Lumpur
Several photos that have been surfacing on Facebook show the now-closed GSC location in Cheras Leisure Mall with screens that usually light up with the latest movie openings now pitch black.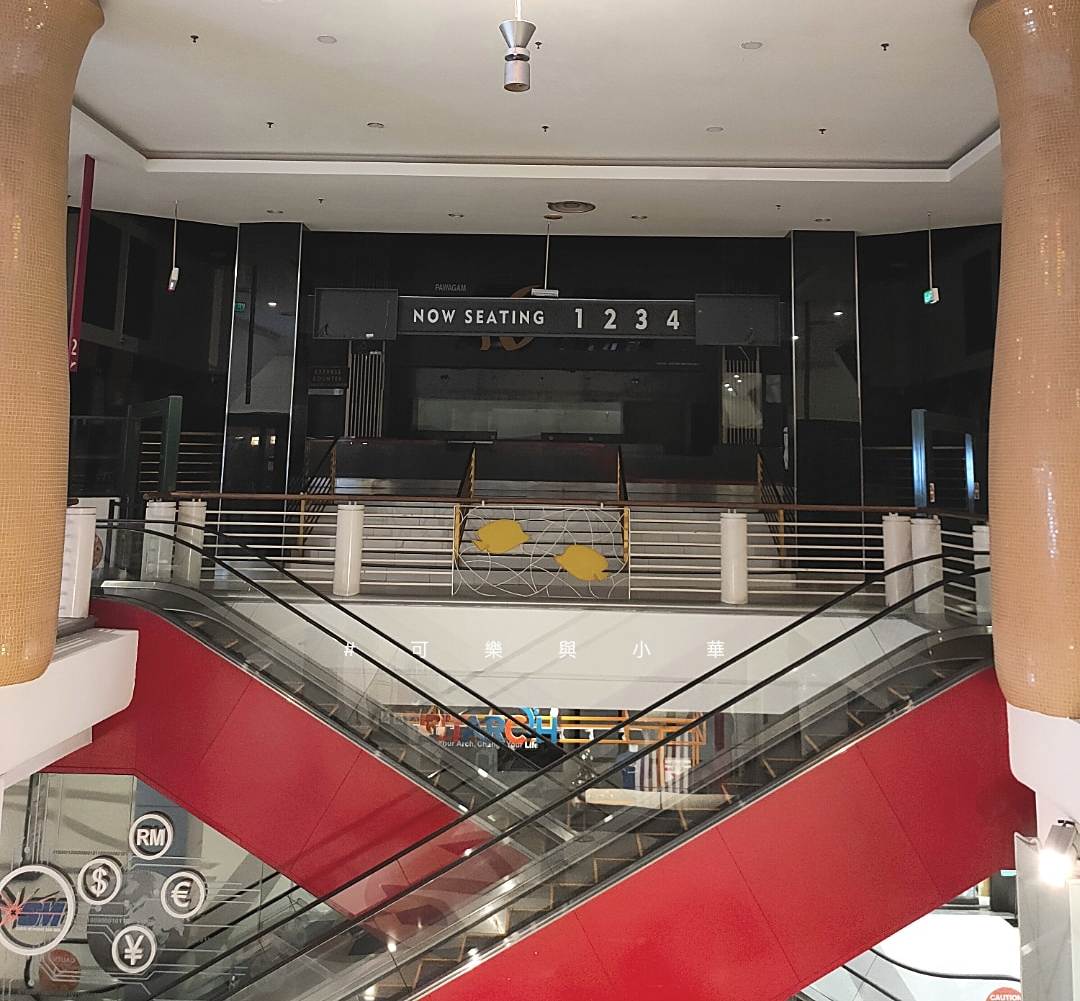 Image adapted from: Sam Shaggy
A photo shared by Facebook group Malaysia Shopping Mall also showed shuttered counter, and wires hanging from what used to be frames that held TV screens, with several GSC personnel holding tools such as electric drills or screwdrivers, presumably to remove the screens and other fixtures. It's a saddening sight, indeed, to see that a cinema that had been around for the past 25 years being stripped bare, with nothing much left.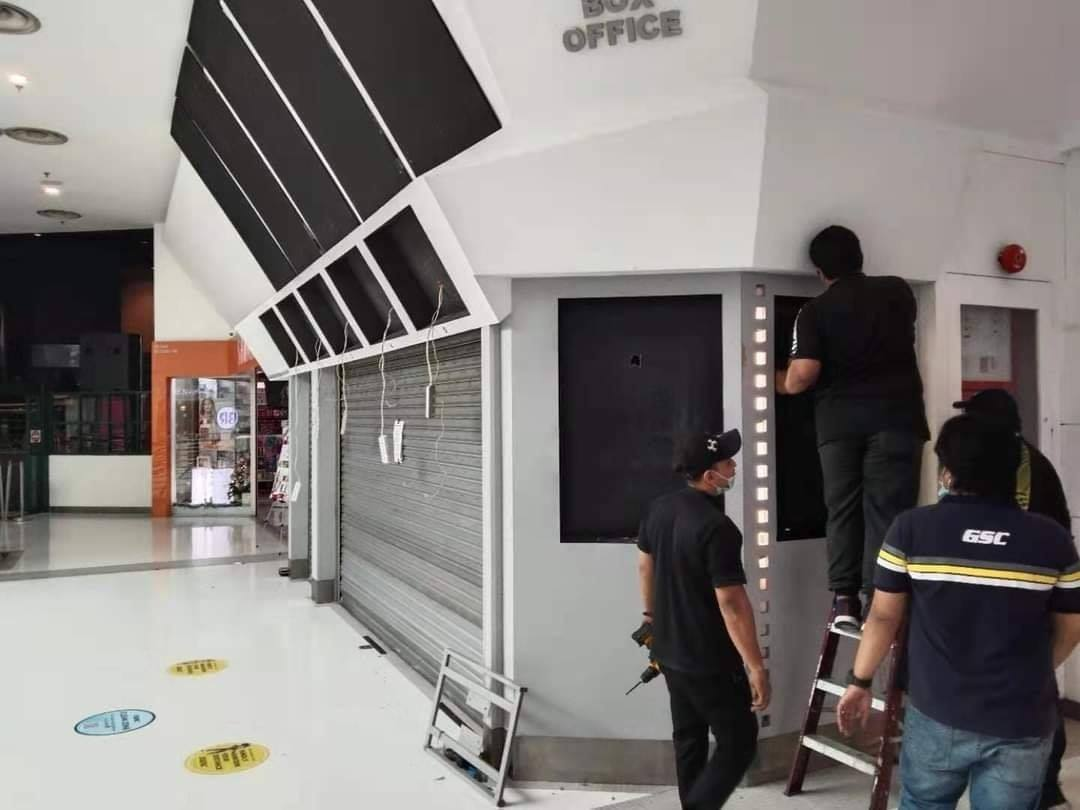 Image credit: Malaysia Shopping Mall
---
Netizens mourn the lost of nostalgic GSC locations
---
GSC's announcement post has now garnered over 11,000 reactions and 2,800 shares at the time of writing. Many netizens took to the comment section of the post to mourn the loss of these outlets, the to-go venues of their movie-going excursions. This includes Facebook user Amanda Yip, who commented, "During school time, [I] spent a lot of time in both Cheras Leisure Mall and Berjaya Times Square's cinemas. I will miss both these places. Stay strong GSC".


Image adapted from: Amanda Yip
Some also shared distinct recollections of the movies they had watched at the now-closed outlets. Netizen Jessica XiuYuan commented, "Cheras Leisure Mall's cinema was the first cinema I've ever been to ([to] watch Nemo!) and has been with me from my childhood to teenhood days. Will miss that place so much."


Image adapted from: Jessica XiuYuan
Many more also came out to share their fond childhood memories of the cinemas, while also wishing for better days overall. Netizen Wong Kwong Fei commented that these were the places which formed his "memories during [his] secondary school time and university time. Be strong GSC, be strong everyone!! Let's hope [for] a better year and things [to] get controlled."


Image adapted from: Wong Kwong Fei 
---
GSC closing 2 outlets in Cheras Leisure Mall & Berjaya Times Square
---
Those who grew up in the past 30 years, before online streaming platforms such as Netflix became commonplace would remember the excitement of going to catch a summer blockbuster or their favourite movie at cinemas. This is why a lot of us are more than bummed out that GSC will be closing 2 outlets in KL that many of us had frequented from our childhood years to the recent days before COVID-19 hit the world. 
While we mourn the loss of 2 beloved and iconic cinema branches in KL, we're wishing for better days for local businesses and everyone in 2021. 
Read more Malaysia news here: 
---
Cover image adapted from: GSCinemas & Sam Shaggy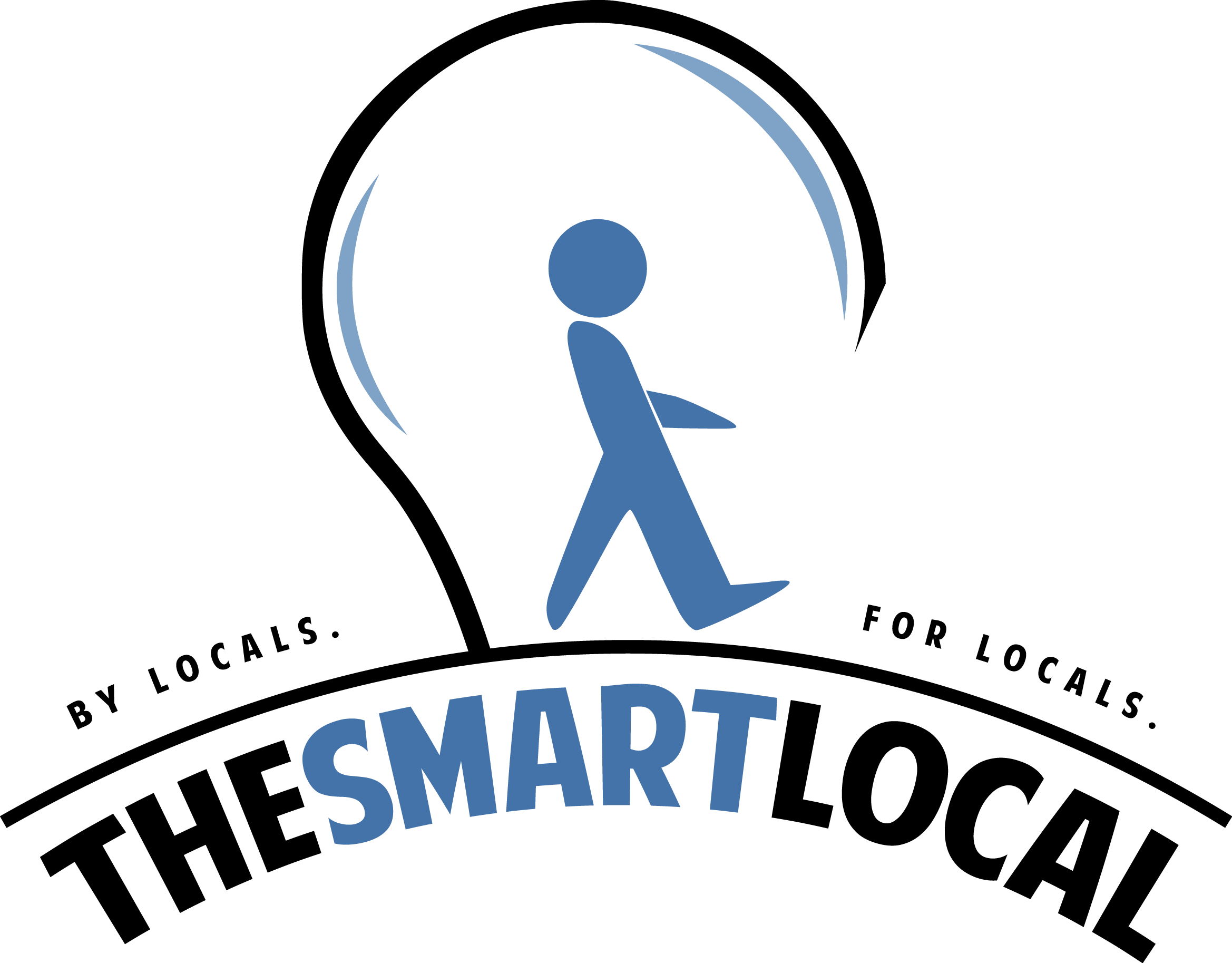 Drop us your email so you won't miss the latest news.