Passenger stranded in flood details his experience
---
The rain has been pouring down on us incessantly these past few days in Malaysia. Even as it is "sweater weather", prolonged rain brings with it the threat of flood.
A passenger travelling on an express bus from Kota Bharu to Kuala Lumpur two days ago experienced the woes firsthand when his bus broke down in flood waters, leaving him and other fellow passengers stranded. He recounted his story on Twitter in great detail in a wholesome thread, thanking all those who helped them get home safely.
---
Bus broke down in the middle of flood waters
---
Twitter user @farysnordyn posted a series of tweets on 5th January chronicling the events that took place when the express bus that he was travelling on broke down right smack in the middle of flood waters and he had to spend the night in a local mosque nearby.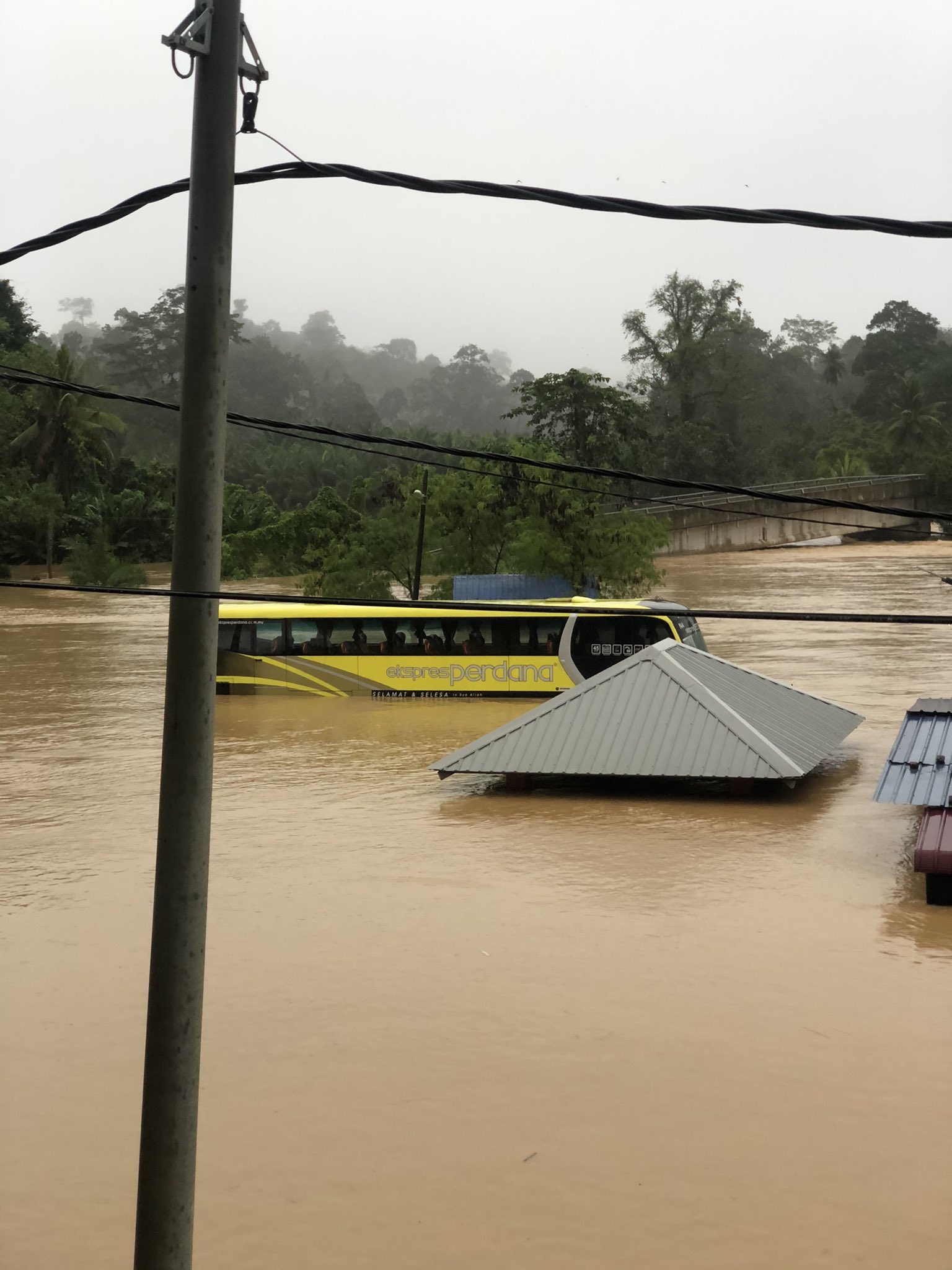 Image credit: @farysnordyn
According to him, the bus was driving through the kampung area of Jerum Besu Raub in Pahang when it got submerged in water and the engine died. The air-conditioning and lights went off shortly after. Panic then ensued when the water started seeping into the bottom deck of the double decker bus.
In a video documenting the experience, he wrote that "the whole lower deck [of the bus was] submerged and we [the passengers] had to escape through the emergency exit of the [upper deck]". He also thanked the abang bomba for coming to their rescue quickly.
Everyone was also beyond relieved to find out that there was a local mosque, Jeram Besu Mosque, right next to the scene, which meant that they would have a safe place and shelter to spend the night.
---
Stranded passengers touched by locals' kindness and generosity
---
Turns out, there were already families displaced from the flood taking refuge at the mosque too. @farysnordyn recounted that the power supply and cellular signal were switched off to prevent further damage to the structures, and that they had to sleep on the cold ceramic floor.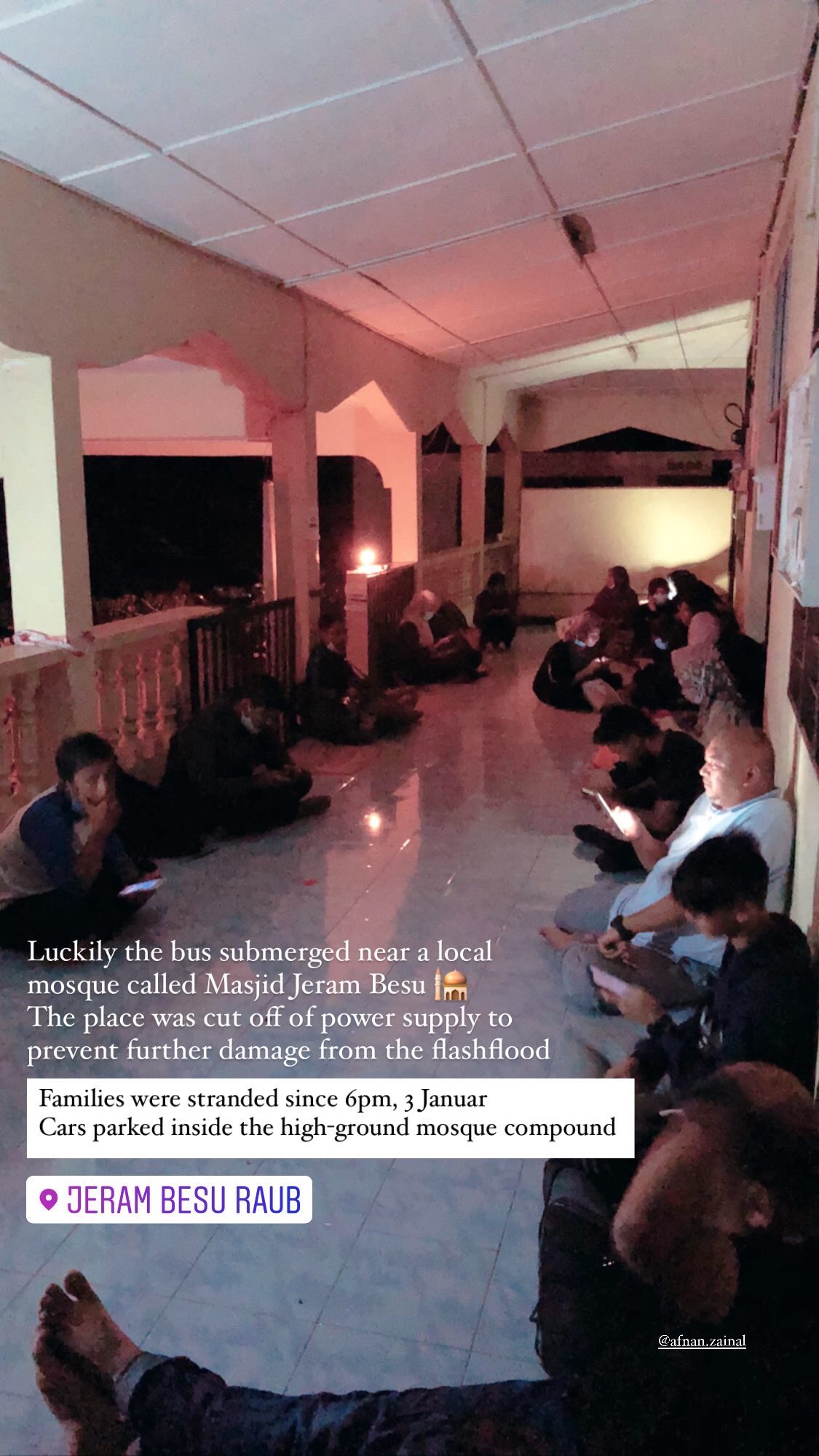 Image credit: @farysnordyn
However, the kindness shown by the local villagers and the teamwork demonstrated to help one another during this trying time left him with heartwarming and positive memories.
Image credit: @farysnordyn
Food was provided by the villagers who voluntarily cooked and packed it for everybody. When the water level receded, a number of men banded together to retrieve the luggages.
Despite some soiled clothing – which @farysnordyn captioned as "naturally printed batik shirt" – he said that he was grateful that some of his other belongings, such as his skincare, remained intact.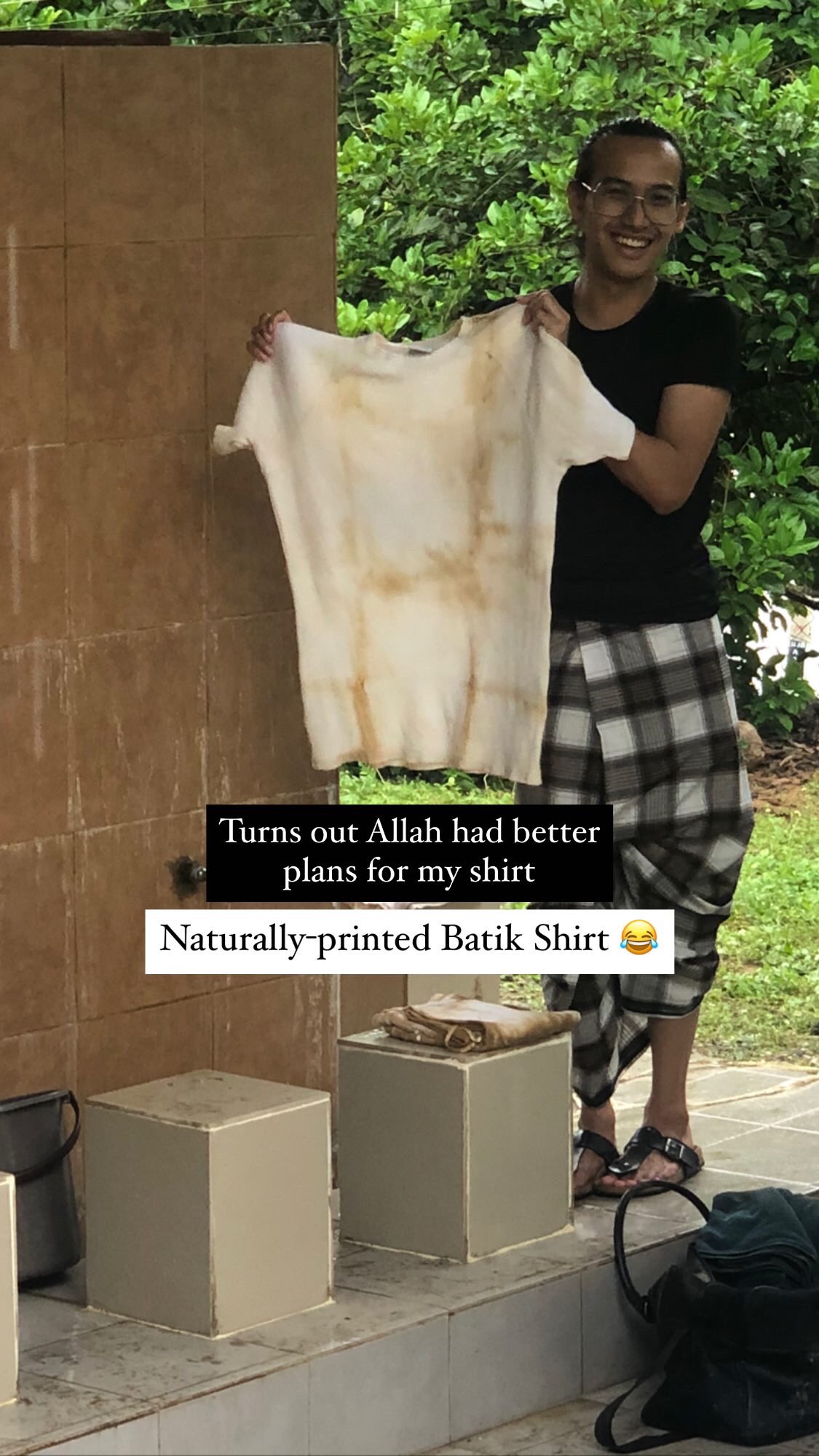 Image credit: @farysnordyn
Eventually, after a few hours, it was finally safe to continue the journey back to KL. Another bus had been sent to pick the stranded passengers up, and with the help of our bomba and local authorities, all of them boarded a boat in batches to cross a flooded street to get to the new bus. They even brought packed lunches that the villagers prepared earlier.

Image credit: @farysnordyn
---
Passenger remains positive and grateful despite being stranded from flood
---
At the end of his Twitter thread, @farysnordyn even shared a few valuable life lessons he picked up from this experience. He said that when things go wrong, we need the people around us to help each other get through it, so it's key that we practise kindness at all times. And when one remembers to be grateful, it's easier to remain positive in the face of difficulties.
Read more heartwarming Malaysian news here:
---
Cover image adapted from: @farysnordyn
Enjoying The Smart Local Malaysia? Follow us on Facebook and Instagram for more stories like this. If you have a story to share, email us at [email protected]
Get more stories like this!
Drop us your email so you won't miss the latest news.