Malaysia's new Agong flexes pop culture knowledge in This Or That game
---
On Tuesday (30 Jul), Malaysians celebrated the royal coronation of our new Agong, Al-Sultan Abdullah Ri'ayatuddin Al-Mustafa Billah Shah. Shortly after the ceremony, he sat down with 2 Astro Awani journalists for a lighthearted interview. At the start of the segment, he was asked to play a game of "This or That", where the journalists would get him to choose one answer over the other in questions related to current pop culture trends.
In one of the questions, he was asked to choose between Black Pink or BTS — our Agong chose BTS!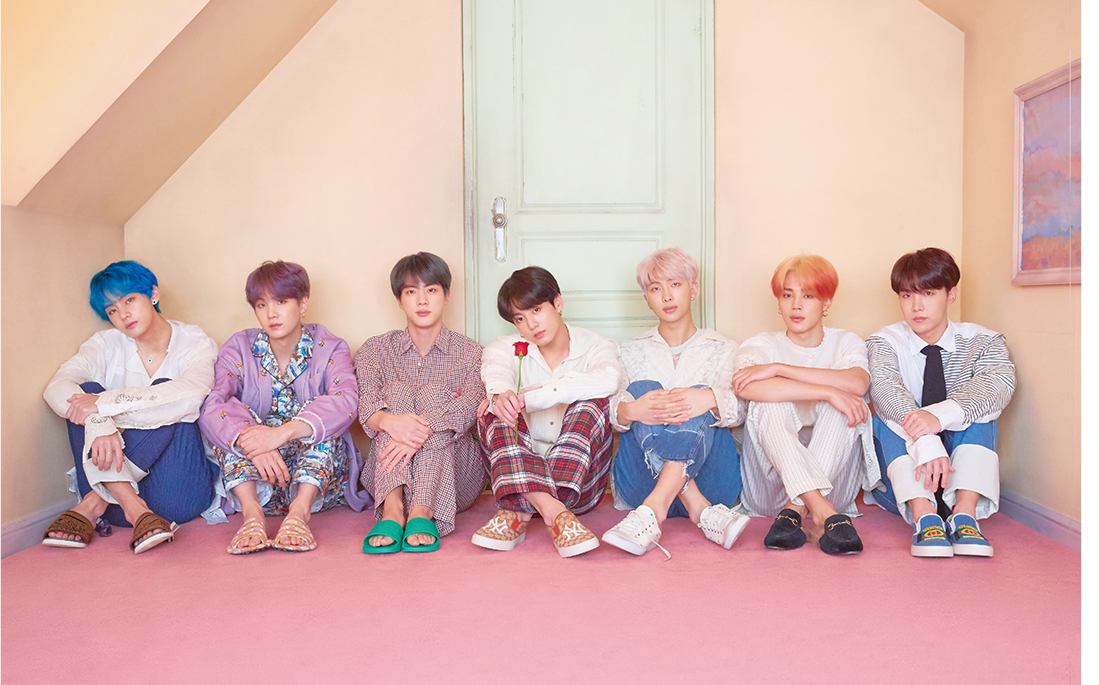 The popular K-pop group that even the Agong is fond of, BTS
Image credit: BigHit
A short clip of the interview's key moment is making rounds online, showing the Agong meekly smiling after answering 'BTS'.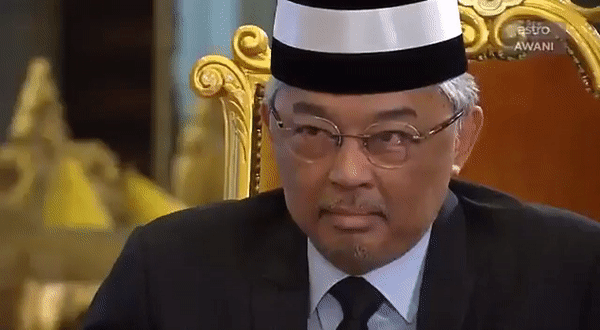 Image adapted from: Astro Awani
---
Getting to know our new Agong
---
The journalists obviously had a lot prepared for the get-to-know-your-Agong session. We're sure Malaysians feel a lot more familiar with our new king after watching the interview.
In the same 'This or That' segment, the Agong was asked several questions related to pop culture. Some of them are:
Michael Jackson or Bruno Mars? He chose Bruno Mars
Iron Man or Black Panther? Iron Man
Bee Gees or ABBA? Bee Gees
Batman or Superman? Batman
Tom Cruise or Brad Pitt? Tom Cruise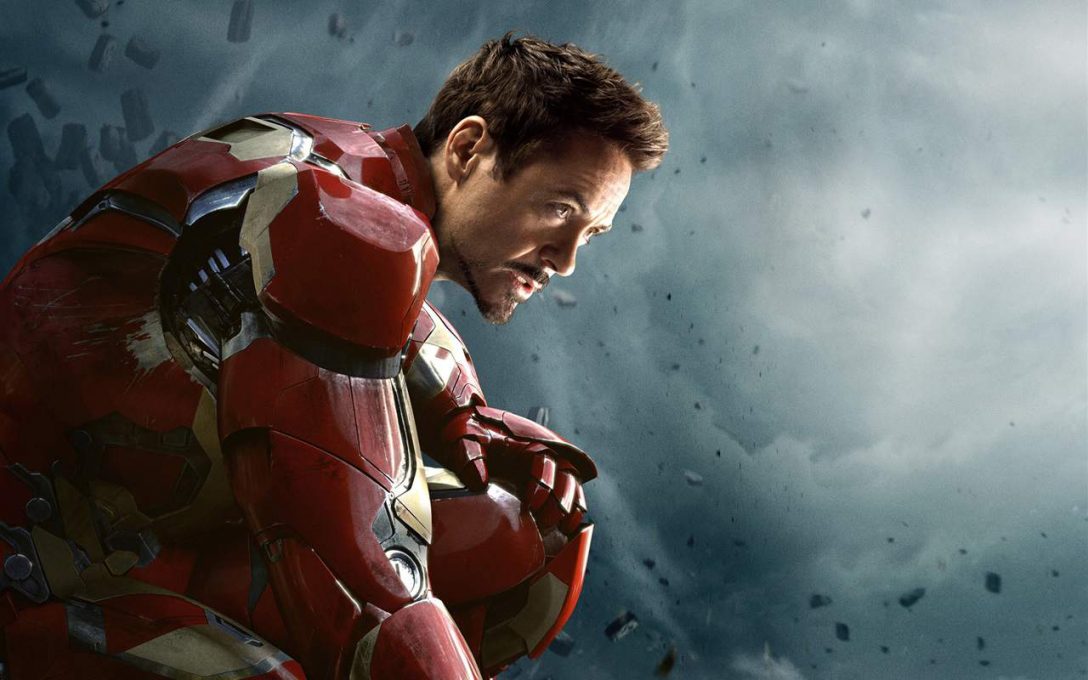 Our Agong picked Iron Man over Black Panther
Image credit: Nerdist
It seems that our newest Agong is quite the trendy man.
Although in an earlier question, he chose hip-hop over K-Pop, he appears to be quite well-verse with K-Pop knowledge too with the "BTS or Blackpink" question. Perhaps we now have a good idea of which BTS song could be his favourite. The popular all-male group is known to have its roots in hip-hop and even has a song called "Hip-Hop Lover".
---
ARMYs now stan the Agong too
---
The huge, adoring fan base of BTS – better known as ARMYs – have taken to Twitter to gush over the Agong's adorable interview moment. They're also having a blast of a time celebrating the newest royal addition to their fan club.
This fan jokingly came up with her own statistics for Malaysia trends on the same day the interview was released, and said that 85% of the trends were: "Aww soo cute Agong prefers BTS over Blackpink laa".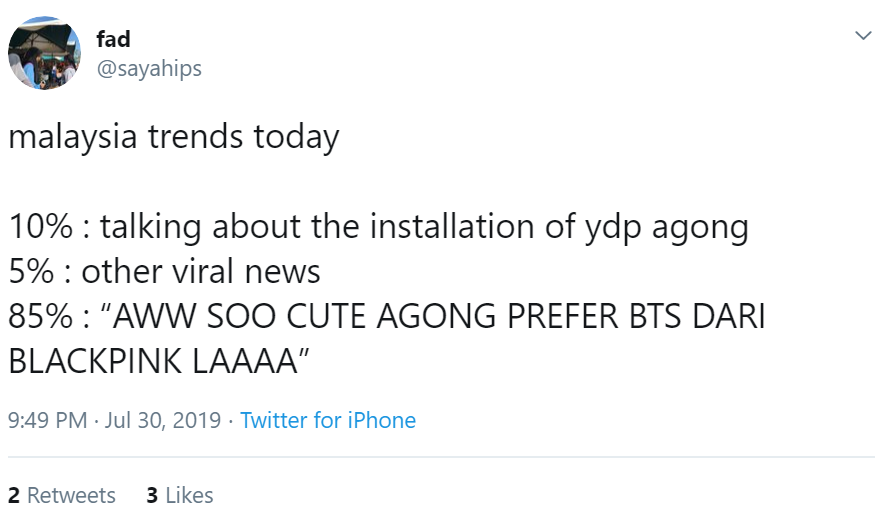 Image credit: @sayahips
Following the surprising revelation, this Twitter user said that it's fine if people don't like BTS because she understands they're not "Agong standard".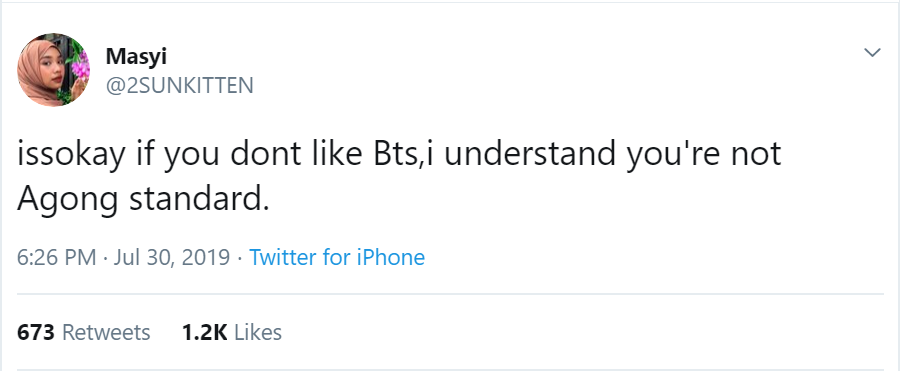 Image credit: @2SUNKITTEN
Another Twitter user simply says that there's no choice but to stan our King, and complimented him on his good taste for music.


Image credit: @honneybunny97
---
New Agong is a man of the people
---
Besides being a trendy man who appreciates pop culture, he has already been long loved by Malaysians. Take that time when he and his wife queued up for KFC and had their humble meal at the outlet itself.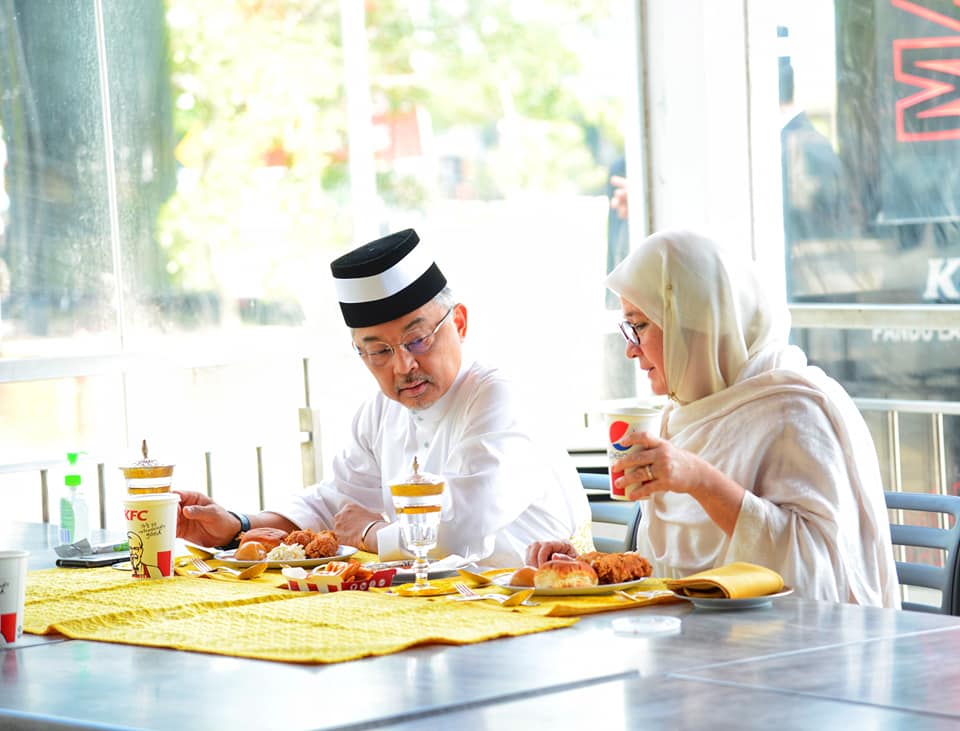 Image credit: @SayangYDPA
There was also the time when he was on the way to a meeting with Prime Minister Tun Mahathir Mohamad but stopped his motorcade when he saw an accident on the road just so that he could offer a helping hand.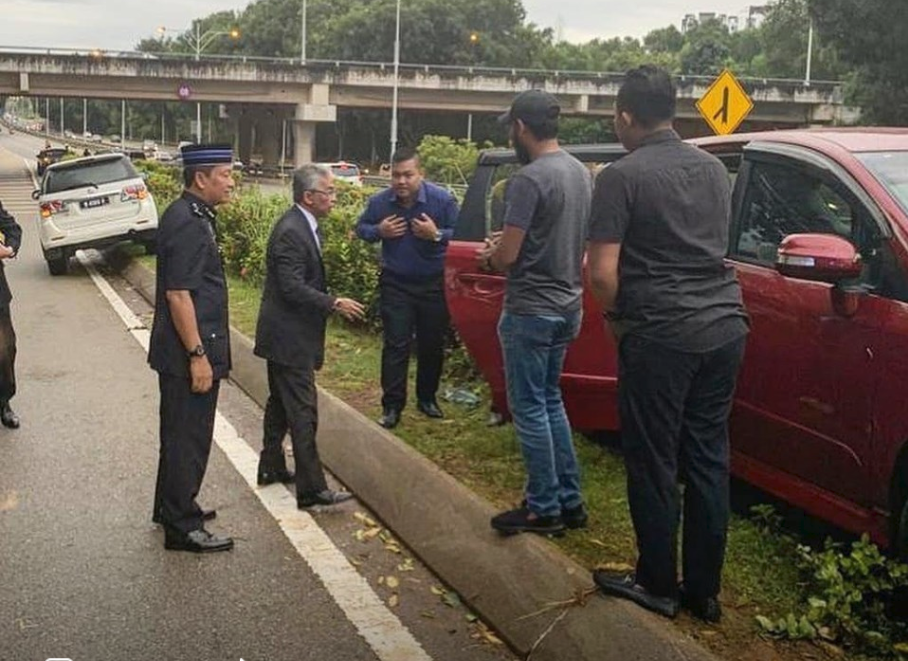 Image credit: @istana_negara
Whether he's a fan of BTS, or Iron Man, or Tom Cruise, we're confident that he'll still be a great Agong and Malaysia is lucky to have him. Daulat Tuanku.
---
Cover image adapted from: The Star and @ifnt7bts
Get more stories like this!
Drop us your email so you won't miss the latest news.