Masjid Al-Khairiah in Pangkor Island
---
Pangkor Island may be known for its pristine beaches and sun-kissed shores. But beyond its renowned coastal beauty is an architectural splendour that's often overlooked by out-of-towners: Masjid Al-Khairiah.
Tucked away in the streets of Kampung Sungai Pinang Kecil, this unique Chinese-style mosque features a red-accented facade and a stunning Jawi-scripted moongate. Altogether, they showcase the unique intermingling of cultures evident in our country's architecture.
---
A mosque with Chinese flair
---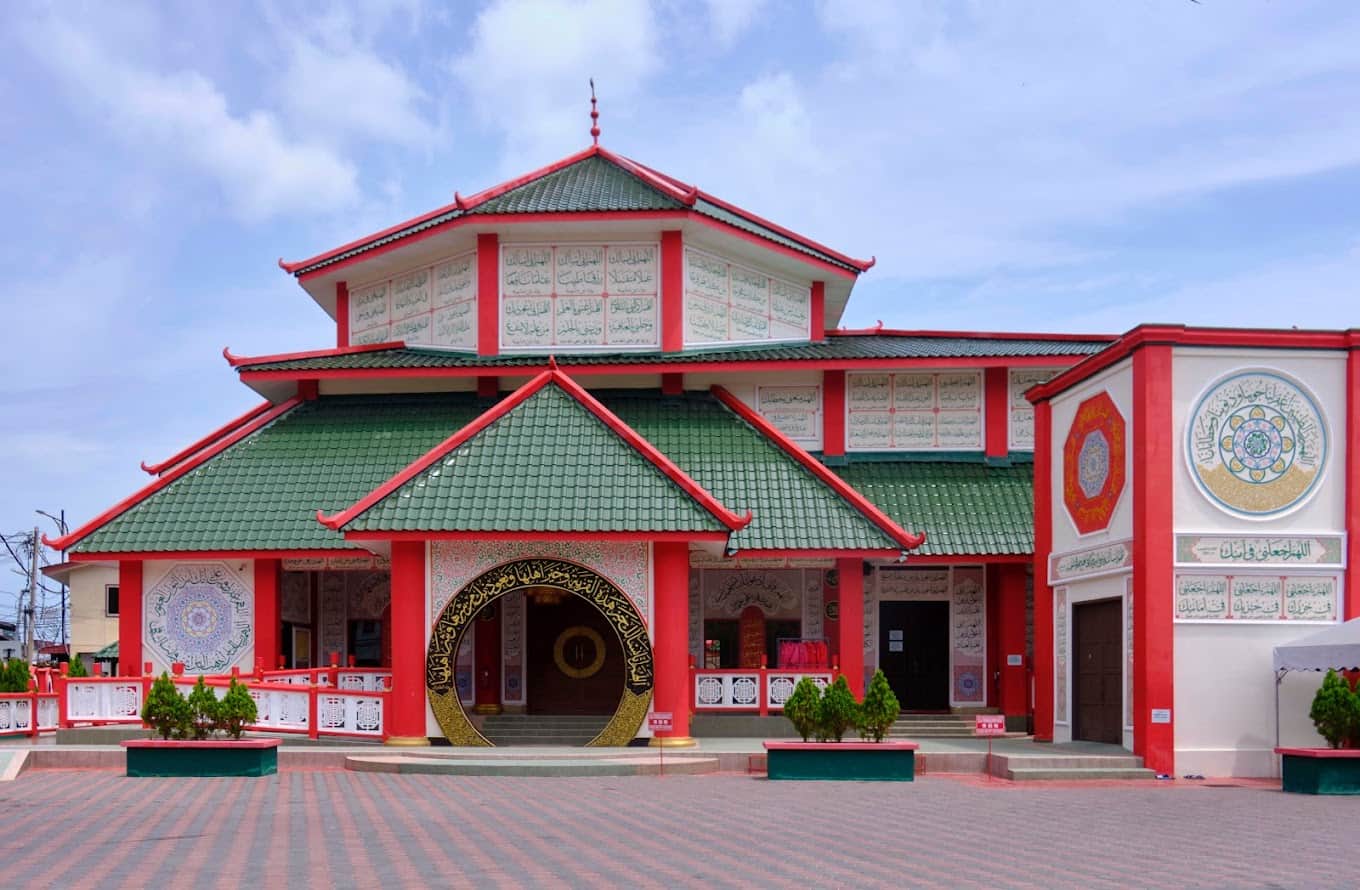 Image credit: Chuang Lim via Google Maps
Kampung Sungai Pinang Kecil is a popular village for visitors looking to discover fresh seafood and mingle with friendly locals in Pangkor Island. Gracing its serene landscape, alongside the collection of seafood restaurants and kopitiams, is Masjid Al-Khairiah. 
This place of worship is set right in the heart of a majority Chinese community, standing magnificently in its resplendent hues of red, white and green.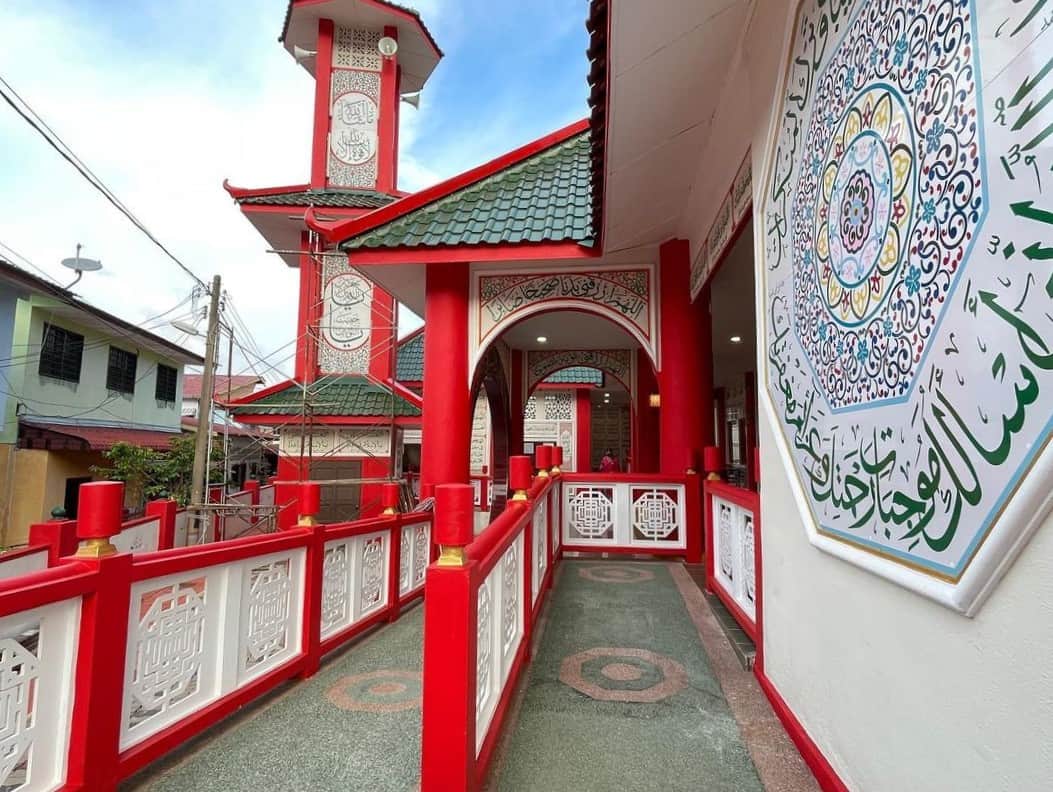 Image credit: @elainelaineee via Instagram
Following the construction of the Al-Badr Mosque with the concept of 1,000 selawat in Pangkor Island, Masjid Al-Khairiah was reconstructed in 2017 with the idea of making Doa as its main concept. It was originally a mosque made of wood in 1926, and visited by Chinese Muslims, Indian Muslims, and Malays.
The mosque's makeover was developed by the Chinese Muslim Association in collaboration with Yayasan Restu. It now features traditional Chinese architecture such as green angled roofs and Chinese lattice bridge railings.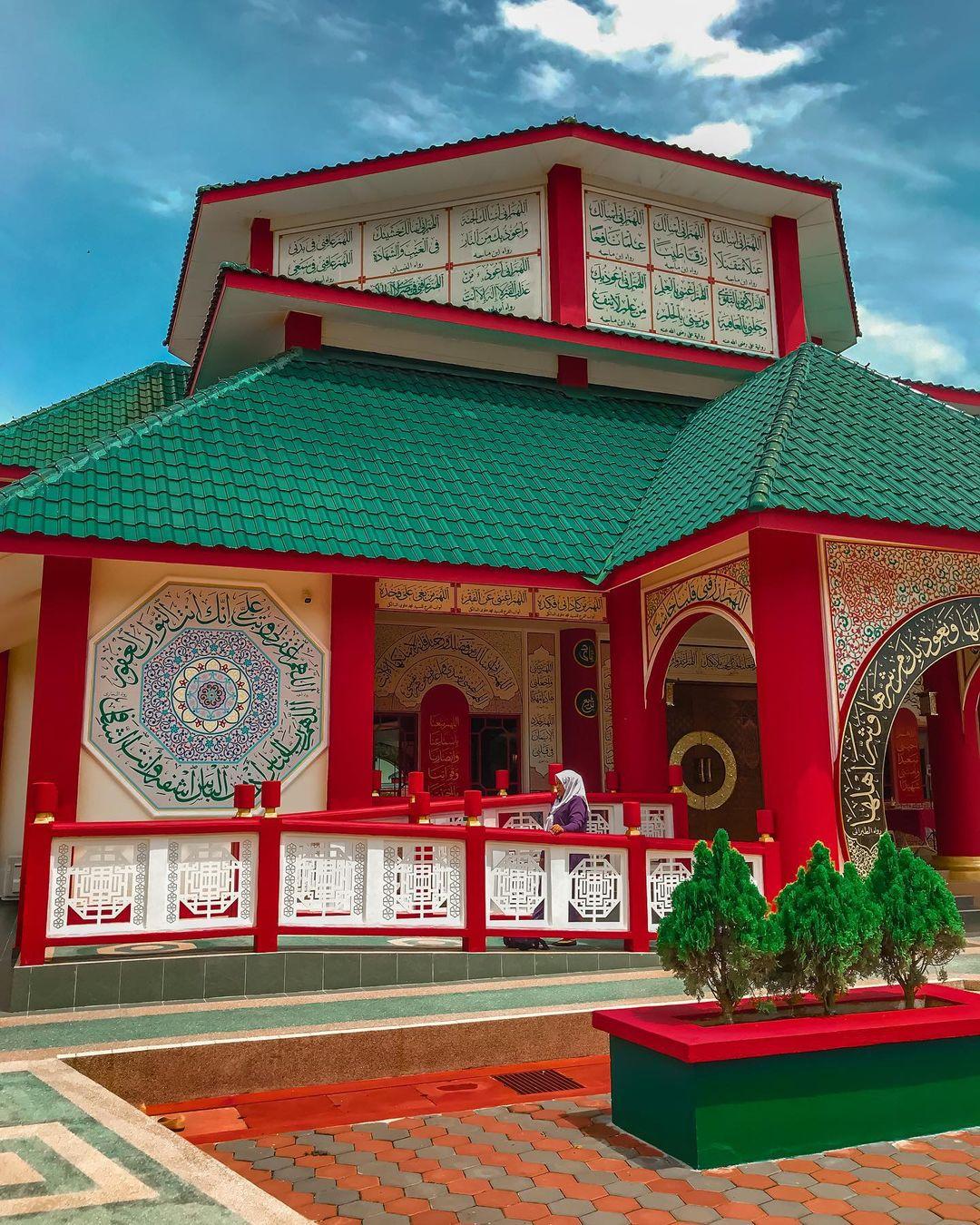 Image credit: @wandeewonder via Instagram
As you enter the mosque's grounds, you'll be captivated by the harmonious dance of Chinese and Islamic architectural elements that grace its form. A defining feature that'll greet you is the Jawi-scripted moongate, located right at the entrance of the mosque.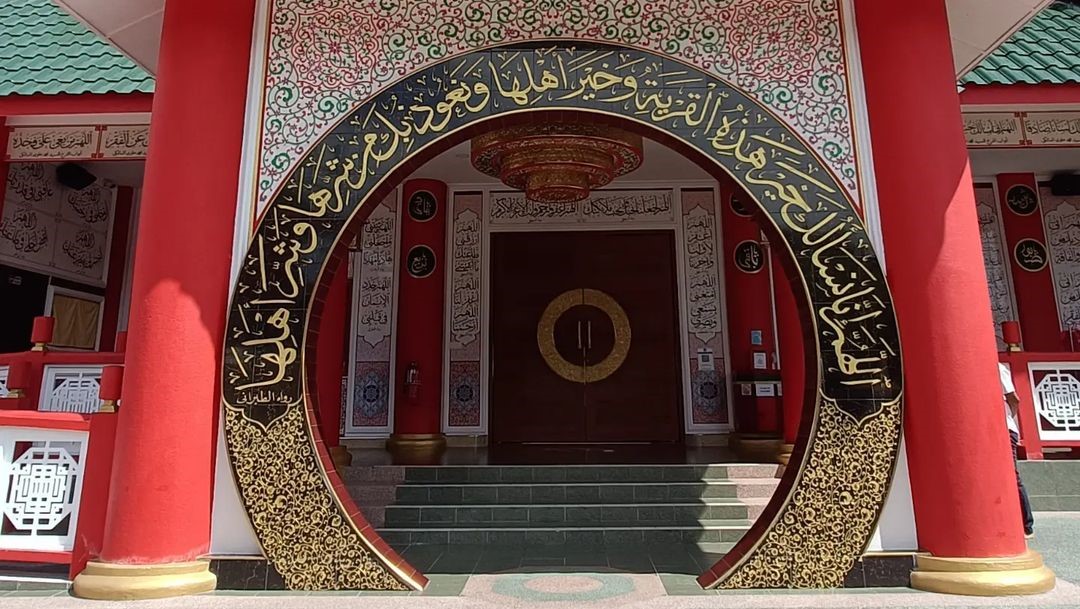 Image credit: @cherryzieziey_official via Instagram

---
Known by the moniker, the 'Mosque of a Thousand Prayers'
---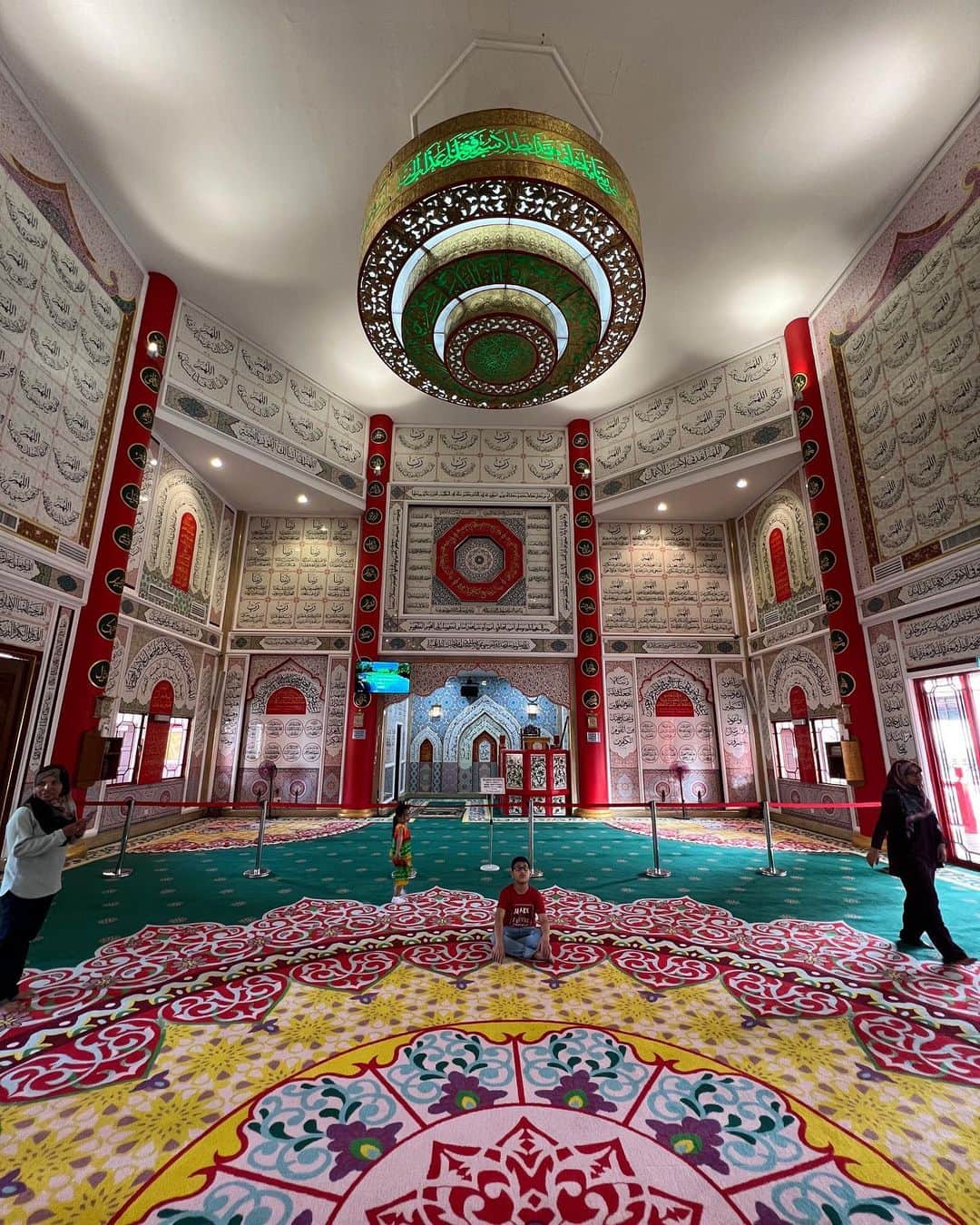 Image credit: @tqahmisdar via Instagram
Discard your shoes and step inside Masjid Al-Khairiah to be awestruck by the expansive prayer hall spanning over 7,250 square feet. This architectural marvel can accommodate more than 500 devotees at a time, and it particularly comes to life during Friday prayers.
Don't forget to look up when you're inside. The higher section of the mosque's walls are adorned with sacred verses from the Quran, which earned it the moniker of the 'Mosque of a Thousand Prayers'.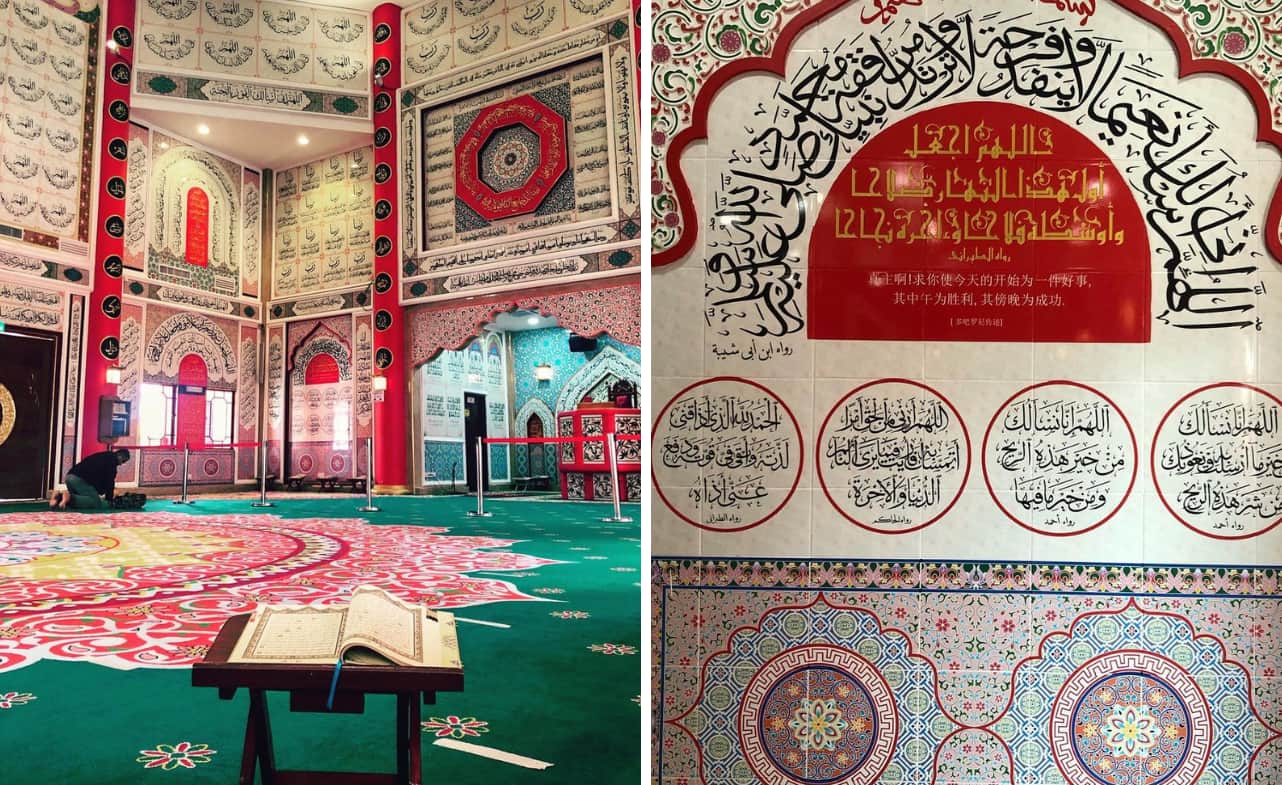 Image credit: @aziam via Instagram
These wall motifs mirror those found in a special Chinese-Jawi Quran, published in conjunction with the construction of this unique building.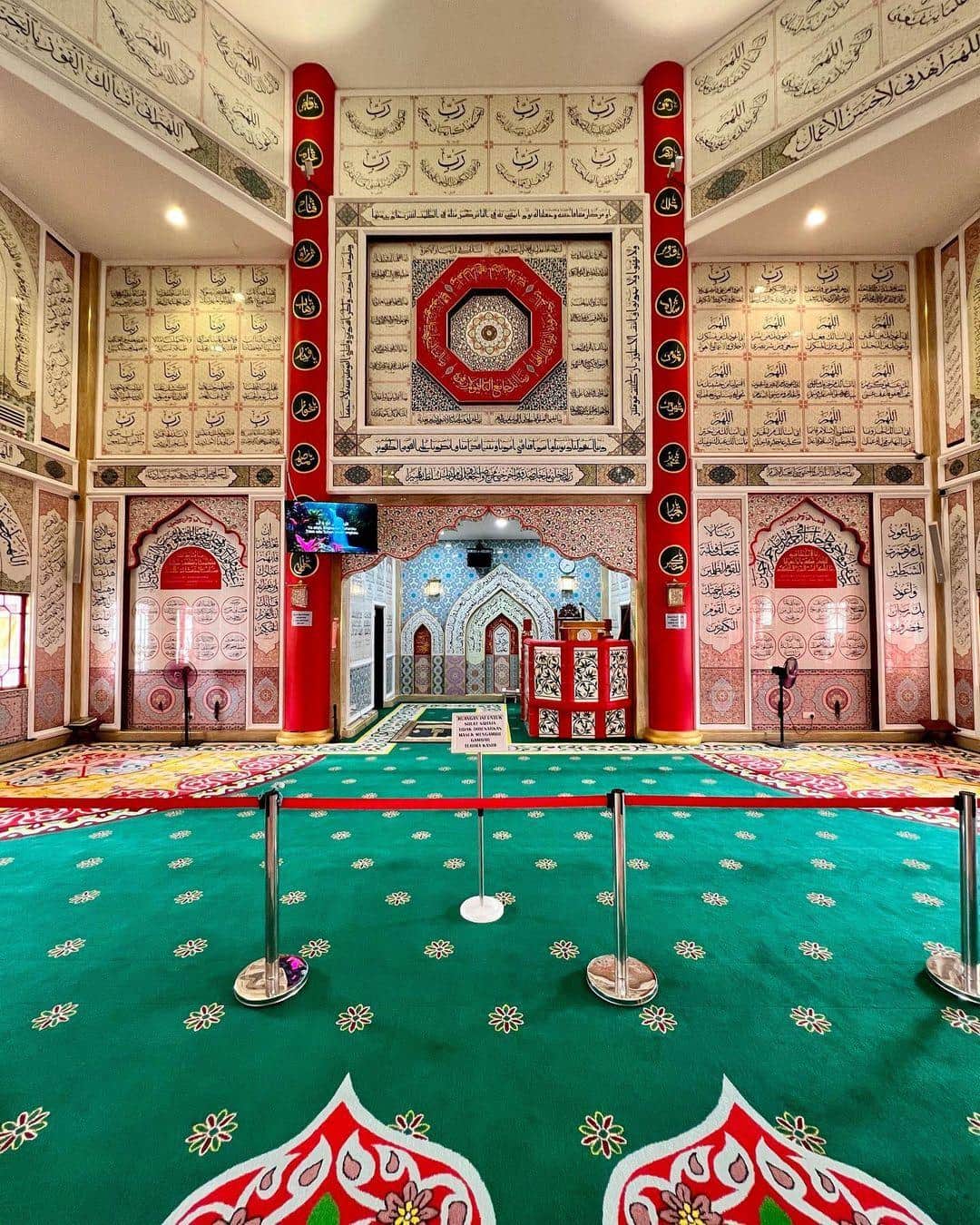 Image credit: @sukrihadi via Instagram
Upon closer observation, you'll notice the Asma-ul-Husna is emblazoned vertically in a Chinese calligraphy style on red pillars. These are the names attributed to Allah in Islam by Muslims.
The intricate calligraphy adorning the mosque's interior and exterior is the handiwork of a skilled local calligrapher from Yayasan Restu. They are incorporated into the interior with botanical motifs and geometric designs native to the state of Perak. The motifs find their inspiration in the distant NiuJie Mosque in China, particularly the Chinese Peony and Apple Blossom.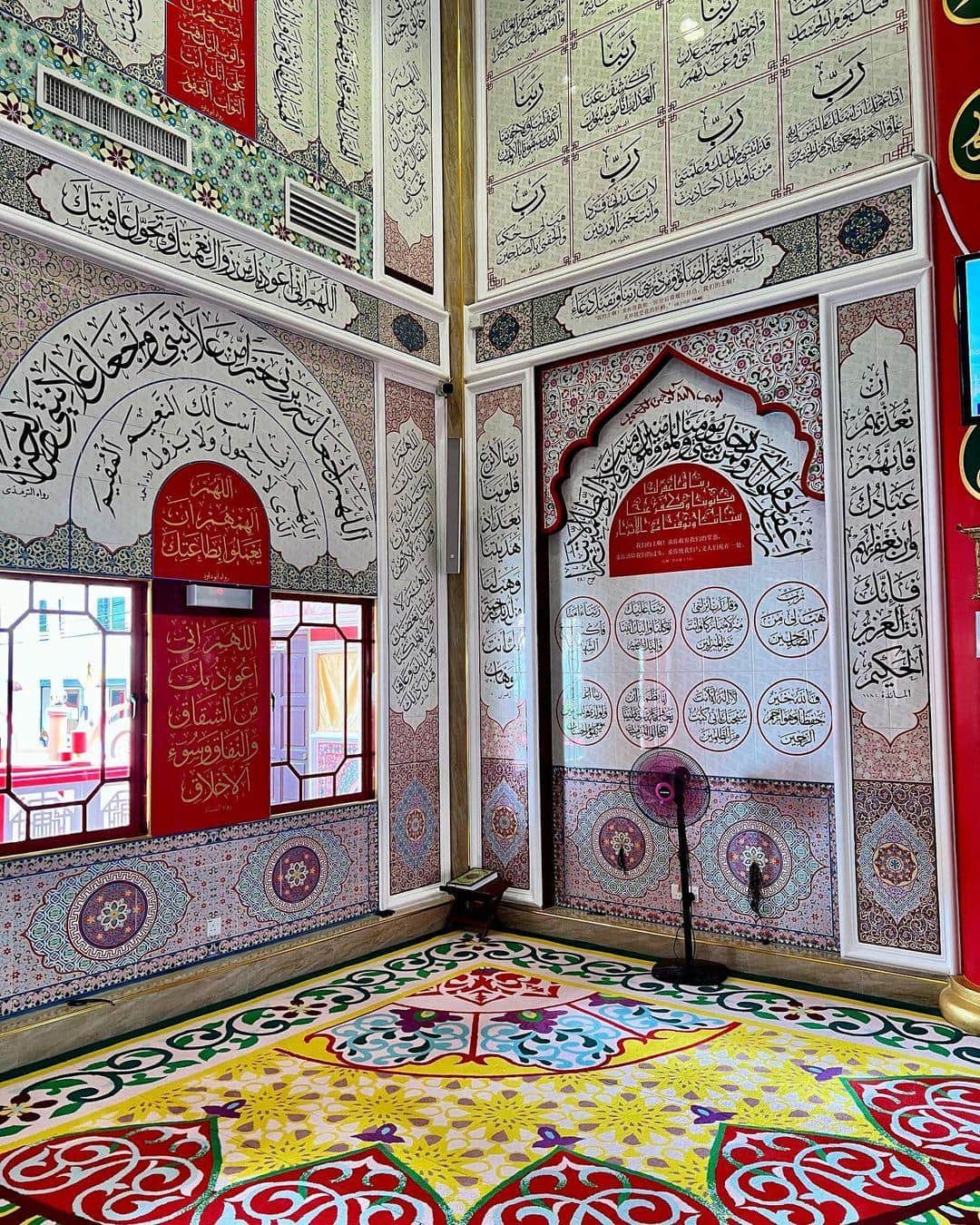 Image credit: @sukrihadi via Instagram
Non-Muslims are welcomed to visit this mosque, but are reminded to dress appropriately to pay respect to this sacred space. Robes will be provided to visitors who will need them to cover up for entry.
---
Masjid Al-Khairiah is a stunning Chinese-style mosque
---
Our country is blessed with a dazzling array of architectural wonders. If you happen to be visiting Pangkor Island, consider a visit to this Chinese-style mosque that uniquely reflect the diverse blend of cultures that is Malaysia.
Address: Sungai Pinang Kecil, 32300 Pulau Pangkor, Perak
Opening hours: 24 hours, Daily

For more unique places to visit, check out 10 unique mosques in Malaysia and 10 Hindu temples in Malaysia.
---
Cover image adapted from: @maxzchua via Instagram, Chuang Lim via Google Maps, @cherryzieziey_official via Instagram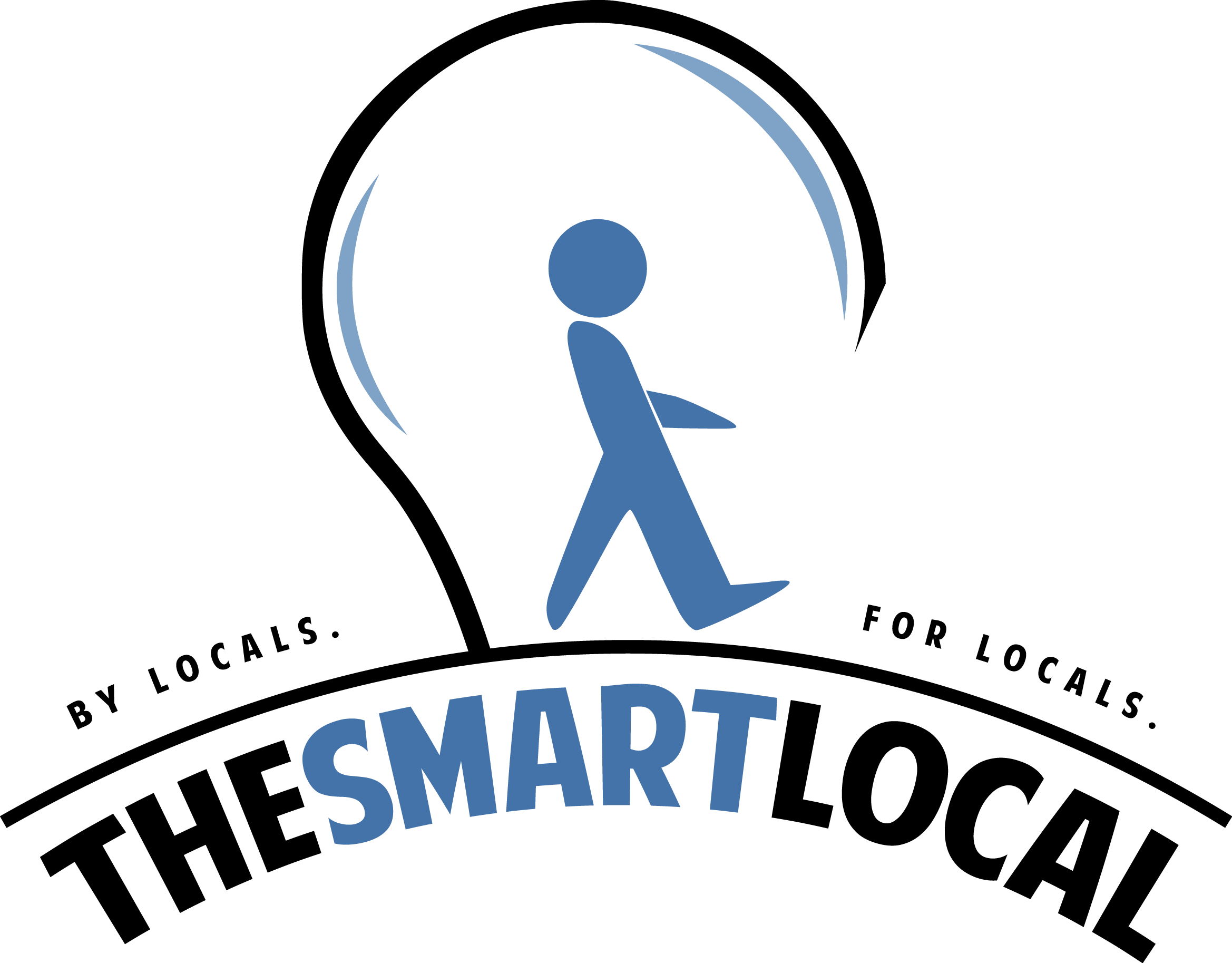 Drop us your email so you won't miss the latest news.