Mudah.my buyer scammer claims transfer fees
---
While most of us have pleasant experiences to share from online shopping, scams are, unfortunately, something we have to keep an eye out for. And it's not just shoppers who're targeted in such devious schemes – sellers turning to sites such as Carousell and Mudah.my to sell their preloved items have become victims of buyer scammers too. 
As a reminder to all to be careful while online, a The Smart Local Malaysia reader shared how he almost got scammed by a buyer while trying to sell a camera for RM950 on Mudah.my. The buyer claimed to have transferred RM1,900 – double the amount – for it, but asked for an activation fee worth RM300 before the amount could be cleared. 
---
Paid double the price of item sold on Mudah
---
The reader, who wishes to remain anonymous, opted to sell off his OSMO Pocket camera on Mudah.my – a popular website in Malaysia for users to put up ads for items they wish to sell, such as homes and cars and even preloved DVDs and gadgets.  
Like most online sales go, a buyer responded "I'm interested" in the email response function to his ad on Mudah.my.
From the app, he chatted up the buyer, who seemed keen on purchasing the camera, even promptly sending over an address for shipment. However, the buyer insisted on having his WhatsApp number to send over a proof of payment.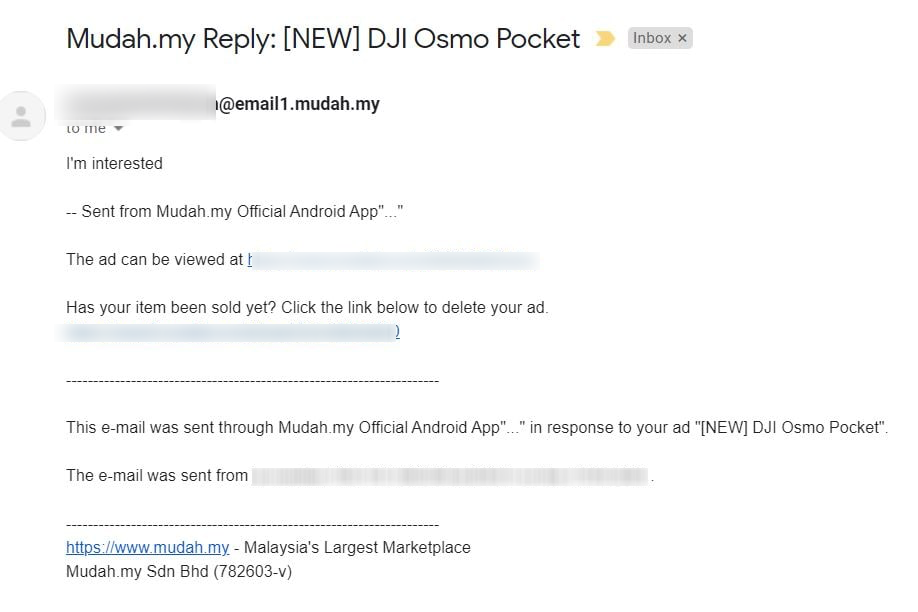 Screenshot provided to The Smart Local Malaysia by the Mudah.my seller 
He initially objected and tried to get the buyer to send it to his personal email address. However, after that, the buyer claimed to not have received the email address even though he had sent it already.
Convinced that the buyer was legit enough, he opted to share his phone number and continued their conversation on WhatsApp.
Here, the buyer sent him photos as an example of how he wanted the camera to be carefully packaged while sharing that he was a retailer. He also sent the seller an image indicating proof of payment in the form of a Citibank bank transfer worth RM1,900 – double the camera's RM950 selling price. 
---
Mudah buyer scammer offered an extra RM950 for camera
---
The buyer claimed that he had paid RM1,000 – including postage and activation fees – and an extra RM900 for tax and insurance payments.
However, for the total payment of RM1,900 to be cleared, the buyer told the seller that he had to transfer an activation fee of RM300 to an "activator" CIMB bank account that wasn't in the buyer's name.
Screenshot provided to The Smart Local Malaysia by the Mudah.my seller 
The buyer also alleged that this "accreditation fee" of RM300 had to be settled by the seller immediately as the RM1,900 payment had supposedly already gone through. If not, according to the buyer, the seller's bank account would be blocked and legal action would be taken against him.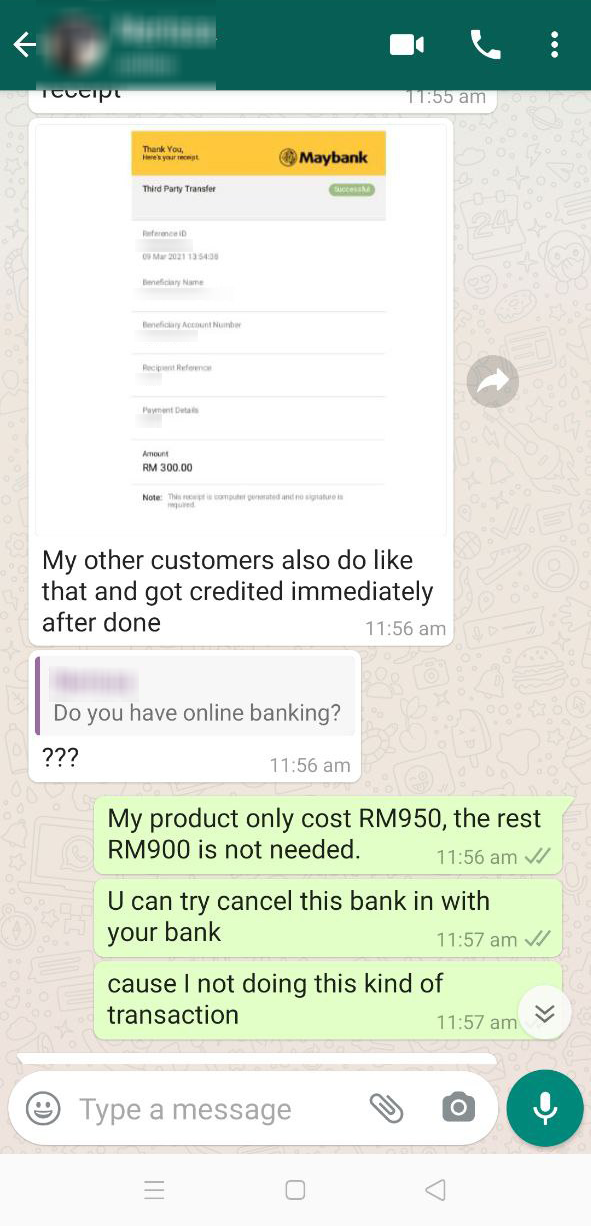 Screenshot provided to The Smart Local Malaysia by the Mudah.my seller 
As further "proof", the buyer sent a screenshot of a bank transfer of RM300 made to him from one of his customers who supposedly got credited an undisclosed amount by following the same steps.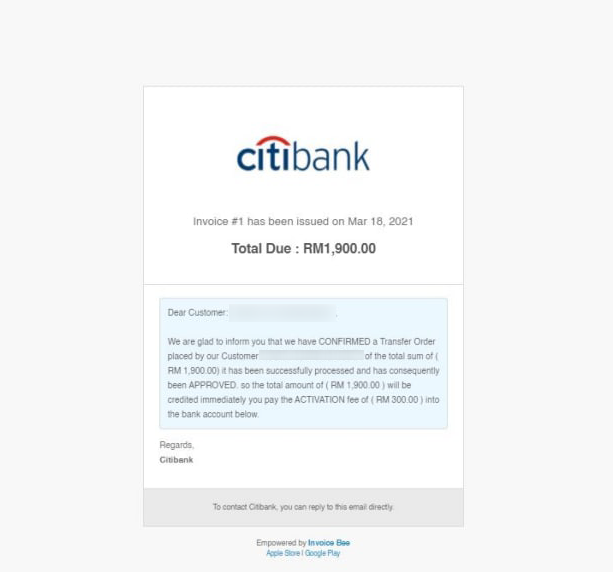 Screenshot provided to The Smart Local Malaysia by the Mudah.my seller 
A screenshot of a rather legit-looking page from Citibank addressing him was also shared by the buyer, which said that an activation fee of RM300 would be needed before the total of RM1,900 could be credited to his account. However, when he called Citibank's hotline number for confirmation, the bank informed him that they do not have such activation fees.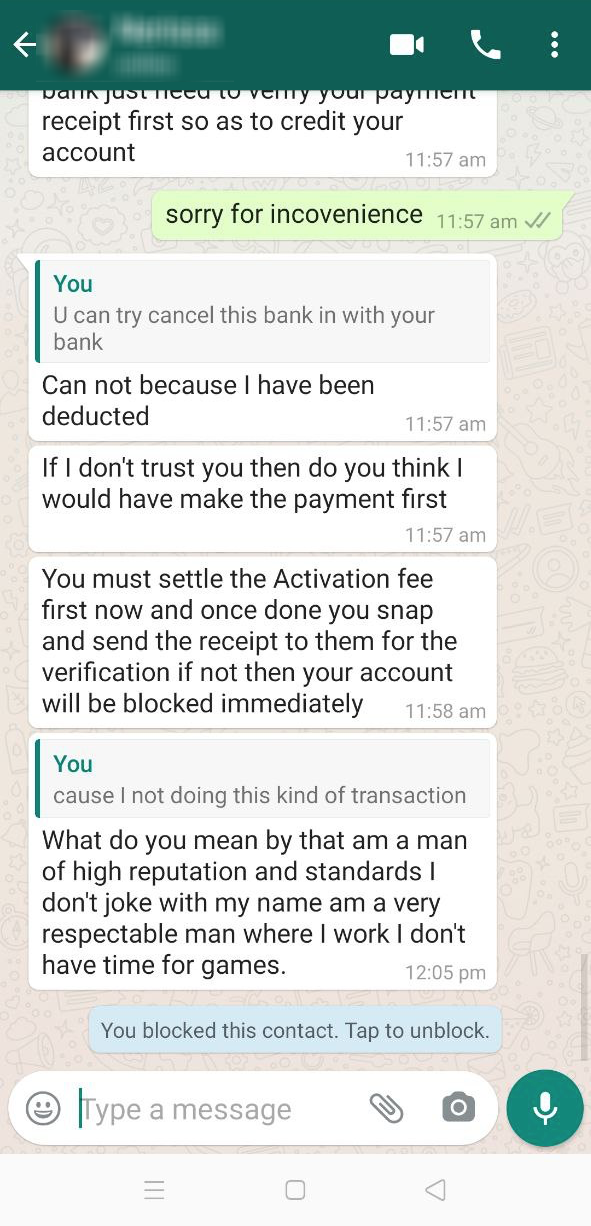 Screenshot provided to The Smart Local Malaysia by the Mudah.my seller 
After the seller continued to refuse to pay the RM300, the buyer went on a rampage, claiming that his money had already been deducted and insisting that the seller pay the activation fee or he'd get his bank account blocked. 
When the seller replied that he didn't want to the extra RM950 nor to pay RM300, as he didn't wish to perform these types of transactions, the buyer furiously texted him back, saying, "What do you mean by that? [I] am a man of high reputation and standards. I don't joke with my name. [I] am a very respectable man where I work. I don't have time for games."
After the incident, the seller proceeded to block the buyer on Whatsapp.
---
Mudah buyer scammer pays extra RM950 for purchase with conditions
---
Nobody wants to be losing money to scams at this time, especially with so many already finding it hard to make a living during the pandemic.
So this story reminds us to stay alert whether we're shopping or selling things online, and to always be cautious when giving out information to strangers.
Read more news here:
---
Cover image adapted from: Nathan Dumlao / Unsplash 
Get more stories like this!
Drop us your email so you won't miss the latest news.