Pinang Peranakan Mansion
---
Penang is a fascinating world of the old and new, with modern high-rise buildings sitting alongside quaint heritage shophouses. While exploring George Town's street art and eating your way through hawker stalls is a good enough day spent in Penang, discovering its grand collection of colonial-era buildings is also a must to properly immerse yourself in the local culture and history.
One noteworthy building brimming with rich history in George Town is Pinang Peranakan Mansion. An architectural splendour that's home to thousands of antiques and collectibles, the mansion is now a historic house museum that transports visitors to a bygone era of Peranakan culture.
Here's what you can discover here.
---
Once the opulent residence of a local tycoon
---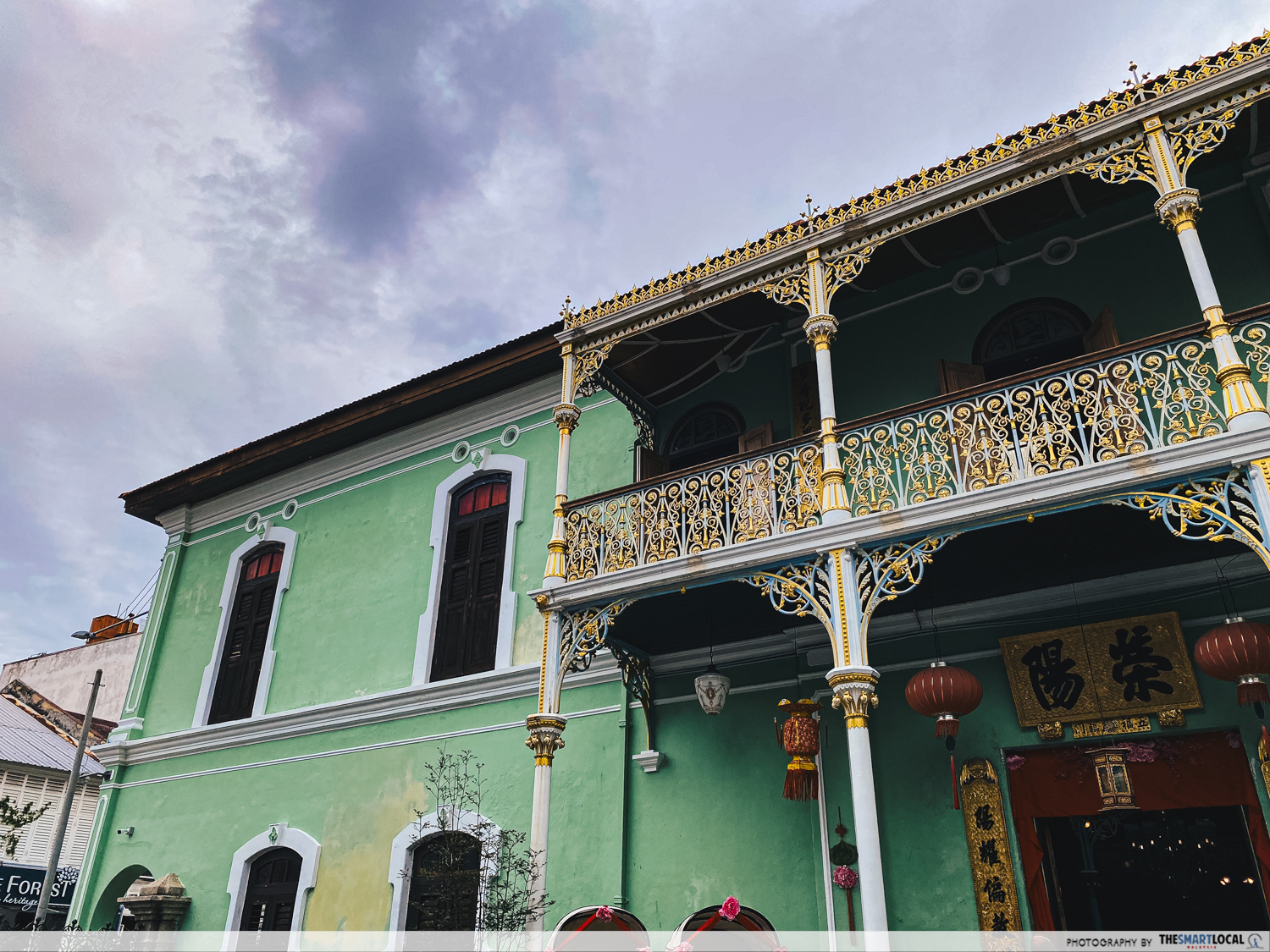 Located amidst hawker stalls and shophouses along Church Street, Pinang Peranakan Mansion is a mesmerising building that stands grand in its distinctive green glory – and on the original ground where it was first built.
Hai Kee Chan, or the Sea of Remembrance Hall as it was once called, was designed and built at the end of the 19th century. It served as the residence and office of Chung Keng Kwee, a Kapitan China and Penang tycoon.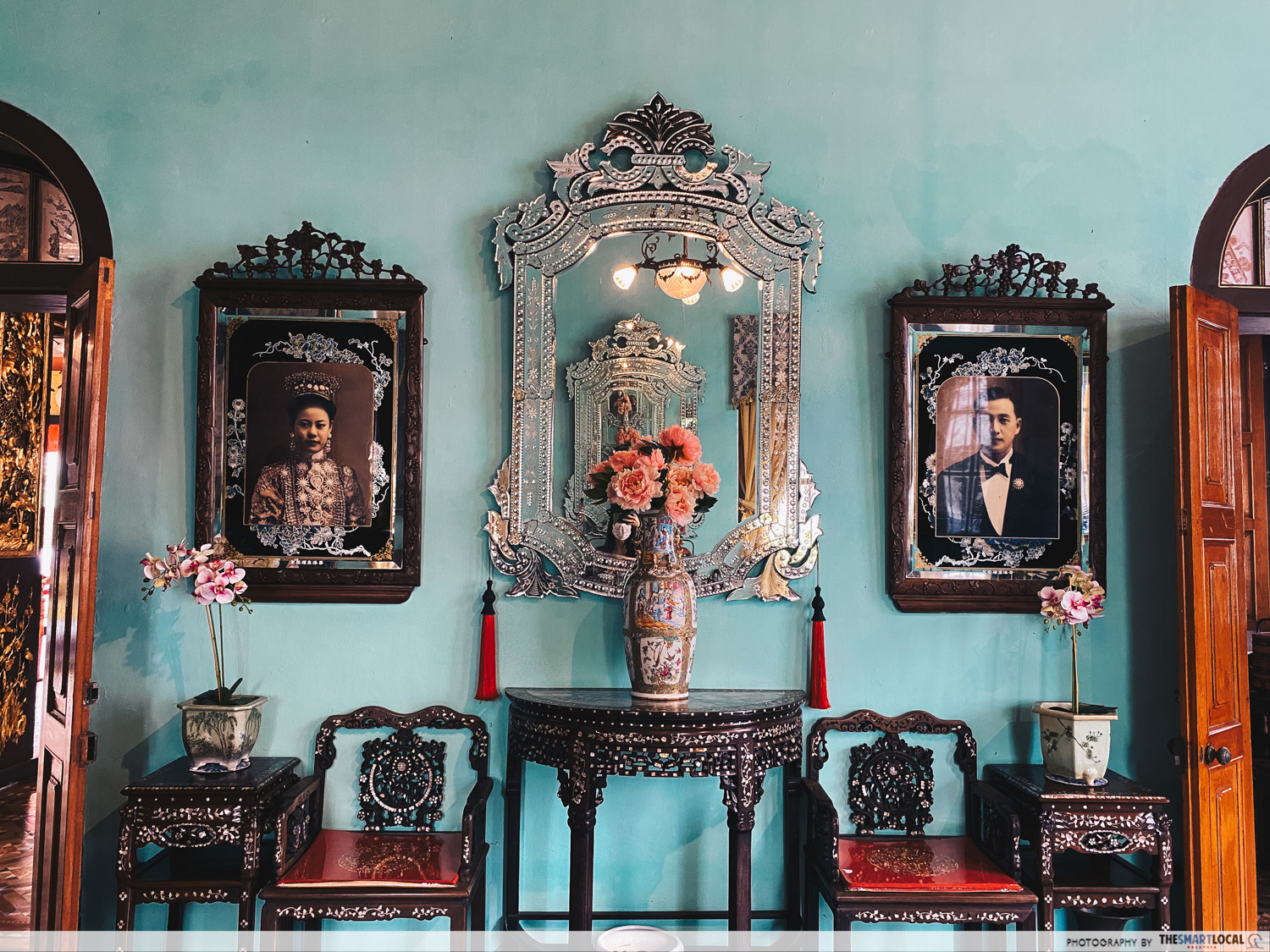 With many cultural groups living closely together in Malaysia, the Babas and Nyonyas – or Peranakans – grew as a dominant ethnic group in parts of Malaysia, including Penang. Along with the British colonial lifestyle, this mix of culture, customs, and lifestyle from various ethnic communities were adopted and are still evident in Penang today.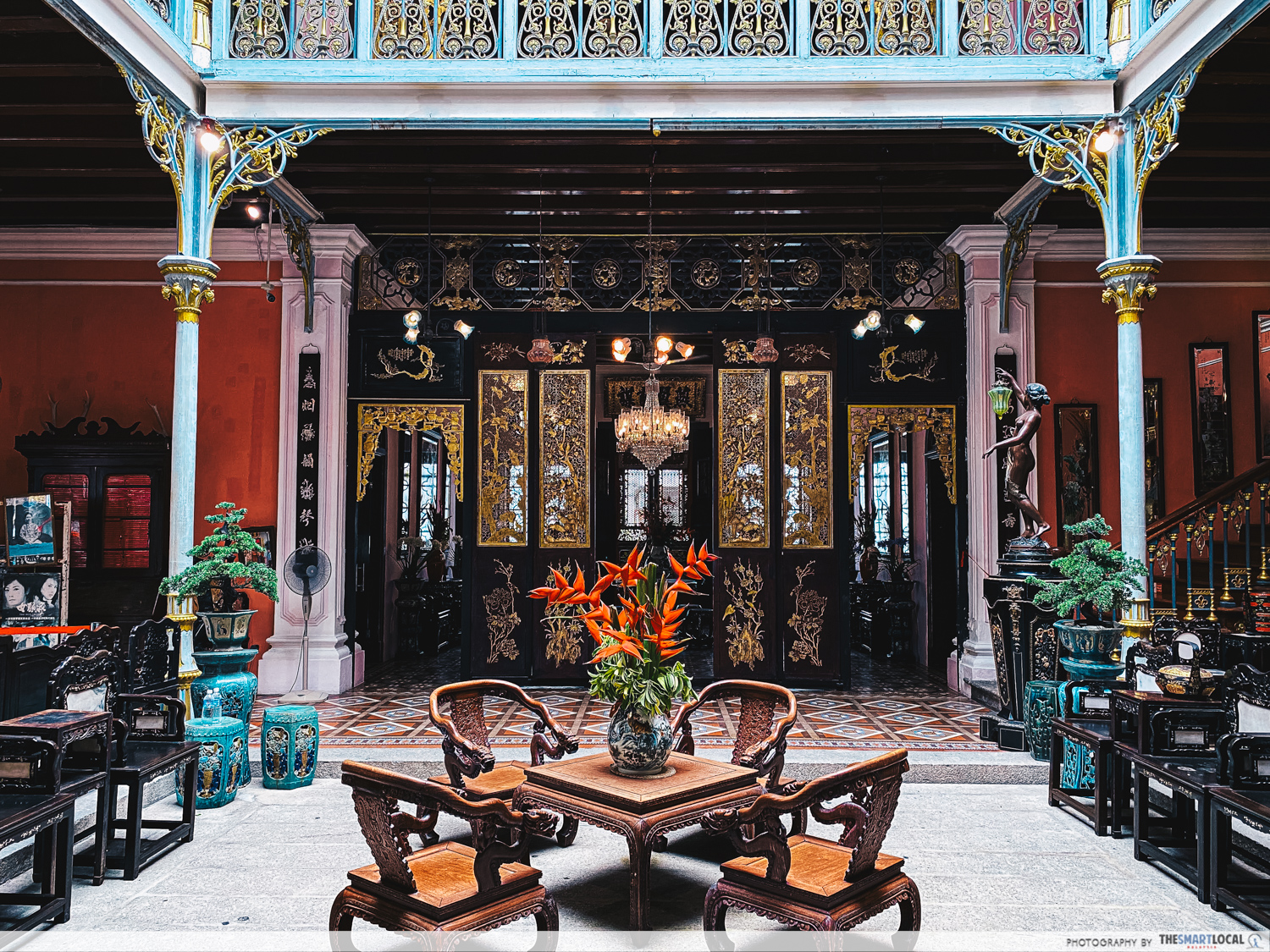 Though Chung wasn't of Peranakan descent, his Straits Eclectic-style mansion boasts elements of wealthy Peranakan houses of the olden days. Step into his former, opulent mansion today, and bask in the beauty of a Chinese courtyard mansion with elaborately-carved wooden panels, English floor tiles, Glasgow marble pillars, Scottish ironworks, and a hybrid of Chinese and European furnishings throughout.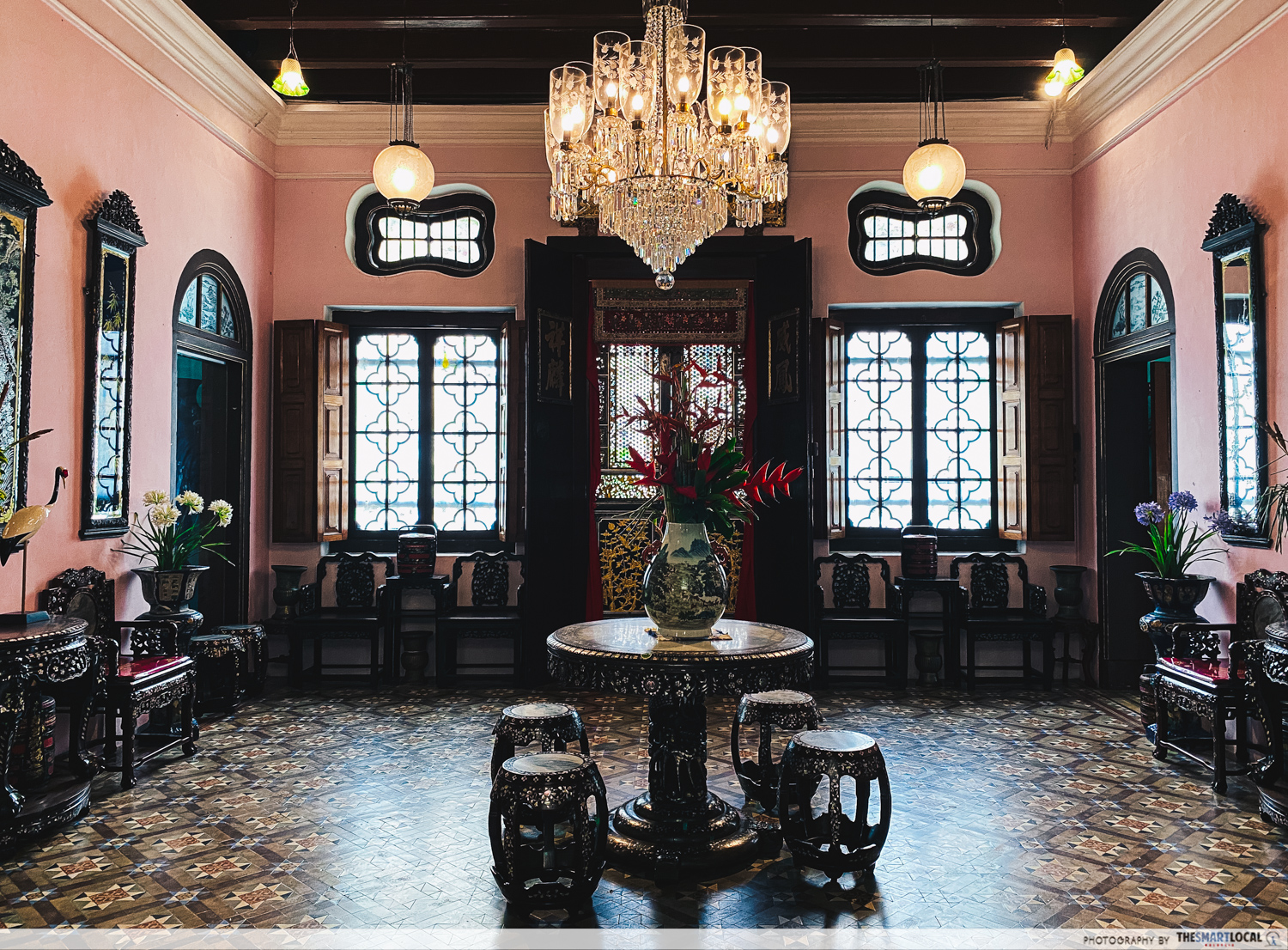 Chung's passing in 1901 saw the languishing of the mansion decades after. But not all hope was lost for this historic building. In the 1990s, his beloved mansion was acquired, repainted its original mint green, and restored to its former grandeur by a property developer.
Being an avid antique collector, the acquirer furnished the mansion's airy rooms with over 1,000 rare Peranakan antiques and collectibles from around the world. It took five years of meticulous refurbishment before Pinang Peranakan Mansion opened to the public.
The hard work paid off in the end, as the mansion is now considered one of the best Peranakan museums in Asia.
---
Themed rooms, bridal chambers & a display of epergnes
---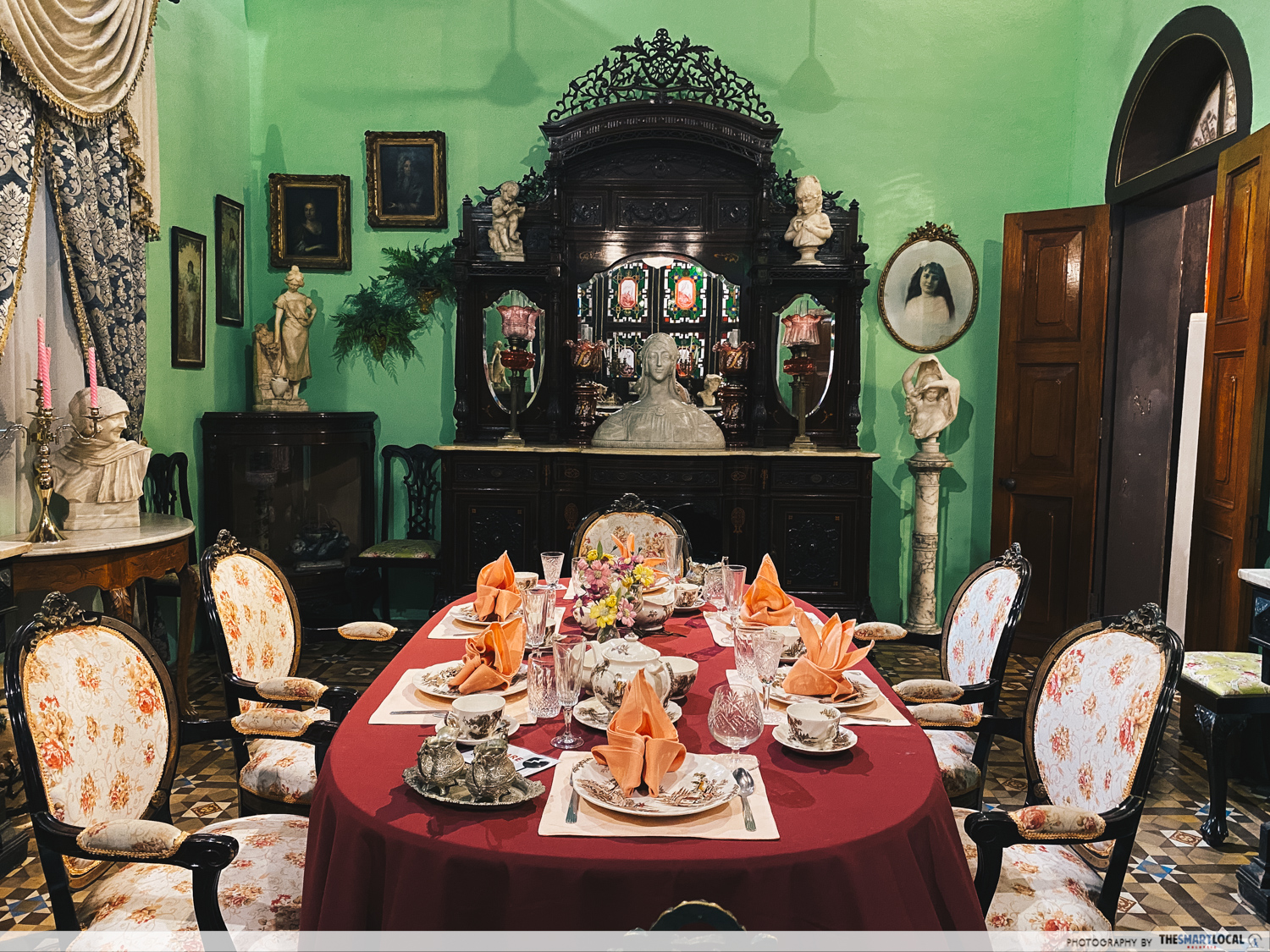 The first floor of the mansion features a central courtyard with an open air well that branches out into an elegant Traditional Main Hall, a lavish Dinner Hall, and four other themed rooms – all artfully decorated to reflect the Peranakans' unique culture and lifestyle.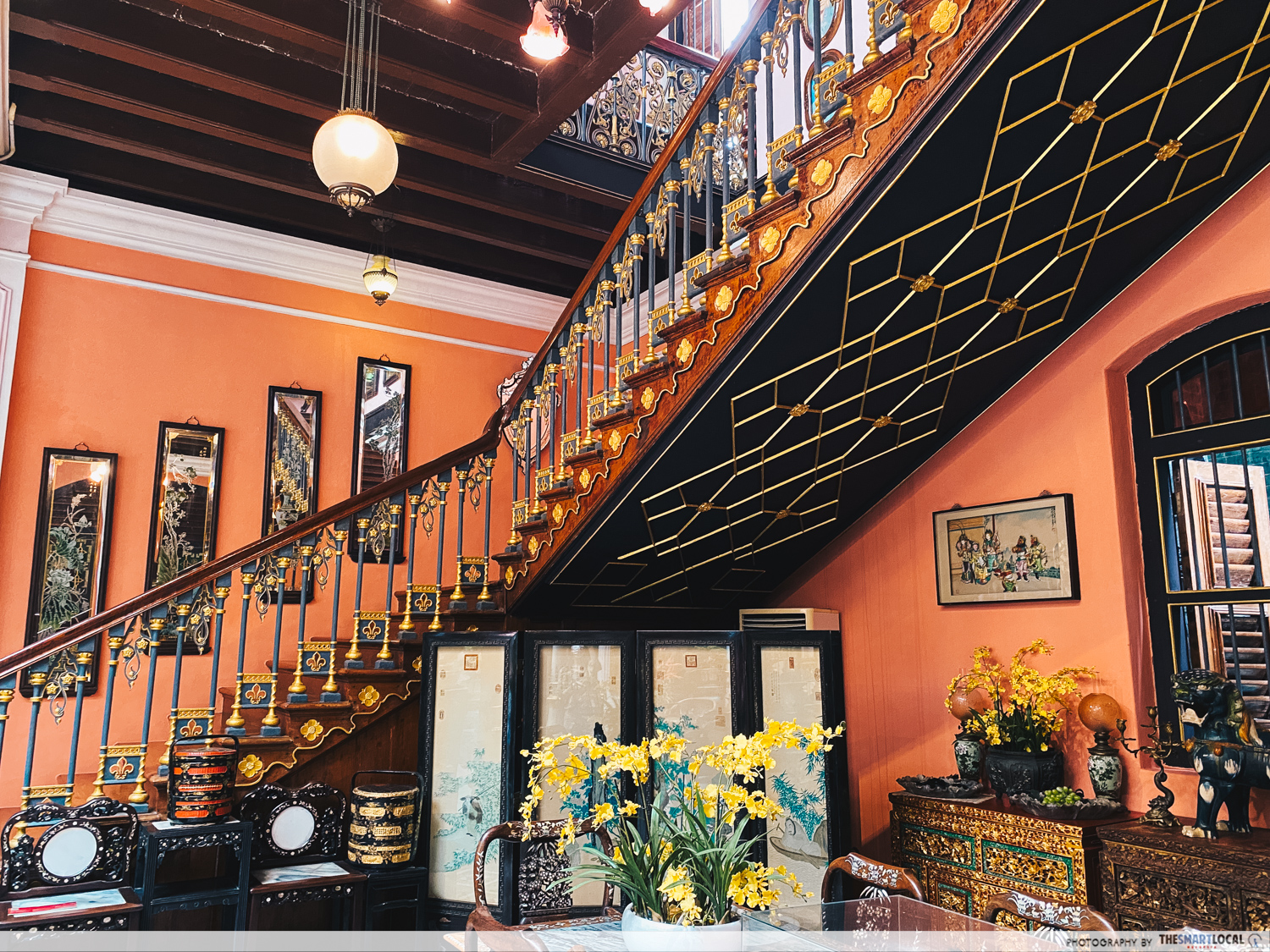 An ornate mahogany staircase leads up to the palatial second floor.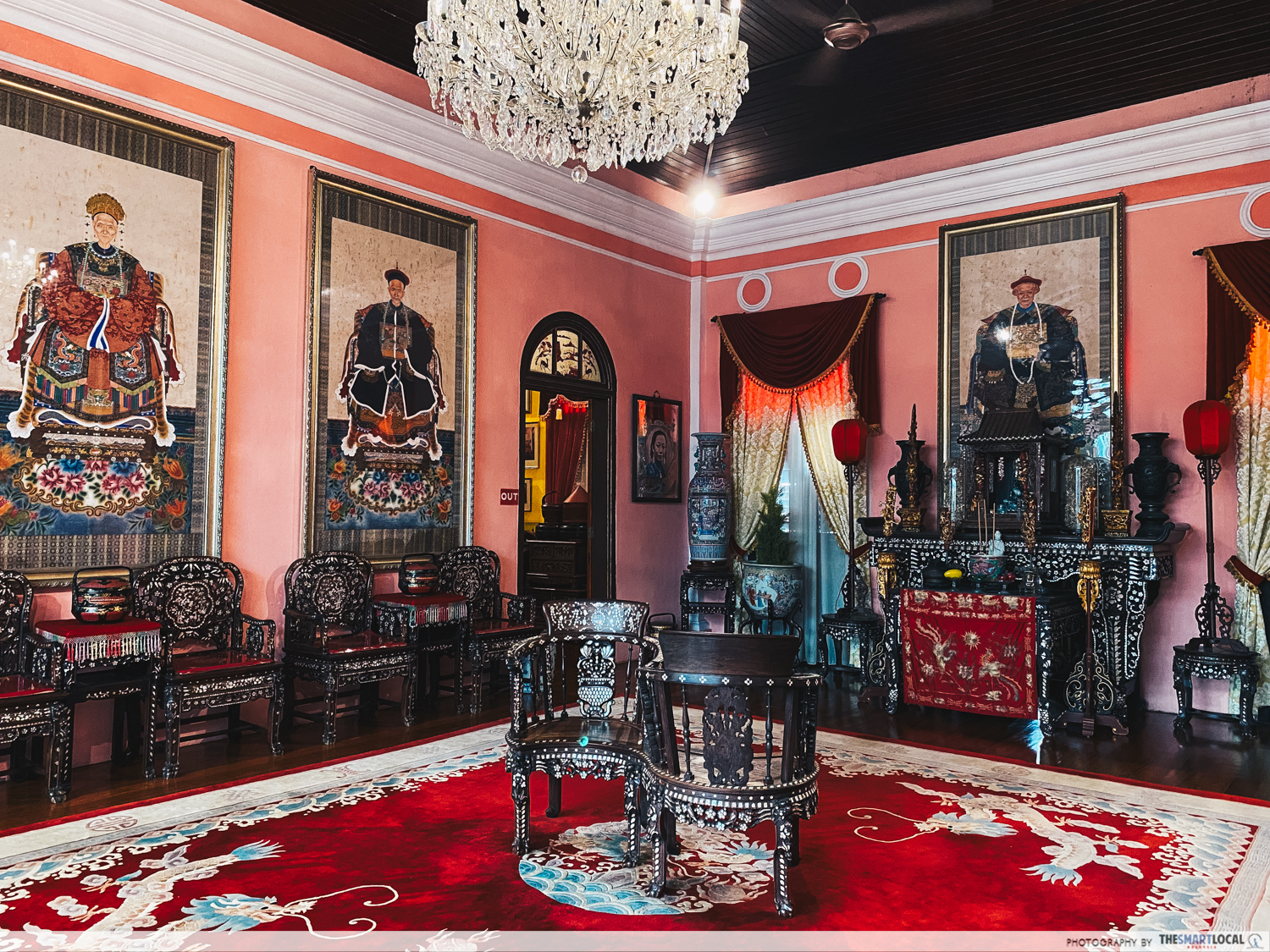 Here, you can stroll through the Family Hall where you'll be greeted by large portraits of Chung and his family that adorn the walls.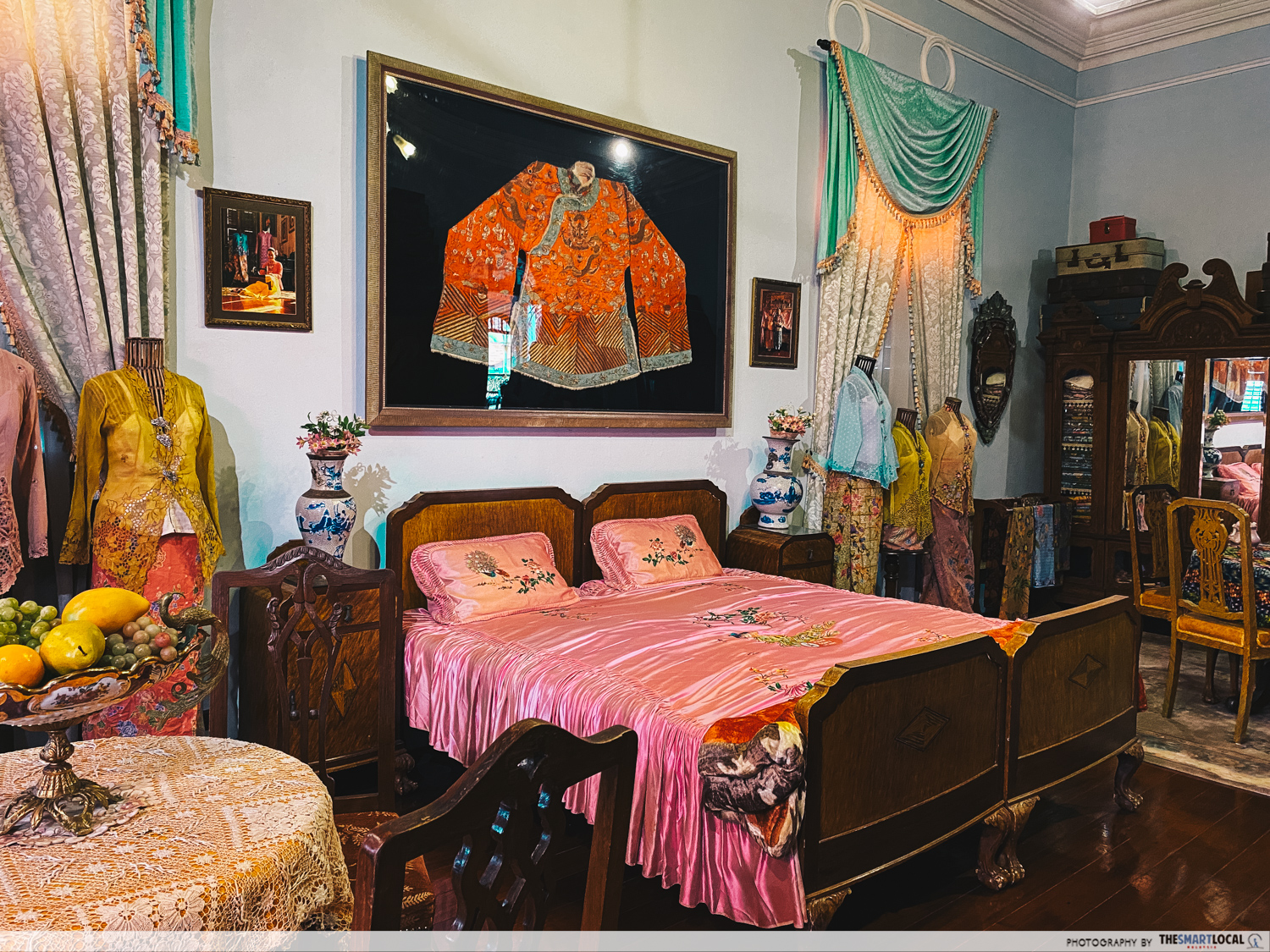 The Family Hall is flanked by bridal chambers where the traditions and practices of newlyweds from different eras are on display.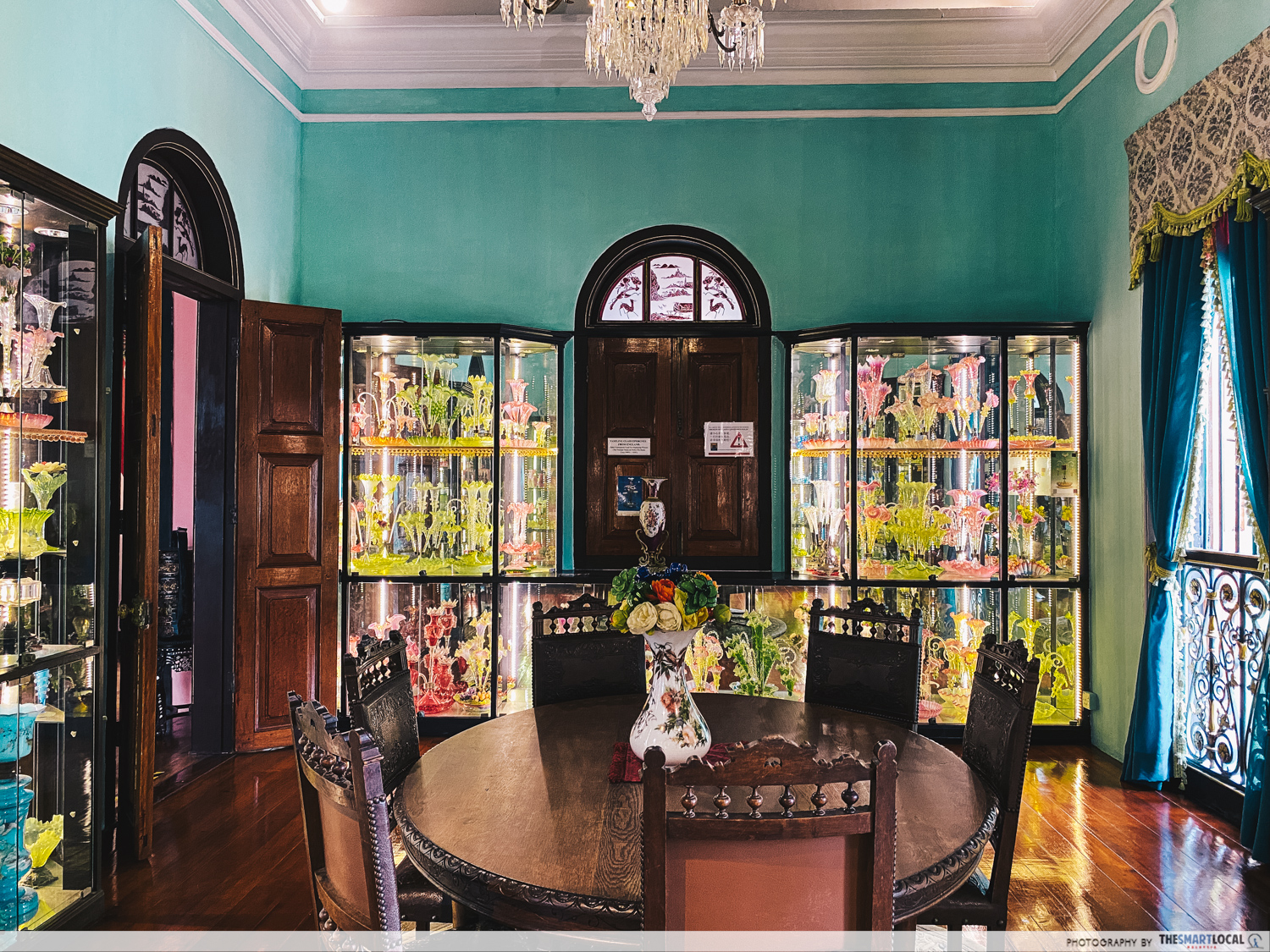 Across the void are wings and galleries that hold all sorts of one-of-a-kind vintage treasures and collections. There's a dramatic display of exquisite glass epergnes in one of the rooms, with ornaments so opulent and dazzling that it won't easily be missed.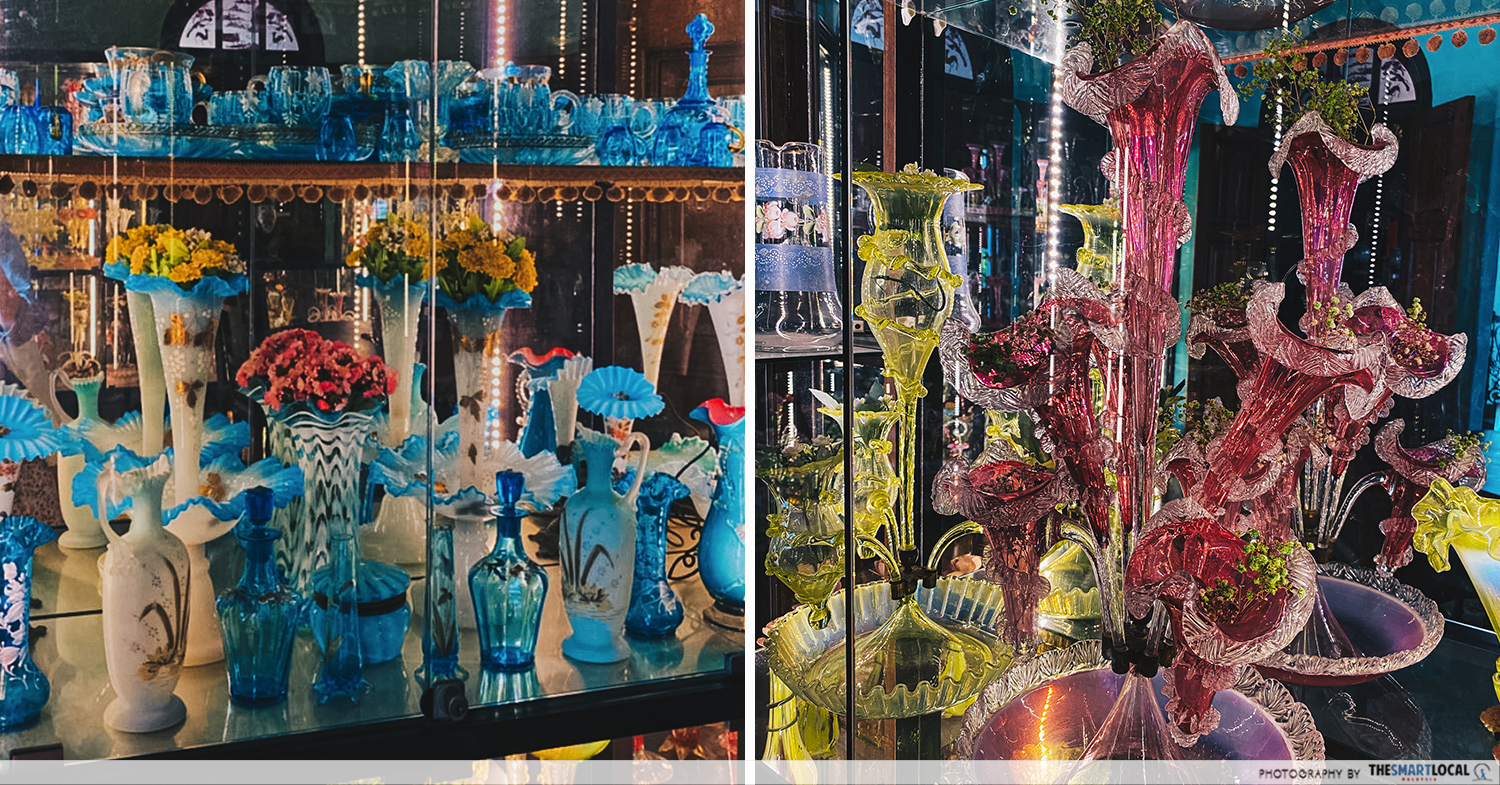 In another room, you'll be stunned by extravagant sets of vases and porcelains, as well as Peranakan silverware and jewellery.
---
A temple, jewellery museum, and souvenir store
---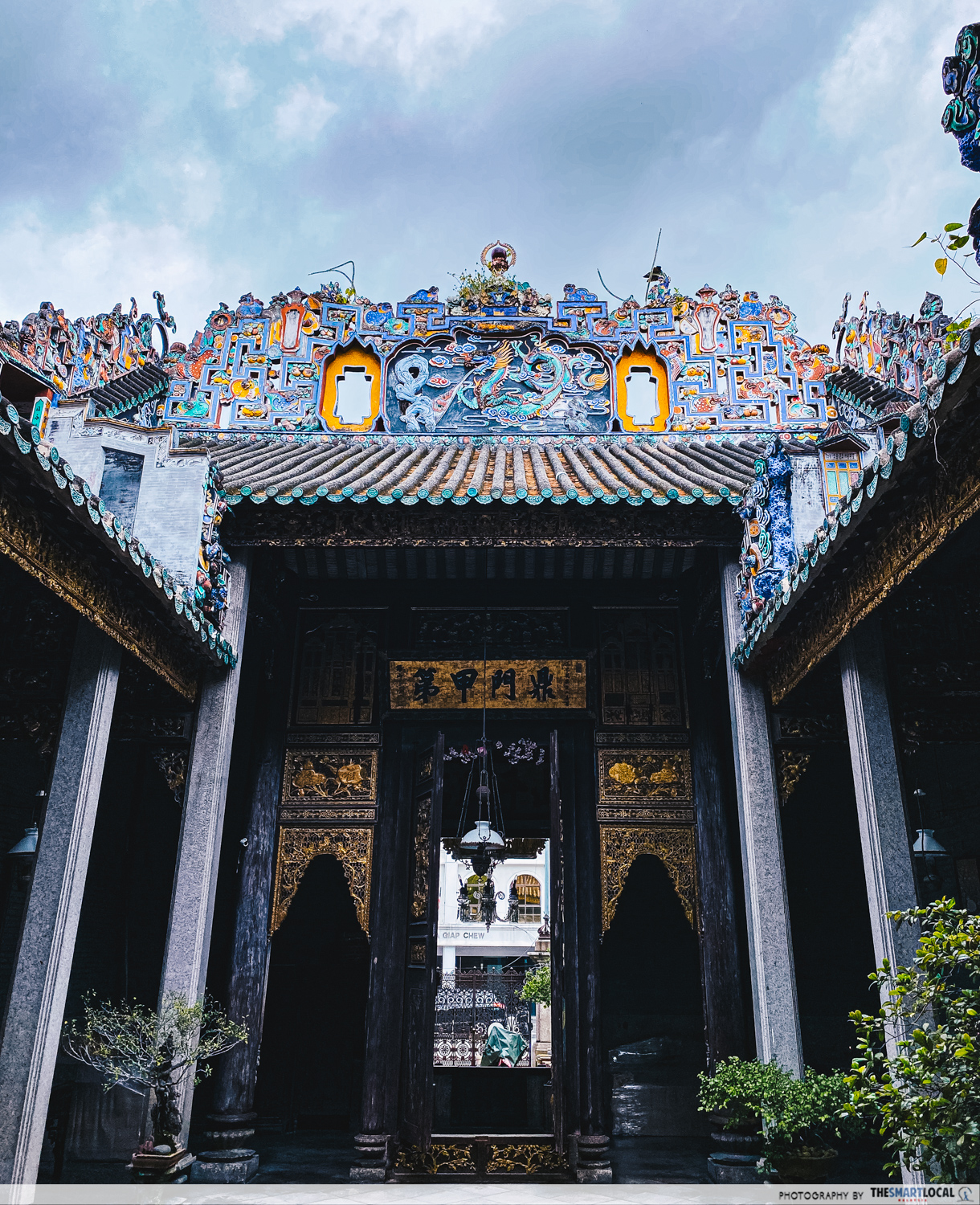 As you head back down, do keep your eyes peeled for a rather obscure passage at the outdoor compound. This leads to the Chung Keng Kwee Ancestral Temple. Besides serving as an ancestral hall and family school, the temple honours the home's builder, the magnate, Chung himself.
This is evident by the life-sized sculpture of him at an altar made of dark wood and gold embellishments.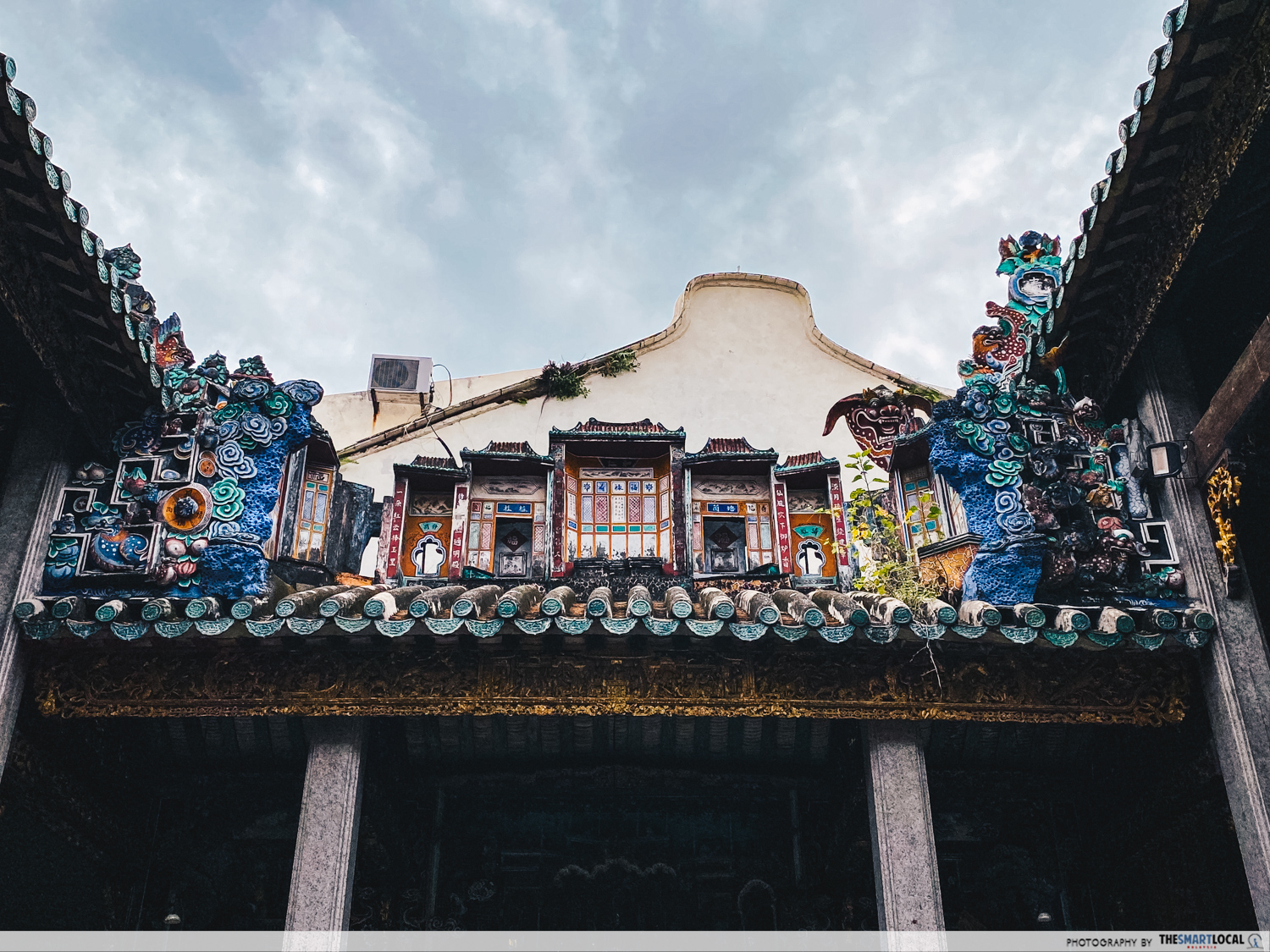 Not to be missed are the intricate paintings and ceramic figurines that grace the archways and roof eaves of the sanctuary – the artisanship of the overhead decorations is truly a sight to behold.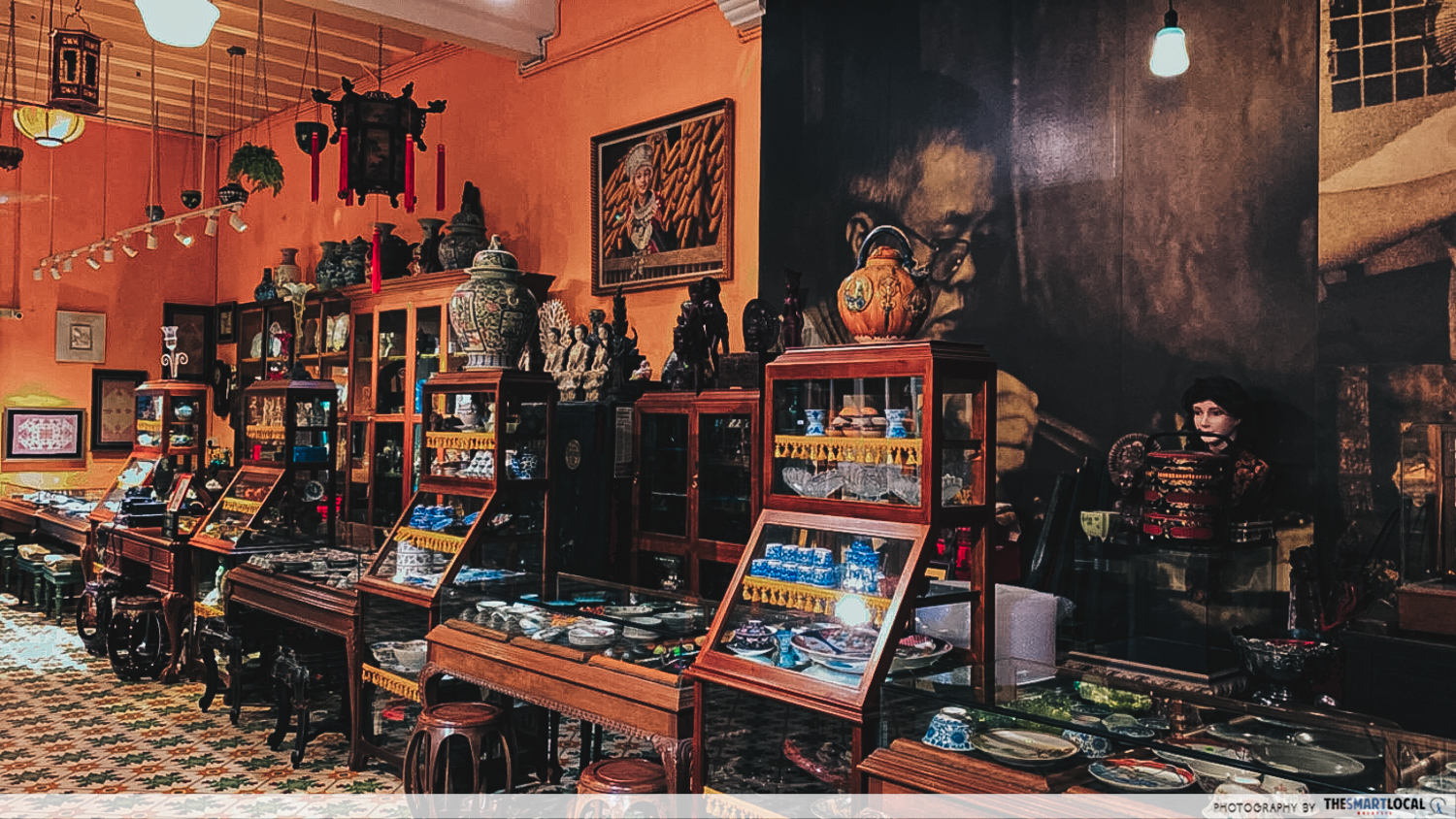 You'd think you've walked the entire manor at this point. But you haven't seen everything yet.
At a back passageway that joins the mansion's private function room to a 3-storey shophouse sits the Straits Chinese Jewellery Museum. Each of the four galleries here houses splendid and varied collections of traditional Peranakan garments and accessories.
Officially opened in 2015, the Embroidery Gallery features a fine collection of Peranakan embroidery and beadwork on beaded shoes, handbags, and wedding gowns that were worn and treasured by affluent Nyonyas.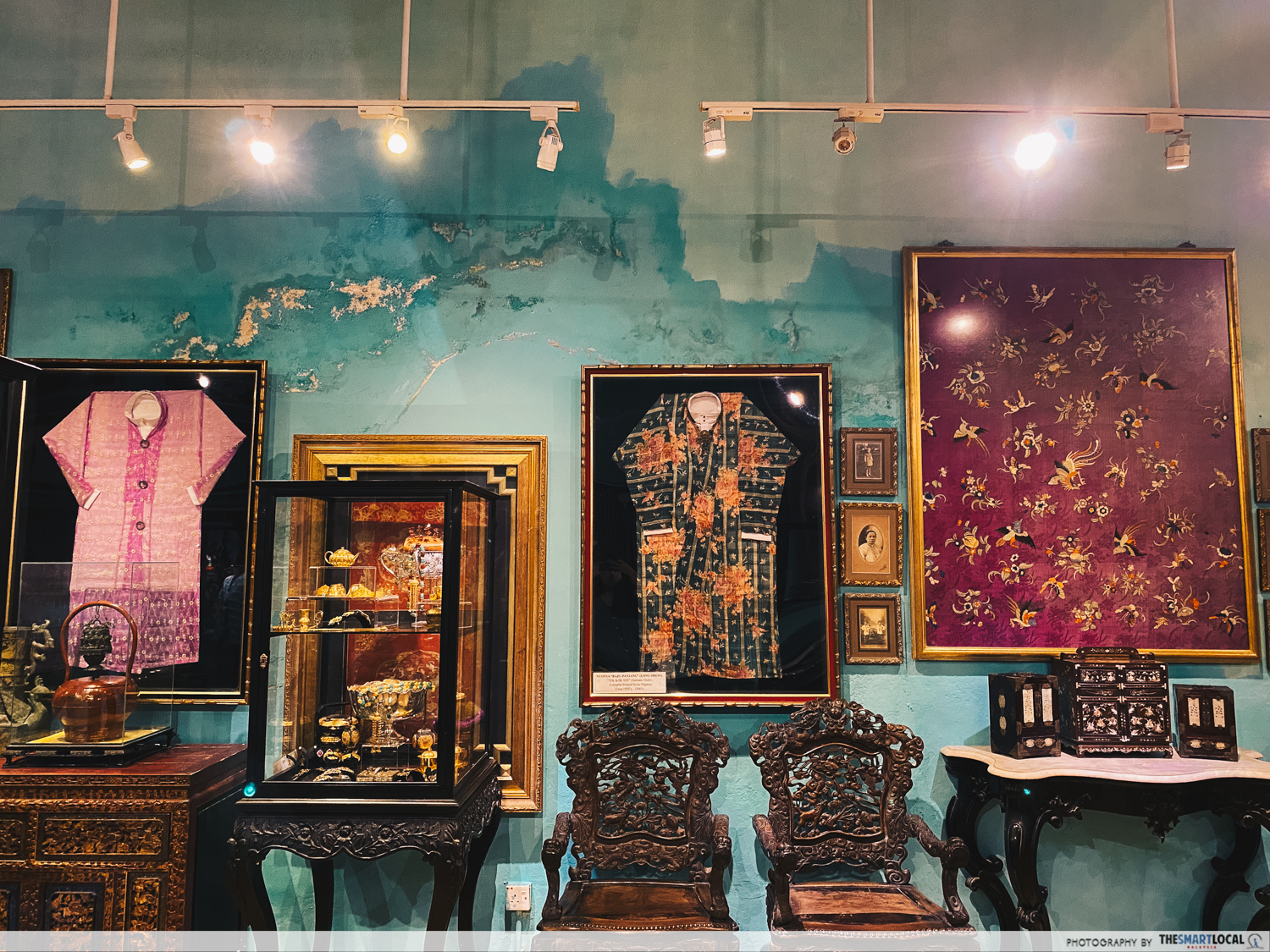 The other galleries depict the extravagant and opulent lifestyle of the wealthy Peranakans, as well as the skilled craftsmanship and needlework of the Nyonyas. 
There are shelves of delicate ceramic arts and glassware, eccentric objet d'arts, and exquisite ornate jewellery – including necklaces, gold purses, bangles, and tiaras, fashioned using all sorts of precious gems imaginable. On the walls, you'll find framed Nyonya blouses.
When you reach the end of the museum, you'll be greeted by a gift shop selling all sorts of Peranakan trinkets, which you can buy as souvenirs.
---
Featured in international films
---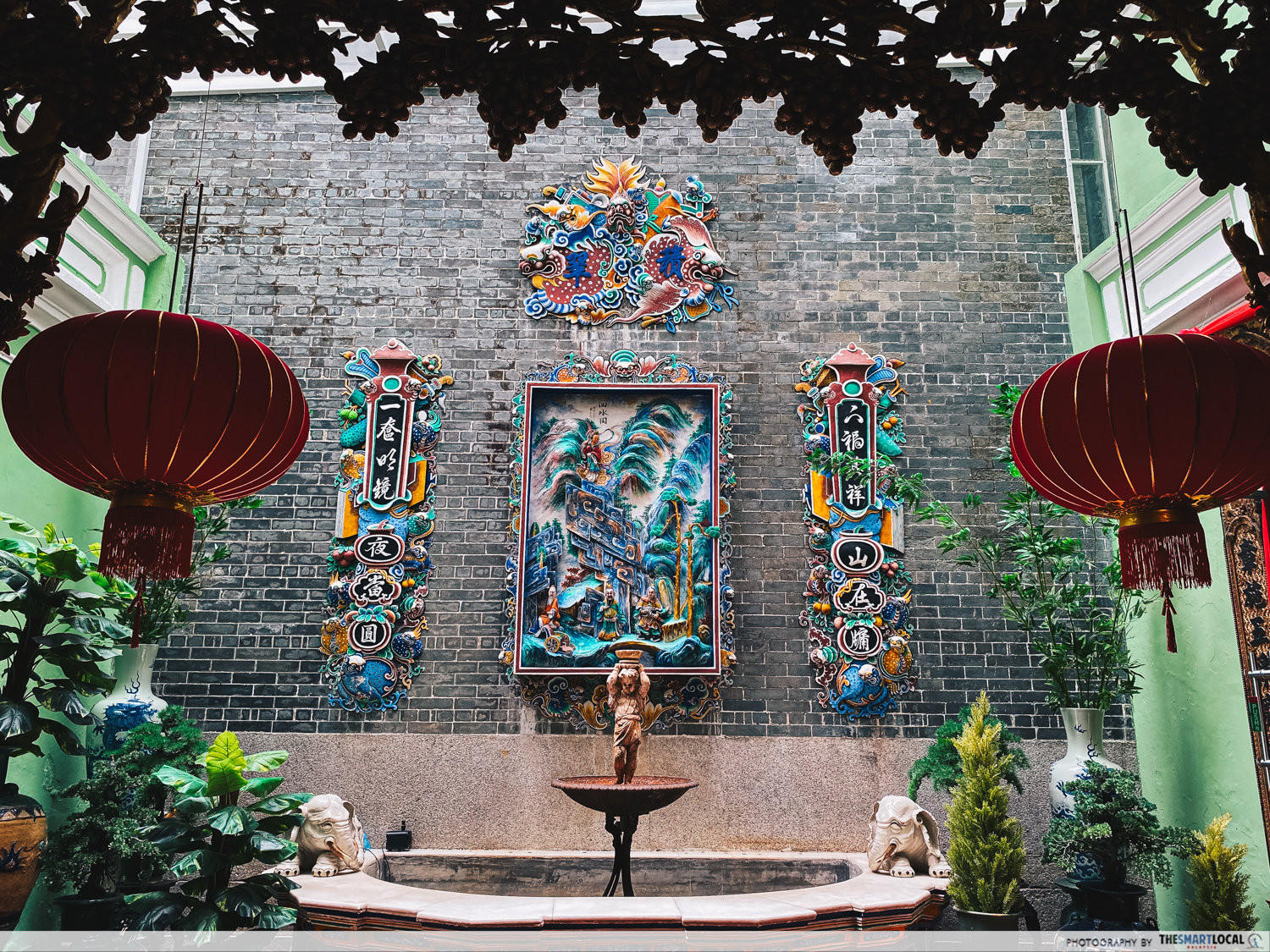 The museum offers visitors a glimpse of the golden era of the Peranakan people. But it also attracts a diverse crowd of history and architecture buffs who come to revel in the luxury of the manor. This includes fans of the classic Singapore TV series, The Little Nyonya.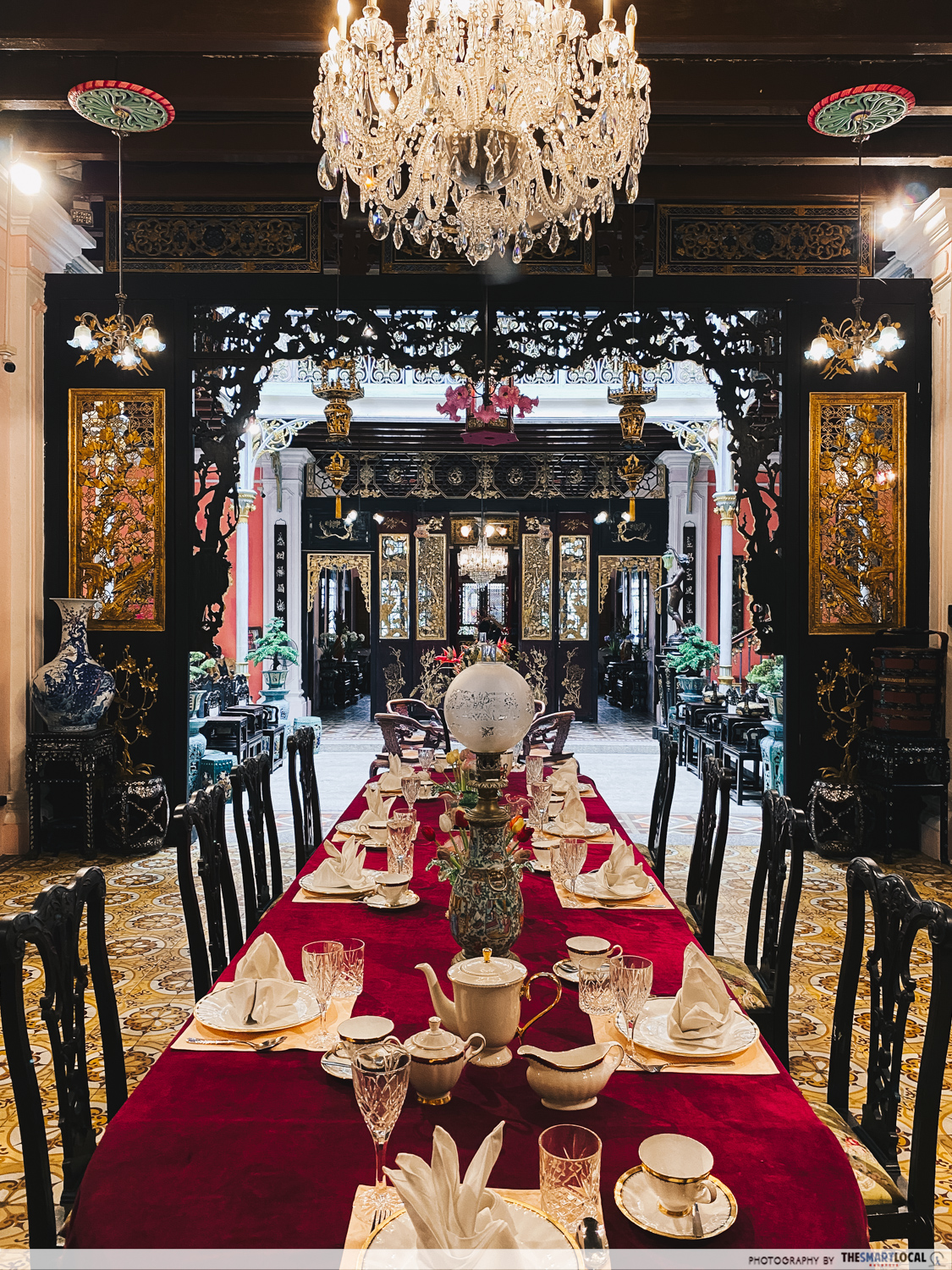 With its vast number of rooms and majestic old-colonial architecture, the massive mansion is a hot spot for wedding photoshoots, private events, and film shoots – it was featured in the US reality TV show, The Amazing Race, and Hollywood blockbuster, Crazy Rich Asians.
---
Pinang Peranakan Mansion in Penang
---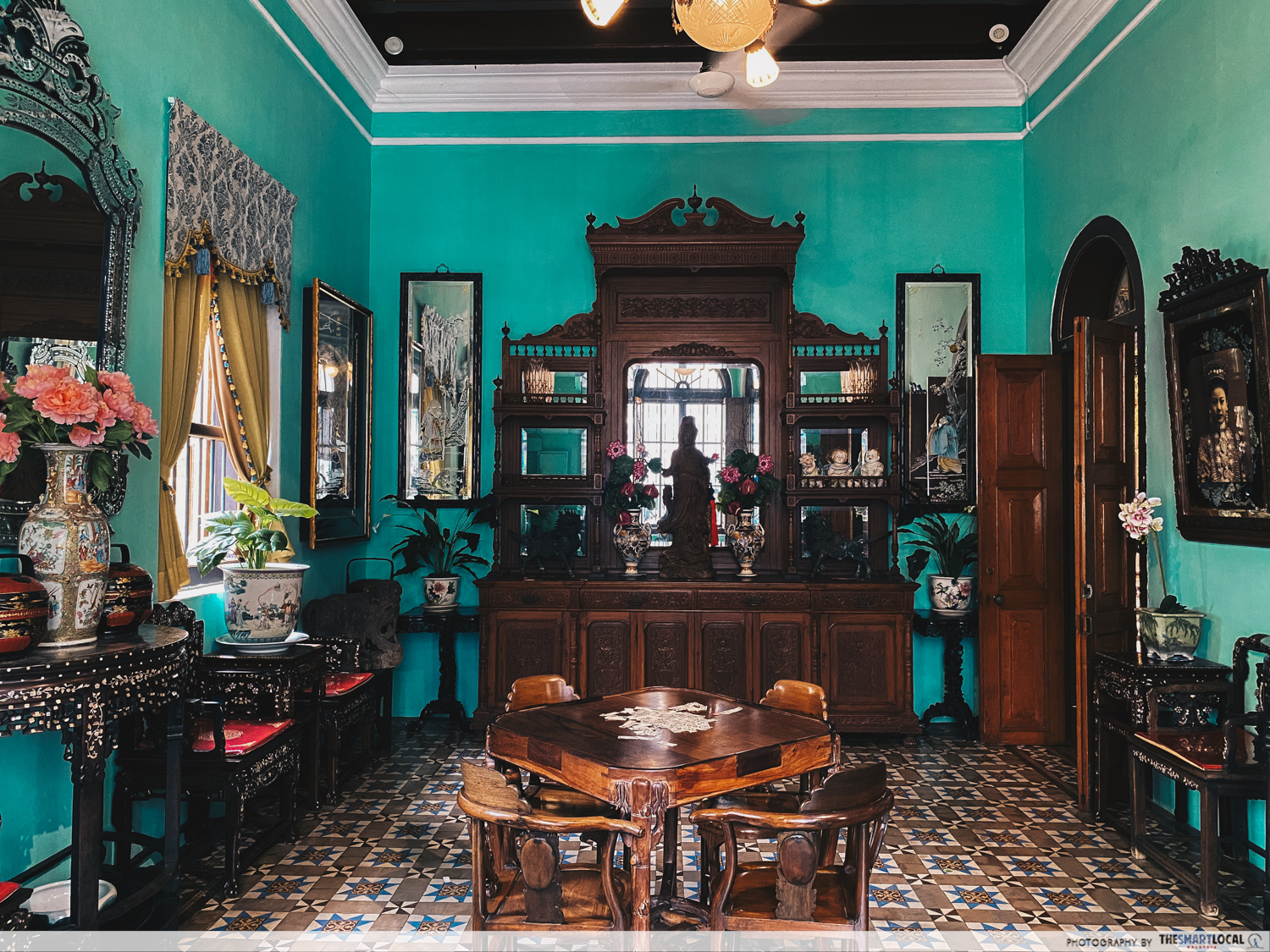 Penang's George Town wasn't given its UNESCO World Heritage Site status without reason. Here, there's no shortage of majestic, old-world mansions that testify to the island's rich culture and history, which continue to wow and educate locals and travellers alike.
At Pinang Peranakan Mansion, you'll get to step into the past and get a glimpse of the affluent Peranakan lifestyle of the old days. The building itself stands as an architectural marvel, and is home to a meticulously gathered collection of antiques that lets visitors learn about and appreciate a piece of Penang's grand past.
Entrance fees are RM20 for adults and free for children below the ages of 6. Informative group tours are available at certain time slots, and are conducted in both English and Mandarin.
Address: 29, Church St, George Town, 10200 George Town, Penang
Opening hours: 9.30am-5pm, Daily
Contact: 04-264 2929 | Pinang Peranakan Mansion Facebook | Instagram
Read more interesting features of places in Penang here: 
---
Photography by Jia-ju.
Cover image adapted from: TheSmartLocal Malaysia
Get more stories like this!
Drop us your email so you won't miss the latest news.