Emperor Villa
---
After the pandemic struck, us Malaysians have been turning to nature to recharge our batteries. An activity that has become increasingly popular is hiking – a healthy and relatively easy way to rediscover our country's nature gems.
Be it a breezy stroll or challenging trek off the beaten path, any hike is made all the more fulfilling when you're rewarded with food and mesmerising views at the end of your journey. 
In Bayan Lepas, Penang, Emperor Villa is a Chinese villa burrowed within the hills. A villa here has been converted into a restaurant that serves local favourites such as roti bakar and hor fun, so hikers can refuel with hearty food while basking in the surrounding tranquil ambience.
---
A restaurant in a villa & a serene garden
---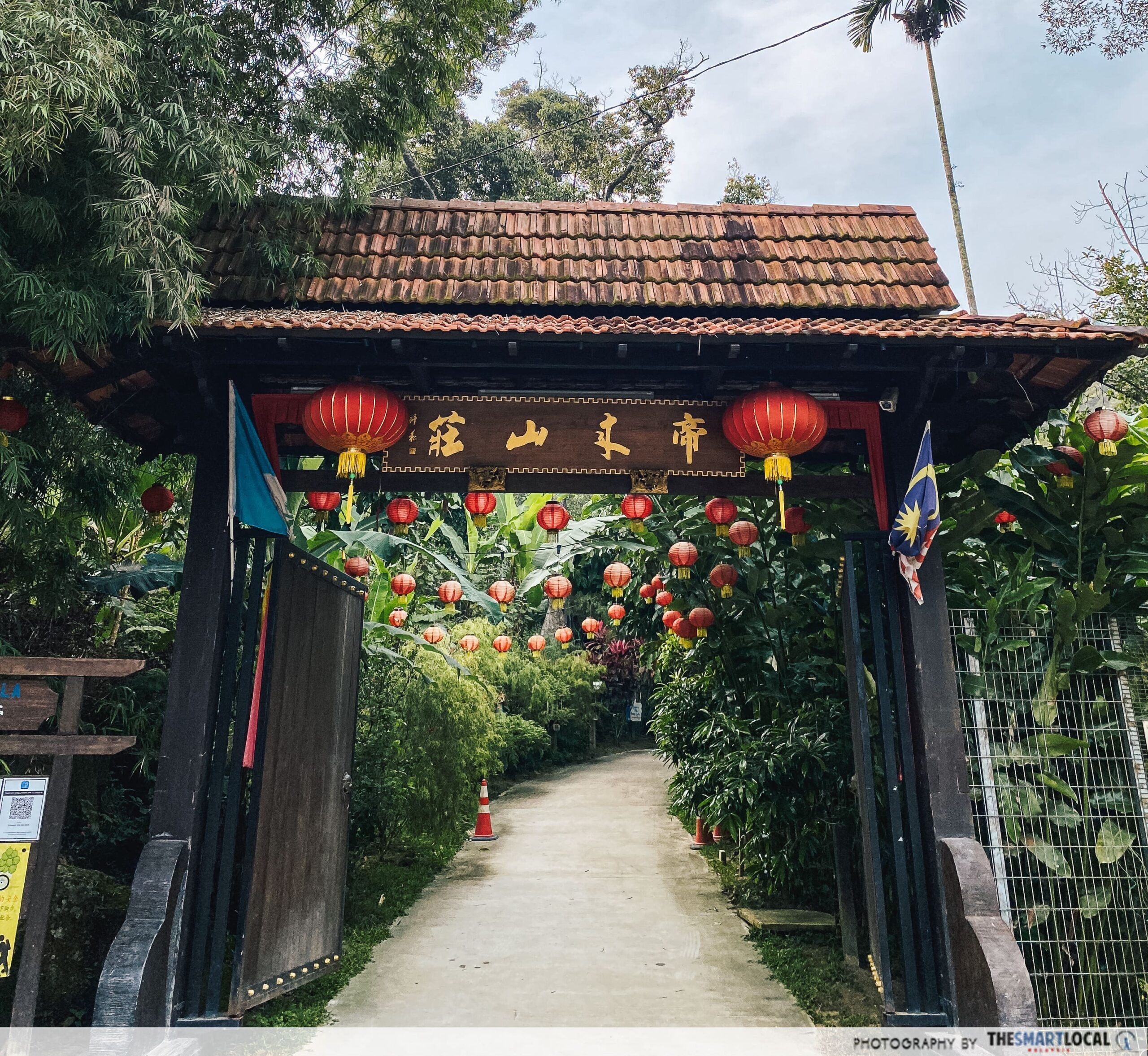 Emperor Villa is something of a time capsule. There's no mistaking your destination after the hike up here, as you'll be welcomed by a magnificent gateway arch adorned with red lanterns.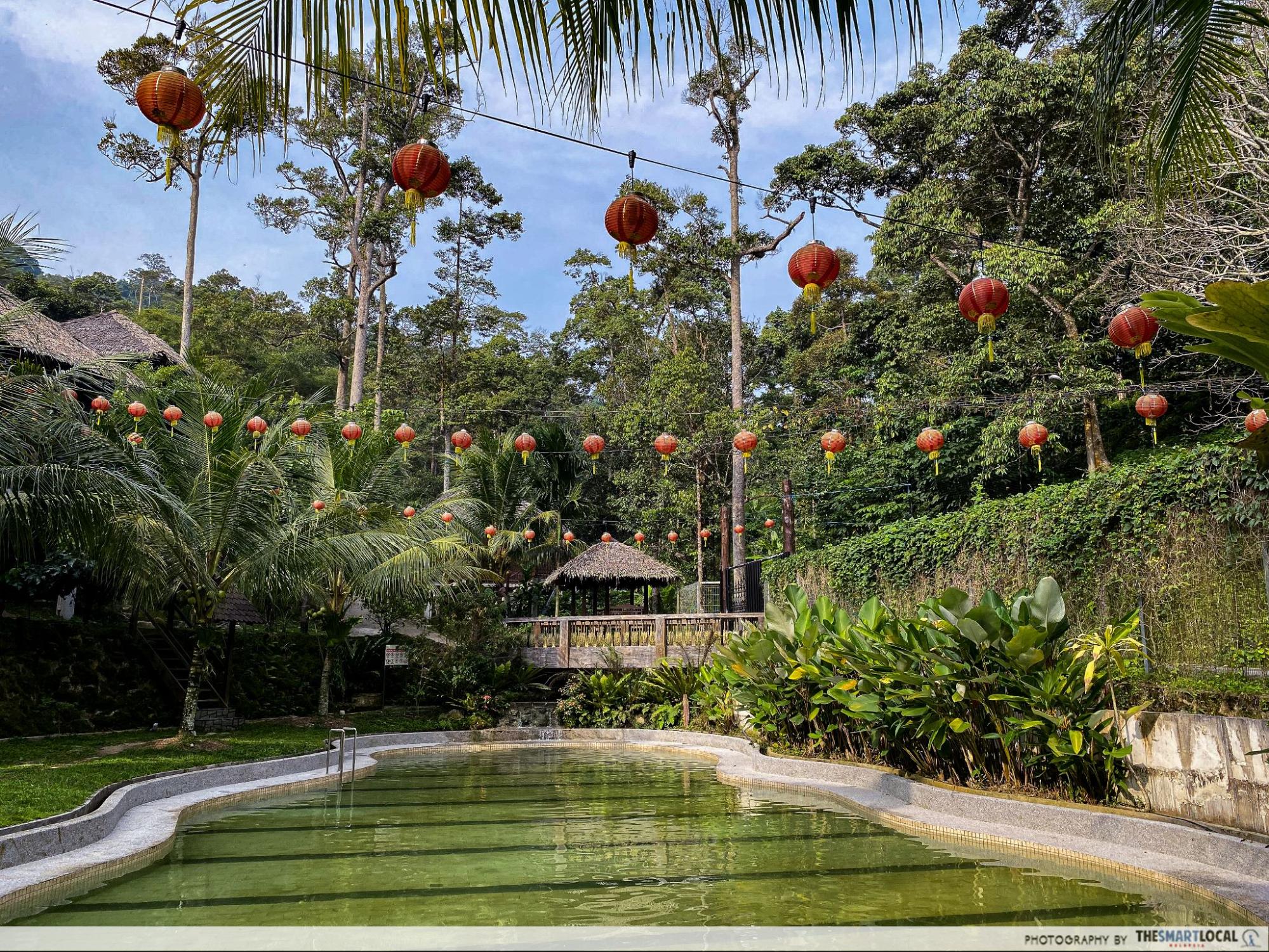 A luxury resort during the pre-pandemic days, the place is now a resplendent hideout for hikers and tourists.
All within a serene Chinese garden, there are meandering pathways with lanterns overhead, thatched-roof huts and structures with decorative eaves, and a swimming pool in the middle of the courtyard – you'd think you walked right onto a movie set.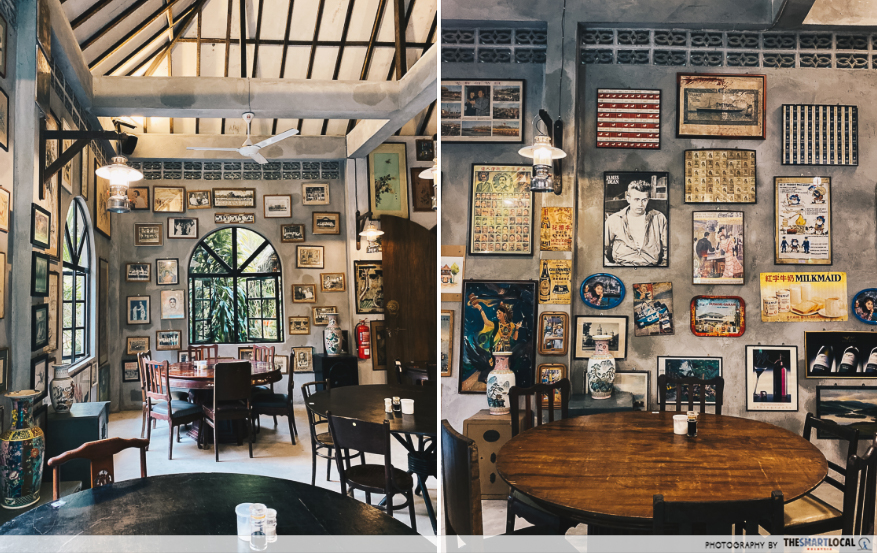 A highlight among visitors here is the restaurant housed in one of the villas.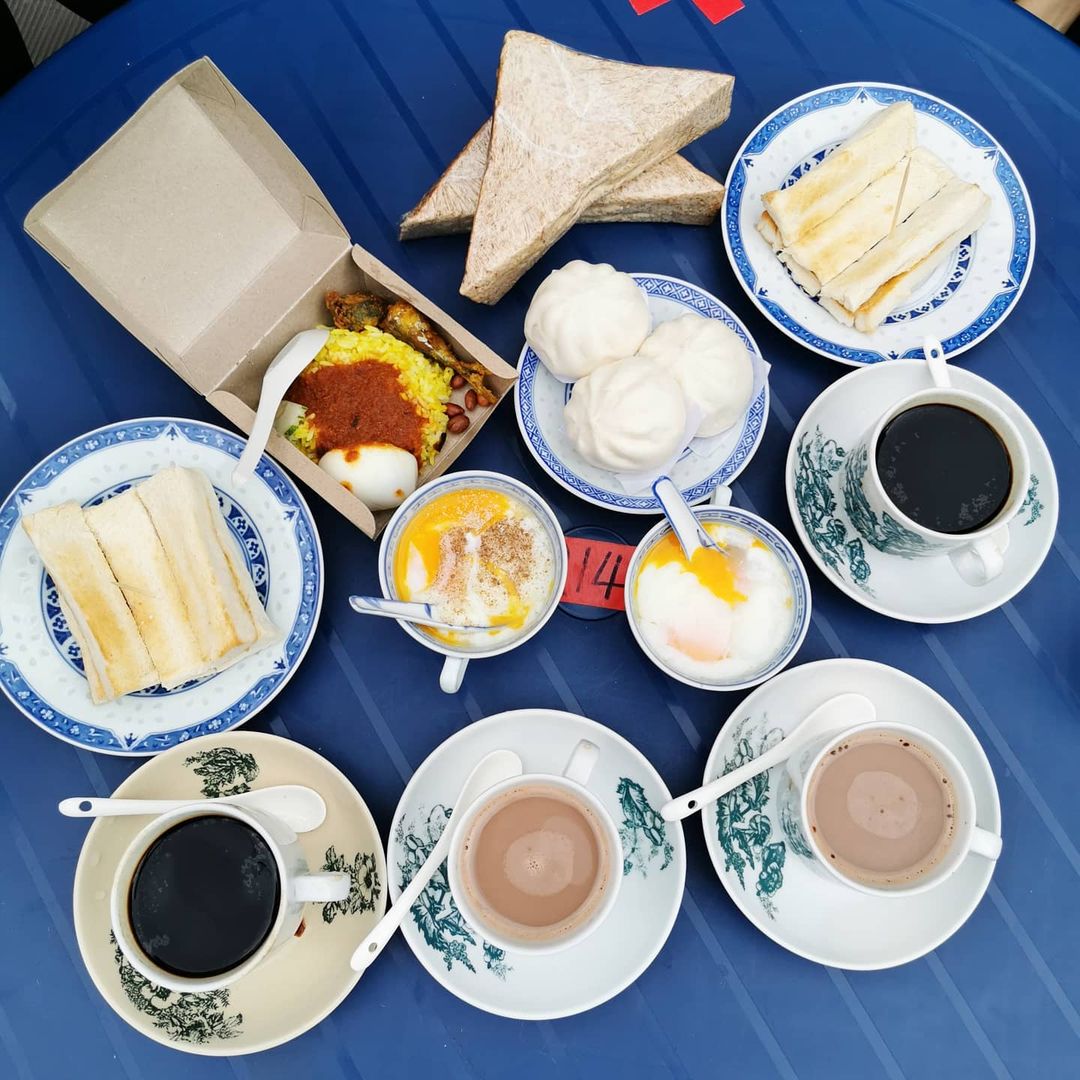 Image credit: @jijitankyy

Keeping to the old-timey charm of the place, the eatery is an eclectic hodgepodge of kopitiam-style dining sets and menu offerings such as Kaya Butter Toast (RM3.30) and Fried Hor Fun (RM15).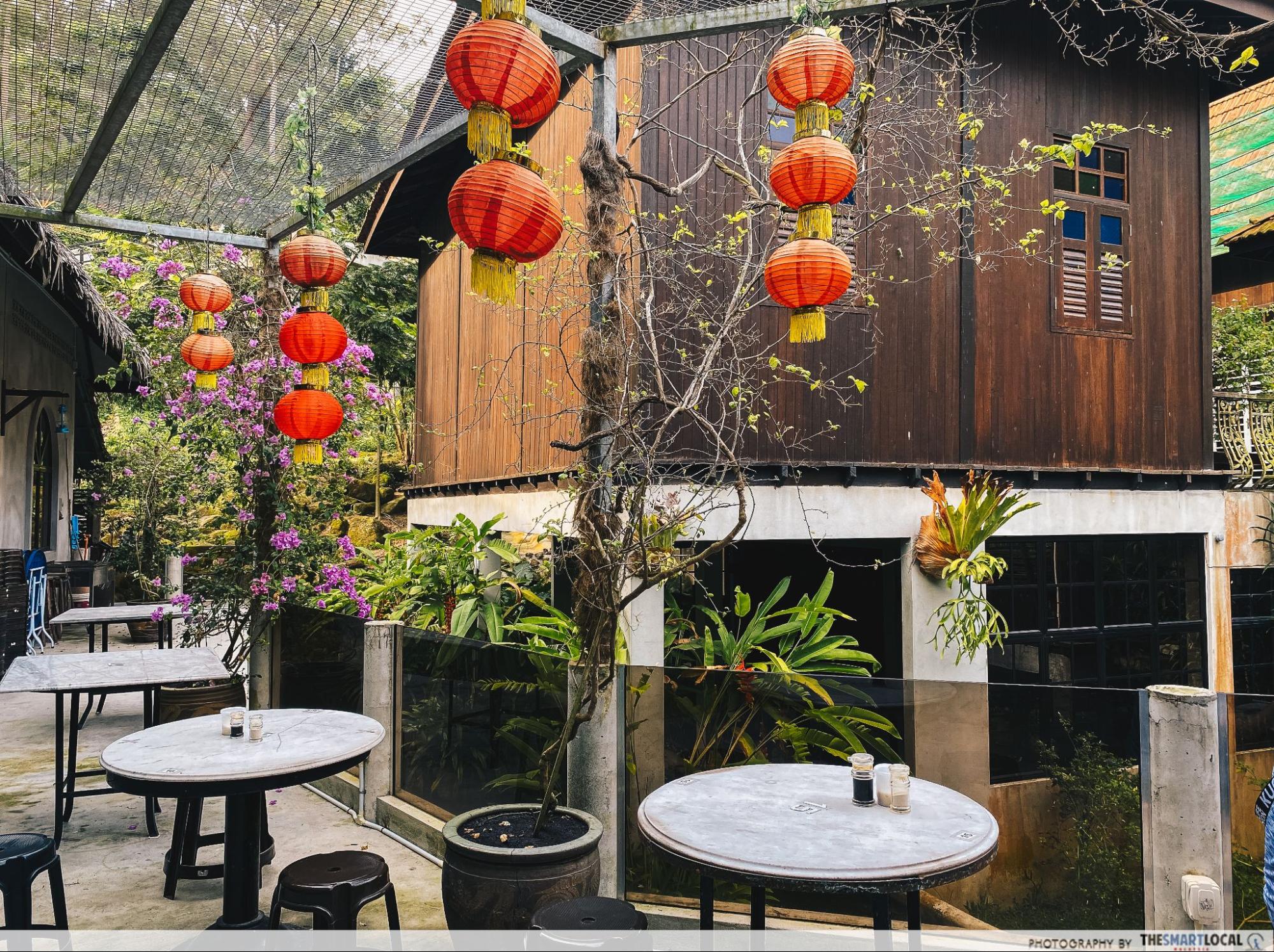 While the indoor area creates a pleasing ambience with the scores of framed retro photographs and posters on their walls, we recommend heading to their outdoor dining space to enjoy the traditional Chinese vibes. Here, you can enjoy calming views of the traditional architecture and lush greenery.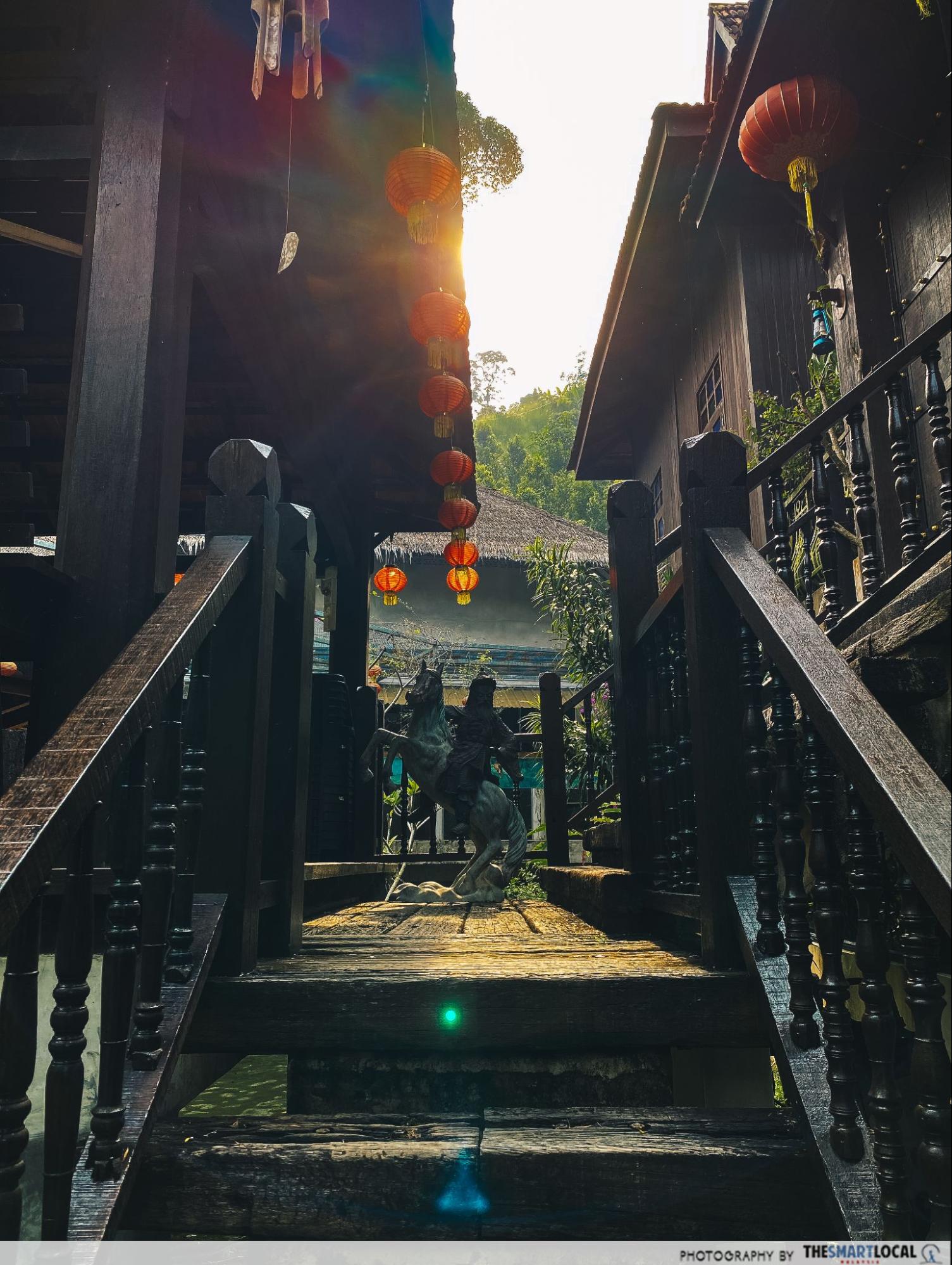 Don't forget to take some pictures as a token of a hiking trail conquered – there are several Instagram-worthy backdrops at the villa, including this scenic area we spotted with wooden steps and a Chinese statue. 
---
How to get to Emperor Villa
---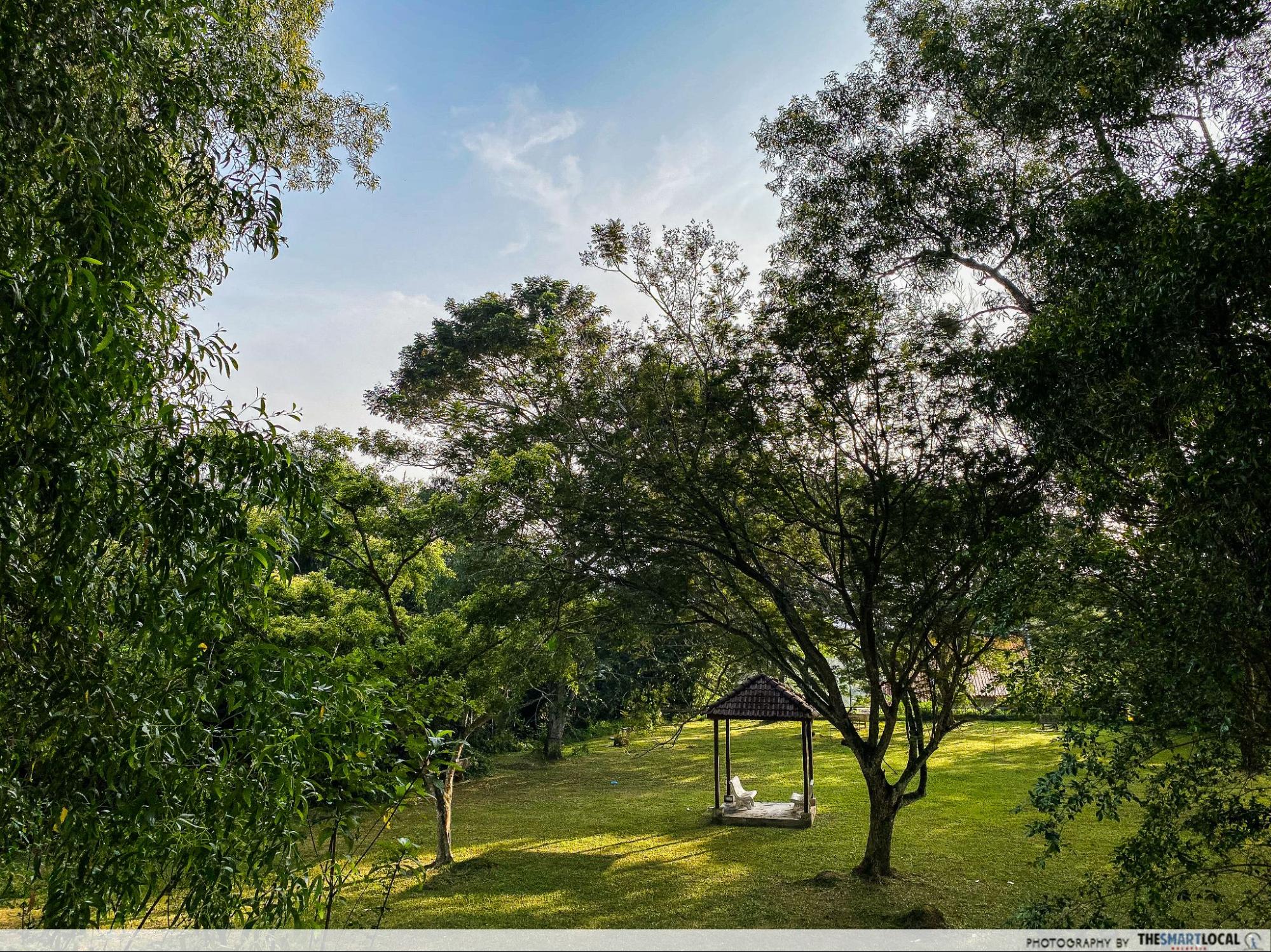 Beginner hikers need not be intimidated by the hike up to Emperor Villa. The hardest part of your journey may just be locating the entrance to the trail. But here's a tip – search Sri Subramaniar Munisvaran Temple Sungai Ara on Google Maps, and once you're here, walk a little further up to an open road that leads into the verdant hills.
Parking lots are available by the side of the road here too.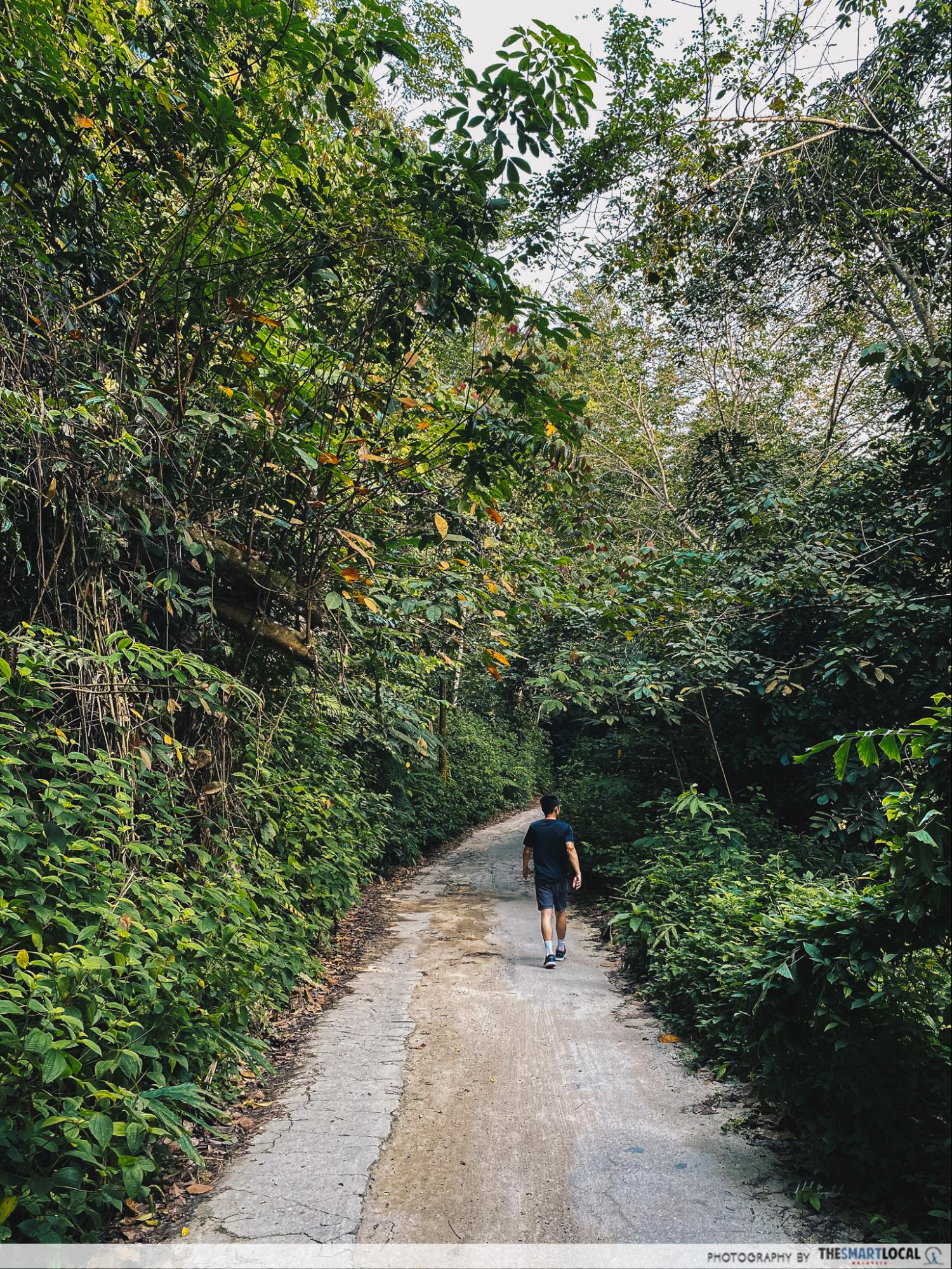 Once you're on the hiking trail, you won't have to worry about losing your way. Simply follow the trail and signboards at certain intersections, which will guide you all the way up the hill to Emperor Villa.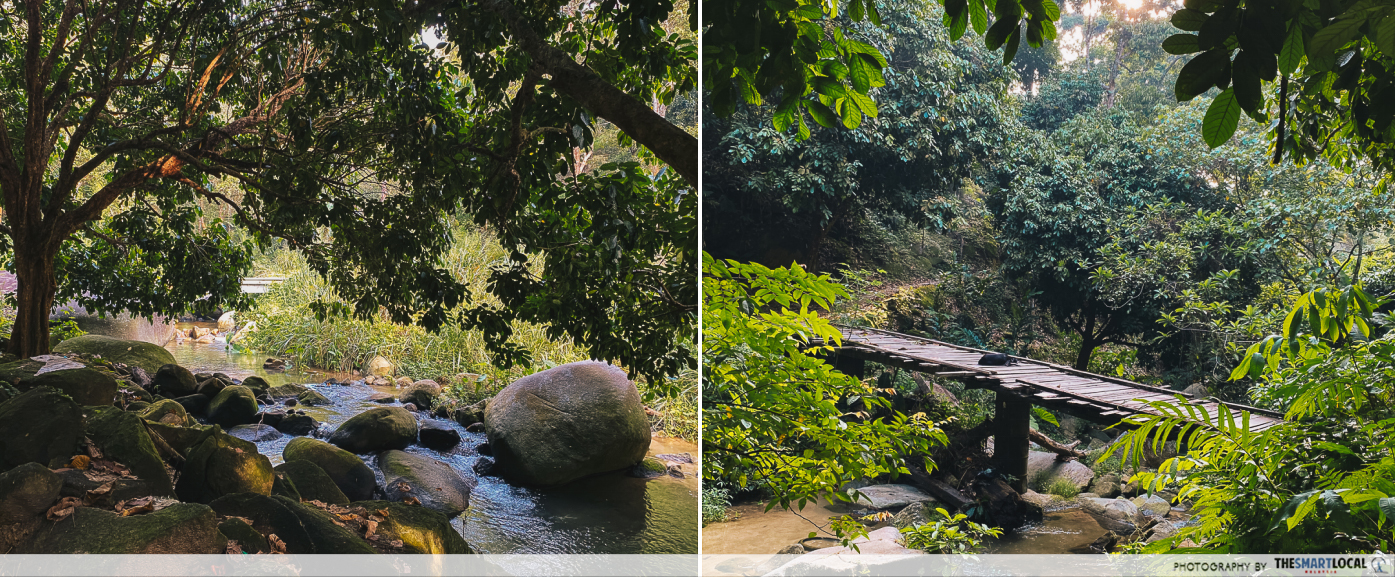 On your way up, revel in the lush tropical forest comprising dense trees of various species that'll shield you from sun's intense rays during your trek. The electrifying fresh air, and serenading of birds and crickets, create a peaceful atmosphere that'll be just what you need to escape your usual bustle of life.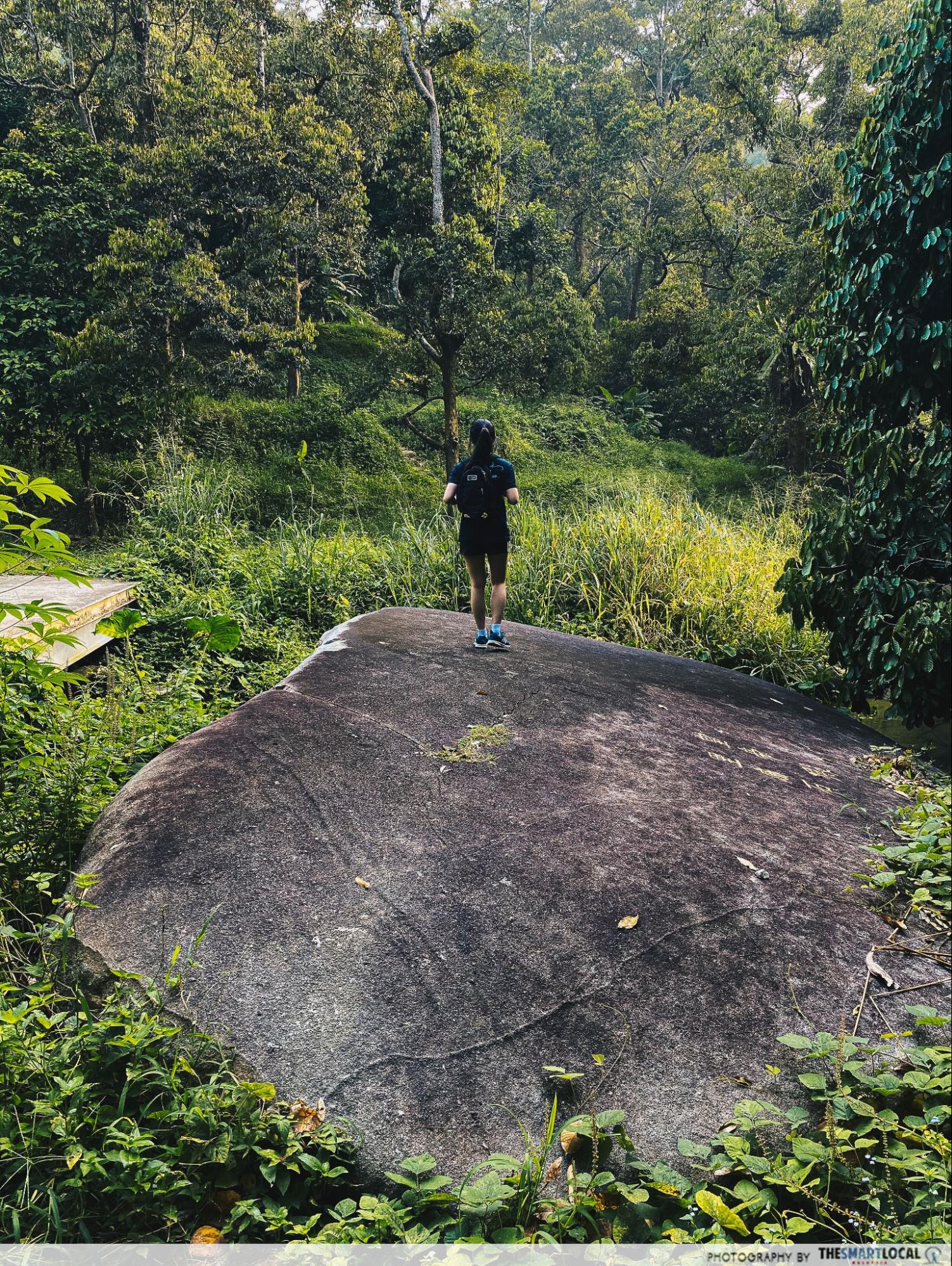 A tranquil river accompanies you for a good portion of the hiking trail. This filters into quiet lakes and mini waterfalls, with trickling water that adds to the ambience. During your trek, you'll also find a number of scenic spots and structures tucked within bushes and trees to stop at for photos – including dilapidated ruins that were once houses, stone roads, and huge rock tombs.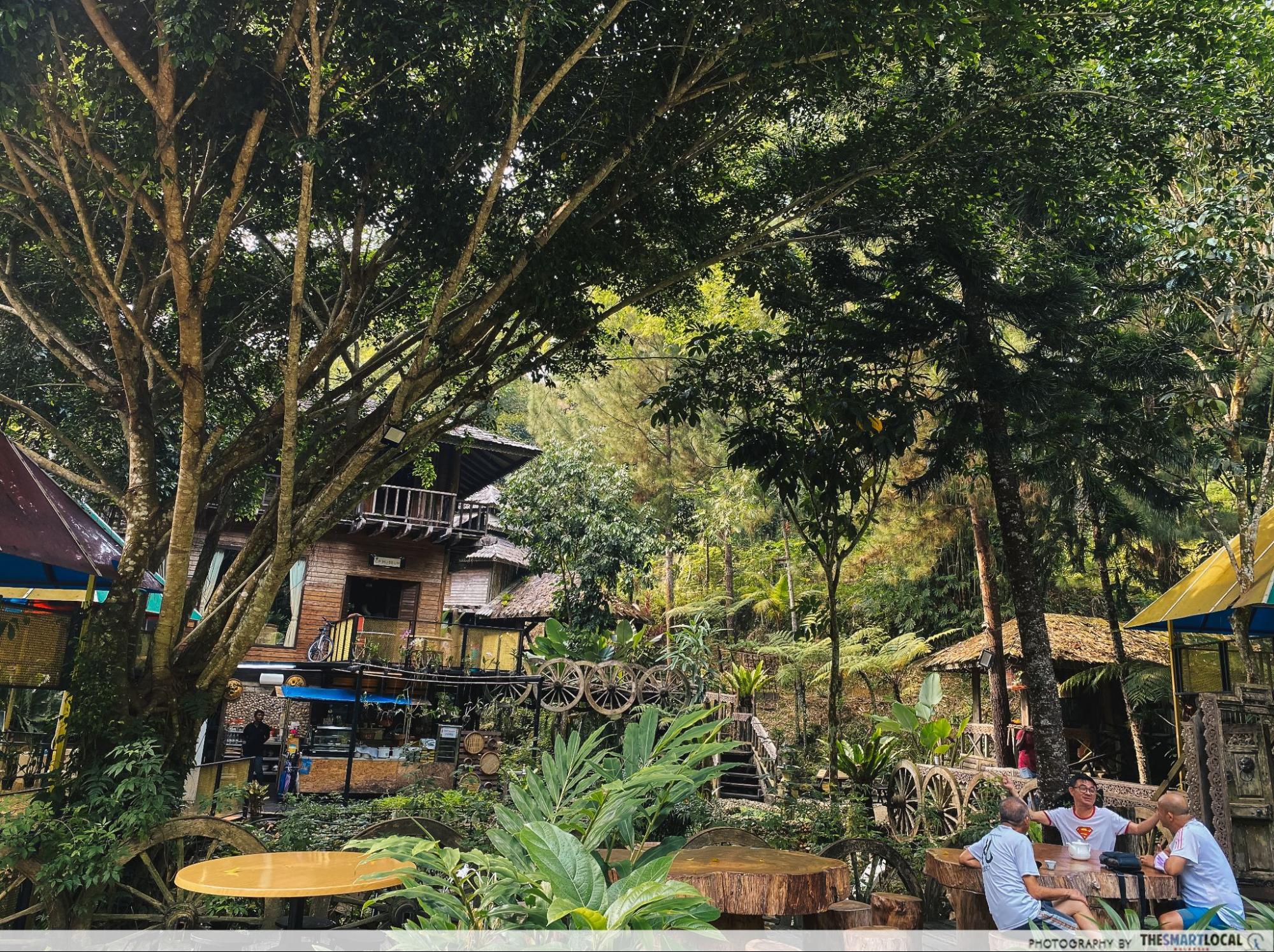 While this hiking trail is fairly straightforward, it can get a bit strenuous for beginners at some uphill parts. As the hills are homes to several farmers and villagers, do look out for occasional motorcyclists and bigger vehicles that may trundle along the roads too.
But as the trail to Emperor Villa isn't an intensely challenging one, it makes for the perfect outdoor activity with family or friends of any age. Even if you make your way up leisurely, it'll likely take you under an hour to reach the villa. 
Just some distance from Emperor Villa, there's a small community of revamped abandoned resorts, swathed by thick foliage. Now vibrant with life, you'll see community dogs running about wooden staircases, hikers resting in mini huts with rainbow roofs, and uncles and aunties chit-chatting over coffee at the garden tables.
---
Emperor Villa in Penang
---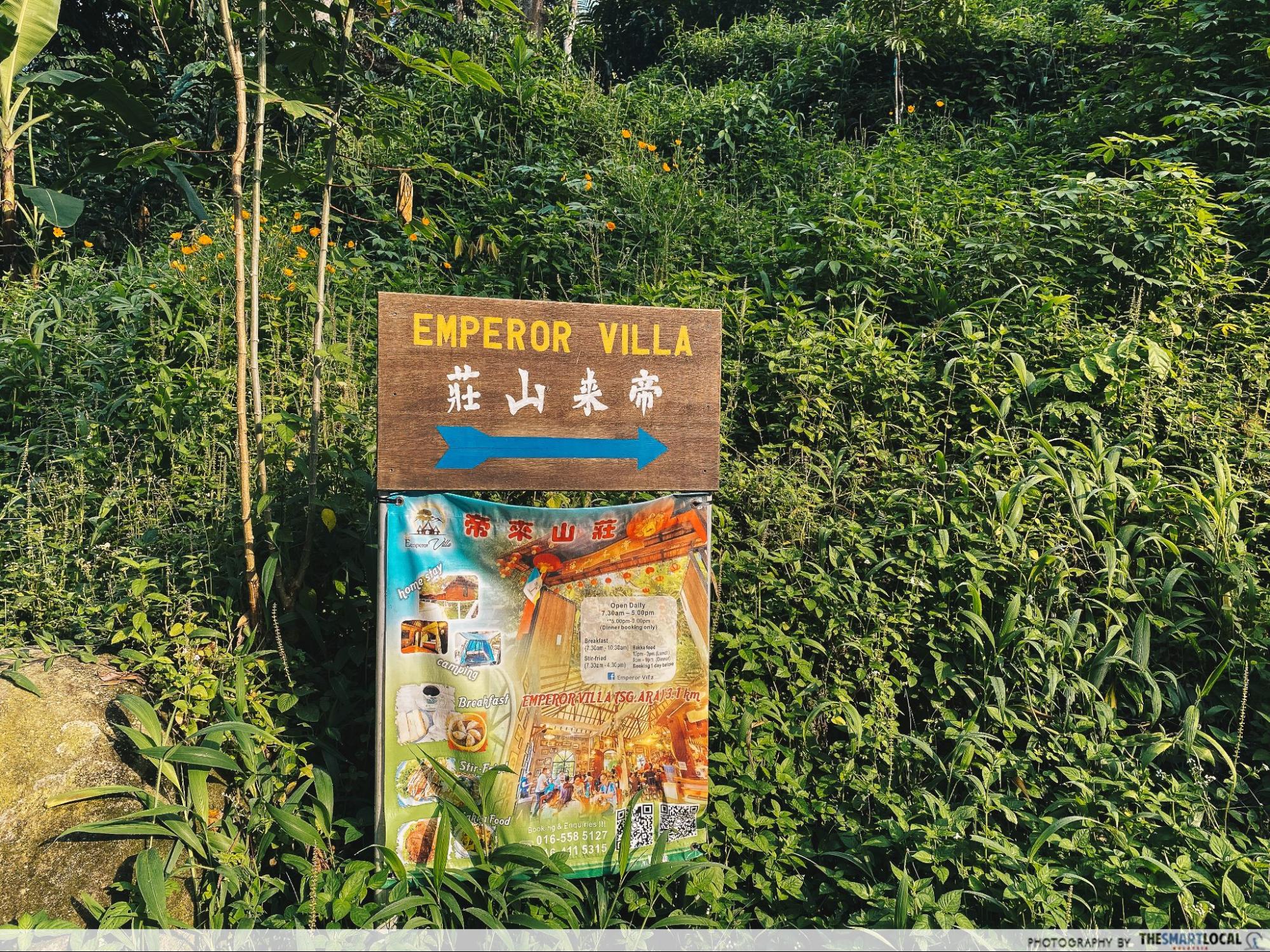 Graceful pavilions, charming wooden houses, tranquil gardens, and majestic arched bridges – Emperor Villa has all these and more to greet hikers at the end of their trek up here. So while there are tons of beautiful attractions at sea level in Penang, nothing beats the feeling of having hearty food and sightseeing after a good hike with your family or friends.
Address: Jalan Kenari, Sungai Ara, 11900 Bayan Lepas, Penang
Opening hours: 24 hours, Daily
Telephone: 016-558 5127
Emperor Villa's website
Read more interesting features of places here: 
---
Photography by Jia-ju.
Cover image adapted from: TheSmartLocal Malaysia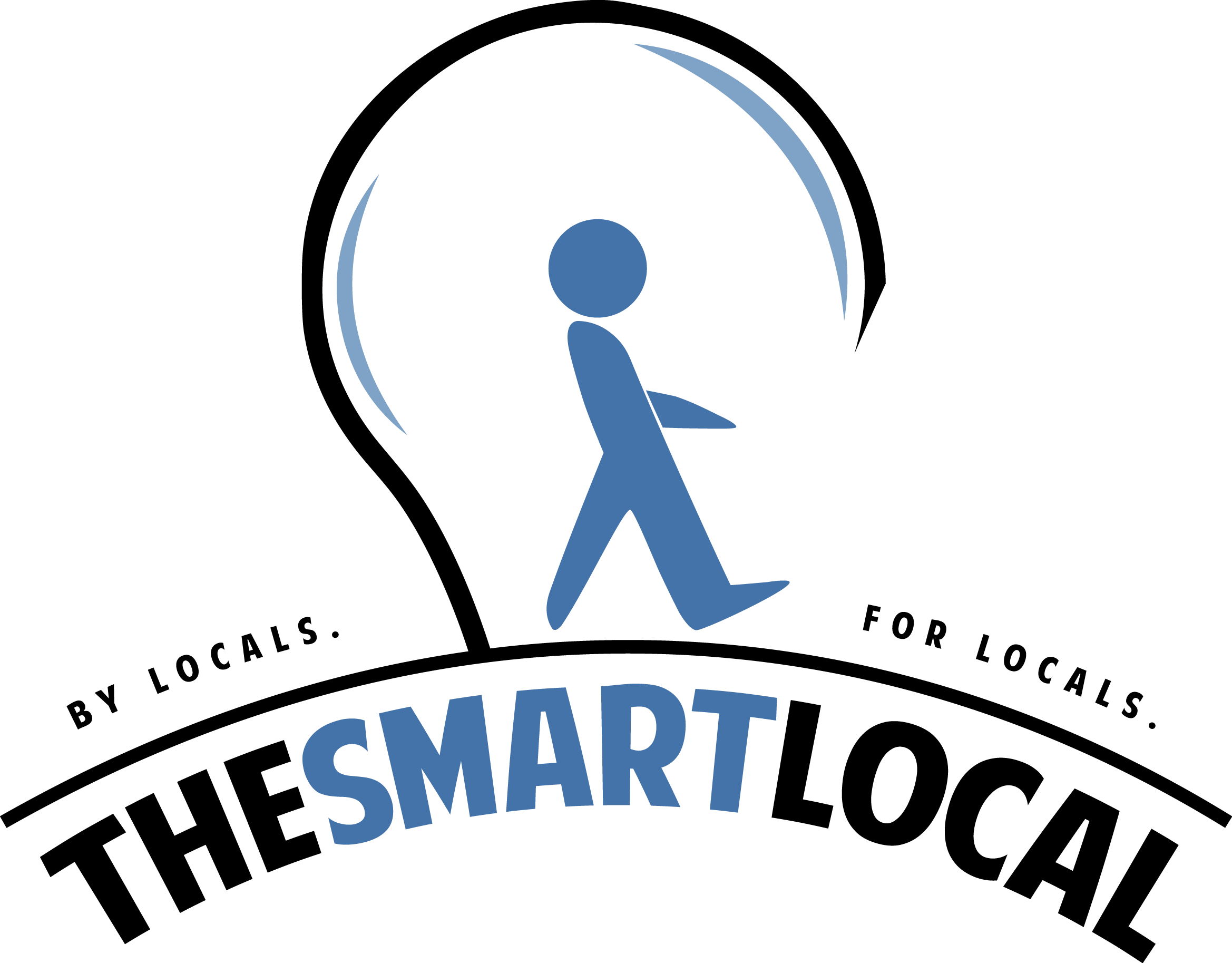 Drop us your email so you won't miss the latest news.