Polis sweeps road of car accident debris in Ipoh
---
Malaysia isn't a small country, so many of us rely on our cars to get around. More crowded roads, especially during peak hours, means increased chances of traffic accidents occurring. While traffic accidents are sadly, not uncommon, the sight of a policeman cleaning the debris left behind from an accident is getting lots of attention online, as it is winning over the hearts of many Malaysian netizens. 
---
A small yet kind gesture from an Ipoh policeman
---
The story was shared on Balai Polis Pekan Baru Ipoh Perak's Facebook page on 16th October 2020. The series of photos that they posted along with the wholesome tale showed an unnamed policeman standing in front of a collision involving 2 cars, which had taken place at a busy four-way intersection on Jalan Raja Ekram.
As Malaysians first go-to response when a car accident happens is getting police officers to come to the scene of the crash to redirect traffic, it's not a strange sight to see one at this accident. The photo also showed that the two cars involved in the accident were sporting pretty bad damages to their bumpers and headlights.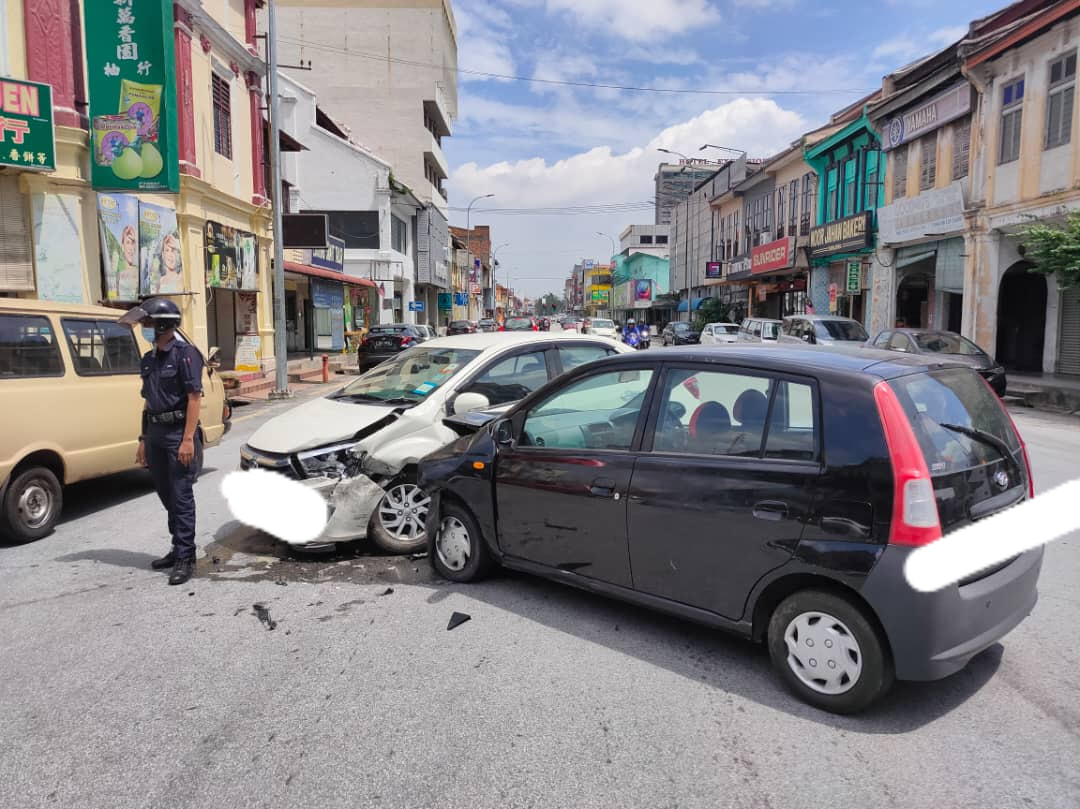 Image credit: Balai Polis Pekan Baru Ipoh Perak
But instead of just redirecting traffic, the policeman was also seen sweeping debris from the crash site with a humble broom and dustpan after the cars were cleared away.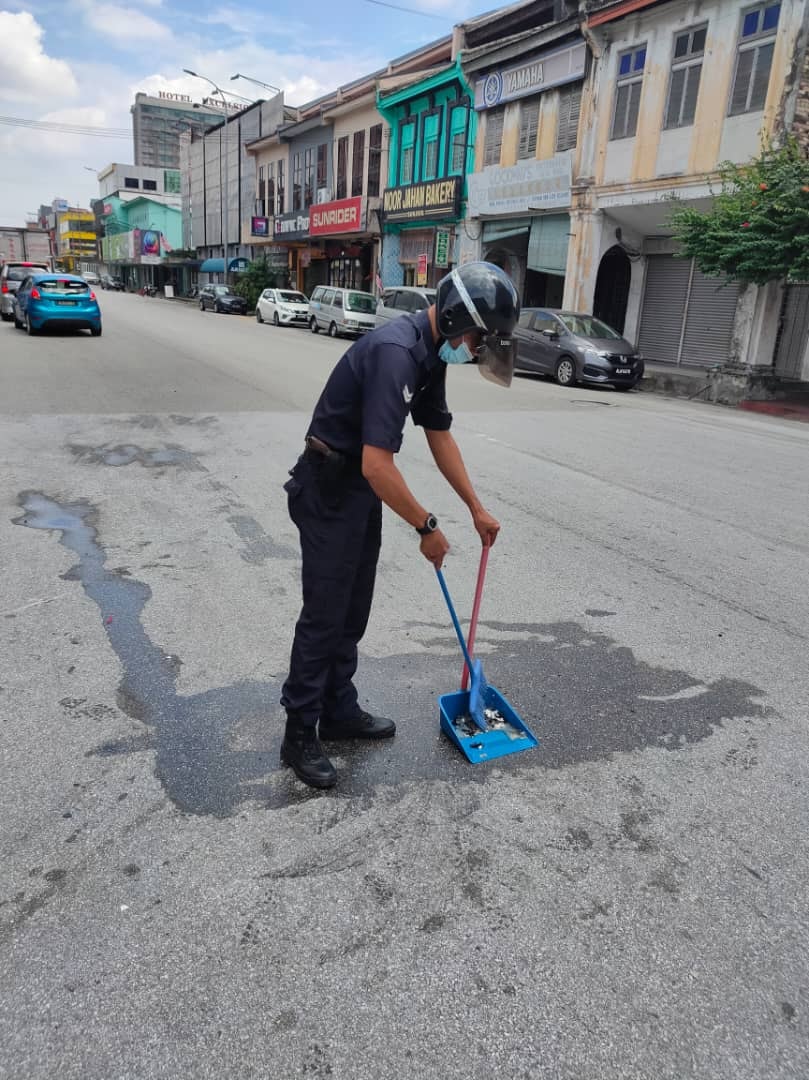 Image credit: Balai Polis Pekan Baru Ipoh Perak
Balai Polis Pekan Baru Ipoh Perak explained that the policeman took to clearing up the leftover debris as a way to help with traffic flow and to keep other drivers from facing another accident.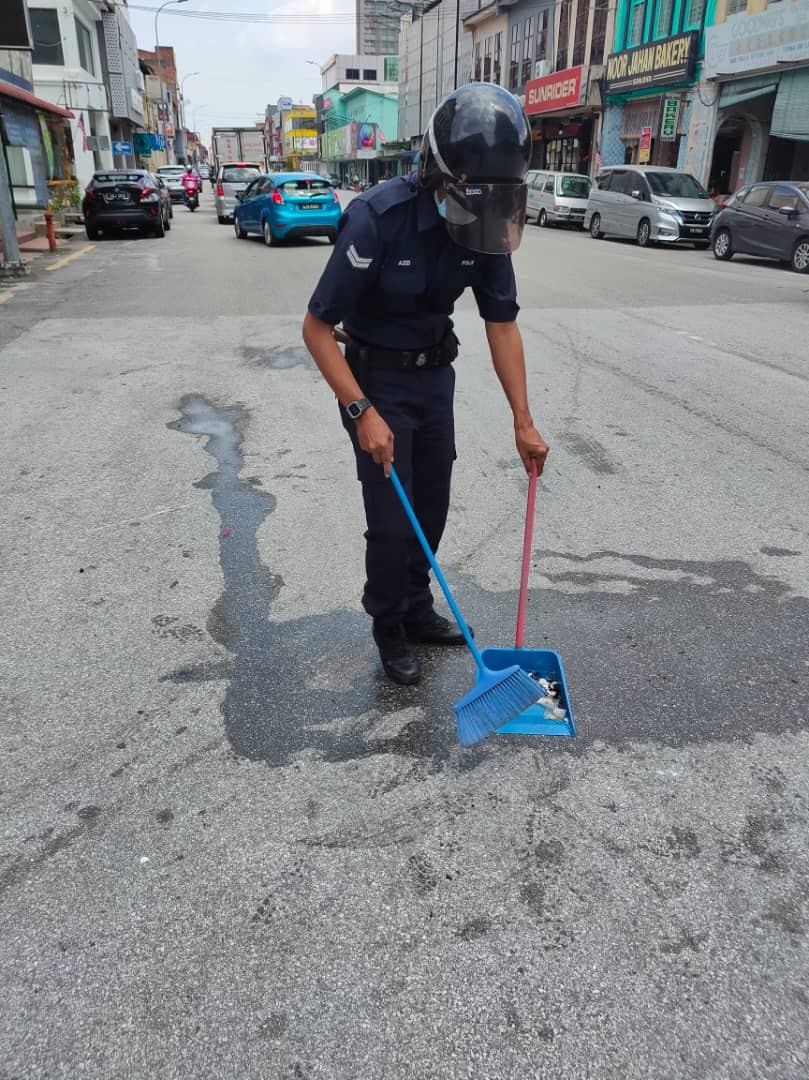 Image credit: Balai Polis Pekan Baru Ipoh Perak
---
Netizens praise policeman with big heart
---
The online shoutout Balai Polis Pekan Baru Ipoh Perak gave to the policeman in their unit also earned him the praise of netizens, who filled the comment section with plenty of compliments and clapping hand emojis for the policeman with "a big heart".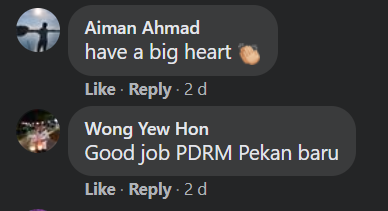 Netizens sing praises for the policeman online
Image adapted from: Balai Polis Pekan Baru Ipoh Perak
Netizen Voga Vathy also added to the string of comments with a short but sincere compliment, "Thank you – especially to the policeman sweeping [the debris] for our safety."


Image adapted from: Yoga Vathy

Following up with more praises and respect for the policeman, Hon Chor Lai also commented, "A very dedicated and responsible policeman who [does] his duty without hesitation. Respect and salute."


Image adapted from: Hon Chor Lai
---
Policeman sweeps road of accident debris in Ipoh
---
No one wants to get involved in a car accident. Coupled with the RMCO and CMCO affecting states nationwide, it's a less-than-timely moment to be dealing with one. So we applaud this policeman from Balai Polis Pekan Baru Ipoh Perak who went the extra mile by sweeping the debris and keeping citizens from running into more road bumps while out on errands for essentials at this time.
Read more news in Malaysia here:
---
Cover image adapted from: Balai Polis Pekan Baru Ipoh Perak
Get more stories like this!
Drop us your email so you won't miss the latest news.