Malaysia ranks highest in Asia for "coronavirus" search on Pornhub
---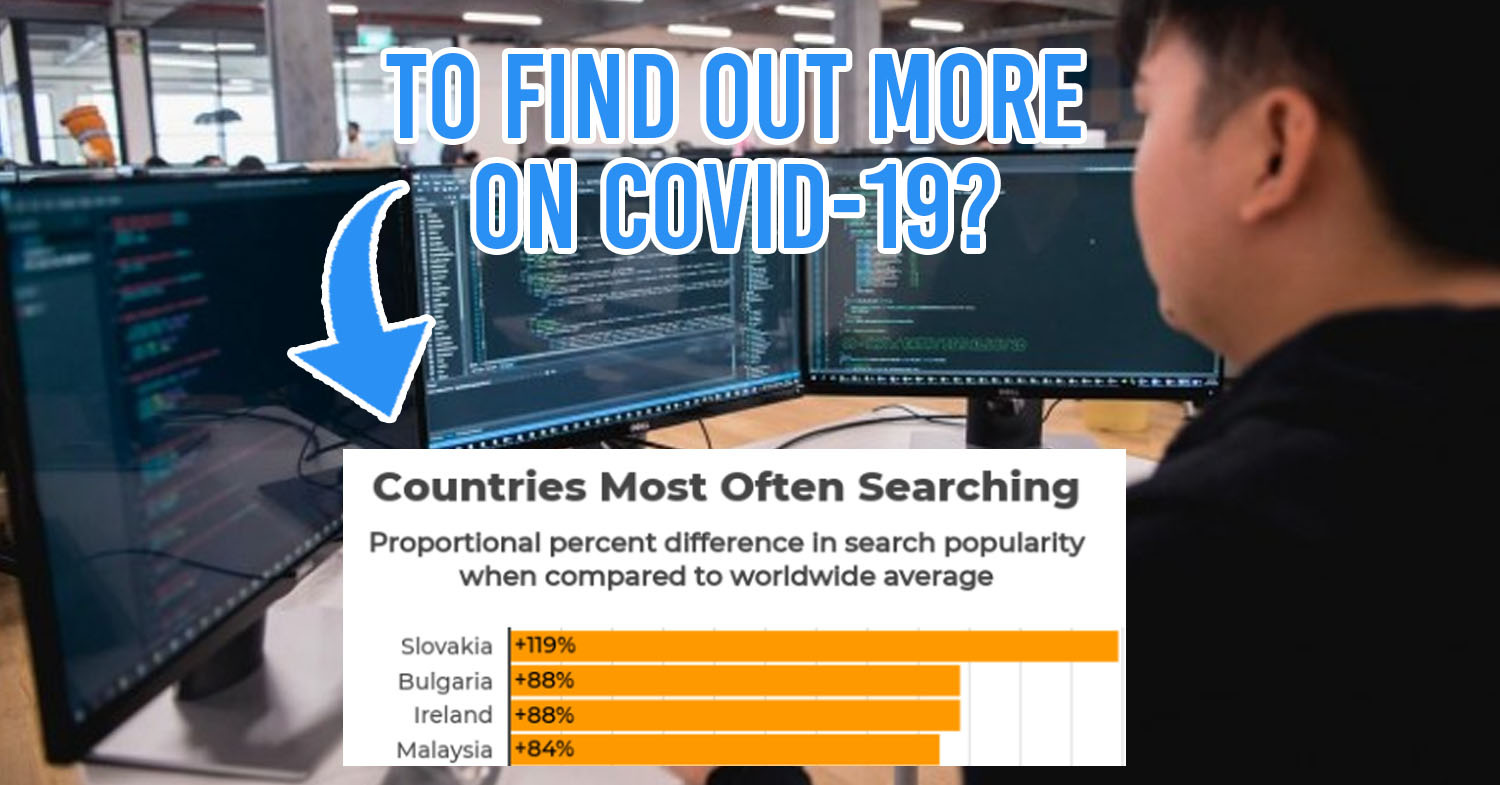 Pornhub coronavirus statistics
Image adapted from: Pornhub
Since the government called for a "lockdown" on 18th March 2020, Malaysians seem to have had mixed feelings about working from home. Just open your social media and you'll see a majority of your friends slouching on their couches and mulling over the fact they now have too many snack breaks at their disposal. 
But there's something else that has been happening since most of us are now confined to the privacy of our homes. Apparently Malaysians have been finding creative ways to tackle the situation, by searching for "coronavirus" on Pornhub. And an article on coronavirus insights released by the world's biggest porn site has the stats to prove it.
---
Spike in traffic on Pornhub
---
It isn't just Malaysia who has contributed to the spike in traffic on Pornhub during these trying times. Their stats show that worldwide traffic spiked a whopping 11.6% from just 6.5% from 16th-17th March – the dates where most countries around the world announced their respective "lockdowns".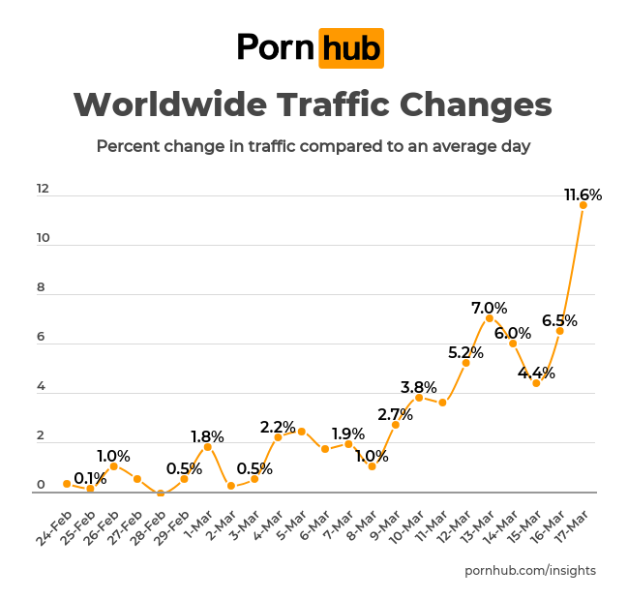 Image adapted from: Pornhub
This is likely due to the fact that Pornhub decided to offer its premium services for free to badly-hit countries such as Italy, Spain, and France. In fact, there was a whopping 57% spike in users from Italy when this rolled out on 12th March.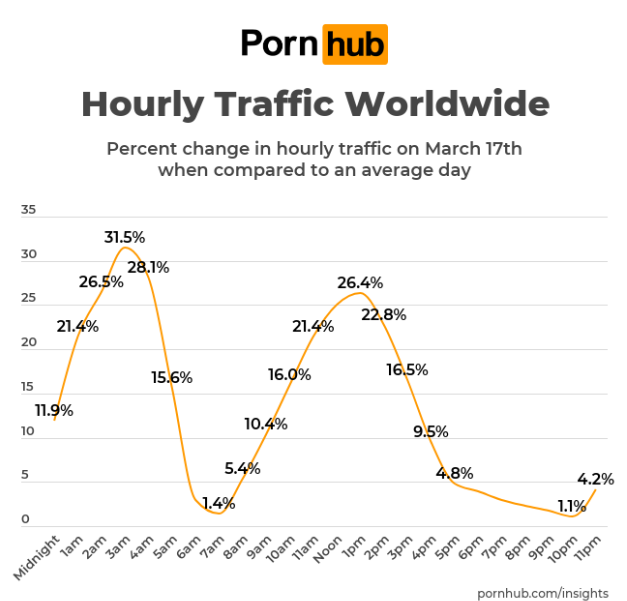 Image adapted from: Pornhub
Pornhub also noted that their worldwide hourly traffic changed compared to an average day, pre-coronavirus. Traffic spiked around 3AM, which they attribute to users staying up later thanks to work-from-home arrangements. But the most interesting spike was a 26.4% increase during lunch time, at 1PM.
---
Malaysia ranked no.4 for "coronavirus" searches
---
Besides the fact that lots of people all over the globe are practicing self-love during this time, another interesting trend has cropped up on the site: the search for "coronavirus". Pornhub stated that over the past month, there have been over 9.1million searches with the keywords "corona" or "covid".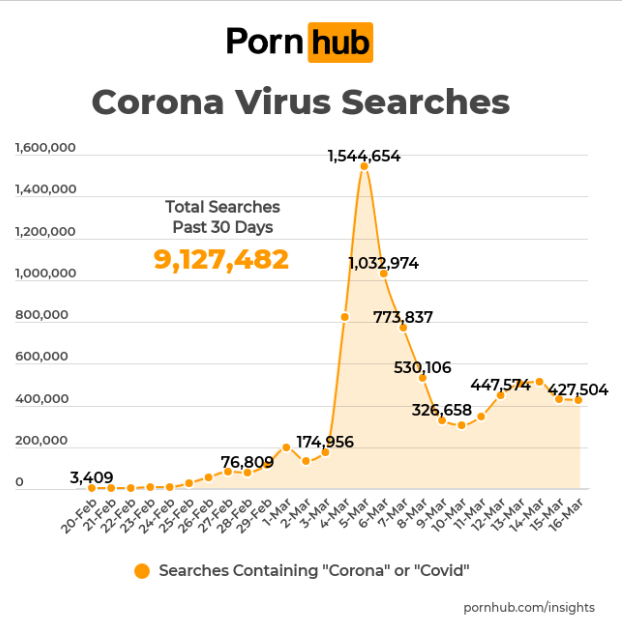 Pornhub coronavirus statistics
Image adapted from: Pornhub
Now, onto Malaysia. Stats for the countries who're most often searching for these keywords show that Malaysia ranks at no.4 globally, with a search popularity of 84%. Meanwhile, Slovakia claims the top spot at 119%. Nevertheless, we're the highest-ranked Asian country there is, with our neighbouring country Singapore at no.8 with just 66%. 
Below are the top 10 countries who've been trying to find out more about COVID-19 through Pornhub. The percentage refers to the likelihood of people searching for "coronavirus" on the site:
Slovakia – 119%

Bulgaria – 88%

Ireland – 88%

Malaysia – 84%

Serbia – 80%

Austria – 70%

Portugal – 70%

Singapore – 66%

Colombia – 65%

Philippines – 49%
---
Malaysians creative in coping with lockdown
---
Porn isn't exactly something that should be advocated, but the stats go to show that people are finding interesting ways to survive the Movement Control Order during this time. 
We're unsure why people are turning to Pornhub to find out more about the novel coronavirus, but we're glad that COVID-19 is at the forefront in Malaysians' minds, even during their alone-time. And we're especially glad that this indicates that people are most definitely staying at home during the "lockdown" period. 
If you want to find out more about COVID-19 in Malaysia, read these articles:
Get more stories like this!
Drop us your email so you won't miss the latest news.