Pos Malaysia riders busy delivering a shocking amount of parcels
---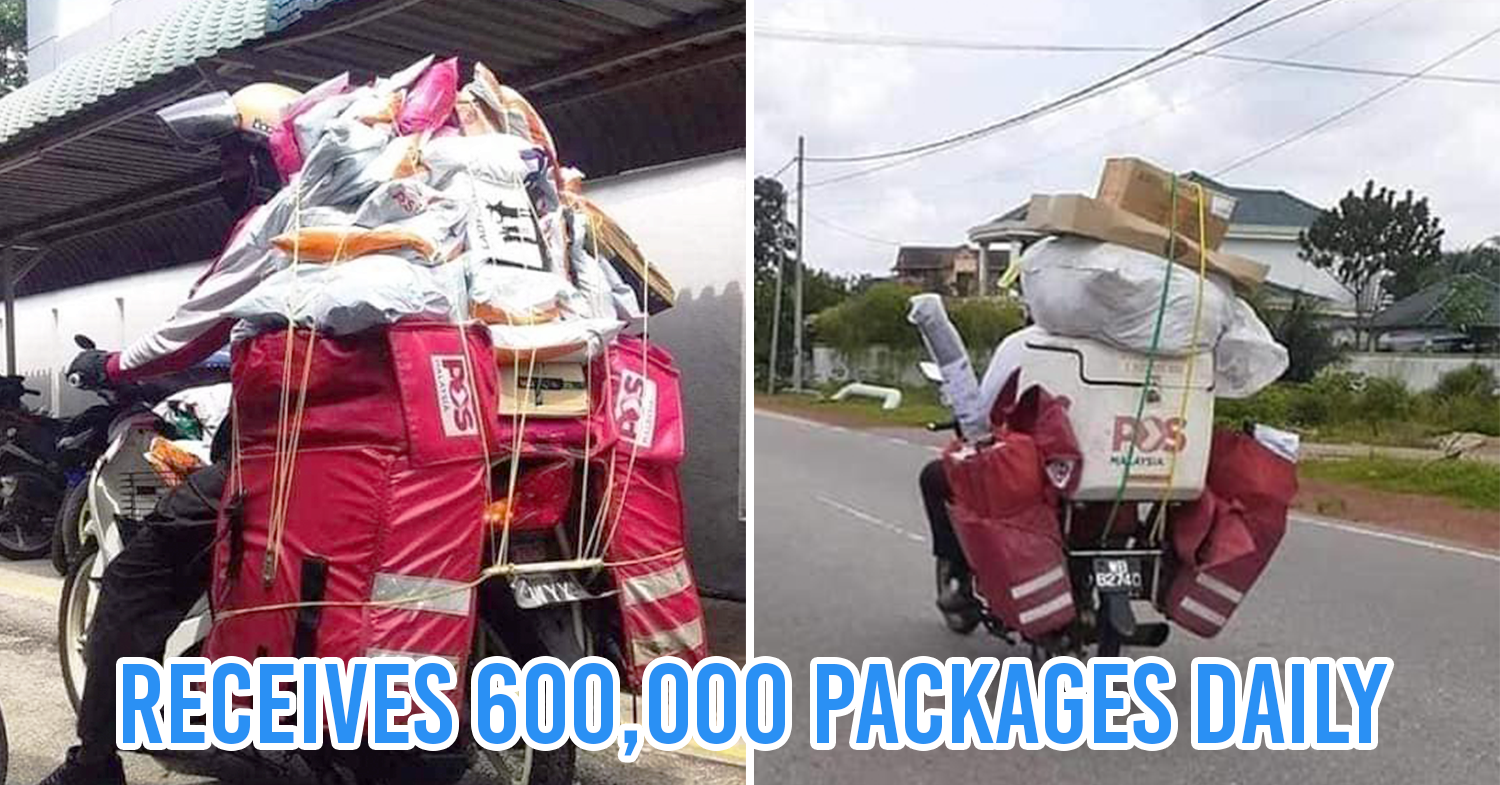 Image adapted from: @anthraxxxx
Since Movement Control Order (MCO) was implemented back on 18th March 2020, Malaysians have been spending an unprecedented amount of time at home. Even though the Conditional MCO has allowed malls to open their shutters once more, many are still wary of heading out to the outside world. This has made way for a change in consumer habits – with online shopping now at a larger scale than before.
With Pos Malaysia receiving over 600,000 parcels daily, one can only imagine the workload their delivery riders have to shoulder each time they clock in for their shifts. Recently, photos of Pos Malaysia delivery riders with a staggering amount of parcels strapped onto their motorcycles have gone viral on Twitter, highlighting the plight of these underappreciated frontliners.
---
Photos show delivery riders hard at work during MCO
---
On 17th May 2020, Twitter user @anthraxxx posted a series of photos that showed various Pos Malaysia delivery riders with a staggering amount of parcels strapped onto their bicycles as they went about their rounds. The behind-the-scenes glimpse at a delivery riders' hectic schedule during MCO proved shocking to Malaysian netizens, as seen by the post's 19,000 retweets and 17,000 likes.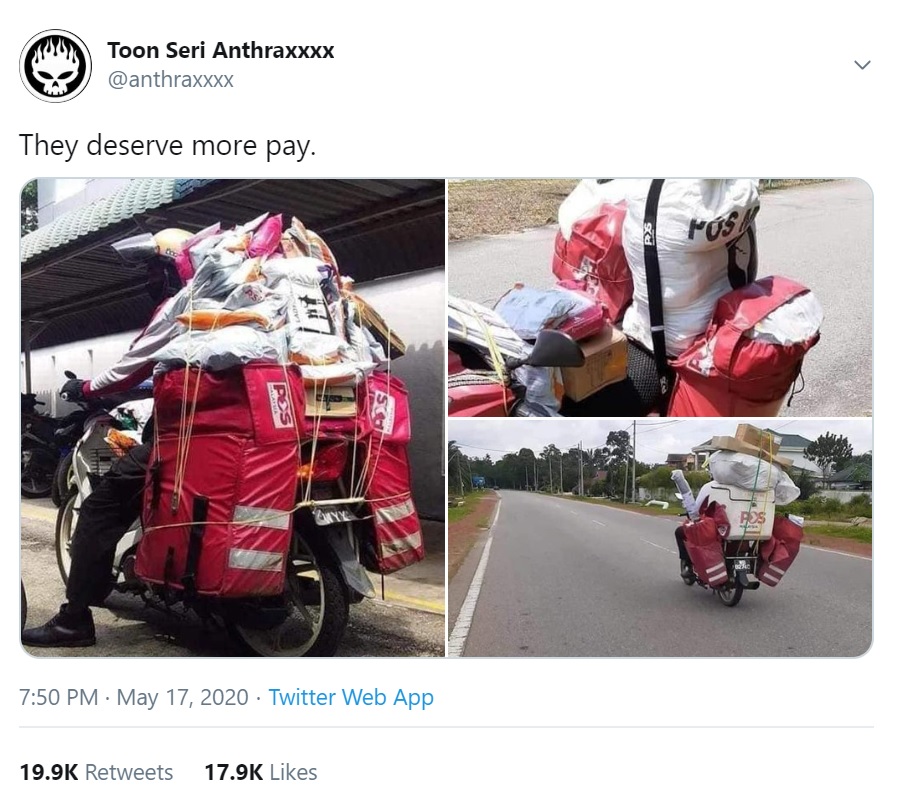 Image adapted from: @anthraxxxx
Soon after gaining traction on social media, the words "Pos Malaysia" also managed to climb its way into Twitter's trending list with over 25,000 mentions and counting.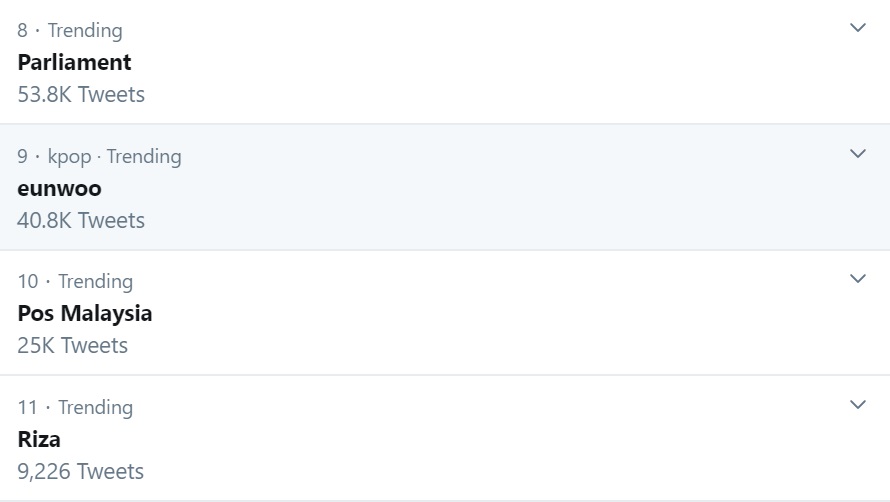 Image adapted from: Twitter
In the photos posted by the original poster (OP), we see loads of parcels being stacked upon one another on the back of their motorcycle until the pile is as tall as the rider himself. The parcels are all strung together with pieces of rope so that they wouldn't fall during the journey. It's hard to imagine the trouble these riders go through as they have to unpack the parcels in order to hunt for the particular one each time they reach an address.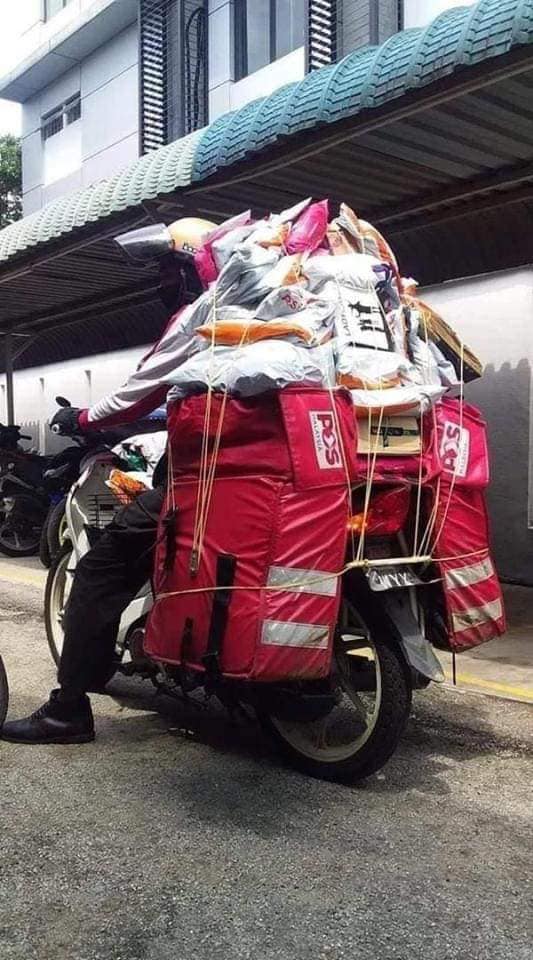 Image credit: @anthraxxxx
The sight reminds us of the local roti-man from our childhood days where the uncles had motorcycles with packets of bread and snacks dangling from each side. However, instead of light packets of snacks, these Pos Malaysia riders are making a full day's worth of trips while delivering packages of various sizes and weight.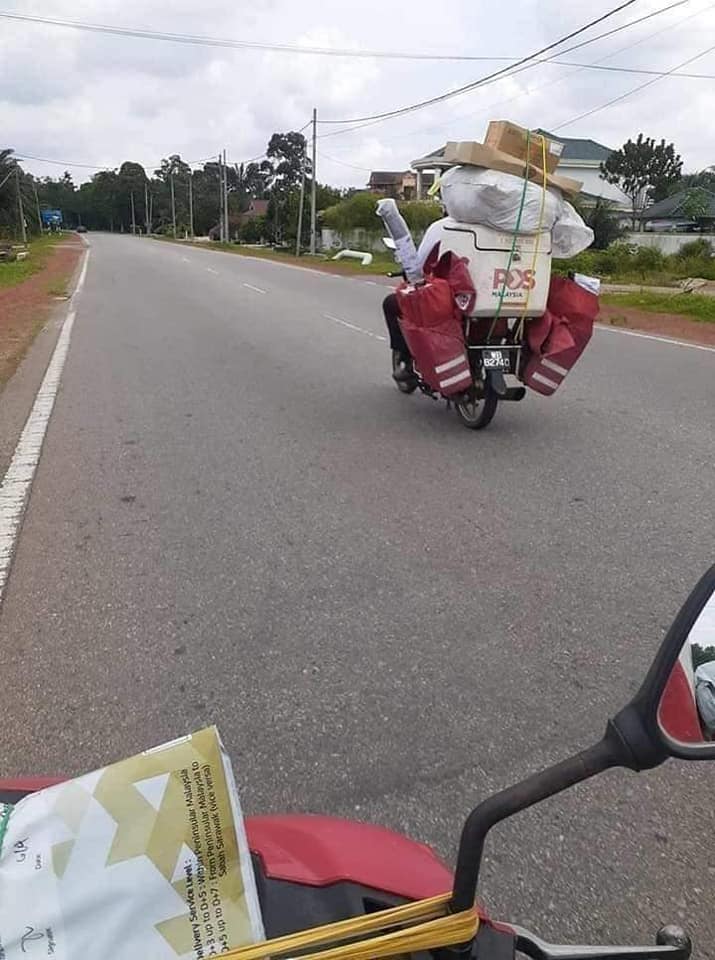 Image credit: @anthraxxxx
---
Pos Malaysia has been receiving 600,000 packages daily since MCO began
---
According to MalayMail, the national courier service has been receiving a whopping 600,000 packages daily since MCO began back in mid-March. This was in response to many concerned enquiries from Malaysians who had yet to receive their parcels. A video of the swamped post office at Pos Malaysia's KLIA hub had also gone viral a few weeks prior.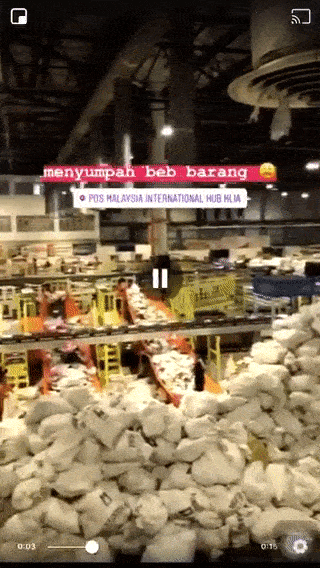 Mountains of parcels at Pos Malaysia's KLIA hub
Image adapted from: Adella Mohd Noor
---
Thank you, Pos Malaysia delivery riders
---
While having to wait a week or two longer for your packages to arrive may seem like torture, we should also take into consideration the hardworking staff at Pos Malaysia are dealing with over half a million packages on a daily basis. The delivery riders are also doing the best they can to ensure that your packages make it to your doorstep by towing about a crazy number of parcels on their motorcycles – and during the fasting month too!
The least we can do is patiently wait at home for our parcels to arrive and say a simple "thank you" to the delivery rider hard at work.
Catch up on more Malaysian news:
Get more stories like this!
Drop us your email so you won't miss the latest news.