Ipoh man sells putu mayam in 14 unique flavours
---
Growing up in Malaysia, we used to come across the putu mayam man on his motorcycle accompanied by his signature honk as he went around our neighbourhood to sell his putu mayam.
These days, the putu mayam man may not appear as often anymore, but a father-and-son duo in Ipoh are determined to keep the tradition alive.
---
Father and son run putu mayam business together
---
24-year-old R. Navin Kumar and his father L. Ravi are the brains behind Ravi Putumayam Ipoh. L. Ravi started out as an ordinary putu mayam seller who obtained his goods from an external supplier, but Navin decided to put his entrepreneur hat on and try his hand at learning how to make putu mayam from scratch instead.
Beyond just making his father's and his own supply of putu mayam, Navin found inspiration from the many flavours of cakes out there and thought of incorporating them into this South Indian snack too.

Image credit: Ravi Putumayam Ipoh
First, he experimented with strawberry, which garnered a lot of positive responses on social media. Netizens were intrigued by the unconventional flavour in a traditional snack and attracted to the vibrant colour as compared to the normal white putu mayam that we know of.
Once he realised that flavoured putu mayam can be a hit with the public, he decided to try out even bolder flavours. The flavours that made it onto his menu now include yam, mango, pandan, mocha, cappuccino, and orange, among others, priced around RM2 a piece.
---
Navin presses on despite previous arm injuries
---

Image credit: Ravi Putumayam Ipoh
Navin is more than just a creative mind – he also has a strong will to run his business and continue making his putu mayam despite past injuries that make the task more painful for him.
He shared with The Smart Local Malaysia that he had been involved in a motorbike accident when he was out delivering goods 3 years ago. He broke his arm as a result and had a plate inserted to help him recover.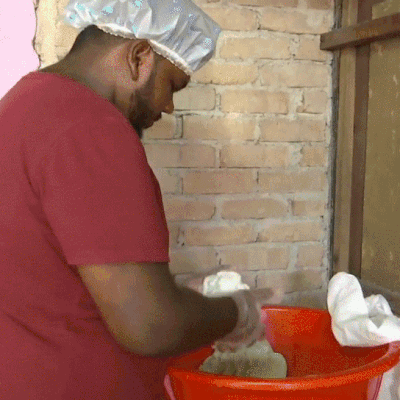 Image credit: @ravi_putumayam_ipoh
Now, Navin manually makes up to 300 putu mayam a day, which will usually take him around 4 to 5 hours. He's currently looking to secure a machine worth RM20,000 that will automate the process to relieve his labour. The machine will also free up more of his time and allow him to improve his recipes and come up with new flavours for the future too.
Anyone who'd like to contribute to his efforts can message him on his business Facebook page.
---
Unique putu mayam flavours
---
It's admirable to see a young man take on an old business tradition, something that most millennials are not interested in today. In fact, Navin tries to modernise the putu mayam by giving it a twist with funky new flavours to ensure that his business stays fresh and exciting.
So do look out for his father Ravi – who is in charge of delivery – on his putu mayam motorbike the next time you're in Ipoh!
Malaysians are a creative and innovative bunch. Keep reading to be amazed by our local talent:
---
Cover image adapted from: Ravi Putumayam Ipoh
Enjoying The Smart Local Malaysia? Follow us on Facebook and Instagram for more stories like this.
Get more stories like this!
Drop us your email so you won't miss the latest news.