Things to do in Sabah, Malaysia
---
When it comes to discovering Malaysia's best nature spots, a trip to Sabah is unmissable. Best known for its serene hiking trails and sun-kissed beaches, the state is also home to overlooked attractions that aren't clogged with crowds. 
With some planning, those itching to see the misty landscapes of Kundasang and enjoy the seaside in Semporna can find new places to experience. We've got a list of 10 things to do in Sabah to discover its lesser-known and iconic attractions. Read on to find out more:
---
1. Try sky-biking with a gorgeous mountain view at Mont K Bike
---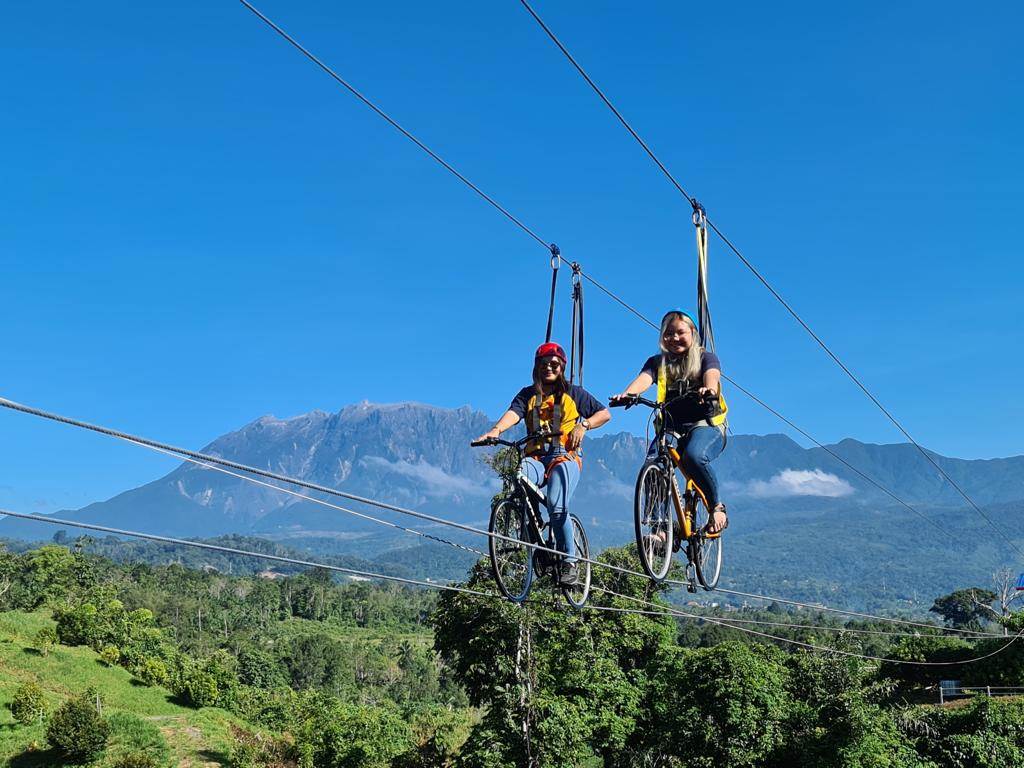 Image credit: Mont K Skybike
Riding a bicycle comes as second nature to most of us. But picture this: pedalling a bicycle in mid-air on a cable. At Mont K Bike in Ranau, you can experience this exhilarating activity with a stunning backdrop of Mount Kinabalu against sunny skies.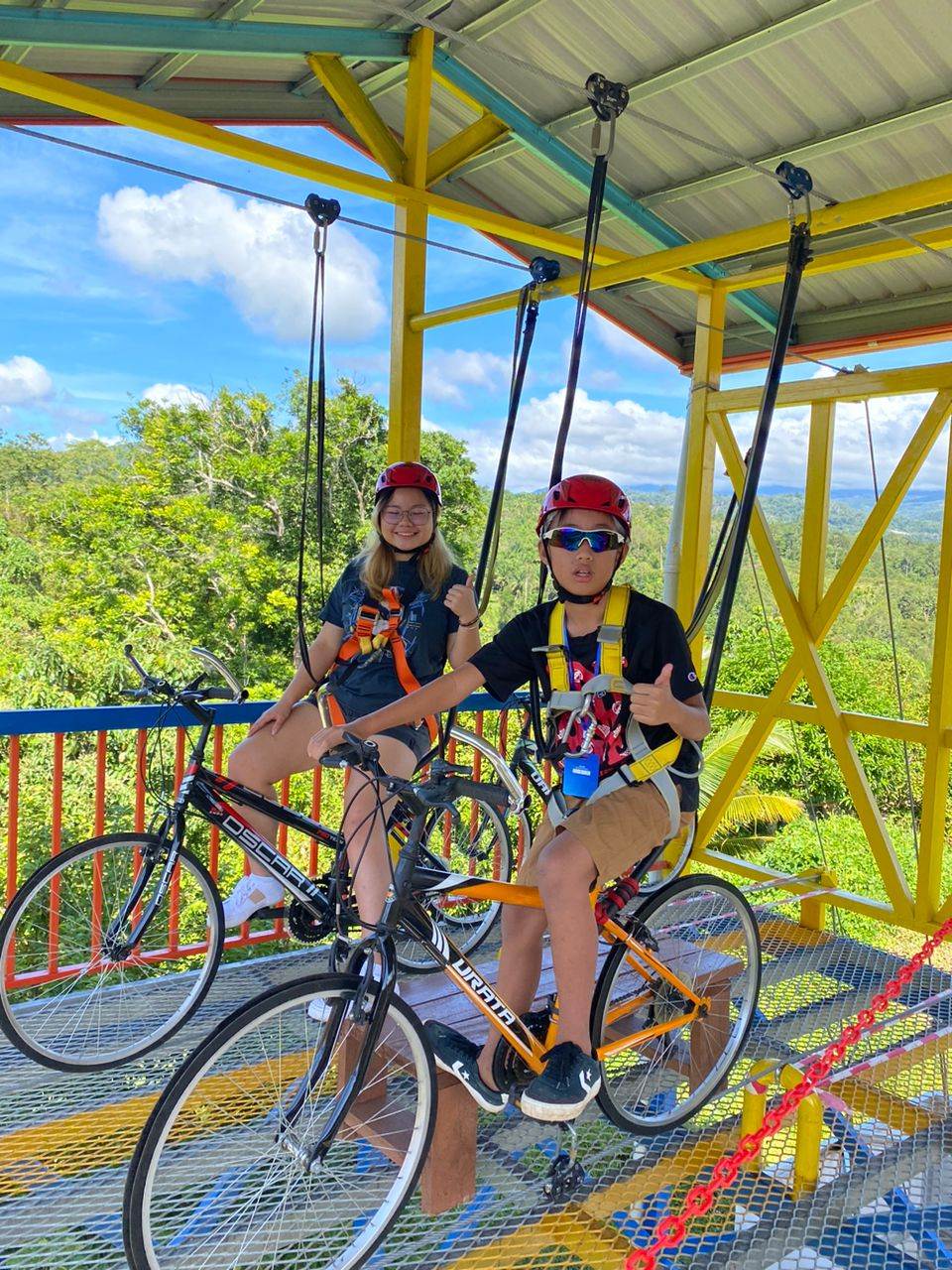 Image credit: Mont K Skybike
Whether you're braving the journey alone or with your best pal, you'll get to pedal on a cable set 30 metres up in the air on one of two bicycles. The cycling rail stretches about 100 metres long, and you can stop to admire the view or strike a pose for photos as you venture across it.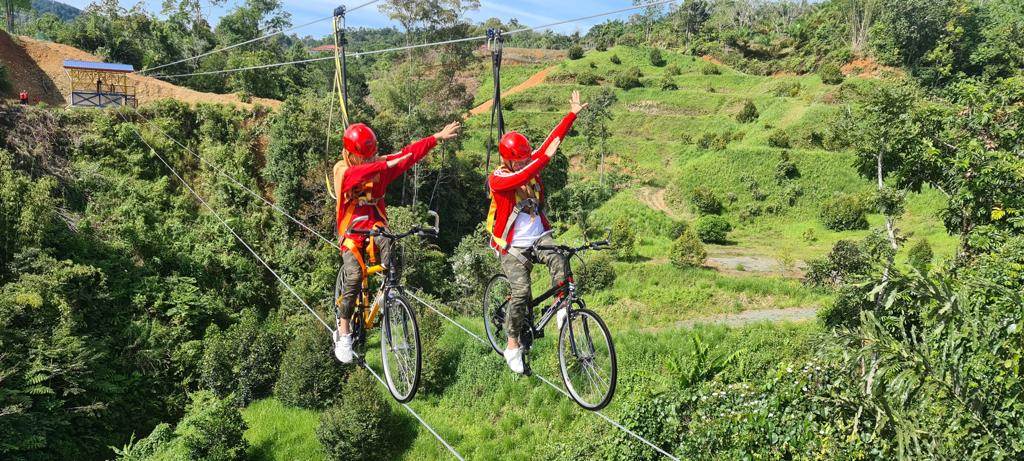 Image credit: Mont K Skybike
You'll find Mont K Bike tucked within Ranau Rabbit Farm – so if your travel buddy or little ones prefer to sit this adventure out, they can cuddle adorable bunnies for a fun ground-level activity at the farm.

Image credit: Ranau Rabbit Farm
Price (Skybike): RM90/pax (Malaysians) | RM150/pax (Standard tickets)
Address: Ranau Rabbit Farm, Kampung Kigiok, 89300 Ranau, Sabah
Opening hours: 9am-6pm, Daily
Contact: +6019-832 9868
---
2. Have lunch by the sea at Pitas Floating Coral Bar
---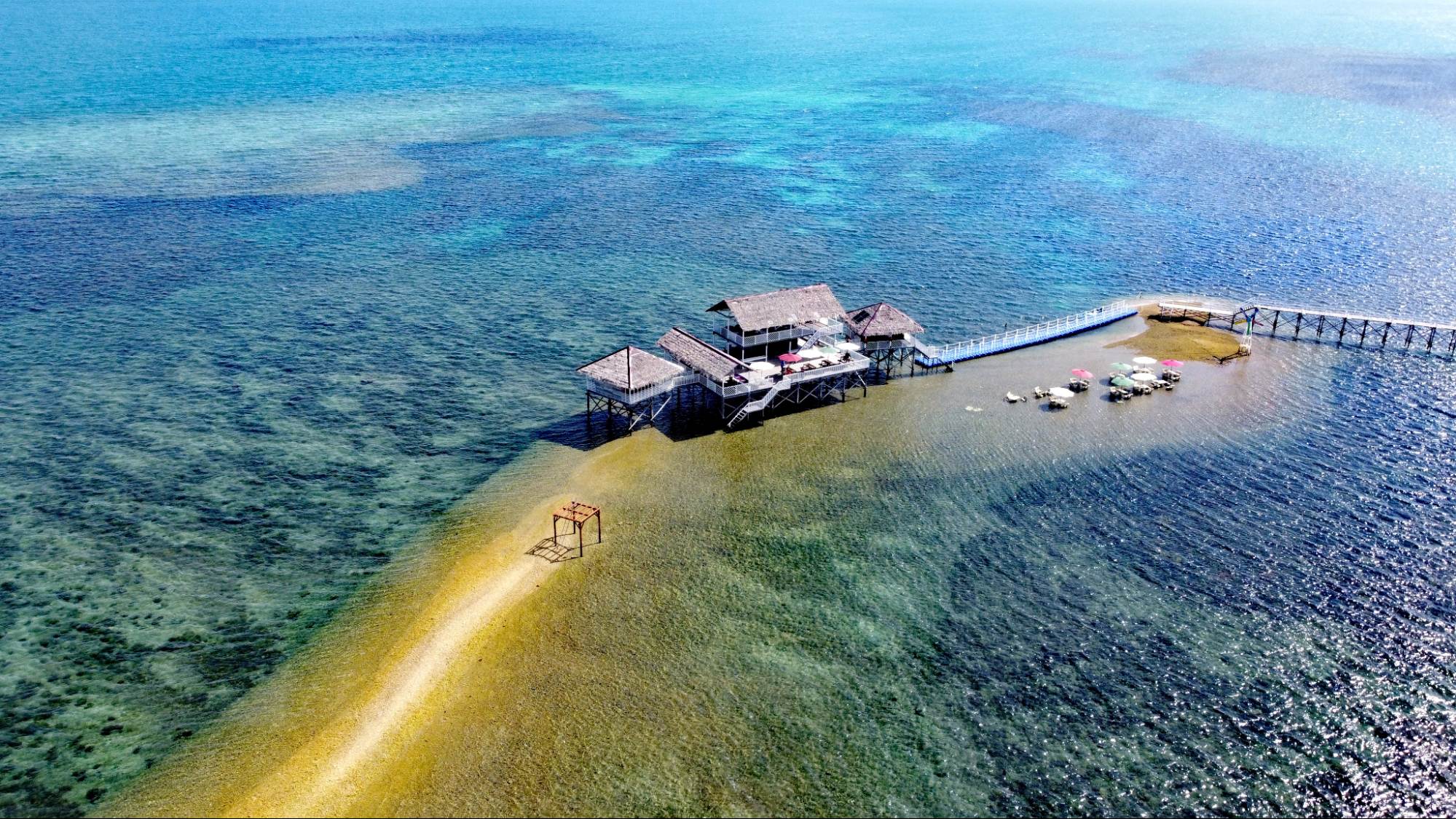 Image credit: Archangel Borneo Holidays
You may have heard of floating resorts, with many of them peppered across Sabah's stunning islands. But wait until you hear about Floating Coral Bar, located in the middle of the sea off Pitas, on an untouched private island with no hotels. 
When you arrive, find just a bridge and an observation deck, as well as tables and chairs to accommodate just over 50 people. All these are set on a 1-km stretch of naturally-formed coral bar.
It goes without saying that packing sunscreen will go a long way, as there'll be nothing but the clear sea, shallow reefs, and blue skies around you.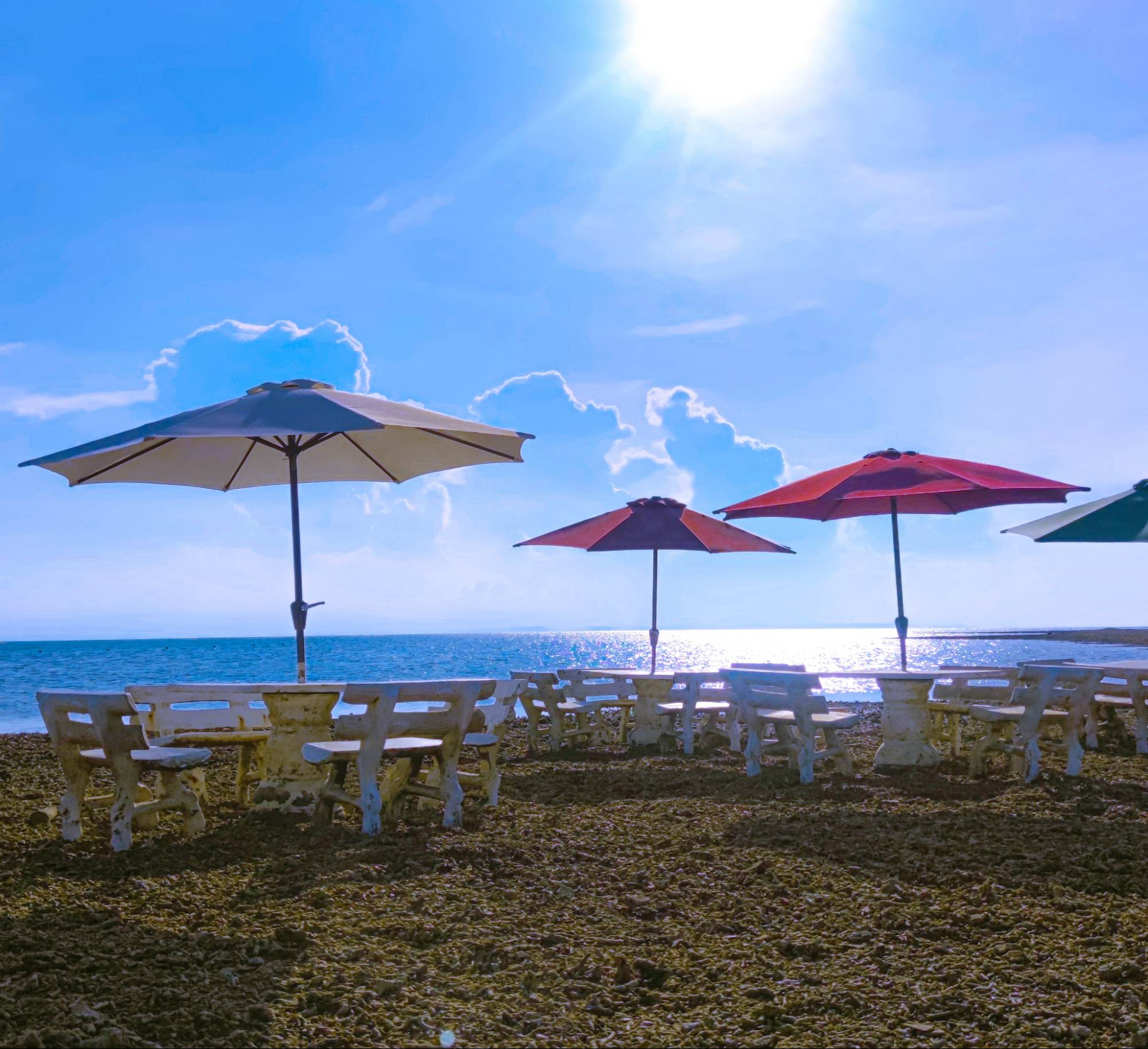 Image adapted from: Archangel Borneo Holidays
The floating bar is run by Archangel Borneo Holiday, and an excursion here starts from RM330/pax. The package includes transport, lunch, and free access to water facilities such as kayaking in a clear-bottom boat, snorkelling, and stand-up paddleboarding. 
For lunch, you'll get to enjoy a hearty and authentic Malaysian meal prepared by Pitas locals.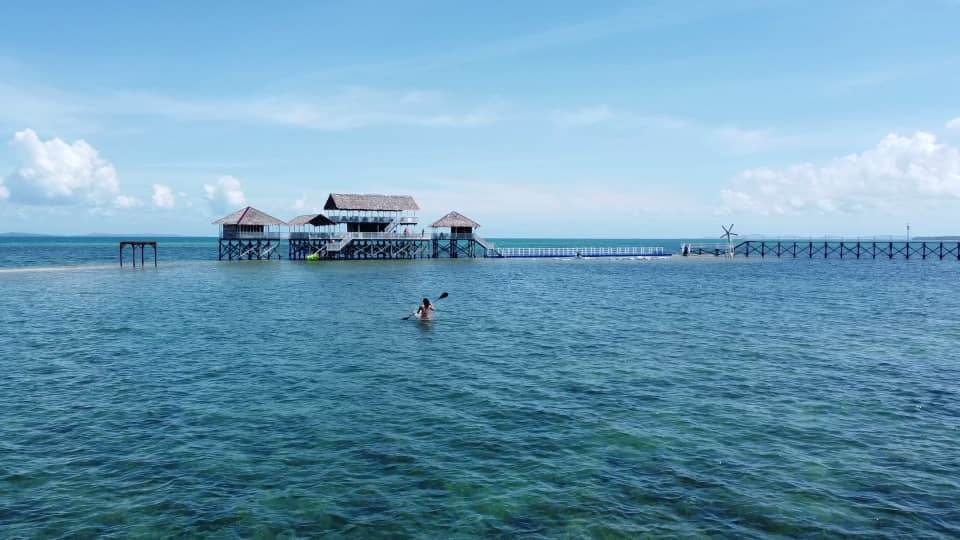 Image credit: Archangel Borneo Holidays
This Floating Coral Bar is about a 3-hour drive from Kota Kinabalu, and it takes around 45 minutes from Marina Jetty Kudat to get here by boat. Trips begin at 9am and conclude at 3pm, giving you more than enough time to explore the island.
Pick-up point: Marina Jetty Kudat, Off Jalan Urus Setia, 89058 Kudat, Sabah
Contact: +6019-895 4248 | +6014-993 2788
---
3. Go parasailing & paddleboarding to discover the islands of Sabah
---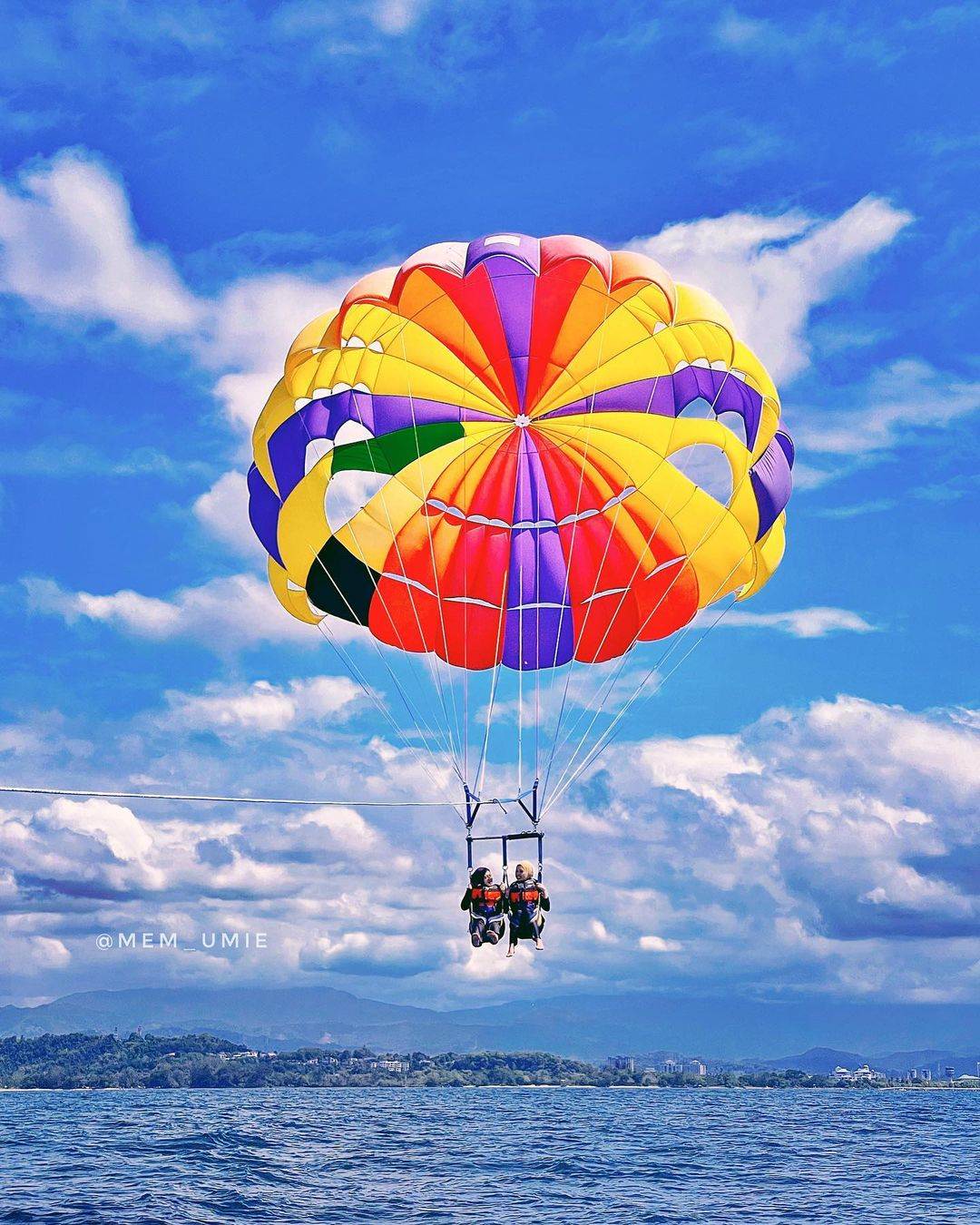 Image credit: @mem_umie via Instagram
The sheer number of pristine beaches in Sabah means there's no shortage of water activities to try when you're island-hopping. While snorkelling is a must-do, you can opt to go parasailing instead – it requires no training and lets you enjoy stunning bird's-eye views of the sea and sky.
Similar to paragliding, parasailers will fly through the air backed by a parachute-like canopy. The main differences are that you'll be towed by a boat and dangling aloft over the sea – and, of course, you can avoid the nerve-wracking leaping-off-the-cliff part of paragliding.
Long Beach Watersports have packages (from RM110/pax) that include parasailing, as well as a banana boat ride and snorkelling. Transportation fees are covered between Jesselton Point Ferry Terminal and Manukan and Mamutik Islands, where you can spend a half-day discovering marine life and soaring over the sea.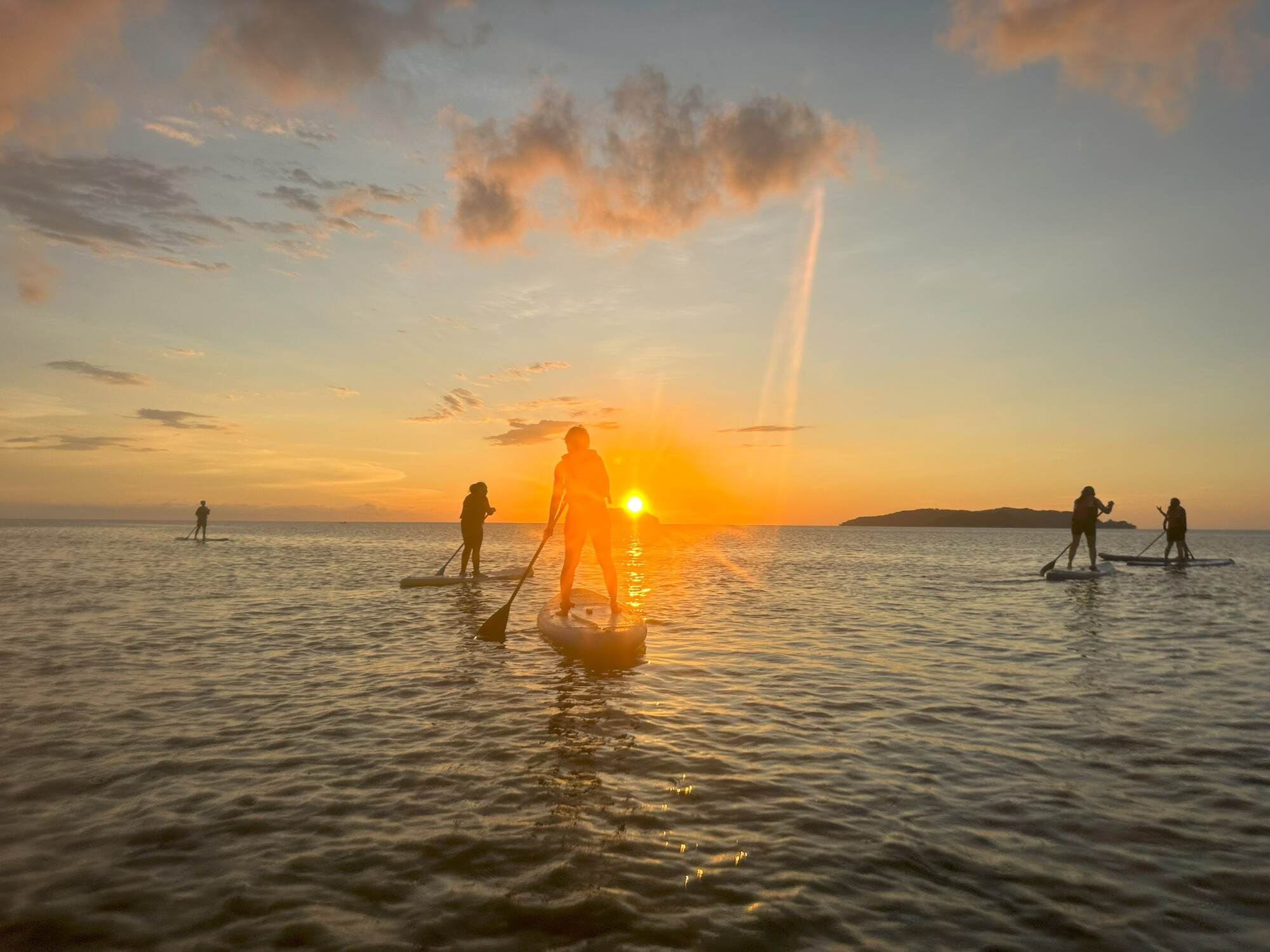 Image credit: Sabah Tourism
If you prefer calmer water sports, you can try stand-up paddleboarding at Tanjung Aru Beach. It might just be the best way to bask in the captivating Sabah sunset while leisurely gliding over gentle waves towards the horizon.
Head North Paddle hosts sunset and sunrise paddling sessions, priced from RM110/pax. Your journey out into the waters will be led by a professional guide, so even first-timers can try this activity out.
Paragliding @ Tunku Abdul Rahman Marine Park:
Pick-up point: Jesselton Point Ferry Terminal, Jalan Haji Saman, 88000 Kota Kinabalu, Sabah
Contact: +6019-862 4549
Stand-up Paddleboarding @ Tanjung Aru Beach:
Address: Lot 21, Kuarters TM Tanjung Aru, Lorong Pinang, Tanjung Aru 88801 Kota Kinabalu, Sabah
Contact: +6017-583 2156 | Head North Paddle Kota Kinabalu's Facebook
---
4. Sleep under the stars and go camping in Kota Belud
---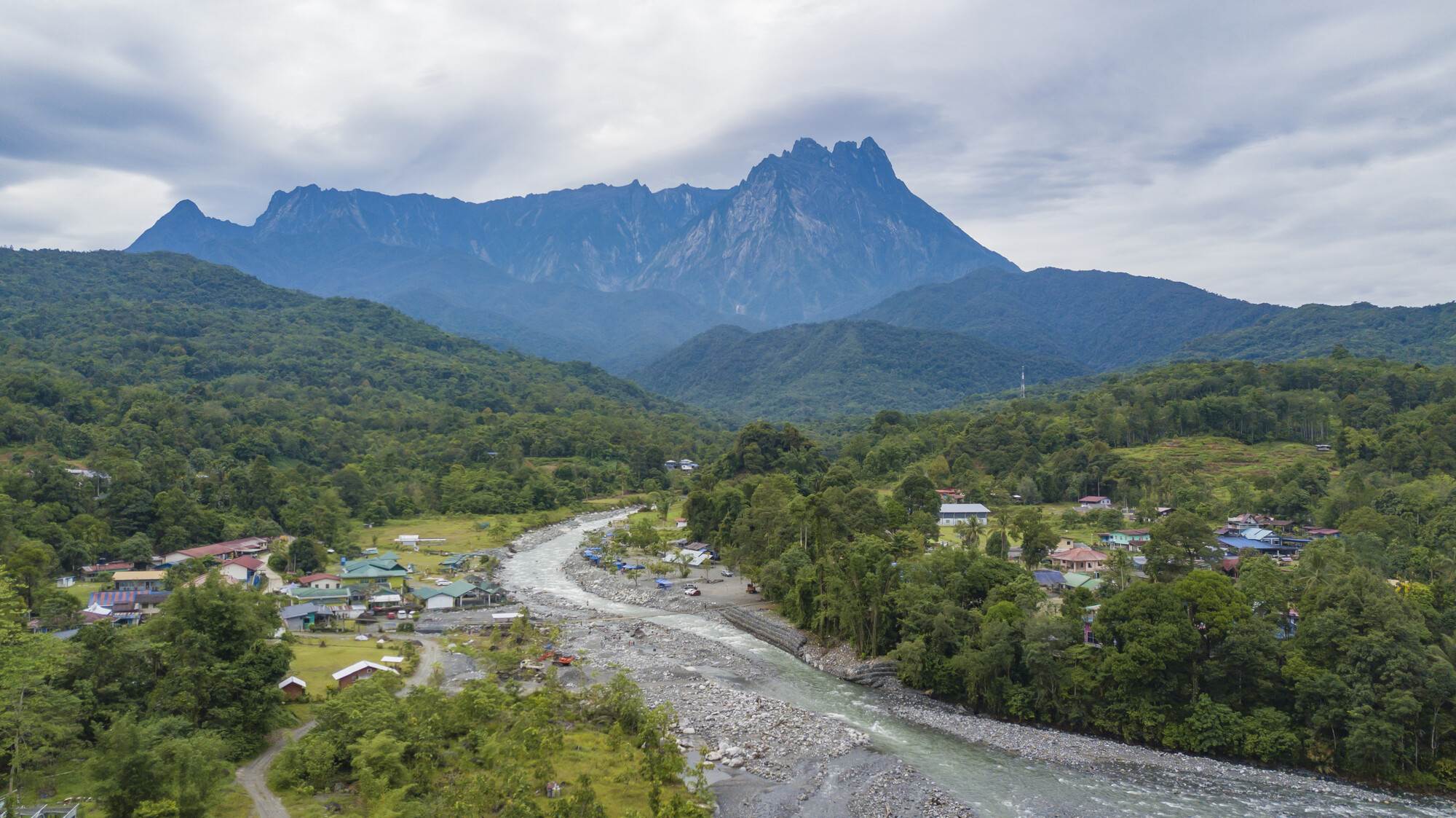 Nohutu Eco Tourism campsite in Kota Belud.
Image credit: Murphy Ng
As much as we love hotel amenities, waking up to breathtaking views of nature right at our feet is an unbeatable experience. One popular area to spend a night under the stars is Kota Belud, located about 2 hours from Kota Kinabalu.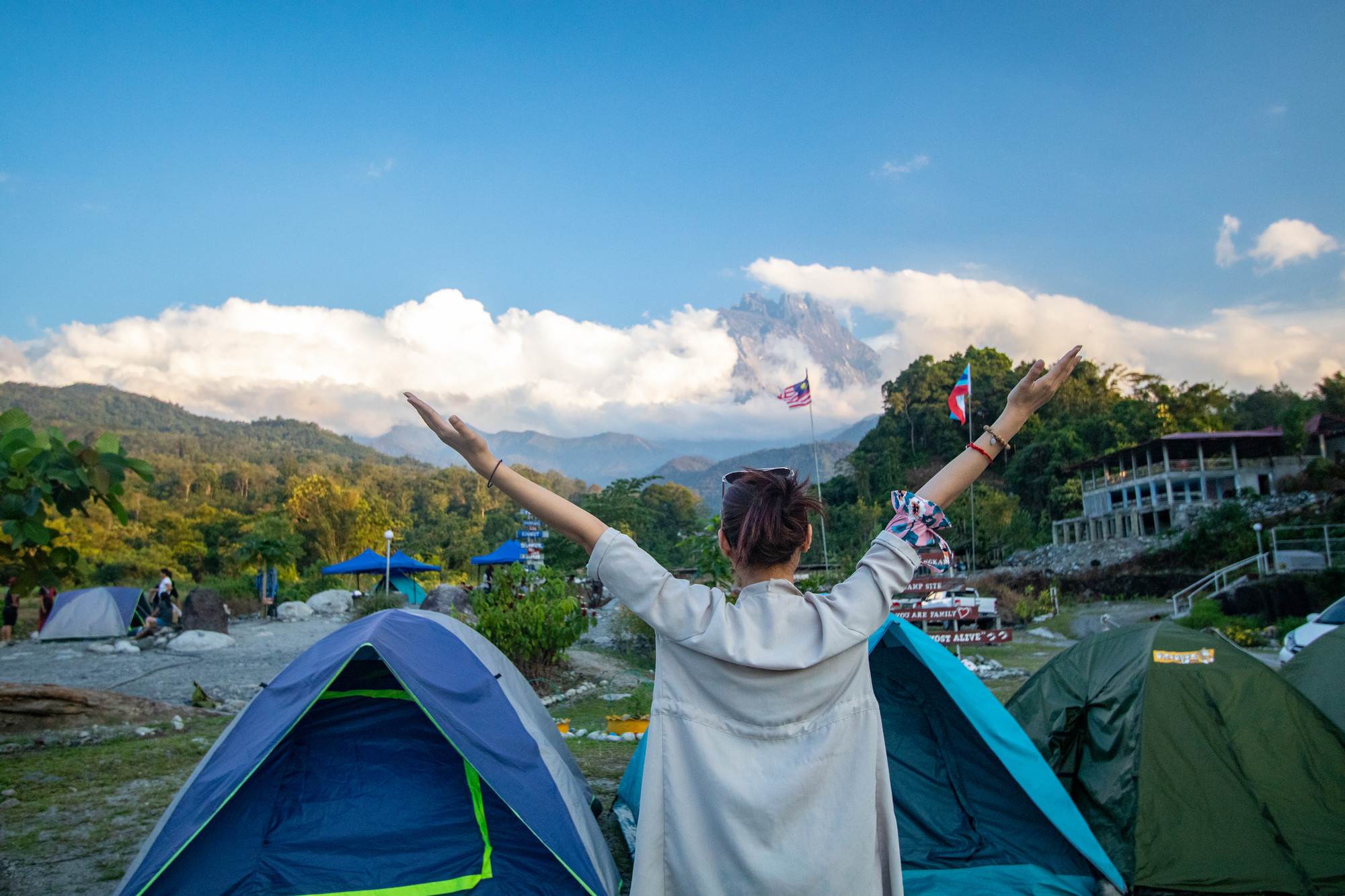 Image credit: Sabah Tourism
There are multiple campsites located here, including Tegudon Tourism Village, Nohutu Eco Tourism Campsite, and Polumpung Melangkap View Campsite. These campgrounds let you experience a peaceful night's sleep under clear skies glittering with stars – all while enjoying unblocked views of Mount Kinabalu and flowing waters just outside your tent. 
But roughing it isn't for everybody, and we get that. Luckily, these campsites have various kampung-style cabins and essential camping gear available for rent.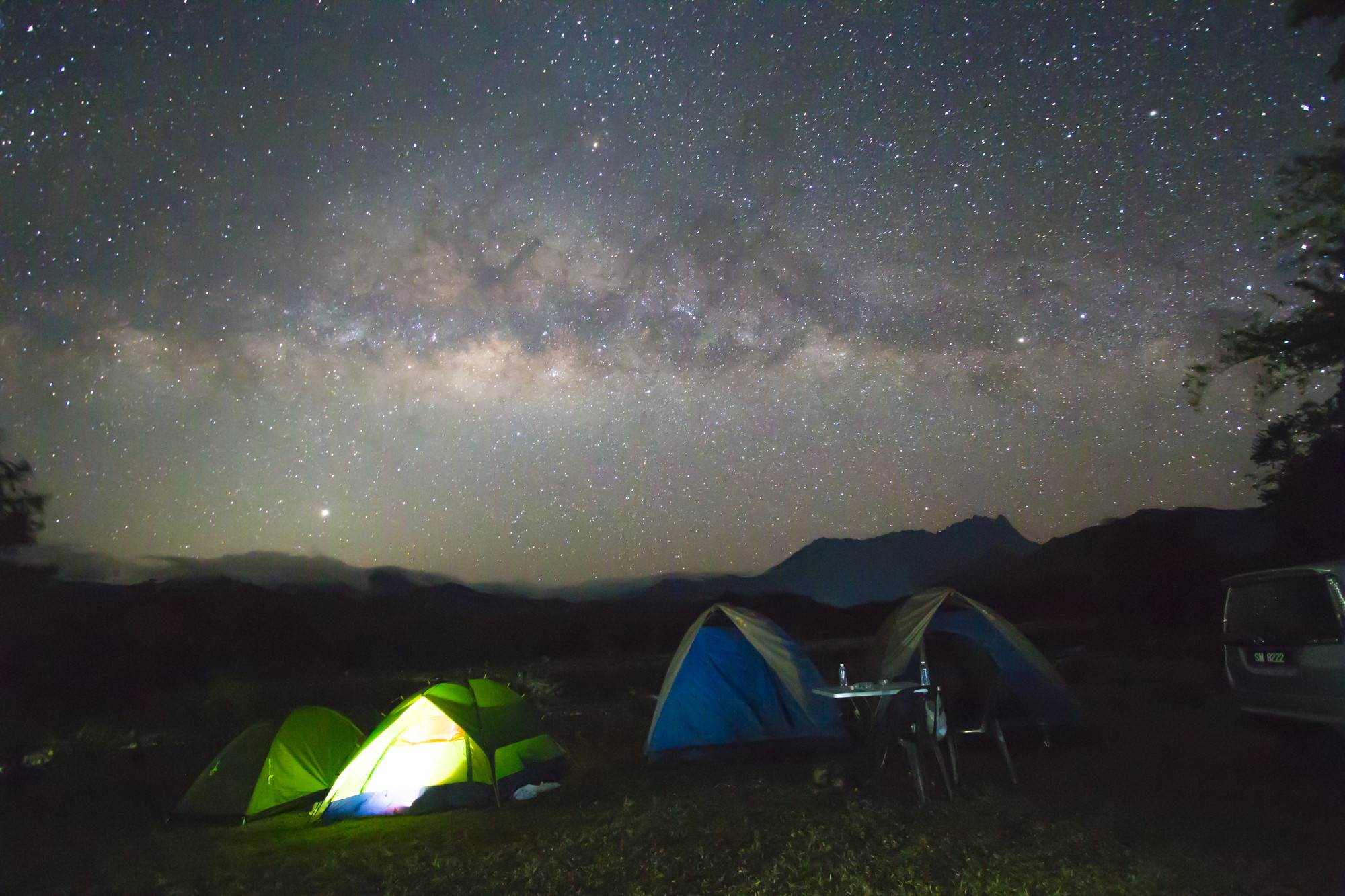 Sleep in tents under the stars at Tegudon Tourism Village.
Image credit: Murphy Ng
To recharge in nature sans gadgets, campers here often dip their feet in the river outside their tents when the tides are calmer. No matter which campground you're opting for a night's stay at, the water streaming from the mountain is always clear and cool, even on sunnier days.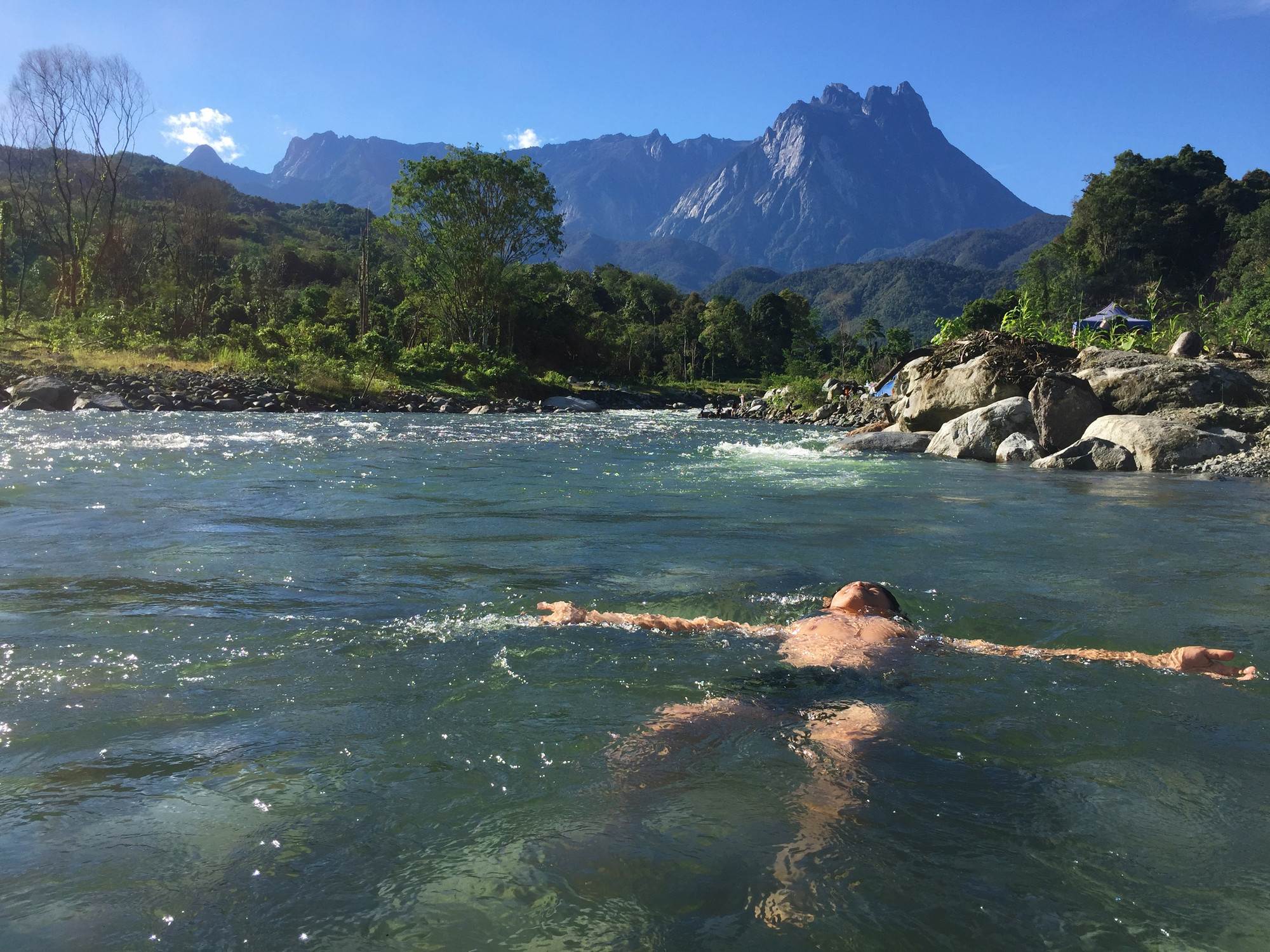 Image credit: (Sabah Tourism Tirado Jupirin) – Kota Belud
Tegudon Tourism Village:
Entrance fee: RM3/pax
Address: P/S 291 Tegudon, 89158 Kota Belud, Sabah
Contact: +6016-828 2416 | Tegudon Tourism Village's Facebook
Nohutu Eco Tourism Campsite:
Entrance fee: RM3/pax
Address: Melangkap Tiong, 89150 Kota Belud, Sabah
Opening hours: 2pm (Check-in) | 12pm (Check-out)
Contact: +6013-803 4382 | Nohutu Eco Tourism's Facebook
Polumpung Melangkap View Campsite:
Entrance fee: RM6/adult & RM4/child (Malaysians) | RM12/adult & RM8/child (Standard admission)
Address: Polumpung Melangkap Baru, 89158 Kota Belud, Sabah
Opening hours: 2pm (Check-in) | 12pm (Check-out)
Contact: +6011-3624 4723 | Polumpung Melangkap View Campsite's website
---
5. Spend a night in Sabah's countryside at Kiulu Farmstay
---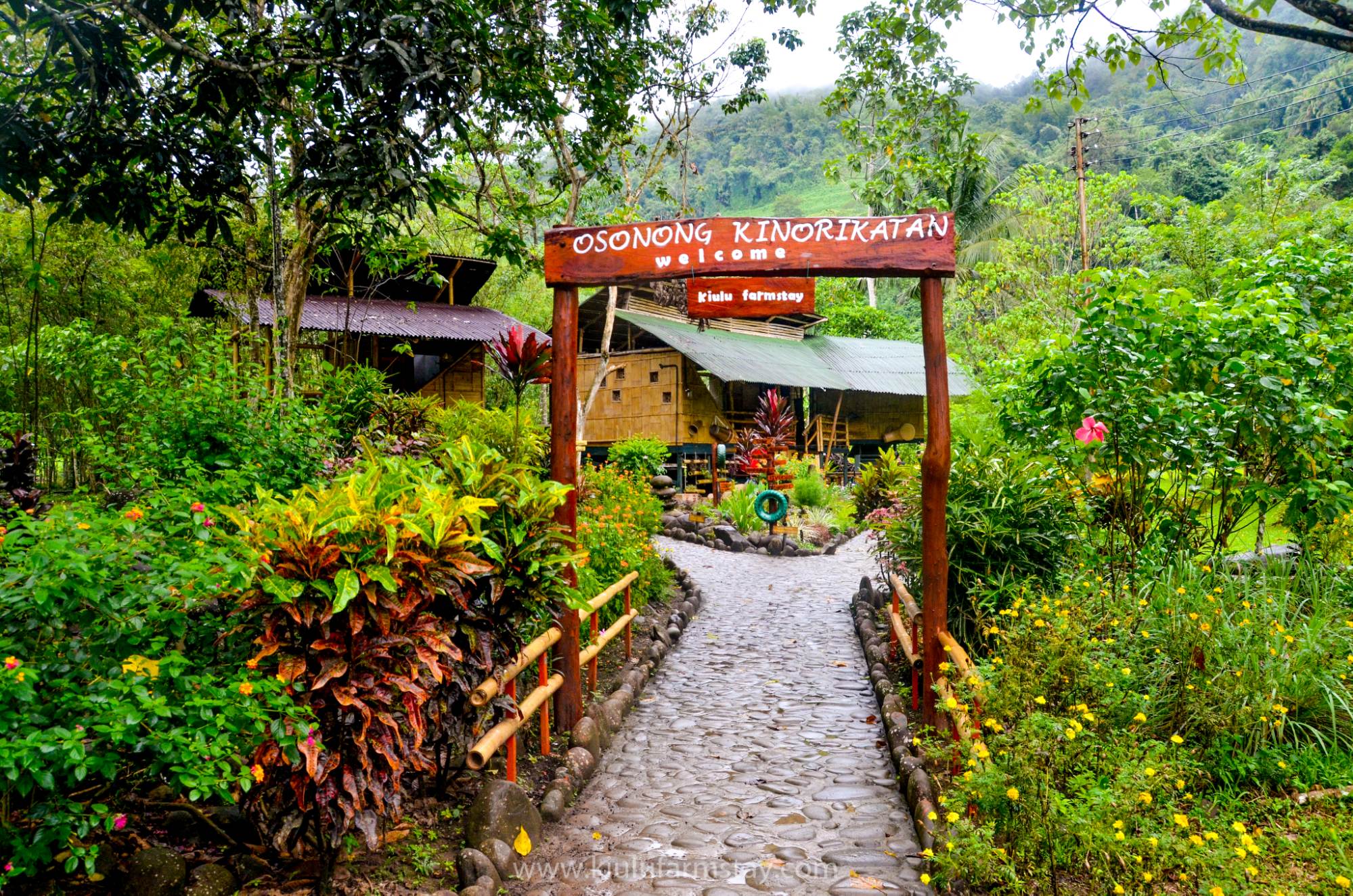 Image credit: Kiulu Farmstay
Go beyond Kota Kinabalu's urban sprawl to discover a village community at Kiulu Farmstay. This hidden eco-lodge lets guests spend the night in rustic bamboo huts, and be treated to an unvarnished glimpse of local village life amidst the Bornean jungles.
Tucked within the misty valley of Kiulu, the farmstay is just over an hour's drive from the capital city. Lush greenery and a river serve as backdrops for the traditional lodges made almost entirely of bamboo.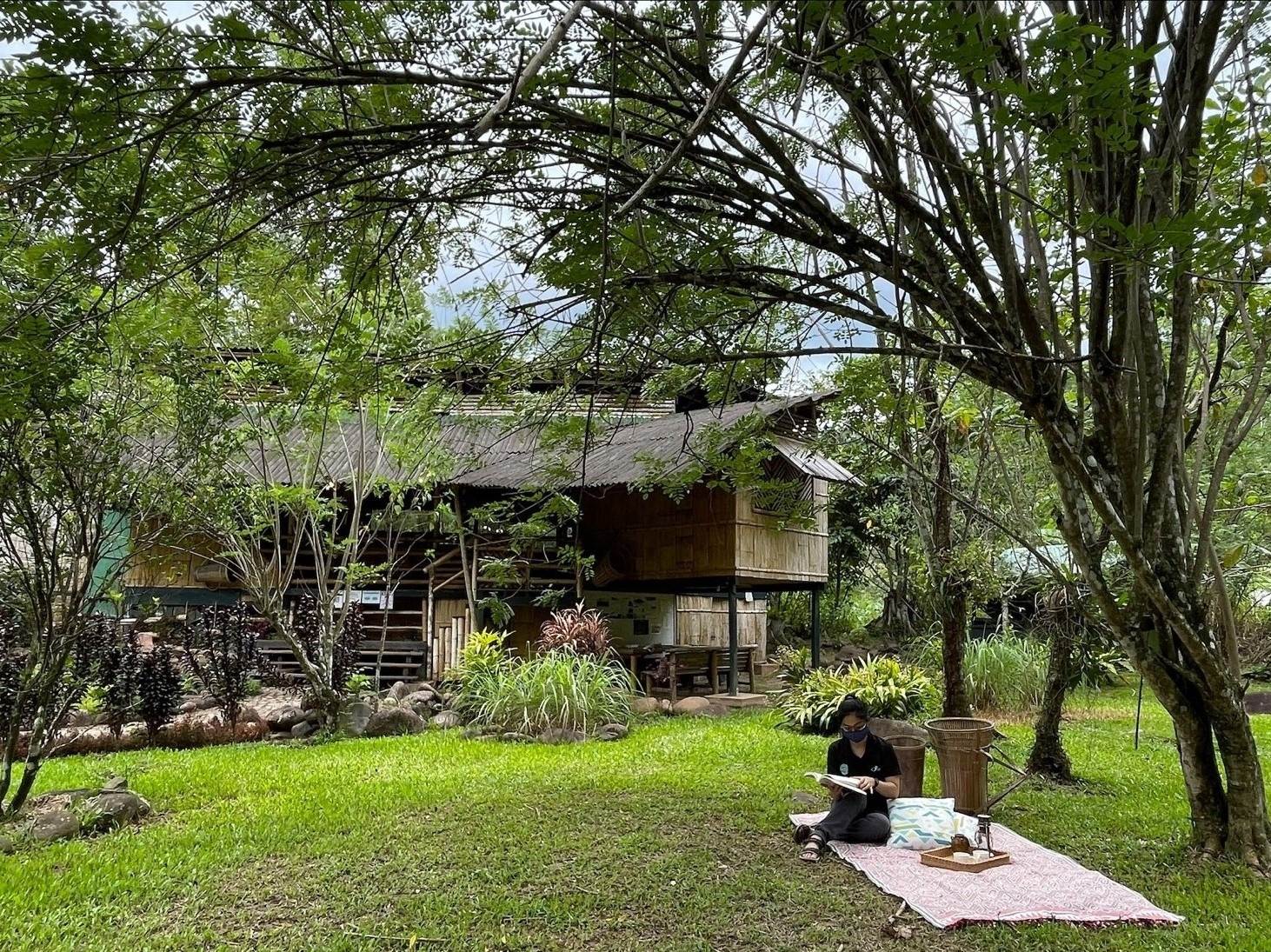 Image credit: Kiulu Farmstay
A 2D1N stay in the 2-bedroom Fig House (RM465/night) can accommodate a family of 4 comfortably. Meals and a fun itinerary are included with your stay, so look forward to local delicacies prepared by villagers, and embark on a tour after having your meals. 
Besides soaking up postcard views of paddy fields with a local guide, you can take part in Kiulu's notable cultural activities: rice processing, blowpiping, and rubber tapping included. 
After dinner, gather with villagers in the common area to share food, rice wine, and stories.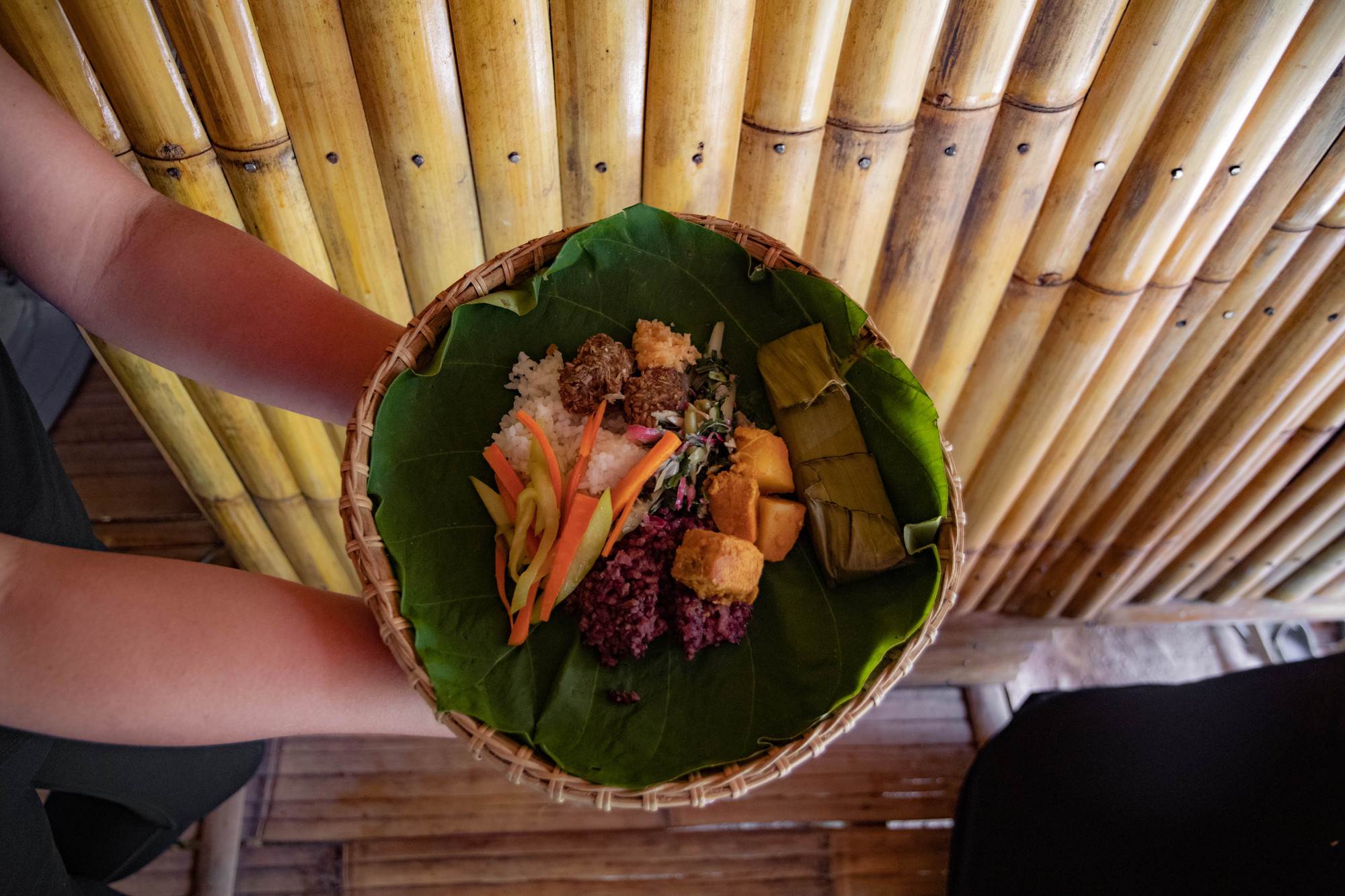 Image credit: Sabah Tourism
If you're looking to explore the scenic Kiulu countryside further, go on a quad bike tour (from RM213/pax). You'll be part of a guided 3-hour tour travelling through rolling hills, past rivers and quaint villages, to learn more about local village life, flora, and fauna.
Do note that you'll need a driver's licence and be at least 18 years of age to operate a quad bike. But if you're travelling with kids, a double-bike has an optional passenger in-tandem seat. There'll also be an additional fee of RM10 per person for Community Development Contribution.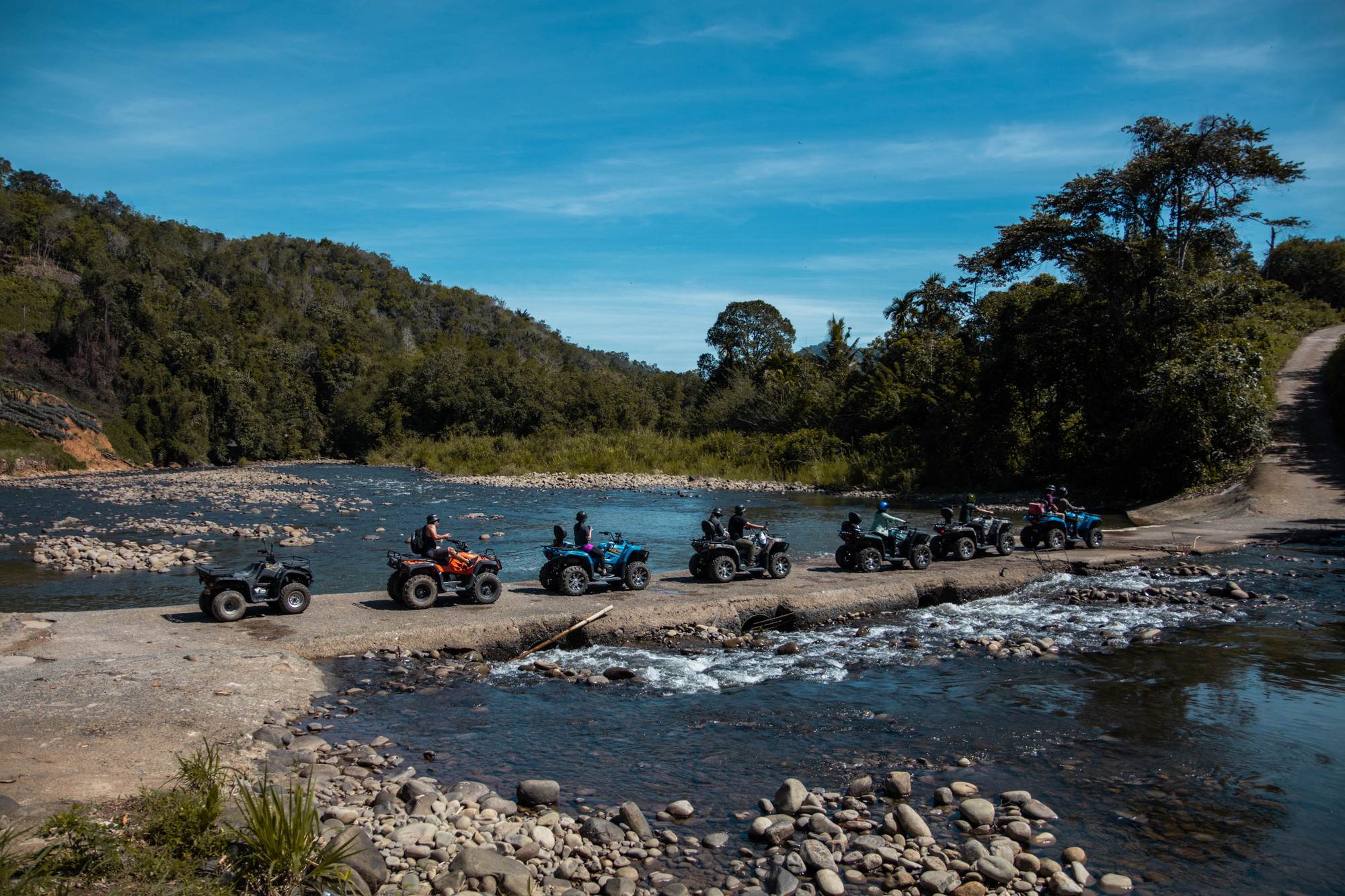 Image credit: Sabah Tourism
Address: Jalan Kiulu Pukak Mantob, Kampung Mantob, 89250 Tamparuli, Sabah
Opening hours: 2pm (Check-in) | 10am (Check-out)
Contact: +6019-326 3800
---
6. Hang out with adorable alpacas at Alpaca Club
---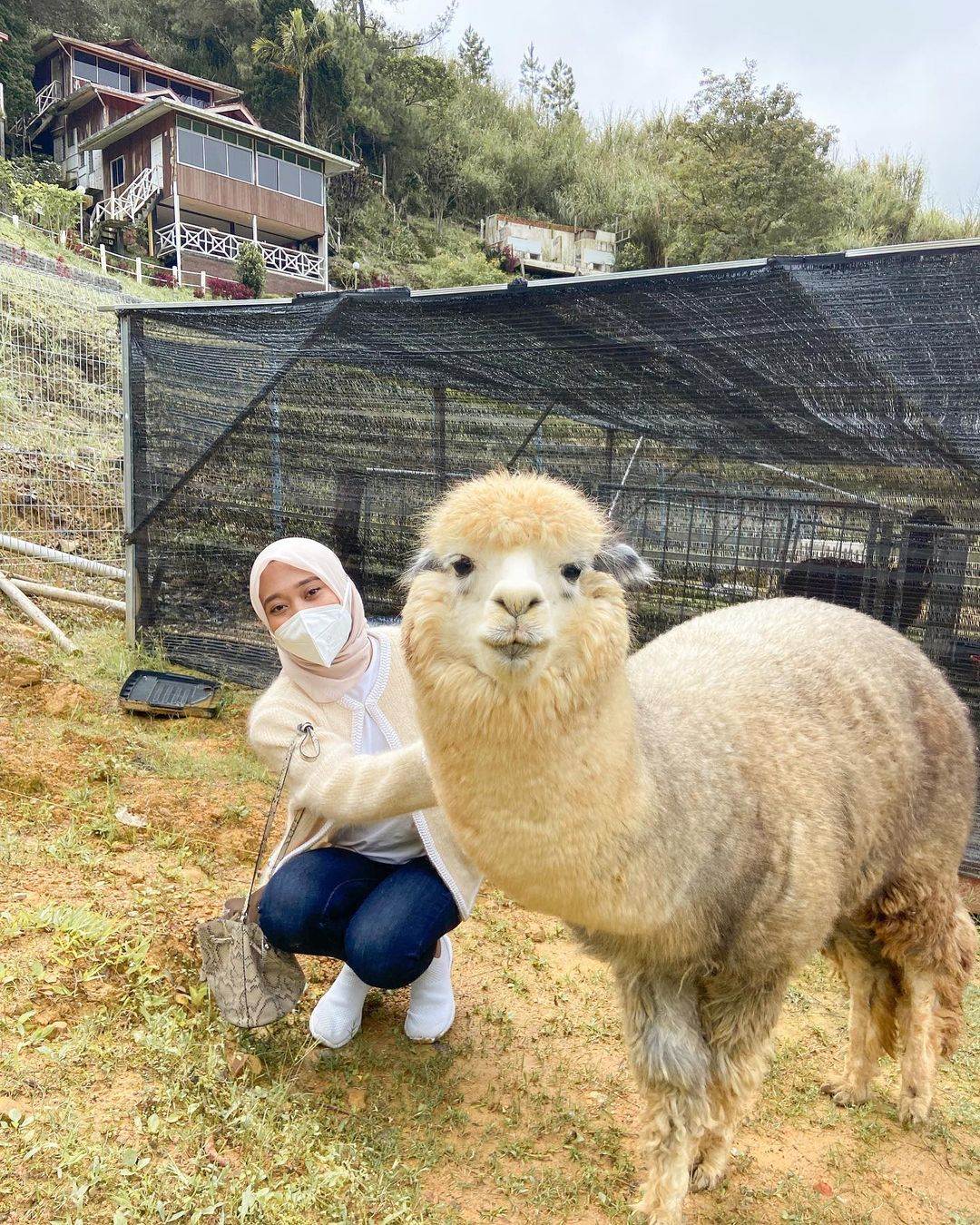 Image credit: @rahahrahim via Instagram
Desa Dairy Farm is one of Kundasang's most popular attractions. But it's not the only place in the town that lets animal-loving travellers hang out with gentle creatures. Over at Alpaca Club, you can pet and take selfies with fluffy alpacas that roam free in a pen.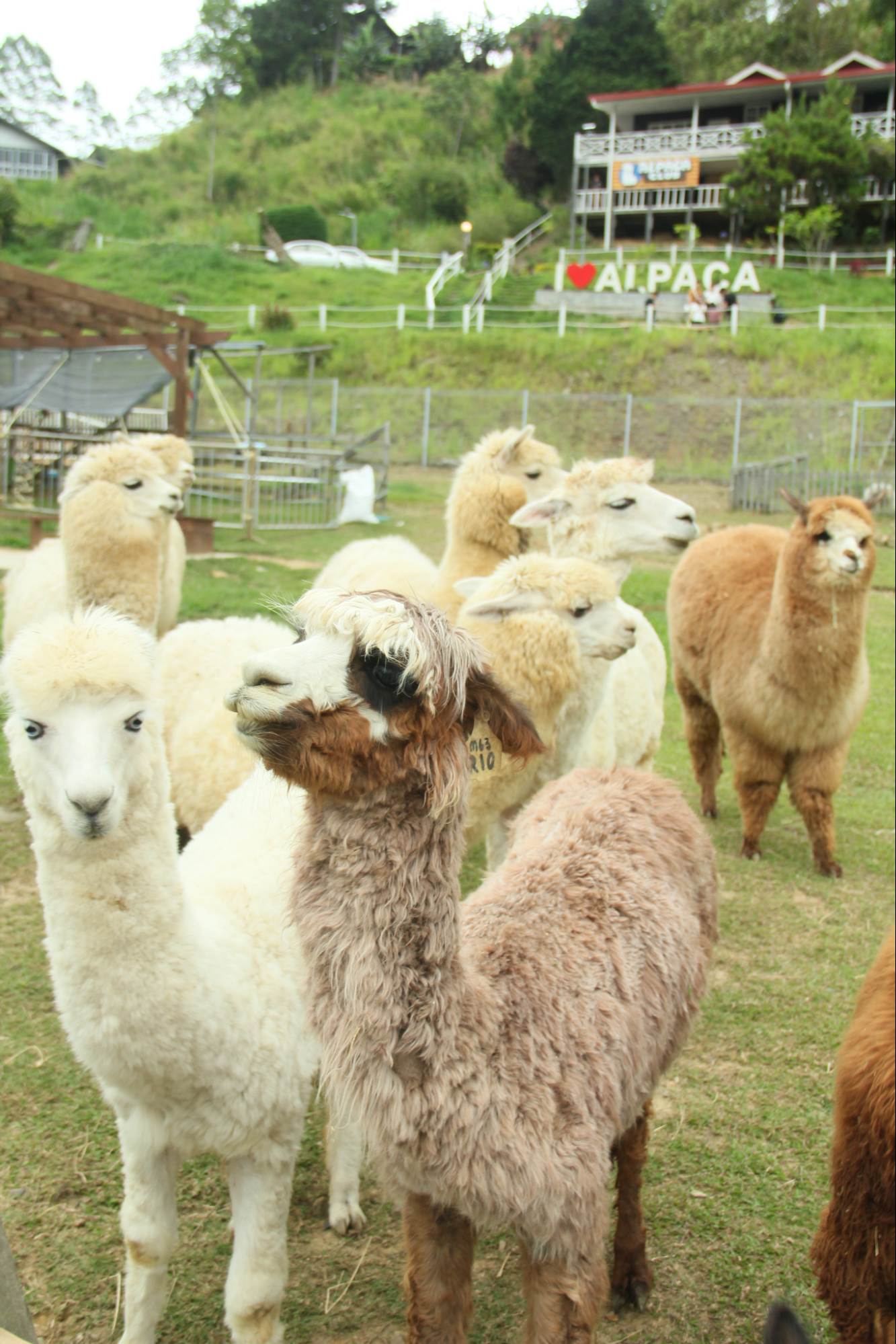 Image credit: Alpaca Club
Alpacas are gentle, but sensitive and social creatures, so come ready to give them soft neck pats when you aren't feeding or snapping photos with them. There are about 10 alpacas at the farm, all brought in from Australia.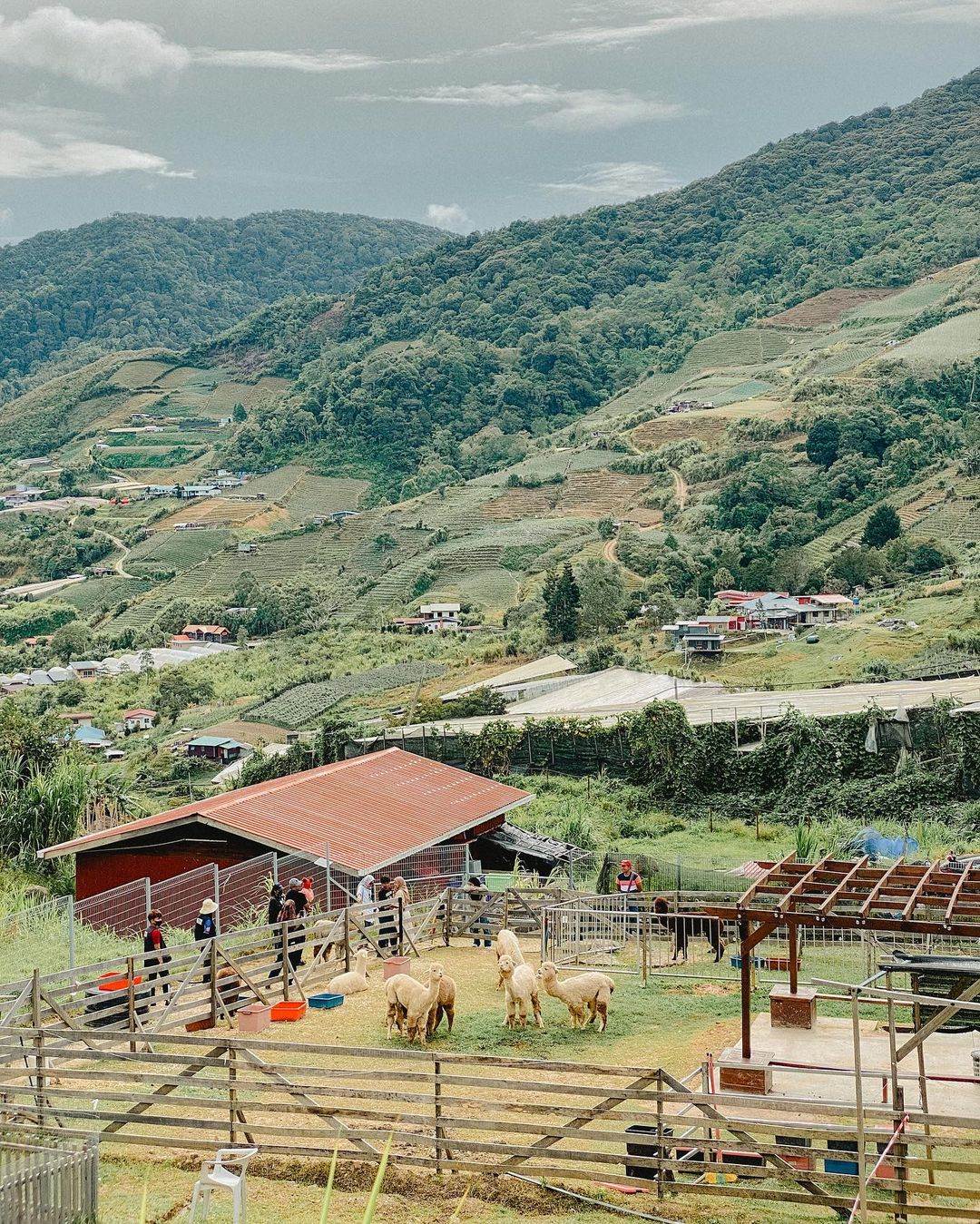 Image credit: @pejalnoor via Instagram
To ensure every visitor has a chance to interact with the animals, 35 people are allowed inside the farm at one time for a 20-minute session. A pack of feed can be purchased for RM3 at the ticket counter.
Admission: RM15/adult | RM10/child | RM2/infant
Address: Jalan Cinta Mata Mesilou, 89308 Kundasang, Sabah
Opening hours: 9am-5pm, Daily
Contact: +6011-5868 3622
---
7. Take a trip to Japan at Hidden Hills Kundasang
---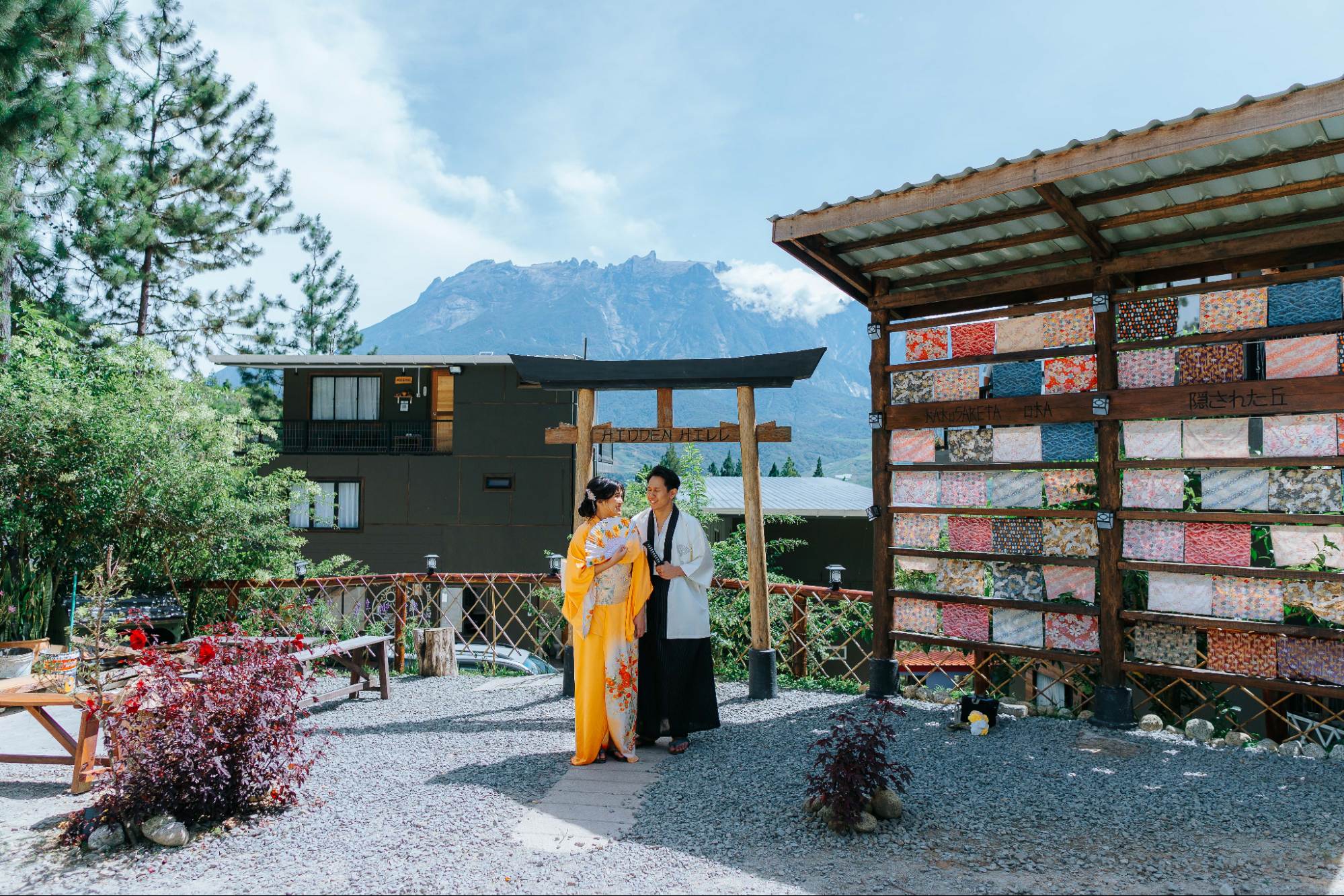 Image credit: Hidden Hill Kundasang
One of the best parts about visiting Kundasang is experiencing the cool highland climate. 
Coupled with unparalleled views of Mount Kinabalu, a trip to this hill station will make you feel like you've travelled out of Malaysia. Cue Hidden Hills, a themed homestay with a hidden Japanese village attraction that's open to the public.

Image credit: Hidden Hill Kundasang
While Kundasang is popularly known as the "Little New Zealand" of Sabah, Hidden Hills will have you thinking you're in Japan with its collection of photo spots speckled across its grounds.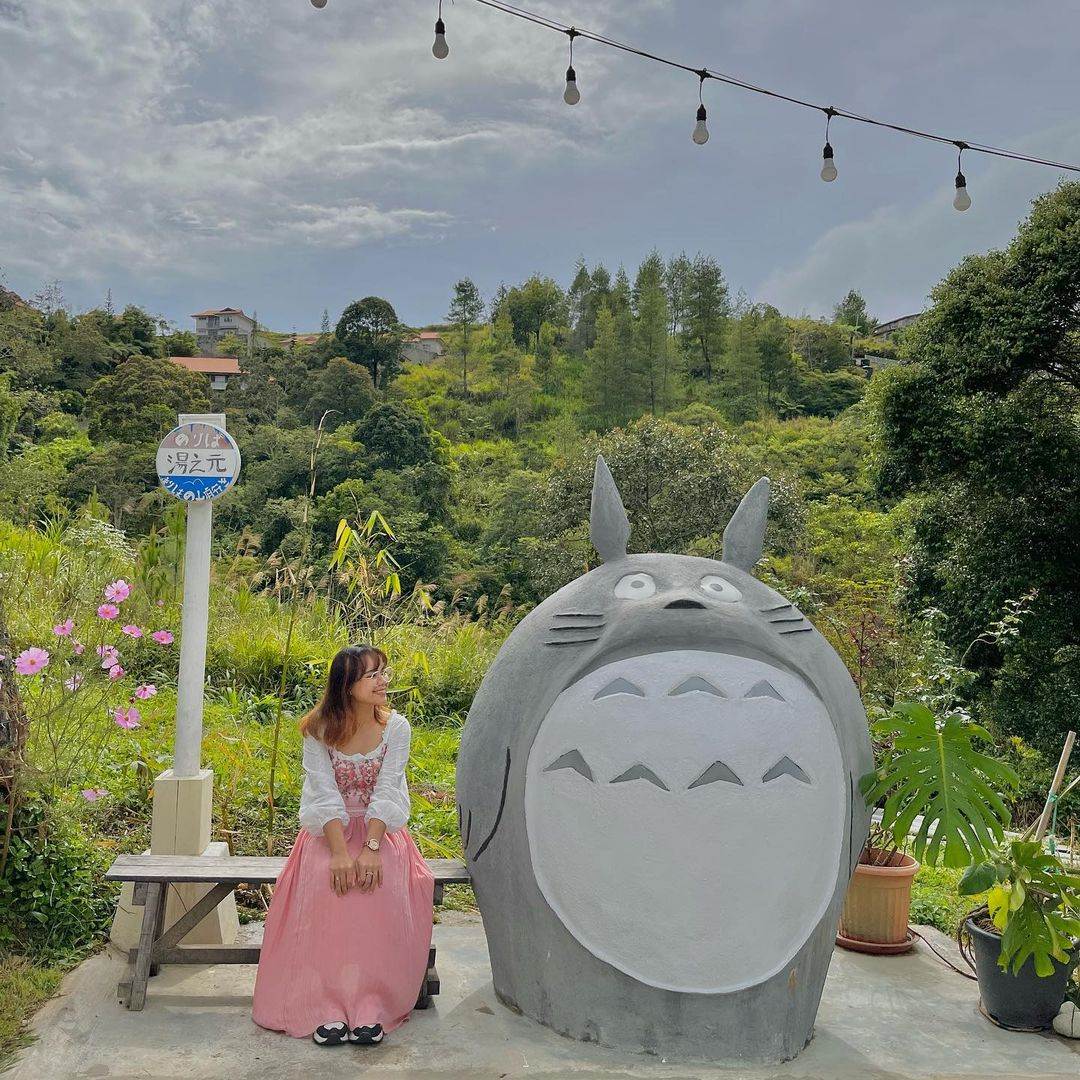 Image credit: @feyzelyne.__ via Instagram
Find a torii gate, a Japanese tearoom, and a statue of the beloved Totoro from My Neighbor Totoro to pose with. The homestay also lets you rent traditional Japanese costumes, and offers hair-styling services at their Yukata Station for RM38/pax.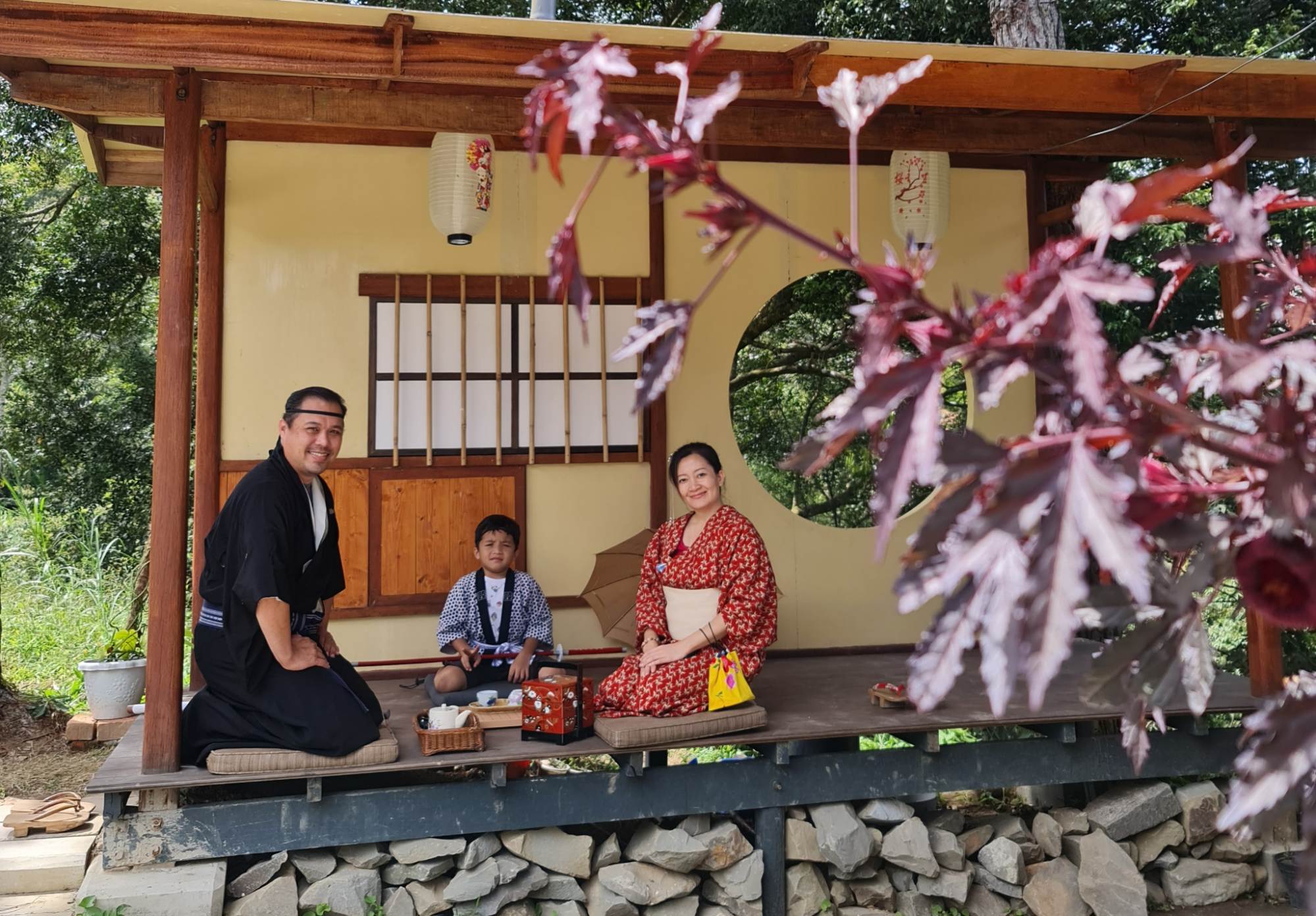 Image credit: Hidden Hill Kundasang
To discover the IG-worthy zones and enjoy views of Mount Kinabalu from here, there's a small entrance fee for adults (RM5/pax) and children (RM3/pax).
Address: Kampung Dodon Kasigau, 89308 Kundasang, Sabah
Opening hours: 9am-5pm, Daily
---
8. Go on a cruise through a wetland or on a lake to spot local wildlife
---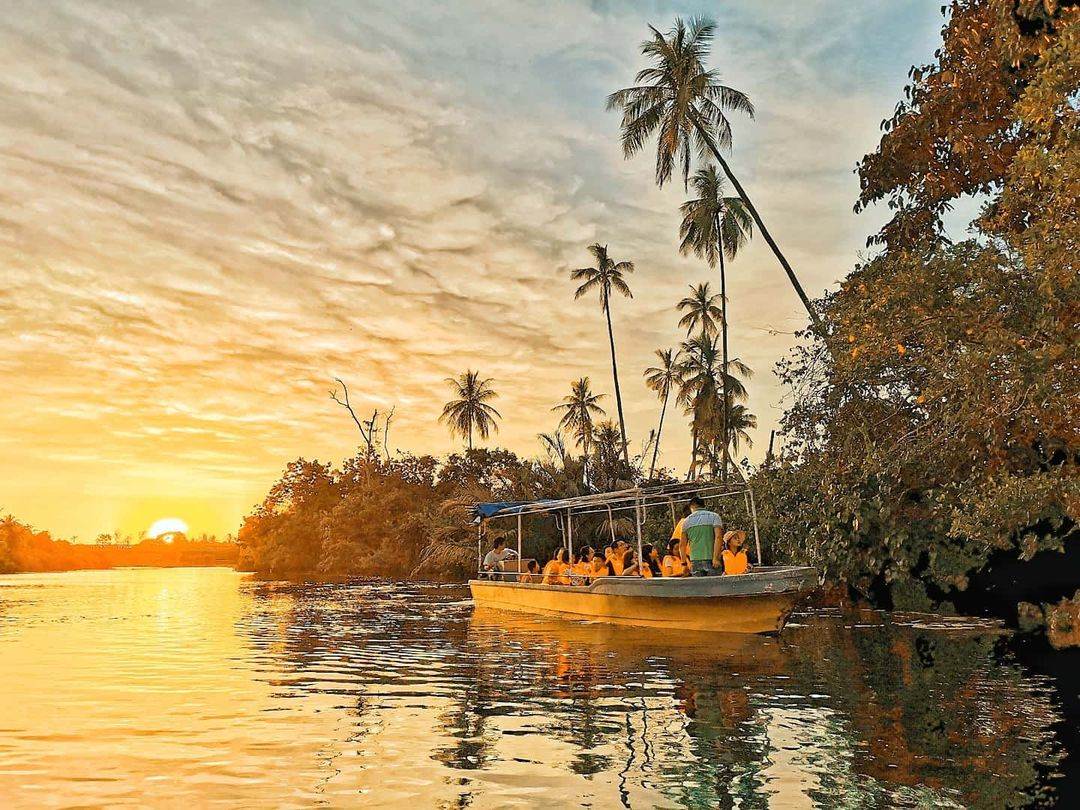 Image credit: @rosesabahlady via Instagram
It isn't every day that you get to spot a wild Proboscis monkey, as the species can only be found in Borneo. A fun and popular way to see these creatures in the flesh, with their unique long noses and bulging bellies, is by hopping on a Klias River Cruise in Beaufort.
This laidback cruise on an open boat begins at 4pm and takes you deep into Klias Wetland for a leisurely 2-hour ride. During the trip, you can spot Proboscis monkeys clinging onto branches as the area is largely populated by them.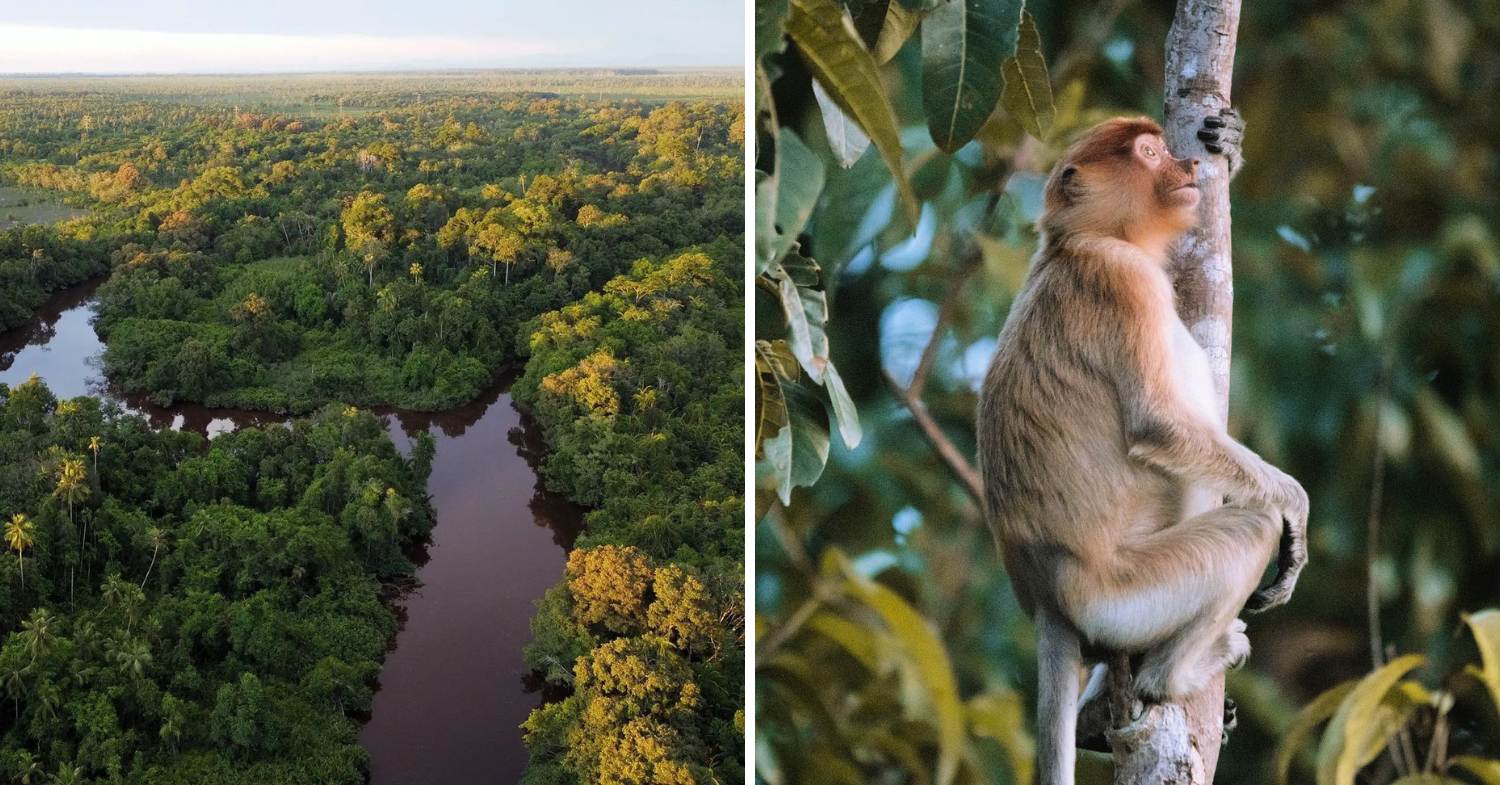 Bring a pair of binoculars or a camera with a good zoom to up your chances of seeing the local wildlife more clearly.
Image adapted from: @paph1oshots via Instagram, @anwaric via Instagram
If you prefer less beaten paths, head to Kinabatangan River in Sandakan. This river, which happens to be Malaysia's second longest, runs through a wildlife sanctuary home to proboscis monkeys, orangutans, and pygmy elephants – which you might just get glimpses of as you traverse it by cruise.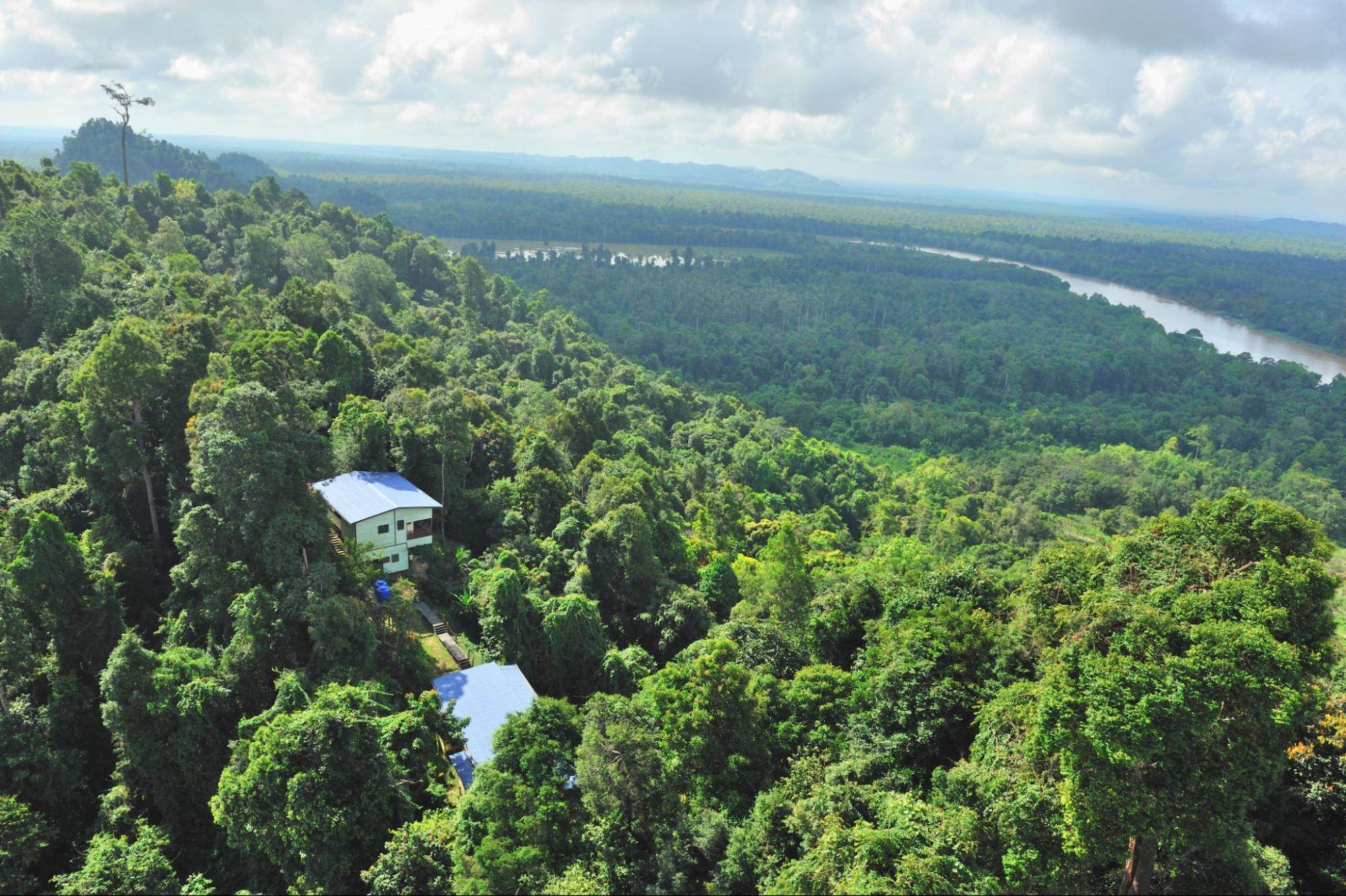 Image credit: The Last Frontier
The Last Frontier Resort, hidden on the top of Dutch Hill Bilit amid the Kinabatangan Forest Reserve, has cruises on the river as part of their 3D2N all-inclusive package, with prices starting from RM850. 
Whether you're on a morning cruise or trekking through the tropical rainforest, you'll get to experience Sabah's natural settings and local wildlife at their most serene and undisturbed.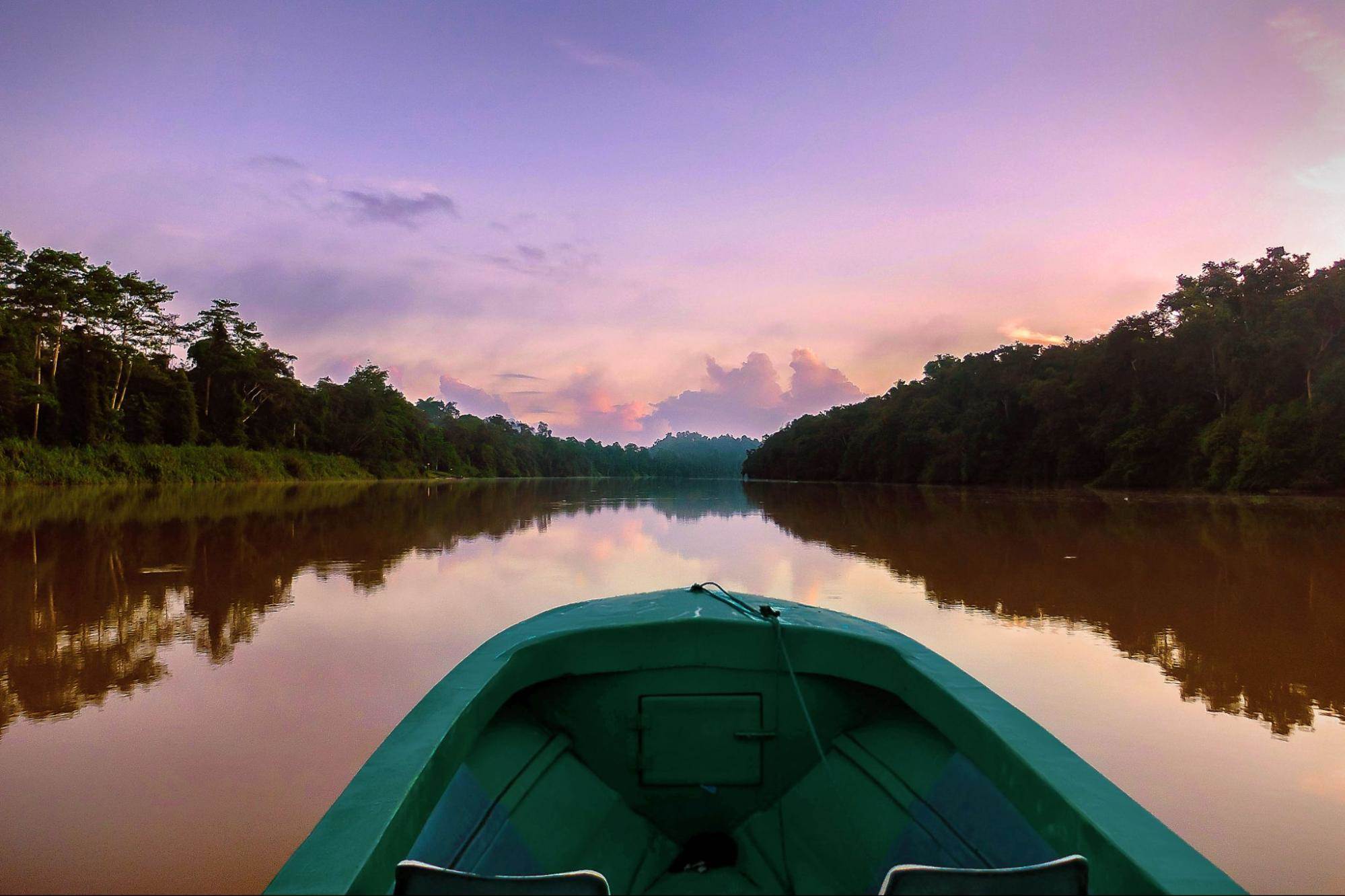 Image credit: The Last Frontier
Klias River Cruise:
Fees: RM60/adult | RM40/child
Address: Kampong Kota Klias, 89800 Beaufort, Sabah
Opening hours: Sat-Thu 3pm-8pm | Fri 4pm-8pm
Contact: +6019-807 3159
The Last Frontier Resort:
Address: PPM 309 Elopura, Kinabatangan River, 90000 Sandakan, Sabah
Contact: +6016-676 5922 | The Last Frontier Resort's website
---
9. Traverse Sabah's longest canopy walkway at Rainforest Discovery Centre
---
Home to a 620-metre-long Rainforest Skywalk, Rainforest Discovery Centre is a lesser-known gem in Sepilok when compared to its more popular neighbours, the Sepilok Orangutan Rehabilitation Centre and Bornean Sun Bear Conservation Centre.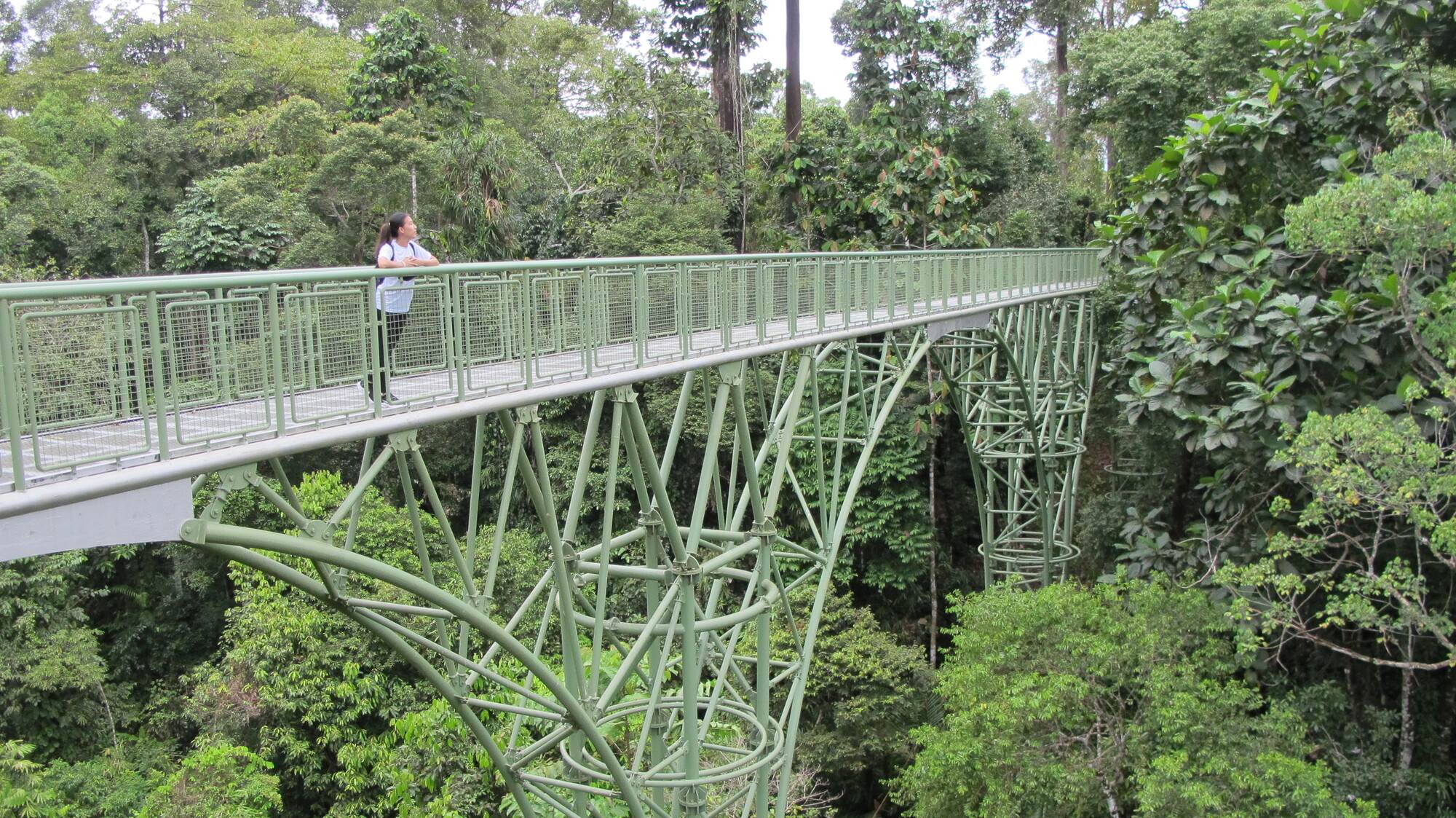 Image credit: Sabah Tourism
As one of the most accessible rainforest parks in Sabah, you can explore the forest reserve and its inhabitants from beyond its self-guided nature trails – at a panoramic 27-metres-high, thanks to an impressive canopy walkway dubbed the longest of its kind in the state.
Besides learning about local fauna and flora at the various educational zones here, you can try your luck at spotting rare Bornean endemic birds, flying squirrels, and even orangutans while traversing the forest.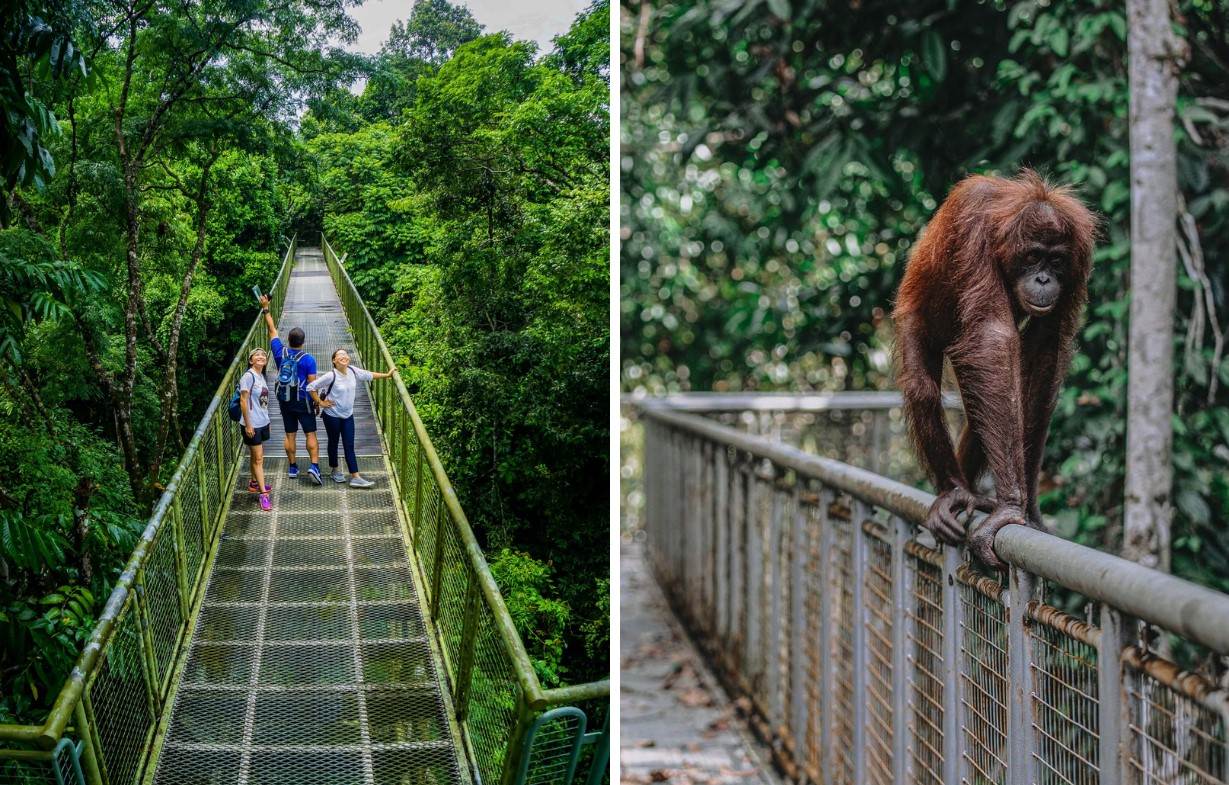 Image adapted from: Leon Kuan, @egle_thompson via Instagram
Rainforest Discovery Centre also hosts various family-friendly activities, including a 180-metre-long Flying Squirrel Zipline over the lake and a night walk.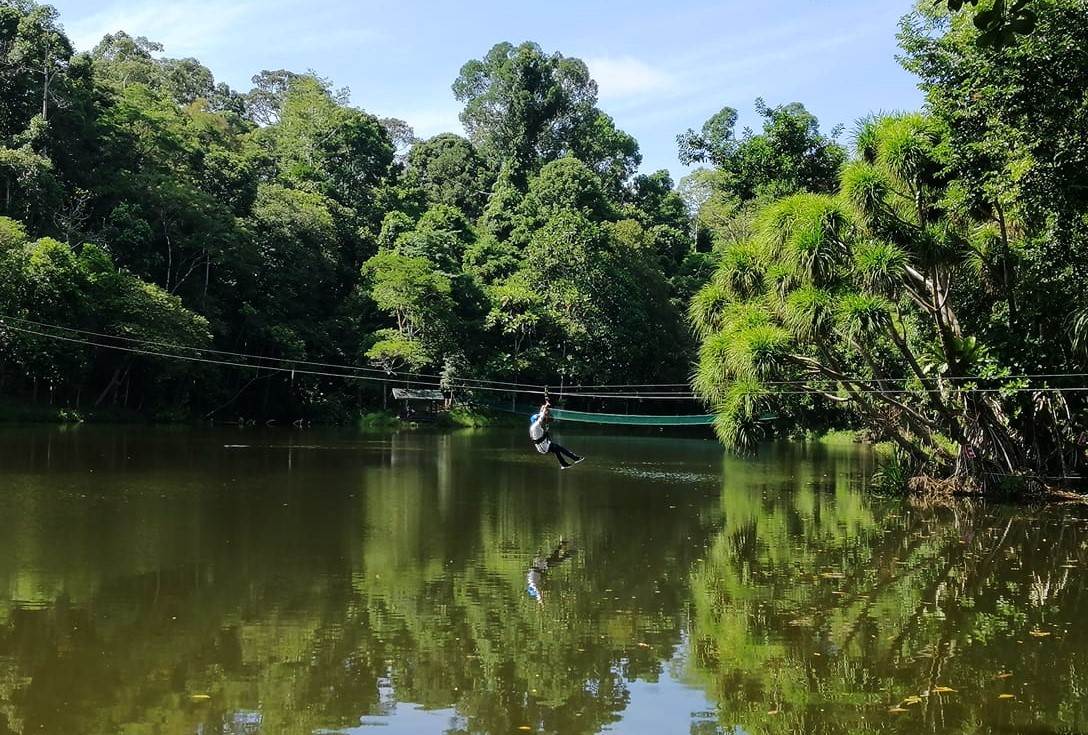 Image adapted from: Gloria Ganang via Facebook
Admission: RM7/adult & RM3/child (Malaysians) | RM20/adult & RM10/child (Standard admission)
Address: Jalan Fabia, Sepilok, 90715 Sandakan, Sabah
Opening hours: 8am-5pm, Daily
Contact: +6089-533 780
---
10. Learn more about local culture & weave baskets at Marais Center
---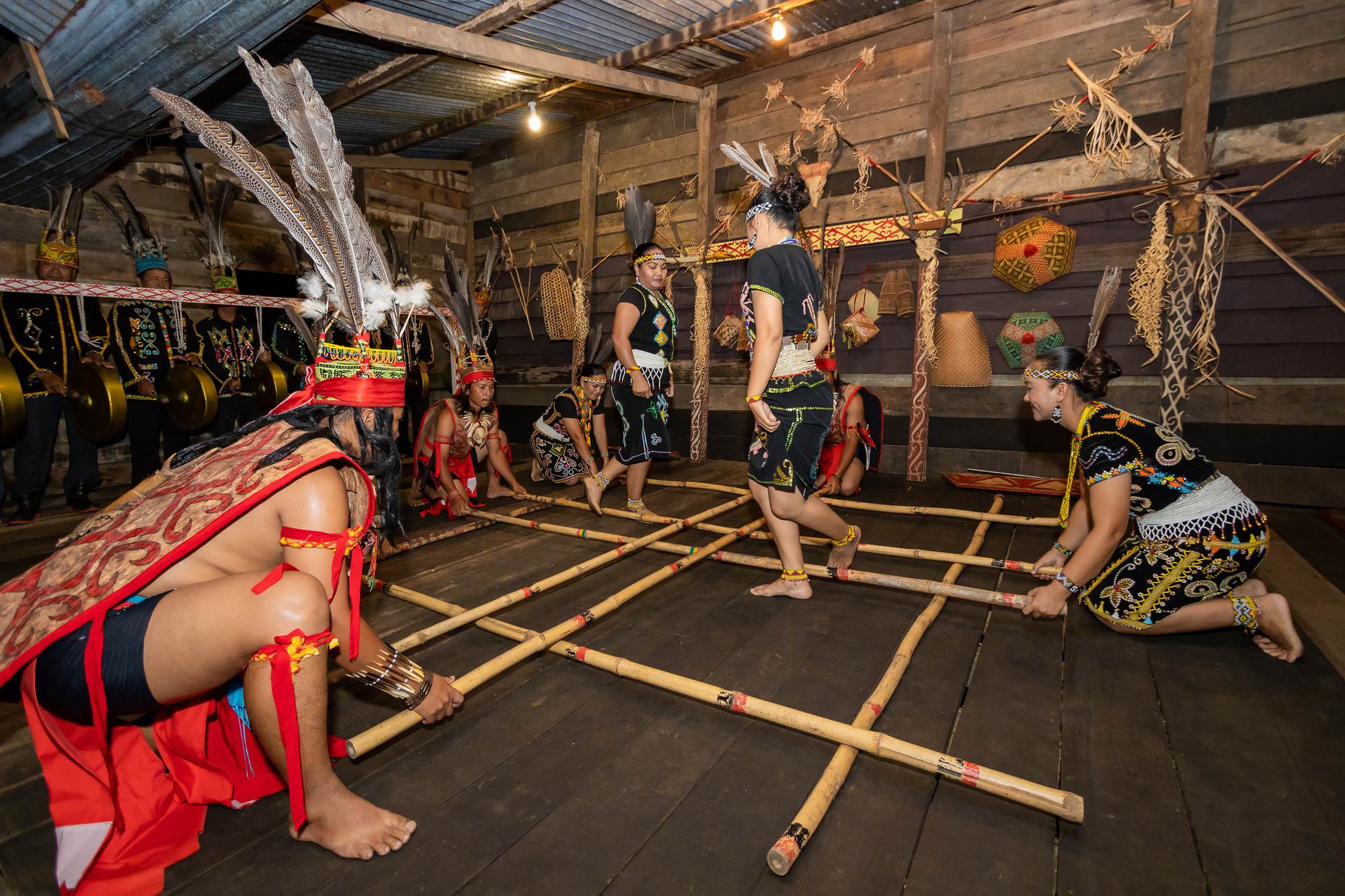 Image credit: Sabah Tourism
A great way to fully immerse yourself in your travel destination is to learn more about its culture. One place to be to experience locally grown culture is Marais Center in Tenom.
While the town is best known for its coffee production, visitors can get to know more about the Murut people in Sabah through a variety of activities at this village.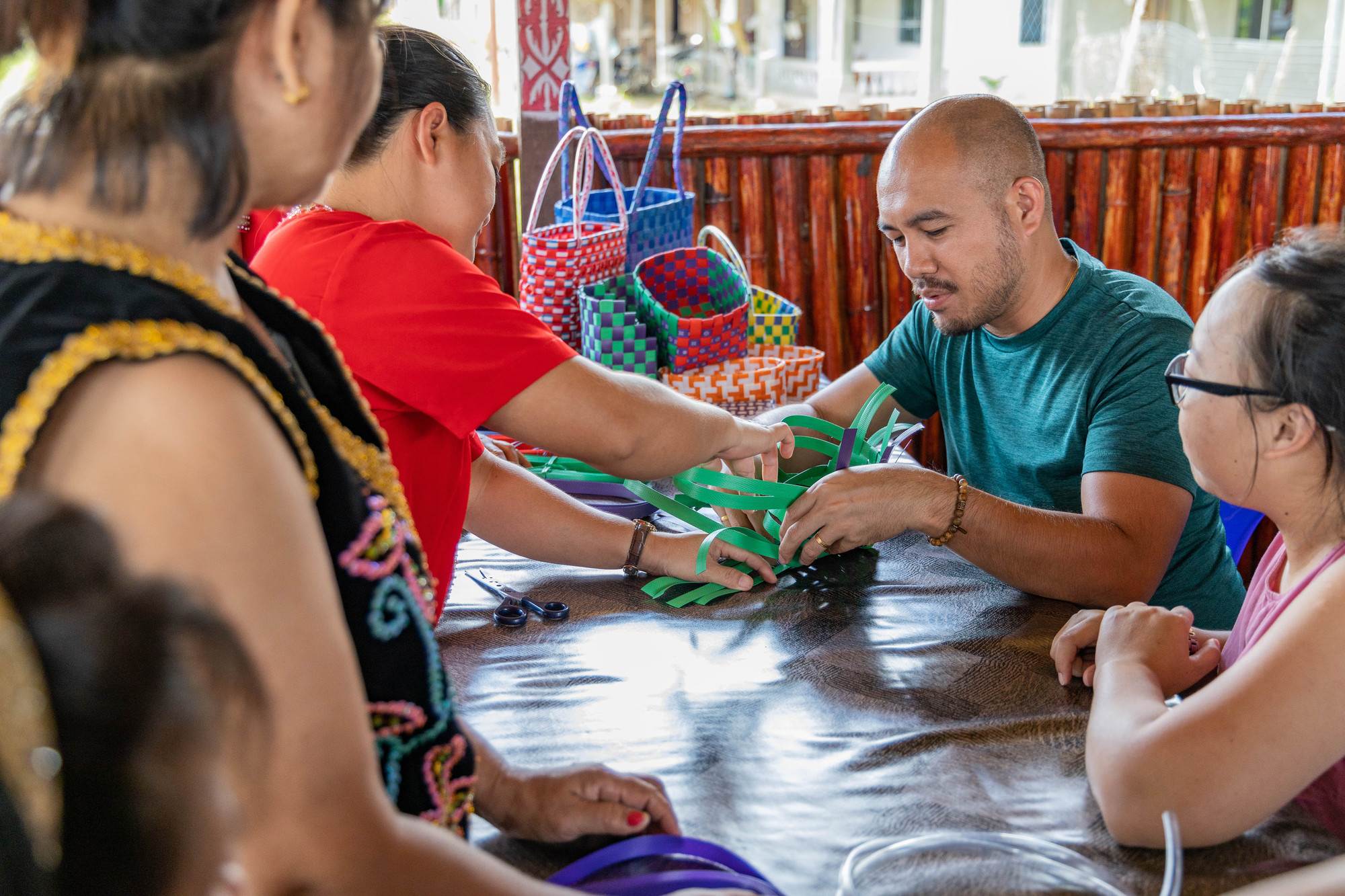 Image credit: Sabah Tourism
Whether it's weaving baskets from natural materials or cycling past paddy fields to soak up postcard views of mountains and rivers, there won't be a dull moment spent here. 
You can't miss the special performance that takes place at the village either, with locals donning their traditional Murut attire and dancing energetically.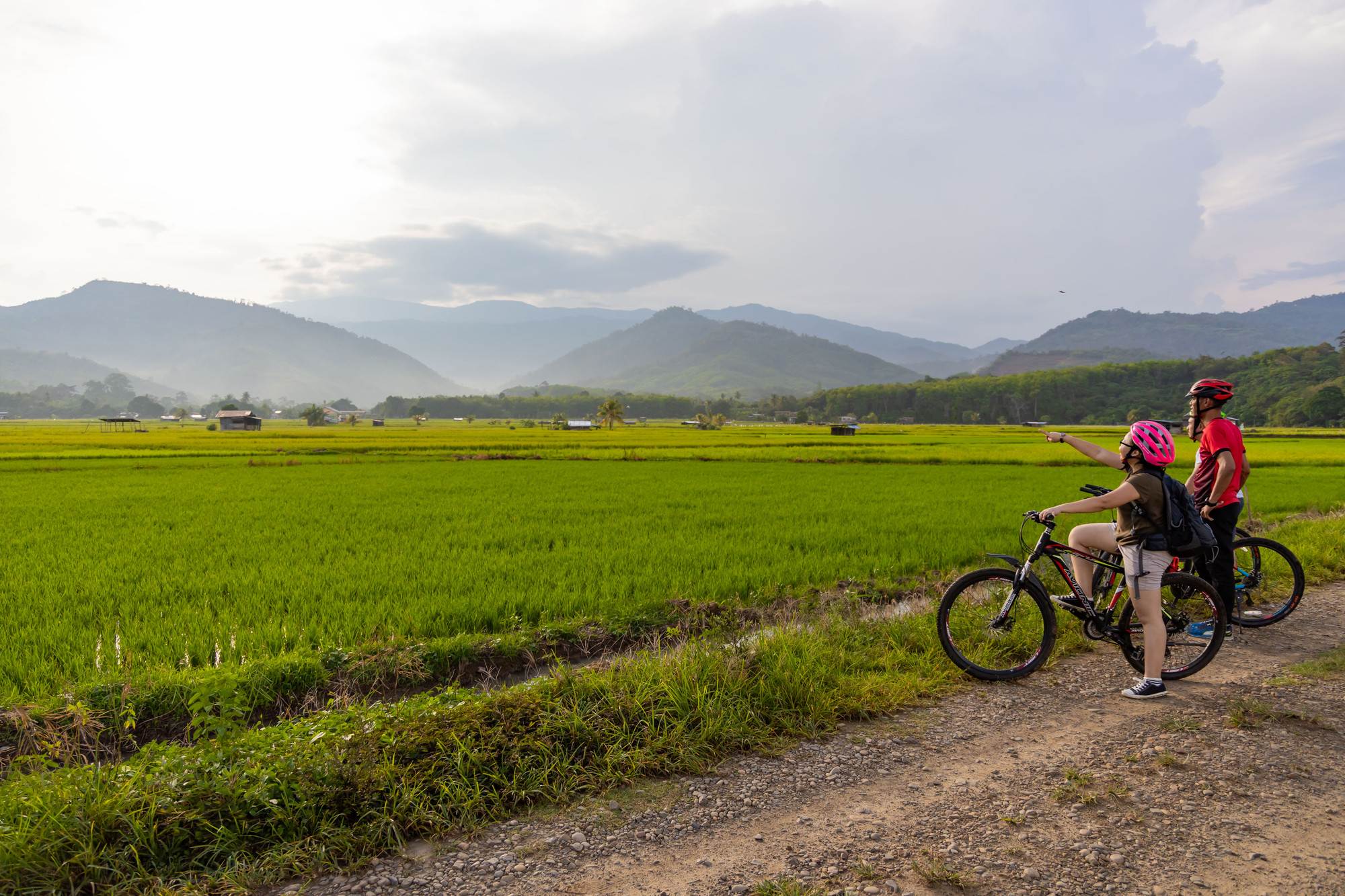 Image credit: Sabah Tourism
With nature just next door and activities galore, you can visit this lesser-known village in Tenom on a day trip away from the crowds and city. Else, opt to spend a night at their guesthouse to truly slip into the shoes of a local. 
Address: Peti Surat 206, Kuala Tomani, Kampung Marais, 89908 Tenom, Sabah
Opening hours: Appointment-based
Contact: +6016-834 9781
---
Best things to do in Sabah, Malaysia, in 2023
---
There's more to conquer in Sabah than just the majestic Mount Kinabalu. With attractions that let you explore the state's natural beauty – from its crystal-clear sea to the starry skies – there's certainly something for every type of traveller to discover there.  
To find out what Sabah truly has to offer and flesh out your travel plans, you'll want to drop by Matta Fair 2023 from 1st-3rd September. At this year's second instalment happening at MITEC Kuala Lumpur, you'll get to browse promotions for must-visit destinations at Sabah Tourism booths so you can have a thrilling holiday without breaking the bank.
So if you want to experience everything, from local food and culture to sky-high activities, Sabah might just be the perfect travel destination for you. 
Here's to safe travels and exciting holidays ahead. 
---
This post was brought to you by Sabah Tourism Board.
Cover image adapted from: Mont K Skybike, Archangel Borneo Holidays, Sabah Tourism, Hidden Hill Kundasang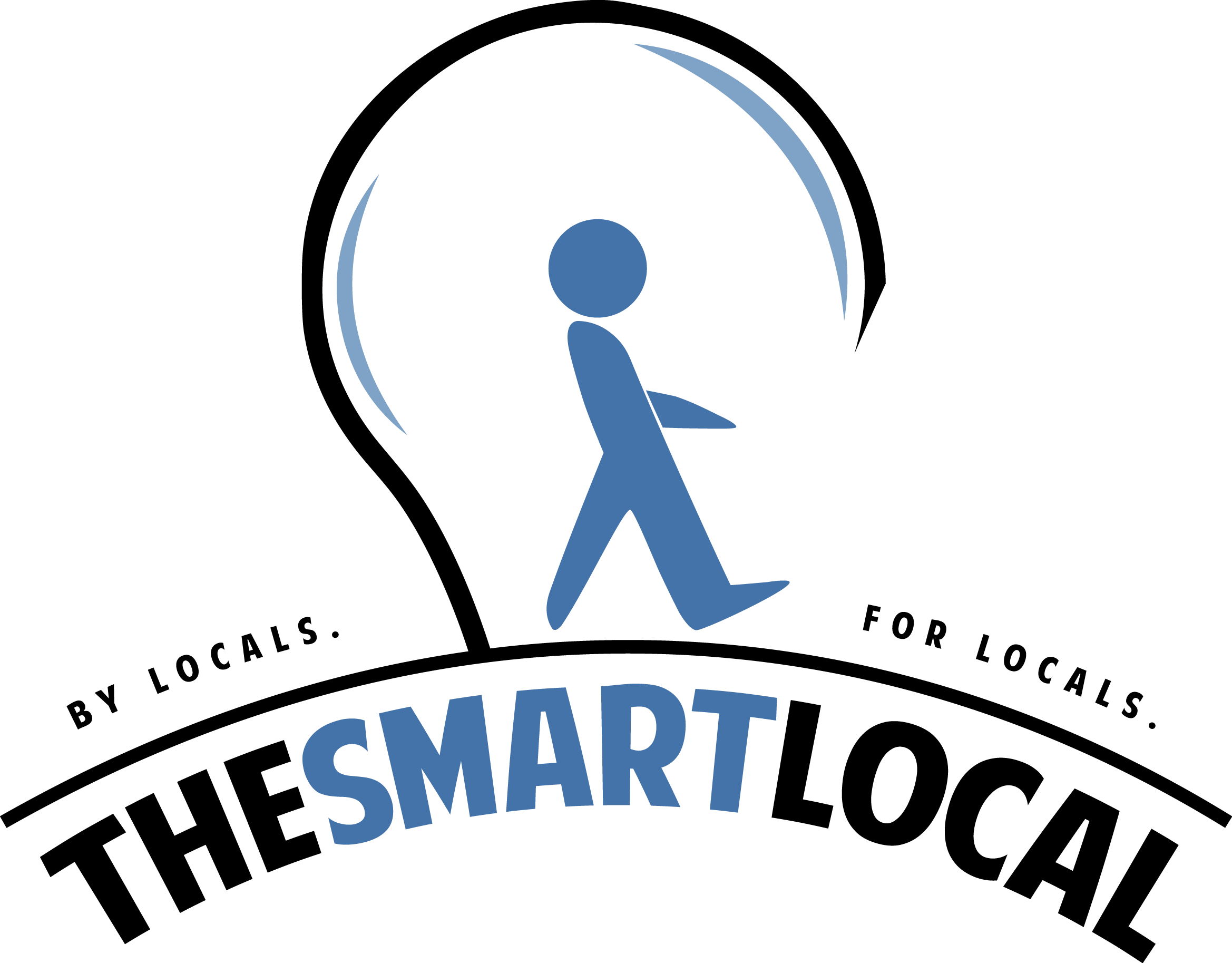 Drop us your email so you won't miss the latest news.