Helping hand for driver with breathing difficulties
---
There are kindhearted Malaysians who love to help those in need. But there are also those who fall back on stereotypes, allowing them to cloud their judgment when it comes to offering a helping hand. 
Showing that we should always help individuals in need is Uncle Kentang, popularly known to help those in need in his community. He recently helped a car driver with trouble breathing, and was reminded of a recent viral story of another car driver who suffered a heart attack in the driver's seat and was a victim of discrimination.
---
Car driver who had breathing difficulties gets rescued
---
On 8th January 2022, Malaysian activist Uncle Kentang shared a story on his Facebook account of a car driver he met while at Restaurant Syed Bistro in Puchong, Selangor. He took the moment to highlight the need for us to look out for each other.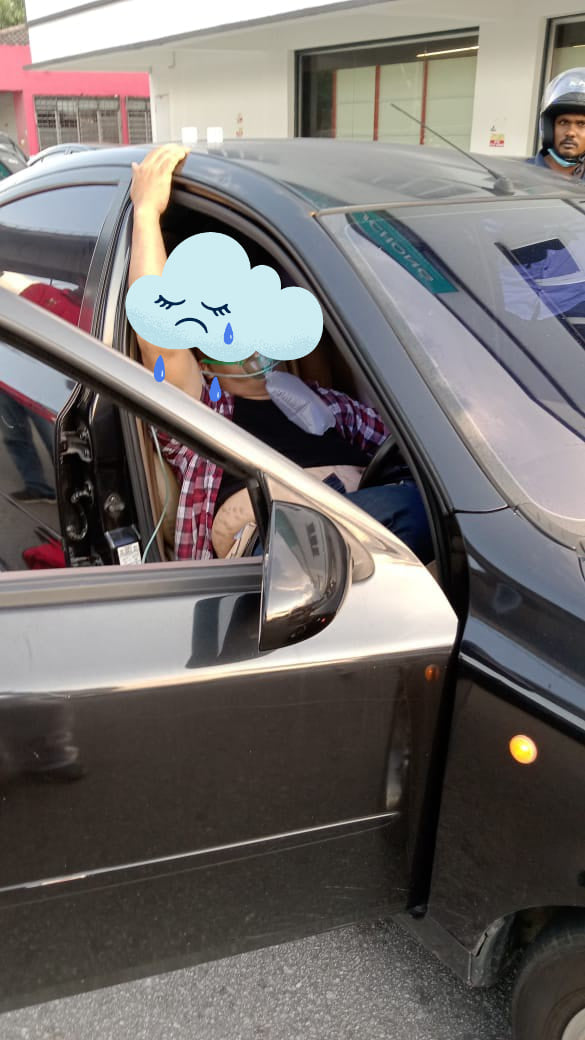 Image credit: 马铃薯叔叔日志 Uncle Kentang
In the lengthy Facebook post, he explained that the driver he came across was having breathing difficulties, presumably because of a heart attack. The latter had reached out an arm to grab onto the roof of his car to ease his fast breathing.
The driver was later admitted to Serdang Hospital with the help of Uncle Kentang and his team. Uncle Kentang also made a point to note in his post that the driver wasn't drunk – as this is a common stereotype that drivers face when they run into an accident or unexpected situations on the road.
---
Malaysians asked to look for each other
---
While sharing the story of the car driver, Uncle Kentang also encouraged fellow Malaysians to offer a hand whenever they come across someone in need of help.
This help could be in the form of calling 999 or performing CPR – actions that could potentially save lives.
He cited a recent incident involving a lorry driver who suffered a heart attack and crashed his vehicle into several parked cars in Sungai Buloh. A woman who filmed the aftermath of the accident was heard in the video accusing the driver of being drunk.
The video went viral, with many Malaysians criticising the woman for her assumption and for taking videos of the accident scene instead of offering help.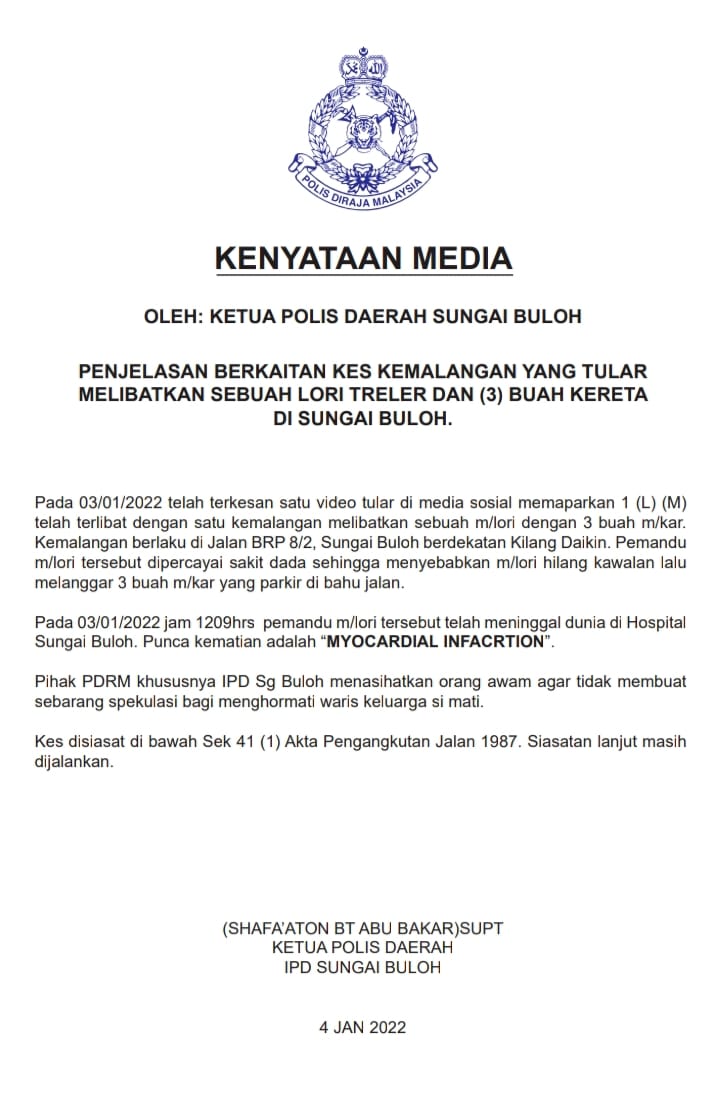 Polis Daerah Sungai Buloh's statement
Image credit: Polis Daerah Sungai Buloh
Polis Daerah Sungai Buloh, on behalf of Sungai Buloh District Police Chief Superintendent Shafa'aton Bt Abu Bakar, later put out a statement on 4th January to confirm the incident. The lorry driver was said to have suffered from myocardial infarction and was experiencing chest pains during the time of accident.
The driver later passed away at Sungai Buloh Hospital.
As such, Uncle Kentang took the time to write in his post, "Don't assume everyone is drunk in such a situation. Not everyone who's in an accident is drunk. Heart attacks can happen anywhere and anytime".
He added that if we come across a road accident, we should remain calm as there is a possibility that the driver might be having an epileptic seizure, a heart attack, or other medical emergency that requires immediate help.
---
Uncle Kentang saves a struggling driver
---
No matter the situation, we should never jump to conclusions. This was highlighted by the story of the lorry driver in Sungai Buloh. We hope that these recent incidents will be a reminder for us to be more understanding and refrain from passing judgment. This is so our assumptions about others won't lead to dire consequences.
Read more here:
---
Cover image adapted from: 马铃薯叔叔日志 Uncle Kentang (for illustration purposes only) and 马铃薯叔叔日志 Uncle Kentang
Get more stories like this!
Drop us your email so you won't miss the latest news.