Unique Chinese temples in Malaysia
---
There aren't many countries in the world as culturally diverse and harmonious as Malaysia. This makes our country an ideal tourist spot in Asia to witness different cultural and religious practices all in one place – varied houses of worship are dotted throughout the country.
One testament to this fact are Chinese temples, where Buddhism and Taoism are practised. There are numerous Chinese temples in the country, which are important sites to local communities and known among travellers for their architecture.
Here are 10 of them that you should visit for a breathtaking cultural experience in Malaysia.
---
1. Sak Dato Temple, Negeri Sembilan – nearly 150 years old
---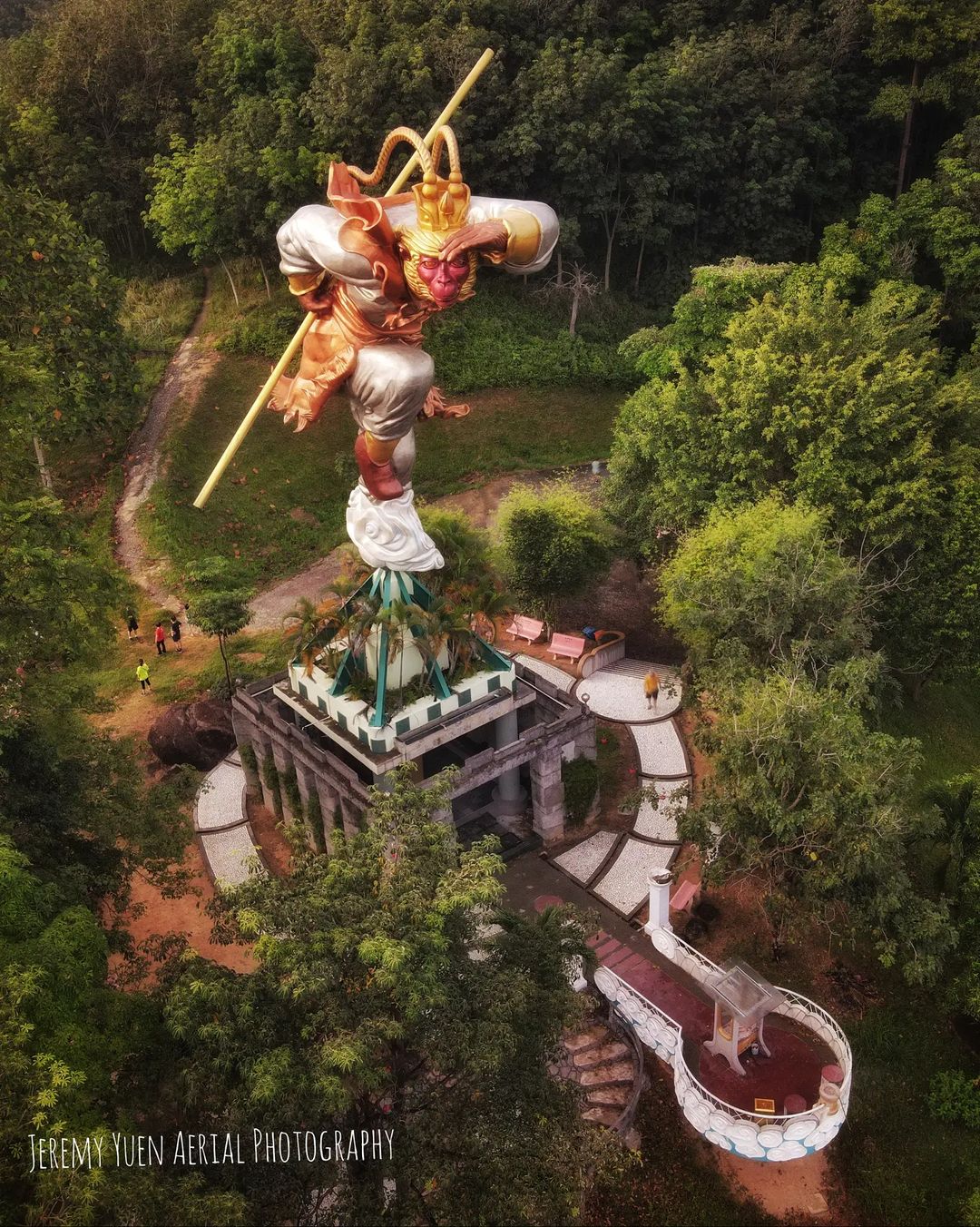 Image credit: @kaionn.75

Located in Negeri Sembilan, near Broga Hill in Semenyih, is a historic temple that's almost 150 years old – Sak Dato Temple. It is a unique Buddhist temple to visit in Malaysia, as it's situated amid the mountainous borders of two states, Selangor and Negeri Sembilan.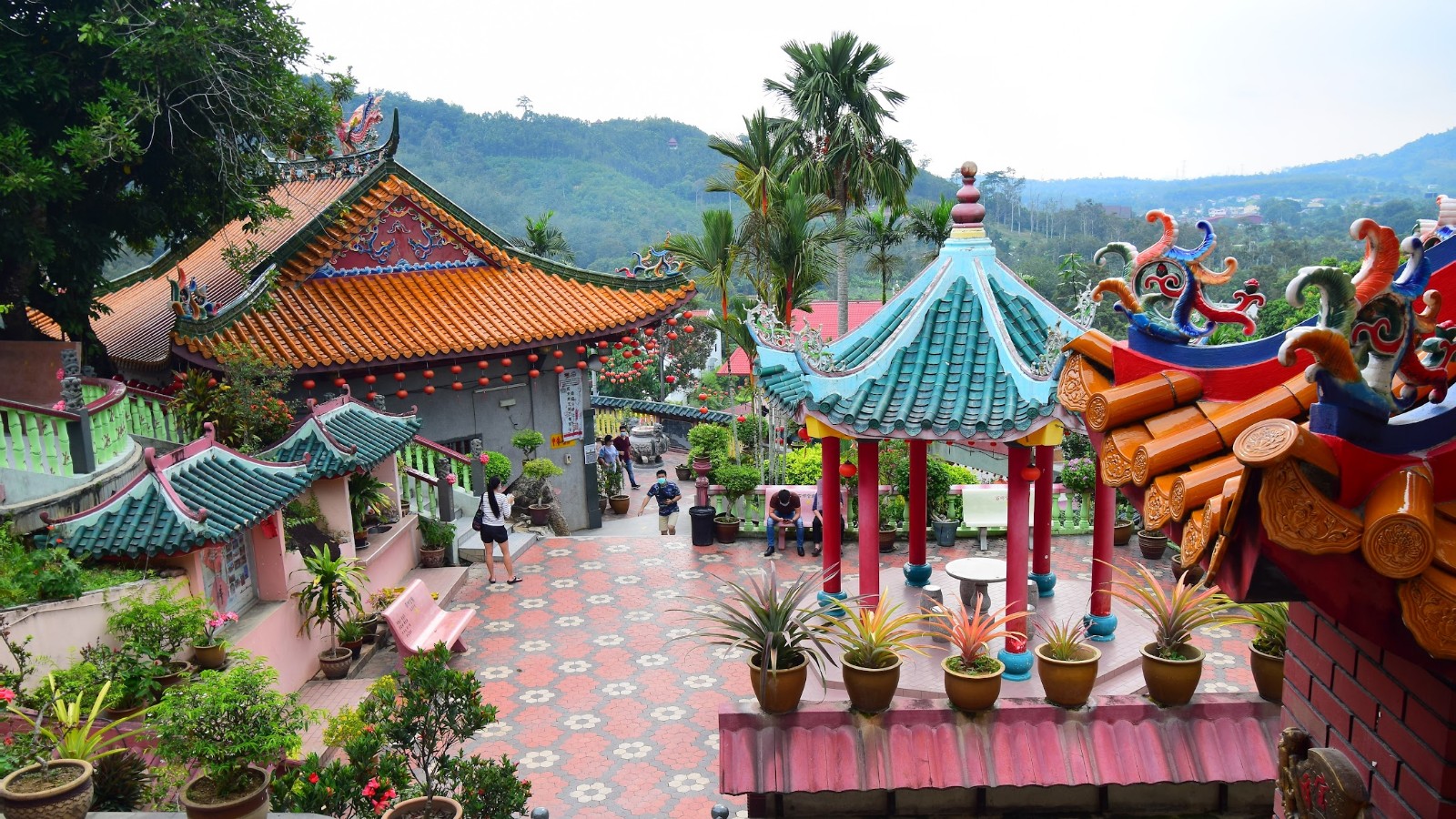 Image credit: Paul Lim
There are also several shrines within the colourful Chinese temple, and a garden filled with statues of deities and mythical figures. One statue that deserves your attention here is a massive 15-metre tall Monkey King, or Sun Wukong, statue that overlooks the hills.
This is said to be the largest statue of the mythical figure in Malaysia.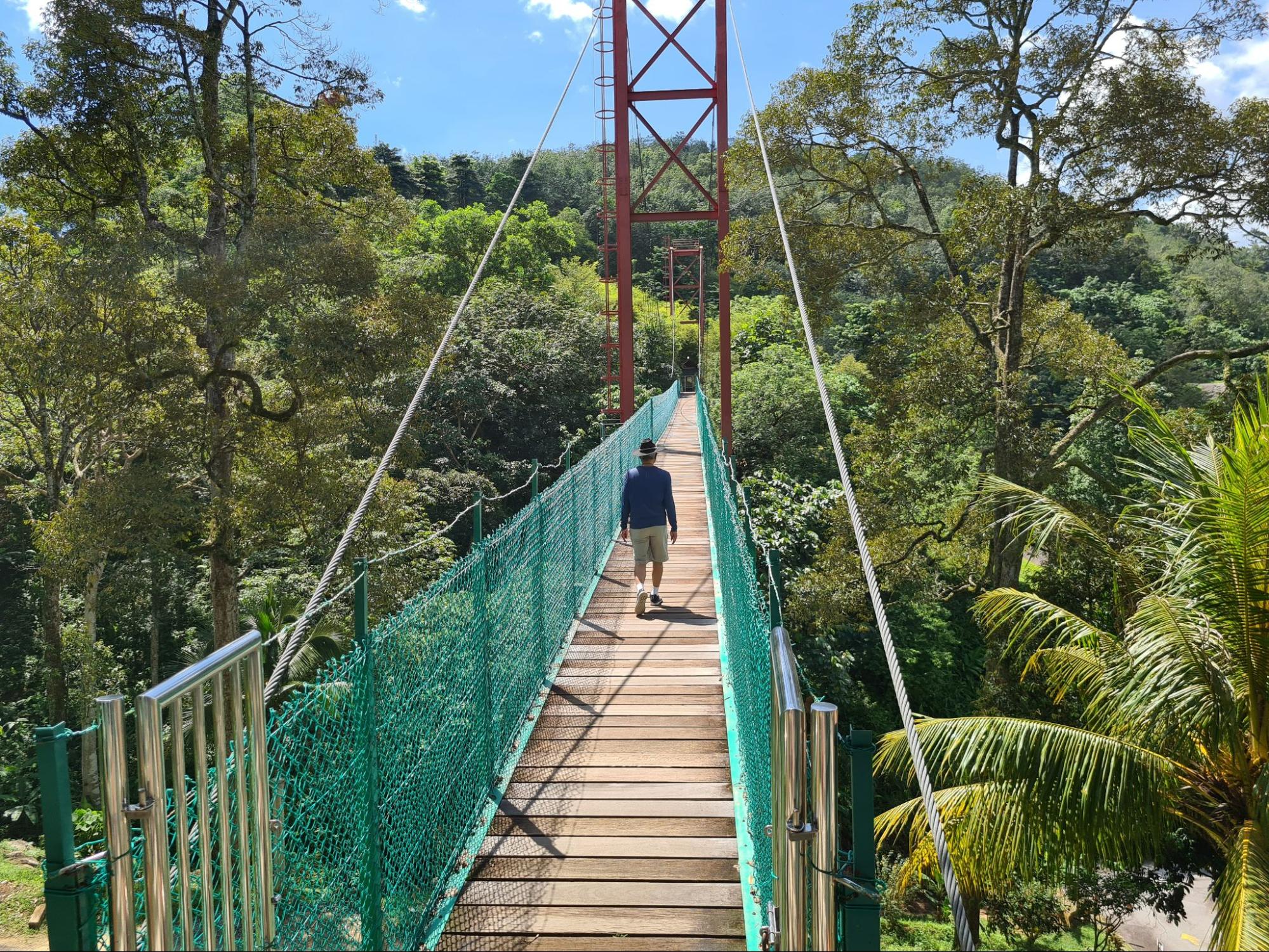 Image credit: c ph
Besides discovering the various statues in the temple, there's a 103-metre long suspension bridge over a small valley here. This is a great place for visitors to enjoy the lush green environment that surrounds Sak Dato Temple. 
Address: No. 4, Jalan Besar, Broga, 71750 Semenyih, Negeri Sembilan
Opening hours: Mon-Sat 10am-6pm | Sun 8am-6pm
---
2. Fortune Dragon Temple, Johor – 115-metre long dragon tunnel
---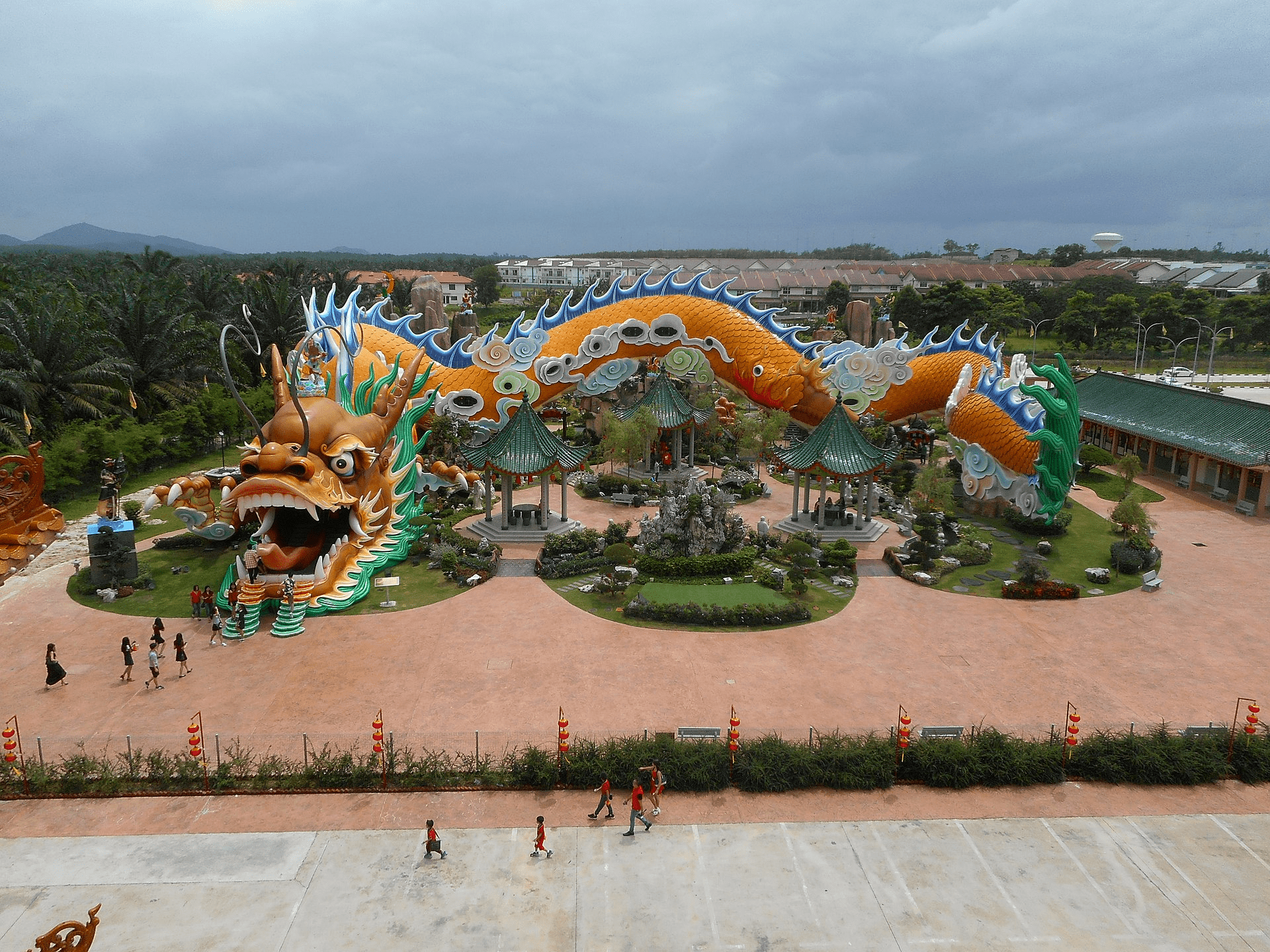 Image credit: Wikimedia Commons
Johor is full of wonderful attractions to visit for a one-of-a-kind cultural experience. Besides being home to the world's first glass Indian temple, the state is also home to a Chinese temple with one of the largest and longest dragon tunnels in the world.
Built in 2016 with an estimated budget of RM6-8 million, Fortune Dragon Temple in Yong Peng, Johor, is home to a massive 115-metre long tunnel in the form of a giant dragon statue.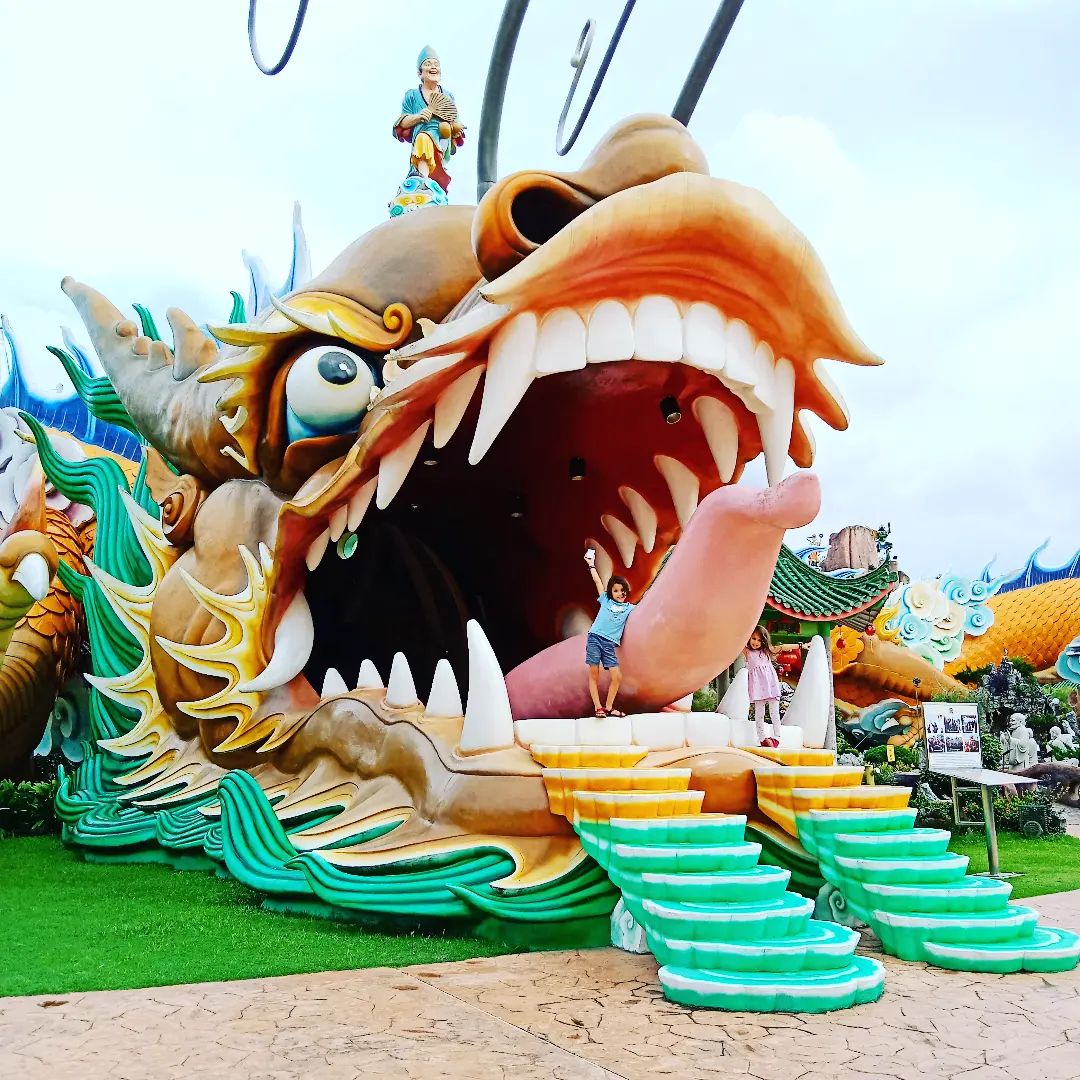 Image credit: @kenshoquest
Visitors can explore the tunnel by entering through the dragon's mouth. There are over 30 traditional Chinese paintings depicting various Chinese folktales, teachings of Buddha, and tales of the afterlife inside to discover.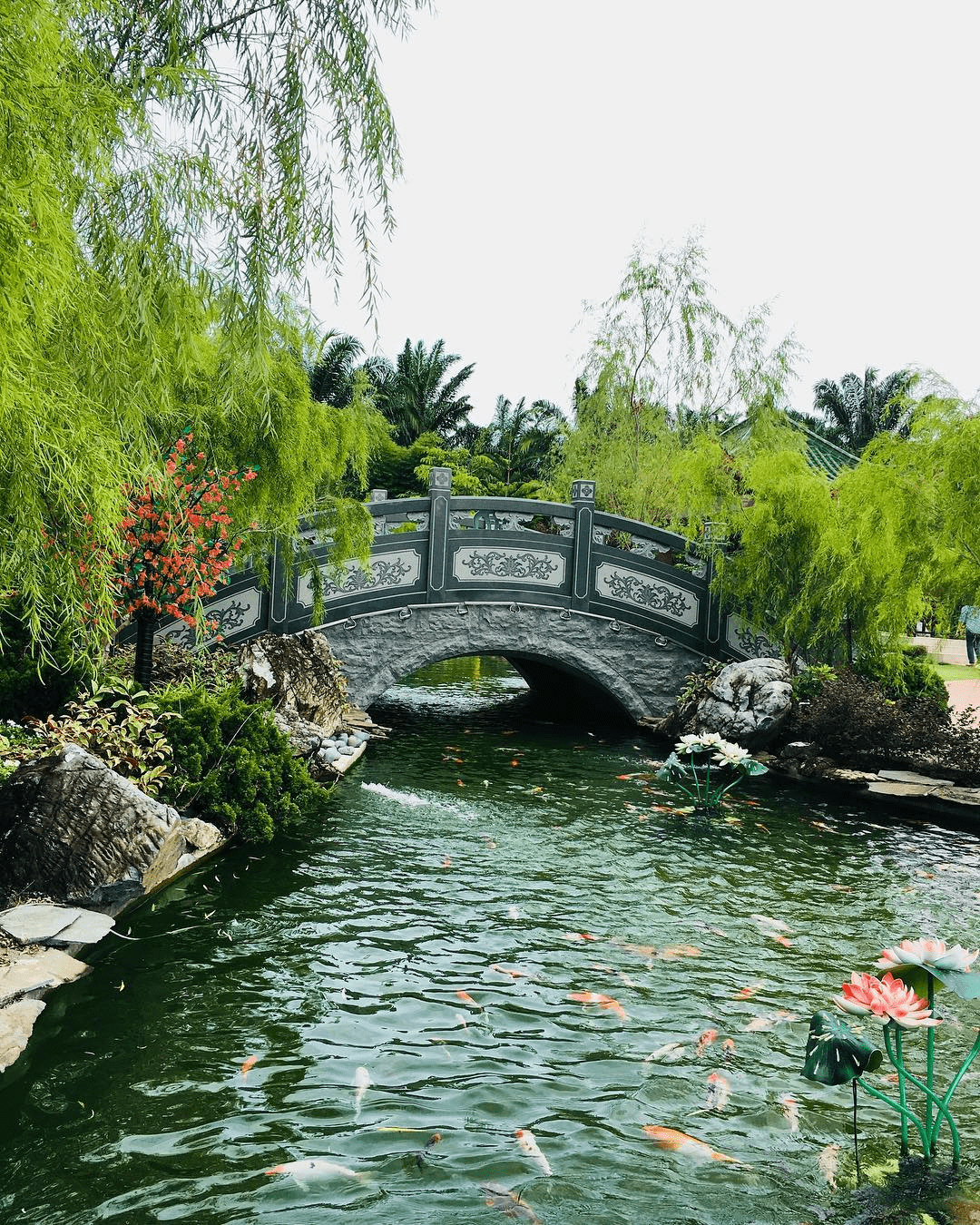 Image credit: @racheltre
While you're here, you can stroll through a serene garden that has an ancient Chinese feel to it with gazebos, fish ponds, and sculptures of mythical Chinese legends dotted around the site. These, together with the magnificent dragon statue, offer great photo ops for visitors who love exploring cultural places. 
Address: Lot HS 2677, Pt 2446, Jalan Kota Impian 1, 83700 Yong Peng, Johor
Opening hours: 8.30am-9pm, Daily
Read more about Fortune Dragon here.
---
3. Putuo Village, Johor – largest indoor Guan Yin statue
---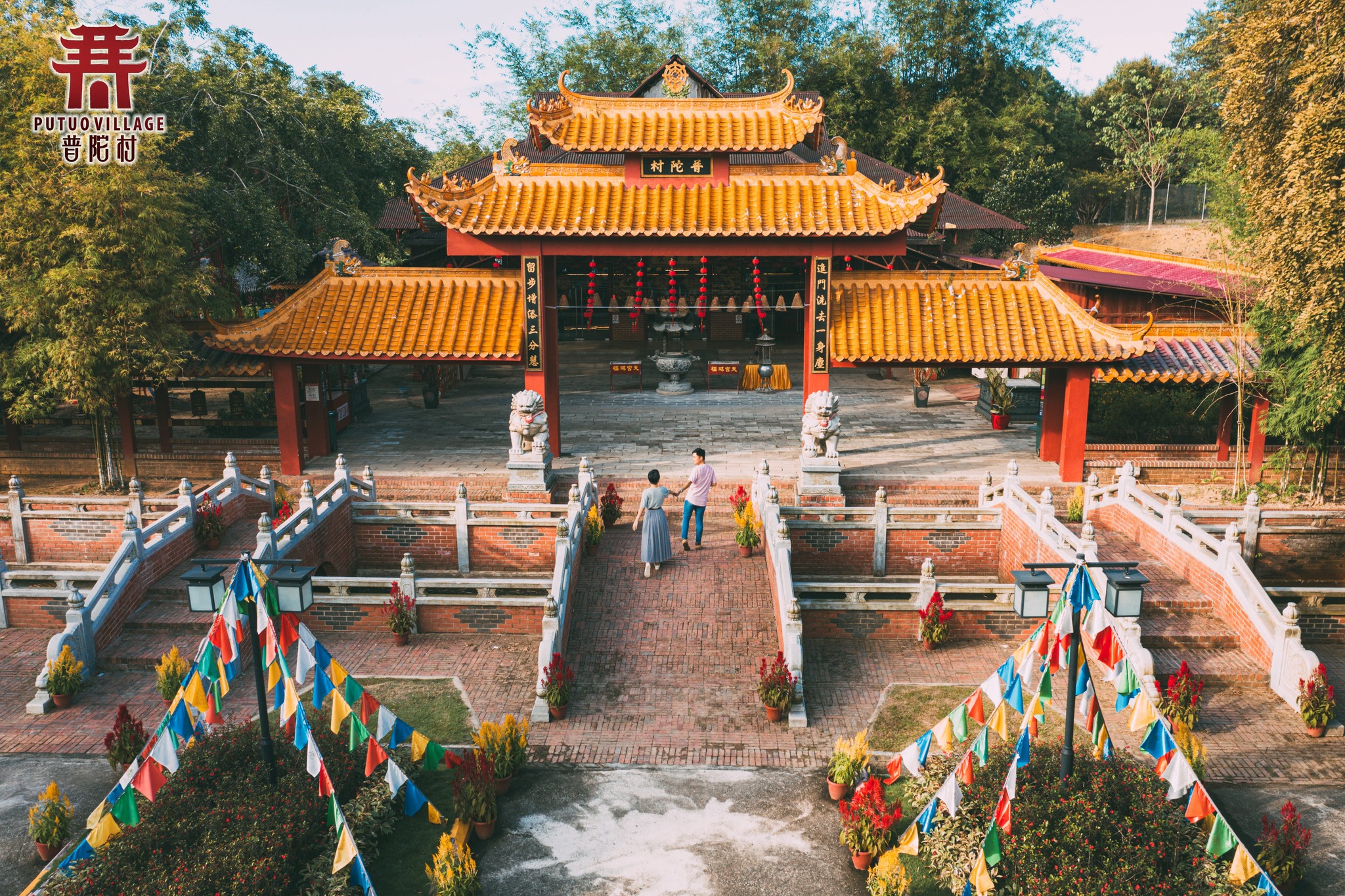 Image credit: Putuo Village 普陀村

Putuo Village is a Buddhist heritage site nestled in a bamboo forest in Johor, which spans over 40 acres of land. It is dedicated to preserving Buddhist culture, while offering a calm environment for visitors opting to spend time here.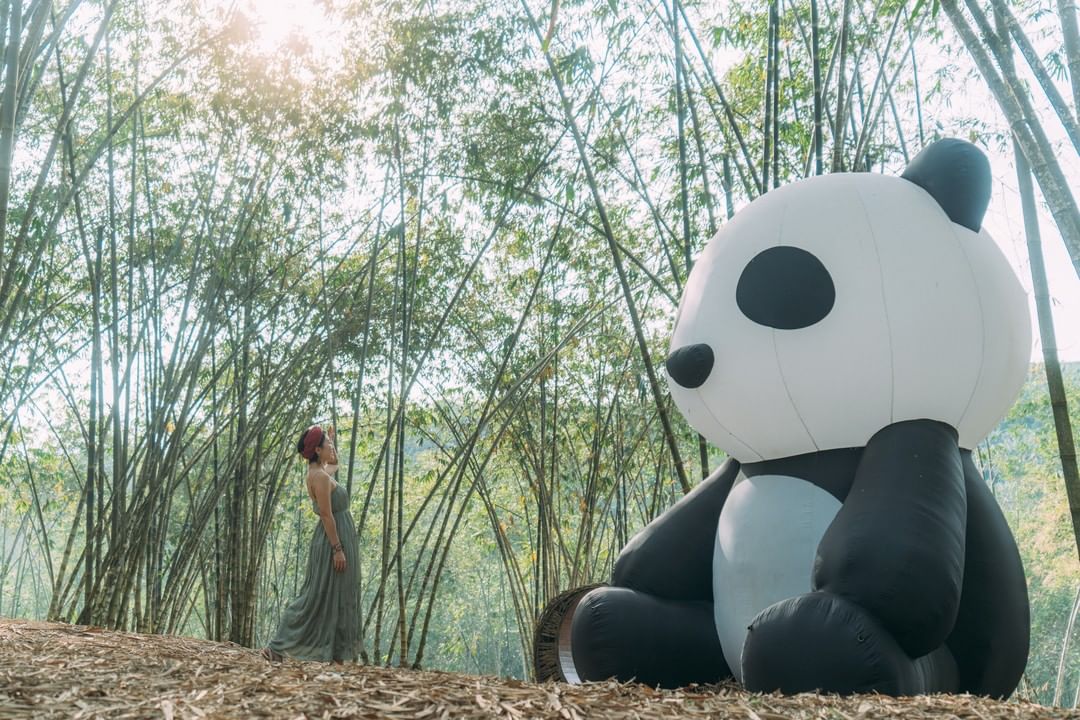 Image credit: @putuovillage
The bamboo forest in the village has a lot of photo-worthy corners, including a hanging nest and giant inflatable pandas.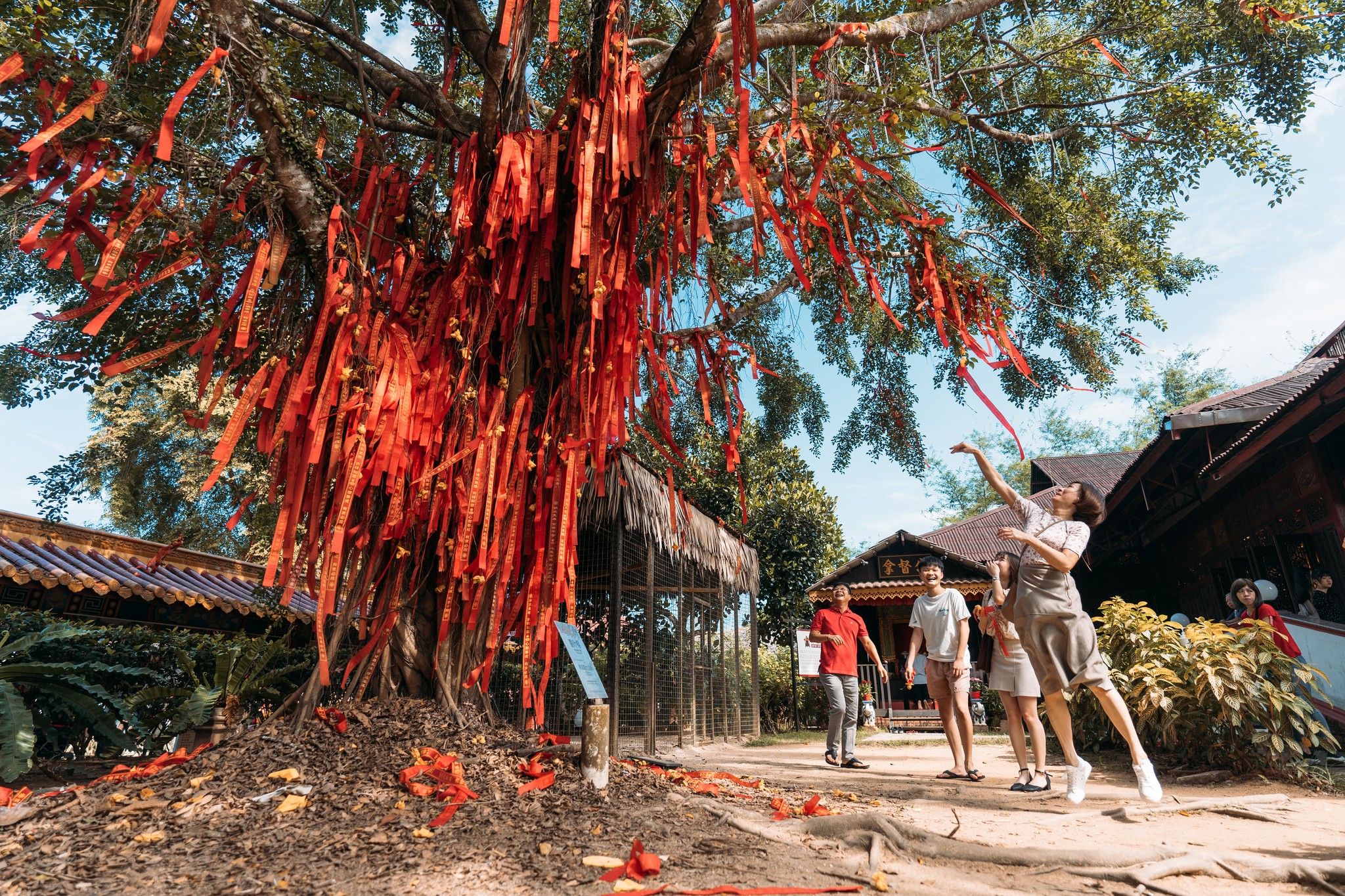 Image credit: Putuo Village 普陀村
Despite being a tourist spot, the Buddhist culture here can be seen strongly through religious rituals that are observed here. This includes the celebration of Avalokitesvara Day, the bathing of the Buddha statue, and the tossing of a treasure sign at the Wishing Tree.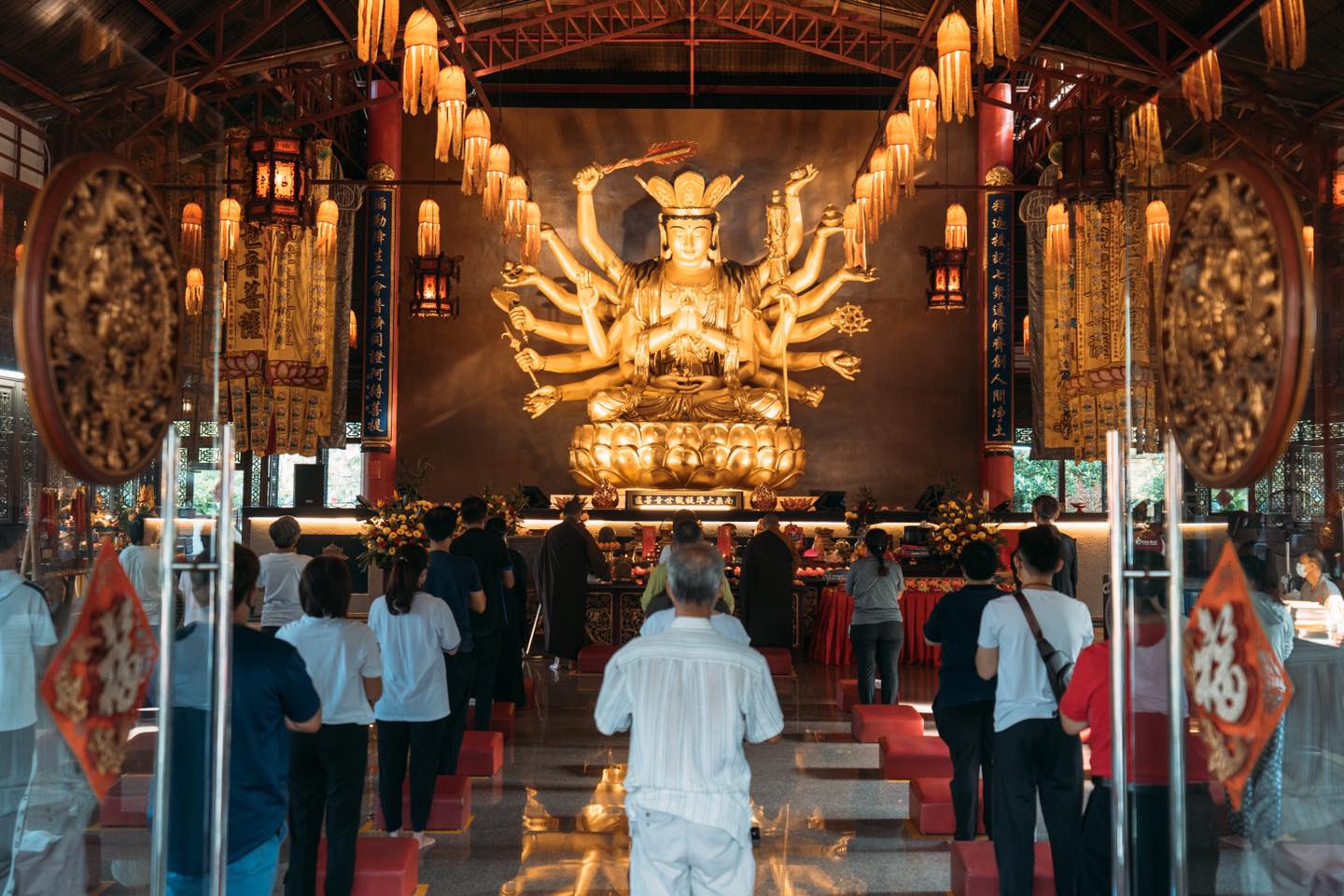 Image credit: Putuo Village 普陀村
The Guan Yin shrine here is also known to be the largest indoor Guan Yin statue in Southeast Asia, so it's definitely one of the must-visit attractions at the site.
Address: 1488, Jalan Kampung, Off, Jalan Kota Tinggi – Kluang, Felda Taib Andak, 81000 Kulai, Johor
Opening hours: 9am-6pm, Daily
Read more about Putuo Village here.
---
4. Tua Pek Kong Temple, Perak – white stone statues of Buddhist & Taoist icons
---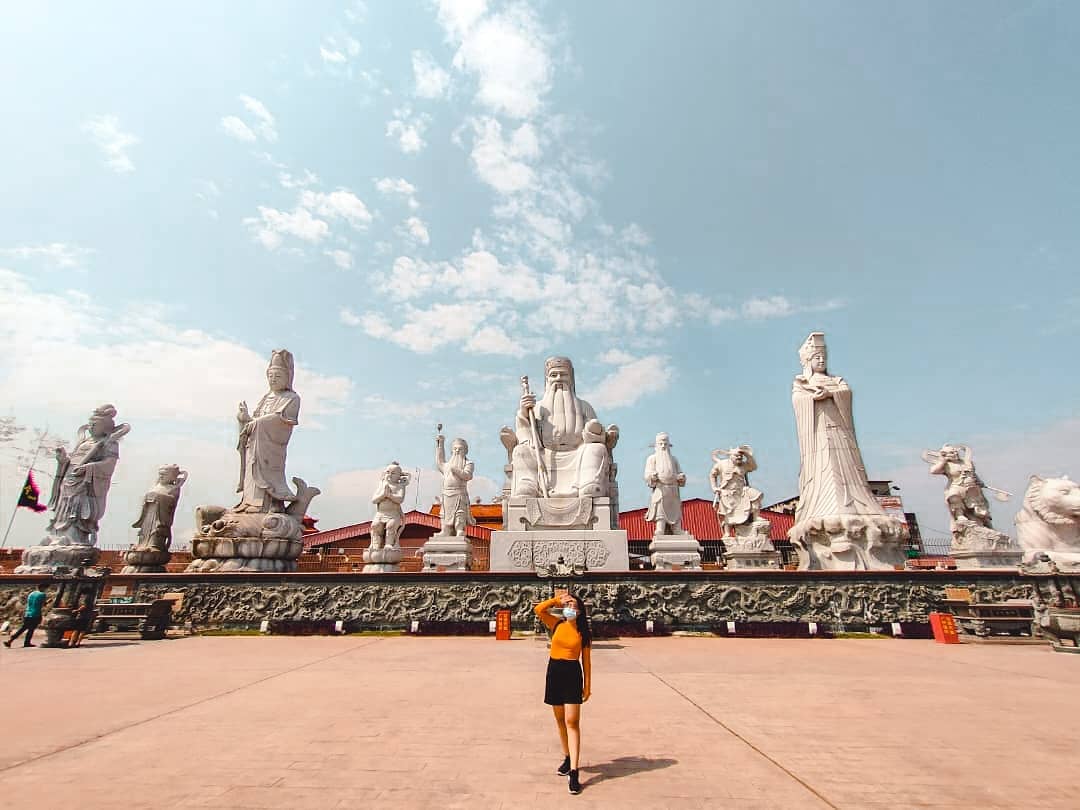 Image credit: @flogeduin
Those who have thought of visiting a Chinese temple by the sea should check out Tua Pek Kong Temple, located in the coastal area of Pasir Panjang in Sitiawan, Perak.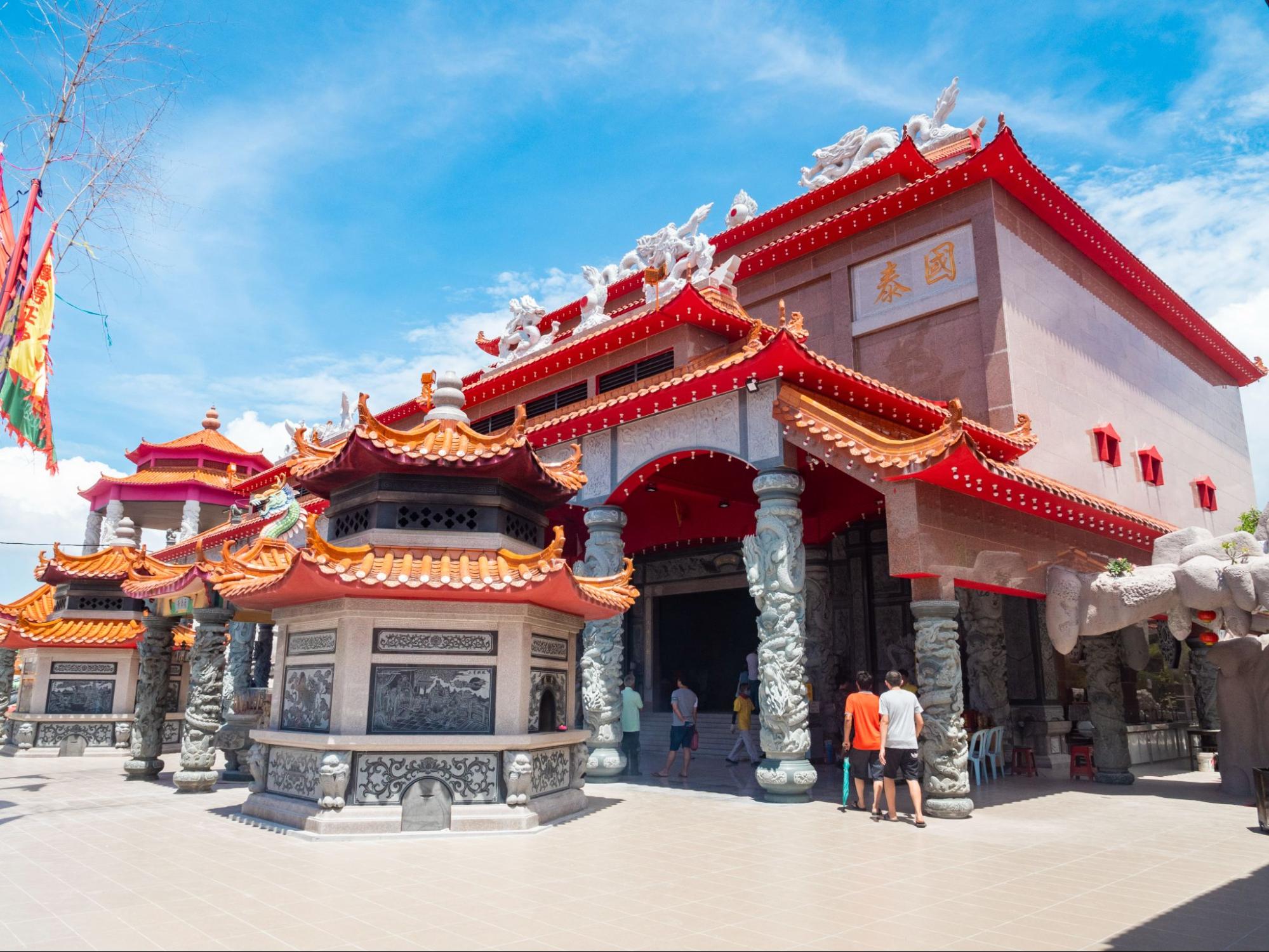 Image credit: Martin Tang
This famous temple hosts several white stone statues of Buddhist and Taoist icons. The biggest of them all is the statue of Tua Pek Kong – a deity that gives the temple its name – which sits in the centre of the platform.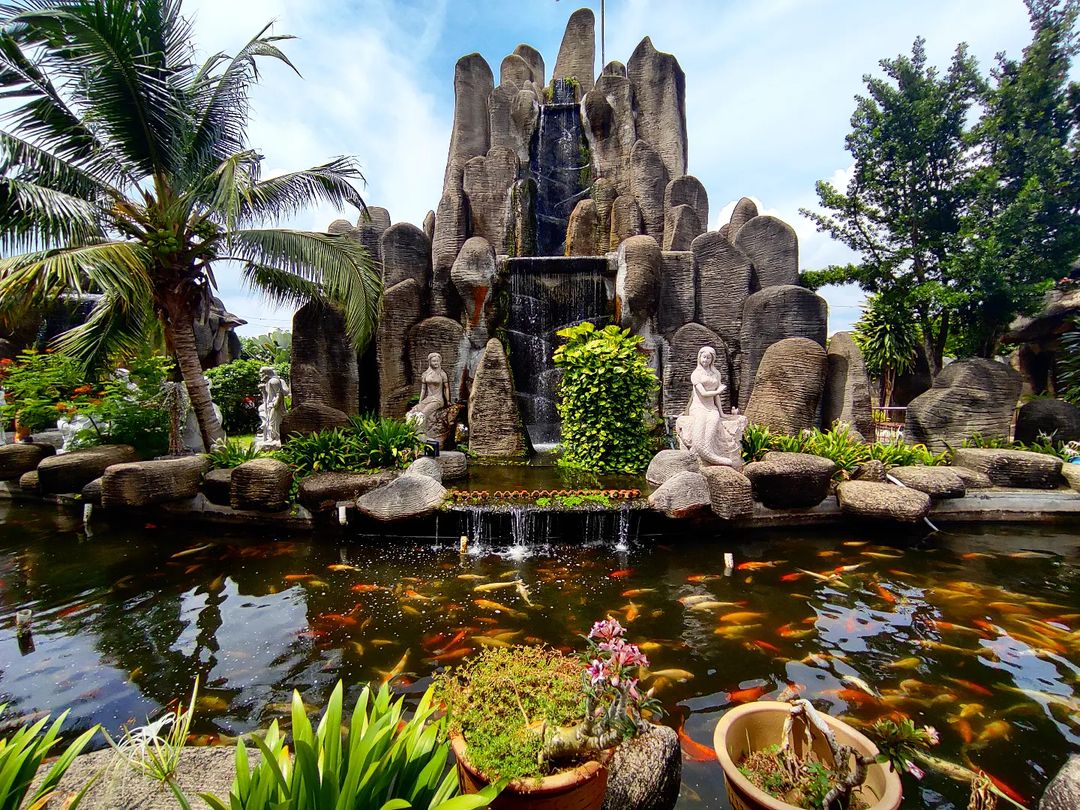 Image credit: @kavinrajphotography

The temple is believed to be over 100 years old. Though, it has gone through some changes in recent years that introduced additions such as a pagoda, a dragon tunnel, and surrounding walls. Apart from these, the temple also has a garden with zen, auspicious vibes. The temple's overall peaceful environment attracts most of its visitors.
Address: Jalan Pasir Panjang, 32000 Sitiawan, Perak
Opening hours: 7am-10.30pm, Daily
---
5. Snake Temple, Penang – temple with snakes roaming freely
---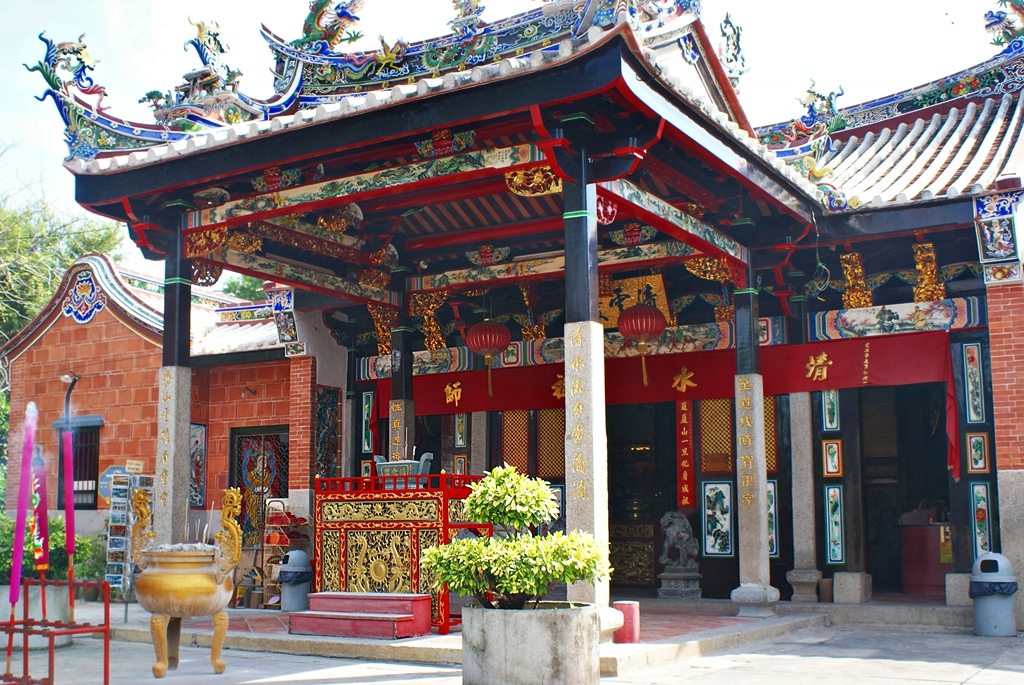 Image credit: Wikipedia
Visiting a temple with free-roaming snakes may sound scary, and something out of an Indiana Jones movie. But there is one such place of worship in Penang that houses these reptiles – Snake Temple in Bayan Lepas.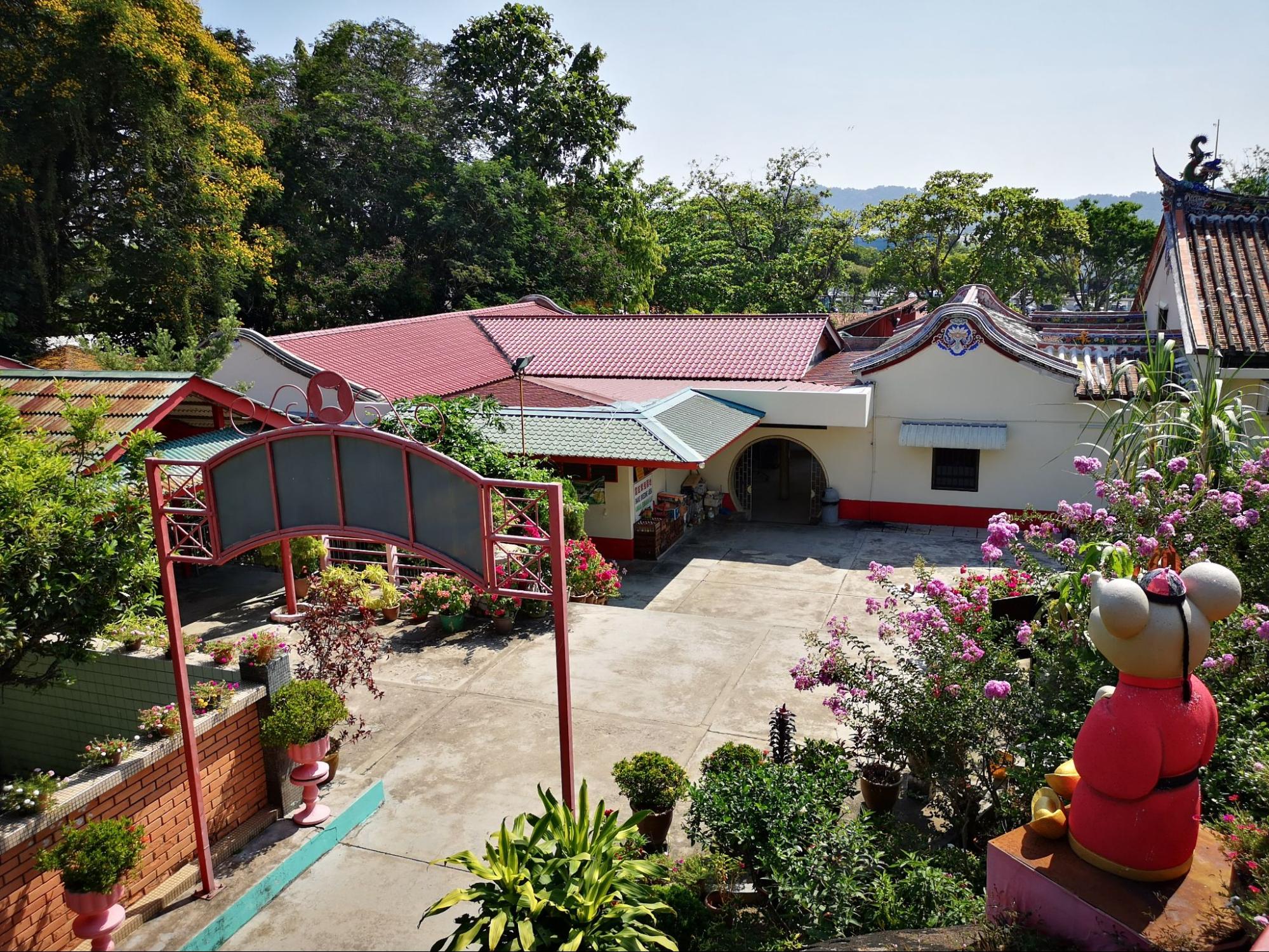 Image credit: Miles Macdonald
Snake Temple was built sometime in the 1850s, in honour of a Buddhist monk named Chor Soo Kong. He was believed to have snakes as his disciples. Inside the temple grounds, uncaged snakes slither on branches freely, as well as some that are caged. Trees in the temple garden are popular hangout spots for the snakes too.
Some of the snakes housed here are pit vipers, green tree snakes, and pythons which are said to be harmless and defanged.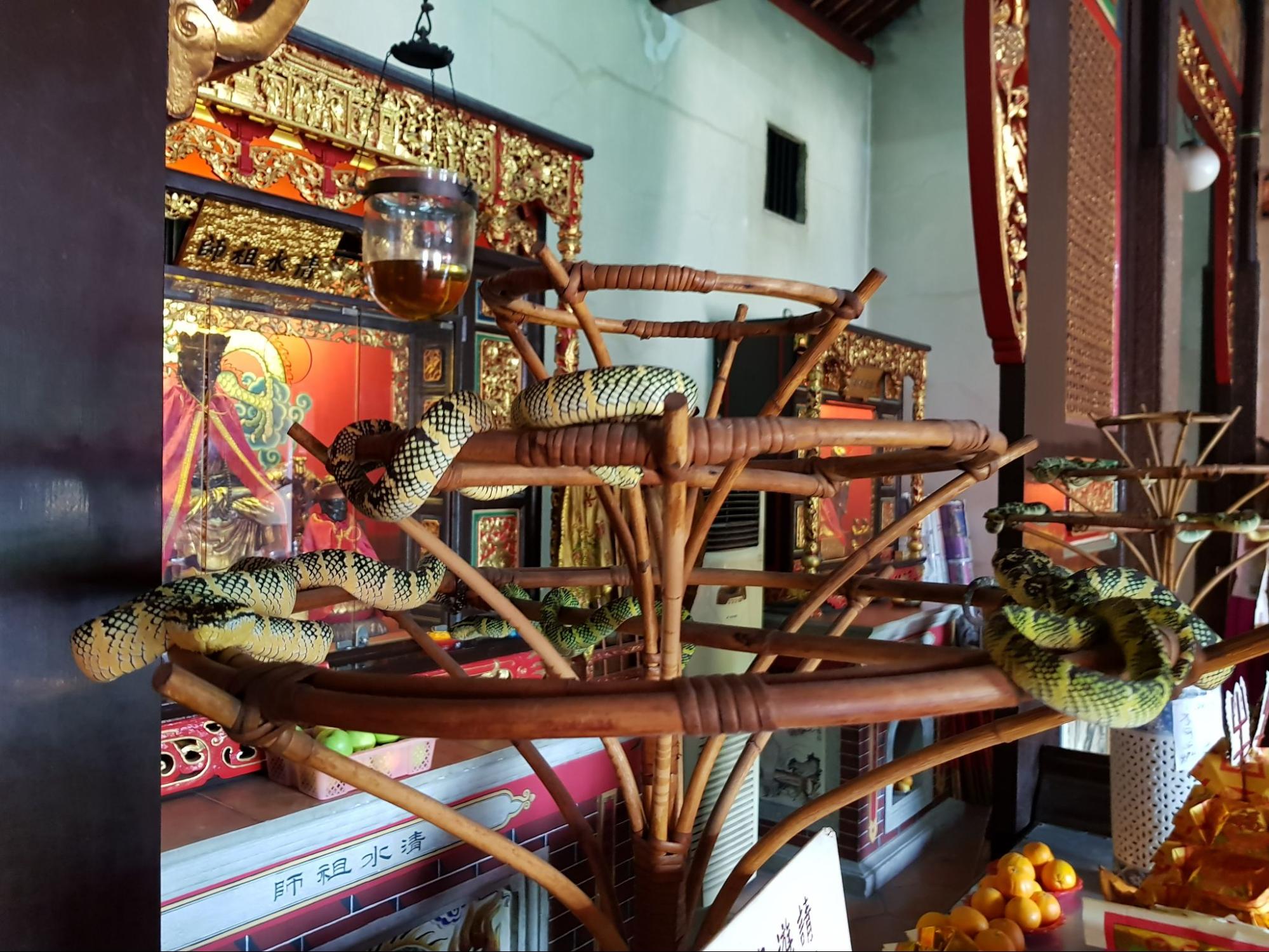 Image credit: Kin Hoong Hung
Address: Jalan Sultan Azlan Shah, Bayan Lepas Industrial Park, 11900 Bayan Lepas, Pulau Pinang
Opening hours: 7am-7pm, Daily
---
6. Wat Machimmaram, Kelantan – one of the largest sitting Buddha statues in Southeast Asia
---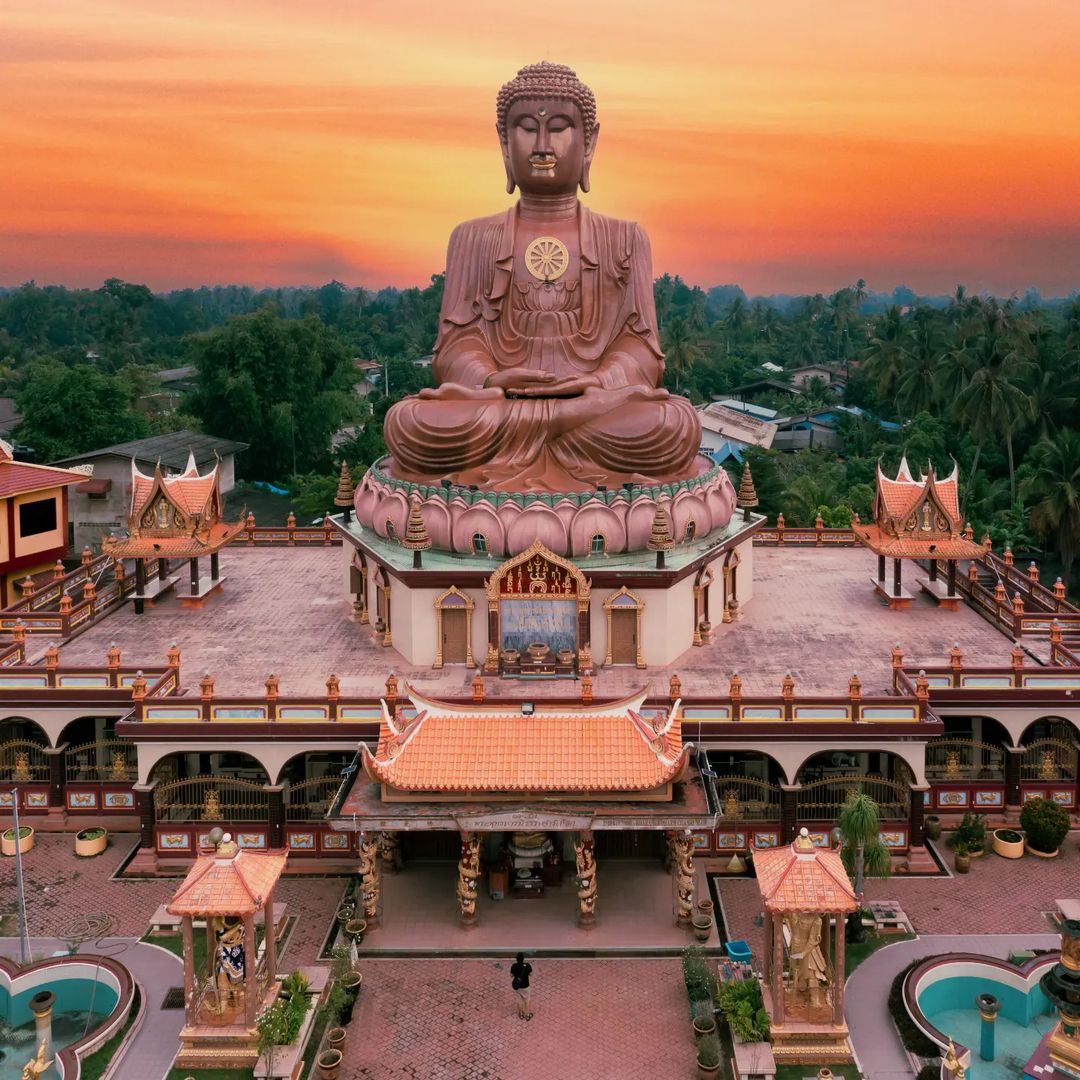 Image credit: @stevenng92

Kelantan is widely considered an Islamic state in Malaysia, with the majority of its population being Muslims. But the Tumpat district in the state has strong Buddhist influences. This can be seen through the presence of over 20 Buddhist temples with impressive architecture here – one of them being Wat Machimmaram.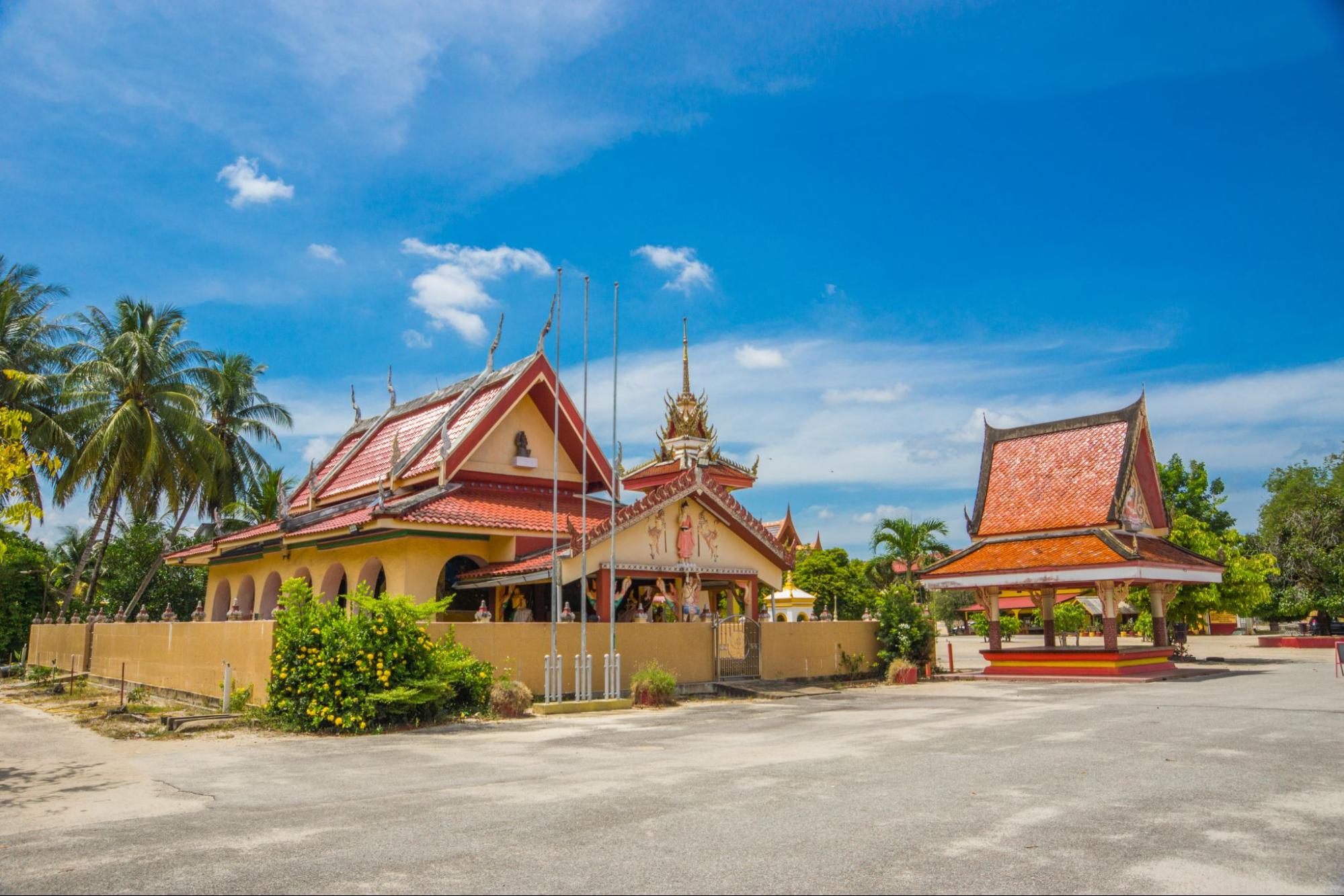 Image credit: Kok zi hao
This is an important religious site for the Thai-Buddhist community in Tumpat, as the district borders Thailand on the west. The temple, which is said to have taken over 10 years to complete, has a unique blend of Thai and Chinese architectural influences.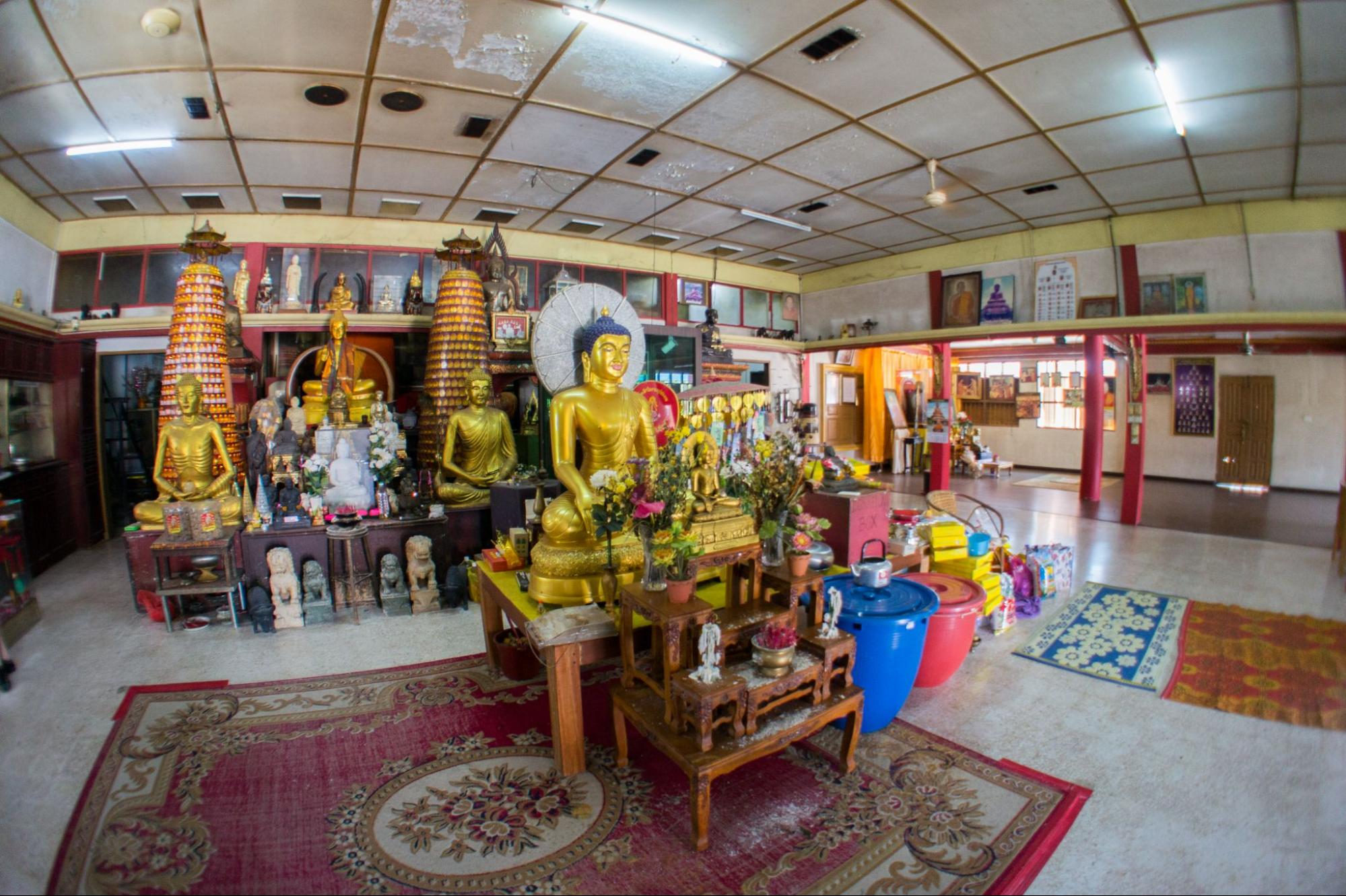 Image credit: Kok zi hao
One major highlight of this temple is that it is home to a massive statue of Buddha seated on a lotus on the roof of the temple – which is believed to be one of the largest in Southeast Asia. It measures a whopping 30-metres tall and 47.5-metres wide.
Much of the exterior decor, including the Buddha statue, is painted in brown and copper, distinguishing it from traditional Chinese temples in red.
Address: Kampung Jubakar, 16210 Tumpat, Kelantan
Opening hours: 9am-5pm, Daily
---
7. Yue Shan Gu Miao, Selangor – colourful rainbow stairs
---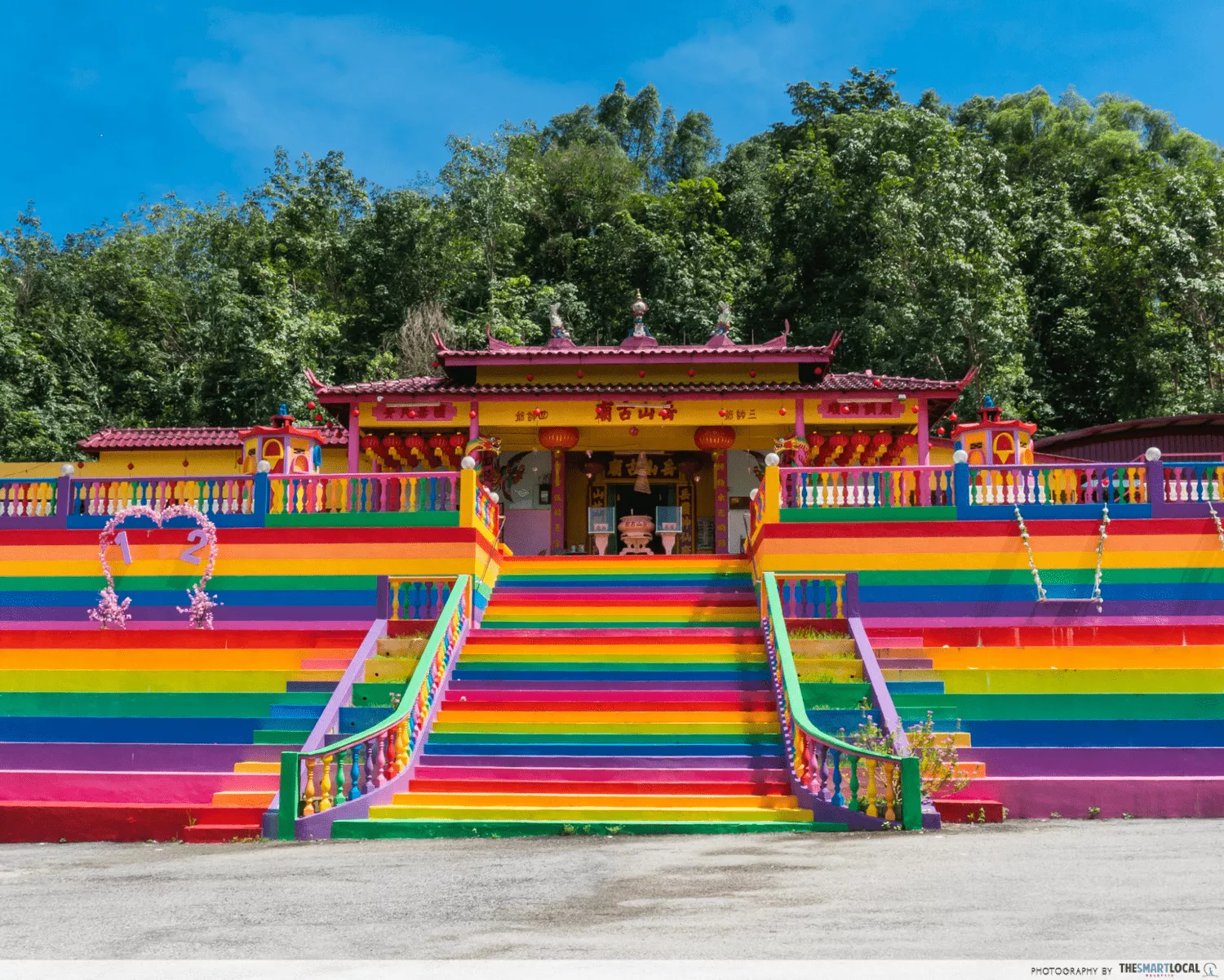 Red plays a significant role in Chinese culture, as it can be seen featured in most auspicious symbols and decorations. But if you want to witness a pop of colours at a Chinese temple, then the Yue Shan Gu Miao temple in Kuala Kubu Bharu is absolutely worth the visit.
It has a different take on most traditional Chinese temples due to its popping colours and decorations that include rainbow stairs and bannisters.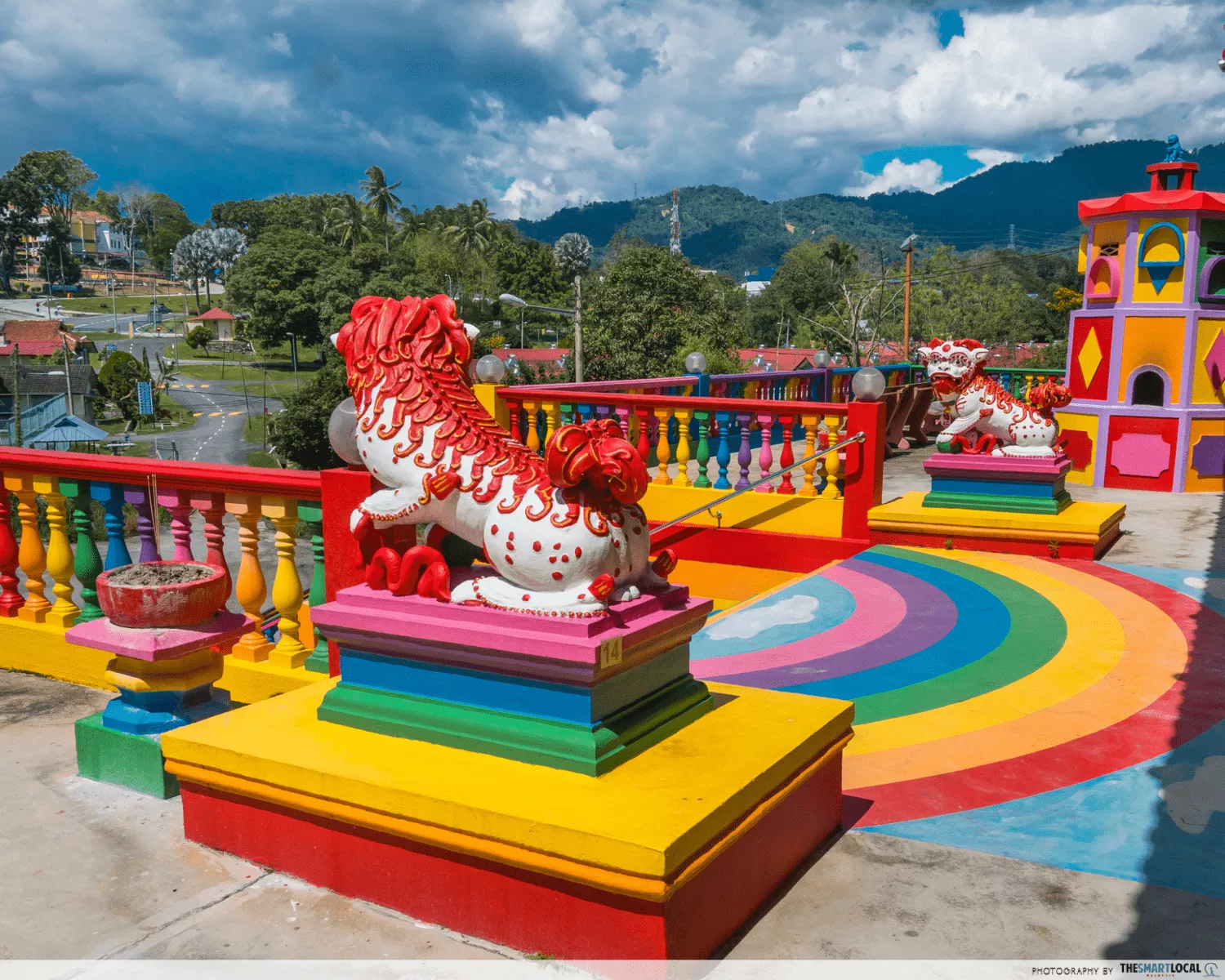 Though a hidden gem for many, this is a popular place of worship among the local Chinese community in Kuala Kubu Bharu. 
Like many Chinese temples in Malaysia, the Yue Shan Gu Miao temple was established sometime in the 19th century, making it over 100 years old now. The temple has been gaining popularity after the cheery makeover in recent years.
Address: Jalan Kubu, Kampung Sungai Damar, 44000 Kuala Kubu Baru, Selangor
Opening hours: 24 hours, Daily
---
8. Chin Swee Caves Temple, Pahang – located 1,400 metres above sea level
---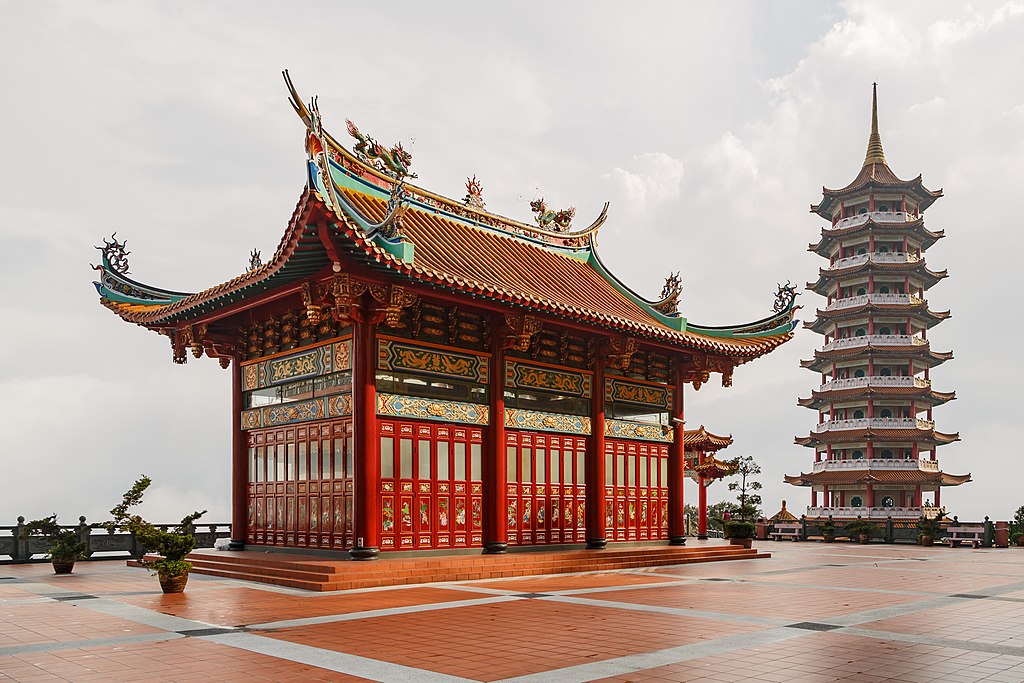 Image credit: Wikimedia Commons
Anyone who has been to Genting Highlands has likely spotted the Chin Swee Caves Temple on the hills. Standing 1,400 metres above sea level, this Buddhist temple is a remarkable religious spot for the Chinese community in Malaysia.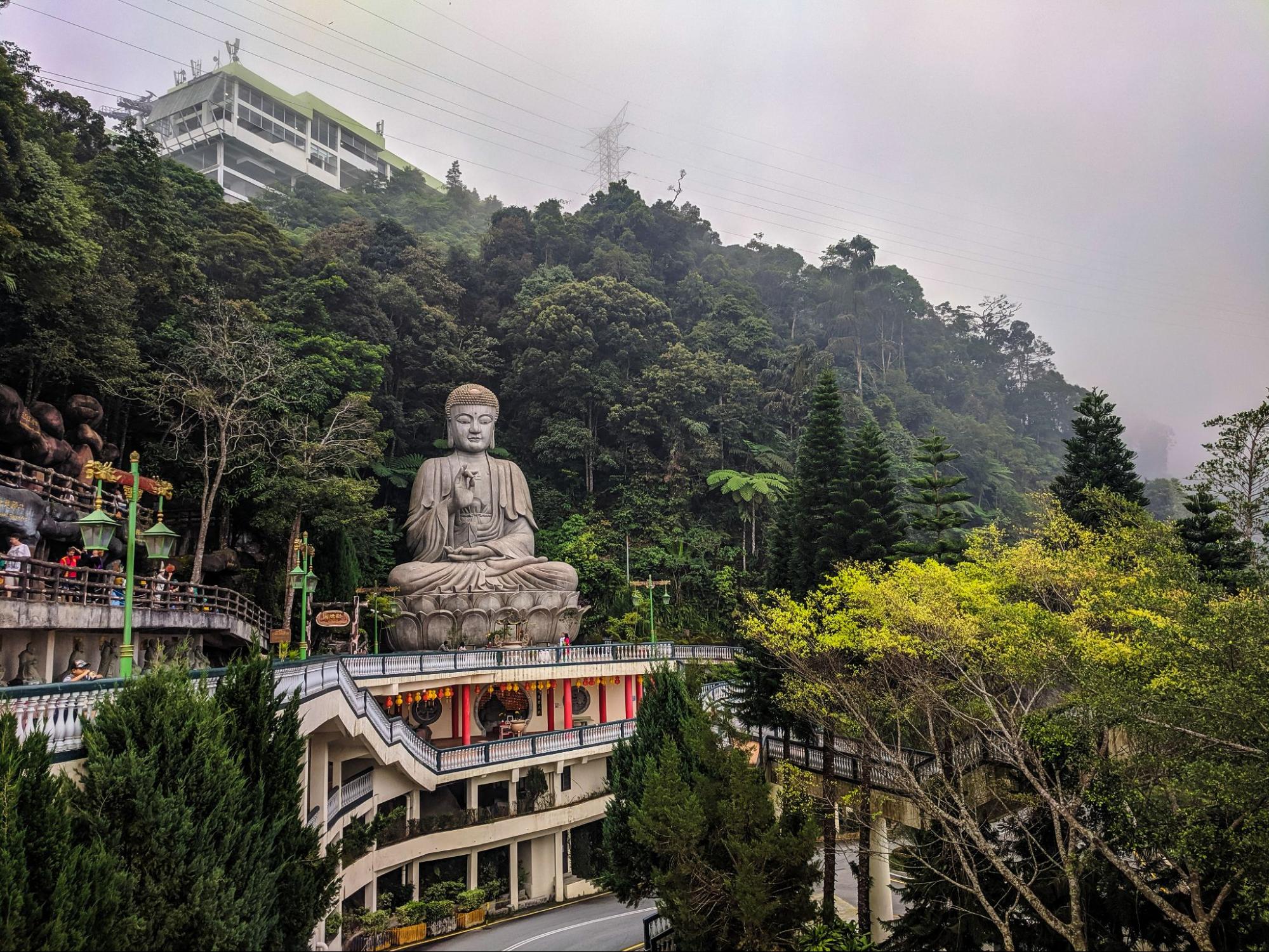 Image credit: H. R.
The temple's iconic pagoda and giant sitting Buddha statue on a lotus are some of the main attractions that attract local and foreign devotees from around Asia – Singapore, Vietnam, China, and Thailand included.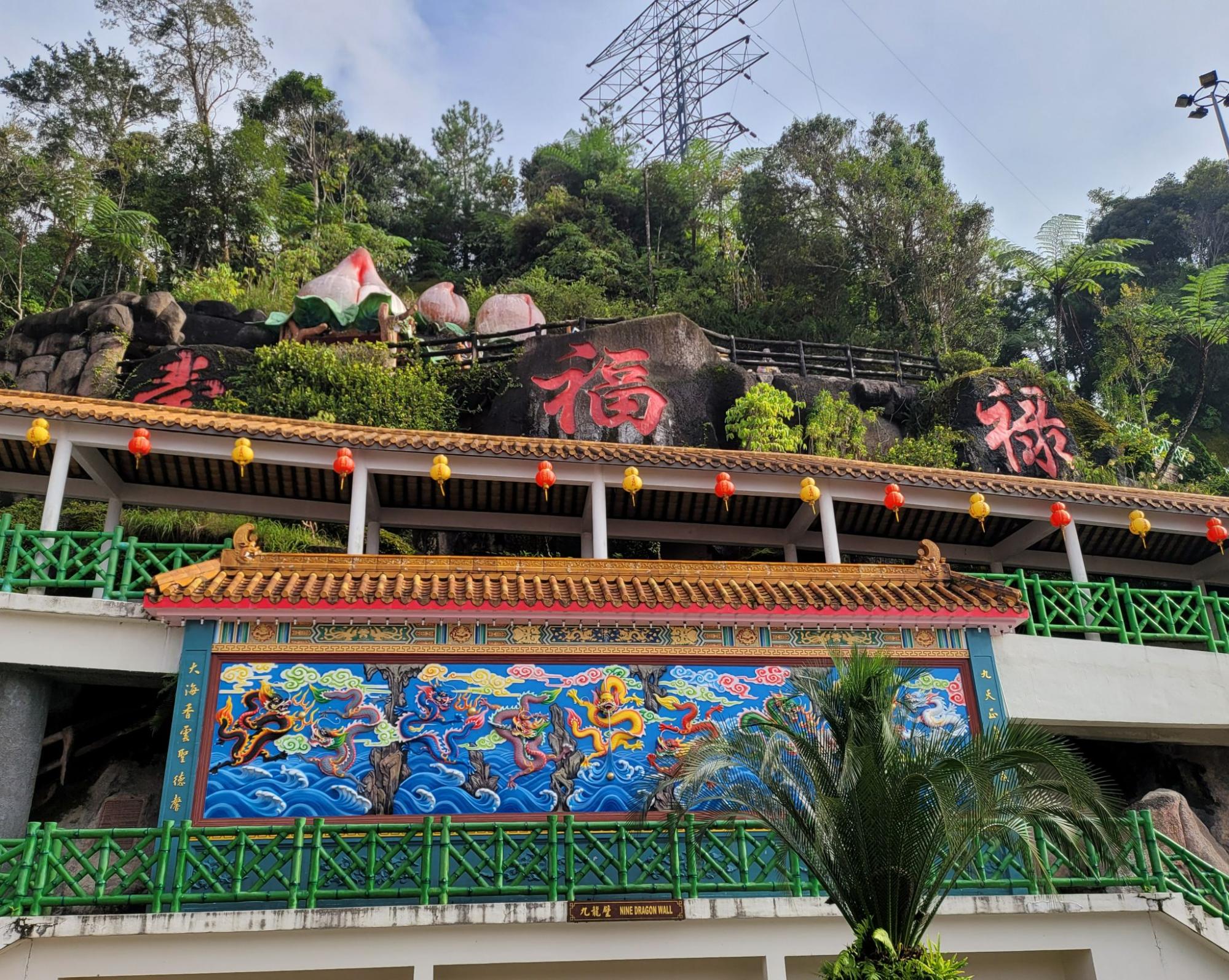 Image credit: Li Yong Gan
Chin Swee Caves Temple took nearly two decades to complete, as it was built amid the hilly landscapes of Pahang. The temple was opened to the public in 1994, and remains a must-visit spot for travellers who visit Genting Highlands.
Address: Exit 68, Genting Sempah, 28750 Bentong, Pahang
Opening hours: 9am-6pm, Daily
---
9. Perak Cave Temple, Perak – 40-foot tall golden Buddha statue
---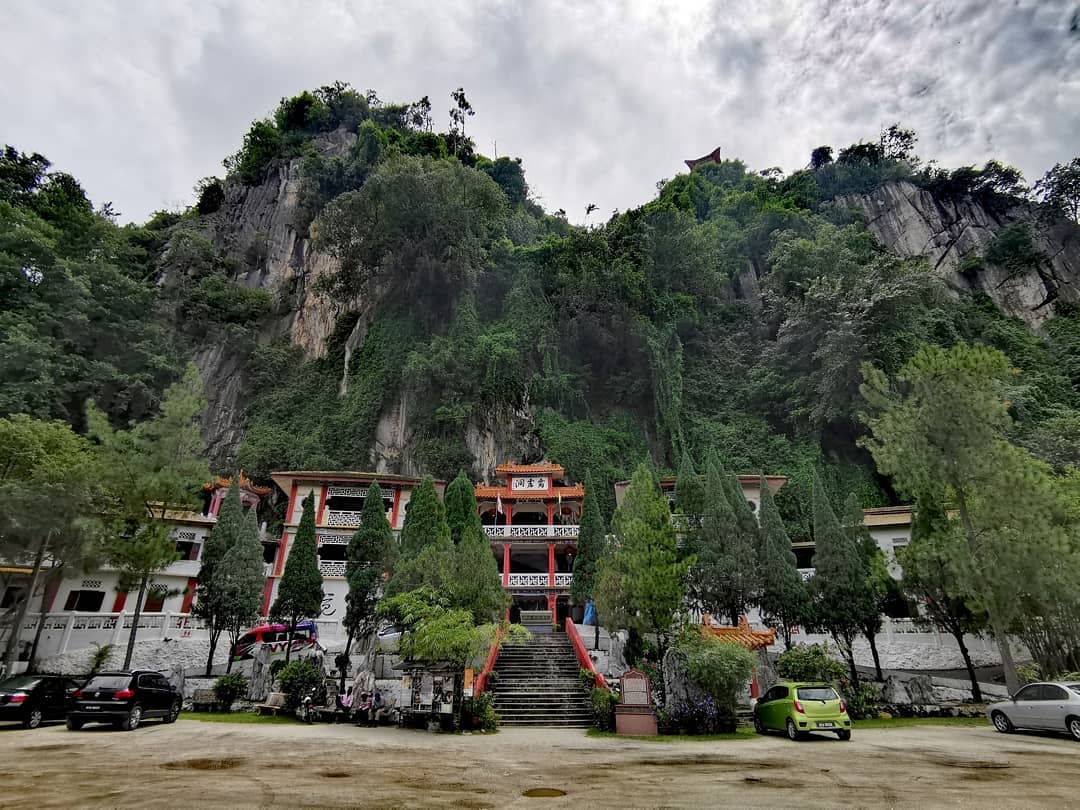 Image credit: @justin_hk

Ipoh is a famous city that houses many remarkable temples in Malaysia – including Kek Lok Tong Temple, Sam Poh Tong Temple, and Ling Sen Tong Temple. One that is hidden within a limestone cave is the notable Perak Cave Temple, or Perak Tong Cave Temple, which is known for its unique location.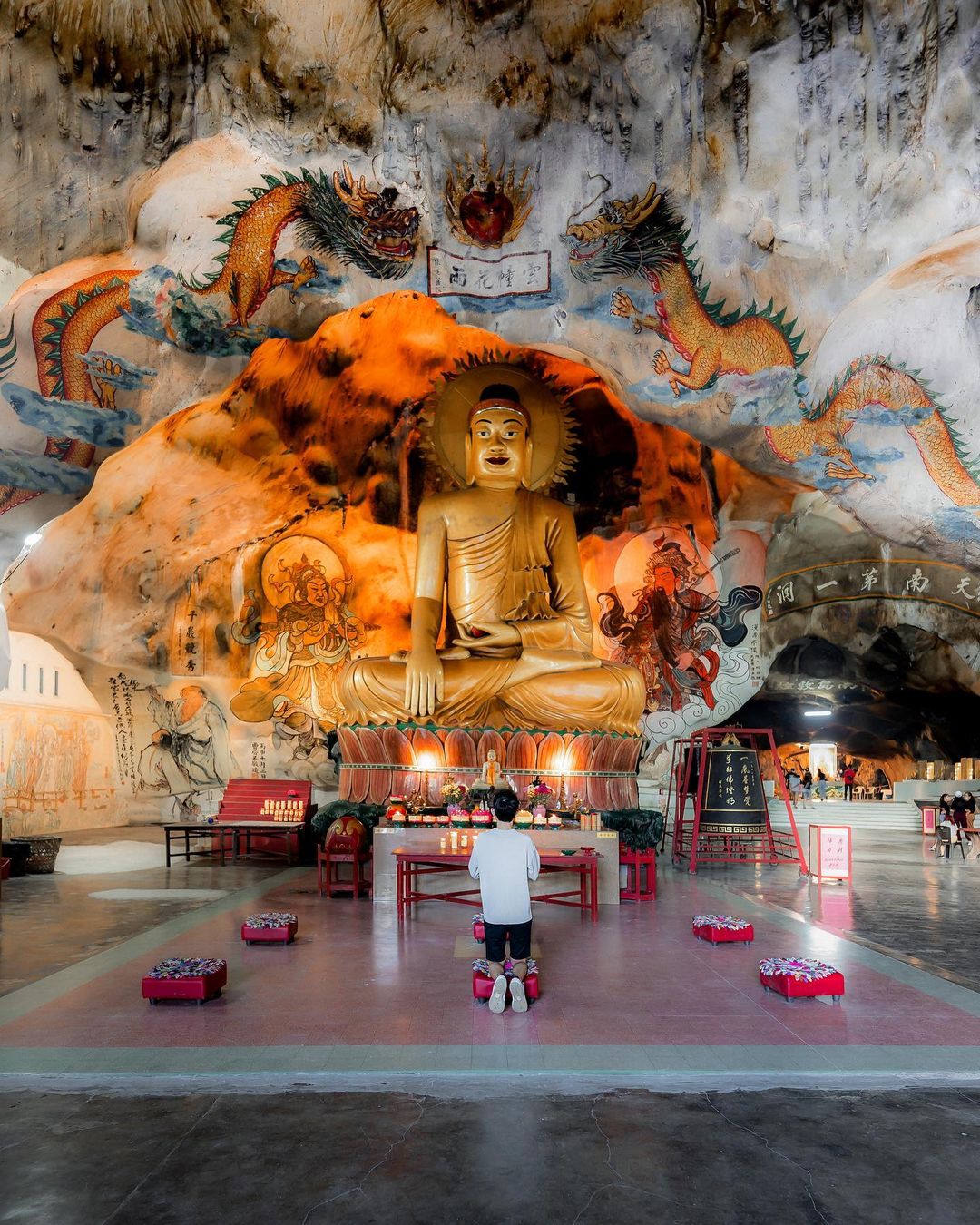 Image credit: @randonthong
The highlights of this temple include a 40-foot tall Buddha statue in gold that is situated inside the cave, along with striking murals of deities, mythical legends, and Chinese calligraphy depicting ancient tales.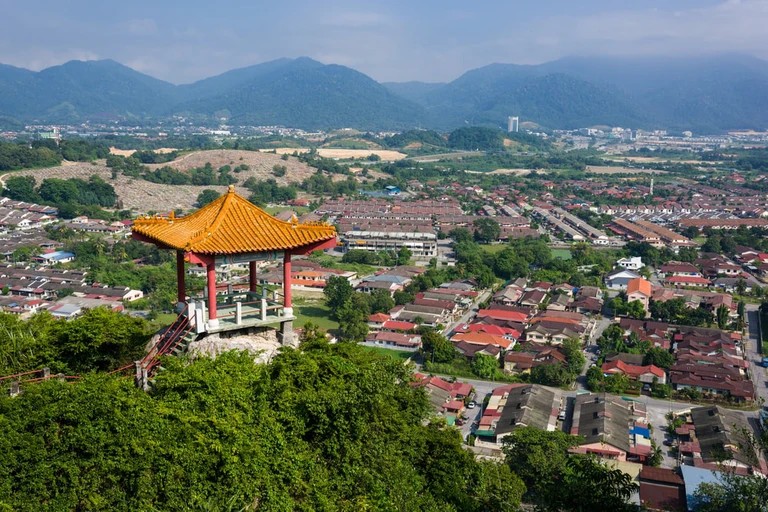 Image credit: Muthuraja S
Interestingly, there's also 400-step staircase for visitors to climb and reach the pavilion to enjoy a stunning view of Ipoh city. 
Address: Jalan Kuala Kangsar, Kawasan Perindustrian Tasek, 31400 Ipoh, Perak
Opening hours: 8am-5pm, Daily
---
10. Puu Jih Shih Temple, Sabah – largest Chinese temple in Sandakan
---

Image credit: Wikipedia
A unique Chinese temple that cultural buffs should visit in Sabah is Puu Jih Shih Temple. This has been an iconic landmark in Borneo, ever since it opened in 1987 by then Chief Minister of Sabah, Joseph Pairin Kitingan.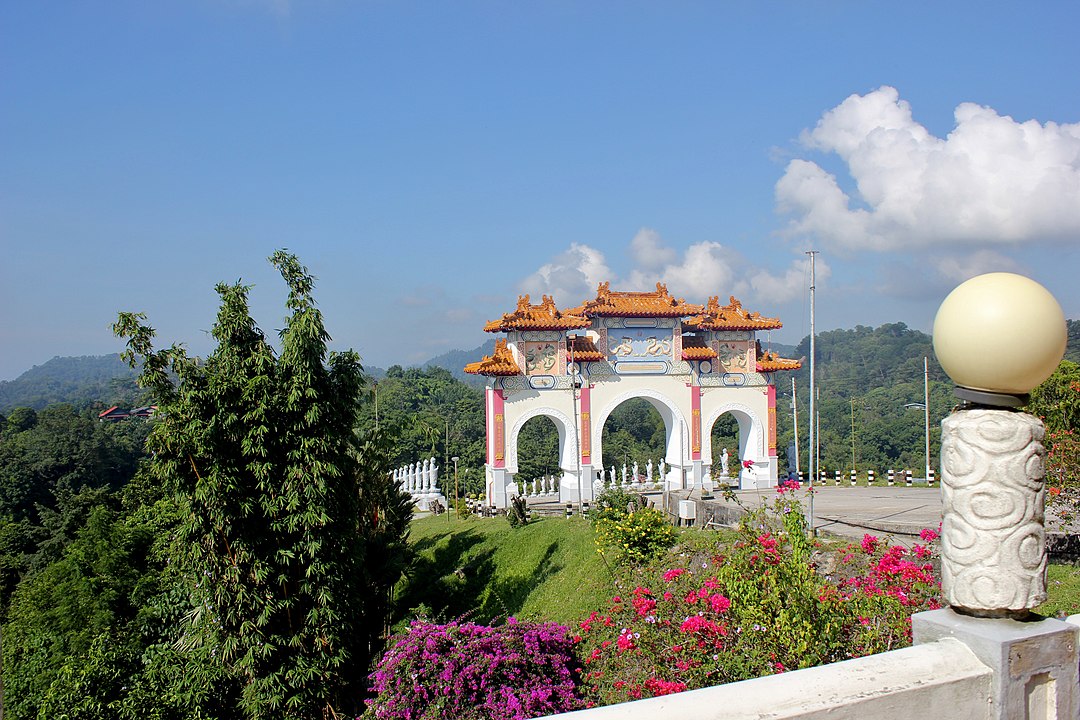 Image credit: Wikipedia
The temple sits on the hilltop of Tanah Merah at Sandakan Bay, and offers visitors vast sea and mountain views from its gardens and pathways.
The interior of the temple also boasts a vibrant mixture of fiery red and gold colours, with exquisitely-carved golden Buddha statues.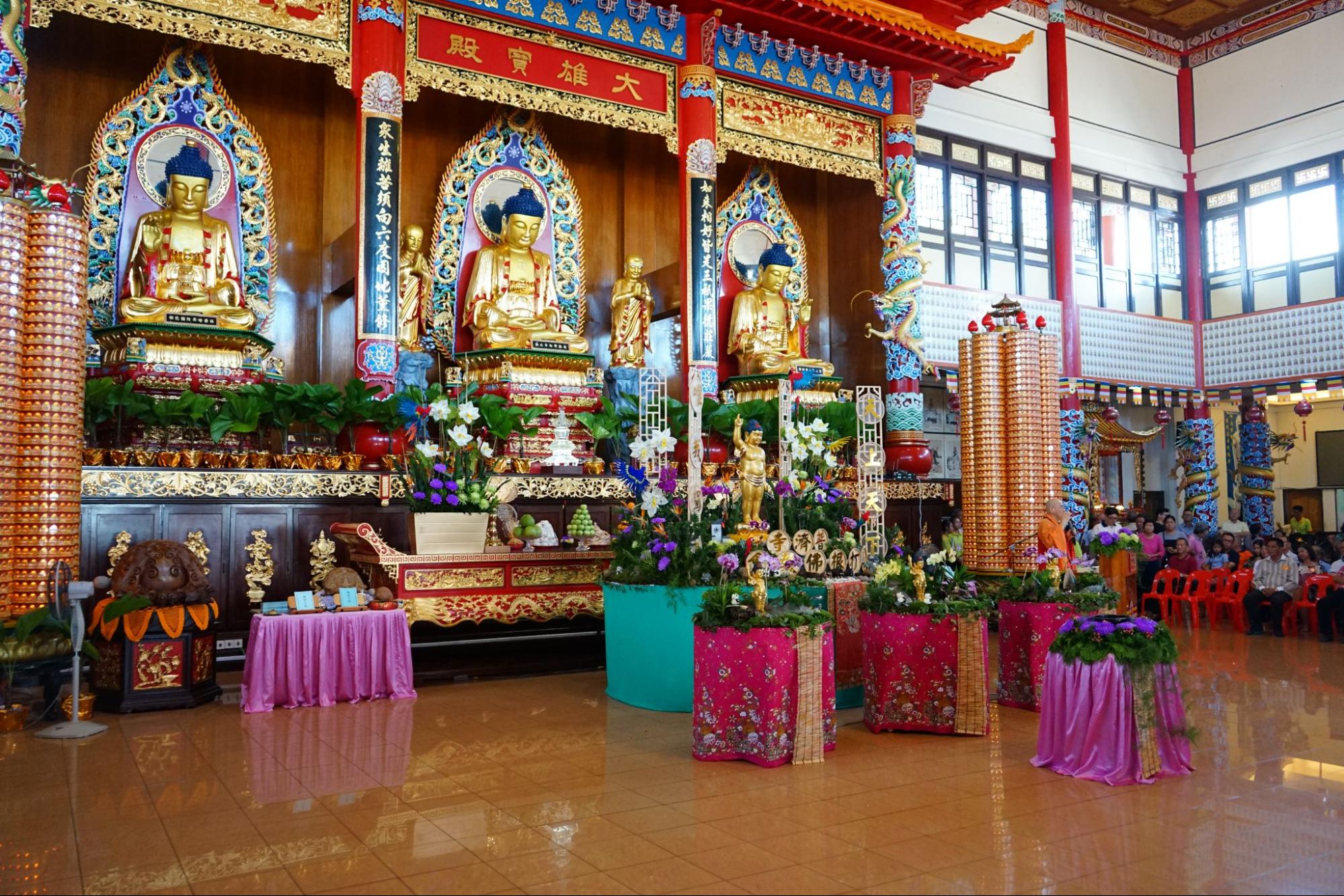 Image credit: Sin Liat Shia
Apart from its local popularity, the temple also made an appearance in the US television series The Amazing Race 4 in 2003, gaining it international exposure. To date, it is the largest Chinese temple in Sandakan and an important religious site for the Buddhist community there.
Address: Puu Jih Shih Temple, 90000 Sandakan, Sabah
Opening hours: 8am-4.30pm, Daily
---
Chinese temples in Malaysia
---
Malaysia is home to plenty of Chinese temples that highlight our country's religious diversity. These marvellous structures are a testament to the fact that different ethnic groups can coexist harmoniously. So, for a better understanding of Buddhist religious practices in Malaysia, pay these Chinese temples a visit, and remember to be mindful of devotees during your time there. 
Read more here:
---
Cover image adapted from: @kaionn.75, Putuo Village 普陀村 and @melborneo_production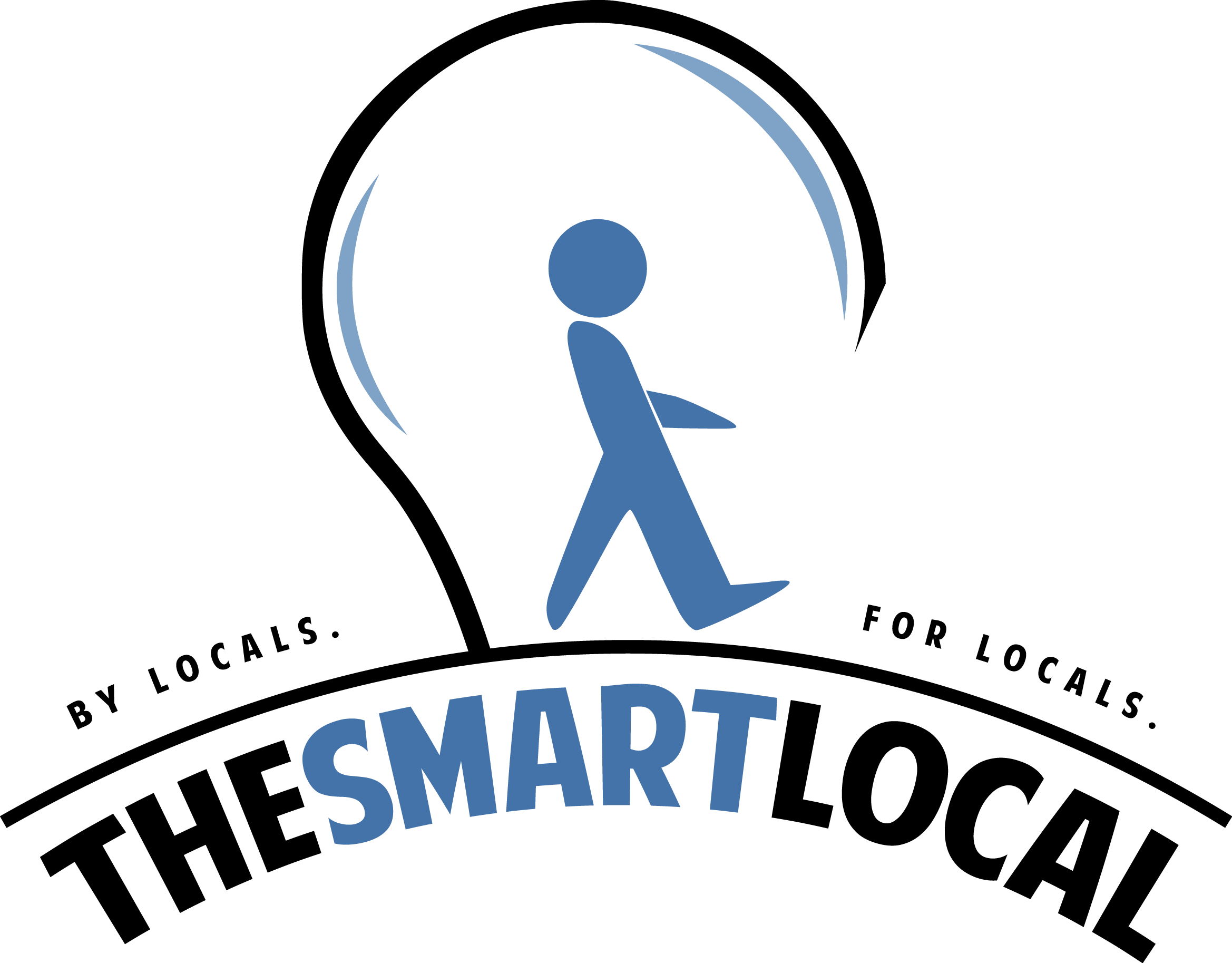 Drop us your email so you won't miss the latest news.