Malaysian creates AR (augmented reality) LRT map 
---
For those unfamiliar with taking public transport, LRT and monorail lines can appear as a complicated web of lines that takes ages to decipher. Even regular public transport riders have stood in front of a station's map, planning their route to get to an unfamiliar destination. 
A Malaysian techie decided to get rid of those woes by implanting an AR (augmented reality) LRT map on his Touch 'N Go card so he can open it up and take a look whenever he needs to. 
---
Augmented reality LRT map on Touch 'N Go card
---
@emlshfy shared his creation on Twitter on 17th August announcing that he made an LRT map appear on his Touch 'N Go card via AR. He humbly acknowledged that the design still needs improvement but said that it would be helpful for those who are lost in the station. 
He tweeted a video of his AR LRT map with the caption, "Made an LRT map appear on my Touch N Go card in AR. Woohoo! Still a bit buggy but helpful if we're ever lost". Because the accompanying video looked really high-tech, his tweet has amassed over 7,000 retweets and 9,000 likes at the time of writing.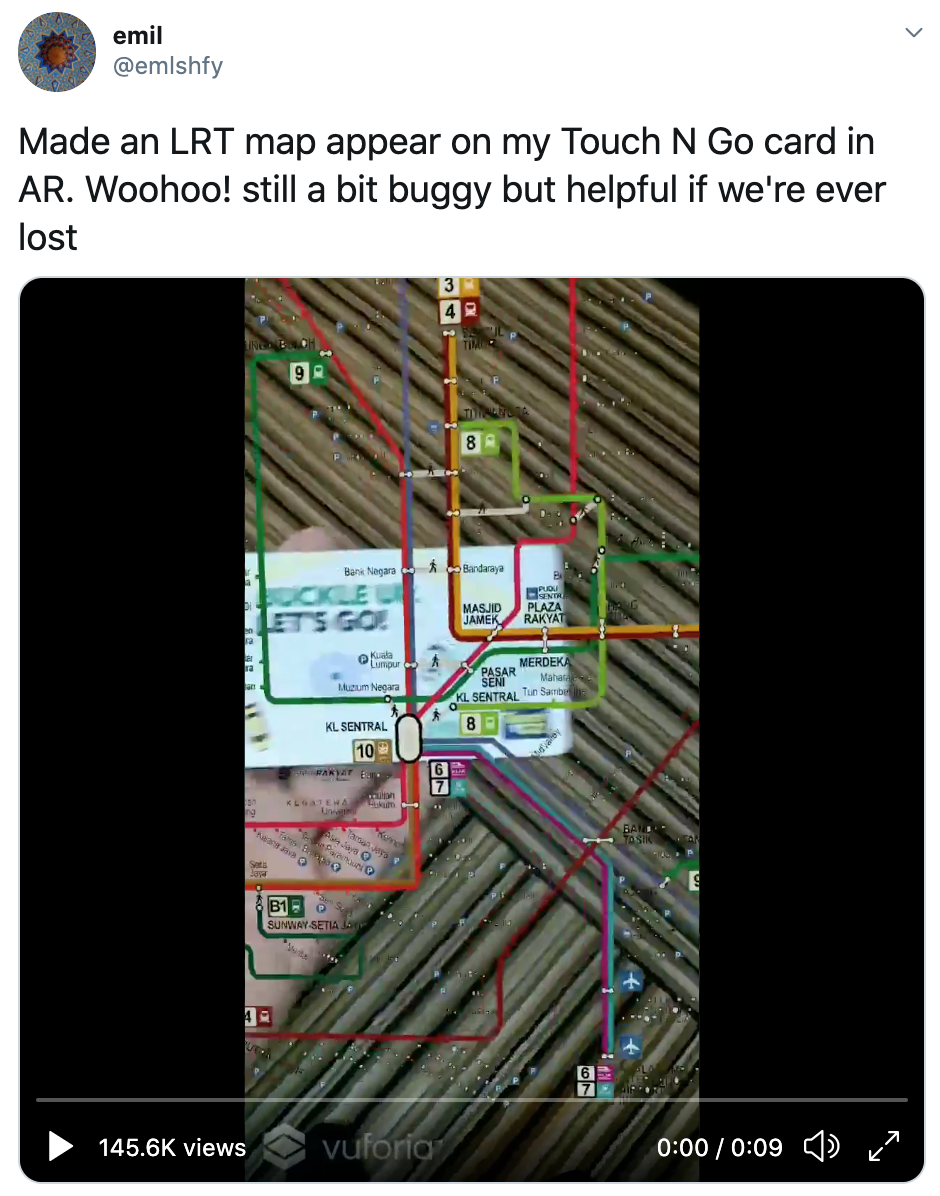 Image credit: @emlshfy
In the video, he demonstrated how the map will appear – complete with all LRT lines, station names, and a guide showing where car parks, transit stations, and buses and airport terminals are located.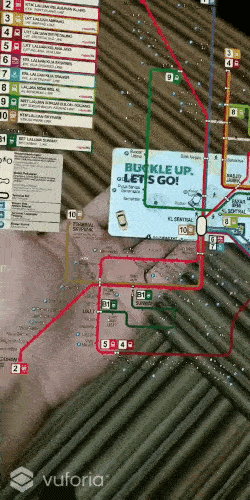 ---
Netizens impressed with his idea and gave suggestions for improvement
---
Most of the replies to the tweet were of netizens expressing their amazement with his work. Many of them even openly encouraged @emlshfy to sell his work to Rapid KL or trademark it for royalty in the future. There were also a few helpful replies from netizens who gave feedback and suggestions on how to further improve the design.
User @Transhallow proposed to attach a geotag to display the user's current location while praising the AR design to be "REALLY SICK". 

Image credit: @Transhallow
Meanwhile, @yuszuri recommended @emlshfy to try to include the whereabouts and time of arrival of a train so that users can plan their route easier.

Image credit: @yuszuri
@wiseupson raised the issue of improving legibility by modifying the lines to appear as needed so the user can pinpoint their destination easier.

Image credit: @wiseupson
---
Malaysians excited for augmented reality LRT map 
---
When one is equipped with the right skills and resources, remarkable ideas can take root, as demonstrated by this Malaysian developer who managed to innovate something that can significantly improve the lives of users. 
Malaysians who replied to the thread were obviously excited to see this augmented reality LRT map made available to the public one day, and what's even better was that they gave constructive feedback for the OP to tweak his design. We hope that we'll be able to see this innovation take root here soon, so we won't ever get lost navigating our train system in future. .
Read more Malaysian news here:
---
Cover image adapted from: @ellaismail8283 and @emlshfy
---
Get more stories like this!
Drop us your email so you won't miss the latest news.