Malaysian artist, Cloakwork, designs mural for cruise ship
---
Cities across Malaysia have become a treasure trove of street art. From places such as the historic streets of Melaka to a hidden alleyway in Kuala Lumpur, street artists have revitalised these areas with splashes of colour in the form of wall murals and painting strategically on everyday things such as a roadside kerb. 
These artwork are not only refreshing to look at, they also prove that Malaysia has some serious local talent. This includes Cloakwork, a graffiti artist and illustrator from KL whose impressive comic book-style works can be seen in many places, from the streets to the walls of AirAsia's headquarters in Sepang.
Recently, he's taken on the challenge of designing a mural for a tourist cruise ship located in Taiwan. And this large-scale project that began in 2019 has finally come to fruition after several hiccups that he faced due to the COVID-19 pandemic.
---
Who is Cloakwork?
---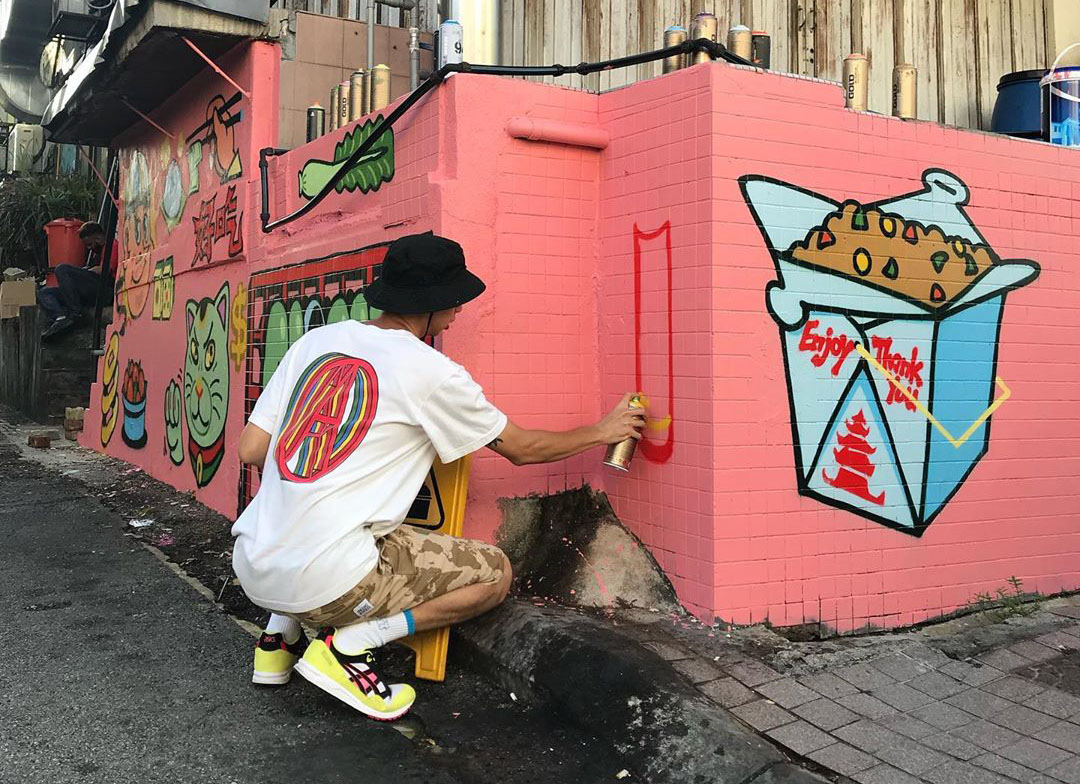 Image adapted from: @cloakwork
In case that you haven't already heard about him, Cloakwork is a Malaysian street artist who has been active in the street art scene since as early as 2013. Whimsical comic-style characters and uppercase letters spelling out his street moniker "Cloakwork" can be found camping out in parking lots and behind billboards around KL, solidifying his place in the local graffiti scene.
His street art, which often takes on social commentary, can now be found in countries across the world too, including Hong Kong, Australia, United Kingdom, South Korea, and Taiwan.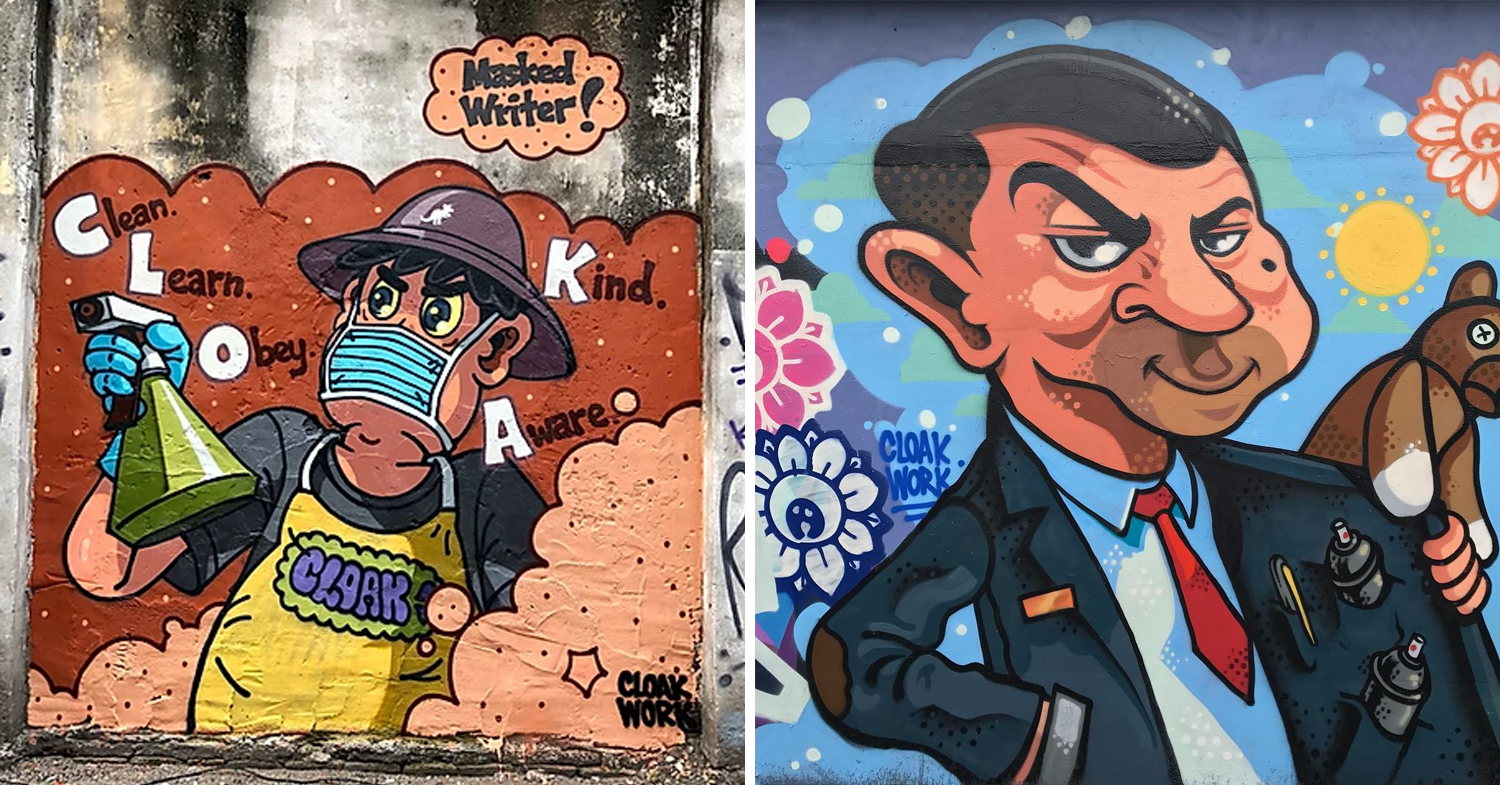 Street art spotted in Malaysia in response to COVID-19, and a cheeky nod to Mr. Bean for a graffiti work in London
Image adapted from: I Am Cloakwork &  @cloakwork

As if that's not impressive enough, Cloakwork has now added a Taiwanese cruise ship to his long list of works that he's done for clients such as HYPEBEAST, Nike Malaysia, and Adidas.
The cruise ship also joins the likes of his other larger-scale projects to date, including his "A Dream Beyond the Skies" mural for the exterior of AirAsia's headquarters called RedQ in Malaysia, and 2 other murals called "Persistence" and "Ambition" that can be found in Taiwan.
---
Cloakwork's cruise ship mural
---
He shared with us in an interview on how the mural for the cruise ship came about, and how a close friend and fellow street artist, Bamboo Yang, helped him complete this cross-country collaboration during the COVID-19 global pandemic.
To give a little background, Yang and Cloakwork founded Wallriors, a public art project, in 2016 and co-runs it. Some of Wallrior's recent works involve giving old buildings in Taiwan a fresh coat of paint, with murals that Cloakwork helps to design.
The cruise ship project first came about when Yang was approached by the Taiwanese government to undertake the sprucing up of a tourist cruise ship in Kaohsiung, Taiwan. He then asked Cloakwork if he wanted to take on the project.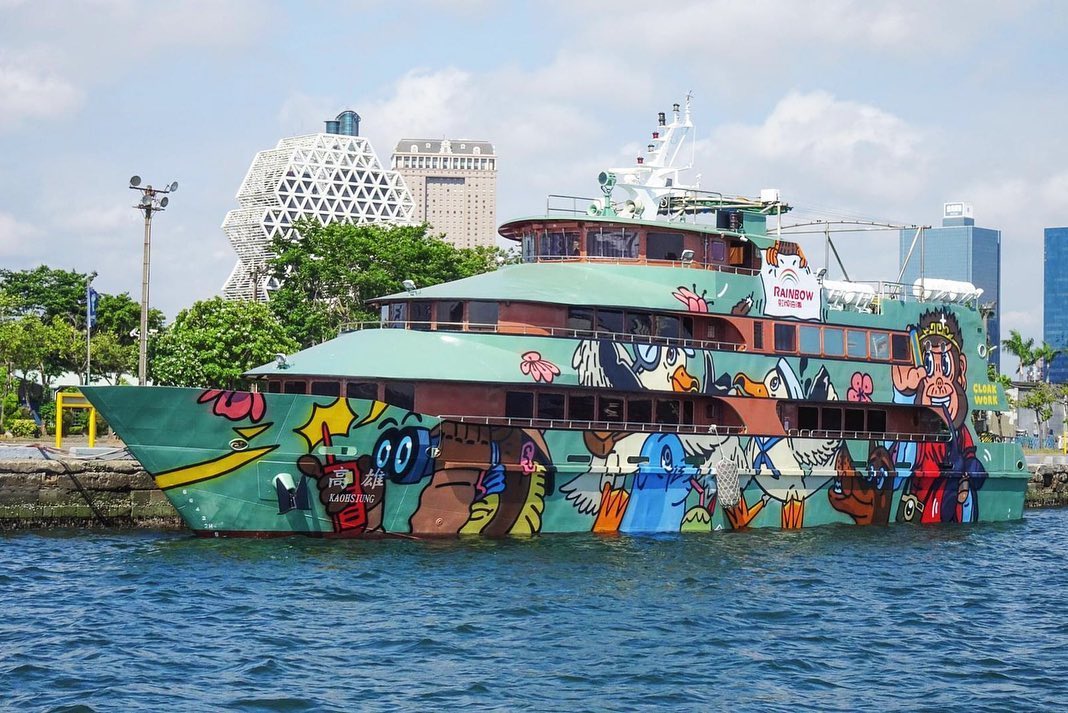 The spruced-up cruise ship
Image credit: @cloakwork
Cloakwork also told us that it took him 2-3 weeks to sketch out the fun, contemporary design, which features land and sea animals. He shared that he was inspired by Dr Dolittle, a titular character from an American fantasy film who is able to communicate with animals.
And while it proved to be the most challenging part of the design, the windows of the ship also became a source of inspiration. The rectangular windows, placed side by side in a row, reminded him of strips of analog film and what it means to connect:
"When I received the cruise ship's blueprint and looked at the windows' shape, it reminded me of [an] analog film strip. I wanted to tell the audience [that] sometimes to connect is to disconnect – be adventurous and explore the outside world, create memories with each other and spread positive vibes."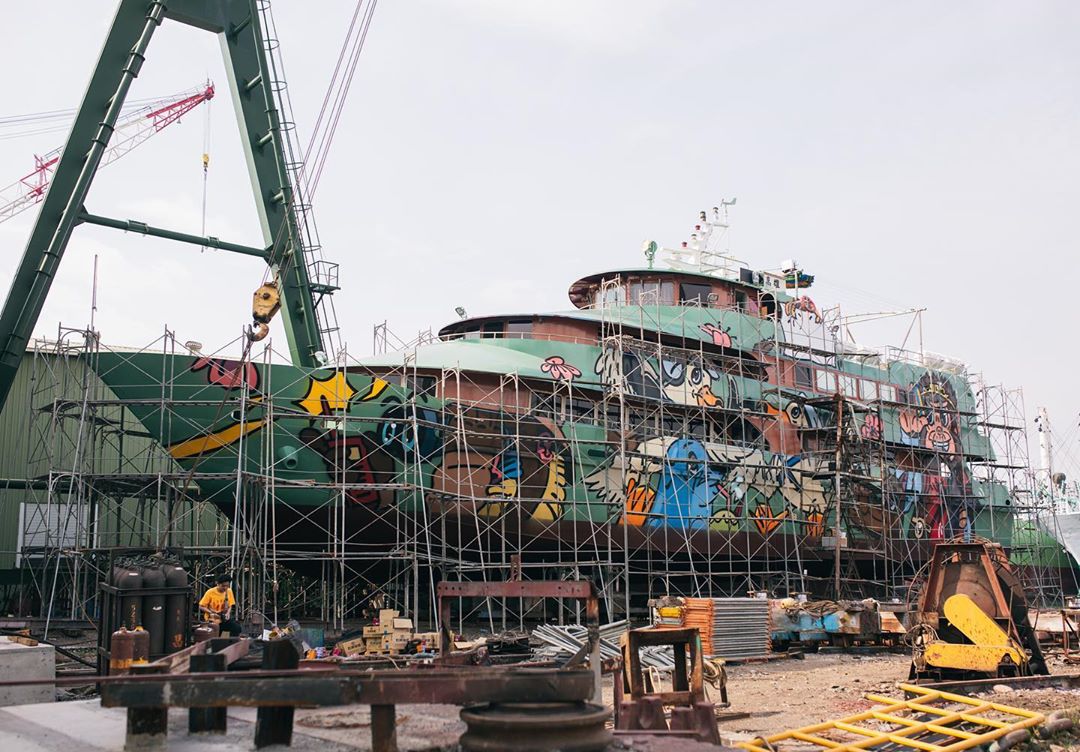 Process of spray painting the ship with Cloakwork's design
Image credit: @bambooyang

Cloakwork had originally planned to fly to Taiwan in April 2020 to oversee the execution of the project himself. But the COVID-19 pandemic put a spanner in the works as the Movement Control Order (MCO) halted all flights and closed our country's borders to help contain the virus. 
But with the help of Yang, and another street artist and close friend, Jian Ting, who were both already stationed in Taiwan, the project was able to be completed on 25th June 2020.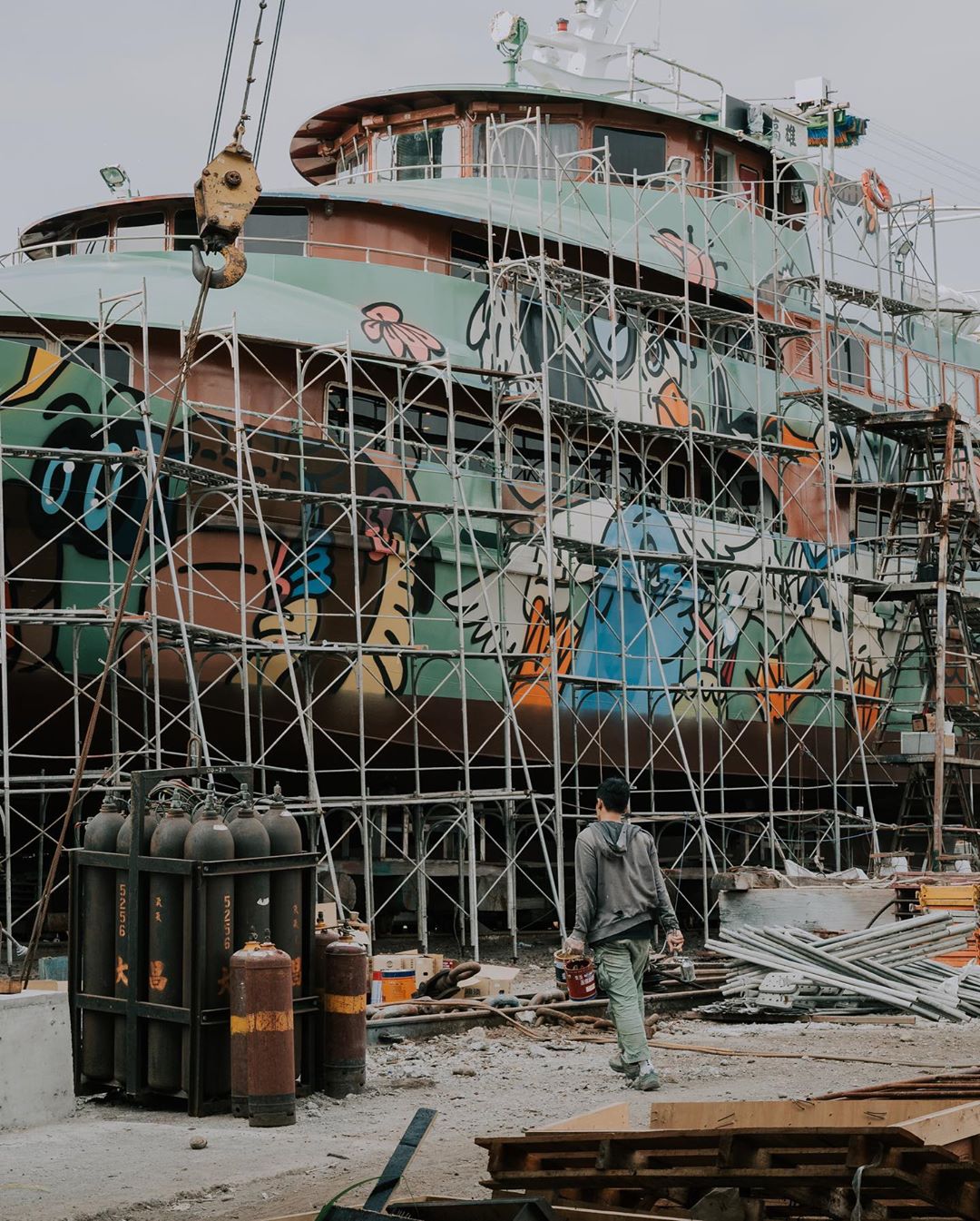 Scaffolding had to be built around the ship to reach its curves and higher areas of the ship
Image adapted from: @bambooyang
A video Cloakwork shared to his official Instagram page, @cloakwork, showed how the green-and-brown cruise ship got its facelift with the help of just spray paint. The video also showed some close-up shots of the process and completed work, to prove just how much work went into the project.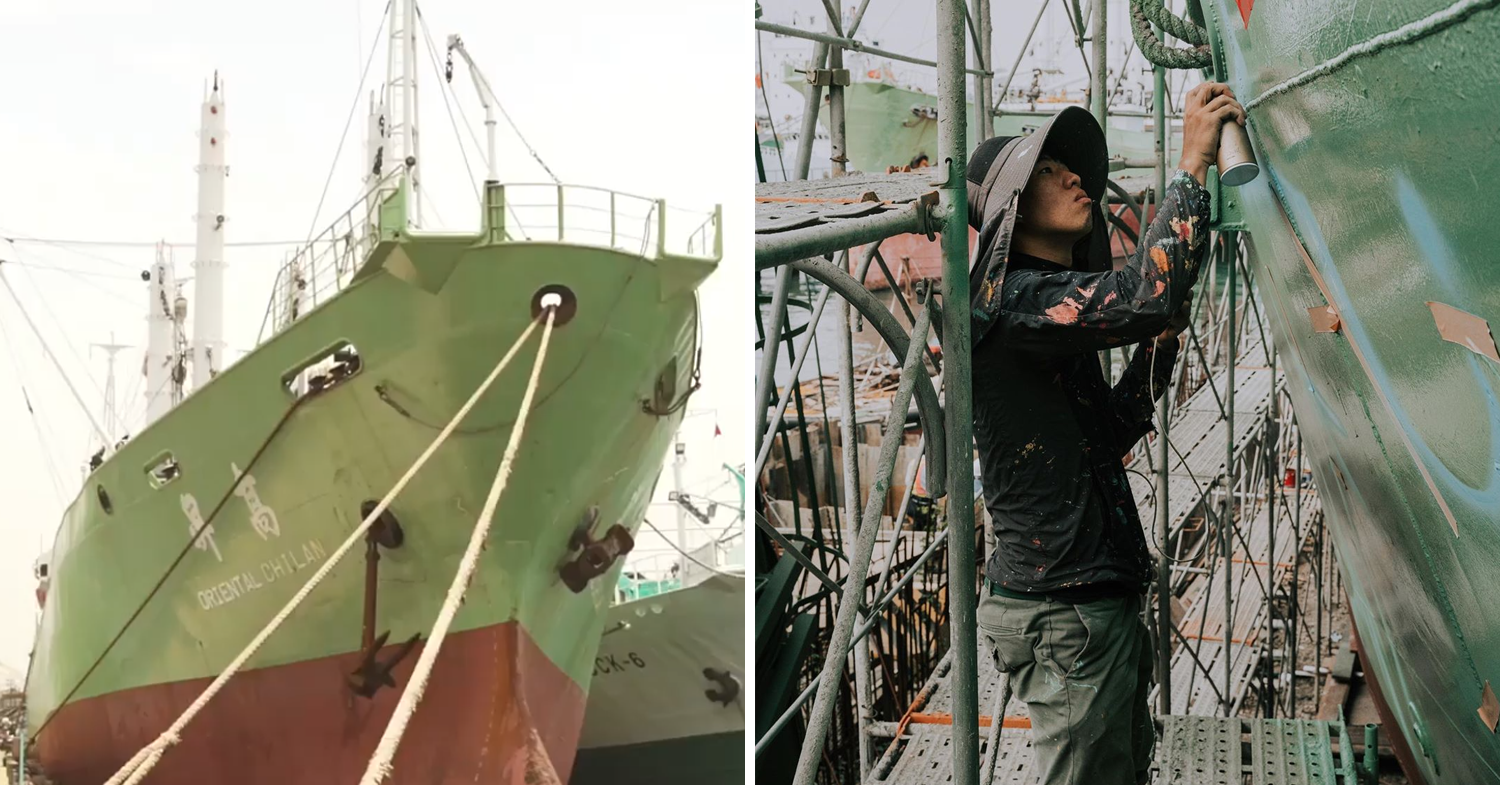 The cruise ship before and during its makeover
Image adapted from: @cloakwork & @bambooyang
---
Cloakwork designs mural for tourist cruise ship in Taiwan
---
It's never easy for creatives such as Cloakwork to let go of supervising a project that's as large-scale as this cruise ship mural. But the COVID-19 pandemic and MCO left him no choice but to allow the project to be carried on without him.
Still, Cloakwork shared in our interview that he's thankful for his friends who have helped him finish the project. And he's even remained productive during the MCO – working on some illustrations of film posters after tackling previously unwatched films, such as Isle of Dogs and Pulp Fiction.
So kudos to Cloakwork for adapting to unwanted changes in his plans without batting an eyelid.
Read more news in Malaysia here: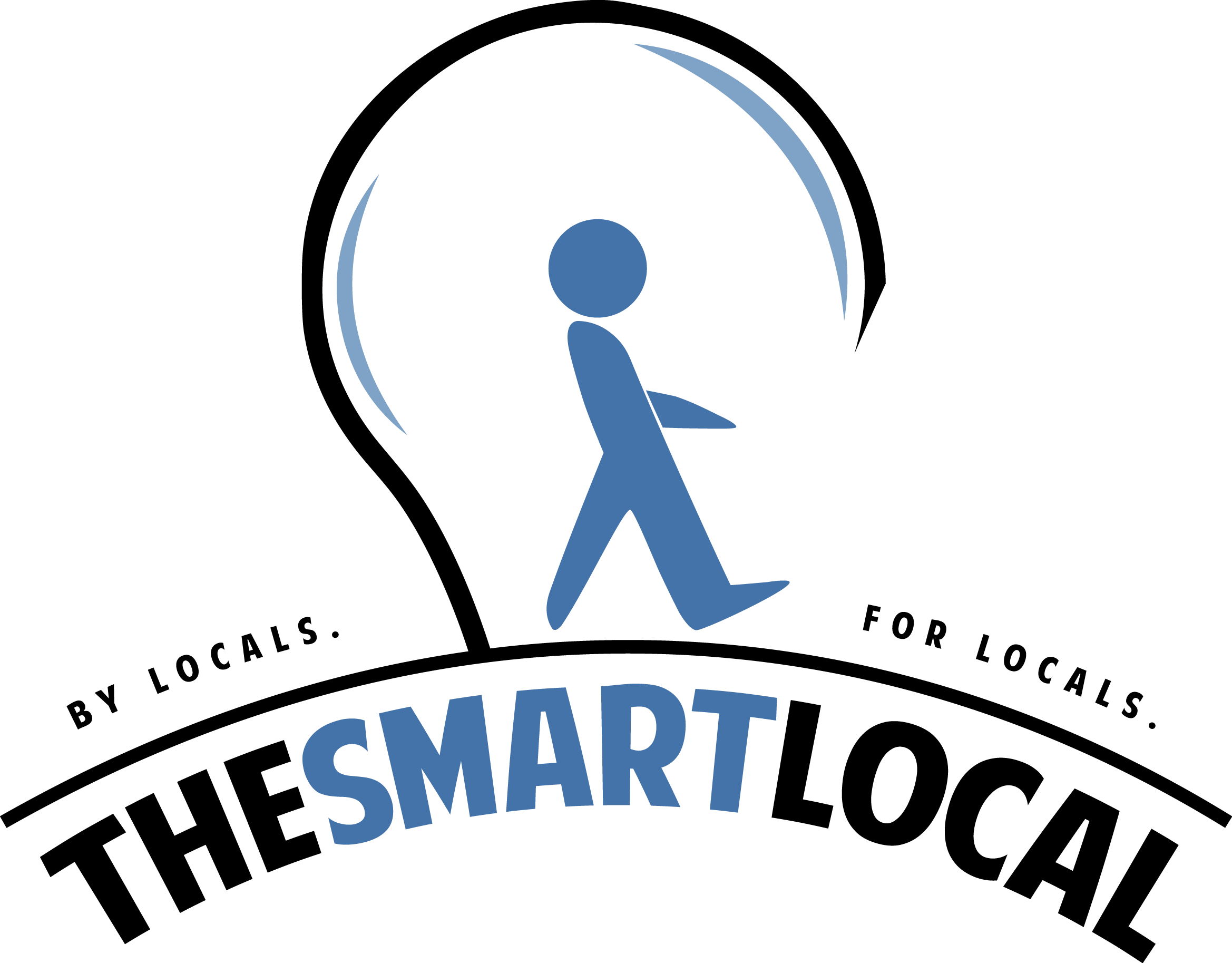 Drop us your email so you won't miss the latest news.