Mercedes steering wheel in a Myvi
---
Myvi has become the unofficial car of Malaysians, as it's one of the most common models on our roads. So it's only natural that those who drive it like to personalise it, such as this woman who converted hers into a "campervan" for just RM500. 
But no matter how much you mod the car, a Myvi is so familiar and dear to us that we can immediately recognise it no matter how obscure the picture is. And this is proven by a fellow Malaysian who posted a photo of a Mercedes logo on a steering wheel with a dashboard that clearly belonged to a Myvi. 
---
Malaysian modifies Myvi with Mercedes steering wheel
---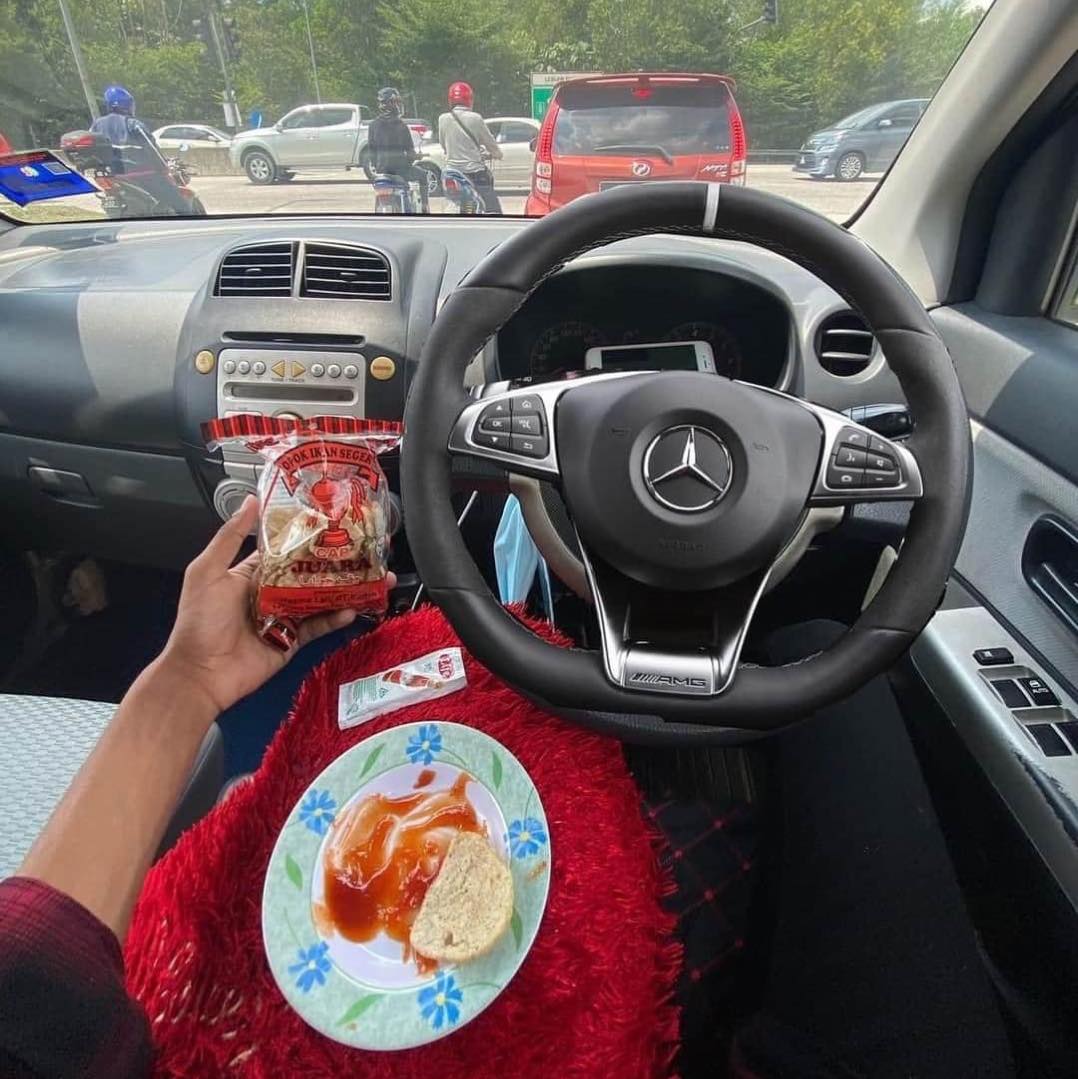 Image credit: Himpunan Cerita Lawak
On 31st July, a picture of a person sitting in a car with a bag of chips and a plate of food was uploaded onto the Facebook page of Malaysian website Himpunan Cerita Lawak. The photo, which came accompanied with the caption "I love these chips", seemed to have been taken in a Mercedes-Benz, as seen by the logo on the steering wheel. 
At first glance, it may come off as a humble brag of someone trying to show off their luxury car, but upon further inspection, netizens were quick to identify the Myvi's dashboard in the background. 
Users then started flooding the comment section by submitting their own creative versions of "atas" steering wheels all in the name of good humour in the post that has since gone viral with over 4,000 reactions and more than 300 shares at the time of writing.
---
Netizens come up with creative steering wheel modifications
---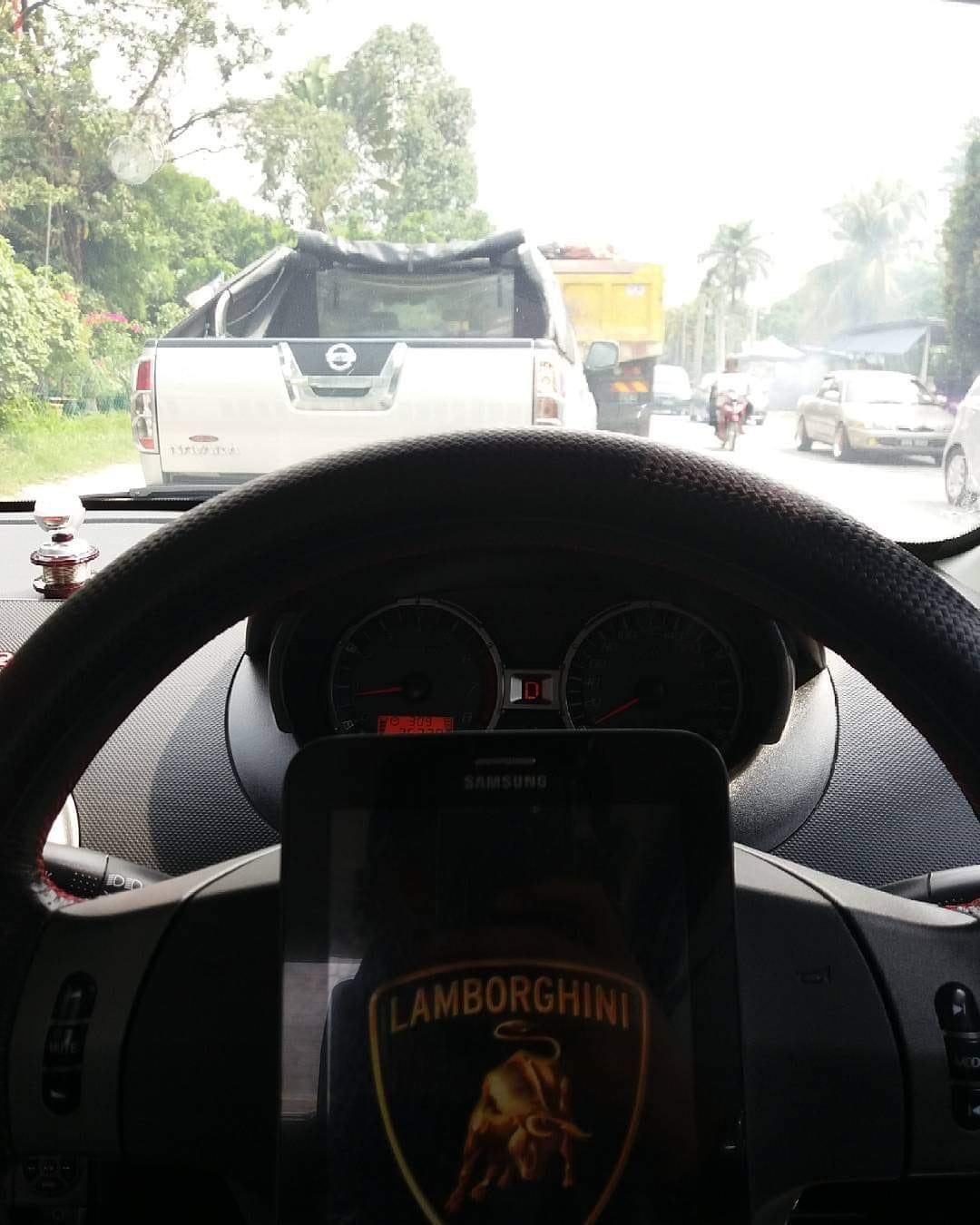 Image credit: Ahmad Radhi Rossidin
One of the hilarious steering wheel "modifications" that netizens shared in the comments section in the original post was from Facebook user Ahmad Radhi Rossidin. By holding up his tablet, which had a picture of a Lamborghini logo on it and placing it against his steering wheel, he showed that while not everyone can afford luxurious cars, we can make do with a little creativity. 
He did acknowledge in the caption that he couldn't step on his accelerator as he was stuck in a jam, captioning the photo "jem2 braya ni mmg x dpt tekan minyak."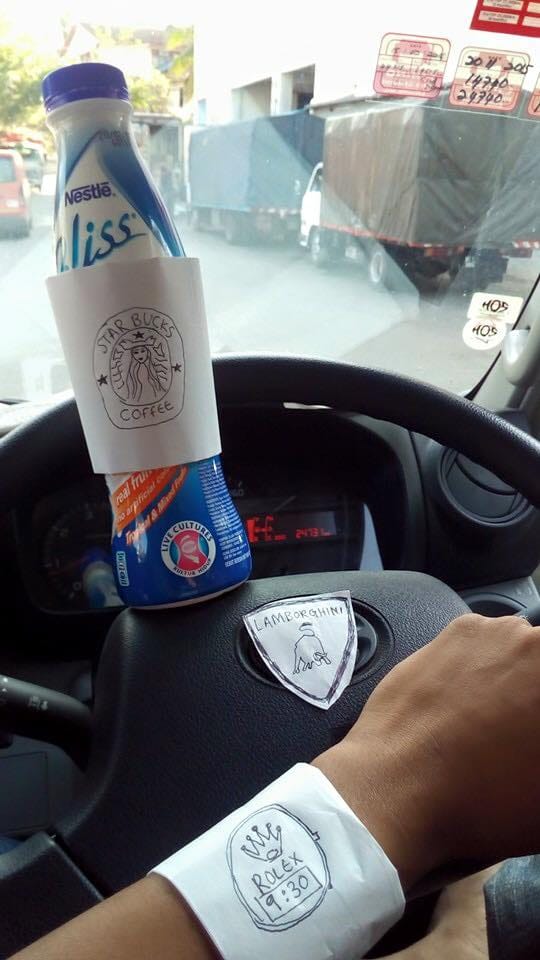 Image credit: Din Amran
Keeping with the theme, netizen Din Amran decided to go beyond just "modifying" his steering wheel with a hand-drawn Lamborghini logo. He added on a hand-drawn Rolex watch and Starbucks coffee, to complete the atas look as well.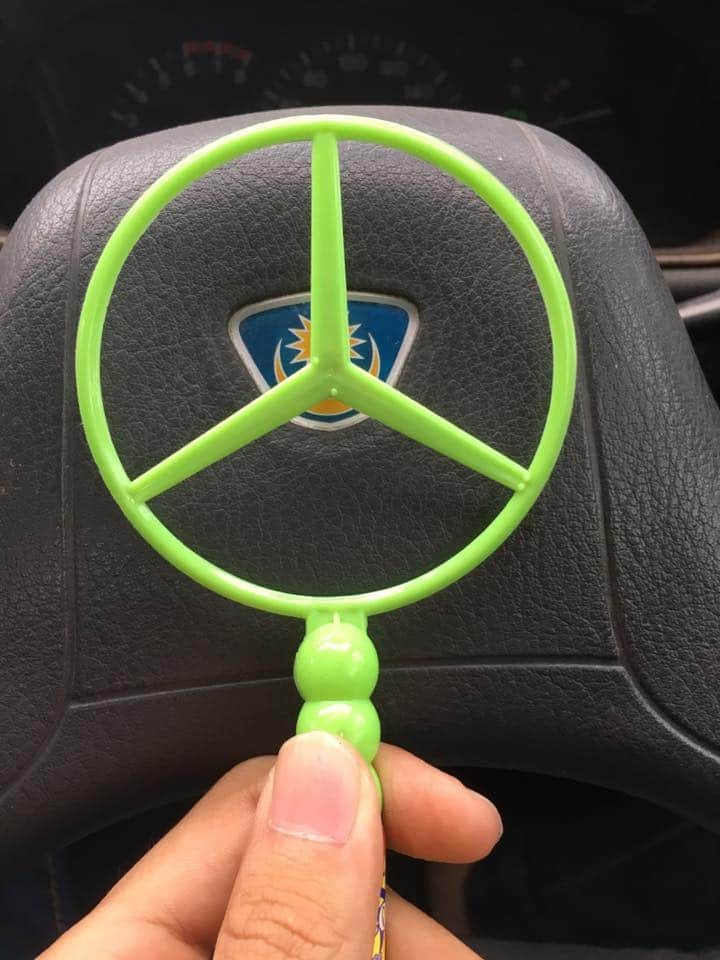 Image credit: Wei Kiat
Meanwhile, another commenter Wei Kiat displayed his innovation with a makeshift Mercedes logo using a plastic prop. 
---
Bringing it to the next level with other vehicles 
---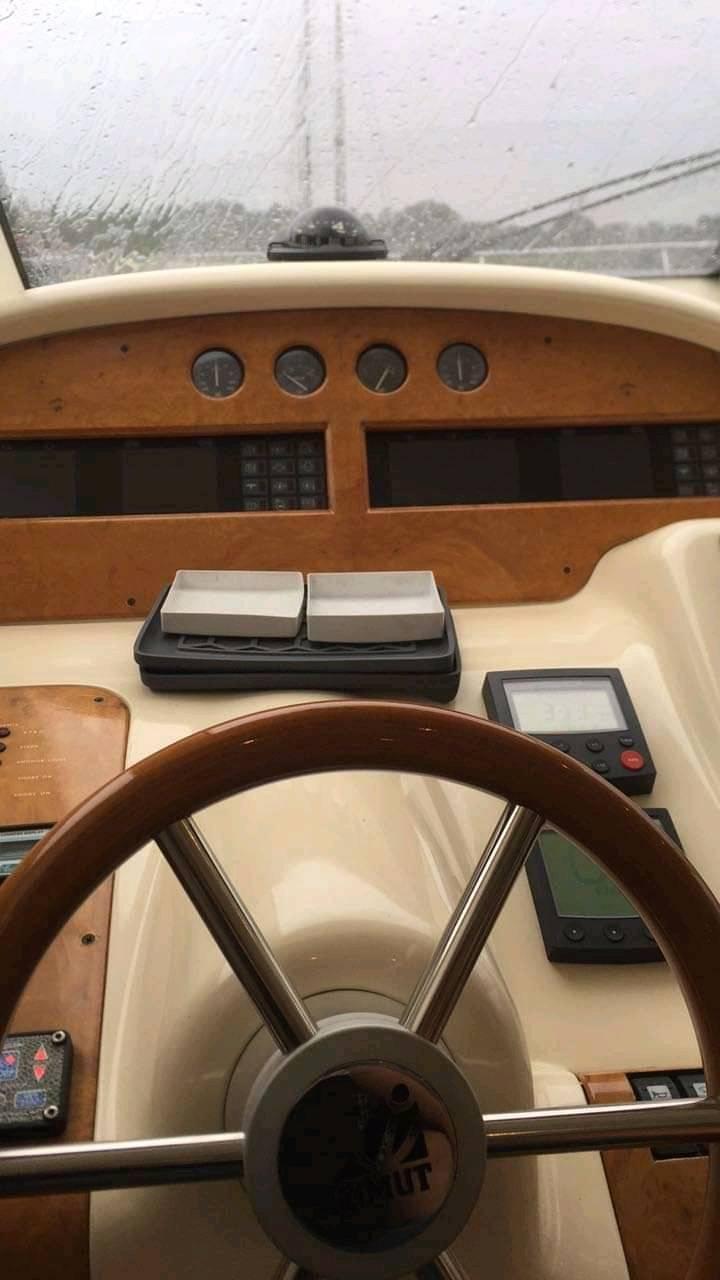 Image credit: Sufian Hadi
The joke didn't stop there as some commenters tried to play along with other modes of transport, including this photo of a yacht posted by Sufian Hadi. He accompanied it with the caption, "There's road traffic, I'll travel on sea instead", presumably in response to Ahmad Radhi Rossidin's caption.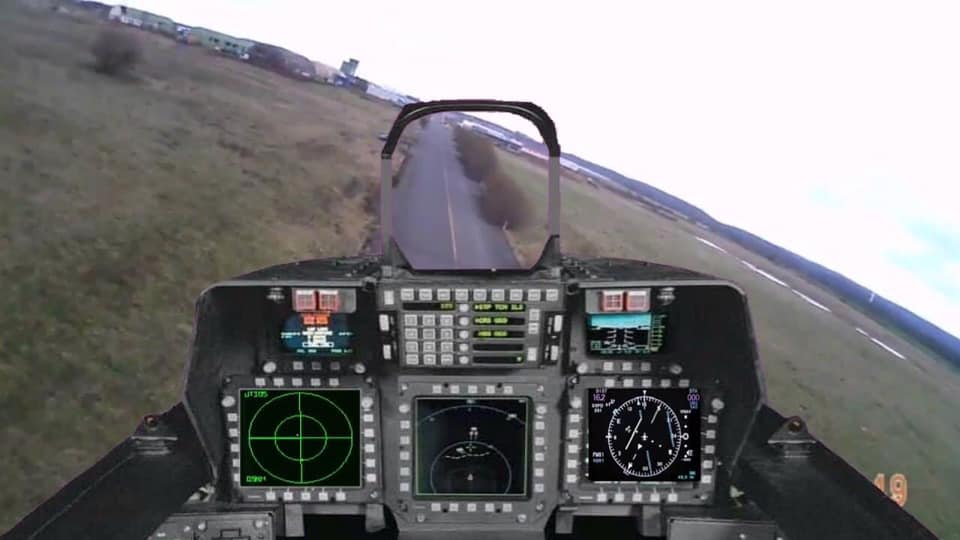 Image credit: Mohamad Syamsul
Mohamad Syamsul was quick to chime in with a photo of what looked like an airplane controller, also followed by a witty caption stating, "There will never be congested traffic up here."
---
Atas "modifications" of cars and other transportation vehicles
---
Some are speculating that the original photo of the Mercedes steering wheel in the Myvi may be edited, but regardless of the intent of the post, it definitely garnered a lot of laughs while showing us that Malaysians are a creative bunch when need be. 
For other funny Malaysian news, check these out: 
---
Cover image adapted from: Himpunan Cerita Lawak
---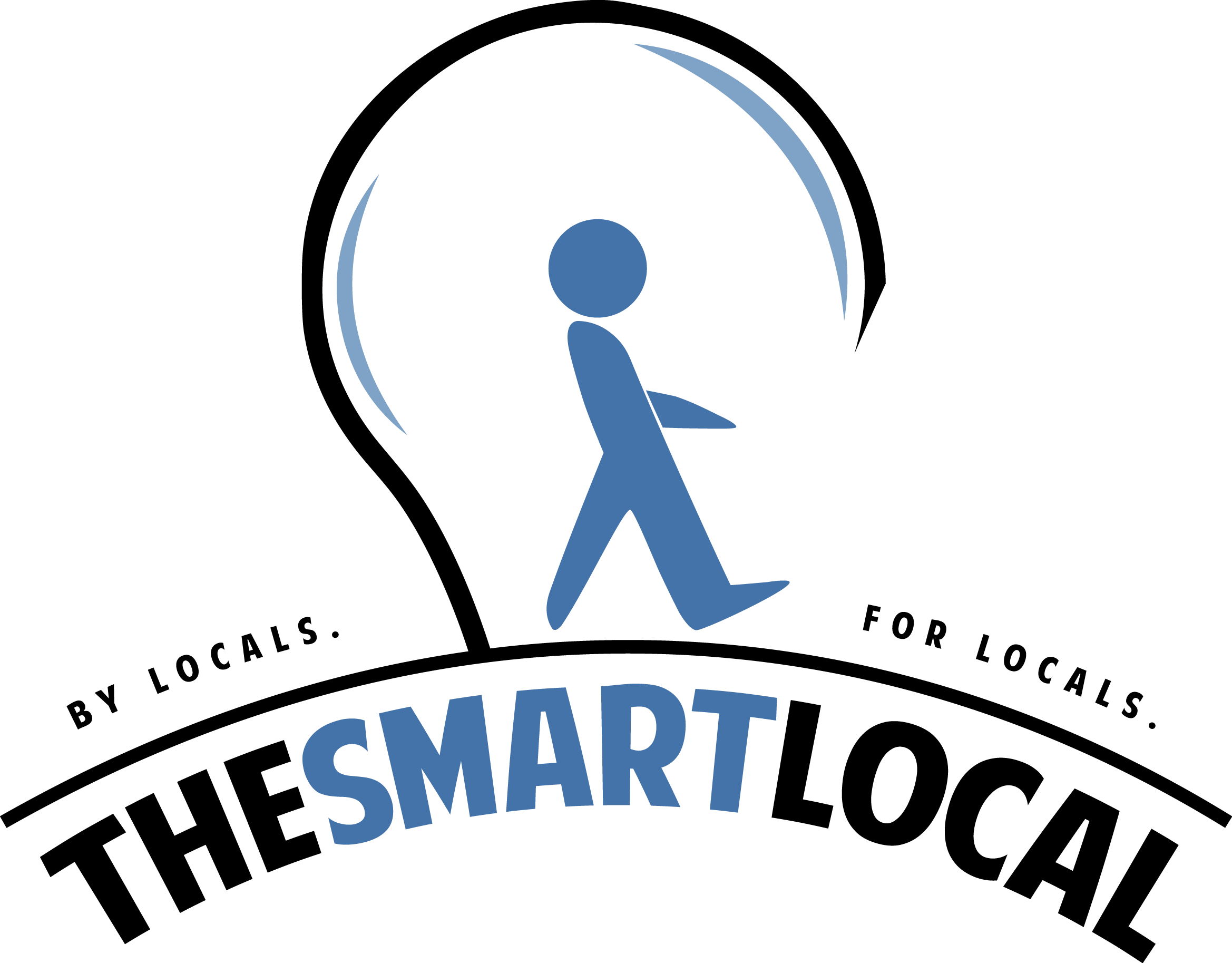 Drop us your email so you won't miss the latest news.