Stunning bridges in Malaysia
---
Malaysia is blessed with awe-inspiring architectural marvels – its spectacular bridges are no exception. These structures not only serve as vital transportation links, they also hold historic importance and have become landmarks across our locales. 
From the bustling metropolis of Kuala Lumpur to the pristine waterfront of Kuching, we've compiled a list of 10 spectacular bridges in Malaysia that you should know about and cross at least once in your life.
---
1. Guillemard Bridge, Kelantan – one of the oldest railway bridges
---

Image credit: @wazari_wazar via Instagram 
Tucked away in Kelantan, Guillemard Bridge is a historical gem constructed during the British occupation of Malaysia, between May 1920 and July 1924. The 600m steel bridge stretches across the Kelantan river, allowing both trains and motorists to travel between the towns of Kuala Krai and Dabong. 

Image credit: @kamero.meng via Instagram
Named after the British Governor Sir Laurence Guillemard, the single-track railway bridge features a double-intersection and is the second oldest railway bridge in Malaysia – it's also often referred to as the longest railway bridge in the country.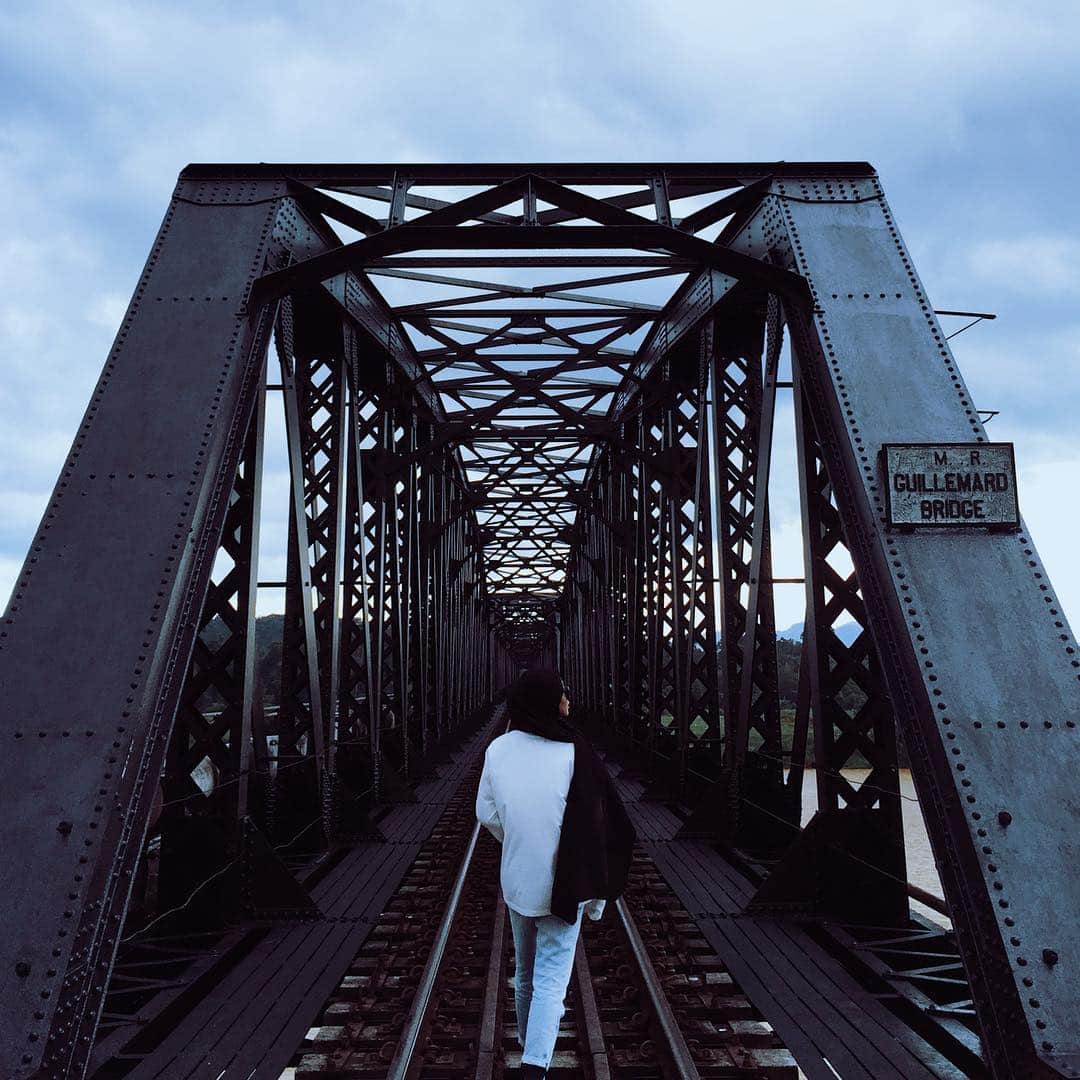 Image credit: @alifahxy via Instagram 
Surrounded by lush greenery, the all-black bridge is a must-visit for history enthusiasts and nature lovers alike. In 1941, part of the bridge was destroyed by the British Armed Forces to prevent the Japanese army from advancing – the bridge was later refortified and reopened seven years later. 
Today, those hopping on the Jungle Railway will get to journey across the bridge.
---
2. Kuala Terengganu Drawbridge, Terengganu – first drawbridge in Southeast Asia
---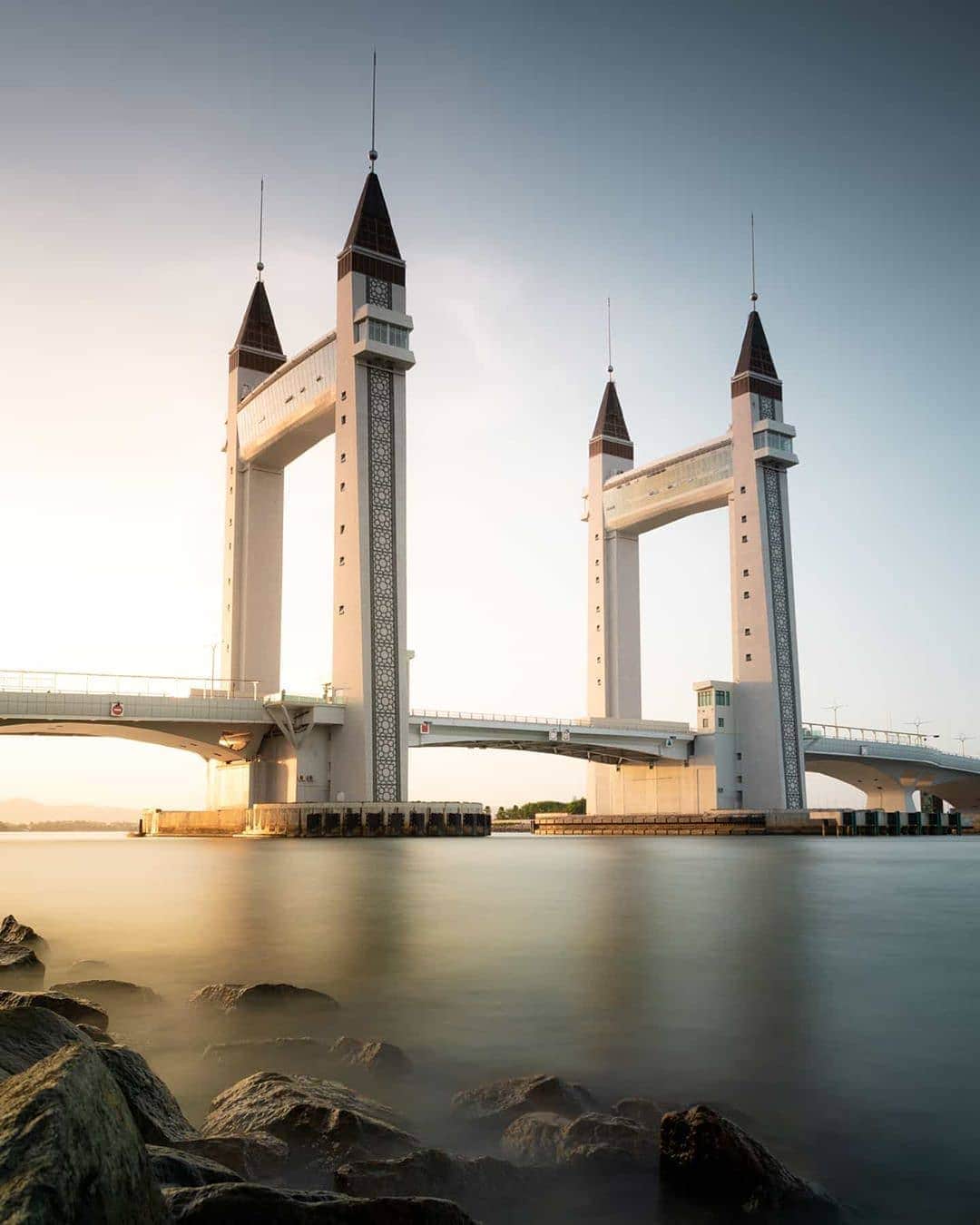 Image credit: @terengganudrawbridge via Instagram 
Known in Malay as Jambatan Angkat Kuala Terengganu, the Kuala Terengganu Drawbridge is the first drawbridge in Malaysia that's a fascinating blend of modern engineering and traditional design. 
Located in Kuala Terengganu, this unique bridge allows boats and ships to pass through its middle section when the bridge is raised. Stretching 638 metres in length, the bridge is said to be the first of its kind in Southeast Asia, costing RM248 million to build.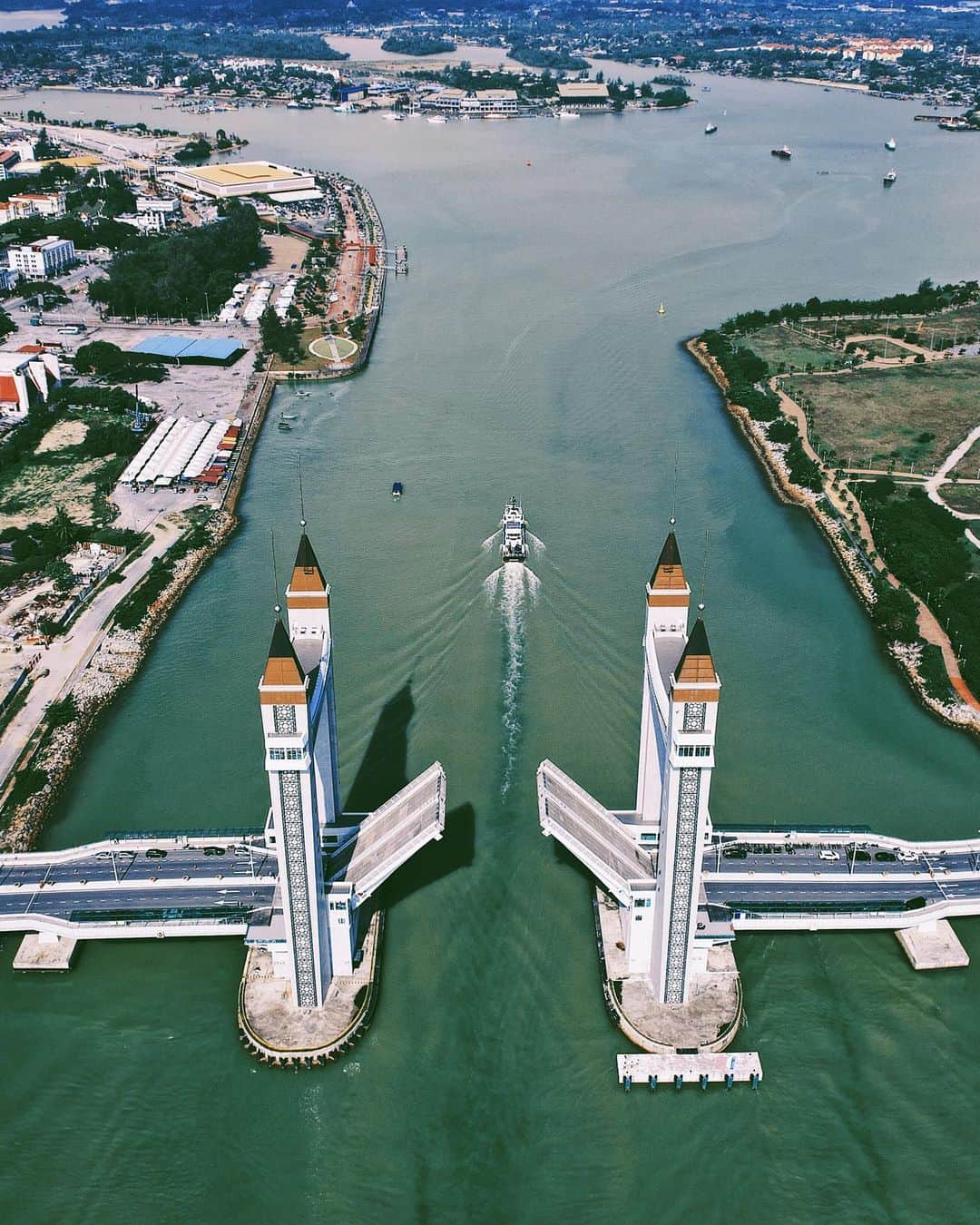 Image credit: @naaim.cx via Instagram
Connecting Kuala Terengganu to Kuala Nerus, the bridge features two tall elegant towers that resemble a traditional Malay wau bulan, paying homage to the local cultural heritage. Some locals also say it resembles the London Tower Bridge in London, England – sure enough, its design was indeed inspired by this iconic bridge. 
There are two sky–bridges that connect the towers. Visitors can opt for a visit to walk across the glass-floored bridges, watch as the bridge lifts at specific times in the day, and learn more about the bridge at a gallery, with tickets priced from RM5.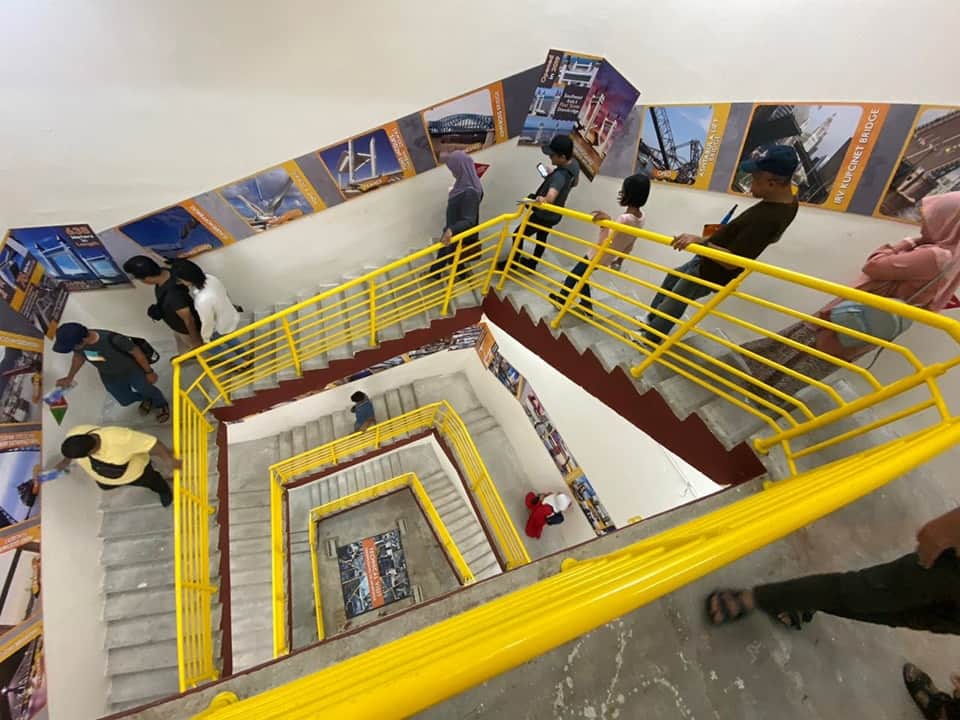 Image credit: @terengganudrawbridgeofficial via Instagram 
---
3. Darul Hana Bridge, Sarawak – a S-shaped walkway
---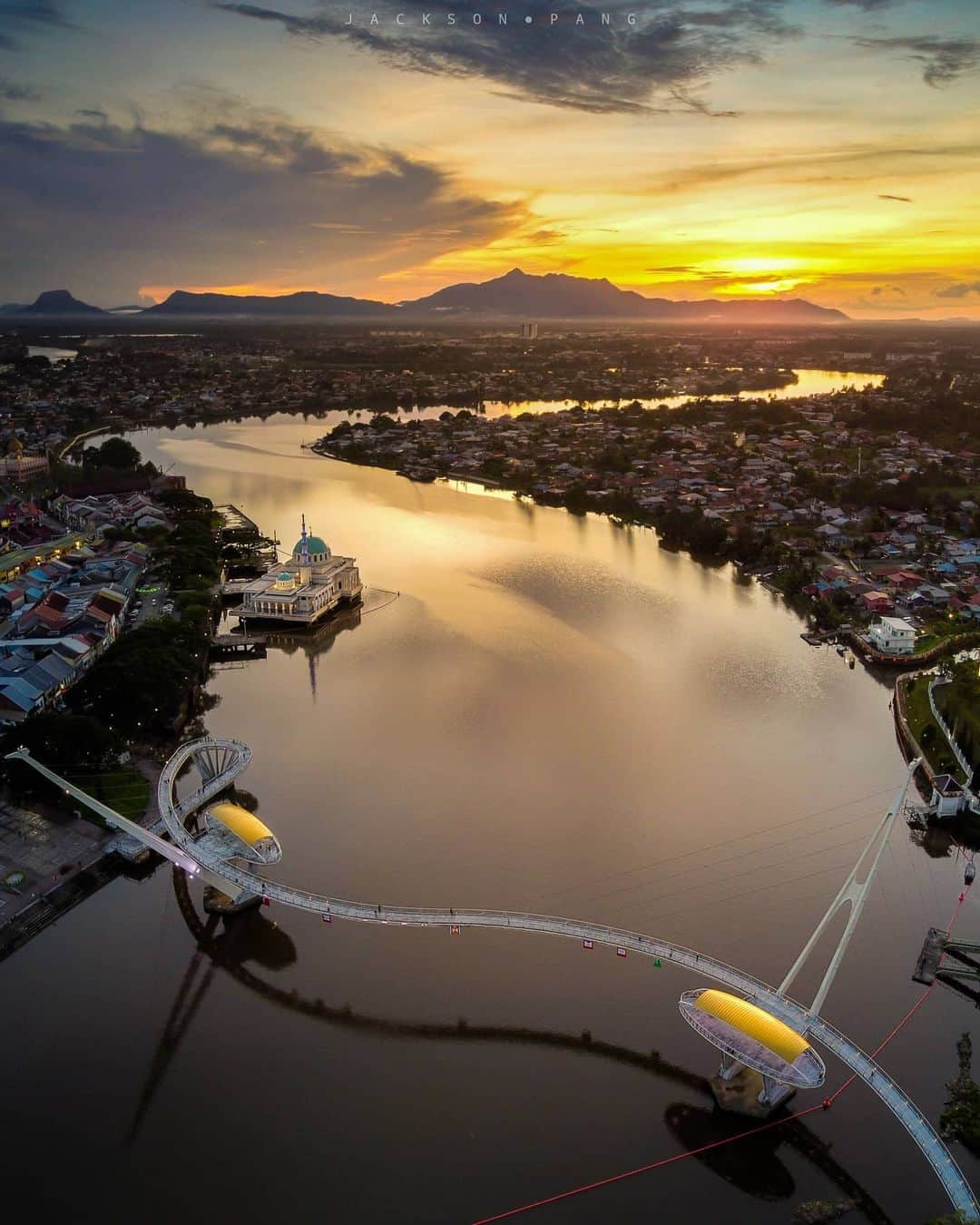 Image credit: @jacksonpang5077 via Instagram 
Extending across the Sarawak River in the heart of Kuching, Darul Hana Bridge is a symbol of unity and harmony. Its name translates to "Abode of Peace" in English, reflecting the bridge's purpose to connect people and communities.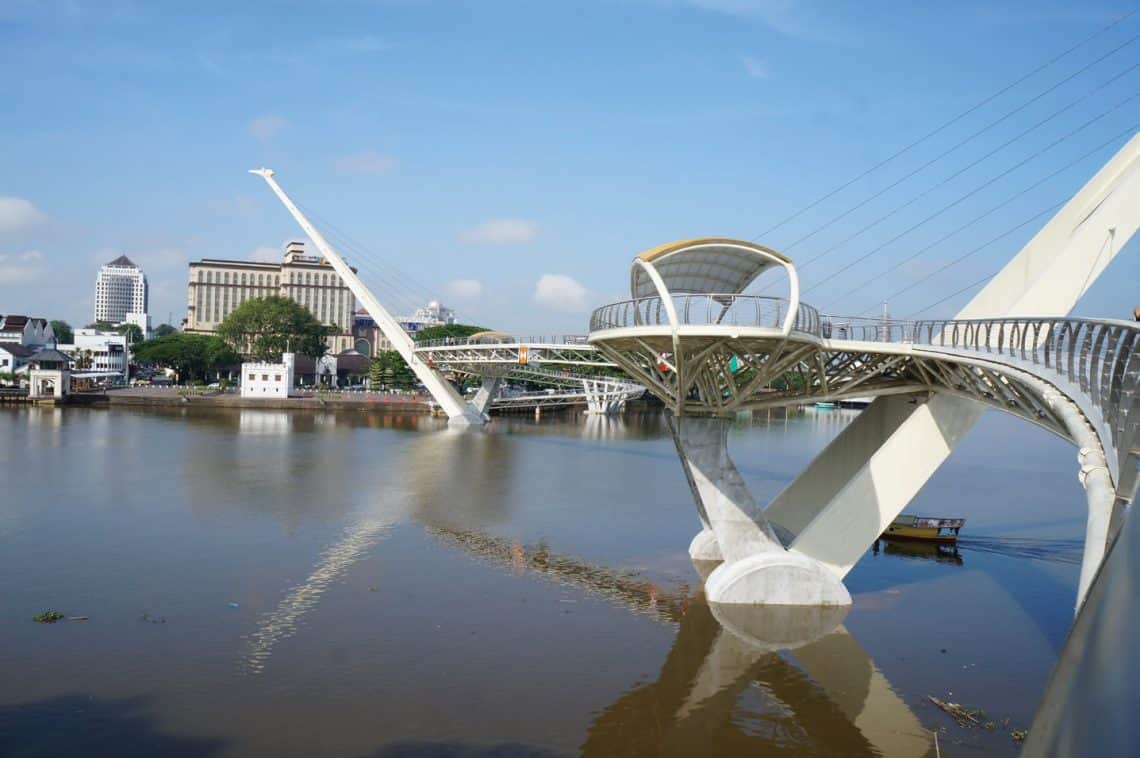 Image credit: Construction Plus Asia
The bridge, which was completed in November 2017 and cost RM35 million to construct, features a unique S-shaped design. Its walkway stretches 3.25m-wide and 335m-long, and is accessible to the able-bodied and those with disabilities alike because of its gradual incline and absence of steps. 
There are also two egg-shaped viewing platforms, where visitors can head to for a bird's eye view of the Kuching Waterfront. While under the covered decks, you can catch a glimpse of how the angled wires and towers and cables resemble the wings of a traditional Bidayuh bamboo bridge and a stylised hornbill respectively.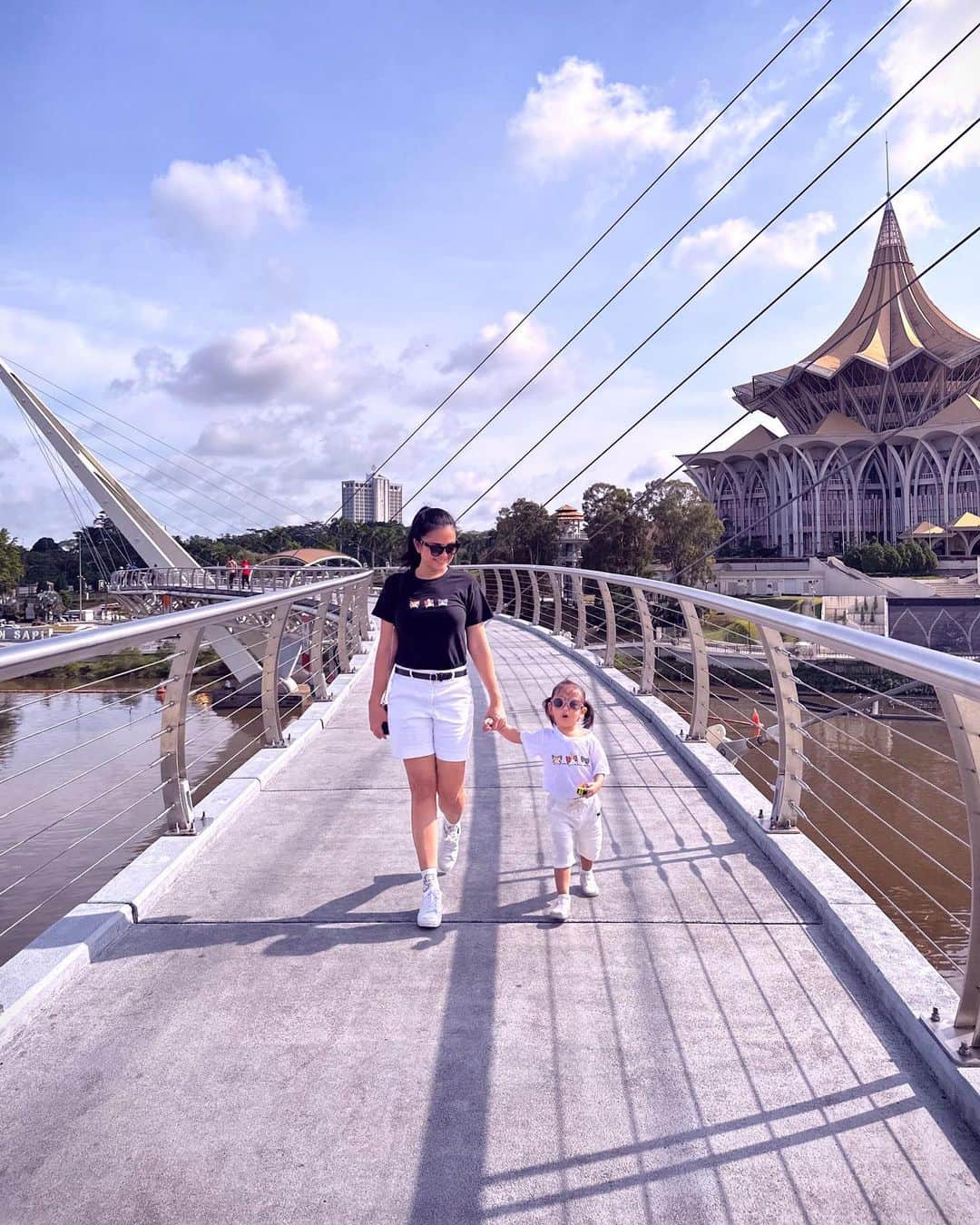 Image credit: @shewalkstheworld via Instagram 
The bridge is also strategically located across Plaza Merdeka Mall, so you can enjoy a leisurely stroll while enjoying the breathtaking views of the north and south banks of the Kuching River. 
---
4. Saloma Bridge, Kuala Lumpur – an illuminated bridge in the heart of KL
---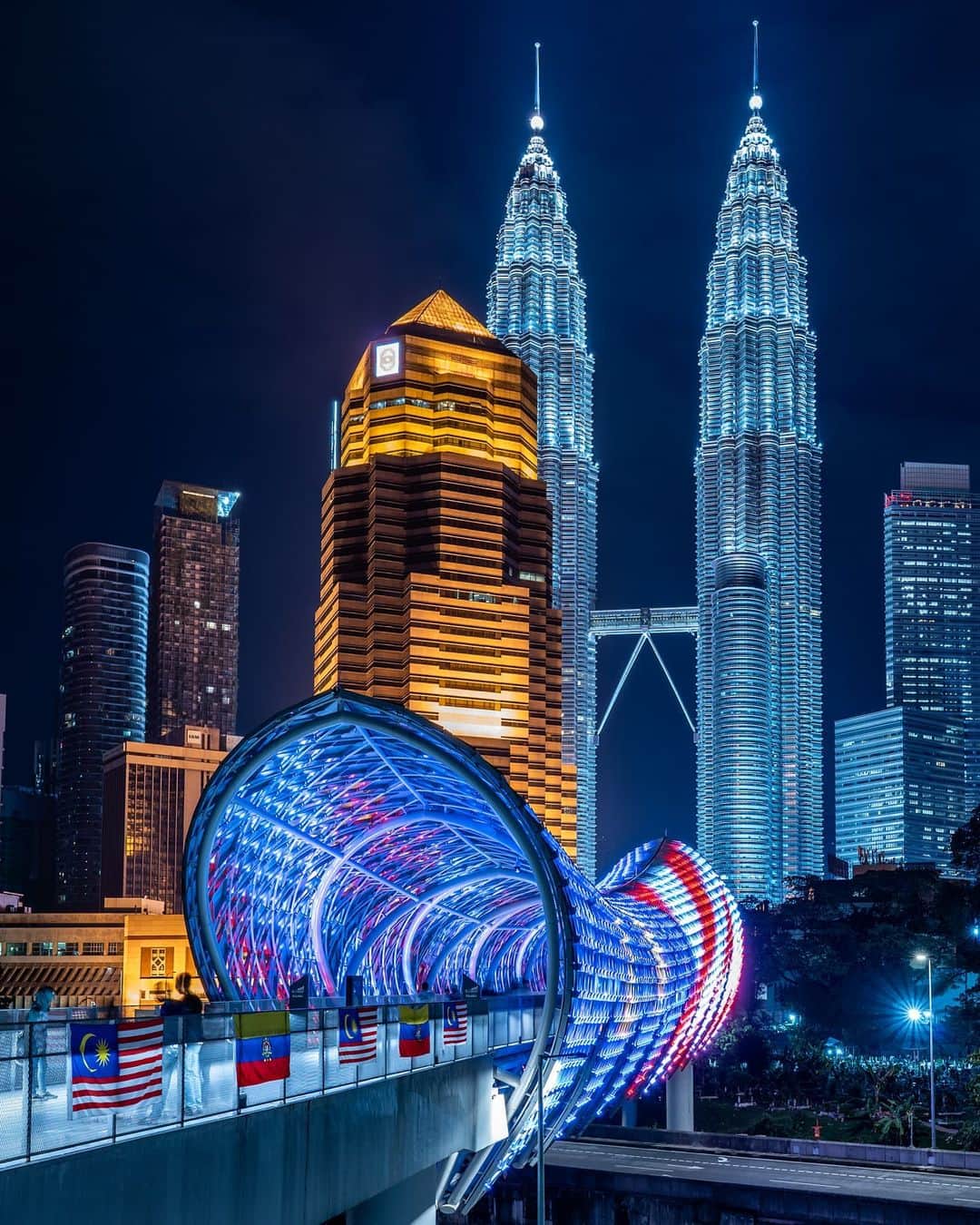 Image credit: @saifulchin via Instagram 
Named after the legendary Singaporean-Malaysian songstress, Saloma Bridge needs no introduction to folks living in and near Kuala Lumpur. This stunning interlink pedestrian bridge serves as a centrepiece in the heart of KL, stretching across the Klang River.
At night, the bridge's exterior glows with brilliant lights, illuminating the roads below. And from atop, its form resembles a rolled betel nut leaf, or sirih junjung.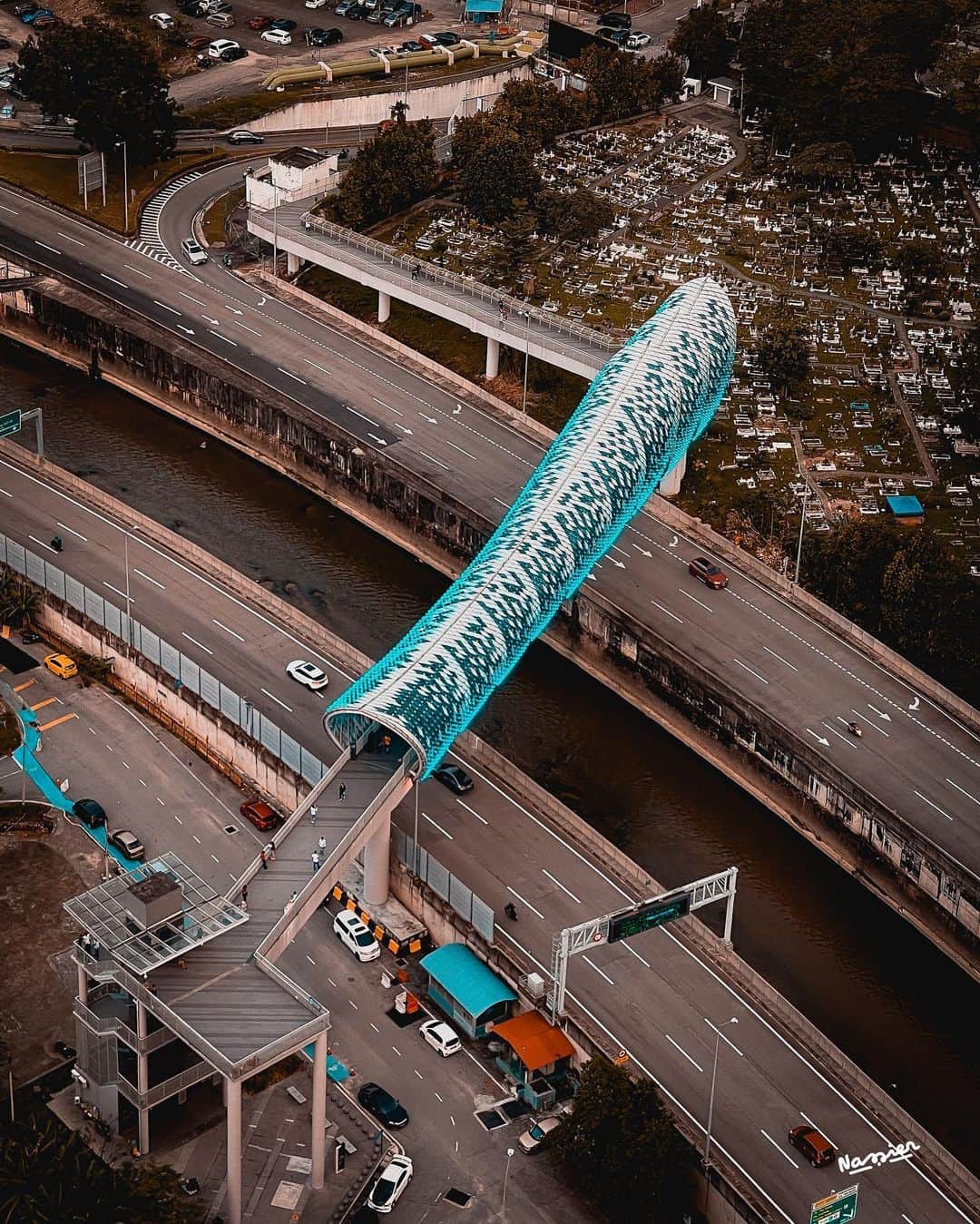 Image credit: @nassier_ulwan via Instagram
Offering visitors stunning views of the city's skyline and surrounding landmarks like the Petronas Twin Towers from its walkway, the bridge is the perfect spot to head to for an evening stroll.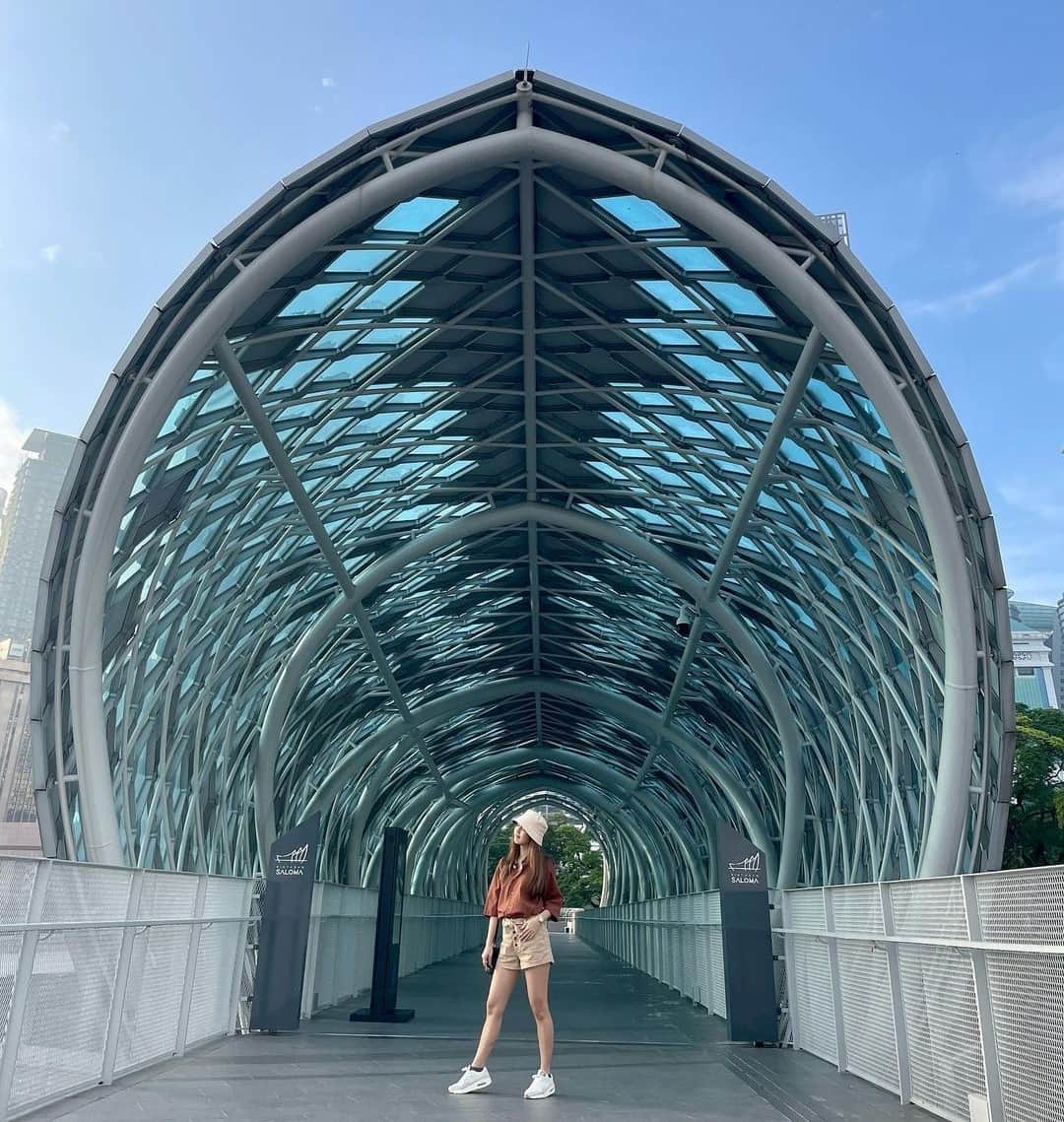 Image adapted from: @juliesntq via Instagram 
With its contemporary design featuring beautiful curved elements, this bridge is also a hotspot for shutterbugs looking to snap some pretty photos. 
---
5. Seri Wawasan Bridge, Putrajaya – cable-stayed bridge with a soaring pylon
---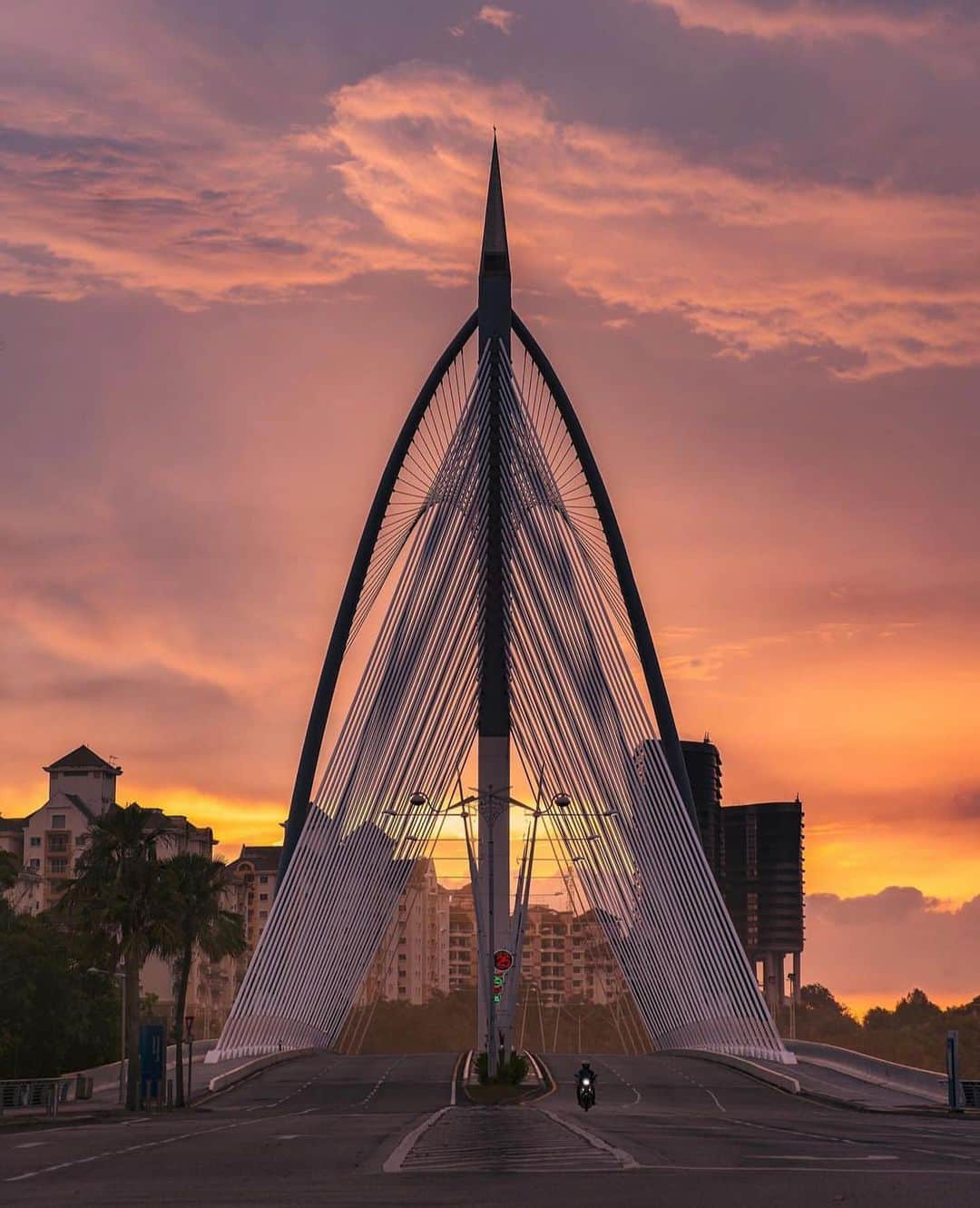 Image credit: @kualalumpurcity via Instagram
Among the many things to do in Putrajaya, checking out its eye-catching bridges is often recommended by locals. Seri Wawasan Bridge happens to be one of them. 
This cable-stayed bridge connects Precinct 2 and 8 in the administrative centre of Malaysia. It features a unique asymmetric design, with a soaring main pylon that resembles the bow of a ship standing upright.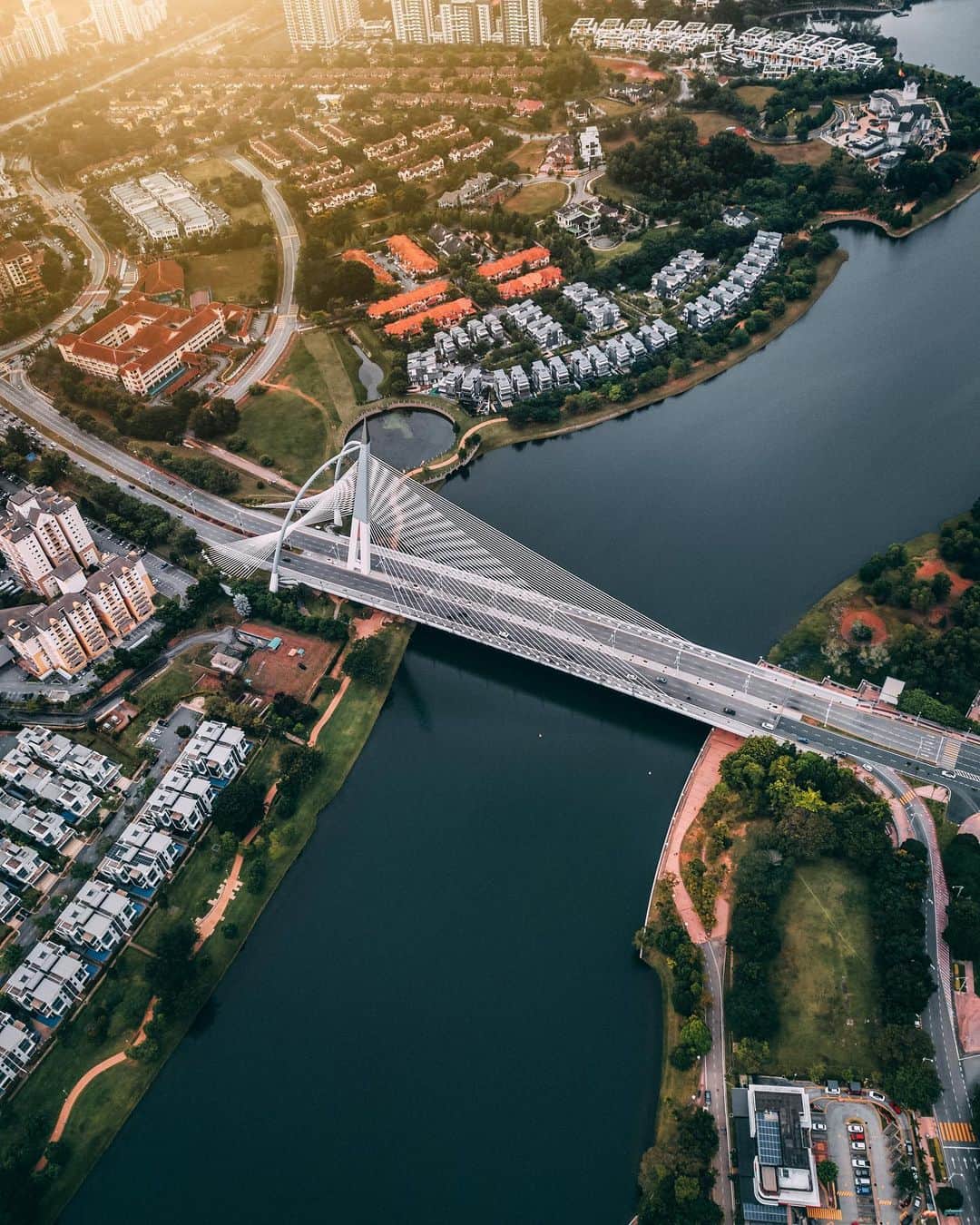 Image credit: @adibpouzi via Instagram
At an approximate length of 240 metres, the bridge has graceful curves and sleek lines that creates a visually striking silhouette especially during sunsets, making it a popular spot for a leisurely walk among locals. 

Image credit: @hxmzah_ via Instagram 
---
6. Elmina Rainbow Bridge, Selangor  – vibrant steel bars that mimic the rainbow
---

Image credit: @arnabgurun via Insragram
When it comes to colourful bridges in Malaysia, it doesn't get as vibrant as the collection of bridges at Elmina Central Park in Shah Alam. 
A centrepiece here is the Elmina Signage Bridge that connects properties in the area. The red, curved steel bars that make up the bridge's form resemble spirals or helices – think intricate strands of a DNA that look like they're in motion.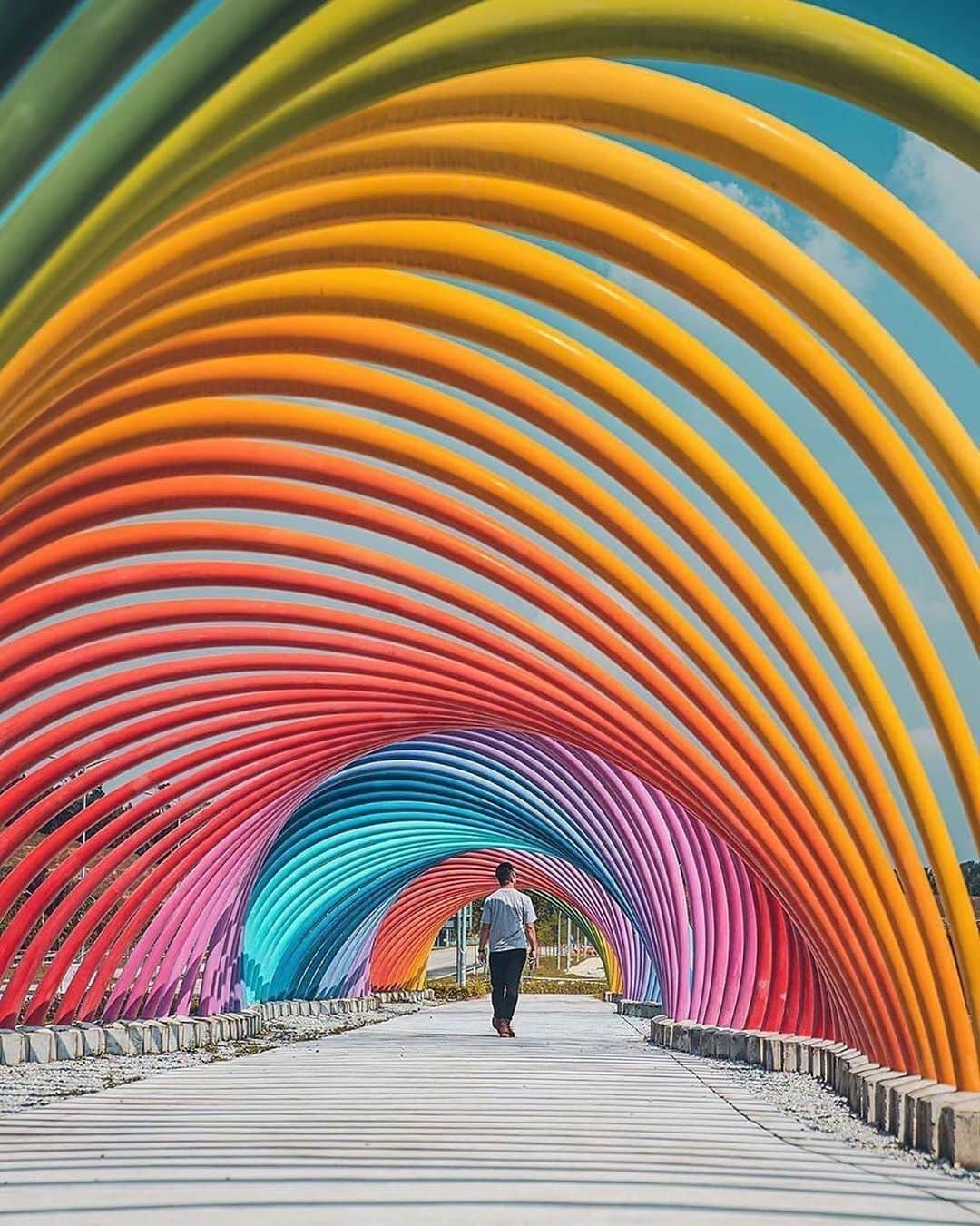 Image credit: @nepalconstructionmart via Instagram
Just a stone's throw from the bridge is another pair of bridges just by the road at a roundabout, known collectively as Elmina Valley Rainbow Bridge.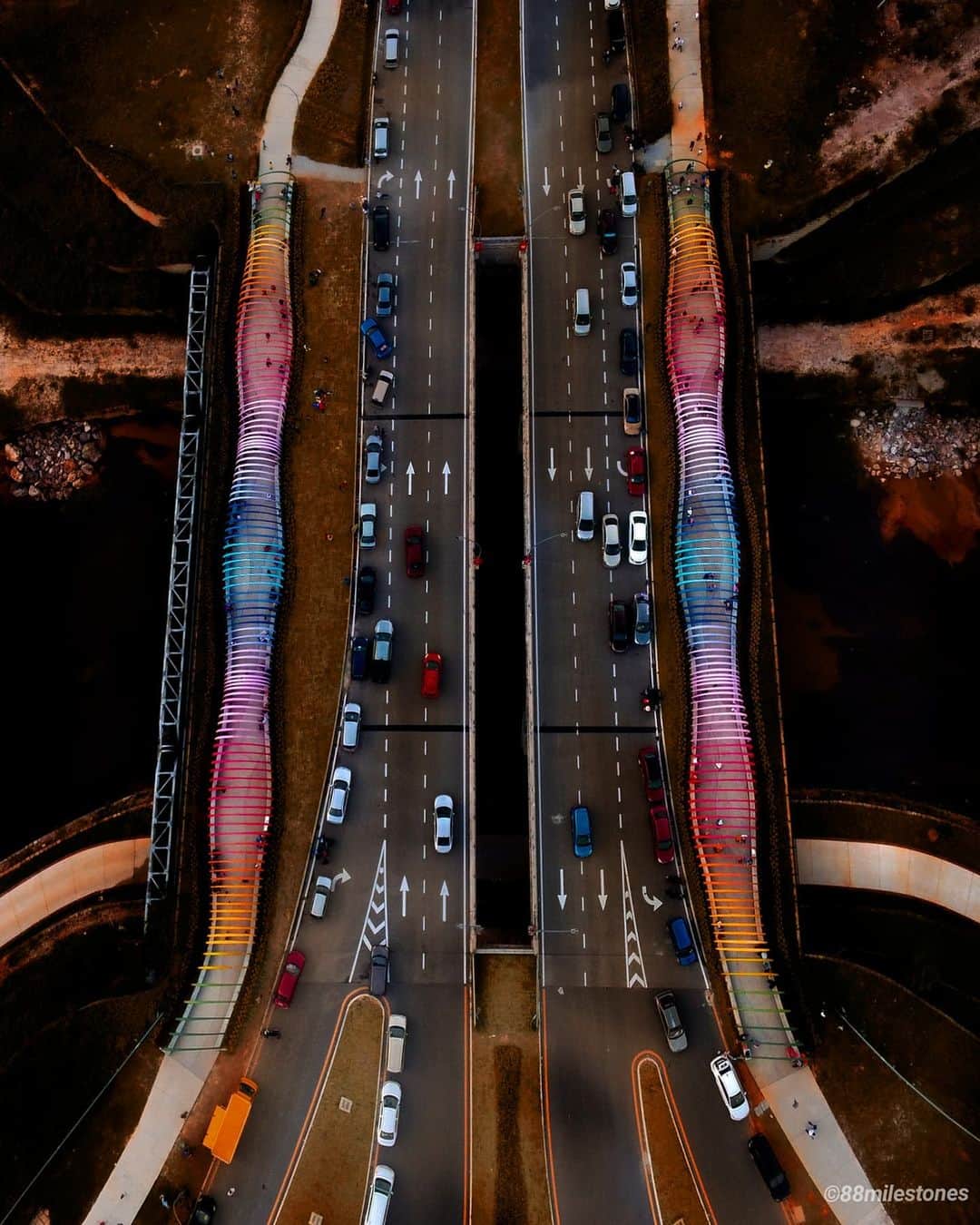 Image credit: @88milestones via Instagram
As its name suggests, the bridge features neat curved rows of colourful steel that altogether create a mesmerising rainbow effect for pedestrians.
---
7. Seri Gemilang Bridge, Putrajaya – inspired by a famous Parisian bridge
---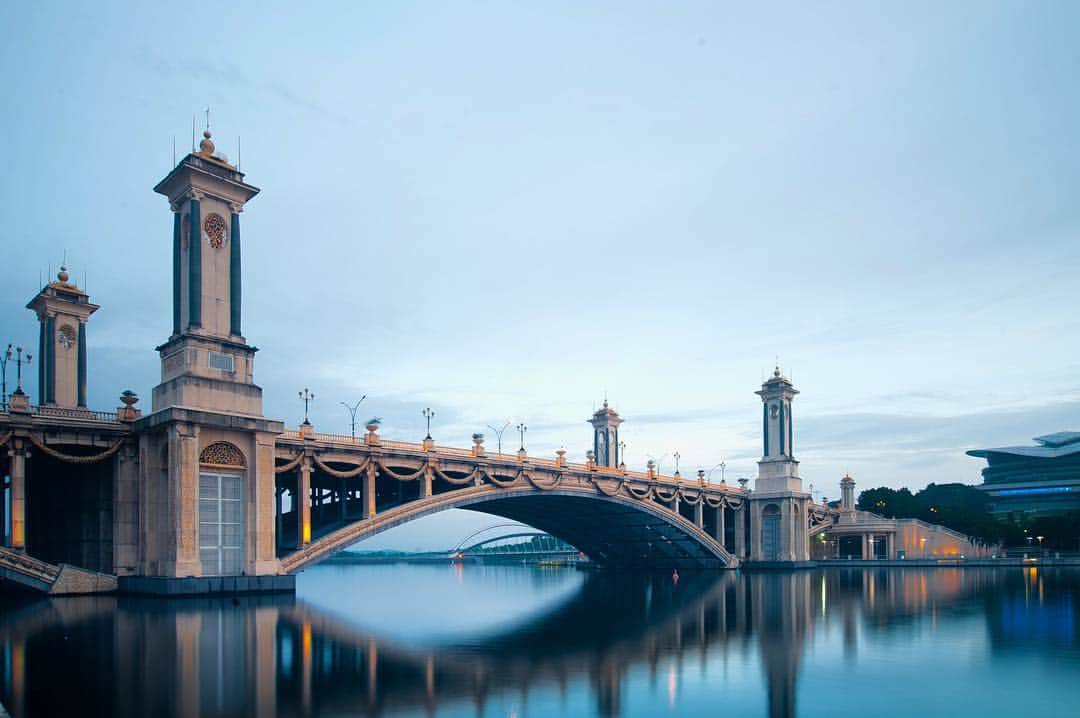 Image credit: @aliffhassan91 via Instagram 
Another spectacular bridge hiding in Putrajaya is Seri Gemilang Bridge, a ceremonial bridge connecting Heritage Square with Putrajaya Convention Centre. Known as a smaller-scale "London Bridge" in Malaysia among locals, the 435-metre bridge overlooks buildings and a manmade lake in Putrajaya.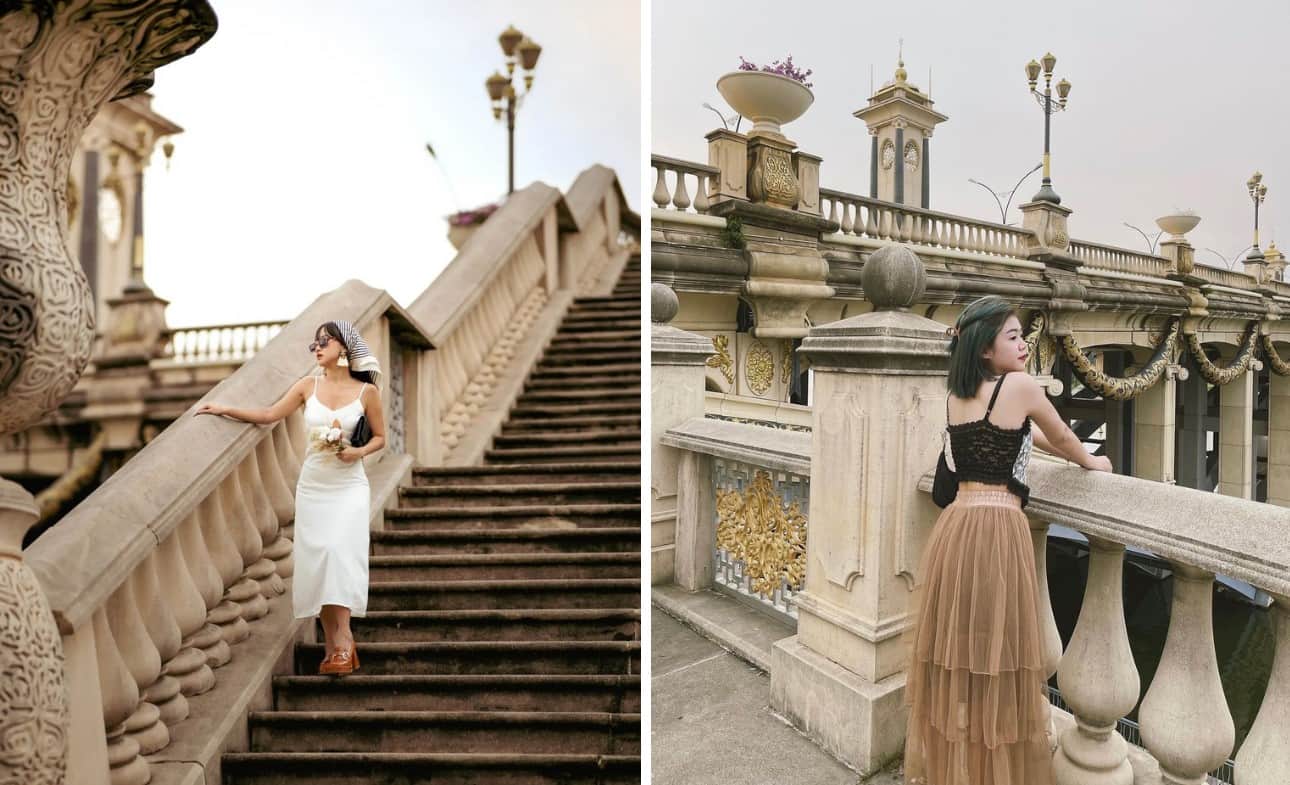 Image adapted from: @doreenlivetotravel via Instagram, @joanne.qiaoan via Instagram
Featuring elaborate European-style towers and details such as decorative gold and marble trimmings, this bridge's design was inspired by Paris' famous Pont Alexandre III bridge. So needless to say, if you're looking for a romantic spot to chill with your SO, this bridge will give you all that City of Love vibes.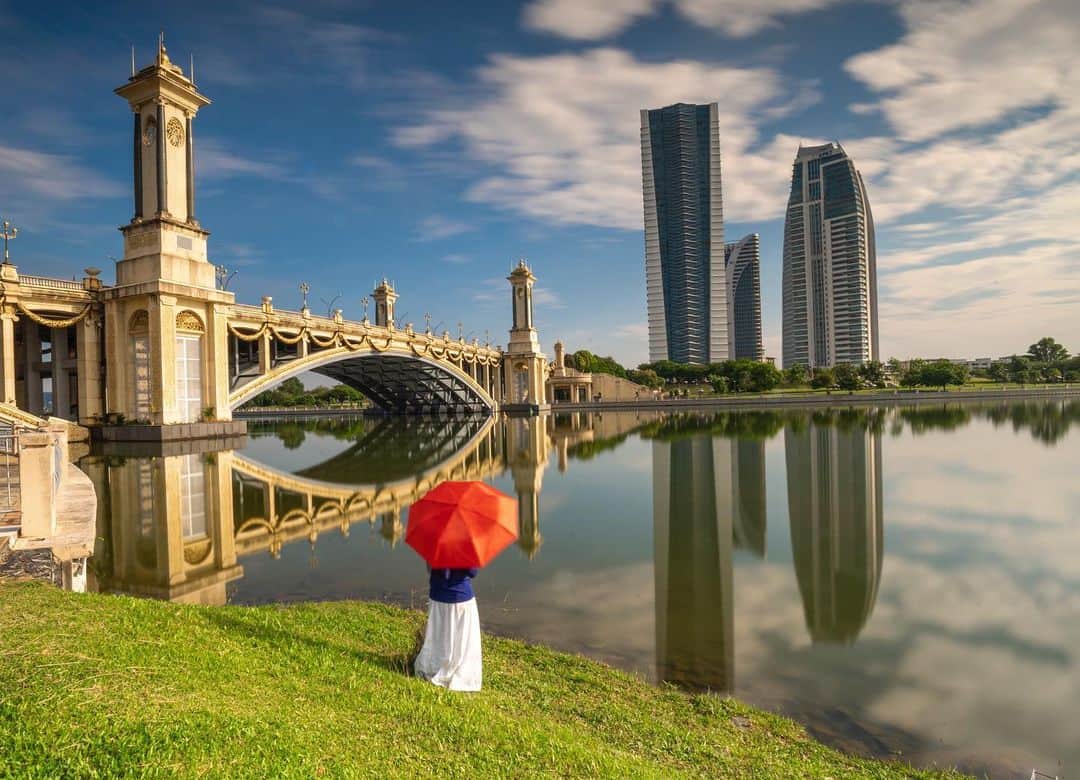 Image credit: @beauty_dewanti via Instagram 
---
8. Langkawi Sky Bridge, Kedah – curved walkway with glass panels
---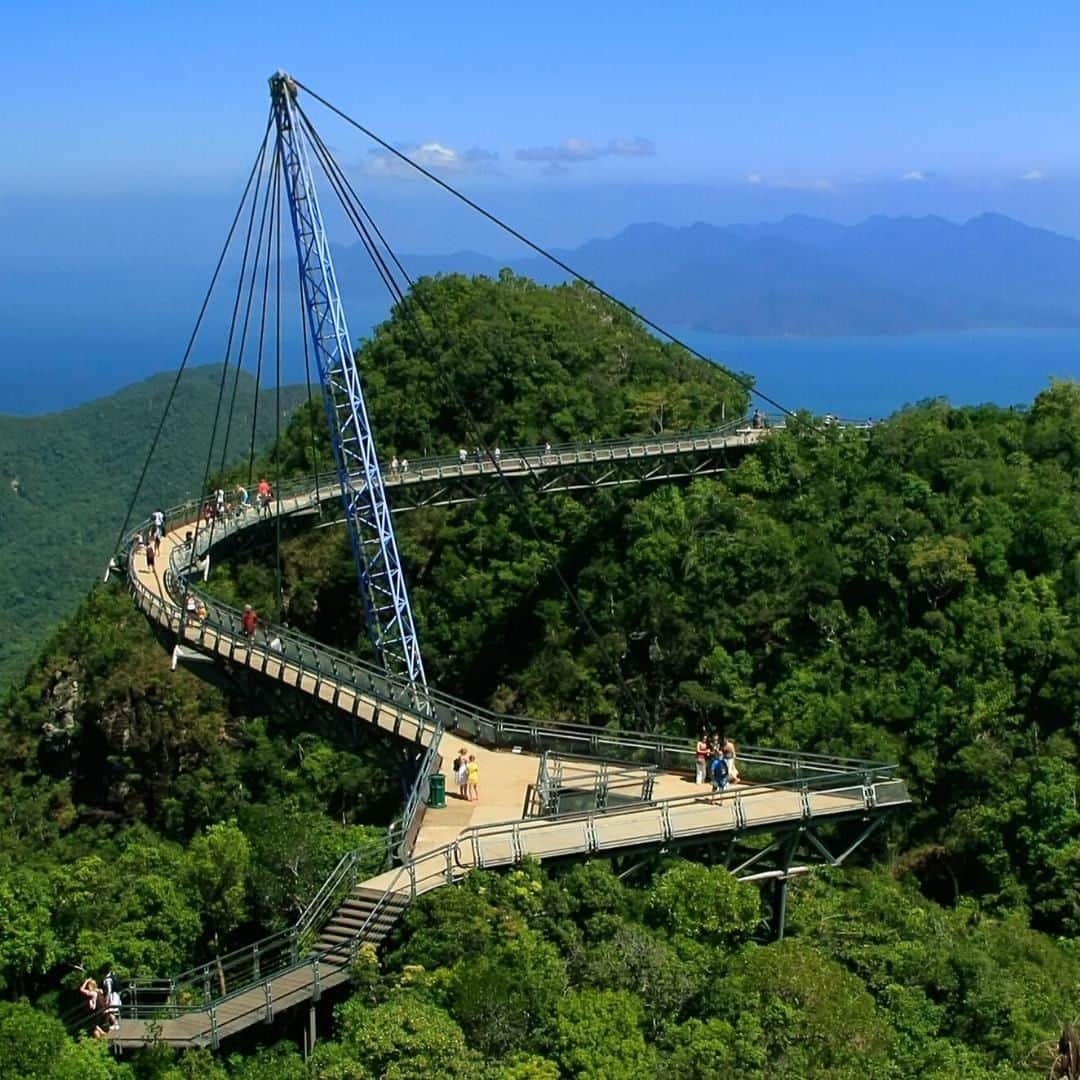 Image credit: @consultanz via Instagram 
Langkawi Sky Bridge is one of the most famous bridges in Malaysia that can be found perched atop Mount Mat Cincang on Langkawi Island.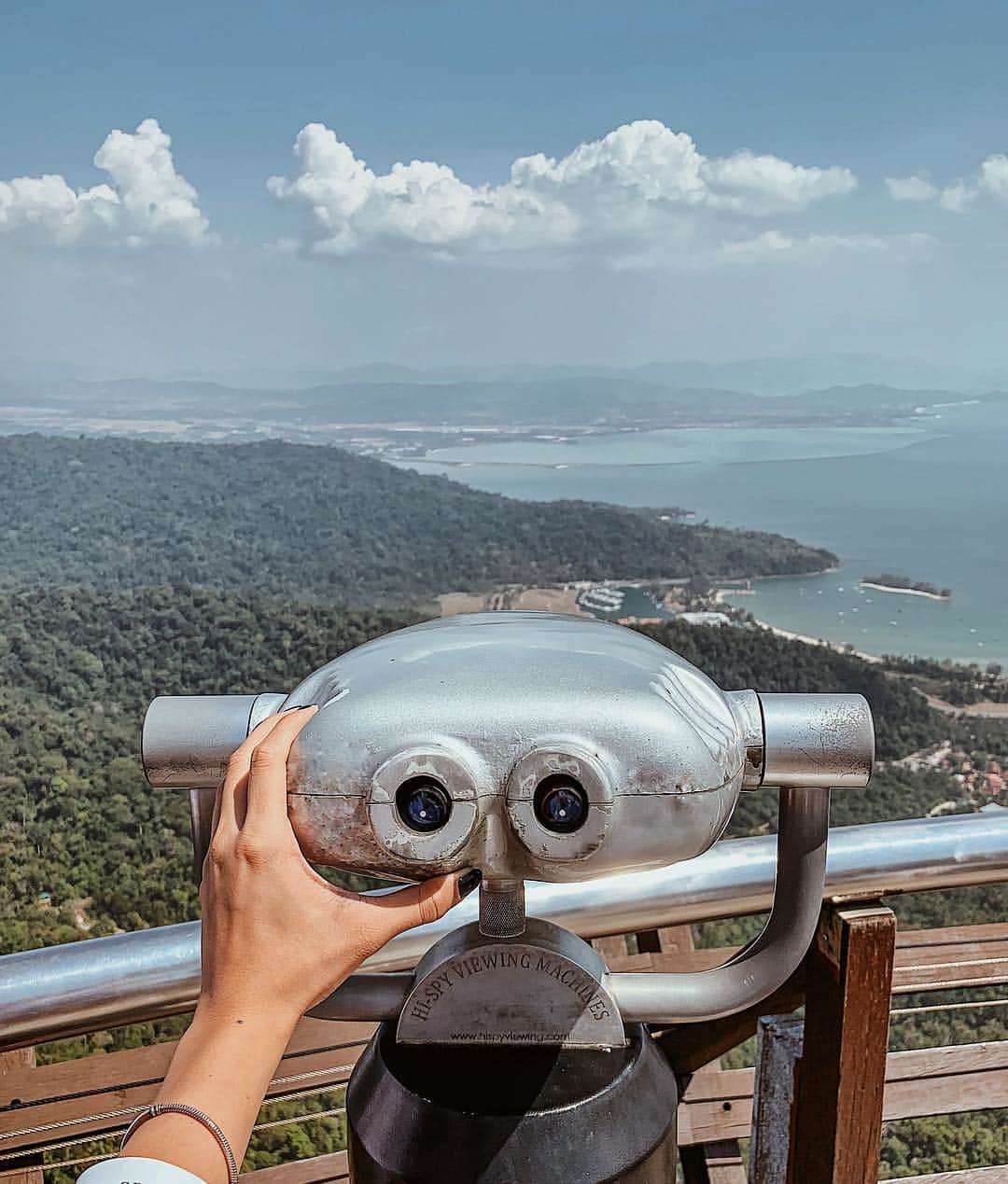 Image credit: @jiaxern via Instagram
The iconic curved bridge hovers 125m above ground, seemingly hugging the side of the mountain. Visitors strolling across it will get to soak up breathtaking views of nature and the Andaman Sea. 
Image credit: @familiahaihui via Instagram 
Featuring a curved walkway with glass panels, visitors can venture across the bridge and feel like they are hovering right above the ground.

Image credit: @elainewong225 via Instagram
A small fee of RM6 is required to visit this bridge. 
---
9. Sultan Abdul Halim Muadzam Shah Bridge, Penang – second longest bridge in Southeast Asia
---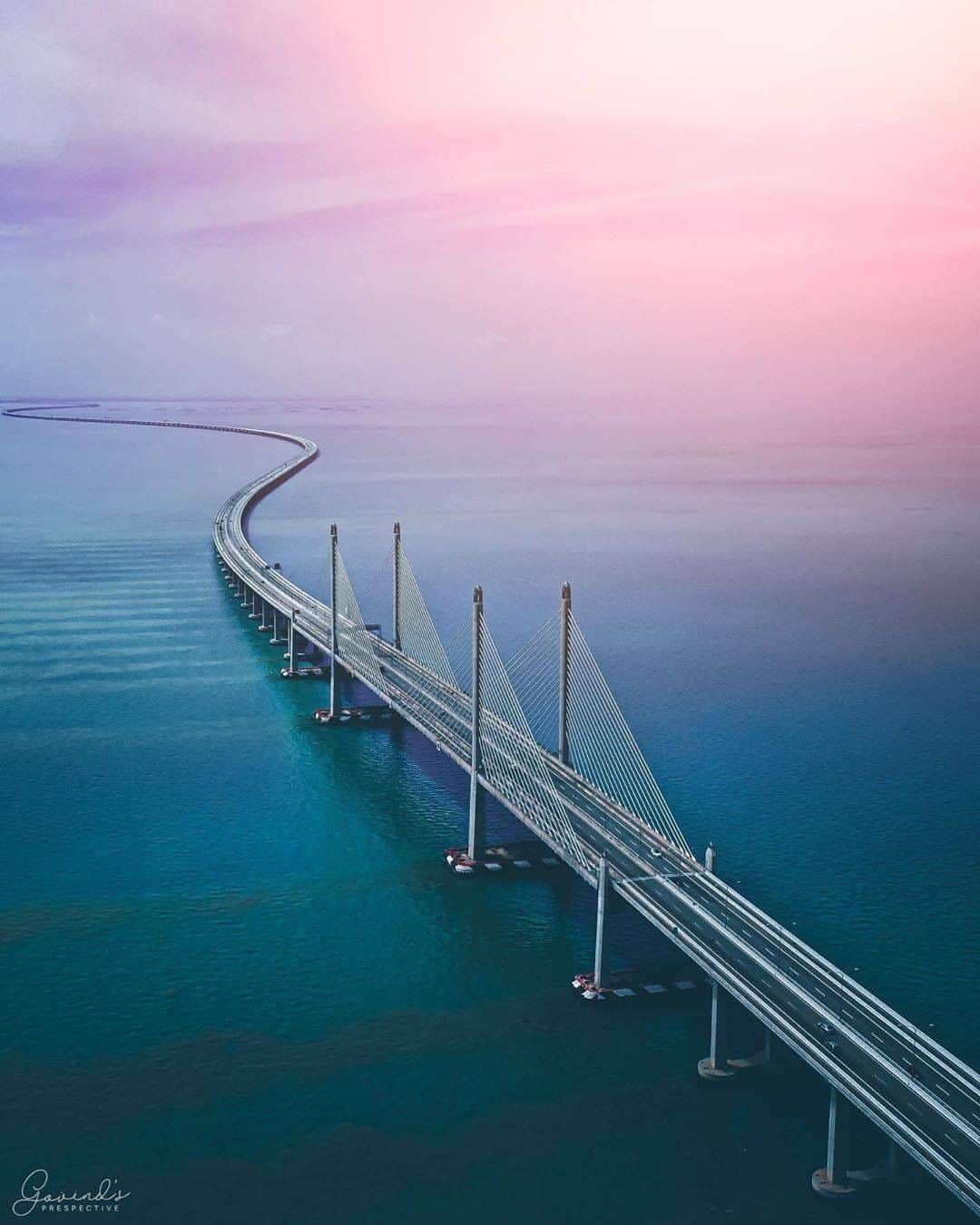 Image credit: @penangtourism via Instagram 
Connecting mainland Penang with the island, Sultan Abdul Halim Muadzam Bridge is also known as the Penang Second Bridge. It is one of two bridges that link the two areas.
This iconic cable-stayed bridge stretches 24km long, holding the record for being the second longest bridge in Southeast Asia and the longest bridge in Malaysia. It's also double the length of the Penang Bridge, which measures 13.5km long.
The Penang Second Bridge also has another record under its belt – its Gateway Arch Toll Plaza is the largest toll plaza in Malaysia with over 15 booths, as certified by the Malaysian Book of Records.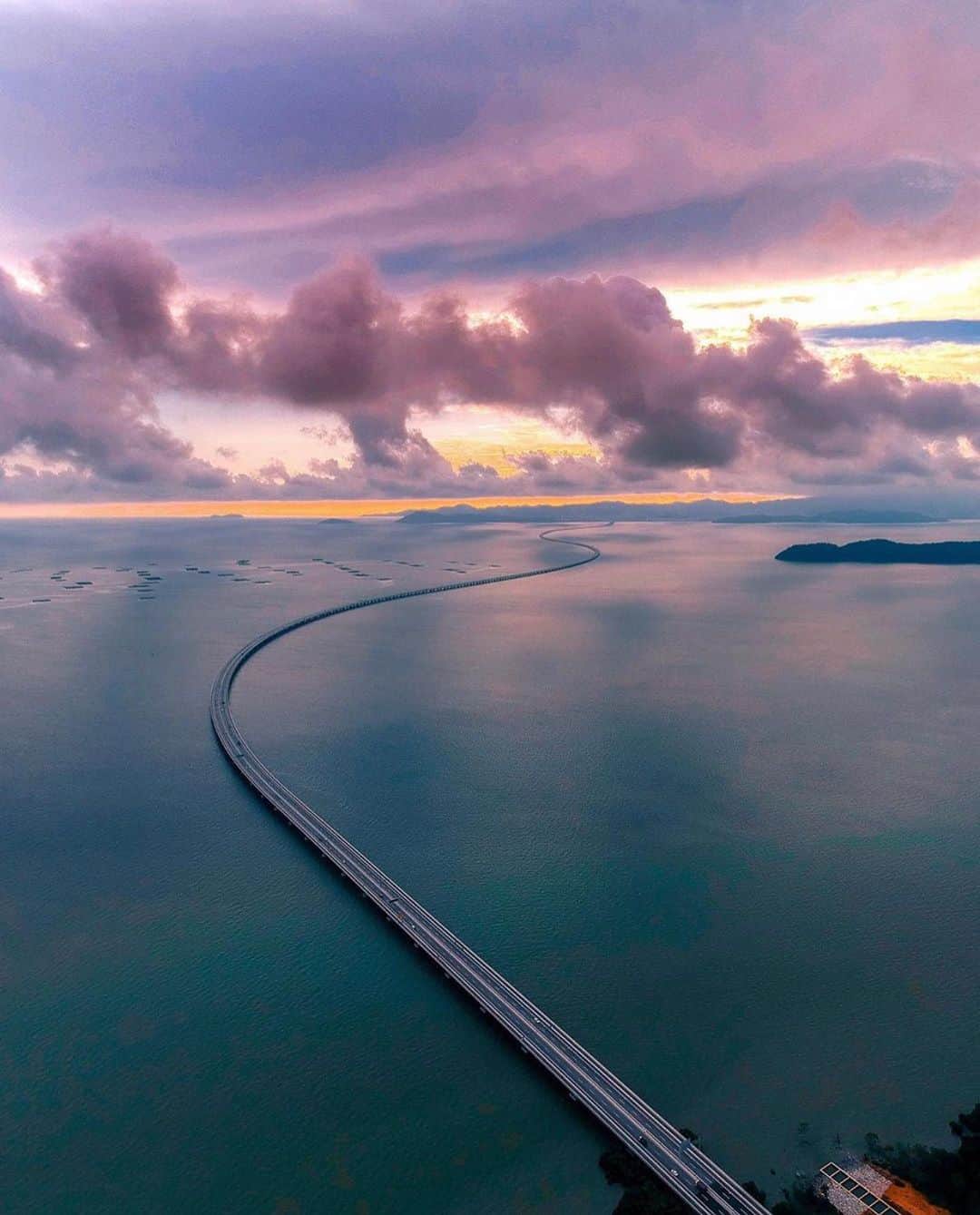 Image credit: @georgetowncity via Instagram
Named after the late Sultan of Kedah who was also the Yang di-Pertuan Agong of Malaysia at that time, the two-way bridge links Batu Kawan to Batu Maung. Its construction began in 2007 and was completed seven years later in 2014. 
Fun fact: the bridge takes on a curved shape for a reason – its shape helps it withstand high-intensity earthquakes. 
---
10. Hang Tuah Bridge, Melaka – named after a legendary Malay warrior
---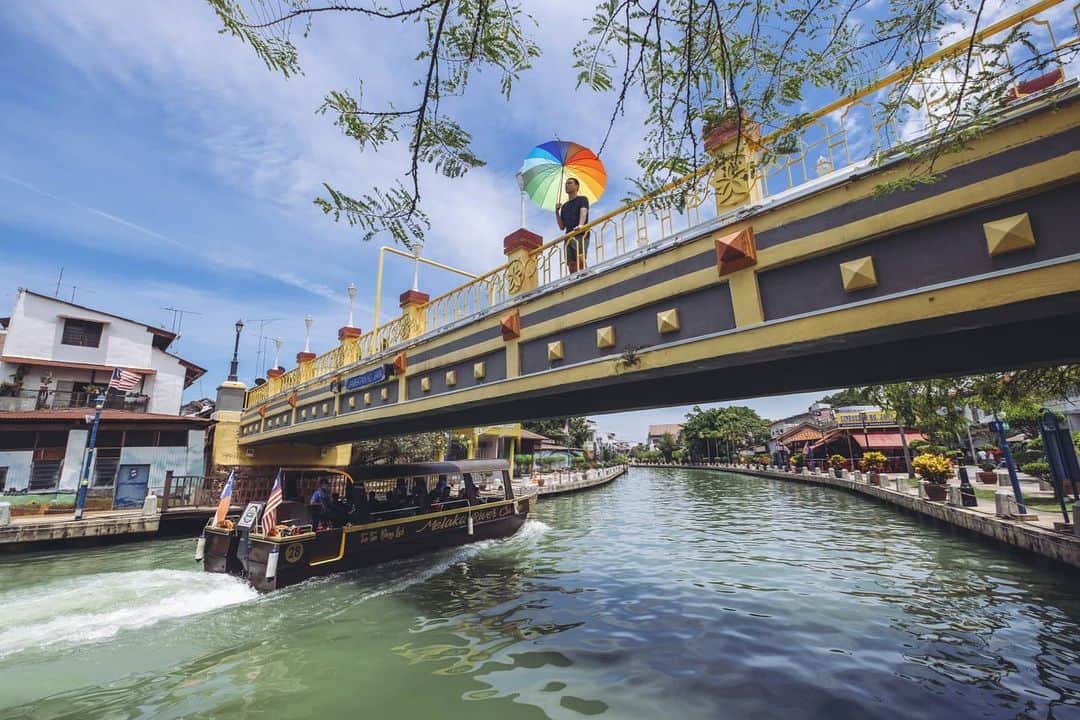 Image credit: @owenyapkh via Instagram 
Located in Melaka, dubbed the "Venice of the East", Hang Tuah Bridge connects the historic district of Bandar Hilir to the modern development of Melaka Raya. Named after the legendary Malay warrior, Hang Tuah, who lived in the state, this golden bridge spans across the Melaka River. The river serves as an important piece in Melaka's founding history, with early settlements established along its banks. 

Image credit: @owenyapkh via Instagram 
The simple yet elegant bridge that crosses the vital river comprises graceful arches. It's a popular spot for tourists and locals alike to enjoy scenic views, particularly during the night when the bridge gets beautifully illuminated with lights. 
---
Stunning bridges in Malaysia
---
Whether you're an architecture buff or a shutterbug, these spectacular bridges are worth a visit as they showcase Malaysia's prowess in engineering and design. 
So, gather your friends and take a trip to visit these bridges to experience the architectural beauty that our country has to offer.  
For more historical reads, check out 8 lighthouses in Malaysia and find out more about these  abandoned heritage buildings in Papan, Perak.
---
Cover image adapted from: @nassier_ulwan via Instagram, @naaim.cx via Instagram, @kualalumpurcity via Instagram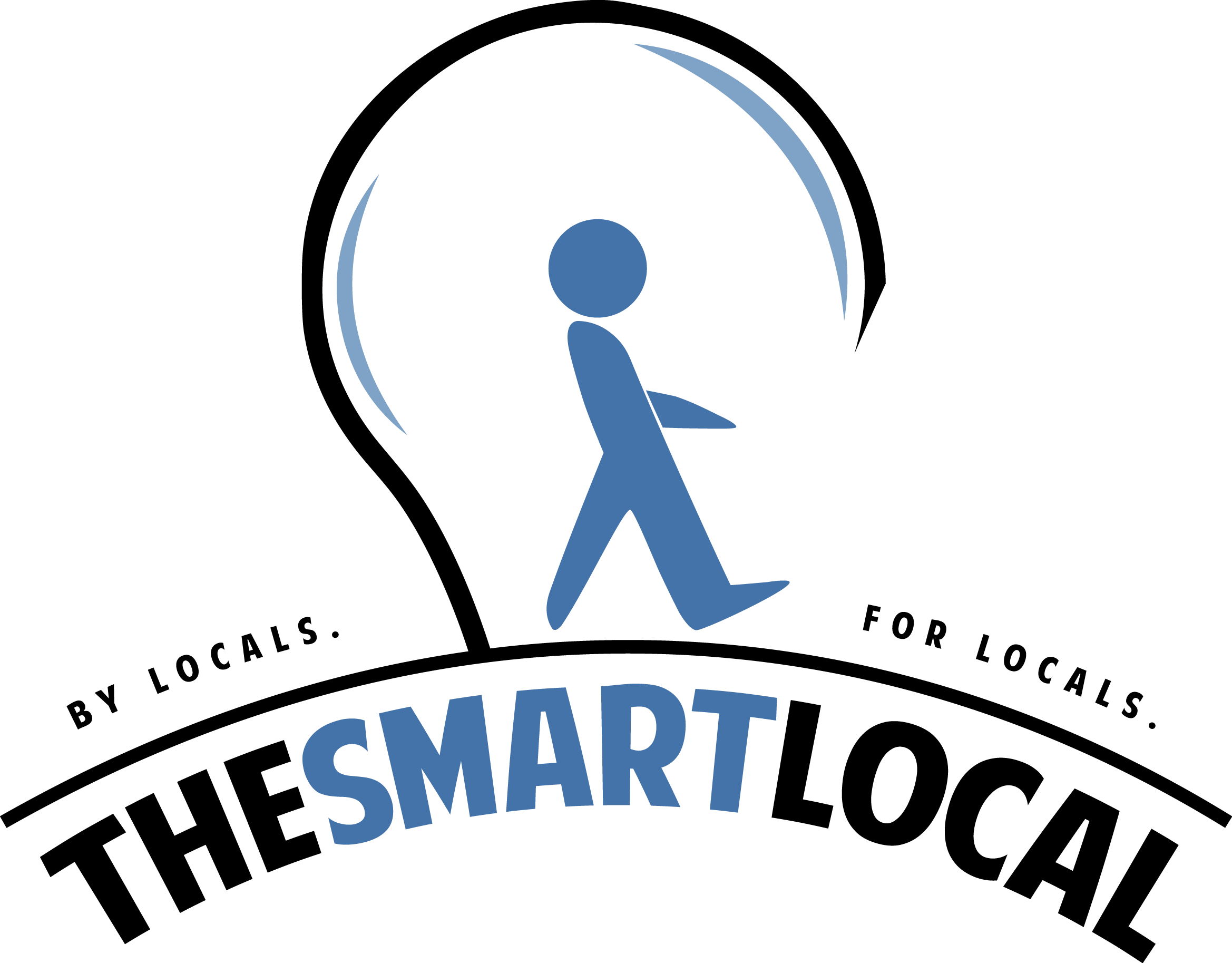 Drop us your email so you won't miss the latest news.