Elderly man feeds his children
---
Just over the weekend, many of us got to celebrate Father's Day to thank our dads and appreciate their presence in our lives. With the ongoing COVID-19 pandemic, the celebrations have been very different, to say the least, for many of us as we couldn't get to go out with our dads or spend time with them like we used to.
However, it's important to acknowledge the men who cared for us and brought us up, as is the case with this video of an elderly man feeding his grown-up kids that got many Malaysians emotional, even reminding many of their late dads.
---
A father's unconditional love for his children
---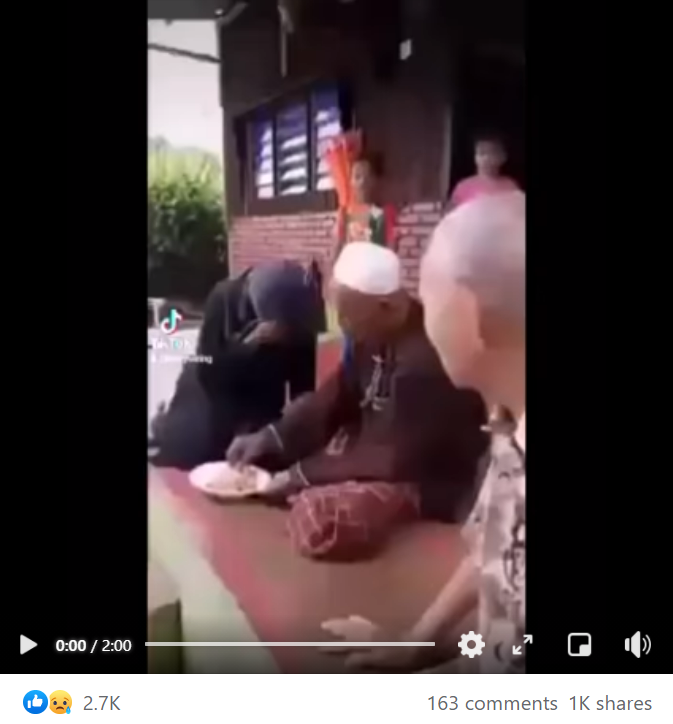 Image credit: Friends Of PDRM
On 20th June 2021, a 2-minute video of an old man hand-feeding his grown-up kids was posted on the Facebook page Friends Of PDRM.
In the emotional video, he is seen sitting in front of his house with a plate of rice. He then proceeds to hand-feed his children one by one, and his daughters tear up as they eat the food from his hands. They hold onto his hands and eventually cried.
---
Netizens get emotional and remember their late dads
---
Since its posting, the viral video has garnered over 80,000 views, 2,700 reactions and 1,000 shares. Many Malaysians are touched by the video, with many comments reminiscing about their late dads, presumably because the man's advanced age reminded them of their own fathers.


Image credit: Friends Of PDRM


Image credit: Friends Of PDRM
Netizens Fauziah Abdul Kadir and Achikmie Pak Tam were among those who commented that the video reminded them of their late dads. They both prayed for their dads' souls saying, "God bless his soul."


Image credit: Friends Of PDRM
Meanwhile, another user named Saffiyyah Chik Saied told Malaysians who still have their parents to be grateful and take care of them while they are still alive.


Image credit: Friends Of PDRM
Facebook user Fiq Jameka added to the discussion, saying that those who get hand-fed by their dads are lucky. He said that he wanted to feel what it's like to be hand-fed by his dad but never got the chance because his parents are divorced for a long time.
---
Elderly man feeds his grown-up kids
---
We all do love our dads, but Father's Day shouldn't be the only day we thank and appreciate them. While many people did regret not showing much love towards their dads when they were alive as they watched this emotional video, it is also a timely reminder for those who still have their dads with them to remember to show appreciation for them frequently.
Read more here:
---
Cover image adapted from: Friends Of PDRM
Get more stories like this!
Drop us your email so you won't miss the latest news.