New theme park in Genting Highlands
---
When we speak of theme parks, many of us often fall back to the idea of an adventurous trip to a place with a single theme. But now, you can visit a theme park that's designed after some of your favourite cartoons and movies with a combination of retail, dining and entertainment for a fun-filled adventure.
Situated on the sprawling hills of the Titiwangsa mountain range, about 6,000 feet above sea level, is Genting SkyWorlds. This theme park offers thrill-seeking Malaysians the chance to experience exhilarating rides and themed worlds as well as breathtaking sky views.
Here are some of the best rides and attractions at the new theme park.
---
26 rides and attractions for a fun-filled adventure
---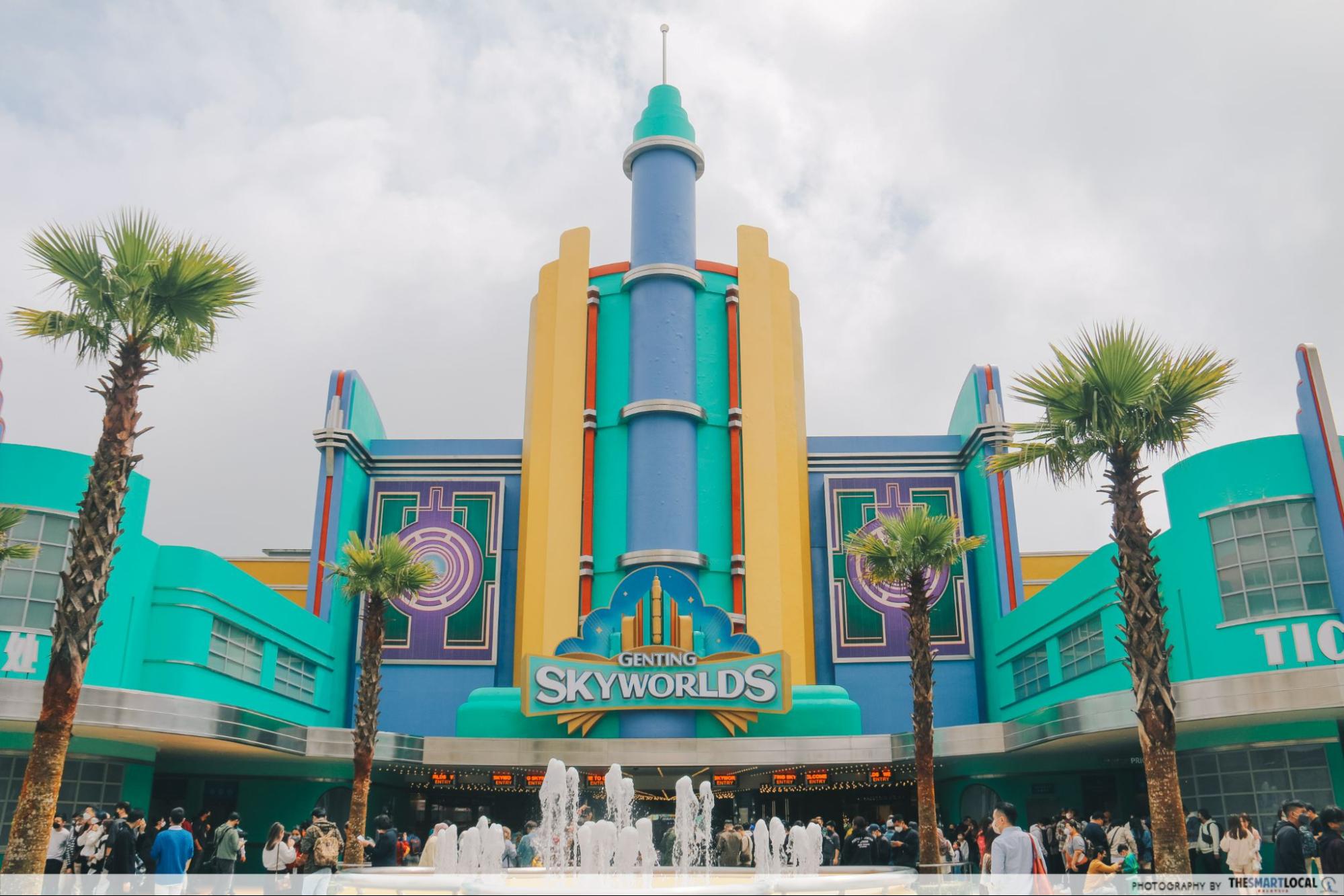 This outdoor theme park is developed across 26 acres of land on Genting Highlands, featuring 26 rides and attractions that were designed after nine movie and adventure-inspired 'worlds', or zones: 
Andromeda Base

Central Park

Eagle Mountain

Epic

Ice Age

Liberty Lane

Rio 

Robots Rivet Town

Studio Plaza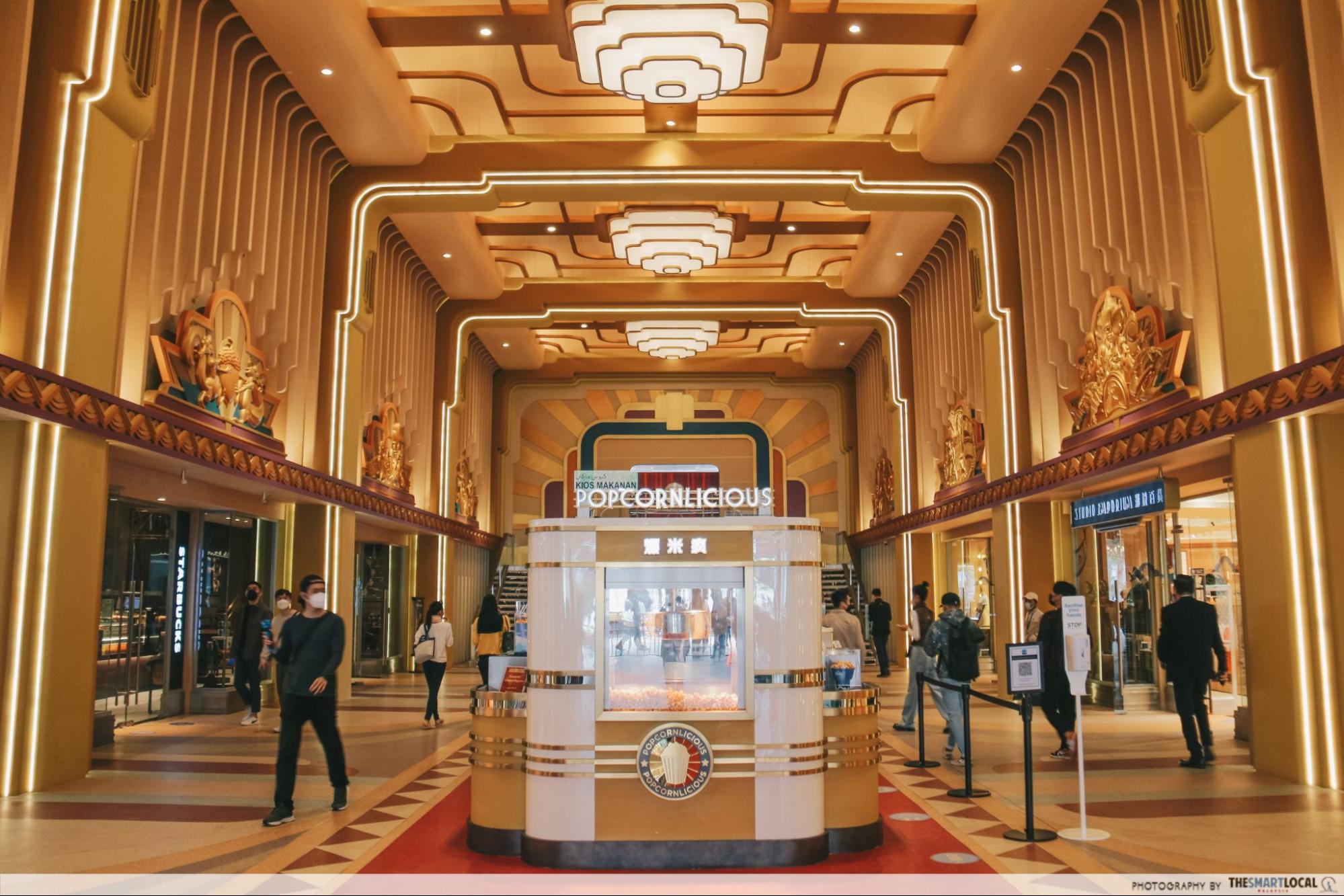 Each world has a mixture of rides, photo spots, themed environments, food and beverage outlets, and retail shops. Your journey will begin at Studio Plaza, an art-deco prelude lined with cafes and shops, which paves the way into the themed worlds.
---
Central Park
---
We recommend heading first to Central Park within Genting SkyWorlds.
Being the largest of all the worlds, it offers a wide selection of rides and attractions such as Night at the Museum: Midnight Mayhem – an action-packed 3D interactive ride, ESD Global Defender – a hybrid aerospace fighter swing ride, and Independence Day: Defiance – a 'flying theatre' for a space escapade.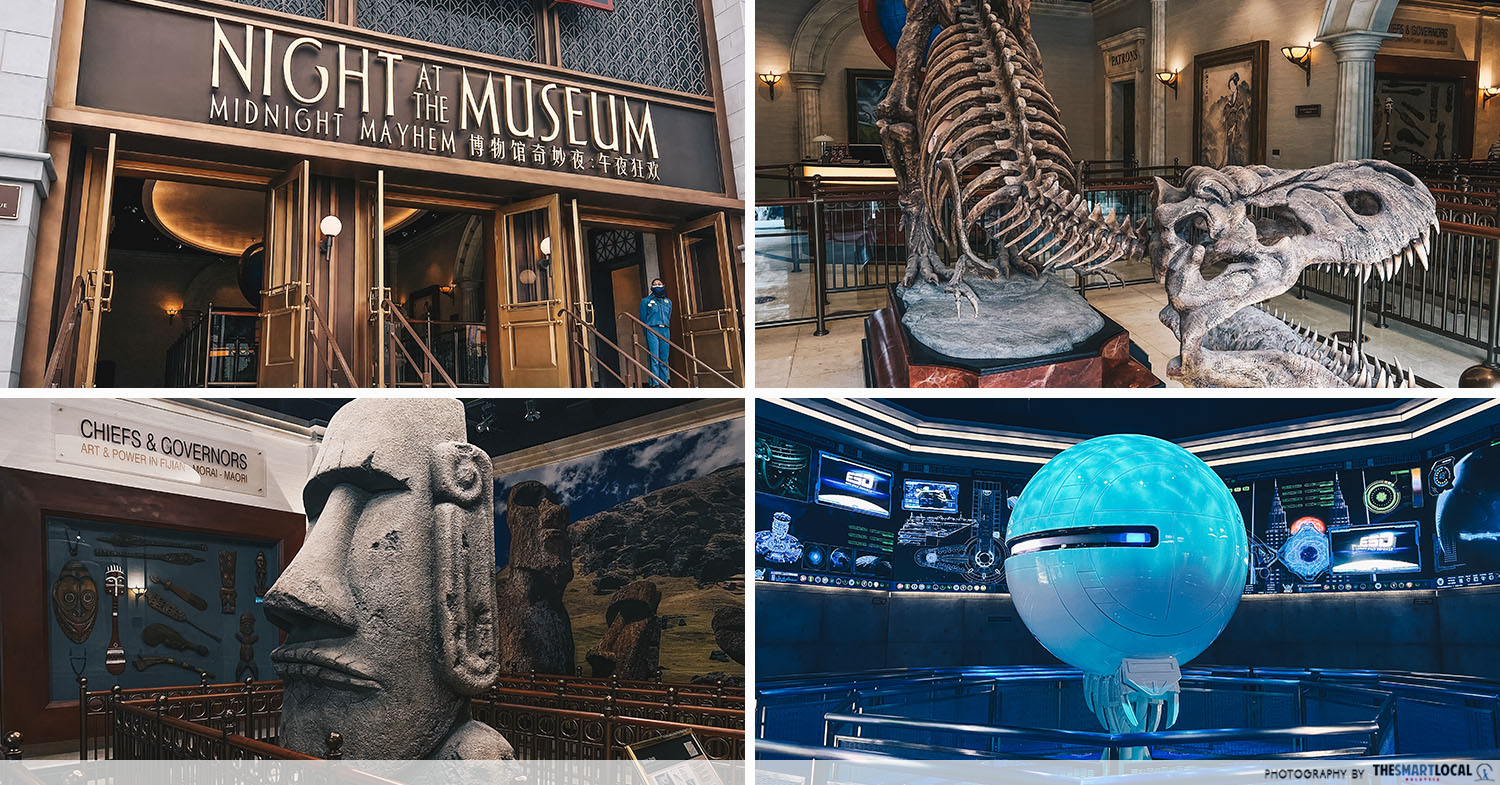 Central Park also has a Natural History Museum, with a massive dinosaur fossil at the entrance and artefacts of tribal communities on display, and Lake of Dreams where visitors can enjoy a stunning fountain show paired with lively music and vibrant lighting effects.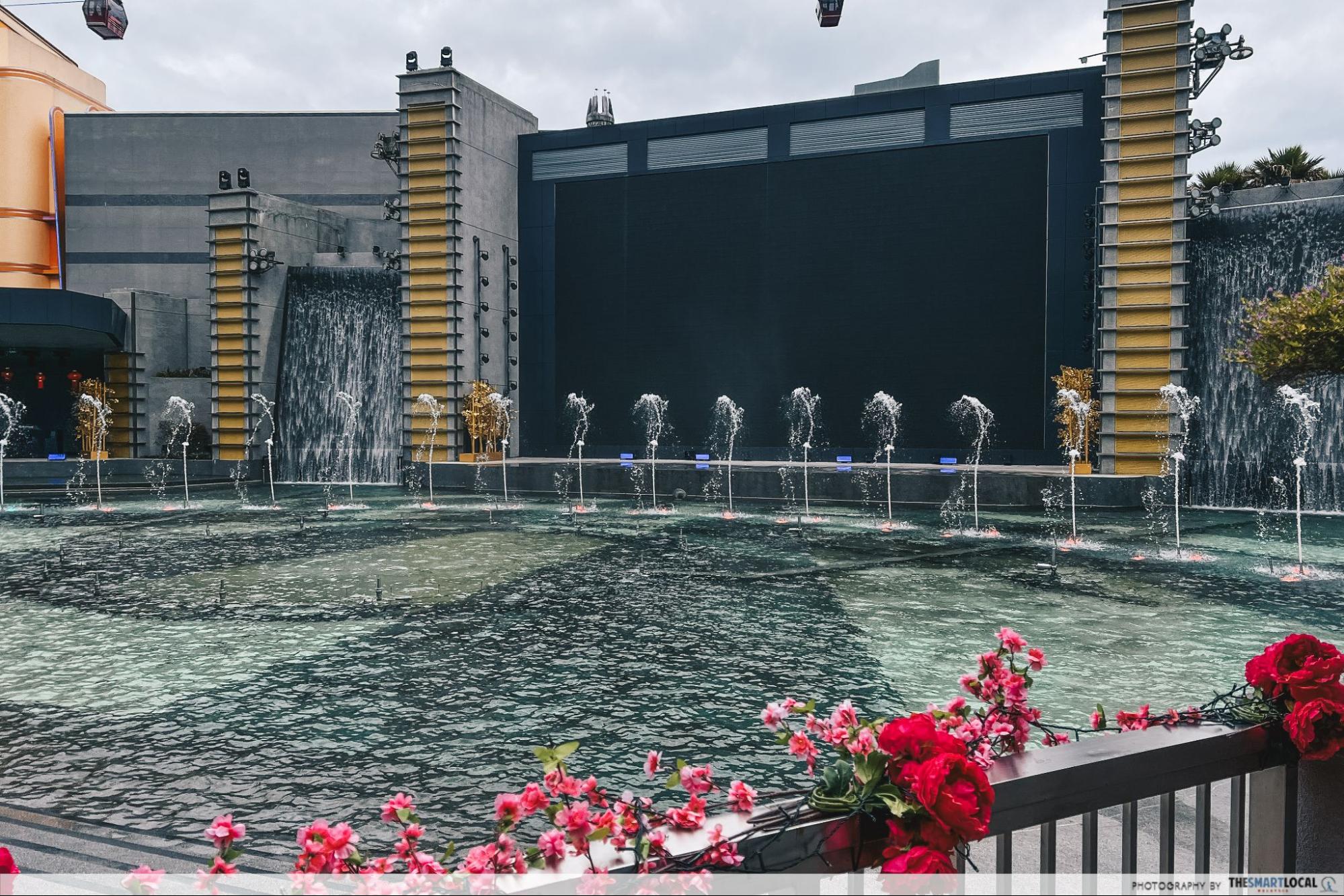 ---
Andromeda Base
---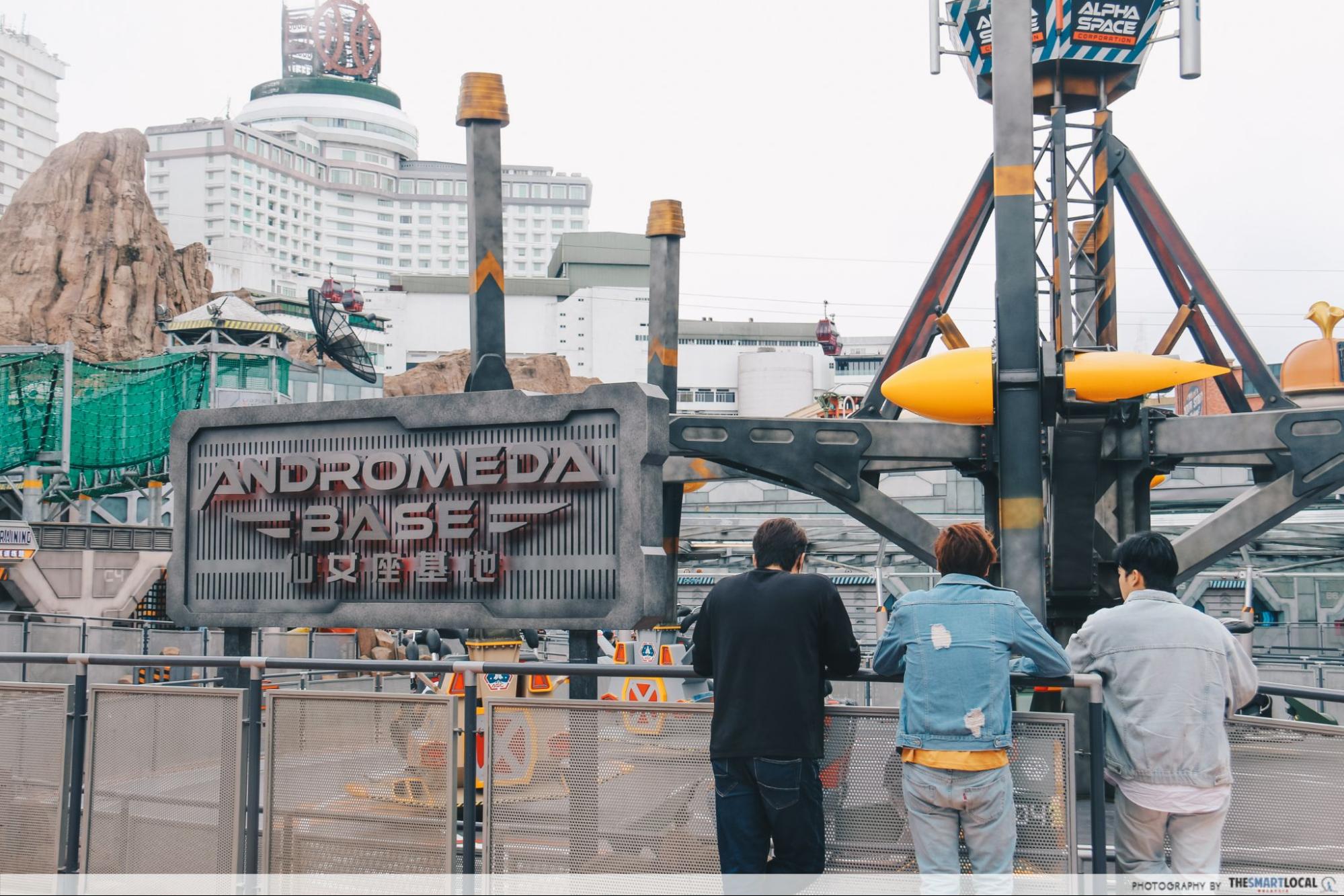 If you're up for more challenging rides, then Andromeda Base is highly recommended as the rides in this zone take visitors on a wildly exhilarating journey.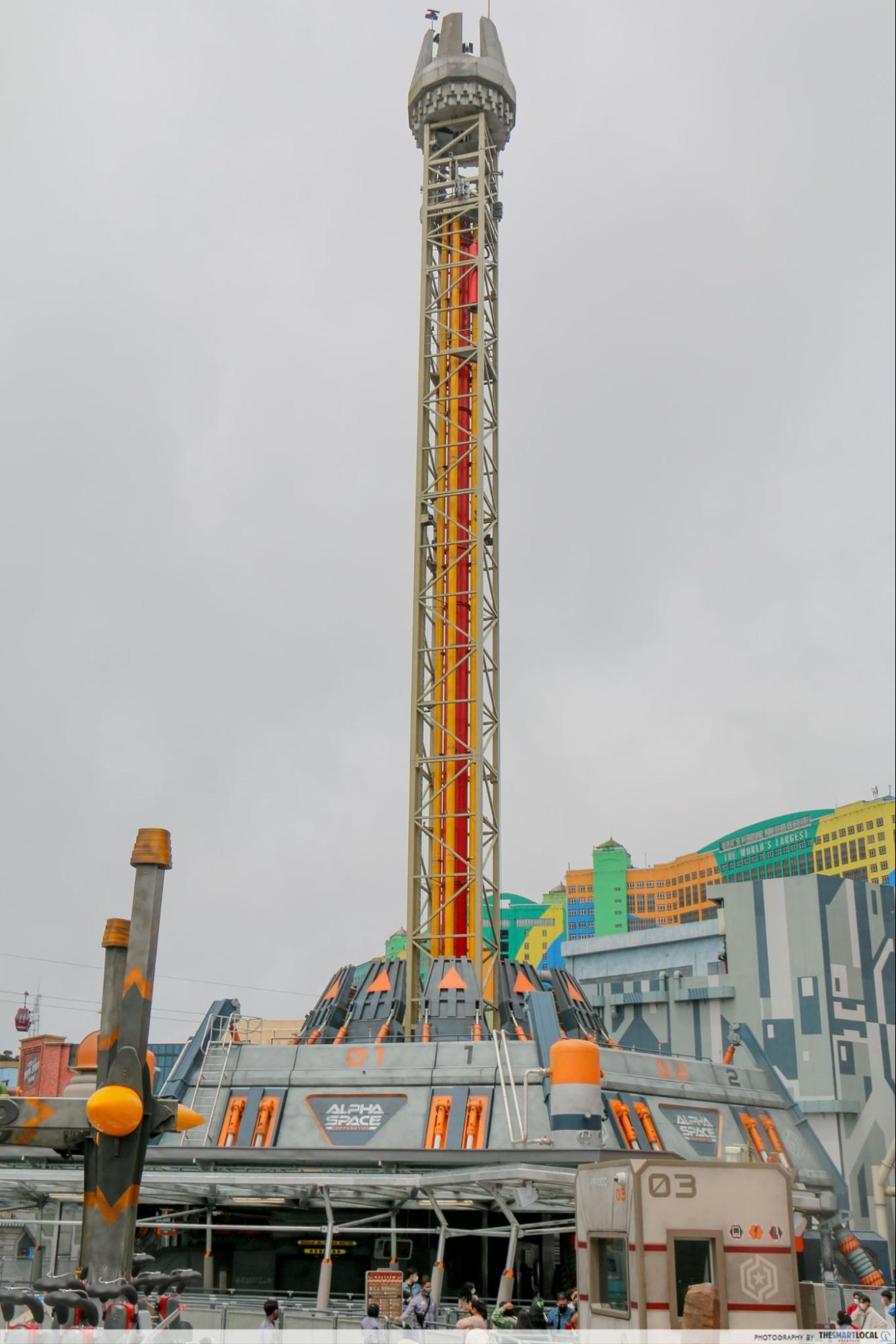 The Terraform Tower Challenge is a thrilling and terrifying drop tower ride for adrenaline junkies, while Boot Camp Training puts you through a physical obstacle course.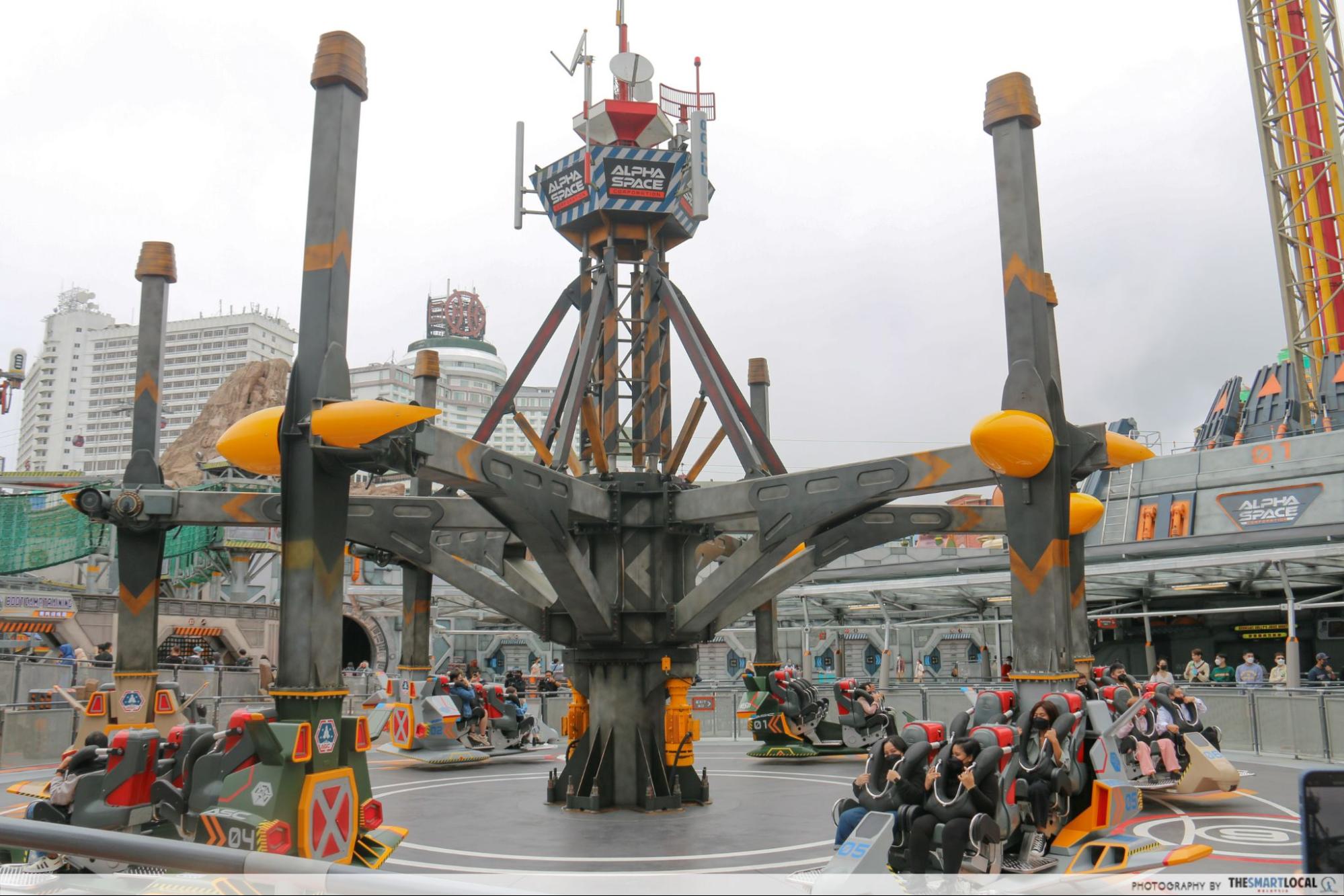 Alpha Fighter Pilots is another ride here where you can take an adventurous spin on 360° multi-directional rotating jets. 
---
Family-friendly worlds: Ice Age, Epic and Rio
---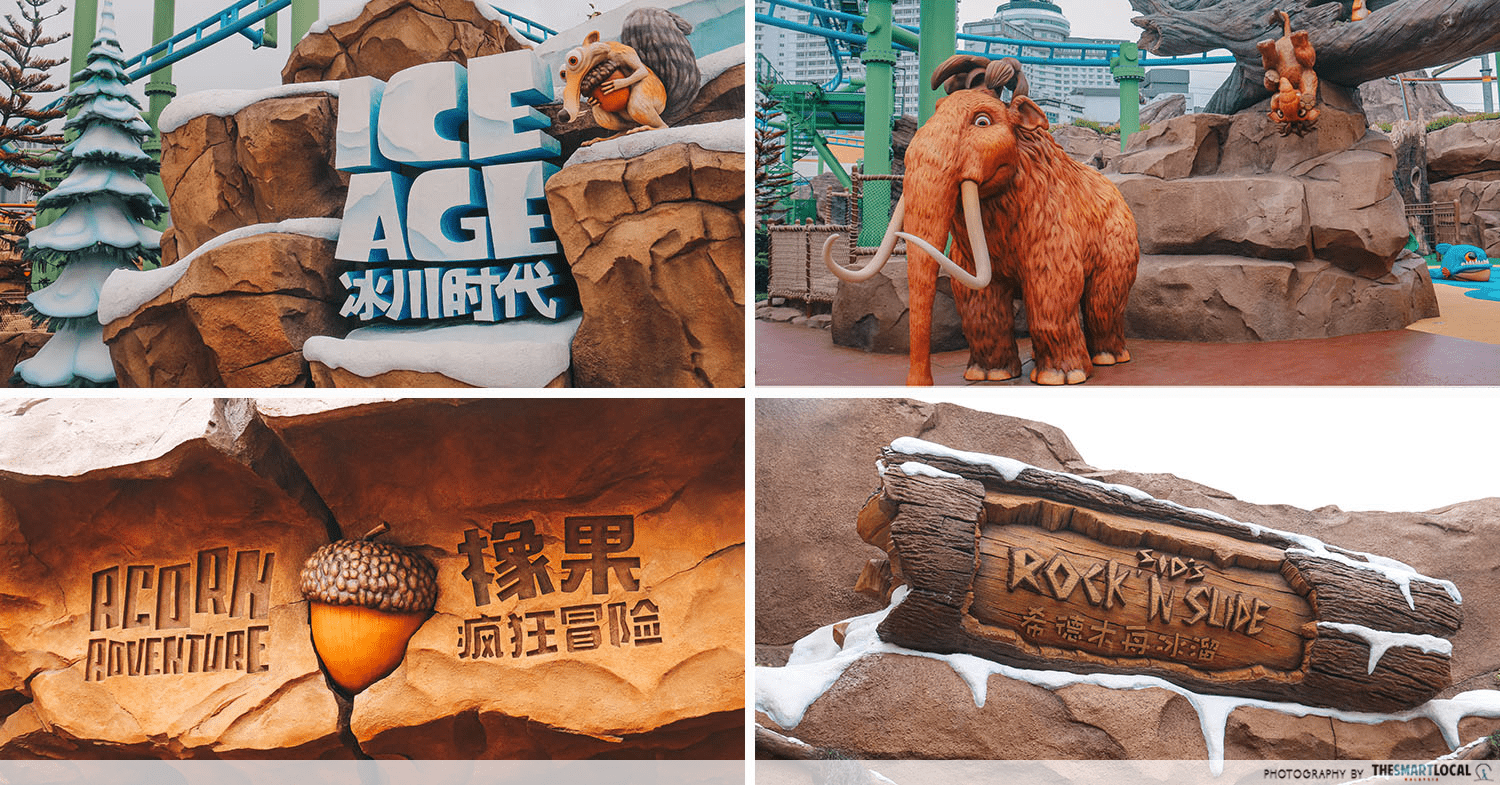 There's also Sid's Rock 'N' Slide – a spinning log ride – and Mammoth Fun Zone at the Ice Age movie-themed zone for family-friendly rides and attractions.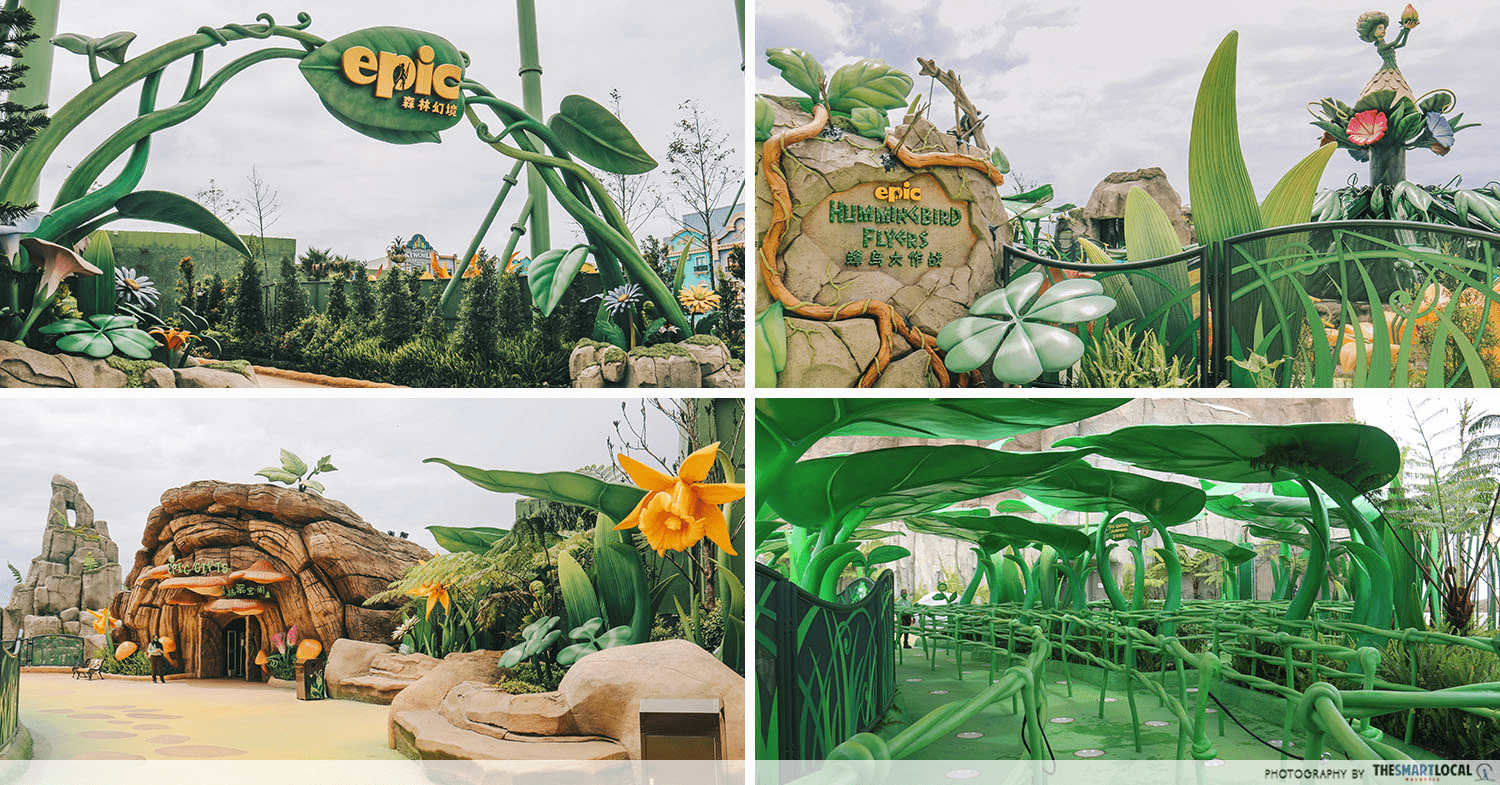 We had fun on the Epic Hummingbird Flyers in the Epic zone – a spinning ride with flower and hummingbird seats that immerses you in a fairy garden modelled after the movie of same name.
This world is located at the corner of the theme park, so it offers great sky views of Genting Highlands too.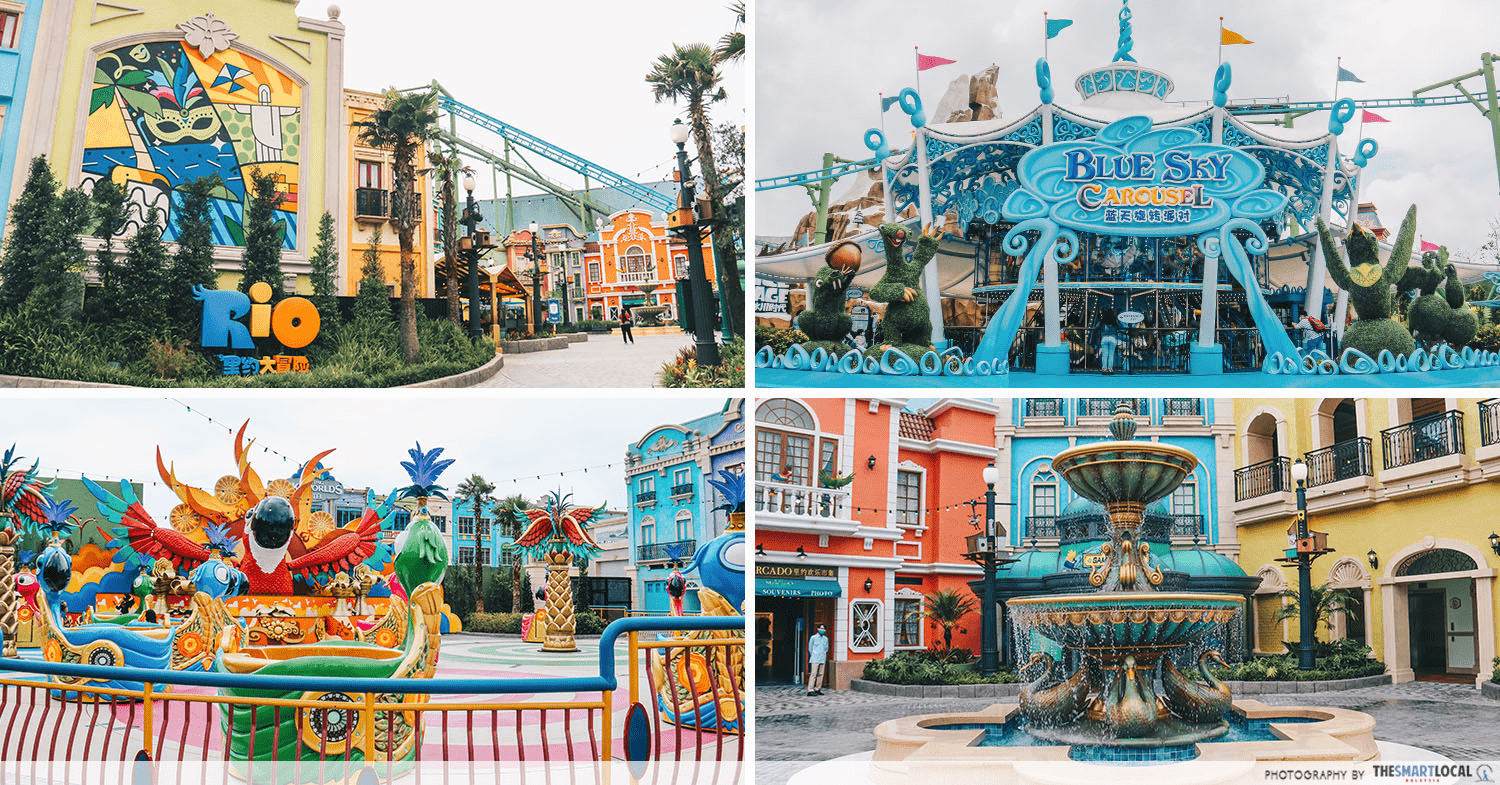 For those looking for something cheery, Carnaval Chaos! at Rio, is worth checking out. This ride lets you spin into a whirlwind of fun in teacups adorned with colourful parrots, all against the backdrop of artsy Brazilian-style buildings.
The Blue Sky Carousel at the heart of this world that'll excite children, as it features rides with characters from all three animated movie worlds – Epic, Ice Age and Rio.
---
Snack on delicious food along the way
---
If you think Genting SkyWorlds is another theme park similar to the ones that you have been to, then think again. Besides its variety of exciting rides, there are plenty of quirky and interesting foods to try out at the park as well.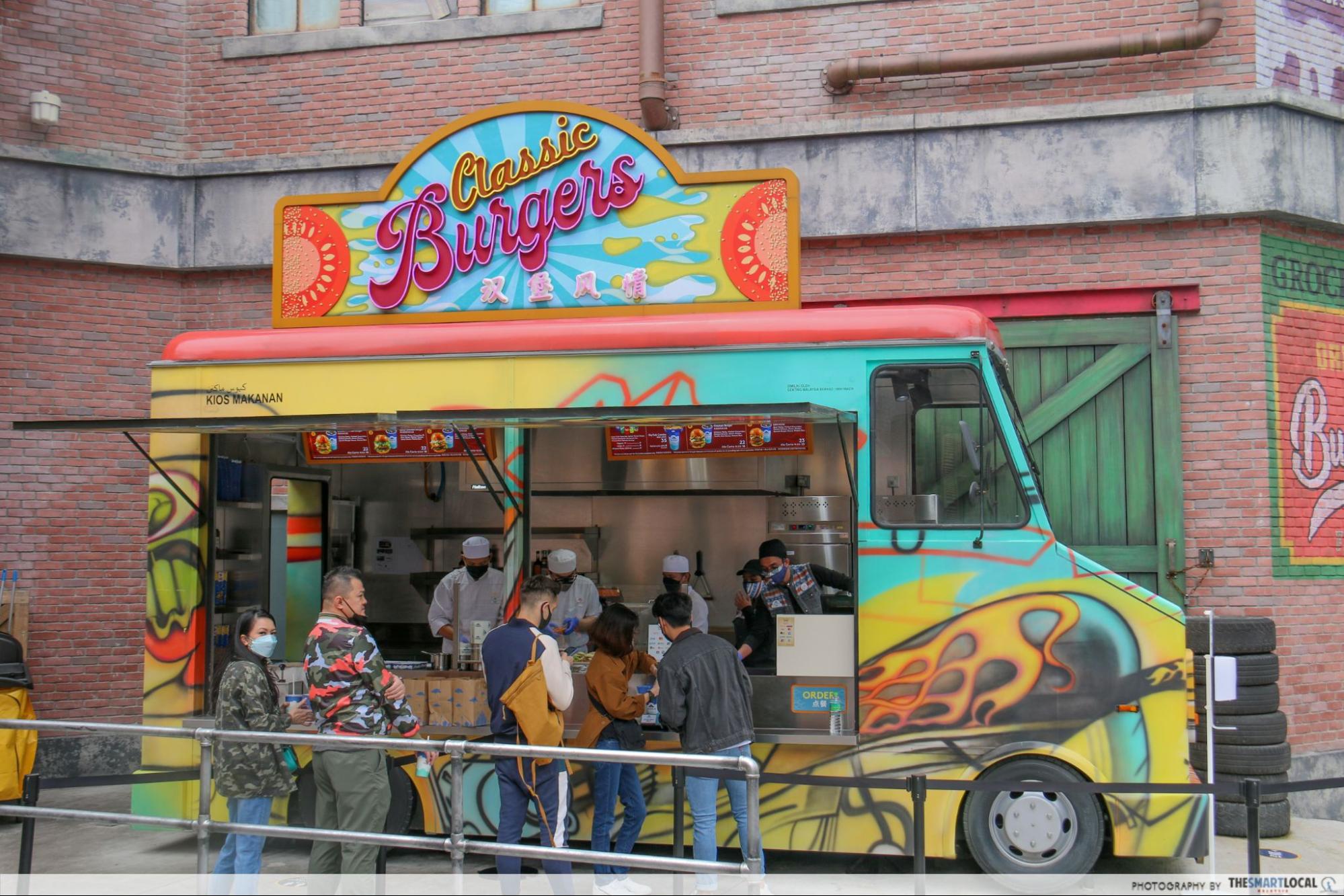 Each zone has its own food stalls or cafes that serves various dishes. There are local cuisine offerings such as nasi lemak, laksa, and nasi kandar as well as international foods – pizzas, hotdogs, shawarmas, tacos, and fish and chips.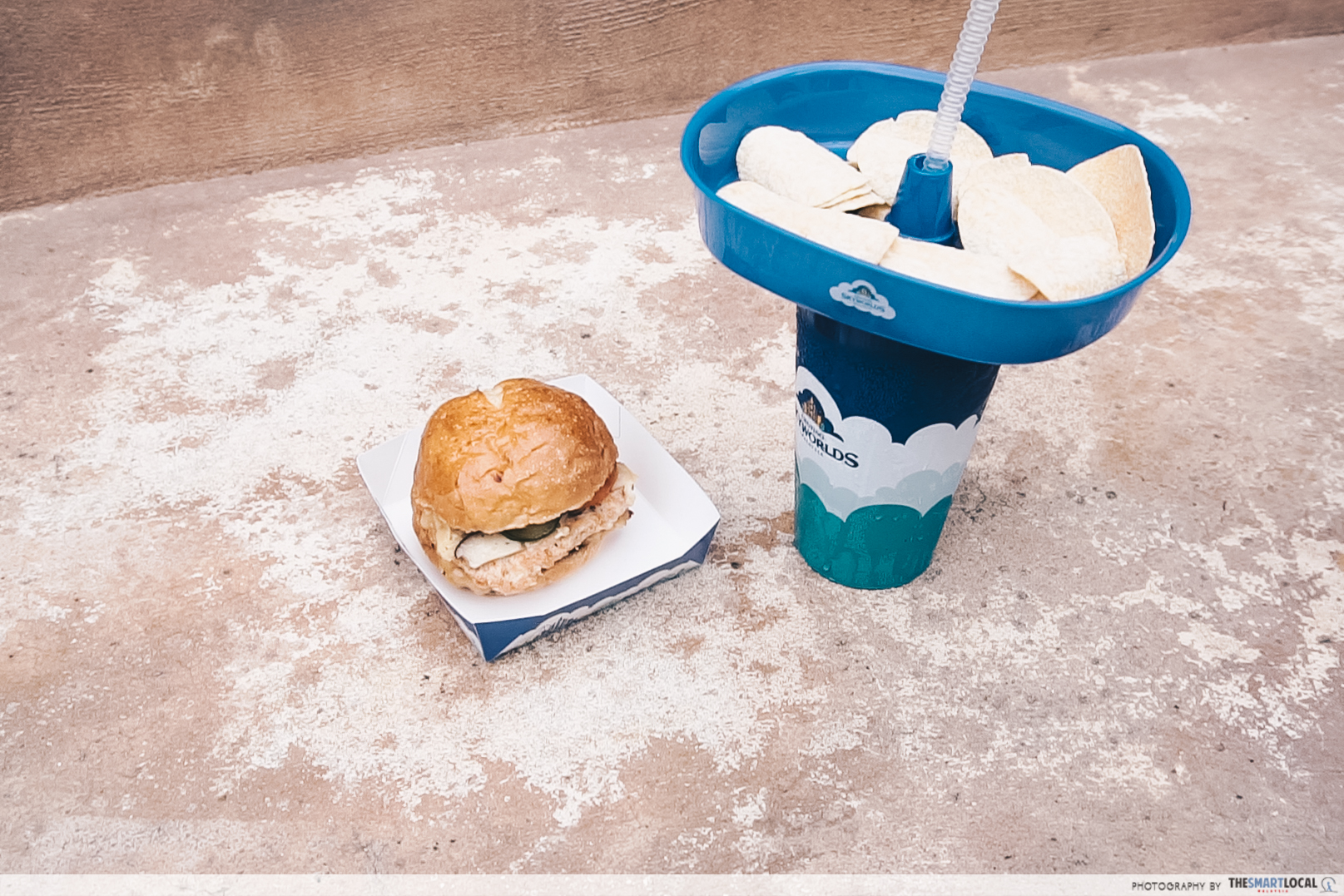 We tried the Truffle Aioli Chicken Burger SkyTub Combo (RM35) from Classic Burgers at Eagle Mountain. The burger was made up of soft, potato buns and a juicy chicken patty, paired with a special truffle aioli sauce, melted cheese, pickled cucumber and onions, giving a burst of flavours in the mouth. 
This set comes with a soft drink and potato chips, served on a portable plastic cup with a tray-like lid and a straw, making it a convenient grab-and-go option for visitors.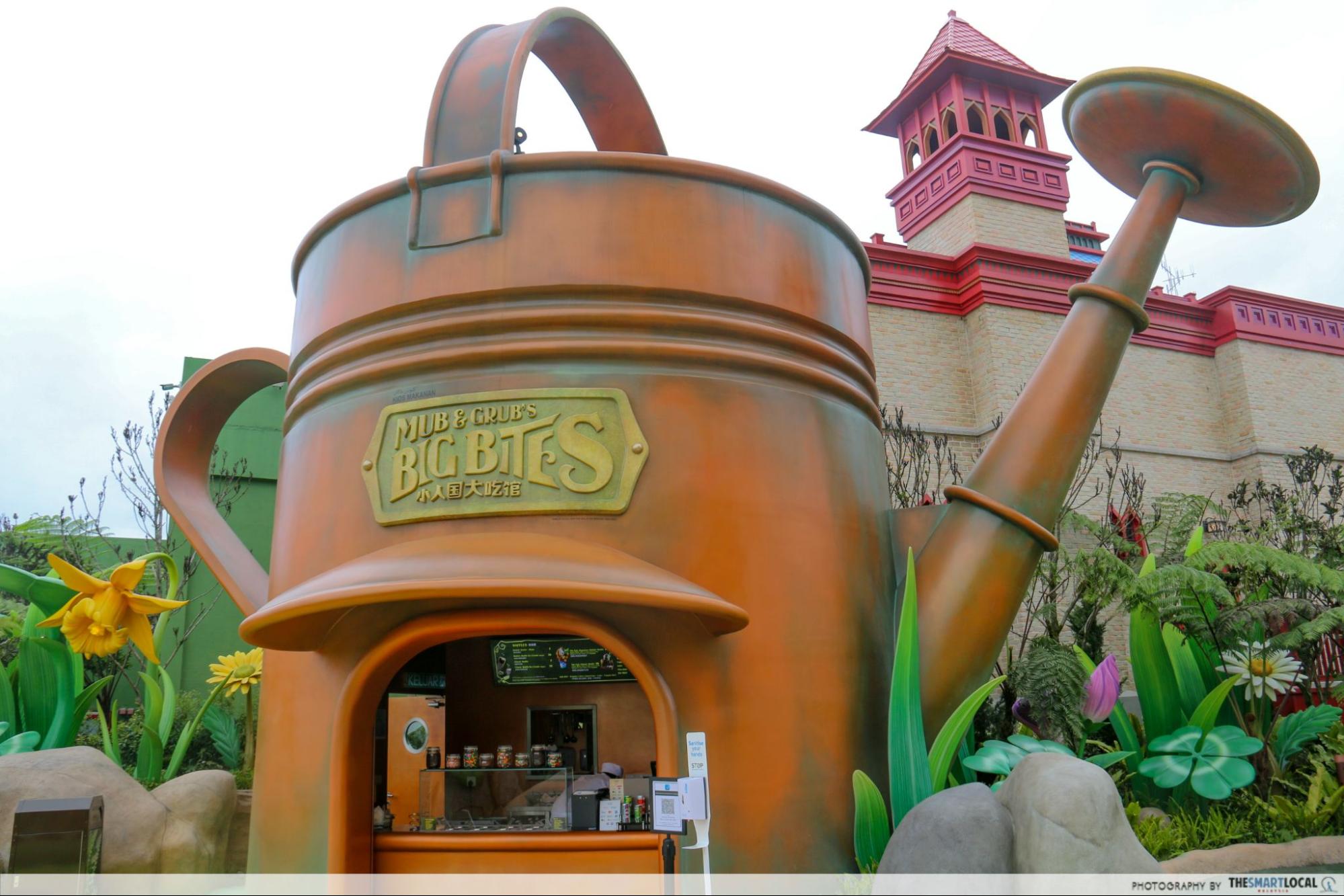 There are sweat options too, such as churros from Orbits Fried Dough at Central Park, doughnuts and eclairs from Aunt Fanny's Confectionery at Robots Rivet Town, and ice-cream and ais kacang from Crash and Eddie's Frozen Treats at Ice Age.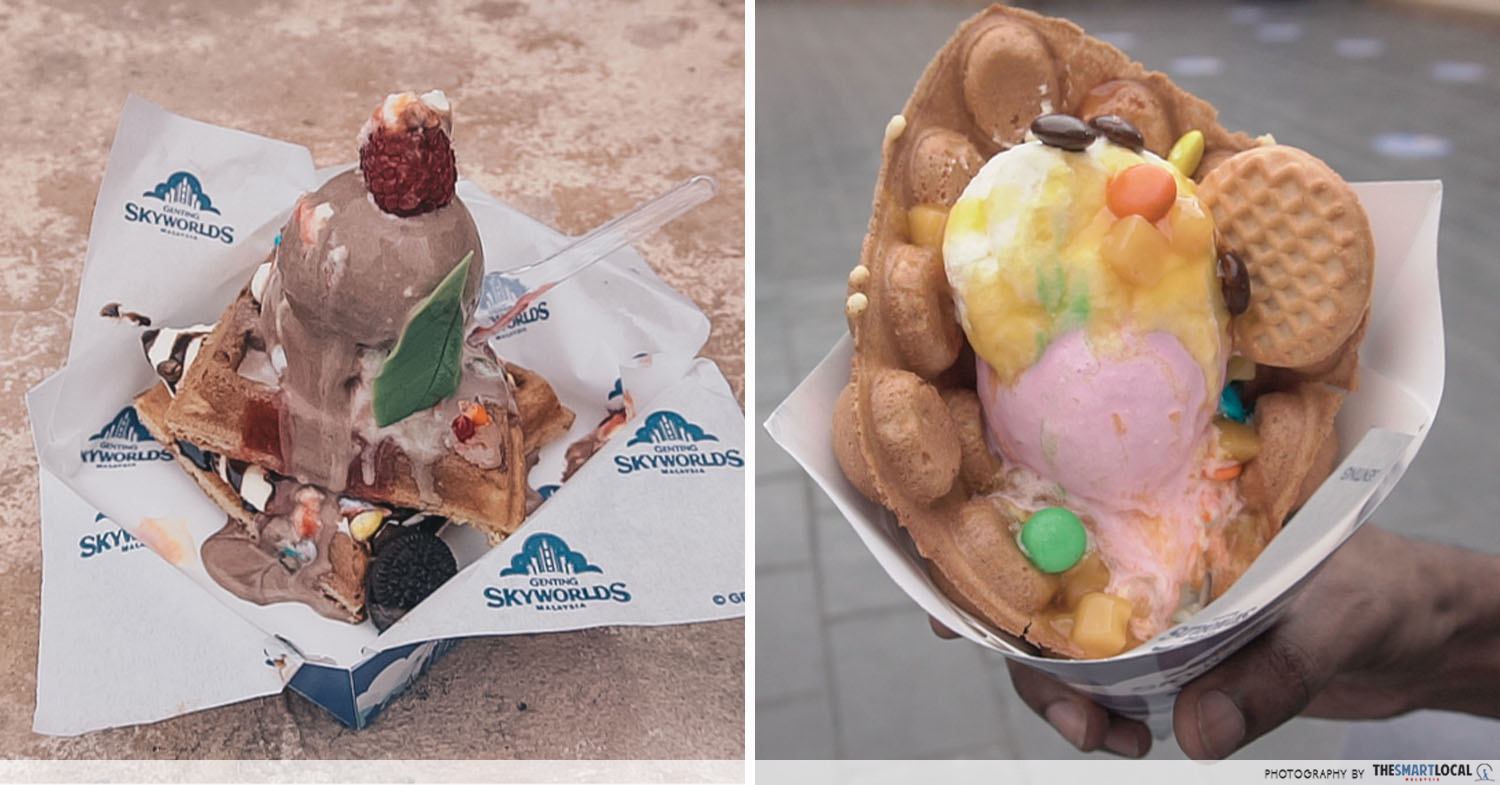 We recommend getting The Epic Signature Bubble Waffle (RM18) and The Epic Classic Waffle (RM18) from Mub and Grub's Big Bites in the Epic world. The waffles are topped with a choice of ice cream, sweet sauce, crunchy candies and fresh fruit for a unique look and flavour.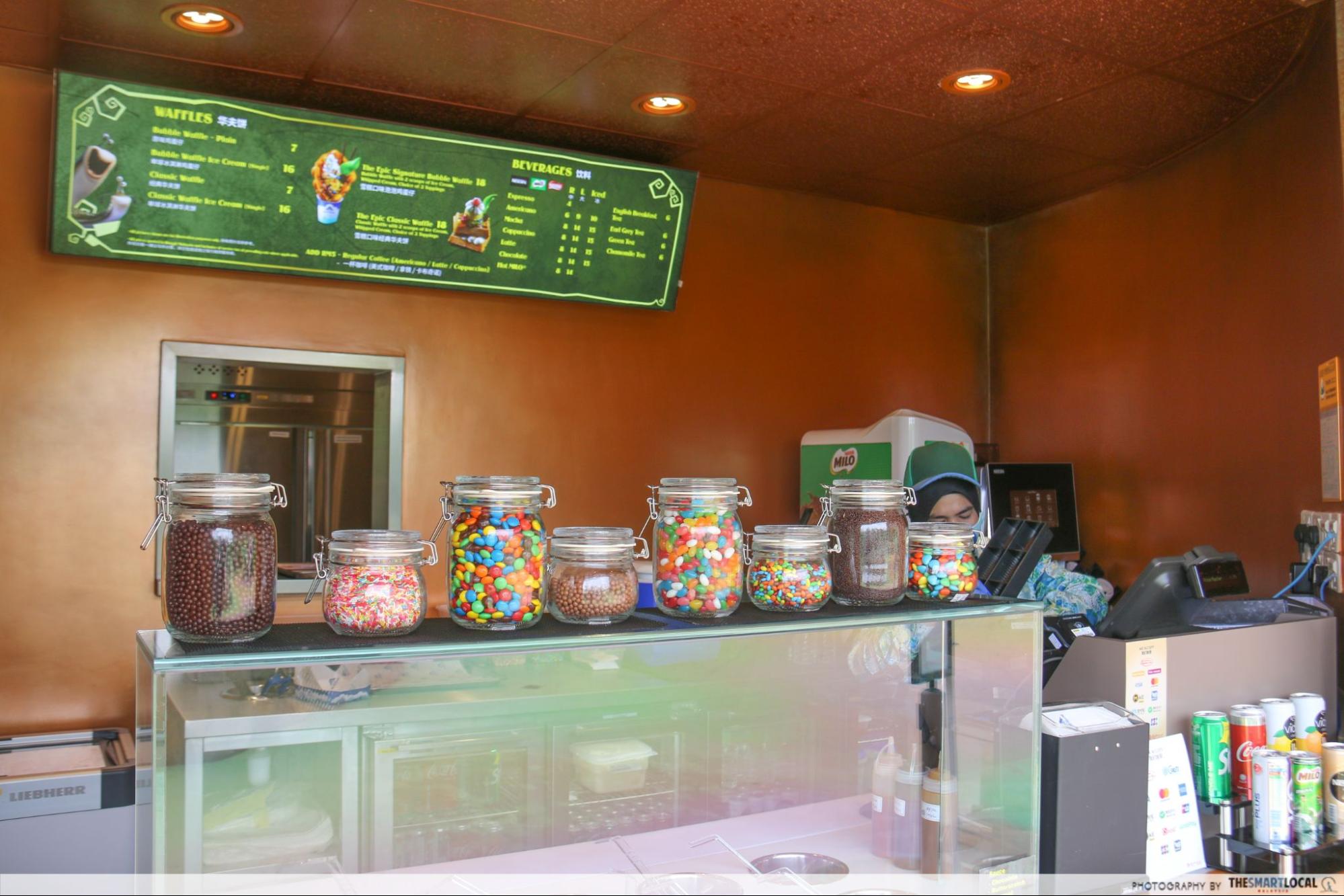 Visitors can customise their own waffle set when placing orders as there's a selection of different sauces and toppings to choose from. So feel free to mix and match the toppings to create a sweet treat that suits your liking.
---
Get your IG game on with stunning photos
---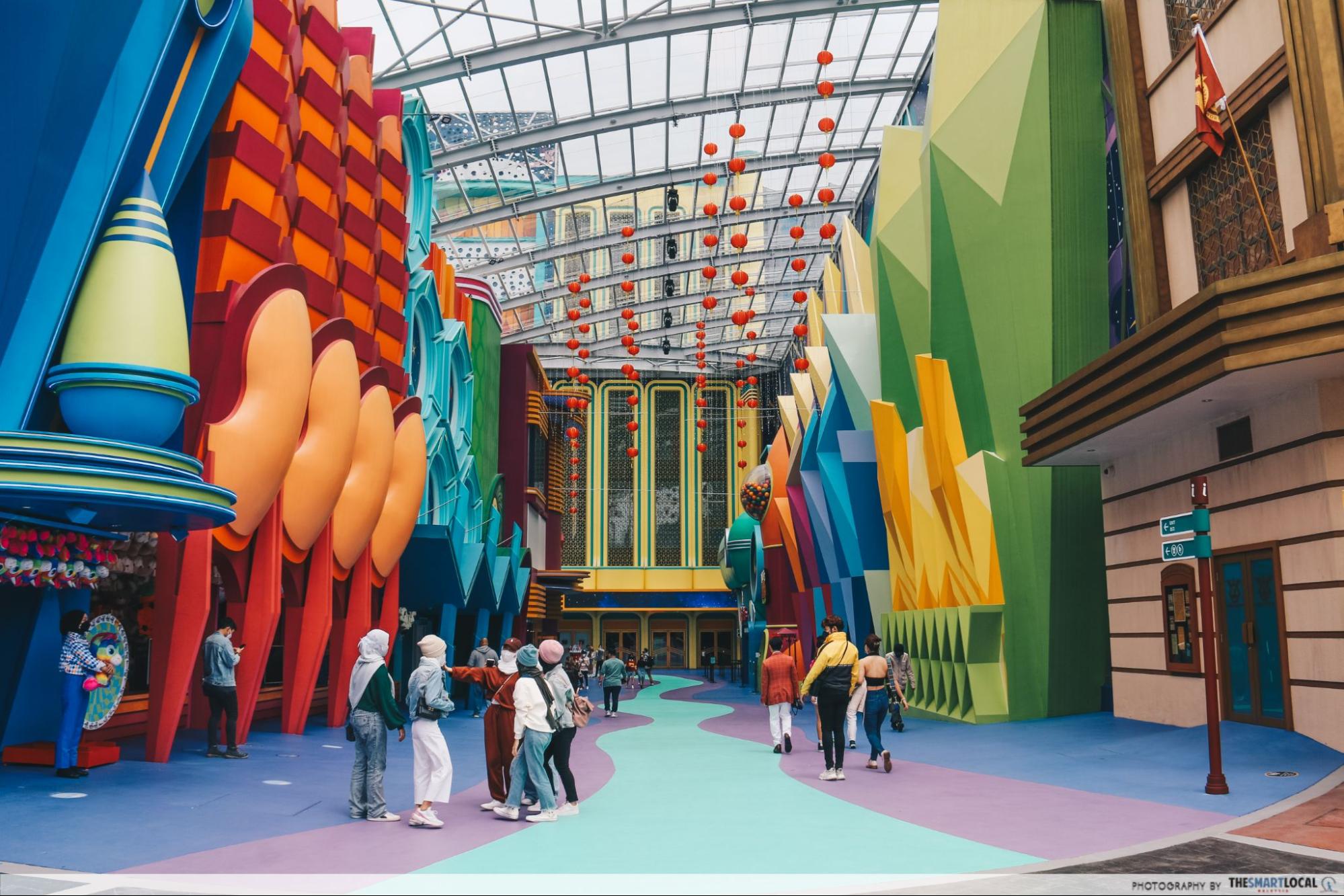 Beyond its rides and attractions, Genting SkyWorlds is also filled with colourful decorations, sculptures and high-tech lighting.
Almost every corner is picturesque, making the park an ideal place for taking Insta-worthy photos despite some restrictions – taking photos or recording videos are prohibited during certain rides for safety concerns.
The different themes of the worlds make a trip to the park a diverse experience too, one that is accompanied by complimentary background music and sounds.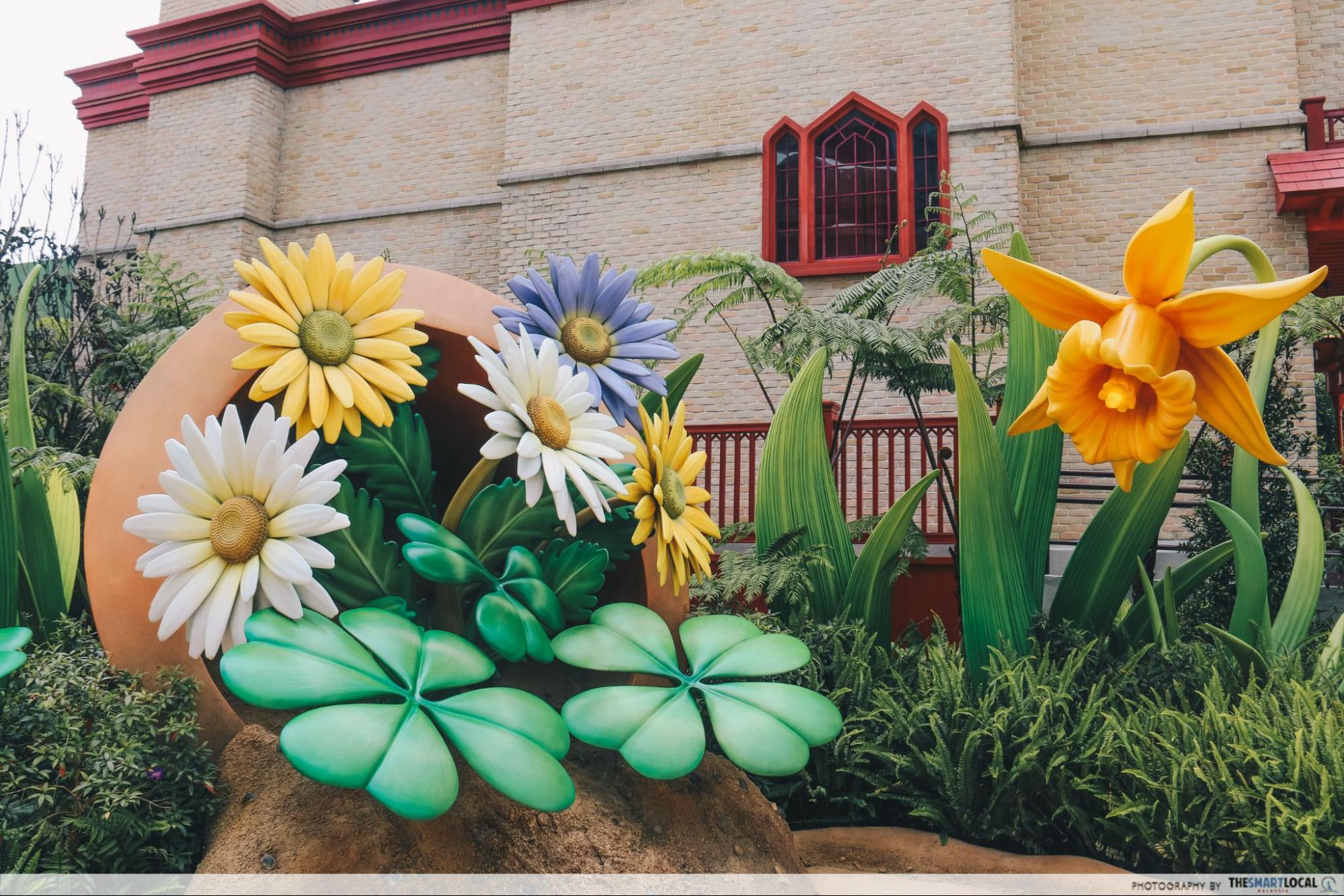 Epic, for one, has giant flower and bird sculptures dotted around its enclave while Central Park has a colourful walkaway where you can stop by to take photos.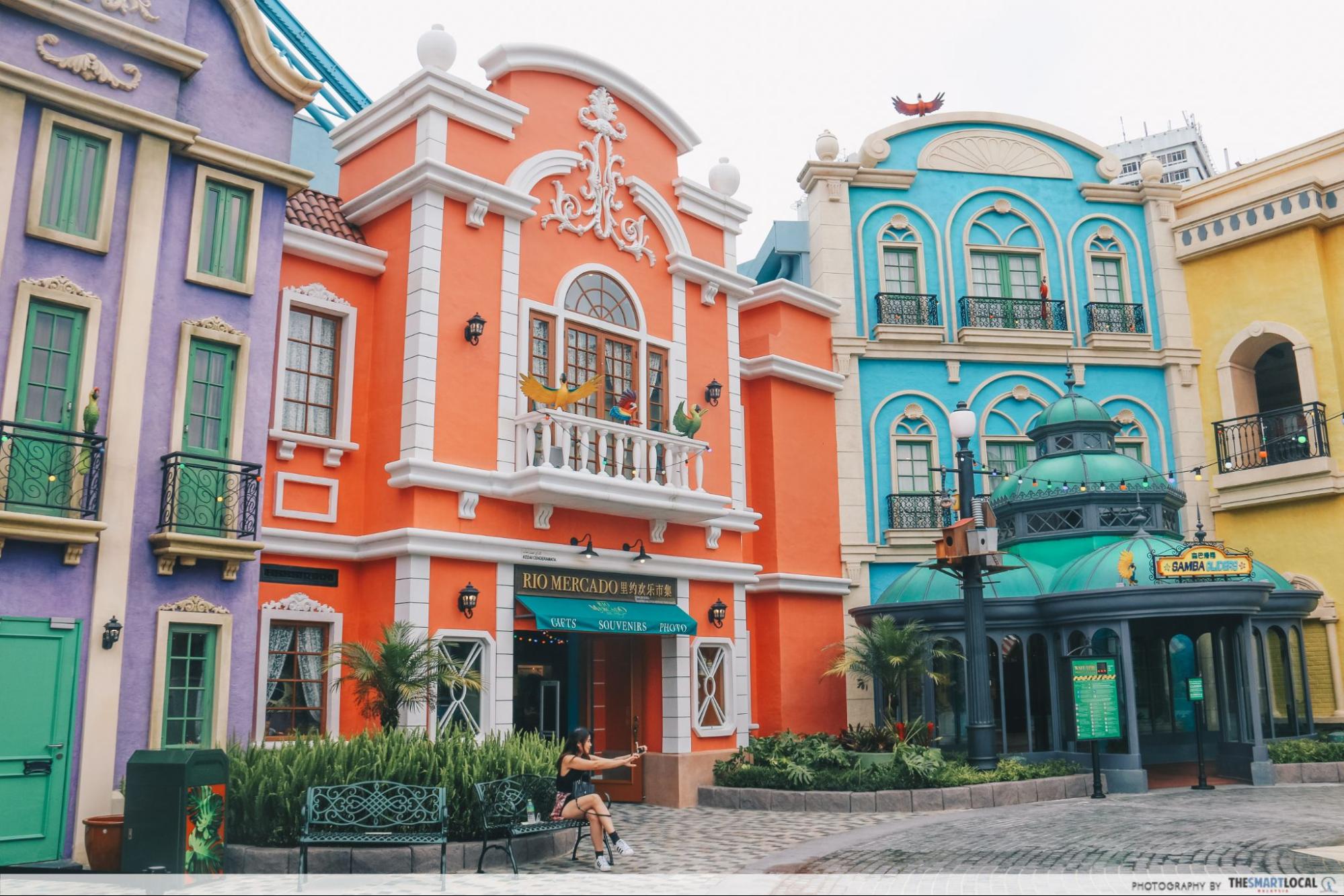 In the world of Rio, there is a beautiful water fountain accompanied by colourful buildings that replicate the vibrant architecture in Salvador, Brazil.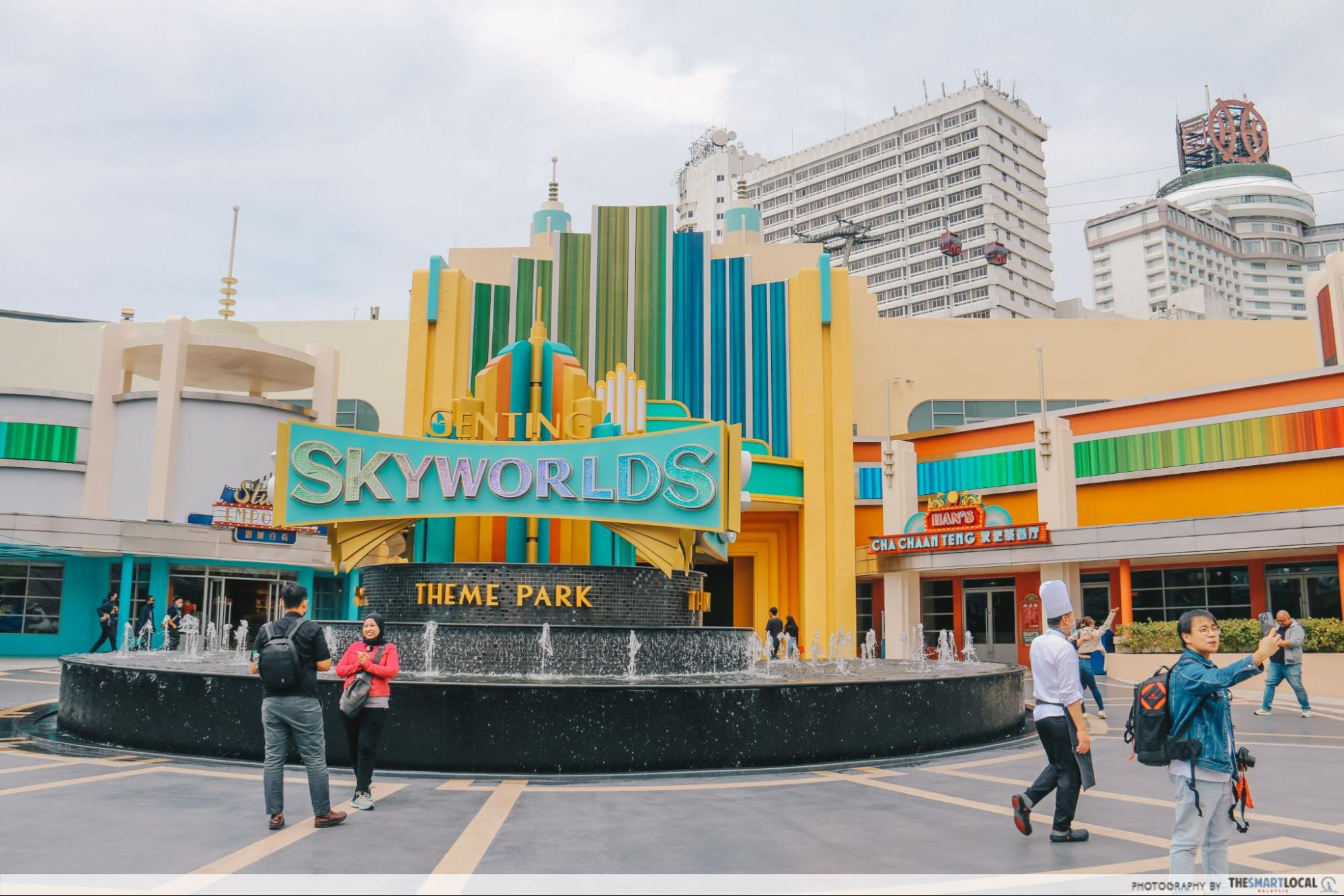 The Studio Plaza at the main entrance is also a favoured selfie spot for guests. Here, you can take pictures with interior decor inspired by the golden era of cinema, or the colourful water fountain topped with the Genting SkyWorlds logo just outside its doors.
---
Buy souvenirs at selected stores and play games
---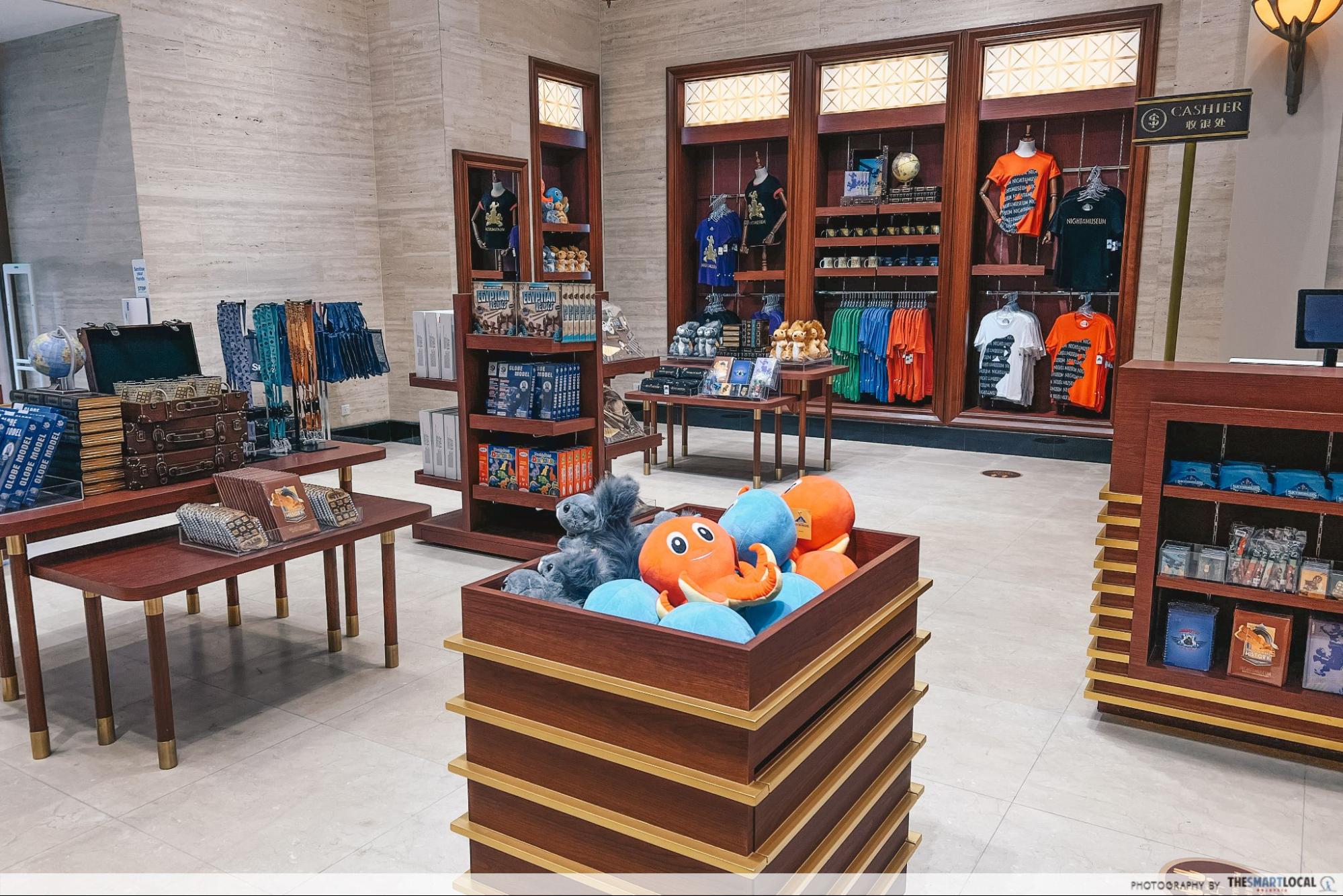 If you're looking to buy souvenirs and gifts along your journey at Genting SkyWorlds, then browse through the various gift shops such as Museum Store from Night At The Museum and Photo Kiosk from Ice Age that sell theme-specific gifts and souvenirs.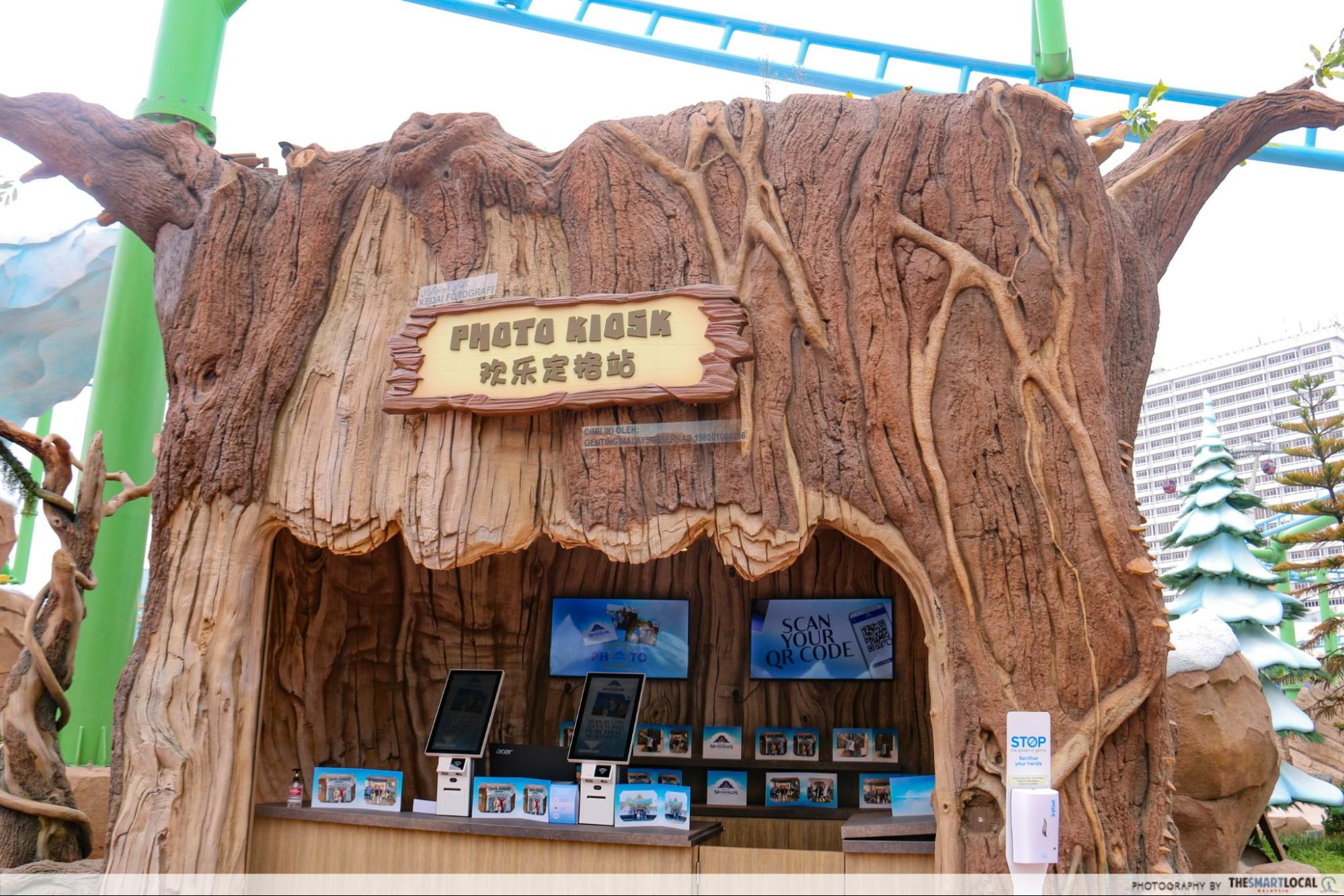 At the entrance, there's Studio Emporium, the largest souvenir store within the theme park. Trawl for mementos and special gifts such as official movie merch and photo memorabilia, among others.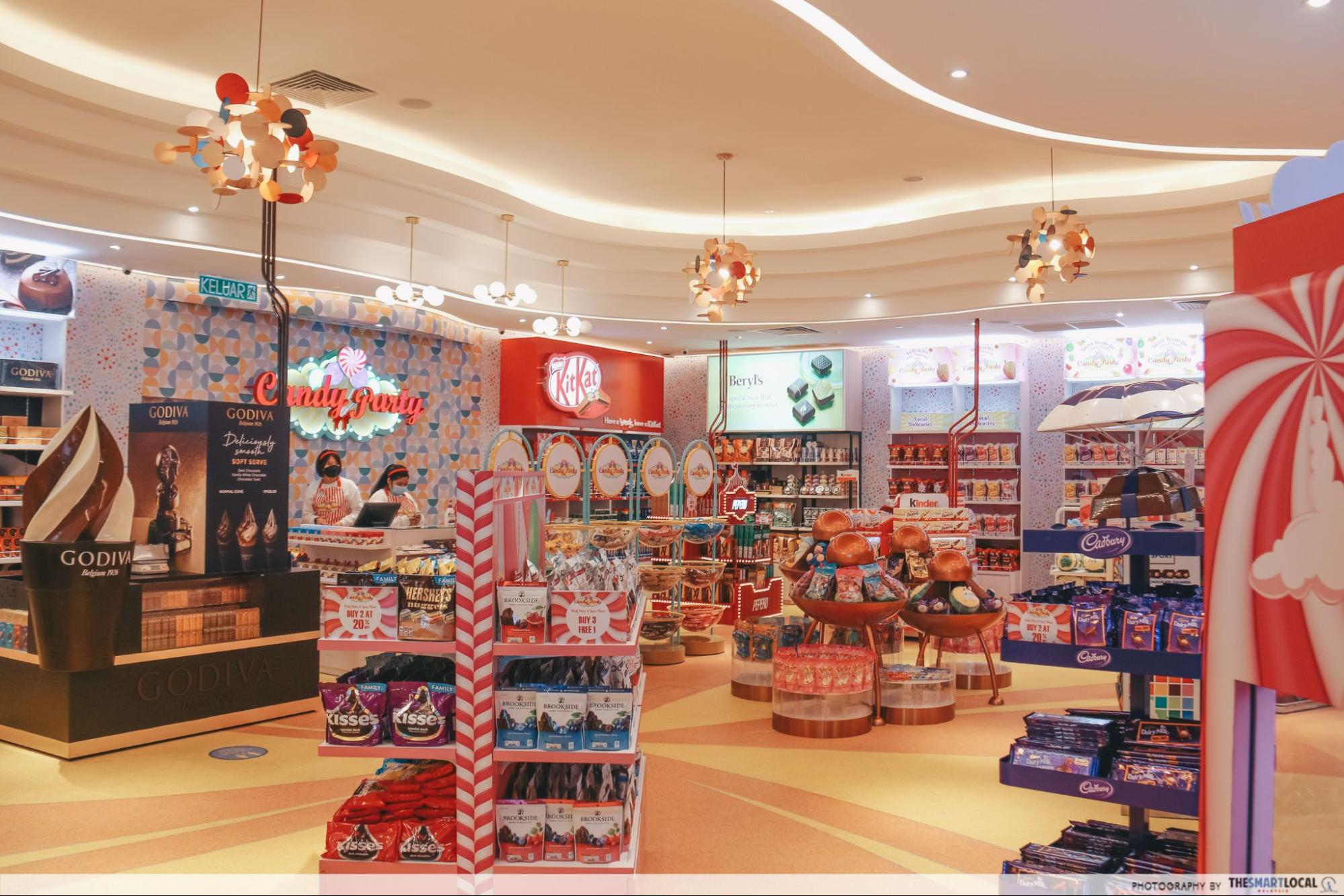 You also get to pick and mix your favourite Hershey's chocolates, and buy cotton candy from a fully automated vending machine, at Sweet Delights presented by Candy Party. This shop sells an array of confectionaries loved by both children and adults.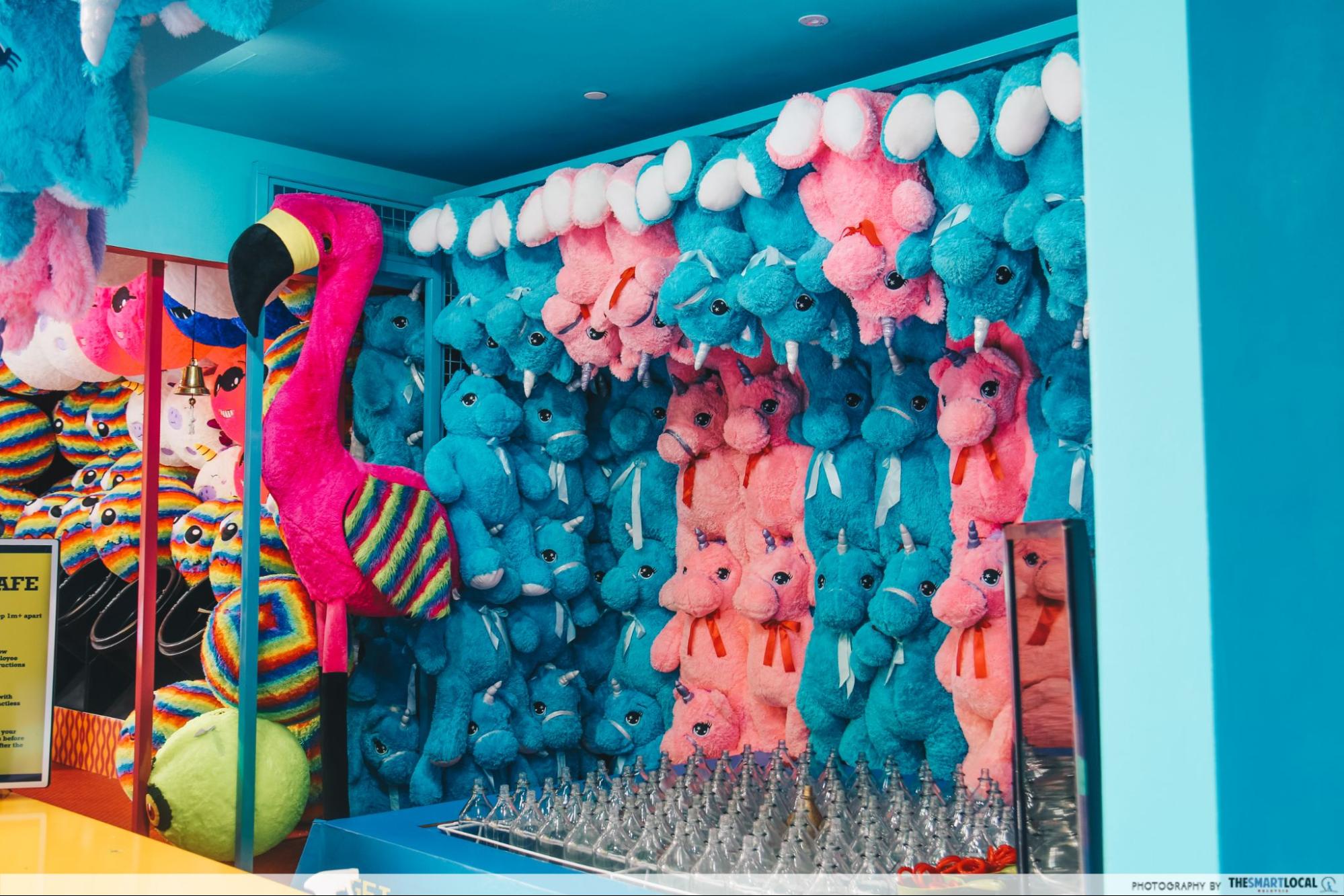 When you're at Central Park, remember to stop by for some carnival-style games to win prizes such as teddy bears and unicorn toys along the colourful walkway. There are designated kiosks near the game stations for you to register a card and top up credit to play the games.
---
How to get here
---
There are several ways to get to this theme park. Visitors can either drive, travel by bus, take cable cars or use e-hailing services. Genting SkyWorlds is about an hour's drive from Kuala Lumpur. Those planning to drive can park their vehicles at various locations around Resorts World Genting and Genting Highlands Premium Outlets.
If you're skipping the drive to the top of the hill, you can park at Awana SkyCentral and take a cable car (Awana SkyWay) to the summit. This method also works if you're opting to get here by bus – you can get down at the Awana Bus Terminal for a cable car ride to the theme park.
The cable car ride takes around 10 minutes to reach the SkyAvenue Station. You will then need to go on foot by following the wayfinding directions to the main entrance of Genting SkyWorlds. While going up the hill in the gondola lifts, you can enjoy the spectacular mountain views of Genting Highlands and a bird's-eye view of the theme park.
There are also buses available to Genting SkyWorlds from various locations throughout Klang Valley such as KL Sentral, Gombak, Shah Alam and Klang Sentral. For the latest updates on bus availability, do check Resorts World Genting's website.
For e-hailing services, there are three pick-up and drop-off points, located at Genting Grand Hotel, First World Hotel and the Ground Transportation Hub.
---
Genting SkyWorlds Theme Park
---
With its thrilling rides and attractions, Genting SkyWorlds is an outdoor theme park that offers an entertaining adventure for those planning a getaway with family and friends. The uniquely themed worlds with its eye-catching designs, ambience, food options and retail shops will keep you entertained all day.
To celebrate their soft opening, Genting SkyWorlds is offering a 20% discount on all tickets until the end of March 2022.
Watch our video here:

Tickets:
Adults – RM189/pax
Kids between 90-110cm, senior citizens, and the disabled – RM161/pax
Entry for toddlers under 90cm is free
Address: Genting Highlands Resort, 69000 Genting Highlands, Pahang
Opening hours: 11AM-6PM, Daily
Website | Facebook | Instagram
Read more interesting features of places here:
---
Photography by Siva Selan.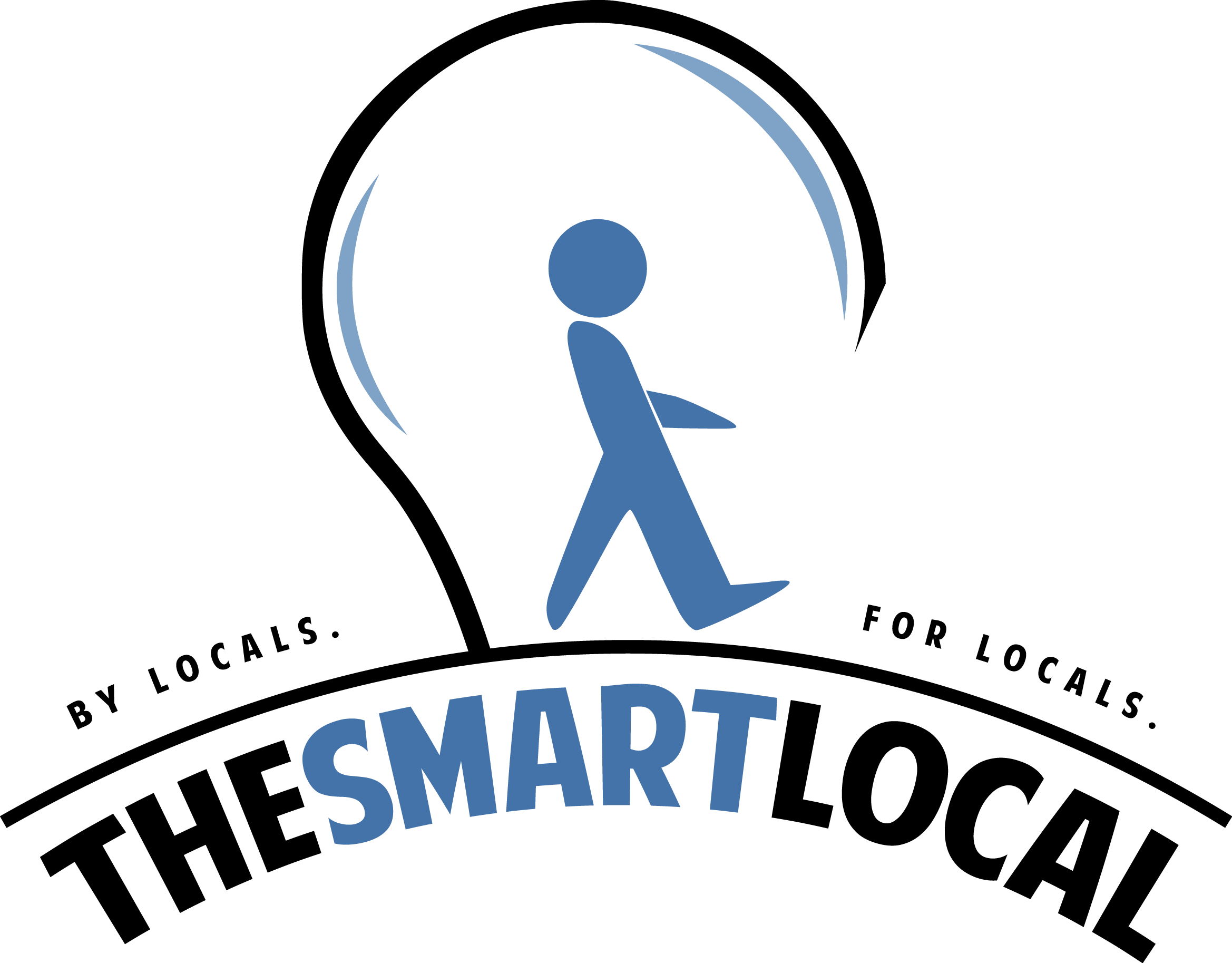 Drop us your email so you won't miss the latest news.