Glamping spots in and near KL
---
There's something about breathing in fresh air and sleeping under the stars that's good for the soul. Sure, camping can give us that dose of nature we all need. But it isn't all that fun when reality hits, mosquitoes bite, and the cold, hard ground hurts.
If you're itching to be one with nature – but reluctant to forgo the comforts of a proper mattress – glamping lets you have the best of both worlds. From dreamy treetop houses to quirky bubble domes with private jacuzzis and nature activities galore, we rounded up 10 glamping spots in and near KL.
---
1. The Hooton Retreat, Negeri Sembilan – private outdoor jacuzzis
---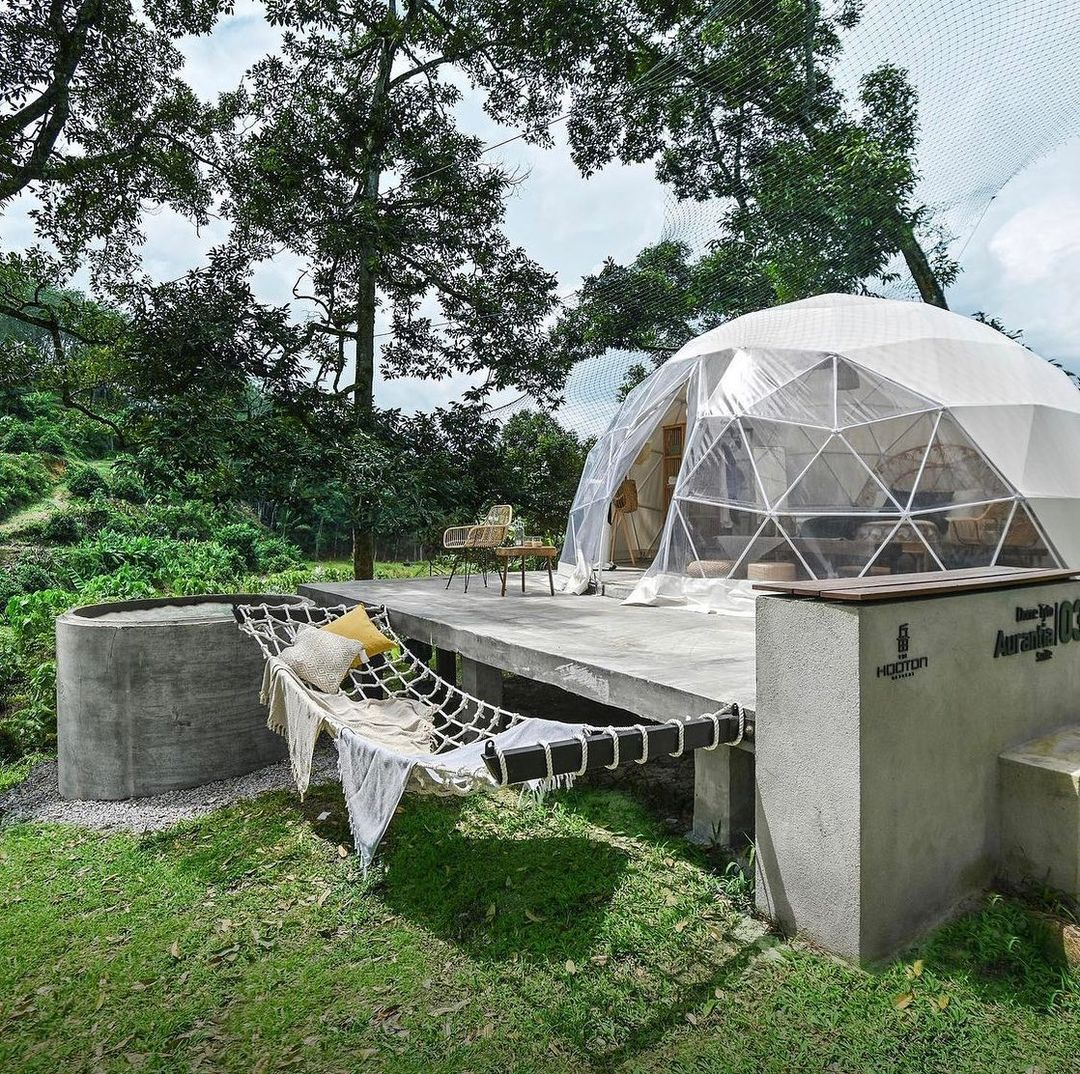 Image credit: @thehootonretreat
Glamping in a clear bubble dome at The Hooton Retreat feels just like sleeping inside a humongous crystal ball in the heart of nature. You'll get to fall asleep under a blanket of stars and wake up to the glow of the morning light illuminating your room – all while shielded from pesky insects and the stifling weather.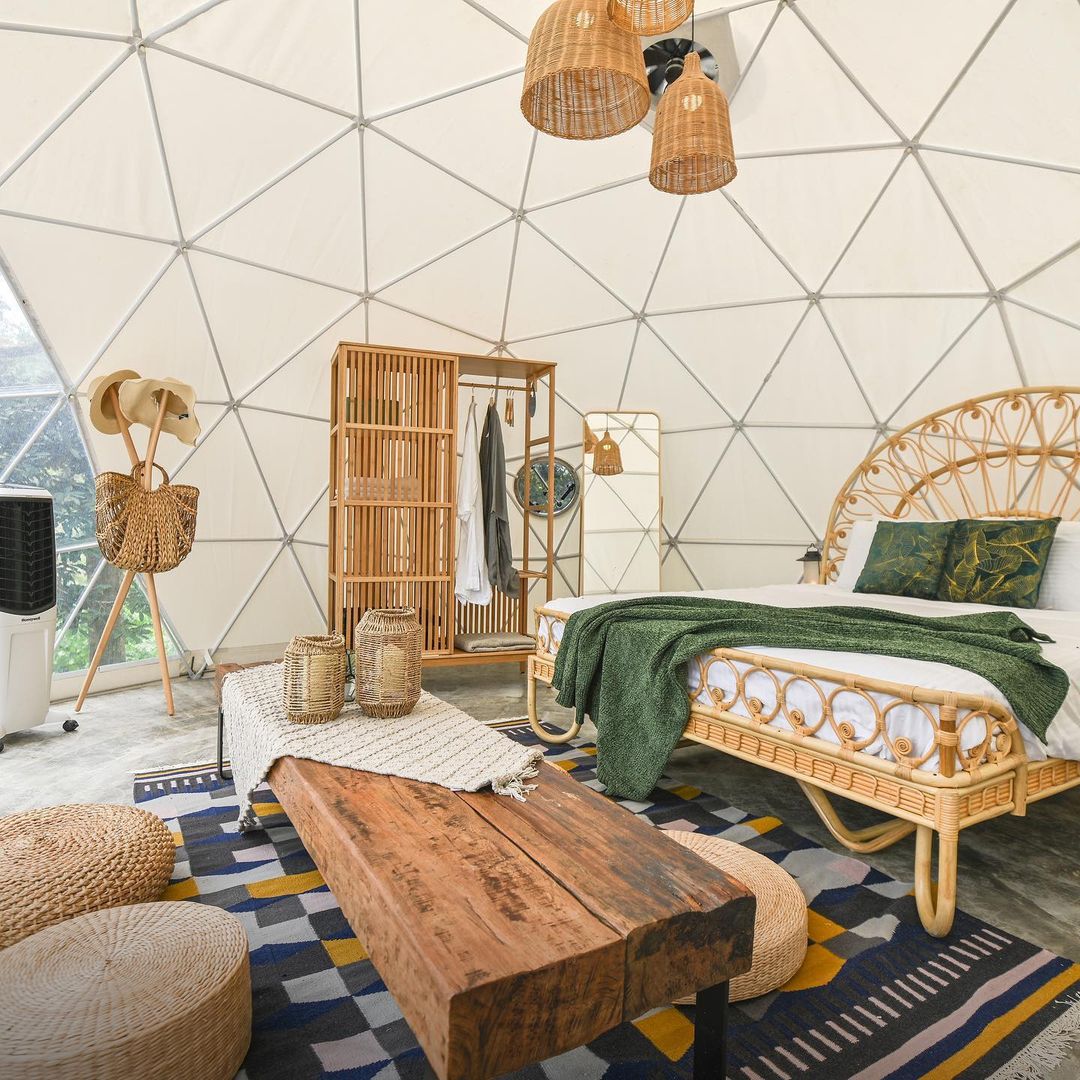 Image credit: @thehootonretreat
Just an hour away from KL, the glampsite is located within the lush rainforest of Kuala Klawang in Negeri Sembilan. While you'll be surrounded by verdant greens, the boho-chic decor inside the domes exudes such a homey vibe that you'll forget you're staying the night in a tent.
If stargazing from rattan beds within the bubble domes is not satisfying enough for you, there are outdoor jacuzzis on a connected deck. So, pack your swimwear to enjoy a warm bath as you bask in the view of the vast grounds and open skies.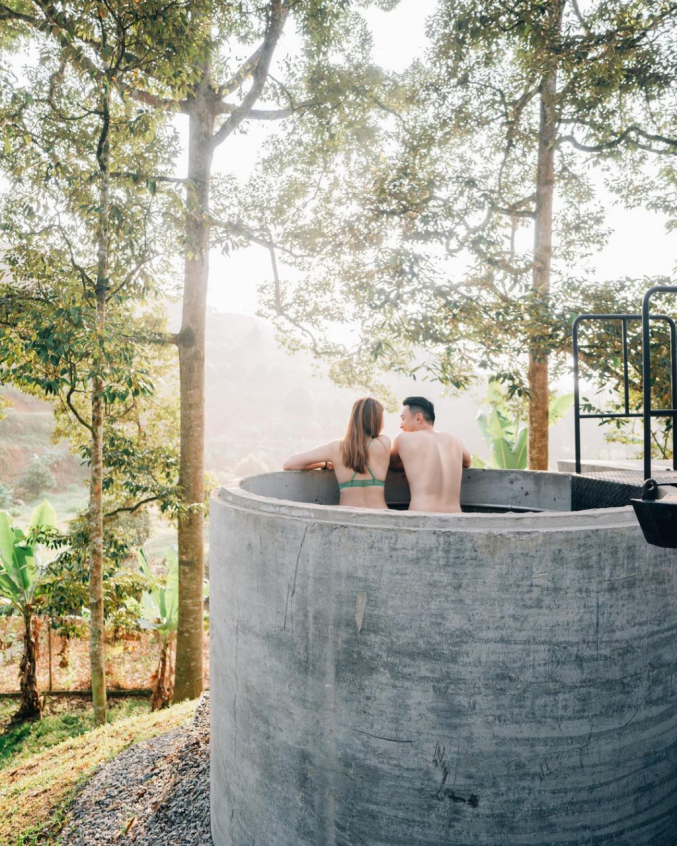 Image credit: @tonykee
The Hooton Retreat may boast an ideal environment for the ultimate peaceful getaway, but there are more than enough hands-on activities to keep occupied with here as well. There are yoga sessions, archery, and flying fox, as well as a jungle-trekking exploration of nearby forests and a waterfall at Jeram Toi.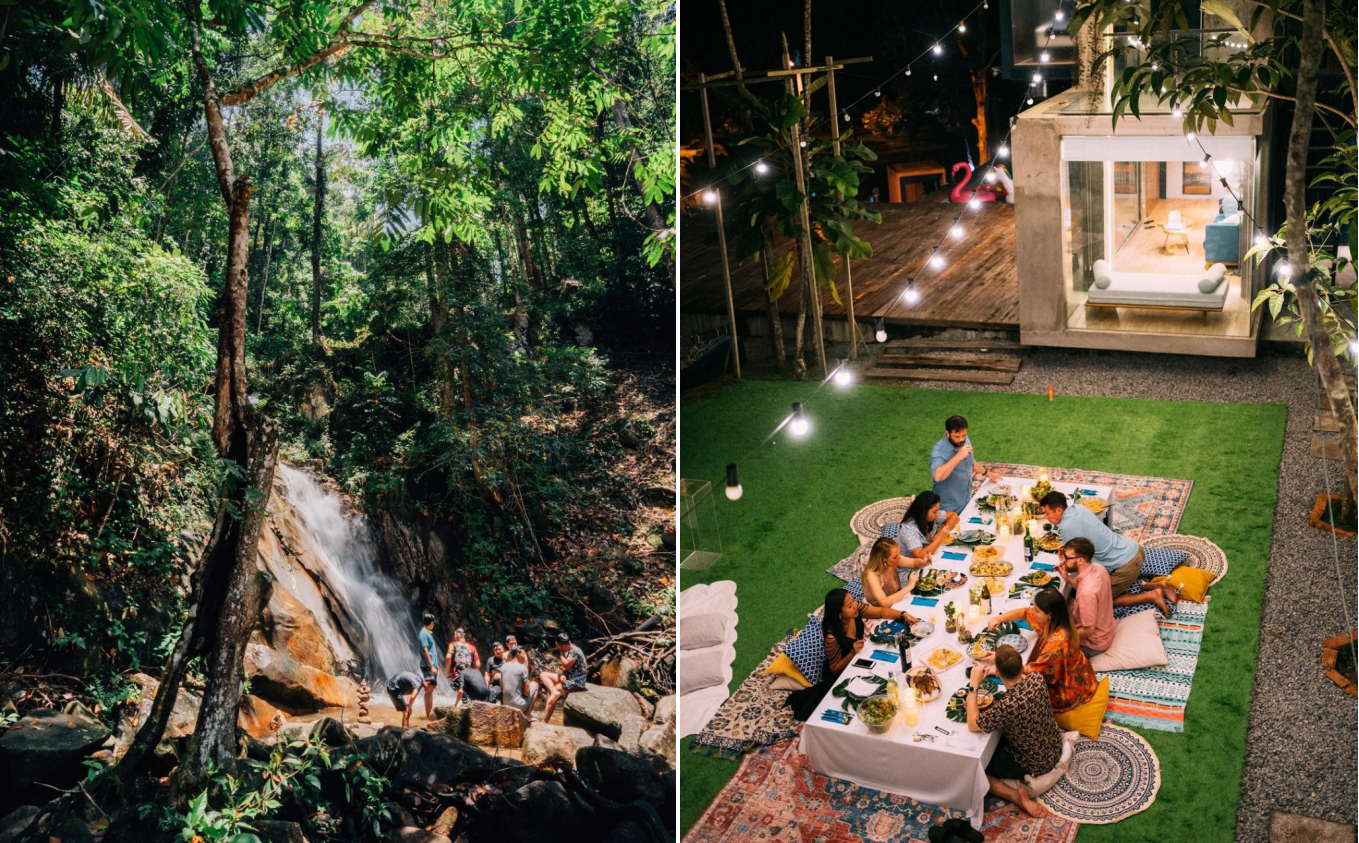 Image adapted from: @thehootonretreat & @thehootonretreat
Dial down with your loved ones at night around a bonfire, or throw a summer soiree party where you can rustle up a good barbecue dinner with a backdrop of the setting sun. 
Their most affordable room is the Dome Otus (from RM580/night). But if you're looking to splurge on a staycay with your SO, the Dome Tyto (from RM1,580/night) comes with a private jacuzzi.
Larger groups may opt for the all-glass villas instead. These luxe two-storey accommodations – Villa Aegolius (from RM2,480/night) or Bubo Cote Studio5 (from RM1,000/night) – feature modern comforts such as a kitchen, dining area, and even a viewing deck.
Address: Lot 2773, Jalan Kuala Klawang, Simpang Pertang, Mukim Pertang, 72300 Kuala Klawang, Negeri Sembilan
Opening hours: 24 Hours, Daily
Contact: 019-208 0633 | Hooton Retreat Facebook | Instagram
Read more about Hooton Retreat here.
---
2. Tiarasa Escapes, Pahang – have a picnic by the river & watch movies outdoors
---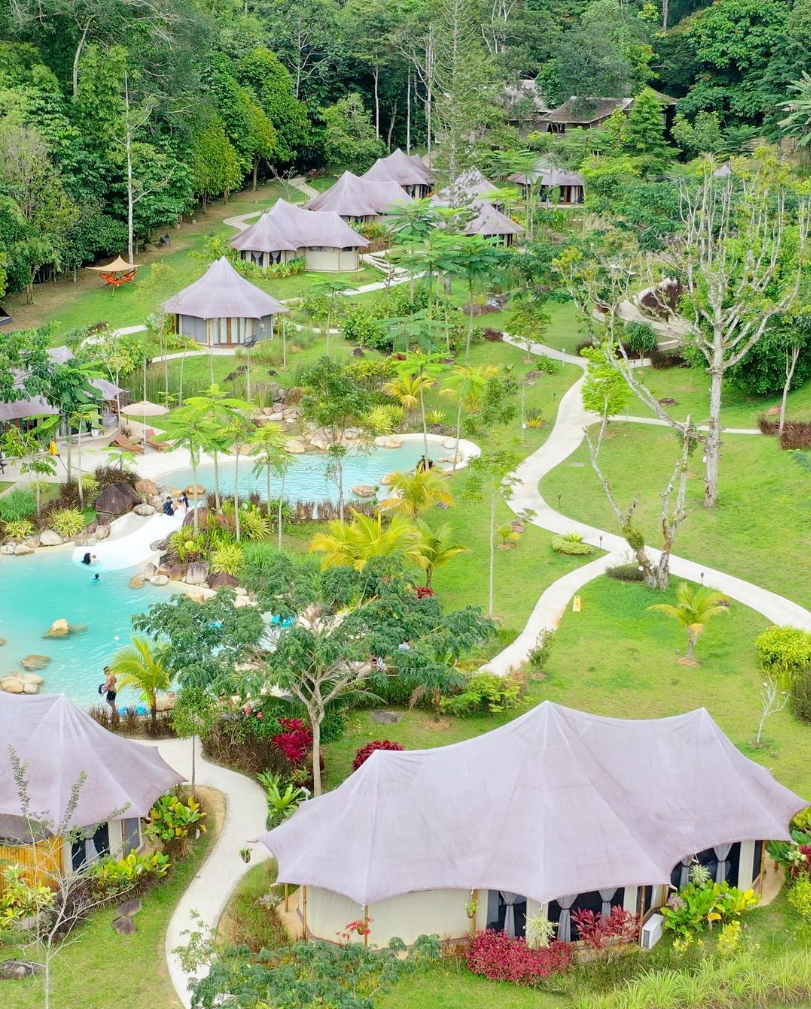 Image credit: @eejingan
If you're looking for nights under a canvas away from the urban chaos, Tiarasa Escapes is the place for you.
Located at the foot of the scenic Janda Baik – a mere 45-minute drive from KL – the glampsite is a picturesque village of canopy-roof villas and treetop huts. The villas are as posh as old-world Georgian mansions – they are equipped with large comfy beds and en-suite bathrooms, as well as floor-to-ceiling glass windows draped with white curtains.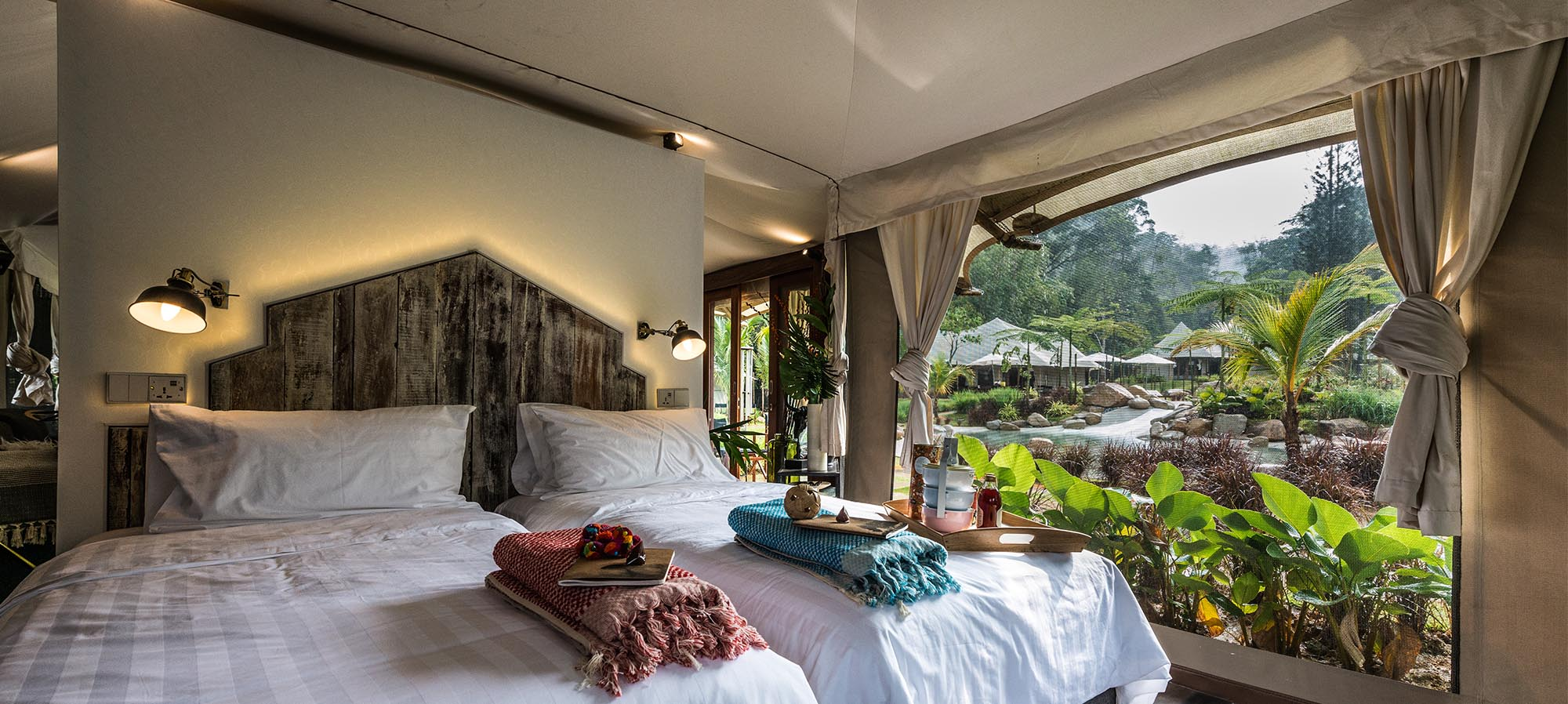 Image credit: Tiarasa Escapes
To really level up your glamping experience, there are also Treetop Villa accommodations at Tiarasa Escapes. Perched on elevated platforms within clusters of trees, these rustic and luxurious villas are gloriously atmospheric and feature a verandah – here, you can sip on your morning coffee with a breathtaking view.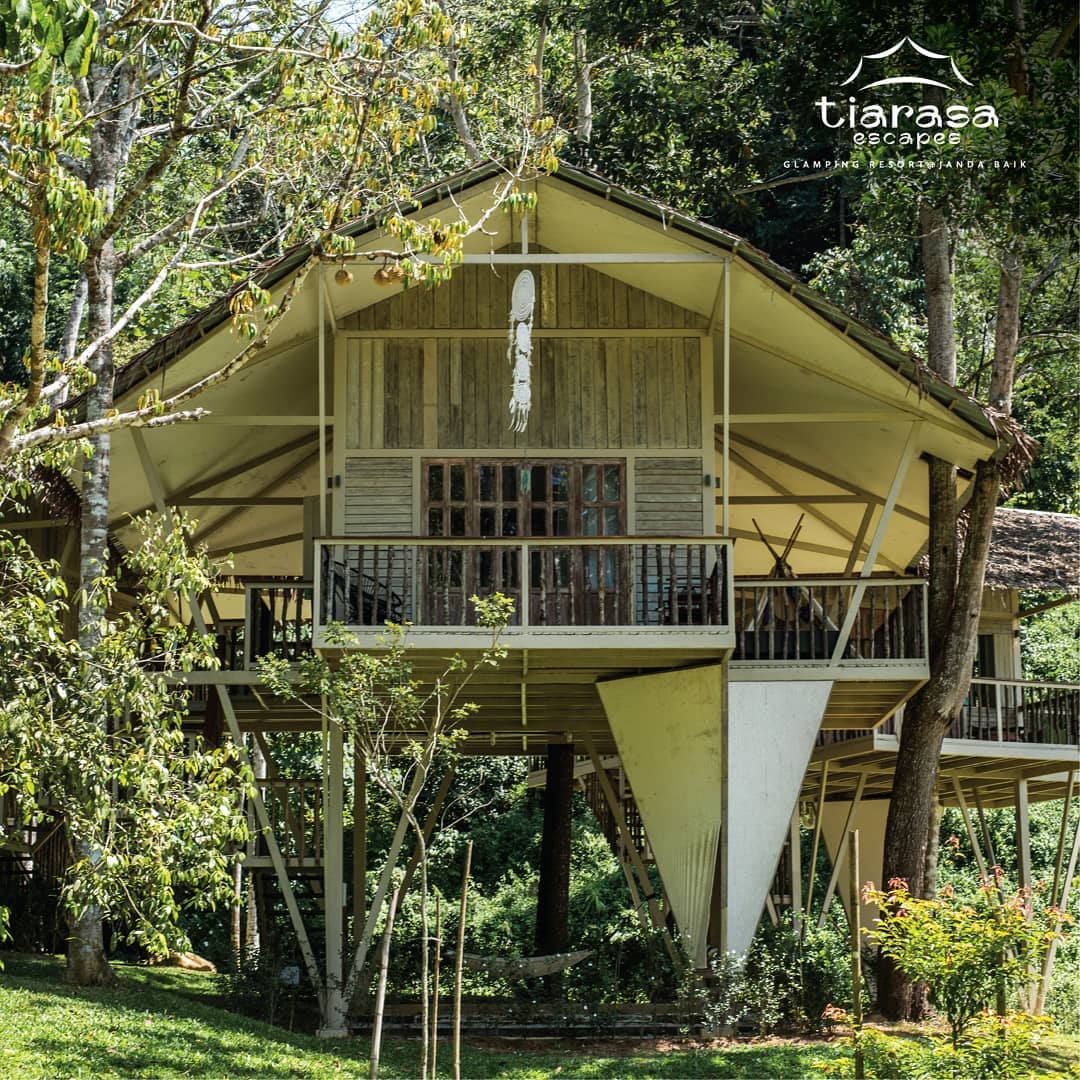 Image credit: @tiarasaescapes
The site is also thoughtfully kitted out with activities. Take part in a guided bird exploration in the jungled hills or try your hands at fishing by the river. Guests will also have access to Tiarasa Escapes' array of amenities, such as the fire pits if you're craving a toasted s'more, or the outdoor cinema where you can watch movies on comfy bean bags under the night sky.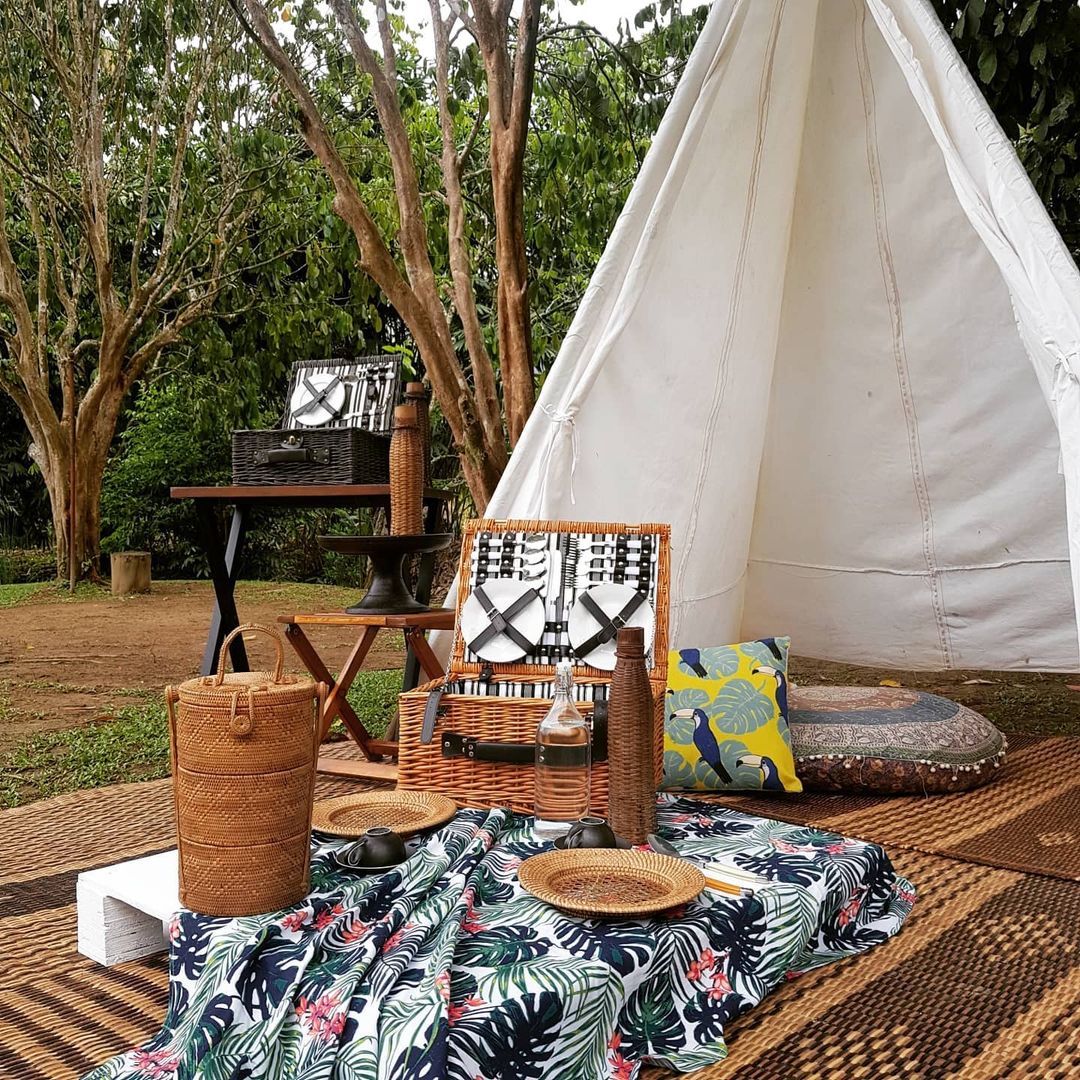 Image credit: fatinjohana
You'll have all your mealtimes sorted here too. The riverside picnic (RM60/pax) is an enchanting experience comprising an afternoon tea set accompanied by the murmurings of the flowing river. There's also a communal lounge and dining area called Rasa by The River, which serves traditional local favourites and Western dishes.
Concepts and sizes of the tented villas vary – you can take your pick among these:
Dragonfly Villas:

RM1,151/night

for 2 pax

Hornbill Villas:

RM1,383/night

for 4 pax

Treetop Villas:

RM1,383/night

Rajah Brooke Family Suite:

RM1,847/night

for 6 pax
Address: Persiaran Enderong, Kampung Janda Baik, 28750 Bentong, Pahang
Opening hours: 24 Hours, Daily
Contact: 012-887 7777 |  Tiarasa Escapes website | Facebook | Instagram
Read more about Tiarasa Escapes here.
---
3. Glamz, Pahang – family-sized bubble domes
---

Image credit: @traworldcom
Not all bubble domes are built the same – small and simple to large and luxurious, there are countless types of bubble domes in the glamping scene. But one thing that's constant, they'll all reward you with a night under starry skies.
Glamz in Genting Highlands promises just that. It has a range of dome tents that differ in sizes, so glampers will have a plethora of options for rooms that accommodate small and large groups.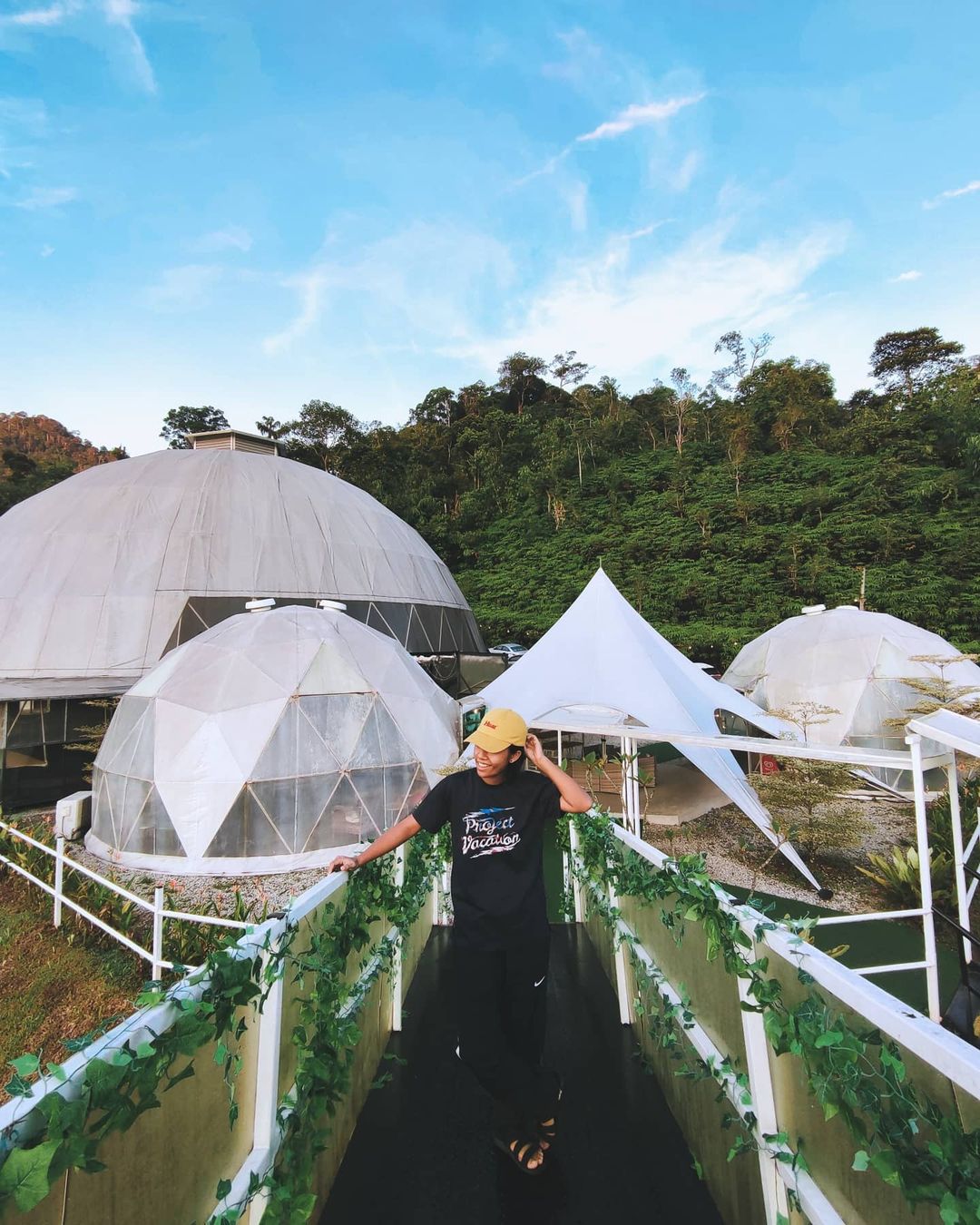 Image credit: @j.jainis
Solo travellers or couples can opt for the Dome Room (RM500/night). It's equipped sufficiently with comfy beds, armchairs, and a hammock by a large window where you can spend a leisurely day gazing at the scenery. 
For a more fancified stay, the VIP Dome (RM738/night) comes with a private jacuzzi.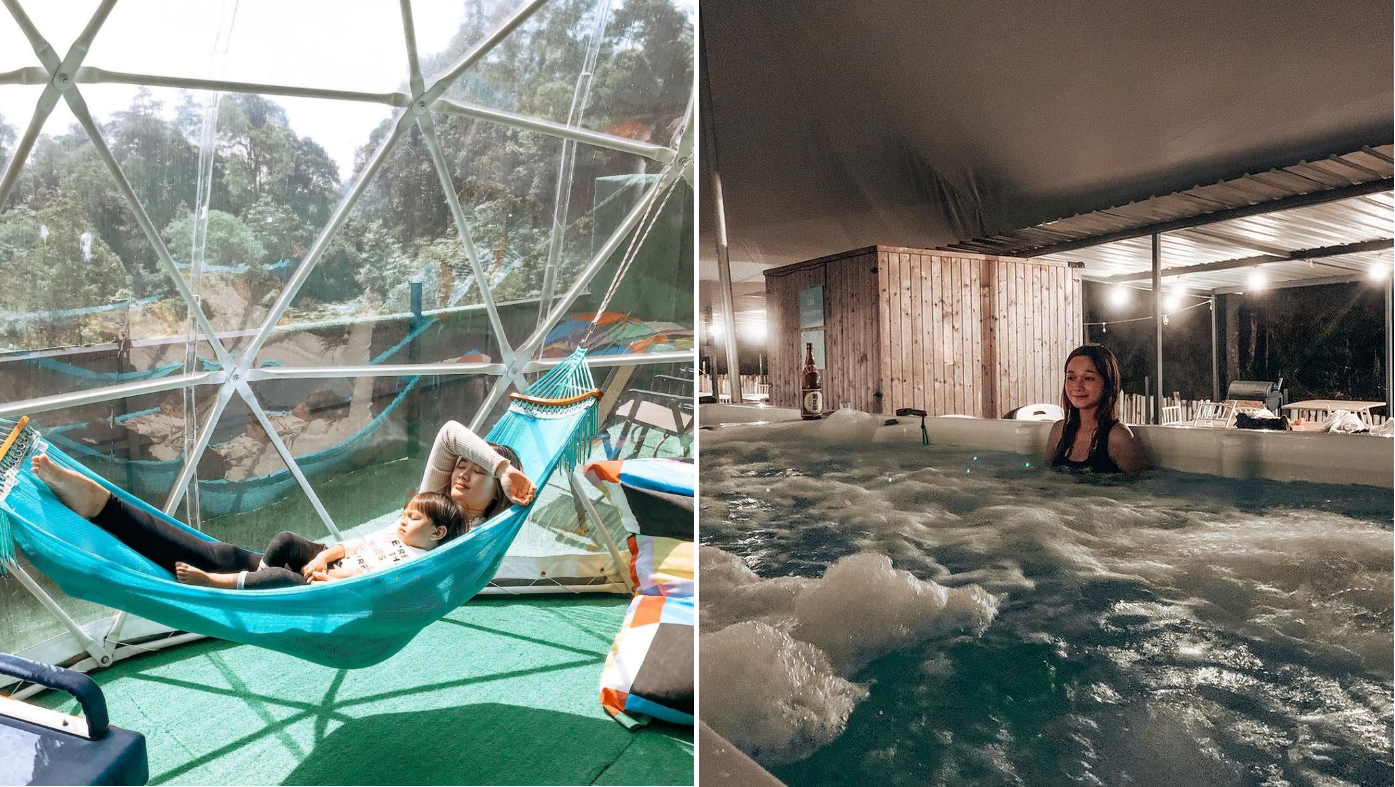 Image adapted from: @littlefamilycampers & @huienlow
Oodles of space and a handful of roomy beds, the Family Dome (RM750/night) is big enough to fit a family of five comfortably. With en-suite bathrooms, there will be no need for pesky shared loos. Simply enjoy a leisurely off-the-grid stay with your loved ones.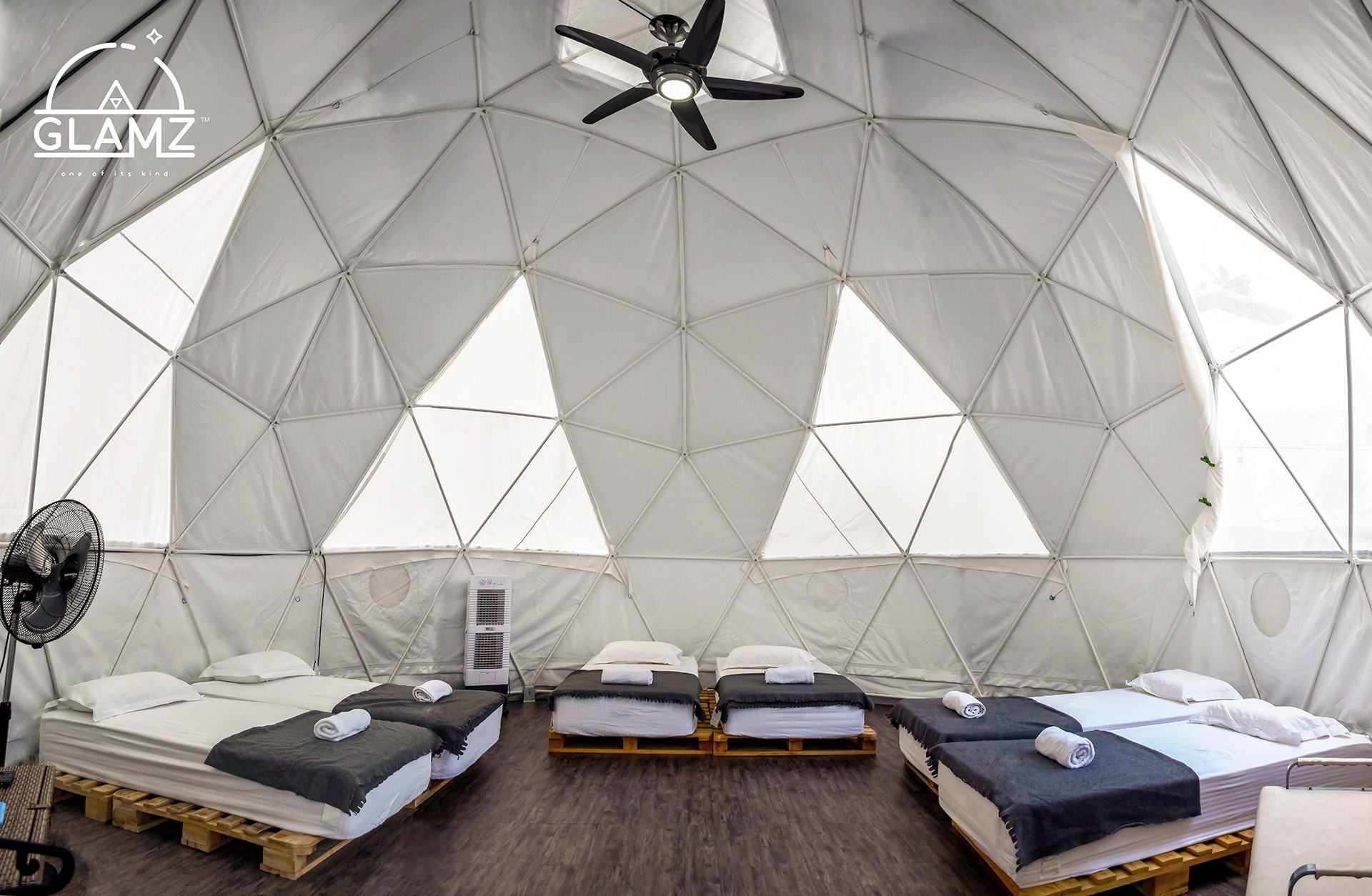 Image credit: Glamz Space
Or forgo the domes and opt for the Bell Tent (RM400/night) instead for a more authentic camping experience.
Address: 1, Jalan Meranti, 69000 Genting Highlands, Pahang
Opening hours: 24 Hours, Daily
Contact: 012-664 5269 | Glamz website | Facebook | Instagram
---
4. Castra by Colony, Kuala Lumpur – luxury urban camping
---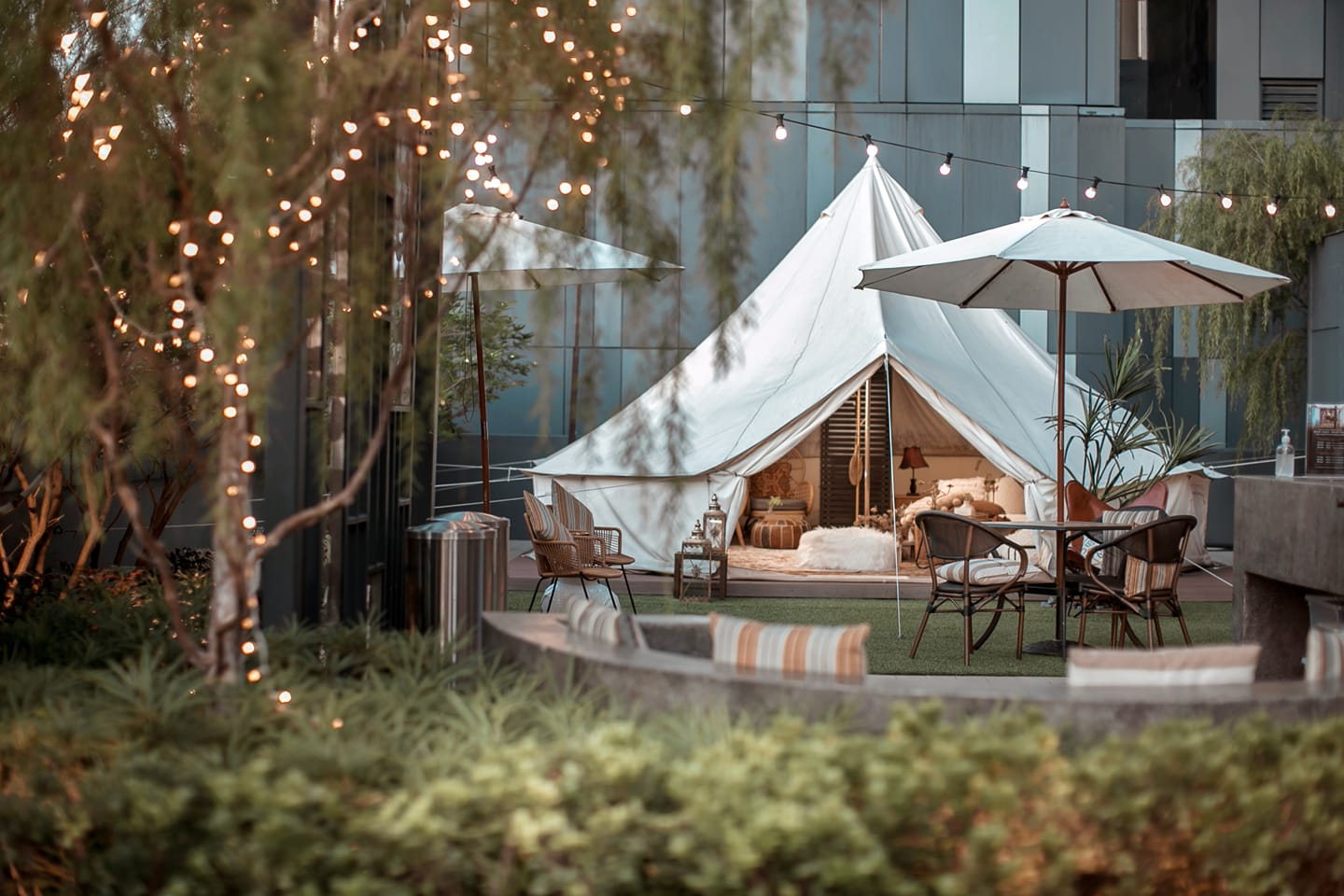 Image credit: @knotfortwo
There isn't a law that says glamping has to be carried out in the secluded mountains or within dense woods. But why rough it out in the middle of nowhere when you can experience a piece of nature in the heart of the city?
Castra by Colony is the perfect glampsite for those who tend to get antsy in the wilderness – it's an ultra-chic encampment situated on a rooftop terrace in the heart of Kuala Lumpur.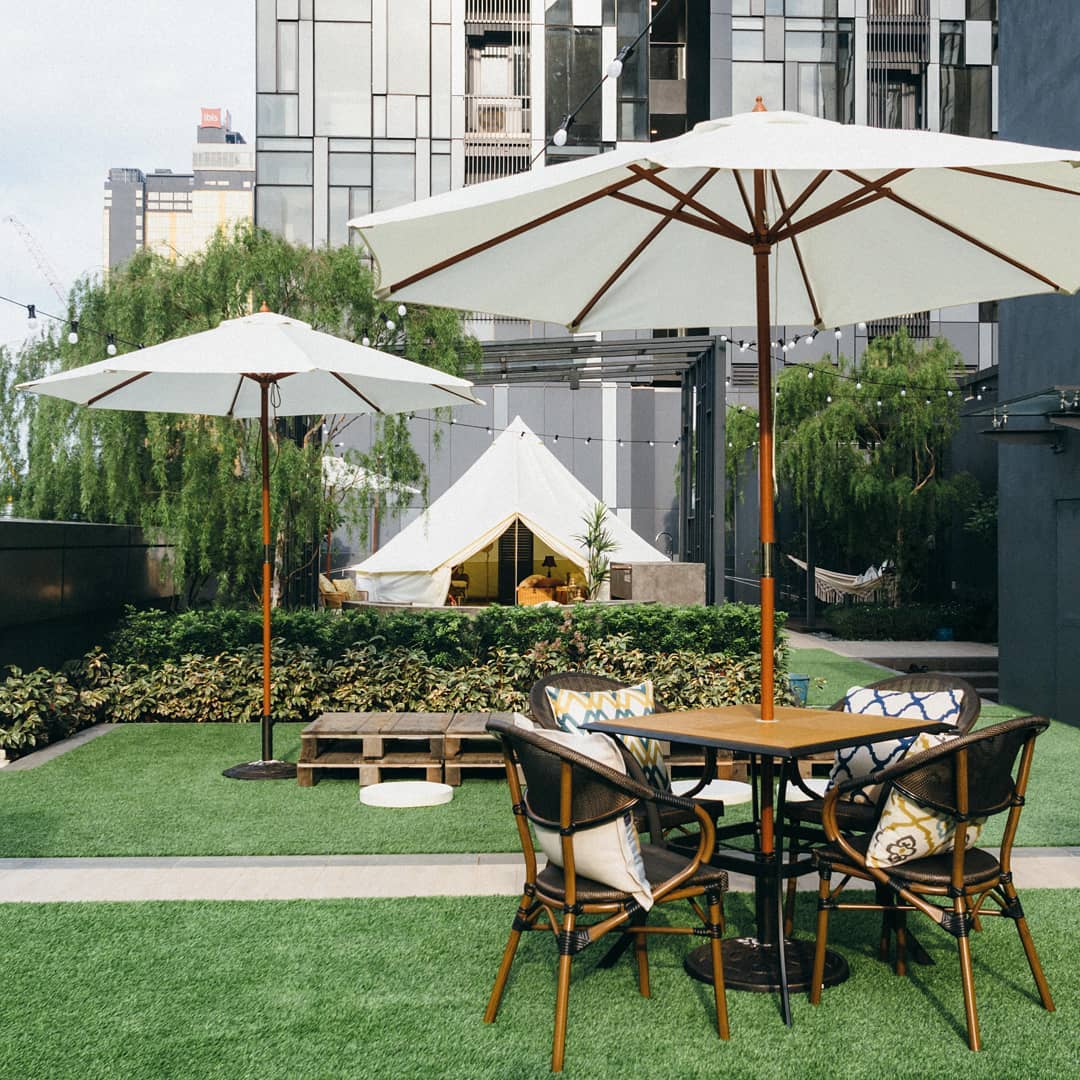 Image credit: @castrabycolony
Mediterranean chic is the concept here. The pristine-white, fabric-lined tents are outfitted with Southwestern influences – silk-sheeted interiors, quilt-covered floors, beds with comfy throws, low tables with cushioned chairs, and plants decking the corners.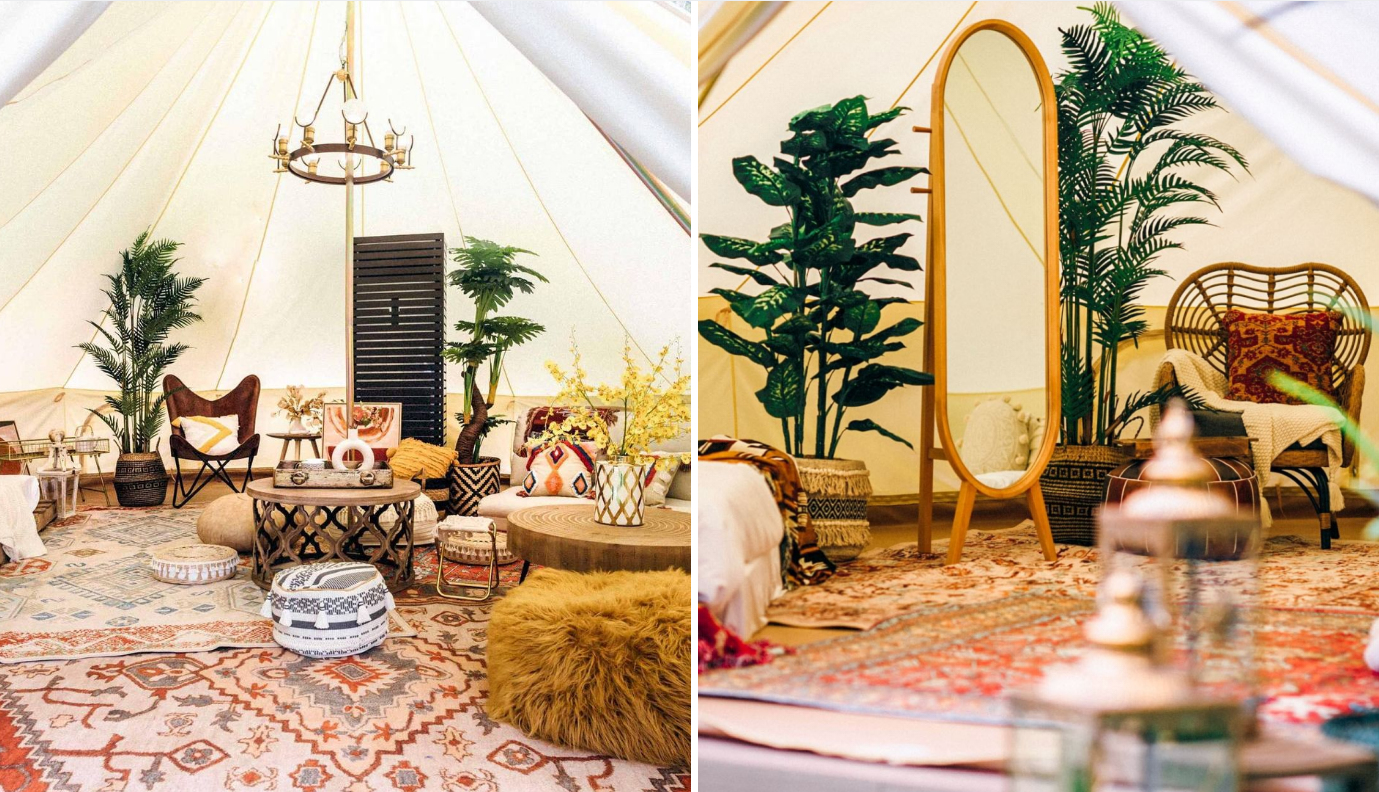 Image adapted from: @castrabycolony & @castrabycolony
Despite its urban location, you'll get as much privacy at this glamping site in KL as you would at a remote meadow. 
There's a sense of hip-bohemian in the garden lounge, which has plenty of patio seatings, trees framing the entire area, and a barbecue pit that comes with a complete set of grilling tools. This makes Castra an ideal place for glamping, as well as enchanting soirees under fairy lights, special outdoor occasions, or a bougie rooftop night with your friends.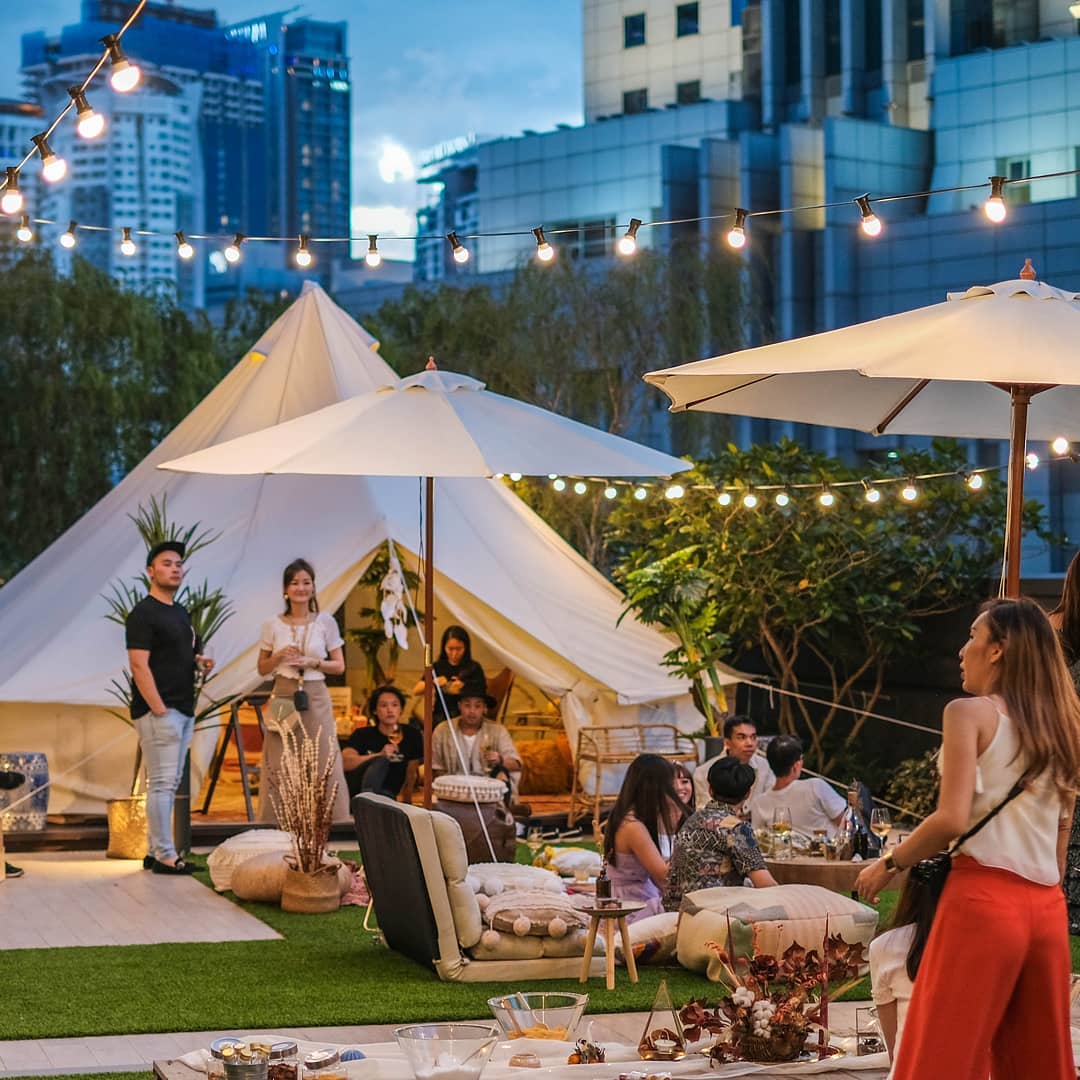 Image credit: @castrabycolony
A night at this Bohemian paradise costs RM2,500, and you'll be pampered with a whole lavish glamping experience comprising starry skies and sunset views – sans the inconveniences of living in an isolated jungle.
Address: Level R, Star Boulevard KLCC, 1, Jalan Yap Kwan Seng, 53300 Kuala Lumpur
Opening hours: 24 Hours, Daily
Contact: 018-213 8086 | Castra by Colony website | Facebook | Instagram
---
5. Dusun Bonda, Selangor – natural hot springs & water activities
---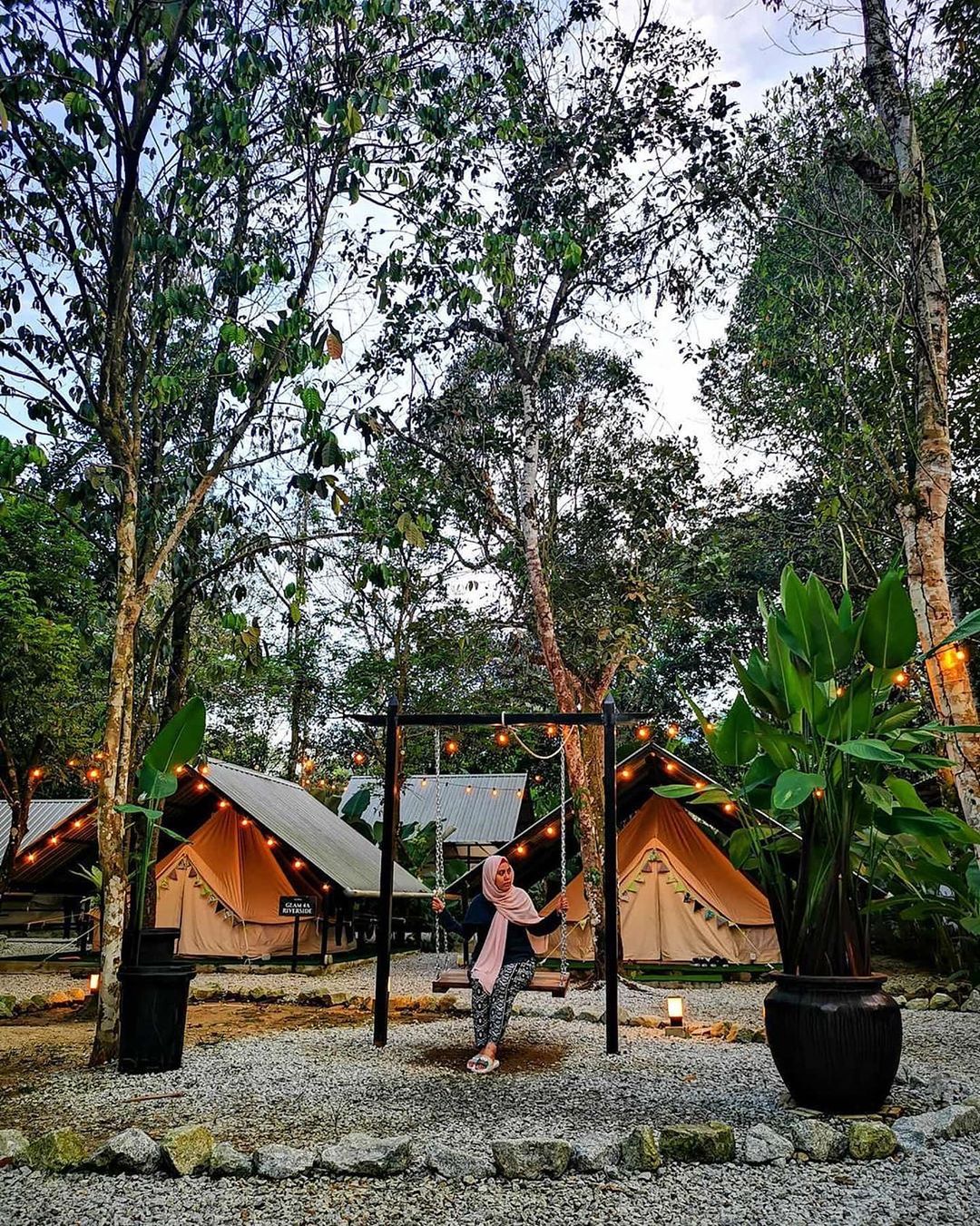 Image credit: @lylee_nabiela
Dusun Bonda – a family sanctuary turned glamping resort – mixes entertainment with 2.1 acres of local fruit tree wilderness. Located in the rural landscape of Ulu Tamu, Selangor, the resort features an array of lodging options, including bell tents shaded with A-frame roofs that are nothing short of fancy. 
These Scandinavian-inspired canvas cabins have everything to please us creatures of comfort. There are cosy queen beds, private bathrooms and even a private gazebo where guests can have their meals outdoors with unparalleled verdant views.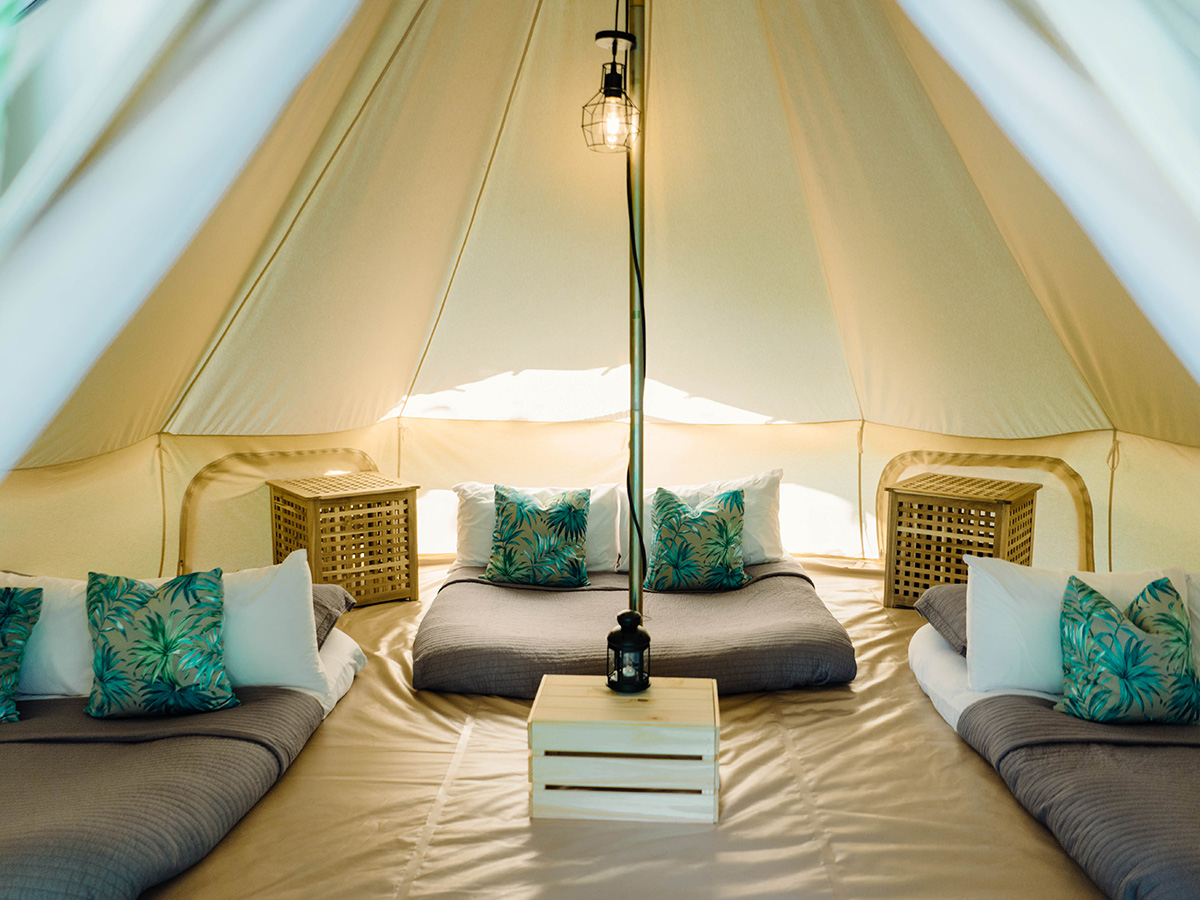 Image credit: Dusun Bonda
You need not worry about the lack of space or bringing too big of a party for a glamping staycay here – even the smallest of tents at Dusun Bonda can fit a family of 4 to 5 pax. Guests will have the option of a Riverside or Hillside bell tents (RM350/night), as well as their desired views from choices of a garden, orchard, or river.
Their Premium bell tents (RM650/night) offer similar options as well, with a more commodious space that can fit 6 to 7 pax.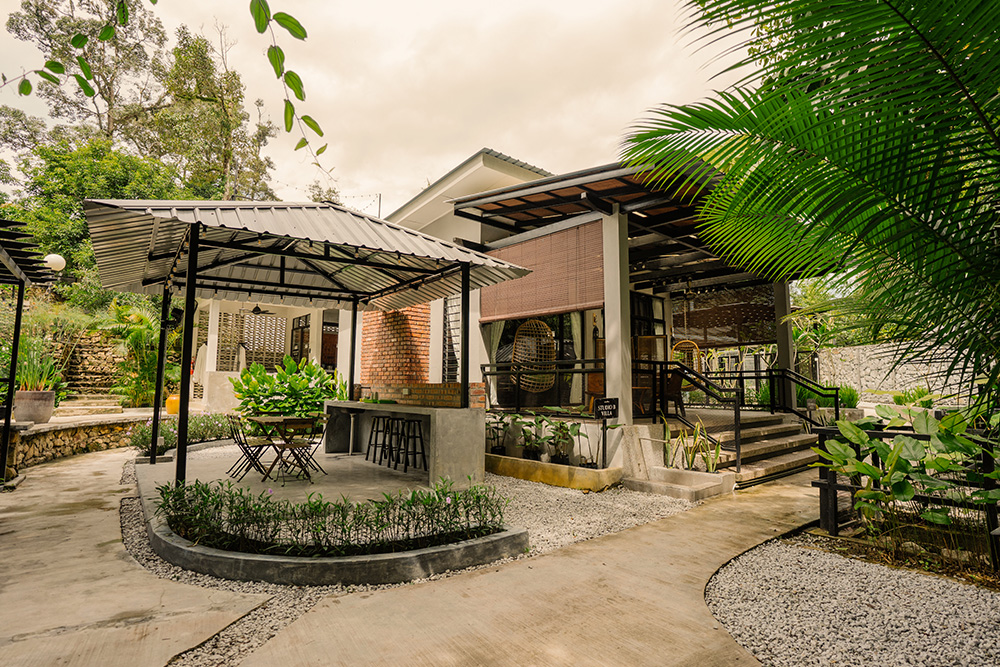 Image credit: Dusun Bonda
If spending nights in a tent isn't your idea of a staycation, there are Studio Villas (RM700/night) that are no different from a hotel suite – think a rustic, resort-style room enveloped by a foliage of trees of a beautiful orchard.
With the slew of activities offered here, it'll be a waste to spend your days inside your tents, as comfy as they are. Splash away in the Ulu Tamu River right outside your tent, or go for rounds of Mini Tubing (RM8/pax) if you're craving for more excitement.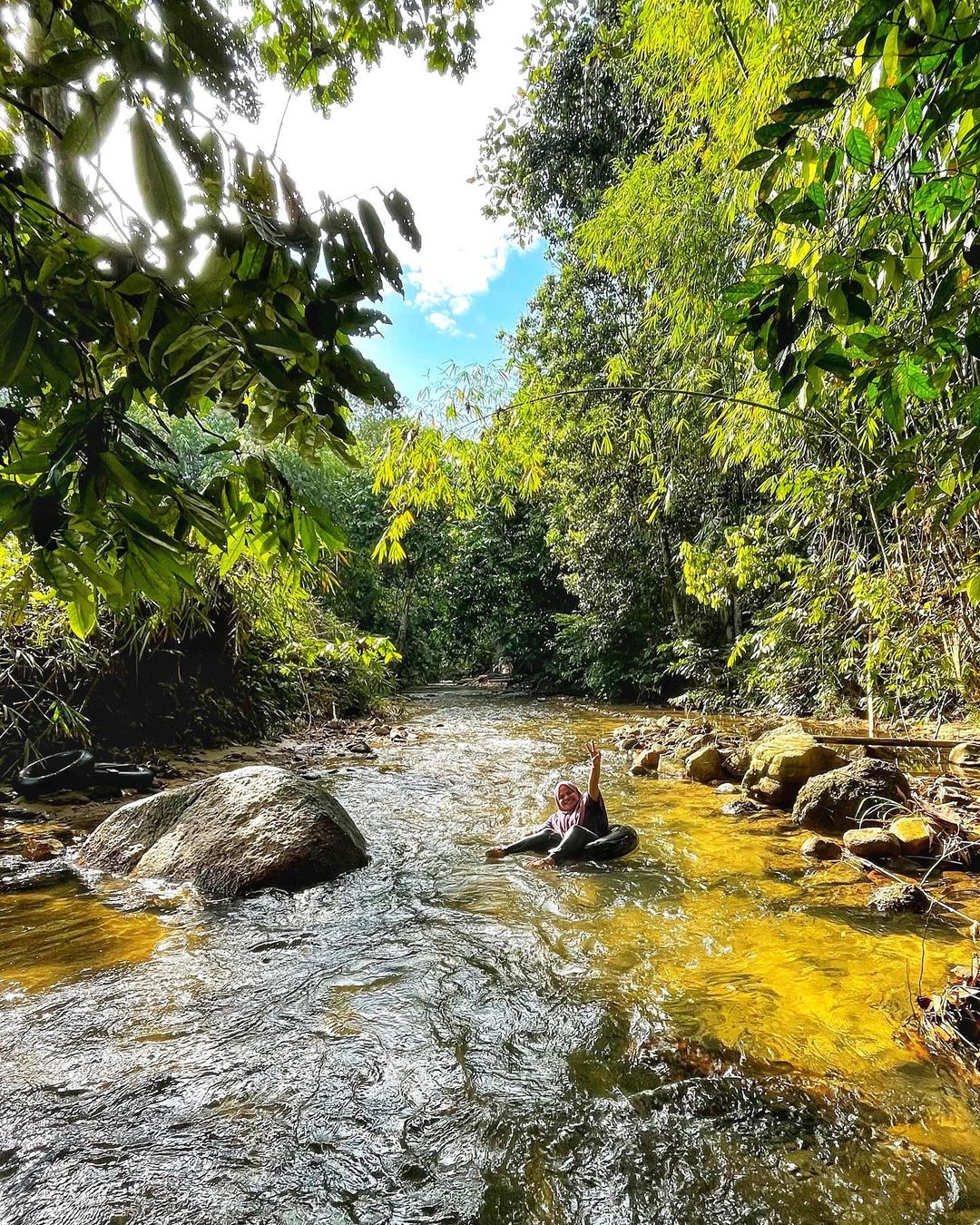 Image credit: @lylee_nabiela
Another highlight for outdoorsy glampers is the jungle trek to a nearby natural hot springs, where you can take a dip in cool waters after working up a sweat. In true glamping fashion, you can also enjoy a good grilled dinner by the barbecue pit and gather around a bonfire by the river when night falls.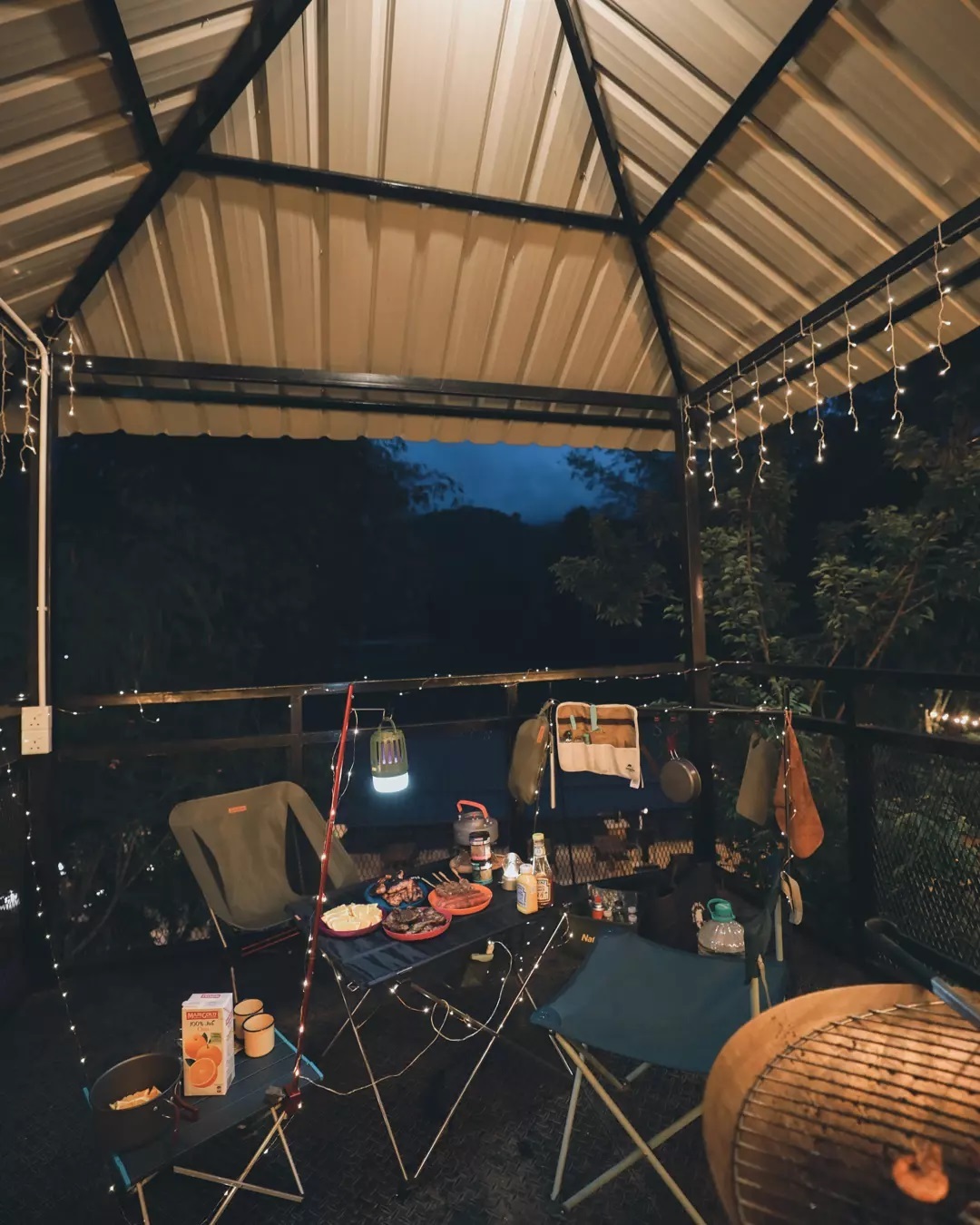 Image credit: @berjalantanpapassport
Address: Lot 2121 (2996) Jalan Ulu Tamu, Kampung Orang Asli Gurney, Ulu Tamu, 44300 Batang Kali, Selangor
Opening hours: 24 Hours, Daily
Contact: 012-663 3667 | Dusun Bonda website | Facebook | Instagram
---
6. The Sticks, Selangor – wooden pondoks in a lush rainforest
---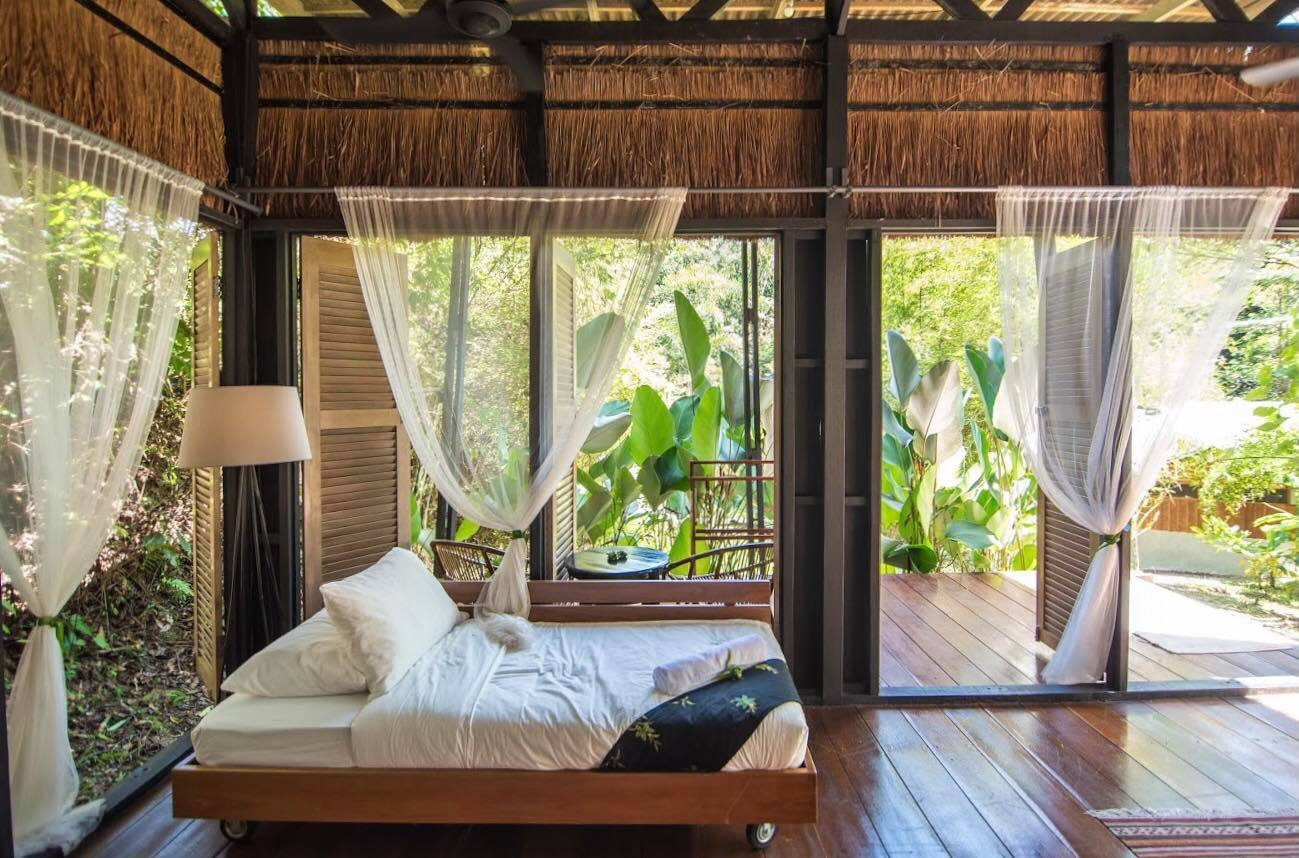 Image credit: The Sticks Guide
The Sticks is the sort of place that's perfect for those craving to get away from their usual hectic lifestyle. Serene, refreshing, and off-the-grid – but definitely not off the map – this lush glamping landscape is a mere hour drive from KL.
At The Sticks, you'll feel as if you stepped into an exclusive nature retreat rather than a campsite in the wild. Almost completely obscured by leafy greens, the wooden accommodations are called tendoks – derived from the word "tent" and local traditional houses known as pondoks.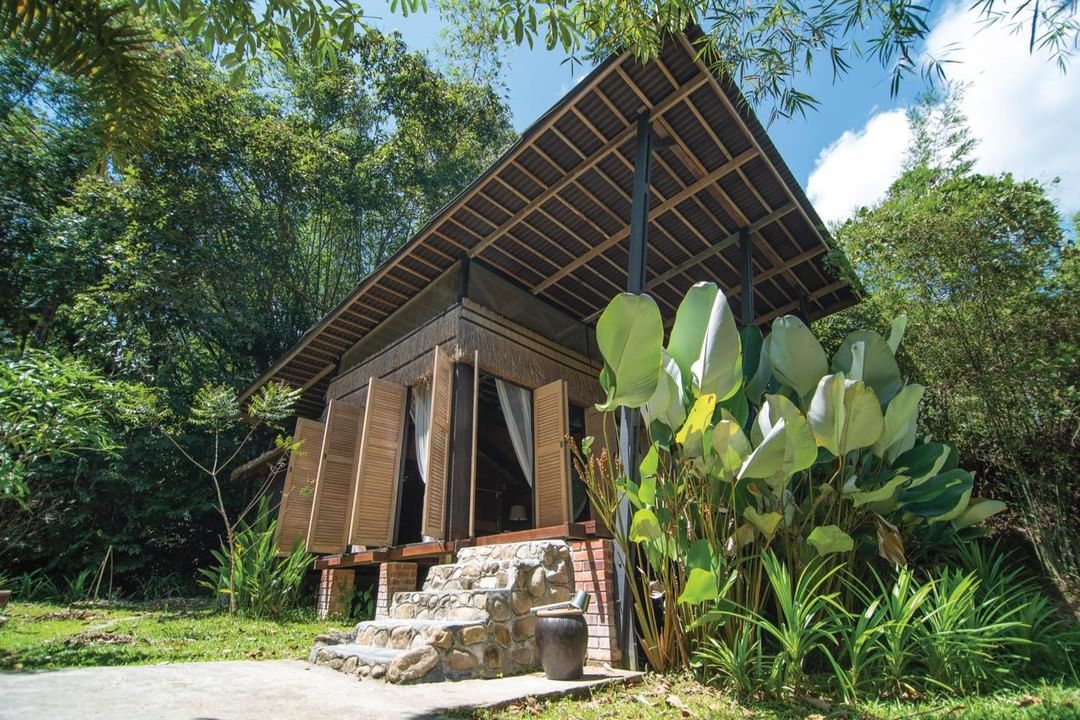 Image credit: The Sticks Guide
These gorgeous lodgings were built to look rustic, but with reassuring attention to quality and design – rich mahogany wall panels and oakwood floors, and long windows and shutters draped with flowy white curtains.
Each tendok is able to house different group sizes, and is furnished with a massive king-sized bed – every one of them is a comfort of paradise amid the wilderness. More intimate lodgings include:
Bamboo House (currently unavailable due to renovation)
Riverside Tendok (RM422/night)

 

Little Pita (RM382/night)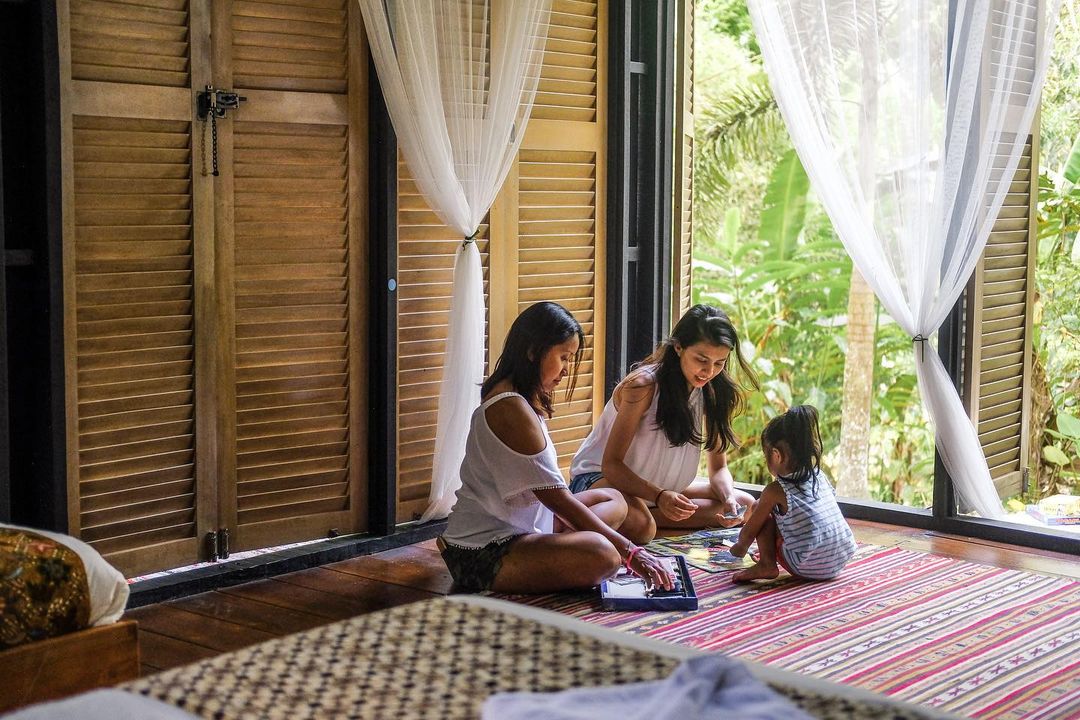 Image credit: @thesticksguide
Larger groups might opt for one of these houses with ample space for a comfortable retreat with loved ones, such as The Ara (RM564/night) or Singing Shama (RM970/night).
The Sticks offers a slew of nature activities that'll help keep your mind off your responsibilities back at home and your eyes off your devices too. Put on your hiking shoes and partake in a jungle trekking excursion, or experience an exhilarating white water rafting (RM180/pax) or water tubing (RM50 deposit) that'll whisk you down the streams of rapid clear waters.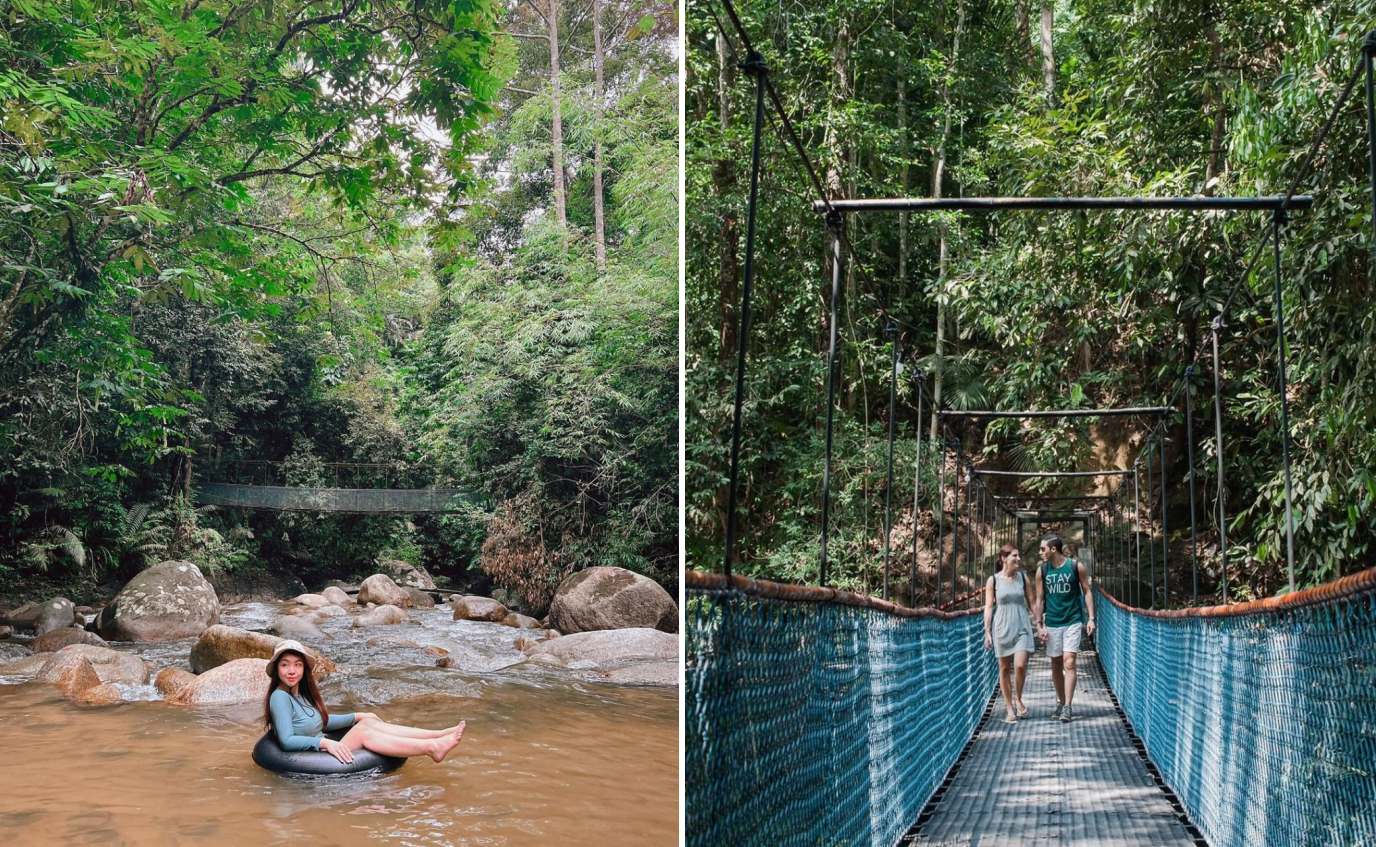 Image adapted from: @stephyshuen & @thesticksguide
For something a little more riveting, sign up for the Paragliding (RM355/pax) to soar above a canopy of trees. 
Address: Lot 213 Jalan KKB – Fraser's Hill, 44000 Kuala Kubu Baru, Selangor
Opening hours: 24 Hours, Daily
Contact: 012-663 3667 | The Sticks website | Facebook | Instagram
Read more about The Sticks here.
---
7. Sekeping Serendah, Selangor – experience nature in glasshouses
---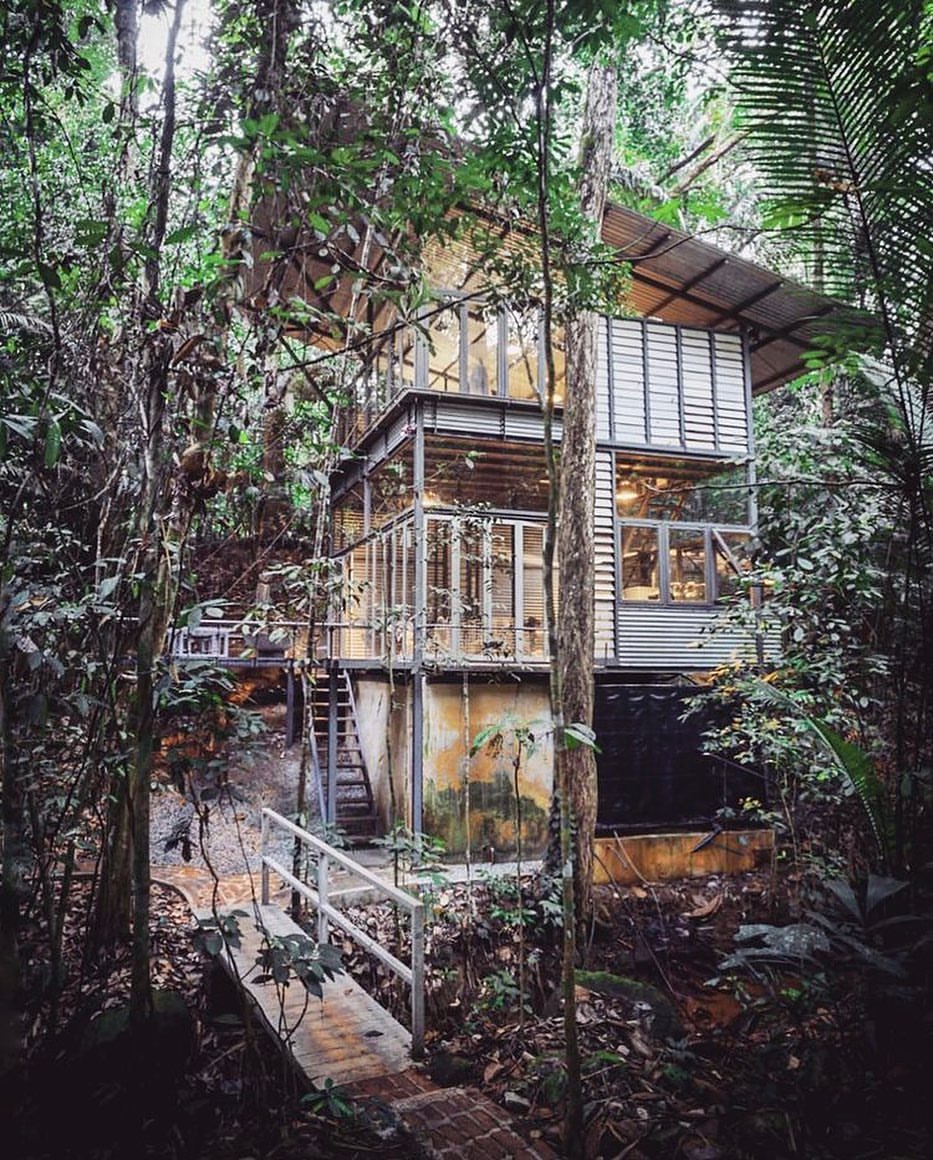 Image credit: @vivianjting
Situated in the shade of evergreen trees of a luxuriant tropical forest, is a cluster of two-storeyed glasshouses that stand within the untouched flora and fauna. This is part of Sekeping Serendah in Selangor, which is a secluded rainforest glampsite with 10 open sheds perched on the forest floor, just next to a bubbly brook. 
While the bareness of the lodgings brings the wilderness in, creature comforts are not forgotten.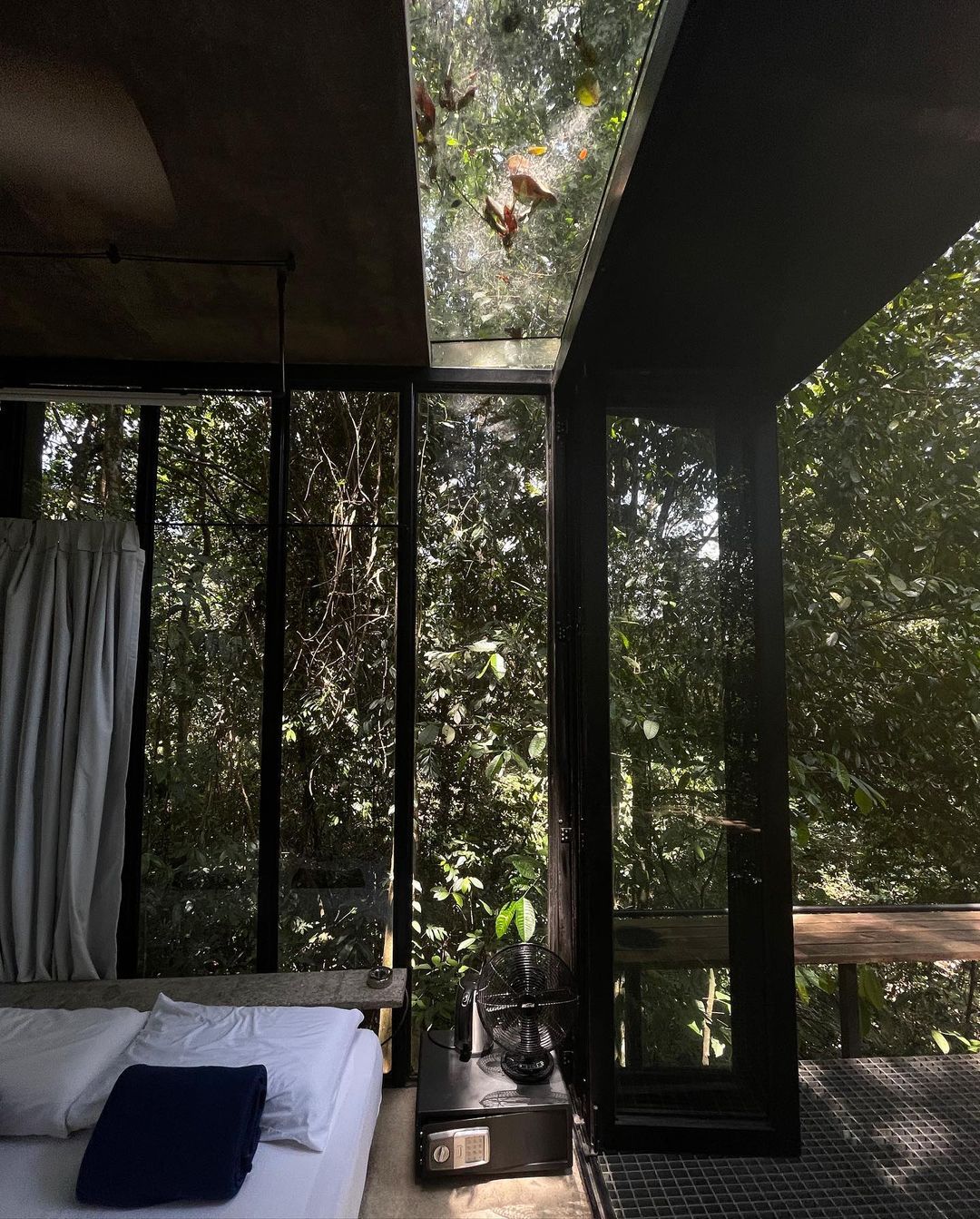 Image credit: @beingyaya
These glorified tents have rustic-chic decor with black beams and wood accents, as well as plush furnishings and large swimming pools – a harmonious blend of modern architecture and luxurious comfort.

Image adapted from: @haenii_ & @haenii_
It isn't only the rejuvenating air and superb views that will enchant you. From hiking trails through a forested landscape, to visiting Orang Asli villages and splashing by cascading waterfalls, you won't have to rely on Netflix to keep you entertained while spending a night here.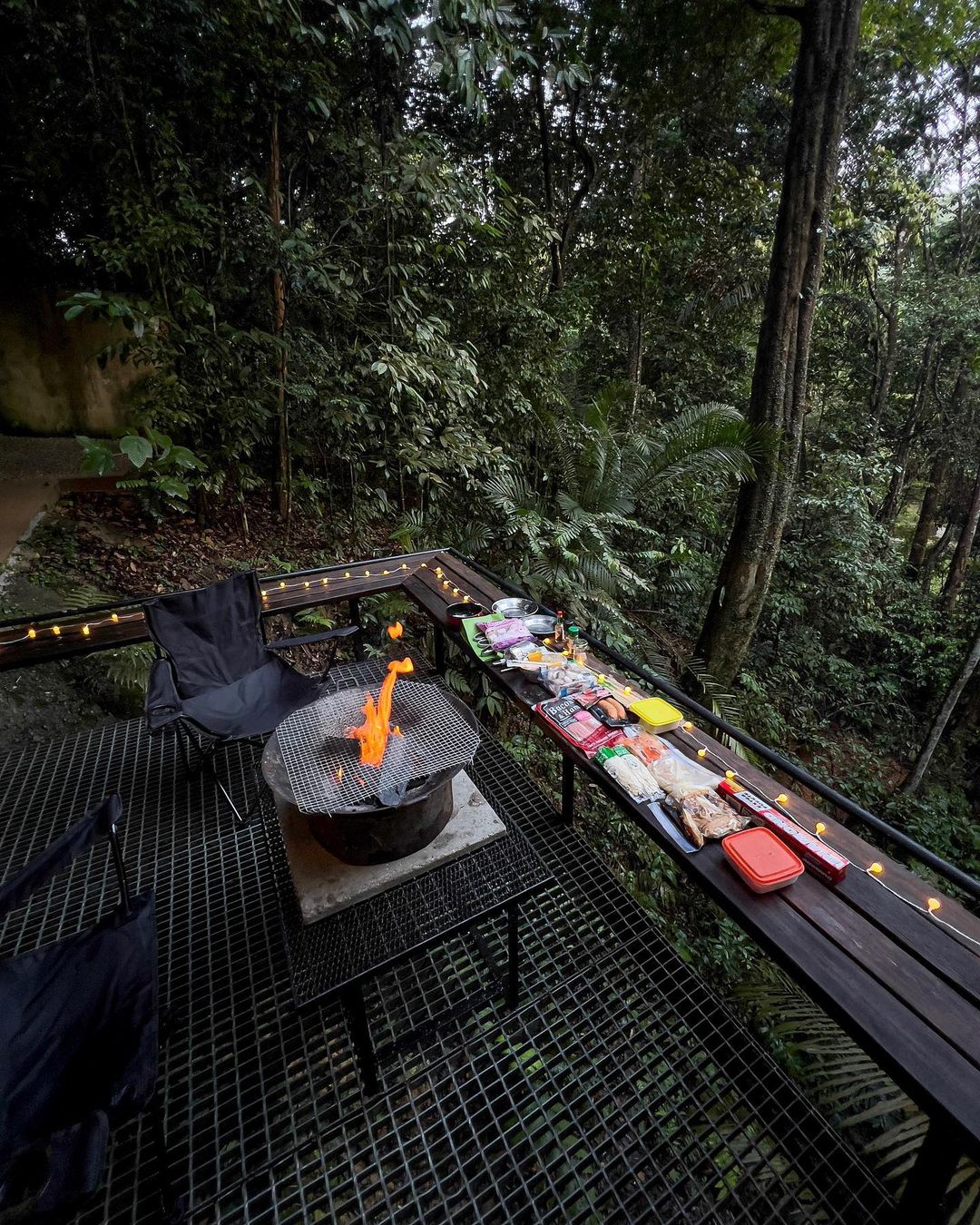 Image credit: @danthechok
Do come prepared with sufficient food, drinks, and snacks as there aren't any eateries nearby. But with complete barbecue equipment and fire pit for guests to use freely here, you can whip up a hearty grilled dinner that will taste all the more delicious in the heart of nature.
Rates of the accommodations for a night vary according to their capacity and number of rooms:
Glass Box (RM300/night) for 2 pax
Mud Sheds (RM320/night) for 2 pax
Glass Sheds (RM500/night) for 4 pax
Timber Shed (RM630/night) for 6 pax
Warehouse (RM1160-1360/night) for 10 pax
Address: Serendah FS, 48200, Selangor
Opening hours: 24 Hours, Daily
Contact: 012-324 6552 | Sekeping Serendah website | Facebook | Instagram
---
8. Stellar GoldenHill, Pahang – spend a night in cosy caravans
---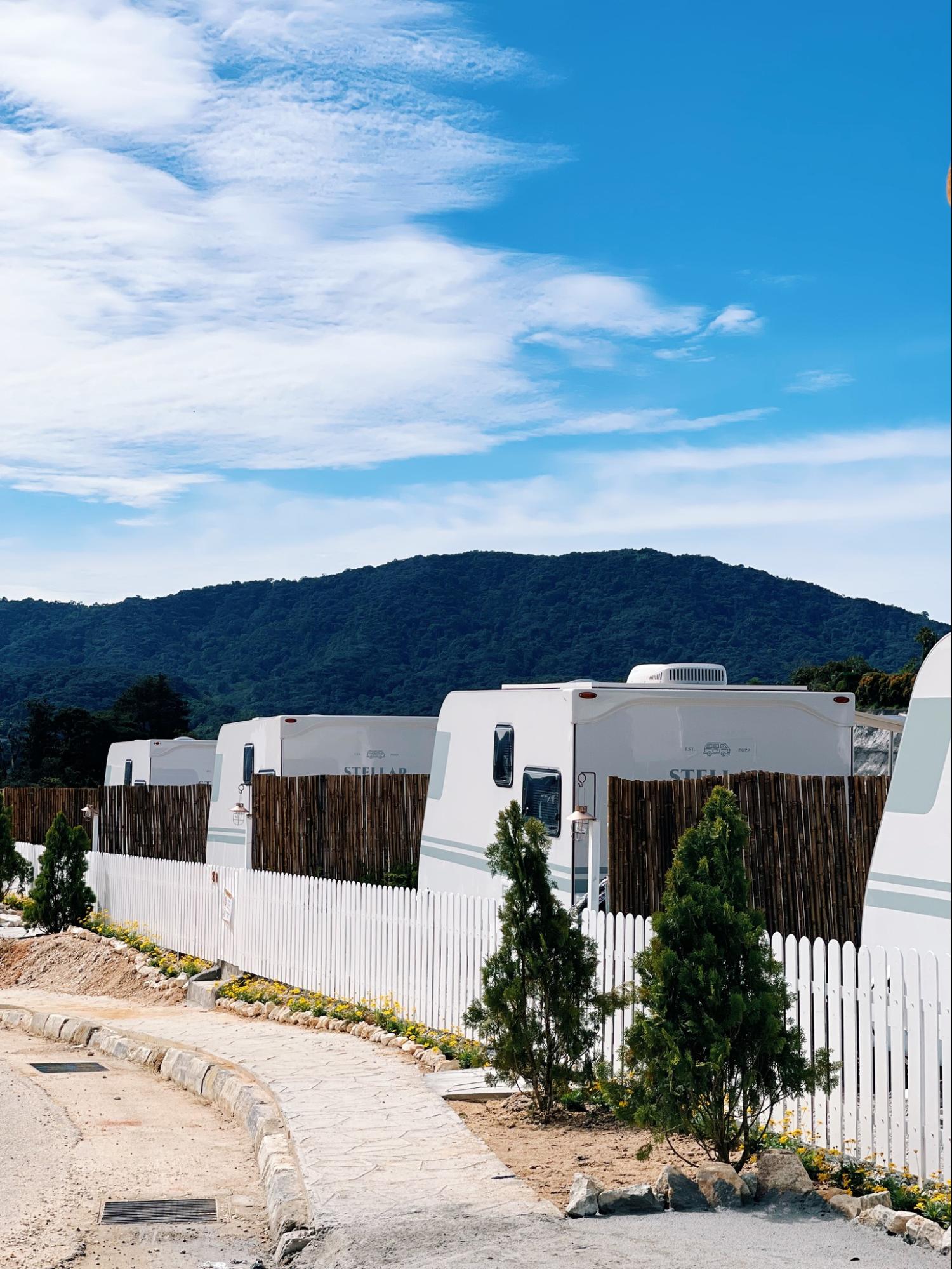 Image credit: Stellar GoldenHill Cameron
Indulge in your inner Gypsy by the rolling hills of Cameron Highlands at Stellar GoldenHill. This relatively new glampsite in town hosts rows of caravans parked on a landscape of green, each with ample space within and by its surroundings.
Don't be fooled by its compact and simple facade – the smallest of these caravans are spacious enough to fit a group of 3, and have all the typical comforts of a stationary home.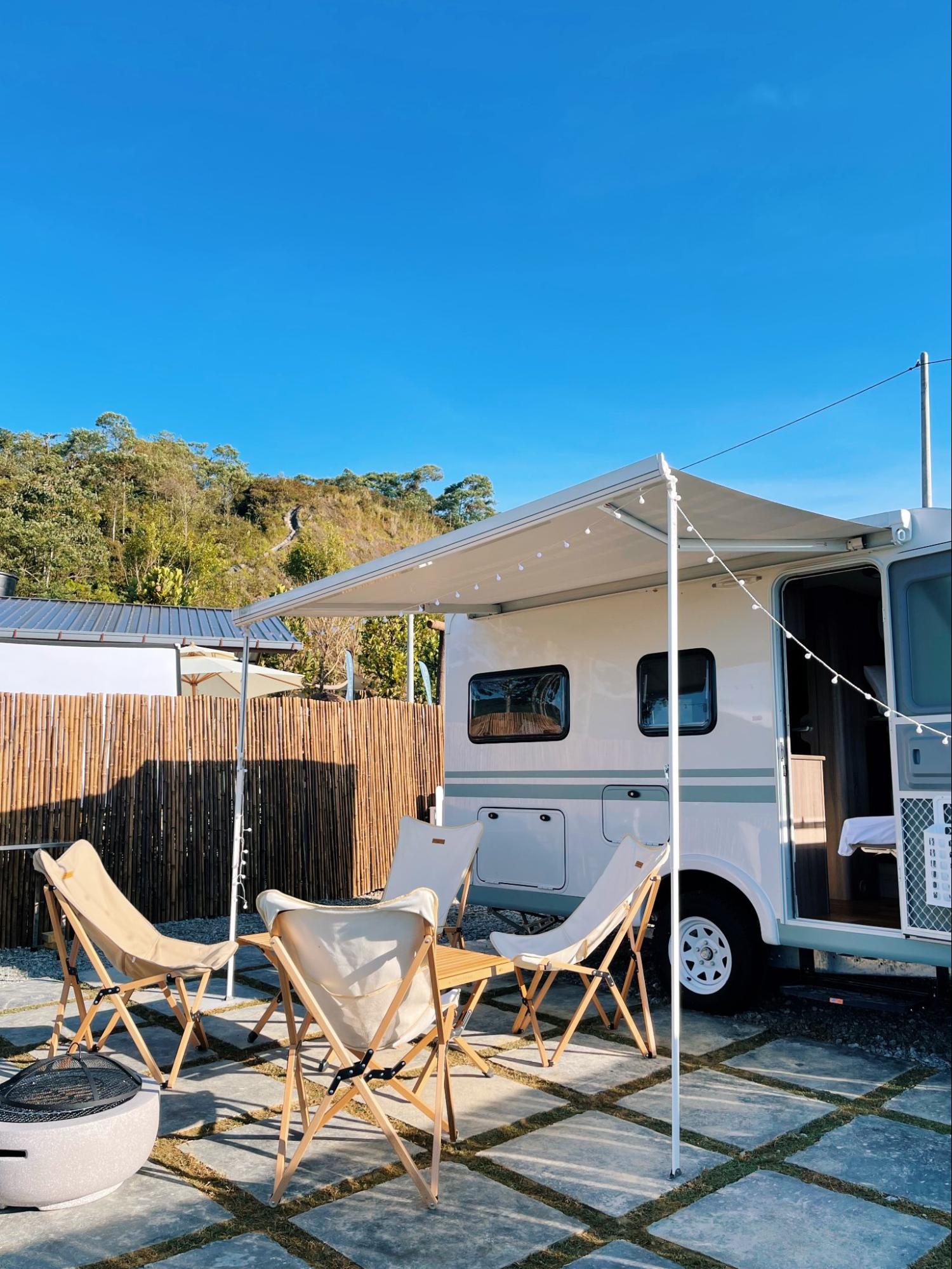 Image credit: Stellar GoldenHill Cameron
The quaint caravans have been dolled up with attention to detail. With vintage fabrics and buntings, light-wood furnishings, and feathery plants thrown into the mix, the space boasts a carefree Bohemian vibe.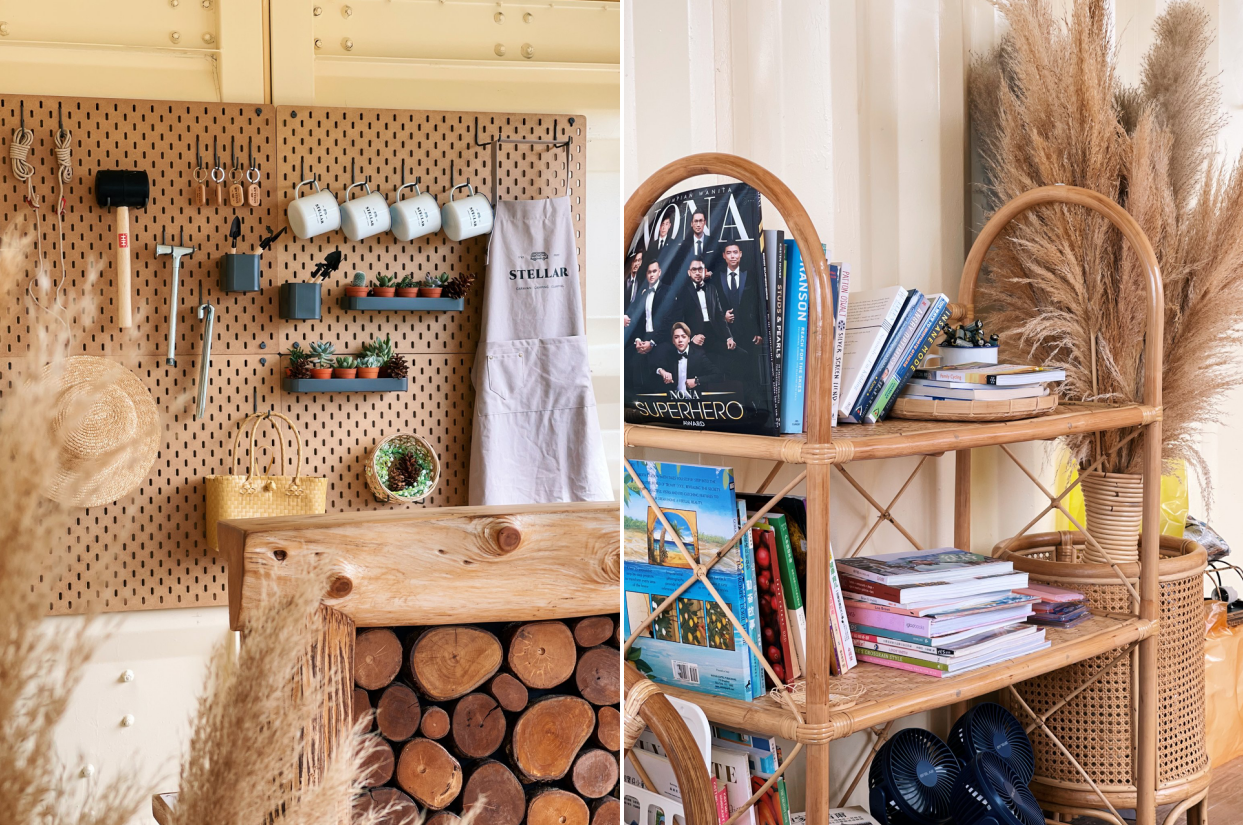 Image adapted from: Stellar GoldenHill Cameron & Stellar GoldenHill Cameron
Each camper van has an en-suite bathroom, snug bed, cooking corner, and even a rack filled with books, magazines, and board games to keep campers busy in nature.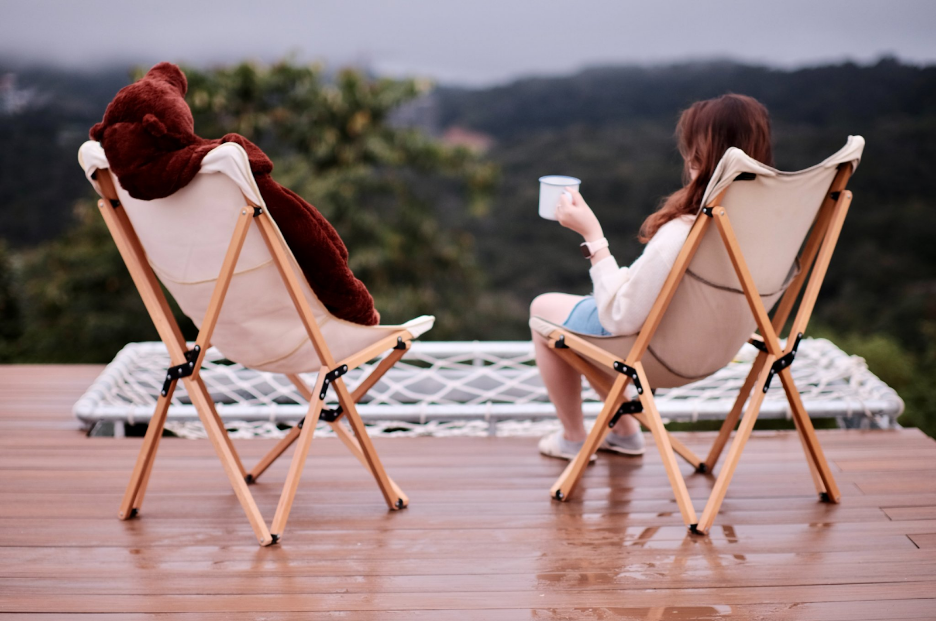 Image credit: Stellar GoldenHill Cameron
Outside, you can lounge around on camping chairs at a deck area – this extends to acres of green fields and blue skies that's all yours to explore while here.
There are enough activities here to keep you occupied. Visit the nearby vegetable and flower farm, sweat it out on a jungle trekking excursion, or pack a picnic basket and lunch at a green spot of your choice.

Image adapted from: Stellar GoldenHill Cameron & @cheahpheng
Or watch movies surrounded by cool breeze at the outdoor cinema at the premise. A stay here also comes with a complimentary barbecue dinner, so you can feast on a good smoky dinner in nature for a complete glamping experience.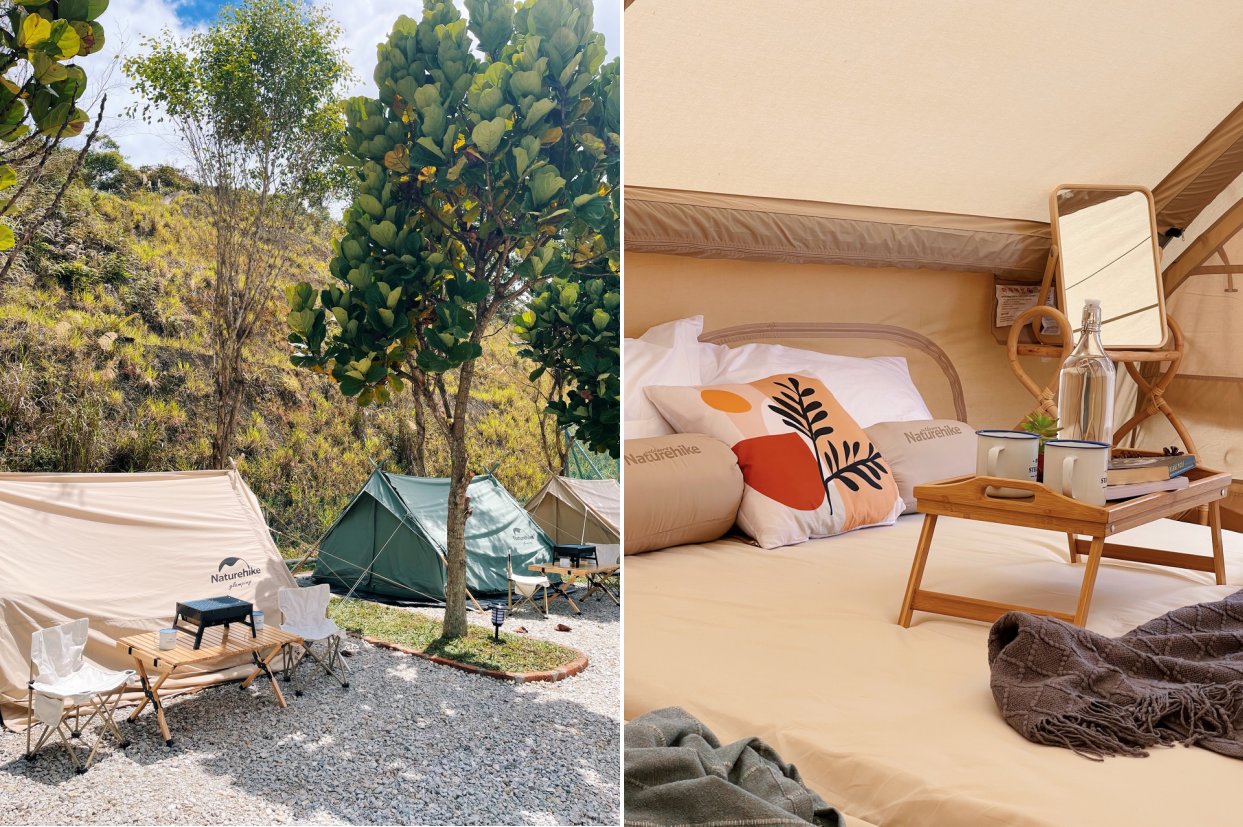 Image adapted from: Stellar GoldenHill Cameron & Stellar GoldenHill Cameron
Choose from one of the two caravan types, The Nest Caravan (RM788/night) for 3 pax or The Cosy Caravan (RM988/night) for 4 pax. If you prefer nights under a canvas tent, opt for a stay in their traditional camping tents instead.
These tents come with proper beds, camping chairs and table, and shared bathroom. The options for tents include:
A-Frame Tent (RM488 for 2 pax)
Hexagon Tent (RM488 for 2 pax)
Cottage Tent (RM988 for 4 pax)
Address: Lot 13, Jalan Golden Hills 9, Tanah Rata, 39000 Tanah Rata, Pahang, Cameron Highlands
Opening hours: 24 Hours, Daily
Contact: 018-216 9331| Stellar GoldenHill Facebook | Instagram
Read more about Stellar GoldenHill here.
---
9. Time Capsule Retreat, Pahang – cylinder-shaped capsules in the heart of nature
---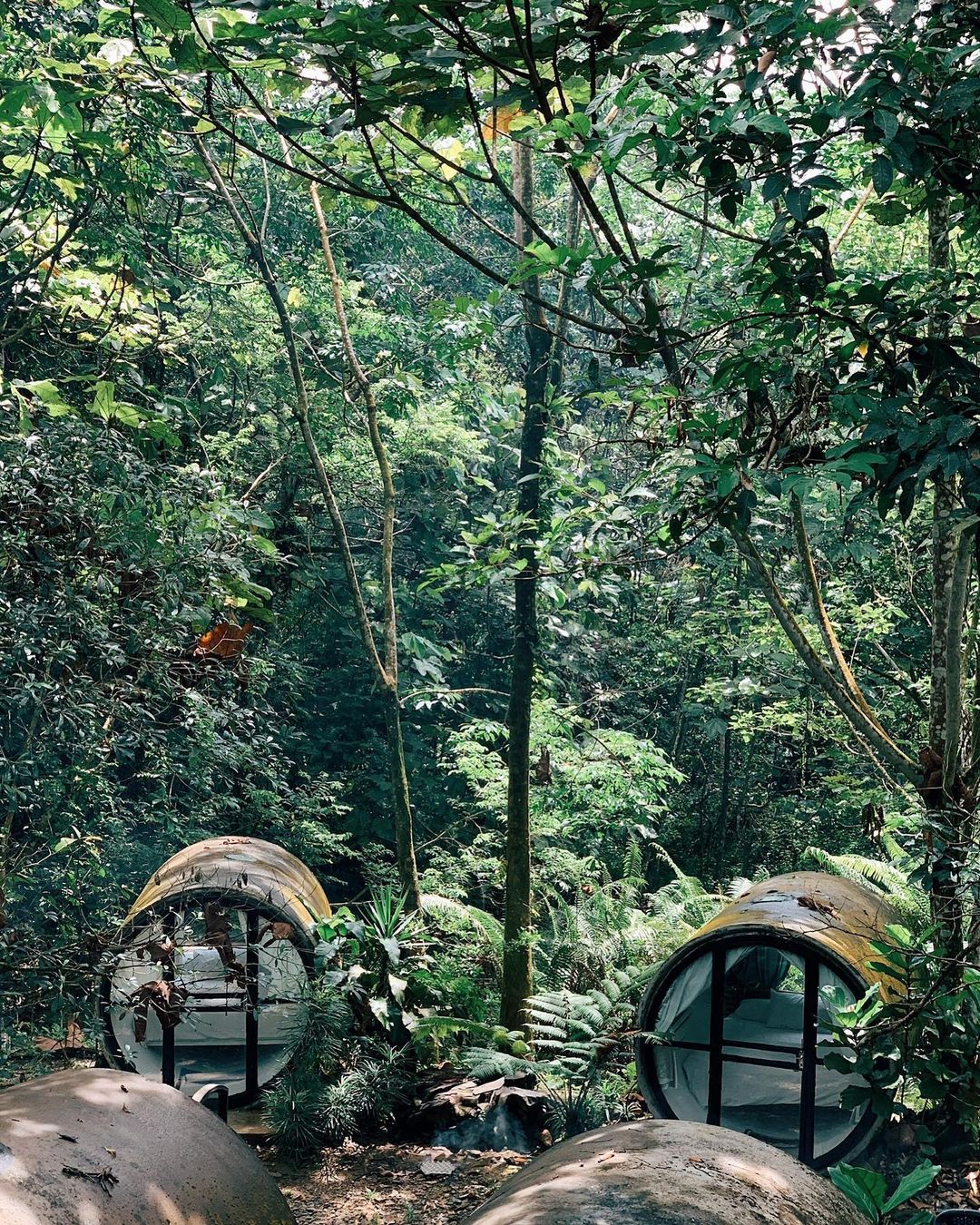 Image credit: @timecapsuleretreat
Arches of fairytale greens, trickling streams, singing birds…and giant cylinders. Glamping at the Time Capsule Retreat in Pahang will have you convinced you're spending a night in an enchanted forest – far enough away from the city, but not so far as to be spending hours on the road to get to your staycay location.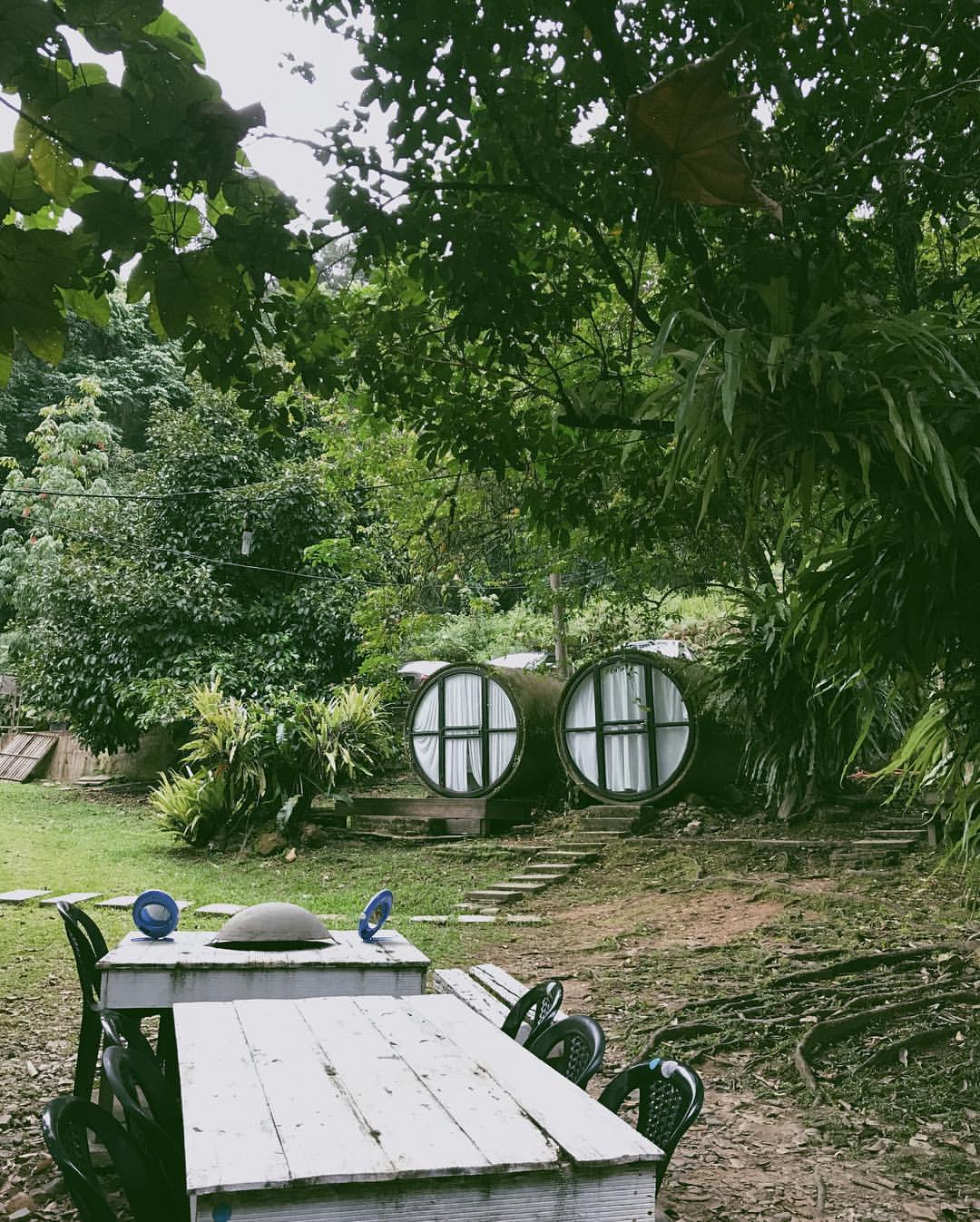 Image credit: @tyrrerr
Besides the mystical opulence of the forest itself, the lodgings here are brilliantly unique. Sleep nestled in huge, PVC-like tubes with glass doors on each end, so you'll be able to bask in the haunting beauty of the forest from your bed.
The Capsules – Jungle View (RM159/night) or Garden View (RM149/night) – accommodates two guests each, and are fully air-conditioned and equipped with comfortable beds and complimentary WiFi. There's also a shared bathroom at the premise.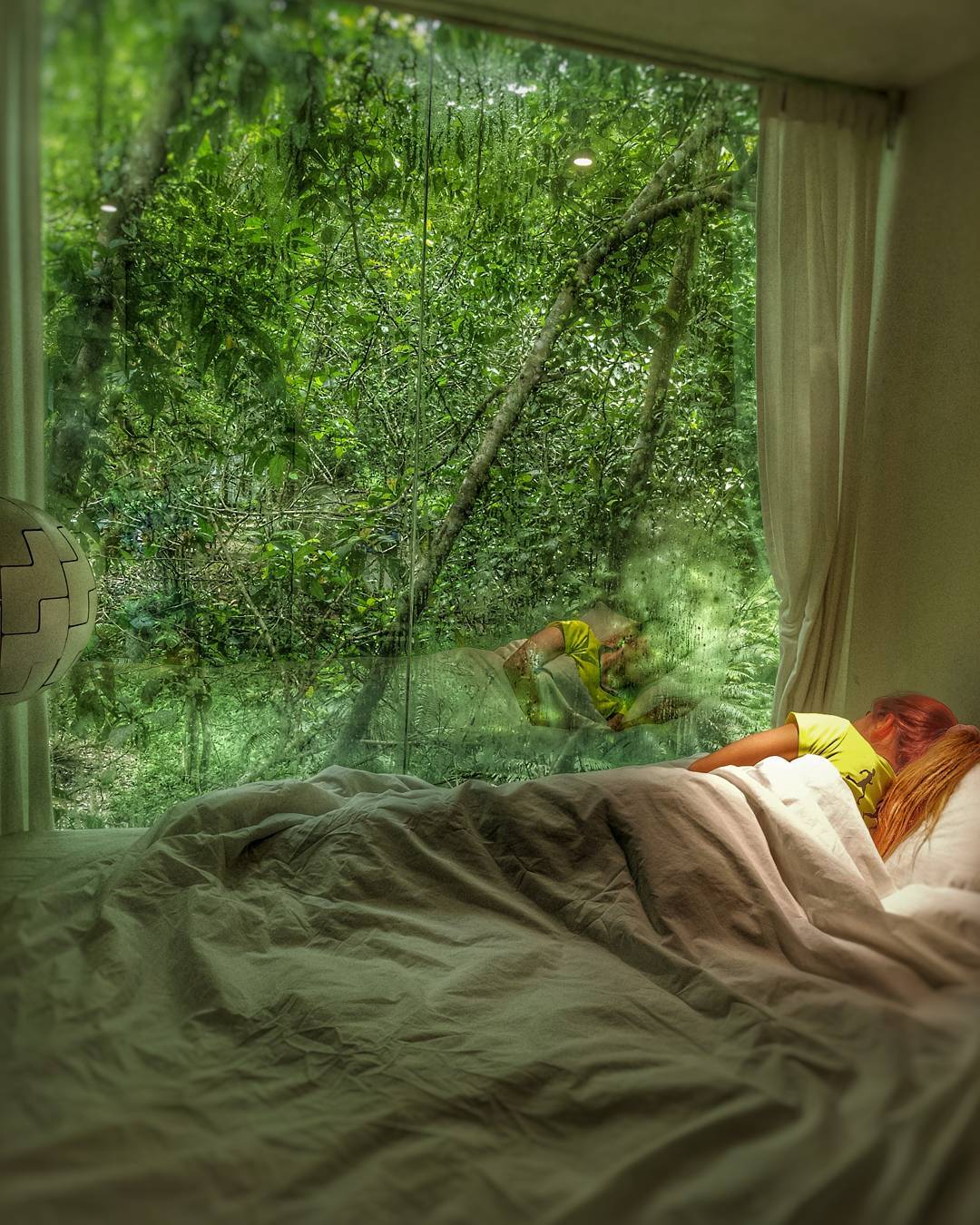 Image credit: @gerlynwang
It isn't only the primaeval-like wilderness of umber-brown and soothing greens that will seduce you. There are countless things to do here – explore the spellbinding forest, cross a hanging bridge, or take a splash in a crystal-clear river where a tumble of waterfall casts a magnificent rainbow.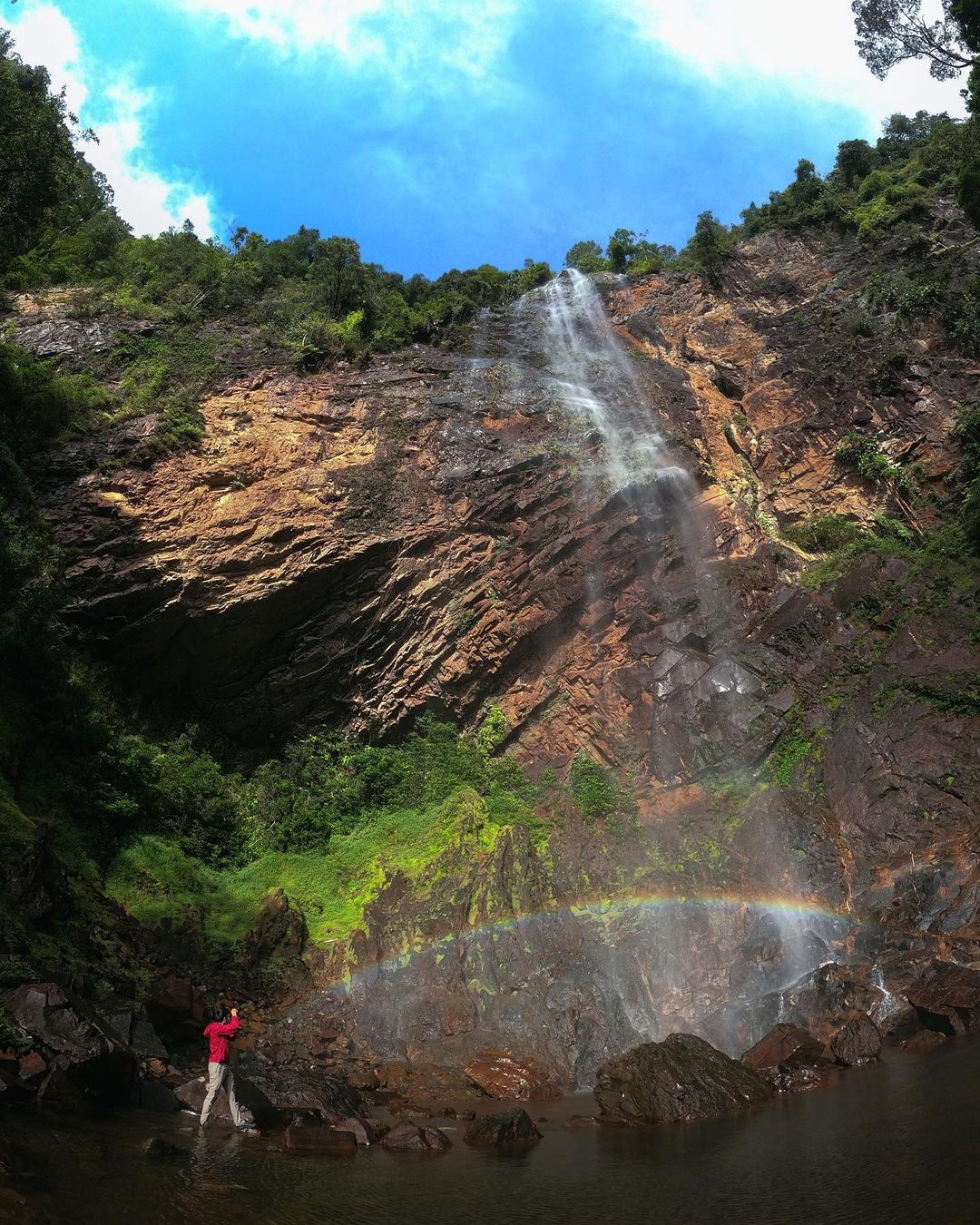 Image credit: @bijim_
Or head to a nearby town for more activities, such as hopping on ATVs and visiting a mining museum.
Come night, enjoy a barbecue dinner and cocktails at the glampsite with your loved ones beneath the bespeckled sky.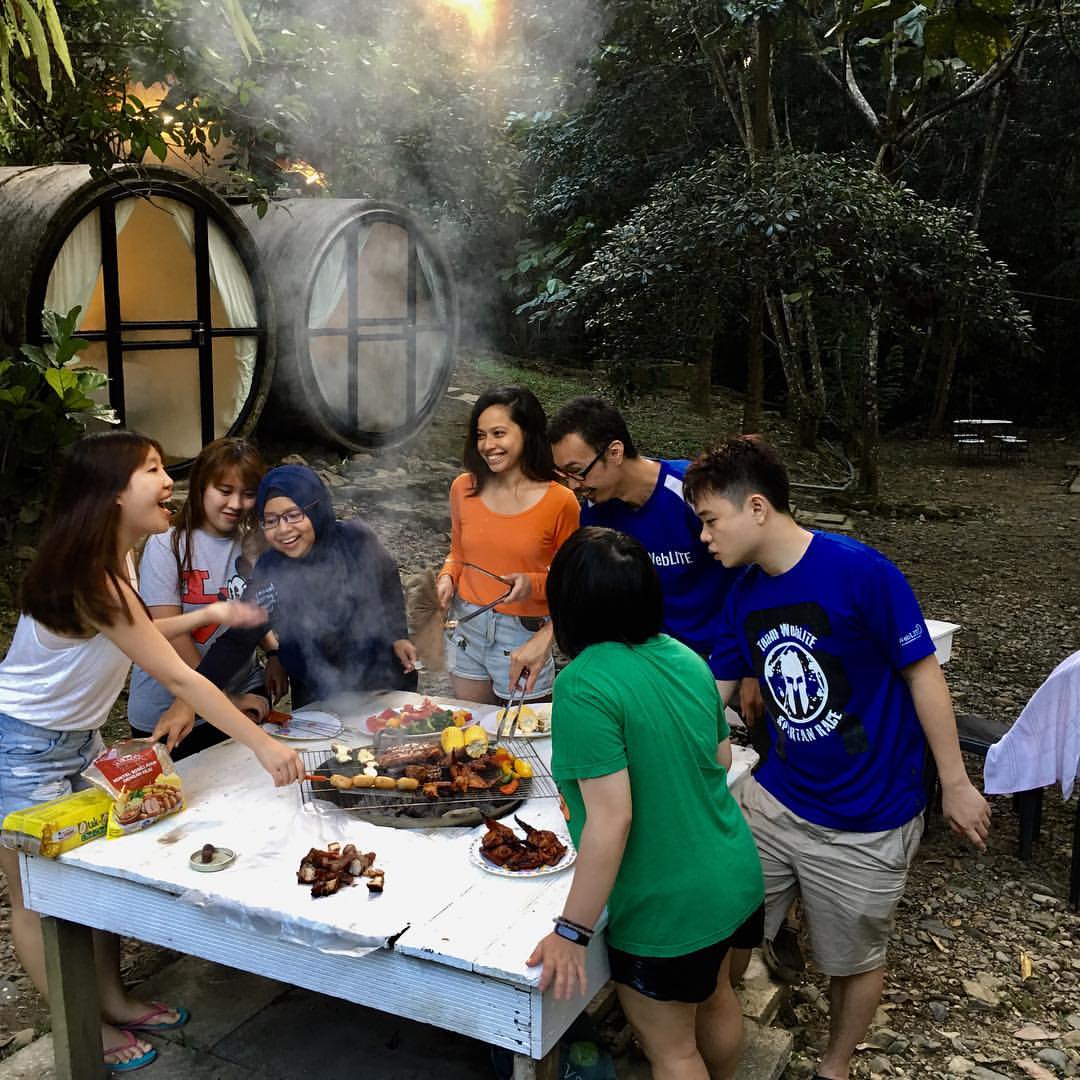 Image credit: @timecapsulretreat
Besides the cylinder rooms, there are cottage rooms that greet guests with the same hamper of basic necessities, including private bathrooms. The rates for these rooms are as follows:
Standard Cottage Room (RM128/night) for 2 pax
Deluxe Cottage Room (RM208/night) for 4 pax
Parallel Aurora (RM298/night) for 4 pax
Address: Sungai Lembing, 26200 Sungai Lembing, Pahang
Opening hours: 24 Hours, Daily
Contact: 013-963 8888 | Time Capsule Retreat website | Facebook | Instagram
---
10. Hammocks By The River, Selangor – pet-friendly glampsite by the river
---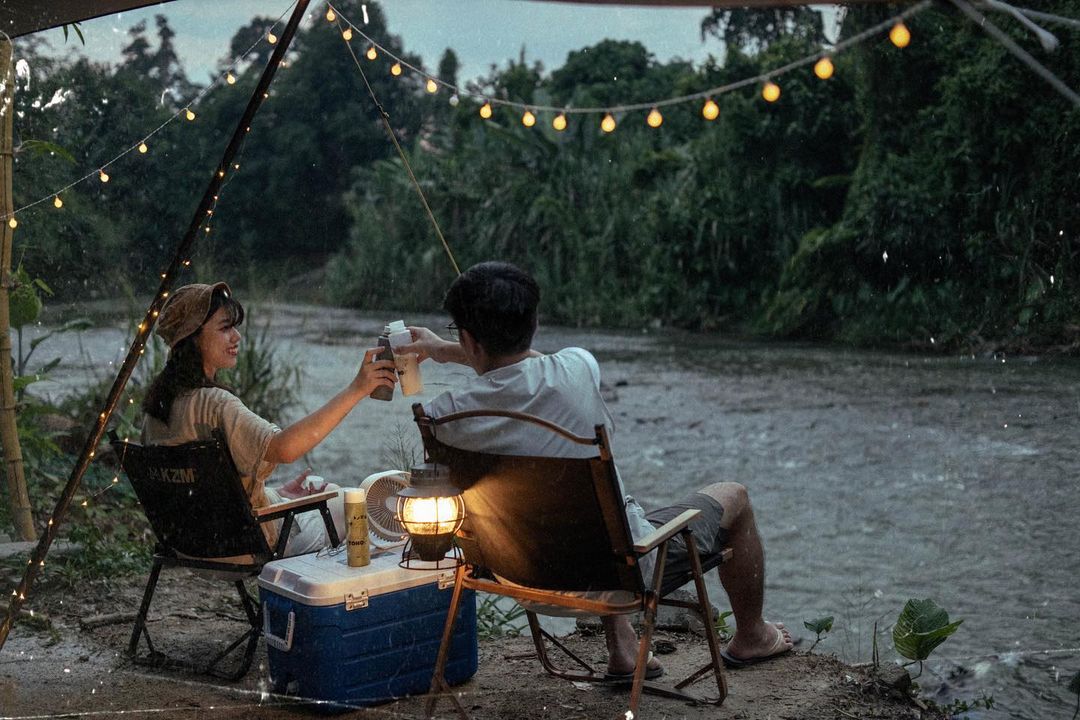 Image credit: @ahwengzaii
Hammocks By The River is a sweet spot for glampers who like to revel in the outdoors with good company. A hamlet of premium tents pitched on a private parcel of land, camping chairs and tables under canvas canopies, and a glimmering river just steps away – this glampsite feels more like a childhood summer campsite.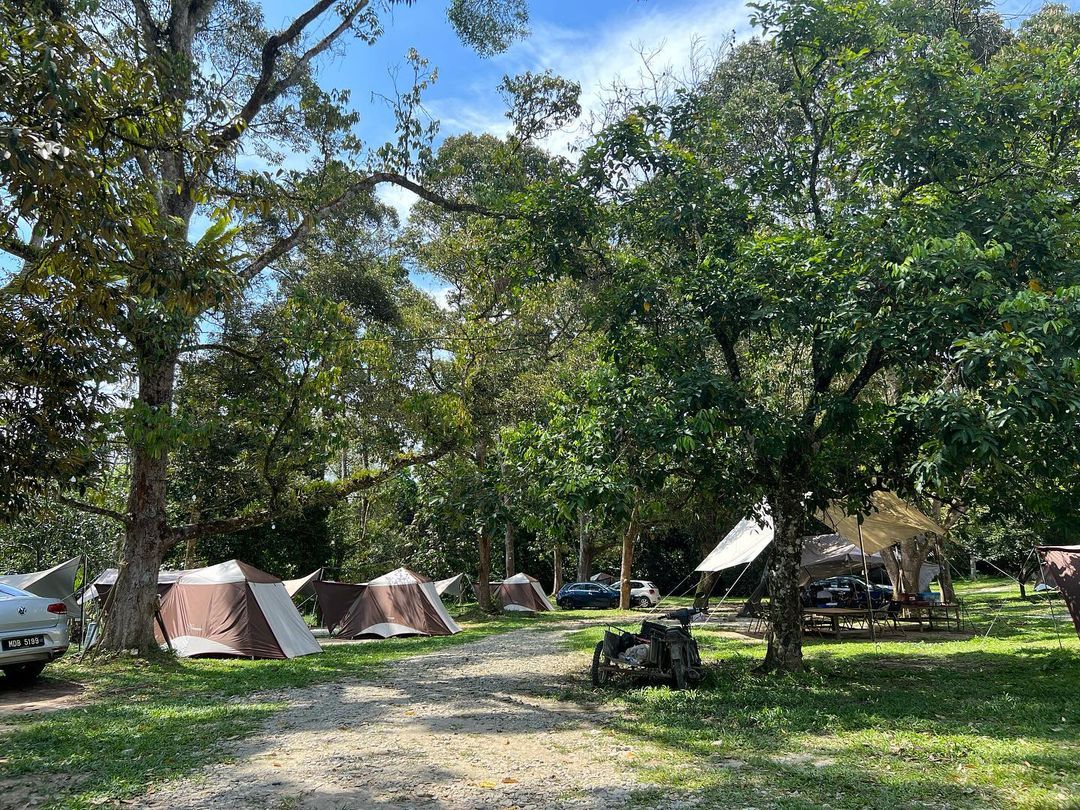 Image credit: @ivytanfiesta
There's no need to fret about buying camping equipment or learning how to pitch tents. The spacious glampsite has tents and camping essentials – such as fly sheets and camping chairs – all up and ready to be used by campers.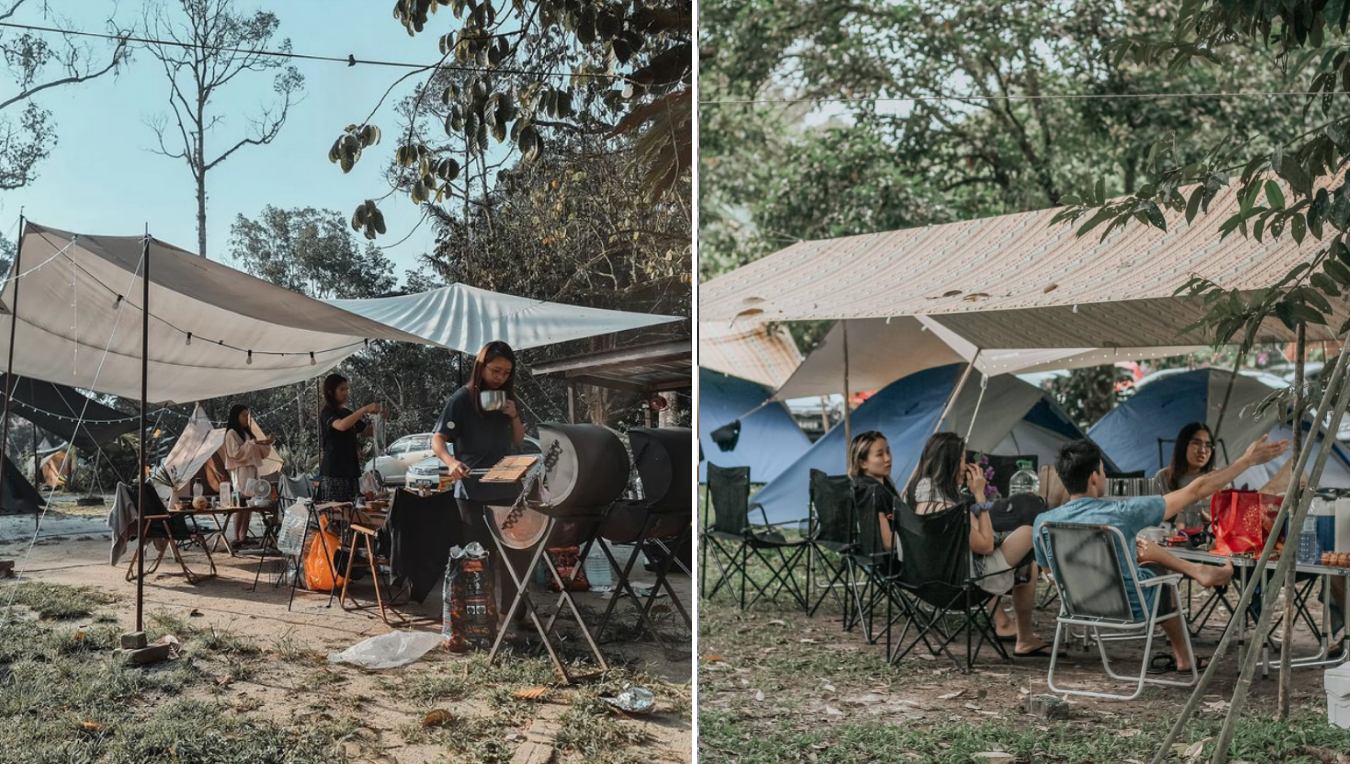 Image adapted from: @winson.cws & @estherrying
The encampment is perfectly suited for gatherings. Find common kitchens equipped with cooking utensils and equipment, communal tables, fire pits for barbecues, lakes for a refreshing swim, and river banks where you and your friends can idle the day away.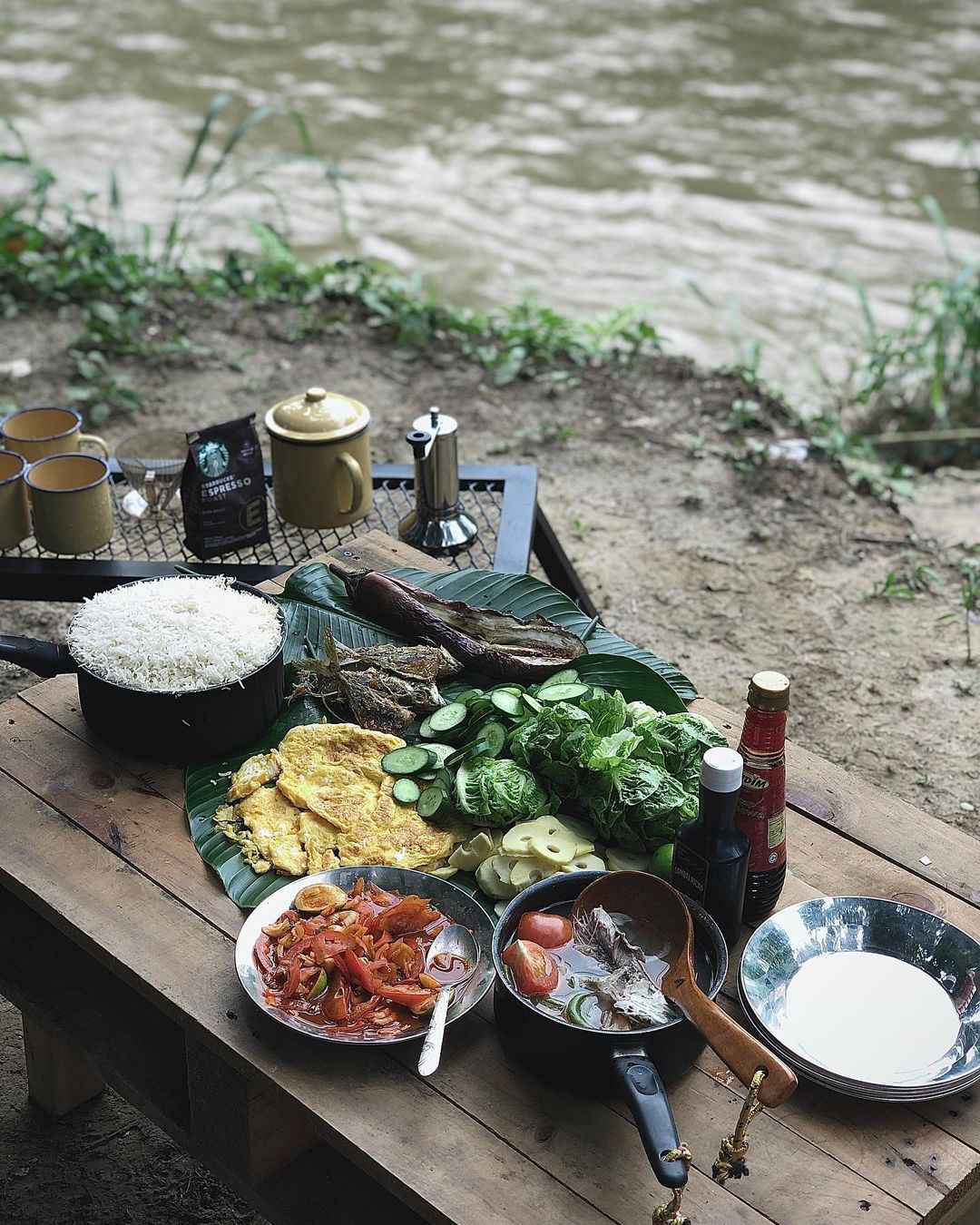 Image credit: @paksujaiz
Consider bringing your furbabies along with you, as Hammocks By The River is a pet-friendly glampsite with plenty of space for your pets to roam about or laze around.
Nights here will be something else for you and your company – think soothing sounds of nature, glowing lanterns, a whiff of burnt marshmallows, and the cackle of bonfire under the stars.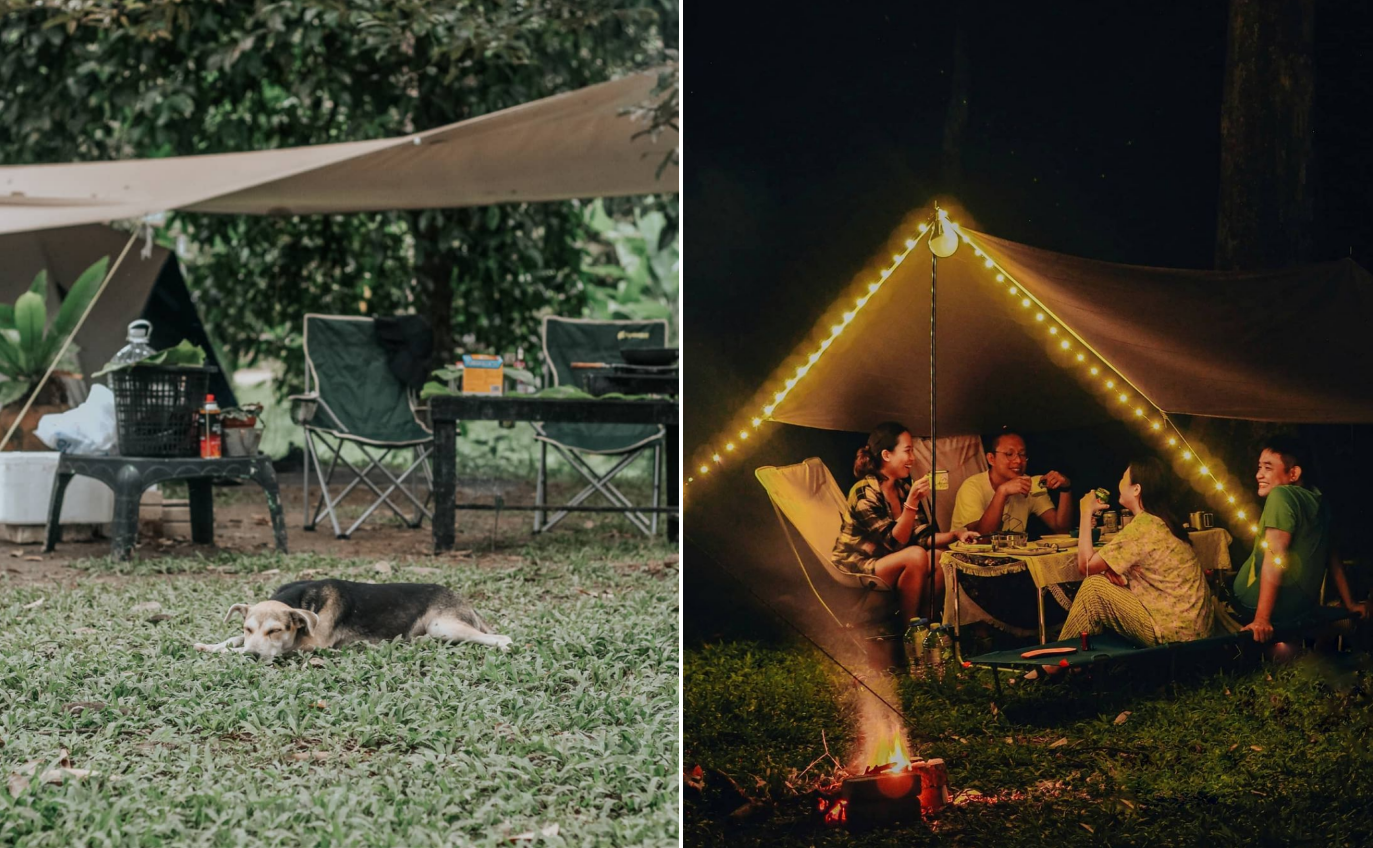 Image adapted from: @estherrying & @ayueee_
This campsite is divided into two areas, Riverside Campsite – a camping zone with views of the river – and Durian Campsite, a durian orchard camping zone. There are three different 2D1N packages to choose from to discover these nature-filled zones:
Standard Package (from RM140/pax) 
Premium Package (from RM220/pax)
Super Premium Package (from RM420/pax)
Address: Lot 617, Jalan Sungai Makau, Batu 14 Hulu Langat, 47310 Hulu Langat, Selangor
Opening hours: 24 Hours, Daily
Contact: 011-2810 8190 | Hammocks By The River website | Facebook | Instagram
Read more about Hammocks By The River here.
---
Glamping spots in Malaysia
---
Outdoorsy campers may scoff at the idea of glamping. But being able to experience nature up-close without kissing goodbye to our usual comforts from home is truly the peak of luxury.
So whether you're planning a romantic getaway or a family-bonding trip, these glamping spots in Malaysia are perfect for anyone and any sort of occasion, so long as nature is appreciated.
Other interesting hotels and resorts in Malaysia:
---
Cover image adapted from: @thehootonretreat, @glanned, @timecapsuleretreat &  @knotfortwo
Get more stories like this!
Drop us your email so you won't miss the latest news.