Things to do in Tamarind Square
---
Tamarind Square has become somewhat of a landmark in Cyberjaya. Ask anyone who lives there for recommendations on places to explore in the developing city, and they'll most likely refer you to this spot. 
This is not without reason, as the industrial-meets-natural lifestyle hub is home to a plethora of aesthetic cafes, as well as photo-worthy spots and a 24-hour bookstore, just to name a few. We rounded up 10 things to do here – from feasting and shopping, to joining an outdoor fitness class.
---
– Activities –
---
1.  Discover post-apocalyptic-looking spots for eye-catching photos
---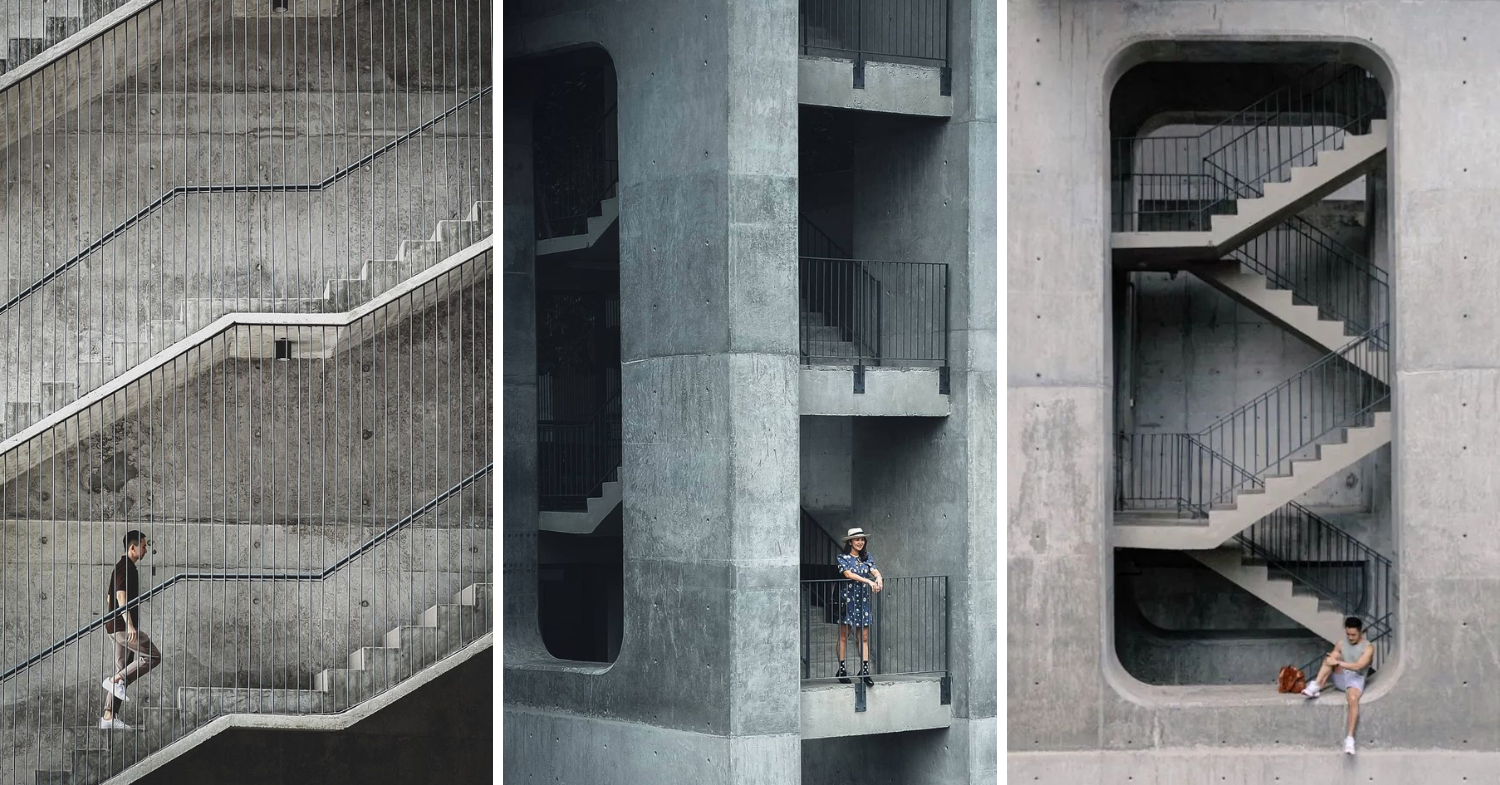 Image adapted from: @dalelee_123, @hybridyang and @caleb.mok
Some might call Tamarind Square a modern-day mall, as it houses staple stores such as Village Grocer, MR. DIY, and Watsons. But you won't find any air-conditioned floors here. This hub comprises airy shaded courtyards lined with shops and eateries, as well as an outdoor space – The Barn – which often hosts bazaars and activities.
Besides shopping and dining, many flock here to take photos at the various post-apocalyptic-looking spots around its premises. Thanks to the hub's industrial architecture, even staircases and pillars at the outdoor parking spaces have become popular photo spots among professional and budding photographers alike.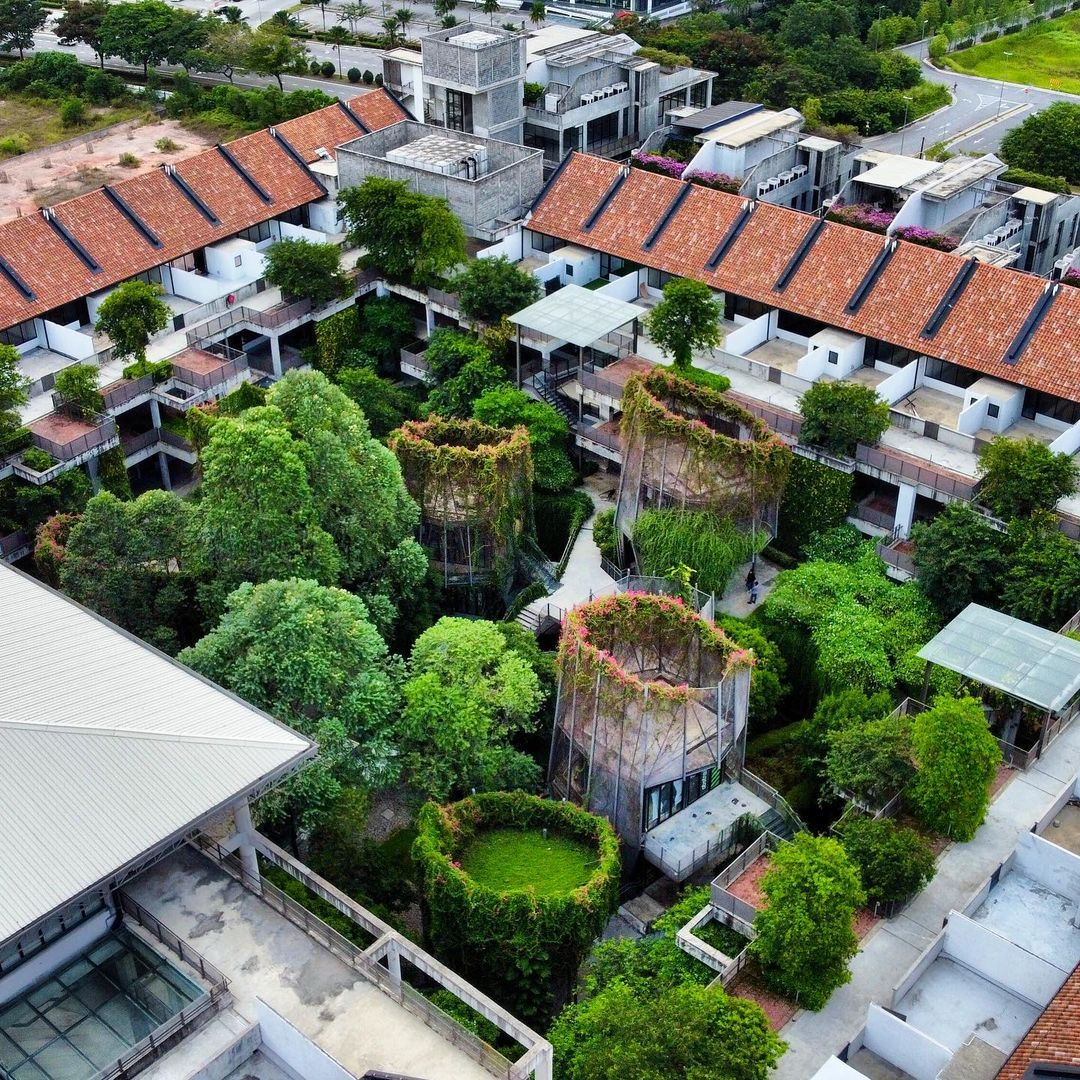 Image credit: @jdronecreative
But don't be fooled by all the concrete you see here. This building is a green oasis, with overgrown vines and trees featured in its main courtyard – among the aesthetic cafes and shops located along corridors and within unique vine-clad, concrete tree houses.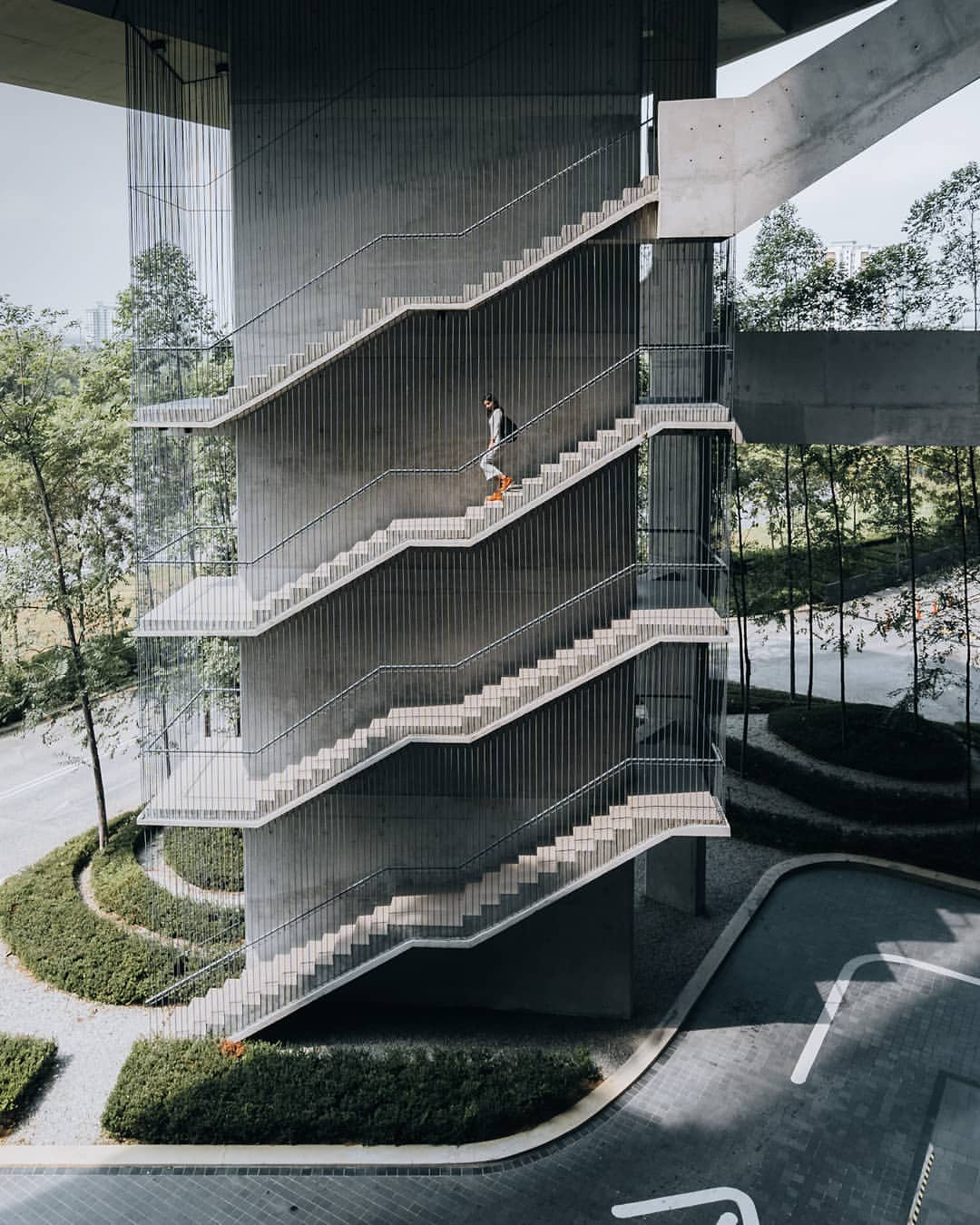 Image credit: @sxznx
---
2. Challenge your friends at board games at We Play Games
---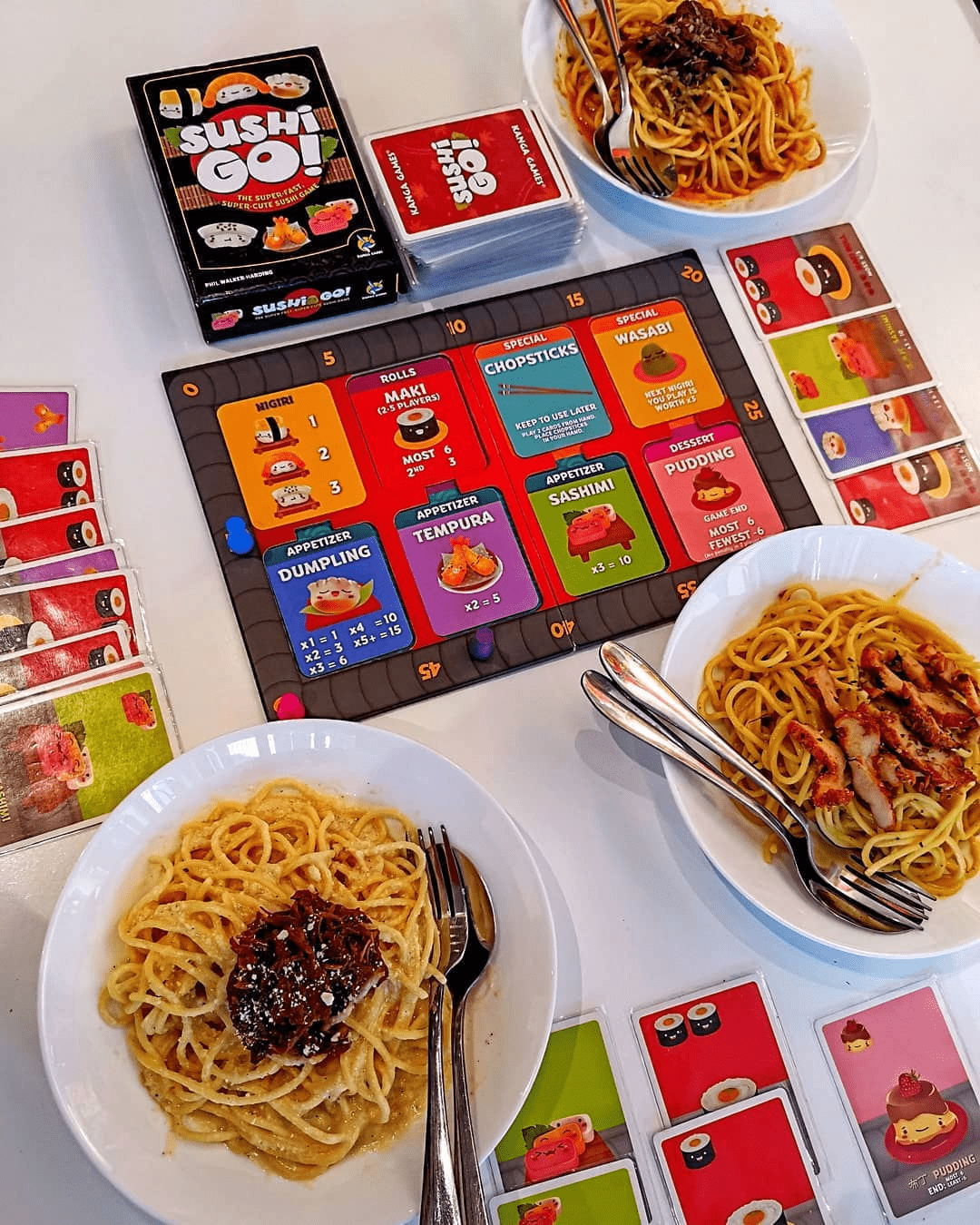 Image credit: @mizz_mieza
For some good ol' fun with your friends, We Play Games is a board game cafe with over 500 board and card games. Here, you can challenge your friends at a game of Sushi Go or Munchkins, while dining on cakes, pastas, and fizzy drinks.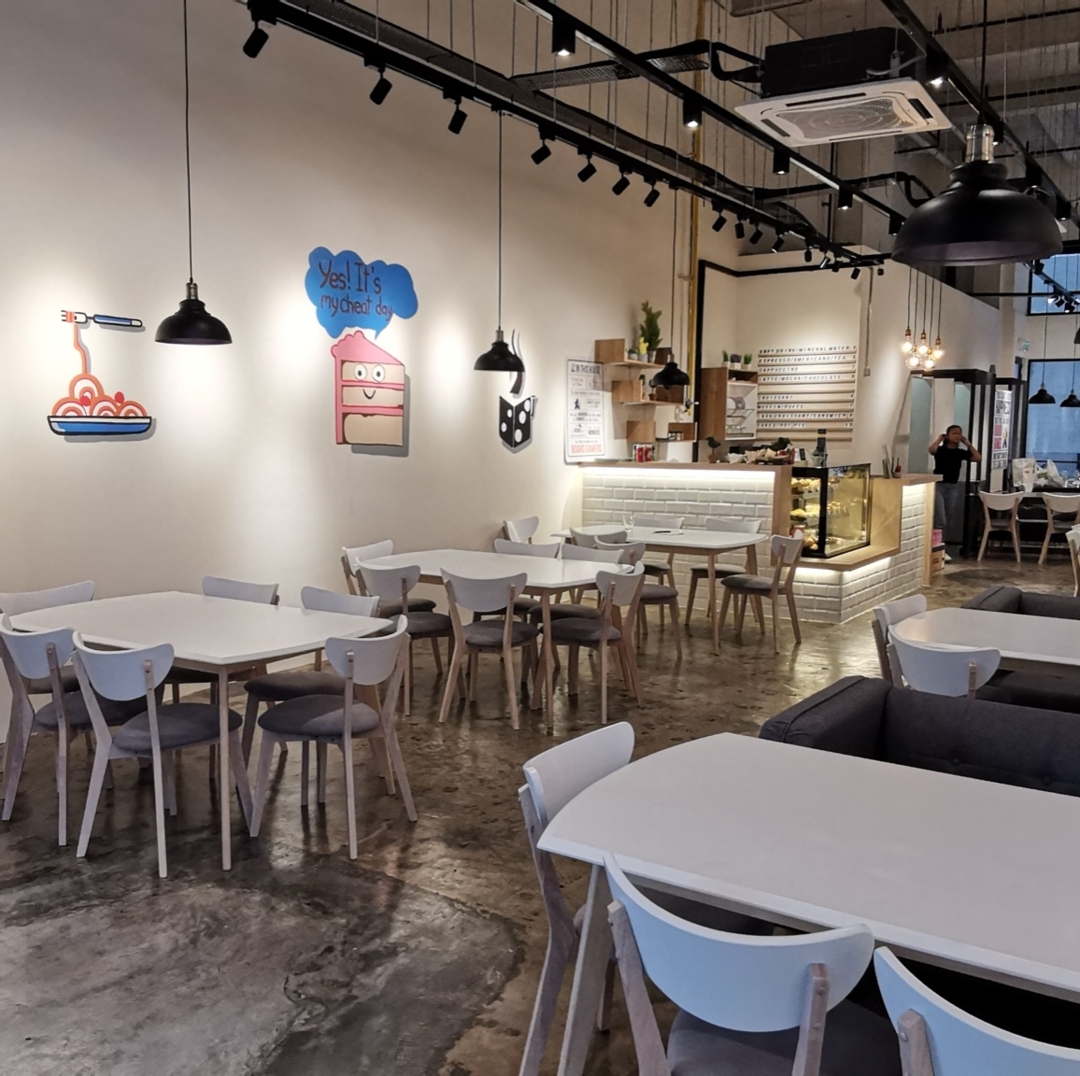 Image credit: @weplaygames.co
Serious gamers can opt for an unlimited pass (RM28/adult and RM20/child) to get access to their wide collection of games. You'll also get a complimentary drink with this. Else, you can play per game (from RM15/pax) and order drinks such as Latte (from RM10) and Iced Chocolate (RM13) on the side.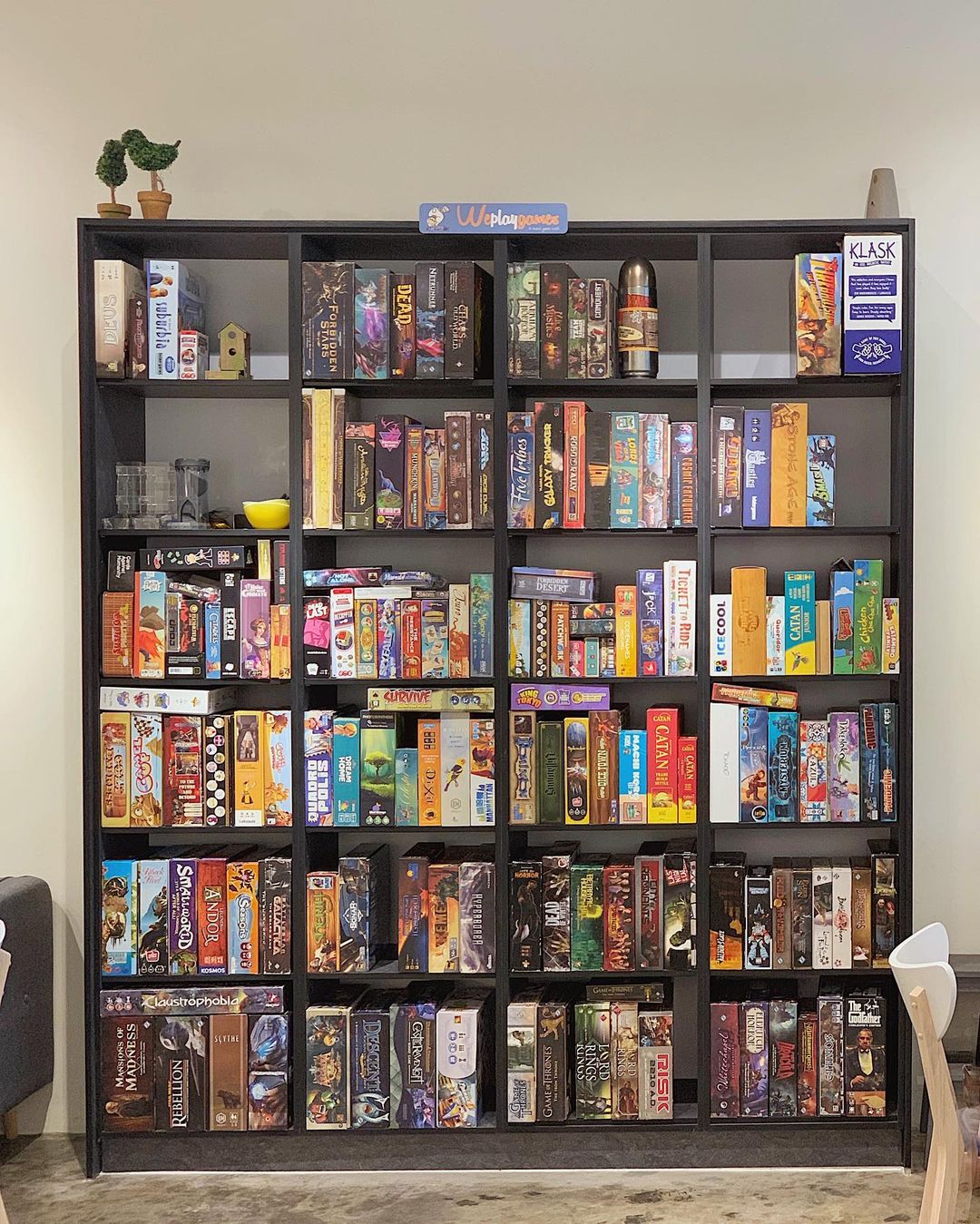 Image credit: @faz_baek
If all that scheming and plotting leaves you feeling peckish, order from the food menu. It comprises pastas (RM18/each) – including The Irresistible Tom Yum Pasta and Signature Golden Salted Egg Pasta – or smaller bites, such as Delish Chicken Pie (RM10) and Fluffy Banana Chocolate Chip (RM8) muffin.
Address: D2-04-16, Level 4, Tamarind Square, Persiaran Multimedia, Cyber 10, 63000 Cyberjaya, Selangor
Opening hours: 12pm-10pm, Daily 
Contact: 017-608 0875 | We Play Games Instagram

---
3. Join an outdoor zumba or pound fitness class
---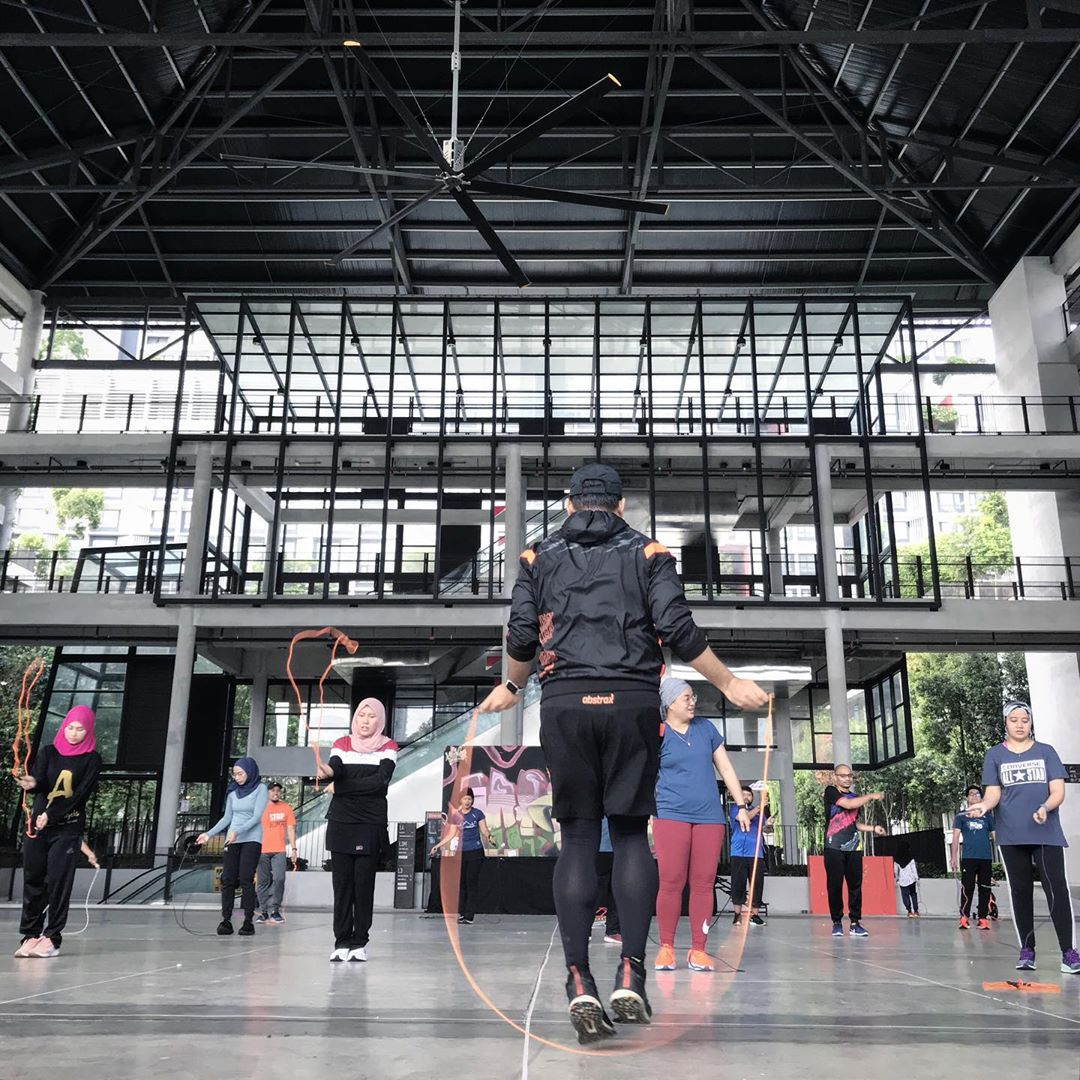 Image credit: @abstrax.max
Keep to your fitspo goals and join a fitness class at The Barn. Whether you're looking to commit to a weekly workout routine or not, the classes are affordable and fun, and held outdoors in the evenings in the company of likeminded individuals.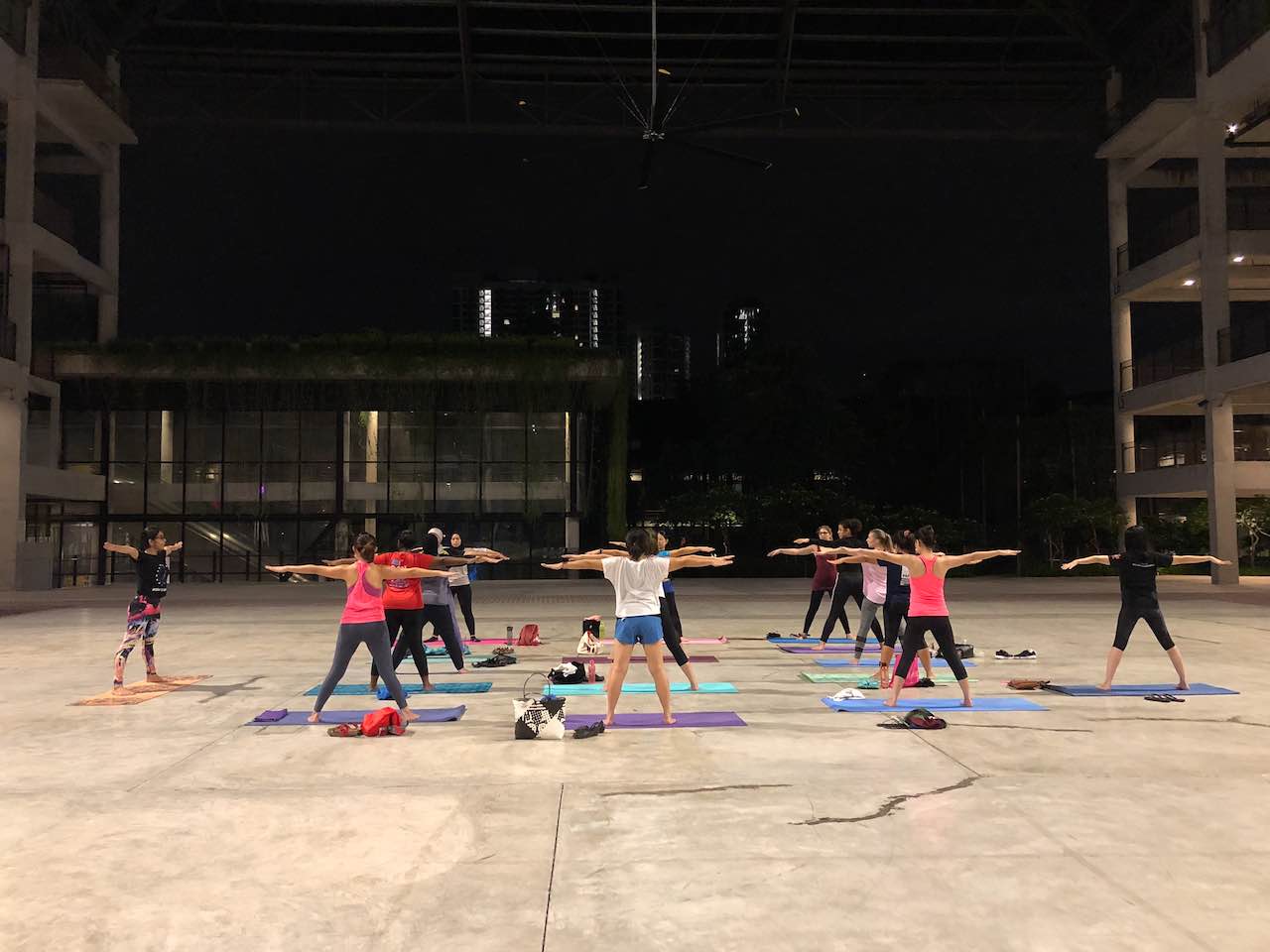 Image credit: Tamarind Square
You won't have to fork out a fortune to join a class led by experienced instructors either. Zumba Classes are held every Monday for a small fee of RM5/pax, and Pound Fitness on Wednesdays for RM10/pax, from 8.30am to 9.30am.
To join, you can contact the instructors at their WhatsApp numbers listed here.
Venue: Centre Court, Level 4, Tamarind Square, Persiaran Multimedia, 63000 Cyberjaya, Selangor
---
– Food –
---
4. Feast on all-American food at Burger And Taco
---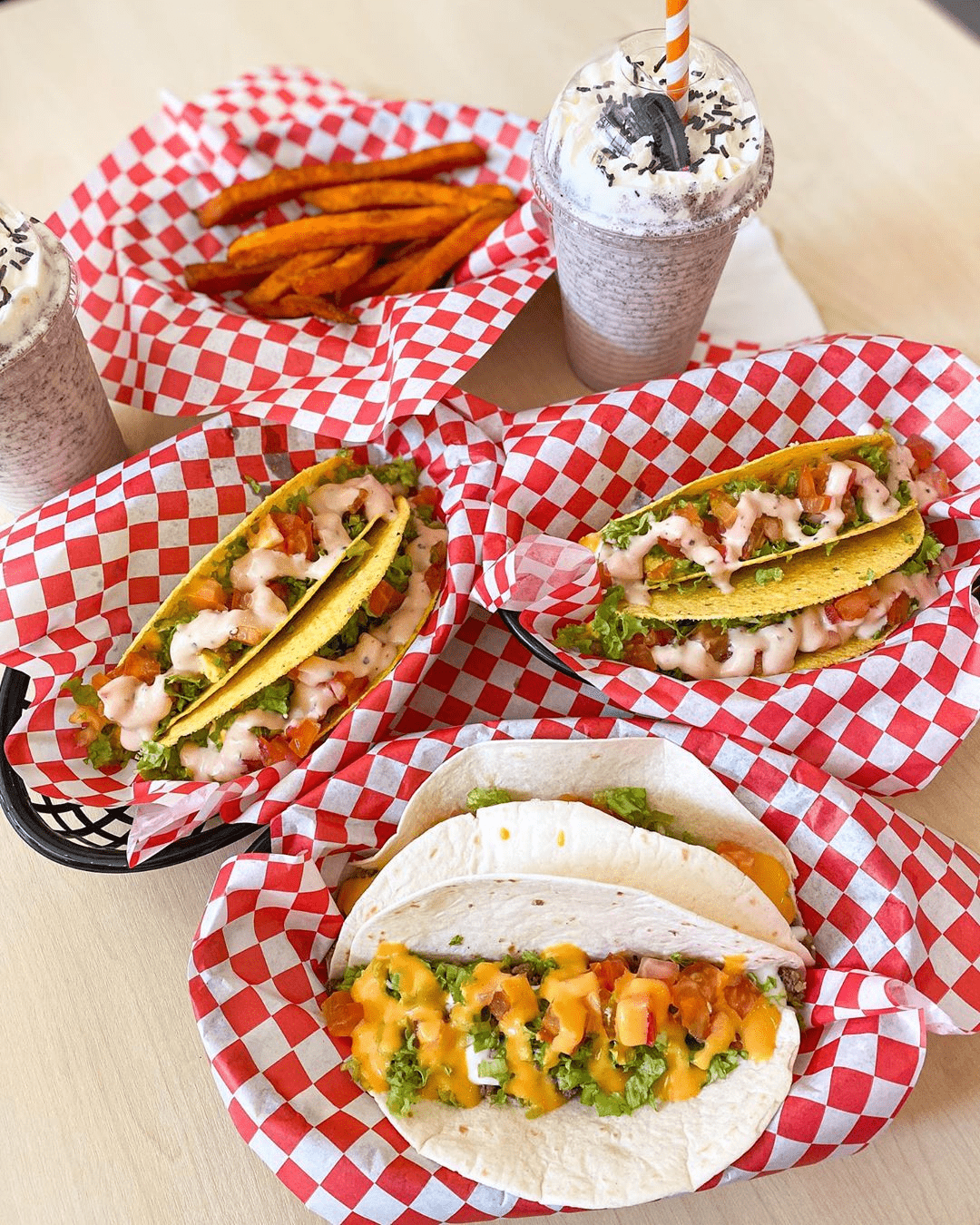 Image credit: @whatnikeats
For some solid all-American fare, Burger And Taco serves sloppy burgers alongside well-packed tacos, with sides of milkshakes. Find 19 types of burgers to choose from here – from chicken and beef burgers, to vegetarian-friendly ones such as Portobello Caramelo (RM17), and the hash brown "patty" Wakey Wakey (RM11).   
Highlights for meat lovers at this Muslim-friendly joint are Volcano (RM20) – with a spicy, deep-fried chicken patty – and Super Mario (RM20) with a beef patty, grilled portobello mushrooms, and lime aioli.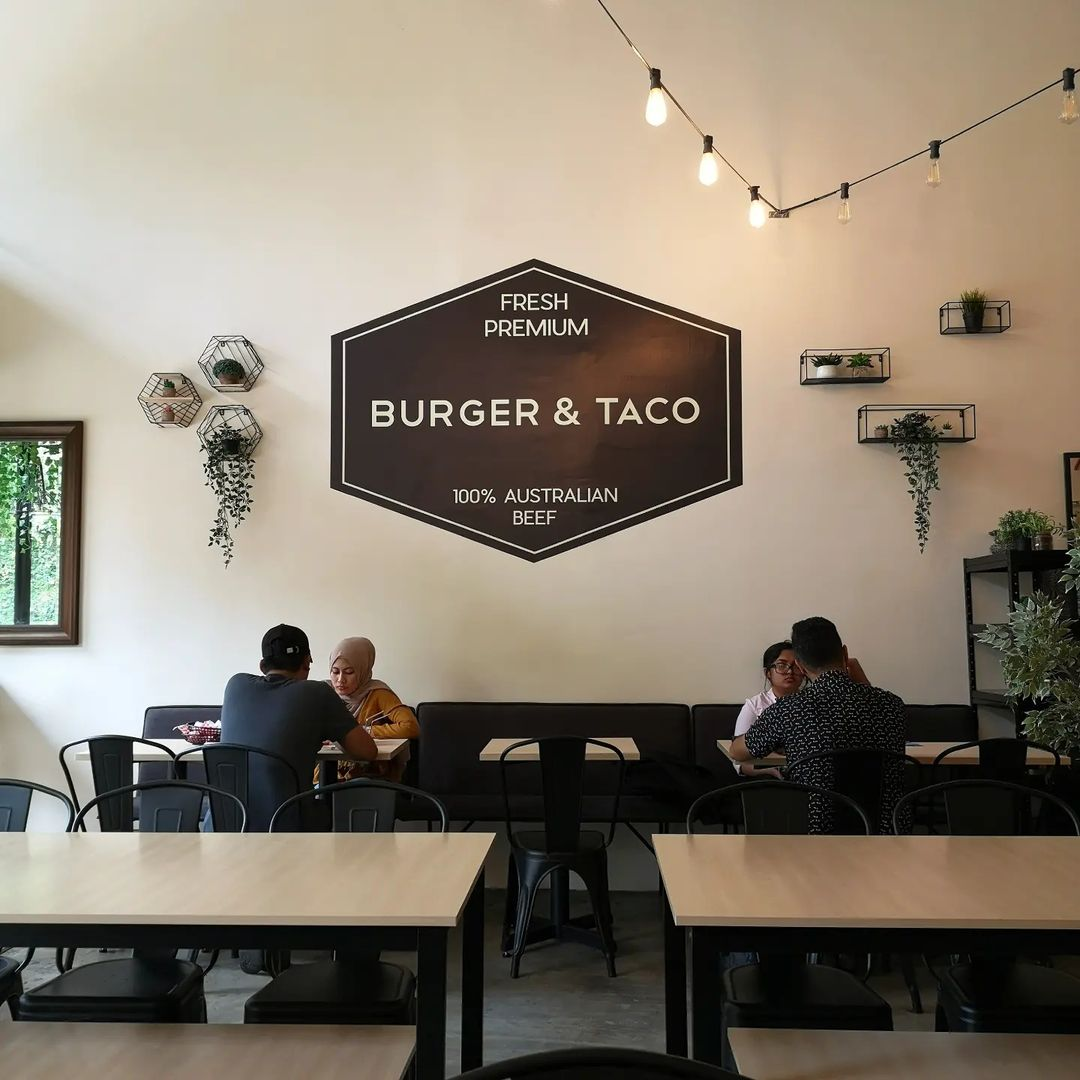 Image credit: @_zackm00
If you're here for tacos, there are nine different types to choose from served in a set of two. Try classics such as beef (RM16) and chicken (RM15), as well as more unique fillings – portobello (RM17) and egg (RM11).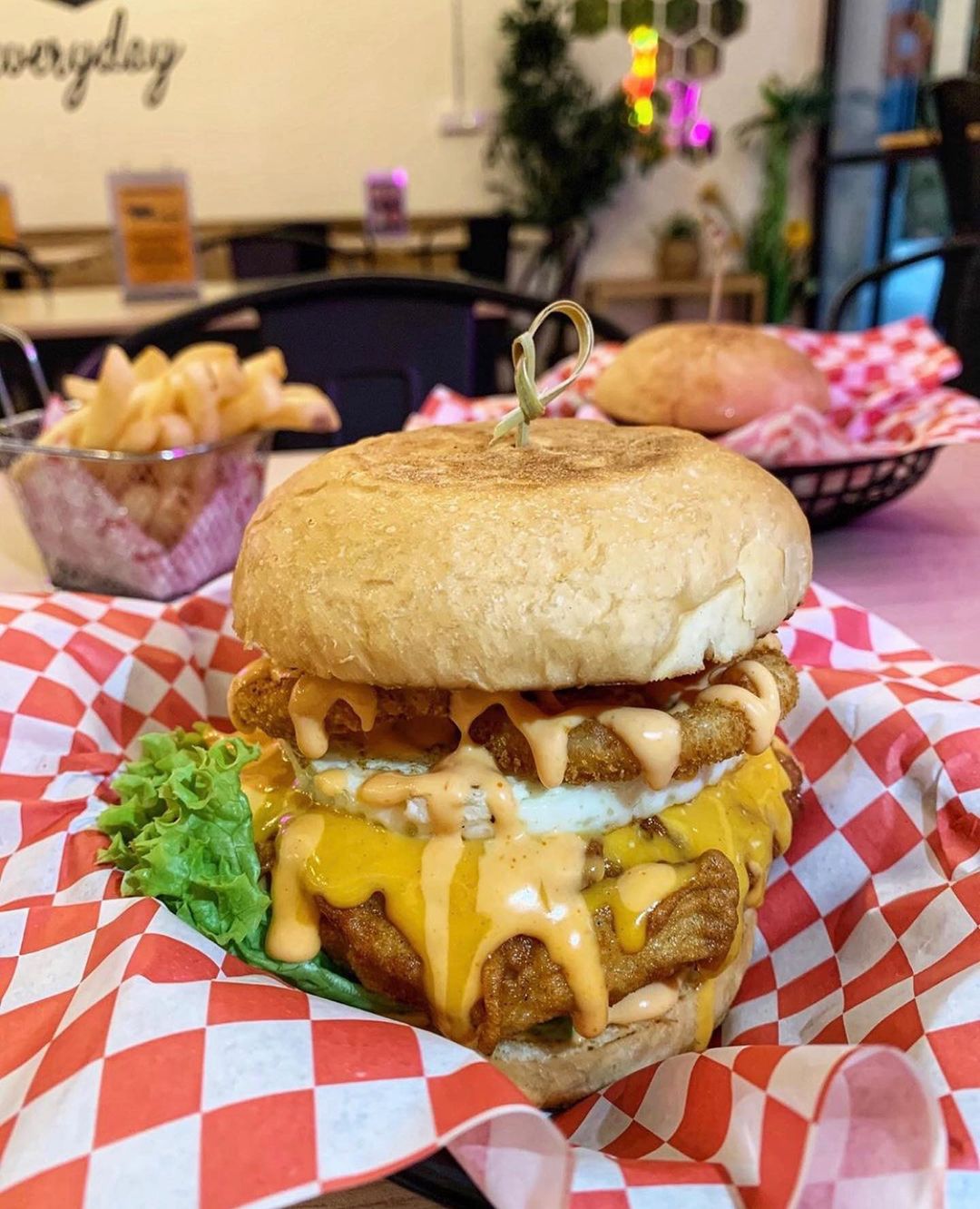 Image credit: @burgerandtacomy

Pair these off with sides – Sweet Potato (RM9) fries or Onion Rings (RM8) – along with a Vanilla (RM12) or Oreo Cookies (RM15) milkshake for a complete meal. There's also kiddo-friendly meals – Good Ol' Cheeseburger (RM12) and Chicken Nuggets (RM9) – for those with smaller appetites. 
Address: E2-04-3A, Tamarind Square, Persiaran Multimedia, 63000 Cyberjaya, Selangor
Opening hours: Tue-Sun 12am-9pm (Closed on Mondays)
Contact: 012-776 0154 | Burger And Taco website | Facebook
---
5. Have brunch with pau burgers & refreshing sodas at The Botanist
---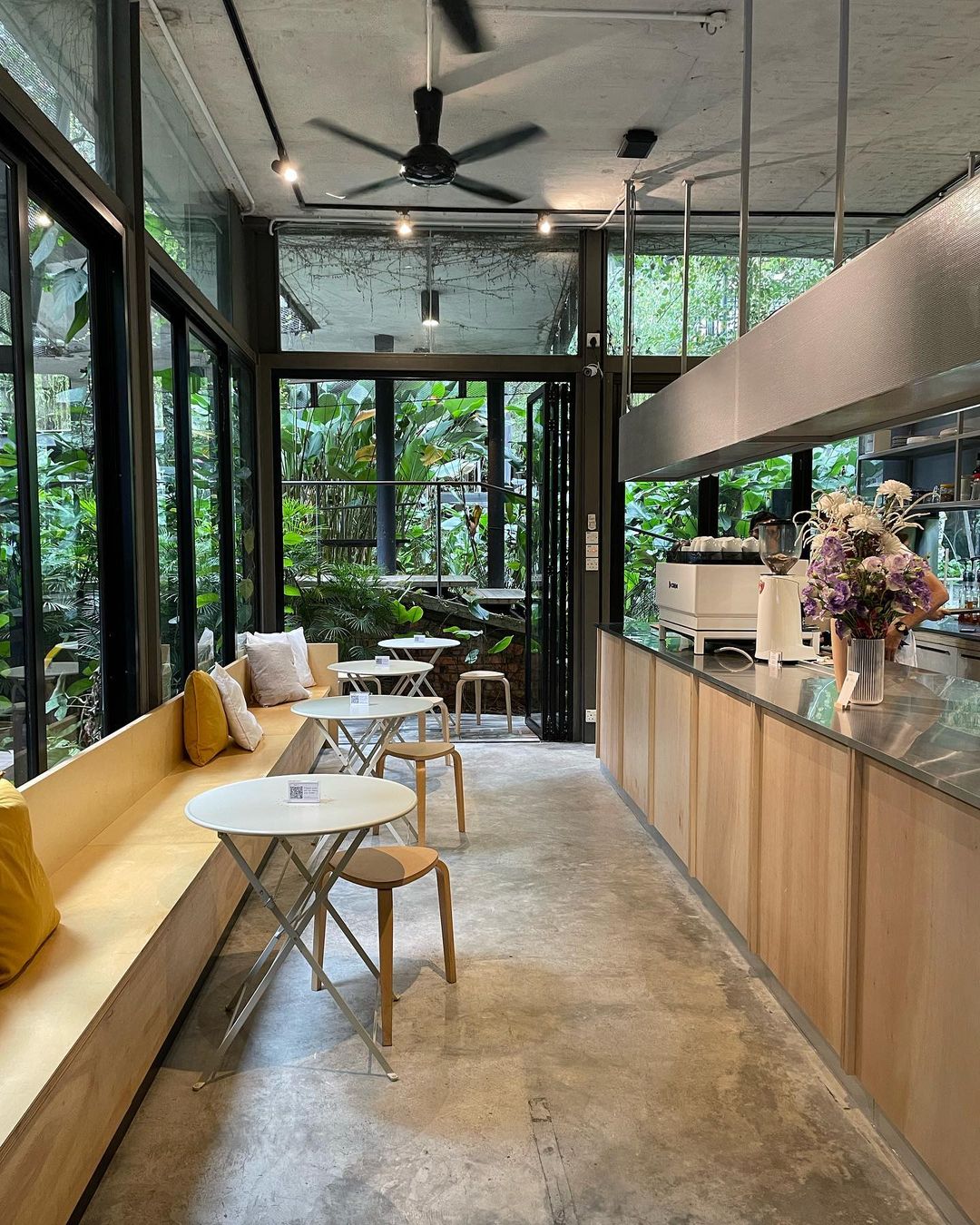 Image credit: @thebotanistgreencafe
A cafe that has become well-known even among non-Cyberjaya residents is The Botanist. This homey cafe at the heart of Tamarind Square has been attracting patrons from near and far for their Muji-like, minimalist ambience and brunch menu.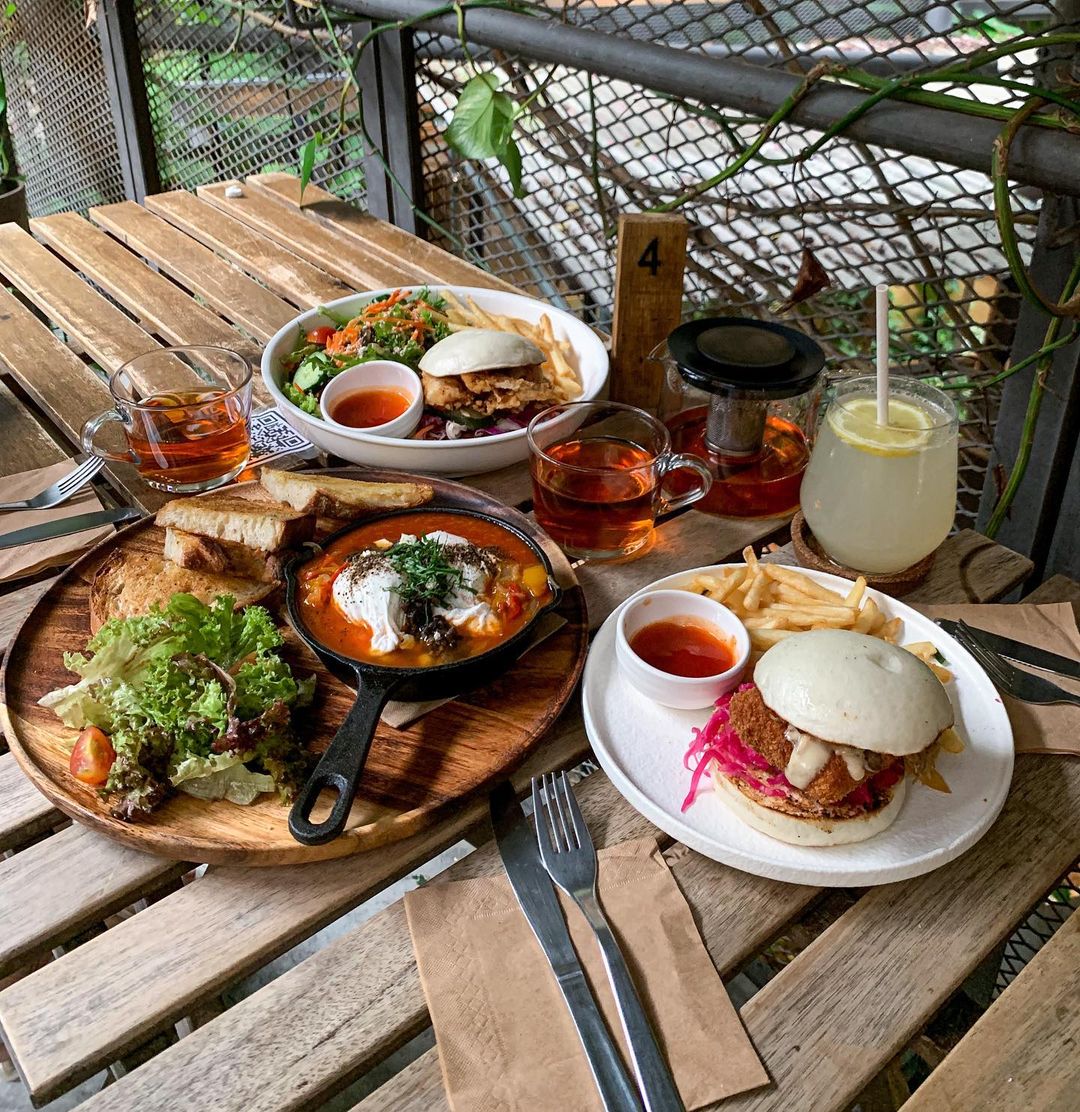 Image credit: @whatweieats

Opening bright an early from 8.30am, you can expect to dine on some of their best-sellers – including the Crumbly Cheese Bao (RM15), which sandwiches a crispy chicken patty between two fluffy, steamed paus.
Other unique mains worth considering are Lamb Sandwich (RM26), with kaffir lime greek yoghurt, and Shakshouka (RM26) – chicken sausage, or chickpeas, in a fragrant tomato sauce with eggs, relish, salad, and mushroom chips.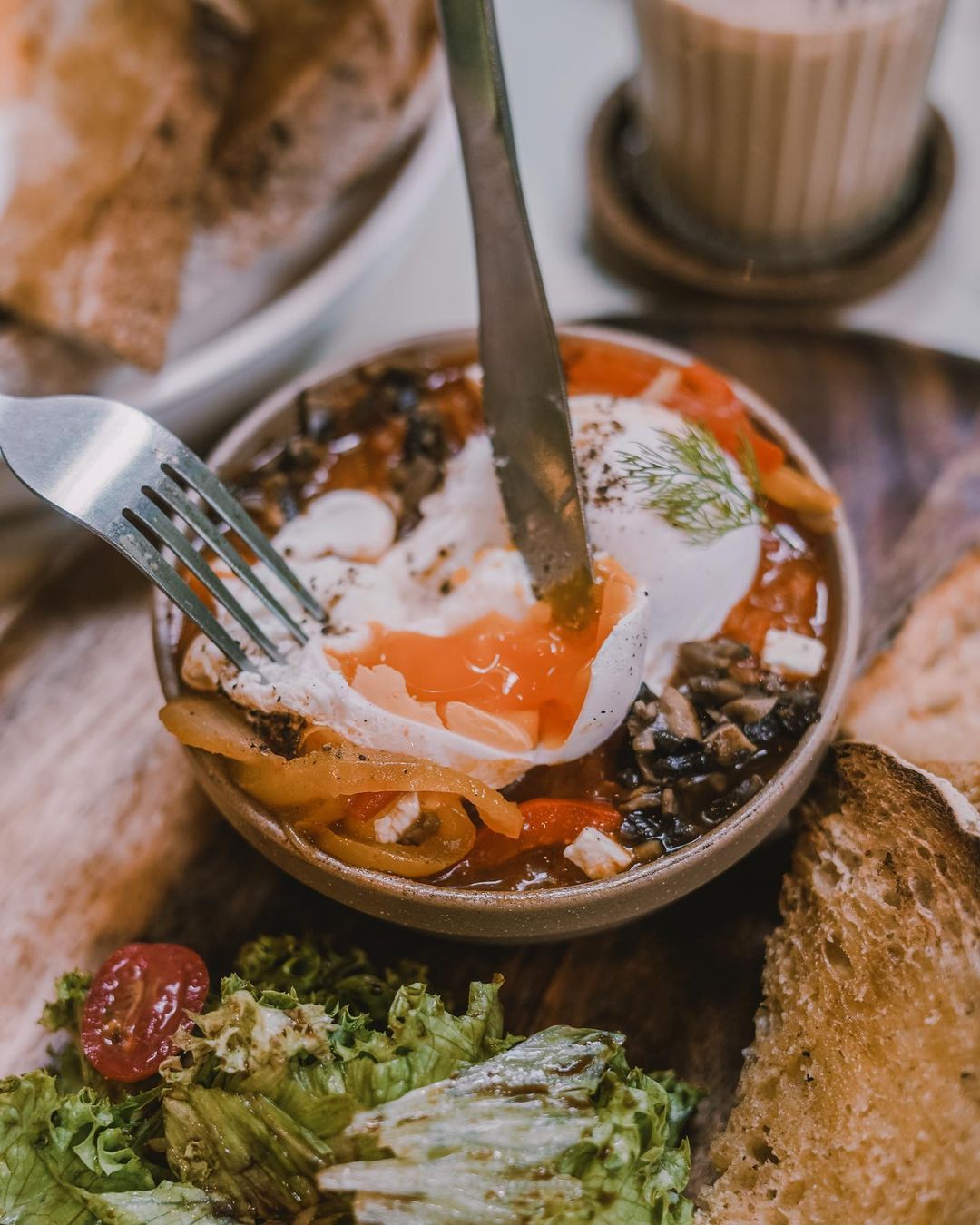 Image credit: @nanaxxvi

Switch up your regular coffee order at cafes by opting for The Botanist's unique and refreshing Asam Boi Soda (RM10) or Bluepea Tea (RM4). 
Address: GP3A-03M, Level 3M,Tamarind Square, Persiaran Multimedia, 63000 Cyberjaya
Opening hours: Tue-Sun 8.30am-4pm (Closed on Mondays)
Contact: The Botanist Instagram
---
6. Dine on fine Western mains & get manicures at Kaysha Dine & Beauty
---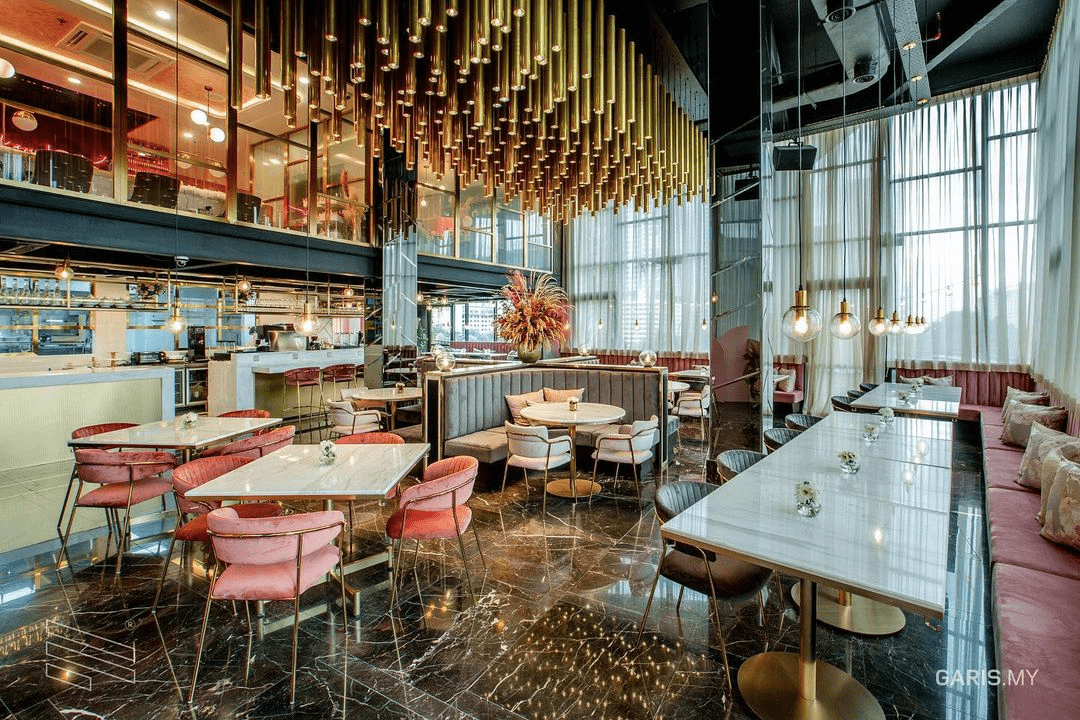 Image credit: @kaysha.dine
Dine in a flamboyant space featuring elaborate gold trimmings and pink dining seats at Kaysha Dine & Beauty. This hybrid restaurant and beauty salon is where you can feast on Asian and Western cuisine – plus indulge in manicures and pedicures after your meal.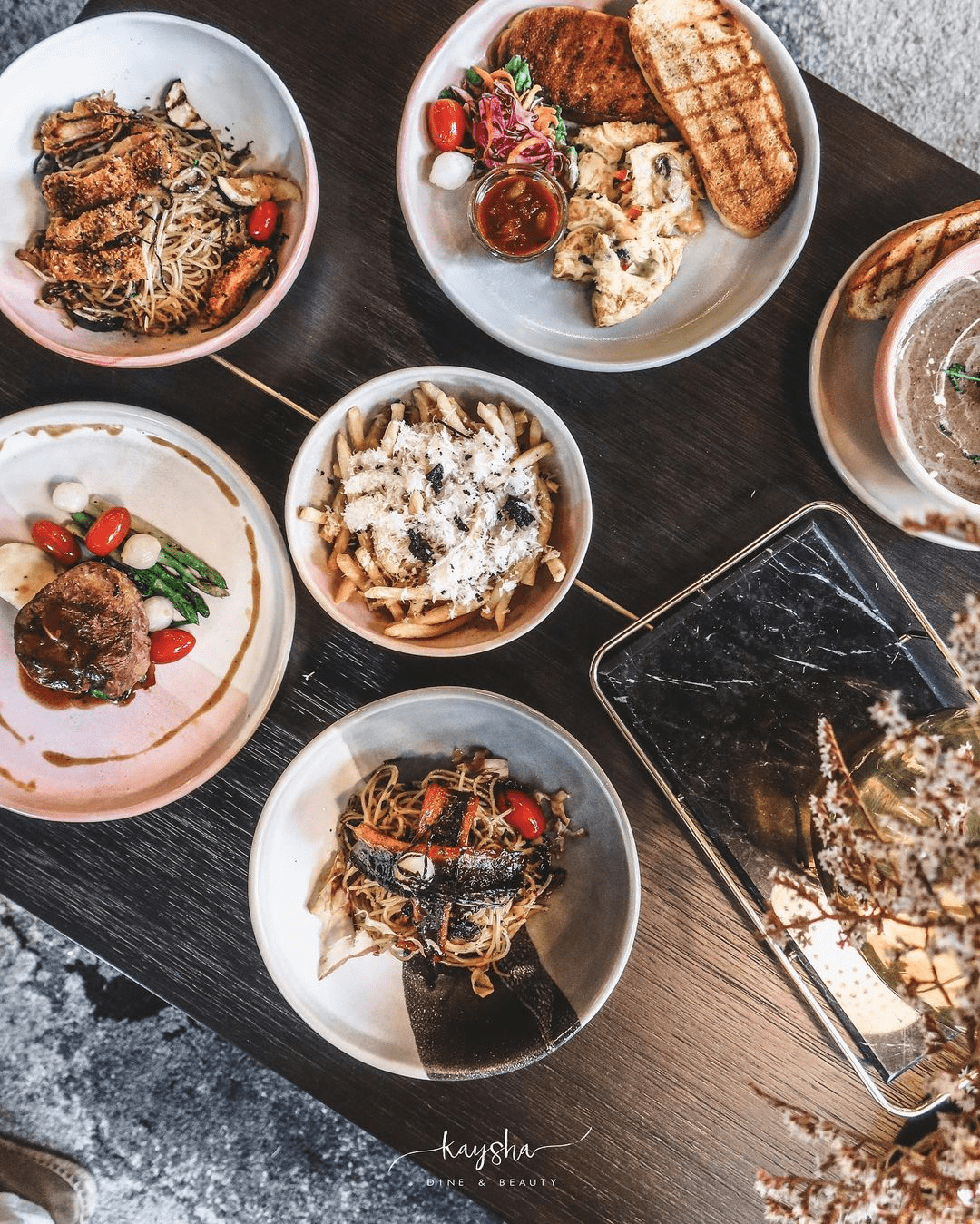 Image credit: @kaysha.dine
If you're here for the food, the restaurant's menu boasts a wide selection of Asian and Western cuisine – including breakfast plates, mains and sharing plates that range between RM16-RM190 per plate.
Those dropping by for breakfast can opt for items such as Avocado and Mushroom Toast (RM20) and Smoked Salmon and Poached Egg Benedict (RM35).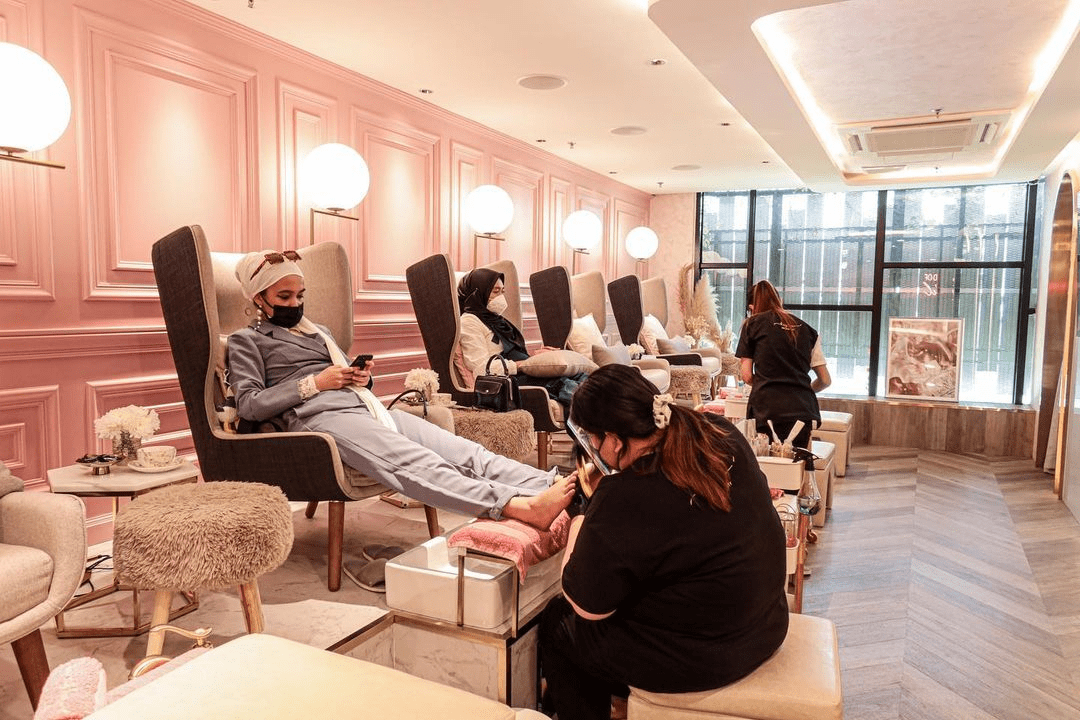 Image credit: @kaysha.beautysalon
There's also a beauty salon located at the mezzanine floor of Kaysha Dine & Beauty. Here, patrons can pamper themselves with manis and pedis at the hands of professional staff to cap off their brunch.
Opt for Express manicures (RM50) or pedicures (RM60), or go all out with your besties with a Spa Polish manicure (RM115) or pedicure (RM130) for a pampering treat that includes light massages and exfoliators. 
Address: A-03-12, Tamarind Square, Persiaran Multimedia, 63000 Cyberjaya, Selangor
Opening hours: 7am-10pm, Daily
Contact: 013-837 1470 | Kaysha Dining & Beauty Instagram
---
– Shopping –
---
7. Browse through stationery & journalling tools at Kuma Journals
---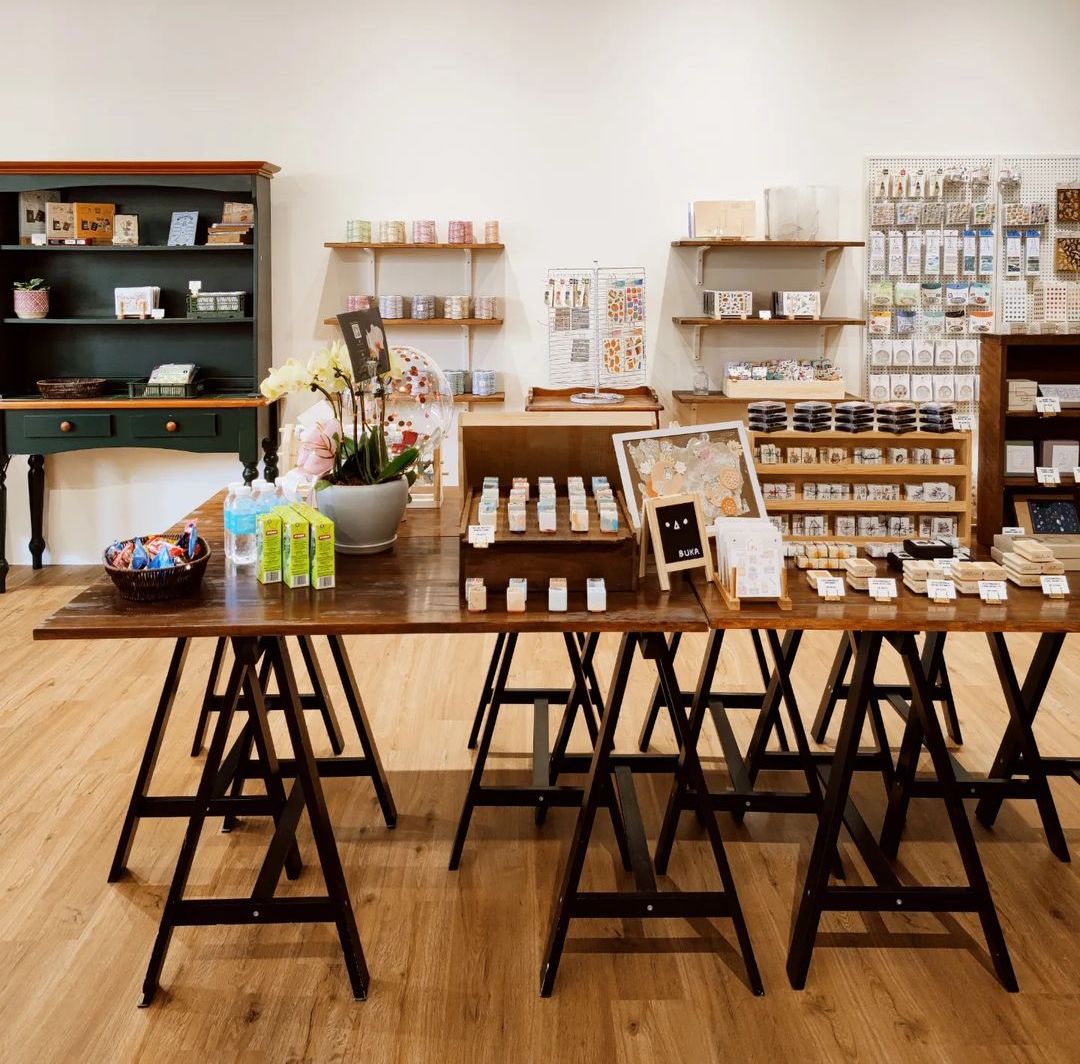 Image adapted from: @hazukijournal

A newly-opened shop in Tamarind Square, Kuma Journals is a treat for avid diarists and aesthetic stationery hoarders alike. This previously online-only stationery shop now has its collection of washi tape, stickers and more on display and for sale at this physical store.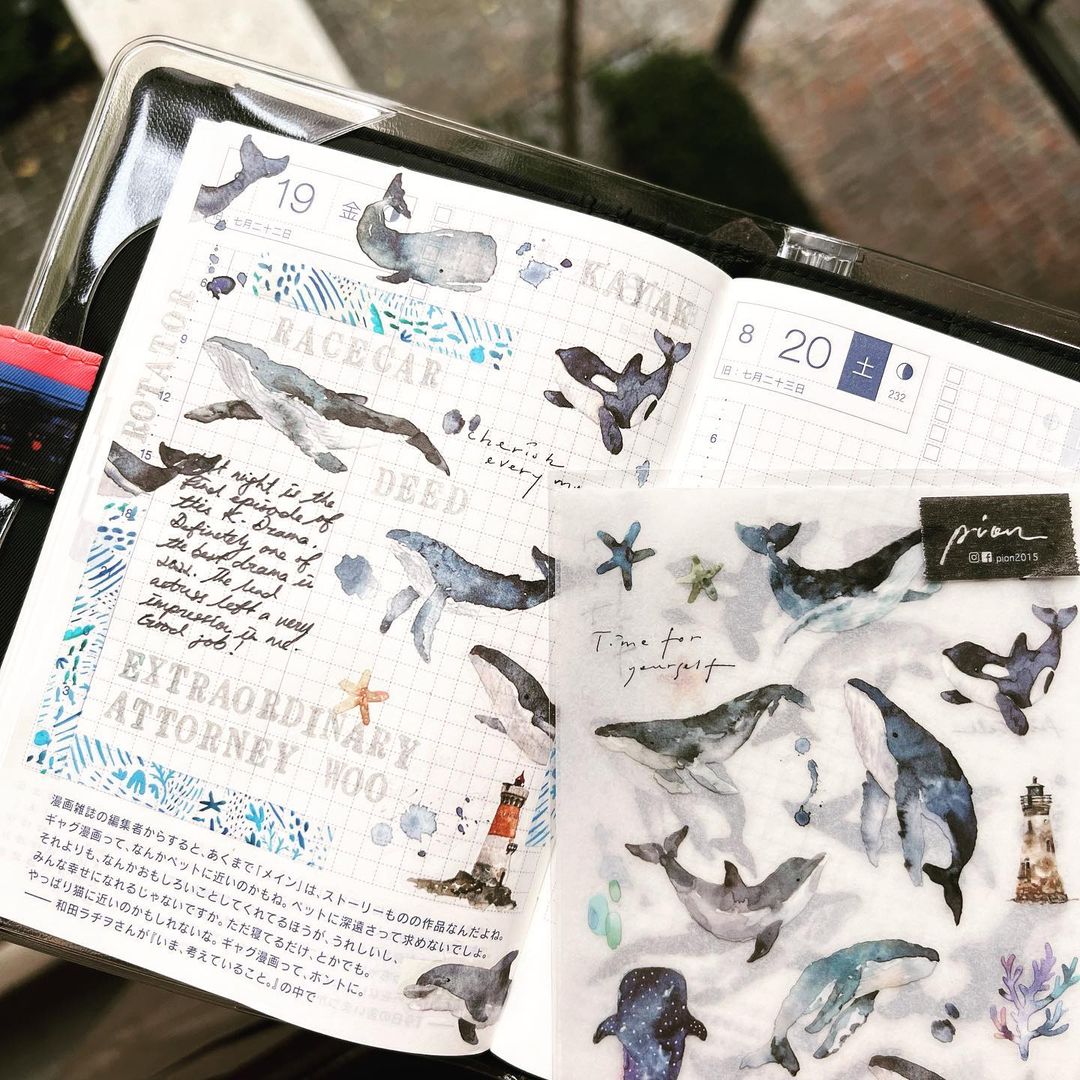 Image credit: @kuma_journals
Find everything you need to kick off and enrich your journalling journey here – including made-in-Japan washi tapes (RM23.90) from Monokoto Store, and delicately-handcrafted ornamental stamps priced between RM40-RM90.

Image credit: @ganhua.jie

There's also a photo station here with all the quirky items you need for a perfect shot of your latest journal masterpiece.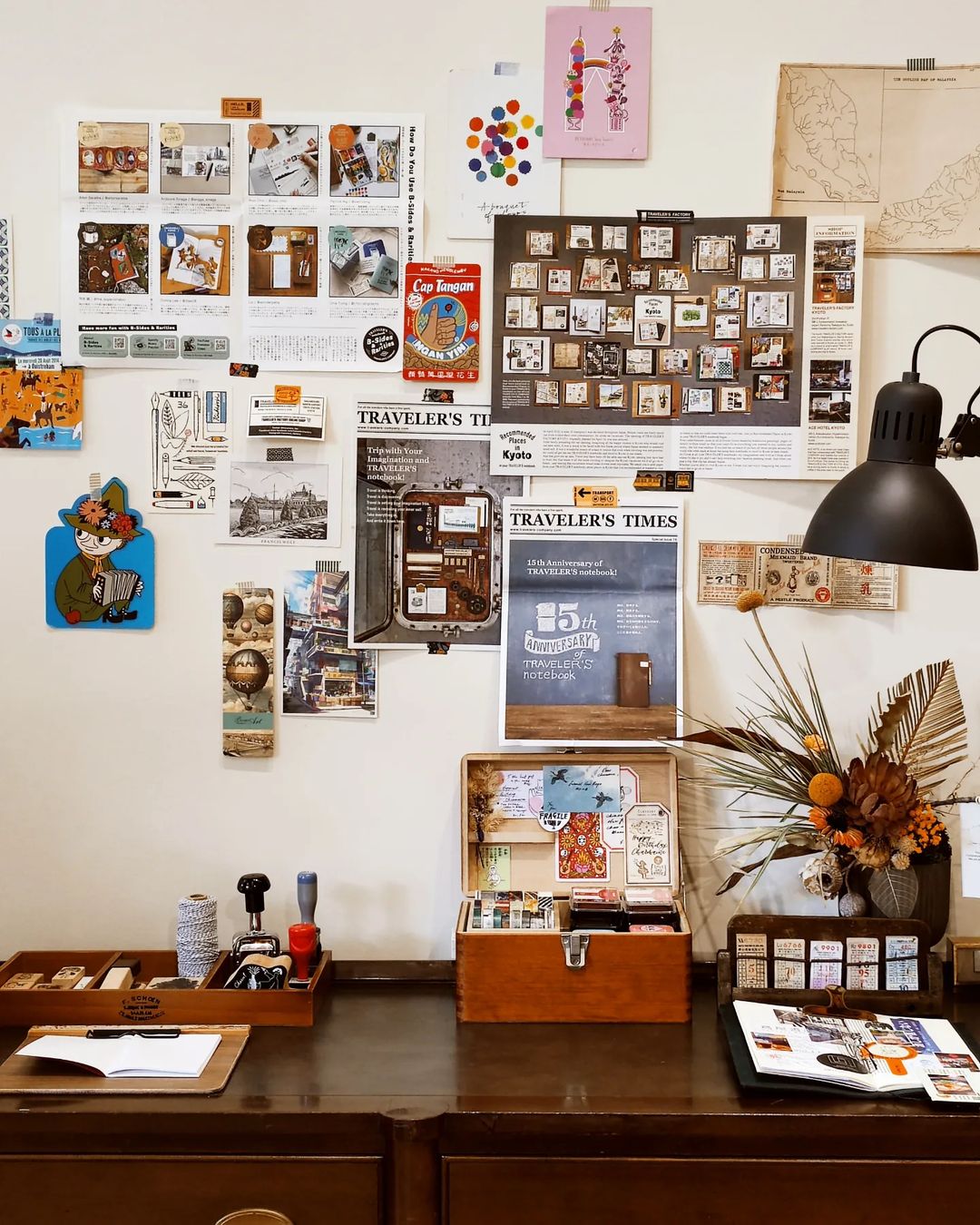 The vintage-themed photo corner.
Image credit: @hazukijournal

Address: D2-05-16, Tamarind Square, Persiaran Multimedia, 63000 Cyberjaya, Selangor Darul Ehsan
Opening hours: Tue-Fri 11am-7pm | Sat & Sun 10am-8pm (Closed on Mondays)
Contact: Kuma Journals website | Instagram
---
8. Adopt a plant & sip on matcha at Plnt.co
---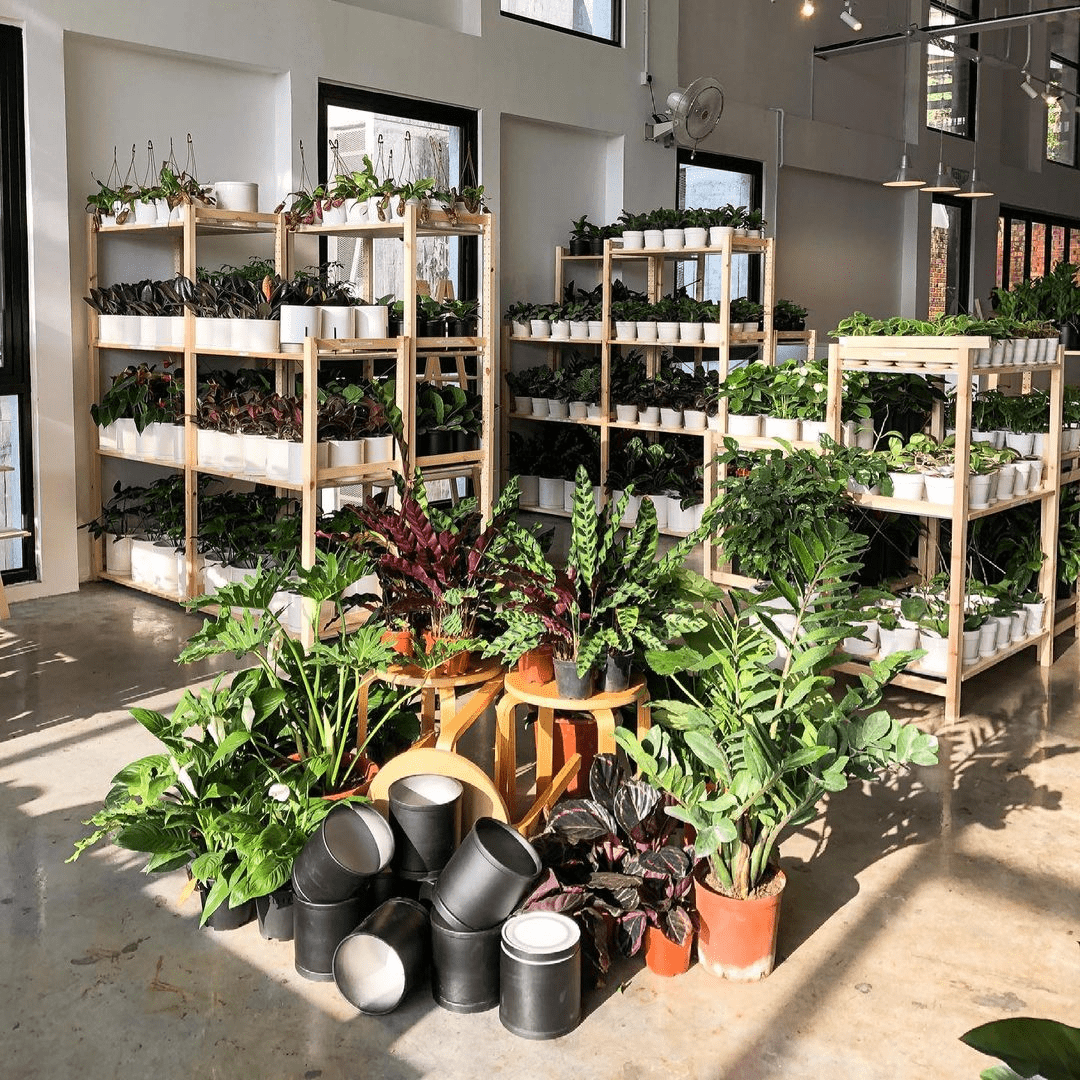 Image credit: @aimanhakimnordin
It never hurts to add another plant to our indoor spaces – not only do they provide a pop of colour, they also help enhance indoor air quality. Over at PLNT.co, you can walk down air-conditioned aisles and browse a range of plants (from RM15/pot) – including succulents, monsteras, snake plants, and more.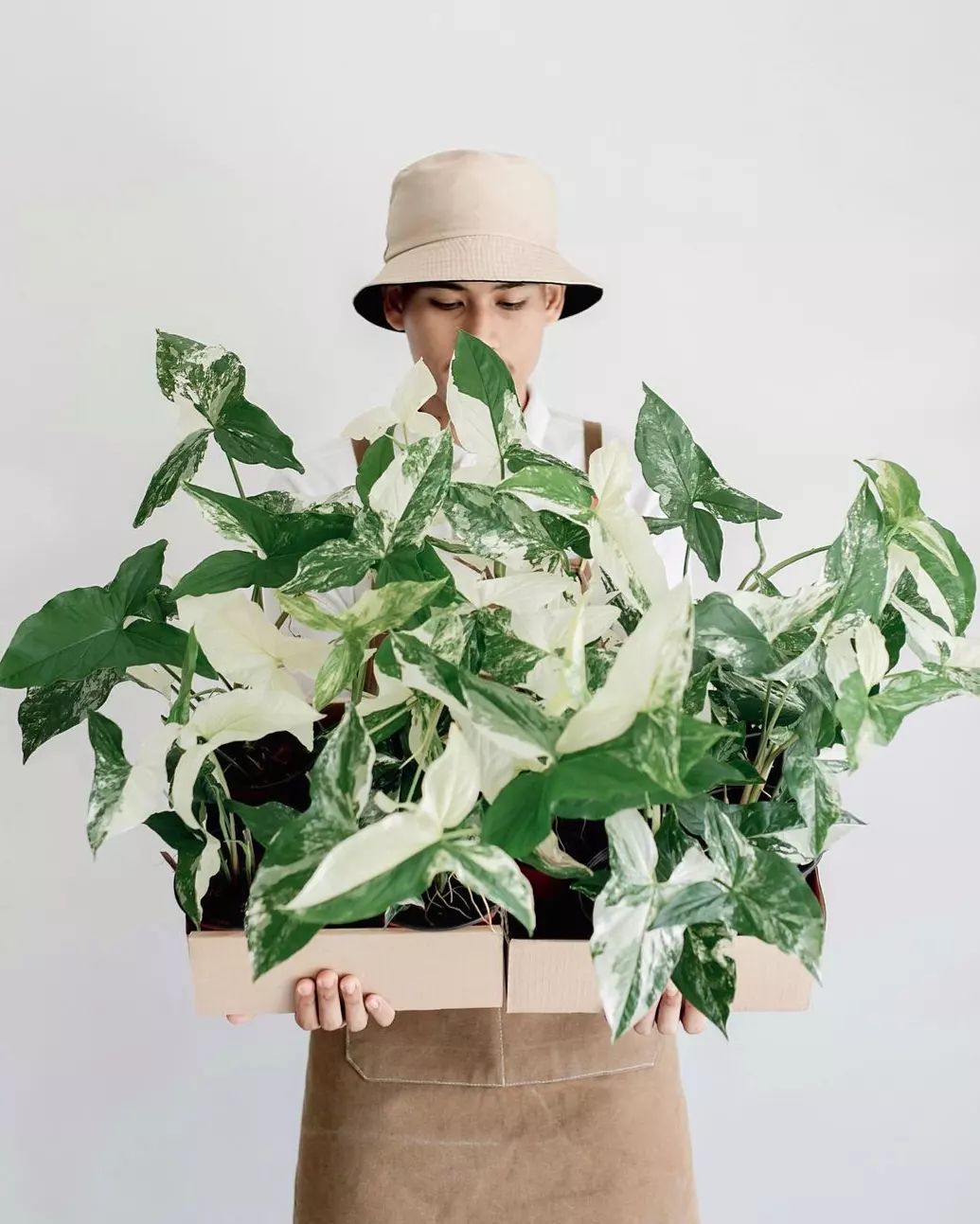 Image credit: @aroidplace
There's also containers to shop for to pot your new plant finds, and a matcha shop called Ijo Matcha located within the  shop. They whip up interesting matcha concoctions such as Matcha-Horlicks Sago (RM14), Matcha Onde Onde (RM14), and Matcha Butterbeer (RM15),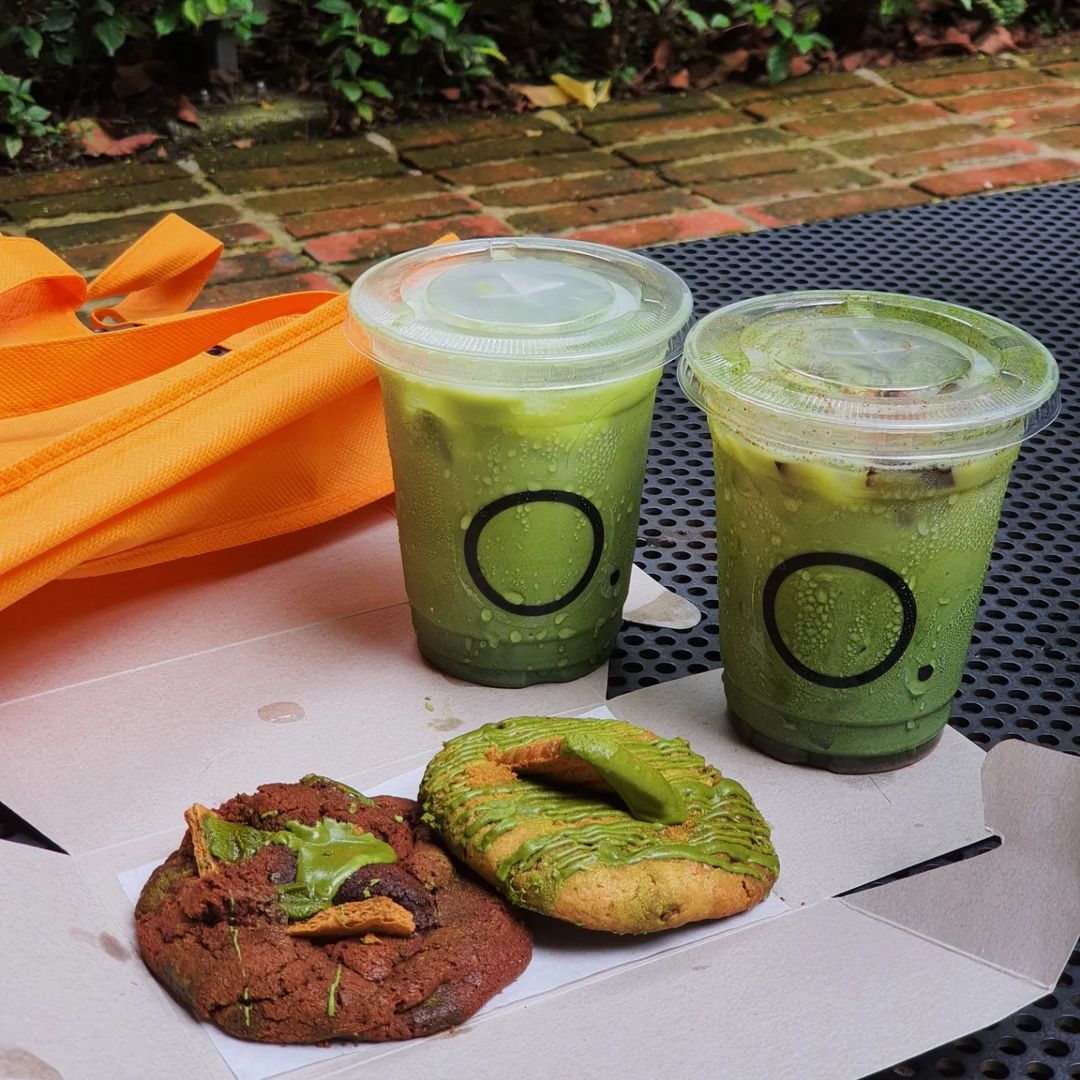 Image credit: @_dominic.loh
Read our feature to find out more here.
Address: B-03-03A , Tamarind Square, Persiaran Multimedia, 63000 Cyberjaya, Selangor
Opening hours: 10.30am-6.30pm, Daily
Contact: PLNT.co Facebook
---
9. Hunt for books & sip on coffee at a 24-hour BookXcess
---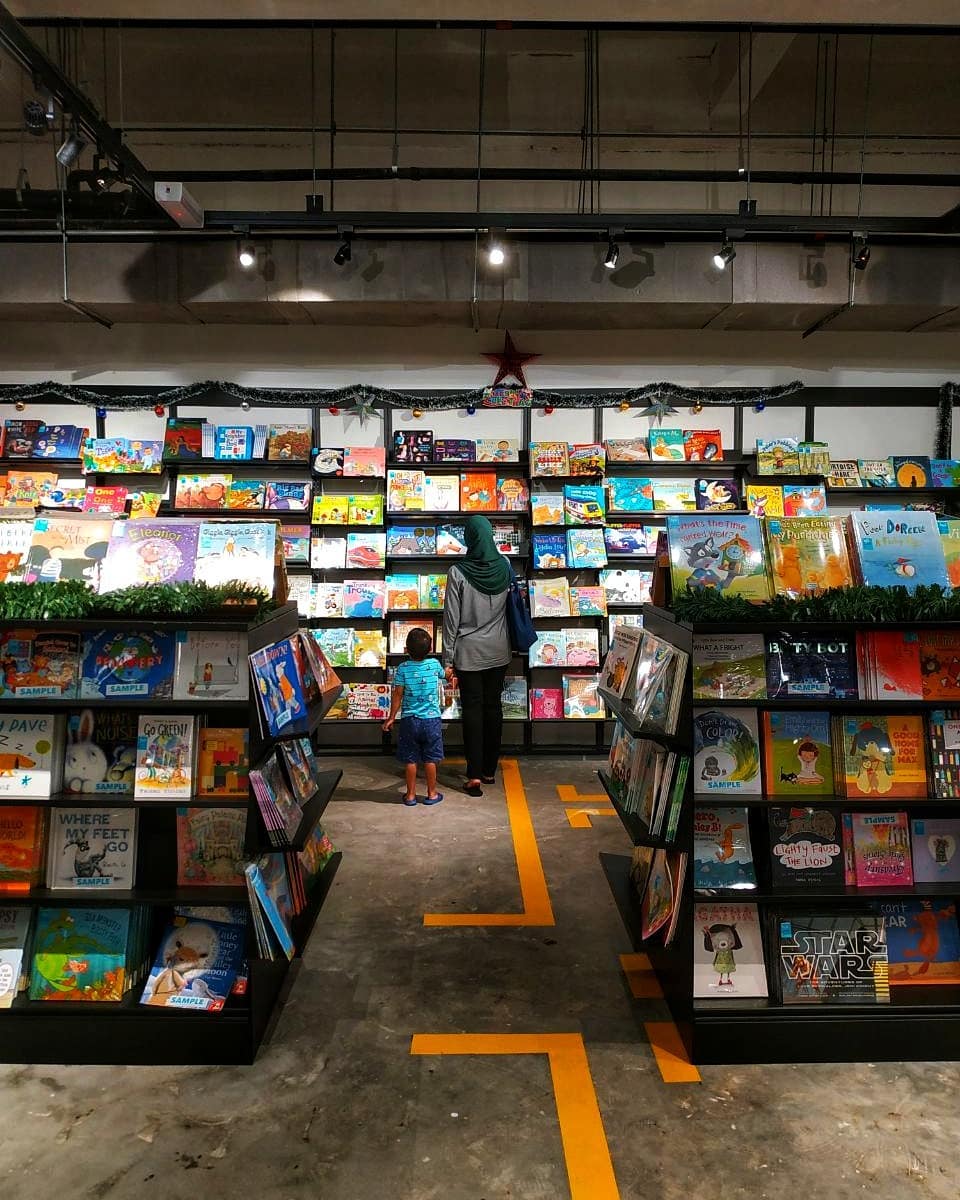 Image adapted from: @farhanazin

BookXcess has become a Malaysian-favourite bookstore for its affordable books and unique outlet features. At its outlet in Tamarind Square, there are cosy study spots and an in-house cafe called Freaky Dainty to boot. The bookstore also happens to operate 24 hours, a first in Malaysia. 
Do note, however, that they are currently only open from 10am-10pm due to the pandemic.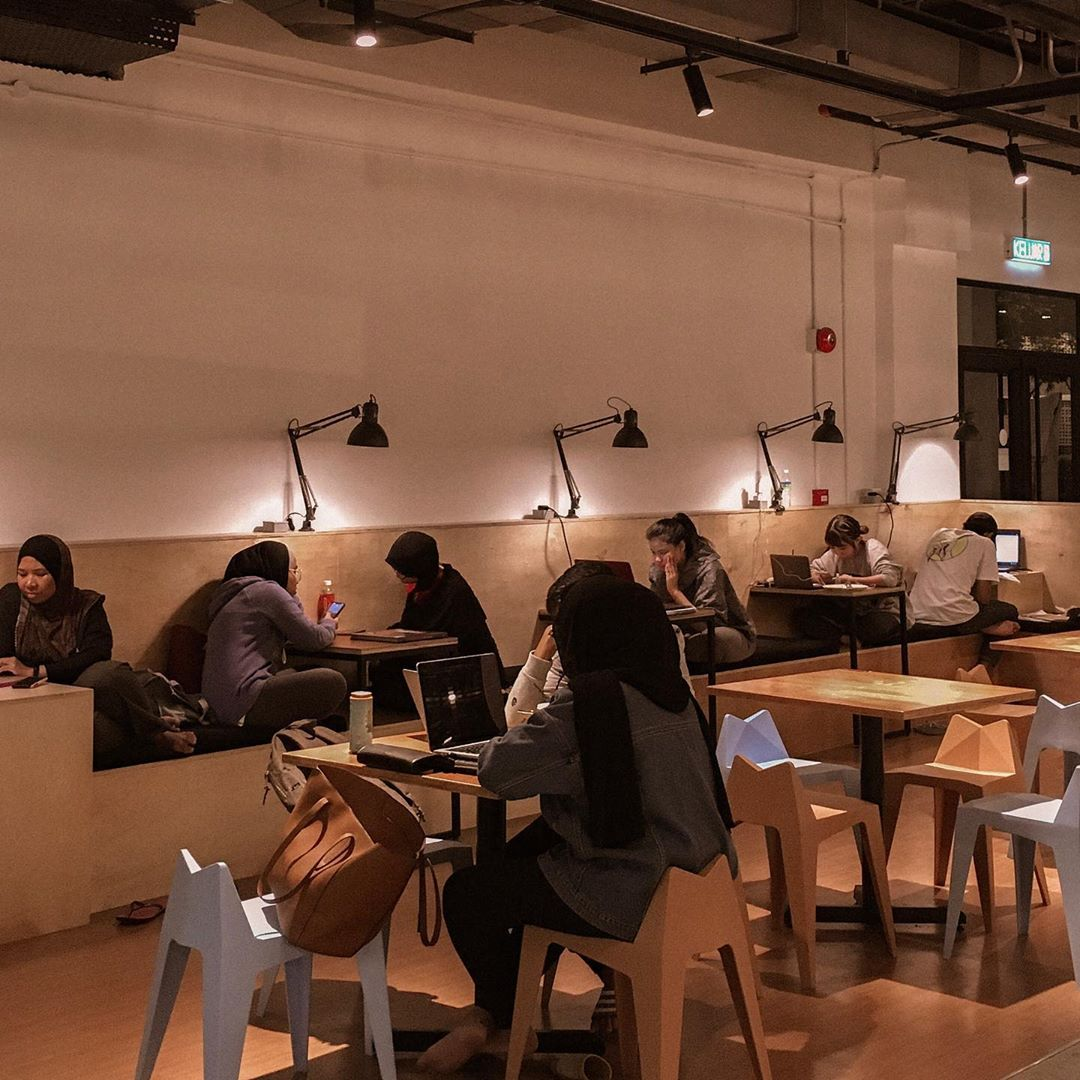 Image credit: @saygoodbyebae
Keeping to the overall industrial theme of the building, this BookXcess outlet keeps all of the its bare concrete floors untouched – even keeping the parking and road divider markings originally there, such as arrows and yellow lines.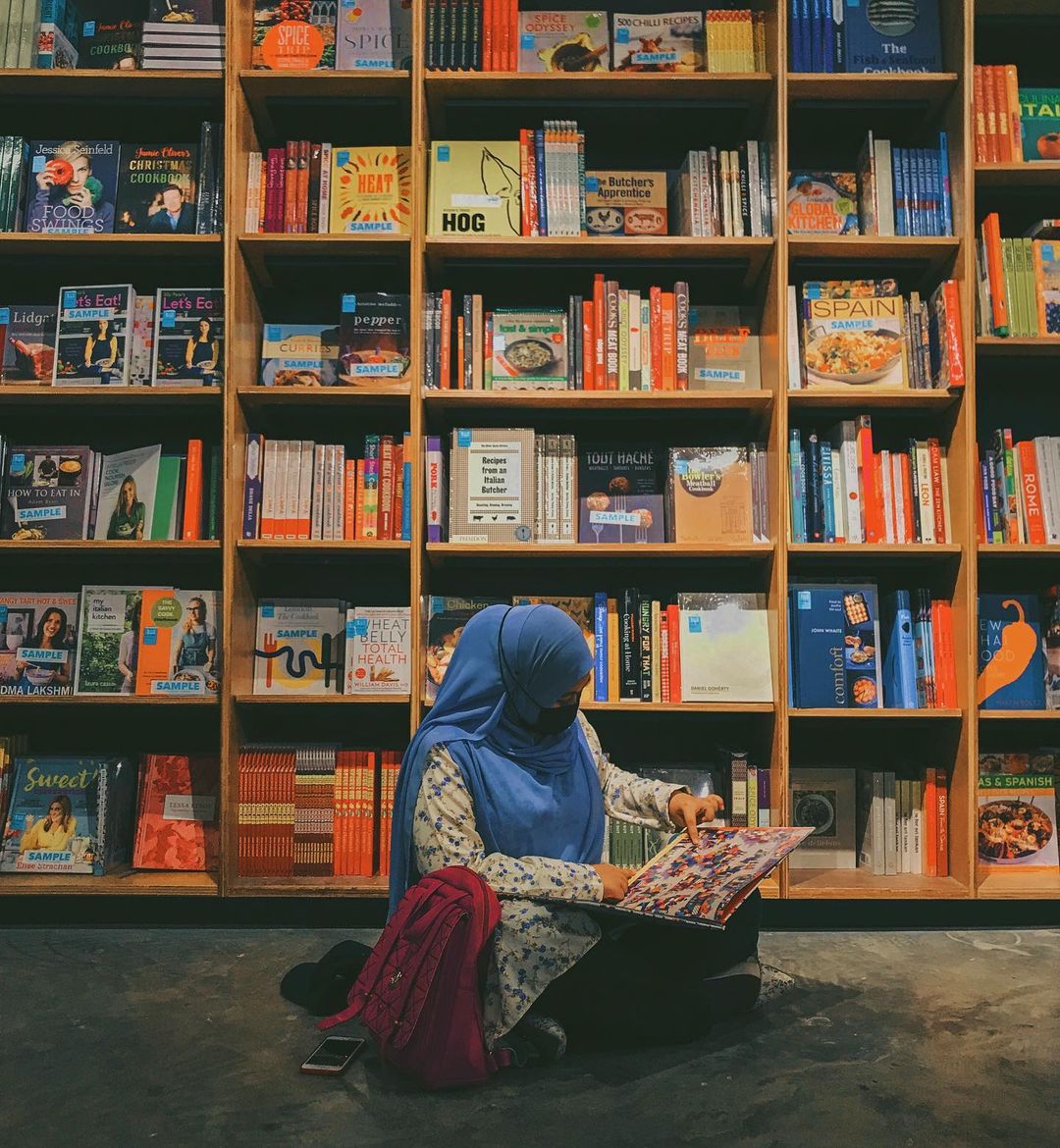 Image credit: @kimieychie
Besides sifting out for books at low prices and dining at the cafe, there's a small gallery space showcasing personal photographs from Yasmin Ahmad, director and screenwriter behind the well-known Malaysian movie Sepet.
Various desks and cosy reading areas can be found in the bookstore too.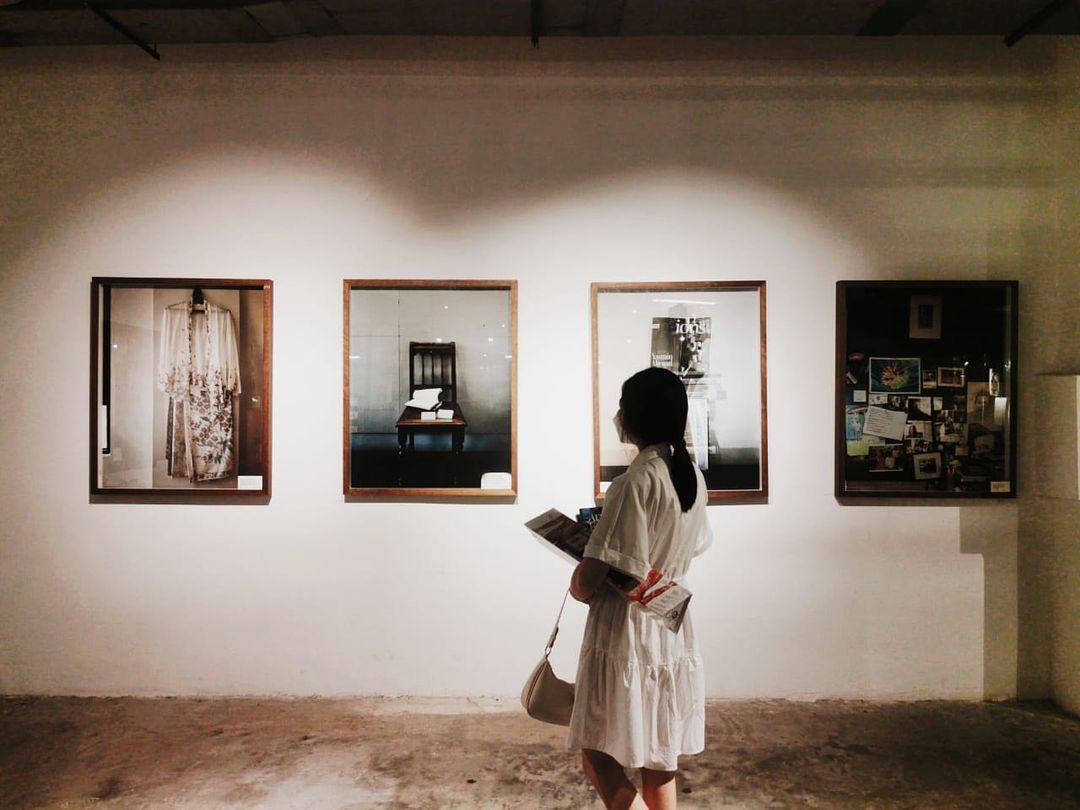 Image credit: @nottt_kelly
Address: L3M-04, Tamarind Square, Persiaran Multimedia, Cyber 10, 63000 Cyberjaya, Selangor
Opening hours: 10am-10pm, Daily
Contact: 03-2726 2438
---
10. Shop for eco-friendly pantry staples at Go Bulk
---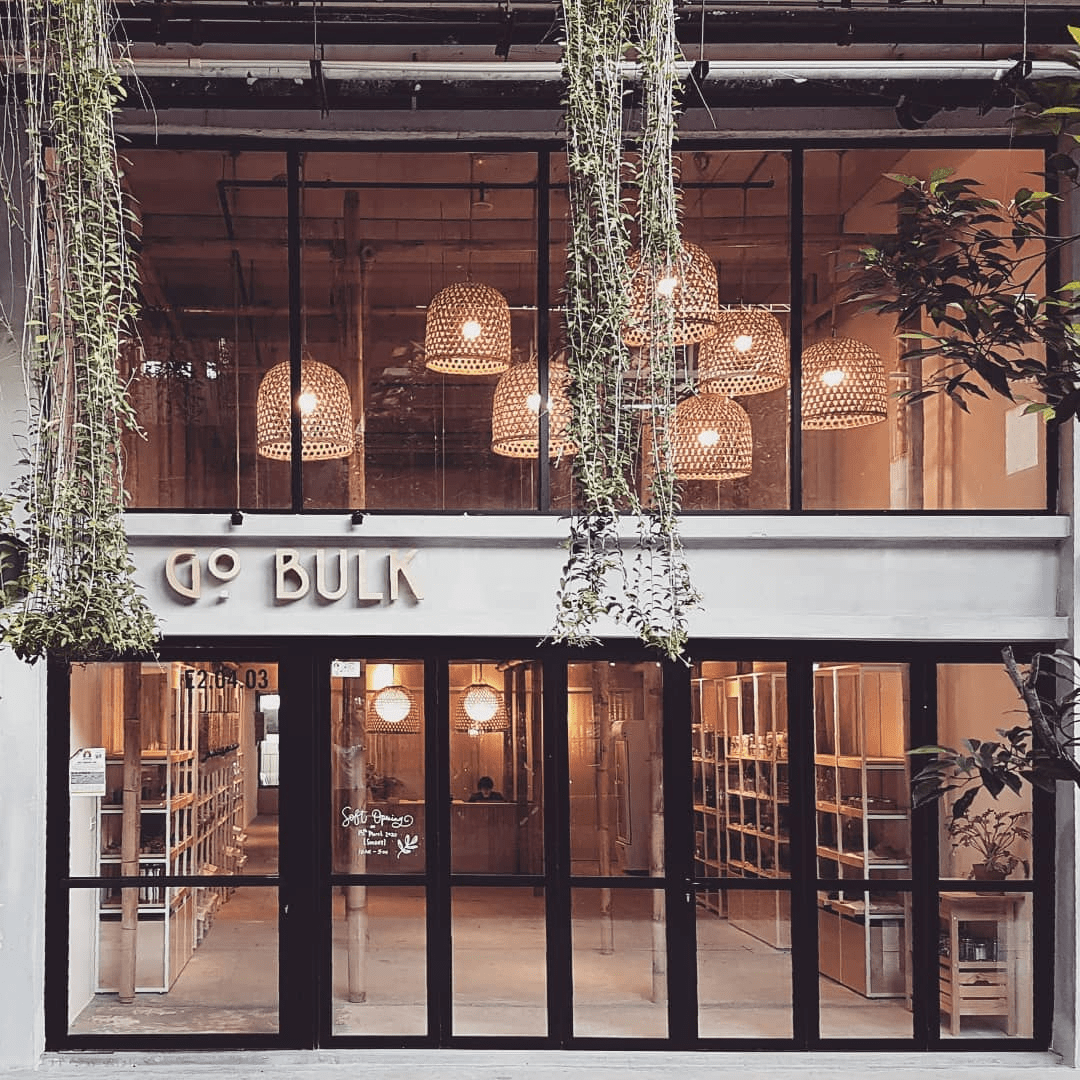 Image credit: @nc.zic
It's not always easy to find eco-friendly products to sub our usuals at grocery stores. But zero waste stores in Klang Valley like Go Bulk makes those meaningful green switches easier – at this aesthetic zero waste store, you can sift through shelves of products with no unnecessary  plastic packaging.

Image credit: @nc.zic
Find almost anything here – kitchen pantry essentials, such as herbs, spices, rice, noodles, and flours, and snacks and grains, as well as cleaning liquids, homeware, and lifestyle products.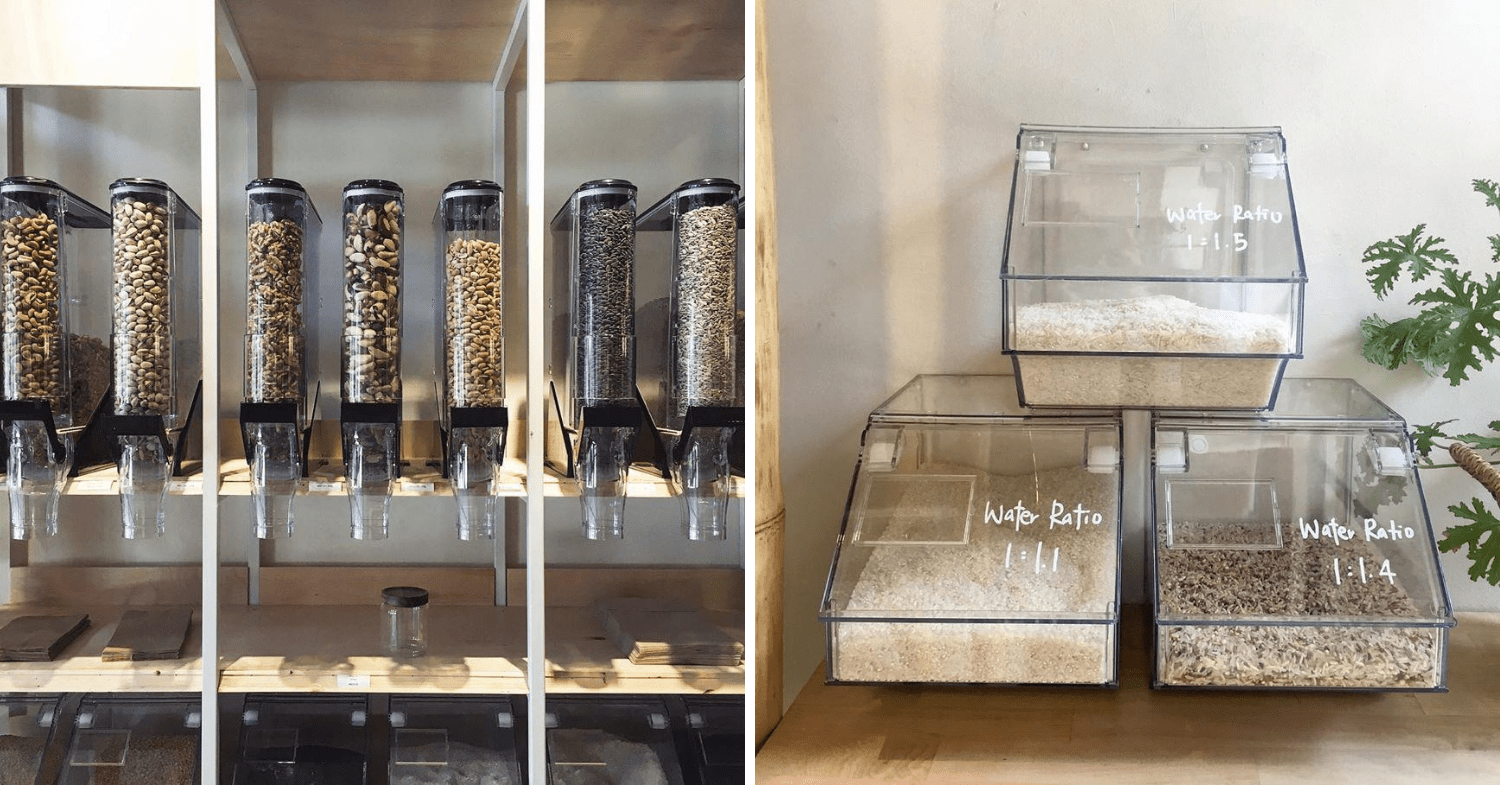 Image adapted from: @gobulkstore & @gobulkstore
Some harder-to-find pantry items you'll want to look out for are loose rice – Basmati Rice (RM0.85/100g) and Japanese Rice (RM1.10/100g) – and sauces such as Kikkoman Soy Sauce (RM2.00/100g) and Sushi Vinegar (RM3/100g).
Address: E2-04-03, Tamarind Square, Persiaran Multimedia 63000 Cyberjaya, Malaysia
Opening hours: Fri 12pm-8pm | Sat & Sun 10am-6pm (Closed Tuesdays to Thursdays)
Contact: Go Bulk Facebook | Instagram  
---
Things to do in Tamarind Square in Cyberjaya
---
If Cyberjaya is on your yet-to-explore-towns list in Klang Valley, start with this list of things to do in Tamarind Square. This pleasant hub, with its aesthetic surroundings and diverse shops, is proof that there's plenty to see, eat, and do in this town.
Also watch our video feature of Tamarind Square here.
Read more here:
---
Cover image adapted from: @thebotanistgreencafe, @caleb.mok, and @brumeonyx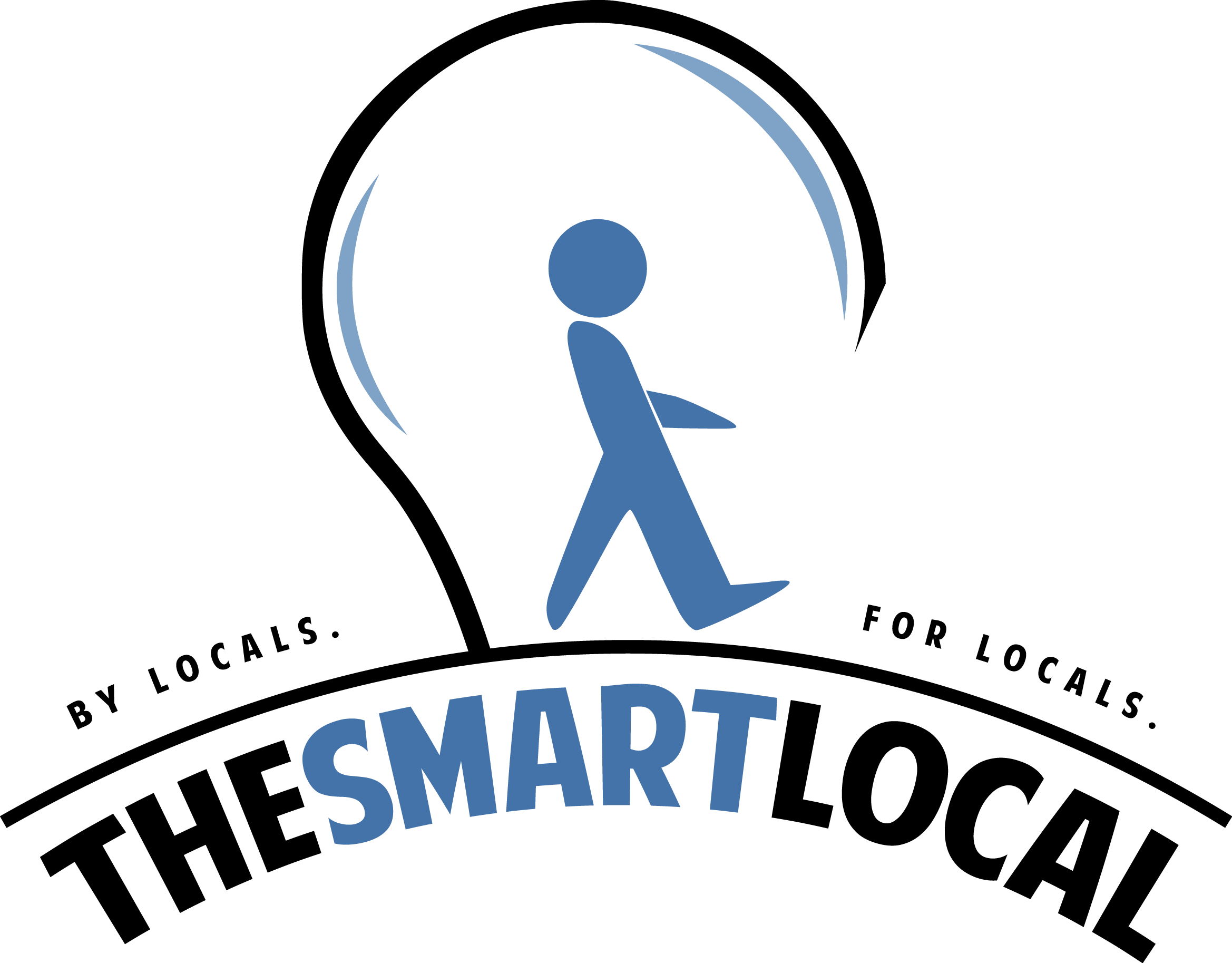 Drop us your email so you won't miss the latest news.