Best cafe desserts in Klang Valley
---
There's always room for a good slice of cake – after a meal, during stressful times, and on #cheatdays, of course. We tend to close one eye when it comes to counting calories for desserts, but only because some are just too good to pass.
From a remake of Black Star's famous watermelon cake in Australia to a sinful chocolate-covered pisang goreng, here are some cafes in KL with desserts so irresistible that they've become the star of the menu:  
---
1. Alexis Bistro's sinful Tiramisu cake 
---

Image credit: @janlee_79
Alexis has been around for awhile. But in case you need an introduction, they're renowned among KL-ites for regular live jazz performances. Much like the sophisticated vibes you get from jazz music, their Tiramisu (RM17.80) is all glammed up with a crusty top layer of caramelised almonds and pecans. 
Layered between the coffee and Cognac-soaked cake is a generous spread of mascarpone cheese that's embedded with dark chocolate shavings. It comes with a side of tangy strawberry compote that complements its sweetness, so that you'll always have room for another slice.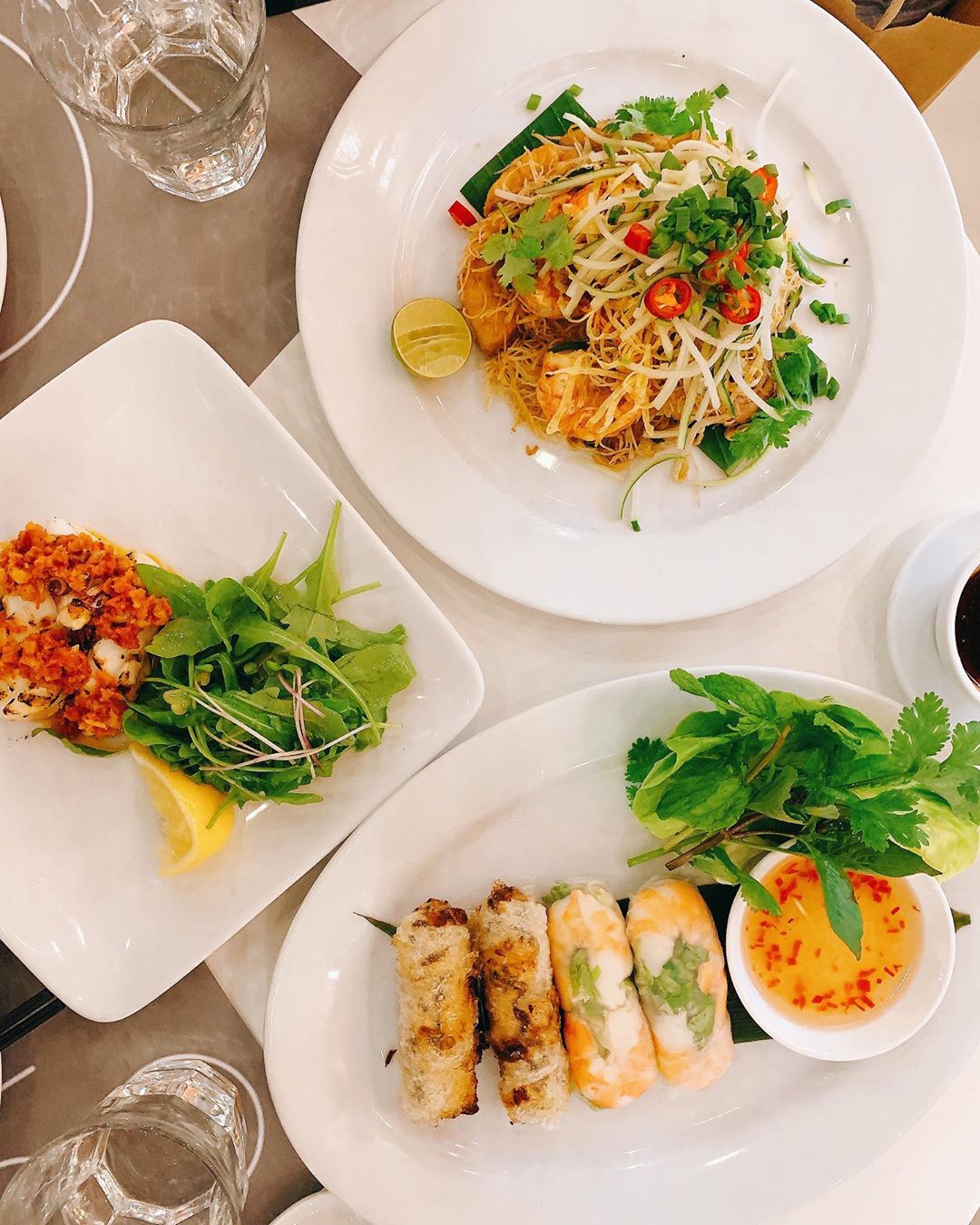 Nyonya Mee Siam (RM26) and Hanoi Spring Roll Medley (RM27)
Image credit: @foodtrails_
Desserts aside, their menu is a mix of East and West. You can get Sarawak Laksa (RM27) and Angelhair Aglio Olio (RM45) with grilled crayfish on the same table, so there's certainly something for everyone.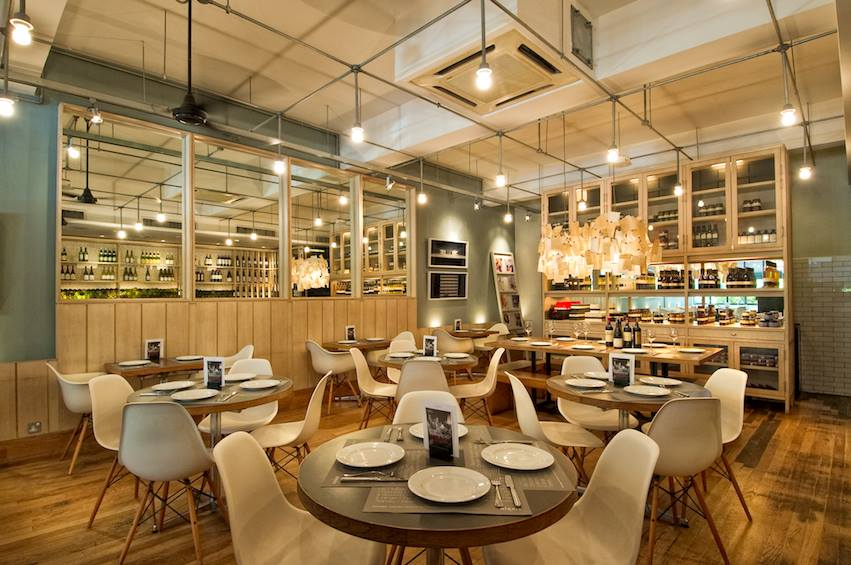 Alexis in Bangsar Telawi
Image credit: Alexis Bistro
Alexis Bangsar
Address: 29 Jalan Telawi 3, Bangsar Baru, 59100 Kuala Lumpur
Opening hours: 11AM-1AM, Daily
Telephone: 03-2284 2880
Website
See all their locations here
---
2. Naj & Belle's refreshing watermelon cake
---
Naj & Belle's simple white storefront by the entrance of SS15 Courtyard comes across as modest, so it's a pleasant surprise when you spot a rare gem sitting in their cake display – their Watermelon Cake (RM14.80).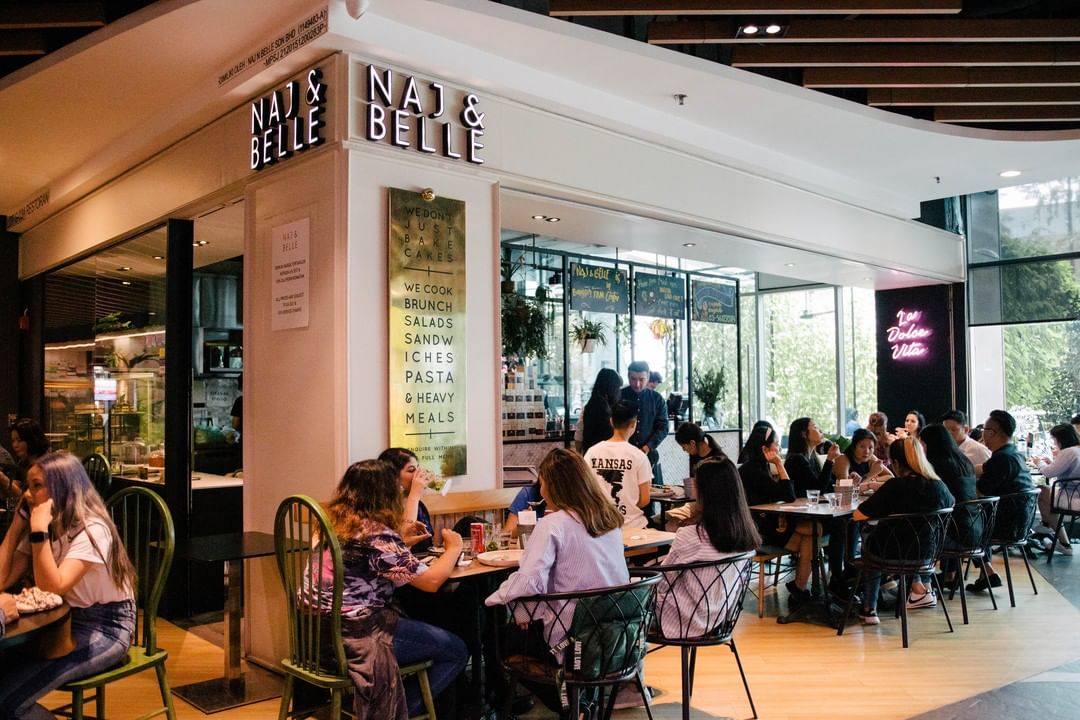 Image credit: @najnbelle
This delicate slice is pieced and layered with a thick watermelon wedge, cream, and cake, all topped with fresh strawberries. This cake has been pulling in crowds for awhile now, probably because it's the best kind of dessert to have when we're constantly battling our country's tropical heat.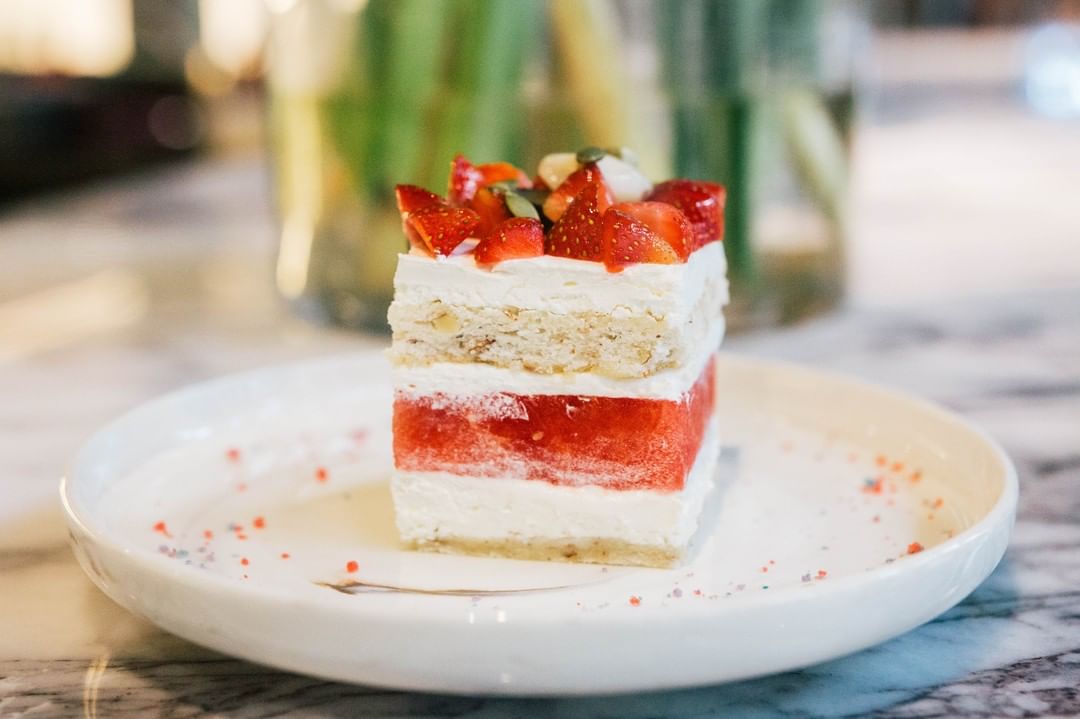 The Belle Breakfast (RM28.50)
Image credit: @najnbelle
Before you fill up on cake, check out their brunch-worthy menu that's filled with sandwiches, salads and pastas. Naj & Belle even switches up the conventional big breakfast with The Belle Breakfast (RM28.50) that features a salmon steak, pita bread, and a chickpea croquette that's been generously seasoned with Indian spices.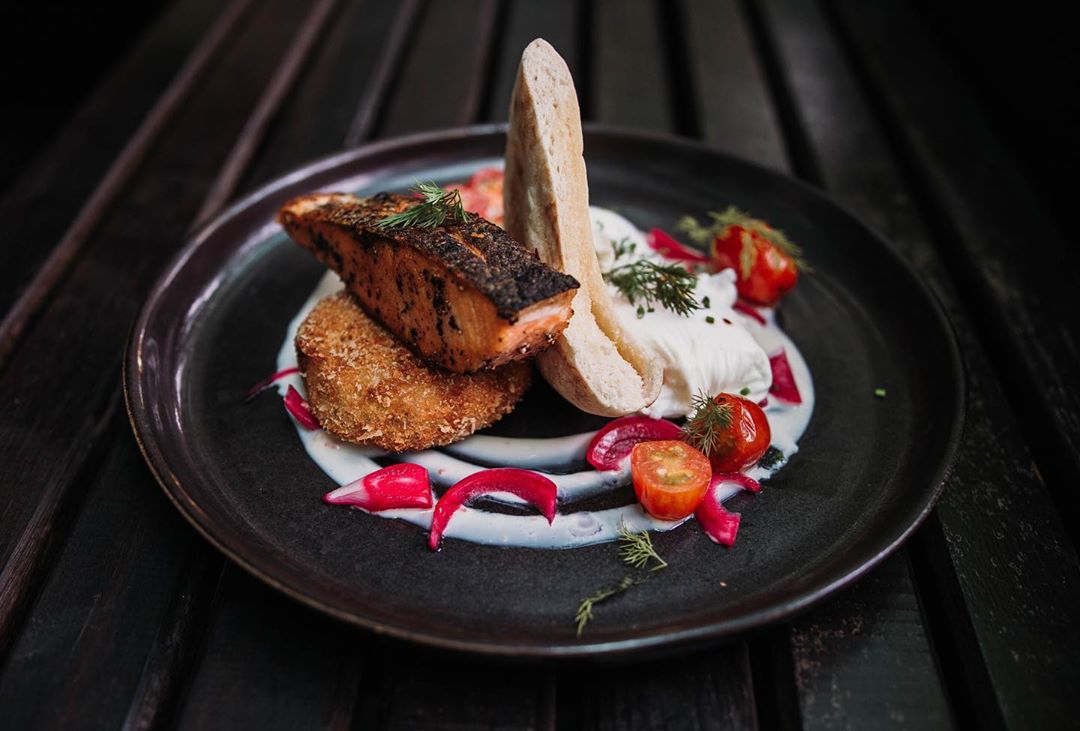 Image credit: @najnbelle
Naj & Belle SS15
Address: Ground Floor, Courtyard SS15, Subang Jaya
Opening hours: 10AM-10PM, Daily
Telephone: 03-5612 7078
Naj & Belle Bangsar
Address: Pam Centre, Jalan Tandok, Bangsar
Opening hours: 9AM-10:30PM, Daily
Telephone: 03-2201 7078
Website
---
3. Muse Eatery + Yumcha's White Rabbit bubble tea
---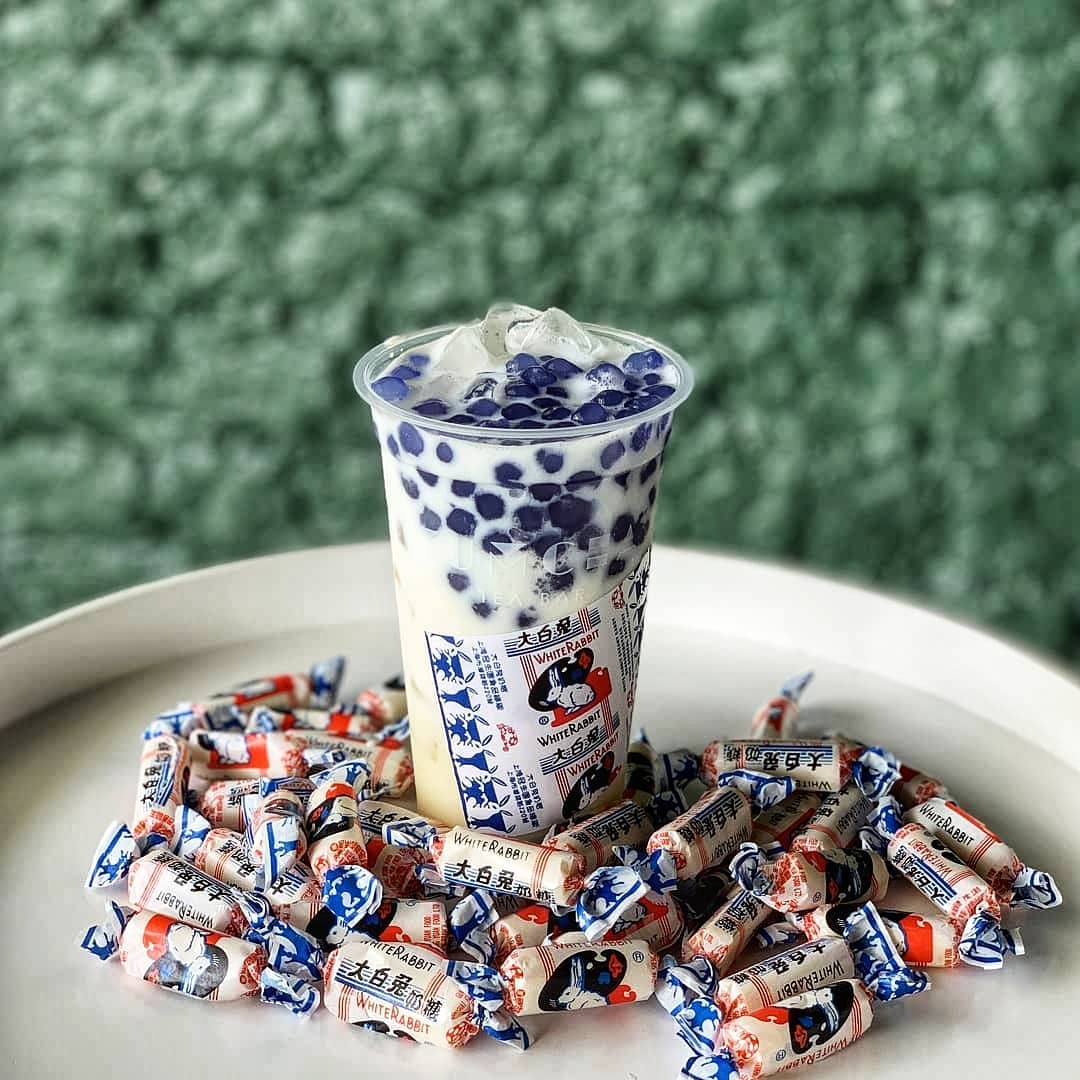 Image credit: @muse_eatery
Just a couple months ago, White Rabbit-inspired flavours took us by storm, and it all started with Inside Scoop's ice-cream rendition. Soon after, a cafe in PJ started selling White Rabbit bubble tea, which left us all saying, "yes please!" as we joined the queue. 
Muse Eatery x Yumcha's White Rabbit Milk Cha will set you back RM13. From your first sip you'll be transported back to the good ol' days of popping by the school koperasi and stuffing your pockets with White Rabbit candy.
They've nailed the signature milky, sweet taste of the candy, and taking inspiration from the wrapper, they use butterfly pea boba for that pretty purple hue.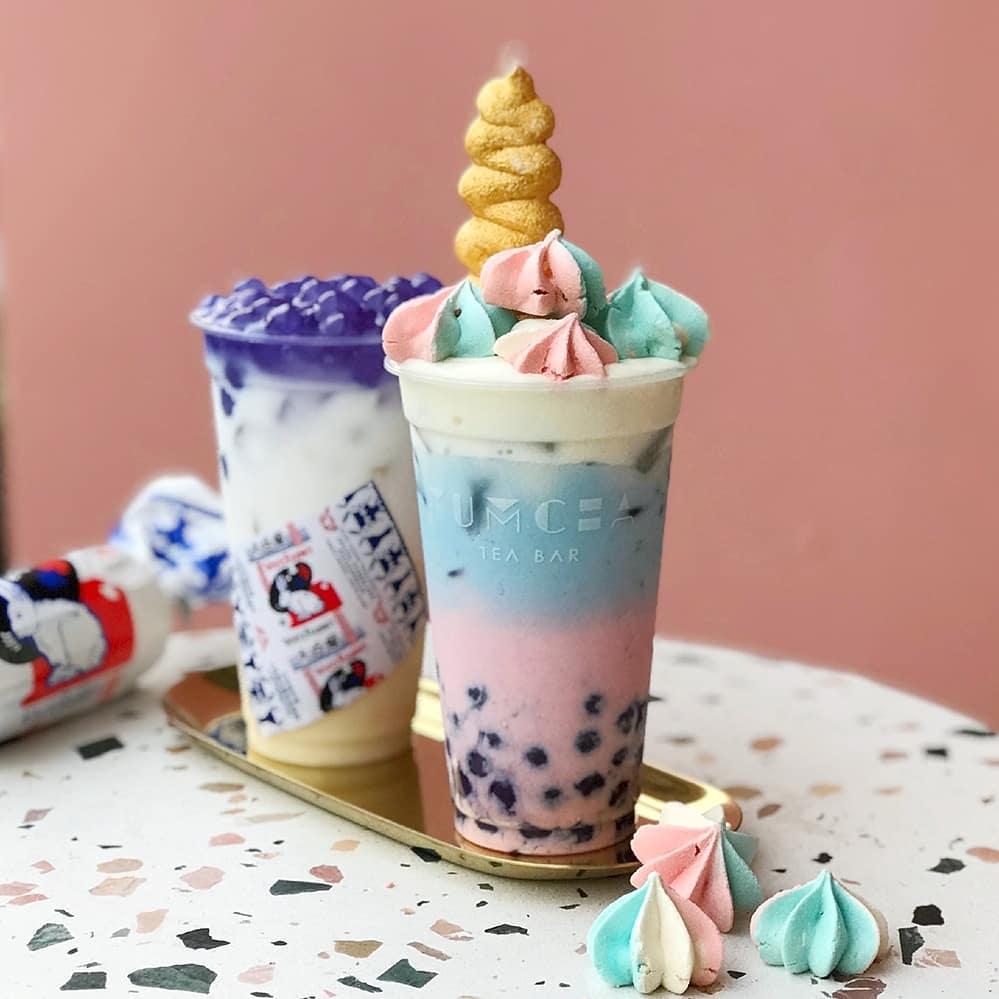 Their IG-worthy Unicorn Milk Cha has also been turning heads
Image credit: @yumcha.my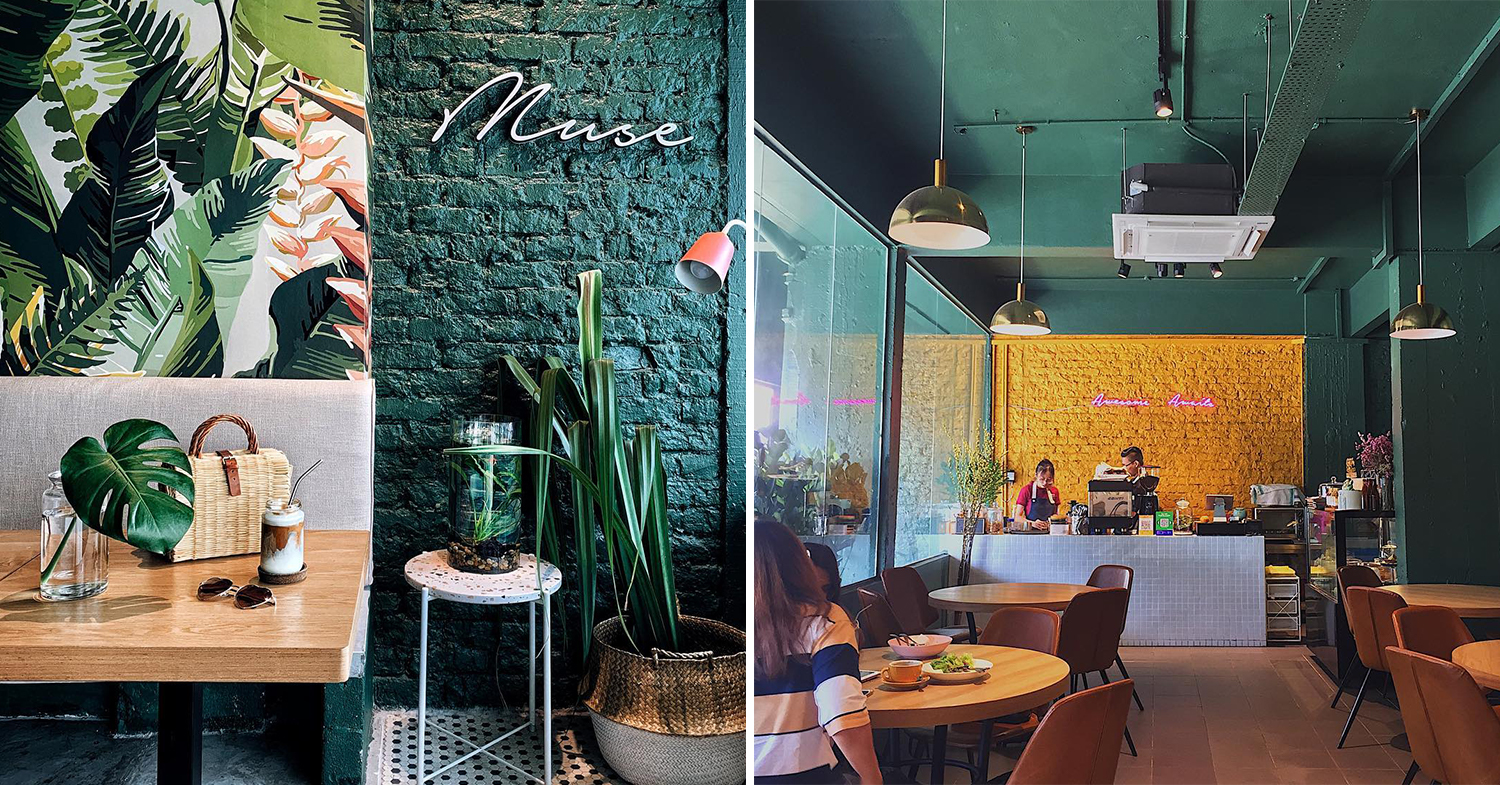 Image adapted from: @heydavina and @rookie_may 
You'll want to take advantage of the cafe's IG-worthy interior design while you're here. Muse sports a deep moss green on their walls, which goes well with their tropical theme as you'll find potted plants tucked away in corners. 

Har Jiong Chicken Chop (RM19)
Image credit: @muse_eatery
Take a look at their menu which is filled with western staples that include burgers and brunch fare. There you'll find their signature Har Jiong Kai Burger (RM20) – its patty is a chunk of chicken thigh marinated in shrimp paste for that extra fragrant oomph. 
Muse Eatery x Yumcha
Address: B-G-7, Happy Mansion 17/13, Jalan, Seksyen 17, 46400 Petaling Jaya, Selangor
Opening hours: 10AM-10PM, Daily
Telephone: 012-911 6028
Website
---
4. myPizzaLab's cheesy boba pizza
---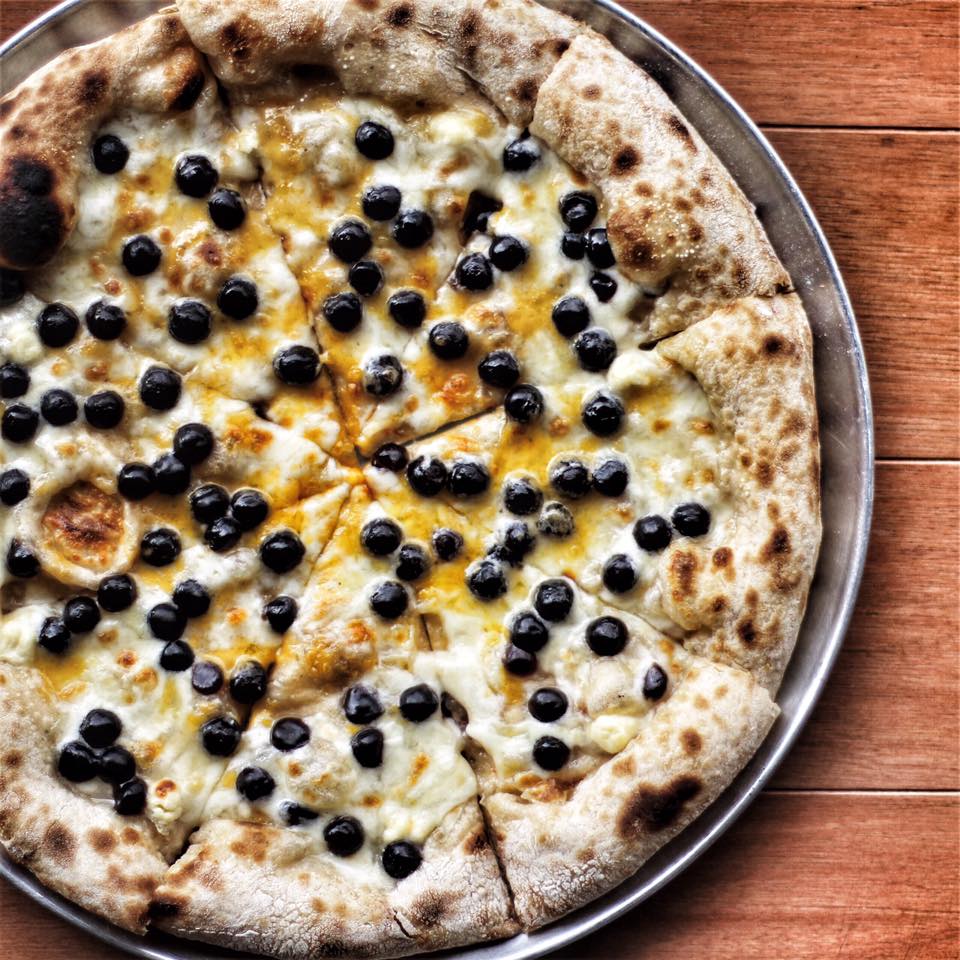 Image credit: My Pizza Lab
Boba can now be found on nearly every dessert, from cake to ice cream. But months before boba reached its peak, myPizzaLab by myBurgerLab was already serving this dessert pizza fresh out of the oven. 
While a lot of us were already hyped about myBurgerLab's venture into pizzas, it was their Boba Milk Pizza (RM15) that blew our minds because pizza plus boba was one equation we never thought we'd had to solve. 
Just as you might expect, this pizza is a blend of savoury and sweet. You get the cheesy pull from the mozzarella before you're hit with a sweet punch from the condensed milk.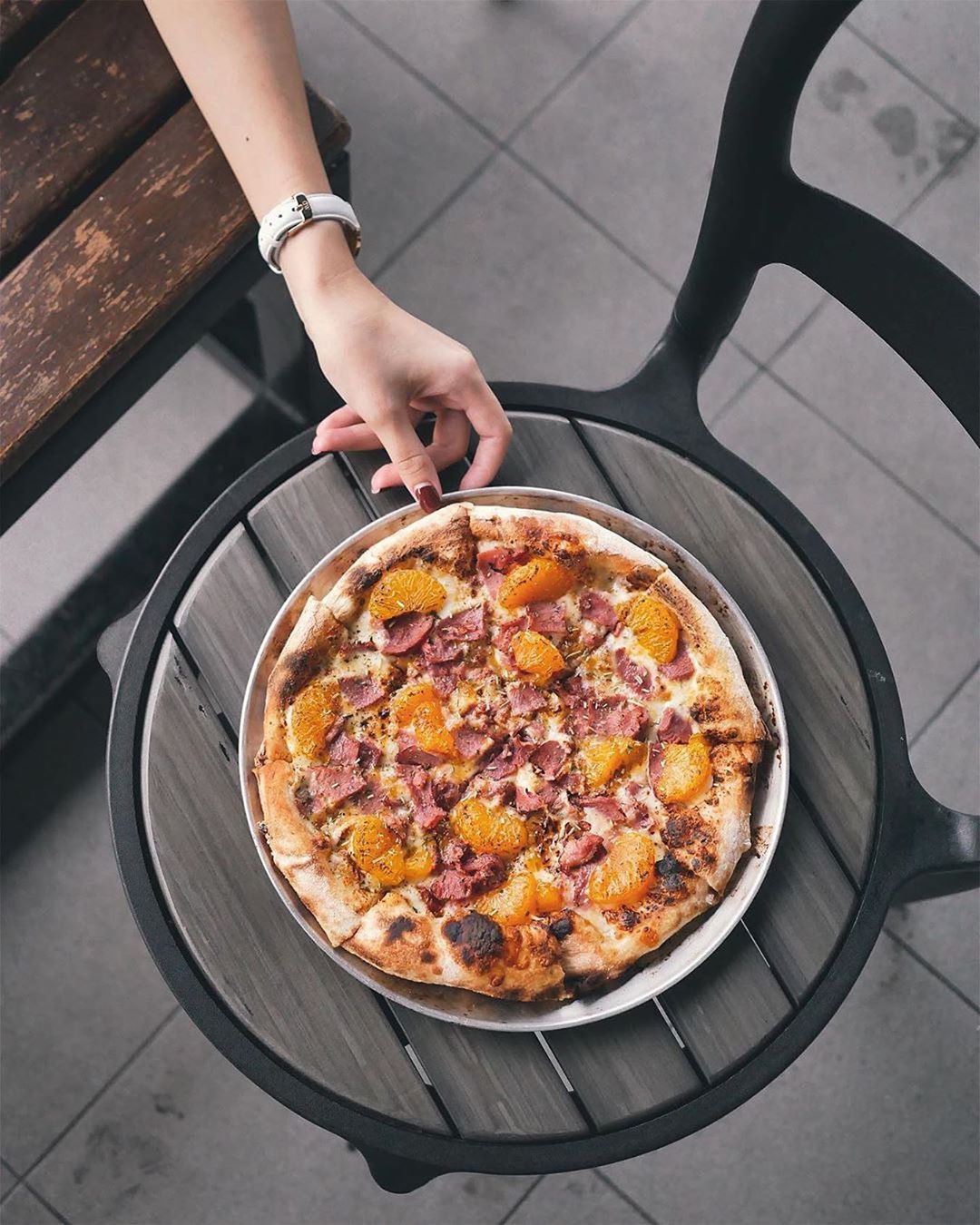 Their Huat The Duck is another must-try
Image credit: @mypizzalab
They have a ton more pizzas, so it's a good place to have a gathering with friends where you can order one of each and eat your way through the menu. Their Huat The Duck (RM35) is a favourite at any table – it's another sweet and savoury combo that comes with smoked duck slices and torched mandarin wedges.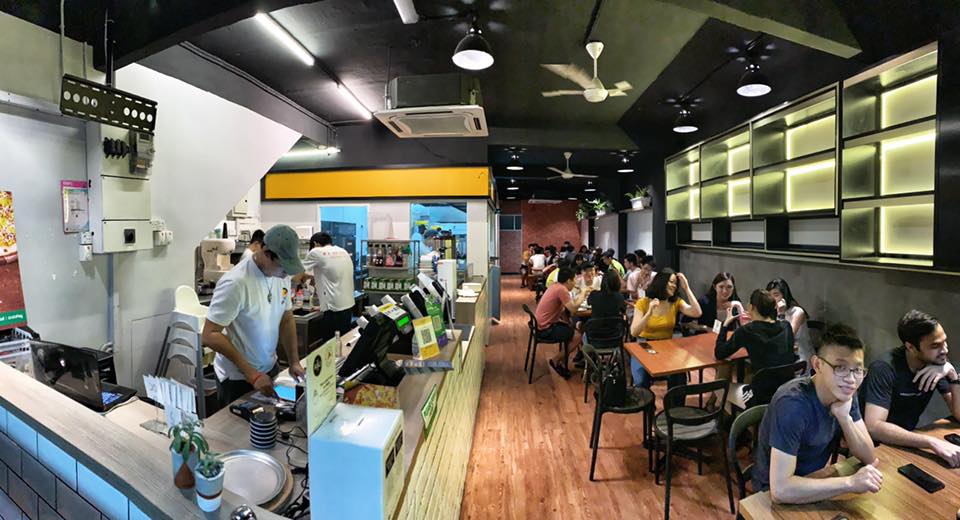 Image credit: My Pizza Lab
My Pizza Lab
Address: 12, Jalan 21/22, Sea Park, 46300 Petaling Jaya, Selangor
Opening hours: Mon-Fri 5PM-10PM | Sat-Sun 11AM-3PM & 5PM-10PM
Website
---
5. Huckleberry Food & Fare's fluffy doughnuts with a variety of fillings
---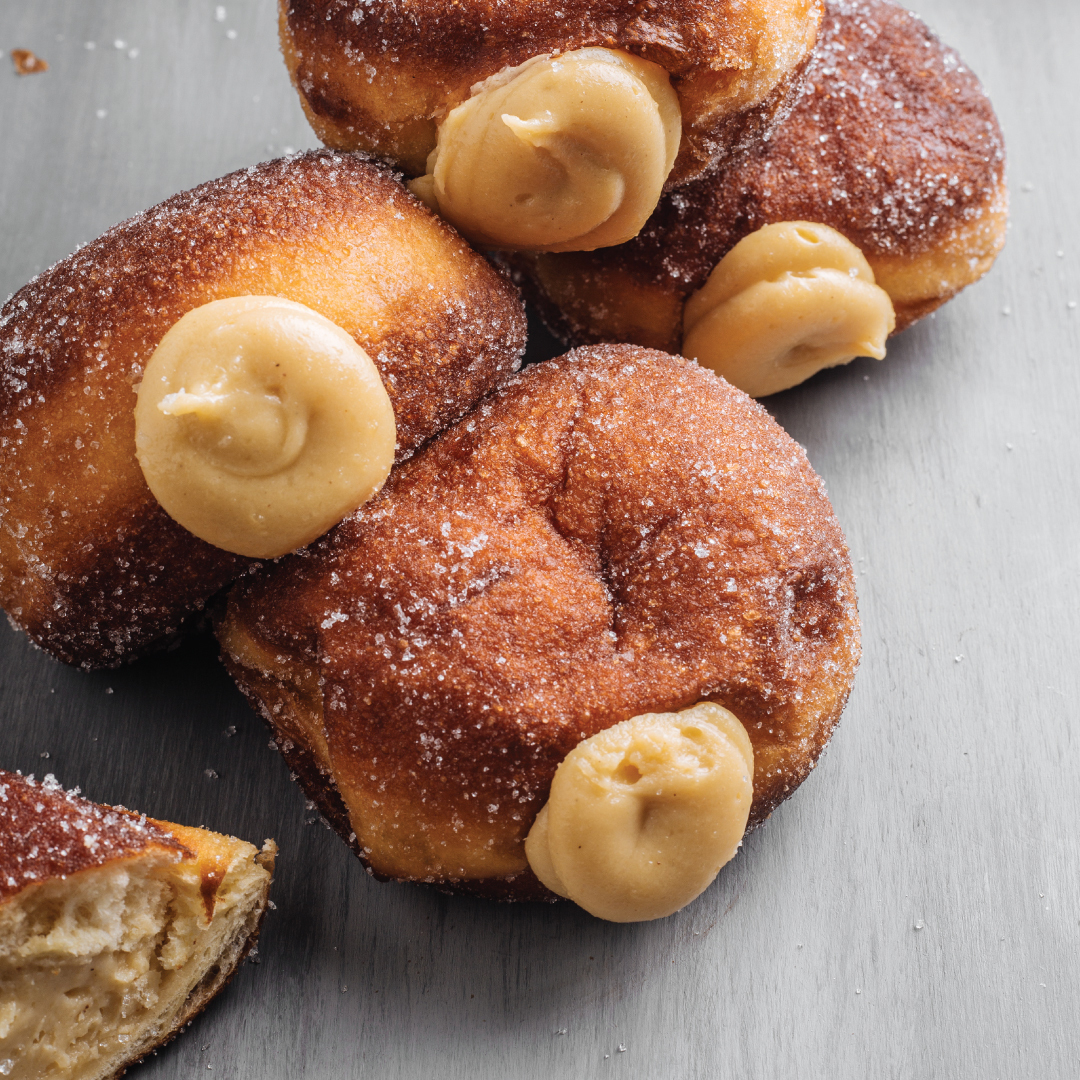 Image credit: @myhuckleberrykl
Huckleberry's fluffy doughnuts are always a delight to find on their countertop. While best known as an artisan bakery and being a go-to spot for brunch fare, they've garnered a following for their indulgent doughnuts as well. 
They're stuffed with cream, topped with salted caramel, and is sprinkled with powdered sugar. You can also find jam-filled doughnuts, if you prefer a fruity aftertaste.
Whether as a sweet bookend to your meal or in a box to bring back home and binge on while watching Netflix, Huckleberry's doughnuts are an artisanal alternative to the common snack.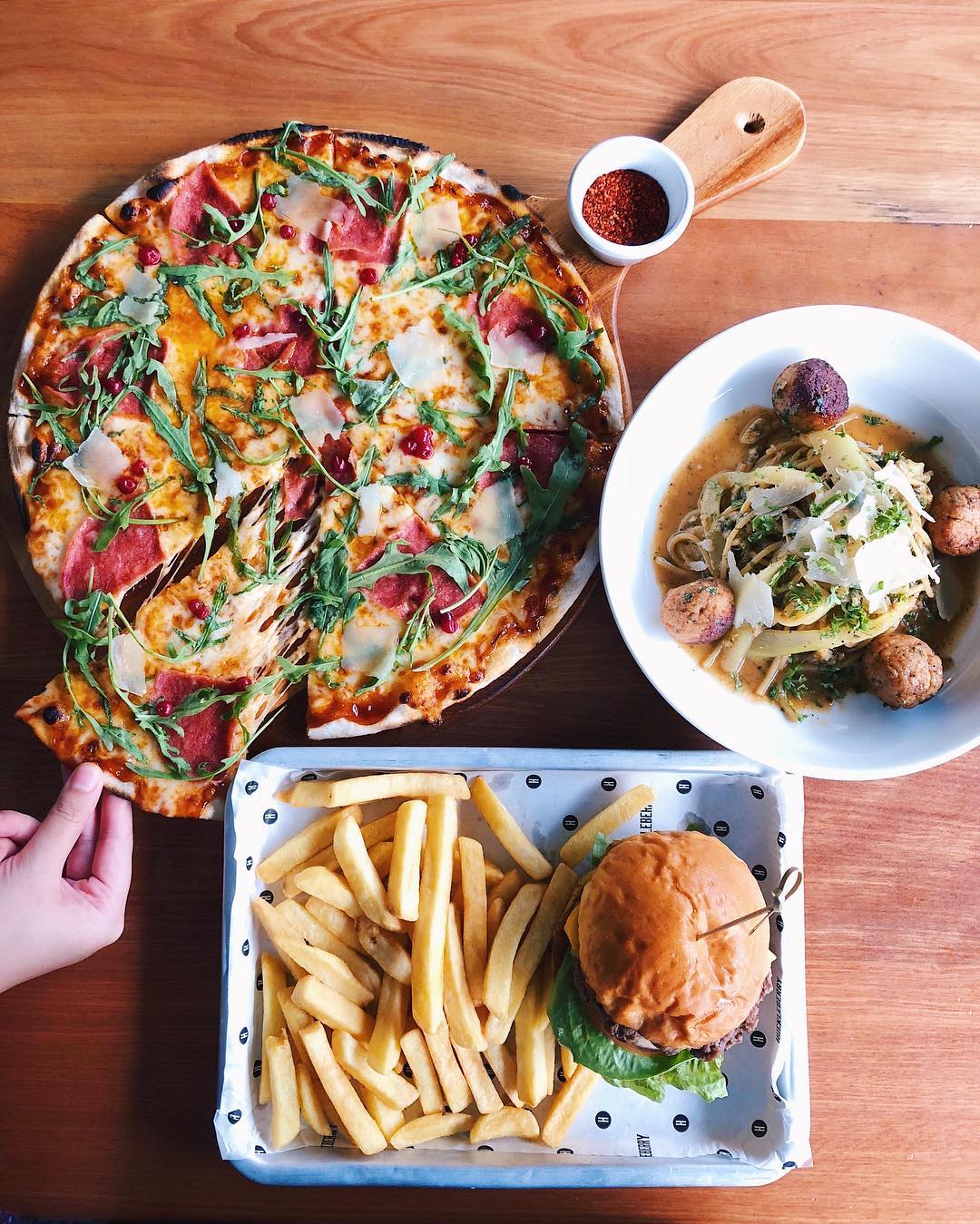 Image credit: @azullyaidris
If you're not a desserts-first kind of person, have a go at their mains, which are equally delicious. Alongside the usual brunch fare like eggs benedict and fluffy omelettes, they have lunch and dinner-friendly options like pizzas and burgers as well.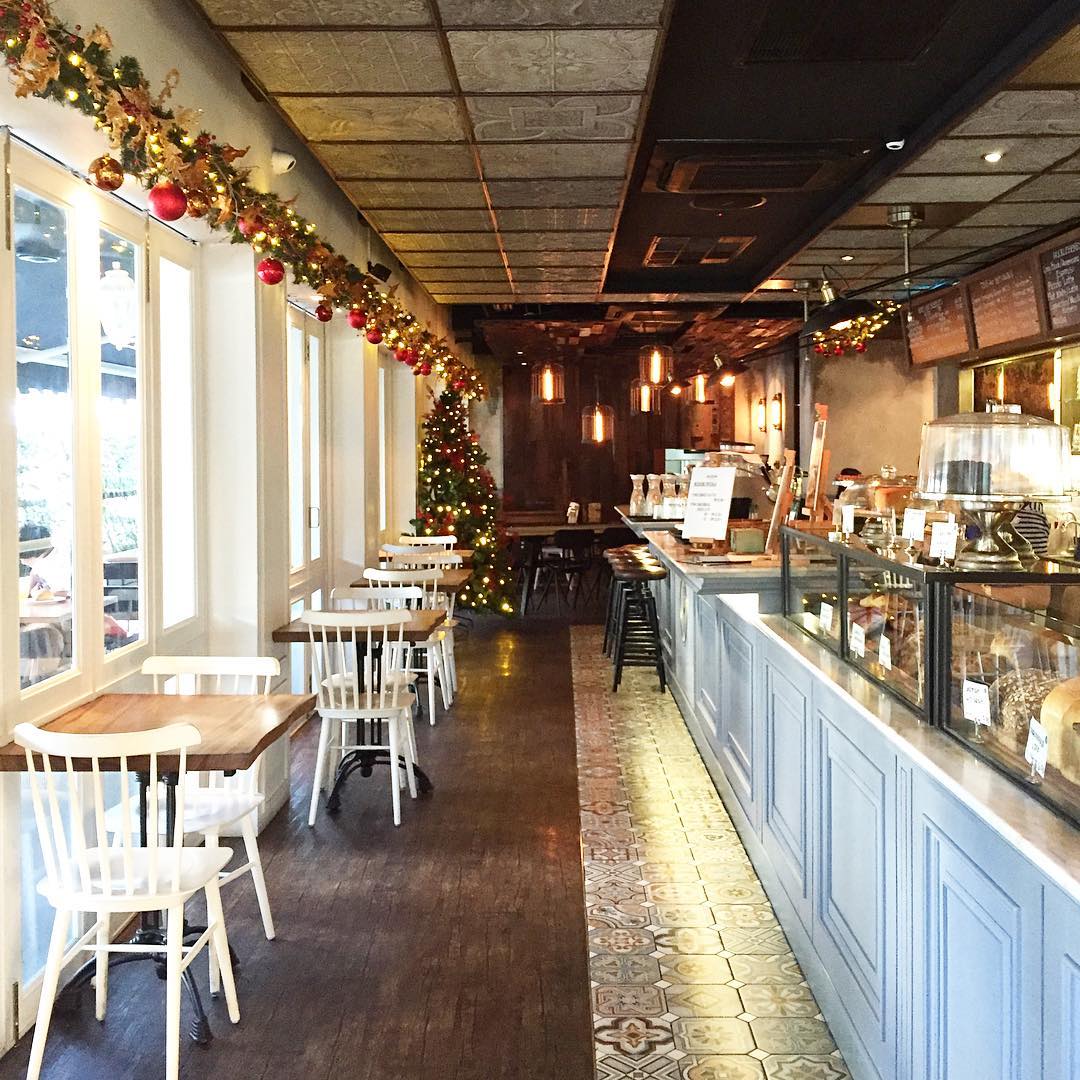 Christmas decorations at Huckleberry
Image credit: @imanouchka
Huckleberry Food & Fare
Address: Plaza Damansara, Jalan Medan Setia 2, Bukit Damansara, 50490 Kuala Lumpur, Wilayah Persekutuan Kuala Lumpur
Opening hours: Mon-Thur 7:30AM-12AM | Fri-Sun 7:30AM-1AM
Telephone: 03-2098 7933
Website
---
6. Ahoy's artistic matcha lava cake
---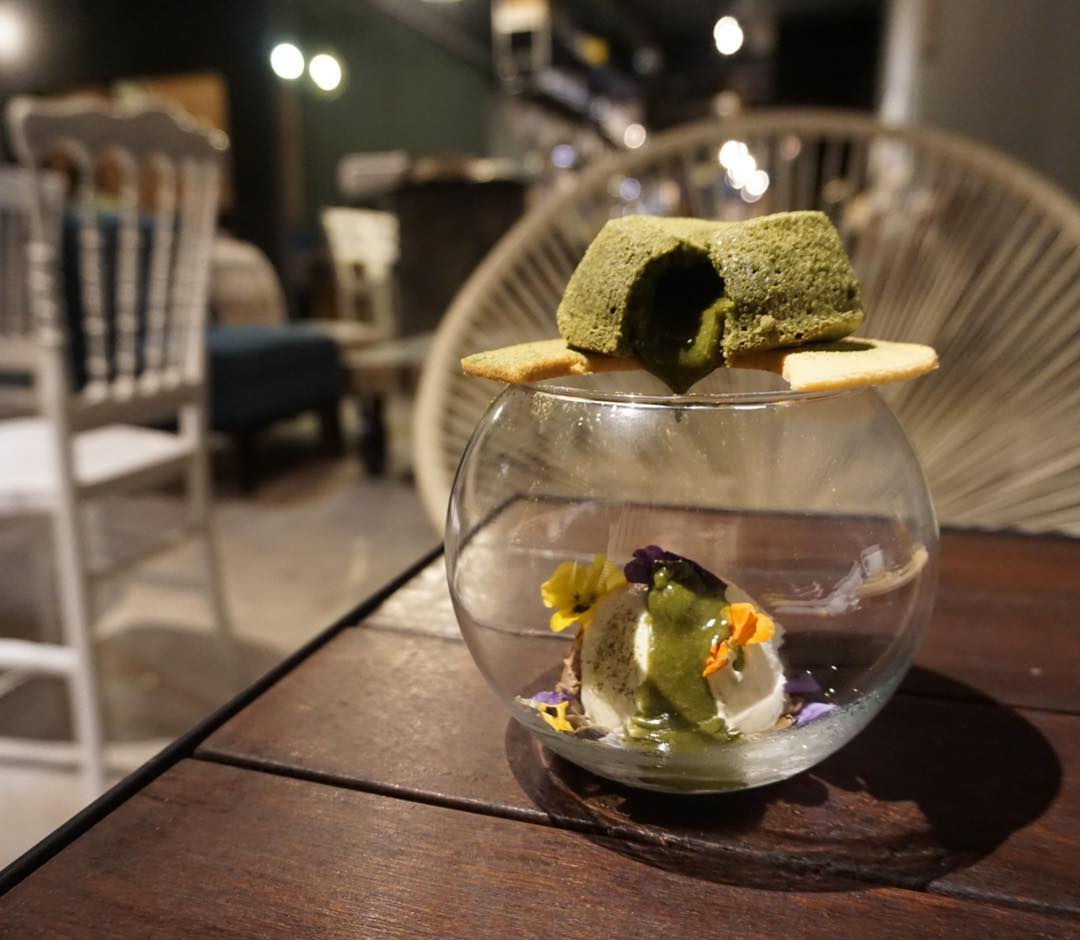 Their Matcha Angel Falls sits atop a glass bowl with a scoop of vanilla ice-cream inside
Image credit: @jiayuan_jen
While chocolate lava cakes are a classic dessert item, Ahoy's whimsical rendition is an absolute fan-favourite for its aesthetic looks, making it a must-order for 'grammers. 
Their Matcha Angel Falls (RM24.90) is served with a scoop of vanilla ice-cream that is encased in a glass bowl, and covered in edible flowers. Aesthetics aside, it's also a fun experience getting to cut open the cake on top and watching the molten matcha flow onto the ice cream below.
The gooey matcha isn't too sweet and you can still taste a hint of crisp bitterness from the tea. It makes for a glorious bite as you get a creamy swirl of flavours with bits of crunch for texture. 
They also have a chocolate counterpart called the Chocolate Angel Falls (RM24.90).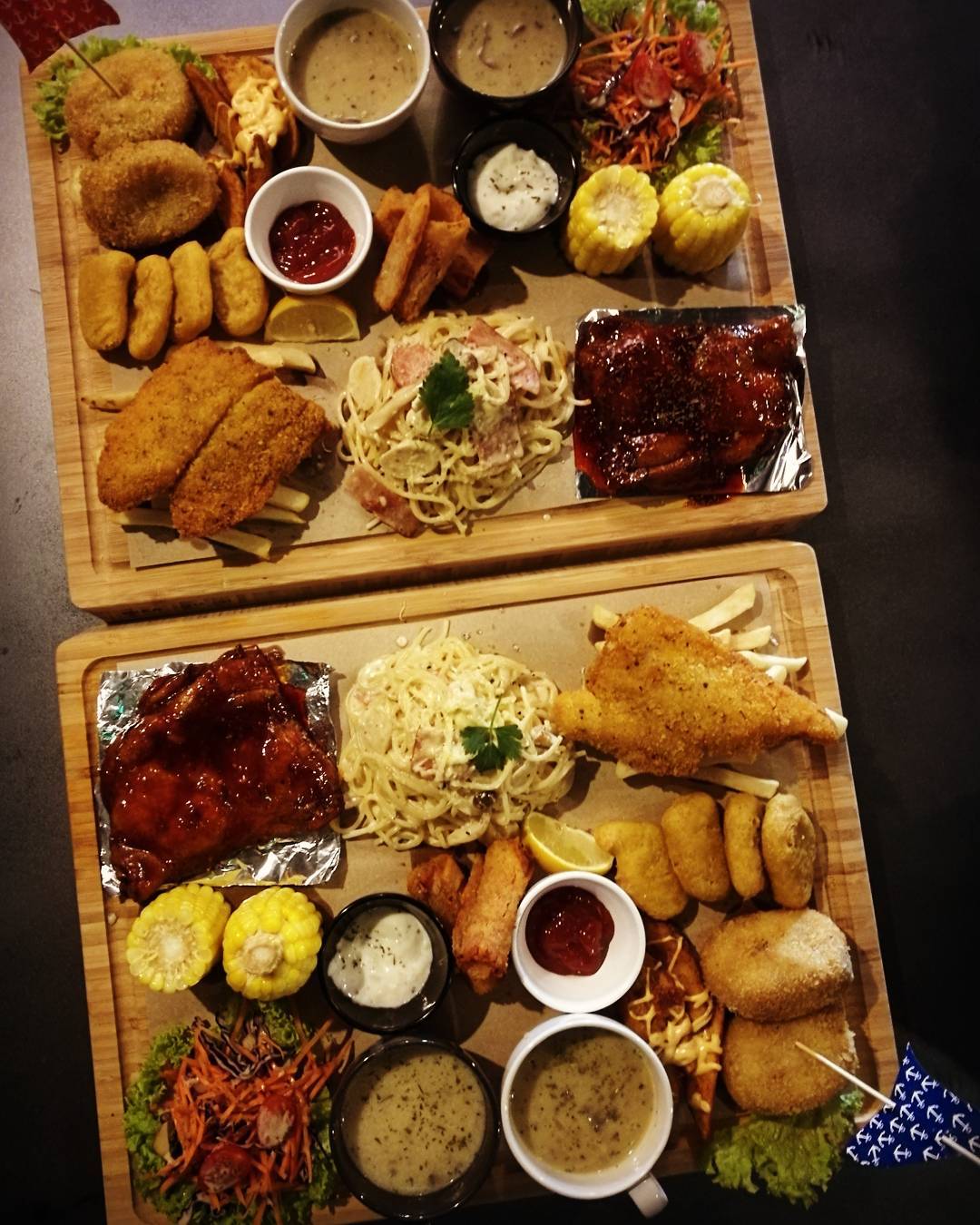 Image credit: @claudia_josephine_
Sweet items aside, Ahoy has built quite a rep for their massive platters where the hungry can load up on proteins and carbs in one go. They have a couple of variations that'll let you go into #beastmode as you try to devour it all. 

Their interior follows a nautical theme to match their name – lots of white and blue.
Image credit: @cindy.teh
Ahoy
Address: 74, Jalan SS 15/4, Ss 15, 47500 Subang Jaya, Selangor
Opening hours: Mon-Fri, 2PM-12AM (Closed on Wednesdays)
Website
---
7. Souka's crowd-favourite red velvet cake 
---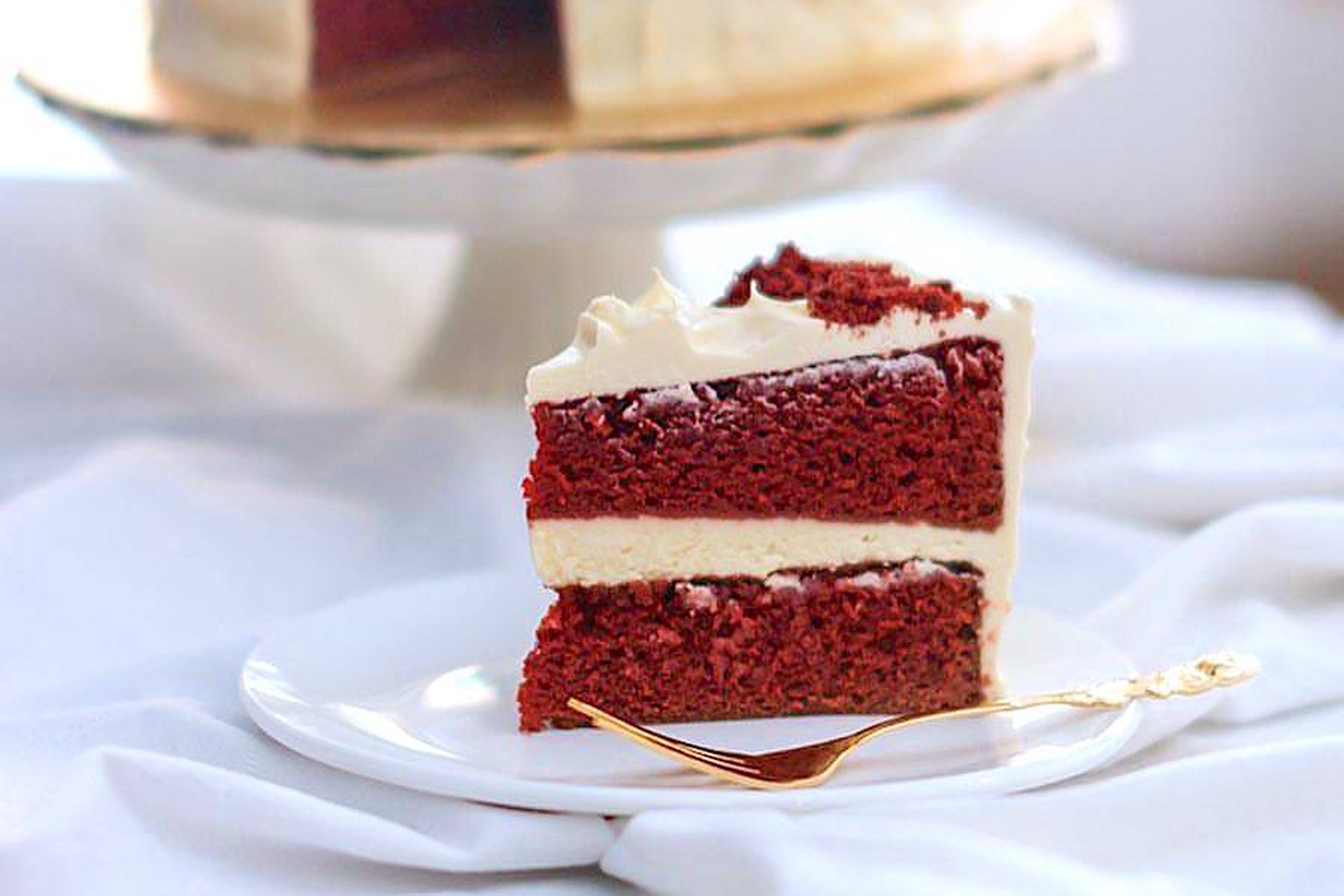 Image credit: Souka
Red velvet is a Valentine's Day favourite for its deep crimson hue. Those who are hankering for a decadent slice of this don't need to wait till 14th February, because Souka has them fresh out of the oven daily. 
Their Red Velvet Cake (RM10) is made with a recipe that has been handed down from generation to generation, fine-tuning it as they go along.  
Regulars often sing high praises for how moist the cake is, each layer delightfully dense. When paired with the rich cream cheese frosting that's generously spread between layers, you get a cake that does its name justice.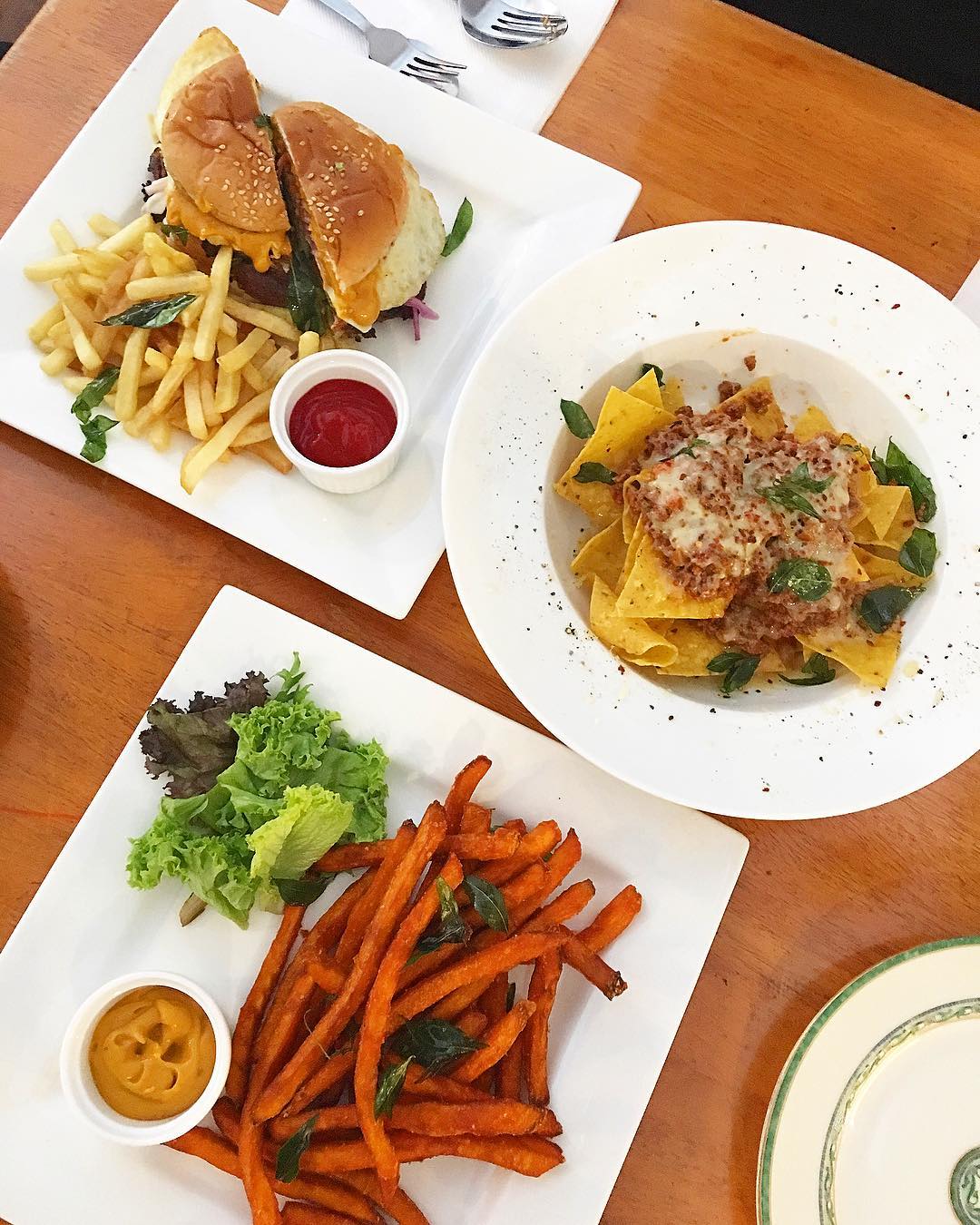 Salted Egg Buttermilk Chicken Chop Burger (RM18.90), Beef Nachos (RM11.90), and Sweet Potato Fries (RM12.90).
Image credit: @soukabakeshop
They have a lot more to offer at their quaint little bake shop where you can stuff yourself silly with sweet and savoury pastries. Sample through their extensive tea and coffee menu, or fill up on hearty sandwiches, rice bowls and western mains.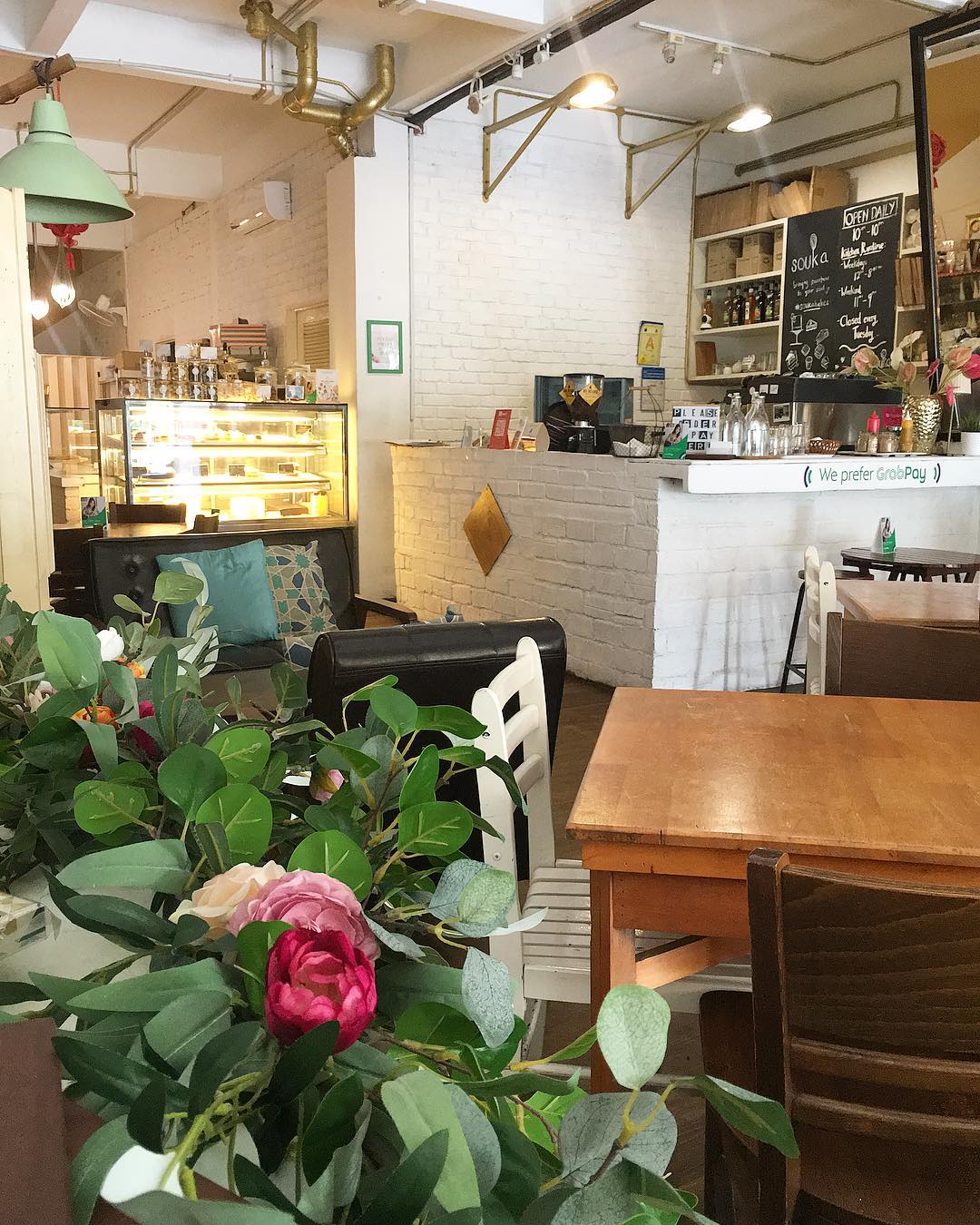 A cosy bake shop with comfortable seating nooks
Image credit: @soukabakeshop
Souka
Address: 53, Jalan SS15/5a, Ss 15, 47500 Subang Jaya, Selangor
Opening hours: Mon-Thurs 10AM-10PM | Fri-Sat 10AM-11PM | Sun 10AM-10PM
Telephone: 03-5613 3532
Website
---
8. Tanah dan Air's Chinese tea ice creams
---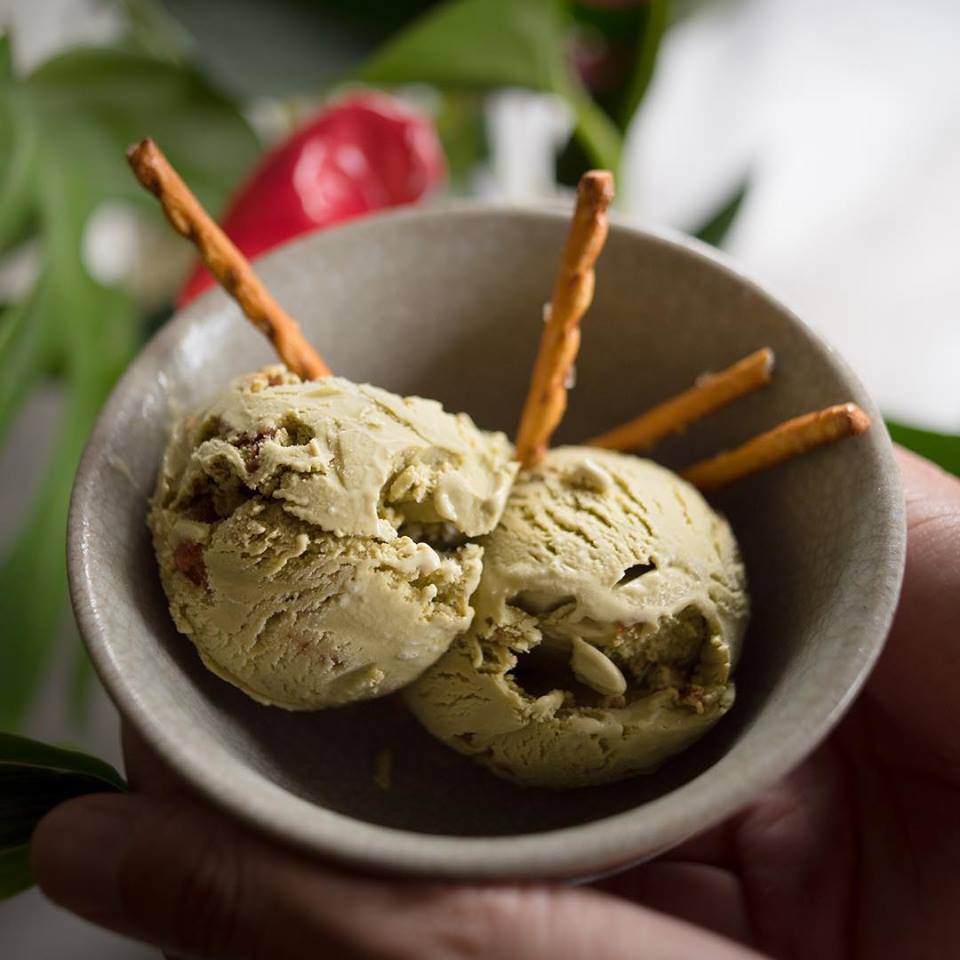 Image credit: Tanah dan Air
You won't easily find a traditional tea parlour in modern-day Klang Valley, but Tanah dan Air is bringing the age-old culture to millennials. Besides serving specialised teas from all over the globe and hosting the occasional tea-tasting event, they've developed their own unique ice-cream flavours too. 

Osmanthus jelly filled with goji berries and topped with longan
Image credit: @yyenyin
They play around with flavours behind-the-scenes, and now we get to try some of their best concoctions, like the Dark Chocolate Pu Er and Oolong Ginger alongside more familiar ones like Jasmine Green Tea. 
Seeing how they are a tea parlour, they've got the full depth of tea notes in their ice-creams down pat. Each serving will cost you RM10, and considering how a lot of these are one-of-a-kind flavours that are homemade in small batches, it's certainly worth the experience!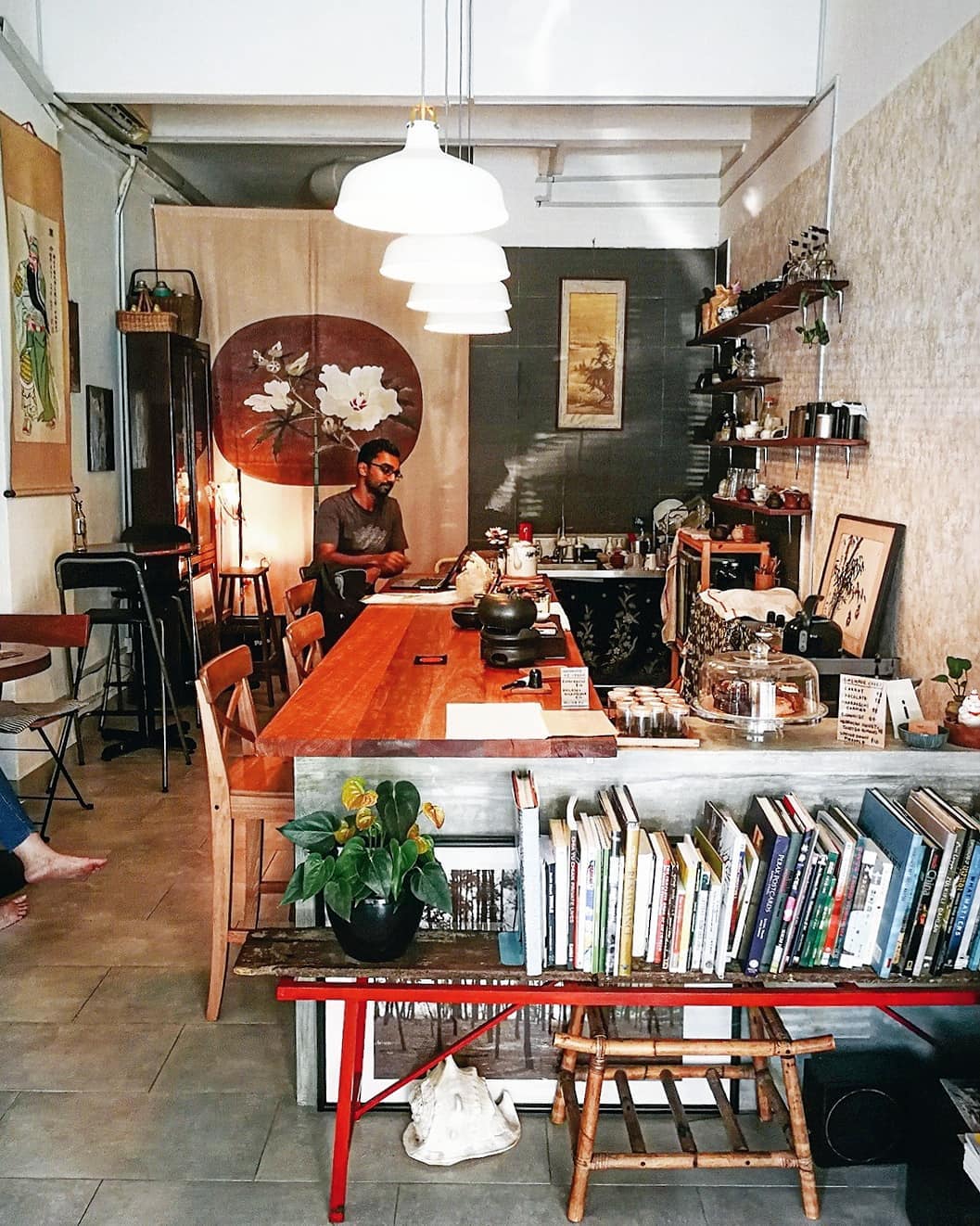 Image credit: @mielifestyle
Tanah dan Air
Address: CG3b Happy Mansion, Jalan 17/13 Section 17, 46400 Petaling Jaya, Selangor
Opening hours: Weds-Sun 12PM-9PM (Closed on Mondays and Tuesdays)
Telephone: 016-730 4227
Website
---
9. Food Foundry's mille crepe cakes
---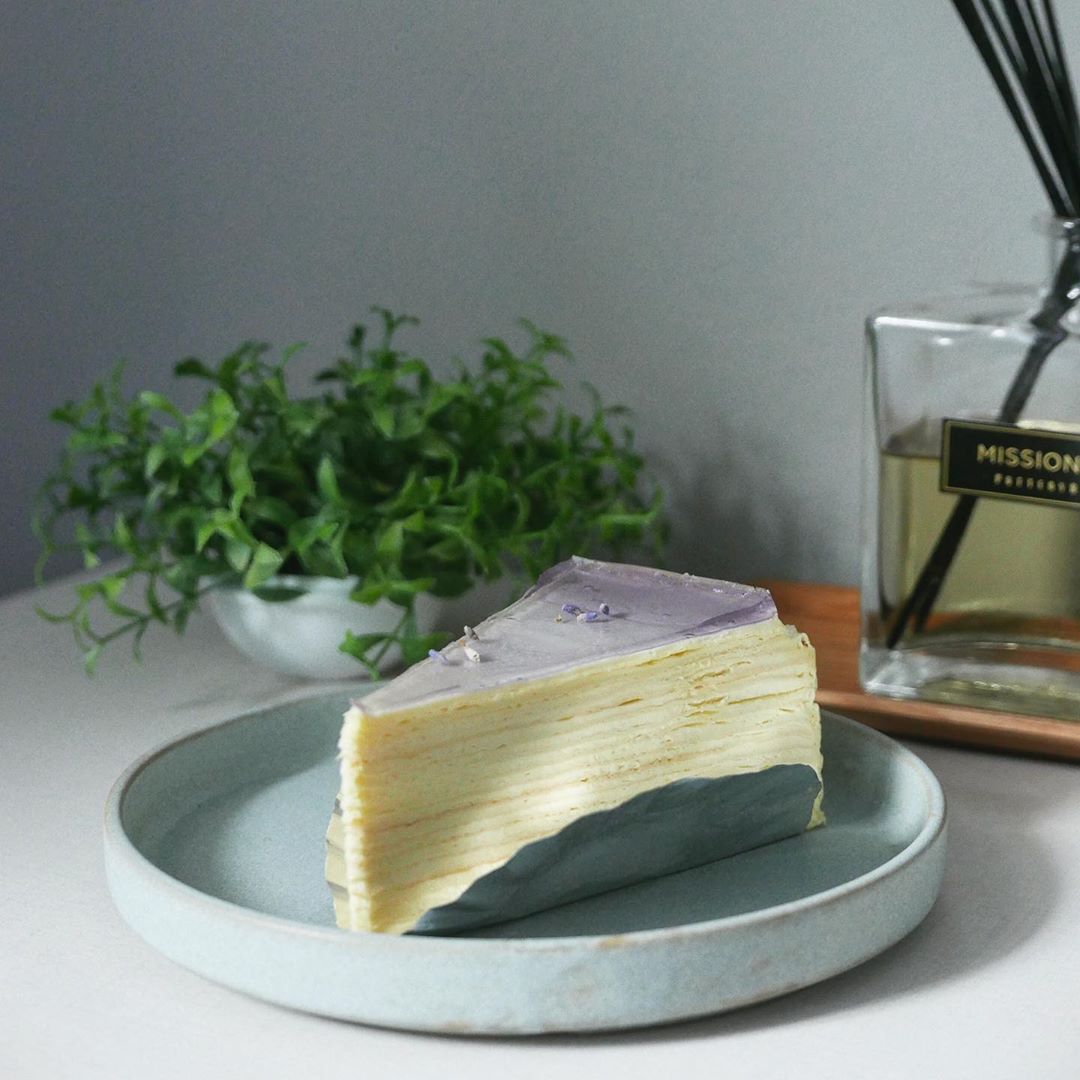 Earl Grey Tea Lavender Mille Crepe
Image credit: @patrina.yap
Rewind some 10 years back and you'll find that the trendy mille crepe cakes we have now were once a novelty. Food Foundry was the pioneer cafe that popularised this treat in Klang Valley back when it was established in '06.

FF Breakfast (RM19) and Grilled Chicken Sandwich (RM16)
Image credit: @foodfoundry
They've been serving these French-inspired desserts, mille crepe cakes, since its inception. Still going strong at Happy Mansion, they've got a daily crowd coming in for their signature cakes. 
From Chocolate to Green Tea & Green Bean (RM10-RM15/slice), you'll find an array of mille crepes cakes that are light on the taste buds so you won't have to face the dilemma of whether to stuff yourself with dessert or pass even though you really want more.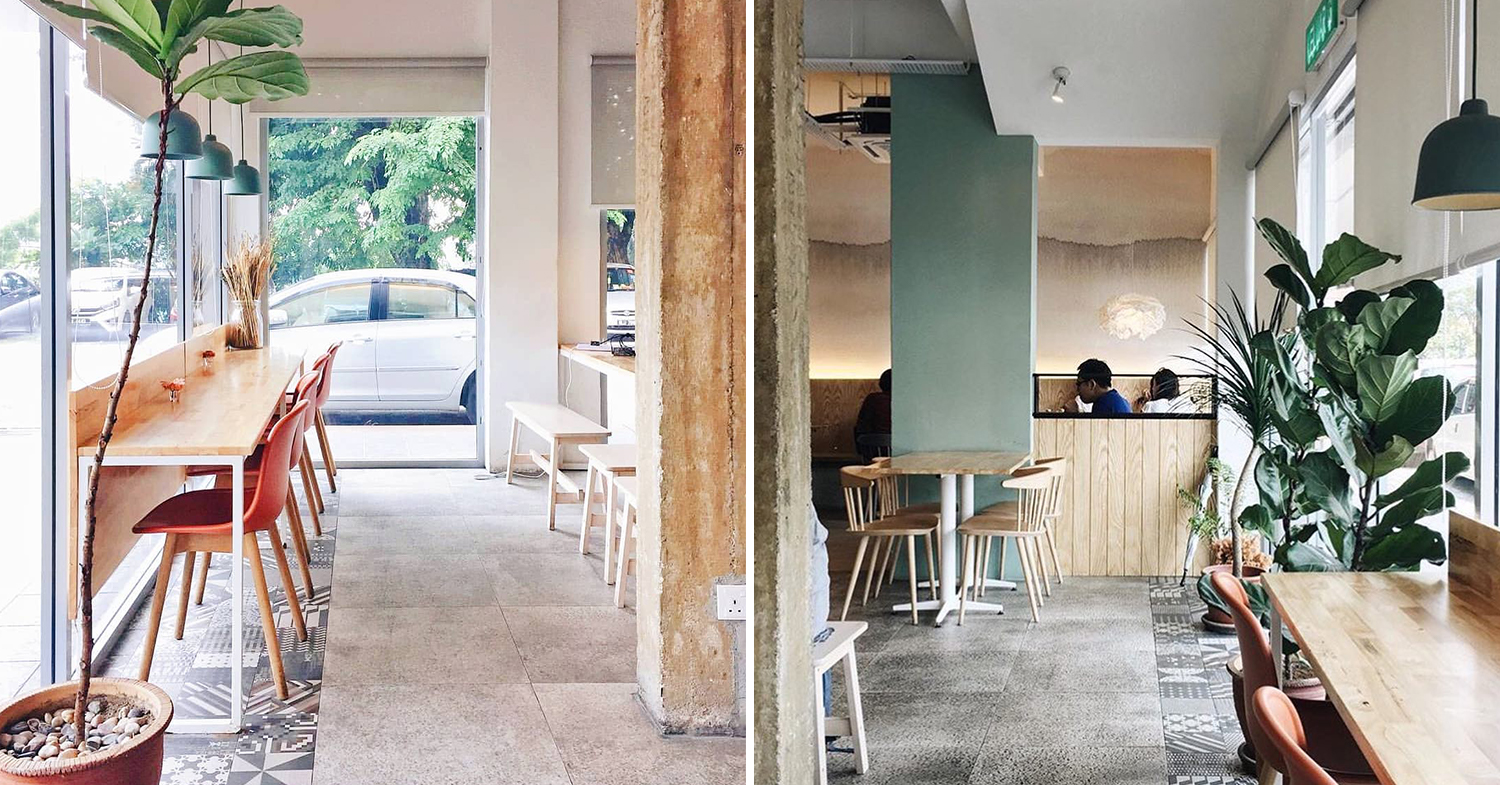 Food Foundry's very minimalistic decor uses a lot of grayscale, with little pops of colour from the plant and lamps.
Image credit: @amanda_lam_tara and @foodfoundry
Food Foundry
Address: BG8, Block B, Happy Mansion, Jalan 17/13, Section 17,, Petaling Jaya, 47400 Selangor
Opening hours: 10AM-10PM, Daily
Telephone: 03-7932 2322
Website
---
10. Common Man Coffee Roasters' melt-in-your-mouth brioche french toast 
---
If left to us, we'd probably just whip out some Gardenia bread before dunking it in eggs and sugar when making french toast. While homemade ones already make for a tasty breakfast, we now get to tuck into much fancier renditions of french toast, like the popular Shibuya toast from Japan and this one from Common Man Coffee Roasters.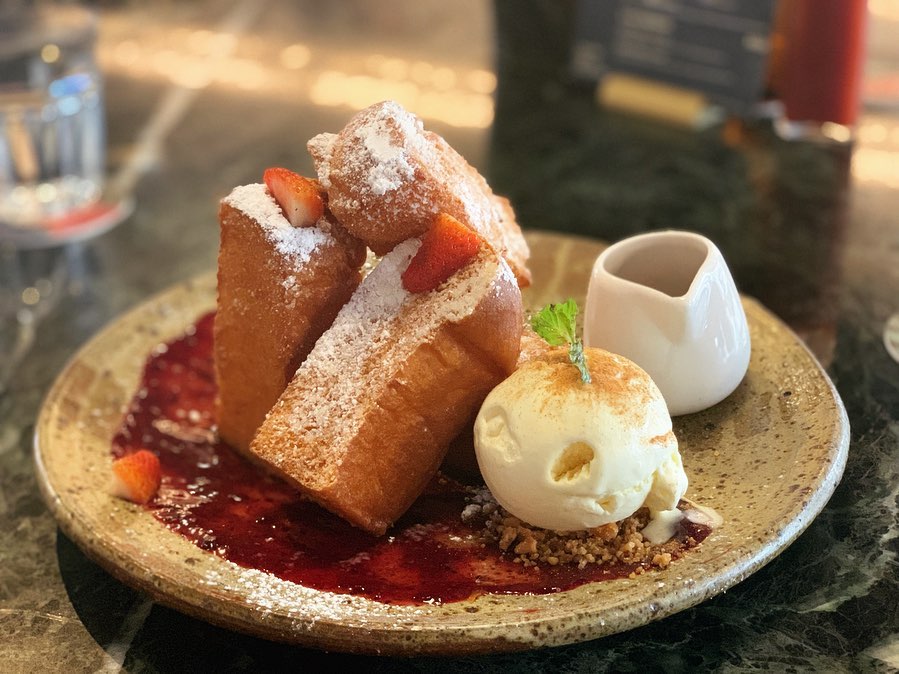 Image credit: @xobabycakes
The cafe uses brioche bread, which has high egg and butter content so that it melts in your mouth once you bite through the eggy crust. Don't be shy to drench it with maple syrup as the tartness from the accompanying berry compote will help cut back on its sweetness, while the vanilla ice-cream adds a luscious creaminess with each bite.
This Fluffy Brioche French Toast will set you back RM27, so save the treat for a weekend brunch.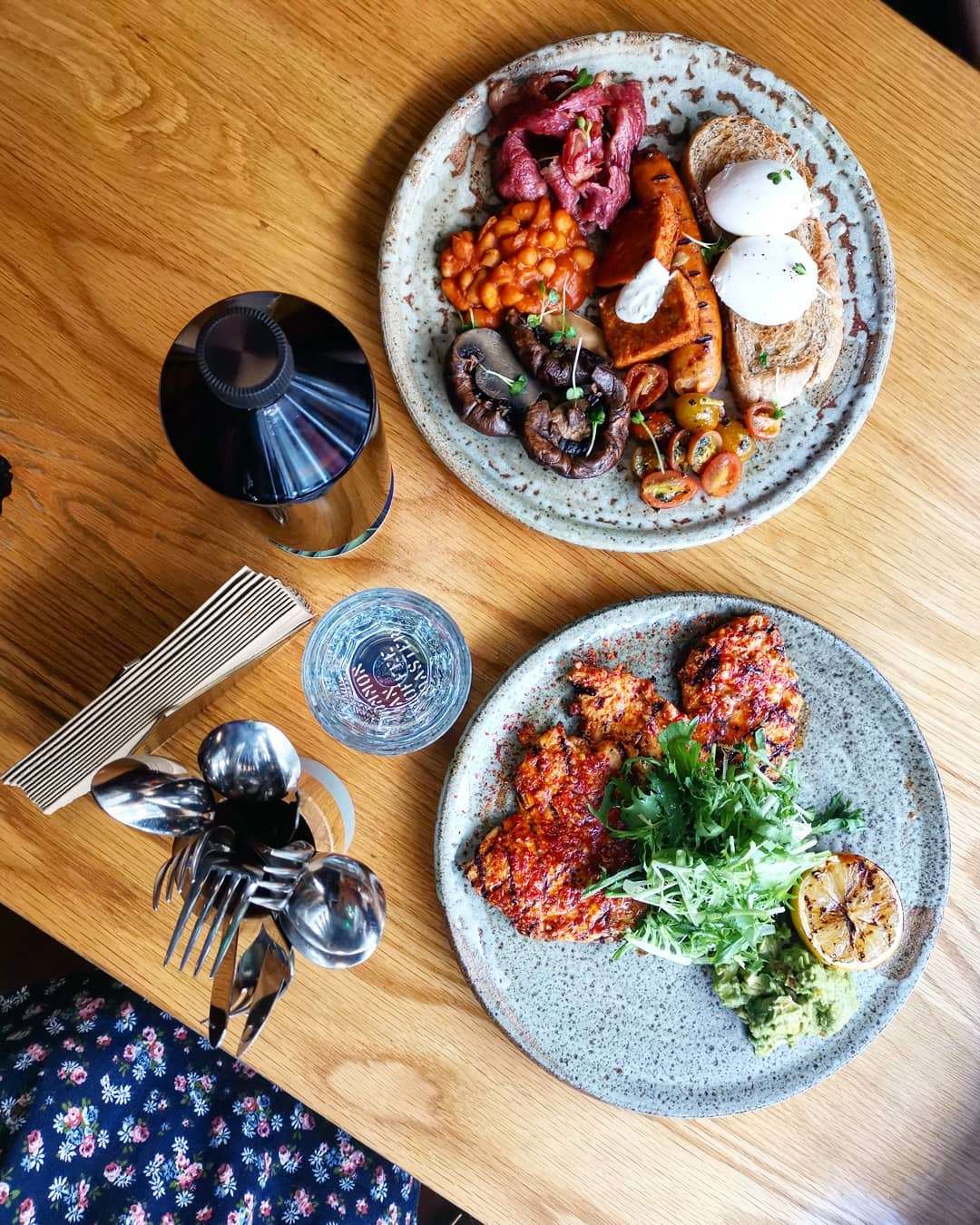 Common Man Full Breakfast (RM39) and Grilled Juicy "Chilli" Boneless Chicken (RM38)
Image credit: @shumin22
Coffee is their specialty that's worth a try, and you can sip on their premium beverages while nibbling on cakes.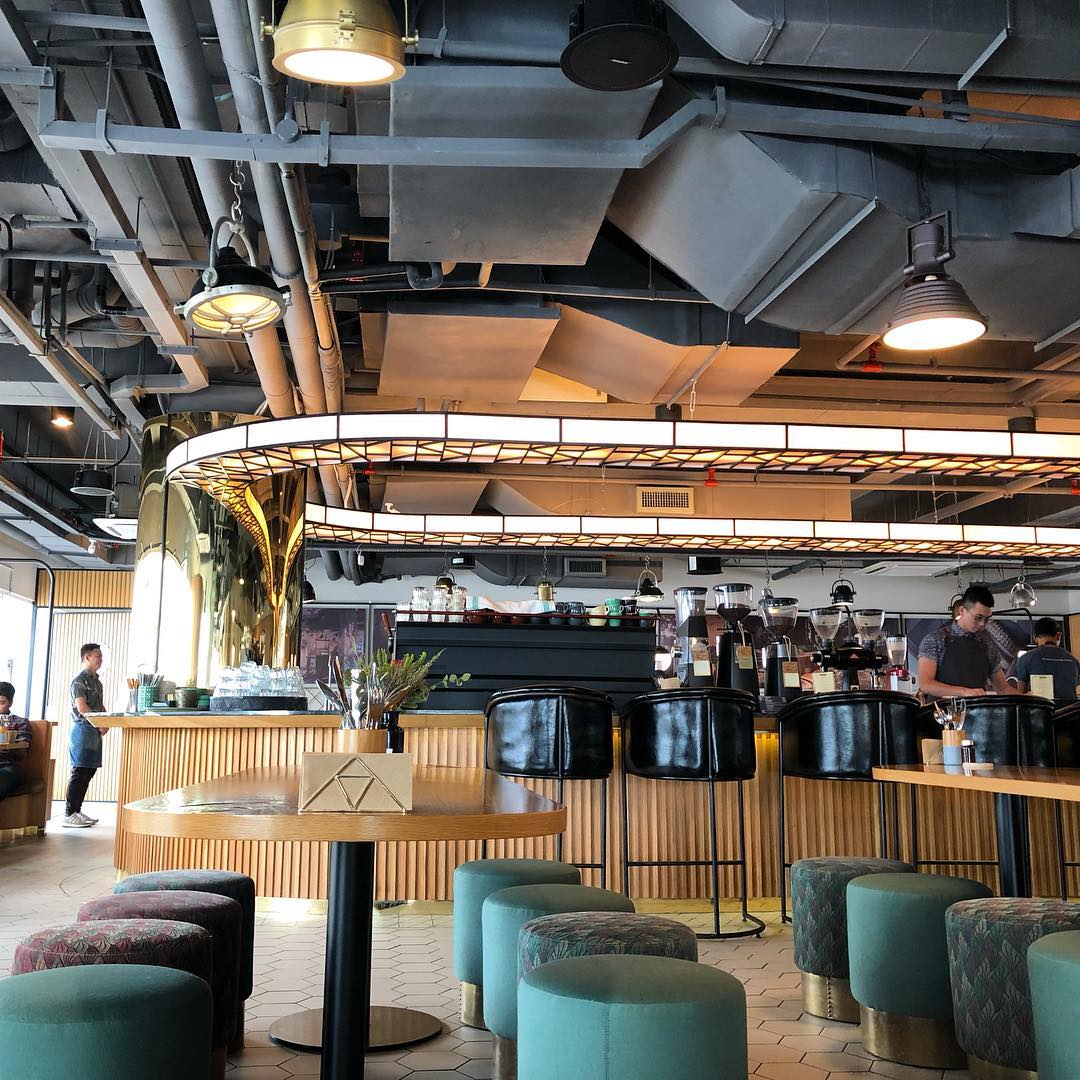 Image credit: @michaelbovell
Common Man Coffee Roasters
Address: Plaza Vads, A-G-1 New Podium, 1, Jalan Tun Mohd Fuad, 60000 Kuala Lumpur
Opening hours: Mon-Fri, 8AM-5PM | Sat-Sun 8AM-6PM
Telephone: 03-7731 7095
Website
---
11. Garage 51's over-the-top milkshakes
---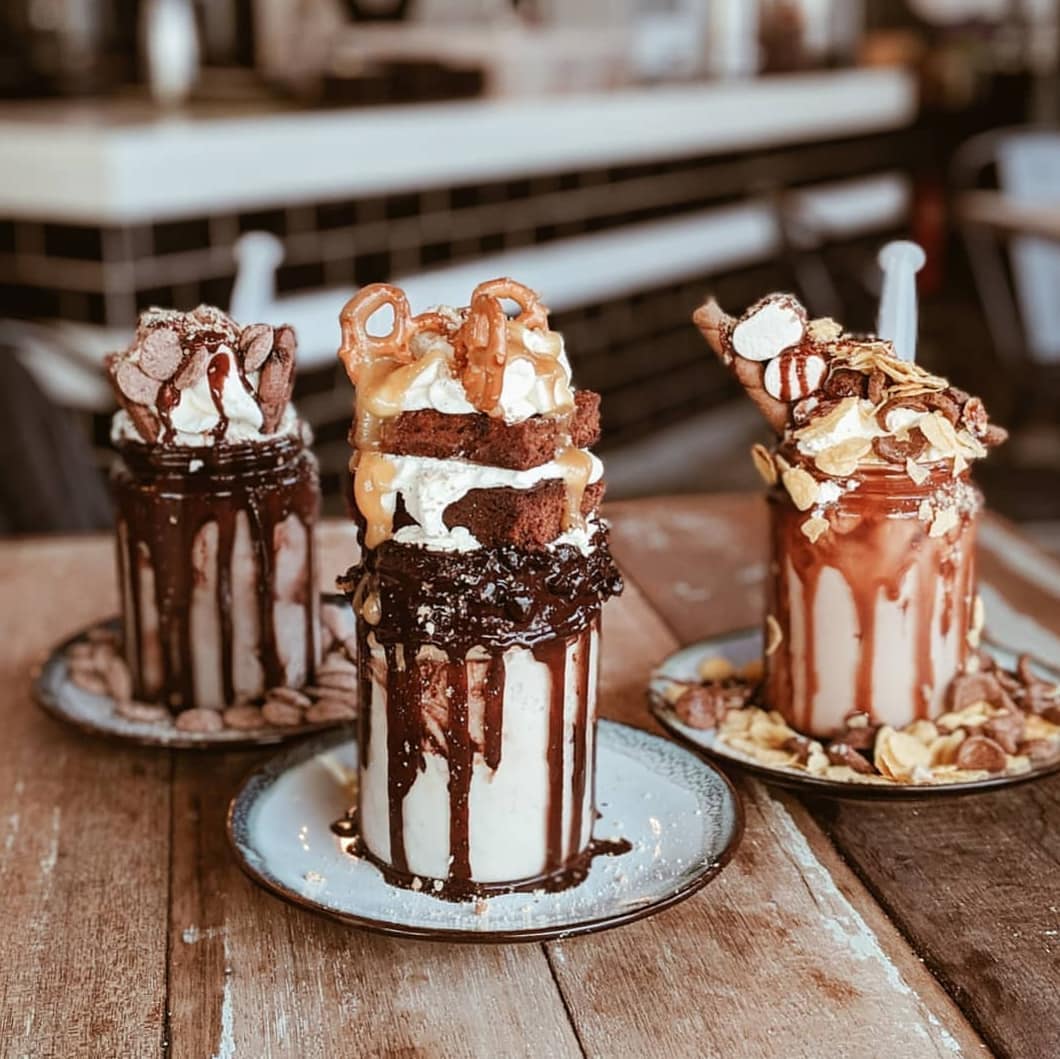 Image credit: @garage51my
If you've been trawling through food accounts on Instagram, you may have stumbled upon photos of Garage 51's freakshakes. Plan ahead for your cheat day and drop by this joint for their "Messed Up Family Milkshakes" (RM18.90). 
These milkshakes are a hot mess and are topped with funky toppings and are packed with sweetness. In just one milkshake, you can get brownies, pretzels, and chocolate syrup piled on top of each other.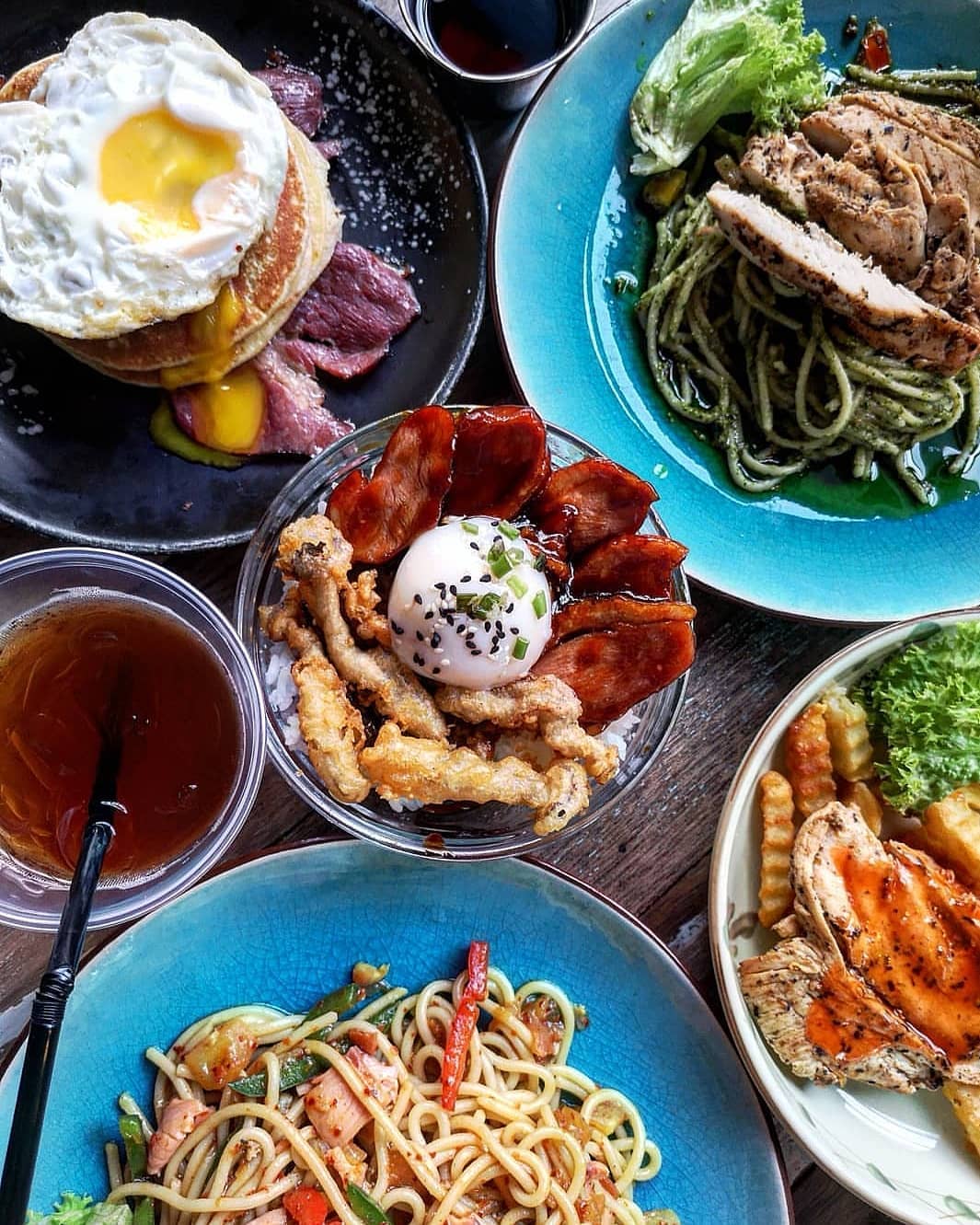 Image credit: @garage51my
Don't just fill up on their desserts when they have plenty of hearty mains you can order. From rice bowls to pasta and even breakfast items, they have the complete cafe package when it comes to food.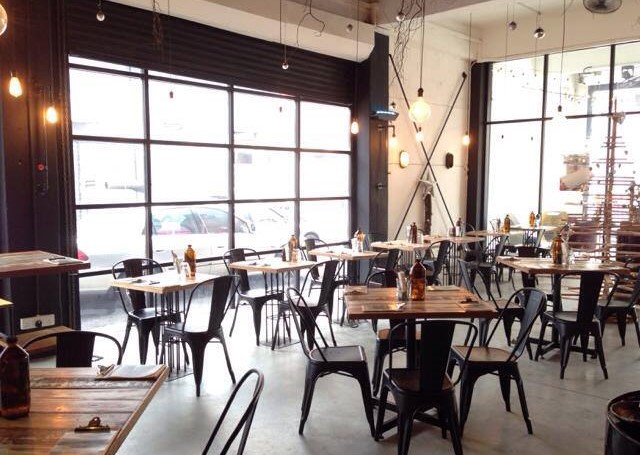 Image credit: Garage 51
Garage 51
Address: 51, Jalan PJS 11/9, Bandar Sunway, 47500 Petaling Jaya, Selangor
Opening hours: 11AM-11PM, Daily
Telephone: 03-5612 5618
Website
---
12. Botanica+Co's churros doughnut stack
---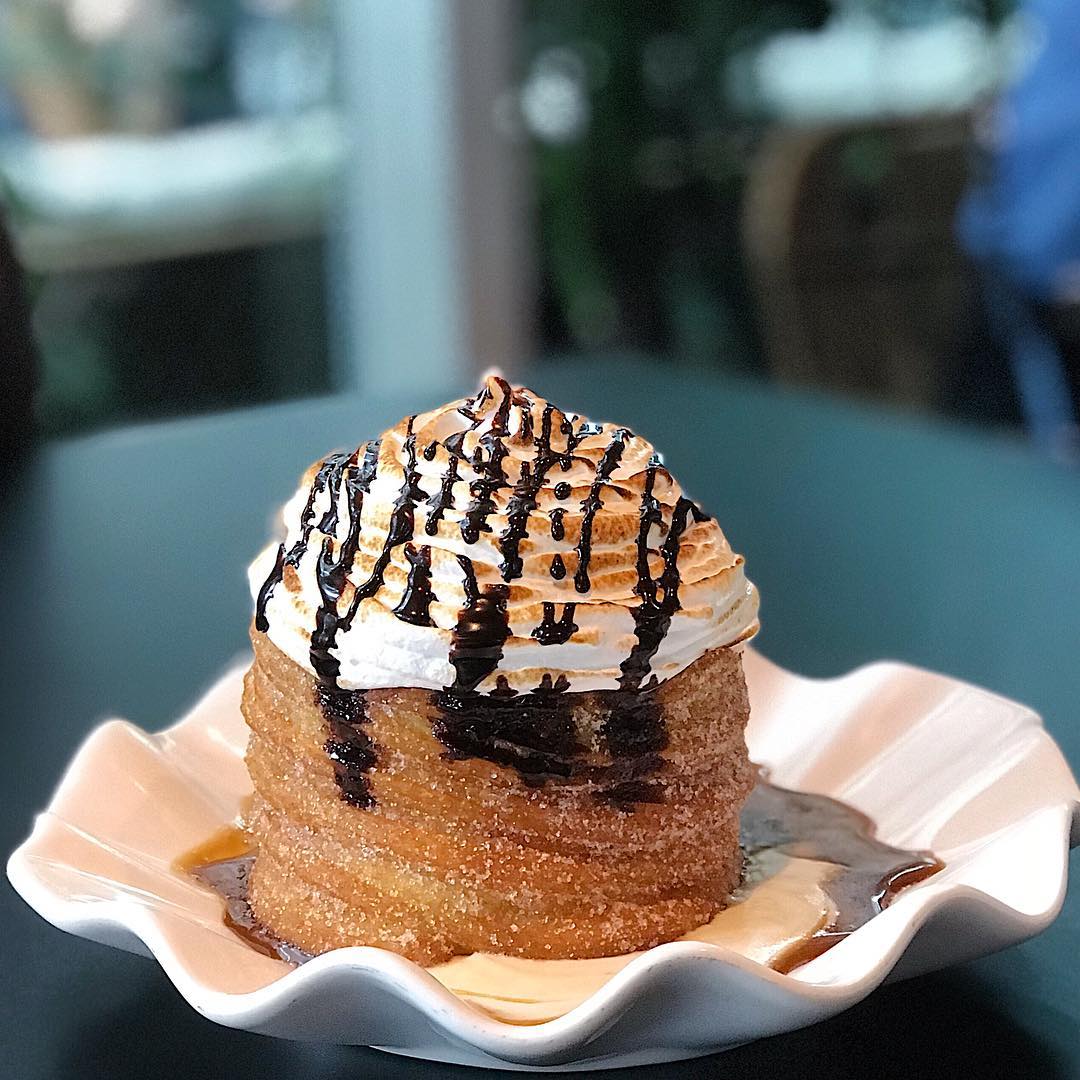 Image credit: @hungry.megs
Just like its name suggests, Botanica+Co has a garden-like interior that sets a romantic ambiance for an intimate meal with your close ones. This photo-worthy cafe boasts an extensive menu that ranges from spaghetti to pizzas, but if you linger longer at their dessert section, you'll come across their Churros Donut Stack (RM19). 
Instead of churro sticks, patrons are served a long coil of churro that holds a scoop of vanilla ice-cream inside. You'll also get a swirl of lightly torched meringue with chocolate syrup drizzled over it, and a pool of caramel sauce on the plate.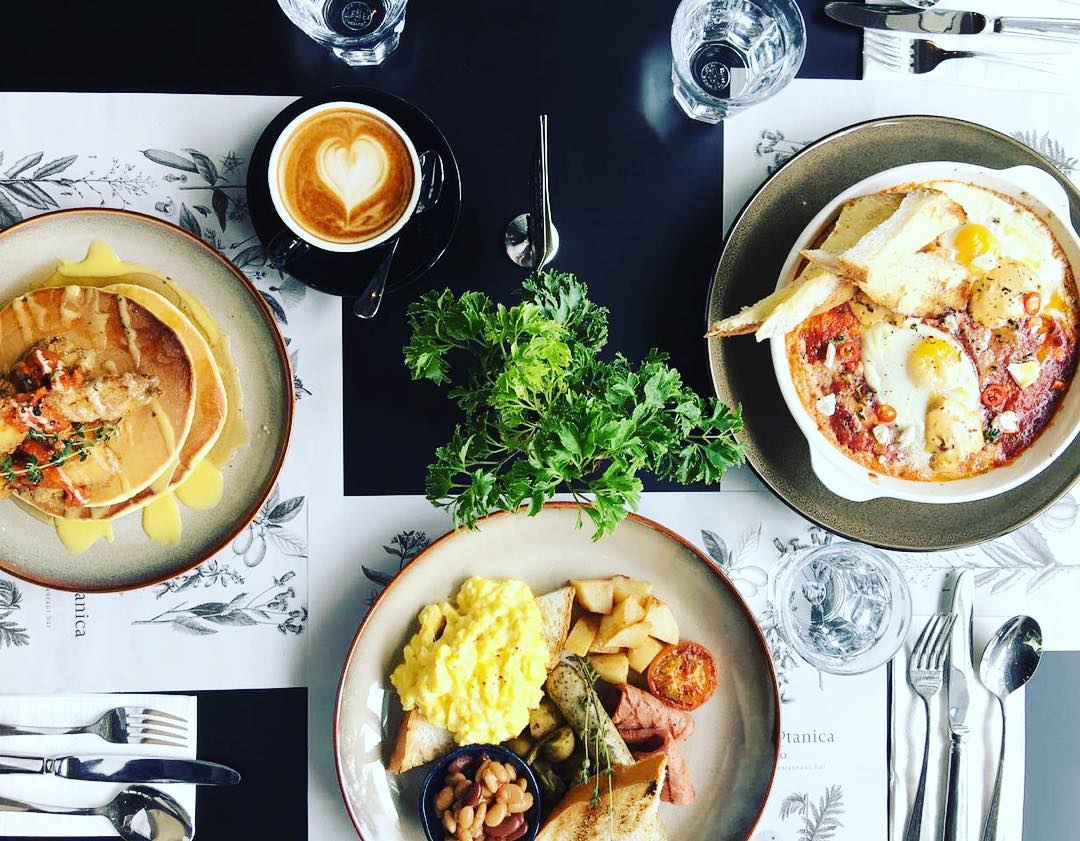 Fried Chicken and Pancakes (RM36), The Bo+Co Big Breakfast (RM35), and Botanica Spicy Shakshuka (RM34).
Image credit: @botanica.co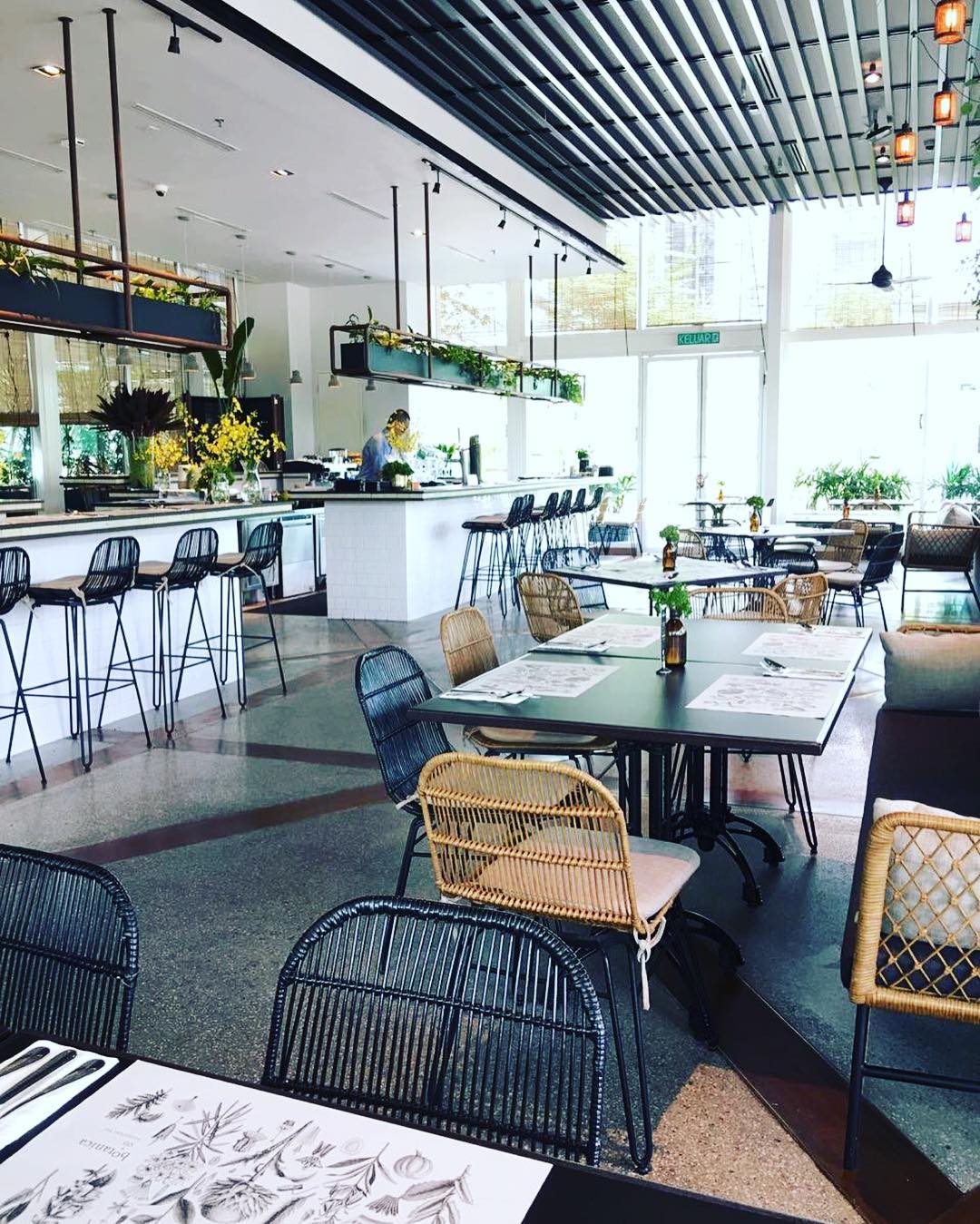 Image credit: @botanica.co
Their kitchen churns out a mix of international cuisines where you can find a Truffle Yakiniku Don (RM45), Chicken Tikka (RM33), and Sam's Crab & Crayfish Laksa in the same menu.
Botanica+Co Bangsar South
Address: G5, 8, Jalan Kerinchi, Bangsar South, 59200 Kuala Lumpur, Wilayah Persekutuan Kuala Lumpur
Opening hours: Mon-Thur, 11:30AM-10PM | Fri, 11:30AM-12PM | Sat 9:30AM-12PM | Sun 9:30AM-10PM
Telephone: 016-965 6422
Botanica+Co Alila Bangsar
Address: 58, Jalan Ang Seng, Brickfields, 50470 Kuala Lumpur, Wilayah Persekutuan Kuala Lumpur
Opening hours: Mon-Fri 8AM-10PM | Sat-Sun 9:30AM-10PM
Telephone: 03-2268 3818
Website
---
13. Tryst's pancakes that are fluffy AF
---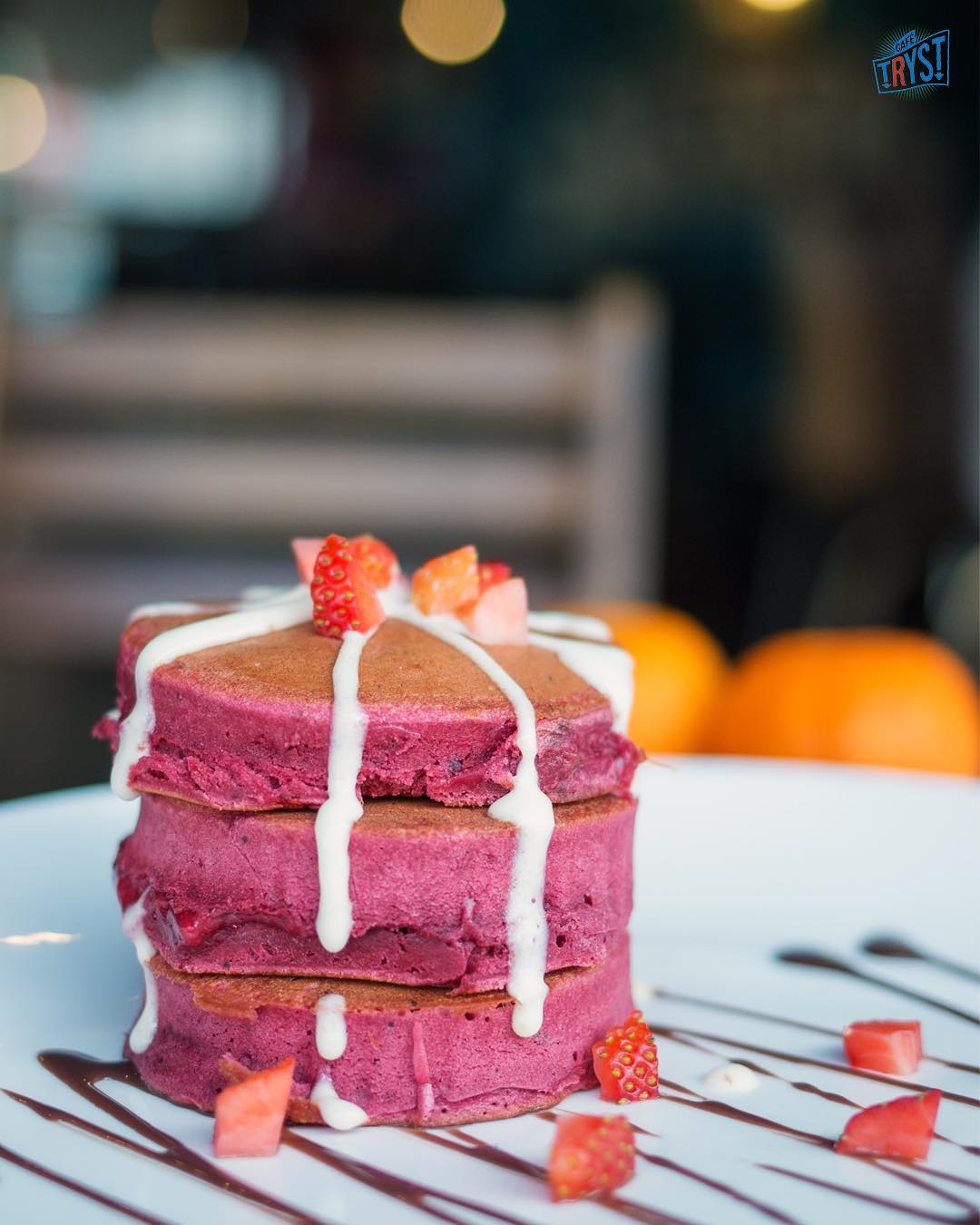 Red Velvet pancakes
Image credit: @trystss15
Occupying a shop lot in one of the city's food paradise, Tryst in SS15 has turned heads with its grungy decor. While they have an extensive menu that covers Western fare and all-day breakfasts, it's their pancakes that keep the crowd coming.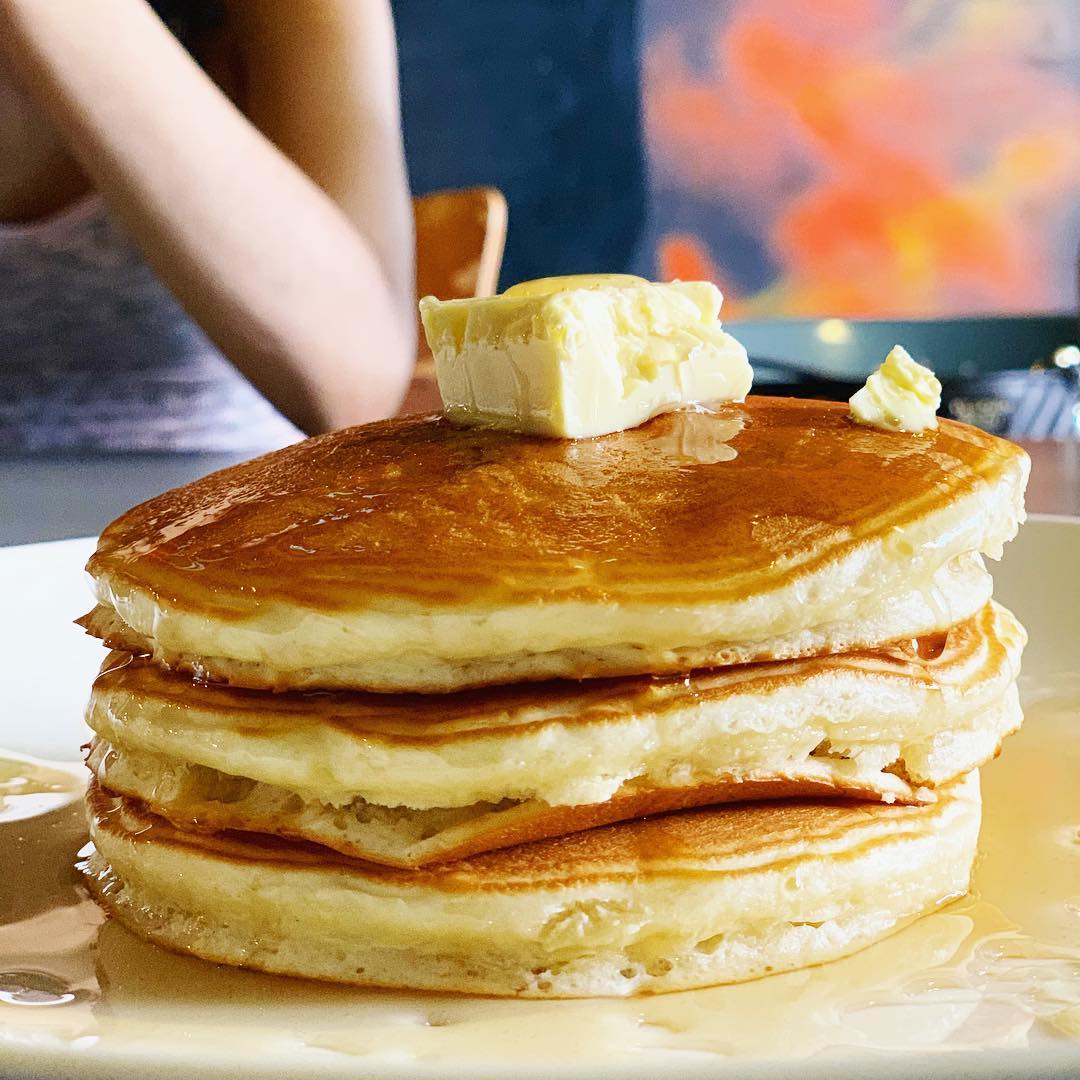 Butter + Honey Pancakes (RM5-RM8)
Image credit: @katriynannn
Their unique red velvet pancakes are a big hit with customers for fluffy bites topped with cream cheese icing. They also do classic pancakes with syrup that looks like it's straight out of a cartoon with it's thick, glistening layers, and a hefty-sized cube of butter on top.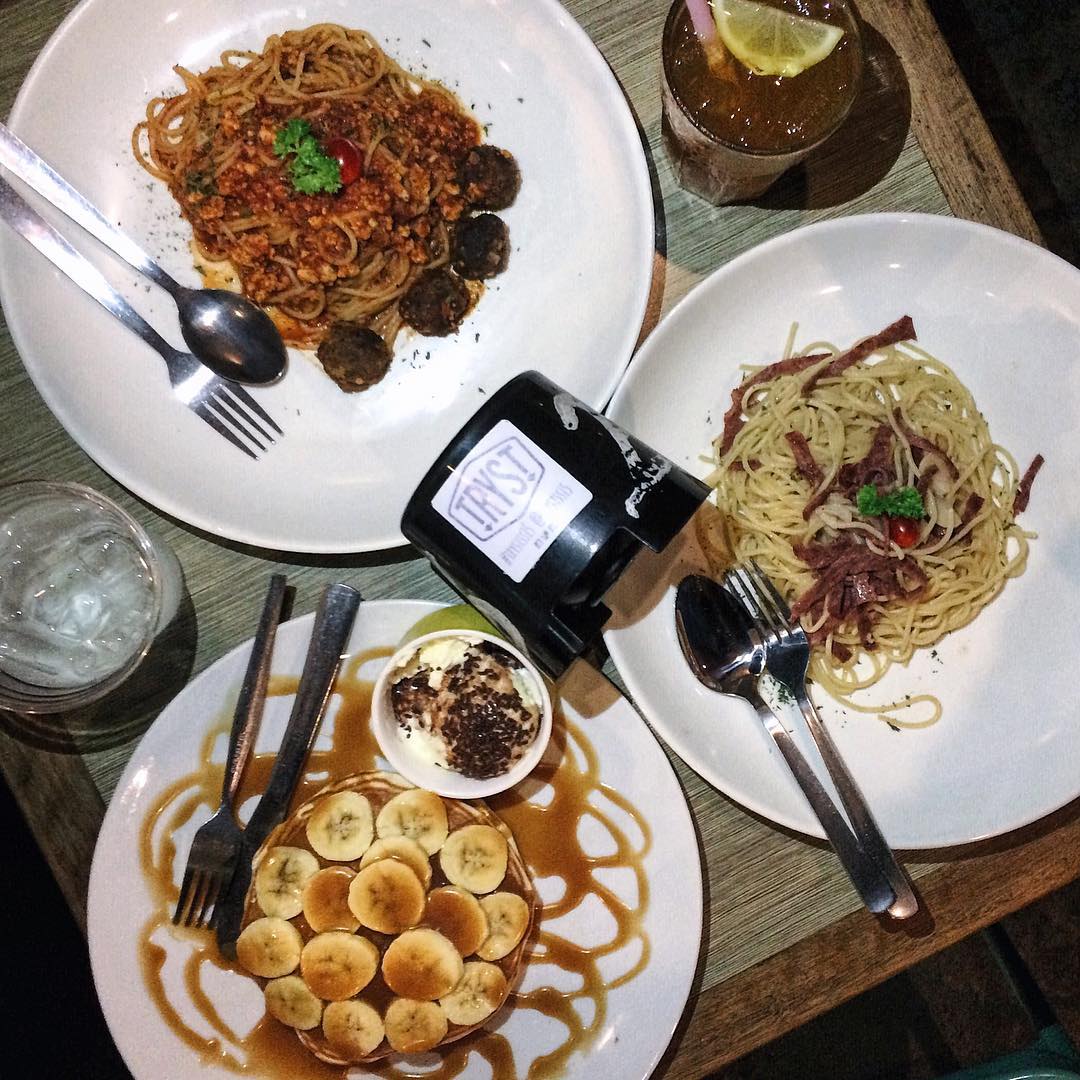 Alongside their pancakes, they have an impressive pasta selection to boot – including aglio olio and tomato concasse
Image credit: @jommakanwithimran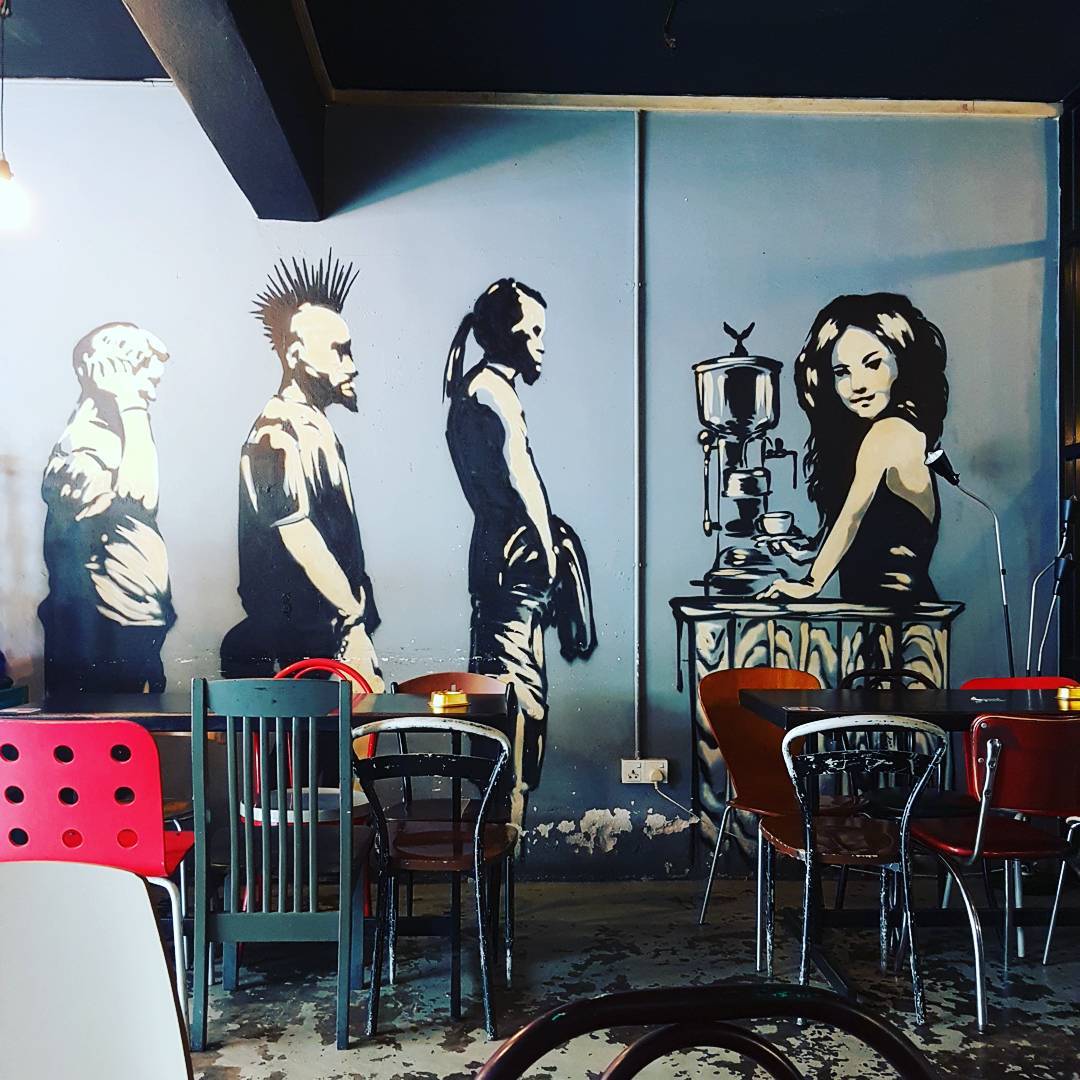 Image credit: @athiraizlan
True pancake aficionados can get their regular fix at this joint with almost 20 options for both sweet and savoury pancakes. 
Tryst
Address: 74, Jalan SS 15/4c, Ss 15, 47500 Subang Jaya, Selangor
Opening hours: Mon-Thurs, 10AM-1AM | Fri, 4PM-2AM | Sat, 10AM-2AM | Sun, 10AM-1AM
Telephone: 03-5887 2085
Website
---
14. Seniman Kakao's artisanal chocolate pisang goreng 
---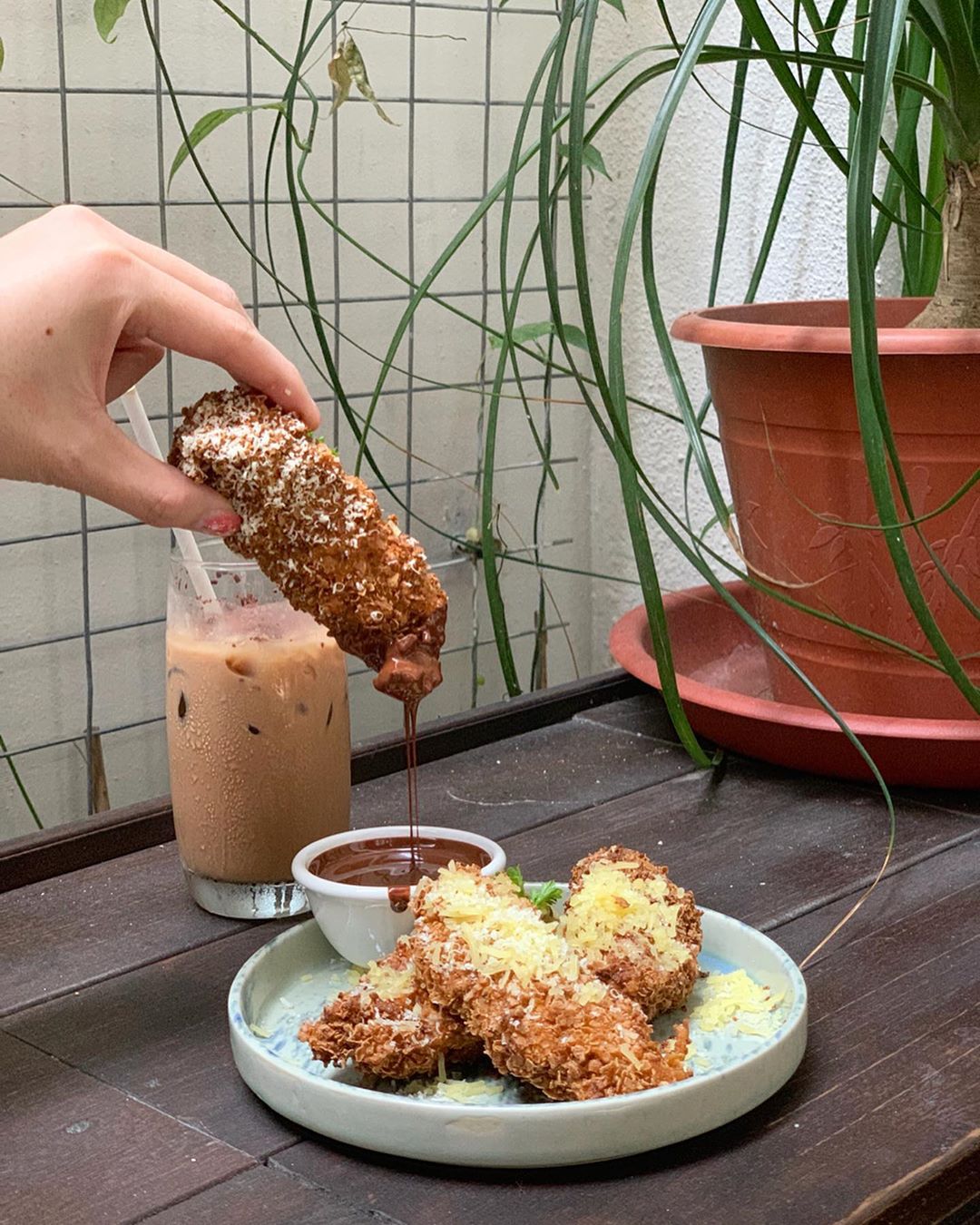 Image credit: @yumtummy28_
If you love chocolate, you've probably been guilty of "accidentally" finishing a whole bar in one sitting. Seniman Kakao is a local chocolatier turned cafe, where they only use homegrown cacao beans for their products. 
Aside from chocolate bars and bonbons, you can also get yourself a plate of Banana Fritters (RM12). They've taken this popular roadside stall food and made it atas enough to be enjoyed in a cafe setting. 
The golden brown fritters are garnished with grated cheese and come with a side of chocolate dipping sauce. There are little nuances that makes this version different from the kind you get at mak cik roadside stalls, like how the fritters are breaded instead of battered and of course, the high quality chocolate sauce that comes with it.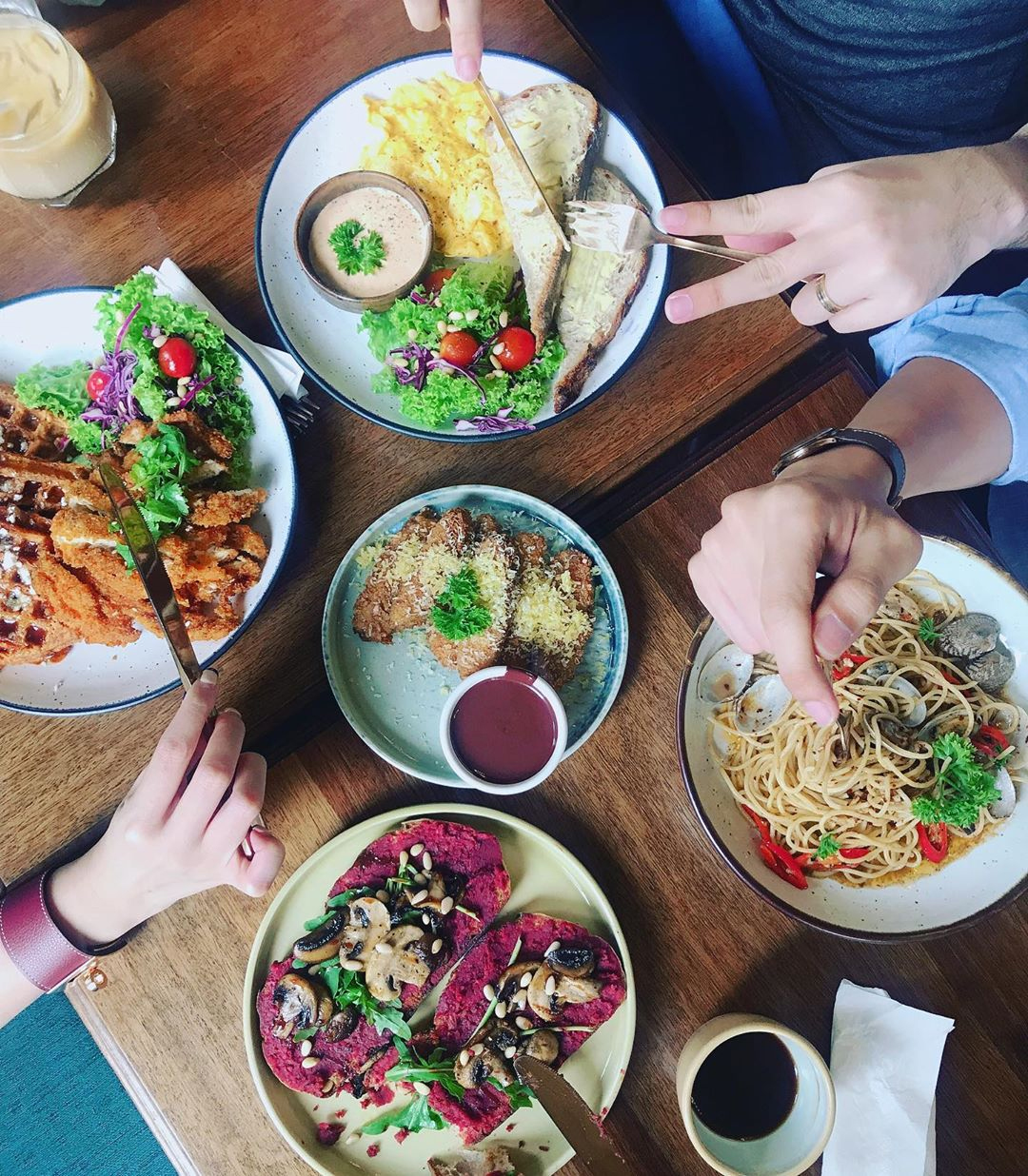 Image credit: @abbeygayle.e
While they do have an overwhelming love for chocolate, they also have a range of mains for you to order from. The Pudu Beef Burger (RM25.40) features a sweet pineapple slices and a kick of wasabi sauce, while their Vegan Tempeh & Avocado (23.50) has a spicy kick from the sambal tempeh with creamy avocado.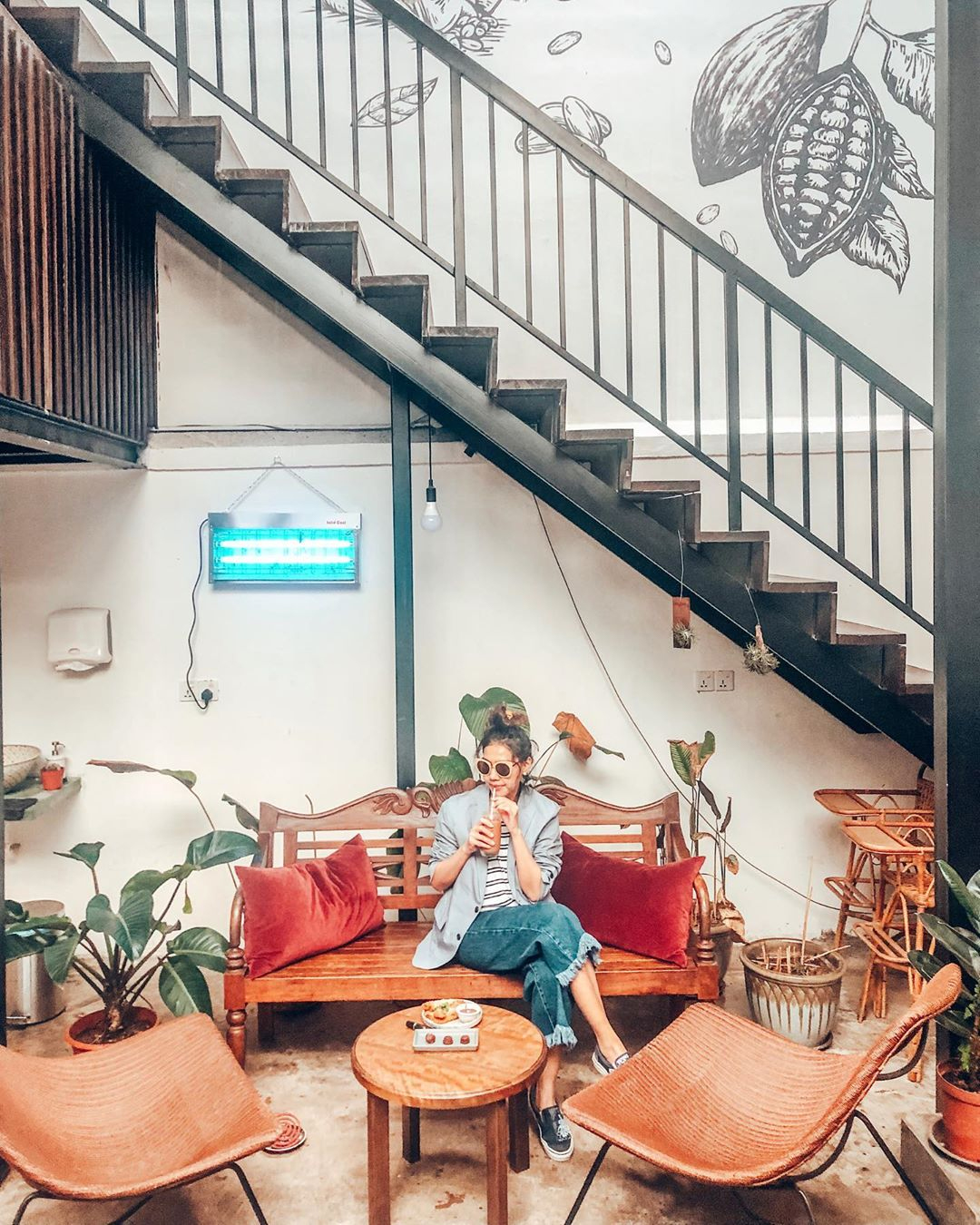 Their cafe's old-school interior's pretty photogenic too
Image credit: @zafirahzainal
Seniman Kakao
Address: 29, Jalan Pudu Lama, Bukit Bintang, 50200 Kuala Lumpur, Wilayah Persekutuan Kuala Lumpur
Opening hours: 9AM-10PM, Daily
Telephone: 03-7490 7788
Website
---
---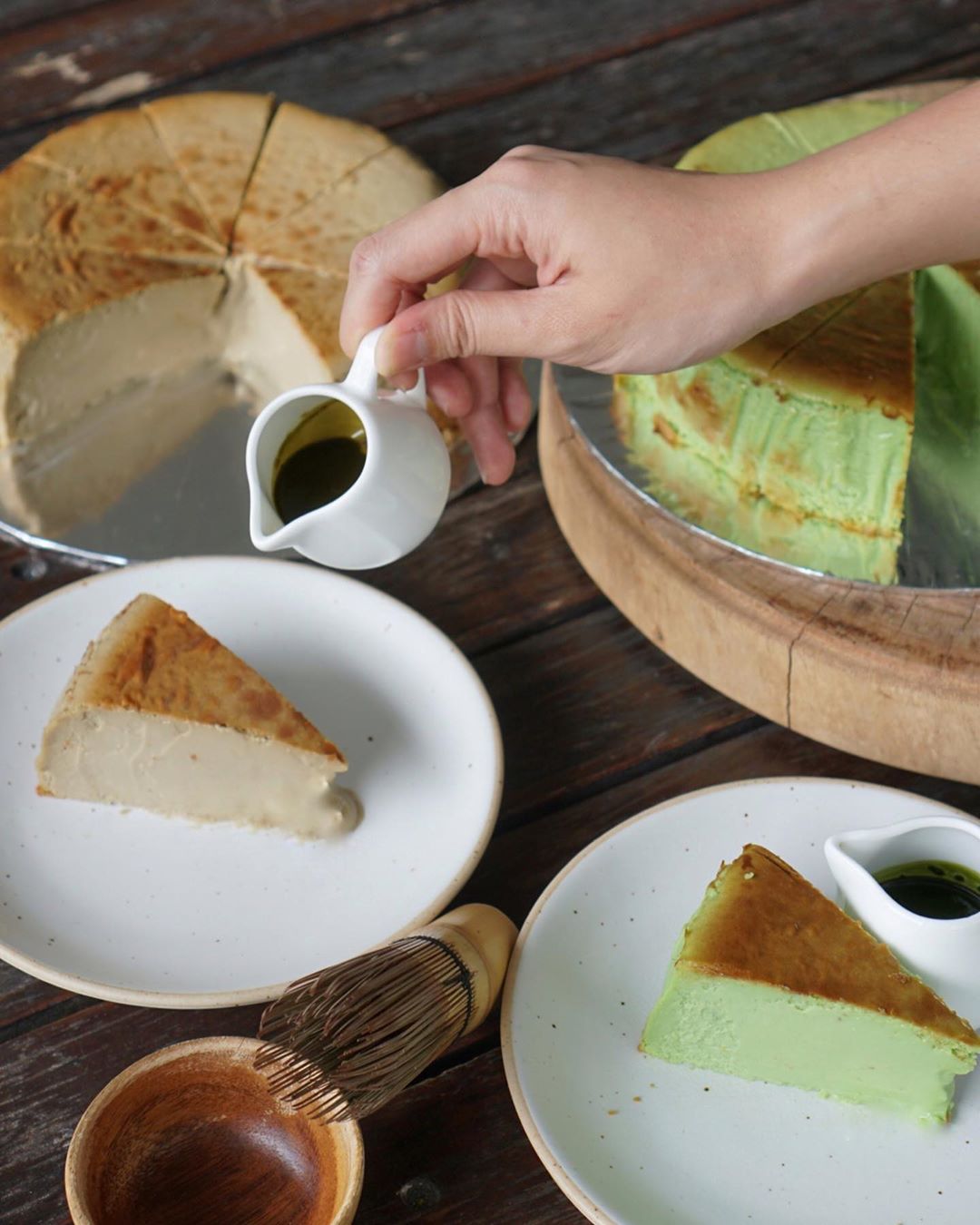 Hojicha and Matcha Burnt Cheesecake
Image adapted from: @littlepeople
While Little People have branded themselves as a homemade pasta and specialty coffee cafe, it's their delicious cheesecakes that have been flooding Instagram. 
They currently have 3 regular flavours. Alongside their original Not So Burntcheese (RM15), they also source premium teas for their Matcha (RM15) and Hojicha (RM15) cakes. You'll be able to detect a subtle umami taste in their matcha flavour while the hojicha is nuttier with a smoky aroma to it.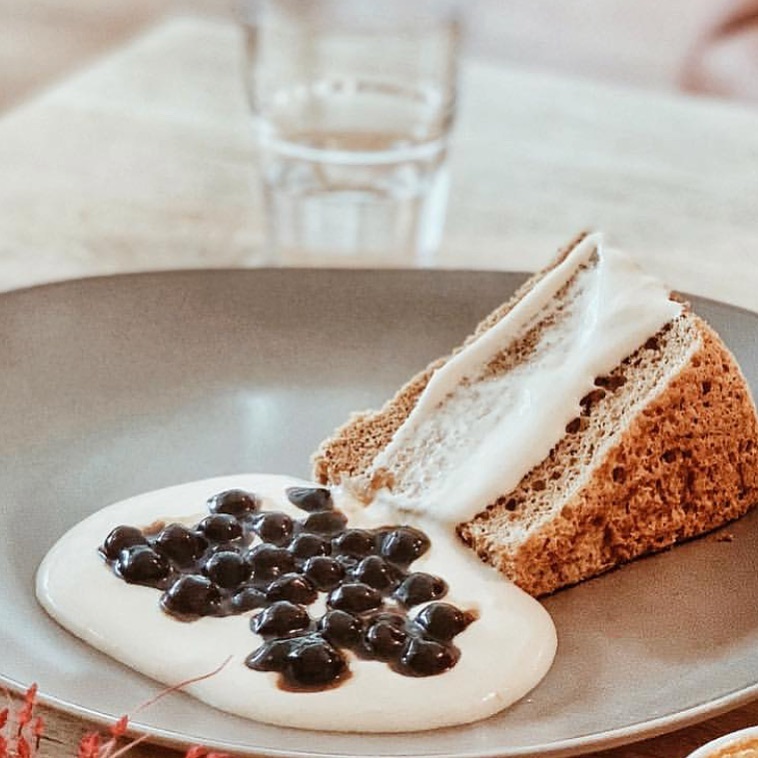 Earl Grey Chiffon with Boba
Image credit: @littlepeople_
Once you've taste-tested all 3 burnt cheesecakes, have a go at their boba cake where the chewy pearls will complement the airy chiffon cake.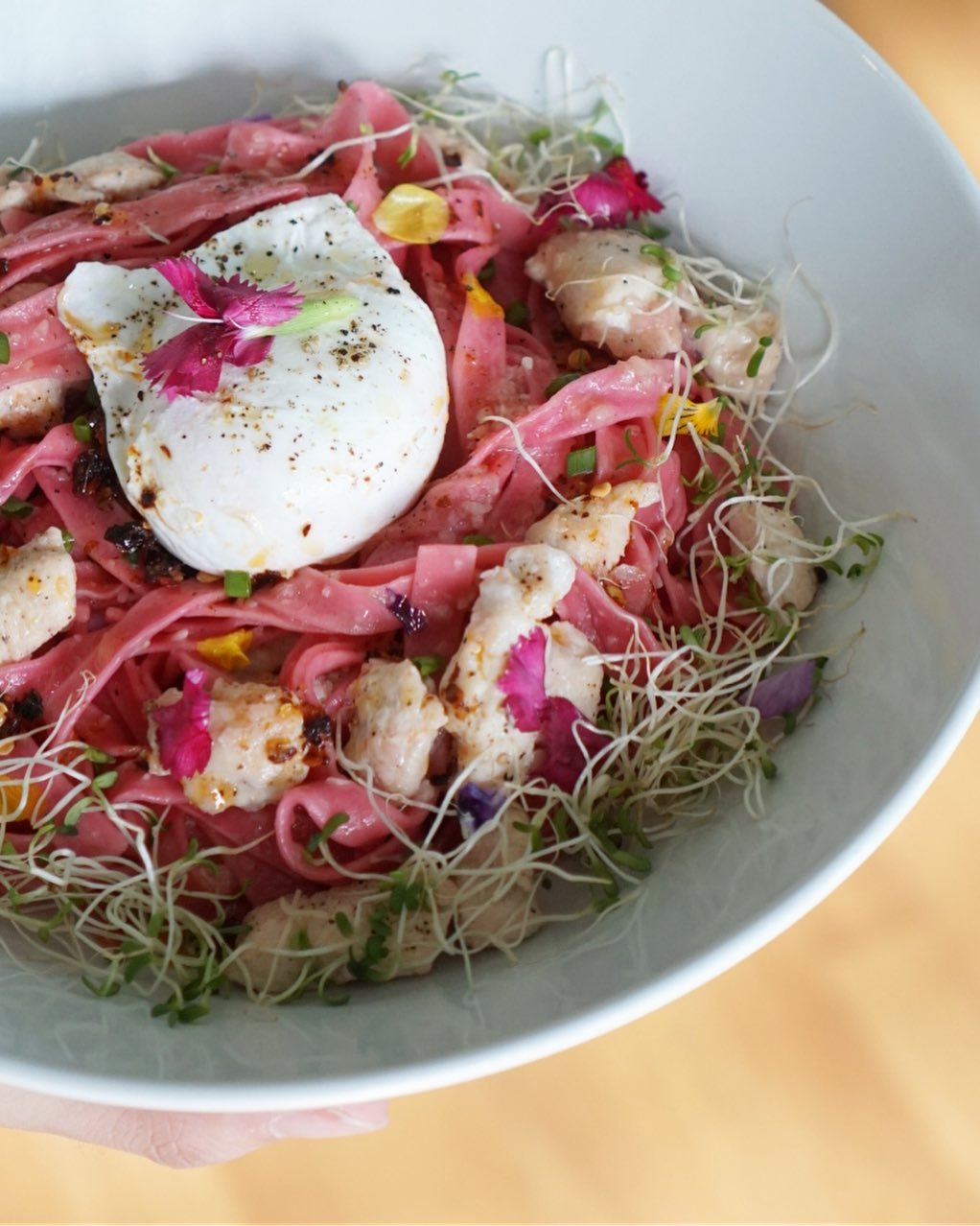 Image credit: @littlepeople_
The cafe has a growing social media presence that started from their Pink Pasta 2.0 (RM28). The pasta gets its signature pastel pink from beetroots and is garnished with fresh alfalfa sprouts and edible flowers.
Their cakes are baked fresh every day, so patrons coming in for their pasta can end their meal with a slice of this goodness.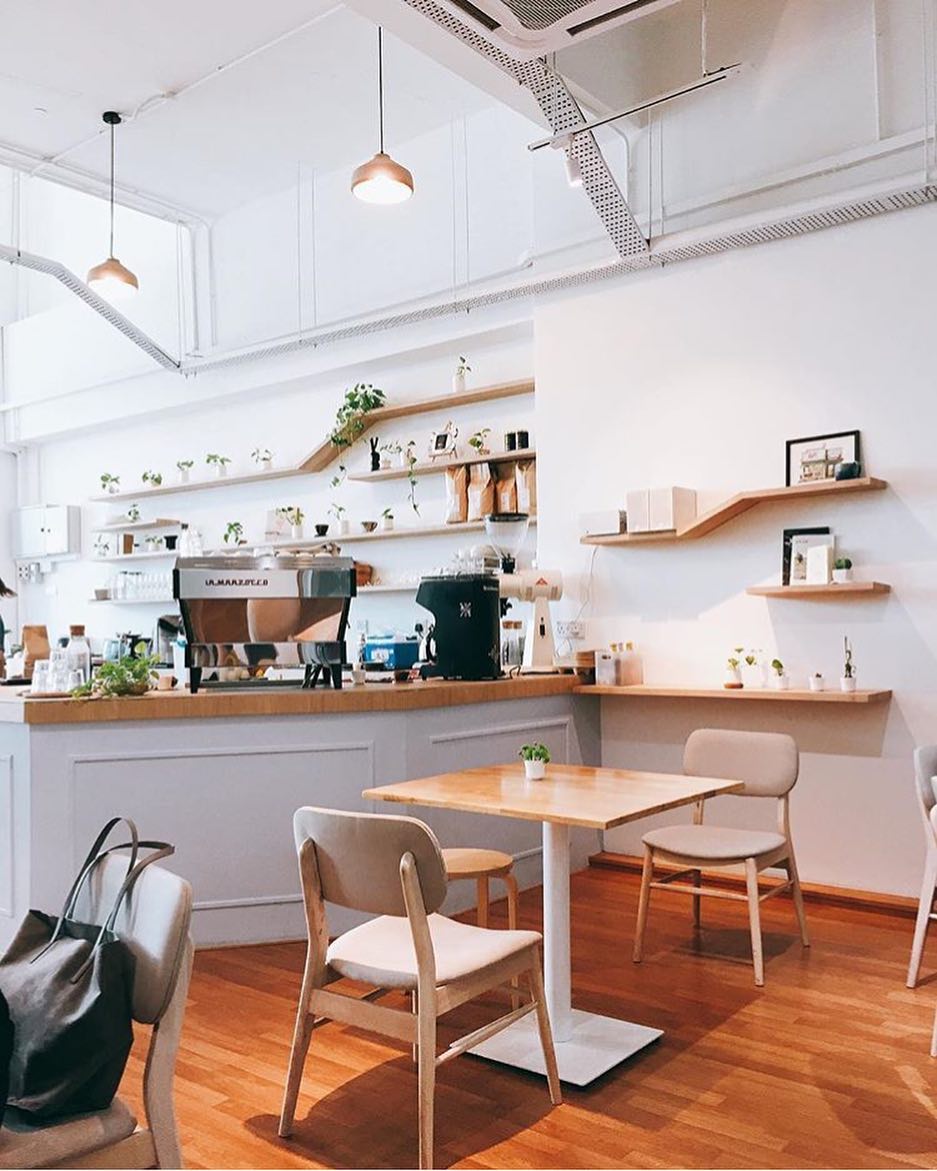 Image credit: @littlepeople_
Little People
Address: G-01, Avantas Residences 162, Jalan Klang Lama, 58200 Kuala Lumpur
Opening hours: Mon-Sun, 10PM-11AM (Closed on Tuesdays)
Telephone: 03-7971 9209
Website
---
Cafe desserts in KL
---
These dessert items could very well be the cash cows for their cafes and have easily overtaken their main menus. Since most of these cafes are located in spots we all love and frequent to, you can easily make a short detour for a sugar fix. With this list on hand, you'll be prepared for the next few times when your sweet tooth goes into overdrive. 
Check out our other food-related articles:
---
Cover image adapted from: @najnbelle, @xobabycakes, @trystss15, @yeapmeiji, @riuhinthecity, and My Pizza Lab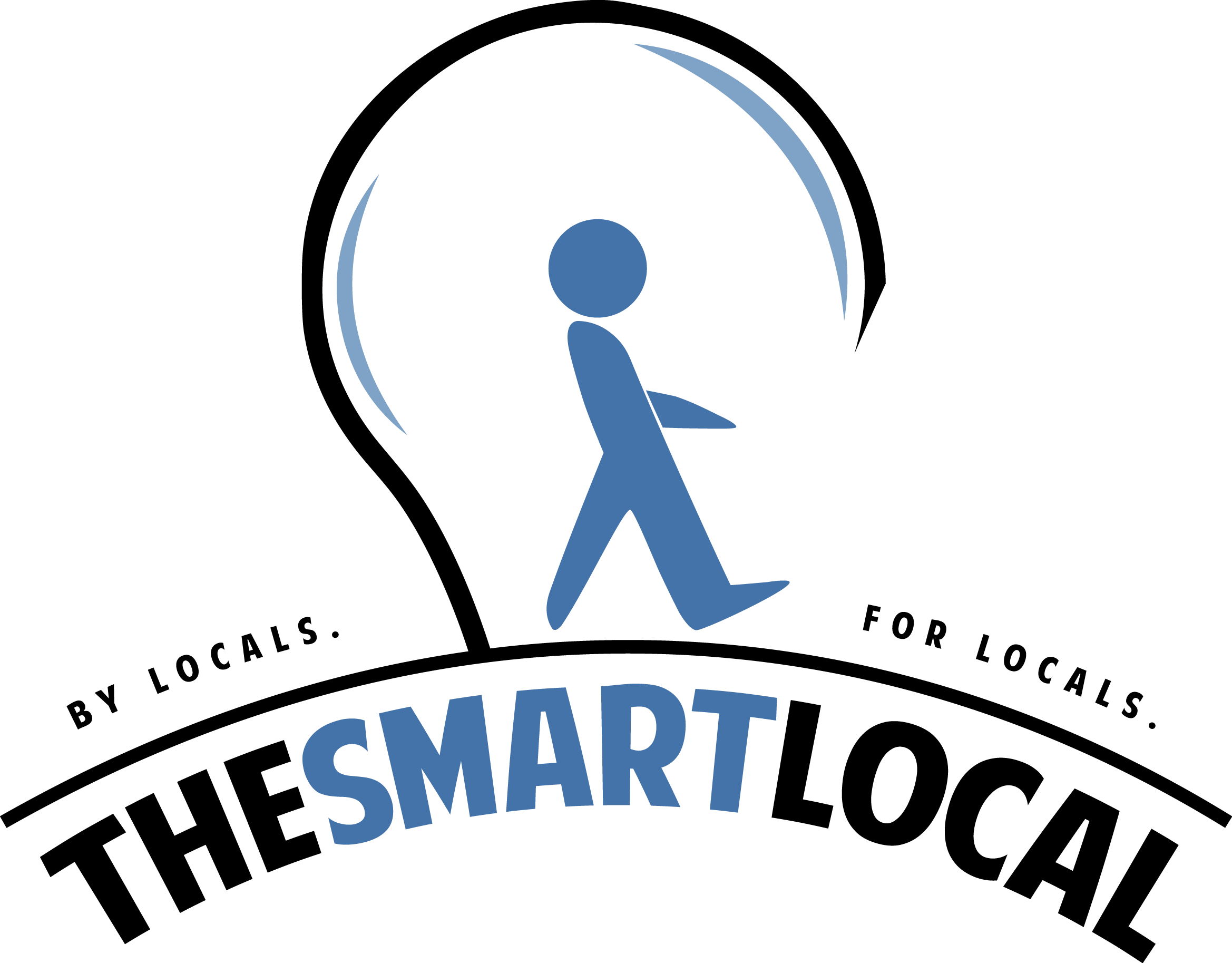 Drop us your email so you won't miss the latest news.