Must-try food in Kuching
---
Sarawakians – as with all Malaysians – take their delicacies very seriously. So much so that the late Anthony Bourdain said that Sarawak laksa is "the breakfast of Gods". Besides that particular dish, Sarawak is also synonymous with kolo mee and kek lapis, which means that you can pretty much find them in almost every corner of the state. But, if you're looking for more obscure eats, check out these 9 must-try Kuching food recommended by locals, and where to get them.
---
1. Kueh chap at Woon Lam Cafe 
---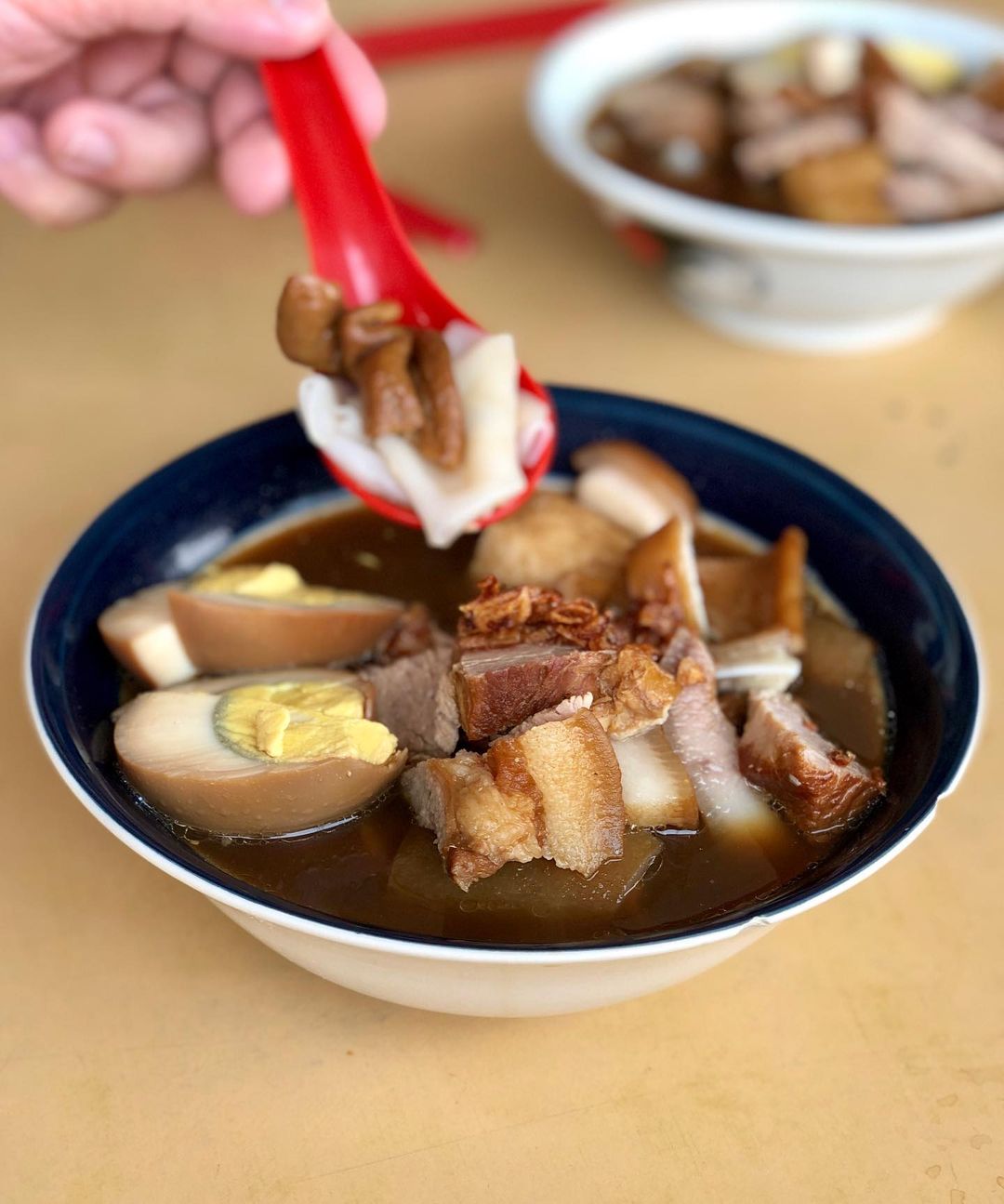 Image credit: @kyutogary
Kueh chap, is a Teochew dish and its name loosely translates into cake and gravy. For the uninitiated, kueh chap is a hearty bowl of flat rice noodles submerged in a pork stew filled with generous amounts of innards and meat.
The dark-coloured soup may remind you of bak kut teh, and though there is a slight herbal taste to it, bak kut teh and kueh chap are not identical. The former is slightly lighter and saltier, while the latter bears a richer and thicker broth.
Kueh chap can easily be found in most kopitiams and hawker centres around Kuching, but the one that comes highly recommended is served at Woon Lam Cafe. The kueh chap stall there has been operating since 1985 and is still a top favourite among locals. Their pork meat is fresh, tender, and well-marinated, served in a broth that's packed with flavour. 
Expect to pay around RM9 for a small bowl.
Address: 187-189, Jalan Song Thian Cheok, 93100 Kuching, Sarawak
Opening hours: 6am-6pm, daily
Contact: 082-244 929
---
2. Manok pansuh at Lepau
---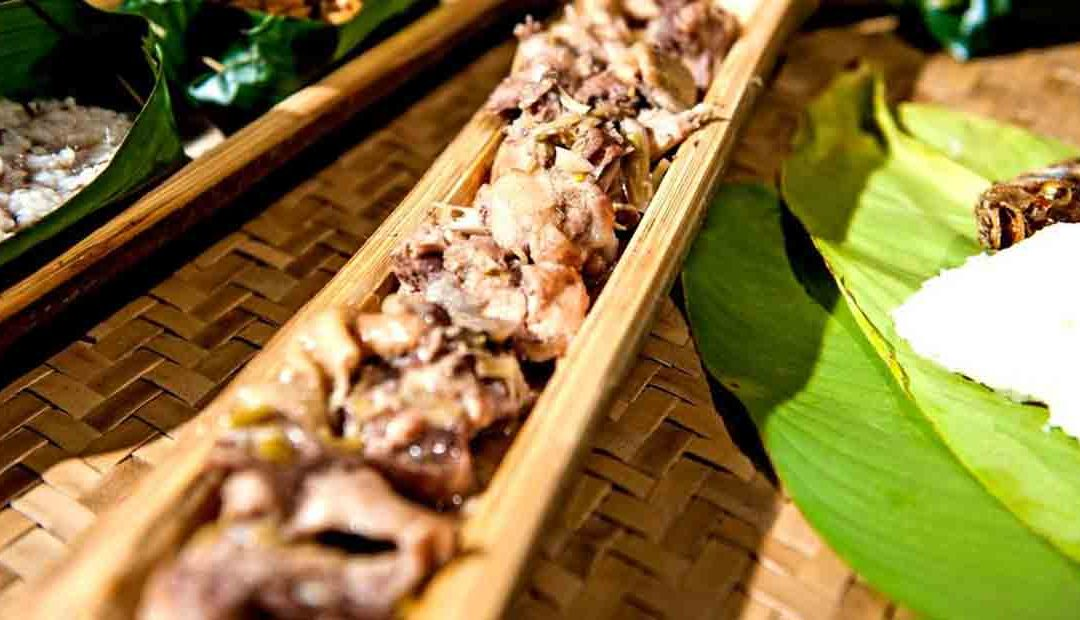 Image credit: Sarawak Kita 
Manok pansuh, or bamboo chicken, is an Iban delicacy. The dish is made up of chicken, lemongrass, tapioca leaves, and other seasoning cooked together in a bamboo stalk.
It's easy to find this dish in ethnic Sarawak restaurants around Kuching, but a good place to start is at Lepau, a crowd favourite for Dayak and Iban cuisine. The restaurant is also popular among Kuchingites for a nice dinner out because their setting is dreamy and cosy, with an outdoor area that's decked out with fairy lights.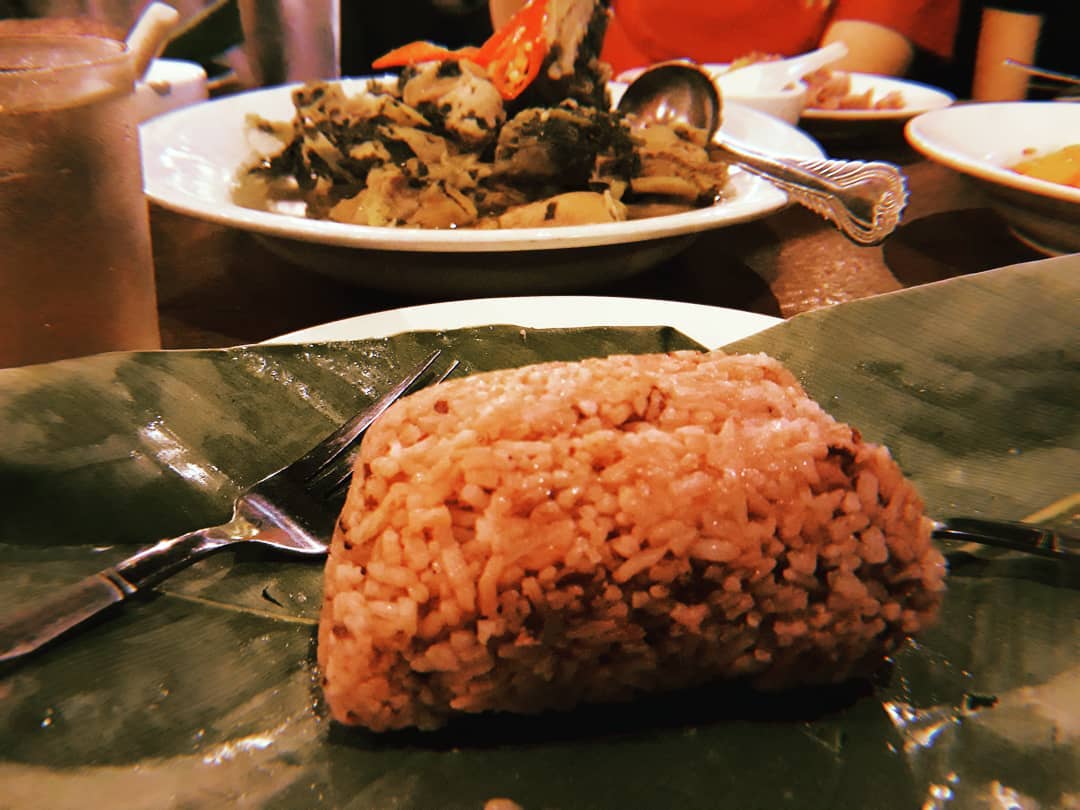 Image credit: @n8dine
Lepau's Manok Pansuh (around RM20 for a small portion that feeds 2-3 pax) is a must-order – succulent chicken pieces in a clear and flavourful gravy, it's best eaten with their Bario Rice (RM3), a type of sticky brown rice wrapped in wild ginger leaves.
Address: 395, Jalan Ban Hock, 93400 Kuching, Sarawak
Opening hours: Mon-Sat 11am-2pm & 6pm-10pm (Closed on Sundays)
Contact: 012-884 5383 | Lepau Restaurant Facebook
---
3. Gong pia at Song Kheng Hai Hawker Centre 
---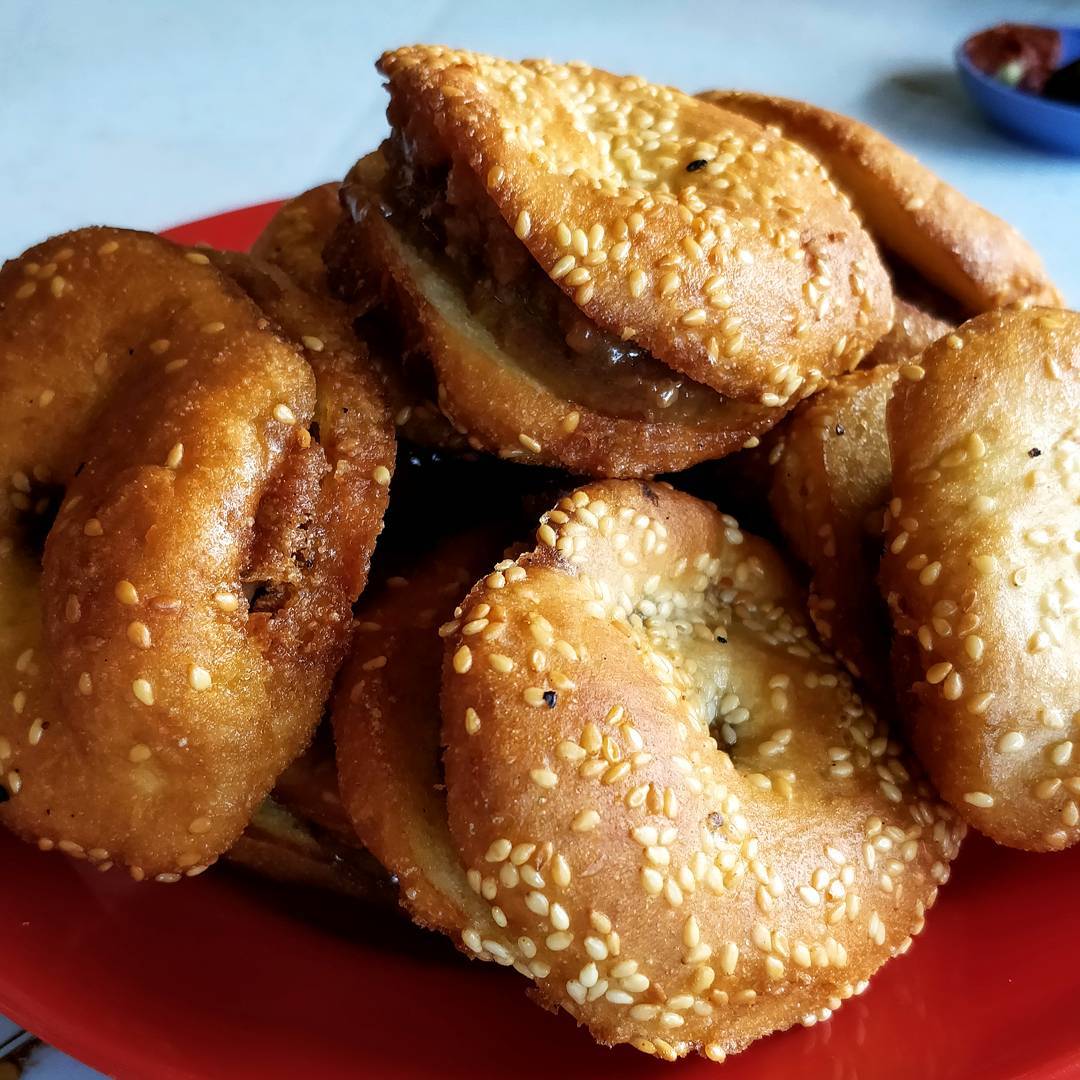 Image credit: @queen_berrylicious
Gong pia is like an Asian bagel. It's a well-known teatime snack among the Chinese Fuzhou community. 
Made with wheat flour, salt, water, and sesame seeds, the dough is baked by sticking it against the walls of a big charcoal oven.
The taste and texture is similar to a yau char kwai – slightly crunchy on the outside, soft and chewy on the inside. But unlike yau char kwai, which is served plain, gong pia has filling sandwiched in between. You can opt for marinated pork, ham, cheese, garlic, and more types of filling.
There's a small kiosk called Rihga at Song Kheng Hai Hawker Centre that the locals usually flock to, to get their gong pia by the dozen or to sit for a quick tea break.
Priced at RM1.30 for the marinated pork variant, the gong pia here is an addictive snack that's not too heavy nor light – perfect for a midday munch.
Address: Jalan Song Kheng Hai, 93100 Kuching, Sarawak
Opening hours: 11.30am-5pm, Daily
Contact: 014-684 0916
---
4. Belacan bee hoon at Ah Kheng Stall
---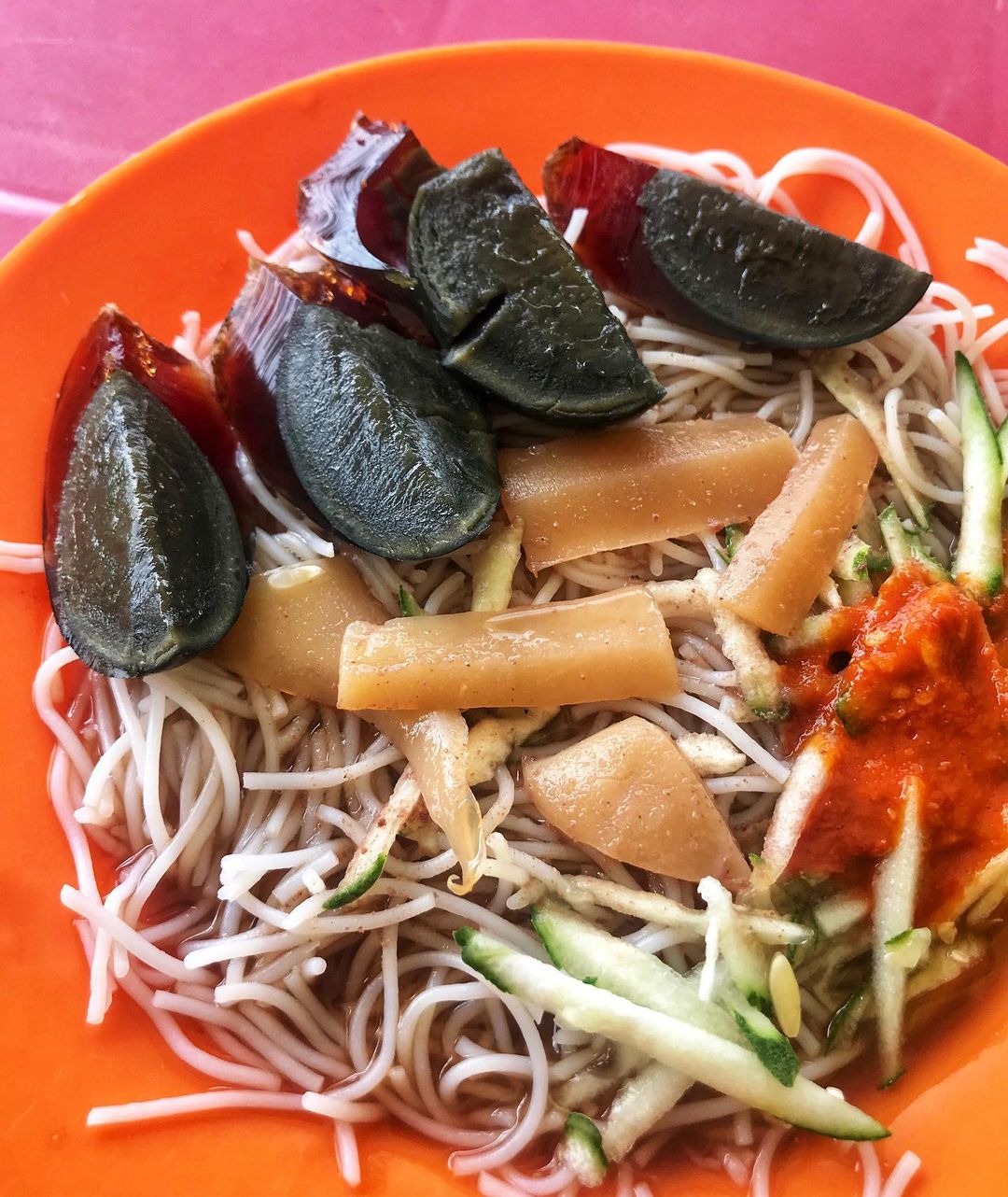 Image credit: @chrisywu
As its name suggests, belacan bee hoon is literally bee hoon drenched in belacan gravy. 
Usually served with beansprouts, century eggs, cucumber slices, and squid, the dish leaves an ambiguous impression on visitors who are not accustomed to the local Sarawakian's palate. It may be a tad too sweet as a savoury meal for some, but there are others who like it as the nutty taste from the belacan gravy marinades the bee hoon well.
Nevertheless, it's hard to find this dish anywhere else, so do give it a try at Ah Kheng Belacan Bee Hoon. Sarawakians throng to their little kiosk at the Jubilee Ground Hawker Centre to get their fix at RM5 a plate.
Address: Jubilee Ground Hawker Centre, Jalan Tan Sri Datuk William Tan, 93450 Kuching, Sarawak
Opening hours: 7am-5.30pm, Daily
---
5. Ice cream gula apong at IG Gula Apong
---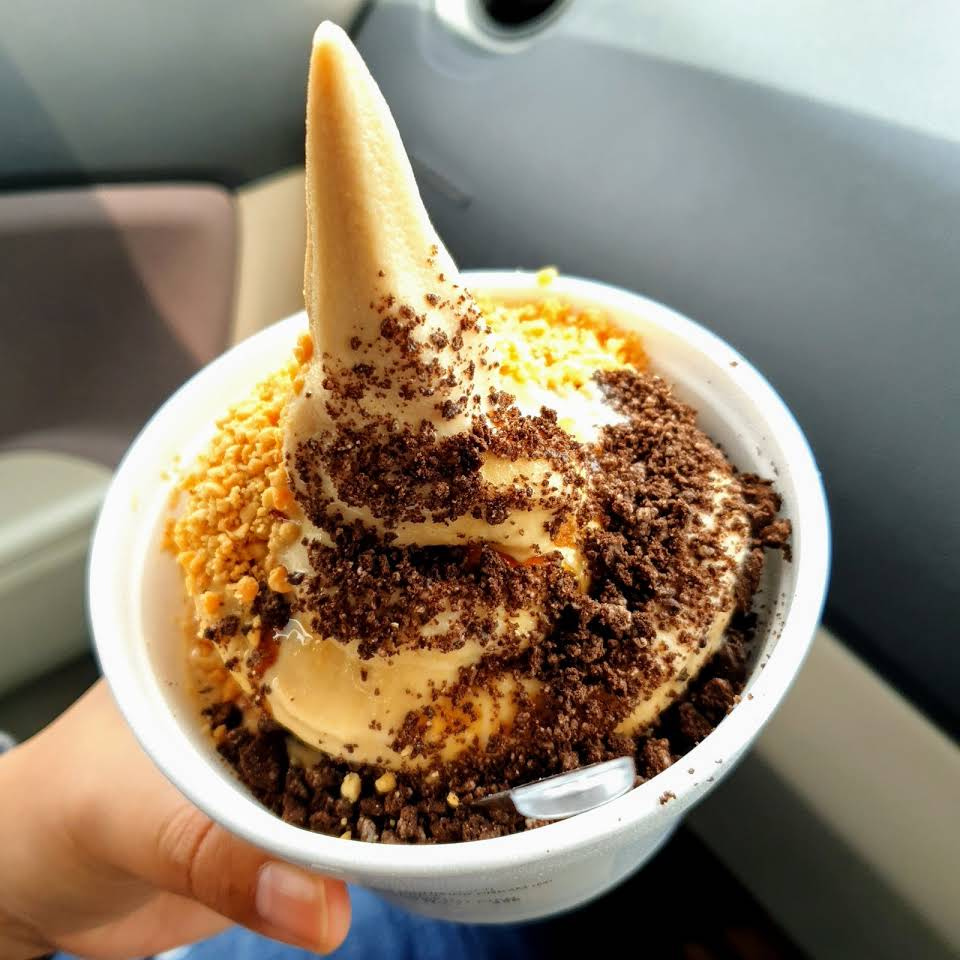 Image credit: Romie Francis, Google Review 
Ice cream gula apong is a dessert that's unique to Sarawak. Its main ingredient, gula apong, is similar in taste to gula melaka, and is made of nipa palm – a palm tree species that thrives along the coastlines and in mangroves in Sarawak.
This sugar is often used to make Sarawakians' traditional kuihs and their famous three-layer-tea. And now, there's an ice cream version of it.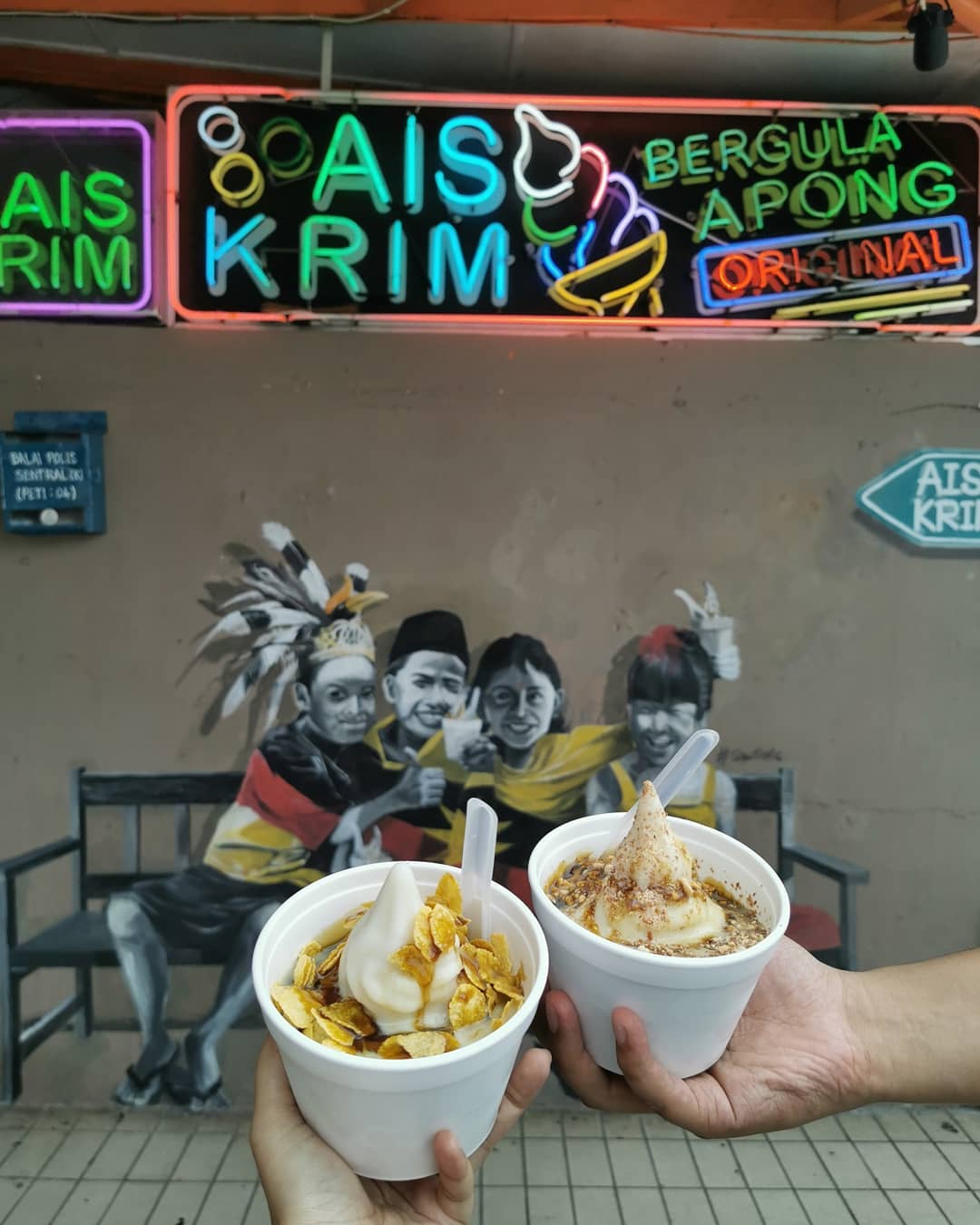 Image credit: @nikrohayu
There are a few gula apong ice cream stalls in Kuching but do check out IG Gula Apong at the Kuching Waterfront, which sees a long queue snaking from their little kiosk every single day. Expect to queue for around 30 minutes to place your order.
A small cup of the ice cream costs RM2.20, and there's a milk tea variation (around RM5) that's bound to delight boba enthusiasts. It's a large cup filled with boba and milk tea, topped with a generous swirl of ice cream gula apong – a treat that's best shared among 2.
Address: Jalan Gambier, 93000 Kuching, Sarawak
Opening hours: 11am-11pm, Daily
Contact: 016-807 1100
---
6. Kampua mee at Song Corner Coffee Shop
---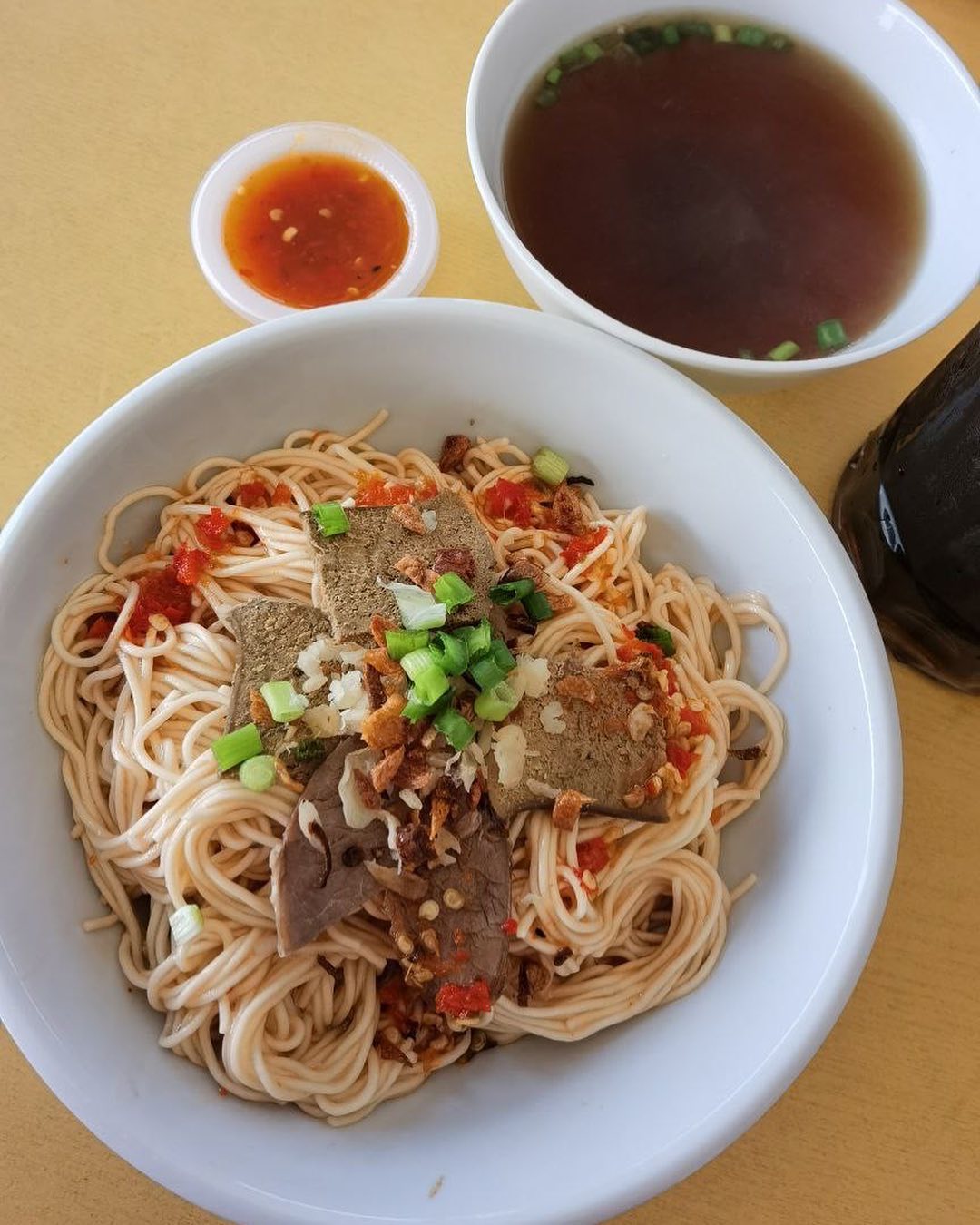 Image credit: @misszuehusaini
Kampua mee is the lesser-known sister of its hugely popular counterpart, the kolo mee. They look alike and taste almost alike, but you can distinguish the difference if you put your tastebuds to work.
While kolo mee is made with a light vinegary sauce, kampua mee uses shallot oil and soya sauce, which makes it saltier than kolo mee. Kampua mee is also drier and is often served with sweet chilli sauce.
For those intrigued to try this noodle, head over to Song Corner Coffee Shop, a preferred spot among locals for one of the best kampua mee in Kuching.
Prices range around RM5 for a bowl.
Address: Jalan Song, Tabuan Heights Commercial Centre, 93350 Kuching, Sarawak
Opening hours: 6am-9pm, Daily
---
7. Tomato mee at Yee Ho Yan Cafe
---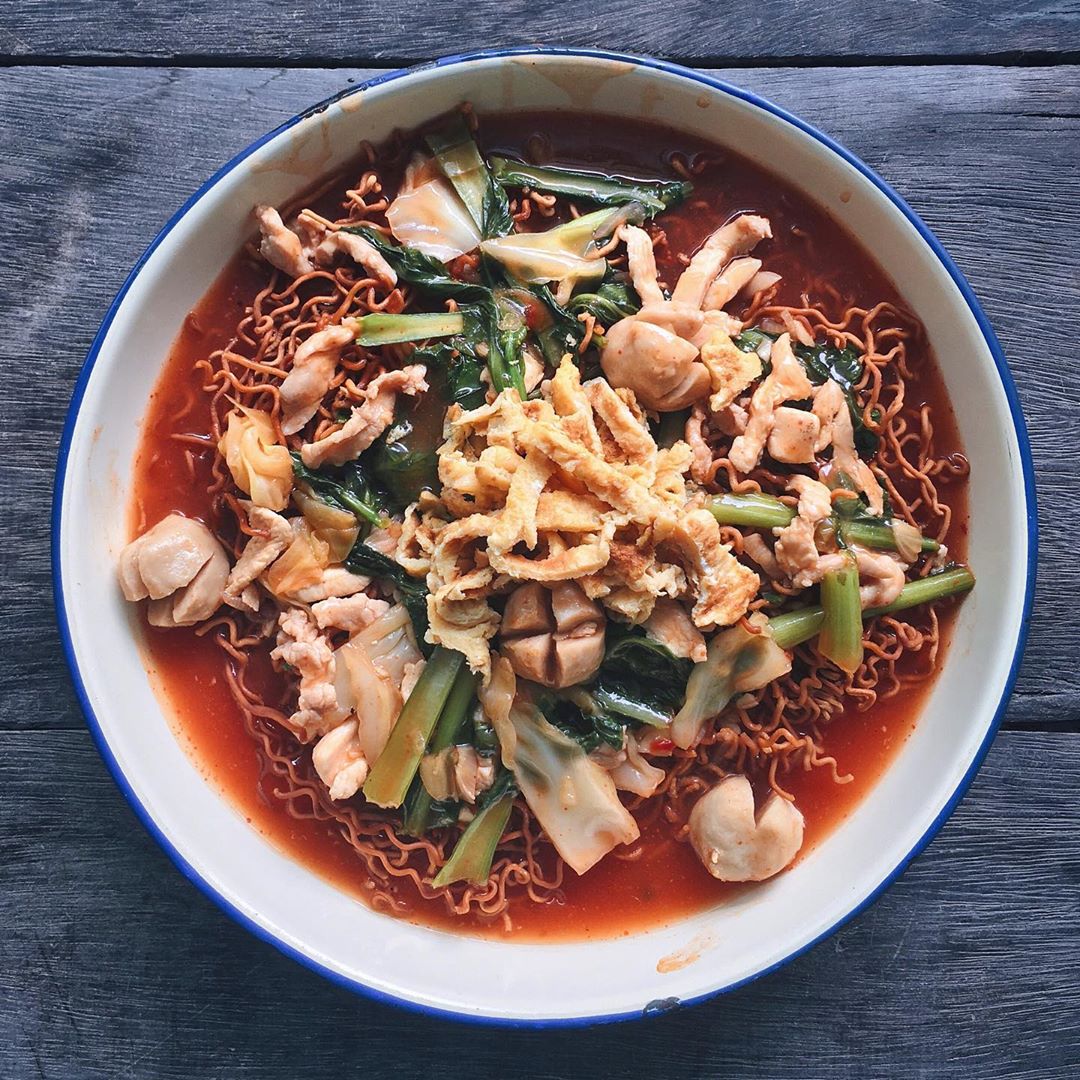 Image credit: @smileykisses
Tomato haters may want to steer clear of Kuching's signature tomato mee, but this dish is sure to delight lovers of the sweet-sour fruit.
Think Cantonese yin yong – you have the crispy noodles, vegetables, bits of seafood, and pork slices, but instead of the clear gravy, Kuching's tomato mee is infused with tomato sauce.
There's a stall in Yee Ho Yan Cafe that has garnered praises from locals. Reviewers liked that their tomato mee is not too sweet or sour, and that their crispy noodles don't have an unpleasant oily aftertaste.
A plate will cost you around RM7.
Address: No 685, Lot 9294, Synergy Square, Jalan Matang & Batu 4, Petra Jaya, 93050 Kuching, Sarawak
Opening hours: Thu-Tue 4am-1pm (Closed on Wednesdays)
Contact: 011-1415 7726
---
8. Ding bian hu at Yeow Kee Kopitiam
---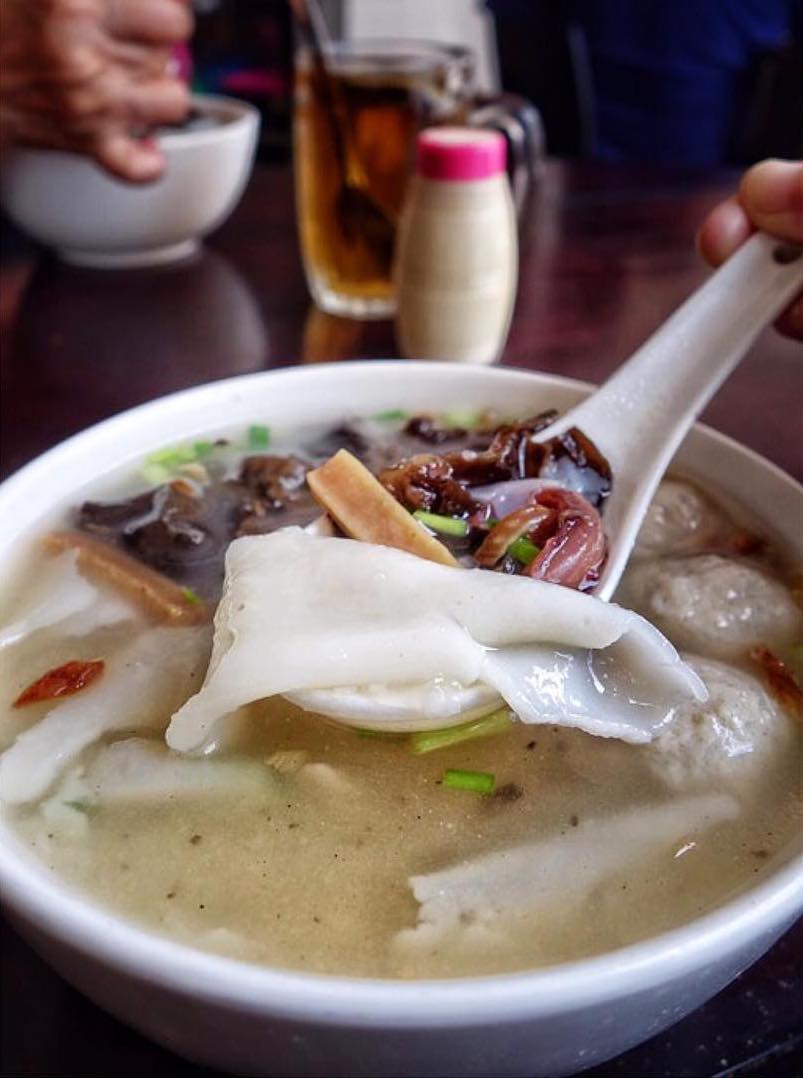 Image adapted from: @shy_a_n_n
Ding bian hu is a type of flat rice noodles – a cross between pan mee and hor fun – that's cooked using a unique method. A big wok is first prepared to boil the soup, then the batter will be spread across the sides of the hot wok while the soup is cooking.
Once the batter is semi-cooked, it hardens and then can be scraped off using a spatula, and into the hot soup where it will be cooked further to let the soup's flavours seep into the noodles. It's usually served with some meatballs, pork slices, coriander, and fried shallots.
This is an old-time dish that's rarely sold anymore, but there's a stall in Yeow Kee Kopitiam that still serves a variety of ding bian hu. You can opt to have it with their fish ball soup, salted vegetable soup, pork meat soup, and more for around RM6 a bowl.
Address: Premier 101 Commercial Centre 46-47, Jalan Tun Jugah, 93350 Kuching, Sarawak
Opening hours: Tue-Sun 6am-9pm (Closed on Mondays)
Contact: Yeow Kee Kopitiam Facebook 
---
9. White Lady 
---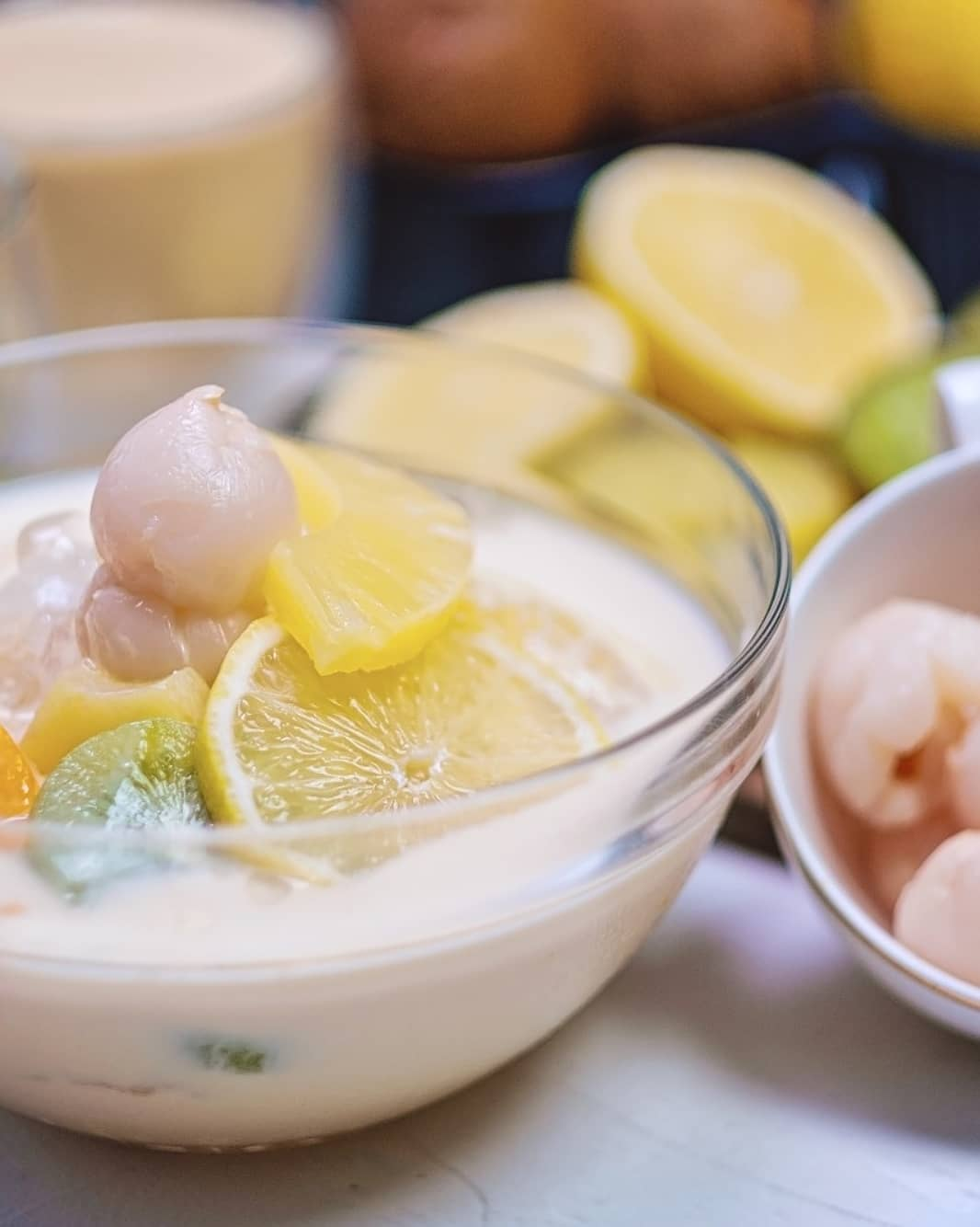 Image credit: The Flavour Alchemist 
White Lady is a local dessert spin-off from Malaysians' beloved ice kacang.
The preparation and ingredients are similar to the classic ice kacang, but condensed milk is used in place of the syrup and gula melaka that West Malaysians are accustomed to. The result is a sweet and creamy bowl of shaved ice topped with jellies and fruits – a satisfying respite on a hot day.
The concoction can be found almost everywhere, with prices usually hovering around RM3 for a bowl or cup.
---
Must-try Kuching food
---
From desserts, to noodles, to snacks, this food guide offers you all the best hidden gems in Kuching and at really affordable prices too, so you can explore and feast to your heart's content.
For more local food guides, check these out: 
---
Cover image adapted from: @kyutogary, The Flavour Alchemist, and @smileykisses
This article was originally published on 16th February 2021, and updated on 31st March 2023.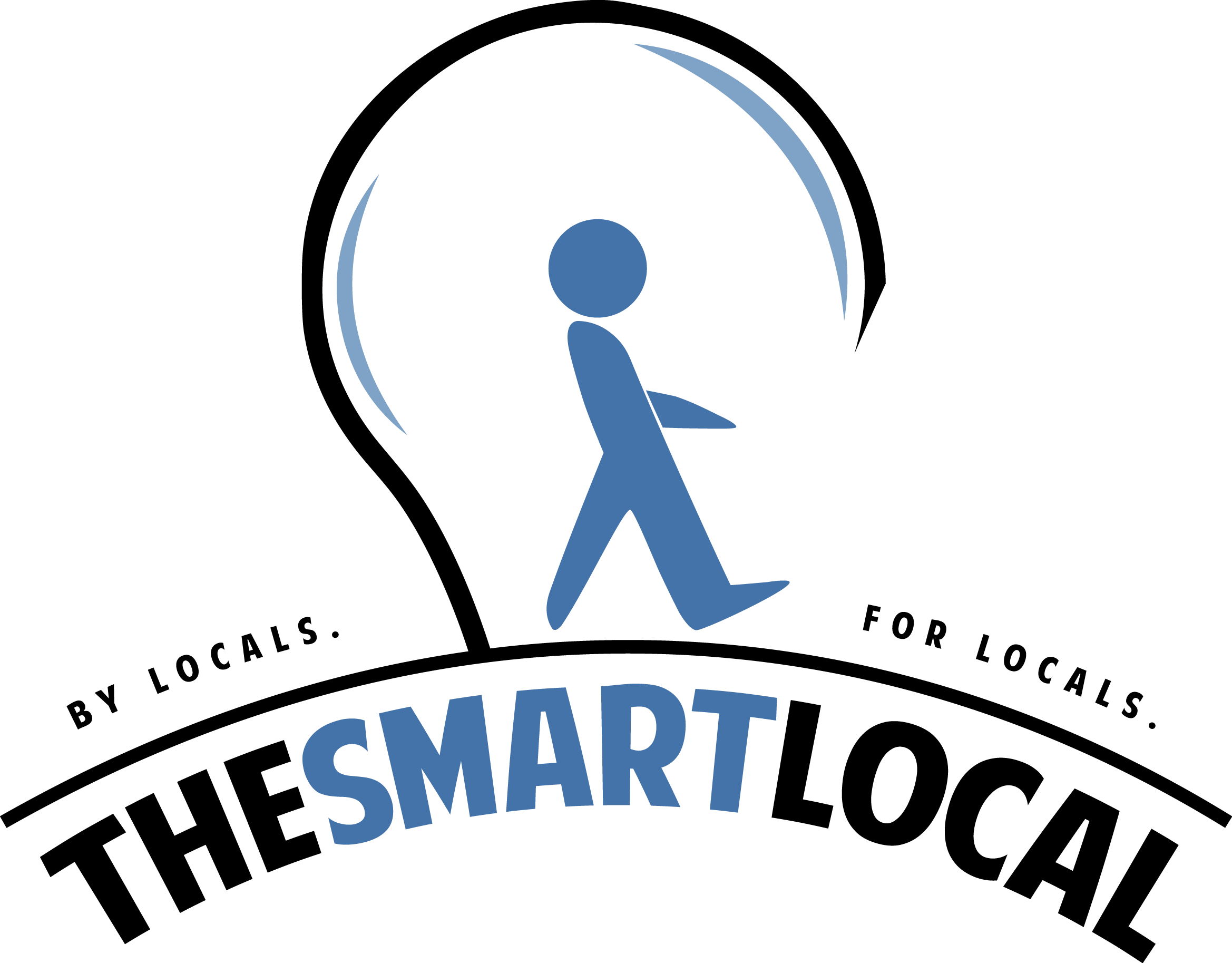 Drop us your email so you won't miss the latest news.