Things to do in Kudat, Sabah
---
When you think of a beach vacation in Sabah, islands such as Sipadan, Manukan, and Gaya will likely pop into your mind. While these places are indisputably beautiful, there is another little-known beachside town by the name of Kudat that rarely crosses the average vacationer's radar.
Kudat may not be as renowned as Sipadan and Manukan, but its rustic appeal makes up for its lack of fanfare. It's the perfect place for the beach goer who wants to just enjoy what the sea has to offer – white sands, clear blue waters, and a tranquil view without anybody in sight. 
---
–  What to do  –
---
1. Stand at the edge of the island at the Tip of Borneo
---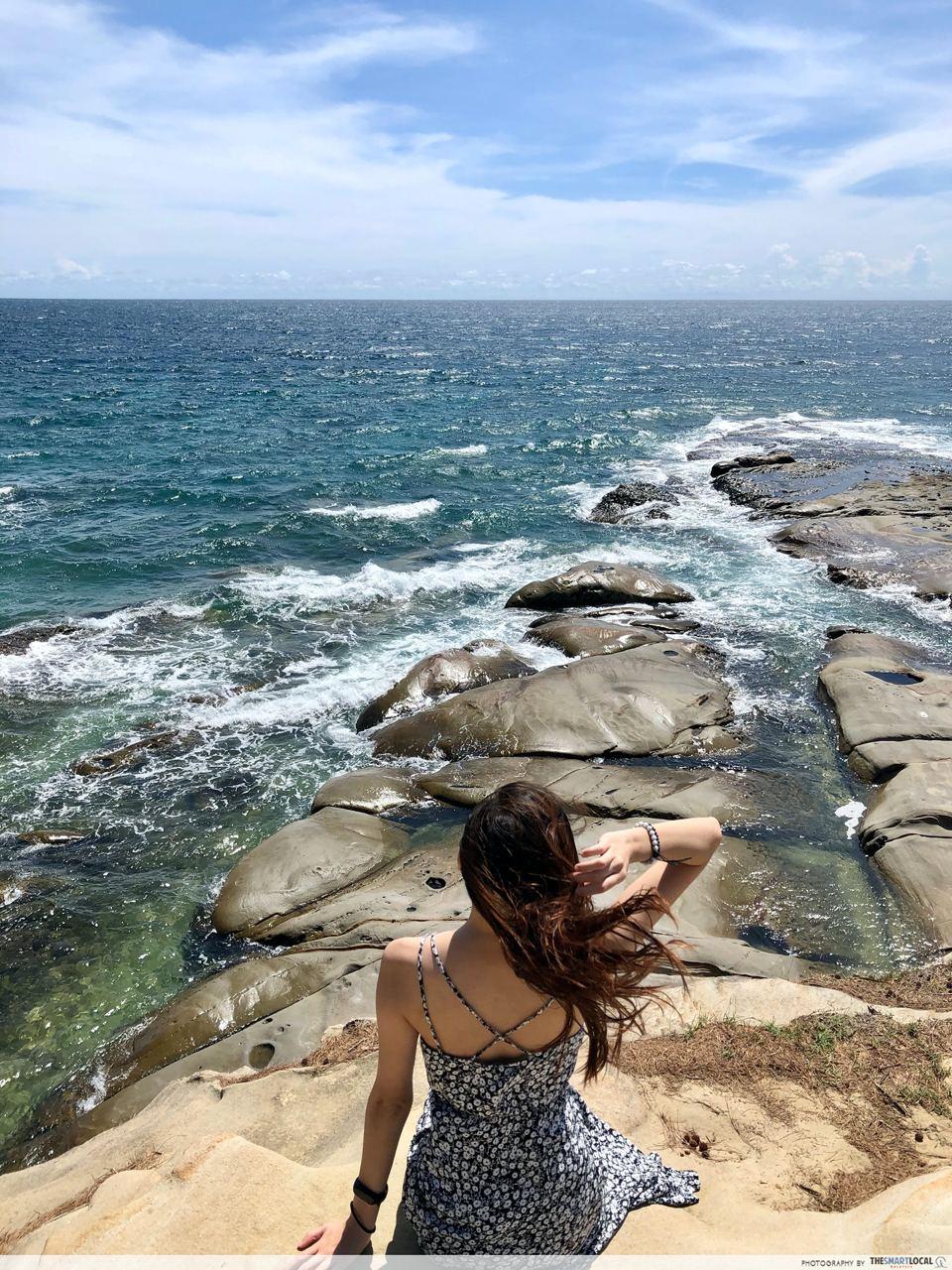 No trip to the north of Sabah is complete without setting foot on the northernmost point of Borneo Island. Aptly called the Tip of Borneo, this Insta-worthy spot provides you with the novel experience of standing at the edge of Borneo Island, the closest point (on land) to Philippines from Malaysia, while offering you panoramic views of the South China Sea and Sulu Sea. 
Back in the 13th century, this spot was infamous for causing shipwrecks because this is the point where two seas meet, thus, creating strong cross currents from both the east and west.
But fret not, you'll be safe on land with plenty to do, as there is a beach, cafe, souvenir shop, public washroom, and hotels leading to the area for you to hang around while waiting to catch the sunset. 
Address: Jalan Tanjung Simpang Mengayau, 89050 Kudat, Sabah
---
2. Witness the Blue Tears phenomenon along the beach on Jalan Marang Parang
---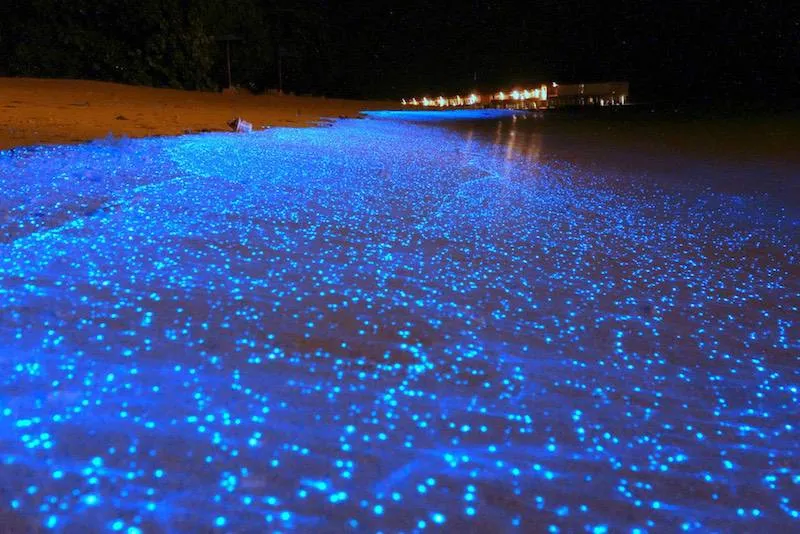 Image credit: Sutera At Mantanani 
Bioluminescent plankton, or more beguilingly known as the Blue Tears phenomenon, is the result of algae called dinoflagellates absorbing light into its chlorophyll and turning luminous due to a disruption in its habitat. The disruption is usually caused by contaminants such as fertilisers from plantations and farms leaking into the waterways. 
The sight of the bioluminescent plankton is an enthralling view, but this occurrence clearly comes at the expense of the environment, so you'll want to be extra mindful when you set out to witness this. While we can't control the leak of chemical contaminants into the water, we can, however, do our part in practising ethical habits such as not littering on the beach. 
The Blue Tears phenomenon usually occurs from March to July, although other factors such as the water condition, weather, and how bright the night sky is, will determine whether or not you'll be able to witness it.
Address: Jalan Marang Parang, 89050 Kudat, Sabah
---
3. Camp by the beach at Secret Place 
---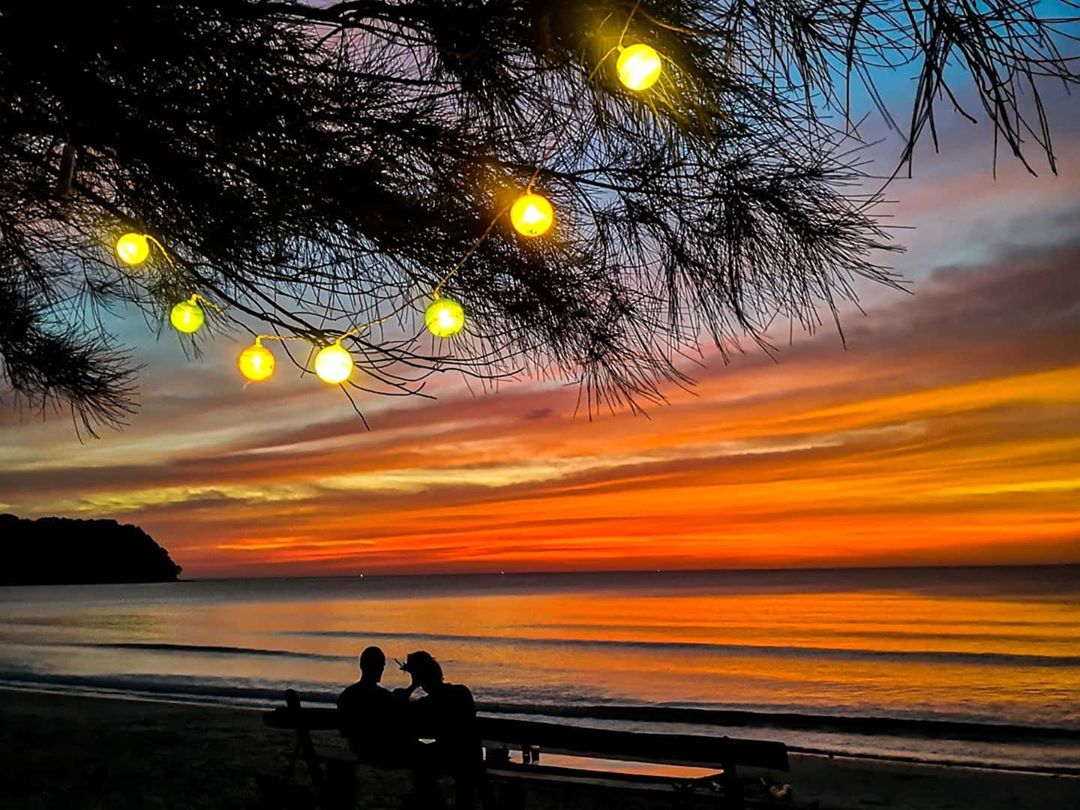 Image credit: @ameliarobert
For an unconventional stay complete with a raw beach experience, dedicate one night to camping under the stars and waking up to the sound of the waves right outside your tent at Secret Place Cafe & Camping, hosted by a friendly, local family.
Secret Place is located on the west coast of Sabah so you'll be able to catch breathtaking sunsets every evening. 
They also operate an adjacent cafe serving Malaysian and Western food priced from RM10 to around RM20. Be sure to try out their wood-fire pizza (RM15) that's grilled in their own handbuilt oven!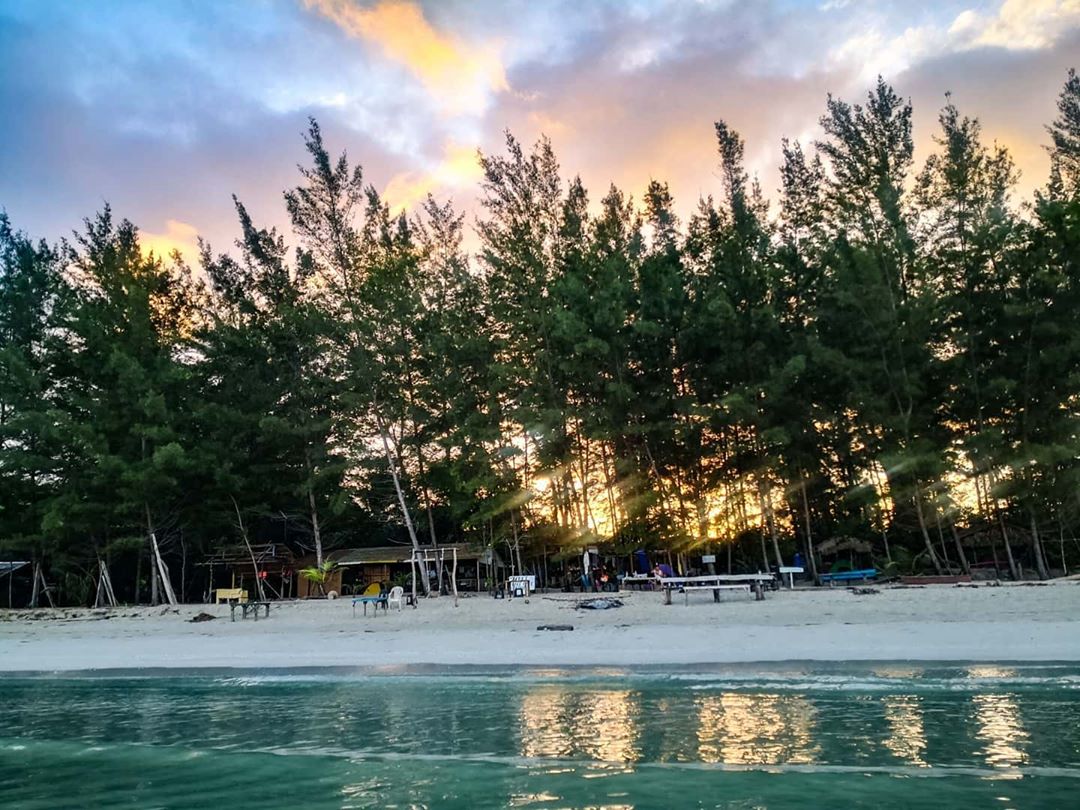 Image credit: @ameliarobert
Amateur campers can rent their tents for RM50 each. Camping beds, a fan, sheets and towels are included in the fee. Avid campers can bring along their own camping equipment. Regardless whether you rent their tents or bring your own, you'll need to pay a surcharge of RM25 per person. Toilet facilities and showers are available onsite. 
Note that they only accept groups of a minimum of 5, so you'll want to gather enough gung-ho friends to experience this.
Address: Jalan Tamanggong Kurantud, 89050 Kudat, Sabah
Phone: 010-414 5291
---
4. Stay overnight at the Bavanggazo longhouse to experience the Rungus culture 
---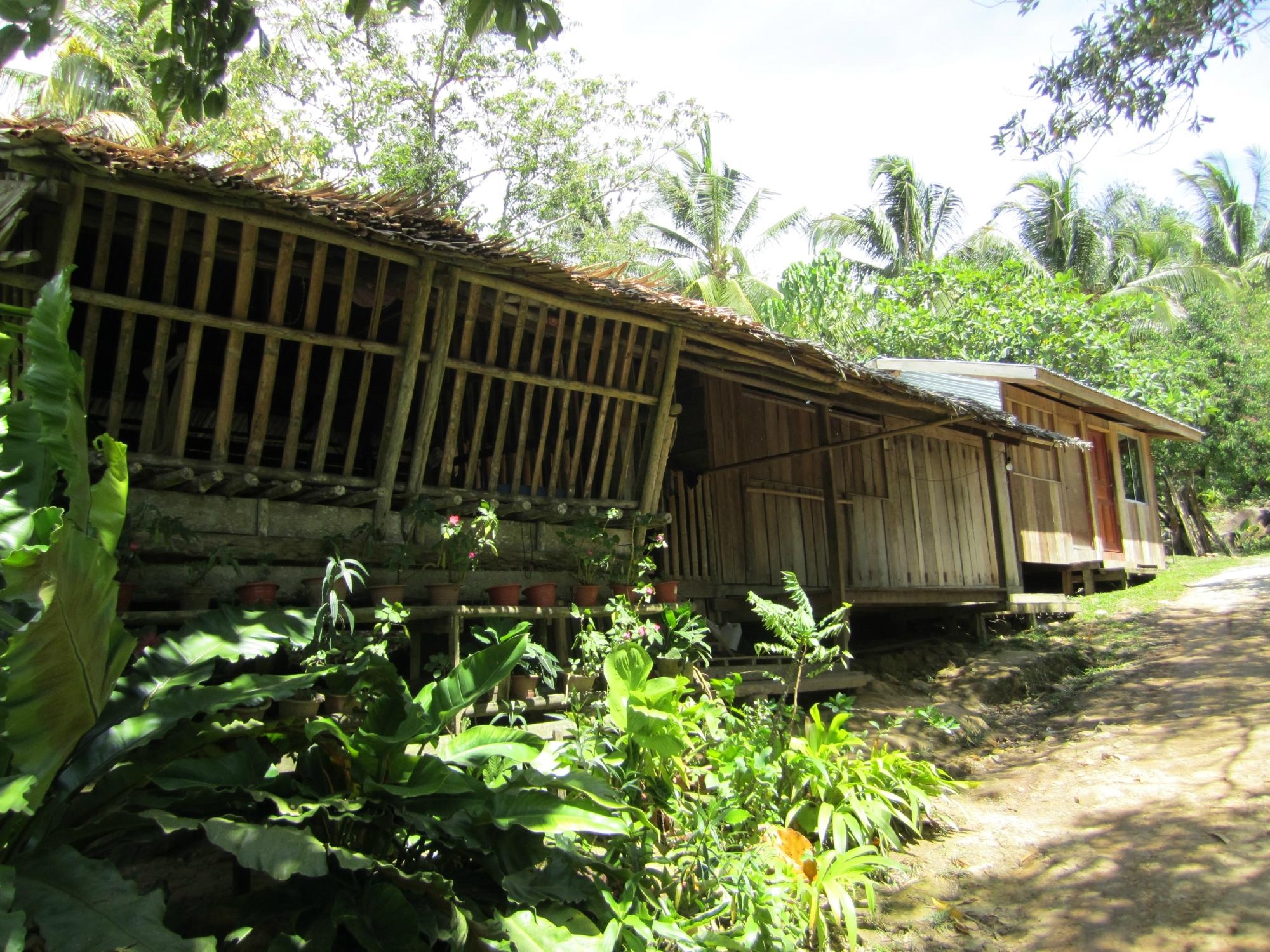 Image credit: TripAdvisor
You can learn all about the Rungus tribe, Kudat's main ethnic group by staying a night at their traditional home. You'll have to book a 2-day tour that comprises pick-up and drop-off at your hotel in Kota Kinabalu to experience this. 
The tour will also take you to attractions such as the Borneo HoneyBee Centre, gong-making village and more, before you end the day by spending a night in the bamboo longhouse with the indigenous people of Kudat. 
The facilities are basic, but sufficient. Mattresses will be prepared together with a mosquito net and there's also a communal bathroom with showers situated away from the longhouse.
You'll get to interact with the host and their family, and be entertained with some cultural dance performances. Breakfast, lunch, and dinner will also be provided.
The tours are organised by tour companies such as the Amazing Borneo Tours and the Rickshaw Travel, so you'll need to book your slot with them.
---
5. Beach-hop, relax, and swim in clear waters without a crowd
---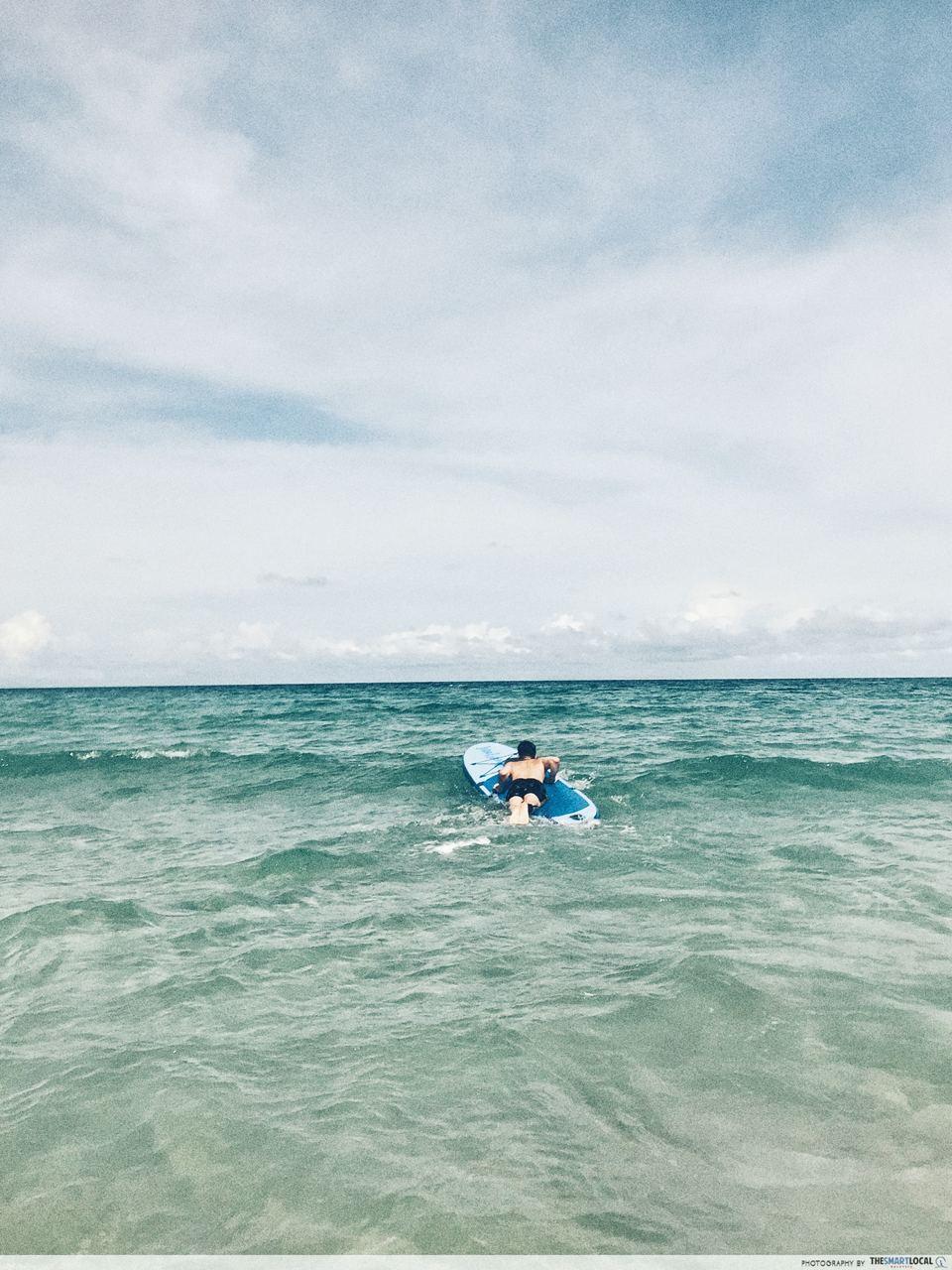 The remote beaches are one of the best parts of Kudat. The beach along Jalan Marang Parang, which stretches up to 1km, feels almost entirely like a private beach that you get all to yourself, even during weekends. 
Take the chance to stroll along the white sand beach, take a dip in the clear waters, and even walk over to nearby islands during low tide. 
You can also beach-hop over to neighbouring beaches such as the Tindakon Dazang and Bavang Jamal beach for a full day in the sun. There are some unique rock formations at Tindakon Dazang that you can marvel at while sunbathing. 
The current is usually pretty tame, though the waves can be quite tumultuous during a windy day, so do practice extra caution when swimming.
---
–  Where to stay  –
---
1. Hibiscus Beach Retreat 
---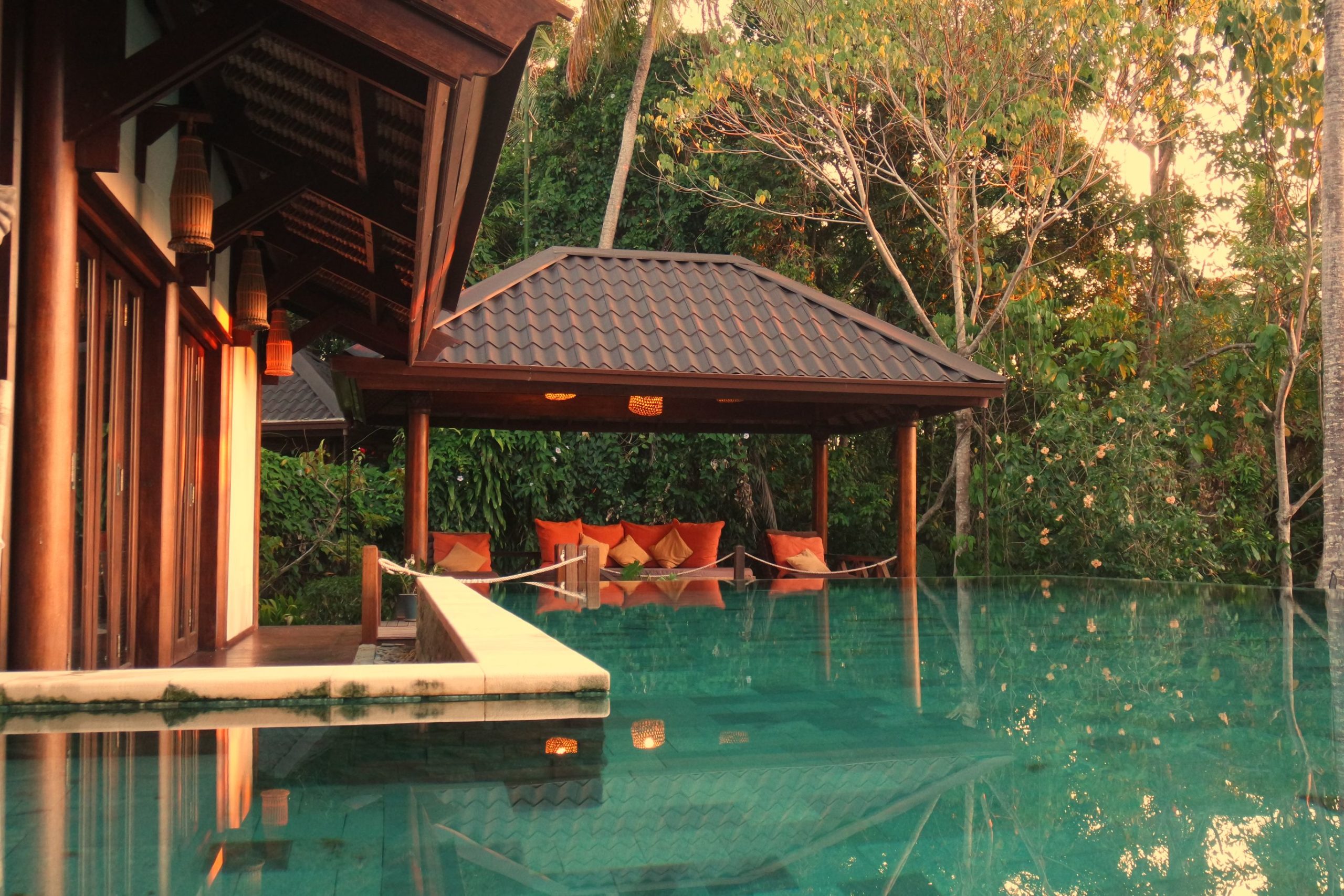 Image credit: Hibiscus Villa Borneo
Resorts always boast of exclusivity and privacy, but Hibiscus Beach Retreat takes the cake. They only have 3 villas in their entire vicinity – the beach chalet perched on top of a small cliff overlooking the ocean, a treetop chalet nestled in the trees, and the Villa Borneo – a 6,000 sqft luxurious villa catered to large groups up to 9.
The beach chalet, in particular, is truly a secluded sanctuary. You have to walk through a forest to access it, which means you won't see anyone in the vicinity at all.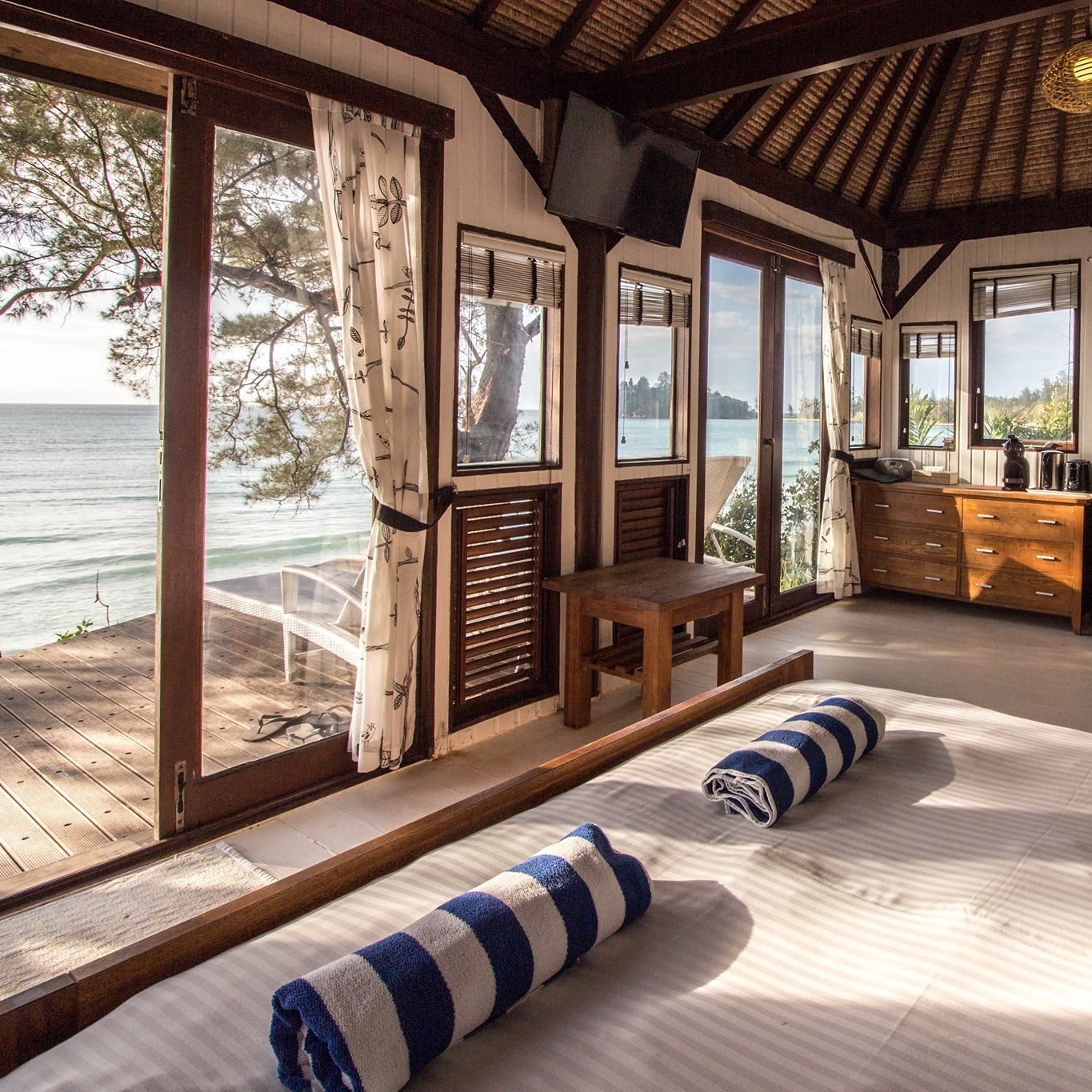 Image credit: Hibiscus Beach Retreat
Be prepared to be enclaved in nature and isolated from the outside world as there is no mobile connection here. You can pass the time by reading books, playing board games, or watching an exhaustive movie list, all courtesy of the resort.
They also provide paddleboards and kayaks for rent for RM35 per hour during the day.
Price per night: from RM600
Address: Jalan Marang Parang, Tiga Papan, 89058 Kudat, Sabah
Phone: 019-895 0704
---
2. Kudat Riviera 
---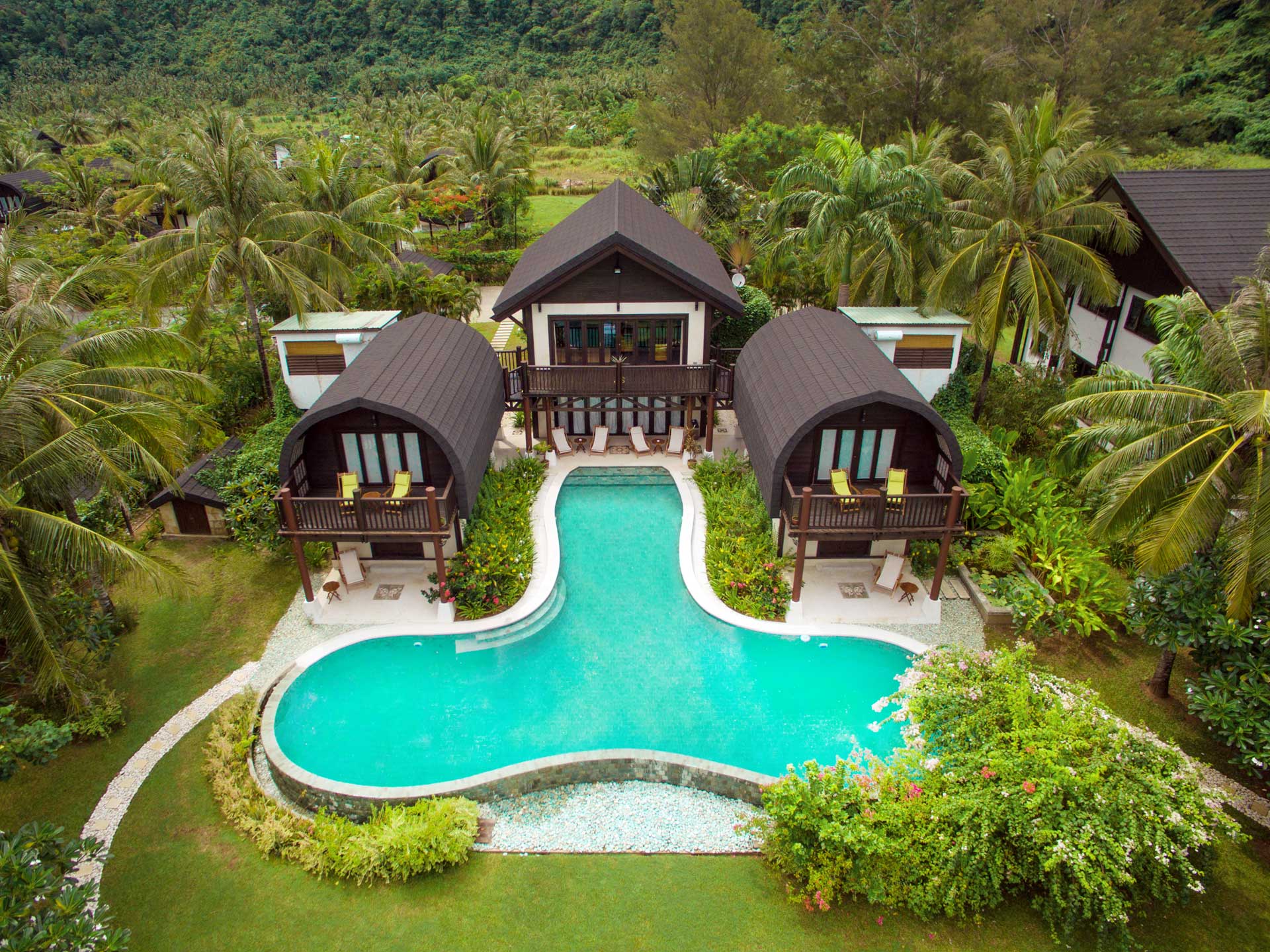 Image credit: Kudat Riviera
Kudat Riviera is an estate housing multiple luxurious beach villas that are perfect for families and large groups. You can pick from their selection of 1 to 4 bedroom villas – the Casuarina Palms, Sabah Sunset, and Tranquil Seas villas can accommodate up to 8 guests, and the Frangipani Family Suite can take a family of 4.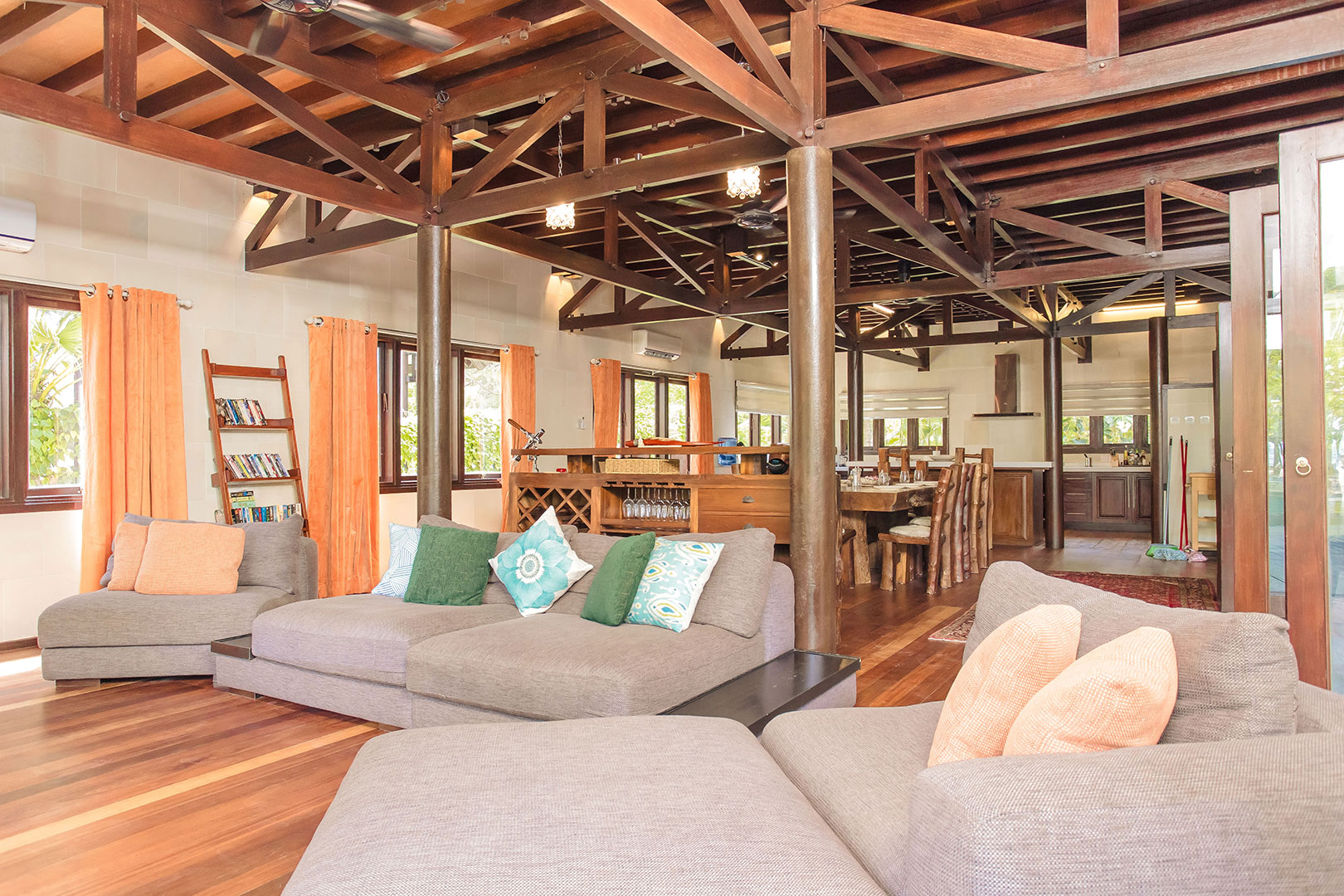 Image credit: Kudat Riviera 
All villas come with a private pool, fully equipped kitchen, barbecue facilities, poolside loungers, and many other holiday home features that are suited for staying in and relaxing. 
The entire resort is spread along 6km of private beach, so you can also frolic around with your family and friends away from the public eye.
Price per night: from RM700
Address: Kampung Bawang Jamal, Jalan Pantai Kelambu, 89050 Kudat, Sabah
Phone: 016-828 8899
---
3. Kudat Golf & Marina Resort  
---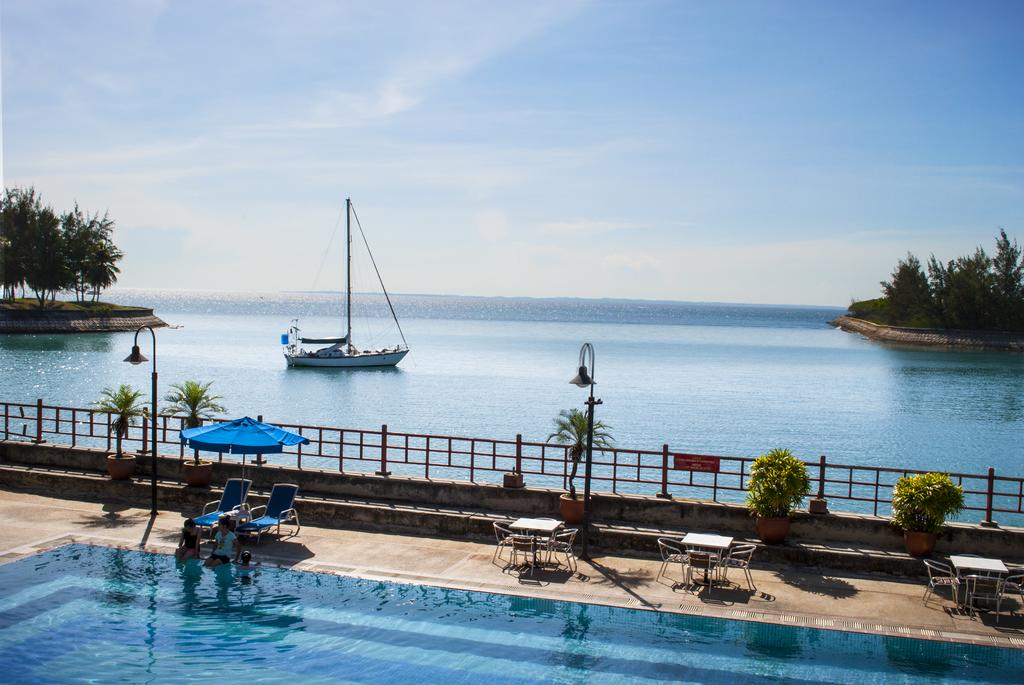 Image credit: Gites.fr
For those who are travelling on a budget but would still like to lavish in hotel-style comfort, the Kudat Golf & Marina Resort is a more pocket-friendly option. 
The resort prides itself on being a highly reputable award-winning resort in Kudat and is well known for its prime location. As its name suggests, it's sandwiched between Borneo's renowned 18-hole Championship Golf Course and Marina Jetty by the Marudu Bay.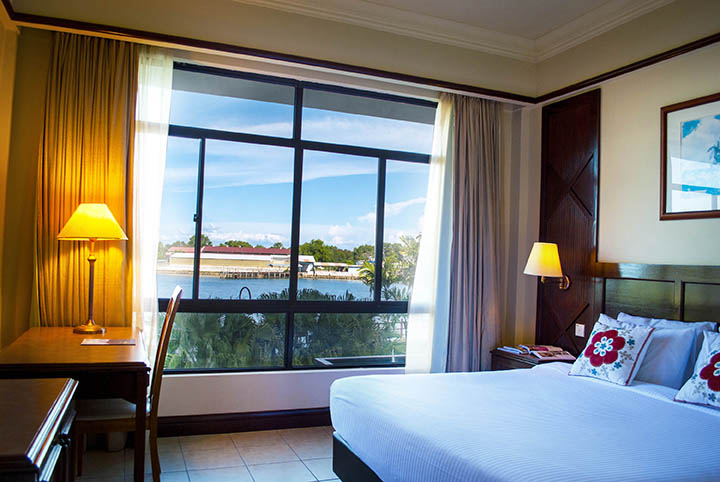 Image credit: Kudat Golf & Marina Resort
Pick your room based on your preferred scenery – either the garden, golf course, or ocean view.
As with all commercial hotels, you're free to enjoy their facilities including their fitness centre, sauna, futsal court, and pool. 
The resort also provides scheduled shuttle services around the area, so you can easily go out for a meal. Most eateries are located in Kudat Town – a mere 5-minute drive away. 
Price per night: from RM133
Address: Jalan Urus Setia, 89057 Kudat, Sabah
Phone: 08-8611 211
---
4. Kotak-Kotak Borneo 
---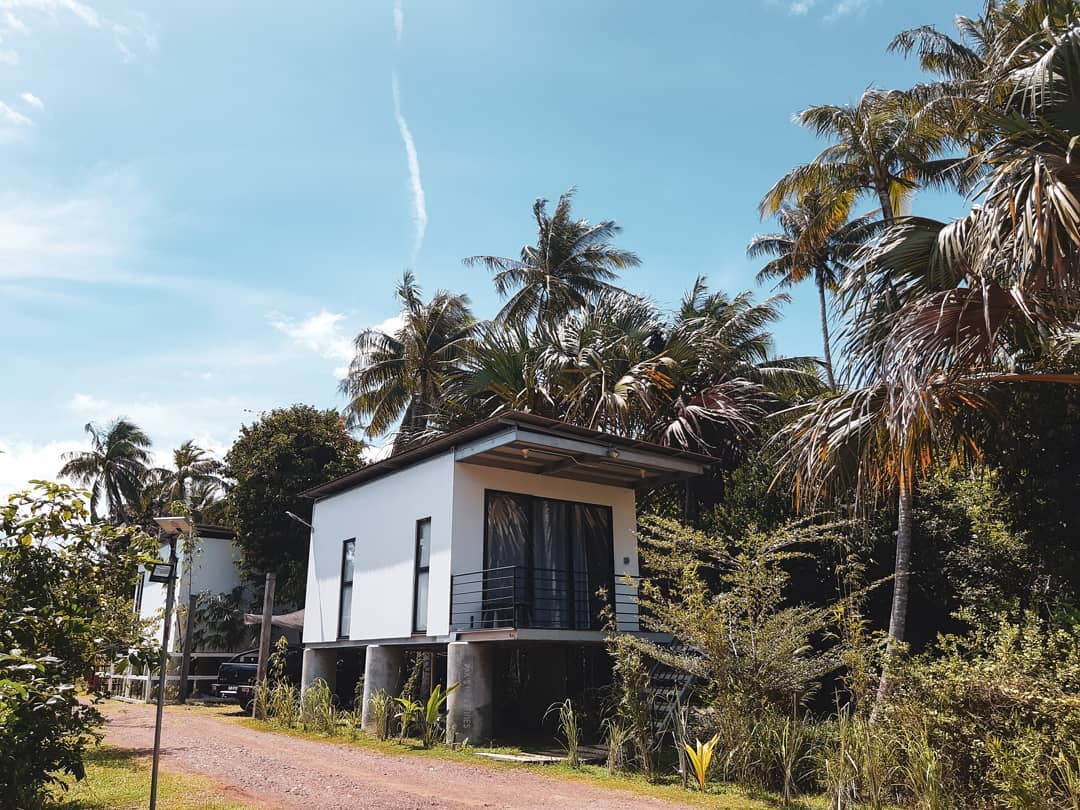 Image credit: @isobel.28
For a different accommodation experience, you can hop into a container hotel and spend the night at Kotak-Kotak Borneo. It's located just across a public beach and around a 20-minute walk from the Tip of Borneo.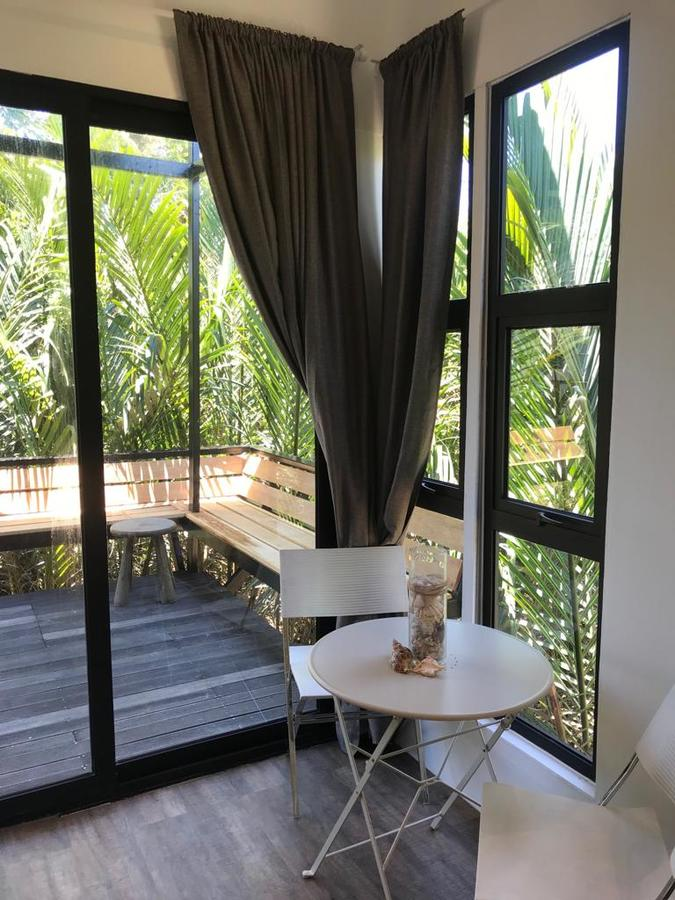 Image credit: Booking.com
Each cabin has air-conditioning installed and is designed minimally with a small dining table, fridge, and kitchen sink. You can also pick a room either with the wetland or sea view.
Price per night: from RM176
Address: Jalan Tanjung Simpang Mengayau, 89050 Kudat, Sabah
Phone: 012-770 7821
---
–  How to get there from Kota Kinabalu  –
---
1. Take a minivan or shared taxi
---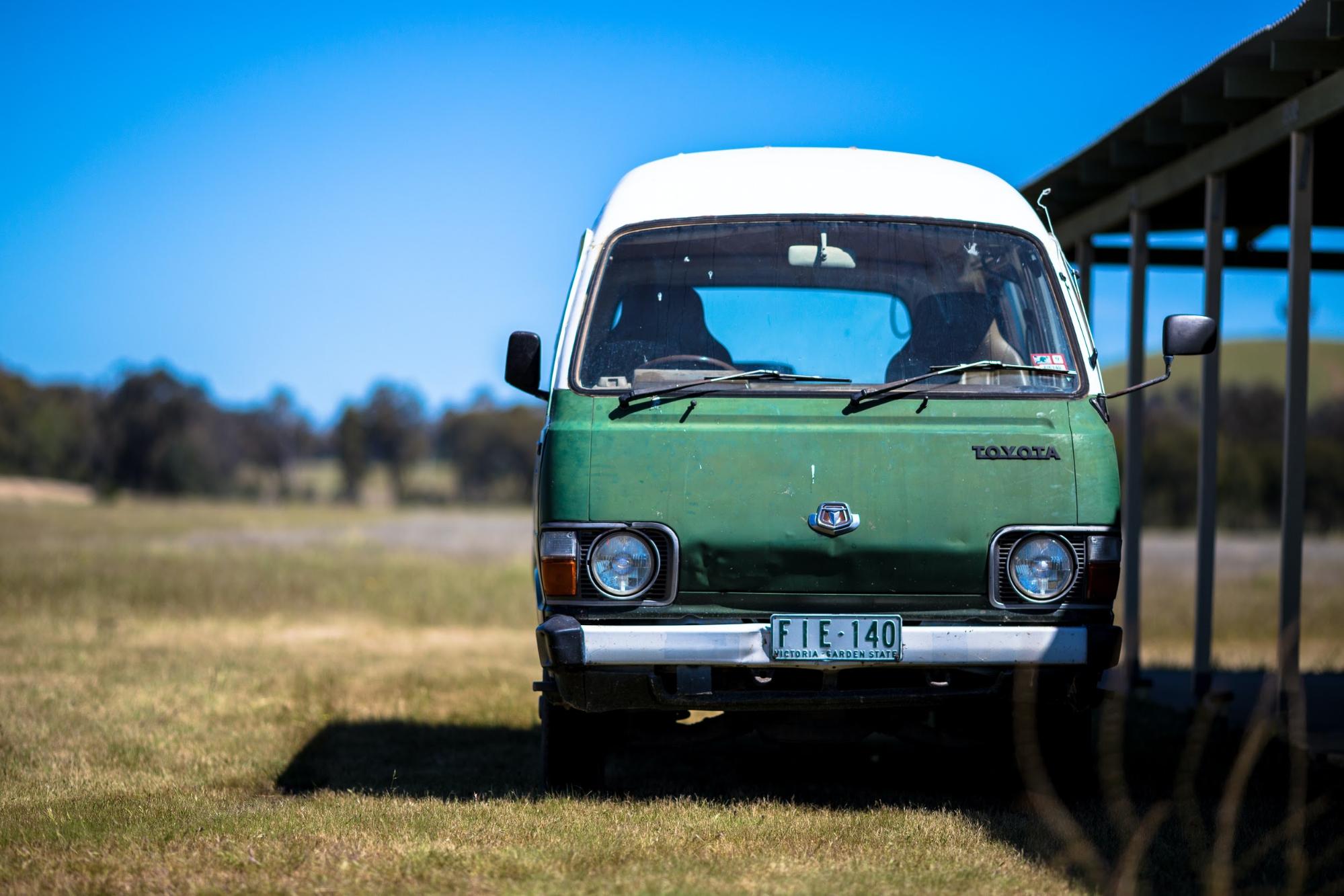 Image credit: Arnaud Mesureur, Unsplash
Head to Padang Merdeka Bus Terminal and hop on a minivan (seats 12) or a shared taxi (seats 7) for a one-way trip to Kudat at RM25 per person. They will stop at Kudat Town, near Ria Hotel, and the trip will take approximately 3 hours.
The bus terminal operates from 6AM to 6PM, but there's no fixed departure time as the driver will only depart once the vehicle is full. 
Address: Jalan Padang Merdeka, Bandaran Berjaya, 88000 Kota Kinabalu, Sabah
Opening hours: 24 hours, Daily
Phone: 088-212 121
---
2. Rent a car
---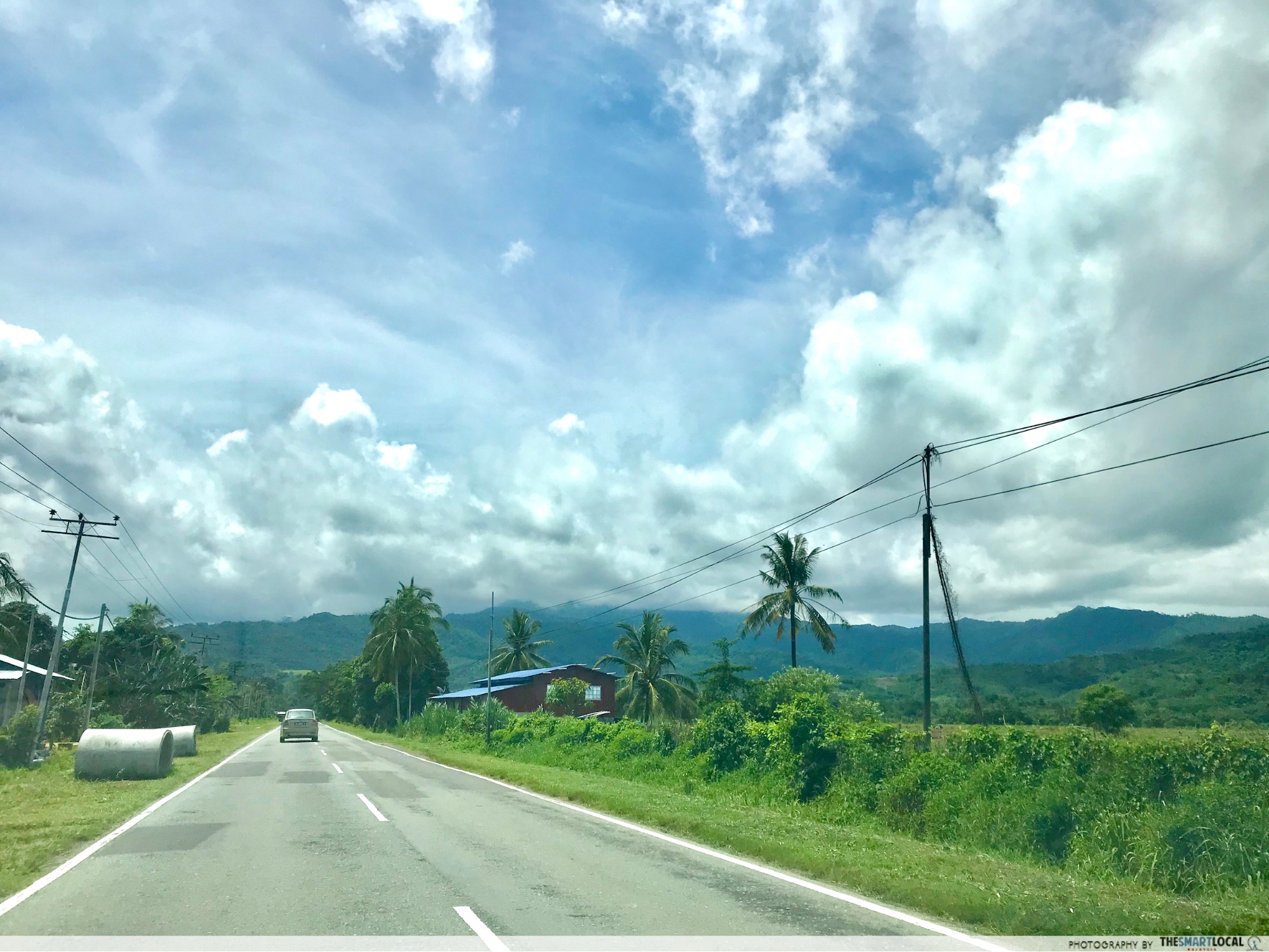 For those equipped with a driving license, you can opt to rent a car for around RM100 a day and go on a scenic road trip to Kudat. The journey will take at least 3 hours, but the picturesque views of villages, hills, paddy fields, and rows of palm oil plantations along the way makes it really enjoyable.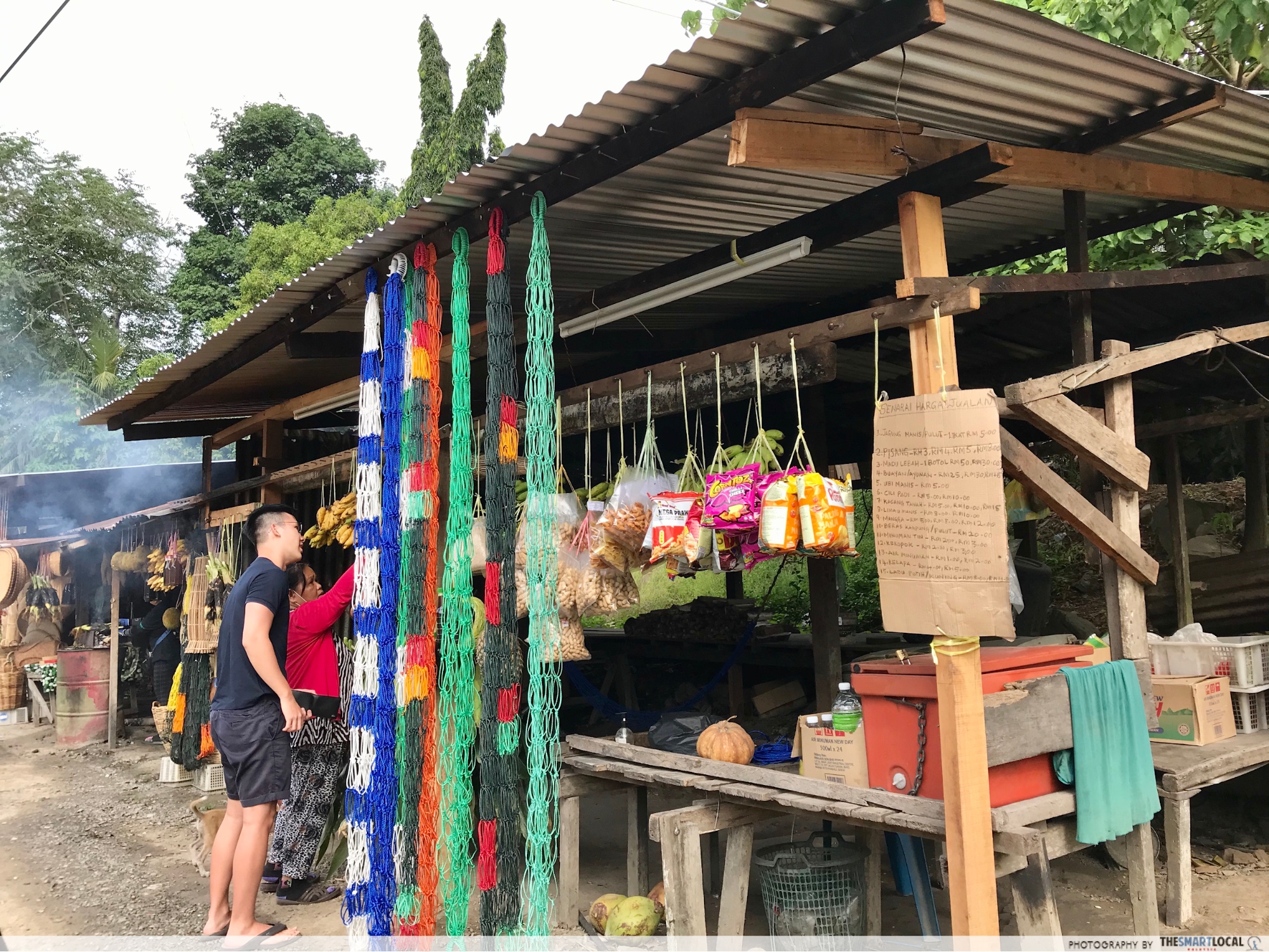 There are also roadside stalls selling snacks such as roast corn, potato chips, and local fruits for you to fuel up for the long drive. 
Car rental shops are easily found in Kota Kinabalu Airport and around KK city centre. A few popular ones include KK Rent A Car in Cyber City Apartment, KK Leisure at Jalan Asia City Lot 7, Journey Kinabalu in Plaza Tanjung Aru, and Big Momma Car Rental at Jalan Tuaran.
---
Things to do, where to stay, and how to get to Kudat
---
Kudat may be unassuming and not as happening as the other more popular hotspots, but it checks many boxes for those looking to take a breather in an idyllic town. 
It's not for youngsters who want to party, or daredevils who want a jam-packed schedule of exciting activities. The pace is slow and calming, with friendly people, and untouched beaches for a truly unpretentious holiday away from the rush of the daily grind. 
For other local travel stories, check these out:
---
Cover image adapted from: @ameliarobert and Sutera At Mantanani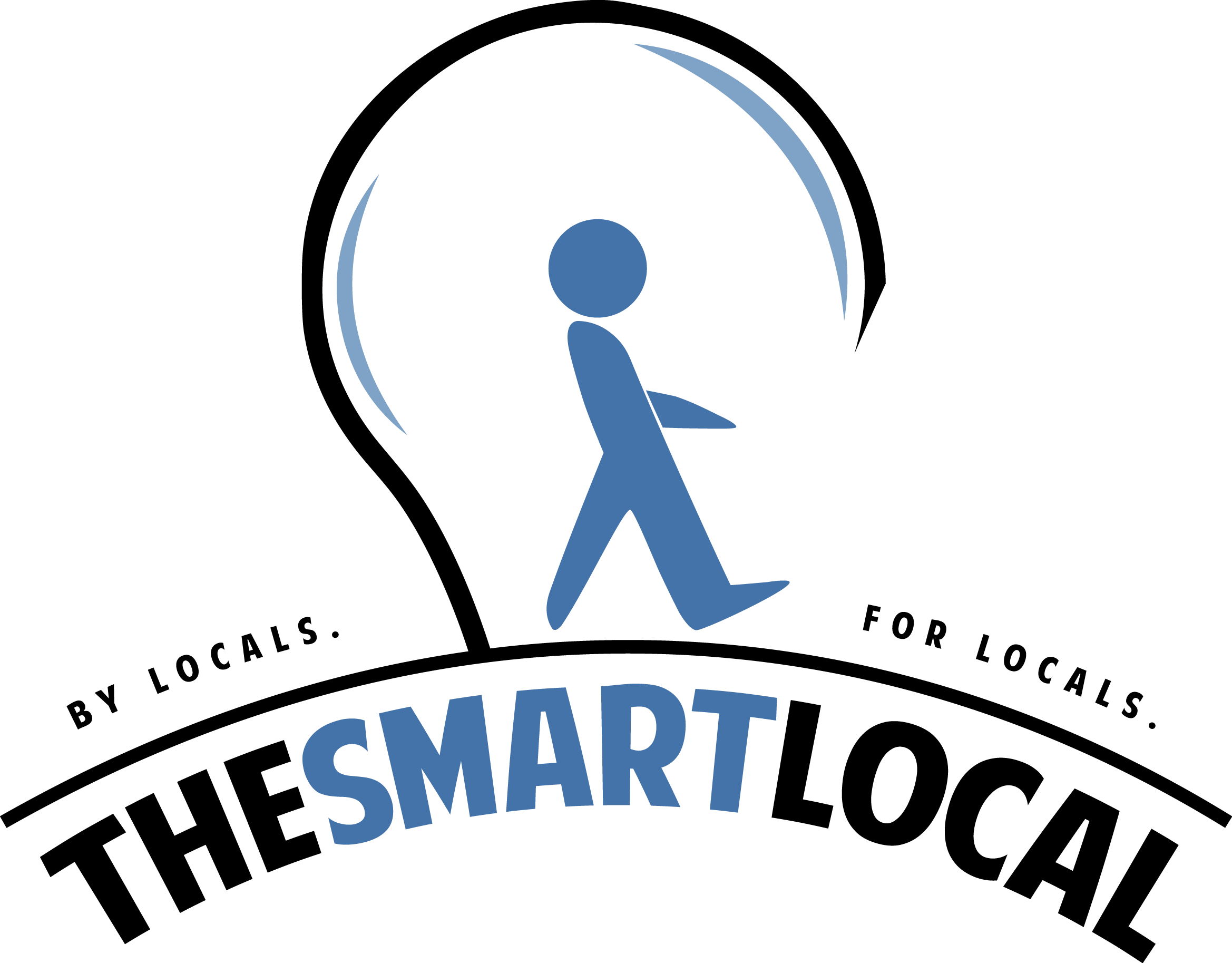 Drop us your email so you won't miss the latest news.