Honest Malaysians returns lost new iPad to owner
---
There's just something about the thrill of unwrapping a new tech gadget, especially if you've saved up months for it. So you can imagine the disappointment or frustration you get from misplacing and losing your new "present", as one Singaporean woman did. She had bought a new iPad Pro, which retails from RM3,499, and lost it.
Fortunately, Lady Luck decided to smile on her a year later. 2 Malaysian rubbish collectors working at Sembwaste, a waste-management service in Singapore, found her iPad while doing their jobs, and choose to return it to her instead of keeping it to themselves because they had found it in a recycling bin.
---
Duo returns lost iPad after it was misplaced for a year
---
Their story was first shared on Facebook by Michelle Lim, who works at PropNex, a real estate agency in Singapore. In an initial Facebook post – which was deleted in accident and now reposted – she expressed her thanks to Eday and Yaumirul, the pair who found her brand-new iPad Pro that had gone missing over a year ago.
While the chances of recovering any items we lost are almost zero to none after a month tops, Michelle was lucky enough to received an email with the subject "FOUND YOUR IPAD" around 7PM on 1st December 2020 – more than a year after her iPad Pro had gone missing. So it was understandable that she was left shocked and almost in tears when she got the good news. 
Her full post reads:
"Lost my brand-new iPad Pro more than a year ago. Today around 7PM, [I] checked my email and saw 'FOUND YOUR IPAD' in my inbox! [I'd] least expected that this [was] real. These 2 good Samaritans are with Sembwaste (Senoko Depot). Eday contacted me. Shocked and surprised, I almost cried. My heartfelt thanks to Eday and Yuamirul. They are Malaysians working here in Singapore."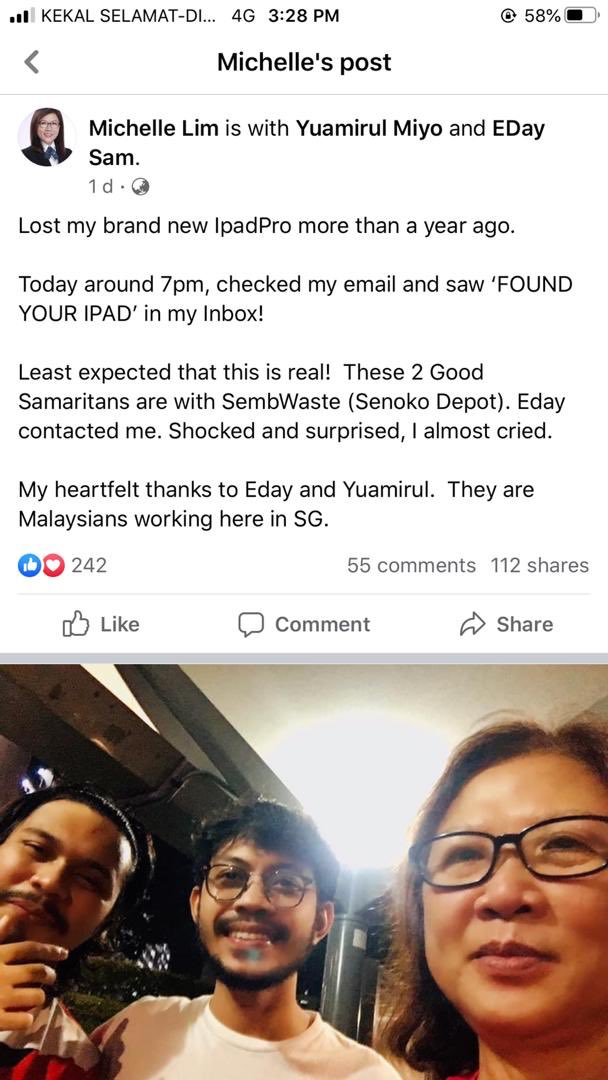 Michelle's first Facebook post about the helpful duo
Image credit: @EdaySam_
In the email, Eday introduced himself as a rubbish collector and let her know that he had found her iPad in a recycling bin at Sembwaste Senoko Depot, where he and Yuamirul work at. He reached out to her in hopes of returning her iPad if she had lost it, but also honestly sought her permission to keep it if she had intended to throw it away.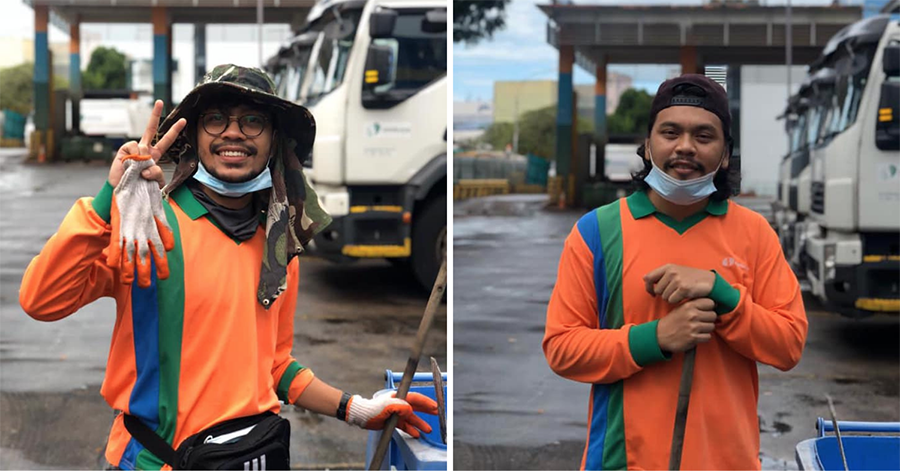 Eday and Yuamirul
Image adapted from: Michelle Lim 
Because the iPad Pro had really been lost, and not intentionally thrown away, Michelle was more than thankful to receive the good news. In the now-updated Facebook post, she further complimented the duo, calling them gentlemen and praising them as "young, hardworking and most importantly honest and humble".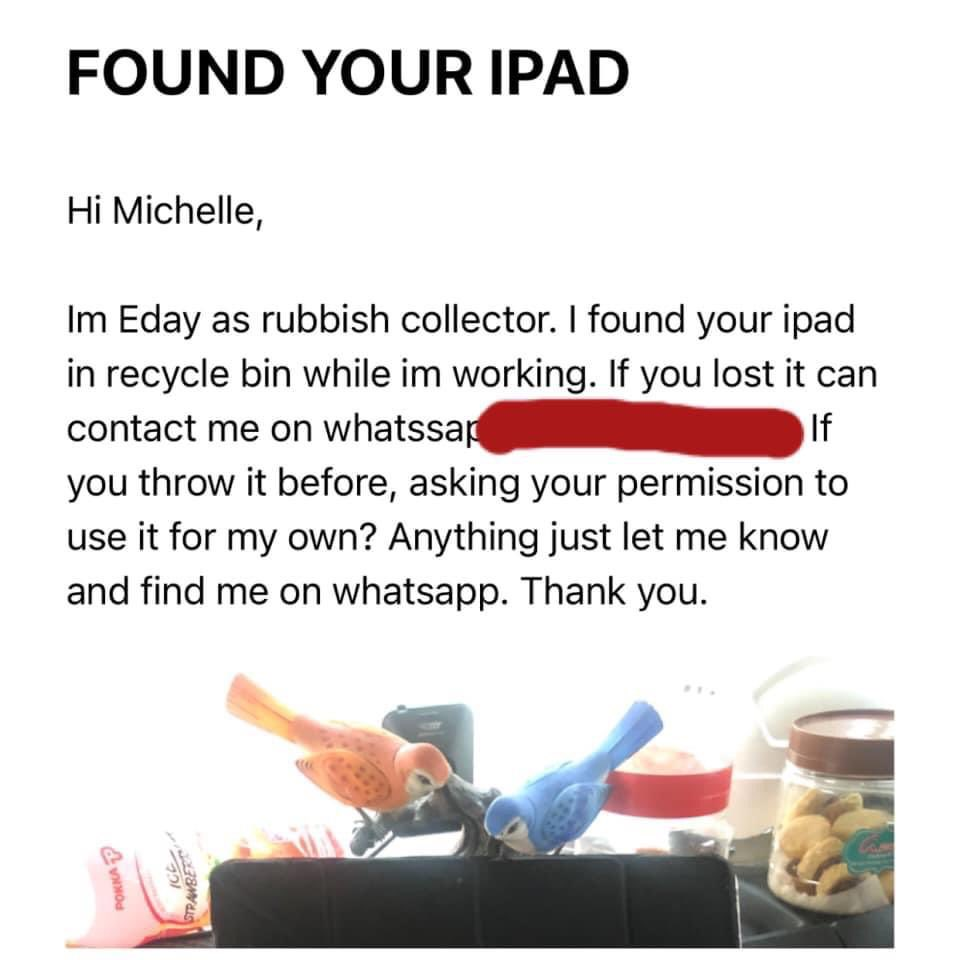 Image credit: Michelle Lim
Speaking to The Smart Local Malaysia, Eday, who's from Johor, said that he found the iPad in a recycle bin while collecting rubbish along with his partner, Yuamirul, and Wan Hanafiah, a lorry driver. "It's not uncommon to find gadgets in rubbish bins in Singapore, as we also found a laptop alongside the iPad. But only the iPad was still working when I charged it. This is why I decided to reach out to Michelle through her email that was left keyed in as an Apple ID on the iPad," he added.
When he promptly heard back from her, he said that she was almost in tears, and knew that the "iPad must be important and meaningful to her". Besides spreading word about their honest act online, Michelle also treated them to a dinner after they met up to return her 1-year missing iPad.
---
Netizens reach out to applaud honest duo
---
Eday took to his Twitter account to share the heart-warming story as well, to keep it as a reminder of what a great day it was for them to bring joy to others too. The post has garnered over 1,000 retweets and 5,000 likes at the time of writing from Malaysians needing a little positivity on their Twitter feed.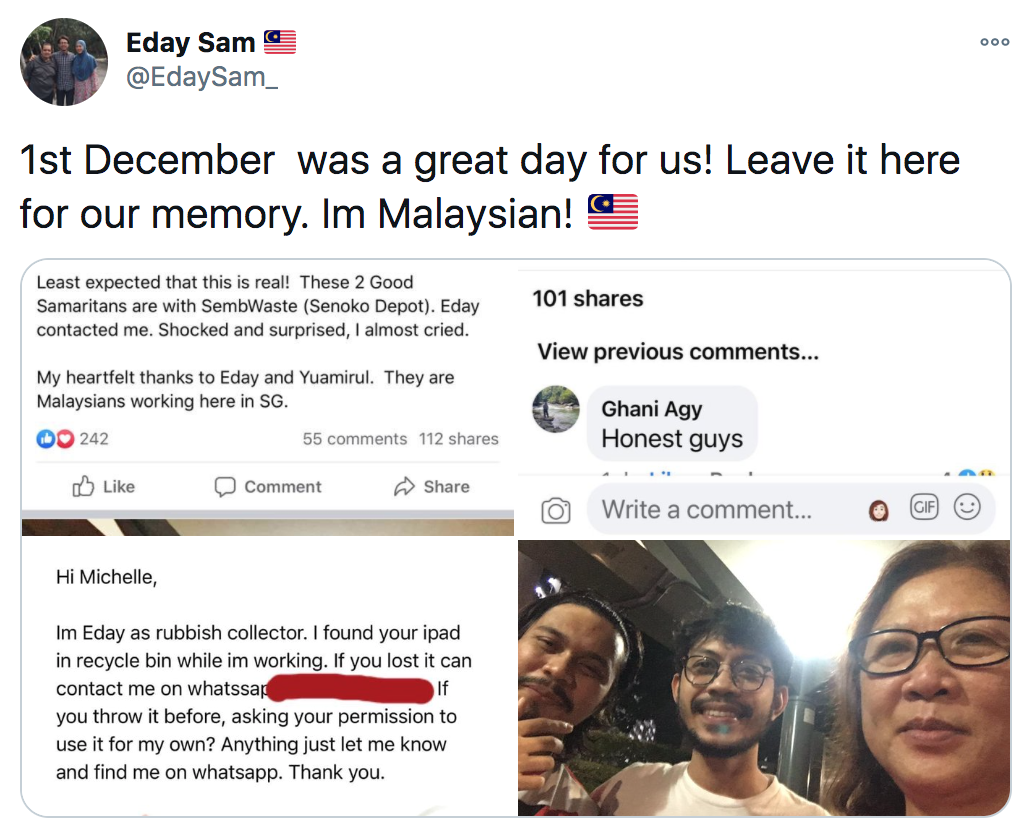 Image adapted from: @EdaySam_
Many came out to applaud Eday and Yuamirul's honest act, including @HymZaim, who gave them a thumbs-up emoji while referring to them as "youngsters with integrity". 


Image adapted from: @HymZaim
Others also came out to comment on Eday's resemblance to a character from a popular Netflix series, while also commending the pair, as shown by @kinatralalala, who tweeted, "The professor from Money Heist [laughs]…Good job @EdaySam_, may god bless and repay your kindness." 


Image adapted from: @kinatralalala
---
Malaysian rubbish collectors return lost iPad to owner
---
Anyone who's misplaced anything knows of the pain of losing an item, especially if it has sentimental value or costs a bomb. So we applaud Eday and Yuamirul's honesty for returning Michelle's lost iPad after finding it at a recycle bin, and cheer them on for spreading good vibes abroad.
Editor's note: This article was updated with a quote from Eday.
Read more news here:
---
Cover image adapted from: Michelle Lim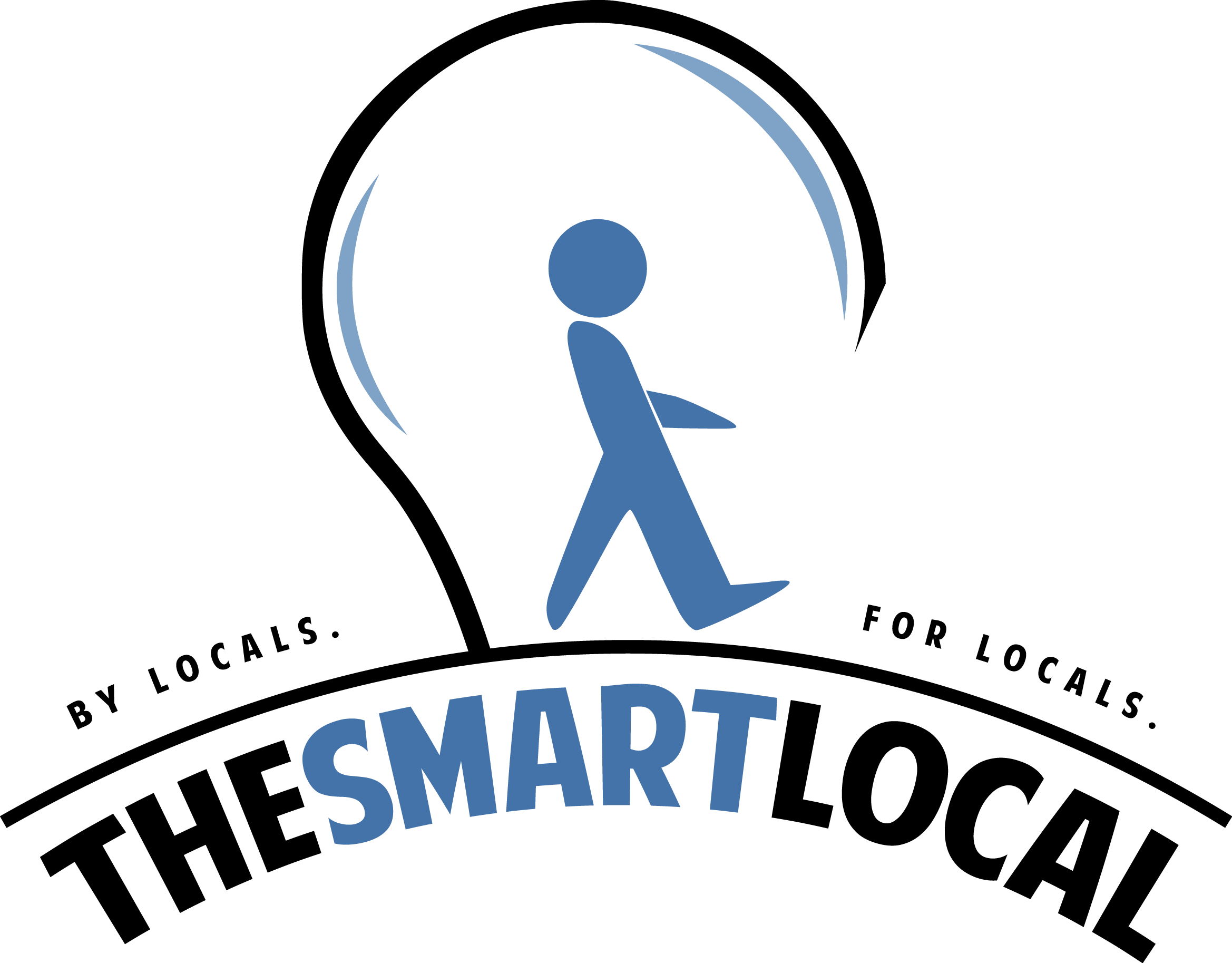 Drop us your email so you won't miss the latest news.