BeliGas opens doors for out-of-work Malaysians
---
It's an understatement to say that the MCO and its various stages have been a tough roller-coaster ride for all of us Malaysians. Because of COVID-19, we've not only made changes to our daily lives by taking up once-unusual routines such as wearing a mask, many also found themselves struggling to find new jobs after losing their jobs due to the pandemic.
But once again, proving that Malaysians have each other's backs is BeliGas, a cooking gas delivery start-up. This company was started by Suthan Mookaiah, and it aims to provide a cooking necessity at this time through a convenient app. But more than that, they've been providing jobs for out-of-work Malaysians, including B40 individuals and even ex-prisoners.
---
Cooking gas delivery start-up with a goal to help locals
---
Mookaiah shared BeliGas' story to a Facebook group on 1st December 2020 in hopes of gaining support for it and its delivery riders. This is because most of BeliGas's young workers are in the B40 group – or Malaysians whose incomes are in the bottom 40% household bracket. Many of them had also been left jobless due to COVID-19.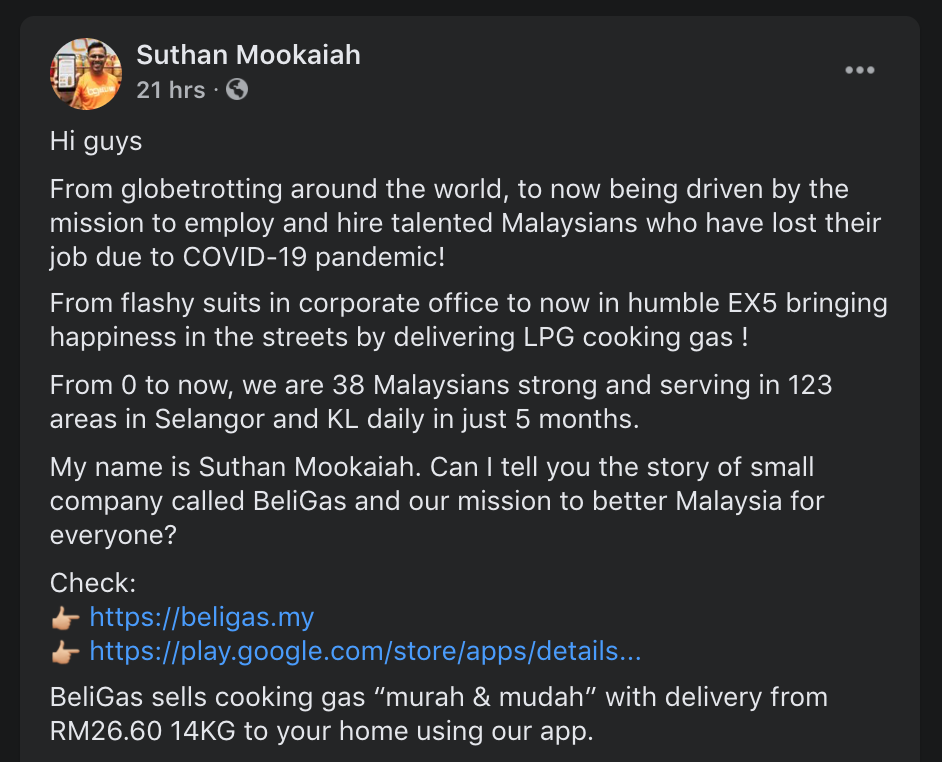 A snippet of Suthan's post on Facebook
Image adapted from: Suthan Mookaiah
In another Facebook post dated 12th November, Mookaiah shared that he "vowed" to provide jobs for out-of-work individuals with no income after his position as Managing Director at a Berhad company he worked for "forced [him] to sign off on the retrenchment letter of nearly 20 staffs last March".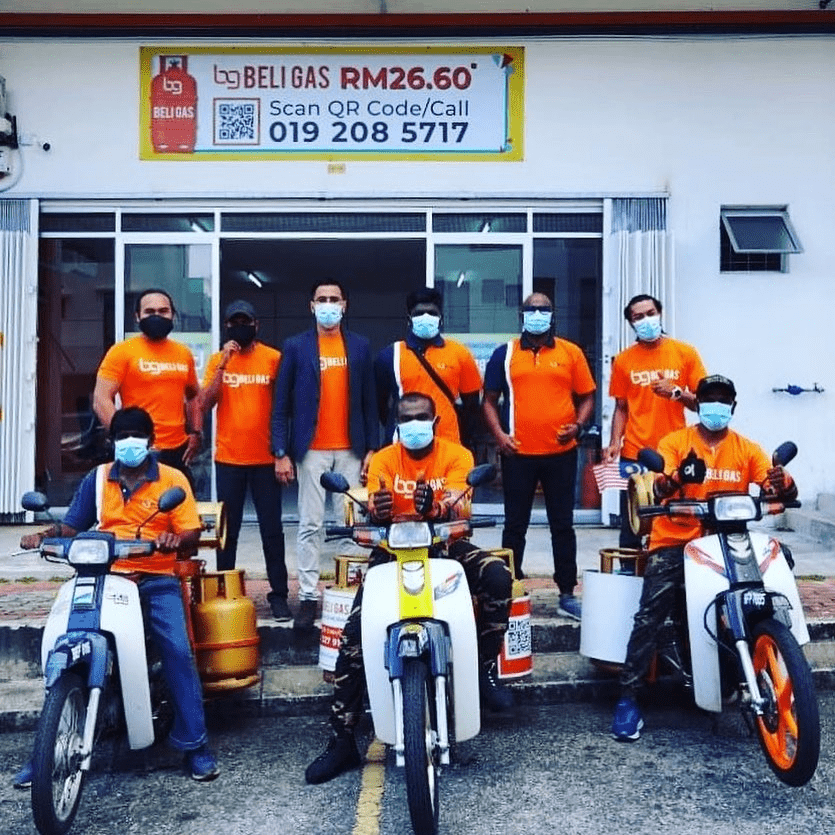 Image credit: BeliGas Malaysia
This is why he decided to trade his business suits for "torn jeans", and pick up skills necessary for cooking gas deliveries. The skills included driving a lorry and learning the know-hows of carrying and transporting LPG gas canisters for the start-up.
And these are just some of the challenges the company faces. While BeliGas only started operating in July 2020, they now have hubs in several states to serve customers. However, as Mookaiah highlights in the previous Facebook post, the company's riders have to deal with several challenges daily.
The list includes delivering heavy canisters of cooking gas under Malaysia's fickle hot and rainy weather, unruly animals at customer's houses, and occasional customers who look down on them for their labour-intensive jobs. But they still do the work they do, as they now have a stable income to provide for themselves and their families.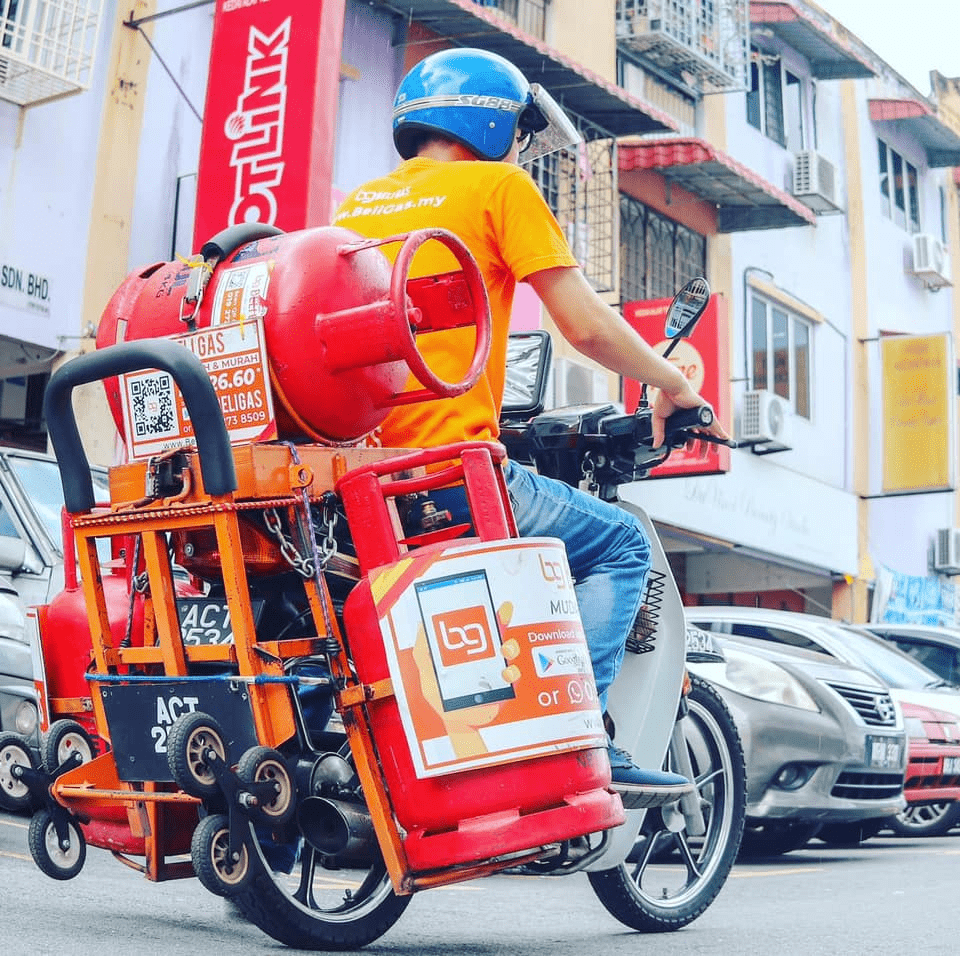 Image credit: Suthan Mookaiah
Not letting the negativity deter them, BeliGas aims to expand its employee pool to include other marginalised groups in Malaysia. They've even been working with Penjara Kajang Selangor to provide employment opportunities to ex-prisoners in the hopes of helping them make a living too, and 4 of them have now joined the company.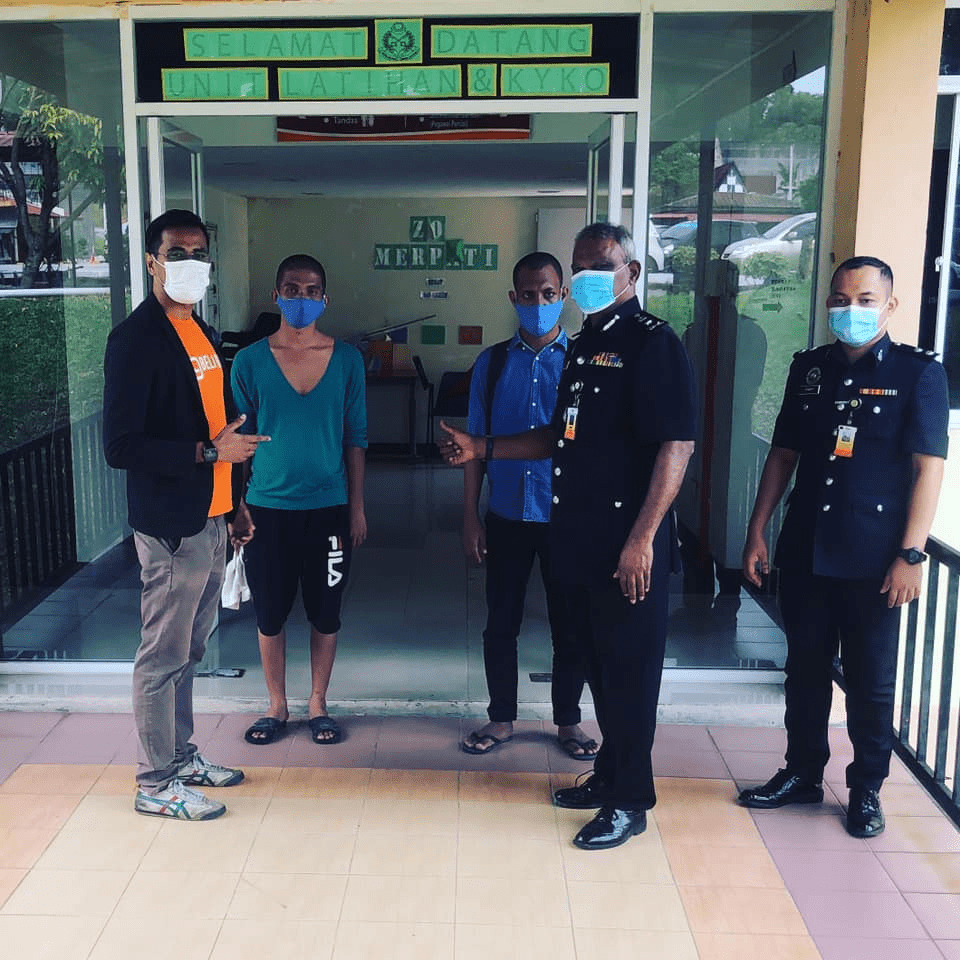 BeliGas helps all Malaysians make a living
Image credit: BeliGas Malaysia
---
Convenient and late-night cooking gas deliveries
---
Its humble goal to help Malaysians in need aside, BeliGas is also a convenient service for those who need to replace their cooking gas canisters at home. While BeliGas only started operating not too long ago, they now provide cooking gas priced from RM26.60 to 123 locations, including towns in Kajang, Cheras, Ampang, Shah Alam, Seri Kembangan, Puchong, Balakong, and Semenyih. They have plans to expand their services to other states as well. 
As cooking gas is something we all need – with more Malaysians trying their hand out at cooking during the pandemic – their service lets shoppers place fuss-free orders for cooking gas from their online store with various e-wallet payment options. They also have a nifty GooglePlay app.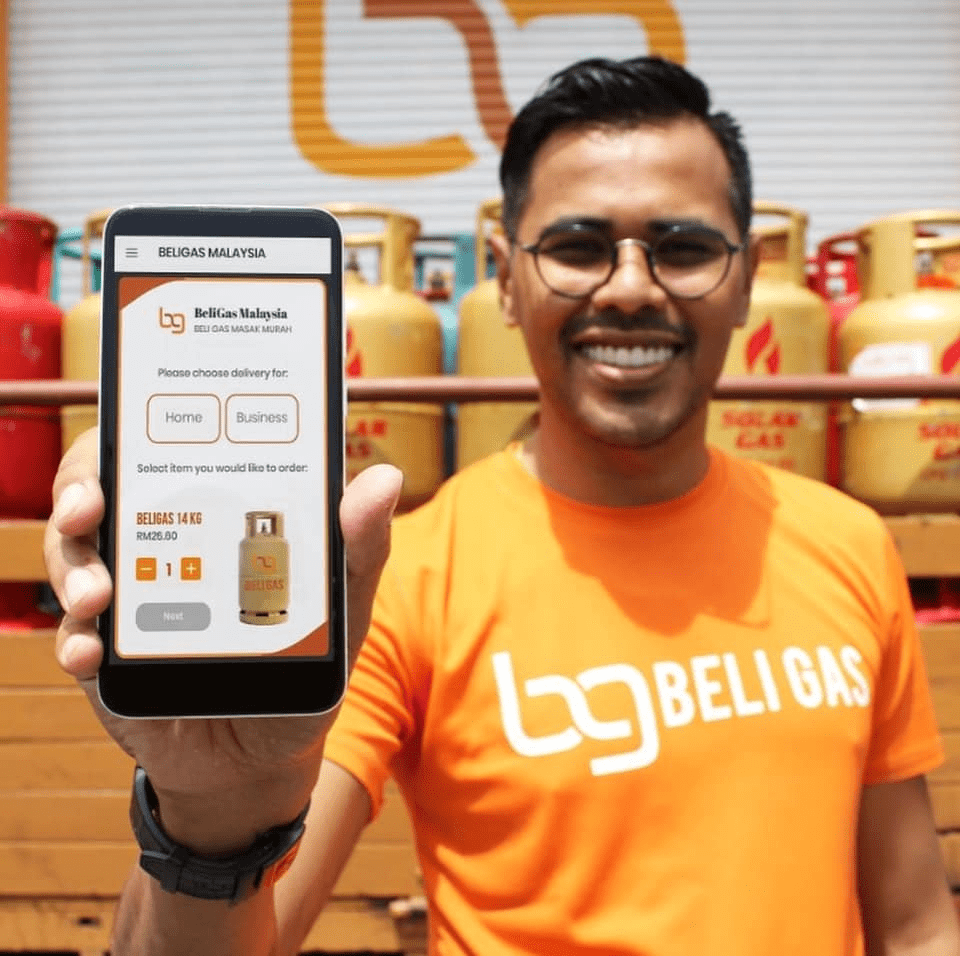 Image credit: Suthan Mookaiah
In just 3 simple steps on your computer or phone – pick your location, choose the weight of your cooking gas canister, and make your payment – a delivery rider will provide speedy deliveries to the locations covered. And they are known to work until 11PM in the night too, so those whipping up late-night suppers and facing shortage of cooking gas can opt to seek out their services. 
This innovative service even saw Mookaiah winning "The 100 Most Influential Young Malaysian Entrepreneurs 2020" for BeliGas, as announced on the company's official Facebook account.
---
BeliGas delivers cooking gas & employs out-of-work locals
---
It hasn't been easy times for anyone who's living through this pandemic, with many left without a stable income. This is why we're applauding BeliGas for providing jobs to Malaysians in times of struggle for many, and also innovating the way we usually order cooking gas – from calling up a service to just a few simple clicks or taps on our computers and phones. 
Read more news in Malaysia here:
---
Cover image adapted from: Suthan Mookaiah & BeliGas Malaysia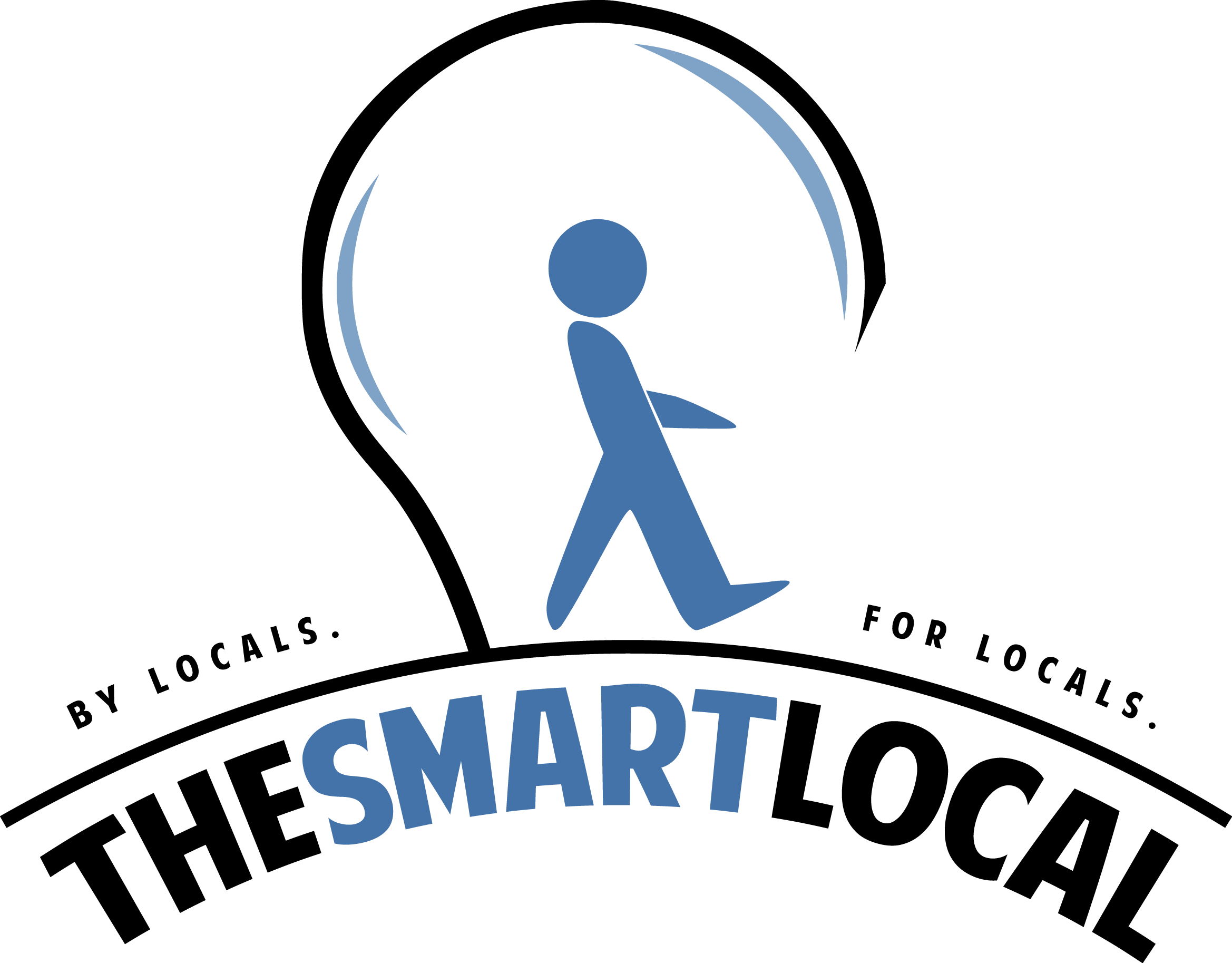 Drop us your email so you won't miss the latest news.